---
New Article: Jupiter, Nostradamus, Edgar Cayce, and the Return of the Mongols - Laura Knight-Jadczyk
Part 1, Part 2, Part 3, Part 4, Part 5, Part 6, Part 7, Part 8, Part 9, Part 10, Part 11, Part 12
Picture of the Day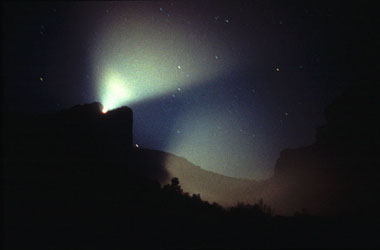 Fog in the Cirque de l'Infernet
©2004 Pierre-Paul Feyte
"War is hell", or so the saying goes. The four American "security personnel" killed in Iraq on Wednesday, whose remains were mutilated and strung up by an enraged crowd, found out the truth of this statement the hard way. As the images of their bodies were flashed across many news programmes around the world, the leaders of one country in particular decided that, while it may be true that "war is hell", they did not necessarily want to convey this understanding to the population.
As readers of this web site should by now be aware, reality has less to do with truth or "what is", and more to do with what the government, via their media lackeys, choose to allow the population to understand as reality. This is true in particular of the US and its population.
The reports on US television about the deaths of the four men were presented in such a way as to imply that the men were civilians. This is lie number one. In reality, the men were all in the employ, either directly or indirectly, of the US military and were involved in US military activities (see below articles).
All of the recent news commentary, from both newscasters and government spokespersons, was designed to suggest that the killing of the men was an act that was abnormal for war. White House press secretary Scott McClellan called the deaths: "offensive" and said it was, "despicable the way these individuals have been treated". This is lie number 2. The way these men were treated is a direct result of US actions in Iraq and is the true nature of war.
The justification for not showing the images of the dead men was claimed as "to protect their families". This is lie number 3. Photographs of the reality of war are censored in order to maintain public support for the war by perpetuating the illusion that nasty things do not happen to "our boys"; after all, all they are doing is bringing "peace and democracy" to the poor unfortunate Iraqis. As such, images of "poor Iraqis" gleefully beating the bodies of Americans does not "fit" with the lies told to Americans about the rationale for the Iraq invasion.
Despite of all of this, most Americans remain entrenched in their illusions and as such we cannot state that "war is hell" in an absolute way. In fact, for many people, again particularly in the US, the understanding of "war" given to them by their government means that, in their minds, war is not hell at all. On the contrary, it is an opportunity to feel good about themselves and to allow national and personal pride in their brave and valiant compatriots, and their great leaders that lead them into battle, to well up within them. It is an opportunity to fortify their sense of identification with "God and country" and with their fellow countrymen.
This identification certainly suits the powers that be very well in that they can continue to commit crimes in the name of the people, essentially making the people accomplices in the crimes, without their knowledge. Of course, with a little effort, anyone can come to the understanding that they are being used by their leaders, but making such an effort comes down to a matter of choice. If the choice is to believe, against all evidence, that their government is acting justly in their name, then there can be no protests when the people also reap the "rewards" of such support - meted out, of course, by the leaders themselves.
US TV Avoids Graphic Iraq Images Seen Worldwide
AP via Dow Jones Newswires – April 1, 2004
In the end analysis, the media has become a weapon of war, a psychological weapon to control populations in warring nations, shaping and conditioning their perception of the conflict. (Ed)
LOS ANGELES (AP)--Macabre images of four American contractors killed in Iraq filled television screens worldwide Wednesday but were largely shunned by American television that deemed them too graphic. (or too *real*)
Network and cable newscasts planned judicious use of the video, which included images of the victims' charred bodies dragged through the street and two of them hanging from a bridge.
"We've had similar discussions throughout the war" in how to handle such raw footage, said Steve Capus, executive producer of "NBC Nightly News."
In this case, it is "very disturbing, it's awful. Quite honestly, it doesn't need to be seen in full in order to convey the horrors of this despicable act," Capus said.
Fox News Channel planned to limit its images to shots of the burning vehicles in which the civilian contractors to the U.S. government had been riding -and to shots of joyous crowds in Fallujah.
"We have no plans to show more graphic footage," said Bill Shine, Fox's vice president of production. "We made the call that it was too graphic in nature to put on our air."
Despite what competitors may do, "Right now, we're going to stay with the decision we made," Shine said.
What CNN anchorman Wolf Blitzer called "a day of horror," in which five U.S. soldiers also were killed, was largely described rather then seen on the cable news channel.
But CNN, which said it initially limited images to give authorities time to inform next of kin, ventured further on its 7 p.m. broadcast, "Anderson Cooper 360."
"There is much more we will not show, but we believe some images are necessary to fully illustrate the extent of the violence," CNN correspondent Walter Rodgers said from Iraq.
A few seconds of video of two burned bodies dangling from the bridge were shown, preceded by a viewer discretion advisory.
CBS had planned to use some of the graphic footage on its "Evening News," according to executive producer Jim Murphy, but decided against it by airtime. Anchor Dan Rather signed on by saying the images were too gruesome even for grown-up eyes.
Coverage of the Iraq story largely gave way Wednesday afternoon on the cable channels to a domestic story: The discovery of missing Wisconsin college student Audrey Seiler.
Both the Pentagon and the White House said they did not ask any media outlets to suppress use of the Fallujah video.
"It is offensive, it is despicable the way these individuals have been treated," White House press secretary Scott McClellan said. "We hope everybody acts responsibly in their coverage of it."
Comment: "Responsibly", in this case, means that, at all costs, the reality of the effects of US activity in Iraq must not been seen or understood by US citizens, otherwise, the cat gets out of the bag, and how is one meant to dupe a whole nation if someone starts telling the truth?!
Click here to comment on this article
The four "civilians" killed, burned, and dragged through the streets of Fallujah, Iraq, on Wednesday morning weren't really civilians. Or were they? They were employees of Blackwater Security Consulting, a rural North Carolina subsidiary of Blackwater USA, one of several dozen firms taking over the duties of the regular American military in Iraq, protecting buildings and grounds as well as officials.
In fact, Blackwater itself is in charge of protecting L. Paul "Jerry" Bremer, the U.S. official who now runs Iraq as head of the Coalition Provisional Authority. In the coming weeks, hundreds of American civilian workers who really are civilians will be entering Iraq to work on private contracts let by the Bush government. Their security will be provided by guards (like the Blackwater men killed yesterday) from a variety of security firms, often consisting of former U.S. military special ops people. [...]
Click here to comment on this article
Coalition of the Mercenaries

Robert Fisk and Severin Carrell
The Independent April 01, 2004
An army of thousands of mercenaries has appeared in Iraq's major cities, many of them former British and American soldiers hired by the occupying Anglo-American authorities and by dozens of companies who fear for the lives of their employees.
Many of the armed Britons are former SAS soldiers and heavily armed South Africans are also working for the occupation. "My people know how to use weapons and they're all SAS," said the British leader of one security team in southern Baghdad. "But there are people running around with guns now who are just cowboys. We always conceal our weapons, but these guys think they're in a Hollywood film."
There are serious doubts even within the occupying power about America's choice to send Chilean mercenaries, many trained during General Pinochet's vicious dictatorship, to guard Baghdad airport. Many South Africans are in Iraq illegally--they are breaking new laws, passed by the government in Pretoria, to control South Africa's booming export of mercenaries. Many have been arrested on their return home because they are do not have the licence now required by private soldiers.
Casualties among the mercenaries are not included in the regular body count put out by the occupation authorities, which may account for the persistent suspicion among Iraqis that the US is underestimating its figures of military dead and wounded. Some British experts claim that private policing is now the UK's biggest export to Iraq--a growth fueled by the surge in bomb attacks on coalition forces, aid agencies and UN buildings since the official end of the war in May last year.
Many companies operate from villas in middle-class areas of Baghdad with no name on the door. Some security men claim they can earn more than £80,000 a year; but short-term, high-risk mercenary work can bring much higher rewards. Security personnel working a seven-day contract in cities like Fallujah, can make $1,000 a day. [...]
Comment: From the above we understand that even those directly involved in war must be made to believe the lie about the reality of war in order to encourage them to fight. When the reality finally sinks in, it may be too late for a change of heart.
Click here to comment on this article
Private Contractor Tests New Illegal Ammo By, Killing An Iraqi
1-shot killer. This 5.56mm round has all the stopping power you need — but you can't use it. Here's why:
By John G. Roos
Special to the Times
12/01/03: (The Army Times) Ben Thomas and three colleagues were driving north out of Baghdad in an SUV on a clear mid-September morning, headed down a dirt road into a rural village, when gunmen in several surrounding buildings opened fire on them.
In a brief but intense firefight, Thomas hit one of the attackers with a single shot from his M4 carbine at a distance he estimates was 100 to 110 yards.
He hit the man in the buttocks, a wound that typically is not fatal. But this round appeared to kill the assailant instantly.
"It entered his butt and completely destroyed everything in the lower left section of his stomach ... everything was torn apart," Thomas said.
Thomas, a security consultant with a private company contracted by the government, recorded the first known enemy kill using a new — and controversial — bullet.
The bullet is so controversial that if Thomas, a former SEAL, had been on active duty, he would have been court-martialed for using it. The ammunition is "nonstandard" and hasn't passed the military's approval process.
"The way I explain what happened to people who weren't there is … this stuff was like hitting somebody with a miniature explosive round," he said, even though the ammo does not have an explosive tip. "Nobody believed that this guy died from a butt shot."
The bullet Thomas fired was an armor-piercing, limited-penetration round manufactured by RBCD of San Antonio. [...]
Comment: Iraq is being used, among other things, for the testing of new US military "toys", the kind of "toys" that do this:
Comment: Can any US citizen be outraged at the Iraqis that killed and mutilated the 4 American "security personnel" on Wednesday when their own government has killed and mutilated 10,000 Iraqi civilians, and, using the US media, silenced any opportunity for US citizens to be outraged at their own government and at themselves for supporting it?
Click here to comment on this article
U.S. vows overwhelming response to Iraq killings
By Luke Baker and Khaled Yacoub Oweis
Thursday April 1, 08:57 PM
BAGHDAD (Reuters) - U.S. troops have promised an "overwhelming" response to brutal killings in the Iraqi town of Falluja and vowed to hunt down those who shot, burned and mutilated four American contractors.
Marines took positions on the outskirts of the restive town west of Baghdad where the contractors were ambushed by insurgents on Wednesday and then set on by a crowd.
"Coalition forces will respond," the U.S. army's deputy director of operations Brigadier General Mark Kimmitt told a news conference on Thursday. "They are coming back and they are going to hunt down the people responsible for this bestial act.
"It will be at a time and a place of our choosing. It will be methodical, it will be precise and it will be overwhelming." [...]
Click here to comment on this article
US Agrees to Seek New UN Resolution on Iraq
Thu Apr 1,12:30 PM ET

BERLIN (Reuters) - The United States said for the first time on Thursday it expects a new U.N. resolution over Iraq before a sovereignty handover in response to Western allies' pressure for Washington to seek a U.N. mandate.
Countries such as France and Spain have said they did not want to be involved in Iraq after the July 1 handover without a new U.N. resolution underpinning the international community's presence there.
The United States had previously said only it was willing to consider the possibility of a new resolution. But on Thursday Secretary of State Colin Powell said the United States now expected the measure to be passed before it formally transfers power to an Iraqi government.
"I think there will be a new resolution as we move closer to the first of July," the top U.S. diplomat said in an interview with ZDF German Television.
Despite agreeing to return to the United Nations, the United States has not said how much authority it would allow the world body in any new resolution. [...]
Comment: Well, we know the answer to that one. None at all. The US will want, as it has all along, for the rest of the world to supply the money and men to rebuild Iraq while leaving the US in charge. The only element that could force the US into giving up its power is the growing deterioration of the situation in Iraq, pushing the US into a situation where they are obliged to bow to pressure from it allies.
Click here to comment on this article
Food deliveries to the Gaza Strip have been halted because of Israeli restrictions, the United Nations says.
The UN Relief and Works Agency (Unrwa) said an Israeli ban on moving empty containers out of Gaza had forced it to suspend delivering 11,000 tons of food.
Peter Hansen, UN chief responsible for Palestinian refugees, said the 600,000 people in Gaza could face real hunger.
An Israeli spokesman told BBC News Online suicide bombers had used containers for hiding in.
'Extreme caution'
He said the perpetrators of a double suicide attack on 14 March, which killed 10 people in the Israeli port area of Ashdod, hid in containers to slip out of the Gaza Strip.
"At the moment we cannot trust anything, especially since the death of Hamas leader Sheikh Ahmed Yassin," the spokesperson said.
"We are exercising extreme caution."
An Unrwa statement said Israel's refusal to allow empty freight containers out of Gaza meant it had to pay prohibitive rental payments to shipping companies that own them.
"We rent those containers from the shipping line," Unrwa official Christer Nordahl told the Associated Press.
"Not being able to return them means we have so far run up a bill of $500,000 and it's increasing every day."
Unrwa has stopped distributing rice, flour, cooking oil and other essential foods in Gaza, where nearly two out of three families live below the poverty line and more than half the workforce are unemployed.
Comment: So the killers at the helm of Israel order the death of Sheikh Yassin, then justify their starving of the Palestinians on the threat of retaliation for the same act! People die and the world looks on idly, mouthing condemnations of Ariel Sharon while DOing nothing. Look at the Arab countries in this. What have they done to help the Palestinians? Not a damn thing. What has Europe done to help the Palestinians? Not a damn thing. What has Russia or China done to help the Palestinians? Not a damn thing. What has the US done to help the Palestinians? Not a damn thing.
When your time comes, who is going to help you?
Click here to comment on this article
Sharon threatens Arafat and Nasr Allah
Friday 02 April 2004, 10:26 Makka Time, 7:26 GMT
Israeli Prime Minister Ariel Sharon says Palestinian President Yasir Arafat and Lebanese resistance chief Hasan Nasr Allah could become targets for assassination.
Sharon's comments in interviews with Israeli newspapers published on Friday were his most explicit threats yet against his arch foes.
Asked by Haaretz whether Arafat and Nasr Allah are targets for assassination, Sharon said: "I wouldn't suggest that either of them feel immune ...
Comment: When Sharon says "Anyone who kills a Jew or harms an Israeli citizen, or sends people to kill Jews, is a marked man. Period.", he is only stating what Jewish law has stated for thousands of years: the life of a Gentile is worth less than the life of a Jew. Jewish law teaches that Jews alone are human, and that the rest of us are something less than human. Once this is understood, the brutality of Israeli murders such as the death by missile of Sheikh Yassin or the gunning down of Palestinian children who throw rocks at the occupying IDF soldierscan be understood. Once the Jewish teachings are understood, the hopelessness of the Palestinian position can be understood. We suggest our readers read Israel Shahak's book, Jewish History, Jewish Religion, especially the chapter on The Laws Against Non-Jews.
Here is an excerpt from that chapter:
Murder and Genocide

ACCORDING TO THE JEWISH religion, the murder of a Jew is a capital offense and one of the three most heinous sins (the other two being idolatry and adultery). Jewish religious courts and secular authorities are commanded to punish, even beyond the limits of the ordinary administration of justice, anyone guilty of murdering a Jew. A Jew who indirectly causes the death of another Jew is, however, only guilty of what talmudic law calls a sin against the 'laws of Heaven', to be punished by God rather than by man.

When the victim is a Gentile, the position is quite different. A Jew who murders a Gentile is guilty only of a sin against the laws of Heaven, not punishable by a court. To cause indirectly the death of a Gentile is no sin at all.

Thus, one of the two most important commentators on the Shulhan Arukh explains that when it comes to a Gentile, 'one must not lift one's hand to harm him, but one may harm him indirectly, for instance by removing a ladder after he had fallen into a crevice .., there is no prohibition here, because it was not done directly: He points out, however, that an act leading indirectly to a Gentile's death is forbidden if it may cause the spread of hostility towards Jews.

A Gentile murderer who happens to be under Jewish jurisdiction must be executed whether the victim was Jewish or not. However, if the victim was Gentile and the murderer converts to Judaism, he is not punished.

All this has a direct and practical relevance to the realities of the State of Israel. Although the state's criminal laws make no distinction between Jew and Gentile, such distinction is certainly made by Orthodox rabbis, who in guiding their flock follow the Halakhah. Of special importance is the advice they give to religious soldiers.

Since even the minimal interdiction against murdering a Gentile outright applies only to 'Gentiles with whom we [the Jews] are not at war', various rabbinical commentators in the past drew the logical conclusion that in wartime all Gentiles belonging to a hostile population may, or even should be killed. Since 1973 this doctrine is being publicly propagated for the guidance of religious Israeli soldiers. The first such official exhortation was included in a booklet published by the Central Region Command of the Israeli Army, whose area includes the West Bank. In this booklet the Command's Chief Chaplain writes:

When our forces come across civilians during a war or in hot pursuit or in a raid, so long as there is no certainty that those civilians are incapable of harming our forces, then according to the Halakhah they may and even should be killed... Under no circumstances should an Arab be trusted, even if he makes an impression of being civilized ... In war, when our forces storm the enemy, they are allowed and even enjoined by the Halakhah to kill even good civilians, that is, civilians who are ostensibly good.
This discussion of Jewish laws towards non-Jews puts Israel's denial of food to the Palestinians, discussed in the article above, in a different light. The Jews who follow Jewish law have no moral or religious reason to help the Palestinians. On the contrary, because they are convinced that every Palestinian is a threat to Israel and to other Jews, their religious duty is to kill them all.
We will be clear. We do not think that all Jews agree with this teaching. There are many non-religious Jews who may not even be aware of it. However, this appears to us to be an accurate description of the policies of the State of Israel, whether or not the individuals involved are aware of the teachings or not. These teachings appear to form the foundations of the culture within which the genocidal policies of a Sharon are acceptable to a significant portion of Israel's Jewish population. We note, moreover, that these policies are acceptable as well to a significant proportion of US Christians. We raise the issue of US Christians because it is clear that their attitude towards non-Christians is very similar, and historically, Christians have treated non-Christians, especially those who did not have white skin, as savages if not less than human.
What is the basis of this sense of superiority? Religion, the supernatural ravings of an arrogant and bloodthirsty pseudo-divinity. Unfortunately, billions of people the world over, including Christians and Moslems, are influenced by these psychopathic delusions, as the legitimacy of their own beliefs rests upon the legitimacy of Jewish beliefs.
As for the Jews, for a people with a population of approximately 15 million world-wide, they appear to have an inordinate influence over the future of the planet. The survival of under 7 million of them, the Jewish population of Israel, could put in danger the survival of the other 6 billion alive today. It is the worst kept secret on the planet that Israel has nuclear weapons. It would be consistent with the Jewish law we have seen above for Israel to be willing to destroy the rest of the world if its leaders felt that there was a threat to Israel's continued existence. That Israelis have admitted that this is the worst case scenario is extremely troubling but not surprising.
But this discussion raises the issue of the modern bogeyman -- anti-Semitism. Is it "anti-Semitic" to say such things about Israel? We are not discussing Jews as a whole, and our criticisms of religion apply to the other world religions as well. We are discussing the State of Israel, their genocidal policies towards the Palestinians, and the apparent consistency between certain Jewish teachings and that policy. We also underline that the attitude of US evangelicals, and of much of the history of the Christian Churches, is in accord with these ideas even if the "chosen people" differ from case to case.
Defenders of Israel will label this argument as "anti-Semitic."
The monotheistic religions are bringing the world to the verge of a holocaust because there is no peaceful settlement in sight for the future co-existence of the Israeli Zionist State and the Palestinian people. Arafat, the winner of the Nobel Peace Prize for his efforts (along with the Israeli Foreign Minister Shimon Peres and Prime Minister Yitzhak Rabin who was later assassinated for his efforts by right-wing Zionists), has been holed up in his compound for several years. He is being accused by the butcher of Sabra and Shatila of being a terrorist, that is, by a war criminal praised by Dubya as a "Man of Peace."
And the US media, fresh from their mea culpa about their coverage of Iraq, say nothing.
But perhaps we shouldn't be worried. There may not be such nuclear destruction brought on by Israeli psychopaths or their cohorts in Washington. The new ice age and the subsequent wars for food predicted by the Pentagon may arrive first. Then the media will tell us to be thankful there are fewer mouths to feed, and Israel's genocide of the Palestinians will be touted as heroic foreplanning.
Click here to comment on this article
Israeli tanks 'enter Gaza camp'
Palestinian officials say a 19-year-old man has been killed after Israeli tanks entered the Rafah refugee camp.
Witnesses said Israeli soldiers were using the rooftops of three buildings as sharpshooting positions.
Click here to comment on this article
Settlers try to rebuild 'synagogue'
Thursday 01 April 2004, 15:49 Makka Time, 12:49 GMT
Die-hard Jewish settlers continued to clash with Israeli occupation soldiers near the West Bank city of Hebron a day after the army claimed it removed an uninhabited settlement.
Settlers on Thursday tried to rebuild a 'synagogue' which was taken down on Wednesday. Fifteen settlers, including two minors, were arrested during the clashes.
Under international law, all Jewish settlements are illegal, a stance not recognised by Israel.
But Palestinian sources in the area said the settlement was uninhabited and comprised of a tent and two secondhand mobile homes near the Kiryat Arba outpost next to Hebron, reported Aljazeera's correspondent in the West Bank.
The synagogue was a dismantled tent where the settlers occasionally prayed, said Khalid Amayreh.
Comment: More game playing from the Israelis. Take down an empty settlement, that is, a tent and a mobile home, and then let the settlers come back and stir up trouble. When IDF soldiers move against the Palestinians, they root up centuries old olive groves. Of course, they couldn't take down centuries old Jewish settlements or olive groves. They haven't been there that long.
Click here to comment on this article
Sharon Fights For His Political Life
Patrick Seale Al-Hayat 2004/04/2
Israel's Prime Minister Ariel Sharon is, by any reckoning, a highly controversial figure, loathed and admired in almost equal measure. For some he is the very embodiment of ugly, arrogant and brutal Israeli militarism, a tormentor of the Palestinians, a notorious Arab-killer, the greatest single obstacle to an Arab-Israeli peace; for others, he is the true victor of the 1973 October War, who confounded the Egyptians by his daring crossing of the Suez Canal, the father of the settler movement, the founding pillar of the Likud Party, and the revered champion of a 'Greater Israel.'
'Monster' or 'hero' according to one's point of view, Sharon is fighting for his political life in a corruption scandal, which threatens to bring him down. The next few weeks will determine whether he will be forced to retire from politics or, on the contrary, emerge stronger than ever.
This is not simply a dramatic episode in Israel's internal political game. The outcome will have wide repercussions. It will determine the fate of Sharon's plan to 'disengage' from Gaza, and possibly the fate of the occupied West Bank. It will also have an impact on the wider issue of Arab-Israeli relations, which have rarely been as atrociously bad as they are today.
Yet, a striking feature of the crisis is that the Arabs have virtually no input into it. Sharon has not consulted the Palestinians about his plans for Gaza. On the contrary, he has deliberately and ruthlessly excluded them: Sheikh Ahmad Yassin, the Hamas leader, has been assassinated on Sharon's orders, while Yasser Arafat, President of the Palestinian Authority, remains a prisoner in the ruins of his Ramallah headquarters. Sharon means to impose his terms on the Palestinians without consultation or negotiation. Meanwhile, the aborted Arab Summit last weekend demonstrated yet again the inability of Arab leaders to take up the Israeli challenge.
The 'Greek island' affair
As has been widely reported, Sharon is embroiled in a scandal known as the 'Greek island' affair...The 'bribe' took the form of a payment to Sharon's son Gilad of hundreds of thousands of dollars for so-called 'professional services', and a promise of a total of $3 million!
Sharon has denied any knowledge of the deal, but this strains credibility in view of the large sums involved and because Sharon is known to be very close to his two sons, Gilad and Omri.
[...] Sharon has in recent weeks signaled that he plans a 'unilateral disengagement' from the Gaza Strip and from half a dozen remote outposts on the West Bank. This is his bid finally to bury the 'Geneva Initiative' of Yossi Beilin and Yasser Abed Rabbo, as well as the Quartet's Roadmap, both of which provide for an Israeli withdrawal from almost all the Palestinian territories Israel seized in 1967 and the repatriation of hundreds of thousands of settlers. Sharon would rather die than agree to any such plan.
His strategy is to sacrifice Gaza, in order to hold the West Bank -- or as much of it as he possibly can. This is a classic right-wing Israeli strategy: Menachem Begin returned Sinai to Egypt under the 1979 peace treaty in order to hold the West Bank, which remains the prime focus of Israeli expansionists, both secular and religious.
Click here to comment on this article
Bush to reassure PM: Israel won't have to retreat to Green Line
By Aluf Benn
Haaretz
The United States will assure Israel that it will not have to withdraw to the Green Line in a future permanent settlement with the Palestinians. The promise appears in a letter of guarantees drafted by the American administration in exchange for Prime Minister Ariel Sharon's disengagement plan.
The U.S. rejected Israel's request to recognize the future annexation of the large settlement blocs in Ma'ale Adumim, Ariel and Etzion. Instead of referring explicitly to the settlements, the Americans propose a vaguely worded letter, which Israel would be able to present as implied recognition of the settlement blocs.
The American draft also says the Palestinian refugees will be able to return to a future Palestinian state, which will be established in keeping with President George Bush's vision. This wording will partially meet Israel's demand that the U.S. declare its objection to the right of return, which the Palestinians insist on.
Two principles guided the administration in drafting the letter of guarantees to Israel - support for the disengagement plan and providing answers for Sharon's political needs, and refraining from taking political or legal undertakings which could tie the U.S.'s hands in the future and hinder its contacts with its friends in the Arab world and Europe. The Americans don't want Egypt and other countries to pressure them to give counter guarantees to the Palestinians. [...]
Comment: It is all out in the open for everyone to see. Nothing is being hidden. No one will be able to claim ignorance later on.
Click here to comment on this article
By Boris Kagarlitsky
Thursday, Apr. 1, 2004. Page 9
A recently published report on civil liberties in 2003 by the New York-based Freedom House organization has recognized 89 countries as "free," 55 as "partially free" and 48 as "not free." The appraisal was based on a system of half-point gradations, where 1.0 is the best score and 7.0 the worst. Pretty much like at school, then.
It's no surprise that the worst marks went to North Korea, Cuba, Iraq, Libya, Saudi Arabia, Sudan, Syria and Turkmenistan. Russia fell into the category of partially free countries along with Ukraine, Moldova, Azerbaijan, Armenia and Georgia. Indonesia, Argentina, Ethiopia, Nigeria, Turkey, Venezuela and Columbia are in the same group.
Things become more interesting when we look at the actual figures awarded. Russia received 5.0, a very poor score. Of all of the European former Soviet republics, only Belarus fared worse with 6 points. Even Turkey earned a higher rating, 3.5. According to the Freedom House experts, Tajikistan (5.5) is freer than Belarus.
But Georgia and Ukraine were rated at 4.0, Moldova 3.5 and the Baltic republics came out near the top of the class with 1.5 each. Other results of interest were Mongolia (3.0), Bulgaria (1.5), the Czech Republic (1.5), Greece (1.5), Japan (1.5), France (1.0) and Germany (1.0). The United States, of course, scored 1.0.
A real blow for Argentina. Evidently the experts didn't think they could classify as truly free a country where the people can kick the parliament and the president out onto the street.
And a blow for Russia, too. You can't call Russia a democratic state, but at least we don't deny a third of our citizens their rights, like Latvia. Russian national politics holds a contradictory position, between liberal declarations of equality and the daily discrimination practiced against the Muslim minority. But then the Latvian government doesn't even make these declarations; it has nothing more important to do than destroy the schools of national minorities.
The pressure that the authorities in Ukraine put on the opposition is no less serious than in Russia; the only difference is that in Moscow the authorities are better at implementing the policy than those in Kiev.
One guarantee for democracy in former Soviet countries is, apparently, an absence of effective centralized power. Is it really true that Shevardnadze's Georgia was freer than Putin's Russia?
The scores are based on 2003 data, but the "Rose Revolution" overthrew Shevardnadze in November. Even if the new situation compelled Freedom House to sharply increase the country's rating, it's still somewhat confusing.
Has the increase in freedom since Georgia's change in leadership been so marked? The 90 percent of votes that Mikheil Saakashvili received is evidently considered more democratic than Putin's official total of 71 percent.
I must confess that I am delighted for Mongolia. But all the same, a few unpleasant thoughts still linger at the back of my mind. Why, for example, do the Baltic republics appear in the same category of countries as others that have a well-established history of economic development? Is it a high mark for Latvia and Estonia, or a low mark for Greece and Japan? And what did the Czech Republic do wrong? After all, their political institutions are identical to those in Western Europe.
When one of my friends saw the results, he reminded me that the teacher's marks take account not only of progress, but also of the behavior and enthusiasm of the students. For example, while Tajikistan has allowed the building of a U.S. military base, Lukashenko's Belarus has not. Neither country has a democracy to be proud of, but now everyone should be aware: authoritarianism with U.S. bases is not the same as authoritarianism without them.
If we are all students, then we are learning from the ideologies of Freedom House, our teacher. But their approach is clear as day. It all comes down to the principle that U.S. leadership in international affairs is essential to the cause of human rights and freedom.
With a perfect 1.0 score, the United States is a straight-A student. There may be irregularities in Florida's vote count, an extravagant system of voter registration and an 18th-century electoral system, but none of these factors matter.
This noble desire of U.S. conservatives to teach the world democracy is most laudable. Just don't be surprised when the results are less than successful.
After all, we students are just doing as our teacher tells us.
Comment: As this writer suggests, the US line on democracy has more to do with how well countries obey US "leadership" than with any real and effective control of their governments by the governed. One would think that this was obvious. It is to most people outside of the US. This leads us to think that reports such as this are done for internal consumption within the US. It is propaganda aimed at US citizens to lull them ever deeper into sleep.
Click here to comment on this article
Pentagon will miss deadline to eliminate weapons of mass destruction: Congress
06:13 AM EST Apr 02
WASHINGTON (AP) - U.S. congressional investigators warned Thursday about the ballooning cost and missed deadlines plaguing the army's efforts to rid itself of 28,000 tonnes of chemical weapons.
The army has made little progress in the last six months and continues to fall farther behind schedule to meet its deadline under an international treaty, said Raymond Decker, director of defence capabilities and management for the General Accounting Office, the investigative arm of Congress.
Click here to comment on this article
'I saw papers that show US knew al-Qa'ida would attack cities with aeroplanes'
Whistleblower the White House wants to silence speaks to The Independent
By Andrew Buncombe in Washington
The Independent
02 April 2004
A former translator for the FBI with top-secret security clearance says she has provided information to the panel investigating the 11 September attacks which proves senior officials knew of al-Qa'ida's plans to attack the US with aircraft months before the strikes happened.
She said the claim by the National Security Adviser, Condoleezza Rice, that there was no such information was "an outrageous lie".
Sibel Edmonds said she spent more than three hours in a closed session with the commission's investigators providing information that was circulating within the FBI in the spring and summer of 2001 suggesting that an attack using aircraft was just months away and the terrorists were in place. The Bush administration, meanwhile, has sought to silence her and has obtained a gagging order from a court by citing the rarely used "state secrets privilege".
She told The Independent yesterday: "I gave [the commission] details of specific investigation files, the specific dates, specific target information, specific managers in charge of the investigation. I gave them everything so that they could go back and follow up. This is not hearsay. These are things that are documented. These things can be established very easily."
She added: "There was general information about the time-frame, about methods to be used ­ but not specifically about how they would be used ­ and about people being in place and who was ordering these sorts of terror attacks. There were other cities that were mentioned. Major cities ­ with skyscrapers."
The accusations from Mrs Edmonds, 33, a Turkish-American who speaks Azerbaijani, Farsi, Turkish and English, will reignite the controversy over whether the administration ignored warnings about al-Qa'ida. That controversy was sparked most recently by Richard Clarke, a former counter-terrorism official, who has accused the administration of ignoring his warnings. [...]
"President Bush said they had no specific information about 11 September and that is accurate but only because he said 11 September," she said. There was, however, general information about the use of airplanes and that an attack was just months away.
To try to refute Mr Clarke's accusations, Ms Rice said the administration did take steps to counter al-Qa'ida. But in an opinion piece in The Washington Post on 22 March, Ms Rice wrote: "Despite what some have suggested, we received no intelligence that terrorists were preparing to attack the homeland using airplanes as missiles, though some analysts speculated that terrorists might hijack planes to try and free US-held terrorists."
Mrs Edmonds said that by using the word "we", Ms Rice told an "outrageous lie". She said: "Rice says 'we' not 'I'. That would include all people from the FBI, the CIA and DIA [Defence Intelligence Agency]. I am saying that is impossible."
It is impossible at this stage to verify Mrs Edmonds' claims. However, some senior US senators testified to her credibility in 2002 when she went public with separate allegations relating to alleged incompetence and corruption within the FBI's translation department.
Click here to comment on this article
A Bush comedy routine to die for
Frank Rich NYT
The White House, so often masterly in its TV management, particularly where 9/11 is concerned, has been wildly off its game. First, the White House press secretary said that Bush was too busy to watch the hearings - always a bad idea in a country of TV addicts. Soon administration emissaries went on full-court press to chastise Clarke for promoting a self-serving book at the height of election season. The only problem with that strategy is that one of its creators, Bush's once and future communications czar, Karen Hughes, was just days from starting her current nonstop TV tour to hype her own self-serving book about her White House tenure (9/11 included).
Bill Frist, the Senate majority leader, went even further, attacking Clarke's book as an attempt to profiteer on his inside access and "highly classified information." Apparently Frist did not know that the White House itself had vetted Clarke's book for possible security transgressions and approved it. [...]
Comment: As we have been saying on these pages, it is clear that someone has the "knives out" for the Bush regime.
Click here to comment on this article
The Dogs That Didn't Bark

Why Colin Powell and George Tenet aren't bashing Richard Clarke.
By Fred Kaplan
Wednesday, March 31, 2004
In the short story "Silver Blaze," Sherlock Holmes solves the mystery of a stolen racehorse by observing that the stable's guard dog didn't bark—hence, the intruder was not a stranger.
The mystery of whether Richard Clarke is telling the truth about President Bush's counterterrorism policies might be solved the same way: Which dogs aren't barking? Amid all the administration officials bombarding the airwaves with denunciations, who has stayed mum?
The answer: Secretary of State Colin Powell and CIA Director George Tenet, and their silence speaks loudly. [...]
Click here to comment on this article
Bush Aides Block Clinton's Papers From 9/11 Panel
By PHILIP SHENON and DAVID E. SANGER
New York Times
April 2, 2004
WASHINGTON, April 1 — The commission investigating the Sept. 11 attacks said on Thursday that it was pressing the White House to explain why the Bush administration had blocked thousands of pages of classified foreign policy and counterterrorism documents from former President Bill Clinton's White House files from being turned over to the panel's investigators.
The White House confirmed on Thursday that it had withheld a variety of classified documents from Mr. Clinton's files that had been gathered by the National Archives over the last two years in response to requests from the commission, which is investigating intelligence and law enforcement failures before the attacks.
Scott McClellan, the White House spokesman, said some Clinton administration documents had been withheld because they were "duplicative or unrelated," while others were withheld because they were "highly sensitive" and the information in them could be relayed to the commission in other ways. "We are providing the commission with access to all the information they need to do their job," Mr. McClellan said.
The commission and the White House were reacting to public complaints from former aides to Mr. Clinton, who said they had been surprised to learn in recent months that three-quarters of the nearly 11,000 pages of files the former president was ready to offer the commission had been withheld by the Bush administration. The former aides said the files contained highly classified documents about the Clinton administration's efforts against Al Qaeda.
The commission said it was awaiting a full answer from the White House on why any documents were withheld. [...]
Click here to comment on this article
Rice sets date for September 11 testimony
AFP
Friday April 2, 11:23 AM
US national security advisor Condoleezza Rice will testify under oath on April 8 before the commission investigating the September 11 attacks, a White House official said. [...]
Click here to comment on this article
Kerry takes a poll lead over Bush

AFP
Thursday April 1, 11:54 PM
Democratic presidential contender held slight lead over Republican incumbent George W. Bush in a US presidential election opinion poll.
Kerry was ahead 49 percent to 46 percent in the Los Angeles Times poll released Thursday ahead of the November 2 election.
The Massachussets senator leads even if consumer advocate Ralph Nader, who took votes from the Democrats in the 2000 election, takes part again. [...]
Click here to comment on this article
RNC opens assault on anti-Bush groups
Thursday, April 1, 2004 Posted: 7:54 AM EST (1254 GMT)

WASHINGTON (CNN) -- The Republican National Committee launched a wide-ranging legal assault Wednesday on more than two dozen political groups working to defeat President Bush.
The committee says the groups are part of an "unprecedented criminal enterprise" to circumvent federal campaign laws and pour illegal soft money contributions into the 2004 race.
In a complaint filed with the Federal Election Commission, the RNC also charged that the groups are illegally coordinating their advertising attacking Bush with the campaign of presumptive Democratic nominee Sen. John Kerry.
The Kerry campaign is named as a respondent in the complaint, along with the anti-Bush groups, their leaders and some of their large donors, including billionaire financier George Soros and Hollywood producer Steven Bing. [...]
Click here to comment on this article
New York settles "Barbie is a Lesbian" suit
By David Gregorio
Thu Apr 1,11:32 PM ET
NEW YORK (Reuters) - New York City public schools will allow students to wear clothes with political slogans after settling a lawsuit with a teen-age girl who was suspended for wearing a T-shirt that said "Barbie is a Lesbian," her lawyer says.
"Students in the nation's largest school district will now have the First Amendment right to wear T-shirts and armbands that express controversial political views," attorney Ronald Kuby said.
Some 1.1 million students attend New York City public schools.
The city also agreed to pay $30,000 (16,000 pounds) to Kuby's client, 15-year-old Natalie Young, a lesbian who was sent to the principal's office in April 2002 when she showed up at her school in the Queens borough wearing her "Barbie is a Lesbian" T-shirt. [...]
Comment: Um, weren't all Americans always supposed to have the right to express controversial political views?
Click here to comment on this article
Germans accuse US over Iraq weapons claim
Luke Harding in Berlin
The Guardian
Friday April 2, 2004
An Iraqi defector nicknamed Curveball who wrongly claimed that Saddam Hussein had mobile chemical weapons factories was last night at the centre of a bitter row between the CIA and Germany's intelligence agency.
German officials said that they had warned American colleagues well before the Iraq war that Curveball's information was not credible - but the warning was ignored.
It was the Iraqi defector's testimony that led the Bush administration to claim that Saddam had built a fleet of trucks and railway wagons to produce anthrax and other deadly germs.
In his presentation to the UN security council in February last year, the US secretary of state, Colin Powell, explicitly used Curveball's now discredited claims as justification for war. The Iraqis were assembling "mobile production facilities for biological agents", Mr Powell said, adding that his information came from "a solid source".
These "killer caravans" allowed Saddam to produce anthrax "on demand", it was claimed. US officials never had direct access to the defector, and have subsequently claimed that the Germans misled them.
Yesterday, however, German agents told Die Zeit newspaper that they had warned the Bush administration long before last year that there were "problems" with Curveball's account. "We gave a clear credibility assessment. On our side at least, there were no tricks before Colin Powell's presentation," one source told the newspaper.
Officially, Germany's intelligence agency, the BND, has refused to comment.
The revelation is embarrassing for the Bush administration and appears to bolster the contention that it used dubious intelligence in a partisan manner in the critical few weeks before the invasion of Iraq.
It has now emerged that Curveball is the brother of a top aide of Ahmad Chalabi, the pro-western Iraqi former exile with links to the Pentagon. [...]
Recently, American officials have admitted that Curveball's information was false. [...]
Comment: Let us get this straight: The Bush Administration had credible intelligence that terrorists might use airliners as "weapons" and ignored it. Worse than ignoring it, they tried to cover it up.
Then, the Bush Administration believed and/or manufactured fraudulent evidence justifying an attack on Iraq.
The evidence is mounting that the Bush Administration repeatedly believes lies and rejects truth.
This means that the Bush Administration is either too stupid to be in charge or they are criminals. If they are just stupid, but well-meaning, then they will admit their stupidity. If they continue to deny responsibility, then they are criminals. It's that simple.
Click here to comment on this article
Australian government steps up attack on Labor leader over Iraq
Fri Apr 2, 2:34 AM ET

SYDNEY, (AFP) - The Australian government stepped up pressure on opposition leader Mark Latham after a senior defence official issued a statement undermining the basis of Labor's decision to withdraw troops from Iraq if it wins the election.
In a statement issued late Thursday, defence department deputy secretary Ron Bonighton denied telling Latham he did not believe Iraq's weapons of mass destruction posed a major threat during a briefing for the opposition leader.
However Latham continued to insist Friday the information he received from Bonighton had convinced him Australian troops should be out of Iraq as soon as possible. [...]
Click here to comment on this article
U.S. says al Qaeda under "catastrophic stress"
By Vicki Allen
Thursday April 1, 08:49 PM
WASHINGTON (Reuters) - The al Qaeda network is under "catastrophic stress" and linking with smaller organisations to survive, a top Bush administration terrorism official has said.
Al Qaeda remains a "potent force," Cofer Black, the State Department's counterterrorism coordinator, told a House of Representatives subcommittee on Thursday, but he depicted a decentralised organisation in which most seasoned leaders have been killed or captured.
They have been replaced by inexperienced people prone to mistakes, such as a November bombing in Saudi Arabia that killed mostly Muslims, he said.
But he also told a House International Relations subcommittee that there was "mounting evidence of al Qaeda's links" to the March 11 bombing in Madrid that killed 191 people, the deadliest attack in Europe since the 1988 bombing of an airliner over Lockerbie, Scotland. [...]
Click here to comment on this article
Pentagon Wants New Generation Of Smaller Cheaper Nukes
by Pamela Hess
Washington (UPI) Apr 02, 2004
A panel of independent advisers is counseling the Pentagon to develop smaller, specialized nuclear weapons using money saved from cutting back on the number of older nuclear warheads and their attendant maintenance costs.
The Pentagon has already earmarked $500 million over the next five years for research into a "Robust Nuclear Earth Penetrator," a nuclear missile that could burrow into underground bunkers to attack an enemy's nuclear or chemical missile programs.
The program is controversial: The United States has not produced a new nuclear weapon in more than a decade, and has not tested its warheads with an actual explosion since 1992. Congress put significant restriction on spending for RNEP, requiring two separate approvals before Congress before a new weapon can be built.
The Pentagon insists the weapon is needed.
"Underground facilities are proliferating throughout the world," said Linton Brooks, the director of the Energy Department's National Nuclear Security Administration, at a meeting with reporters Thursday. "Generic dictators are only deterred by (the United States) holding what they value at risk. They tend not to value their population but their instruments of power."
Those instruments of power are likely to be hidden deep underground where a conventional military assault can't reach them. [...]
Comment: Notice that they say underground bases are "proliferating"... Well, what a surprise!
Click here to comment on this article
Ex-Official Says Bush Govt Covered Up Spill Cause
April 2, 2004
NEW YORK - A whistle-blower has accused the Bush administration of trying to protect the company responsible for a 2000 coal slurry spill for political reasons, according to CBS Television's "60 Minutes."
Jack Spadaro, former head of the National Mine Health and Safety Academy, said on the show to be aired on Sunday that the Department of Labor whitewashed a report that held mining company Massey Energy Co., a contributor to the Republican Party, responsible for the spill.
The Oct. 11, 2000, spill from the mining company's containment pond poured 300 million gallons of coal sludge into water supplies in Kentucky and West Virginia.
"The Bush administration came in and the scope of our investigation was considerably shortened," Spadaro, who helped investigate the spill for the Mine Safety and Health Administration, said on the CBS show.
He called it "interference with a federal investigation of the most serious environmental disaster in the history of the eastern United States." [...]
Click here to comment on this article
Bomb found on Spanish rail track
Friday, 2 April, 2004

Spanish police have found an explosive device on a high-speed railway between Madrid and Seville, Interior Minister Angel Acebes said.
Traffic on the line was halted after the discovery at Mocejon, in the Toledo area, Mr Acebes said.
A rail employee raised the alert after seeing a suspicious package on the line half an hour outside Madrid and at least 10 trains have been halted.
Spain's rail system is particularly busy ahead of the Easter holidays.
Click here to comment on this article
Three letter bombs intercepted in Spain
Thursday April 1, 08:12 PM
MADRID (Reuters) - Three letter bombs addressed to Spanish media organisations have been intercepted in Spain, three weeks after 191 people were killed in suspected al Qaeda train bombings.
Police explosives experts defused two of the letter bombs and blew up a third after they were detected by a scanner at a mail distribution centre in the northern city of Zaragoza on Thursday, the Interior Ministry said.
The discovery of the bombs came at a time when Spaniards' nerves remain on edge following the March 11 bombings of four Madrid commuter trains -- the first attack in the West linked to Osama bin Laden's al Qaeda network since the September 11, 2001 strikes on New York and Washington.
An Interior Ministry source said authorities did not know who was responsible for the letter bombs, which were addressed to executives at newspaper La Razon, radio station COPE and broadcaster Antena 3. [...]
Click here to comment on this article
Two parcel bombs intercepted in Rome
Thursday April 1, 05:45 PM
ROME (Reuters) - Two parcel bombs addressed to senior officials of Italy's prison system, one of them a former anti-Mafia investigator, have been intercepted.
The parcels, each containing 100 grams of explosive powder and a detonator hidden in a video cassette holder, were intercepted at a post office because they appeared suspect, police said on Thursday. [...]
Click here to comment on this article
Hatred of Jews and Muslims takes root in France
April 1, 2004
PARIS (Reuters) - Hatred of Jews and Muslims has taken root in France, with anti-Semitism behind most racist crime and hostility towards Islam on the rise, a national human rights commission says in its annual report.
The persistent high level of such hate crimes and the spread of racist attitudes among school pupils are serious causes of concern, even if the overall number of racist crimes fell last year compared to 2002, it said on Thursday. [...]
Thoraval said outside events had a direct influence on hate crimes but did not identify the perpetrators and victims.
The final version of a controversial European Union report issued on Wednesday blamed "young, disaffected white Europeans" for the rise in anti-Semitic violence. An earlier version had blamed Muslim youths for the rise in attacks on Jews in Europe.
"Anti-Semitic violence is taking root and getting worse," Thoraval said of the situation in France after presenting his report to Prime Minister Jean-Pierre Raffarin.
Anti-Semitic violence accounted for 72 percent of the hate crimes and threats registered in France last year, or 588 out of 817, the report said. In 2002, 932 of the 1,313 acts of racist violence were anti-Jewish.
Regarding other racist violence, four-fifths of attacks and threats were against Muslims, the report said. [...]
Comment: First it was Muslims who were blamed, and now it's "disaffected white Europeans". It is also rather peculiar that the problem of anti-Semitism is said to be increasing. While the percentage of hate crimes against Jews versus those against non-Jews increased from 71% in 2002 to 72% in 2003, the total number of hate crimes against Jews in 2003 dropped by 37% versus 2002. Hate crimes against non-Jews dropped by 38%. These figures, in fact, represent a dramatic improvement. One wonders exactly what motives this "national human rights commission" has in making their claim that hate crimes against any group in France are getting worse.
Click here to comment on this article
Chirac puts emphasis on jobs, growth in bid to sway angry French voters
April 2, 2004
PARIS (AFP) - French President Jacques Chirac said he had heard the message of voters who dealt his ruling party a defeat in regional polls, vowing renewed efforts to fight unemployment and spur economic growth.
"The government must take this message into account, by being more than ever before on the offensive in two areas -- employment and growth -- and then by having the fundamental need for social justice at heart," Chirac said.
In a 45-minute live televised interview, Chirac touched on a variety of subjects -- from health insurance to joblessness -- that angered voters and led to a regional wipe-out on Sunday for his ruling center-right party. [...]
"Our deficits are no longer acceptable to our partners, and our indebtedness is such that in reality, we will pass on the cost of our current comfort to our children in a most unacceptable way," he said.
"This is not possible. We must rediscover a way to manage spending," he added. [...]
Comment: Thatcherism is coming to France. It didn't work in the UK. It didn't work in Canada. And it certainly hasn't worked in the US. (Remember California's energy problems and Enron.) It hasn't worked anywhere it has been applied, not if you are poor or out of work. It permits psychopathic capitalists to buy up public works for a song and then raise prices on public services.
So it has worked beautifully!
Click here to comment on this article
Sarkozy pledges 'growth and jobs'
New French Finance Minister Nicolas Sarkozy has vowed to boost growth and create jobs, in defiance of claims that reform may be allowed to slacken.
Mr Sarkozy was installed in France's finance, economy and industry ministry in this week's cabinet reshuffle, which critics say was not thorough enough.
Comment: Jacques Chirac was given a blow to the solar plexus in the recent regional elections in France. By appointing Nicolas Sarkozy, his enemy with the ruling UMP party and the government's most popular minister, to the Finance post, Chirac is hoping that the economic situation will deteriorate enough before it improves that the blame will fall on Sarko's shoulders. Then Chirac can dump him while Sarkozy is in the public's bad graces.
Sarkozy, for his part, loves a challenge. If he is able to create jobs, then he figures that he will be a shoe-in as the right's candidate for president in 2007, much to Chirac's apoplectic displeasure.
Click here to comment on this article
Chirac to visit top secret space center during Moscow visit
Fri Apr 2, 2:23 AM ET

MOSCOW (AFP) - French President Jacques Chirac is due to visit Russia Saturday and become the first Western head of state to see a top secret space center -- a sign of improving relations between Paris and Moscow.
Chirac's visit to the Krasnoznamensk center outside Moscow is seen in Western diplomatic sources here as a "sign of friendship and confidence" on the part of Russian President Vladimir Putin. [...]
Click here to comment on this article
US's Heavy Hand Behind Brazil's Military Coup

On March 31, 1964, just declassified documents show, the American ambassador to Brazil received a secret message from the U.S. It stated that President Johnson had decided to send a naval task force to take up position off the coast of Brazil and assemble an airlift of ammunition and CS agent, a gas for mob control.
Click here to comment on this article
Major Pile-Up Closes I-15 Between Los Angeles and Las Vegas
KFMB-TV
04-01-2004
The fog in California may be to blame for a massive car pile-up on Interstate 15 Thursday, according to authorities.
Nearly 50 to 60 cars and big-rig trucks along the Cajon Pass were involved in the chain reaction accident. At least two dozen people are reported to be injured.
Fire officials said at least four accidents along a two-mile stretch of the freeway, the main highway between Los Angeles to Las Vegas, started the accident around 6 a.m. Thursday.
Northbound lanes of Interstate 15 were shut down for several hours while crews cleaned up the mess.
Click here to comment on this article
Scientists Predict Major SoCal Quake Within Five Months
April 1, 2004
LOS ANGELES -- A state earthquake council has given a qualified endorsement to a prediction by a group of scientists who believe that a temblor of magnitude-6.4 or greater will occur in the Southern California desert sometime in the next five months.
The California Earthquake Prediction Evaluation Council, a group of eight scientists selected by the state Office of Emergency Services, said it considers the new prediction by the scientists to be "a legitimate approach in earthquake prediction research."
Despite its support the panel noted in a report that "the physical basis for the prediction has not been substantiated."
The team of scientists at the University of California, Los Angeles, predict that a quake will occur within a 12,000-square-mile area east of Los Angeles by Sept. 5. The zone includes a large swath of the Mojave Desert, the Coachella Valley, the Imperial Valley and eastern San Diego County.
The area was the location of the magnitude-7.3 Landers earthquake in 1992 and the 7.1 Hector Mine quake in 1999.
The zone is so seismically active that the council noted in its report that the chances of an earthquake of at least magnitude-6.4 occurring randomly in the area sometime before the Sept. 5 deadline is about 10 percent.
The council concluded that the results do not warrant any special public policy actions in California. Such actions could include warnings to the public or alerts issued to utilities to help them prevent disruptions in service.
The scientists piqued interest after they forecast the magnitude-6.5 San Simeon quake in December and the magnitude-8.1 quake last year off Japan's Hokkaido island. In both cases, the group set wide parameters in place and time.
The team bases its predictions on long chains of small earthquakes recorded in the area.
"In the vicinity of each such chain, we look backward and see its history over the preceding years -- whether our candidate (for an earthquake) was preceded by certain seismicity patterns," said lead team scientist Vladimir Keilis-Borok. "If yes, we accept the candidate as a short-term precursor and start a nine-month alarm."
Click here to comment on this article
Colorado Wildfire Nearly Doubles in Size
AP
Thu Apr 1,12:49 PM ET
FORT COLLINS, Colo. - Authorities asked dozens of families to evacuate Thursday as a 2,000-acre wildfire turned toward a subdivision in the foothills of northern Colorado.
The evacuation was voluntary, but fire information officer John Bustos said the blaze was "very active" and was being fed by wind gusting to 35 mph. The fire nearly doubled in size overnight.
It was unclear how many people live in the subdivision, but Bustos said there were about 80 homes in the community west of Fort Collins. Automated warning calls were placed to the homes before dawn.
The fire is an ominous sign of what could be a long, brutal fire season. Colorado remains mired in a drought with no sign of relief. [...]
Click here to comment on this article
FCC LEADER TO STAY TUNED TO RACY SOAPS
By Chris Baker
THE WASHINGTON TIMES
April 2, 2004
Soap operas have become a potential target in the Federal Communications Commission's crackdown on broadcast indecency, according to a key official who said the programs might be too "steamy" for daytime television.
Michael J. Copps, the FCC commissioner who has led the agency's campaign against adult-oriented radio programs, told reporters Wednesday that the FCC should review whether soap operas violate the agency's indecency prohibitions, according to Television Week, an industry trade publication.
Mr. Copps, one of two Democrats on the five-member panel, said he stumbled across a racy soap-opera scene while channel-surfing recently.
"It was pretty steamy stuff for the middle of the afternoon," Mr. Copps said.
Under FCC rules, over-the-air television and radio stations cannot broadcast material involving sexual and excretory functions between 6 a.m. and 10 p.m., when children might tune in. The FCC does not regulate content that airs on cable and satellite television. [...]
Click here to comment on this article
CNN Errs on Reporting Bush-Letterman Bit
By FRAZIER MOORE, AP Television Writer
Thu Apr 1, 1:15 PM ET
NEW YORK - What began on David Letterman's "Late Show" as a comedy bit needling President Bush turned into a comedy of errors when CNN incorrectly reported that the White House had cried foul.
Then Letterman — apparently not getting CNN's message that it had made the mistake until he was well into his Tuesday broadcast — only heightened the confusion.
The whole thing started during a collection of video clips Letterman showed Monday under the label "George W. Bush Invigorates America's Youth."
One showed Bush at a March rally in Orlando, Fla., standing at a lectern with several listeners behind him — among them, a boy in his early teens who could barely stay awake. While Bush spoke, the young man yawned, twisted his head, checked his watch and generally seemed dead on his feet.
Tuesday morning, CNN attempted to lighten its news mood by running the segment, credited to CBS' "Late Show with David Letterman," on its "CNN Live Today."
But then CNN host Daryn Kagan added: "We're being told by the White House that the kid, as funny as he was, was edited into that video, which would explain why the people around him weren't really reacting."
Later, during CNN's "Live From ...," anchor Kyra Phillips reran the tape but cautioned viewers: "We're told that the kid was there at that event, but not necessarily standing behind the president."
The truth was: The White House never complained, and the footage was real.
On Tuesday night, Letterman aired Kagan's and Phillips' skeptical remarks and ranted: "An out-and-out, 100 percent absolute lie. The kid absolutely was there and he absolutely was doing everything we pictured via the videotape."
"So when you cast your vote in November," he urged, "just remember that the White House was trying to make ME look like a DOPE."
By then, CNN had owned up to its mistake, and placed a call to Letterman's New York headquarters before the 5:30 p.m. taping began. But the tape was already rolling before Letterman got the word.
"According to this," he said during the show, referring to an index card in his grasp, "CNN has just phoned and ... the anchorwoman misspoke. They never got a comment from the White House. It was a CNN mistake."
So then he wailed: "Now I've called the White House liars, and you know what that means — they're going to start looking into my taxes!"
Though CNN spokeswoman Christa Robinson noted that "we frequently air late-night comedy show clips," on Thursday she confirmed the "misunderstanding among our staff" surrounding the yawning-boy video.
Meanwhile, Kagan made an on-air show of contrition.
"Dave, we apologize for the error," she said, offering to come on his show for a Stupid Human Trick.
Comment: In other words, either the White House or its lapdog media outlet, CNN, tried to do damage control when they showed the clip the following day. If the White House instructed CNN to debunk the clip, it is further proof that CNN spews government propaganda. If CNN tried to cover for the White House on their own, it is still further proof that CNN tows the line of the administration. In any case, Letterman didn't play ball, and CNN took the blame - after all, they couldn't have their masters in the White House looking bad in an election year. Oops, too late! Then again, how many Americans will actually sit up and take notice?
Click here to comment on this article
Smithsonian Magazine
April 2004
Who built them and why? An amateur archaeologist tries to get to the bottom of some astonishing structures in Tibet and Sichuan Province, China
Martine "Frederique" Darragon set out from New York City for the hinterlands of western China and Tibet in 1998 to pursue an interest in the endangered snow leopard when she fell under the spell of another elusive phenomenon: old stone towers, some vaguely star-shaped and some more than 100 feet tall, scattered across the foothills of the Himalayas. Yet when she asked local residents about the towers—Who built them? When? Why?—nobody seemed to have a clue. What she had stumbled upon was rare indeed: a riddle in plain sight. [...]
Click here to comment on this article
Ghostbusters study Sicily's blazes
By Shasta Darlington
Fri 2 April, 2004 05:49
CANNETO DI CARONIA, Sicily (Reuters) - The gate at the entrance to this tiny Sicilian village has come off its hinges and swings in the wind as cats wander into homes abandoned after a series of mystery fires.
This is not your average ghost town.
Canneto di Caronia has been taken over by an endless flow of scientists, engineers, police and even a few self-styled "ghostbusters" searching for clues to the recent spontaneous combustion of everything from microwave ovens to a car.
The fires started in mid-January and have claimed home appliances and fuse boxes in about half of the 20 odd houses. The blazes originally blamed on the devil himself have not hurt anyone.
After a brief respite last month, the flames have flared up again almost daily even though electricity to the village was cut off long ago.
"We're working in the dark. We don't have a single lead so far," said Pedro Spinnato, mayor of the trio of Caronia towns.
"Every time some new scientist comes to town they arrive thinking the whole thing has been invented or that they're going to solve the mystery in two minutes. They've all been wrong." [...]
"I've seen an air conditioner burst into flames and burn down in 30 seconds. These are not normal events, but I think we're going to have to start looking for a different kind of help," said Antonio Pezzino, whose house was first hit. [...]
"The fact that the phenomenon occurs only when there are people present makes it hard to believe that it is a natural, or even supernatural phenomenon," said Massimo Polidoro. [...]
The hypotheses now range from a build-up of electrical energy caused by grounding wires running off the railway to a rare "natural phenomenon" in which surges of electricity rise from the earth's core.
The fires have even consumed unplugged lamps and an entire apartment. Black scorch marks still scar the apartment walls.
Italy's big utility Enel cut off electricity to the town and hooked it up to a generator -- but that caught fire as well. [...]
Comment: We have been following these Mystery Fires since they began. See our Signs Supplement on Fortean Fire.
Click here to comment on this article
BY JAMES RENNER
Clevescene.com
In 1966, Ohio cops chased a UFO into Pennsylvania. Then the government got involved, and things got really weird. [...]
Click here to comment on this article
Double whammy link to extinctions
By Paul Rincon
BBC News Online science staff
The chances that asteroid impacts and huge bouts of volcanism coincide randomly to cause mass extinctions may be greater than previously imagined.
UK researchers conducted statistical tests to determine the probability of such catastrophic events happening at the same time in Earth history.
They found massive releases of lava and space collisions should have overlapped three times in the last 300 million years.
Click here to comment on this article
And Finally...
Fat Hamster in Printer Sparks Rescue
Thu Apr 1, 7:43 AM ET

BERLIN (Reuters) - A hamster called "Teddy" sparked a police rescue mission after he climbed inside a computer printer and got stuck because he was too fat to get out again, authorities said Wednesday.
"Contrary to his normal habits, Teddy climbed inside a PC printer and was unable to get out because of his corpulence," police in the northern city of Flensburg said in a statement, adding that they initially thought it was an April Fool's joke.
Luckily for Teddy, a neighbor of his owner managed to free the hamster so the arriving police officer was spared the task.
"After all the commotion, the animal was already peacefully asleep again in his cage, having escaped with nothing but a few bruises," said the statement.
Click here to comment on this article
---
Remember, we need your help to collect information on what is going on in your part of the world!
We also need help to keep the Signs of the Times online.
---

Check out the Signs of the Times Archives

Send your comments and article suggestions to us

---
Fair Use Policy
Contact Webmaster at signs-of-the-times.org
Cassiopaean materials Copyright ©1994-2014 Arkadiusz Jadczyk and Laura Knight-Jadczyk. All rights reserved. "Cassiopaea, Cassiopaean, Cassiopaeans," is a registered trademark of Arkadiusz Jadczyk and Laura Knight-Jadczyk.
Letters addressed to Cassiopaea, Quantum Future School, Ark or Laura, become the property of Arkadiusz Jadczyk and Laura Knight-Jadczyk
Republication and re-dissemination of our copyrighted material in any manner is expressly prohibited without prior written consent.
.