---
Oh my. Where do we begin?
10,000 people may be dead after a tragic Iranian earthquake. That wasn't the only place on the planet that was rocked.
There was terrorism, rumors of terrorism, and hindered terrorism everywhere on our little planet. If there was no terrorism then very likely there were natural disasters, outright war or preparation for war. We live on a very strange planet.
The CIA is claiming lots of threats on the web that are advising Muslims to leave major cities in the US. Bombs were placed on Spanish trains. The Bush Reich may be secretly siphoning oil out of Iraq. A hyper-virulent form of TB was made in a lab, for no good reason, except they were monkeying around with the genetic structure. Plane crashes, mud slides, flooding, multiple earthquakes, psychopaths run amok and a warning about next year's hurricane season.
Old Frat Boy has it in for them darn Frenchies. First he negotiates with Libya so that US oil firms can get back into the North African country, without so much as mentioning this to Jacques Chirac. Then, to add insult to injury, he whips up another phony "credible evidence" security alert in order to cancel six Air France flights between LA and Paris over Christmas. Is this guy the Grinch or what? One of these days, Bush is going to have to organise another terrorist attack on his own countrymen in order to justify the repressive laws. Sometime close to the election, perhaps?
A French comedian, son of a French mother and Cameroonian father, had the audacity to make fun of the Jews! Dieudonne has been in trouble with the authorities before. He was taken to court a year ago for calling white Catholics "racist slavers." Seems like an equal opportunity anti-Cultist to us!
As Jihad al Khazen has pointed out repeatedly, the so-called rise in "anti-Semitism" happens to coincide with the election of Ariel Sharon as Prime Minister and the subsequent butchery of the Palestinians by the Israelis under Sharon's orders. This is the real reason for the anger people feel against Israel. It is convenient for the Israelis to twist this into "anti-Semitism," as if it were being expressed against Jews everywhere.
The first suicide attack in months hits Tel Aviv, and because of this, Israel gets to seal the West Bank and Gaza Strip. Again, Israel has to thank those pesky suicide bombers. Pakistan's president escapes another alleged assassination attempt.
A US defense official makes a Christmas visit to the troops in Iraq as the attacks on US troops, hotels, and foreign embassies continue.
It turns out that US airlines may have been saved by Gulf Invasion II. The Pentagon spent over a billion dollars on commercial flights to ferry troops and hardware to the Middle East.
Scientists still hopeful of 'love letter' from Beagle
Press Association
Friday December 26, 2003
The Mars Express orbits the planet, carrying the Beagle 2 probe
Beagle 2's chief scientist today said he was not giving up hope of finding the missing British-built Mars spacecraft, which should have landed on the planet yesterday.
No signal has yet been received from the spacecraft, but scientists are saying it is too early to suppose that it has been damaged or destroyed.
Comment: So many Mars craft, so little success. Unless, of course, someone has just changed the radio frequencies so that the transmissions are being monitored by someone else.
Interestingly enough, William Hill have cut their odds regarding, "official confirmation of the current existence of intelligent extra terrestrial life being forthcoming by the UK Prime Minister before the end of 2004 from 500/1 to 100/1."
Fear Factor Orange: Mind and Behavior Control in America,
Manuel Valenzuela, Christmas, 2003
Axis of Logic
[...] Since 9/11, we have been told that in order to be made safe, in order to live in tranquility, we must place our undying trust in Bush and our government. In Bush We Trust. We must do as our government dictates for only it knows what is good for us. Fed insecurity and fear on an almost constant basis, either through government or corporate media propaganda, we are systemically brainwashed into believing that nobody is safe, that our nation is being attacked and that the future of our children is in peril. Forces of evil greater than anything we have ever faced are said to be invisibly flying throughout the nation, like winds carrying a deadly virus or toxin intent on destroying our way of life from within. Only by following the dictates of Bush, only by ignorantly and blindly obeying his commands will salvation be in our grasp. Only then will we be delivered from evil into the valley of heavenly safety.
Terror alert undermines administration's safety claims
Some terror experts say raised alert shows Hussein's capture will not make US safer from attack.
By Tom Regan
csmonitor.com
Reuters reports many analysts and lawmakers believe that by putting the nation on high alert for terrorist attacks that could be bigger than those of 9/11, the Bush administration has undermined many of its recent claims of success against Al Qaeda. [...]
Barb Sumner Burstyn
It's a strange feeling to wake up one average, middle-class North American morning and realise your beliefs could get you killed. Not in a random, drive-by, developing-world, terrorist-bombing kind of way. But in an officially sanctioned, totally legal, death by lethal injection way.
At least, if President Bush's call on Congress on the eve of the second anniversary of September 11 to extend the death penalty is anything to go by.
It began in June when Attorney-General John Ashcroft told lawmakers that the death penalty needed to be expanded to cover "material supporters" of terrorist organisations. On the surface it seems fair enough. If you give money to al Qaeda then you have to expect a harsh penalty.
But there's a catch. They've changed the definition of terrorist. [...]
Iraq's Interim FM: Foreign forces needed, attacks - ''not resistance''
25-12-2003,13 :33
Iraq's Interim Foreign Minister Hoshyar Zebari said Thursday Iraqis want to recover their sovereignty "as soon as possible", but noted that foreign forces in his country were vital to maintain unity.
"The people of Iraq want to recover their sovereignty and their dignity as soon as possible," Zebari told reporters after meeting Arab League Chief Amr Mussa in Cairo.
Asked if Iraqis accept the US-led occupation of their country he replied: "The Iraqi people do not accept occupation ... but the situation in Iraq is complicated."
Baghdad rocked by attacks on Christmas day
Thu Dec 25, 1:49 PM ET

BAGHDAD (AFP) - Rockets and mortars pounded Baghdad on Christmas day as guerrillas launched their most serious offensive in Iraq since the capture of former dictator Saddam Hussein.
The city was awakened by thunderous booms and gunfire as guerrillas roamed the city, causing mayhem as they struck a major hotel and three foreign embassies.
Four rockets struck the citadel-like main US compound in the capital and an oil ministry guard post was sprayed with bullets. [...]
Top US defence official makes Christmas Eve visit to troops in Tikrit

TIKRIT, Iraq (AFP) Dec 24, 2003
A top US defence official paid a whistle-stop Chistmas Eve visit to American troops in Saddam Hussein's home town of Tikrit Wednesday, just hours after three men from the division based here were killed in a bomb attack.
Acting Secretary of the Army Les Brownlee told reporters he was making the holiday season trip "to let the soldiers know how much we appreciate what they're doing here." [...]
Against the war, for the soldiers
By Derrick Z. Jackson
Boston Globe
12/24/2003
DEAR AMERICAN SOLDIERS:
I wish you a safe holiday. Congratulations on being named Time magazine's Person of the Year.
You might find this strange coming from the journalistic equivalent of Scrooge. I was against the war. I wrote last week that despite the capture of Saddam Hussein, the war is still a lie. I believe history will be less kind than today's triumphant headlines. I believe that thousands of Iraqi babies, mothers, and fathers are dead because our political leaders created a panic over weapons of mass destruction that have not yet been found. I fear America will one day pay for our panic.
I also recognize and salute your personal courage. You are mothers and fathers, too. Many of you are also babies. Of the 460 American soldiers who have died in Iraq, 36 were 18 or 19 years old. My oldest son is 18. My best friend's son recently turned 21. My friend was also against the war. His son is in the military and may very well go to Iraq. My friend cried: "They're babies. Just babies."
On this eve of the Christian celebration of a baby, I celebrate you. In June, I wrote a column that said our soldiers must be dying for oil, since we found no weapons of mass destruction. I wrote, "Nearly another 50 soldiers have died in nebulous situations that range from justifiable self-defense to dubious overreactions more reminiscent of the shootings of American students and rioters by National Guardsmen in the 1960s." [...]
Dear American soldiers, perhaps there will come a day where the true fundamental strength of our country will be measured more by our diversity than by our ability to wage war. I trust we share that common dream even as we disagree about how to get there. I believe that in your hearts, you are trying to make the world a safer place, where diversity of political thought becomes a global value.
If it is of any solace to you, despite my opposition to the war, I salute the fact that you are ready to give your lives for an ideal. Be careful as you patrol the streets. Defend yourselves if you must.
When you can, take a hard look at the Iraqi man, woman, or child your gun is pointed at. You are in Iraq under the orders of the commander in chief. I cannot do anything about that. What I can wish for is that even as many Christians prepare to sing "Peace on earth, goodwill to men," that you find a way, one soldier at a time, to bring it to Iraq. I pray that babies stop killing babies.
PFLP vows more operations inside Israel after bomber kills four near Tel Aviv
25-12-2003,21 :12
Four people were killed Thursday evening and some 15 others were wounded when a Palestinian suicide bomber blew himself up at a bus station in Petah Tikva city, east of Tel Aviv.
Minutes after the bombing, the Martyr Abu Ali Mustafa Brigades, the military wing of the Popular Front for the Liberation of Palestine (PFLP), claimed responsibility for the attack, saying it came in retaliation for the killing of two of its members last week.
"This is the first operation in a series of retaliations. We swear to make an earthquake in the Zionist entity," the PFLP statement said.
Israel seals West Bank and Gaza
BBC
Israel has imposed a total closure on the West Bank and Gaza Strip after a suicide bomber killed four Israelis.
The blast, near Tel Aviv, was the first Palestinian suicide bombing in Israel for more than two months.
Israeli defence and intelligence officials are meeting to discuss a response to the attack. [...]
Abdulwahab Badrakhan Al-Hayat 2003/12/26
Ariel Sharon is proceeding with his plan to carve up the Palestinian territories and turn them into besieged and isolated plots, while the Arabs aren't giving any signs that they're aware of the danger in what's happening. Uri Avnery's analysis of the 'mysteries' of Sharon's speech are enough to realize how arrogant the occupation has become. The issue becomes even clearer since the speech gained the American president's blessing, through his National Security Advisor Condoleezza Rice. George Bush used to repeat that he disagreed with the Israelis about the separation wall, and that he considered it a dangerous measure, but he nevertheless ended up fully approving it, with all its repercussions.
[...] Sharon is changing facts in Palestine, whereas Bush is changing facts in the entire Middle East. Sharon has started benefiting from the Iraq war, just as George Bush has started exploiting it. The Europeans, who think they are doing what should be done, are assuming a role that was drawn for them, and pretending that their values and concepts, which are different from Bush's values and concepts, are prompting them to the initiative. They are taking the initiative, but upon American demands, and are aiming at fulfilling these, rather than improving them. That is why they are exerting pressure on the Palestinians, and the result of this pressure is the acceptance of the terrible reality which Sharon is suggesting. They are getting ready to exert pressure on Syria the same way, without having, as Europeans, any effective impact on the repercussions of these pressures, which they assumed themselves the mission of practicing.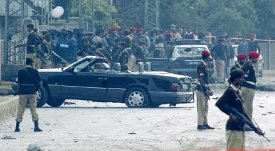 Pakistan's Musharraf survives second assassination bombing, 14 dead
Thu Dec 25, 1:28 PM ET

ISLAMABAD (AFP) - Pakistani President Pervez Musharraf escaped the second attempt on his life in 11 days when suicide bombers rammed his motorcade with two bomb-packed cars, killing 14 people, including a policeman, officials said.
Information Minister Sheikh Rashid said the windshield of Musharraf's car was hit by splinters but that the president was unhurt in the attack, which took place at a petrol station just two kilometres (1.2 miles) from his residence in the northern city of Rawalpindi. [...]
Two blasts went off in quick succession after attackers in two cars tried to ram the president's car at 1:40 pm (0840 GMT), leaving another 46 people injured, shattering windows across a wide area and knocking out the local power system. [...]
Bodies of would-be Musharraf assassins found
Agencies
Friday December 26, 2003
Investigators have found the bodies of three suicide bombers who yesterday failed in their attempt to assassinate Pakistani president General Pervez Musharraf and have identified one of them, the country's interior minister said.
Minister Faisal Saleh Hayyat declined to publicise the name or give details of the identified bomber for security reasons.
Randa Takieddine Al-Hayat 2003/12/26
Between 1988 and 1990, and following the 1982 American embargo on Libya, the European oil companies were able, by way of contracts, to develop Libyan oil and gas fields, resulting in a considerable rise in that country's production capacity.
In the absence of the American companies, various European groups, such as the French Total or the Italian Agep and others, became active, and brought the level of Libyan oil to vary between 45 and 50 billion barrels, while the gas level reached 43 trillion square meters.
[...] With Gadhafi's announcement to scrap the weapons of mass destruction program, there are doubts that the arsenal of weapons of mass destruction had developed into becoming a real threat, as the Americans claimed. But this announcement enables Bush to kill two birds with one stone. On one hand, he shows the Arab states that are not following his orders that the fate of its rulers could be similar to that of the former Iraqi president Saddam Hussein. On the other hand, he resumes the hegemony of the American oil companies over Libyan oil.
As for the other gain achieved by Bush, it is that he taught a lesson to France, which had refused to participate in the war on Iraq. So France's solidarity with the U.S. and Britain at the Security Council over the Lockerbie case was in vain. Even France found out that its initial agreement with Libya over the compensations to the families of the victims of the French plane UTA was a farce compared to what the families of the Lockerbie victims obtained. Thus, Gadhafi considered the life of the American citizen more valuable than the life of the French citizen, and that is because his first and primary concern is to gain American contentment, regardless of America's biased policy to Israel.
The superpower boasts an exceptional power of attraction to an Arab leader who wasted many years for his people and country, by squandering money on operations aimed at buying the permission for his rule and preparing the succession of his son, with American support.
Despite the fact that French diplomacy is more fair towards Arab causes, it finds itself isolated, because the U.S. penetrated Europe through Britain, Spain and Italy, and terrified Arab officials, who care for nothing but getting closer to Uncle Sam, because he is the strongest on the scene.
Paris-LA flights to resume: Air France
www.chinaview.cn 2003-12-26 00:30:50
PARIS, Dec. 25 (Xinhua) -- Air France flights between Paris and Los Angeles will get back to normal on Friday following the cancellation of six flights in the past two days for security concerns, the airline announced Thursday.
France finds no evidence to support US scare over Air France flights
Thu Dec 25,12:47 PM ET

PARIS (AFP) - [...] Six Air France flights -- three heading to and three coming from Los Angeles -- were cancelled Wednesday and Thursday after US officials contacted the French government to warn they had specific intelligence that Al-Qaeda intended to use the planes for an attack similar to the ones on September 11, 2001. [...]
"No material or human element -- no matter how slight -- has been discovered. There have been no arrests, no detentions, no confiscations," a French police source told AFP. [...]
He said the US intelligence given to the French counter-espionage service DST, based on wiretaps and other sources, had focused on one name that US authorities thought might be tied to Al-Qaeda.
But checks showed that the individual in question, a Tunisian man with a pilot's licence, was still in Tunisia, not France, and that he was not in French anti-terrorist files. [...]
Comment: So much for "specific intelligence"...
U.S. feared Las Vegas a target
Qantas flights to get armed guards
France terror hunt reveals little
The French authorities say they have found little evidence of plans to use US-bound aircraft to launch attacks against US targets over Christmas.
[...] US Homeland Security officials are reported to be upset that the flights were cancelled so publicly.
An unnamed official told the Associated Press news agency security forces had been "hoping that we would be able to lure some of these people in".
Terrorism expert Walter Purdy, of the Terrorism Research Center in the US, told BBC News the intelligence could have been better used to arrest the suspects at the airport.
He said: "Unfortunately now these individuals can still carry out this type of attack, though not on Air France or out of Paris."
Comment: Ah, the petty character of the Bush Administration. The French found absolutely no substance to the "credible threat" reported by the US. So what happened? Travelers who made the "mistake" of choosing Air France over an American carrier had their holidays ruined. This is another example of Bush's vindictiveness. He will neither forgive nor forget France's opposition to his invasion and occupation of Iraq, mounting insult upon insult like a spoiled child.
And the response from the guardians of US security? To blame the French for publicizing the cancellations, rather than using the passengers as guinea pigs to attract the "real" terrorists.
DPRK slams US on weapon deployment in demilitarized zone
www.chinaview.cn 2003-12-26 21:02:17
PYONGYANG, Dec. 26 (Xinhuanet) -- The official Korean Central NewsAgency (KCNA) on Friday condemned the United States for its deployment of ultra-modern weapons in the demilitarized zone southof the Military Demarcation Line (MDL), warming the move poses a serious threat to peace and stability on Korean Peninsula and surrounding area.[...]
Security raised in cities, airports, trains
WASHINGTON (CNN) -- Surface-to-air missiles were being deployed around Washington, state troopers were authorized to ride New York area commuter trains, and air travelers encountered more delays -- all results of the heightened terrorism threat alert level. [...]
By NILES LATHEM
NY Post
December 24, 2003 -- WASHINGTON - Alarming messages published on known al Qaeda Web sites are claiming the terror network is about to launch its biggest strikes ever - and are warning Muslims to leave the cities of New York, Washington and Los Angeles. [...]
Five arrested in seizure of bomb-making CDs in south Riyadh
Reuters
26-12-2003
Saudi authorities, facing a wave of militant attacks, have arrested five people in raids on computer shops selling compact disks containing hidden bombmaking instructions, a local newspaper reported yesterday. [...]
Over 9,000 poisoned in gas blowout accident
www.chinaview.cn 2003-12-26 18:28:35
CHONGQING, Dec. 26 (Xinhuanet) -- Local hospitals treated 9,185 people poisoned to diffrent extent in the gas blowout accident in Kaixian County in southwest China for the past three days, the latest statistics showed.
Basque militants in Spain reportedly planned series of Christmas Eve attacks
Thursday, December 25, 2003
Two suspected Basque militants arrested for plotting to bomb a Madrid train station on Christmas Eve has also intended to attack a railway line in northeast Spain, part of a plot to spread panic during the holiday, media reported Thursday.
Police arrested the two men Wednesday, uncovering a 44-pound bomb already set on a train heading from San Sebastian to Madrid, set to explode in the capital's bustling Chamartin station.
The two alleged members of the Basque terror group ETA, Gorka Loran, 25, and Garikoitz Arruarte, 24, also planned to carry out a near simultaneous bombing against a railway line in Zaragoza province on Christmas Eve, Spanish news agency Europa Press reported Thursday. [...]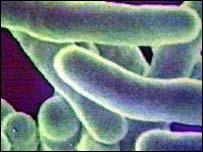 'Super-Tuberculosis' created by scientists
A virulent form of tuberculosis was created in the laboratory by experts trying to alter its genetic structure. [...]
It killed laboratory mice within seven months of exposure, while those infected with normal TB survived the experiment.
[...] "This is one of the very few hyper-virulent organisms ever created," said scientist Dr Lisa Morici.
Further investigations suggested that the genetic changes had the unexpected effect of undermining the body's own immune response against TB. [...]
Comment: Made in a lab in Berkley. They say they were looking for a way to disable the virus via genetic tampering. Labs in the USA may have been responsible for the Spanish Flu epedimic. See our reports on The Flu Threat and Ethnic Specific Weapons.
Vancouver facing worst outbreak of syphilis in the developed world
Estrada cannot seek political asylum in US: official
www.chinaview.cn 2003-12-26 19:56:40
MANILA, Dec. 26 (Xinhuanet) -- The Philippine government said Friday that there is zero possibility for deposed president Joseph Estrada to seek political asylum from the United States government.
Justice Undersecretary Jose Calida made remarks amid fears thatthe jailed leader might refuse to return to the Philippines and face his plunder trial once he is allowed to visit the United States.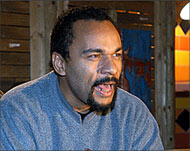 Probe into French comic's Jewish joke
Wednesday 24 December 2003, 23:21 Makka Time, 20:21 GMT
French prosecutors have opened a preliminary investigation into a comedian's televised skit in which he puportedly took a swipe at the Jewish community.
The comedian appeared as an orthodox Jew who urged disaffected urban youth to join the "American-Zionist Axis".
A statement from the prosecutors' office in Paris on Wednesday said they were probing the 1 December performance of Dieudonne M'Bala M'Bala - known in France just as Dieudonne - because it "seemed to constitute defamation of a racist character."
The entertainer, a 37-year-old self-declared atheist born in France of a French mother and a Cameroonian father, went on a show on state owned channel France 3 dressed in a ski mask and wearing a wig, hat and jacket to look like an orthodox Jew.
He jokingly urged disadvantaged French youth - many of them second-generation Arab immigrants from north African Muslim countries such as Algeria - to "convert, like me, try to pick yourselves up, join the Axis of Good: the American-Zionist Axis."
Outrage
The incident elicited outrage from French Jewish groups and a reprimand to the network from the broadcasting regulator.
Dieudonne, however, has been defiant and has even demanded an apology for being called anti-Jewish, noting that his controversial brand of humour has also in the past targeted Muslims and Christians.
"Everyone is so touchy about this issue.... The ones who are really suffering from racism are not the Jews, but blacks and Arabs. It is easier to make fun of Muslim fundamentalism than Israeli fundamentalism," he said in a press conference days after the programme.
A minor presidential candidate in 2002 elections who once described Usama bin Ladin as the "most important personality in contemporary history", Dieudonne has sought attention with his controversial humour and comments.
Last year, an appeals court acquitted him of slander after he called white Catholics racist slavers.
Comment: We saw a few days ago how easy it is to get a book banned and burned. Anyone at all can do it. Israel Shamir's book of essays, Galilee Flowers, was banned and then burned when a French citizen, who just happened to be Jewish, decided it was hate literature, contacted the owner of the corporation that owned the publishing house, who also just happened to be Jewish, and registered his complaint. Here is another example. You don't like something on the TV, well, you just phone and politely ask for the guilty party to be brought to court.
Iran quake toll 'up to 10,000'
From correspondents in Tehran
December 26, 2003
THE death toll in the earthquake in southeast Iran could be as high as 10,000, an Iranian legislator said after speaking to officials on the scene. [...]
The earthquake of magnitude of 6.3 hit Bam, a city about 1000km southeast of the capital Tehran, at 5:28am Iranian time (12.58pm AEDT) state television reported. The quake's epicentre was outside Bam, a city of 80,000 people.
Mr Khoshrou said a survey undertaken by helicopter indicated that over 60 per cent of the city's houses had been destroyed.
"The quake hit the city when most of the people were in bed, raising fears that the death toll may go higher," he said. [...]
Powerful earthquake off NZ coast
An earthquake measuring 7.0 on the Richter scale has been detected deep on the Pacific Ocean floor off the eastern coast of New Zealand.
The quake struck 480 kilometres north-east of White Island, the Institute of Geological and Nuclear Sciences reported on its website.
It was recorded 210 kilometres below the surface, and unlikely to have been felt on land, officials said.
PJ HELLER
Disaster News Network
FORT COLLINS, Colo. (December 6, 2003) — An above average 2004 Atlantic basin hurricane season — with seven hurricanes, three of which will become major or intense storms — is being predicted by noted hurricane forecaster William Gray. [...]
"Our analysis of current and projected global atmospheric and oceanic predictors through November indicates that the 2004 Atlantic basin hurricane season will be an active one," Gray said. "We expect tropical cyclone activity in 2004 to be about 125 percent of the average season. [...]
He said the United States has been "extremely lucky" over the past nine hurricane seasons.
"However, this good luck cannot be presumed to continue," Gray said. [...]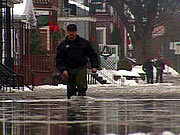 Flooding in Quebec forces evacuations
Last Updated Thu, 25 Dec 2003 18:17:02
ST-RAYMOND-DE-PORTNEUF, QUE. - Flooding has forced more than 200 people from their homes in a village near Quebec City.
One killed, three missing in flood in southern Turkey
www.chinaview.cn 2003-12-26 02:29:46
ANKARA, Dec. 25 (Xinhua) -- Massive storms and flood have claimed one life and three others missing in the Mediterranean resort city of Antalya in southern Turkey, the Turkish private NTV reported on Thursday.
Mudslide Traps 24 at Calif. Youth Camp
SAN BERNARDINO, Calif. Dec. 26 — A mudslide swept over a Greek Orthodox youth camp Thursday, trapping 24 people as heavy rains triggered flooding in areas ravaged by deadly wildfires last month, authorities said. [...]
More Earthquakes Shake Paso Robles Area
Thu Dec 25, 9:44 PM ET

PASO ROBLES, Calif. - A series of earthquakes Thursday shook the Paso Robles area, where a magnitude-6.5 quake earlier this week killed two people, flattened historic buildings and caused $100 million in damage.
There were no reports of damage or injuries from the Christmas Day temblors, the San Luis Obispo County Sheriff's Department said.
The largest in the series of earthquakes had a magnitude of 4.4 and struck about 10 miles west-southwest of Paso Robles around 3:50 a.m., according to a preliminary report from the U.S. Geological Survey. Several of the aftershocks had magnitudes of 3.0 or higher. [...]
90 feared dead after jet crashes in sea off Benin
COTONOU, Benin—Rescuers struggled today to free bodies from the wreckage of an airliner that crashed into the sea off the West African nation of Benin as families of passengers on the Lebanon-bound plane kept vigil and prayed their relatives were among the survivors. [...]
Costa Rican Red Cross helps Panamanian quake victims
www.chinaview.cn 2003-12-26 06:43:13
SAN JOSE, Dec. 25 (Xinhua) -- The Costa Rican Red Cross announced Thursday that it had sent help to the Panamanian victimsof the earthquake taking place in the early hours of the day.
The earthquake, taking place on the Costa Rica-Panama border with an intensity of 6.0-6.1 degrees on the Richter scale, produced most of the damages in Panama, where one person has been reportedly dead and 40 injured, in addition to damages in houses, roads and electricity infrastructure.
U.S. Enhances Air Monitors in 30 Cities
Pentagon's War Needs Are a Lifeline for Airlines
By MICHELINE MAYNARD
The New York Times
December 26, 2003
The Pentagon spent more than $1.2 billion this year to fly troops and supplies to Iraq on commercial aircraft, giving airlines a financial lifeline as they struggled with the weak economy, the emergence of SARS and travelers' reluctance to fly because of the war in Iraq. [...]
More and more tech jobs head overseas
By Reuters
December 24, 2003, 6:59 AM PST
U.S. corporations are picking up the pace in shifting well-paid technology jobs to India, China and other low-cost centers, but they are keeping quiet for fear of a backlash, industry professionals said.
Morgan Stanley estimates the number of U.S. jobs outsourced to India will double to about 150,000 in the next three years. Analysts predict as many as 2 million U.S. white-collar jobs such as those filled by programmers, software engineers and applications designers will shift to low- cost centers by 2014.
But the biggest companies looking to "offshoring" to cut costs, such as Microsoft, IBM and AT&T Wireless, are reluctant to attract attention for political reasons, observers said this week.
"The problem is that companies aren't sure if it's politically correct to talk about it," said Jack Trout, a principal of Trout & Partners, a marketing and strategy firm. "Nobody has come up with a way to spin it in a positive way."
This causes a problem for publicly traded companies, which would ordinarily brag about cost savings to investors. Instead, they send vague signals that they are opening up operations in India and China, but often decline to elaborate. [...]
Comment: It appears this outsourcing has been going on for quite some time now. The process can only benefit the wealthy elite. It is interesting that America, which is generally viewed as the high-tech capital of the world, is now going outside its borders for not just manufacturing, but research and development as well. Perhaps there is something more than just economics behind this shift of creative and productive technological capacity.
Our Military Tries to Recruit Canada's Inuit
by James Ridgeway
Village Voice
As Bush was ramping up the Iraq war last winter, Canadian military officials were startled to discover Pentagon recruiters roaming through their nation's native population reserves trying to persuade Inuit and others to enlist in the U.S. military. The Americans started cropping up on the Atlantic Coast in Quebec, in the Sault Sainte Marie area of Ontario, and in Western Canada. A Canadian Defense Ministries report said the U.S. claimed that under the 1794 Jay Treaty it had the right to recruit Canadian native inhabitants for its military because aboriginal Canadians held dual U.S.-Canadian citizenship. [...]
The American recruiting efforts are aimed at filling the ranks of an army stretched thin by the Iraq war and by having to post troops in other world hot spots such as Afghanistan and Uzbekistan. The U.S. may well have to put a permanent military presence in the Gulf of Guinea, off the coast of West Africa, to protect oil and gas reserves against regional squabbles. [...]
JonBenet's parents sue Fox News Network
By The Associated Press
Gregory Smith
The parents of JonBenet Ramsey have filed a $12 million federal defamation lawsuit against the Fox News Network over a story broadcast last year. [...]
John and Patsy Ramsey took issue with a story that aired Dec. 27, 2002, in connection with the six-year anniversary of the 6-year-old beauty queen's death, in which Denver-based staffer Carol McKinley stated there has "never been any evidence to link an intruder to her brutal murder." [...]
Since JonBenet's death, her family has filed and settled a number of lawsuits alleging various publications wrongly blamed family members for the girl's death. [...]
Comment: Today in 1996 JonBenet's body was found in the Ramsey's home. This book may be the best analysis and is highly recommended reading, if you can find it.
From correspondents in Stockholm
December 26, 2003
POLICE have arrested a mother for allegedly baking her five-month-old baby in an oven, seriously burning the infant, media and officials said today.
The child received second-degree burns all over his body during the incident last weekend, and was in stable condition in a Gothenburg hospital, a clinic spokeswoman said. [...]
Possibly Rabid Racoon Becomes Dinner
Fraternity Brothers Catch, Kill, Eat Possibly Rabid Raccoon at University of Georgia
Man beaten in checkout line dispute (Illinois)
Matthew Baures loves Christmas, but he learned the hard way that there is very little holiday cheer while waiting in line at a Wal-Mart on Christmas Eve.
The 22-year-old Berwyn man was pummeled with a baseball bat and beaten by as many as four people after a dispute over a place in line at a Forest Park Wal-Mart. [...]
A man's body was found in the wheel well of an American Airlines jet on Wednesday night, hours after the plane landed at Kennedy International Airport, a Port Authority spokesman said. [...]
Images by Hank Brandli
Popular Mechanics
[...] Civilian oil industry experts tell POPULAR MECHANICS that the location of the lights, which extend to the Iraqi border, does not correspond with known pipelines. A spokesman for U.S. Central Command, which had a presence in the region from fall 2002 through (at the time of this writing) fall 2003, said it was unaware of any pipeline construction.
Brandli, an expert on satellite image analysis, thinks it is a major pipeline project. "Maybe all they're doing is building a highway. But I think we're pumping oil out of Iraq to pay for this war."
Israel and India sign space agreement
Friday 26 December 2003, 3:07 Makka Time, 0:07 GMT
The Israeli and Indian space agencies have signed a landmark cooperation agreement in another sign of the strengthening ties between the two countries.
Thursday's agreement means three telescopes built by a Tel Aviv University will be sent into space on an Indian satellite to conduct a series of experiments.
[...] However, the deal is sure to raise controversy in India where the country's 200 million Muslims are fiercely anti-Israel.
Official diplomatic communication between India and Israel began in 1992, and dealings between the two countries have grown steadily since then.
Researcher reports more sightings
Airdrie residents continue to see strange sights in the sky
Paul Wells
Airdrie Echo
Even the animals seem to be sensing something strange.
Brian Vike, one of Canada's most experienced UFO sighting investigators, said the most recent reports of unusual activity in Airdrie and area have come from both humans and, vicariously, via humans through their canine companions.
"There are many reports of animals responding funny to an unusual object. Their senses are far superior ours," Vike said.
"So it is a possibility that the pets around this one certain area were aware and frightened of something that was truly an unknown to them." [...]
by Thijs Westerbeek
A new Dutch invention can make cars, busses and other vehicles no less than 50 percent more efficient and thus more environmentally friendly. Better still, the technology is already available; it all comes down to a smart combination of existing systems. [...]
Serial robber uses pencil-drawn moustache as disguise
Ananova.com
10:45 Wednesday 24th December 2003
The FBI are hunting a bank robber who's struck eight times this year with only a pencil-drawn moustache as a disguise.
The man's latest raid was in the city of Saint Paul, Minnesota, where he robbed a branch of the Retail Employees Credit Union for the second time in three months. [...]

---
Remember, we need your help to collect information on what is going on in your part of the world!
We also need help to keep the Signs of the Times online.
---

Check out the Signs of the Times Archives

Send your comments and article suggestions to us

---
Fair Use Policy
Contact Webmaster at signs-of-the-times.org
Cassiopaean materials Copyright ©1994-2014 Arkadiusz Jadczyk and Laura Knight-Jadczyk. All rights reserved. "Cassiopaea, Cassiopaean, Cassiopaeans," is a registered trademark of Arkadiusz Jadczyk and Laura Knight-Jadczyk.
Letters addressed to Cassiopaea, Quantum Future School, Ark or Laura, become the property of Arkadiusz Jadczyk and Laura Knight-Jadczyk
Republication and re-dissemination of our copyrighted material in any manner is expressly prohibited without prior written consent.
.