---
Fear. The US is most concerned that you have the proper levels of fear, and from their concern they have issued edicts that the ever compliant media issue dispatches detailing threats of various vague concerns. They really do care. They care so much, they just might see to it that something, somewhere gets blown up.
Speaking of threats: Settlers and Palestinians feel threatened by Sharon's newest move - moving settlers out before there is a peace deal. Taiwan feels threatened by Chinese laser cannons. Pacific Northwest, US is threatened by a "monster quake" that is overdue. Palestinians are threatened by continued raids in refugee camps that kill children. Iraqi women are under continuous threat of violence from US military. Israel has renewed threats of invading Iran.
So is it an epidemic or not? According to Health Canada, current flu stats are not unusually high. So don't worry, unless you have to cross the border into the US this holiday. Expect long waits and terrorists in the seats near you. Once you arrive in the Land of the Freedom Fries, be sure to follow the tips on responding to terror attacks: Duck and Cover! Yes, the perennial favourite is back in time for Santa. Along with Jingle Bells and White Christmas, Duck and Cover in the 21st Century: The Tip Sheet, offers useful advice on what to do when you are attacked. Japan, too, is caught up in the holiday, terrorist festivities. They are going to declare a sympathy alert even though they have no "credible information on terrorism." But, heck, who has any credible evidence on Santa?
Speaking of the man in the red suit, while Santa is out distributing his gifts, we're certain he'll have one heck of a view on the new "security" wall Ariel Sharon is offering the Palestinians this season. But now, thanks to the UN's satellite agency, you too can have a Santa's eye view on the Israeli land grab.
Rumsfeld finally admits that the US may indeed need a bigger military to continue invading foreign lands and hunting down terrorists. Investment professionals voice concern that although the short term effects of a weaker dollar are beneficial to American corporations and consumers, the long term effects could be disastrous.
We also have the heartwarming story of an elderly Russian visitor to the US who learned that we don't offer to help women loading their cars at the mall. All this, and more holiday cheer, today As the World Burns...
U.S. Warns Of Major Terror Threat During Holidays
WASHINGTON -- Homeland Security Chief Tom Ridge says the terror threat facing the nation now is "perhaps greater" than at any point since the Sept. 11 attacks.
An increase of chatter indicating an elevated threat is causing the government to raise the national security warning from yellow to orange. [...]
The secretary says recent reporting reiterates that al-Qaida still wishes to carry out attacks against the United States using aircraft as a weapon. [...]
Los Angeles police issue tips on responding to terror attacks
www.chinaview.cn 2003-12-22 11:38:04
LOS ANGELES, Dec. 21 (Xinhuanet) -- The Los Angeles Police Department (LAPD), responding to the national terrorism threat level being upped from yellow to orange on Sunday, issued a list of precautions to citizens of the second largest US city in case of an act of terror.
Advices from the LAPD include:
-- Don't touch or move any potentially dangerous device;
-- Be aware that there could be a secondary bomb or destructive device;
-- Conduct evacuations as necessary; and
-- Notify your local law enforcement agency or the Federal Bureau of Investigation.
If you are in a high-rise building that is targeted:
-- Seek shelter under desks or tables and get away from exterior walls, windows or balconies;
-- Don't use elevators and don't be surprised if alarms or sprinkler systems come on;
-- Know where emergency exits are and evacuate to a safe area if able; and
-- Leave rescue efforts to public safety personnel.
If outdoors near an attack site:
-- Take whatever cover may be available such as a tree or doorway.
Comment: A blast from the past! Duck and Cover!
1951
Sponsor: U.S. Federal Civil Defense Administration
Famous Civil Defense film for children in which Bert the Turtle shows what to do in case of atomic attack.
This film, a combination of animated cartoon and live action, shows young children what to do in case of an atomic attack.
The film opens with "Bert the Turtle" wobbling down the street and singing a song, "Duck and Cover." When there is a bright flash, Bert immediately ducks into his shell covering. The narrator explains that when there is a bright flash -- brighter than the sun -- children should follow Bert's example. The film shifts to a classroom of first or second grade youngsters who are practicing what to do in the case of an atomic attack. [...]
Comment: US propaganda was needed to instill the proper amount of fear and loathing of dirty "Commies", to justify increased military spending and continuous war. Has anything changed? Well, yes. Now the US government is willing to allow terrorist attacks to happen on US soil. There are plenty of compliant media outlets that produce the modern equivalent of Duck and Cover everyday, and instead of Commies we have Islamic terrorists on Jihad. Such terrorists may exist now that there has been a systematic campaign by the US and Israel at poking the wasp nest.
Stocks Set to Slip on Terror Alert
Comment: Terror alerts seem to be a convenient means to increase wealth for the extremely wealthy. Issue terror alert, buy low, terror alert goes away, sell high. The free book, SECRETS OF THE FEDERAL RESERVE, may hold some clues to how this policy has worked in the past.
Dollar's drop becomes more ominous
By Nick Olivari
Sunday December 21, 05:53 PM
NEW YORK (Reuters) - After months of looking at nothing but the bright side of a weaker dollar, investors are starting to look at the dark side of its struggle against the euro. [...]
For most of the past six months, that was seen as positive for the most part, as U.S. goods and services become cheaper compared with those produced overseas. Now though, investors are looking at the pace of the dollar's decline, fearing that an orderly drop in demand may turn into a rout. [...]
"It's not the level that concerns me, but how the rapid change affects commerce and the willingness of foreigners to hold and purchase dollar-denominated securities," said Jim Luke, a money manager with Raleigh, North Carolina-based BB&T Asset Management Inc., which oversees $13 billion. [...]
Worse, if foreign U.S. investors start to abandon dollar-denominated securities on concerns that any profits will be lost as they convert back to their own currencies, U.S. investors may also take money from the stock market in a bid to beat the rush. [...]
Japan to step up anti-terrorism moves after US alert
www.chinaview.cn 2003-12-22 17:02:52
TOKYO, Dec. 22 (Xinhuanet) -- Japan will enhance efforts to prevent terrorist attacks in line with a stepped-up US terrorism alert, Japan's top government spokesman Yasuo Fukuda said Monday.
"We have no credible information on terrorism, but our country will have to take appropriate measures following the United States," the chief cabinet secretary told a press conference.
Comment: Here it comes around again once more on the guitar: "Be scared, be very scared. We don't know why, and if we did, we couldn't tell you. But the important thing is for you to be scared, be very scared."
Israel braces for confrontation with settlers
Prime Minister Ariel Sharon has said the settlements will have to be evacuated.
[...] Vice-Premier Ehud Olmert's comments pointed to fears of a bitter internal conflict over Prime Minister Ariel Sharon's recent announcement that Israel will have to evacuate settlements even without a peace agreement. The Palestinians vehemently oppose the plan and now even members of Sharon's Likud party say they would rather break a government coalition than back it. [...]
Olmert said Israel had to leave most of the West Bank and Gaza, an about-face for his Likud party, because otherwise Arabs will soon outnumber Israel's 5.5 million Jews in the territory it controls. "Do we want (the Palestinians) to be equal citizens in the state of Israel and ultimately dictate the nature of the state?" [...]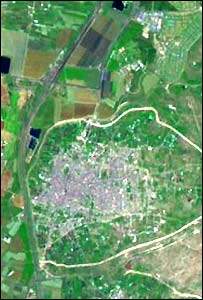 UN satellites eye Israeli barrier
By Alfred Hermida
BBC News Online technology correspondent
Satellite image of the West Bank

The UN is keeping a close eye from space on the path of Israel's controversial West Bank barrier.
It is using satellites to take images of the 700km (435 miles) barrier which cuts across Palestinian territory.
The aim is to offer clear geographical data on a politically-charged issue.
"It is evident by looking at this wall on the satellite imagery to see the damage done to Palestinian villages that are getting trapped," said Alain Retiere, of the UN's satellite agency.
Palestinians Say Hamas Leader Arrested
By GAVIN RABINOWITZ
Associated Press Writer
Sunday December 21, 2003 12:16 PM
JERUSALEM (AP) - Israeli troops conducted a series of raids in the West Bank city of Nablus Sunday, arresting a Hamas leader and killing a 5-year-old Palestinian boy, Palestinian witnesses said.
Also Sunday, an army force destroyed five houses in the Rafah refugee camp in the Gaza Strip. [...]
Daily dehumanization

By Gideon Levy
Mon., December 22, 2003
Bashar Awis was dying in a hospital. Though there was no doubt that he only had a few hours left, none of his relatives were by his bed at Haemek Hospital in Afula.

Awis, a 29-year-old father of two from the Balata refugee camp in Nablus, was a prisoner at Megiddo Prison. Circumstances surrounding his death on December 8 remain unclear.
This much is known: Had it not been for one minimally respectful doctor, he would have died alone. After one of the hospital's physicians discretely phoned Physicians for Human Rights, the organization brought Awis' mother and wife to Haemek Hospital. Up to that point, nobody thought to notify the family, as is done in human society.
As it turns out, even in a hospital - a place where human compassion is supposed to be the sole operating norm - a Palestinian is still not on the same footing as other human beings. This process of dehumanizing the Palestinians has spread to every sector of Israeli society.
What started in the Israel Defense Forces and Shin Bet security service, and spread to other branches of power and to the media (which has, for years, deliberately emphasized the violent side of Palestinian reality) has now permeated every part of Israel's social fabric. That's apparently the only way a state can continue with a conquest and oppression without being overly concerned about what it means to the conquered. [...]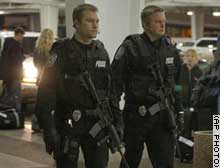 Police patrol the departure ramp Sunday night at Minneapolis-St. Paul International Airport in Minnesota.
FEMA Offers Tips to Prepare for, Respond to Attacks
U.S. cities hike security on terror alert rise
Ridge: Possible attacks could rival 9/11
9/11 Commission Hints at Revelations in Upcoming Report
[...]"I think that there are materials that we've found that will change some of the story that the public now knows about 9/11, in some important ways," Thomas H. Kean, chairman of the 10-member National Commission on Terrorist Attacks Upon the United States, told ABCNEWS' Nightline in an interview airing tonight. [...]
"We have no evidence that anybody high in the Clinton administration or high in the Bush administration did anything wrong," he told Nightline's Chris Bury. [...]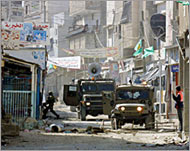 Israeli troops drive through the camp announcing a curfew
Monday 22 December 2003
Two children have been killed by Israeli occupation troops in the besieged Balata refugee camp, which is experiencing its sixth day of a massive Israeli military invasion. [...]
Witnesses have told Aljazeera the Israeli military have demolished five homes in the camp and have levelled a further 20 houses that they had destroyed earlier.
In October, the Israeli military launched a massive invasion of the Rafah refugee camp and town near the Egyptian border. Eight Palestinians were killed and nearly 15,000 people were made homeless when soldiers demolished 100 homes. [...]
Associated Press
Jerusalem — About a dozen reservists from the Israeli army's top commando unit declared Sunday they would no longer serve in the West Bank and Gaza Strip, reflecting growing unease with Israel's iron-fisted policy in the Palestinian areas. [...]
"We cannot continue to stand silent," they wrote, alleging that Israeli military activities in the West Bank and Gaza Strip are depriving "millions of Palestinians of human rights" and endangering "the fate of Israel as a democratic, Zionist and Jewish country." [...]
More than three years of Palestinian-Israeli violence has fractured the consensus among Israelis over the military, once the unquestioned pinnacle of Israeli society.
Sunday 21 December 2003
Israel is considering a military strike to destroy the nuclear programme of Iran, now regarded as Tel Aviv's number one enemy. [...]
This is despite Iran's acceptance of a tough new international inspections regime for its nuclear facilities last week. [...]
Iranian air force chief: Israel to ''dig own grave'' if nuclear sites attacked
22-12-2003,11 :59
Israel "will dig its own grave" if it attacks Iranian nuclear sites, the head of the Iranian air force General Seyed Reza Pardis told a news agency close to members of the Islamic republic's regime.
U.S. not informed Israel regarding secret talks with Libya
22-12-2003,08 :45
The United States did not share Israel with regards to its secret talks with Libya over the past few months that led to Tripoli's declaration last weekend of its intention to stop the development of weapons of mass destruction, the Tel Aviv-based Haaretz reported in its Monday edition.
According to senior Israeli political sources, some 10 days ago, Israel received intelligence information regarding "certain occurrences in Libya," but that it was not briefed by the Americans on their talks with Libyan ruler Muammar Gadhafi. When Israeli defense officials raised the issue of the Libyan threat with their U.S. counterparts, they were told, "We are handling it, keep a low profile."
Israel threatens to shoot down Egyptian drones spying on nuclear, missile sites
21-12-2003,13 :46
Israel has threatened to shoot down Egyptian drones spying on a nuclear facility and a ballistic missile site, The Sunday Times reported. Israeli sources claim that the flights contravene a peace treaty, signed in 1979 between the two sides.
"We'll raise the urgent issue of their spy flights for sure," said one Israeli source. "However, we know that they may stop them only when we intercept the intruders, and that will not take long."
Egypt's unmanned aerial vehicles (UAV) have been seen in recent weeks over Israel's nuclear research facilities at Nahal Sorek and the test site for Israel's advanced ballistic missiles in Palmahim, south of Tel Aviv.
The Egyptian flights, in turn, are causing concern in Israel. "We're worried about them," said an Israeli military source.
Iraqi woman dies in anti-resistance dragnet
Monday 22 December 2003
American soldiers killed an Iraqi woman when they blew up the door of a house during a raid in a town near Iraq's border with Syria. [...]
The occupation forces carried out 17 raids on Sunday and detained 81 people. Eleven of them were considered "high value targets". [...]
Wounded Troops Denied Benefits?
Many wounded U.S. soldiers are treated at the Walter Reed Army Medical Center in Washington, where President Bush today awarded Purple Hearts to 21 soldiers.
But CBS News Correspondent David Martin reports, wounded troops may return from war to find themselves in a different kind of battle — with the U.S. military.
A disabled soldier will never see combat again, but he might find himself fighting a new fight against the government's medical bureaucracy. [...]
The U.S. "May Need A Bigger Army," Donald Rumsfeld Tells Time
Time.com
Sunday, Dec. 21, 2003
New York – "We may need a bigger army," Secretary of Defense Donald Rumsfeld tells TIME in this week's Person of the Year double issue. Rumsfeld has been under pressure from Congress to expand the military by at least two divisions, or 20,000 troops, TIME Washington Bureau Chief Michael Duffy and Pentagon Correspondent Mark Thompson report. The Secretary resisted that pressure over the summer and fall, but in his conversation with TIME, he said he was studying it more closely now, opening the door to a deal. [...]
But if he is flexible, it is only to a point. Rumsfeld remains firmly opposed to a return to the military draft. He has often said today's volunteers are smarter and more dedicated than conscripts, TIME reports. [...]
By Nat Parry
Consortium News
December 22, 2003
The capture of Saddam Hussein and the earlier killing of his two sons were public relations coups for George W. Bush, but they have put the U.S. occupation of Iraq in a tricky position. Before those events, the Bush administration could argue that the U.S. army was needed to prevent Hussein's return to power.
Now, if the Iraqi insurgency doesn't collapse – and its roots have strengthened during the eight-month search for Hussein – U.S. soldiers will be the outsiders battling a nationalist uprising, which many Iraqis and others around the world already see as legitimate resistance to a colonial power. Bush's rhetoric, casting his goal as bringing democracy to Iraq, also could become a tinny rationalization if the bloody occupation grinds on. [...]
US questions hundreds saboteurs for attacking Iraq's oil facilities
by Li Jizhi
www.chinaview.cn 2003-12-22 03:23:31
BAGHDAD, Dec. 21 (Xinhua) -- US military Sunday said it hasrounded up over 200 suspects in Iraq since the capture of ex-president Saddam Hussein a week ago, while insurgents have launcheda fresh wave of sabotage against the ruined oil infrastructure."With the capture of Saddam Hussein we've learned a little bitmore about how they (insurgents) were organized and some of theindividuals involved," Chairman of US Joint Chiefs of Staff Gen.Richard Myers told CNN in an exclusive interview."We've got over 200 detainees so far...over the last severaldays," he added.
US Republicans signal readiness to resume Iraq weapons probe
By Andrei Piontkovsky
Monday, Dec. 22, 2003. Page 8
It has become increasingly difficult for Moscow and Washington to keep up the pretense that they are strategic partners in the global battle with "international terrorism." The progress made toward building a pragmatic partnership to provide a joint response to the threats of the 21st century is quickly eroding.
Pragmatism has always been sacrificed to ideology. But not since the Cold War has the political establishment of the United States and Russia been dominated by such ideologically motivated groups.
Uncle Albert's Brush With PC America
By Vladislav Schnitzer
Monday, Dec. 22, 2003. Page 8
Not long ago my friend Albert went to the United States to visit relatives who had emigrated in the early 1990s. Apart from the long-awaited reunion with his niece and her husband, Albert was excited to see the country and to learn about its customs.
[...] One day Albert and his niece went to the supermarket, bought groceries, loaded a shopping cart and wheeled it out to the car. An attractive woman was pushing her cart alongside them and reached her car at the same time. She loaded her groceries into the trunk, but a case of beer just wouldn't fit.
Albert moved to go help her when his niece barked: "Get in the car! Let's go." She started the car and drove out of the parking lot. "What were you thinking back there?" she asked her uncle.
"I wanted to help that woman," he said, unsure what had set his niece off.
"Why, so you could get convicted of attempted rape, attempting to steal her case of beer and breaking the law on equality between men and women? Remember, you're in America now."
Iraqis discuss old Russian deals
Steve Rosenberg
BBC correspondent in Moscow
A delegation from the US-appointed Iraqi Governing Council is in Moscow for talks on business deals signed under Saddam Hussein's regime.
The group is expected to meet businessmen and senior Russian officials to discuss the contracts.
The business deals are believed to be one reason why Russia was opposed to military action against Iraq.
But with a new leadership now in place in Iraq, Russia will want those agreements honoured.
Iraq's interim authorities seek security pact with Syria
www.chinaview.cn 2003-12-22 04:00:30
DAMASCUS, Dec. 21 (Xinhua) -- The Iraqi interim Governing Council (IGC) is seeking a security agreement with Syria to stop cross-border terror operations, the current head of the US-appointed IGC said here Sunday.
Pakistan, India agree on parallel patrolling on borders
www.chinaview.cn 2003-12-22 08:09:06
ISLAMABAD, Dec. 21 (Xinhuanet) -- Pakistani military spokesman Major General Shaukat Sultan Sunday said parallel patrolling between Pakistan and India has been agreed upon at a meeting between their border security forces.
Chinese laser cannons aimed at Taiwan
[...] According to the Taipei Times , China has already created a high energy laser cannon and it's been deployed in Fujian Province, opposite the renegade island. [...]
British Lockerbie families demand further inquiry
www.chinaview.cn 2003-12-22 08:03:25
LONDON, Dec. 21 (Xinhuanet) -- Relatives of the British victims of the Lockerbie bombing Sunday marked the 15th anniversary of the tragedy, calling for an independent inquiry into the worst mid-air terror attack ever in Europe.
The pressure group UK Families Flight 103 said in a statement it welcomed Libya's recent decision to renounce its secret plan of developing mass destruction, but still want further investigations so as to reach a "just resolution" to the tragedy.
European trio set to build on trilateral ties
By James Blitz in London and George Parker on Brussels
Published: December 21 2003 20:51 | Last Updated: December 21 2003 20:51
Tony Blair is preparing to meet France's Jacques Chirac and Germany's Gerhard Schröder for another three-way summit early in the new year that will highlight the increasing importance that the prime minister attaches to this trilateral relationship.
Following this month's agreement between Britain, France and Germany to press ahead with the creation of a new initiative on a common European Union defence policy, the three men are set to meet in February - or possibly earlier - to discuss the latest developments in EU and international policy.
British officials say it is too early to say what the agenda for the trilateral summit will be. But a series of initiatives by the three countries - in creating a common EU defence facility and in diplomacy towards Iran over its nuclear programme - have impressed upon the prime minister how useful the trilateral relationship can be.
For their part, both President Chirac and Chancellor Schröder have come to accept that the UK must be part of any concerted moves on European foreign and defence policies. They believe the UK's foreign policy reach and experience, and the fact that its military is the most powerful in the EU, puts it in a powerful position.
Police call for remote button to stop cars
Motorists face new 'Big Brother' technology
Juliette Jowit, transport editor
The Observer
Sunday December 21, 2003
After speed cameras, road humps and mobile phone bans, there could be more bad news for Britain's motorists. Police are urging Ministers to give them the power to stop vehicles by remote control. [...]
Russia inaugurates fourth Topol-M ballistic missile regiment

MOSCOW (AFP) Dec 21, 2003
Russia put on active duty Sunday a fourth regiment equipped with the new generation Topol-M intercontinental ballistic missile as its defence minister reiterated that nuclear capability was a core element of national security. [...]
The Russian military says the missile's electronic equipment enables it to evade all existant or planned anti-missile systems.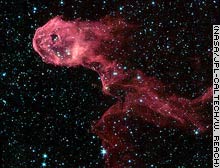 New orbiter takes out-of-sight pictures
Friday, December 19, 2003 Posted: 1231 GMT
(CNN) -- NASA unveiled stunning first pictures from a powerful new infrared space telescope on Thursday, and announced a new name for the spacecraft, one of the agency's four so-called Great Observatories. [...]
Launched earlier this year, the Space Infrared Telescope Facility, or SIRTF, was renamed the Spitzer Space Telescope, after astronomer Lyman Spitzer, who first proposed the idea of Earth-orbiting telescopes in the 1940s. [...]
As an infrared telescope, the Spitzer detects infrared radiation, or heat, rather than optical light. Consequently, it can observe objects in deep space that have never been seen before because they are obscured by gas or dust in the visible light range.
The telescope, launched in August, is the fourth and final telescope in NASA's Great Observatories series. The others are the Hubble Space Telescope, the Chandra X-Ray Observatory and the Compton Gamma Ray Observatory. [...]
Boeing launches new GPS satellite
Ancient tomb findings stun archaeologists
www.chinaview.cn 2003-12-22 11:06:24
BEIJING, Dec. 22 (Xinhuanet) -- The finding of ancient tombs which may take up a total area of 1 million square metres in southern Beijing has surprised many archaeologists.
Exploration of the first group of the graves, covering an area of around 200,000 square kilometres, has already started, with that into the rest five to six groups not yet scheduled, source with the Beijing Municipal Cultural Relics Bureau was yesterday quoted by the Beijing-based Star Daily.
[...] Archaeologists have only discovered graves from Han (206 BC-AD 220) and Tang (618-907) dynasties so far, but Zhu said the conclusion was left open regarding whether or not graves from other dynasties might still be found there.
Nineteen mummies found in Egypt
Antiquities officials say French archaeologists have discovered 19 mummies, as well as wood and limestone sarcophagi, in an ancient Egyptian burial ground south of the capital.
[...] These items date to the late Dynastic period, or about 1,000 years before Christ, and the Ptolomaic era, 323 to 30 BC, Mr Hawwas said.
The French mission was examining deep shafts in Saqqara when they discovered the mummies and sarcophagi, the antiquities council said.
Twelve of the mummies, found in one of the shafts, are "in good condition".
Vietnam pumping 2,000 tonnes of petrol from stricken tanker

HANOI (AFP) Dec 22, 2003
Emergency workers are pumping 2,000 tonnes of petrol from a tanker which ran aground near a top Vietnamese tourist resort in a bid to prevent a possible environmental catastrophe, officials said. [...]
Wellington, New Zealand, Dec 22 (DPA) An earthquake measuring 5.2 on the Richter scale struck New Zealand's North Island early morning near Mount Ruapehu and was felt more than 300 kilometres south in the capital, Wellington. [...]
By Ian Hoffman
Tri-Valley Herald
Inside of a century, the Pacific Northwest could be struck by a magnitude 9 quake, shaking the region 10 times more violently than San Francisco's famous 1906 quake and for 12 times longer.
Scientists call it a "mega-thruster" and say the Seattle area is especially vulnerable. [...]
Within 10 minutes of the quake, tsunamis up to 60 feet high could hit the Northwest coast. [...]
Mudslides in Eastern Philippines Kill 119
LILOAN, Philippines Dec. 22 — Searchers have dug up the bodies of entire families huddled together following weekend mudslides in the Philippines, where the death toll rose Monday to at least 119. The nation's president asked the United States to send helicopters to help rescue efforts.
Authorities blamed illegal logging for the disaster, which was triggered by six days of pounding rains in provinces near the Pacific Ocean late Friday to early Saturday. The deforestation has led to soil erosion on nearby slopes. [...]
Philippine Ship Missing with 75 on Board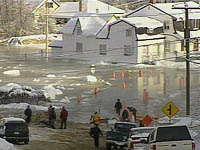 Quebec flooding forces evacuations
Sun, 21 Dec 2003
NOTRE-DAME-DE-MONTAUBAN, QUE. - Quebec civil security officials were closely watching floodwaters in the Mauricie region, where about three dozen families were forced out of their homes on the weekend. [...]
Drifting snow and gales cause travel chaos
Ananova.com
09:20 Monday 22nd December 2003
Heavy snow is causing huge traffic problems for many parts of Britain, while gale force winds are battering the east coast.
Scotland, Cumbria, North and East Yorkshire and other parts of northern England are particularly badly hit, with reports of four inches of snow overnight in many places. [...]
Meanwhile in Oldham, a gritting vehicle overturned in icy driving conditions, blocking a busy road. [...]
By JOHN LELAND
New York Times
[...] In a Harris poll taken earlier this year, 82 percent of Americans said they believed in heaven ...
With so many people bound for the afterlife, a cottage industry is busily reporting on what it's like. [...]
South Korea grapples with new bout of bird flu
In South Korea, a highly contagious bird flu which was discovered last week in the country's central provinces, has continued to spread.
Authorities report new cases have been discovered nearly 200 kilometres from where the outbreak began.
South Korea's government has ordered the slaughter of nearly a million chickens and ducks in a bid to combat the flu, which threatens to infect humans.
Avian influenza, which in rare cases can be deadly to people, has caused poultry sales to fall, as authorities confirm outbreaks at farms across South Korea.
CDC: Flu hits 'epidemic' level before season reaches peak
[...] Gerberding said investigators don't know yet how many of the children who died had been vaccinated. Children under 9 getting flu vaccine for the first time need two doses. Flu vaccine is recommended for children 6 months and older who are chronically ill. [...]
Comment: These claims are shocking considering what is in these vaccines. See our Signs Supplement: The Flu Threat.
Health Canada tries to ease widespread flu scare
Ministry, hospitals say this year's outbreak not abnormal
Two Ontario children die; flu suspected in two B.C. deaths
PHILIP MASCOLL
STAFF REPORTER
Dec. 22, 2003. 06:34 AM
This year's flu season is not unusual despite widespread fears, Health Canada says.
The ministry's attempt to ease alarm stirred up by reports of widespread flu cases was backed up by major hospitals yesterday. Toronto's Hospital for Sick Children and Oshawa's Lakeridge Health both said they are not seeing an unusally high number of people with flu.
"We are busy, but we are always," Lakeridge's communications director, Karen Monaghan, said.
A spokesperson for Sick Kids said the hospital was busy, as usual, but not because of the flu.
Health Canada posted a statement on its Web site yesterday that this season's flu is not unusually severe.
"While the 2004 influenza season arrived earlier than in previous years, and appears to be more severe than the past three seasons, current national and international data indicate that its impact in Canada is still within the expected range," the statement said.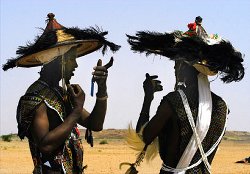 Hundreds of nomads compete for Mr Sahara title
Ananova.com
14:00 Sunday 21st December 2003
Hundreds of nomadic West African tribesman are competing in a "Mr Sahara" beauty pageant to celebrate the end of the rainy season.
The Wodabe men in Niger have performed a dance and showed off the whiteness of their teeth and eyes to compete for the honour of being selected as the most beautiful man by women.
The festival, near Agadez, is held as the Wodabe value male beauty and are taught from an early age to look into mirrors to consider their appearance.
---
Remember, we need your help to collect information on what is going on in your part of the world!
We also need help to keep the Signs of the Times online.
---

Check out the Signs of the Times Archives

Send your comments and article suggestions to us

---
Fair Use Policy
Contact Webmaster at signs-of-the-times.org
Cassiopaean materials Copyright ©1994-2014 Arkadiusz Jadczyk and Laura Knight-Jadczyk. All rights reserved. "Cassiopaea, Cassiopaean, Cassiopaeans," is a registered trademark of Arkadiusz Jadczyk and Laura Knight-Jadczyk.
Letters addressed to Cassiopaea, Quantum Future School, Ark or Laura, become the property of Arkadiusz Jadczyk and Laura Knight-Jadczyk
Republication and re-dissemination of our copyrighted material in any manner is expressly prohibited without prior written consent.
.