---
"Disasters involve cycles in the human experiential cycle [...] Human cycle mirrors cycle of catastrophe. Earth benefits in form of periodic cleansing. Time to start paying attention to the signs. They are escalating. They can even be 'felt'by you and others, if you pay attention."
Today as the world burns: Bush asks his staff to "fess up," he really wants to know who leaked. Israel continues its saber rattling at Syria and anyone else who cares to get involved, Syria cries foul and rattles back.
Meanwhile the homeland is nowhere near secure - we wonder why? - the Pentagon is having a clearance sale for surplus equipment used to produce bacteriological weapons. Price markdowns as high as 90%! Call now!
You can almost hear their glee in the warnings of "spectacular" terrorist attacks. That's right, it must be time to invade somebody, someplace so everyone needs to look over the shoulder.
Ever been brainwashed? If you watched American news programs recently then you have, according to a recent study, yet the US state department has the gall to point the finger at others...
Not all Americans are brainwashed, and they are trying to speak and up tell their fellow citizens that it is just a matter of time when you can be declared a terrorist. A worry, since Ashcroft and company are screaming bloody murder, literally, and are asking for an expansion of the death penalty for "terrorists". One of those words that is losing all meaning, in these most Orwellian of times.
A Canadian with Syrian citizenship was caught in this web of state-sponsored terrorism. After spending a year in a Syrian jail after having been deported by the US during a flight change in New York, he has returned to Canada...but there are some questions left to be answered.
Ah'nold's 'D day' has arrived, and as a feeling of expectation grips Californians, a feeling of dread sweeps the world whose suspicions about "American democracy" may soon be beyond doubt. Speaking of vermin, Germany is invaded by raccoons while China warns of mass extinctions.
55 massacred in the Congo, "don't go to Saudi Arabia" says the US embassy there, it ain't safe for "westerners" (especially with all the Mossad agents).
Volcanoes are rumbling, the usually active fault lines are shaking, more unexplained sonic booms, normal individuals filming UFO's, and the Signs Team despairs of ever getting any answers about that rain of "frog eggs" in Connecticut.
---

Bush demands staff turn over information in CIA case
07.10.2003
WASHINGTON - President George W. Bush has demanded that his staff meet a deadline on Tuesday to turn over documents for the Justice Department's investigation into who leaked the identity of an undercover CIA agent.
He said today he hoped the probe would send a clear message to administration officials that other leaks must stop.
"I'd like to know who leaked," Bush said after meeting with the president of Kenya.[...]
Comment: Maybe he should ask Karl Rove....
CIA leak meant to quash debate on Iraq: Wilson
[...] Wilson said it now appeared his wife's name was leaked by someone outside the White House, as an act of revenge to stop him and others from questioning the intelligence used to go to war with Iraq. "This administration apparently decided the way to do that was to leak the name of my wife," he told NBC's "Meet The Press."
Bush hopes probe will plug leaks
Mon Oct 6, 2:16 PM ET
WASHINGTON (AFP) - US President George W. Bush said he hoped that the FBI-led criminal probe into who leaked a CIA agent's identity would help plug other unauthorized disclosures to reporters.
"This is a serious charge, by the way. We're talking about a criminal action. But also hopefully we'll help send a clear signal we expect other leaks to stop as well," he said. [...]
"I've got all the confidence in the world the Justice Department will be do a good, thorough job," Bush said during a joint press conference with visiting Kenyan President Mwai Kibaki. "I'd like to know who leaked."
The president has come under fire in some quarters for not launching an internal probe when the information came to light in July and for rejecting opposition Democrats' calls for an independent investigator. [...]
Comment: The lies have become so blatant, it's ridiculous. The matter was brushed under the rug back in July, and since that didn't work, Georgie now tasks his fascist pal John Ashcroft and the Justice Department with "investigating" the matter.
Anti-Bush forces scope out battlefields
BOB DART
SPECIAL TO THE STAR
Oct. 7, 2003. 01:00 AM
WASHINGTON—A self-described "non-partisan" organization dedicated to "kicking George Bush out of the White House" announced plans yesterday to register and mobilize Hispanic, women and African American voters in 16 "battleground" states.
The organizers described a "technology driven" grassroots campaign that will contact voters many times during the coming months by means ranging from e-mail and Palm Pilots to door-to-door canvassing and neighbourhood gatherings.
The $25 million (U.S.) campaign will not be limited to the target states, however — the group will work throughout the South, said Gerald McEntee, chair of Voices for Working Families. Funded largely by organized labour, the organization exemplifies how Democratic and Republican activists are turning to outside tax-exempt "non-partisan" nonprofits in the first national election since the enactment of sweeping campaign finance reforms.
First Lady Promotes Reading but President Leaves Education Dept. Behind
Even as First Lady Laura Bush celebrated the importance of literacy on the Washington Mall last weekend, her husband was targeting the Education Department for its lowest increase in seven years.
Comment: We saw the poetry of George W. yesterday, an example of literacy in America. A new website sponsored by MoveOn called Misleader.com, a "daily chronicle of Bush Administration distortion" has recently appeared offering daily reports on the lies and manipulations coming out of Karl Rove's house on Pennsylvania Avenue.

The Lies of George W. Bush: Mastering the Politics of Deception
David Corn
Washington Editor, The Nation
The Lies of George W. Bush
The Lies of George W. Bush
When campaigning for the presidency, George W. Bush vowed to "restore" honor and integrity to the Oval Office, but the president's own words and deeds to prove beyond a doubt that this claim was the first lie of many.
All presidents have lied, but George W. Bush has relentlessly abused the truth. Here are just a few examples of the president's own words contradicting himself. In each case, the President and his aides have knowingly misled the American public to advance their own interests and agenda.
Abdulwahab Badrakhan
Al-Hayat 2003/10/6
And now, Israel has started enjoying its strategic 'gains' from the American occupation of Iraq, initiating a game of expanding the confrontation in the region; yesterday, it was against Syria, and today or tomorrow it could be the turn of Lebanon or Iran. In fact, it has attempted to do this in Lebanon for years, not sparing any place where Palestinians were, but the attempts were in vain.
[...] Anyway, striking Syria is a dangerous move that cannot be addressed with ease or through a routine retaliation, because Israel is aiming at what it called targeting "a training camp for the Islamic Jihad," with the design of imposing a new fact and phenomenon in the region. To that end, it is relying on the 'American demands' which Colin Powell was appointed to take to Damascus, mentioning the need to shut down the offices and military camps belonging to Palestinian factions, which are described as "opposing peace" or categorized as "terrorist." Those were in fact Israeli demands, which the American postman delivered without even thinking of asking Israelis about the reason why they mistreat Palestinian peace supporters, and why they are being so brutal and violent against Palestinians in general.
[...] There is an undeclared "accountability" awaiting the U.S. for the war it waged, which will take place through the debate on the role the UN is supposed to play in Iraq, to the effect that an illegitimate war cannot receive legitimate help as to share the burdens of the occupation. No matter what this "accountability" achieves, it also indicates a disparity in the standards of the international community, which is not showing any severity towards a country such as Israel, which disrespects international law and behaves like a regional mafia that knows no limits. If the American wars are inspired by the Israeli terrorist experience, nothing justifies why Israel should not be held accountable for its terrorist acts. That is an old condition, which the international community keeps avoiding and ignoring in terms of its catastrophic results.
US Opposes Syria's UN Resolution
UNITED NATIONS/DAMASCUS, 7 October 2003 — Syria yesterday demanded that the UN Security Council condemn Israel's airstrike against a Palestinian camp near Damascus, but the United States said it would not support any resolution that does not also criticize attacks against Israel.
[...] Syrians yesterday called for reprisals and many said they were even more enraged by the US reaction.
"I couldn't believe my ears when I heard. I wish I was there with a shotgun in my hand," said Maher Awad, a taxi driver.
Awad echoed others who hoped for a military response to the airstrike.
"I hope we will send our eagles (war pilots) to show them what Syrians can do," said Jamal, a student waving his fist in the air. "This man (Negroponte) was talking as if he owns the world telling us we are terrorists. Did he forget what (Israeli Prime Minister Ariel) Sharon did in Sabra and Shatila (refugee camps)?," said Abou Qassem, an elderly man.
"There is no sense of right and wrong anymore," Abou Qassem said. "Those Americans and Israelis think they are strong but they forget that God is the strongest."
Annan voices appreciation for Syrias position, Israel symbol of terror in world
SyriaTimes
7-10-2003
President Bashar al-Assad received yesterday afternoon a telephone call from UN Secretary-General Kofi Annan who expressed his appreciation for Syria's wise position towards the Israeli aggression on the Syrian territories.
Mr. Annan asserted that the UN will do its best to prevent the recurrence of such acts against UN member-states.
The President thanked Mr. Annan for his position and the solidarity he showed with Syria.
[...] In another development, Deputy Foreign Minister Waleed al-Moualem summoned yesterday morning ambassadors of the five UN Security Council permanent member-states and acquainted them with the content of the message sent by Foreign Minister Farouk al-Shara to the UN secretary-general and chairman of the Security Council.
The message includes details of the Israeli air aggression on a civilian location in the village of Ein al-Saheb, north of Damascus, in a flagrant defiance of international conventions and treaties, and of the principles and rules of international law. Such an act requires the convening of an urgent session of the Security Council to discuss this aggression and consider measures that must be taken by the council to deter Israel's government from pursuing a provocating aggressive policy against Syria.
[...] Meanwhile, Syria's permanent representative to the UN Dr. Faisal Muqdad said that the US's bias to the Israeli aggressive policy is regrettable, asserting that such position doesn't benefit the US Administration and doesn't serve its image in the region or the peace process.
In an interview with Monte Carlo Radio yesterday, Dr. Muqdad indicated that Syria has responded to the lies and allegations which Israel's UN representative tried to practice before the Security Council. He asserted that Israel is the symbol of terrorism in the world; it created terrorism in the Middle East, and the whole world is familiar with the terrorist crimes it committed not only in Arab countries, but in most of the European capitals during the past period.
Assad: Israel tries to drag Syria into wider conflict
07-10-2003,08 :40
In his first public comments about the recent Israeli air raid near Damascus, Syrian President Bashar al Assad accused Israel on Tuesday of trying to drag Syria and the rest of the Middle East into wider conflict.
"(The raid) is an attempt by the Israeli government to extract itself from its big crisis by trying to terrorize Syria and drag it and the region into other wars because this (Israeli) government is one of war and war is the justification for its existence," Bashar told the London-based al-Hayat daily in an interview published on Tuesday.
"There is no doubt that Syria's role in various issues in our region is painful for this (Israeli) government. What happened is a failed Israeli attempt to thwart this role, and we can say with all confidence that what happened will only make this role more effective in regional events," the Syrian leader added.
Asked about pressure from Washington, which has accused Syria of supporting "terrorists" and allowing fighters to cross into Iraq, Assad said: "We are not a superpower, but we are not a weak state either. We're not a country without cards...We are not a state that can be ignored in the issues under discussion."
He said he believed Damascus' dialogue with Washington should continue, but he also accused the United States of using Syria as a scapegoat for its policies.
"In reality, if the United States failed in the farthest part of Asia ... it would blame Syria and Iran — this is taken for granted," Assad said.
Assad blasts Israeli 'government of war'

07/10/2003
Israel's attack on Syria will enhance the country's role in the Middle East, instead of diminishing it as the Israelis seek, Syrian President Bashar Assad said today.
In his first public comments after Israeli fighter-bombers struck Syrian territory on Sunday for the first time in 20 years, Assad said Israel was led by a "government of war" that employs war to "justify its existence."
"There is no doubt that the role Syria plays in the various issues in our region is painful to this (Israeli) government. What happened was a failed Israeli attempt to undercut this role," Assad said.
"We can, with full confidence, say that what happened will only make Syria's role more effective and influential in events in the region – contrary to what this (Israeli) government wants," Assad said.
Arab Leaders Urge United Nations to Investigate, Expose and Eliminate Israel's Nuclear Weapons Program
Middle Eastern states say IAEA is a discriminatory and racist UN agency which intentionally fails to criticize Israeli nuclear, biological, chemical and many other Zionist Weapons of Mass Destruction
Arab states have accused the United Nations nuclear watchdog of holding back from criticising Israel.
Egypt, Syria and Saudi Arabia said the International Atomic Energy Agency (IAEA) was ignoring Israel's nuclear, chemical, biological and many other Zionist Weapons of Mass Destruction.
At the same time, they said, the agency was putting pressure on other countries to give up their nuclear programs.
The IAEA is urging Iran to prove that its nuclear power plants are not being used to develop weapons-grade material. Under U.S. pressure, the IAEA has given Iran until 31 October to prove it does not plan to develop nuclear weapons. Europe and Russia have also increased pressure on Tehran to meet the deadline...
Sharon: Israel Will Strike at Enemies
October 7, 2003
By RAMIT PLUSHNICK-MASTI
Associated Press Writer
JERUSALEM (AP) - Israeli Prime Minister Ariel Sharon, in his first public comments since an Israeli air strike against Syria, said Tuesday that his nation would not hesitate to strike at its enemies wherever they were.
"Israel will not be deterred from protecting its citizens and will strike its enemies in every place and in every way,'' Sharon said..."
Comment: Apparently protecting Israel's citizens involves attempting to provoke a war in which many would die. War is peace.
Israel Vows No Limit in Response to Militants
JERUSALEM (Reuters) - [...] Syrian President Bashar al-Assad, in his first public comments on the weekend air strike near Damascus, accused Israel of trying to drag Syria and the rest of the Middle East into a wider conflict. [...]
Bush backs 'unlimited' Israeli defence
Tuesday 07 October 2003, 5:47 Makka Time, 2:47 GMT
US President George Bush has said Israel should not feel constrained in defending itself, amid rising regional tensions.
Bush on Monday said he backed Israel's right to "self-defence". His remarks came after an Israeli air raid the day before on an alleged training camp for Palestinian fighters in Syria.
[...] Bush said he had told Israeli Prime Minister Ariel Sharon on Sunday that Israel should not feel constrained in defending itself.
"However, I said that it's very important that any action Israel take [sic] should avoid escalation and creating higher tensions," Bush said in Washington.
Comment: So, on the one hand, Israel can do whatever it needs. On the other, it should avoid escalation and creating higher tensions. Right. And bombing Syria, which is apparently OK by Bush is NOT going to escalate and create higher tensions? The response of the world to the attack, universal condemnation except for the US, shows that most people on the planet understand that the attacks have up'd the ante considerably. But this is apparently still within the acceptable bounds for Bush. One trembles when pondering what type of retaliation on the part of the war mongers in Israel would be over the line Bush is drawing in the Mid East sand.
Israeli fire into Lebanon escalates border tension
Kfar Kila, Lebanon/Ramallah |Reuters | 07-10-2003
Gunfire from Israel hit a UN truck on the Lebanese side of the border yesteday, a UN official said, racheting up border tensions one day after Israeli planes bombed deep inside Syria.
"A Unifil water truck was hit by three bullets from the Israeli side," said the official from the UN peacekeeping force. "All our trucks are clearly marked," he said, adding there were no injuries. Israel denied reports of the attack, but a Lebanese security source said shots were fired from Israel over the border into Lebanon.
"The Israelis fired in the air over Lebanese cars on the road between Kfar Kila and Adayseh with the excuse that they came under fire from our side," he said.
Sharon vows to hit enemies anywhere, anytime
07.10.2003, 11:00 UTC
Israeli Prime Minister Ariel Sharon has issued a stark warning to his country's enemies saying Israel would not hesitate to attack them anywhere at any time. Sharon made the remarks at a ceremony in Jerusalem marking the 30th anniversary of the Yom Kippur war. He added that Israel was also ready for peace. It was his first official statement following Sunday's airstrike by Israeli forces on a suspected Palestinian militant training camp in Syria. Earlier Syrian President Bashar al-Assad accused Israel of widening the Mideast crisis by dragging his country into the conflict.
US Gave Israel Greenlight for Attack
Raid on Syria is a Lethal Step Towards War
By ROBERT FISK
CounterPunch
[...] If America can strike Afghanistan for the international crimes against humanity of 11 September 2001, when 15 of the 19 hijackers were Saudis, and if America can invade Iraq, which had absolutely nothing to do with 11 September, why shouldn't Israel strike Syria? [...]
Perhaps Lebanon will benefit. Perhaps Lebanon can now be spared Israel's retaliation for Palestinian violence--unless, of course, Israel decides to strike a Palestinian "training base" in Lebanon.
No one asks what these "training bases" are. Do Palestinian suicide bombers really need to practice suicide bombing? Does turning a switch need that much training? Surely the death of a brother or a cousin by the Israeli army is all the practice that is needed.
But no. Yesterday, we took another little lethal step along the road to Middle East war, establishing facts on the ground, proving that it's permissible to bomb the territory of Syria in the "war against terror", which President Bush has himself declared now includes Gaza. [...]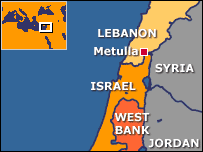 Israeli soldier killed on Lebanon border

An Israeli soldier has been killed in gun clashes across the border with Lebanon, Israel's military has said. Military sources said the soldier was killed in an attack on a border patrol by the Lebanese militants Hezbollah near the town of Metulla on Monday - a charge denied by the group.
Early on Tuesday a Lebanese boy was killed when a missile fell on his house - possibly falling short of a target in Israel.
The deaths come amid heightened tensions in the region, after Israel targeted an alleged Palestinian militant camp in Syria in response to Saturday's suicide bomb attack in Haifa, which left 19 dead. [...]
Attack
The soldier was the first Israeli casualty on the northern border since August. The Israeli military said Hezbollah forces in Lebanon shot the soldier as he patrolled the border and Israeli troops then returned fire.
"Syria is responsible for what's happening here, by letting the terror groups act freely," said Major General Benny Gantz. But Hezbollah - backed by Syria and Iran - denied it was involved in the incident, while Lebanese officials said the shooting had not begun on their side, maintaining Israeli troops fired at two vehicles on a road in the south of the country.
A UN official told Reuters that one of its water trucks had been hit by three bullets from the Israeli side. No one on the Lebanese side was hurt, said officials.
The four-year-old Lebanese boy died in the Lebanese village of Houla early on Tuesday, but it was unclear whether the explosion was caused by anti-aircraft fire or a missile aimed at Israel falling short of its target.
The Israeli army said that three shells were fired at its positions, and sent jets and helicopter gunships over the border on reconnaissance missions.
Israel said Sunday's air strike targeted a training camp run by Islamic Jihad, the group it accuses of carrying out a suicide bombing in the coastal town of Haifa the day before.
Speaking in Washington, Mr Bush said: "Israel must not feel constrained in terms of defending the homeland."
Palestinian PM rules out crackdown on militants
07.10.2003

RAMALLAH, West Bank - Palestinian Prime Minister Ahmed Qurie says he will not risk civil war by cracking down on Islamic militants, despite pressure to rein them in under a United States-backed plan for peace with Israel.
Speaking today, one day after President Yasser Arafat declared a state of emergency in Palestinian areas and approved an eight-member cabinet, Qurie told Reuters he would try to persuade the militants to halt attacks on Israelis.
"We are facing an abnormal situation. There is a state of chaos that should be confronted," Qurie said by telephone.
Asked how he would confront the violence, he said: "There won't be a civil war, (I will do it) through dialogue. There won't be martial law".
Qurie declined to give more details or say when he would hold talks with the militant groups which have killed hundreds of Israelis in suicide bombings since a Palestinian uprising for statehood began three years ago.
A unilateral truce declared by Palestinian militants in June collapsed in August after Israel assassinated a top Hamas political leader following a suicide bombing in Jerusalem that killed 22. Hamas said the bombing was in response to Israeli attacks on Palestinians. [...]
AP: FBI Sent Money to Hamas in 1990s
By JOHN SOLOMON, Associated Press Writer
Tue Oct 7, 1:56 AM ET
WASHINGTON - In an undercover operation run in the shadow of Mideast peace talks, the FBI secretly sent money to suspected Hamas figures to see if the militant Palestinian group would divert it from charitable purposes to terrorist attacks, according to interviews and court documents.
The counterterrorism operation in 1998 and 1999 was run out of the FBI's Phoenix office in cooperation with Israeli intelligence and was approved by Attorney General Janet Reno, FBI officials told The Associated Press.
The money, usually just a couple of thousand dollars, was sent to suspected terror supporters during the operation as the FBI tried to track the flow of cash through terror organizations, the FBI said in a rare acknowledgment of an undercover sting.
"This was done in conjunction with permission from the attorney general for an ongoing operation, and Israeli authorities were aware of it," the bureau said.
The FBI said the money was given through one of its operative's charities to see if it would be diverted for terrorism and the amounts were kept small so it couldn't be used to fund a major attack. Court testimony indicates in one case a Hamas figure used the sting money to help orphans. [...]
Comment: In this article on the same subject it is noted that this program was run out of the, "FBI's Phoenix office in cooperation with Israeli intelligence"
Israeli forces re-invade Jenin
Tuesday 07 October 2003

Israeli occupation troops have stormed the West Bank city of Jenin and its refugee camp.
Soldiers invaded the city early on Tuesday, slapping a blanket curfew on the population for the third consecutive day, reported our correspondent. Occupation forces raided civilian homes, particularly near Haifa bomber Hanadi Jaradat's house.
The 29-year-old detonated an explosive last week in the northern Israeli town, leaving 19 people dead. Israeli soldiers also stormed Islamic Jihad leader Shaikh Bassam al-Sadi's house and arrested his son.
Al-Sadi was detained a few days ago. Israel has declared an "all out war" against resistance activists spearheading the Intifada against its occupation.
10:56 Oct 02, '03 / 6 Tishrei 5764
The University Students' Union has come out swinging. It publicized a call last night for all students to boycott the 200 professors who signed a petition in support of the "rebel pilots," and not to sign up for their courses.
Signed by 22 student union heads from around the country and addressed to the professors, the students' proclamation stated, "We call on the student public to give up on the privilege of hearing your learned doctrine and to boycott your lectures."
Igniting the controversy was a letter sent last week to Israel Air Force Chief Gen. Dan Halutz by 27 pilots, including 18 on non-active duty, saying they would refuse to carry out what they called the "unethical" orders to bomb murderous terrorists hiding out amidst Arab civilians. Their many critics stated that they are apparently more concerned with the risk to Arab civilians than that to the Israelis who are targeted by the terrorists. [...]
Comment: The pilots were upset by the almost daily raids on Palestinian territory, and could not morally justify what they were being forced to do. It seems these students feel such demolitions and raids on non-military targets are necessary means for extermination of the Palestinian problem, and do not advocate free thinking and free speech. Perhaps the professors are better off without such students.
US soldier killed in Iraq

07/10/2003
One soldier attached to the 3rd Armoured Cavalry Regiment was killed and another wounded when a roadside bomb exploded just west of Baghdad, the US military said.
It was the first reported death by hostile fire of an American soldier in Iraq since Friday.
Attack targets Iraqi Shia party
Tuesday 07 October 2003, 12:39 Makka Time, 9:39 GMT
An employee of Iraq's main Shia political grouping has died after an explosion at the party's offices in the northern city of Kirkuk.
The worker was killed in the suspected resistance attack targetting the Supreme Assembly for the Islamic Revolution in Iraq (SAIRI).
[...] "The goal of these attacks is to wreck the future of Iraqis and disturb security," [SAIRI's chief Izz al-Din Musa] said in the oil-rich town, 255km north of Baghdad.
Musa claimed the attacks were carried out by al-Qaida. US occupying forces and Shia groupings in Iraq regularly blame incidents on al-Qaida and Baathist elements.
SAIRI is represented on the US-appointed Iraqi Governing Council, a move which has angered both Sunnis and Shias in post-Saddam Hussein Iraq.
Security only temporary problem in Iraq: US Ambassador
www.chinaview.cn
2003-10-07 09:53:37
UNITED NATIONS, Oct. 6 (Xinhuanet) -- Defending a revised US draft resolution on Iraq, US Ambassador to the UN John Negroponte said here Monday that the worsening security in Iraq is only a temporary problem for the top UN envoy to work there.
"Security would make it difficult for the SRSG (Special Representative of the Secretary-General) to work there," Negroponte told reporters, adding he believes the situation could be improved "in the immediate future."
US heavy-handedness angers Iraqis
www.chinaview.cn
2003-10-06 18:08:34
BAGHDAD, Oct. 6 (Xinhuanet) -- The riots across Iraq in the past two days in which an unclear Iraqi casualties were caused were a mere example of the heavy-handedness used by the US-led coalition forces in their treatment of Iraqis.
Three Iraqis were reportedly to have been killed in Baghdad and southeastern Iraqi city of Basra Saturday, when American and British troops opened fire on former Iraqi former soldiers who came to receive their promised payments.
The Americans and Englishmen unscrupulously opened fire on the demonstrators who protested excessive use of brute force by the coalition forces against Iraqis.
The southern central cities of Nassiriya and Hilla also saw mass demonstrations Saturday and Sunday in protest of ill-treatment of Iraqis by the coalition forces.
These and other cases of American and British heavyhandedness are almost daily occurrence in various Iraqi cities and towns to the extent that the number of Iraqis killed daily by armed fires in Baghdad alone jumped to more than 30 times compared with the pre-war period, according to authentic sources.
Not this alone, the Americans badly mauled members of Iraqi families, including old men, children and women, when these troops carried out unwarranted searches in houses and apartments under the pretext of pursuing wanted men or in search of unlicensed weapons. Iraqi press is full of stories about such heavy-handed treatment and of valuables, such as money and jewellery, of these families being "stolen" during such searches by the coalition forces.
To humiliate Iraqis, American troops used to put black bags on the heads of those arrested, tie their hands to their backs and force them to sit down on the ground for hours under the searing summer heat in front of their family members.
Complaints over such American heavy handedness have been heard from widely-divergent quarters, including the American-handpicked Iraqi Governing Council, which raised the matter with the highest American authorities, including commander of the US Central Command General John Abizaid, during one of his recent visits to Iraq.
Commander of the US ground forces in Iraq Ricardo Sanchez admitted that his troops are using what he termed as the "ironfist" policy in their treatment of the Iraqis.
Although he promised to abandon such a policy in favor of a more softy-softy treatment, things on the ground remain unchanged more than a month after this promise.
Observers believe that the heavy-handedness with which the American troops are treating Iraqis plays into the hands of those unknown armed men who carried out almost daily armed attacks on the US-led coalition forces in Iraq.
It also further antagonizes Iraqi people whom the Coalition Provisional Authority headed by the US diplomat Paul Bremer seeks to win over heart and mind.
Washington to make major policy change in Iraq
06-10-2003,12 :10
The Bush administration has ordered a major reorganization of U.S. efforts to quell violence in Iraq and Afghanistan and to speed the reconstruction of both countries, the New York Times reported, citing top administration officials.
In its Monday edition, the newspaper said the fresh effort includes the establishment of an "Iraq Stabilization Group," which will be run by the national security adviser, Condoleezza Rice.
The decision to set up the new group, five months after Bush declared the end of "active combat" in Iraq, seems to be part of an effort to assert more direct White House control over how the U.S. coordinates its efforts to "fight terrorism, develop political structures and encourage economic development" in both countries, the paper said.
"The (U.S.) president knows his legacy, and maybe his re-election, depends on getting this right," an administration official said. "This is as close as anyone will come to acknowledging that it's not working."
Iraq announces first mobile phone network; Turkey to send troops
AFP
Tuesday October 7, 3:25 AM
Iraq announced its first mobile phone network in a major stride for the country's reconstruction, while Turkey opted to send troops to the neighboring war-torn country and called on parliament to approve the measure. [...]
Iraq awarded the phone contracts to Egypt's Orascom, Atheer Tel and Asia Cell, both largely Kuwaiti-owned, saying it expected the long-awaited GSM service to begin by the end of the month. [...]
"The service should start in a few weeks, we have been told by the end of the month," Abbadi told a news conference.
Iraq chose widely used GSM technology over the US-based CDMA system despite the predominant US influence in post-war Iraq. [...]
But eager to win a say in the shaping of postwar Iraq and make up for its failure to back the war, Ankara has indicated it is willing to send up to 10,000 troops to help its US ally restore stability in its neighbor's territory. [...]
Comment: What this article fails to mention is that before the Bush Reich and their allies invaded Iraq, there was already an adequate mobile phone network in place. In any case, we doubt that the Iraqis will care about having a mobile phone again when they are still having to cope with bigger issues, such as their very survival.
Hundreds protest at Baghdad mosque
BAGHDAD (Reuters) - Hundreds of angry Iraqis are demonstrating outside a Shi'ite mosque in Baghdad, saying that U.S. soldiers have arrested a local cleric and another man. [...]
About 400 people gathered outside the Ali al-Bayaa mosque in Baghdad's southwestern Bayaa district, waving banners saying "America = Saddam" and "What is this freedom?" [...]
Mystery blood clots kill U.S. troops
WASHINGTON, Oct. 6 (UPI) -- Several U.S. soldiers in the Iraqi war died from sudden illnesses and a United Press International probe shows those were triggered by unexplained blood clots.
The Pentagon says blood clots caused two soldiers to collapse and die. At least eight other soldiers have also collapsed and died from what the military has described as non-combat-related causes.
NBC reporter David Bloom also died of a blood clot in his lung after collapsing near Baghdad.
The UPI investigation by reporter Mark Benjamin also points to another disturbing factor of soldiers becoming ill or dying from similar ailments in the United States. In some cases, the soldiers, their families and civilian doctors blame vaccines given to them by the military, particularly the anthrax or smallpox shots. [...]
Iraqi Foreign Ministry attacked

07/10/2003
A projectile was fired at the Iraqi Foreign Ministry in Baghdad today, causing a large explosion but no casualties, witnesses said.
Iraqi guards fired rifles in the air shortly after the midmorning blast.
Five US army Humvees and two armoured personnel carriers sped to the scene and several streets in the area were sealed off.
Witness Hussein Amin said the projectile – either a rocket-propelled grenade or a mortar – apparently exploded in the ministry compound, causing minimal damage but sending staff streaming out of the offices, half a mile from the palace headquarters of the US led coalition.
Whistle-Blower Faults Nuclear Facility Security
Oct. 7 — LOS ANGELES (Reuters) - A U.S. federal employee who until September 2001 ran simulated "war games" to test security at U.S. nuclear weapons facilities has claimed that measures to guard against terrorist attack were largely inadequate, according to a report in Vanity Fair magazine released on Monday.
The article, written by veteran nuclear industry reporter Mark Hertsgaard, quotes Rich Levernier as saying teams of mock terrorists he oversaw ran pretend assaults on the Los Alamos National Laboratory in New Mexico and other facilities, and over half of the time, captured plutonium and escaped.
"Some of the facilities would fail year after year," Levernier said in Vanity Fair's November issue which hits newsstands on Wednesday.
Comment: With all it's intelligence, military and technological capabilities, why should this be the case? The answer is simple. There is no "terrorist threat". The only threat to the American people comes from their own government and other nations with whom they are in league.
U.S. Warns of 'Spectacular' Taliban Acts
Tue October 7, 2003 06:32 AM ET
By David Brunnstrom
KABUL (Reuters) - On the second anniversary of its intervention in Afghanistan, the United States said there were signs Taliban guerrillas planned more spectacular attacks and urged Pakistan to do more to curb Islamic militants.
Zalmay Khalilzad, the U.S. special envoy to Afghanistan and ambassador designate to Kabul, told a news conference on Tuesday the fight against "terrorists" in Afghanistan was a long-term struggle. [...]
Khalilzad said there had been a surge in Taliban activity in recent weeks, but there were signs that the response by U.S.-led forces had been effective. However he added:
"I think that in desperation they may try, there are indications they may try, to do something to get a lot of attention...There are indications that they are planning even larger attacks, more spectacular attacks perhaps." [...]
Comment: What else do they want Pakistan to do, since, as we reported a couple of days ago, they have pretty much turned their country over to the FBI. Notice that it is continually reinforced that there will be perpetual war for peace. The one minor inconvenience is that there will never be any peace. Anyone who complains is labeled unpatriotic. God forbid if you want some evidence that the Taliban had anything to do with 9/11. Perhaps the Bush Reich wants to take away some more freedoms, or perhaps people are asking too many questions, or perhaps Israel wants to invade some other country, and the time for another terrorist strike is nearing.
Pentagon's 'lax' lab gear sales

The US Defence Department could inadvertently be providing terrorists with the equipment to make chemical or biological weapons, say congressional investigators.
They found the Pentagon was not properly monitoring internet sales of its equipment and so was unable to determine who was buying it and how it was being used.
The House Government Reform Subcommittee on national security - which requested the inquiry - will examine the findings on Tuesday.
"The Department of Defence should not be a discount shopping outlet for would-be-bio terrorists," said subcommittee chairman, Representative Christopher Shays.
Investigators set up a shell company to find out how easy it is to buy laboratory equipment from the Pentagon.
Using a website that sells the surplus gear, they bought centrifuges, evaporators, bacteriological incubators and protective clothing - all of which could be used to make chemical or biological weapons.
The report by the General Accounting Office says the equipment was both easy and economical to obtain.
They found that in numerous cases surplus kit was re-sold to unknown buyers in countries where terrorists have operated, such as the Philippines and Egypt.
The Pentagon regularly sells surplus equipment, and the instruments bought by the investigators are commercially available.
"The cheap, virtually unregulated availability of low-cost biological laboratory equipment poses a risk to national security," said Mr Shays.
Comment: Inadvertently?"Whoops! Silly us, we will just have to go and invade another Arab country now". Pathetic.
US cautions Westerners in Saudi
The US embassy in Saudi Arabia said yesterday that "known terrorist operatives" have been making note of areas often visited by Westerners in the kingdom and urged Americans to be more vigilant about their security.
"Recent information has come to the embassy's attention that known terrorist operatives in Saudi Arabia have reference material identifying popular trails and campsites in Saudi Arabia often used by Westerners," the embassy said in an advisory posted on its Web site.
"It is unknown at this time if this information is linked to any ongoing operational planning by these terrorists," it added without giving further details.
Pakistan MP is killed in attack
Pakistani Sunni militant leader and member of parliament Azam Tariq was among five people killed in an attack on his car yesterday on the outskirts of the capital Islamabad, police and party officials said.
"Yes, it was Maulana Azam Tariq," said a sobbing Rashid Mehmood Faruqi, Tariq's personal secretary and a fellow member of his militant Sunni Muslim group Sipah-e-Sahaba Pakistan (SSP).
"The others were his driver and colleagues." Party workers were also in tears at the Islamabad hospital where Tariq's body was taken, and said they had seen the body of their leader. They said Tariq's bodyguards were among the dead.
British paper pays pilot for 9/11 slur
Monday 06 October 2003, 15:42 Makka Time, 12:42 GMT
An Algerian pilot who was wrongly accused of training the 11 September hijackers has won a public apology and undisclosed damages from a British newspaper at London's High Court.
Lotfi Raissi, 29, who has also filed separate claims for a reported £13 million ($21.6 million) against the US Federal Bureau of Investigation (FBI) and the US Justice Department, won his case against Associated Newspapers, publishers of the Mail on Sunday, which printed the unfounded US allegations.
Louis Charalambous, Raissi's lawyer, told the court the Mail on Sunday published an article on 30 September 2001 which referred to allegations made by Washington - in particular that Raissi trained some of the hijackers who flew passenger aircraft into the World Trade Centre and the Pentagon in 2001.
Raissi, a British-based Algerian who studied at a flight school in Arizona, was arrested in London 10 days after the attacks and held for five months in the city's high security Belmarsh prison.
No evidence
But he was later cleared of wrongdoing in extradition proceedings in front of a British judge, who said US officials had failed to present any evidence to back up accusations that he had links to terrorism.
The Mail on Sunday article also alleged Raissi had dishonestly used the social security number of a dead grandmother to establish a false US identity.
The court said the paper now accepted that, as found during the extradition hearing, "there was no evidence whatsoever to support the contention that Mr Raissi had been involved in the September 11 conspiracy."
His flying career is in tatters, thanks to the publicity surrounding his arrest."I can't fly aeroplanes anymore. I've been blacklisted from all airlines," Raissi told the BBC.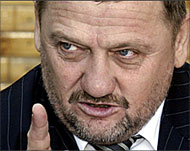 Kadyrov promises crackdown against rebels
Tuesday 07 October 2003, 16:30 Makka Time, 13:30 GMT
The new president of Chechnya has vowed to crack down on independence fighters in the war-shattered republic.
Ahmad Kadyrov won a landslide victory on Sunday in the war-torn Russian breakaway republic's presidential poll, though the election was denounced as a sham by rights groups and greeted with serious international scepticism.
"If I am head of the republic, that means my people must be everywhere," Kadyrov said in an interview published in the Kommersant daily, adding that the towns and districts of the mountainous territory must not be ruled by different clans.
"From now on I am going to be even harsher. It can't be otherwise. They have to submit to the president," the 52-year-old said.
Comment: The US has been covertly backing the rebels in Chechnya. Recent talks between Putin and Bush concerned Putin's "right" to fight "terror." Kadyrov looks like he'll fit right in with Sharon.
Demonstrators burn cinema, destroy shops in Islamabd
www.chinaview.cn
2003-10-07 16:38:06
ISLAMABAD, Oct. 7 (Xinhuanet) -- Hundreds of angry activists of a banned Sunni extremist group Tuesday went on rampage in Islamabad after the funeral of their leader who was killed Monday, and burnta cinema house and damaged shops, witnesses said.
[...] Around 3,000 people attended the funeral of Maulana Azam Tariq,member of National Assembly and chief of the banned Sipah-e-Sahabagroup, who was killed in Islamabad on Monday along with his driverand three security guards while travelling in a car.
Foreign Ministry note: Cuba calls on the United States to prove biological weapons accusations
ON October 2, 2003, Roger Noriega, assistant secretary of state for Western Hemispheric Affairs, ratified at a U.S. Senate Foreign Relations Committee hearing, the Bush administration's policy of increasing hostilities and aggression against Cuba. He announced a new plan of subversive activities against our country and reiterated the cynical accusations that Cuba is developing a limited program of biological weapons.
Mr. Noriega suffers from stupid arrogance and acts like a fanatical member of the Miami terrorist groups obsessed with the Cuban Revolution.
Once more, this individual has shamefully lied in order to try and link Cuba with bio-terrorism. It is evident that he has learnt nothing from the ridiculous acts of his colleagues John Bolton, Dan Fisk and Otto Reich. As before, Cuba is calling on the U.S. administration to demonstrate that it is not shamefully lying and to present the minimal amount of proof to back up these mendacious accusations that our country is developing biological weapons. Such cynical lies deserve contempt and we warn them in advance that we are not in the least frightened.
It is disgraceful that top U.S. government figures have to lie before Congress in order to justify their discredited anti-Cuban policy.
Athens 2004 Olympic Games security at risk
Disputes over setup, cost of wireless system delay preparations
Ten months before the start of the Athens 2004 Games, the communications system that is to be the backbone of the 600-million-euro Olympic security effort is still up in the air.
According to information obtained by Kathimerini, there are differences among the US-led consortium about replacing the provider of the Terrestrial Trunked Radio (TETRA) wireless communications system; there are also differences between the consortium and the government over the latter's demand for a hefty discount for the TETRA system. These delays, and the consequent effect they will have in training security personnel, are putting the most massive security operation in the history of the Olympics in jeopardy.
Comment from a reader: This security issue is going on since 9/11. The USA tries to blackmail Greece into "buying security" from them. They even threatened the Government to boycott the Games.

I have the impression for some time now that "something" is planned for the games.
Interros, French Join for UES Tender
By Alla Startseva
Staff Writer
Tuesday, Oct. 7, 2003. Page 5
French power giant Electricite de France and Vladimir Potanin's empire Interros on Monday signed a memorandum for collaboration in Russia's power sector that includes joint participation in the tender for managing Northwest heat and power plant and other Unified Energy Systems generating assets.
[...] EDF and Interros will compete for the Northwest management rights against the team of Italy's ENEL and Russia's ESN-Energo. Germany's E.ON Energy has expressed interest in participating and is in search of a Russian partner. Lenenergo, a key shareholder in the plant, said it also plans to place a bid together with a Western partner. Finland's Fortum is considered a likely candidate.
Yukos Chief: 'It's Just Not Fair'
By Catherine Belton
Staff Writer
Tuesday, Oct. 7, 2003. Page 1
Yukos founder Mikhail Khodorkovsky said Monday he would rather go to jail than leave the country as a political emigre and abandon a bitter fight with state authorities that began in July with the arrest of key Yukos shareholder Platon Lebedev on fraud charges.
[...] "I don't have a high opinion of our respected prosecutors' ... readiness to follow the law. But even I did not expect this of them," he said. "It was not just a raid, but a raid conducted with a show of force, with machine guns and with all the theatricals we see in Moscow -- in a place where 120 children live and study.
"Why would we keep something in an old server that we have given to children?" he said. "This makes no sense. We understand this very well and so do the prosecutors. There was no need for this raid. It was a clear attempt to intimidate. But I don't understand why they needed to do this through children.
"It's just not fair," he said.
[...] Khodorkovsky has been reviled as one of the biggest sharks in Russia's chaotic transition from a planned economy. But with most leading businessmen having just as controversial climbs to wealth and power during the 1990s, analysts have said the legal attack on Khodorkovsky now appears to come in response to his moves to finance opposition parties for upcoming elections. They also have pointed to a fight for power between members of the old elite, which includes Khodorkovsky, and a group of hardliners that climbed the Kremlin ladder with President Vladimir Putin.
Tuesday 07 October 2003, 4:13 Makka Time, 1:13 GMT
After more than three decades, Canada's policy of bilingualism in federal government is working well – with the exception of one area, the head of the country's civil service has said.
2003 Nobel Physics Prize announced
www.chinaview.cn
2003-10-07 18:04:12
STOCKHOLM, Oct. 7 (Xinhuanet) -- The 2003 Nobel Physics Prize was awarded on Tuesday to quantum physicists Alexei A. Abrikosov, Vitaly L. Ginzburg and Anthony J. Leggett, the trio who contributed to "the theory of superconductors and superfluids," the Swedish Royal Academy of Science announced.
The trio -- Abrikosov, 75, a Russian-American; Ginzburg, 87, a Russian; and Leggett, 65, a British-American -- was honored for providing deeper insights into the ways in which matter behaves inits "lowest and most ordered state," the academy said.
French corruption court to grill Juppe
Former French Prime Minister Alain Juppe is due to give evidence in court on Tuesday about his alleged role in a system of illicit financing for the former political party of President Jacques Chirac.
The alleged fraud took place in the late 1980s and early 1990s, when Mr Chirac was mayor of Paris and Mr Juppe the secretary general of his now defunct RPR political party.
Several of the most serious charges have been dropped, but Mr Juppe must still explain how RPR party officials came to be on the city's payroll.
[...] During a brief appearance when the trial opened on 29 September, Mr Juppe denied that either or Mr Chirac was aware of any wrongdoing.
However during the first week of the trial, other witnesses have given a different picture.
One of Mr Juppe's former chiefs of staff told the court in Nanterre, near Paris, that "everyone" within the RPR knew about the fictitious jobs for party officials during Mr Chirac's long years as mayor of Paris.
'55 dead' in Congo massacre

07/10/2003
Dozens of tribal fighters have attacked a village in northeastern Congo killing up to 55 people, looting property and setting huts on fire
UN troops sent to investigate the attack in Katchele, a village in Ituri province, saw the bodies of 23 civilians, mainly women, children and the elderly, lying on the ground, said Isabelle Abric, a spokeswoman for the UN mission in Congo.
Residents claimed another 32 people killed in the attack were buried in the village.
She said the victims were from the Hema tribe and it was suspected that fighters from the rival Lendu tribe carried out the attack.
The region has been beset by fighting, massacres and reprisal killings since 1999, a year after the civil war in Congo erupted.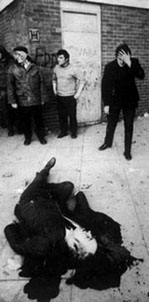 Ex-para shot youth in the back

07/10/2003
A former British paratrooper today admitted shooting a youth in the back as he was running away on Bloody Sunday.
Soldier H, who fired the most rounds on Bloody Sunday, said he shot two nailbombers in Glenfada Park, including one young man as he was making his way out of the area.
Questioned by Seamus Treacy QC representing the families, Soldier H at first denied shooting one of the youths in the back.
Soldier H told him he was "100% certain" he did not shoot one of the alleged bombers as he ran from the soldiers.
But Mr Treacy referred him to a statement he made to the Royal Military Police shortly after the shootings when he said he aimed a shot at the young man's central back.
He quoted extracts from Soldier H's statement: "He was dressed in a jean suit; that was all I noticed. He picked up an object from one of the youths that had been shot and ran in the direction of the north block of flats across the waste land."
"The youth when I fired was about 20 metres from me. I aimed my shot at his central back."
The lawyer again put it to him: "Was that true; did you aim at his central back?"
He replied: "Yes I did sir."
Earlier, Soldier H denied claims that he acted like a cowboy, firing from the hip on the day that 13 unarmed civilians were shot dead during a civil rights march in Derry.
Mr Treacy asked him: "Do you take the view that you can aim from the hip?"
Soldier H said that he did not regard this method of firing as proper: "It certainly does not, sir, to me that is being a cowboy."
"I did not loose off any rounds, sir, I fired aimed shots," he added.
Comments: The above is from the hearing of the "Bloody Sunday" inquiry, an investigation into the events of January 30th 1972 when the British army shot dead 13 civilians attending a civil rights march in Derry in the north of Ireland. See here for more
Regret letter to May 4 victims appraised on TV
By David Giffels
Beacon Journal staff writer
It was sandwiched between a Roy Rogers movie poster and a lover's ring.
One of the most significant documents from one of the most significant American events of the 20th century popped up last week on Antiques Roadshow , startling some who recognized it and sparking questions across Northeast Ohio.
The item was the "statement of regret'' signed by the 28 defendants in the civil trial that followed the May 4, 1970, shootings on the Kent State University campus. It, along with a $675,000 cash settlement, was an attempt to close one chapter in a tragedy that has never been completely resolved. [...]
"Between 1970 and 2000, what other event was as significant in American history? I think it's great that Steve Thomas has (the document) because he knows the significance of it. This isn't a day we should forget. We started shooting our own.'' [...]
US STATE DEPT: GREEK MEDIA NOT OBJECTIVE
Washington, 3 October 2003

The US State Department accused the Greek media of a lack of objectivity. It supported that the Greek media are a great means of influence, they are characterized by aggressiveness, irresponsibility and an effort to make an impression. Also, the Ministry of the Press is presented as the main guide and controller of radio and television media.
In their regular announcement on Greece, the State Department mentioned that the Greek media are not objective and are characterized by irresponsibility. On the page regarding the media it is mentioned that: "The Greek media are an institution of influence, usually aggressively sensitized and often irresponsible. Their objectivity, as we know it in the United States, does not exist in Greece. Most are owned by businessmen with immense business interests in many sectors of the economy. They use their newspapers, magazines, radio and television stations, for the promotion of their businesses, as well as exercising political influence".
It then deals with the Ministry of Press and Information, which it states was founded in 1994 and that governs the Athens News Agency, state television, and the Macedonian Press Agency, whose press release is distributed to the whole of the Balkans. Major television channels, private and public, it continued, use CNN as their main source regarding international news. Very few channels and newspapers have correspondents abroad, including in the US.
Comment: Startling hypocrisy from the US government given the stranglehold it has on the the media by way of the many "media whores" it employs
We Report: You Get It Wrong

Jim Lobe – Inter Press October 4, 2003
The more commercial television news you watch, the more wrong you are likely to be about key elements of the Iraq War and its aftermath, according to a major new study released in Washington on Thursday.
And the more you watch the Rupert Murdoch-owned Fox News channel, in particular, the more likely it is that your perceptions about the war are wrong, adds the report by the University of Maryland's Program on International Policy Attitudes (PIPA).
Based on several nationwide surveys it conducted with California-based Knowledge Networks since June, as well as the results of other polls, PIPA found that 48 percent of the public believe US troops found evidence of close pre-war links between Iraq and the al-Qaeda terrorist group; 22 percent thought troops found weapons of mass destruction (WMD) in Iraq; and 25 percent believed that world public opinion favored Washington's going to war with Iraq. All three are misperceptions.
The report, Misperceptions, the Media and the Iraq War, also found that the more misperceptions held by the respondent, the more likely it was that s/he both supported the war and depended on commercial television for news about it.
The study is likely to stoke a growing public and professional debate over why mainstream news media – especially the broadcast media – were not more skeptical about the Bush administration's pre-war claims, particularly regarding Saddam Hussein's WMD stockpiles and ties with al-Qaeda.
Television and the Hive Mind

By Mack White
Sixty-four years ago this month, six million Americans became unwitting subjects in an experiment in psychological warfare.
It was the night before Halloween, 1938. At 8 p.m. CST, the Mercury Radio on the Air began broadcasting Orson Welles' radio adaptation of H. G. Wells' War of the Worlds. As is now well known, the story was presented as if it were breaking news, with bulletins so realistic that an estimated one million people believed the world was actually under attack by Martians. Of that number, thousands succumbed to outright panic, not waiting to hear Welles' explanation at the end of the program that it had all been a Halloween prank, but fleeing into the night to escape the alien invaders.
Later, psychologist Hadley Cantril conducted a study of the effects of the broadcast and published his findings in a book, The Invasion from Mars: A Study in the Psychology of Panic. This study explored the power of broadcast media, particularly as it relates to the suggestibility of human beings under the influence of fear. Cantril was affiliated with Princeton University's Radio Research Project, which was funded in 1937 by the Rockefeller Foundation. Also affiliated with the Project was Council on Foreign Relations (CFR) member and Columbia Broadcasting System (CBS) executive Frank Stanton, whose network had broadcast the program. Stanton would later go on to head the news division of CBS, and in time would become president of the network, as well as chairman of the board of the RAND Corporation, the influential think tank which has done groundbreaking research on, among other things, mass brainwashing.
Two years later, with Rockefeller Foundation money, Cantril established the Office of Public Opinion Research (OPOR), also at Princeton. Among the studies conducted by the OPOR was an analysis of the effectiveness of "psycho-political operations" (propaganda, in plain English) of the Office of Strategic Services (OSS), the forerunner of the Central Intelligence Agency (CIA). Then, during World War II, Cantril÷and Rockefeller money÷assisted CFR member and CBS reporter Edward R. Murrow in setting up the Princeton Listening Center, the purpose of which was to study Nazi radio propaganda with the object of applying Nazi techniques to OSS propaganda. Out of this project came a new government agency, the Foreign Broadcast Intelligence Service (FBIS). The FBIS eventually became the United States Information Agency (USIA), which is the propaganda arm of the National Security Council.
Thus, by the end of the 1940s, the basic research had been done and the propaganda apparatus of the national security state had been set up--just in time for the Dawn of Television...
BBC One
Panorama uncovers the true picture of this new system of arrest, detention, interrogation and eventual trial by military commission, a key part of America's war against terror following the events of 9/11. [...]
Briton held as terror suspect says CIA threatened torture
First account of US methods from UK detainee
Vikram Dodd
The Guardian
A British businessman arrested as a suspected terrorist has told the Guardian that US agents threatened him with beatings and rape in an attempt to break him.
Wahab al-Rawi, 38, was denied a lawyer, held incommunicado for four weeks in Gambia, and repeatedly questioned by CIA agents before being released without charge. His account is the first from any Briton about their treatment by the US while held as a suspect in the two year "war on terror". [...]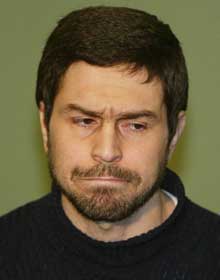 Sorry isn't good enough
By PAUL KNOX
From Tuesday's Globe and Mail
A long, arduous chapter in Maher Arar's life ended yesterday. Another is just beginning.
Mr. Arar's release by Syria after a year in custody may seem like vindication against his jailers, and against the U.S. authorities who delivered him into the hands of one of the Middle East's most repressive regimes.
But as things stand, the 33-year-old Ottawa resident and Canadian citizen is surrounded by a haze of doubt.
No one in Canada, the United States, or Syria has charged him with any offence. No one has spelled out what it was that led RCMP officers to attempt to question him in December, 2001, and January, 2002. No one has said why he was arrested last year during a routine plane change in New York and deported to Damascus.
If his name is to be cleared, it will only happen after a long battle to uncover the truth about his detention -- and the still-mysterious role the Canadian government played in it.
The RCMP claims it did not alert U.S. officials about Mr. Arar's travel plans, or ask that he be shipped off to Syria, of which he is also a citizen. But it's ducking the question of whether individual Mounties, acting with or without the approval of their superiors, told their U.S. counterparts what they knew about Mr. Arar, or suggested to them that he was a man who bore watching.
The U.S. Ambassador to Canada, Paul Cellucci, told an Ottawa audience in private last spring that Canadian law enforcement officials "understand our handling of the case" and "wouldn't be happy" to see Mr. Arar returned to Canada. Unnamed U.S. sources have been quoted as linking Mr. Arar to the al-Qaeda terror network, and suggesting that it was Canada that sought his detention.
Many Canadians ask -- with reason -- whether a dual citizen of, say, Canada and France upon whom similar suspicion had fallen would have received similar treatment. No one will ever be able to prove that Mr. Arar was more harshly treated because he was an Arab and a Muslim. Nevertheless, the affair has added fuel to the debate in Canada over racial profiling as a response to the terror attacks of Sept. 11, 2001.
But the significance of what has happened to Mr. Arar is much broader. It highlights the problems raised by a U.S.-led counterterrorism campaign that posits a shadowy, ill-defined enemy and insists on fighting it with shadowy, ill-defined methods. Not only are these methods poorly suited for determining who is innocent and who is guilty, there is scant evidence that they are uncovering real, verifiable truth about international terror networks.
by Barbara Sumner Burstyn
Dissident Voice
It's a strange feeling to wake up one average, middle-class North American morning and realize your beliefs could get you killed. Not in a random, drive-by, developing-world, terrorist-bombing kind of way. But in an officially sanctioned, totally legal, death by lethal injection way.
At least, if President Bush's call on Congress on the eve of the second anniversary of September 11 to extend the death penalty is anything to go by.
It began in June when Attorney-General John Ashcroft told lawmakers that the death penalty needed to be expanded to cover "material supporters" of terrorist organizations. On the surface it seems fair enough. If you give money to al Qaeda then you have to expect a harsh penalty.
But there's a catch. They've changed the definition of terrorist.
In fact the Patriot II Act redefines terrorism so vaguely and broadly it's not a great leap to envisage the definition including political activists or just about anyone who belongs to an organization that disagrees with the Administration. [...]
Computer Experts Fear Recall Voter Fraud
By RACHEL KONRAD
Associated Press Writer
SAN JOSE, Calif. - Punch-card ballots from Tuesday's historic recall election are sure to get a going-over by political activists, but some computer scientists think touch-screen voting machines deserve just as much scrutiny. [...]
Comment: The Experts primary concerns discussed in this article are from "hackers" with no mention of the hackers being Diebold or the U.S. Government itself. If Jeb and company will do it Florida, and get away with it, despite evidence that should have put them away from treason, then elections are open season now. Every lie that U.S. citizens refuse to examine equals another nail in freedom's coffin.
Media descend on California recall vote

By DOUG SAUNDERS
From Tuesday's Globe and Mail

Norwalk, Calif. — Here, for the people of the world, was U.S.-style democracy. The cameraman for the Al-Arabiya satellite channel, which broadcasts from Dubai and is widely watched in Iraq, zoomed in on the eight-page, celebrity-packed ballot form and then panned over to the prominent sign on the voting booth: "Got chad? Check your ballot card."
The world's eyes are on California today as the state decides whether to kick its governor out of office and replace him with one of a list of 135 contenders headed by strongman actor Arnold Schwarzenegger. Hundreds of foreign journalists have come here to witness the first major election since the United States promised to bring its model of democracy to Iraq. [...]
Comment: Many will be horrified for sure...see below article.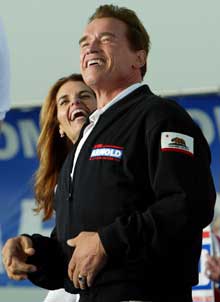 The circus known as the California recall

By DOUG SAUNDERS
From Monday's Globe and Mail
SACRAMENTO — A special-effects man pushes a button. The two-tonne ball of pig iron plummets from the top of the crane, striking the late-model Oldsmobile with a deafening crunch and a cloud of debris. The crowd goes mad.
A recognizable voice echoes across the suburban parking lot. "Hasta la vista, car tax," Arnold Schwarzenegger shouts over an adoring crowd that resembles a rock concert more than a Republican Party rally. "Hasta la vista, car tax!"
Teenaged girls are perched on their boyfriends' shoulders. Intense young men in T-shirts reading, "My Governor Can Beat Up Your Governor" clutch copies of a body-building encyclopedia.
Several thousand people dance and wave their arms as a deafening sound system begins blasting the 1980s Twisted Sister hit We're Not Gonna Take It. [...]
The Bush-Rove-Schwarzenegger Nazi Nexus
By BOB FITRAKIS and HARVEY WASSERMAN
Counterpunch.org
October 6, 2003
George W. Bush's grandfather helped finance the Nazi Party. Karl Rove's grandfather allegedly helped run the Nazi Party, and helped build the Birkenau Death Camp. Arnold Schwarzenegger's Austrian father volunteered for the infamous Nazi SA and became a ranking officer.
Together, they have destabilized California and are on the brink of bringing it a new Reich. With the Schwarzenegger candidacy they have laid siege to America's largest state, lining it up for the 2004 election.
The Bush family ties to the Nazi party are well known. In their 1994 Secret War Against the Jews, Mark Aarons and John Loftus use official US documents to establish that George Herbert Walker, George W. Bush's maternal great-grandfather, was one of Hitler's most important early backers. He funneled money to the rising young fascist through the Union Banking Corporation.
In 1926, Walker arranged to have his new son-in-law, Prescott Bush---father of President George Bush I, grandfather of George Bush II---hired as Vice President at W.A. Harriman and Company. Prescott became a senior partner when Harriman merged with a British-American investment company to become Brown Brothers Harriman. In 1934 Prescott Bush joined the Board of Directors of Union Banking.
The bank helped Hitler rise to power. It also helped him wage war. As late as July 31, 1941---well after the Nazi invasion of Poland---the U.S. government froze $3 million in Union Banking assets linked to Fritz Thyssen. Thyssen was noted in the American press as a "German industrialist and original backer of Adolph Hitler."
Loftus writes that Thyssen's "American friends in New York City [were] Prescott Bush and Herbert Walker, the father and father-in-law of a future President of the United States." That would be the current president's father, George Herbert Walker Bush, also the former CIA director.
On October 20, 1942, the U.S. government ordered the seizure of Nazi Germany's banking operations in New York City, which were under the direction of Prescott Bush. The government seized control of Union Banking Corporation under the Trading with the Enemy Act. The liquidation yielded a reported $750,000 apiece for Prescott Bush and George Herbert Walker. The book, The Splendid Blonde Beast: Money, Law and Genocide, goes into exhaustive detail on Bush-Harriman Nazi money laundering. More recently, Michael Kranish covers the same Bush-Nazi relationships in The Rise of the Bush Family Dynasty published in the Boston Globe. Loftus documents that "Prescott Bush knowingly served as a money launderer for the Nazis. Remember that Union Bank's books and accounts were frozen by the U.S. Alien Property Custodian in 1942 and not released back to the Bush family until 1951."
Often ignored are the Bush family's post-World War II dealings with former Nazis. John Foster Dulles, who had worked with the Bush family in the Harriman Company in laundering money for Nazi Germany, was Dwight Eisenhower's Secretary of State. His brother Allen became CIA director.
As Martin Lee documents in The Beast Reawakens, American intelligence recruited numerous top Nazis to spy on the Soviets during the Cold War. Many established connections to the Bush family that had helped finance their original rise to power. In 1988 Project Censored, in its top award, noted "how the major mass media ignored, overlooked or undercovered at least ten critical stories reported in America's alternative press that raised serious questions about the Republican candidate, George Bush, dating from his reported role as a CIA 'asset' in 1963 to his presidential campaign's connection with a network of anti-Semites with Nazi and fascist affiliations in 1988." Investigative reporter Russ Bellant established ties between the Republican Party and former Axis Nazis and fascists.
In 2000 and 2001 the Columbus Alive published a series of articles documenting further links between Bush, Sr. and the Rev. Sun Myung Moon and his own fascist networks in Japan and Korea.
Karl Rove has parallel ties. The shadowy Rove serves as "Bush's Brain" in the current White House. He is the political mastermind behind the California coup, and is now in the headlines for outing Valerie Plame, the CIA wife of Ambassador Joseph Wilson. A consummate strategist, Rove may have outed Plame in retaliation for Wilson's failure to back up the Bush claim that Saddam Hussein was buying nuclear weapons materials in Africa. According to some published reports, as many as seventy CIA operatives have been put at risk by Rove's retaliatory strike.
According to Wilson, and to Retired U.S. Navy Lt. Commander Al Martin, Rove's grandfather was Karl Heinz Roverer, the Gauleiter of Oldenburg. Roverer was Reich-Statthalter---Nazi State Party Chairman---for his region. He was also a partner and senior engineer in the Roverer Sud-Deutche Ingenieurburo A. G. engineering firm, which built the Birkenau death camp, at which tens of thousands of Jews, Gypsies, dissidents and other were slaughtered en masse.
Rove, who has been based in Utah and associated with the Mormon Church, is widely viewed as the chief engineer of the current Bush administration. He and Tom DeLay are attempting to force the Texas legislature to redistrict its Congressional delegations, adding seven sure seats to the Republican column. By controlling the state houses in New York, Florida, Texas and California, the GOP would have a lock on the four largest states in the union, and thus the ability to manipulate vote counts and strip voter registration rolls in the run-up to the 2004 election.
Rove is a prime behind-the-scenes mover in the Schwarzenegger campaign. On May 1, 1939, a year after the Nazis took control of Schwarzenegger's native Austria, his father Gustav, voluntarily joined Hilter's infamous Strumabteilung (SA), "brown shirt" stormtroopers. This was just six months after the brown shirts played a key role in the bloody Kristallnacht attacks on Germany's Jewish community.
The Vienna daily Der Standard noted recently that "Gustav, a high-ranking Nazi, brought up the bespectacled, rather frail boy with an iron fist and quite a few slaps in the face." Arnold's father favored a Hitler-style mustache in photos.
On October 3, ABC News broke the story of Schwarzenegger's 1977 interview in which he was asked whom he admired. Schwarzenegger replied, "I admire Hitler, for instance, because he came from being a little man with almost no formal education, up to power. I admire him for being such a good public speaker and for what he did with it."
To cover himself, Schwarzenegger has made substantial donations to the Los Angeles-based Wiesenthal Center, which tracks down ex-Nazis. Arnold has also renounced Hitler.
But he has not renounced his friendship with fellow Austrian Kurt Waldheim, the one-time head of the United Nations with known Nazi ties. The book Arnold: An Unauthorized Biography, documents Arnold toasting Waldheim, who had participated in Nazi atrocities during World War II, at his wedding to Maria Shriver. "My friends don't want me to mention Kurt's name, because of all the recent Nazi stuff and the U.N. controversy," Arnold said. "But I love him and Maria does to, and so thank you, Kurt."
On May 17, 2001, Schwarzenegger also met with Kenneth "Kenny Boy" Lay of Enron at the Peninsula Hotel in Los Angeles. Through the utility deregulation plan signed into law by Pete Wilson, Schwarzenegger's chief advisor, California was destabilized, bankrupting the state government and opening the door for Tuesday's recall election. Lay has been George W. Bush's chief financial backer, and a close associate of Karl Rove's.
According to Bob Woodward's Bush at War, Bush attended a New York Yankees game soon after the September 11 World Trade Center disaster. He wore a fireman's jacket. As he threw out the first pitch, the crowd roared. Thousands of fans stuck out their arms with thumbs up. Karl Rove, sitting in the box of Yankee owner George Steinbrenner, likened the roar of the crowd to "a Nazi rally."
He would know.
Lack of medical care in United States called a national disgrace
WASHINGTON.-The health care system in the United States, "the richest country on earth where tens of millions people have to live in a state of medical care insecurity," has been called a national disgrace.
PL agency reported that Los Angeles Spanish-language daily La Opinión published an editorial affirming it is an outrageous situation that "the most advanced medicine on the planet is not available to all."
[...] La Opinión's editorial insists that everyone should have the right to suitable medical care, although this is not specified literally in the Constitution.
"The United States is the only industrialized nation in the world that has no system guaranteeing health care for its people. This is a disgraceful and aberrant situation, especially at a time when it wants to spend tens of thousands of million of dollars rebuilding other countries," the editorial points out.
Out of the total number pf people without medical insurance, 8.5 million are children and 20.2 million are women.
Comment: The lack of universal health care in the US is indeed a disgrace. What is even more of a disgrace is the fact that many Americans are not even aware that such health care exists in other countries, and those who are aware consider that such a program is "communistic" or even "anti-American." The brainwashing of the American people is so thorough that they see the bars of the prison as evidence of their freedom.
S.E. Asian Leaders Sign Landmark Accord
By STEVEN GUTKIN
Associated Press Writer
October 7, 2003
BALI, Indonesia (AP) - Leaders of 10 Southeast Asian nations ranging from fledgling democracies to an absolute monarchy signed a landmark accord Tuesday aimed at wrestling their disparate region into a European-style economic community by 2020.
The blueprint, dubbed the Bali Concord II, envisions a single market eliminating tariff and non-tariff barriers within an economic grouping encompassing 500 million people and annual trade totaling $720 billion.
"We have just witnessed a watershed in the history of ASEAN,'' Indonesian President Megawati Sukarnoputri said.
The Association of Southeast Asian Nations wants to band together to counter the burgeoning economic might of India and China, Asian powerhouses that are siphoning off investment and trade seen as essential for Southeast Asia's development.
Leaders who gathered for a two-day ASEAN summit on this resort island acknowledged that the diversity of governance - which also includes communist autocracies and a military dictatorship - will complicate efforts to emulate European integration. [...]
Geneticists hunt control patterns

A major project will attempt to map out just how genes are controlled in the human body, scientists in the UK and Germany have told BBC News Online.
The Human Epigenome Project will look for patterns in our "life code" that are associated with gene regulation but are also implicated in causing disease.
Researchers at Epigenomics AG in Berlin and the Sanger Institute in Cambridge will take part in the five-year study.
It was the Sanger centre which decoded one-third of the DNA found in humans.
Along with their German colleagues, the UK institute staff will now search through the full sequence for sites of so-called methylation.
Quake hits southwestern Iranian city
2003/10/06

Tehran, Oct 6 - An earthquake, measuring 4 degrees on the open-ended Richter scale, shook the city of Gachsaran in the southwestern province of Kohkilouyeh and Boyerahmad early Monday.
The seismological base of the geophysics institute, affiliated to Tehran University, said the tremor occurred at 02:38 hours local time (2308 GMT).
There were no reports of any casualty or damage caused by the quake.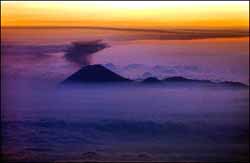 AFP
[...] Government volcanologists are closely monitoring the volcanic activity that has been going on for months. Indonesia's southern region is home to several active volcanos. [...]
In Yellowstone, a Subterranean Volcano Exerts Its Influence
By JIM ROBBINS
New York Times
YELLOWSTONE NATIONAL PARK, Wyo. — The rolling pine forests, snowcapped mountains and crisp fall evenings here tend to make people forget the fact that the park sits atop a huge simmering underground volcano. But new geologic events have served up reminders.[...]
Over last 630,000 years, Yellowstone has experienced 29 eruptions the size of the one on Mount Pinatubo in the Philippines in 1991. The average interval here has been 20,000 years, and 70,000 have passed since its last eruption.
But the volcano, with a caldera 45 by 28 miles, has the potential for far more catastrophic explosions. The last major eruption, estimated at a magnitude 1,000 times as great as the Mount St. Helens explosion of 1980, was 627,000 years ago. The ancient blast blew up miles of mountain range, and ash from it has been uncovered in 22 Western states. It was so thick 1,000 miles away in Kansas that it was mined in the 1930's and used to make a cleanser.
Whether the caldera erupts or not, the stew of partly molten rock 5 to 10 miles below the park exerts a powerful and constant influence. [...]
15 to 20 percent of animal, plant species in China face extinction

BEIJING (AFP) Oct 06, 2003
About 15 to 20 percent of animal and plant species in China are in danger of extinction, higher than the world level of 10 to 15 percent, state media reported Monday.
According to statistics from the State Forestry Administration, over 300 species of terrestrial vertebrate animals and some 410 species of wild plants are at risk, the Xinhua news agency said.
By 2010, China will have a total of 3,000 to 4,000 plants on the brink of being wiped out, the report cited experts as warning. [...]
Ananova.com
10:58 Tuesday 7th October 2003
Conservationists say a German town is being overrun with raccoons. They claim there are now 50 raccoons per square kilometre in Kassel - 10 times more than in the forests.
Almost half of the animals have made their homes in buildings - with lofts and attics favourite targets. One couple said they had caught at least 43 in their attic over the last year.
The Society for Wildlife Ecology and Conservation estimates the number of raccoons in Germany could be as high as one million.
The animals, which are native to North America, were introduced to Germany in 1934 by poultry breeder Rolf Haag who convinced the authorities that they would "enrich the fauna".
Parrot breaks silence to foil burglary
Ananova.com
10:49 Tuesday 7th October 2003
A parrot is believed to have foiled a burglary by breaking a year of silence to shout: "Stop! I'll shoot".
The parrot, owned by a retired police officer, reportedly foiled the break-in after his owner left his flat in Kiev, Ukraine, for a few minutes. When he returned he found three men stretched out on the floor with their hands behind their heads, the Cegodnya newspaper reported.
The thieves, who had believed the man was leaving for the entire day, later said they had heard a voice say: "Stop! I'll shoot! On the ground!", when they came into the flat.
The parrot, which had lived with the retired policeman for a year, had apparently not spoken a word before the incident.
Germany's low-speed car chase

By Ray Furlong
BBC Berlin correspondent
A German man has been arrested after smashing up two police cars with a stolen tractor in a low-speed car chase.
The incident occurred in the western town of Montabaur late on Sunday, after the 37-year-old man had an argument with his girlfriend.
It is not clear why, but after the row he decided to drive off in the tractor that belonged to the couple's landlord.
The man ignored calls from the police over a loudspeaker for him to stop, and when the police formed a road block with their vehicles he lowered the forks at the front of the tractor and rammed them.
Nobody was hurt, but the police cars were badly damaged.
The man was arrested when his tractor ground to a halt shortly afterwards, and is now being investigated for - among other things - intimidation and dangerous driving.
Not surprisingly, his blood has also been tested for alcohol.
Gangster family 'buried victims in double-decker coffins'

07/10/2003
A New York gangster family said to be the inspiration for the mob drama The Sopranos used "double-decker" coffins to dispose of murder victims, a court has heard. [...]
Describing the elaborate scheme, Rotondo said: "The family would put the body of the murdered victim below the regular customer, thus disappearing forever."
The added weight often caused some confusion, he explained to jurors, the New York Post reported.
"There would be six grown men carrying someone's 80-pound grandmother, and they looked like they were having a problem," he said.[...]
Angry teacher throws pupils out window
07.10.2003 3.26 pm
RABAT, Morocco - Two schoolboys were injured on Monday when their teacher threw them out of a first floor classroom window for being too noisy, a Moroccan Education Ministry official said.
One of the pupils, aged nine, ended up in hospital with a fractured shoulder and serious injuries to his face and head while the other, 10, suffered only slight injuries, the official from the ministry's delegation in Casablanca said.
He said the teacher had warned the pair she would throw them out if they were not quiet.
"They did not listen. They should have listened," he told Reuters by telephone. "She (the teacher) suffers depression."
The official had no comment on whether the teacher would be disciplined.
Spying on your teens via satellite for $600
By Danielle Teutsch
The Sun-Herald
Tracking units to monitor children and teenagers - disguised as watches, mobile phones and belts - have hit Australia to the outrage of civil libertarians and parent groups.
The latest in spy gadgets available in Australia are being marketed to anxious parents.
They include a computer device and software that can record email and chatroom conversations and a clothing spray that can tell if teens are having sex. [...]
Man poisons China reservoir to boost sales, 64 ill
BEIJING, Oct 6 (Reuters) - A peddler of water purifiers poisoned a reservoir in central China to boost flagging sales, sickening 64 people, state media said on Monday. [...]
'Peverted' cop jailed for five years
A "DEVIOUS and perverted" Queensland police officer who conned a group of Christians into bizarre sexual practices has been jailed for five years. [...]
Supremacist on the Hayden, Idaho ballot
Aryan Nations founder runs for mayor of Idaho town
By NICHOLAS K. GERANIOS
THE ASSOCIATED PRESS
HAYDEN, Idaho -- Residents of this northern Idaho lakeside town can't rid themselves of Aryan Nations founder Richard Butler.
After Butler lost his nearby compound to bankruptcy several years ago, he moved into a Hayden tract house bought by a supporter. Now he is running for mayor of this town of 9,000, again linking Hayden with his anti-Semitic, white separatist views.
"I'm not really anxious to become mayor," Butler, 85, said. "I'm just anxious to get my word out."
His word is that the United States needs to return to its Christian roots, with the Bible as its basis, said Butler, who goes by the title of pastor of the Church of Jesus Christ Christian/Aryan Nations. [...]
Brawl Breaks Out At Central Falls Church
4 Injured, 2 Arrested During Church Fight
October 5, 2003
CENTRAL FALLS, R.I. -- A fight broke out in a church Sunday morning during Mass, News Channel 10 reported.
It happened at Saint Ephraim's Church on Washington Street.
Police said something set off a family feud in the pews. The situation turned to chaos, with fists flying and parishioners looking for cover.
When it was over, four people were taken to a local hospital for injuries, police said. Two others were arrested for disorderly conduct.
One church member said similar incidents have happened twice before at the church -- each time involving the same family. [...]
PROOF OF UFO SIGHTING CAUGHT ON CAMERA
ROB BURMAN
06 October 2003
The Grimsby Telegraph
Steve Musson (38) and his wife Caron (36) had a close encounter when they spotted what they believe was a UFO spinning across the sky near the shopping area. They saw what Steve described as "a black shiny disc turning over and over in the sky."
The UFO was in the air above their Bodiam Way, Grimsby, home for several minutes before Steve went inside and grabbed his video camera.
The footage, which he gave to the Telegraph, shows an intriguing black object, which comes in and out of view and catches the light on regular intervals.
It is in view for just over a minute before it completely disappears. On the film Steve can be heard to say: "It's just gone. I can't see it." [...]
Mystery bangs plague town (UK)
By Daniel Menhinnitt
Croydon Guardian
The cause of a series of loud explosions is still perplexing people.
Since breaking the story in last week's Guardian the newsroom has been inundated with reports of residents hearing the noise.
The Guardian reported a mysterious noise described as a "bang like a firework but a thousand times louder" had been heard on September 20 at about 6pm.
But now we can reveal there has been a spate of bangs in the last month some loud enough to shake windows and set car alarms off.
Neither the council nor the police have been able to shed any light on the cause.
Spokesman for Croydon council's environmental services said: "We haven't any idea what could be causing the noises. It could be a series of very loud fireworks, perhaps the new type of air bomb fireworks which cause quite a loud noise." The MET office has confirmed that the explosions are not due to the weather, while the Civil Aviation Authority has discounted the idea that the noise could be due to an aeroplane's sonic boom. [...]
Comment: Reports of mystery booms filter their way into the news, see our signs supplement on many more of these reports.
Jon Rappoport
No More Fake News
OCTOBER 6.
Sometimes it's the minor stories that reveal a great deal about the mainstream press.
On October 1, AP reported that a man named Primo D'Agata, in Berlin, Connecticut, found a whole bunch (hundreds or thousands) of little eggs on his porch in the wake of Hurricane Isabel, on September 19th.
Presumably, these eggs had been carried from the south by the storm.
What were they?
Biologists from Central Connecticut State University say the eggs are probably from frogs.
Probably? No one seems too interested, beyond the fact that the hail of eggs was a rather mind-boggling event.
Comment: Good essay on how the press refuses to cover any story that might defy conventional explanations. He came to some of the same conclusions we have, plus he called the guy whose yard was littered with the "eggs".
Meteor over WA creates sonic boom
By Selina Day
October 7, 2003
A SPECTACULAR meteor streaked across the skies of south-west Western Australia overnight, creating a sonic boom as it broke the sound barrier and startling many country residents.
The meteor vaporised near the Wheatbelt town of Dowerin, 157km north-east of Perth, about midnight (WST).
It was seen by scores of people between Perth and Bunbury in the south to Geraldton in the north and Dowerin in the east.
Perth Observatory astronomer Peter Birch said the meteor was brighter than a full moon as it broke the sound barrier and woke Dowerin residents.
It is rare for a meteor to create a sonic boom. One was heard over southern WA on May 1, 1995, and there had been one between then and last night, Mr Birch said.
'A meteorite smashed through my roof'
The chances of being hit by a chunk of space rock are measured in the billions-to-one. Roy Fausset, 59, had the closest of escapes last month when what scientists now say was a meteorite crashed through his New Orleans home.
I walked through my front door and it was like a mortar bomb had fallen on my house.
[...] Whatever it was, it had passed through the attic, then my daughter's bedroom, through the powder room and into the crawl space under the floor.
I thought it must have been some frozen waste that had fallen from a passenger airliner - they are carrying out improvements at our local airport, so planes have been diverted over our house.
I called the police. An investigator went down into the crawl space and he found some rock fragments. There are no rocks in New Orleans, it's all silt. He said: 'It's a meteorite.'
I took a sample over to the nearby Tulane University, where Stephen Nelson - the head of earth and environmental sciences department - examined it.
He said the rock was rhyolite - which is found in Mexico and Texas. He thought it must have been thrown out of a plane by a vandal or become attached to a plane somehow and then fallen off.
But now, after further analysis, it seems it has a profile consistent with that of a meteorite. The police investigator was right.
[...] I've been very disorientated by the whole thing, especially when I consider what a narrow escape we all had and what could have happened.
I keep asking: Why me? Maybe God was telling me something? I certainly went to church on Sunday and I will never mock Him as I did in my foolish youth.
Comment: Should the rocks start falling from the heavens at an even steadier pace, we can expect more and more Americans running back to the false protection of the Christian churches.
---
Remember, we need your help to collect information on what is going on in your part of the world!
We also need help to keep the Signs of the Times online.
Obviously, there are a lot of folks out there who do NOT like what we are doing - our own special brand of news coverage - and they are working day and night to create almost insurmountable problems for us, designed to grind us down and render our plans to be able to increase our production (which include a weekly radio show that is currently in the implementation stage) impossible to bring to fruition. We are coming under increasing pressure from many directions all at once.
Our need for financial support has never been greater, including support for legal initiatives to halt the madness of several of the para-COINTELPRO activities currently launched against us. These operations are designed to create a platform to justify utilizing police state tactics so as to silence, and even ultimately, destroy us.
Please: We need your help.
The campaign of lies and disinformation would be frightening under normal circumstances; considering the present state of the world and the machinations of the "National Security State," it is terrifying.
Please - if you have been helped by our work -
won't you help us NOW?

---

Check out the Signs of the Times Archives

Send your comments and article suggestions to us

---
Fair Use Policy
Contact Webmaster at signs-of-the-times.org
Cassiopaean materials Copyright ©1994-2014 Arkadiusz Jadczyk and Laura Knight-Jadczyk. All rights reserved. "Cassiopaea, Cassiopaean, Cassiopaeans," is a registered trademark of Arkadiusz Jadczyk and Laura Knight-Jadczyk.
Letters addressed to Cassiopaea, Quantum Future School, Ark or Laura, become the property of Arkadiusz Jadczyk and Laura Knight-Jadczyk
Republication and re-dissemination of our copyrighted material in any manner is expressly prohibited without prior written consent.
.