---

New! Big Lies, Small Lies, Brazen Lies
---
Remember, we need your help to collect information on what is going on in your part of the world!
We also need help to keep the Signs of the Times online.
Obviously, there are a lot of folks out there who do NOT like what we are doing - our own special brand of news coverage - and they are working day and night to create almost insurmountable problems for us, designed to grind us down and render our plans to be able to increase our production (which include a weekly radio show that is currently in the implementation stage) impossible to bring to fruition. We are coming under increasing pressure from many directions all at once.
Our need for financial support has never been greater, including support for legal initiatives to halt the madness of several of the para-COINTELPRO activities currently launched against us. These operations are designed to create a platform to justify utilizing police state tactics so as to silence, and even ultimately, destroy us.
Please: We need your help.
The campaign of lies and disinformation would be frightening under normal circumstances; considering the present state of the world and the machinations of the "National Security State," it is terrifying.
Please - if you have been helped by our work -
won't you help us NOW?

---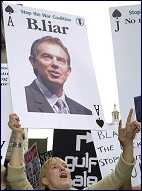 Blair defends govt as protesters shout abuse

28/08/2003 - 11:13:44
The British government's controversial Iraqi dossier was a response to the "tremendous amount of information and evidence" about Saddam Hussein's programmes to develop weapons of mass destruction, Prime Minister Tony Blair declared today.
Giving evidence to the Hutton inquiry into the death of Government weapons expert Dr David Kelly, Mr Blair said that during the course of last year the possibility of war with Iraq prompted a growing public debate and there was "an enormous clamour" to know what intelligence the Government had.

Mr Blair got a noisy reception when he arrived at the Royal Courts of Justice in London for today's hearing.
A crowd of up to 100 anti-war protesters – more than five times the number who jeered Defence Secretary Geoff Hoon yesterday – were waiting for the Prime Minister.
Many wore Pinocchio-style noses and held up banners accusing Mr Blair of lying.
The crowd screamed abuse as the Prime Minister's car swept into the High Court complex. They called for him to resign and held up posters of poodles and signs saying "B.LIAR".
Others held up giant playing cards like those used by the US forces to depict members of Saddam's regime.
They showed Mr Blair as the ace of clubs, saying: "Tony Blair, aka Bomber Blair, British Prime Minister."
The intense public interest in today's hearing was reflected by the sleeping bags lining the streets outside the High Court as people queued through the night to see Mr Blair give evidence.
Blair 'would have quit if dossier story true'

Tony Blair says he would have had to resign if claims about the government "sexing up" its Iraq dossier had been true. [...]
Comment: We were wondering how long it would take for Blair's psychopathic signature to reveal itself. Here we see his attempt to sway public opinion by subtly implanting the idea that he, Tony, is at heart a "decent man". That he is just like you or me, full of decency and morals. How could anyone think so ill of him, suggesting that he would deliberately lie about so important an issue? Shame upon us! Of course Tony would NEVER do such a thing!
And the psychopath strikes again...The thing is, this is not idle speculation on our part, the psychopath problem in our society is well documented and evident. People in high places are aware of it and also aware that many people in high places are psychopaths themselves. It has even been publicly stated that Blair shows all the hallmarks and by people in a position to know.
Britons fall £878bn in debt

By Sarah Womack, Social Affairs Correspondent
(Filed: 28/08/2003)

Debt in Britain is threatening to undermine the economy and leave one in four people with insurmountable financial problems.
With interest rates at their lowest for 48 years, the country has established itself as a "pay later" nation saddled with £878 billion in consumer debt.
Latest figures show that the average person owes at least £1,062 on credit cards, £1,561 in personal loans and £760 in overdrafts. That adds up to £3,383 on top of their mortgage.
With cooler weather, a grim tallying for Europe

Elisabetta Povoledo
IHT
ROME As temperatures begin cooling throughout Europe thanks to rain, the number of people who may have died in this summer's heat wave is being put between 15,000 and 20,000.
WWII bombs found in Serbia as Danube retreats
TERRA.WIRE
BELGRADE (AFP) Aug 27, 2003
Two bombs believed to date back to World War II have emerged from the Danube river in eastern Serbia as the water levels retreat under Europe's scorching summer heat, reports said Wednesday.
The Tanjug news agency reported that the bombs, both heavily corroded, were found near the port of Prahovo by a local resident. [...]
Death toll from Europe's heat wave could exceed 15,000: estimates

PARIS (AFP) Aug 27, 2003
More than 15,000 people, most of them elderly, may have died during a heat wave that blanketed Europe earlier this month, recent estimates showed, leaving the continent in shock and anger.
France was hit hardest by the widespread health emergency sparked by two weeks of stifling temperatures, with the country's largest undertakers' group putting the death toll at about 10,000. [...]
Will France Scrap Christmas? Government Mulls Abolishing a Holiday to Finance Elderly Care
By John Leicester
Aug 27, 2003
PARIS (AP) - France, a country where leisure time is sacrosanct, is mulling a radical plan for financing health care after a heat wave estimated to have killed thousands: Make people work on a national holiday.
The idea, which the government floated Wednesday, immediately split opinion and provoked one main question - which of France's 11 national holidays should go? Labor Day, perhaps, or a religious festival?
At least two ministers said Christmas should not be touched.
Ever wary of angering France's powerful unions, the government insisted it still hadn't made a decision. But even considering the idea shows how seriously the government is taking calls to improve care for the elderly, who made up most of the victims from the record temperatures that baked Europe this month. [...]
Number of Parents Suffering Long-Term Unemployment Soars
Toby Chaudhuri
AUGUST 27, 2003 9:45 AM

WASHINGTON - Long-term unemployment among parents surged more than 50 percent in a 12-month period, according to an analysis released today by the Children's Defense Fund. One out of every 100 American parents was jobless and suffering long-term unemployment (more than 26 weeks) in June 2003, the highest percentage in years. The rapid rise indicates that the economy continues to worsen for many families with children.

Today's analysis shows that 655,000 parents experienced long-term unemployment - more than three times the number two years ago. The figure marks a one-month jump of 20 percent and a 51 percent one-year increase. These parents were among 2.8 million parents unemployed and actively seeking work. [...]
Top Pentagon adviser Perle admits key mistake in Iraq war planning

PARIS (AFP) Aug 28, 2003
Top Pentagon adviser Richard Perle admitted Thursday that the United States had made a key blunder in its planning ahead of launching its military campaign in Iraq -- the failure to forge close ties with the Iraqi opposition.
Two more US soldiers were killed, and five wounded, in Iraq the previous day as the US military administration struggles to bring the country under control months after declaring the war over.
The US administration has stepped up its efforts to defend its "noble cause" in Iraq this week after the death toll among US troops since the end of major combat overtook the number killed during the invasion.
However Perle, in an interview published in the French newspaper Le Figaro on Thursday, pointed to a key mistake in the planning for the campaign which has hindered efforts to set up a stable, Iraqi-led administration.
"Our biggest mistake, in my opinion, was the failure to work closely with Iraqis before the war so that an Iraqi opposition could have been able to immediately take the matter in hand," Perle admitted.
"Now the solution is to hand over power to the Iraqis as soon as possible."
However Perle said that the answer did not lie in setting up a UN-led administration in Iraq.
"The United Nations system is not adapted to deal with the new threats, like international terrorism" he said.
"The administration of Iraq by the UN is a bad idea. Where has the UN succeeded in administering the territories where it has been placed in charge?" [...]
Comment: This brash statement raises another more important question: Where has the U.S. succeeded in administering countries or territories where it has taken charge? America itself is in economic turmoil, and the people are fast asleep as the puppet Bush Reich continues implementing its fascist agenda. In other countries, the U.S. has a history of using intelligence instruments like the CIA to overthrow "democratic" governments in favor of dictatorships. Of course, such actions are indeed viewed as success by those who seek to serve only themselves.
Halliburton, Bechtel Win More Iraq Deals
Thu August 28, 2003 01:40 AM ET
NEW YORK (Reuters) - Halliburton Co. and Bechtel Group Inc., which have been working to rebuild Iraq after the U.S.-led war, are expected to win more contracts, The Washington Post and the Wall Street Journal reported on Thursday.
The Post reported that Halliburton, the world's second-largest oil field service company, could make hundreds of millions more dollars than earlier disclosed for services such as maintaining Iraqi oil fields under a U.S. Army Corps of Engineers contract, according to documents surveyed by the newspaper.
The Wall Street Journal reported that the U.S. Agency for International Development had recently said that San Francisco-based construction company Bechtel will receive about $350 million for infrastructure projects. That would amount to about 50 percent more than earlier allocated for Bechtel services, the paper said. [...]
Even the optimists are losing heart as Iraq goes from bad to worse
Wednesday August 27, 2003
The Guardian
It was late June and the searing heat of summer was taking hold when finally, after weeks of searching, I found what I had been looking for. Over several days I met a group of extraordinary young Iraqis who - without anger, fear or hatred - were beginning to shape the outlines of a bright future for their country.
The first was a Shia Muslim whom Ba'athist thugs tried to execute in a mass grave in March 1991. Miraculously he had escaped and crawled to freedom. He was now working with a handful of human rights lawyers in the town of Hilla, where they were drawing up the evidence to begin trials of those responsible for the killings. They were calm where others would have been vengeful, committed where others would have balked at the scale of the task ahead.
For weeks I had chronicled endless lootings, killings, betrayals, broken promises and tragic misunderstandings, the grotesque accoutrements of a modern military occupation. Nothing else I had seen in Iraq since America's war spoke to me with such hope as these men and their promise of a reasoned, moral reckoning that would drag their country away from the legacy of three decades of dictatorship towards a brighter future. I left believing that against all the odds there was still a chance Iraq would succeed.
Nearly two months later, I have returned to Iraq and so much has changed. A wave of fury and despair among Iraqis has drowned out the few voices that filled me with hope. Those of my Iraqi friends who clung resolutely to their optimistic dreams are finally losing heart. They shrug their shoulders and begin to list the unrelenting failures of the new Iraq.
It is not that the power supply has still not improved. It has worsened. Four months after television screens across the world showed the victorious toppling of Saddam Hussein's statue in Firdous Square, power cuts are more frequent, not less. In many Baghdad homes the water that flows from the taps is brackish and undrinkable. Water treatment plants, short of electricity and poisoned by their own rusting pipes, are failing.
How could a country, the Iraqis ask, that spent $9bn (£5.73bn) a month fighting the war against Saddam not restore the power supply to a city within four months? [...]
Russia fights 'heroin attack'

The deputy head of Russia's drug control agency says a flood of cheap heroin from Afghanistan is turning children into addicts.

"A heroin attack from the south has become the most acute problem for us," said Alexander Mikhailov.
He blamed the US-led military action in Afghanistan for aggravating the problem, by failing to tackle opium production after toppling the Taleban government.
We previously said that the most dangerous age for acquiring a drug habit was between 18 and 25, but now we talk about the age between 11 and 14[...]
Comment: Essentially all the US did in Afghanistan was establish their puppet Karzai as "ruler" so they could restart the opium production, which now provides 70% of the world's heroin and funds further CIA black Ops around the world. In doing so they massacred 5,000 Afghan civilians and greatly exacerbated the existing problems, with this month Afghanistan living through its bloodiest ever with over 90 people killed. Now also we have Afghan heroin flooding the streets of Baghdad (thanks again to the CIA) where under Saddam it was almost non existent. This then is "American freedom", destruction, drugs, death.
Flash back:
BRITAIN has abandoned plans to wipe out Afghanistan's poppy fields despite fears this year's opium harvest will be the biggest ever.[...]
Rebuilding Iraq will cost tens of billions of dollars in next year alone, US admits
By Justin Huggler in Baghdad
28 August 2003
In a startling admission that the cost of occupying Iraq is spiralling out of control, the US administrator in the country, Paul Bremer, said yesterday that rebuilding Iraq would need "several tens of billions of dollars" in the next year alone.
President George Bush's administration is reportedly preparing to ask Congress for a "huge" new injection of cash for Iraq, even as it is preparing to post a record budget deficit of $480bn (£300bn) next year. [...]
Fisherman By Day "Terrorist" By Night
By NIKO PRICE, Associated Press Writer
08/27/03: BAGHDAD, Iraq - The fisherman had just decided to take up arms, and he shook with fear as the American convoy approached his hiding place. As he later told it, he fired a rocket-propelled grenade into a Humvee and ran away as fast as he could.
Nobody gave chase, he said, and in the time that has passed since that April attack, his band of seven guerrillas has slipped into an easy rhythm of attacking American convoys every few days.
"I catch fish in the morning and Americans at night," he said. "Catching Americans is easier than catching fish." [...]
He insisted he wasn't motivated by any loyalty to Saddam Hussein or principled Islamic opposition to the U.S. presence. He said he was driven by what he sees as the Americans' heavy-handed treatment of ordinary Iraqis during anti-guerrilla operations. [...]
Boutros Ghali lambasts pliant UN
Kirsty Scott
Monday August 25, 2003
The Guardian
The UN is in crisis because it is seen as little more than an American appendage, two of the organisation's most senior former leaders have warned.

The former secretary-general Boutros Boutros Ghali said there was deep resentment against the UN across the developing world because of policies adopted under America's influence. He warned that nothing more than drastic reform would allow the organisation to start rebuilding trust outside the west.
His comments, in the wake of the bombing of the UN headquarters in Baghdad in which 23 people died, have been echoed by his colleague, Denis Halliday, the former UN assistant secretary-general, who says many senior figures at the organisation are similarly disturbed at America's dominance.
Mr Boutros Ghali, speaking on BBC Radio 4's Broadcasting House yesterday, said the UN was perceived as an extension of the US state department.
"Many countries of the third world see a basic discrimination adopted by the United Nation system," he said. "The resolutions which are not respected by the Iraqis deserve the bombing of Baghdad. The same resolutions which are not respected by the Israelis deserve nothing.
"So the perception in a great part of the third world is that the United Nations, because of the American influence or because of any other reason, is a system which discriminates [against] many countries of the third world."

American soldiers keep dying in Iraq -- but no one seems to want to hear that
PETER MANSBRIDGE
IT MUST BE a very long and very quiet 48 hours -- the time it takes to fly a giant United States air force C5 aircraft from Baghdad through a series of stops to its final destination in Dover, Del. When the C5 taxis up to one of the hangars, a six-person guard of honour awaits, patiently holding American flags, each carefully folded and soon to be draped over the plane's cargo -- long aluminum cases.
Dover is home to the Charles C. Carson Center for Mortuary Affairs -- the largest Department of Defense Mortuary. It's where America brings its dead soldiers home, and these days, it's busy. Normally, seven people work at the centre; since March, when the Iraq war began, there have been as many as 200 on staff. On May 1, George W. Bush, after landing on an aircraft carrier off the California coast, declared major combat operations over -- but in the mortuary, aluminum cases keep arriving, lately at a rate of one a day. [...]
Medical discharge for Iraq hero Jessica
Associated Press
21:16 Wednesday 27th August 2003
Former prisoner of war Jessica Lynch, who was rescued her from an Iraqi hospital, has been honourably discharged from the US Army, her lawyer says.
Lynch, 20, suffered multiple broken bones and other injuries when her 507th Maintenance Company was ambushed in the southern Iraqi city of Nasiriyah on March 23. [...]
UN inspectors found two types of enriched nuclear material in Iran: diplomat

VIENNA (AFP) Aug 27, 2003
A confidential UN report says inspectors found two different types of highly enriched nuclear particles at facilities in Iran that are not needed in civilian atomic programmes, a Western diplomat said Wednesday.
"The discovery of enriched uranium is particularly worrying. IAEA inspectors found two different types of highly enriched particles. You do not need that to make nuclear power," the diplomat told AFP. [...]
Contributing To Baghdad's Crime
Hazem Saghieh
Al-Hayat
2003/08/26
At last, George Bush can boast: yes, there is a link between Saddam Hussein and Al Qaeda. The actions of the Iraqi "resistance" indicate this basic truth.
However, this truth did not take place before the war. It did afterwards. It took George Bush's wisdom and a lot of the neo-conservatives' efforts to call upon this change! The discoverer himself is the creator of his discovery.
Dangerous International Precedent Being Set by Israel as International Community Ignores the Deteriorating Human Rights Situation in the Occupied Palestinian Territories.
[...] 1. Collective Punishment is prohibited. Article 50 of the Hague Regulations established that, "No general penalty, pecuniary or otherwise, shall be inflicted upon the population on account of the acts of individuals for which they cannot be regarded as jointly and severally responsible." The Fourth Geneva Convention, in Article 33 states, "No protected person may be punished for an offense he or she has not personally committed. Collective penalties and likewise all measures of intimidation or of terrorism are prohibited. Pillage is prohibited. Reprisals against protected persons and their property are prohibited." Israel's policies constitute grave breaches of Geneva Convention.
2 . The destruction of property is prohibited. Article23 (g) of the 1907 Hague Regulations provides that the destruction or seizure of property is "especially forbidden", unless "imperatively demanded by the necessities of war". Article 53 of the Fourth Geneva Convention prohibits the destruction of real or personal property "except where such destruction is rendered absolutely necessary by military operation". Under Article 147 of the Fourth Geneva Convention the "extensive destruction and appropriation of property not justified by military necessity and carried out unlawfully and wantonly" is considered a grave breach of the Convention. Article 8 (2)(a)(iv) of the Rome Statute of the International Criminal Court declare that the Grave Breach of extensive destruction and appropriation of property is a War Crime.
3 . Extra-Judicial killings are prohibited. Israel's policy of assassination and the extra judicial killings of Palestinian civilians and military personnel that have been carried out by Israeli forces constitute grave breaches of provisions of International humanitarian and human rights law. These actions qualify as war crimes in accordance with Article 147 of the Fourth Geneva Convention of 1949 and Article 85 of the 1977 Protocol Additional to the Geneva Convention.
Comment: Israel carries out collective punishment against the Palestinians. This means that if a member of a family is accused of "terrorist" activities, the entire family becomes the target for Israeli revenge. As the article mentions, this is a breach of the Geneva Convention. Remember when the US accused Iraq of breaching the Geneva Convention when it aired TV footage of captured US soldiers? As if they really care about the Geneva Convention. We see how they act at Guantanamo.
We reported on the razing of the commercial district in Nazlet 'Issa earlier this week. This article says also that on "Thursday, in the town of Nazlet 'Issa, located near the Green Line, 5,000 Israeli soldiers, 24 D- 9armored bulldozers, and 15 tanks entered the town and leveled the local business district. The Israeli military informed the mayor of Nazlet 'Issa that a total of 120 shops would be destroyed. Shop owners lost everything in the military operation, and the center of the city is said to be completely devastated. The destruction rivals that of a natural disaster. Local residents believe Israel is clearing a path for construction of the separation Wall."
Hamas dismisses Arafat call to declare new ceasefire
28-08-2003,09 :20
Abdelaziz al Rantissi
Albawaba.com
Hamas rejected on Thursday an appeal by Palestinian president, Yasser Arafat to renew a cease-fire with Israel after it was called off following the assassination of one of its leaders last week.
[...] The White House discounted Arafat's call for the armed groups to reinstate the cease-fire. "Actions to dismantle terrorist organizations and to dismantle terrorist networks are what is needed and what's most important," Buchan said.
Although the leadership of the French Socialist Party continues to support Israel come what may, dissent is brewing in the ranks. Jeremy Landor writes from Paris
A row has erupted in France's main opposition party, the Parti Socialiste (PS), over its unstinting support for Israel. A number of its leading figures have been prominent at recent events and demonstrations in support of Israel. But Pascal Boniface, a member of the PS national strategy group, director of the influential Institute for International and Strategic Relations (IRIS) and author of a recent book, 'Can we criticise Israel?', believes that they have gone too far. In protest, he has quit the party after 23 years as a loyal member.
In a letter written to the secretary-general of the PS, François Hollande, in July, Boniface complained that "priority is given to those in the PS who have an ethnic reading of the Israeli-Palestinian conflict". He was also upset that a former finance minister, Dominique Strauss-Kahn, had insulted him in a speech at a pro-Israeli rally on 22 June, calling Boniface "contemptible".
Boniface tried to persuade PS leaders to modify their policy towards Israel before the presidential elections in May last year, asking rhetorically: "Can we vilify Joerg Haidar (Austrian leader of the fascist Freedom Party) and treat Ariel Sharon normally?" He also made the controversial suggestion that Israel be added to American President George W Bush's "axis of evil".
[...] Meanwhile, neo-Nazis and pro-Israeli groups in France may be coordinating their efforts in creating a series of Internet sites hostile to Arabs and Muslims, according to a report by the French organisation MRAP (Movement against Racism and for Friendship between Peoples).
Over the last two years, MRAP found 450,000 denigrating and threatening Internet messages emanating from more than 30 sites hosted by liberty-web.net. These included "racist insults, death threats and defamation against individuals, journalists and political figures. They also target Muslim places of worship", said MRAP. Some of the sites have claimed responsibility for attacks on mosques in France.
The Hutton Inquiry is shedding far more light on the death of David Kelly than the government, the BBC or the media had bargained for, reports Alistair Alexander from London
[...] But as the inquiry begins hearing from Blair's inner circle, it is clearly Downing Street that has most to fear from Lord Hutton's steely gaze. Tony Blair's closest allies have been desperately trying to distance themselves from the "outing" of Kelly and his subsequent appearance before MPs.
Already, documents passed to the inquiry reveal that Defence Secretary Geoff Hoon overruled his most senior civil servant in ordering Kelly to appear before MPs. Hoon argued that it would be "presentationally difficult" for the government if Dr Kelly did not appear. Hoon is widely expected to fall on his sword. Or, failing that, to be dropped on it.
But the government will be lucky if the resignations end there. Other documents relating to Kelly, and shown by the inquiry, have Downing Street fingerprints all over them. On Monday alone, the inquiry revealed more about Blair's innermost circle than the press has unearthed in the past six years.
One private e-mail from Jonathan Powell, Blair's trusted chief of staff, admitted that the dossier did "nothing to demonstrate a threat, let alone an imminent threat from Saddam".
It is not ignorance that keeps the Israeli public from decrying their state's atrocities against the Palestinians. There are different kinds of blindness, writes Jonathan Cook* in this reply to Ran HaCohen
In these pages recently (Al-Ahram Weekly, 7 - 13 August) the left-wing Israeli academic and journalist Ran HaCohen argued that most Israelis had almost no idea what their government and army were doing in their name in the occupied Palestinian territories. "The Israeli public is kept in the dark about what is happening just a 20-minute drive from Tel-Aviv, or just across (and even within) the municipal borders of Jerusalem," he wrote in an article headlined "Eyes Wide Shut".
HaCohen's usually admirable qualities as an analyst of the situation inside Israel and in the West Bank and Gaza appear to have deserted him on this occasion. Let us examine how plausible the assumptions he is making about the "Israeli public" really are.
For he writes as though Israel's occupation of the territories is being carried out by Martians rather than by tens of thousands of Israeli teenagers. Military service is compulsory for most Israeli Jews, men and women, for the first two to three years of their adult lives, when they leave school at 18. More than 30,000 young Israelis are conscripted into the army each year.
Alongside them are thousands more men in their 20s, 30s and 40s who are required by law to complete 39 days reserve duty each year. Some of them have been enforcing the occupation since well before the first Intifada.
These Israelis observe Palestinian suffering at close hand -- more so even than aid workers and journalists -- not least because they are responsible for so much of it themselves, whether manning checkpoints, carrying out house-to-house searches, enforcing long curfews on Palestinian cities or guarding interrogation and detention centres.
After all it is ordinary Israelis driving those bulldozers demolishing Palestinian families' homes, and firing their guns at a speck on the horizon that might be a suicide bomber or might equally be a woman breaking the curfew to get bread for her children.
At weekends, these ordinary Israelis go home to spend time in the bosom of their own families. They are husbands, wives, sons, daughters, grandchildren, nephews and nieces to the overwhelming majority of the Israeli population. Any Israeli no longer serving in the territories, or too young to serve, has ample opportunity to find out what is really happening to Palestinians -- not from the now mainly compliant Hebrew media but from eyewitnesses to the actual events.
The only Israeli sectors not involved in the occupation are Arabs and ultra-Orthodox Jews, the Haredim, both of whom are exempt from military service. In both cases the exemption is a useful way to prevent groups that do not subscribe to the Zionist ethos of the state from seeing -- and possibly reporting -- the realities of occupation.
Of course, this argument relies on its own very large assumption: that a whole people can be made to conceal the truth, to perpetrate a grand fraud on the rest of us. It sounds like the ultimate conspiracy theory. How could a lie on such a mammoth scale be engineered?
It is a difficult question to answer for an outsider, not least because it requires seeing Israel on the same terms as its Jewish citizens -- raised with many of their own assumptions about the status and purpose of their people (the Jews) and their nation (Israel) and about the threat posed by the Other (generally Arabs and more specifically Palestinians).
It depends on passing through an education system that transmits historical and moral values of exclusiveness to the religious and the secular alike: premised for the former on a biblical mission to be realised by God's chosen people; and for the latter on the overriding need to provide a sanctuary for a people blighted by centuries of persecution culminating in the Holocaust.
It also depends on a military rite of passage to adulthood that cements Israelis to their society, itself perceived as their only protection from a hatred, anti-Semitism, to which -- if they are to believe their teachers, media and government -- every gentile in the world is susceptible. This is their unique fate as Jews -- and Israel is their one and only insurance policy.
Israelis who believe this -- and almost all do -- feel that they have no choice but to submit to the collective good. Not a universal good, one of values shared by all mankind, but a collective good reserved only for Jews.
Talk to Jewish anti-Zionists in Israel -- a tiny number of people, barely reaching four figures out of a total Jewish population of five million -- and most will tell you how hard they struggled to overcome the Zionist training they were given from birth. Many say they are still fighting to defeat their own racist assumptions to this day.
Jeff Halper, an academic and leading Israeli activist against army abuses in the occupied territories, recently described to me the decades-long process of "unlearning" his Zionist responses. Deprogramming is what he called it. The kind of thing we read about in the papers when vulnerable youngsters need to be revived from the dangerous ideas implanted by a cult. But how do you loosen the grip of a cult when a whole nation is under its spell?
Even the two groups that serve in the army but are most marginal to the state's mass indoctrination programme -- the small Druze community and the nearly one million Russian immigrants who arrived after the collapse of the Soviet Union -- face their own pressures to conform. As outsiders they have the most to prove, and the most to lose if they fail. All sorts of social and financial benefits, from houses and jobs to mortgage benefits, flow from the successful completion of military service.
In addition they watch the same Israeli media incitement against Arabs and Palestinians, they are subject to the same government-promoted climate of fear -- what might be termed the cult of the suicide bomb. After each blast, Israelis are asked to kneel before the TV, to fetishise the endless film-footage loops of a burnt-out bus and the charred corpses inside.
Is there a voice reminding them that more Israelis die on the roads in a year than are killed by terror? Is there any debate about Israel's appalling road safety record, one of the worst in the world? You bet not. Israelis are far too busy watching the TV-loop.
For the doubters among you, consider two recent news stories.
The first is the confrontation between Israel and Lebanon that escalated dramatically last week, after Hizbullah fired anti-aircraft missiles over northern Israel killing a youth. Hizbullah said it was responding to a car bomb in Beirut -- blamed on Israel -- that killed one of its veteran fighters.
A key context for understanding the simmering tensions on Israel's northern border is the regular and illegal flights carried out by Israeli fighter planes into Lebanese airspace -- low-flying warplanes that intentionally frighten residents with sonic booms.
This is no state secret. Anyone who lives in the Galilee as I do -- and there are a few hundred thousand Israeli Jews living here too -- can vouch for the sonic booms we hear on an almost weekly basis. They wake us up, usually with a jolt, and rattle our windows. And in Nazareth I am dozens of miles away from where the planes are breaking the sound barrier. What the noise is like over Beirut or Sidon, God only knows.
But the Israeli media almost never mentions these provocative tactics by the Israeli military against a neighbouring country, even though the price would be monstrously high were the region to slip into war. If the Hebrew media refer to the overflights it is always in terms of Hizbullah claims -- as though Israeli ears are deaf to the sound of their own planes' sonic booms.
Where are the letters to the Hebrew newspapers from the concerned citizens of the Galilee? Where is the debate about a provocation apparent to all? Do Israelis really believe their national security depends on their collective muteness on behalf of the government?
An even grosser mass deception by Israelis was recently revealed, accidentally, by an Israeli newspaper. Since 1986, the military censor had been excising any mention of one of the army's most controversial orders, known as the Hannibal procedure, in the media.
The procedure was developed after an incident in May 1985 when Israel was forced to release more than 1,000 Palestinian prisoners in return for three soldiers captured in south Lebanon by Hizbullah. It was decided that the price being paid to retrieve kidnapped soldiers was too high.
So troops touring south Lebanon were told their first duty was to prevent the capture of comrades. If that meant killing them, then so be it. Apparently the order provoked a furore in the army when it was first revealed.
"At least one battalion commander refused to transmit it to his soldiers, arguing that it was flagrantly illegal, and in a number of units lively debates took place about the morality of the order," Ha'aretz reported in May, in the first media discussion of the subject for 18 years. "Some soldiers said they would refuse to open fire at their buddies. A religious soldier put the question to his rabbi and was told to refuse to obey the order."
(Incidentally, it is worth pointing out that the immorality of the order in the eyes of many of these soldiers -- and the above-mentioned rabbi -- was almost certainly the cheap price it placed not on life but on another Jew's life. For more on Orthodox rabbinical rulings about the superior value of Jewish life, see Israel Shahak's book Jewish History, Jewish Religion.)
Despite this vehement opposition, the Hannibal procedure is still in force in the Palestinian territories and was in force in south Lebanon until the army's withdrawal in May 2000.
That means tens, if not hundreds, of thousands of soldiers knew of the procedure. Maybe tens of thousands more spouses and parents knew about the order too. And yet not a word slipped out, not even to the international media, which is not bound by Israel's military censorship laws.
Even allowing for the censor's eagle eye, it is remarkable that so many people managed to keep that secret under wraps for so long. For 18 years generations of army recruits kept their lips sealed and continued to do so after finishing their military service. Their families showed equal restraint.
But when in May this year a reference to the Hannibal procedure slipped through the censor's fingers and into Ha'aretz, the floodgates were open. Those 18 years of pent-up emotions about an immoral order could finally be released. Israelis could tell all.
But a Google search on the Hannibal procedure produces only two references: to the Ha'aretz feature that broke the story and to a follow-up article by the prolific left-wing opinionist Uri Avnery. It seems there was no flood to unleash. Israelis were happy to keep on with their silence indefinitely.
HaCohen is wrong to think Israelis are ignorant of what is being done in their name. They know exactly what happens: their Zionist training simply blinds them to its significance. As long as the enemy is Arab, as long as the catch-all excuse of security can be invoked, and as long as they believe anti-Semitism lurks everywhere, then the Israeli public can sleep easy as another child is shot riding his bike, another family's house is bulldozed, another woman miscarries at a checkpoint.
It seems that a people raised to believe that anything can be done in its name -- as long as it serves the interests of Jews and their state -- has no need of ignorance. It can commit atrocities with eyes wide open.
* The writer is a British journalist based in Nazareth.
Abdulwahab Badrakhan
Al-Hayat
2003/08/25
The confusion in American positions is clear. It is currently swinging between an attempt to salvage whatever can be salvaged from the status quo in Iraq, and nonsense being said to whomever wishes to believe it. There was a direct link between Iraq and Palestine, caused by "terrorist attacks," in President George Bush's last statement. Washington linked the two tracks, convinced of the need for stability in Palestine to help it face the changes on the Iraqi scene. However, it seems that Ariel Sharon managed to convince the U.S. that this equation doesn't hold. Therefore, the American administration kept silent while Sharon and his gang were seeking to abolish the truce that the Palestinians had announced and were committed to, before they were forced to end it.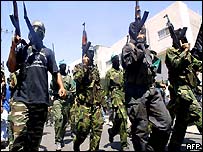 Arafat's ceasefire call rejected
Hamas ended a seven-week-long truce last week
BBC
Hamas has rejected calls by Palestinian leader Yasser Arafat for militant groups to renew the truce they abandoned last week.
Hamas political leader Abdel Aziz al-Rantissi said the group would not consider a truce while Israel continued targeting its followers, and warned against any attempt at a crack down by Palestinian security forces. [...]
Mr Arafat accused Israel of rejecting the roadmap by "escalating" attacks against Palestinian militants.
But Israel dismissed Mr Arafat's ceasefire call as propaganda, and said it would continue targeting militants until the Palestinian Authority dismantled their organisations. [...]
Comment: Mossad created Hamas. Israel causes trouble just before peace talks, and declares calls for ceasefires propaganda. And Israel has been developing ethnic specific weapons.
Afghan Taliban a Growing Menace to Stability
Tue August 26, 2003 07:26 AM ET
By Mike Collett-White
KANDAHAR (Reuters) - Operating in growing numbers, the Taliban and their allies have succeeded in destabilizing large parts of Afghanistan and creating conditions that could undermine the U.S. military and central government.
Aid and reconstruction is suspended across swathes of territory in the center, south and southeast, giving Afghans the impression the international community has abandoned them now the Taliban has been formally ousted.
"Once people are discouraged, that is the point of success for them, as no one will collaborate (with the authorities)," said Khalid Pashtun, director of foreign affairs in the south of the country.
Local power brokers are also behind lawlessness in southern and central provinces, further tarnishing the image of U.S. forces in the people's already skeptical eyes.
The United States recruited warlords to help it topple the Taliban in 2001 and still works with some of them in pursuit of the hard-line militia and the al Qaeda network it sheltered. [...]
Comment: Sounds more like the U.S. is the menance to stability.
9-11 kin feel mixed over transcripts
MSNBC
[...] THE IMPENDING RELEASE of the transcripts of the calls is evoking a range of responses from victims' families less than three weeks before the second anniversary of the Sept. 11 attack that killed 2,792 people.
A state judge ruled Friday that the transcripts must be released by the close of business Thursday, rejecting a bid by Port Authority, which owned the trade center, to back out of an agreement it made last month with The New York Times.
The agency had argued it was trying to protect the privacy of victims' families by preventing release of the transcripts, which cover radio transmissions and calls to Port Authority police on the morning of the attack.
The Port Authority decided Monday not to appeal but urged the news media to "refrain from publishing gruesome, gratuitous or personal details." [...]
"I smiled at my own joke, but the clerk's smile disappeared. 'Ask again,' he hissed, 'and I will call security to remove you from the building and have you barred as a security risk ..'"
By Sarah Whalen
"I'm sorry," the clerk at the U.S. National Archives says: "You can't see the Saudi Arabian documents." I'm surprised. All the National Archive's documents are already reviewed and then declassified or removed. In theory, whatever's there is no longer secret.
Until 9/11.
"It's part of the Patriot Act," the clerk averred, referring to Public Law 107-56, the hastily-passed legislation entitled, "Uniting and Strengthening America by Providing Appropriate Tools Required to Intercept and Obstruct Terrorism Act of 2001." [...]
Ashcroft Speech Interrupted by Protester

Thu Aug 21, 3:35 PM ET

DETROIT (Reuters) - A room packed with police officers failed to shield Attorney General John Ashcroft on Thursday from a protester who accused him of lying about the Sept. 11 attacks on America and Washington's declared war on terror.
Ashcroft was in Detroit as part of a nationwide tour he kicked off on Wednesday, aimed at defending provisions of the controversial anti-terrorism law passed soon after the Sept. 11 attacks on New York and Washington.

He was about midway through a 25-minute speech, at an event closed to the public but attended by more than 150 top policemen from across Michigan, when a self-described follower of perennial presidential campaigner Lyndon LaRouche interrupted him.

"Mr. Ashcroft, I'm with Lyndon LaRouche. We would like to know which of your terrorists are going to be used for a new 9/11, you and Dick Cheney ," said the heckler, who got into the room in a downtown Detroit convention center by posing as a TV reporter.

"Tell them how you lie to the American people," he added.
U.S. energy secretary says weeks needed to analyse blackout data
06:21 AM EDT Aug 28
JOHN P. MCALPIN
WEST WINDSOR, N.J. (AP) - Investigators looking for what caused this month's massive blackout in eight states and huge parts of Ontario have compiled data from as early as eight hours preceding the start of the outage but will need weeks to analyse the information, energy officials said Wednesday.
[...] Abraham said investigators are having problems compiling a detailed timeline of the blackout because it spread so quickly - within nine seconds.
"During those nine seconds, thousands of events occurred on this vast network," Abraham said, referring to the interconnections among various power companies in the Northeast and Midwest.
(CBS News) With unemployment rising, there has been a sudden leap in the number of people on emergency food assistance. And in Ohio, some of the food lines look as if they've been taken from the pages of the Great Depression.
It's not just the unemployed. Plenty of people working full time are still not able to earn enough to keep hunger out of the house. So if you think you have a good idea of who's hungry in America today, you may be wrong. [...]
In a long food line forming outside Marietta, Ohio, the people in front came at dawn. Sometimes the food runs out before the line does. So it¡¯s best to get in early. [...]
Comment: This comes from CBS TV's "60 Minutes II" program. I was really surprised to see the length of bread lines in the heartland, like something out of 1930 -- they're back. With stories like this coming to light I become more convinced each day that the plan of the controllers is to replace Bush in the White House, but conditions may well continue to worsen anyway as the plan seems to be to wean Americans off of their high standard of living. Each job my wife gets is shorter in duration and for lower pay -- new one is for below minimum wage (apparently there are legal ways around it), and I know friends in high tech who have been unemployed or underemployed for over a year now.
By Simon Ostrovsky
Staff Writer
Avtotor plans this year to sell 250 Hummer H2, which will sell for around $85,000.
Moscow's roads promise to get even more congested with the agreement Wednesday between General Motors and car assembly plant Avtotor to produce the massive Hummer H2 in Russia.
[...] The car, which costs up to $120,000 in the United States, will be sold for around $85,000 in its Russian incarnation, Shcherbakov said. The Indiana-made Hummer H1 can already be seen on Moscow streets, driven by some of the capital's most flamboyant citizens.
Avtotor plans to sell around 250 Hummer H2s this year, and around 500 annually starting next year. According to analysts, if GM positions the Hummer correctly, those goals are achievable.
CDC: West Nile doubles again in U.S.; more than 1,400 people infected

Canadian Press
Thursday, August 28, 2003

ATLANTA (CP) - West Nile virus activity has again doubled, now affecting more than 1,400 people in the United States, federal officials said Wednesday.
Thirty-four states reported a total of 1,442 cases and 21 deaths, the Centers for Disease Control and Prevention said. Last week, the agency reported 715 cases and 14 deaths. Colorado and the central United States continue to be the hardest hit. Colorado's 635 human cases lead the country, followed by 204 cases in South Dakota, 190 in Nebraska and 106 in Texas, the CDC said. Six of the country's deaths were in Colorado, followed by four in Nebraska.
Man smokes, strips, flees WA fair then is hit by train

MONROE, WA - A 24-year-old man was badly hurt by a train Tuesday afternoon after he led sheriff's deputies on a bizarre chase through the Evergreen State Fair in Monroe. [...]
Comment: They are not kidding when they say "bizarre chase". Sounds like it could come right out of Cleckley's case files.
Boy, 12, guilty of sexual assault on woman, 46
7 Dead in Chicago Warehouse Shooting

By The Associated Press
August 27, 2003, 2:05 PM EDT
CHICAGO -- A gunman on the verge of losing his job opened fire at an auto parts warehouse Wednesday, killing six people, authorities said. The attacker also was killed, hospital officials said. [...]
B.C. court orders former WW2 prison guard held in custody for extradition
By GREG JOYCE VANCOUVER (CP) - A former prison guard convicted by an Italian court of 11 murders at a Nazi concentration camp was ordered held in custody Wednesday while the federal justice minister decides whether to extradite him to Italy [...]
Changing tactics speed growth of Jehovah's Witnesses
By VANESSA HO
SEATTLE POST-INTELLIGENCER REPORTER
RENTON -- The next time you feel down about rejection, consider Sheryl Brown and Helen Schwerdtfeger. As longtime Jehovah's Witnesses, they have knocked on hundreds of doors to promote the benefits of studying the Bible. Along the way, they've weathered insults, slammed doors, growling dogs and aching feet, and come away with just a handful of converts.
And yet, here they were on a sunny morning in summer skirts, Bibles in hand, ready for more. But instead of ringing doorbells, they circled bus stops and parking lots, in search of lone commuters -- and anyone else, really, who looked available. No one escaped their eagle eyes -- not drivers, joggers, baristas or construction workers. [...]
Comment: The article goes on to discuss that their tactics work! The JW's swell in rank while more traditional church membership continues to decline. It sounds rather predatory from the above description.
Chronicle shut out of 2 more hearings
Fastow transcript still denied release
By MARY FLOOD
Houston Chronicle

A federal judge held two more closed hearings in the criminal case against Andrew Fastow and two other former Enron executives on Tuesday and refused to unseal the transcript of a July 28 hearing he also held in secret.
U.S. District Judge Kenneth Hoyt said he might continue to close hearings if he thinks it necessary.
"There are matters that do not need to be discussed in public in ways that embarrasses or humiliates the government or the defense and particularly the court," he said. [...]
Comment: No word if the people Enron hurt will get similar protection. The "Honorable" Judge Hoyt makes it sound like the testimony takes it right to the White House. Wouldn't want to embarass anyone, would we?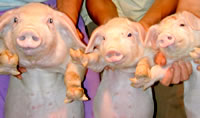 Adult clones in sudden death shock
Pig fatalities highlight cloning dangers.
27 August 2003
HELEN PEARSON
New fears have been raised about the health of cloned animals after three cloned adult pigs dropped dead from heart attacks.
The pigs were created using a variation on the technique that made Dolly the sheep. A Taiwan-based team rammed a whole adult cell into a fertilized egg that was emptied of its own genetic material [...]
Crematorium owner charged with abusing dead bodies
Associated Press
06:57 Thursday 28th August 2003
US prosecutors have charged a Georgia crematorium boss, a year and a half after hundreds of bodies were found stashed away at the building. [...]
Investigators discovered 334 corpses in February 2002 all over the Tri-State crematorium, including some stuffed in burial vaults. [...]
Girl, 14, killed herself three weeks after friend's suicide
By Terri Judd
28 August 2003
A schoolgirl killed herself at the second attempt three weeks after her friend was found hanged, an inquest was told yesterday.
Jade Hughes, 14, left on her home computer a simple message to her friend that said, "Oh well, like I said, I will be with you soon", before walking to a railway bridge and killing herself.
An inquest in Swansea was told yesterday that Jade had been so depressed by Kirsty Botto's death that she had made her first suicide attempt on the night of the funeral. Kirsty, 13, had become friends with Jade when the older girl moved to Swansea in 2001 and joined Pentrehafod Comprehensive. The two were neighbours on the Landore estate. [...]
Previous reports suggested the deaths were part of a chain of events that began when a friend of Kirsty's ­ Ross Hooper, 13 ­ died from sniffing butane gas in a Swansea car park. Others said the girls had been bullied. After Kirsty's death, her mother, Angela Roper, said: "Ross was one of her best friends and she never got over him. She used to talk to me about it and get upset." [...]
By SHAWN McCARTHY
From Wednesday's Globe and Mail
The Government of Canada says passport photos are no laughing matter: In fact, you're not even supposed to crack a smile.
In a news release yesterday, the Canada Passport Office issued new specifications for passport photos and wants serious faces only. But not too serious. Not actually frowning or scowling or glaring or grimacing.
To get a valid passport, Canadians must now send in two photos with "neutral expressions." That means a closed-mouth, straight-ahead gaze into the camera. [...]
Bill Hutchinson
A 9-year-old New Jersey girl took her young cousin on a joyride from hell yesterday, turning the family car into a rolling wrecking ball that struck and injured an 84-year-old pedestrian, cops said.
The little reckless driver took a spin of only a half mile in her family's sport-utility vehicle, but ended up bashing into four parked cars before striking the elderly man.
The girl and her 4-year-old male cousin were not injured in the run through Hackensack that ended in a shopping center parking lot.
The man was being treated at Hackensack University Hospital last night, but his injuries were not life-threatening, said Deputy Police Chief Ed Koeser.
Koeser said the pint-size driver had been left home alone to baby-sit her cousin.
The mother, who is the primary caretaker for both children, was at work when the girl grabbed the car keys and hit the road, Koeser said.
Comment: A mother left her 9-year old at home to care for a 4-year old (which wasn't even her child) and somehow the author of this story sees fit to label the youngster a menace? Hey Bill, where's the scoop about what happened to the mother for her gross negligence?
Man torches car after failing driving test
15:12 Wednesday 27th August 2003
A Romanian man torched his new car because he was angry after failing his driving test.
Adrian M, 31, from Focsani, had been given the Volkswaken Polo by his family as a birthday present.
But he was so disappointed at failing his test that he poured petrol on the car and set it alight in his yard.
He told National newspaper: "When I came home I thought I saw the car laughing at me. So I put gas on it and lit it up. Who needs it anyway."
Car bomb kills Russian minister
Wednesday, August 27, 2003 Posted: 1002 GMT ( 6:02 PM HKT)

MOSCOW, Russia (CNN) -- Russia's information minister for the southern Dagestan province was killed when a bomb ripped through the car in which he was traveling to work, according to Dagestan's interior ministry. [...]
Dagestan, a predominantly Muslim region which borders Chechnya to the east and Azerbaijan to the south, has seen a huge upsurge in violence in the past 10 years much of it spilling over from neighboring Chechnya. [...]
For detainees at Guantanamo, daily benefits - and uncertainty
BY CHARLES SAVAGE
[...] 660 accused terrorists held without trial by the U.S. military here -- inside a Communist country [...]
Loner who shot Reagan 'ready to be released'
By Toby Harnden in Washington
The Independent
The loner who shot Ronald Reagan in 1981 is said by his doctors to have been cured of the mental illness that led to his assassination attempt.
John Hinckley, 48, has been confined to secure wards in St Elizabeth's Hospital in Washington for more than 20 years after being found not guilty of attempted murder by reason of insanity, but could soon be released without supervision. [...]
Forest fires' timing sets tongues wagging
08/27/03
MICHAEL MILSTEIN
The Oregonian
An emerging whodunit in Central Oregon hovers amid the smoke draping the east side of the Cascade Range.
Can it be pure coincidence, locals are asking, that two wildfires sprang up in view of the spot where President Bush planned to promote his plan to thin forests for wildfire prevention?
And that they both appeared just as his plans emerged?
"I think everyone in the community here is wondering that," said Judy Wattier, who works at the KOA Campground just east of Sisters, where business is in the doldrums because of the blazes that have covered almost 40,000 acres in the nearby Deschutes National Forest. "Everyone I've mentioned it to can talk about it for hours." [...]
Methane thought to be responsible for mass extinction

27-Aug-2003
EVANSTON, Ill. -- What caused the worst mass extinction in Earth's history 251 million years ago? An asteroid or comet colliding with Earth? A greenhouse effect? Volcanic eruptions in Siberia? Or an entirely different culprit? A Northwestern University chemical engineer believes the culprit may be an enormous explosion of methane (natural gas) erupting from the ocean depths.
In an article published in the September issue of Geology, Gregory Ryskin, associate professor of chemical engineering, suggests that huge combustible clouds produced by methane gas trapped in stagnant bodies of water and suddenly released could have killed off the majority of marine life and land animals and plants at the end of the Permian era -- long before dinosaurs lived and died.
The mechanism also might explain other extinctions and climate perturbations (ice ages) and even the Biblical flood, as well as be the cause of future catastrophes.
Ryskin calculated that some 10,000 gigatons of dissolved methane could have accumulated in water near the ocean floor under high pressure. If released quickly, perhaps triggered by an earthquake, the resulting cloud of methane would have an explosive force about 10,000 times greater than the world's entire stockpile of nuclear weapons. The huge conflagrations plus flooding and overturned oceans would cause the extinctions. (Approximately 95 percent of marine species and 70 percent of land species were lost.)
"That amount of energy is absolutely staggering," said Ryskin. "As soon as one accepts this mechanism, it becomes clear that if it happened once it could happen again. I have little doubt there will be another methane-driven eruption -- though not on the same scale as 251 million years ago -- unless humans intervene."
Eurasia's highest volcano active again in Russia's Far East

VLADIVOSTOK, Russia (AFP) Aug 28, 2003
Eurasia's highest volcano, the Sopka Klyuchevskaya on Russia's fareastern Kamchatka peninsula, has become active again, firing plumes of ash and debris into the air, scientists with the local branch of the Russian Academy of Science said Thursday.
A plume of steam has been observed up to 1,500 meters (5,000 feet) over the crater of the volcano, which towers at 4,750 meters (15,584 feet) above sea level.
This activity, which was observed for the first time since 1993, suggests that an eruption could soon follow, scientists with the Academy's Volcanologic and Seismologic Survey Service added. [...]
High Wind, Heavy Rain Hit Several States
By The Associated Press
Wed Aug 27,10:59 PM ET
Thunderstorms packing wind up to 65 mph barreled through Ohio on Wednesday, part of a storm system that battered sections of the Midwest and Mid-Atlantic for a second day.

Heavy showers and high wind also caused flooding and damaged trees and power lines across Illinois, Indiana, West Virginia and Pennsylvania. [...]
Indians Giving Thanks for Monsoon Bounty
By Naveen Thukral
Wed August 27, 2003 11:56 AM ET
MATHANIA, India (Reuters) - Fateh Lal has bandages on his swollen feet and still has hundreds of kilometers (miles) and many days of walking to reach his goal.
But after five years of devastating drought, the 42-year-old farmer from India's desert state of Rajasthan will let nothing stop him completing his pilgrimage to a shrine to give thanks for this year's bountiful monsoon.
"The rain gods have shown mercy. I have cultivated my field after five years," he says, resting under a tree with a group of 20 men and women on their way to the Ramdev shrine in the Thar desert, 500 km (310 miles) from their village of Kekri. [...]
Quake, riots and now rain: Civic schools are flooded with problems
Express News Service
Ahmedabad, August 26
FIRST the earthquake, then the riots and now the rain, has wreaked havoc with their studies. For students of as many as 15 municipal schools, it's been another unannounced vacation as the skies opened up on Sunday.
For these students, it's not just raining outdoors. Their classrooms are flooded and there's no place to study. So most of the students have opted to stay away from school as their teachers sit idle in the staff room. But the teachers are not complaining one bit. [...]
Indians with 960 tortoises in carry-on bags taken off flight to Singapore

MADRAS, India (AFP) Aug 27, 2003
Two Indian men who had stuffed 960 endangered tortoises into their carry-on luggage in hopes of selling them to Singapore restaurants were Wednesday taken off a flight and arrested, officials said.
The early-morning flight from the southern Indian metropolis Madras returned shortly after takeoff when the star tortoises were spotted in three handbags in the overhead compartment, wildlife warden K. Reddy told reporters. [...]
Thursday 28th August 2003
A magnitude 5 earthquake hit the south flank of Kilauea volcano on Tuesday at 2024 hr (local time). This is the largest earthquake to hit the volcano in three years. Lava continues to flow along the Kohala flat.
Comment: Click here for more on Kilauea.
Study looks at quake effects on Jackson Dam
JACKSON, Wyo. (AP) - A new federal study says the Teton Fault could produce ground shaking under the Jackson Lake Dam equivalent to a magnitude 9 earthquake lasting three minutes.
The fault is considered capable of producing only a 7.5 magnitude quake. But the forces from such a temblor would be amplified and prolonged by a historic river and lake silt under the dam, according to the Bureau of Reclamation study titled ''Final Report, Jackson Lake Dam Ground Motion Evaluation.'' The study was dated June 13.
The dam is seven miles east of the fault in Grand Teton National Park. The new figures of magnitude and shaking duration astounded geologists and public officials. [...]
Earthquake bats move to new cave

27 August 2003, 15.45
A colony of bats whose home was ruined in the UK's biggest earthquake for ten years are moving to a new roost.
Dudley Metropolitan Borough Council is making an hibernaculum - a kind of man made cave - for thousands of the bats to sleep in.
The furry flying beasties had their home disturbed after the quake which hit the Midlands on 23 September last year. [...]
DoCoMo to launch earthquake messaging service
26 Aug 2003

Japanese mobile giant NTT DoCoMo has announced plans to offer a free "i-mode" emergency messaging service.
Planned to be active from next January, the new service will enable users to confirm the status of family members and others in the event of a natural disaster such as an earthquake. [...]
The Volcanic Eruption of Krakatoa
by E. W. Sturdy
The Atlantic Monthly
September 1884
"On the afternoon of [August] 26th there were violent explosions at Krakatoa, which were heard as far as Batavia. High waves first retreated, and then rolled upon both sides of the strait. During a night of pitchy darkness these horrors continued with increasing violence, augmented at midnight by electrical phenomena on a terrifying scale" [...]
Soothsayers see doom, gloom in closeness of Mars

August 28, 2003

It's an historic event, one not to miss, but those who watch the sky for clues to the future of an uncertain world say little good will come of it.
Soothsayers from India and Hong Kong to a tent outside a temple in the heart of Cambodia's capital say last night's close encounter with Mars spells natural or man-made disaster on Earth.
Mars, the red planet which shares the name of the Roman god of war, passes closer to Earth at 7.51pm last night than at any time in the last 60,000 years.
Mars movements spark huge rise in German 'UFO sightings'
August 28, 2003

As the planet Mars has moved to its closest point to Earth in around 60,000 years, the number of 'UFO sightings' in Germany has soared, a researcher said yesterday.
"I'm hearing some of the most outrageous claims at the moment," said Werner Walter, who heads Germany's CENAP centre tasked with investigating reports about unidentified flying objects. [...]
---

Check out the Signs of the Times Archives

Send your comments and article suggestions to us.
---
Fair Use Policy
Contact Webmaster at signs-of-the-times.org
Cassiopaean materials Copyright ©1994-2014 Arkadiusz Jadczyk and Laura Knight-Jadczyk. All rights reserved. "Cassiopaea, Cassiopaean, Cassiopaeans," is a registered trademark of Arkadiusz Jadczyk and Laura Knight-Jadczyk.
Letters addressed to Cassiopaea, Quantum Future School, Ark or Laura, become the property of Arkadiusz Jadczyk and Laura Knight-Jadczyk
Republication and re-dissemination of our copyrighted material in any manner is expressly prohibited without prior written consent.
.