---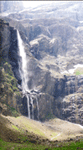 New Article: Travel Log: Circle de Gouverneur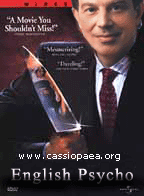 'Psycho' Blair under attack
The Times, London
Philip Webster
BRITISH Prime Minister Tony Blair last night faced a ferocious attack on his leadership and calls for Gordon Brown to take over.
The assault in the journal New Statesman - owned by Geoffrey Robinson, a supporter of Mr Brown - claimed that Mr Blair was technically a psychopath.
During a torrid few weeks Mr Blair has been accused of most things by his backbenchers. Madness has not been among them and the charge was not taken too seriously.
Westminster's conspiracy theorists were given plentiful ammunition, however, by a series of articles in the New Statesman that highlighted the qualities of Mr Brown and suggested that Mr Blair might have outlived his usefulness.
The magazine denied any co-ordination and friends of Mr Robinson made plain that he had no role in determining the editorial line.
A leading article said that now that Mr Blair had lost so much public trust over the Iraq war "Mr Brown is probably the better bet for elections.
"Paradoxically, Mr Blair looks a rather dangerous, unpredictable figure given to foreign adventures and silly schemes for turning public services upside down . . . the reality is that a Brown government would have a sense of purpose that Blair governments lack."
This was followed by an item by a writer who said he had spent several weeks talking to psychologists about what drove Mr Blair.
He wrote: "One view emerged strongly: there appears to be something worryingly adrift in the mind of Anthony Charles Lynton Blair, a man who doesn't really know who or what he is. More technically, he is diagnosed as a psychopath capable of reinventing himself with remarkable dexterity."
Comment: Finally, someone else sees it too! They are really getting into the details.. in the above story they talk about the psychopath "reinventing himself" again and again.. and below they talk about the inability to understand the consequences of what they have done. It seems that there are people in high places who are well aware of the psychopath issue.
Brown's supporters launch revenge attack and label Blair a 'psychopath'
By Andrew Grice Political Editor
The Independent
Supporters of the Chancellor, Gordon Brown, have launched an extraordinary attack on Tony Blair, portraying him as a "psychopath" and "psychotic".
Blair loyalists are furious about a string of hostile articles about the Prime Minister in the current edition of New Statesman magazine, which is owned by Geoffrey Robinson, a former Treasury minister and a close ally of Mr Brown.
The strong language was seen in the Blair camp as a "revenge attack" for a previous sideswipe at Mr Brown by a Blair aide who described the Chancellor as having "psychological flaws".
In a leading article, New Statesman makes the case for Mr Brown to take over from Mr Blair in 2005, and suggests that this date - not Labour's 1997 election victory - may prove "the radical watershed of our age".
The magazine says that "Mr Brown, like Margaret Thatcher but unlike Mr Blair, has a focus". A Brown government would constantly ask how to reduce poverty and promote equality. "Mr Blair lacks such clarity of purpose, with the result that all sorts of fancy ideas get an airing, without rhyme or reason and usually without result."
It says the Chancellor would be a bigger vote-winner than the Prime Minister because Mr Blair "has lost so much public trust over the Iraq war".
Another article in the magazine is headed "What is the point of Tony Blair?", while a third declares: "The question of Tony Blair's sanity can no longer be avoided."
It quotes Sidney Crown, a former consultant psychotherapist at the Royal London Hospital, as saying that Mr Blair "does not exist" and compares him with an actor. He adds that Alastair Campbell, Downing Street's director of communications and strategy, is "very much represented in Mr Blair's dark side, which is why they like each other ... the psychopathic personality is very quick to pick things up and shift and move about".
Dr Crown suggests that Mr Blair did not decide to lie about Iraq's weapons of mass destruction, but had been "highly selective" over intelligence material, seeing the material that appealed to him. "With all forms of psychotics, if you ask people about the consequences of what they've done they can't tell you, because they've no ability to see the future."
The former cabinet minister Clare Short, a close ally of Mr Brown, says in the magazine that Mr Blair is a "media star" who "thinks in soundbites" and "uses his charm to get what he wants".
In another article, Charlie Whelan, the Chancellor's former secretary, urges Mr Blair to sack Mr Campbell.
One Blairite minister saw the magazine's attack as part of what he called "manoeuvring" by Brownites at a time when Mr Blair faced his most difficult time since becoming Prime Minister. "They are trying to destabilise him but it won't work. The party will hate it," he said.
Another loyalist minister said: "It's a bit rich to argue that we would be a more radical government if Gordon was Prime Minister. He already controls our economic and social policy."
Sources at the magazine denied that the separate articles were designed to form a deliberate attack on Mr Blair.
Downing Street dismissed the New Statesman articles, saying Mr Blair had not gone "potty". The Prime Minister's official spokesman said the label was itself "potty".
He added: "You have got to look at what the Prime Minister has achieved in the past six months in terms of handling major international issues like Iraq, in pursuing the goal of progress in the Middle East settlement, in pursuing public service delivery at home.
"I think you will see a prime minister who has a very clear sense of direction, who understands fully the difficult issues and the difficult decisions this country is faced with, who understands the need to maintain progress and to work through the process of investment and reform."
In a separate attack on the Prime Minister, Iain Duncan Smith accused Mr Blair yesterday of telling a "downright lie" over the "dodgy dossier" on Iraq issued in February. Mr Blair told MPs this month that the Tory leader had been briefed by the chairman of the Joint Intelligence Committee on the contents of the dossier, but Mr Duncan Smith insists he did not receive a briefing until after the dossier was issued.
Mr Duncan Smith, who is seeking an apology from Mr Blair, said: "I didn't even know about its publication until the day I read about it in the newspapers. Any attempt by him to say otherwise, frankly, is a downright lie. I am very angry about having my name dragged through the mud by Mr Blair in this respect for his own purposes."
Blair: History will be my judge

By Donald Macintyre in Washington
18 July 2003

Tony Blair defied critics of the war against Iraq last night by declaring, in effect, that he will be vindicated by history even if weapons of mass destruction are not found.

In a speech to a rare joint session of Congress in Washington, he insisted that Saddam Hussein's illegal arsenals would be found. But he also sought to lift the debate above the growing chorus of complaints about the intelligence used to justify the war.

"Can we be sure that terrorism and weapons of mass destruction will join together? Let us say one thing. If we are wrong, we will have destroyed a threat that is at its least responsible for human carnage and suffering. That is something I am confident history will forgive," he said.
Comment: Blair seeks to perpetuate the myth that the rest of the world is governed by evil terrorists, while America and Britian are the "light of liberty". He states that North korea spends billions on nuclear weapons while letting its people starve. Notice that Blair does not lie here but still achieves the result of a complete deception of the public. Simply by holding up North Korea as a terrorist regime that abuses its wealth and people, the implication is that the US and Britain are not.
Body found after MoD 'mole' reported missing
By Danny Kemp, PA News
18 July 2003
Police searching for the MoD adviser on Iraqi arms named as the possible "mole" for a BBC report have found a body.
Dr David Kelly, 59, went missing from his home near Abingdon, Oxfordshire, at around 3pm yesterday after telling his wife he was going for a walk, Thames Valley Police said.
The family called police when he had failed to return by 11.45pm last night.
Dr Kelly faced a grilling on Tuesday by MPs on the Foreign Affairs Committee about what he told BBC reporter Andrew Gilligan, who filed the original report claiming the Government had "sexed up" the weapons dossier. [...]
Faked documents used to justify Iraq war were not checked closely at the time, officials say

By John J. Lumpkin, Associated Press
7/18/2003 02:51

WASHINGTON (AP) - Documents alleging Iraq sought uranium from Africa were obtained months before President Bush cited them in making his case for war, but intelligence analysts did not look at them closely enough to know they were forgeries until after Bush had made the claim, U.S. officials say.

U.S. officials offered new information Thursday on the trail of the documents, which purported to show Iraq tried to obtain uranium from the African country of Niger for its weapons programs. Their account suggested a disconnect between the CIA and the State Department over the handling of what turned out to be a crucial but faulty piece of intelligence used to make the Bush administration's case for war. [...]
Comment: First the claim is made that the CIA knew the documents were shoddy, but Tenet failed to properly inform Bush. Now the CIA didn't look at the purported evidence closely enough to know if it was valid. So which is it? It seems that the Bush administration, the FBI, the CIA, the military, and even the innocent Democrats (all of whom come from poor families) were ALL in on the "little secret." At some level, they all knew what was occuring and they did nothing to stop it because they were too busy asking themselves, "What's in it for me?" Bush was busy instituting his little dictatorship and they all wanted to secure their places in the power hierarchy. Now they are simply fighting over who will become the "lone gunman."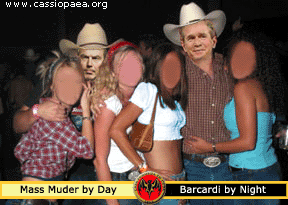 The Signs Staff had definite objections to this Graphic.
It was suggested that depicting women with Bush was
degrading to the whole sex. But in light of it's intended
message, I put it up anyway. JK

Dossiers and proof of WMD are a sideshow - Blair backed Bush for one simple reason
Martin Kettle
Wednesday July 16, 2003
The Guardian

The British people were indeed tricked into the Iraq war. But the trickery was not forensic. It was not really about intelligence dossiers, whether sexed up by Alastair Campbell or otherwise. It even had little to do with weapons of mass destruction, whether possessed or programmed by Iraq.
The deception was always political. It concerned the true reasons why Britain went to war, stuck by America's side, abandoned its principal allies and interests in Europe, and played fast and loose with the
United Nations. Like all deceptions, this was not admitted in public. [...]
Britain did not go to war to overthrow an evil regime, or even to control WMD. It went to war to keep on the right side of Washington.
It has long been clear that September 2002 was pivotal. It was the month when American decision-making reached ramming speed. It was when the real decisions were taken - taken before Bush went to the UN, before the UN authorised fresh weapons inspections, and before the government's first dossier on Iraq's WMD.
All of these were simply efforts to sell a fait accompli. [...]
Most Russians concerned by escalating violence in Middle East

The majority of Russians (52%) are concerned by the worsening situation in the Middle East, according to a poll carried out by the Public Opinion foundation. However, 20% of those questioned were indifferent to the Israeli-Palestinian conflict. [...]
Israeli Occupation Forces Mass Troops Around Arafat's Headquarters, Israel Continues Raids, Detentions in West Bank in Violation of Truce

Palestine Media Center- (PMC)
17/07/2003

Israeli Occupation Forces (IOF) massed troops near and around the presidential headquarters in Ramallah city early Thursday, according to Palestinians security sources, which also said that IOF have detained more than a dozen Palestinians in the past forty-eight hours in the West Bank, mostly reoccupied last year.
Security sources confirmed that IOF soldiers occupied many buildings around President Yasser Arafat's offices. Dozens of soldiers were seen on the roofs of the buildings, witnesses said.
Meanwhile, IOF detained a number of Palestinians in Nablus and Hebron cities, claiming they were Intifada activists. At least three Palestinians were detained in Hebron after the IOF stormed Palestinian houses in the southern West Bank city, Palestinian security sources said.
Israeli occupation troops also carried out a wide-scale house-to-house search campaign in Soreef town near Hebron, the Palestine News Agency (WAFA) reported. Israeli military troops, accompanied by members of the Israeli intelligence, forced many citizens to leave their houses at gunpoint and detained dozens of them, eyewitnesses told WAFA. [...]
Military police act to prevent soldiers from being kidnapped

By Haaretz Service
18/07/2003 12:00

The military police are taking steps to prevent soldiers from being kidnapped, in reaction to warnings of planned kidnappings, Israel Radio reported Friday. [...]

The IDF demolished overnight Friday the Ramallah-area houses of the two Palestinians who kidnapped taxi driver Eliyahu Gurel, Israel Radio reported Friday. [...]
Israeli Occupation Army Invade Refugee Camp In Jenin
Jihad Unspun
Jul 17, 2003
Occupied Jerusalem - Israeli occupation forces on Thursday invaded the Jenin Refugee camp in the northern West Bank and reportedly arrested a number of civilians. [...]
Local sources said heavily-armed troops carried out provocative searches during which the soldiers reportedly beat and maltreated Palestinian civilians and vandalized their property.
A number of Palestinians were reportedly arrested and taken to an unknown destination.
The Israeli occupation army last year committed a huge massacre at the Jenin refugee camp, killing scores of civilians, many crushed to death when Israeli tanks and bulldozers destroyed hundreds of homes at the camp center. [...]
CHENEY ENERGY TASK FORCE DOCUMENTS FEATURE MAP OF IRAQI OILFIELDS
Commerce & State Department Reports to Task Force Detail Oilfield & Gas Projects, Contracts & Exploration
Saudi Arabian & UAE Oil Facilities Profiled As Well

(Washington, DC) - Judicial Watch, the public interest group that investigates and prosecutes government corruption and abuse, said today that documents turned over by the Commerce Department, under court order as a result of Judicial Watch's Freedom of Information Act (FOIA) lawsuit concerning the activities of the Cheney Energy Task Force, contain a map of Iraqi oilfields, pipelines, refineries and terminals, as well as 2 charts detailing Iraqi oil and gas projects, and "Foreign Suitors for Iraqi Oilfield Contracts."
The documents, which are dated March 2001, are available on the Internet at: www.JudicialWatch.org.
The Saudi Arabian and United Arab Emirates (UAE) documents likewise feature a map of each country's oilfields, pipelines, refineries and tanker terminals. There are supporting charts with details of the major oil and gas development projects in each country that provide information on the projects, costs, capacity, oil company and status or completion date. [...]
ALL THE EX-PRESIDENT'S SCANDALS
Tape of U.S. attorney: Foster probe a fraud
Investigator says FBI warned 'back down,' White House knew before 9-1-1 call made
By Art Moore
WorldNetDaily.com
The death of deputy White House counsel Vincent Foster - one of the most bizarre events of the Clinton years - was ruled a suicide by two independent counsels and considered a closed case by the mainstream media. Any suggestion that officials covered up the "murder" of Bill and Hillary Clinton's loyal aide and close friend has invited only scorn from lawmakers. Just a handful of media outlets have ever followed up on evidence and testimony from witnesses that contradict the conclusions of government investigators Robert Fiske and Kenneth Starr.
But as the 10th anniversary of the July 20, 1993, death nears, the voice of one of Starr's key investigators is challenging the official line, insisting the probe's result was predetermined, only a few plotters were required to engineer the result, the crime scene was altered and that major newspaper editors have killed stories by reporters pursuing the truth. [...]
Uranium flap inflames Brits, others
American media have tiptoed around what exactly to call George W. Bush's "mistake", as National Security Advisor Condoleezza Rice referred to his assertion that Iraq had attempted to obtain uranium (for nuclear weapons) from Africa. (Indian Express) But overseas, news reports have been more blunt about both Bush's and U.K. Prime Minister Tony Blair's actions.
Bush's "great deception" has led to a "smoldering scandal," The Tehran Times sniffed. For commentator Neil Mackay, writing in Scotland's Glasgow Sunday Herald, Bush's Iraq-Africa uranium allegation might turn out to be " the war's biggest lie." Whoever is to blame for letting the Iraq-Africa reference slip into Bush's speech (based, apparently, on data from forged documents. (Toronto Star)
Mackay concluded that the controversy surrounding it is as damning for London as it is for Washington. "The truth behind claims that Blair's government 'sexed up' intelligence reports that Saddam [Hussein] could mobilize weapons of mass destruction in 45 minutes may never be known," Mackay wrote, "but the Niger forgeries lie like a smoking gun covered in Britain's fingerprints. At some point Tony Blair is going to have to answer questions about what the British government and [the British intelligence agency] MI6 were up to."
Mackay called the CIA's effort to persuade the Bush team to keep the Iraq- Africa reference out of the State of the Union address a wise "ass-saving maneuver." The CIA, he noted, "also tried to save Blair's ass" last September, before the prime minister put forth a dossier citing the Niger connection, by trying "to persuade Britain not to use the claim."
Cuba's government-controlled Granma reported, without too much gloating, that Washington and London are "embroiled in lies over Iraq," and the BBC, like other foreign media, noted that the Bush administration is now unmistakably " on the defensive." But the United Kingdom's Independent published a special report on the commotion surrounding the faulty Iraq-Africa intelligence flap. 20 Lies About the War," one article from that seven-page news-and-analysis package, quickly made its way around the Internet.
The Independent kicked off its coverage by noting that Blair is acting "defiant to the end." It also asked, "But is the end in sight?"
"It is getting worse every day, with everything that you hear coming out of the mouths of our government and the Americans," one "loyal Blairite" in Parliament said. "We were told [the Iraqis] had this massive capability and they were ready to use it in 45 minutes, but the weapons are just not there. Many of us feel very uncomfortable about having gone to war on that basis now."
Meanwhile, as Bush and his collaborators make their way through a fire storm of controversy" (Toronto Star), in Canada, a new poll shows that the U.S. leader has become the most unpopular American president in recent memory." (The Globe and Mail)
Sixty-two percent of its respondents said they held an "unfavorable" opinion of Bush; of that disapproving group, 37 percent holds a "very unfavorable" view. "George Bush will probably be the best thing that ever happened to Canadian nationalism," an executive of the polling organization observed. "He personifies the essence of the side of the United States that Canadians tend to dislike -- the anti-intellectual Texan in a Stetson, social conservative."
As the furor over Bush and Blair's pretenses for going to war refuses to die down, Toronto Star columnist Haroon Siddiqui believes nothing less than the integrity of the [Bush] administration" is now at stake. Former President Jimmy Carter's national security adviser, Zbigniew Brzezinski, cautioned, The credibility of the United States and of American democracy are at risk." (Le Monde) Likewise, one of Blair's Liberal Democrat opponents warned, " 0nly full disclosure [about 'the lead-up to the war against Iraq'] can restore the reputation of this government." (The Western Mail/icWales)
The anger of Britons such as Lianne Seymour ("My life has changed forever"), whose 27-year-old Royal Navy Commando husband was killed on the first night of the war, may be reverberating across the Atlantic, too. (So far, besides losing her husband, Seymour has " endured the indignity of being asked to return his wages, [has been] threatened with eviction from their married quarters and [has been] told that his body parts were missing.") (Independent) All of which has led Siddiqui to publicly ponder, " Is it too early to ask if George W. Bush could become a one-term president?"
* * * * * *
Bill Clinton was there. So were the former French prime minister, Laurent Fabius, a socialist, as well as German Chancellor Gerhard Schroeder, South African President Thabo Mbeki, Brazilian President Luiz Inácio Lula da Silva, British Prime Minister Tony Blair and dozens of other center-left politicians who have explored and pursued a so-called third way of policy making and governing. (Its goal: to achieve progressive reforms by aiming for the political middle ground between right-wing and left-wing extremes.) The event, held in London, was the Progressive Governance conference, organized by the Policy Network, a British think tank -- Clinton and Schroeder are executive members -- that develops "progressive" policy ideas.
"We must never give it up," Blair told the gathering, referring to the political center. "Not in opposition. Not now [that] we're in government. And reform is the key to it because it is through reform and change [that] we deliver social justice in the modern world." (BBC) Some Britons saw Blair's speech as an "opening shot" in his campaign for the next general election; his detractors, such as Liberal Democrat leader Charles Kennedy, alluding to the fact that Blair has already had two terms in which to carry out reforms, said Blair's Labor Party does " not appear to have learned from the Conservatives that a relaunch always suggests that the project in question is already grounded."
Ever the pragmatist, Clinton told the gathering (he "drawled," The Financial Times noted), "It is easier for the right to retain power than we reformers. It's impossible for us to retain our position unless we continue to make things better for people at home. We have to give people the sense that we're working through problems." How is that to be done? One way, explained David Held of the London School of Economics, in a talk on global governance, is for national governments to "recognize that they are stakeholders in global problems, and [for] national parliaments to enhance their engagement with supranational governance."
Brazil's Lula, one of the few truly leftist pols at the talkfest, dared to point out, though, that when it comes to thinking globally, the United States acts "first for itself, second for itself and third for itself." He recalled that his predecessor, Fernando Henrique Cardoso, was Clinton's friend and spent a night at Camp David, but that Clinton " never did anything for Brazil." (La Hora, Chile) Canada's prime minister, Jean Chrétien, reminded the conference that the United Nations is the proper international body to authorize action when a country carries out human rights atrocities against its own citizens (Canadian Press), while Fabius, holding tenaciously to his left-of-center turf, called for "stronger and more efficient public services" in Europe and said, " Frankly, Tony, if we socialists are not advocates of a Europe [of social services], then what purpose do we serve?" (Libération)
That might not have been the message Blair, who has often been criticized for veering too far to the right, wanted to hear. In fact, commentator Roy Hattersley noted in The Guardian, lately, Blairites have been talking vaguely about "values." They have been referring, he suggested, to "the value that dare not speak its name" and that favors the private management of public services such as hospitals and schools. That "value," Hattersley " wrote," is "pure Thatcherism" -- which means, he concluded, that "[t]he third way is still whatever its proponents choose to make it."
* * * * * *
The world shuddered in sorrow at the news that Ladan and Laleh Bijani, the 29-year-old Iranian twins who had been born with conjoined heads, died after more than 50 hours in surgery in Singapore. The "surgical marathon" involved "12 surgeons, eight anesthetists, four radiologists and about 100 support staff." (The Age) In death, the twins are being seen as courageous heroes. " Surrendering to divine fate is a sign of strong faith, profound knowledge and stable will," Iranian President Mohammad Khatami said in his condolences. (Islamic Republic News Agency)
Laleh (whose name means "tulip") and Ladan (named after an Iranian mountain flower) were buried in their hometown in southern Iran just last weekend. Already, though, their memory has been invoked with political implications. Singapore's Straits Times reported that Iranian officials would honor the twins " in a ceremony dedicated to the 300 recently recovered bodies of Iranian troops who died in the 1980-88 Iran-Iraq war."
Sociology professors Ahmad Sadri and Mahmoud Sadri, co-authoring a commentary in Lebanon's Daily Star, saw in the twins' deaths "a metaphor of comparable elegance" for "Iran's post- revolutionary struggle for liberty." That struggle "is embodied in the microcosm of the twins' saga," they wrote. "The spirit that animated Laleh and Ladan is the same one beating in the hearts of their fellow students [who are] propelling Iran's ineluctable movement toward democracy." The twins, the Sadris said, "wanted to be individuals, free to define their own fate. They sought to lead a normal life, as does an entire nation reduced to pariah status."
But Ramin Tabib, writing for The Iranian, a San Francisco-based Web site for expatriate Iranian voices, which also posted the Sadris' text, lamented, "After nearly three decades of living in severe hardship and suffering the effects of untreatable malaise, the world and we Iranians watched with heart-stopping anticipation the effects of radical surgery on [the twins]. And the result was a disaster.
"[A]t the same time, as the world watched with unprecedented eagerness what Iranians would do on July 9, the date came and passed, and the result was more indifference, more of the absence of any tangible improvement, and in a way a death: the death of hope." (This past July 9 marked the fourth anniversary of students' bloody pro-democracy protests in Iran.)
"Maybe we need to give up on the idea of separating conjoined twins," Tabib wrote. "And to forgo the hope of reviving a revolution where a revolution is impossible to achieve. Maybe what we need [is to change] little by little and inch by inch. Radical surgery is not for us; let us accept it and move on."
* * * * * *
It's now OK to chew gum, dance on bar tops, bungee jump and maybe even be gay in authoritarian Singapore. " [T]o attract top-flight foreign talent for its service sector, staid Singapore wants to shed its 1950s image and become more like the swinging '60s." (Financial Times) Economically, the tiny Asian republic's competitors include New York, London and Tokyo; now, a government committee appointed by Prime Minister Goh Chok Tong has released a proposal called " Remaking Singapore" that responds to the need for "an open, diverse environment" to attract "innovative and creative people for the growth of a knowledge-based economy."
The proposal calls for liberalization of Singapore's strict laws governing social practices. Those regulations are a holdover from the campaign waged decades ago by modern Singapore's founder, Lee Kuan Yew, to stamp out degenerate behavior at a time when the port city, nicknamed "Sin-galore," was known for gambling and rowdiness. (FT)
Goh said his government will study the "Remaking Singapore" report "without blinkers" and continue to "remake the rules and regulations" if changes are "needed." Mixing metaphors as he acknowledged receipt of the report, he compared his country to a home and a golf course and its people to children. (Straits Times) "If we want our people to make more decisions for themselves and if we are to encourage a derring-do society, we must allow some risk taking and a little excitement," Goh allowed. (Canadian Press)
"So we will now allow bungee jumping in Singapore. In fact, so changed is our mind-set that we will even allow reverse bungee jumping, which shoots you upward into the sky," the prime minister stated enthusiastically.
Jaywalking at bus stations is still a no-no, however, and tougher new laws against it have just been announced.
* * * * * *
" Muslims will never be able to bring back honor and respect for Islam and Muslims unless they become capable again of defending themselves," Malaysia's prime minister, Mahathir Mohamad, told an international gathering of Islamic scholars late last week in Putrajaya, his country's new seat of government. (BBC) The topic in question: the effects on the Islamic world of the U.S.-led war in Iraq. The confab also addressed such themes as the "clash of civilizations" between the East and the West, the importance of oil in the Muslim world, Islamic extremism and the role of women in Muslim society. At the three-day meeting, which attracted some 800 attendees from more than 30 countries (Herald Sun), some " Islamic scholars said misinterpretations of the religion by wayward ulema [men trained in Islamic theology] was weakening and promoting infighting within the ummah [the international community of believers in Islam]." (Islamic Republic News Agency)
On that point, the vice chancellor of the International University of Lebanon said it was the ulemas' responsibility "to enlighten the ummah, promote the true teachings of Islam and help Muslims distinguish between the good and the bad." (IRNA)
Sheikh Mohamad Syed Tantawi of Cairo's Al-Azhar University, who is considered one of contemporary Islam's most influential figures, condemned the actions of suicide bombers as enemies of the faith. (Malaysiakini) The scholars also "agreed [that] Muslim countries must build up their military might, without depending on foreign powers. They resolved that Muslim countries should cooperate on military research and development, intelligence, military technology and training." (Herald Sun)
Overall, the gathering allowed for a productive exchange of ideas, and it led to plans for a "permanent secretariat based in Kuala Lumpur to be set up as a think tank for Islamic scholars and intellectuals worldwide." (Herald Sun) Still, the BBC's reporter at the event pointed out, the Muslims whom the scholars really " have to win over, the radicals and ultraconservatives, [were] not [there] -- and it is they who seem to have the whip hand in much of the Muslim world these days."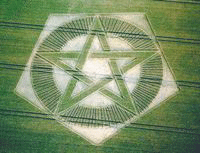 Star that fell to earth

Dramatic crop circle appears in field
Next time something goes bump in the night, be warned extra terrestrials have been making their presence felt on the outskirts of Luton.
That is the belief of a mysterious customer who arrived in Sharpenhoe pub The Lynmore searching for a crop circle she believed was created by aliens.
The giant five-pointed star shaped design has appeared overnight in a wheat field, and is visible from the top of the Sharpenhoe Clappers. [...]
Why do people still bother to make crop circles?

John Vidal
The Guardian
Thursday July 17, 2003

Who knows? Whether you believe the cereal circles are harbingers of world change created by an alien intelligence, ever more sophisticated situationist art, or the work of jesters after a good night in the pub, the real mystery is how they continue to intrigue. [...]
Comment: More articles extremely concerned with convincing you that crop circles the whole world over are the work of kids with nothing better to do. As they play up the "bitter debate" crop circles mysteriously appear the next morning. It must really upset the puppet masters.
Why Is An Occult Revival Sweeping the Globe?
[...] New Age expert Judy Vorfeld says, "Dabbling in the realm of the occult is currently stylish. Even some Christians seem unable to avoid the attraction of this colorful, seductive world." [...]
Comment: COINTELPRO at work. For further reading on the subject: Magick and Ritual as a False Syndrome of Esoteric Work , Notes on Ritual, Schwaller de Lubicz and the Fourth Reich. Pagans may also want to be careful who they are associating with, and that they are not buddies with those doing the 9/11 " Happy Dance" or other psychopathic activities.
Mark Pilkington
The Guardian
As several international probes struggle valiantly to reach the relatively neighbourly planet Mars, a small coterie of astrophysicists is quietly considering how humankind might venture beyond our own solar system.
The key to the problem is power: what kind of fuel will be stable and plentiful enough to take humans into deep space? Among the more sober possibilities are ion propulsion, using xenon gas for fuel, which sent Nasa's Deep Space 1 probe a respectable 185m miles or so, and solar sails, blown by photons from the Sun.
Neither of these is ideal: xenon, though stable, is exhaustible, and solar sails would only be able to carry very small, light craft.
One theoretical energy source, however, would fit the bill perfectly. It's as accessible in outer space as it would be in the Outer Hebrides because it exists, according to its advocates, everywhere, immersing everyone and everything in a foaming sea of energy.
Early quantum physicists theorised that all space, even the vacuum of outer space, contains a constantly bubbling field of electromagnetic energy, quantum fluctuations thought to be created by "virtual" photons constantly winking in and out of existence. This is zero point energy (ZPE), so called because it would still exist at absolute zero - minus 273C - when the atomic motions that generate thermal energy are at their slowest. Physicists John Wheeler and Richard Feynman calculated that there is enough such energy in the vacuum inside a single light bulb to boil all the world's oceans. The challenge, currently being investigated by several teams, is how to tap it.
Some researchers have also suggested an intriguing connection between ZPE, inertia and gravitational pull. The push you feel while slowing down or turning when driving may actually be caused by ZPE fluctuations. A greater understanding of how to manipulate ZPE may one day lead to the control of gravitational and inertial forces, leading to new forms of propulsion and a
revolution in space travel.
The number of physicists studying ZPE is small, and most are still operating at the theoretical level, but a breakthrough could one day provide the energy of the future.
Comment: Isn't it interesting that the author writes such a long article and would not mention even ONE TEAM by name?
Careful: The FB-eye may be watching
Reading the wrong thing in public can get you in trouble.
Comment: A must read! We are not kidding here. You may be shocked at why the FBI showed up at this individual's home, then went to his job and proceeded to interrogate him. We are shocked, and we talk about America's loss of freedom every day. Make sure you check out the link that sparked the investigation. The U.S.A. has been allowed to disintegrate into a third-rate banana republic. For all those paranoid Americans, here is a bit of confirmation that you are not crazy.
Boulder residents find mysterious tracking systems on their cars

by Joel Warner and Pamela White
(Editorial@boulderweekly.com )
Ever get the sneaking suspicion you are being watched? Maybe you should look under your bumper. On Sunday, July 6, three Boulder residents discovered sophisticated Global Positioning System (GPS) devices attached to the bottom of their cars, apparently used by someone to track the whereabouts of their vehicles.
The devices contained no immediate clues as to who planted them or who used them to collect information, leaving the residents with troubling questions: Who would be willing to spend the time and energy to track them? And are we all being watched far more carefully than we might want to imagine?
Comment: A handy article to convince people that they should install their own GPS systems: Carjacked but Tracked: High-Tech System Helps End Chase Of Stolen SUV Carrying 2 Toddlers
Earth's birth date turned back:

Formed earlier than believed

By William J. Cromie
Gazette Staff

Our planet is 50 to 90 million years older than previously thought, according to new evidence found in meteorites. [...]
US Senate approves 368.6 billion defense spending bill by a 95-0 vote

WASHINGTON, July 17 (AFP)

By a unanimous vote, the US Senate late Thursday approved a $368.6 billion defense spending bill that aimed to update military facilities and provide a 4.1% pay raise for military personnel.
By a vote of 95-0, the Senate passed the Department of Defense Appropriations Bill for fiscal year 2004, after three days of debate.
The bill does not include funds to cover the costs of ongoing military operations in Iraq and Afghanistan for the coming fiscal year. Those expenses will have to be provided for in a separate spending bill, lawmakers said.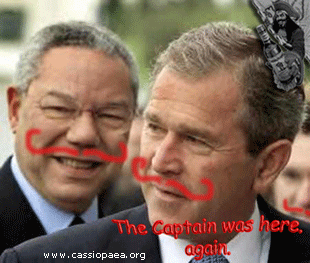 Bush launches magazine to teach young Arabs to love America
By Andrew Buncombe in Washington

So what if George Bush is threatening to invade your country? At least the kids in America have nice, white teeth and listen to the same music as you. Isn't that enough for you to love the good 'ol US of A?
That, at least, appears to be the message of a glossy new magazine published by the Bush administration and going on sale across the Middle East this week, targeting young people with a mix of features, celebrity profiles and music. The Arabic-language Hi magazine is US propaganda 2003-style. "We're fighting a war of ideas as much as a war on terror," said Tucker Eskew, director of the White House's Office of Global Communications.
Saddam Tape Calls for Jihad Against U.S. Forces

Thu July 17, 2003 09:32 AM ET

DUBAI (Reuters) - Former Iraqi leader Saddam Hussein, not seen since he was toppled in April, appeared to call on Iraqis to mount a jihad, or holy struggle, to oust occupying U.S. troops in an audiotape aired on Thursday. [...]

The tape, aired by Al Arabiya and Al Jazeera satellite TV, coincided with the 35th anniversary of his Baath Party's rise to power in Iraq. [...]
US Plane Downed in Iraq. No Comments from Pentagon
As a result of the recent terrorist attacks about 10 American servicemen were wounded or killed. A group naming itself "Islamic National Resistance" said in a statement broadcast by the Qatar satellite television al-Jazeera on Tuesday that it had caused much damage to the US occupation forces in Iraq.
The information is reported by Russia's NEWSRu.com. The statement says that militants belonging to the group managed to bring down a transport aircraft near the settlement of El-Mahmoudia not far from Baghdad. [...]
Report: U.S. May Call National Guard for Iraq Duty

Thu Jul 17, 2:17 AM ET

NEW YORK (Reuters) - The Pentagon could start a call-up of as many as 10,000 U.S. National Guard soldiers by this winter to bolster forces in Iraq and offset a lack of troops from allies, The Wall Street Journal reported on Thursday.

Missions in Iraq and Afghanistan have stretched the U.S. military thin, the report said, and soldiers there still face danger every day. One senior U.S. defense official, asked by the Journal if he had ever seen the Army stretched so thin, said: "Not in my 31 years" of military service.

Defense Secretary Donald Rumsfeld is expected to sign off later this week on a plan that would set up rotations to relieve Marine and U.S. Army soldiers stationed in Iraq, the newspaper said, citing a Pentagon official. [...]
New Security Procedure Begins At National Airport

July 15, 2003 10:39am

Arlington, Va. - Passengers will have to go through yet another security procedure at Reagan National Airport.
Travelers must now have a ticket, boarding pass and photo ID to go through the security area. Previously, passengers just needed their ticket.
The airport is warning of possible delays because of the new procedure. Many other airports across the country have already implemented the new security procedures.
Russians not interested in Internet

The majority of Russians (88%) have never used the Internet, according to a poll by the Public Opinion foundation. The poll, which questioned 3,000 Russians over 18 years old, found that of those people who had never used the Internet, 64% had no desire to learn how to use it. This figure was much lower among young people - 36%. [...]
Reports of UFOs flooding into group

By John Corser
Jul 17, 2003, 13:56:00

A Black Country UFO research group has had a big increase in reports of unexplained lights in the sky since the start of the hot spell. Stourbridge-based Uform says it is getting reports every day of sightings of unexplainable lights and objects in the sky.
Group member Yvonne South said there appeared to be increasing activity in the "Himley Triangle" around the epicentre of the Dudley earthquake in September last year. And two unusual events were reported in Dudley on Monday and Brierley Hill on Tuesday night. [...]
Dust cloud in forecast for today
Threat of huge haze prompts health alerts
By ROBERT CROWE
Houston Chronicle
July 17, 2003
A Saharan dust haze twice the size of Texas is expected to make its way over Houston today and cover the state by the weekend, health officials said Wednesday.
Comment from Reader: First we have a mysterious smoke ring over San Antonio, Texas, and now a Saharan dust haze? I'm 45 and a native to the Houston area. Never in my life have I heard of these dust storms over the area. The smoke from Mexico has only been reported in the last few years. I've asked around and can't find a single person that has heard of these in the past. If they are so common, then why hasn't anyone noticed them before? A little sky-watching will be in order this weekend.
Auto Deaths Hit 12-Year High in 2002
By John Crawley
WASHINGTON (Reuters) - The number of people killed in sport utility rollover crashes rose 14 percent last year as total highway deaths hit a 12-year high at nearly 43,000, the U.S. government reported on Thursday.
The Transportation Department also reported that car crash injuries fell to an all-time low in 2002. Child and pedestrian deaths also went down as did fatalities involving large trucks. [...]
Sixty-one percent of all SUV fatalities involved rollovers. [...]
Comment: Yet the media insisted not so long ago that we should all be scared of SARS, assuming we can not think logically. The chances of dying in a terrorist attack are extremely marginal compared to threat of all those patriotic SUV terrorists on the road.
Lawsuit seeks reparations for 1930s-era expulsion from California
Hundreds of thousands of people, many of them U.S. citizens, were forcibly sent to Mexico in the 1930s to protect jobs for white residents, according to a lawsuit against the city and county by a civil rights group. [...]
City Council Condemns U.S. Patriot Act
More Than 130 Cities Oppose Bill
LOS ANGELES -- The South Pasadena City Council approved a resolution Wednesday night condemning the nation's Patriot Act as a threat to civil liberties.
More than 130 cities nationwide have spoken against the Patriot Act, which was passed after the Sept. 11, 2001, terrorist attacks and granted federal authorities broad surveillance and investigative powers to help combat terrorism. [...]
New York police jail subway drummer and his cat
New York City transit police prowling the subway for scofflaws have jailed a month-old kitten this week.
"Gizmo," a black and white kitten and its owner, Angel Melendez, were placed in a city lockup early on Tuesday local time after an officer cited the 35-year-old subway musician for having an uncaged animal inside the subway system.
The incident was the latest example of what critics say is a ticketing blitz designed to help the cash-strapped city. Recently, officials fined a man for sitting on a milk crate and ticketed a woman for talking loudly to her neighbour. [...]
Police Protected In Illegal Searches
July 15, 2003
By LYNNE TUOHY, Courant Staff Writer
The state Supreme Court has rewritten the rules on when a person may be prosecuted for a crime committed in response to an illegal entry or search by police of the person's property.
In its ruling released Monday, the court tempers the right of a person to object to an illegal search with the need to protect law enforcement officers from physical harm and threats of harm.
"Although wrongfully on the premises, officers do not thereby become unprotected legal targets," Connecticut Justice Joette Katz wrote for the unanimous court, quoting from an Oregon ruling.
"Indeed, there is a great risk of escalating violence when citizens are permitted to use, or threaten to use, force to respond to unlawful police conduct," Katz wrote. "This concern is especially true considering that law enforcement officers typically are equipped with firearms, and that a violent response to an illegal search may well result in a tragic outcome."
The court's ruling carves out a new exception to an exclusionary rule that generally bars law enforcement officials from using evidence obtained through an illegal search or seizure, including evidence of criminal behavior committed by a person while resisting an illegal search. [...]
Comment: In other words, the police officers have all the rights, and the citizens have none. Although this ruling only applies to the state of Connecticut, this type of "police protection" is running rampant in the US. The police no longer exist to protect and serve, but rather to invade Americans' privacy, shoot their dogs, and traumatize their children.
Sea floor survey reveals deep hole
By Dr David Whitehouse
BBC News Online science editor
Scientists have identified a region of the sea floor with a depth that rivals the Challenger Deep which, at about 11,000 metres (36,000 feet), is the lowest spot on Earth.
The new location lies 200 kilometres (124 miles) further to the east, along the Mariana Trench in the western Pacific. It was found during a sonar sea-floor mapping project carried out in 1997 and 2001 by scientists from Hawaii, US. [...]
Baja California Rock Art Dated to 7,500 Years Ago
John Roach for National Geographic News

The giant rock art murals that grace the walls of hundreds of shelters and caves found in the hardscrabble hills of the high sierra in Baja California Sur, Mexico, date back as far as 7,500 years ago, according to data from an ongoing study of the area.
The ancient dates for the paintings cast little light on the mystery of who made them and why, but it suggests that whoever the painters were they came well before the Aztecs established their culture in central Mexico some 3,000 years ago. [...]
Coral reefs across the Caribbean have declined by 80% in three decades, UK scientists say. [...]
Volcano erupts in eastern Indonesia
Friday, July 18, 2003
JAKARTA, Indonesia (AP) - A volcano erupted Friday in eastern Indonesia, spewing lava and clouds of dust high into the air, officials said. [...]
Mainichi Daily News
July 18, 2003
A fairly strong earthquake shook Nagano Prefecture on Friday morning, the Meteorological Agency said. [...]
The quake measured 3.8 on the Richter scale, and its focus was located about 10 kilometers below southern Nagano Prefecture, agency officials said.
Strong quake rocks north Taiwan
Agence France-Presse
Taipei, July 18

An earthquake measuring 5.4 on the Richter scale jolted north Taiwan on Friday, seismologists said. [...]
Quake shakes eastern Iranian city, casualties from last week tremor upped
Tehran, July 17, IRNA -- An earthquake measuring 4.2 degrees on the Richter scale shook Kuhban in the southeastern Kerman province Thursday, but there was no immediate report on damage. [...]
Rain hits flood rescue efforts
CNN
NEW DELHI, India -- Heavy rains have hampered rescue efforts to find dozens of workers washed away by flash floods at a construction site in the popular northern Indian resort district of Kulu, in Himachal Pradesh state. [...]
By Levi Pulkkinen - Daily World Writer
Thursday, July 17, 2003

ELMA, WASHINGTON - A meteorite is a seductive thing. It draws people towards it, pulls the obsessed to distant corners of the world.
Meteorites have drawn brothers Adam and Greg Hupe from their home in Renton to Africa and Europe. Tuesday they were drawn to Elma to examine the rocks three young men found early Tuesday morning after seeing something they believe to be a meteor heading toward the Elma High School athletic fields. [...]
Perseid meteor shower begins tonight
Thursday July 17, 2003
The Perseid meteor shower returns as nature's fireworks from tonight (Thursday, July 17) to Aug. 24, with the peak expected in the early hours of Wednesday, Aug. 13. At times you may be able to see up to 110 meteors per hour. [...]
Kansas City Star
Fri, July 18, 2003
Scientists have found a planet almost as old as the universe. The surprising discovery is one more triumph for NASA's Hubble Space Telescope.
Astronomers used data the Hubble collected to determine that a planet 12.7 billion years old exists in what's called a globular cluster (a big batch of stars, basically) 5,600 light-years from earth. The discovery is challenging widely accepted theories about planet formation. [...]
Teacher's tactics cloud idyll of private school
Timesunion.com
By RICK KARLIN, Staff writer
Thursday, July 17, 2003

Tucked away in a verdant corner of Columbia County, Hawthorne Valley School appears to offer a kinder, gentler way of teaching.
Parents praise what they call its unique child-centered approach, which is part New Age and part throwback to the way things were a century ago. An organic farm across the road serves as a summer camp for students in affiliated schools.
The first sign of trouble came last year when one couple learned their daughter had been strapped into her chair with a leather belt. [...]
By Cynthia Banham
The High Court stunned doctors yesterday with a landmark finding that a surgeon who bungled a woman's sterilisation is liable for the cost of bringing up her child to the age of 18. [...]
Mother Kept Mummified Daughter for Aliens
ALMATY (Reuters) - A distraught Kazakh mother kept her daughter's mummified corpse in her apartment for three years hoping she would be resurrected by aliens, police said on Thursday. [...]
---
Check out the Signs of the Times Archives
Send your comments and article suggestions to us.
---
Fair Use Policy
Contact Webmaster at signs-of-the-times.org
Cassiopaean materials Copyright ©1994-2014 Arkadiusz Jadczyk and Laura Knight-Jadczyk. All rights reserved. "Cassiopaea, Cassiopaean, Cassiopaeans," is a registered trademark of Arkadiusz Jadczyk and Laura Knight-Jadczyk.
Letters addressed to Cassiopaea, Quantum Future School, Ark or Laura, become the property of Arkadiusz Jadczyk and Laura Knight-Jadczyk
Republication and re-dissemination of our copyrighted material in any manner is expressly prohibited without prior written consent.
.