---

New! Signs Supplement on Super Volcanos
New! Signs Supplement on Ethnic Specific Weapons
New! Signs Supplement on Sonic and Mystery Booms
---
Remember, we need your help to collect information on what is going on in your part of the world!
We also need help to keep the Signs of the Times online.
Obviously, there are a lot of folks out there who do NOT like what we are doing - our own special brand of news coverage - and they are working day and night to create almost insurmountable problems for us, designed to grind us down and render our plans to be able to increase our production (which include a weekly radio show that is currently in the implementation stage) impossible to bring to fruition. We are coming under increasing pressure from many directions all at once.
Our need for financial support has never been greater, including support for legal initiatives to halt the madness of several of the para-COINTELPRO activities currently launched against us. These operations are designed to create a platform to justify utilizing police state tactics so as to silence, and even ultimately, destroy us.
Please: We need your help.
The campaign of lies and disinformation would be frightening under normal circumstances; considering the present state of the world and the machinations of the "National Security State," it is terrifying.
Please - if you have been helped by our work -
won't you help us NOW?

---
Mars makes closest approach tonight
Everyone on Earth will be close to Mars this week, but the people of French Polynesia will be closest of all.
Comment: The article has a table that gives times for the closest approach according to your location.
BBC
A scientist has found a way to use earthquakes to predict when volcanoes will erupt.
[...] When Colombia's Nevado del Ruiz volcano erupted in 1985, it melted a glacier capping the mountain. Water and volcanic ash combined to produce devastating mudflows that wiped the entire town of Armero off the map.
By then Chouet had developed a theory that volcanic eruptions should be preceded by a type of earthquake he called a long period event.
Chouet believed that long period events were a sign that pressure was building up inside a volcano.
When he finally saw the earthquake records from Nevado del Ruiz, a year on from the disaster, he was horrified.
Tragic misjudgement
Chouet saw long-period events all over charts. For days before the eruption the volcano had been screaming "I'm about to explode" but no one had heard the warning. [...]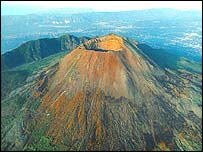 Who's Afraid of Vesuvius?
New York Times
[...] In the months, years and decades that followed, Mr. Boccia's family and all the others in this vulnerable southern Italian village stayed put, content to test their luck under the volcano.
"What can we do about it?" Mr. Boccia said.
Regional government officials have a suggestion. It involves suitcases, moving vans and change-of-address labels.
They would like people living in San Giuseppe Vesuviano and other places snug against volatile Mount Vesuvius to get away from it, and they are poised, for the first time, to encourage such an exodus with cash. [...]
Comoros volcano may erupt after 12-year sleep
Moroni - A volcano in the Indian Ocean Comoros Islands might soon erupt for the first time in 12 years, threatening to spew molten rock that could endanger villages, experts said on Wednesday. [...]
An observatory monitoring the volcano said the number of earth tremors had increased in the past few months to about 100 a day in August from about one or two per day during intervals of calm on Karthala. [...]
Small Earthquakes Shake Los Angeles
SANTA CLARITA, Calif. (AP)--A string of small earthquakes rattled western Los Angeles County, with the largest felt by residents as far east as Pasadena and as far west as Simi Valley.
Earthquake Shakes Several Peruvian Cities, RPP Radio Reports
Aug. 26 (Bloomberg) -- An earthquake shook several cities in the south of Peru, Radioprogramas del Peru radio said. There were no immediate reports of injuries or damage to property. [...]
Volcano explosions ignite fears
August 27, 2003
ECUADOR put its Andean region on a state of alert late today, as the Tungurahua volcano exploded into showers of red-hot rocks and ash, officials said.
The loud volcanic explosions had begun to "cause problems" for the local population, authorities said, warning that they would continue for days or weeks.
Ecuadoran Vice President Alfredo Palacio extended a state of emergency issued in July for areas around the 5,029m Tungurahua, located 135km south of Quito.
A yellow state of alert was issued in September 2000 for Banos, a tourist spot close to the volcano, while an orange alert was in effect for other sectors of the risk zone.
Today's state of alert extended to several localities in Tungurahua and Chimborazo provinces.
Earthquake Rattles Part Of Kentucky
There are no reports of damage this morning after a minor earthquake shakes part of western Kentucky. [...]
This is the second earthquake reported in western Kentucky in the past three months.
In June, a quake centered one mile south of Blandville in Ballard County registered a 4.5 magnitude on the Richter scale.
The quake rippled sidewalks, broke windows and knocked pictures off walls in parts of neighboring Carlisle County.
Comment: Something like a boom was reported for this quake also: "Phil Brown, shift supervisor at the Paducah Gaseous Diffusion Plant, said no seismic alarms sounded, 'just a sensation of movement and then a sharp bang ... A lot of people described it as like two rail cars hitting together.'"
Earthquake Shakes West-Central New Jersey
MILFORD, N.J. -- An earthquake rattled a rural area in west-central New Jersey on Tuesday afternoon, shaking buildings and knocking curtains off windows. There were no reports of injuries or serious damage.[...]
Some residents reported a sonic boom-like sound, and thought there was an explosion at the local papermill, the James River Corp., Schepens said. [...]
5.3 earthquake shakes East Hawaii
By Chris Leonard - 67AM KPUA News Hilo, Hawaii - An earthquake shook East Hawaii Tuesday evening. Police report that the quake was felt island-wide however there were no reports of injuries or serious damage. [...]
Moderate earthquake jolts Indonesia's East Java
26/08/2003 16:43:05
ABC Radio Australia News
A moderate earthquake measuring 4.2 on the Richter scale has shaken the south of Indonesia's densely-populated East Java province.[...]
Low intensity quake hits Manipur, Assam
NEW DELHI: Manipur and Assam experienced an earthquake of slight intensity at 2.24 am on Wednesday.
The earthquake measuring 4.7 on the Richter scale was epicentred 25.2 degrees north and 93.6 degrees east at Manipur-Assam border, a meteorological department release said here.[...]
This is the second quake Manipur has experienced in two days. Tremors measuring 4.5 on the Richter scale had struck the state on wee hours of Monday.
Taiwan sells $100m of quake bonds
By Kathrin Hille in Taipei
Taiwan sold US$100m of three-year earthquake bonds in New York on Monday, making the quake-prone island the first Asian market outside Japan to launch catastrophe bonds.
Quake triggers over 200 Fiordland landslides
27 August 2003 The South Island's 7.1 magnitude earthquake last week triggered more than 200 landslides in Fiordland National Park, geologists said today. [...]
Stronger effort to search for asteroids urged
Astronomers, experts warn of smaller rocks that could hit Earth
DENNIS O'BRIEN
Baltimore Sun
Every few years, astronomers who study asteroids are accused of crying wolf.
In 1998, one group predicted that an asteroid was headed toward a collision with Earth in 2028. A day later, another group said the estimate was based on faulty data and there was no chance of a disaster.
In April 2002, astronomers announced that they had found an asteroid a half-mile wide that has a 1-in-300 chance of hitting Earth. But it turned out that Asteroid 1950 DA, as it is formally known, won't arrive until March 16, 2880.
Hollywood has done its part, too. Movies such as "Deep Impact" and "Armageddon" have entertained millions with tales of death-dealing rocks that are heading Earth's way.
Experts say alarms like these are the price we pay for better surveillance of the heavens -- and they're likely to continue as long as astronomers keep looking skyward.
"These asteroids were passing by before -- it's just that we didn't have an ability to see them," said Clark Chapman, a planetary scientist at the Southwest Research Institute in Arizona. [...]
The National Aeronautics and Space Administration, for example, spends $3 million a year to search for asteroids that are potentially big enough to wipe out the planet -- meaning bodies at least a kilometer (about 0.6 mile) in diameter.
About 100 scientists and researchers work on the asteroid search around the world, and they expect to have 90 percent of the dangerous rocks identified by 2008.
But at least one group of astronomers says that effort isn't enough.
"We're not alarmists. We're not worried about this happening tomorrow. We're just saying more attention should be paid to something that could really turn off the lights in a big way," said Thomas Jones, a former shuttle astronaut and leader of an effort to increase funding for asteroid searches. [...]
How to use your cred to beat global warming
University aims to shame ministers into tougher action
Ian Sample, science correspondent
The Guardian
A group of scientists in East Anglia has launched an ambitious campaign to tackle the threat of global warming in an effort to shame ministers into stronger action on climate change.
The task they have set themselves is formidable: to slash the region's emissions of carbon dioxide in half the time the government believes is possible.
At first glance, the project, known as Cred, for carbon reduction, might easily be dismissed as well-meaning nonsense. But the team behind it, Keith Tovey and his colleagues at the University of East Anglia, belong to the most prestigious environmental science department in the country. [...]
French heatwave kills Marie-Antoinette's 300-year-old oak
TERRA.WIRE
VERSAILLES, France (AFP) Aug 26, 2003 The recent heatwave in France has killed a 321-year-old oak tree favoured by queen Marie-Antoinette, officials at the Versailles Palace outside Paris said Tuesday.[...]
Sharp increase recorded in British deaths amid heatwave
TERRA.WIRE
LONDON (AFP) Aug 26, 2003 More than 900 deaths above average were registered in the week that saw Britain sweating in the hottest temperatures ever recorded, according to official figures released Tuesday.
The Office for National Statistics (ONS) said that in the week ending August 15, there were 907 more deaths recorded than the average for comparable weeks in the previous five years.[...]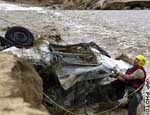 Flash flood in Mojave Desert kills three
Wednesday, August 27, 2003 Posted: 1205 GMT ( 8:05 PM HKT)

TWENTYNINE PALMS, California (AP) -- A flash flood spawned by tremendous downpours swept a car off a Mojave Desert road, killing two sisters and a family friend who saved the daughter of one victim. [...]
Drought kills fish stock in Bosnia's north
TERRA.WIRE
BANJA LUKA, Bosnia-Hercegovina (AFP) The second largest fish farm in Bosnia's Serb entity lost some 30 tonnes of fish in a severe drought that has hit the Balkans region for the last three months, an official said Tuesday.[...]
Most rivers in the area are at their lowest level since 1890 when information on water levels began to be collected.

Typhoon Krovanh kills one, injures five in northern Vietnam
TERRA.WIRE
HANOI (AFP) Aug 26, 2003 At least one person was killed and five others injured when a powerful typhoon struck northern Vietnam, uprooting trees and disrupting power supplies, officials said Tuesday.
Typhoon Krovanh, which brought heavy winds and torrential rains to the north part of the country, hit late Monday after moving south from China.[...]
Powerful typhoon rages across south China, killing at least three
TERRA.WIRE
BEIJING (AFP) Aug 26, 2003 A powerful typhoon has wreaked havoc on large parts of southern China, killing at least three people and affecting millions, state media and officials said Tuesday.
Typhoon Krovanh roared along several coastal provinces, hitting a number of population centers before settling down somewhat on China's border with Vietnam, according to Xinhua news agency.[...]
Volcanic ash falls on villages near Ecuador's Tungurahua
TERRA.WIRE
QUITO (AFP) Aug 27, 2003 The Tungurahua volcano, in Ecuador's Andean region spewed ash Tuesday in loud volcanic explosions that have begun "to cause problems" for the local population, authorities said.
The explosions may continue for days or weeks, geophysics experts said.
In its latest report, the Geophysics Institute warned local populations to watch out for rain, saying water could cause ash massing on the sides of the volcano to avalanche.
"It is recommended that people remain alert to possible changes in activity" of the 5,029 meter (16,500 feet) Tungurahua, located 135 kilometers (85 miles) south of Quito, a statement from the institute added.
Large glowing rocks are being churned out of the volcano, which became active again in 1999. A local airline also reported Tuesday that a cloud of ash was currently billowing at 7,010 meters (23,000 feet).
Bush vows "no retreat" from Iraq, Middle East
SAINT LOUIS, United States (AFP) - US President George W. Bush vowed "no retreat" from Iraq or the Middle East peace process despite mounting criticism at home and a deadly upswing in violence in the region.
Iraq "is now a point of testing in the war on terror. Remnants of Saddam's regime are still dangerous, and terrorists are gathering in Iraq to undermine the advance of freedom," Bush told the American Legion veterans' group.
The address came after US lawmakers called for sending reinforcements to help the roughly 140,000 US soldiers in Iraq, where as many US troops have died since Bush declared an end to major combat on May 1 as died during the war.
"Retreat in the face of terror would only invite further and bolder attacks. There will be no retreat," Bush pledged, in what aides had billed as a sweeping defense of his administration's policies in Iraq.[...]"Murderers will not determine the future of Iraq and they will not determine the future of the Middle East," said Bush, who has embraced a "roadmap" to peace that calls for a Palestinian state living at peace with Israel by 2005. [...]
Comment: Psychopath Bush says that in order to prevent killing, there has to be killing. Doesn't make sense, does it? Seems like the logic solution isn't killing, but to instead remove psychopaths from power, wherever they are. Psychiatric evaluations and historic factual profiles of those seeking politic office might help. It would be very interesting if such requirements were proposed as law for a given nation's government, to see who objects!
In reality, Bush is a common criminal. An empty store front to do someone else's dirty work. The Bush family is so dirty with crimes and amorality that it would be an easy thing to turn public opinion against them - once they have fulfilled their purpose. What these puppet masters (Rockefeller? Mossad?) needed is a family stupid enough to believe that they are some how special enough to get away with murder.
If they do not do as exactly as they are told they will be done away with, and even if they do what they are told as soon as someone powerful enough wants them out of the way they will be gone.They are just a cog in the machine, and have some how convinced themselves they have descended from Olympus.
NEW REVELATION SURFACES ABOUT GULF WAR II "MYSTERY ILLNESS"
American Gulf War Veterans Association
The American Gulf War Veterans Association (AGWVA), an independent Gulf War Veterans' support organization, has long searched for answers to explain why nearly half of the 697,000 Gulf War I Veterans are now ill and why over 200,000 of those servicemen/women have requested disability, but have received no adequate diagnosis or treatment, from either the Department of Defense (DOD), or Veteran's Affairs.
Though there have been over 125 studies done by the government at the cost of over $300,000,000 to the taxpayer, we still have no answers as to what caused so many of our soldiers to become ill. Meanwhile, the suffering veterans are receiving little, if any, medical treatment for this illness. It seems that whenever veterans become ill, the term "mystery illness" seems to be the first and often the only diagnosis that is ever made. Veterans are then left to fend for themselves, sick and unable to work, with little hope of a normal life again.
The AGWVA is now again asking questions, this time, about the newest "mystery illness" to hit the military. After being pressured by a few independent news reporters who have not permitted this "mystery" to continue unabated, The DOD recently has been forced to announce the "mystery" deaths of Gulf War II soldiers and that at least 100 other men and women have become ill.
Again, however, there were no adequate answers, but, only that the "mystery illness" diagnosis had reared its ugly head again. According to a family member of one of the military victims, the DOD recently, has changed its label of the illness and is now calling it "pneumonia" in sharp contrast to what a physician on the scene reported. Due to continuing pressure for sound answers, the DOD was again forced to send an investigative team to Iraq, however the convenient, repeated lack of diagnosis, unfortunately translates into lack of treatment, and lack of compensation for the veteran. The jury is still out, however, if the DOD will be forthcoming with the truth this time. [...]
U.S. deaths in Iraq surpass 'end of major combat' total
Wednesday, August 27, 2003 Posted: 0212 GMT (10:12 AM HKT)

BAGHDAD, Iraq -- The number of U.S. service members who have died in Iraq since the end of the major phase of the war now surpasses the toll in the first phase of the conflict. [...]
Comment: Yes indeedy, "the war is over" announced Bush back in June, as he strode, helmet under arm, cheesy grin under nose and truth under wraps, subtly yet audaciously implanting the idea that he himself had somehow been involved in winning it. And now we have this, more soldiers killed in combat AFTER the war has been declared over. Has reality been turned on it's head? Black is now white and white black? Apparently, according to the Bush government.
Army considers extending tours of duty
DAVE MONIZ
GANNETT NEWS SERVICE
WASHINGTON
For the first time since the all-volunteer Army began in 1973, a significant number of U.S. combat soldiers may have to start serving back-to-back overseas tours of up to a year each in places such as Iraq, Afghanistan and South Korea, top Army officers say.
Grappling with large, simultaneous deployments around the world, Army planners are trying to determine how many troops will have to serve extra tours. Based on the forces they must keep in place overseas, planners have concluded they will have no choice but to force thousands of troops to return on new overseas assignment after only a short time at home. Currently, it's not unusual for Army soldiers to serve up to one year overseas without their families.[...]
Scientist sues Ashcroft over anthrax probe
Financial Times
By Edward Alden in Washington
August 27 2003

A bioweapons scientist at the centre of the investigation of the 2001 anthrax attacks launched a lawsuit on Tuesday accusing John Ashcroft, US attorney-general, of smearing his name to cover up the criminal investigation's failure.

Steven Hatfill, who was publicly identified by Mr Ashcroft as "a person of interest" in the investigation, is seeking damages and an end to what his lawyers say has been round-the-clock surveillance and harassment by Federal Bureau of Investigation officials.
US investigators suspect a US government weapons expert perpetrated the attack in order to warn the country of the dangers of bioterrorism. Indeed, after the anthrax scare billions of dollars were spent to guard against similar attacks.
Dr Hatfill, who has worked with both the US army and the former Rhodesian military, had been publicly critical of US failure to prepare for such attacks. He had worked at the US army's top bioweapons research facility, though not with anthrax. His lawyers say there is no evidence linking him with the anthrax attacks, and that the government violated its own secrecy rules and Dr Hatfill's constitutional rights when it leaked his name last year and tipped off the media that his apartment would be searched. He was subsequently fired and has been since unable to find employment - in part because of 24-hour FBI surveillance.
In May he was fined $5 for walking into traffic with a camera to photograph an FBI agent who was tailing him. The agent hurriedly drove away, running over Dr Hatfill's foot.
Comment: Another scapegoat to cover the US government's tracks as it pursues it indoctrination of the American public.
Two Hundred Peacefully Protest Ashcroft, Patriot Act in Boise
By Scott Logan

BOISE - As United States Attorney General John Ashcroft praised the Patriot Act inside the Boise Depot, a couple of hundred people peacefully denounced it on the lawn outside.
Many of them were outraged by the so-called "sneak and peek" searches, in which the government secretly searches people's homes.

"I'm real concerned about the Patriot Act and the erosion of the freedoms we have," said protestor Al Ray.
The woman who founded the Boise Patriots group, opposed to the act, says left-wing and right-wing both think it goes too far. And Gwen Sanchirico says the attorney general's appearance in Boise gives them a high profile opportunity to protest.
"Ashcroft will say terrorists are gonna destroy us, fly planes into our buildings. But if we don't have our freedoms, we have nothing," said Sanchirico.

One man who voted for the Patriot Act doesn't regret doing so. Sen. Mike Crapo said it was the right thing to do after Sept. 11 terror attacks."The fact there are questions about whether it may have gone too far does not change the fact the United States needed to take a strong and important step at that point," said Crapo.
Comment: Interesting name, 'Senator Crapo', especially in light of his logic which seems to be saying that the fact that an act is fundamentally flawed does not mean that we should do anything about it...
Protesters Voice Disapproval of Patriot Act

Aug. 25, 2003
Richard Piatt Reporting
The Attorney General's visit did not go unnoticed by people who have real concerns about the Patriot Act, and its affect on the Bill of Rights.
Protesters camped out on an entire block circling, chanting, carrying signs. It's difficult to say how many there were, but it's safe to say there were hundreds of people around the Little America hotel. All of them oppose what they say is the Patroit Act's infringement on civil rights.
Merrill Cook, Former Congressman: "I think the Bush administration needs to get a message that it's not just the democrats that are opposed to this overreach. But a lot of conservative republicans feel exactly the same way."
Chris Frankewicz, Ashcroft Protester: "I think they're going to use these increase investigative powers to investigate political organizations. And I think there will be gross injustice and gross misuse of power."
Ashcroft's staff cited security reasons as his motorcade circled the block to pick an opening between the protesters.
Comment: Is anyone else getting a picture of just how ridiculous this would be if it were not so scary? Ashcroft on a nationwide tour to convince the population that, essentially, they should be very afraid, that they are under immediate threat, and when they feel this fear they should then agree that they need to give up their rights so the government can better tackle this threat allowing them to feel less afraid. Interestingly though, one of the ways that it is suggested that this be achieved is that citizens should be suspicious, almost paranoid about each other and report any "suspicious activity" to the authorities. Yes indeed, nothing like a bit of paranoia to dispel all fear...

Critics Say U.S. Airline Screening Plan Intrusive
Advocacy groups from across the political spectrum blasted the U.S. government's proposed air passenger screening program on Monday, calling it a "quantum leap" in surveillance that violates privacy and civil rights. Groups as diverse as the American Civil Liberties Union and the American Conservative Union criticized the Computer Assisted Passenger Prescreening System, known as CAPPS II, which was announced in July as part of an effort to improve passenger security.
Under the plan, the government will take basic information of all potential airline passengers -- name, date of birth, address and phone number -- as they book their ticket. It will run that information through a commercial data service to confirm the passenger's identity.
"This system will affect every single person who gets on an airplane in the United States," said Laura Murphy, director of the ACLU's Washington office, who called it a "quantum leap in government surveillance."[...]
Bob Barr, a former Republican congressman from Georgia, said that power to screen for passengers who might have a warrant out for their arrest is one of the "many troubling aspects" of CAPPS II.
He and others were concerned about the secrecy of the "rating system" the government use for each passenger. Since the data will be classified as secret a passenger rated as a possible terrorist threat may never find out why or be able to correct a possible error in identification.
Comment: When a system has very obvious 'abuse of the system' loopholes as one of it's fundamental aspects, then it is reasonable to assume that those loopholes were intentionally installed as part of the system. With CAPPS II the potential abuses are obvious. The government it seems is slowly implementing a surveillance infrastructure which will result in there being effectively no where to run and no where to hide for American citizens.
DHS has 1 in 12 federal employees
Monday, August 25, 2003
By Ann McFeatters, Post-Gazette National Bureau
WASHINGTON -- The six-month-old Department of Homeland Security has 40 percent of its 160,000 employees working as "watchers" at airports at average salaries of $29,000 but also pays 324 funeral directors, 128 pharmacists, 55 general anthropologists, 41 fingerprint specialists and 30 chaplains.[...]
Are you ready to be spied on without your knowledge at the whim of a secret panel of judges?

Ashcroft claims that the act is aimed at protecting freedom, but what exactly is it he is working so hard to defend?

USA PATRIOT stands for: "Uniting and Strengthening America by Providing Appropriate Tools Required to Intercept and Obstruct Terrorism." The Orwellian practice of dressing up repugnant legislation in folksy innocuous-sounding acronyms seems to have become the hobby du jour in D.C.
Ashcroft is right about one thing - there are people out there who want to come here and kill us. They are vicious and unrelenting, and they will occasionally succeed. They can kill a small number of us. This makes a bad day for the people who die and their families, but they cannot kill all of us. Furthermore, they cannot make America into a nation like those they come from, where people are not free to speak their minds for fear of harassment, where neighbors spy on each other and people are held secretly without charges or legal aid. It takes John Ashcroft to do that.
Extra Eye in the Classroom Strikes Conservative Group as 'Orwellian'
Some American schoolchildren who return to class Monday may have to adjust to more than just new teachers and classmates.
They will find new surveillance video cameras in their classrooms - the latest trend allowing school administrators more ability to keep an eye on unruly kids. But while one school official hailed the effectiveness of the cameras, a conservative group in Washington, D.C., criticized their use as "Orwellian."
Steve Lilienthal, policy analyst for the Free Congress Foundation, has concerns about potential privacy violations and also believes the classroom surveillance cameras might end up as a tool to enforce political correctness in schools.

"There are cases I could imagine where a teacher might be saying something to provoke some reaction, and it might not be politically correct, and that could be taken in snippets and shown probably to great effect in the courtroom but perhaps would be incomplete," Lilienthal said.
Comment: Of course, this is all 'normal', no need to worry folks, there's nothing to see here. It is completely natural and logical that "terrorists" who apparently"hate us because of our freedom and democracy" would lead to the installation of surveillance cameras in our children's classrooms. You can never be too careful ya know!
Enriched uranium traces found in Iran
By Roula Khalaf and Guy Dinmore
The International Atomic Energy Agency has confirmed that its inspectors have found traces of weapons-grade enriched uranium at an Iranian nuclear facility, increasing the pressure on Tehran over its nuclear programme. [...]
Comment: The war drum is being beaten again, and we are expected to breathlessly await and believe every pronouncement from the press. And ignore the U.S. past involvement with Iran ...
This month marks the 50th anniversary of America's first overthrow of a democratically-elected government in the Middle East.
Democracy Now
In 1953, the CIA and British intelligence orchestrated a coup d'etat that toppled the democratically elected government of Iran. The government of Mohammad Mossadegh. The aftershocks of the coup are still being felt.
In 1951 Prime Minister Mossadegh roused Britain's ire when he nationalized the oil industry. Mossadegh argued that Iran should begin profiting from its vast oil reserves which had been exclusively controlled by the Anglo-Iranian Oil Company. The company later became known as British Petroleum (BP).
After considering military action, Britain opted for a coup d'état. President Harry Truman rejected the idea, but when Dwight Eisenhower took over the White House, he ordered the CIA to embark on one of its first covert operations against a foreign government. [...]
Israeli missile attack on Hamas leader misses target and kills passerby
Chris McGreal in Jerusalem
Wednesday August 27, 2003
The Guardian
Israeli helicopters blew apart a car carrying Hamas activists in Gaza last night as the army followed through on its threat to "liquidate" members of the Islamic resistance movement. But the helicopters missed their target and instead killed an elderly man.
The army said it had intended to hit a Hamas commander, Khaled Massoud, who is alleged to have organised mortar strikes against Israeli towns. Another prominent Hamas activist, Wael Ekalan, was also in the car.
[...] The missile strike came shortly before the Palestinian prime minister, Mahmoud Abbas, was expected to meet various political factions in Gaza in an attempt to revive the ceasefire that collapsed after the Israelis killed a Hamas leader, Ismail Abu Shanab, last week in response to the worst bus suicide bombing of the intifada. The talks were in jeopardy after the attack.
It was the third "targeted assassination" in Gaza since Hamas killed 21 ultra-Orthodox Jews in the Jerusalem bus bombing. The army also killed four Hamas activists in a similar attack in Gaza on Monday. Among the four was Ahmed Rashdi Ishtiwi, 24, who was described by the army as the liaison between Hamas' leadership in Gaza and military cells in the West Bank.
[...] Israel was apparently preparing for further military action as tanks began lining up near the Gaza strip but the army declined to discuss it.
Earlier in the day, Israeli undercover troops snatched two wounded Palestinians from their beds in a pre-dawn raid on a hospital in the West Bank town of Nablus.
Soldiers dressed as Arabs sealed off the hospital and smashed through the electronically controlled door to the intensive care unit to reach the two men - Othman Younis, 27, and Fahid Bani-Odeh, 25 - who are members of the Al-Aqsa martyrs brigade.
The army said one of them was responsible for organising the suicide bombing at an Israeli shopping centre that killed one man a fortnight ago. The soldiers grabbed the men's medical files and wheeled them to military ambulances.
The Israeli army's chief prosecutor yesterday said he had launched a military police investigation into the killing of a British cameraman James Miller in Gaza in May.
The army initially denied responsibility for shooting Mr Miller, 34, and attempted to claim he had been caught in crossfire from the Palestinian side during a gun battle. But that claim was discredited by video footage which proved there was no exchange of fire.
His family remains sceptical that the Israeli army will carry out an honest investigation.
Following assassination attempt in Gaza: Abbas condemns Israel ''brutal policy'', Israel vows to continue strikes
26-08-2003,04 :54
Albawaba.com
Israeli helicopters fired three missiles in a failed assassination attempt in Gaza City on Tuesday evening, according to Palestinian sources quoted by news agencies.
One bystander, identified as Hassan Hamlawi,65 , was killed and more than 20 people were wounded in the attack. Palestinian Health Minister Kamal Sharafi said four of the wounded were in critical condition, including an 8 -year-old girl.
[...] Israel said last week that all Hamas activists were considered "legitimate targets." On Wednesday, Israeli security officials were quoted as saying that the army would continue to target Palestinian activists.
The latest assassination attempt reflected the Israeli government's brutal policy, which will resume the cycle of violence in the region, Palestinian Prime Minister Mahmoud Abbas said late Tuesday.
"Israel has taken a dangerous decision to continue this assassination policy," Palestinian security chief, Mohammed Dahlan, said in a statement. "They want there to be a civil war between the Palestinians." Dahlan added that the attack will cause a violent Palestinian reaction.
NY Mayor visits Jerusalem, urges Israel to fight ''terror''
26-08-2003
New York Mayor Michael Bloomberg Tuesday visited Israelis wounded in the recent suicide bombing in Jerusalem and lit a candle at the spot where the blast tore apart a bus, saying Israelis have no choice but to "stand up and fight back against terrorism."
"When somebody has a gun to your head, you can't negotiate," Bloomberg told reporters. "You have to stand up and fight back," he added.
He said Americans share a common struggle with Israelis against "terrorism" following the attacks of September11 ,2001 . "I'm not afraid, the Israeli people aren't afraid, New Yorkers and Americans aren't afraid," he said. "We are all in this together." (Albawaba.com)
Clark Alleges White House Pushed CNN to Fire Him
WASHINGTON - The White House pressured CNN to fire former military analyst Gen. Wesley Clark (search), the retired Army chief told a Phoenix radio station on Monday.
"The White House actually back in February apparently tried to get me knocked off CNN and they wanted to do this because they were afraid that I would raise issues with their conduct of the war," Clark told Newsradio 620 KTAR. "Apparently they called CNN. I don't have all the proof on this because they didn't call me. I've only heard rumors about it."[...]
Previously, Clark claimed publicly that after the Sept. 11, 2001, terror attacks, he was pressured by the Bush administration to link the attacks directly to Iraq. When pressed on Fox News' Hannity & Colmes show, Clark refused to name White House names and instead fingered a public policy think tank in Canada.[...]
Missing Jetliner Could Be Used As "Flying Bomb"
British Intelligence Cancels Saudi Flights For Fear of Terrorism
What has happened to a Boeing 727 that mysteriously disappeared in Saharan Africa?
Exclusive to American Free Press
By Gordon Thomas
An international hunt is on to find a potential "flying bomb", a stolen Boeing 727 which led to British Airways canceling all flights to Saudi Arabia in early August.
The plane is a fuel tanker that MI6 and other spy agencies fear is in the hands of the purported terrorist group, al Qaeda.
The search is being coordinated by Richard Dear love, director of MI6, and George Tenet, head of the CIA.[...]
PM wants to end Japan's anti-war law

AP, Tokyo
Wednesday August 27, 2003
The Japanese government party is drawing up proposals to change the clause in the constitution which renounces war, a party official said yesterday. The constitution was written by US occupation officials after Japan surrendered in the second world war. [...]
Hindus die in festival stampede
BBC

At least 33 people have died in a stampede at a Hindu religious festival in western India.
The devotees were attending one of India's Kumbh Mela festivals. During the festival, millions of Hindus seek to bathe in the holy waters of the Godavari river. "The police couldn't control the crowd. They broke down the barricade," the local member of parliament, Uttam Rao Dhikle told reporters.
"The crowds were all trying to reach the same area." Other reports say the stampede began as pilgrims scrambled to pick up money thrown by holy men.
Autistic boy's death at church ruled homicide
Child was suffocated, autopsy report says

MILWAUKEE, Wisconsin (CNN) -- An 8-year-old autistic boy who died at a prayer service where church members tried to heal him of "spirits" was suffocated, the medical examiner's office said Monday. [...]
Police: Women Forced Kids To Sleep In Bathroom, Drink Vinegar
INDIANAPOLIS -- Three women were arrested Sunday night on accusations they neglected three children by -- among other things -- making them sleep in a bathroom and subjecting them to intense exercise sessions as a form of discipline. [...]
"They were all suffering from malnutrition. They had chapped feet, chapped lips, hands and knees," said Lt. Phil Burton of the sheriff's department.
The girls said they and their brother were forced to eat hot peppers and drink vinegar when they said something bad, police said. The girls also said that as a form of discipline, they were made to go through 25-minute workout sessions that included squats, pushups, jumping jacks and laps.
If the workouts were done incorrectly, the children would be forced to start at the beginning and/or take cold showers, the girls told police.
While officers were investigating, the women didn't appear to think they had treated the children harshly, police said. [...]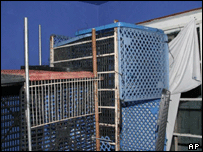 US couple held over caged boys
BBC
The boys' mother said they were kept in cages for their own protection

Police in the United States have arrested a couple who allegedly kept their twin five-year-old sons in cockroach-infested cages for 20 hours a day.

The children from Phoenix, Arizona were only allowed out when their mother Estelvina Rodriguez, 42, got home from work, police believe.
Officers discovered the twins on Saturday after their 20-year-old brother told an off-duty police officer at a local shop about their squalid living conditions.
Mom Tried to Sell Kid to Dad, Police Say
HAMPTON, N.H. -- A woman accused of trying to swap her 19-month-old son to his father for $2,000 and a sport utility vehicle was jailed on kidnapping and extortion charges. [...]
Mother appeals against death by stoning sentence

27/08/2003
Baby in her arms, a single mother condemned by an Islamic court to death by stoning appeared in a Nigerian court today today to appeal against the sentence that has drawn an international outcry.
Lawal was convicted in March 2002 after the birth of her daughter, Wasila, out of wedlock. An Islamic court found her guilty of adultery even though her baby was born more than two years after her divorce.
Under Islamic laws, or Shariah, adopted in a dozen predominantly Muslim northern Nigerian states, judges ordered Lawal buried up to her neck in sand and then stoned to death.
Plea for help turns deadly

Parents call teen suicidal, police react to 'threat'
Senta Scarborough
The Arizona Republic
Aug. 26, 2003

Parents' plea for help for their 15-year-old son, who was holding a kitchen knife and threatening suicide, turned deadly early Monday when Mesa police shot him in front of his family.
Westwood High School junior Mario Albert Madrigal Jr. was shot multiple times in the carport of his home near Dobson and Longmore roads in west Mesa after police said he came toward them with a knife "in a threatening manner."
Wedding Guest Bites Off Man's Finger
CORUNNA, Mich. -- A wedding guest bit off part of a man's finger during a reception at a banquet hall, police said. [...]
The Owosso man also smeared cake on a 9-year-old boy and knocked out a 49-year-old woman, Corunna Police Sgt. Kevin Clark told The Flint Journal. [...]
A book being sold on a popular website claims paedophiles are "loving human beings".
Child protection group NSPCC has slammed the publication, for sale on Amazon.com, which also argues that child abusers are not "monsters".
Paedophiles have posted reviews of the book - Understanding Loved Boys and Boylovers - on the website in praise of it.
One man said: "As a boylover, I found this book extremely helpful."[...]
Comment: "sincere, concerned, loving human beings" -- Actually they are psychopaths; dangerous humans beings who should never, ever, be left alone with children. As we've seen, many of them wind up in positions of trust and authority, such as priests, ministers, health care workers, day care workers, political leaders, and even people who write books or sell books.
Sarah Cripps 26/08/2003
Owners are asked to be extra vigilant for anything suspicious in their yards after two horses in Surrey were seriously injured during further unprovoked knife attacks [...]
US navy killing caribou on Guam
TERRA.WIRE
SAIPAN, Northern Mariana Islands (AFP) Some 60 caribou or water buffalo have been killed by the United States Navy at its Guam naval air base, officials said Wednesday.
Describing the action as "very disturbing", the US Department of Agriculture has now won navy permission to try and humanely reduce the herd starting Wednesday.[...]
DARPA Bioengineering Program Seeks to Turn Soldiers Into Cyborgs
Not long ago, the public was stunned by the practical and moral idiocy of the Pentagon researcher (and unprosecuted war criminal) John Poindexter, who proposed a 'football pool' scheme for predicting terrorist attacks. We all laughed at such insanity and were relieved to see the scheme speedily deep-sixed. However, this bit of lunacy was just the lightest ice in the tip of the very large, very dark iceberg that the Pentagon's research program, better known as DARPA, has become.
Just a few weeks before the bizarro world 'terrorism gambling' project was exposed, a DARPA (which stands for Defense Advanced Research Projects Agency)-sponsored conference was held in Washington, DC, that showcased the latest love child of the Bush Pentagon: military bioengineering. The euphemisms being used by the Pentagon to disguise the true nature of this research are being spread as thick as bondo and cheap paint at a used car lot. For example, the title of the conference was: 'Harvesting Biology for Defense Technology,' while the subheading of the section on human 'bioengineering' was entitled, rather ominously, in light of the military's history, 'Enhancing Human Performance.'
So how does the Bush DARPA seek to 'enhance' human performance? In a kinder, gentler administration, the solution would be better training, better food, better pay, more leave time, and greater use of stress-reducing duty rotations. But this is not a kinder, gentler -or even rational- administration. Bush and Company plan to enhance soldier performance by squeezing the most that can be humanly -and not so humanly- squeezed from troops without having to resort to anything as primitive as decent pay. Their motto: Get the most human output for the least human input: After all, it's the corporate way!
Here are some examples of DARPA 'Human-enhancing' schemes:
The 'Brain Interface Program' is the most lavishly funded of nearly all the DARPA bioengineering efforts (the project has been given $24 million for the next two years). It is aimed at developing ways to 'integrate' soldiers into machines -literally- by wiring them (remotely or directly) to their planes, tanks, or computers. An implantable brain chip is now under development in this sick program, which has already proudly demonstrated how rats can be turned into living robots through the manipulation of stimulus-response signals in the brain via electrodes. The Pentagon hopes to use these pathetic, 'modified' creatures (you should see the photos -makes you want to join People for the Ethical Treatment of Animals!) in mine clearance.
"The use of animals in warfare is ugly enough without the further insult to their dignity involved in turning them into involuntary cyborgs," writes James Meek in the Guardian. "And a military command committed to the use of creatures which are part-animal, part-machine, is going to be that bit less reluctant to interfere in its soldiers in similar ways."
But, as the conference heading would have you believe, DARPA isn't interfering -it is merely 'enhancing.' After all, as an official at DARPA recently observed, "The human is becoming the weakest link in defense systems."
Enhancement efforts at the Brain Interface Program are now progressing nicely. The chief Frankenstein of the project, one Alan S. Rudolph, now wants to be able to transmit images or sound directly into the brains of rats -and of course, later, soldiers...or prisoners of war (just imagine the torture potential here!).
The 'Metabolic Dominance and Engineered Tissue' program is aimed at being able to artificially pump up soldier endurance and muscle strength.
The 'Persistence in Combat' program is a bizarre self-treatment scheme which would include pain-reducing and blood-stopping devices and techniques soldiers would apply to their own wounds -even moderately severe ones- thereby bypassing the need for a medic and enabling a soldier to keep fighting, despite serious wounds! Yep, just keep on runnin' through the jungle on that broken leg or with that bullet in the gut! Once that pain-obliterating electrode in your brain is activated, you won't feel a thing!
The 'Continuous Assisted Perfomance' program hopes to find biotechnological ways (implants, metabolic manipulation, etc) to make it possible to push exhausted soldiers on without loss of performance for up to seven days without sleep.
Comment: This is truly grotesque. See the official Darpa military web site here and check out the slide show entitled: "Enhancing Human Performance in Combat". The text of the accompanying speech is also pretty sickening, here for your elucidation is an excerpt:
"What do we ask of 18-to-24-year-old warfighters going into combat to defend the United States?[...] We ask them to carry 85 to 140 pounds of equipment for extended periods over extended distances on unfamiliar and difficult terrain while exposed to extremes of temperature, humidity, and altitude. We ask them to have rapid recall of all training and objectives associated with mission success and the use of their equipment. We ask them to perform these tasks under life-threatening conditions for 3 to 5 days with or without adequate periods of rest or sleep."
Comment: Sounds great! where do I sign up?!

How nato plans to "restore order" after a major fascist government terror psyop.
An Advocate for Jointness Interview with Adm. Harold W. Gehman Jr.
Adm. Harold W. Gehman Jr. has served as NATO's Supreme Allied Commander Atlantic and the commander in chief of the former U.S. Atlantic Command since September 1997. In October 1999, Secretary of Defense William S. Cohen presided at a ceremony at Virginia's Norfolk Naval Base to redesignate the Atlantic Command the U.S. Joint Forces Command. In addition to his geographic responsibilities within the Atlantic region's area of operations, Adm. Gehman now is responsible for supplying other U.S. joint combatant commands with combat-ready forces, for developing joint doctrine and requirements, and for supporting U.S. domestic agencies in the event of an attack on U.S. soil involving weapons of mass destruction.
We should remember that when Germany attacked France in World War II, the Germans fielded an inferior military force in terms of numbers of tanks, planes, and soldiers. But they had different doctrine and different technology--blitzkrieg. So, joint experimentation is simply the joint world's version of what all the services are doing. There is an enormous amount of very aggressive futuristic service experimentation going on. We will always act in support of a lead federal agency in a WMD consequence-management operation.
"Today Americans would be outraged if U.N. troops entered Los Angeles to restore order; tomorrow they will be grateful. This is especially true if they were told there was an outside threat from beyond, whether real or promulgated, that threatened our very existence. It is then that all peoples of the world will plead with world leaders to deliver them from this evil. The one thing every man fears is the unknown. When presented with this scenario, individual rights will be willingly relinquished for the guarantee of their well being granted to them by their world government." - Henry Kissinger speaking at Evian, France, May 21, 1992 Bilderburgers meeting.
Cheney Stifled Energy Probe, GAO Investigators Say
By Peter Kaplan
WASHINGTON (Reuters) - Congressional investigators said on Monday that Vice President Dick Cheney had stymied their investigation into his energy task force by refusing to turn over key documents. [...]
Outsourcing jobs in India to increase seven times by 2008
IANS
WASHINGTON: The number of workers in India performing computer jobs for U.S. companies will increase seven-fold from 177,000 in 2002 to 1.2 million in 2008, says a new study.
A typical casualty of this growing trend of outsourcing jobs to India is the northeastern state of Connecticut - part of the Tri-State area - where the job market is expected to be the hardest hit, says the study done by Economy.com, a Westchester, Pennsylvania based firm.
"In the new world order, jobs are increasingly transportable, and will migrate to low-cost regions in order to boost corporate profits and business productivity," said Don Klepper-Smith, economist at New Haven, Connecticut-based Scillia, Dowling & Natarelli Advisors -- a prestigious law firm. [...]
US energy policy 'decided in secret with firms'
By Toby Harnden in Washington
The Independent
The White House was accused by a US government watchdog yesterday of formulating energy policy based heavily on advice from big companies and then withholding details of its secret meetings with them. [...]
Among the industrialists granted a 30-minute private meeting with Mr Cheney was Kenneth Lay, then chairman of Enron, the gas and oil company that collapsed in the biggest of a series of accounting scandals. [...]
Mr Cheney's energy plan, issued in May 2001, called for expanded oil and gas drilling on public land and easing regulatory curbs on building nuclear power plants. [...]
Labor Day "Executive Excess" Report: CEOs Profit from Layoffs, Pension Shortfalls, and Tax Dodges
Download Executive Excess 2003 (PDF, 221 KB)
CEOs at companies with the largest layoffs, most underfunded pensions and biggest tax breaks were rewarded with bigger paychecks, according to a new report, "Executive Excess 2003: CEOs Win, Workers and Taxpayers Lose." [...]
Record Budget Deficit of $480 Billion Predicted
Tue August 26, 2003 08:59 AM ET
WASHINGTON (Reuters) - The Congressional Budget Office on Tuesday forecast a federal budget deficit of $480 billion in 2004, a record shortfall that could pose problems for President Bush as he seeks re-election. [...]
But both Democratic and Republican budget analysts agree the actual 2004 deficit could well come in far higher than the agency's "baseline" estimate -- likely topping $500 billion once likely new Iraq war spending requests are included. [...]
Vedomosti
Wednesday, Aug. 27, 2003. Page 5
The Russian subsidiary of France's No. 3 bank, Societe Generale, said it will open a retail banking arm in Moscow in November.
This move creates competition for the three largest foreign banks in Russia -- Germany's Raiffeisenbank, International Moscow Bank, whose key shareholders are also German, and U.S.-based Citibank -- as well as Alfa Bank, which have created a presence in consumer lending.
Societe General Vostok, the bank's subsidiary, is Russia's 134th largest bank by assets and 186th largest by capital, as of July 1, Interfax reported.
Fluoride Linked to Low IQ, Studies Show
From Fluoride Action Network
Children's intelligence declines as their natural drinking water fluoride levels increase, concluded a Chinese study in the May 2003 journal, "Fluoride."
Children scored inferior IQ's even when fluoride levels were similar to that added to U.S. water supplies to prevent tooth decay.
"As the fluoride levels in drinking water increased, the IQ fell and the rates of mental retardation and borderline intelligence increased," write researchers Xiang, et al. [...]
Comment: Also see our report on flouride.
University lecturer branded 'racist' for weblink
by Simon Aronowitz
simon at thoughtcrimenews dot com
26th August 2003
The two leading Jewish newspapers in the UK last weekend kicked off a potential firestorm over the views held by university academics.
Dr Nat Queen, lecturer in mathematics and statistics at the University of Birmingham, has been lambasted for a link on his homepage to a website which accuses the US government of being satanic, criticises Israeli policy and questions what involvement Israel may have had in the September 11th attacks in the US.
Dr Queen, on learning of growing student activity organised to denounce him, said that he was "distressed to hear that there is this sort of campaign" since he was an advocate of free speech and explained to ThoughtCrimeNews.com that he merely sought to present material that was not covered by the mainstream media.
He also explained that the link in question had actually been posted on his website for 2 years, but the material on the site he linked to had only recently been updated. He did not however seem to feel that the new material warranted the removal of the link from his website, citing the principle of free speech.
Whilst the views presented on the site are not necessarily those of Dr Queen's, he nonetheless faces a severe backlash if the National Union of Students (NUS) or organisations like the Union of Jewish Students (UJS) decide to organise against him. [...]
Scientific establishment shuns 'outside' research
ALASTAIR DALTONSCIENCE CORRESPONDENT
The Scotsman
A CONTROVERSIAL French scientist has accused the scientific establishment of condemning researchers working outside the mainstream as heretics.
Dr Jacques Benveniste, whose reputation was destroyed following an investigation into his homeopathic experiments, will speak out at the Orkney International Science Festival, which starts on Thursday.
Other scientists who support the allergy expert fear that researchers in other "fringe" areas, such as telepathy and the paranormal, are being similarly ostracised because their work is not always reproducible conventionally.
Research by Dr Benveniste which showed that homeopathy worked was published in Nature in 1988. However, the prestigious scientific journal later rejected the findings after sending a team to Dr Benveniste's labs to try to replicate his work, which included a magician who specialised in unmasking fraudsters.
The research, which the investigators were unable to repeat, claimed to show human that white blood cells had responded to a solution of antibodies, even though it was so dilute it did not contain a single antibody molecule.
In the ensuing row, Dr Benveniste said that he had been the victim of a witch-hunt, while the Wall Street Journal accused Nature of wrecking his career through arrogance and cruelty.
The scientist, who has been invited to speak in Kirkwall on Friday, 5 September, described as "puritanical" the peer-review system of assessing new scientific research by journals such as Nature. He said: "By definition, the system represents present-day science. As soon as you are a little bit outside of the rules, you are stamped a heretic."
Professor Brian Josephson, a Nobel Prize-winning physicist from Cambridge University, who is also speaking at the festival, said he, too, had been a victim: "There is a certain state of mind where people get emotionally involved and make it their business to attack scientific claims." [...]
Venezuela Names Tiny New Planet After Rain God

CARACAS, Venezuela (Reuters) - Huya, the rain god in Venezuelan Wayuu Indian culture, has been granted a place beside his counterparts Jupiter, Mars and Venus.

Venezuelan astronomers led by physicist Ignacio Ferrin have named the frozen planet 2000 EB173 -- which they discovered in March 2000 -- after the deity.
The planet, which is beyond Pluto and takes 256 years to orbit the Sun, must be named after a mythological god under guidelines set by the International Astronomical Union, Ferrin told Reuters late on Wednesday.
Amphetamine Or Cocaine Exposure May Limit Brain Cell Changes That Normally Occur With Life Experiences
Researchers know that certain kinds of experiences, such as those involved in learning, can physically change brain structure and affect behavior. Now, new research in rats shows that exposure to stimulant drugs such as amphetamine or cocaine can impair the ability of specific brain cells to change as a consequence of experience.
Revealed: Plans to put radioactive meat on sale
By Cahal Milmo
The Independent
Government scientists researching how Britain would cope with a nuclear attack drew up secret plans to sell meat from animals injected with radioactive substances in laboratory tests.
Officials at the Ministry of Agriculture wanted to distribute to butchers the carcasses of sheep, pigs and cattle contaminated with nuclear isotopes up to 100 times the level considered safe for humans. The blueprint, placed before a secretive Ministry of Agriculture committee on the potential effects of a third world war, proposed circumventing nor-mal meat inspections to avoid "considerable public and political feeling" [...]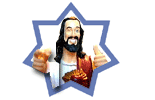 Church 'never persecuted Galileo Galilei'
By Peter Popham
Independent Foreign Service
The belief that the Catholic Church persecuted Galileo Galilei for pointing out that the earth goes round the sun was quite wrong, the new secretary of the Vatican's Doctrinal Congregation, Archbishop Angelo Amato, has claimed.
Citing a letter recently discovered in the Vatican's archive, Archbishop Amato, who heads the body formerly known as the Holy Office or the Inquisition, said it proved that the church had treated him very well. [...]
Today Jesuit astronomers man the sophisticated telescopes on the roof of the Pope's summer palace south of Rome, watching Mars as it comes closer than at any time in the past 60 000 years while the Pope sleeps downstairs.
NASA Launches New Infrared Telescope
NASA LAUNCHES INFRARED TELESCOPE ON A DELTA II ROCKET
By Barbara Johnson
CAPE CANAVERAL, Fla. (Reuters) - A new NASA infrared observatory designed to see objects either too cold to cast their own light or obscured by interstellar dust launched early Monday from Cape Canaveral Air Force station.[...]
Earlier infrared telescopes have given only a vague sense of what lies there, but SIRTF observations should be like turning on a light switch in a room that has never before been lit, scientists say.
And astronomers should get their best look yet at the mysterious heart of the galaxy, where the star field is much denser.[...]
The shaming of Nasa: how safety was sacrificed and seven astronauts died

By David Usborne in New York
27 August 2003

Nasa stood accused of complacency and suffering from safety "blind spots" yesterday in a damning final report into the Columbia shuttle disaster seven months ago.
Independent investigators attacked the organisation's flawed safety procedures, finding that those were as much to blame for the calamity, in which seven astronauts died, as technical faults. Without reform, "the scene is set for another accident", the report warned.
They highlighted Nasa's failure to heed warnings that insulation foam had broken away, damaging one of the shuttle's wings soon after take-off. Sixteen days later, on 1 February, the craft broke up on re-entry over Texas.
The 248-page report, the product of a $20m (£12.7m) investigation, castigates Nasa for failing to learn the lessons of the Challenger disaster 16 years ago, in which seven astronauts also died.
The investigators condemned senior officials for overlooking technical problems brought to their attention. "From the beginning, the board witnessed a consistent lack of concern about the debris strike on Columbia," they said. Nasa managers told the investigation that "there was no safety-of-flight issue" and "we couldn't have done anything about it anyway". But the investigators found that they also failed to heed specific and repeated warnings about the possibility of calamity after foam from Columbia's fuel tanks struck a wing after its lift-off.
The mechanical cause of the disaster was identified long ago: a piece of foam on an external tank, the size of a suitcase, broke off 81 seconds after lift-off and punched a hole in the heat-shielding edge of the left wing. Upon re-entry, the gash allowed searing gases to invade the craft's structure and start to melt it.
Chunks of foam had hit the aircraft at least eight times in the past but with no adverse effects. [...]
The board offered 29 recommendations for reform, including a shake-up of Nasa's managerial structure and the formation of separate safety divisions able to get the attention of top managers. [...]
Nasa's head, Sean O'Keefe, said: "We have accepted the findings and will comply with the recommendations to the best of our ability." President George Bush said: "Our journey into space will go on."
Comment: Good 'ol george, just pull the string on his back and he comes out with the most appropriate, banal irrelevant comment possible. So there we have it, the whitewash is complete. It seems like the investigators started with a fixed theory and then forced all the facts to conform to that theory, there was never going to be another explanation.
Flash back: Cosmic bolt probed in shuttle disaster
Federal scientists are looking for evidence that a bolt of electricity in the upper atmosphere might have doomed the space shuttle Columbia as it streaked over California, The Chronicle has learned. [...]
February 2, 2003
Q: One of the first questions we want to ask tonight is about the event of the Space Shuttle that was lost. First, was it an explosion, or was it just disintegration, or breaking up?
A: It was a "direct hit."
Q: A direct hit by what?
A: EM pulse.
More about the shuttle here and here.
Great Australian mysteries

Australia may not have a Stonehenge or an Abominable Snowman, but over the years our nation has well and truly accumulated it's fair share of mysteries, as 936 afternoon presenter Trevor Jackson recently discovered when he spoke to author and columnist John Pinkney. [...]
REMARKS BY THE PRESIDENT TO THE 85th ANNUAL AMERICAN LEGION NATIONAL CONVENTION
THE WHITE HOUSE
Office of the Press Secretary
August 26, 2003
St. Louis Convention Center
St. Louis, Missouri
THE PRESIDENT: Thank you, all. Thanks for that warm welcome. It is great to be here in St. Louis, Missouri, at the 85th Annual Convention of the American Legion. I wonder if I'm the only member here today from Post 77, in Houston, Texas.
AUDIENCE MEMBER: No. (Laughter.)
THE PRESIDENT: Seems like they'd have given you a better seat. (Laughter and applause.)
It is always an honor to be with people who have served America and who love America. (Applause.)
Comment: This link is only for those with extremely strong stomachs. To read Bush playing to the crowd of Legionnaires, including this remark about his membership in Post 77 from Houston, knowing that the coward was AWOL his second year in the Reserves, is to openly mock those young men and women Bush and his bloodthirsty crew are sending to their deaths in Iraq. For more on the Chicken hawks who are sending these people off to war, you can check out the New Hampshire Gazette's Chickenhawk Database and then order your own set of the Republican Chickenhawk Playing Cards. More Chickenhawk links here.
As long as we're dealing with issues that need a strong stomach, we'll return to the Bush doll that we discussed a short while back. Seems people are queuing up for the little blighter...
Last Updated: Wednesday, 27 August, 2003, 11:03 GMT 12:03 UK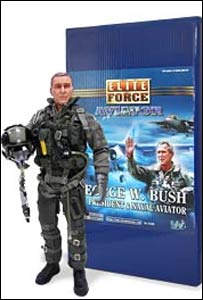 President Bush action figure
The George Bush action man: Ready for anything
A US toymaker's latest Elite Force action figure is attracting interest and derision in equal measure.
An ardent virtual queue of patriots is stretching around the cyberspace block, waiting to get their hands on their very own pint-sized model of Elite Force Aviator: George W Bush.
The action figure is a 1:6 scale replica of the commander-in-chief's appearance during his visit to the USS Abraham Lincoln on 1 May to announce the end of the war in Iraq.
Manufacturer Blue Box Toys says the $39.99 (£25.45) figure is "a fitting addition to the collection of those interested in US military memorabilia," but enthusiasts will have to wait until 31 October because of high advance orders.
According to manufacturers, the fully-poseable figure features:
# a realistic head sculpt
# fully detailed cloth flight suit
# helmet with oxygen mask
# survival vest
# g-pants
# parachute harness
Mocked
But not everyone has welcomed the doll.
Mark Morford, a columnist for the San Francisco Chronicle, last week wrote: "There he is, all faux manly and squinty and artificially buffed up, his gull-wing ears toned down and the thin-lipped brow-furrowed monkey confusion so common to his scrunched little face apparently erased by expert doll craftsmen and/or a drunken 50-cents-an-hour sweatshop employee somewhere in China."
President Bush's appearance in full US pilot regalia was justified because he partly flew the S-3B Viking aircraft that took him to the aircraft carrier.
But the flight and visit were denounced by some commentators as a political stunt.
Mr Bush never saw combat during the Vietnam war, because he remained in the US as a pilot with the national guard.
In December 2002 a President Bush doll celebrating his best-loved gaffes sold out in a week.
The foot-tall figures featured clips, including: "We're working hard to put food on your family," and "I will not hold this nation hostile".
And Finally...
earthweek.com
Farmers in New Zealand launched a nationwide protest of the government's plans to introduce a "flatulence tax" on sheep and cattle. A group of farmers driving 60 trucks brought traffic to a halt in the heart of the country's largest city, Auckland, during one of the biggest gatherings. [...]
---

Check out the Signs of the Times Archives

Send your comments and article suggestions to us.
---
Fair Use Policy
Contact Webmaster at signs-of-the-times.org
Cassiopaean materials Copyright ©1994-2014 Arkadiusz Jadczyk and Laura Knight-Jadczyk. All rights reserved. "Cassiopaea, Cassiopaean, Cassiopaeans," is a registered trademark of Arkadiusz Jadczyk and Laura Knight-Jadczyk.
Letters addressed to Cassiopaea, Quantum Future School, Ark or Laura, become the property of Arkadiusz Jadczyk and Laura Knight-Jadczyk
Republication and re-dissemination of our copyrighted material in any manner is expressly prohibited without prior written consent.
.