---

Signs Supplement on Sonic and Mystery Booms
---
Remember, we need your help to collect information on what is going on in your part of the world!
We also need help to keep the Signs of the Times online.
Obviously, there are a lot of folks out there who do NOT like what we are doing - our own special brand of news coverage - and they are working day and night to create almost insurmountable problems for us, designed to grind us down and render our plans to be able to increase our production (which include a weekly radio show that is currently in the implementation stage) impossible to bring to fruition. We are coming under increasing pressure from many directions all at once.
Our need for financial support has never been greater, including support for legal initiatives to halt the madness of several of the para-COINTELPRO activities currently launched against us. These operations are designed to create a platform to justify utilizing police state tactics so as to silence, and even ultimately, destroy us.
Please: We need your help.
The campaign of lies and disinformation would be frightening under normal circumstances; considering the present state of the world and the machinations of the "National Security State," it is terrifying.
Please - if you have been helped by our work -
won't you help us NOW?

---
So Many Deaths, So Few Answers
The Second Anniversary of 9/11
By DAVID KRIEGER
CounterPunch
As we approach the second anniversary of the terrorist attacks of 9/11, it is important to take a hard look at the direction our country has taken since these tragic events occurred.
The United States has attacked Afghanistan and driven the Taliban regime from power. In the process, we killed some 3,000 to 5,000 civilians, more than died at the World Trade Center and Pentagon. The US has not been able to locate and capture Osama bin Laden, the suspected mastermind of the 9/11 attacks. Reports from Afghanistan are that the US-backed regime there controls little more than the city of Kabul, and warlords are in control of the rest of the country.
The United States has also attacked Iraq, but with neither evidence of a link between Iraq and the 9/1l terrorists, nor with the sanction of the United Nations. The US preventive war against Iraq killed some 6,000 to 8,000 civilians, about twice as many as died at the World Trade Center and the Pentagon. Since this war, it has come to light that in making its case for war, the Bush administration used false intelligence to inflate its claim that Iraq posed an imminent threat of using weapons of mass destruction against the United States.
The US has not been able to locate and capture Saddam Hussein or the Taliban leader, Mullah Omar. Nor have any of the purported weapons of mass destruction, which supposedly made the Iraqi threat so imminent, been found. There is a strong sense that the Iraqi people are opposed to US occupation of their country, and American soldiers are being killed on an almost daily basis. Most recently, saboteurs have also been attacking the Iraqi oil pipelines. [...]
Northeast Ohio became energy black hole hours before blackout, utilities say
05:18 AM EDT Aug 24
JOHN MCCARTHY AND LIZ SIDOTI
COLUMBUS, Ohio (AP) - The Ohio region where North America's worst blackout started became a black hole ahead of the outage, sucking electricity from two power companies' generators and threatening to burn transmission lines, the utilities say.
As a result, power lines that were operating above emergency levels disconnected from the system and power plants automatically shut down in eight states and Ontario - protecting equipment from permanent damage, but also rapidly spreading darkness across state and national borders.
American and Canadian Investigators are examining the cascade of events to determine what triggered the Aug. 14 crash. The most prominent theory faults the failure of a power plant and lines owned by FirstEnergy Corp. in Ohio, including one transmission line that sagged into a tree. Some 50 million people lost power...
[Pat Wood, chairman of the Federal Energy Regulatory Commission] said that in the end the root problem of the widespread outages that began in Ohio may have been something as simple as an untrimmed tree. "That's not a really deep policy debate," Wood said, adding that problems are deeper than untrimmed trees.
Comment: It was a tree. The article goes on in detail about why it was a tree. Everyone is now coming on board to confirm it was a tree.
Euro continues slide against dollar
The euro has continued to decline against the dollar as expectations of stronger growth in the US economy continue to grow.
The euro fell 2% against the dollar on Thursday to a fresh four-month low, and fell further on Friday.
In late New York trade, the euro was 0.3% lower at $1.0885.
The euro has fallen out of favour amid weak economic growth in the eurozone, and signs that a rebound may finally be under way in the US.
Pro-euro group in crisis after staff exodus
By Jo Dillon, Deputy Political Editor
The Independent
24 August 2003
The pro-single currency campaign, Britain in Europe, faces an exodus of staff, including the expected departure of Simon Buckby, the man who runs it.
The resignations have been prompted by frustration at the Government's failure to take the lead on euro entry and a sense that the campaign had "lost its direction" after the Government's assessment of its five tests for entry in June. [...]
Schroeder and Berlusconi finally meet
Associated Press
11:59 Saturday 23rd August 2003
Italian prime minister Silvio Berlusconi and German Chancellor Gerhard Schroeder have finally met after a summer-long squabble.
They met for about an hour in the Verona prefect's office and said afterwards that relations were fine. [...]
Berlusconi told reporters: "I don't think you can talk about relations improving because they never worsened. The relationship was always excellent."
Schroeder had a slightly different take, saying: "There were some irritations, but this didn't affect the personal or political relationship." [...]
Canada Arrests 19 in Case with Sept 11 Parallels
Fri Aug 22,11:05 AM ET
TORONTO (Reuters) - Canadian police arrested 19 men last week in a case that, according to court documents obtained by a newspaper, has eerie parallels to the preparations for the Sept. 11 attacks on the United States. [...]
"We arrested 19 people last Thursday," Paradis said, adding the operation had involved four police departments from across the Greater Toronto area.
"They're all related and it's all part of, what we're alleging, has to do with a group taking advantage of a system -- the immigration system here in Canada."
The Toronto Star newspaper said the men were arrested after a "pattern of suspicious behavior" which featured one man taking flight lessons that took him directly over an Ontario nuclear power plant. [...]
Liberians Report Fresh Fighting, Thousands Flee
Sat Aug 23, 6:16 PM ET
By Silvia Aloisi
MONROVIA (Reuters) - Thousands of civilians fled the sound of fresh fighting near Liberia's second city of Buchanan on Saturday as caretaker President Moses Blah sought to cement a peace deal to end 14 years of bloodshed. [...]
North Korea's nuclear and missile technologies making rapid advances
More than 30 people were injured in the chemical leak
BBC
China has summoned the Japanese ambassador to express its anger at the death of a man poisoned by mustard gas left over from World War II.
In a strongly-worded statement, China's Vice Foreign Minister, Wang Yi, demanded that Japan clean up its abandoned chemical weapons.
He said Japan could not shirk its responsibility and China would not tolerate another such death. [...]
20 found dead in 'copter wreckage
Saturday, August 23, 2003 Posted: 1306 GMT ( 9:06 PM HKT)

VLADIVOSTOK, Russia (AP) -- Emergency officials discovered the wreckage Saturday of a helicopter that crashed earlier this week in the Russian Far East. All 20 people aboard were killed.
The helicopter was found about 70 miles southeast of the city of Petropavlovsk-Kamchatsky on the rugged, volcano-covered Kamchatka Peninsula, said Vitaliy Petritsa, duty officer at the Far Eastern regional emergency situations department.
Among the dead were Igor Farkhutdinov, governor of the oil-rich Sakhalin region, and top regional officials and business leaders. They had been traveling to the Kuril Islands chain when the helicopter disappeared Wednesday. [...]
Farkhutdinov was a key figure in negotiating major oil deals. [...]
Detoured On His Road To Democracy
Chinese businessman jailed after speaking out

By Edward A. Gargan
ASIA CORRESPONDENT
August 10, 2003
Langwuzhuang, China - A meandering concrete road, dappled by sunlight shining through bordering plane trees, has brought this village of 1,800 souls closer to the rush of commerce and modernization that lies beyond their fields of corn.
Still, this village of huddled brick homes with red, clay-tiled roofs is tinged more with the poverty of the past than with the new wealth radiating from Beijing, an hour's drive away. More than in China's south, villages of the north remain steeped in the rules and slogans of the communist past and harnessed by the petty tyrannies of local autocrats.
The people of Langwuzhuang and neighboring villages in Heibei Province lived at little better than a subsistence level until the mid-1980s. But change has seeped in, notably since the day Sun Dawu quit his job.
Sun, born to farmers here, seemed to have made good with a job in a local branch of the Agricultural Bank, but he gave it up in 1985 to grow fruit on 2 acres of rocky soil. By this year, Sun, 50, had built one of China's biggest companies, an agricultural conglomerate. He opened a bank, built a high school and paved the road linking his village to the outside world.
He also began declaring - loudly enough to be heard nationally - that democracy is the only way to solve the problems of rural China.
In May, on the night Sun disappeared into the black hole of China's legal system, local police came to his office, forced open a safe and emptied it of cash. Since then, he has been held nearly incommunicado in jail. [...]
U.S. demanding biometric technology in passports, world may not be ready
By BRIAN BERGSTEIN
Sat, August 23, 2003

NEW YORK (AP) - Biometric technology that scans faces, fingerprints or other physical characteristics to confirm people's identities is about to get its biggest, most public test: at U.S. border checkpoints.
Yet significant questions loom about whether the U.S. and foreign governments can meet an Oct. 26, 2004, deadline set by Congress for upgrading passports and visas to include biometrics. [...]
"We're doing it at a time when money is not exactly overflowing," said Bernard Bailey, head of face-recognition biometrics maker Viisage Inc. "That kind of slows things down." [...]
Agnes Von Der Muhll, a spokeswoman in the French Embassy in Washington, said the October 2004 deadline presents "a challenge." [...]
Consequently, British and American officials are discussing several options, including "extending the deadline," according to a spokesman for the Home Office in London who spoke on customary condition of anonymity.
Indeed, a report written in January by the departments of State and Justice and the National Institute of Standards and Technology predicted that Congress will have to push back its biometric deadlines by at least one year because of the "size and intricacy of what needs to be implemented."
Dry and thirsty Danube puts brakes on Romania

DICHISENI, Romania (AFP) Aug 23, 2003
With water levels at their lowest in living memory, 16-year-old shepherd Tudor can now let his sheep walk far into the once-rushing waters of the Danube -- but for other Romanians the record breaking drought is a looming disaster.
"A few months ago I wouldn't even let the sheep get near the water, which was six metres (20 foot) deep. Now the Danube is so dried up that I can often see the river bed," said Tudor, as he stood on the banks of the river near the southern town of Dichiseni.
On the other bank, at the town of Chiciu near the Bulgarian border, 15 people were waiting for the ferry under a blazing sun.
"We get the ferry to the other side every day to go and work. Now that the Danube is almost dry, we'll soon be able to walk to the other side," said Petre, a man in his fifties. [...]
Ship salvaging oil from Greek tanker off Pakistani coast breaks down
Castro: U.S. efforts to broadcast TV Marti will fail
ANDREA RODRIGUEZ, Associated Press Writer Saturday, August 23, 2003
(08-23) 19:57 PDT HAVANA (AP) --
President Fidel Castro predicted that a new U.S. government attempt to use a satellite to broadcast news and talk shows hosted by exile leaders will fail. Cuba calls the broadcasts by TV Marti an attempt by the U.S. government and Cuban exiles to impose their political views. Castro said earlier efforts to thwart the Cuban government's jamming of TV Marti's signal have failed.
"Up to now, experience has shown that it has gone badly," Castro said Friday. He commented on the new attempt by saying: "I read something about that and I was laughing. They are always inventing something."
The Miami-based Office of Cuba Broadcasting says that within days it will use a satellite located over the east Atlantic Ocean off the African coast to strengthen TV and Radio Marti signals. TV Marti, which went on the air in 1990, broadcasts its signal from a balloon tethered to Cudjoe Key in Florida, about 20 miles east of Key West, Fla. But because of Cuba's jamming of the signal, very few people on the island have ever seen TV Marti. Only satellite dishes will be able to pick up the signal.
Although Cuba prohibits most ordinary citizens from having satellite dishes, as many as 20,000 families on this island of 11.2 million are estimated to have satellite antenna and reception equipment purchased illegally on the black market. The government here has cracked down on the illegal dishes in recent months, seizing antenna and reception boxes brought in from Mexico and Miami. The new American efforts to use satellite technology to broadcast to the island likely will result in increased enforcement against Cuban satellite-dish owners. Foreigners are allowed to have satellite dishes, but must purchase the service through a government agency.
The announcement about stepped-up broadcasting efforts comes amid criticism from Cuban-Americans that President Bush has not kept his election campaign promises to be tough on Castro's communist government.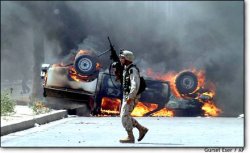 Why the lessons of Vietnam do matter
By Pepe Escobar
08/23/03: (Asia Times) HANOI - Just as it took a few years for the Americans to lose the hearts and minds of the South Vietnamese, it took them only a few weeks to lose the hearts and minds of the majority of Iraqis - which ultimately means losing the war, whatever the strategic final result. Topographic denials - this is the Mesopotamian desert, not the Indochinese jungle - don't work, nor do denials saying that the Iraqis are not as politicized as the Vietnamese were by communism. These totally miss the point: as happened in Vietnam, what is happening now in Iraq has everything to do with patriotism and nationalism. [...]
Iraq now is already like Vietnam after the 1968 Tet Offensive. The Americans could have left Vietnam any time - but this would have meant to lose face, in an Asian sense, and to admit defeat: ultimately, this is what happened when that last helicopter abandoned the US Embassy in Saigon in April 1975. Even if they had any intention of doing it, which they don't, the White House and the Pentagon - although they have declared victory - simply cannot leave Iraq. They know that as soon as the US leaves, a democratically elected, Shi'ite-dominated, anti-American Iraqi government will come into power - as an anti-American communist government took over Vietnam. If the US remains in Iraq for "years" - as the Pentagon would have it - there's only one question: how many body bags does it take for the US public to demand a withdrawal? [...]
Poll shows drop in support for Bush's handling of Iraq, fears of quagmire
05:19 AM EDT Aug 24
WASHINGTON (AP) - With public confidence declining in President George W. Bush's handling of the occupation of Iraq, nearly 70 per cent of Americans feel the United States will be bogged down in the country for years without achieving its goals, a poll finds.
The Newsweek magazine poll, released Saturday, also found nearly six out of 10 people are concerned the U.S. military will be overextended should another security threat arise outside Iraq. And seven out of 10 are concerned the costs of the war will increase the deficit and hurt the economy.
The war costs the United States roughly $1 billion a week.
War fever cooled by toll in Iraq
Poll shows South supportive, but many unsure of future
[...] Because of an older, more diverse population and one with a large proportion of Jews, Florida may be as sensitive as any state to news from the Middle East, said Susan McManus, a professor of political science at the University of South Florida in Tampa. But she also sees last week's violence having little negative impact on Bush.
"What these stories do is simply rekindle in the back of a lot Americans' minds that the same thing could happen here again, and that we need to be proactive about it," McManus said. [...]
Comment: The Bush Reich continues to use the deaths of Americans to trick them into continuing his murderous rampage which appears to be inflating into a vicious negative feedback loop.
By Jennifer Barrett
NEWSWEEK WEB EXCLUSIVE

Aug. 23 — Americans are increasingly pessimistic about the U.S. mission in Iraq, saying the United States should reduce its spending and scale back its efforts there, according to the latest NEWSWEEK poll.
SIXTY-NINE PERCENT of Americans polled say they are very concerned (40 percent) or somewhat concerned (29 percent) that the United States will be bogged down for many years in Iraq without making much progress in achieving its goals. Just 18 percent say they're confident that a stable, democratic form of government can take shape in Iraq over the long term; 37 percent are somewhat confident. Just 13 percent say U.S. efforts to establish security and rebuild Iraq have gone very well since May 1, when combat officially ended; 39 percent say somewhat well. [...]
Against this backdrop, President George W. Bush's approval ratings continue to decline. His current approval rating of 53 percent is down 18 percent from April. And for the first time since the question was initially asked last fall, more registered voters say they would not like to see him re-elected to another term as president (49 percent) than re-elected. Forty-four percent would favor giving Bush a second term; in April, 52 percent backed Bush for a second term and 38 percent did not. [...]
Three more British military police die as gunmen ambush convoy in Basra
By Damien McElroy in Baghdad and Sean Rayment
(Filed: 24/08/2003)
The Telegraph
[...] The casualties were members of the Royal Military Police, attached to 19 Mechanised Brigade. On June 24, six members of the same regiment were killed at a police station in Al Majar Al-Kabir following a riot in the town. Major Niall Greenwood, a British military spokesman, said that the attack was being linked to Saddam loyalists. [...]
Deepcut inquiry turns into 'fiasco'
By Sean Rayment, Defence Correspondent
The Independent
The families of four soldiers who died while serving at the Deepcut barracks have claimed that the reinvestigation into their deaths has been undermined by the secret involvement of the military. [...]
Ethnic Tensions Flare In Northern Iraq
By Joseph Logan
KIRKUK, Iraq (Reuters) - Iraqi police are patrolling the streets of Kirkuk on Sunday after ethnic violence in northern Iraq left several dead, stoking further tension in a country already grappling with lawlessness and a guerrilla insurgency.
Clashes between Kurds and Turkmen erupted on Friday in the town of Tuz Khurmatu, and unrest spread on Saturday to Kirkuk, an ethnically mixed city that is a key oil industry hub. [...]
Security May Not Be Safe Issue for Bush in '04
By Dana Milbank and Mike Allen
Washington Post Staff Writers
The wave of violent death this week in Iraq, Israel, Gaza and Afghanistan brought to the fore a reality that President Bush has been reluctant to discuss: Peace is not at hand.
A confident Bush stood in the Rose Garden less than a month ago, saying, "Conditions in most of Iraq are growing more peaceful," boasting of "dismantling the al Qaeda operation" and pronouncing "pretty good progress" toward Middle East peace and a Palestinian state within two years. [...]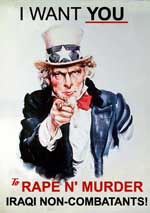 U.S. Solicits Help in Iraq — to a Point

By Maggie Farley and Robin Wright, Times Staff Writers
UNITED NATIONS — Secretary of State Colin L. Powell came here Thursday to ask countries that had opposed the war in Iraq for more help in stabilizing the country, but he made it clear that the U.S.-led administration would not share military control or cede significant political and economic authority in exchange. [...]
"It sends us the message, 'We don't need to spill more American blood, we need foreign blood,' " one European diplomat said. [...]
Hutton releases 6000 pages of documents which show Blair's spin chief actively involved in rewriting case for war
Blair duped us on Iraq WMD say two thirds of the public
By Colin Brown and Francis Elliott
The Telegraph
More than two thirds of voters believe, from what they have heard so far in the Hutton Inquiry into the death of Dr David Kelly, that they were deceived by the Government about Saddam Hussein's weapons of mass destruction.
The findings of an ICM poll for The Telegraph are a severe blow to Tony Blair four days before he is due to appear before the inquiry. The poll also shows that 56 per cent of voters blame the Government for Dr Kelly's believed suicide [...]
Revealed: how ministers tried to gag David Kelly

By Raymond Whitaker, Jo Dillon and Kim Sengupta
24 August 2003

The Government went to extraordinary lengths to gag Dr David Kelly because of fears that he would expose fundamental flaws in its case for war.
Documents released yesterday by the Hutton inquiry into the scientist's death reveal that the Ministry of Defence was even prepared to block a police investigation into a secrets leak.
Under the plan, Scotland Yard's Special Branch was to be prevented from interviewing Dr Kelly and anyone else who had discussed his doubts about Iraq's alleged weapons of mass destruction.
A confidential memo between two senior security officials in the MoD shows the extent to which the Government was prepared to go in its efforts to silence Dr Kelly.

Comment: Emm...so do we now have enough evidence to remove Blair from office and try him for treason or should we wait until he breaks down and hands himself over to the authorities?
Bush says world must thwart bombers' aims
Sun 24 August, 2003 03:34 BST
By Randall Mikkelsen
CRAWFORD, Texas (Reuters) - U.S. President George W. Bush has condemned this week's suicide bombing attacks in Jerusalem and Baghdad as part of militant campaigns to impose a "totalitarian vision."
"These two bombings reveal, once again, the nature of the terrorists, and why they must be defeated," Bush said in his weekly radio address, which was prerecorded.
"Terrorists commit atrocities because they want the civilised world to flinch and retreat so they can impose their totalitarian vision," Bush said on Saturday.
He said the two bombings were attacks in a war against "every free nation and all our citizens." He vowed to keep fighting and prevail....
"Terrorists are testing our will, hoping we will weaken and withdraw," Bush said. "Yet across the world, they are finding that our will cannot be shaken. Whatever the hardships, we will persevere," he said.
Comment: Here's the same story again below, modified accordingly:
CRAWFORD, Texas (Reuters) - U.S. President George W. Bush has condemned this week's suicide bombing attacks in Jerusalem and Baghdad as part of militant campaigns to impose a "totalitarian vision."

"These two bombings reveal, once again, the nature of [my Presidency], and why [I] must be [impeached]," Bush said in his weekly radio address, which was prerecorded.

"[My regime commits] atrocities because [we] want the civilised world to flinch and retreat so [we] can impose [our] totalitarian vision," Bush said on Saturday.

He said the two bombings were attacks in a war against "every [nation and its people.]" He vowed to keep fighting and prevail.

[..] The attacks [are a COINTELPRO operation and part of] Bush's attempts to [feign promotion of] stability across the Middle East following the U.S.-led war to oust Iraqi President Saddam Hussein [and steal the country's resources.]

The [COINTELPRO] bombing in Iraq [is meant create the illusion that] the U.S. occupation is facing an influx of Muslim fundamentalist militants sympathetic to al Qaeda leader Osama bin Laden. Bush said on Friday "al Qaeda-type fighters" were now [being fabricated to help legitmize] the occupation in Iraq.

Despite the Baghdad attack and killings of U.S. soldiers, Bush said in his radio address that most of Iraq was moving steadily toward [servitude of the Reich] and [illusions of] self-governance.

"This [illusion] makes [anybody we say] terrorists [and my regime is] even more desperate and willing to lash out against symbols of order and hope, like coalition forces and U.N. personnel," Bush said. "[My regime] will not be intimidated. [Freedom loving people] will not determine the future of Iraq."

Similarly, he said [Israelis and Palestinians] would not decide the future of Israel and the Palestinian territories. "[By inciting violence and running COINTELPRO operations, my regime will see to it that] a Palestinian state will never be built [unless we control it]."

Bush wants more countries to send troops [and foot the bill for U.S.] occupation [and looting] of Iraq, but faces resistance to a new U.N. mandate to recruit forces without an expansion of the international body's political and economic role in Iraq.

[Freedom loving people] are testing our will, hoping we will weaken and withdraw," Bush said. "Yet across the world, [we] are finding that our [lies and deception] cannot be [so easily hidden]. Whatever [it takes], [my regime] will [do it to see our vision for totalitarion control of the world come to fruitition]," he said.
Rumsfeld Seeking to Bolster Force Without New G.I.'s
By THOM SHANKER
WASHINGTON, Aug. 23 — Defense Secretary Donald H. Rumsfeld, seeking to increase the nation's combat power without hiring more troops, is poised to order a sweeping review of Pentagon policies, officials say. It will include everything from wartime mobilization and peacekeeping commitments, to reservist training and incentives for extended duty.
A senior Defense Department official said Mr. Rumsfeld would order the Pentagon's senior leadership, both civilian and military, to rethink ways to reduce stress on the armed forces, fulfill recruitment and retention goals and operate the Pentagon more efficiently.
In essence, Mr. Rumsfeld will ask the service secretaries and chiefs and his under secretaries to address how the Pentagon can more efficiently use its troops at a time when the armed forces are spread thin by global deployments. [...]
Britain's Baghdad embassy evacuated
08:54 Saturday 23rd August 2003
British diplomats have quit their Baghdad embassy after a "credible threat" of attack.
The team, led by head of mission Chris Segar, evacuated the building the day after the truck bombing of the UN headquarters which killed 23 people.
The group, which includes security guards and contract workers, are now staying at the coalition provisional authority in the city. [...]
Foreign Secretary Jack Straw has called the blast a "wake up call" to the world and suggested a new UN resolution ahead of his visit to the organisation's New York headquarters.
But Secretary General Kofi Annan last night warned it would be "very difficult" to pass a new resolution expanding military forces unless the UN is given a broader role. [...]
Private government e-mails, memoranda released in British Iraq inquiry

AFP, Sunday August 24, 7:32 AM

A British inquiry into the death of an arms expert at the centre of allegations that Prime Minister Tony Blair embellished the case for war in Iraq published thousands of pages of private e-mails and memoranda from top government officials.
The publication of around 9,000 pages of documentation came two days after Blair was ordered to testify before the probe into the death of scientist David Kelly, the source of BBC reports that the government exaggerated Iraqi weapons' potential ahead of the US-led war.
If further proof were needed of the depth of the crisis facing Blair, an ICM survey for The Sunday Telegraph newspaper showed that 67 percent of those polled felt they had been deceived over Iraq's weapons of mass destruction. [...]
Dr. Khaled M. Batarfi • Arabnews.com
Sunday, 24, August, 2003

I have a friend who is rich and powerful. The problem is he knows it. In his arrogance, he decided not worry about a good education or human relations. Sports, entertainment, market news is all he cares to know about.
Very much living for himself and his family, he doesn't worry about what the world thinks about his actions in pursuit of selfish interests and pleasures.
This carelessness about others puts him in many tight spots, which he fails even to admit. But the latest one has been so tight that now he demands help (or else!). But since he insisted in doing what he did against our best judgment, most are saying: Serve you right. Those who are afraid of the consequences of his disappointment or hope for some reward are trying to help him sort things out. But with an ego so big, pride so injured and advisers so stupid, he seems to get deeper and deeper into the grand mess he managed to put himself in.
Since we are his best friends, we are in the same boat. If he passes the stormy seas, we survive and hope for a better day with a more sensible captain. If he goes under, we go under too.
Sound familiar? For America's friends it is sadly very much so. While many are feeling vindicated and telling the superpower of the world: "We told you so," most are fearful of what the injured tiger might do. [...]
We Have A Long And Dishonourable Tradition Of Smearing The Dead
Robert Fisk
24 August 2003
Across the marble floor of the Shrine of the Imam Hussein in Kerbala scampers Suheil with his plastic bag of metal. He points first to a red stain on the flagstones. "This was a red smoke grenade that the Americans fired," he tells me. "And that was another grenade mark." The Shia worshippers are kneeling amid these burn marks, eyes glistening at the gold façade of the mosque which marks the very place, behind silver bars kissed by the faithful, where - in an epic battle far more decisive in human history than any conflict fought by the United States - Imam al-Hussein was cut down in AD680. There is a clink as, one by one, Suheil drops his souvenirs on to the marble.
US forces denied that any ordnance fell upon the shrine when they opened fire close to the Huseiniya mosque last month. Of course they denied it. Denial has become a disease in Iraq - as it has through most of the Middle East. The Americans deny that they kill innocent civilians in Iraq - but kill them all the same. The Israelis deny they kill innocent civilians in the occupied territories - indeed, they even deny the occupation - but kill them all the same. So folk like Suheil are valuable. They expose lies.
The evidence, in this case, are his little souvenirs. On one of the grenades in his plastic bag are written the words "Cartridge 44mm Red Smoke Ground Marker M713 PB-79G041-001". Another is designated as a "White Star Cluster M 585", yet another carries the code "40mm M195 KX090 (figure erased) 010-086". They are strange things to read in a religious building whose scholars normally concentrate on the minutiae of Koranic sura rather than the globalised linguistics of the arms trade. [...]
But there's a far more hateful bit of denial and hypocrisy being played out now in the US over two young and beautiful women. The first, Private Jessica Lynch, is feted as an American heroine after being injured during the American invasion of Iraq and then "rescued" from her Iraqi hospital bed by US Special Forces. Now it just happens that Private Lynch - far from firing at her Iraqi attackers until the last bullet, as the Pentagon would have had us believe - was injured in a road accident between two military trucks during an ambush and that Iraqi doctors had been giving her special care when Lynch's "rescuers" burst into her unguarded hospital.
But the second young American is a real heroine, a girl called Rachel Corrie who stood in front of an Israeli bulldozer that was about to demolish a Palestinian home and who was killed - wearing a clearly marked jacket and shouting through a loudspeaker - when the Israeli driver crushed her beneath his bulldozer and then drove backwards over her body again. All this was filmed. As a Jewish writer, Naomi Klein, bravely pointed out in The Guardian, "Unlike Lynch, Corrie did not go to Gaza to engage in combat; she went to try to thwart it." Yet not a single American government official has praised Rachel Corrie's courage or condemned her killing by the Israeli driver. President Bush has been gutlessly silent. [...]
'Half a million troops needed to bring Iraq under control'

By David Randall and Andrew Johnson
24 August 200

There was mounting criticism of Britain's response to the deteriorating security situation in Iraq in the wake of the ambush in Basra that killed three Royal Military Police.
Several leading defence experts called for more troops to be drafted in, and a groundswell of voices calling for the entire security operation to be put under the aegis of the UN was beginning to grow.
Glenda Jackson, Labour MP for Hampstead and Highgate, said yesterday: "Since the official ending of the war we have reached the 'classic guerrilla war phase'. The UN should have been in the driving seat, the UN has experience in post-occupation operations. There has to be an international effort in Iraq. Otherwise those who would argue that it is a US-led occupation are going to win that argument."

White House Alters Webpages About Iraq Combat
When the White House published the text of and photos from Bush's speech announcing the supposed end of the Iraq attack, the headline read: "President Bush Announces Combat Operations in Iraq Have Ended." But on Tuesday, 19 Aug 2003, the Cursor website noticed that the headline had been changed to read: "President Bush Announces Major Combat Operations in Iraq Have Ended." The word "major" had been added.[...]
Comment: Make it up as you go along, that's what all the 'coolest' governments are doing these days!"
U-S-A! U-S-A! U-S-A!
By Ian Frazier
July/August 2003 Issue

Yesterday morning at 0500, payback time, coalition forces standing tall for America pursued die-hard fedayeen militia near Baghdad. Lightly armed and mobile, these Iraqi irregulars can run but can't hide. Several of them captured on the outskirts of the city were handed over to U.S. intelligence for questioning. Who did they think they were messing with, what kind of patsies did they take us for, and how long did they think we would sit back and let terrorists walk all over us were among the questions asked. All answers obtained remain classified in the interests of not undermining operations and encouraging the fiends.
Dawn revealed widespread devastation in this country the same size as California but not as tough. Long convoys of military vehicles rumbled U.S.A.-all-the-way across the desert to resupply troops we support who are mopping up in the north or anyplace they're needed. Leading all the convoys were U.S. Army soldiers, for tactical reasons, and because America is number one.[...]
US sanctions on Syria 'could come soon'
08/23/03
WASHINGTON (Reuters) - Bush administration opposition to a bill that would impose sanctions on Syria seems to be fading, raising hopes the legislation could soon come into force, a key US Congressman said.
Eliot Engel, a key sponsor of the bill, said that he had received strong support for the legislation from Ariel Sharon after meeting the Israeli Prime Minister in Jerusalem.
The Syria Accountability Act cites Syria's support for terrorism, continued military presence in Lebanon, cooperation with Iraq, and development of alleged WMD as reasons for imposing penalties. [...]
Israel chosen as one of Intel's research hubs
By Oded Hermoni
International computer chip giant Intel has recently made the strategic decision that Israel will serve as one of its research hubs, alongside the U.S., Britain and Spain. Senior executives at Intel Israel called the decision substantial for the future of the Israeli branch's operation. According to the executives, this will strengthen Israel's standing in competition with India, China and Russia, for the development and manufacture of future Intel product lines. Former Intel Israel communications division chief Yossi Levy has been appointed to lead Israel's research activity.
"This is a major change for global Intel. Israel has advantages in MEMS and nanotechnology that are very interesting to Intel," Intel vice president and research director David Tennenhouse explained last week during a visit to Israel...
Israel is currently Intel's second largest development center, following the U.S., and some of its central technologies such as its Centrino mobile computing chip, were developed here. The company has four research centers and two silicon chip factories, known as fabs, located in Israel, but almost no research activity.
Industry sources believe the decision is a first step in the establishment of an Intel technology research laboratory in Israel.
Comment: Israel receives massive technology transfers from the US every year in military goods. The Israelis then repackage much of this and sell it on the world market, competing with the American firms who first developed the technology and often selling into markets the US prohibits, such as China.
Israel is also involved in the development of ethnic specific weapons, weapons that use genetic targeting to wipe out specific ethnic populations.
Palestinians fire rocket near Israeli city of Ashkelon
Saturday, August 23, 2003
(08-23) 23:06 PDT JERUSALEM (AP) -- Palestinian militants in the Gaza Strip fired a new longer-range rocket Sunday, and it landed on a strip of beach adjacent to the Israeli city of Ashkelon, the army said. No injuries or damage were reported. [...]
After a suicide bombing last week -- and threats of more attacks following Israel's killing of a Hamas political leader -- Israeli tanks gathered at the Gaza-Israel border, apparently preparing to launch another incursion into the coastal strip.
Joint Forces Command gives Lockheed tech support deal
By Gail Repsher Emery
Staff Writer
Lockheed Martin Corp. won a task order from the U.S. Joint Forces Command, under which it will provide technical and engineering support for the Joint Concept, Architecture and Requirements System. JCARS is the information management system designed to support the Joint Forces Command's command and control responsibilities.
The task order, worth just less than $1 million, was awarded to Lockheed Martin's Systems Management unit in Marlton, N.J., said spokeswoman Jeanine Zeitvogel. The task order was awarded through CR2, the Army Communications-Electronics Command Rapid Response Program, an eight-year, indefinite delivery, indefinite quantity contract. It is the Army command's primary homeland defense security contract.
Lockheed Martin will provide engineering and technical support for the enterprise-based management information system to gather, collate, analyze, prioritize, document and trace all joint command, control, communications, computer and intelligence required capabilities, operational concepts, integrated operational architectures, systems specifications and other supporting information.
The performance period is one year with options to extend, Zeitvogel said.
Bethesda, Md., Lockheed Martin employs about 125,000 people worldwide and had revenue of $26.6 billion in 2002.

Comment: Does the left hand know what the right is doing in the USG? Read below for more insights.....
U.S. auditor says Lockheed overcharged government
By DAVE HIRSCHMAN
The Atlanta Journal-Constitution
A government auditor who accused Lockheed Martin of hugely inflated charges in 2002 was suspended with pay and removed from the company's Marietta complex while federal investigators look into charges he threatened co-workers.Ken Pedeleose, an industrial engineer and nine-year employee of the Defense Contract Management Agency, denies making threats and says DCMA managers are conspiring with Lockheed to discredit him.
Pedeleose and two colleagues wrote a scathing report last year that said Lockheed, the world's largest defense contractor, systematically overcharged the Pentagon on C-130J Hercules and C-5 Galaxy and other military aircraft programs.
"I'm a danger to Lockheed because I can find fraud and prove it," said Pedeleose, 42, of Marietta, who was escorted out of the agency's office Aug. 15. "I have the data, and I can put things together."
The DCMA is a federal agency that oversees military contracts and has offices at many defense plants. Pedeleose has worked for the DCMA for nine years, where he has monitored Lockheed's C-130J and C-5 programs.In the 2002 report that Pedeleose and co-authors David Bily and Henry Hagel sent to congressional investigators, they accused Lockheed of billing the Pentagon $5,217 for brackets that should have cost $258 and $714 for fasteners that should have cost $53.[..]
RECENT NEWS COVERAGE: July 24, 2002
Report Documents Domestic "Axis of Influence" Pushing Missile Defense -- Corporate/Conservative Network Leverages Billions in New Spending
New York - A new report from the World Policy Institute documents the role of a well-coordinated network of cash-hungry contractors, conservative think tanks, and military hardliners in promoting the Bush administration's crash program to deploy a multi-tiered missile defense system. "The missile defense lobby no longer needs to rely on its ability to influence the federal government from the outside," notes report co-author William D. Hartung. "Missile defense advocates have staged a virtual friendly takeover of the Bush administration."
While many analysts had assumed that defending against long-range ballistic missiles might take a back seat to other more urgent defense priorities in the wake of the low-tech, high-casualty terror attacks on the Pentagon and the World Trade Center, the Bush administration has moved full speed ahead with its missile defense agenda. Missile defense spending increased by 43% in FY 2002, and the Bush administration plans to spend at least $32.7 billion on the program between now and 2005, an 85% increase over total spending on missile defense for the last four years of the Clinton administration. Total costs for the deployment and maintenance of a multi-tiered system could easily top $200 billion over the next two decades.
This accelerated investment in missile defense is moving forward despite the existence of serious technical difficulties in the missile defense program, ranging from a pattern of unrealistic testing, to cost overruns and schedule delays for critical components, to reliance on major system elements - like sea-based, boost phase interceptors - that have yet to be designed, much less tested.
In response to these major problems, Secretary of Defense Donald Rumsfeld has chosen to throw a veil of secrecy over the missile defense testing program, limiting Congressional and public access to information on the costs, schedules, and performance of key program elements. "The Pentagon's new approach to missile defense testing is a contractor's dream and a taxpayer's nightmare," notes report co-author Michelle Ciarrocca. "Pumping in more money while reducing outside scrutiny is an invitation to corruption and cost-overruns."
The report questions the ability of the Bush administration to make an objective assessment of the missile defense program in the light of its heavy reliance on former defense contractor executives and investors to staff key policymaking positions in the White House, the Pentagon, the National Security Council and other major agencies. "At a time when corporate scandals are making headlines, the Bush administration's reliance on individuals with ties to the arms industry to fill major posts in the national security bureaucracy deserves far greater scrutiny than it has received to date," notes report co-author William D. Hartung.
The report notes that 32 major administration appointees are former executives, consultants, or major shareholders of weapons contractors, including 17 appointees with ties to major (or soon-to-be major) missile defense contractors Lockheed Martin, Raytheon, Boeing, and Northrop Grumman.
Other major findings include:
***Contractors cashing in: The Big Four missile defense contractors - Boeing ($3.5 billion), Lockheed Martin ($1.7 billion),TRW ($711 million), and Raytheon ($602 million) - split $6.5 billion in missile defense contracts from 1998 to 2001, accounting for 65% of all awards for that purpose over that time period.
***Invasion of the missile defense boosters: In addition to having a longstanding close relationship with Secretary of Defense Donald Rumsfeld, the Center for Security Policy, a corporate-backed conservative think tank and longstanding advocate of swiftly deploying an ambitious missile defense system, boasts no fewer than 22 former associates in key positions in the Bush administration, including Secretary of the Air Force James Roche, Undersecretary of Defense for Policy Douglas Feith, Pentagon Comptroller Dov Zakheim, Defense Science Board chair William Schneider, and Defense Policy Board chair Richard Perle.
***Contractors flex political muscles: The Big Four missile defense contractors made a total of $7.5 million in PAC and soft money donations in the 1999/2000 and 2001/2002 election cycles, while spending $74 million on lobbying during that same time span. Contractors favored Bush over Gore by a 5 to 1 margin, and Republican congressional candidates over Democrats by almost 2 to 1 (65% to 35%) over the two cycles. Major Congressional beneficiaries of contractor largesse include Rep. Curt Weldon (R-PA), Sen. John Warner (R-VA), Sen. Richard Shelby (R-AL), and Sen. Joseph Lieberman (D-CT).
***The empty pork barrel: Despite contractor claims of economic benefits from missile defense spending, contracts to date have been highly concentrated, with 91% of prime contract awards going to just four states - Alabama, California, Virginia, and Colorado. Even allowing for subcontracts and expansion of the program, because of its high-tech, low volume nature, missile defense will be a "boutique" program which is likely to benefit a relatively small number of states and communities. The vast majority of states whose taxpayers foot the bill for missile defense will see little or nothing in terms of jobs and income from the program.
Recommendations:
1) To avoid deploying an unproven system without fully assessing its costs, capabilities, and impacts on global nuclear arms proliferation, the missile defense system and its key components should be subjected to independent scrutiny by budget and technical experts who have no financial ties to missile defense development or deployment;
2) The Bush administration should formulate a comprehensive "nuclear threat prevention" plan which prioritizes diplomatic, economic, technical, and military efforts to protect the United States from nuclear attack based on the likelihood and potential impact of different forms of attack. Given that the U.S. government's own experts agree that a long-range ballistic missile is the least likely way a hostile state or terrorist group would choose to deliver a weapon of mass destruction against a U.S. target, advocates of missile defense would have to explain why this program is receiving the bulk of the resources devoted to preventing a nuclear attack.
Read the Executive Summary or the Report
By Michelle Ciarrocca
Editor: John Gershman, Interhemispheric Resource Center (IRC)
Volume 8, Number 1
May 2003
Key Points
President Bush has decided to deploy a partial missile defense system by October 1, 2004.
Despite the huge investment in missile defense over the past four decades, the Pentagon has been unable to field a workable system, and major hurdles remain.
The Bush administration's proposal to deploy a missile defense system, coupled with its aggressive nuclear policy, could halt progress toward nuclear arms reductions.
With public attention focused on Iraq, the Bush administration's prized missile defense system has been far from the limelight. But make no mistake, it's still chugging along. Many things have changed since the September 11th attacks, but the current administration's stubborn determination to deploy some kind of missile defense system--whether it works or not--has not wavered. During President Bush's State of the Union address in January 2003, he said, "This year, for the first time, we are beginning to field a defense to protect this nation against ballistic missiles." However, the truth is, this won't be the first time.
Under President Nixon, the Safeguard system was developed and eventually deployed. That system, using nuclear-tipped interceptors, became fully operational on October 1, 1975. It was actually Donald Rumsfeld who pulled the plug on the system four months later during his first stint as defense secretary. Rumsfeld announced that the Safeguard system was being shut down, because it was too costly while offering only meager capability. Today, Rumsfeld is of a different mindset. Acknowledging that the system will only be able to deal with a relatively small number of incoming ballistic missiles, he now calls it "better than nothing." [..]
Court ruling may lead to national ban on beggars (UK)
Hollywood Isn't Holding Its Lines Against the Pentagon

By Jonathan Turley
Jonathan Turley is a professor of law at George Washington University.
With the reality of entrenched opposition in Iraq resulting in increasing U.S. fatalities there, the opposition at home to the occupation is hardening by the day. The military appears to have come up with a solution: Change reality.
In what has been described as a "Pentagon infomercial," the Defense Department has hired a former producer of the TV show "Cops" to film postwar Iraq from its perspective. Though producer Bertram van Munster has denied that he is shooting a propaganda piece, it is clear that the Pentagon is gearing up to frame its own account - and history - of the Iraq war.
The Pentagon has a long history of propaganda efforts. Indeed, the Pentagon is hard at work participating in a number of movies that will deliver its message on the legitimacy of the war and its own conduct in Iraq. [...]
Police urge ABC to ditch bomb-stunt report
By Alex Mitchell
August 24, 2003
The Sun-Herald

Police Minister John Watkins has called on the ABC to abandon plans to show a current affairs report exposing how easy it is to make a Bali-style car bomb. [...]
Dismay as international paedophile probe fails
MARCELLO MEGA
THE massive internet child pornography investigation Operation Ore has ended in Scotland without anybody being charged with sex abuse, senior police officers have revealed.
Police chiefs are dismayed that no one found to have accessed child pornography on the web is being prosecuted for abuse despite officers having "grave doubts" about the safety of children living with them.
According to the senior officers, the 16-month operation, costing millions of pounds and involving all eight Scottish police forces, failed to gather the necessary evidence. [...]
"That would not trouble us if we thought that all the men who were looking at child porn on their computer were just sad creeps who did not pose a risk to the children in their lives, but that is not the conclusion that was drawn from every raid." [...]
Celebrities, lawyers, police officers, teachers and clergymen have been among those arrested under Operation Ore. [...]
Weighing fact against hysteria, science against supposition, Charles Arthur assesses our chances of making it to the year 3000.
[...] It might seem surprising that politicians and media alike spend their time rowing about who last saw the weapons of mass destruction and how many lanes freeways should have. The problem is that these threats tend to fall into two categories: those that make a good sound bite ("grey goo" is a rising star) and those that are vital but involve making sacrifices (climate change). Being human, we're better at worrying about short-term things than taking care of long-term issues, even when the latter are more important.
It may be that the only way for us to avoid doom is, as a species, to grow up a little. It may take a "species incident" - an asteroid obliterating a big city, or a volcano devastating a continent - before we realise that J. Richard Gott's comments really do apply to all of us.
Asked where he would go if he had a time machine for an hour, he replied: "210,000 years into the future, to see if we're still here. Because I think the message from the future is - don't waste your time, humanity. You have just a little of it." [...]
White House swayed EPA after 9/11

Investigation: Agency was pressured into declaring NYC air safe
MSNBC
[...] PRESIDENT BUSH'S senior environmental adviser on Friday defended the White House involvement, saying it was justified by national security.
The White House "convinced EPA to add reassuring statements and delete cautionary ones" by having the National Security Council control EPA communications in the wake of the Sept. 11, 2001, terror attacks, according to a report issued late Thursday by EPA Inspector General Nikki L. Tinsley. [...]
Drought-parched German river starts flowing upstream
BERLIN (AFP) - After weeks of crippling droughts and record temperatures across Europe, the people of Berlin are witnessing a new sign of climatic disruption after the river Spree began flowing the wrong way. [...]
Textbook Case Of Tectonic Movement Is Wrong, Says New Study
Results from an expedition to the sea floor near the Hawaiian Islands show evidence that the deep Earth is more unsettled than geologists have long believed. A new University of Rochester study suggests that the long chain of islands and seamounts, which is deemed a "textbook" example of tectonic plate motion, was formed in part by a moving plume of magma, upsetting the prevailing theory that plumes have been unmoving fixtures in Earth's history. The research will be published in the August 22 issue of Science.
"Mobile magma plumes force us to reassess some of our most basic assumptions about the way the mantle operates," says John Tarduno, professor of earth and environmental sciences at the University. "We've relied on them for a long time as unwavering markers, but now we'll have to redefine our understanding of global geography." [...]
SARS Will Appear Again, As Will Other Viruses Incubating In 'Pandora's Boxes' Around The World, UB Expert Predicts
BUFFALO. N.Y. -- The world can expect more SARS-like outbreaks in the near future due to evolving cultural, environmental and economic conditions that provide viruses with new opportunities to infect humans, according to an expert on infectious disease and geographic medicine at the University at Buffalo. [...]
Thousands of Hotel Workers Say Mysterious Mist to Blame for Walkout
By Eyewitness News Reporter Nina Pineda
(New York-WABC, August 23, 2003) —More than a thousand hotel workers at the Grand Hyatt walked off the job, siting unsafe working conditions. That's because of a mystery mist spraying from the air-conditioning system. Now, workers say their health could be in danger.
Flash Flooding Hits Tropic, Utah
Aug. 23, 2003
KSL News
According to the National Weather Service, more than five inches of rain fell in the area in a 24 hour period between Friday night and Saturday night.
This caused a river to overflow its banks and turned roadways into streams.
NZ capital shaken by small earthquake
New Zealand's capital city Wellington was jolted late on Saturday night local time by a small but shallow quake measuring 3.8 on the Richter scale...
The quake followed a shaky day for people in the South Island township of Te Anau, near the popular tourist centre of Queenstown, where aftershocks continued from Friday's big earthquake.
That quake, which measured 7.1 on the Richter scale, was centred 70 kilometres west of Te Anau, at a depth of 20 kilometres.
Strong winds blast south-east Australia
August 25, 2003
Strong winds have caused havoc across south-eastern Australia today, killing one person, damaging buildings and leaving thousands of homes without power.Coastal areas of NSW have been the worst hit as winds gust up to 120kph, with trees and power lines blown down and roofs torn off.
A man was killed instantly when a tree fell on a car in the Sydney suburb of St Ives this afternoon.He and another man in the car had stopped to check a street directory when the tree crashed on them.
Other reports of injuries included a man on Sydney's north shore, hit on the head by a falling tree in Mosman.
At Bathurst in central-western NSW, a three-year-old boy suffered a fractured skull when a tree fell on a garage he was using as a cubby house.
People were also reported injured in Newcastle and Wollongong. [..]
Cloud-seeding plan could lift Murray levels (Australia)
By Jim O'Rourke
August 24, 2003
The Sun-HeraldC
The State Government should help pay for a unique project to provide the drought-ravaged Murray River system with more fresh water, Australia's largest hydro-electricity company said yesterday.
Snowy Hydro Limited wants the NSW National Parks and Wildlife Service to fast-track a proposed cloud-seeding trial to increase snowfall over the Snowy Mountains.Company chief executive Terry Charlton said clouds passing over the mountains could be targeted with small quantities of silver iodide to stimulate snow production.He said the snow would not only enhance the snowfields, but provide spring run-off into streams flowing to the Murray River.
"The project has the potential to generate more than 100 billion litres of extra water into the Murray River system each year," he said. "One of the nation's greatest rivers is in dire straits and we have the means to make a valuable contribution to additional freshwater flows of that system."
Mr Charlton said his company was willing to commit $5 million a year towards a six-year seeding trial.
Thessaloniki, 22 August 2003 (13:06 UTC+2)

An earthquake measuring 4.2 on the Richter scale shook the peninsula of Sithonia, Chalkidiki in northern Greece at 6.55am today.
According to Thessaloniki's Aristotle University Geophysics Laboratory, the epicenter of the tremor was located at the sea region off the Sithonia Peninsula, 120 kilometers southeast of the city of Thessaloniki.
The earthquake was felt in coastal areas at the southern part of the peninsula alarming the local residents. No damages were reported.
Theory that Mars once was balmy and wet is melting away
By KENNETH CHANG
THE NEW YORK TIMES
Friday, August 22, 2003
There are no white cliffs of Mars, scientists are reporting, casting more doubt on the theory that Mars once had a warm, wet, Earthlike climate favorable for life.
NASA's Mars Global Surveyor spacecraft, in orbit around Mars, has been measuring the glow of infrared light from the rocks below, looking for patterns of colors that identify different minerals. In particular, scientists have been interested in minerals known as carbonates, which form only in the presence of water. On Earth, the white cliffs of Dover in England are a notable example of carbonates.
In today's issue of the journal Science, researchers report that Global Surveyor has detected small concentrations of carbonates in Martian dust, 2 percent to 5 percent by weight, but none of the large deposits that would probably form at the bottom of a lake or an ocean.
"I would say it's extremely unlikely Mars had large bodies of warm, standing water that were exposed to the atmosphere for a long period of time," said Dr. Philip Christensen, a professor of geological sciences at Arizona State University in Tempe and senior author of the article. "It's reasonably unlikely that massive carbonates exist and we haven't seen them."
Excerpt from Session 940930:
Q: (L) Was the story of Noah's flood the story of the breaking up of Atlantis?
A: Yes. But symbolic.
Q: (L) How many people were on the planet at that time?
A: 6 billion.
Q: (L) Out of this six billion people, how many survived?
A: 119 million.
Q: (L) Was Noah's flood caused by the close passage of another celestial body?
A: Yes.
Q: (L) Which body was that?
A: Martek.
Q: (L) Do we know this body in our solar system now?
A: Yes.
Q: (L) What name?
A: Mars.
Q: (L) Was Martek an inhabited planet at that time?
A: No.
Q: (L) Did it have water or other features?
A: Yes.
Q: (L) When it passed close to the earth did it, in fact, overload our planet with water we did not have prior to that time?
A: Yes.
Q: (L) Did we, prior to that time, have a water-vapor canopy surrounding our planet?
A: Yes.
Q: (L) Was this the time of the major dying of the large dinosaurs?
A: Close.
Q: (L) What event transpired to kill off most of the dinosaurs?
A: Beasts.
Q: (L) What kind of beasts?
A: Mastodon, sabertooth tiger, giant sloth, etc.
Q: (L) Was it a cosmic event that brought about the death of some of the largest dinosaurs?
A: Yes.
Q: (L) It did not happen at the time of Noah, is that correct?
A: Yes.
Q: (L) Did it happen before the flood of Noah?
A: Yes.
Q: (L) How many thousands of years ago counting backward?
A: 27 million years ago.
Q: (L) What event took place at that time that caused the death of the dinosaurs?
A: Comet impact.
Q: (L) Did a comet actually strike the earth?
A: Yes.
Q: (L) Was it a large comet?
A: Yes.
Q: (L) How large?
A: 18 miles diameter.
Q: (L) Is there any regular periodicity or cycle to this comet business?
A: Yes.
Q: (L) What is the period?
A: 3600 years roughly.
Q: (L) Was Velikovsky correct when he said Venus was on a 52 year orbit during a certain period in our history?
A: Close.
Q: (L) How many passes did Venus make through the solar system before it was precipitated into a regular planetary orbit?
A: 7
Q: (L) Where did Venus originally come from?
A: 19 light years away.
Q: (L) So, it is actually an extra-solar system visitor?
A: Yes.
Q: (L) Is it true that at regular intervals the sun radiates massive amounts of electromagnetic energy which then causes the planets of the solar system to interact with one another to a greater or lesser extent?
A: Other irregular pulsations determined by external vibrational events.
Q: (L) The sun is not the source of the periodicity of "dyings", is that correct?
A: Sometimes. Many causes.
Q: (L) Well what is the cause that recurs like clockwork? Is there some cause that is a regular pulsation?
A: Cometary showers.
Q: (L) Where are these cometary showers from?
A: Clusters in own orbit.
Q: (L) Where is the orbit of these clusters? Is it the Oort cloud?
A: No.
Q: (L) Where is the orbit of clusters of comets located?
A: More specific.
Q: (L) A specific orbit containing clusters of comets?
A: Yes.
Q: (L) Does this cluster of comets orbit around the sun?
A: Yes.
Q: (L) Is the orbit perpendicular to the plane of the ecliptic?
A: Yes and no.
Q: (L) Does this cluster come into the plane of the ecliptic and cause havoc in the solar system?
A: Exactly.
Q: (L) How often does this cluster of comets come into the plane of the ecliptic?
A: 3600 years.
Pedophile Ex-Priest Is Killed in Prison
By ROBERT O'NEILL, Associated Press Writer
August 24, 2003
BOSTON - Former priest John Geoghan, a convicted child molester at the center of the sex abuse scandal that shook the Catholic church nationwide, died after apparently being strangled by a fellow inmate convicted of murder, authorities said. [...]
Aviation fan spots "UFO"in our skies
By Richard Simcox
A RETIRED aviation enthusiast says he has never seen anything like an unidentified object which flew over his back garden.
Douglas Wragg has been watching the skies for more than 50 years and knows everything there is to know about aircraft and weather balloons.
But on a clear day in Petts Wood, he says he witnessed a cylinder-shaped flying object which was "nothing to do with aviation".
Mr Wragg, 71, asked his wife, Pamela, to verify he was not hallucinating after tracking the object through his binoculars.
Describing it as like "two rolls of carpet covered in black plastic", one on top of the other, he initially thought it was a kite but ruled that out when it climbed to about 20,000ft.
He said: "I know a lot about aircraft but I've never seen anything like this." He contacted Biggin Hill airport to warn them because it appeared to be in the flight path. [...]
Porn Star/California Gubernatorial Candidate Offers Dates For Dollars
"As an independent, I don't have a large political party backing me," said the 22-year-old, whose real name is Mary Cook. "So I have to be creative and develop more unconventional methods of raising money."
Carey is also scheduled to appear with former child actor Gary Coleman on the Game Show Network's "Who Wants to be Governor of California? The Debating Game" on Oct. 1.
Comment: God bless America.
Brother John's Traveling Patriot Salvation Show
Elaine Cassel
Civil Liberties Watch
In an unprecedented, desperate, and politically motivated move, Brother John Ashcroft has taken to the road. Setting up his tent in strategic cities to bring his Traveling Patriot Salvation Show to lost Americans. With apologies to Neil Diamond, "pack up the babies and grab the old ladies." But take 'em someplace safe, like an old-time religion tent revival, not Brother John's catechism on the USA Patriot Act. [....]
And because the Reverend can't be everywhere, he has anointed his federal prosecutors--those highly paid suits on the government payroll--and ordained them to preach the Gospel of John in their home towns. If you can't catch the Big Show at the Big Top, check your paper for local listings and times. [...]
We Have Ways of Making You Talk
NEWSWEEK WEB EXCLUSIVE
The United States figures it can get plenty out of the newly captured Chemical Ali. But how? And are these 'interrogation' techniques being readied for American citizens? [...]
And Finally...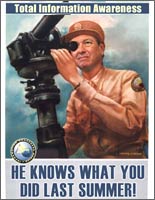 Iowa View: John Ashcroft Is Coming To Town

By HERB STRENZ
08/21/2003
Refrain:
Oh! You better watch out,
you better not cry,
you better not pout,
I'm telling you why:
John Ashcroft is coming to town!
He's making a list,
He's checking it twice,
gonna find out who's naughty or nice:
John Ashcroft is coming to town!
They'll know when you're speaking out,
They'll know when you dissent,
They'll know when you don't salute,
But they won't tell where you're sent!
Hooray for the old red, white and blue.
Carnivore and Magic Lantern, too:
John Ashcroft is coming to town.
Closed trials and secret arrests,
All in store for those he detests:
John Ashcroft is coming to town.
Wire taps and pen registers,
Just fun toys for justice jesters:
John Ashcroft is coming to town.
Agents in U-S spyland will have a jubilee,
They're gonna fill their data banks,
With the scoop on you and me.
Ohh, You better watch out, you better not cry,
You better not pout, I'm telling you why:
John Ashcroft is coming to town.

---

Check out the Signs of the Times Archives

Send your comments and article suggestions to us.
---
Fair Use Policy
Contact Webmaster at signs-of-the-times.org
Cassiopaean materials Copyright ©1994-2014 Arkadiusz Jadczyk and Laura Knight-Jadczyk. All rights reserved. "Cassiopaea, Cassiopaean, Cassiopaeans," is a registered trademark of Arkadiusz Jadczyk and Laura Knight-Jadczyk.
Letters addressed to Cassiopaea, Quantum Future School, Ark or Laura, become the property of Arkadiusz Jadczyk and Laura Knight-Jadczyk
Republication and re-dissemination of our copyrighted material in any manner is expressly prohibited without prior written consent.
.