---
Sections on today's Signs Page:
---
SOTT Focus
---
Signs Economic Commentary for 24 December 2007

Donald Hunt
sott.net
2007-12-24 09:01:00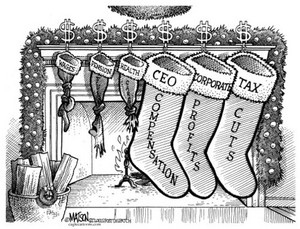 ©Matson - St Louis Post Dispatch


Summary: The big story last week continued to be the credit meltdown. The crisis is turning out to be much worse than we were told it would be at the beginning. And, if any fool could have predicted this, and if the bankers are by no means fools, why did they let it get this bad? Is it part of a larger plan?


Comment on this SOTT Focus
---
Best of the Web
---
Holiday Season Hypocrisy


SJ Lendman Blog
2007-12-24 01:41:00

Christmas is observed December 25 by Christians and others celebrating the spirit of the season while for those of the Eastern Orthodox faith the holiday falls on January 7. It's to honor the birth of Jesus Christ even though it's widely acknowledged not to be his birthday. Along with its religious significance, the season is also for other celebratory events like winter festivals, parties, family get-togethers and Kwanzaa from December 26 - January 1 for Africans Americans to reconnect to their cultural and historical heritage. Jews as well celebrate the season with the Hanukkah Festival of Lights. It's to commemorate their struggle for survival, but for Jewish children it's their Christmas with gifts from parents like their Christian friends get.

Comment on this SOTT Focus

---

U.S. Senate Report: Over 400 Prominent Scientists Disputed Man-Made Global Warming Claims in 2007

Marc Morano
US Senate Committee on Environment & Public Works
2007-12-20 22:09:00

Over 400 prominent scientists from more than two dozen countries recently voiced significant objections to major aspects of the so-called "consensus" on man-made global warming. These scientists, many of whom are current and former participants in the UN IPCC (Intergovernmental Panel on Climate Change), criticized the climate claims made by the UN IPCC and former Vice President Al Gore.

The new report issued by the Senate Environment and Public Works Committee's office of the GOP Ranking Member details the views of the scientists, the overwhelming majority of whom spoke out in 2007.

Comment on this SOTT Focus

---
U.S. News
---
Praise the Lord and pass the nomination: Huckabee campaign courts evangelical community

Wayne Slater
Dallas Morning News
2007-12-24 16:43:00

Mike Huckabee's political rise has been fueled by a vast network of local Christian leaders largely unknown to the general public but powerfully influential in evangelical circles.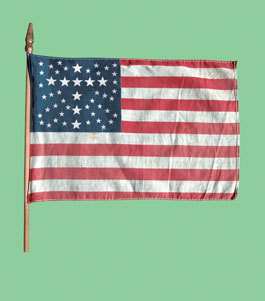 ©Mother Jones
Comment on this SOTT Focus
---

Iraq, Afghanistan War Costs Top Vietnam

Aaron Glantz
OneWorld US
2007-12-20 12:22:00

SAN FRANCISCO - Congress' approval Wednesday of $70 billion more for the wars in Iraq and Afghanistan mean the twin conflicts are now more costly to American taxpayers than the war in Vietnam.

Comment on this SOTT Focus

---

Californians back hiking cigarette tax by $2

Jim Christie
Reuters
2007-12-21 17:51:00

California voters by nearly a 2-to-1 majority would support increasing their state's cigarette tax by $2 per pack to help raise cash for a state effort to provide health-care insurance to the uninsured, according to the latest Field Poll released on Friday.

Comment on this SOTT Focus

---

NY man guilty in death of white teen

Frank Eltman
Yahoo!News/Associated Press
2007-12-23 13:40:00

Riverhead, N.Y. - A black man who invoked images of lynch mobs in explaining why he killed a white teenager was convicted of second-degree manslaughter when a jury rejected defense lawyers' arguments that his actions were justified.

Comment on this SOTT Focus

---

California: Helicopter crash that killed Navy crew still a mystery

Steve Liewer
Sign On San Diego
2007-12-23 13:22:00

Minutes after lifting off from the deck of the amphibious assault ship Bonhomme Richard, two Navy MH-60S Seahawk helicopters flew in formation above the calm Pacific near San Clemente Island.

Comment on this SOTT Focus

---

Best of the best petty thiefs: IAF officer suspected of shoplifting at US army base

Yossi Yehoshua
Ynet
2007-12-23 07:55:00

Member of military delegation suspected of trying to steal 99-cent voltage converter from store on army base in Texas.

A captain in the Israeli Air Force has been arrested for attempted theft during an official visit to a military base in Texas, according to a report aired by Channel 10 over the weekend.

The report said that following a series of meetings with their American counterparts, a number of Israeli officers belonging to anti-aircraft units decided to shop at a store located on the base. One of the officers, a former commander of a Patriot Missile battery, was caught as he was allegedly trying to steal a 99-cent voltage converter.

Comment on this SOTT Focus

---

Lawyers Stepping Up

Katrina Vanden Heuvel
The Nation
2007-12-22 23:10:00

We are lawyers in the United States of America. As such, we have all taken an oath obligating us to defend the Constitution and the rule of law.... We believe the Bush administration has committed numerous offenses against the Constitution and may have violated federal laws.... Moreover, the administration has blatantly defied congressional subpoenas, obstructing constitutional oversight .... Thus, we call on House Judiciary Chairman John Conyers and Senate Judiciary Chairman Patrick Leahy to launch hearings into the possibility that crimes have been committed by this administration in violation of the Constitution.... We call for the investigations to go where they must, including into the offices of the President and the Vice President. -- American Lawyers Defending the Constitution

Comment on this SOTT Focus

---

On this day 170 years ago: Christmas Eve Freedom Fighters

William Loren Katz
CounterPunch
2007-12-22 22:43:00

This Christmas Eve, the freedom-loving Bush administration has a chance to mark the anniversary of a great victory for formerly oppressed people on U.S. soil. The President is unlikely, however, to notice or heed the meaning of this particular milestone, whose cast of characters and historical lessons he would undoubtedly regard as all wrong.

December 24th, 1837 marks the 170th anniversary of the U.S. government's first significant military defeat in its first foreign incursion. The place was Florida, then a Spanish colony. The foe was a united force of Africans, on the run from the south's slave plantations, and Seminoles, whose self-determination was endangered. The runaway Africans had been establishing prosperous, self-governing communities in the peninsula since 1738. During the American Revolution they merged with Seminole Indians into a multicultural nation that cultivated crops according to techniques learned in Senegambia and Sierra Leone. Out of this came an alliance that shaped effective diplomatic and military responses to invaders and slavecatchers.

Comment on this SOTT Focus

---

A Spineless Opposition - Democrats Continue to Capitulate on Iraq

Anthony DiMaggio
CounterPunch
2007-12-22 22:26:00

For those who might still be harboring some doubts, it is now official: the Democratic Party has officially abrogating any responsibility for withdrawing U.S. troops from Iraq. Tuesday, December 18, 2007 marked a milestone for the party, as its leaders in the Senate administered a massive slap to the face of an American public that has favored a timetable for withdrawal for the last two and a half years, and has consistently deemed the Iraq war not "worth it" since at least the November 2004 election. The Democratically controlled Senate has voted to grant another $70 billion in funding toward the Iraq war ­ without imposing any concrete conditions or legal stipulations requiring a timetable for withdrawal. While Democrats may have gained numerical majorities in both the House and Senate following the 2006 mid-term elections, for all intensive purposes, Republicans and pro-war hawks retain firm control of both chambers when it comes to actually setting foreign policy. The Iraq bill, proposed by Republican Senate Minority Leader Mitch McConnell and Independent Joe Lieberman, demonstrates the continued strength of pro-war hawks quite clearly.

Comment on this SOTT Focus

---

Crawford Co. Man Arrested for Ax Attack


WKBT.com
2007-12-22 01:36:00

Wauzeka, Wisconsin -A 52-year-old Wauzeka man has been arrested after he attacked Crawford County sheriff's deputies with an ax and then barricaded himself in his home.

Crawford County Sheriff Jerry Moran and Prairie du Chien Police Chief Mike King say deputies responded to Wauzeka Thursday night for a report of a man acting strangely. When they arrived at the man's home, he had locked the front door.

Comment on this SOTT Focus

---

Woman Allegedly Stabs Husband Over Gift


Associated Press
2007-12-22 01:26:00

Rock Springs, Wyoming - A woman stabbed her husband with a kitchen knife following an argument that began when she accused him of opening a Christmas present early, authorities said Friday.

Misty Johnson, 34, was arrested and charged with aggravated assault and battery, a felony, and misdemeanor domestic battery. Her husband, Shawn Fay Johnson, 34, was treated at a hospital for a wound to the chest, police said.

Comment on this SOTT Focus

---

Farmers urged to review Homeland Security guidelines

Jane Moorman
dchieftan.com
2007-12-22 01:01:00



Chemicals of interest include chlorine and ammonium nitrate.



Farmers and agribusiness operators should review chemical guidelines and determine whether they will be affected by a new U.S. Department of Homeland Security regulation, according to Billy Dictson, director of the office of bio-security at the Southwest Border Food Safety and Defense Center at New Mexico State University's College of Agriculture and Home Economics.

"In an effort to increase the security of high-risk chemical facilities, the Department of Homeland Security recently released a list of chemicals that, if possessed by a facility in a specified quantity, would require them to complete a Chemical Security Anti-Terrorism Top-Screen assessment," Dictson said. "Those required to go through this initial screening must do so before Jan. 21."

Failure to comply with the regulations could result in civil penalties of up to $25,000 per day or the shutdown of the facility.

"New Mexico farmers and agribusinesses storing fertilizers, pesticides and other chemicals might be affected by these new regulations, so it is important that they quickly determine if they meet the new federal requirements," said Jeff Witte, New Mexico Department of Agriculture's director of the office of agriculture bio-security at the Southwest Border Food Safety and Defense Center. "I urge all producers and businesses to review the requirements and contact the U.S. Department of Homeland Security if they have any questions."



Comment on this SOTT Focus

---

Child kidnapper sentenced to 170 years


Reuters
2007-12-22 00:01:00

St. Louis, Missouri - A federal judge on Friday sentenced a Missouri man to 170 years in prison for abducting two boys, including one he held and sexually assaulted for more than four years.

Michael Devlin, 42, pleaded guilty in October to charges he forced Shawn Hornbeck, who was 11 when he was snatched in October 2002 while riding his bike, to commit sex acts so that he could photograph them.

Comment on this SOTT Focus

---

The Shock Doctrine in Action in New Orleans

Naomi Klein
The Huffington Post
2007-12-21 13:36:00

Readers of The Shock Doctrine know that one of the most shameless examples of disaster capitalism has been the attempt to exploit the disastrous flooding of New Orleans to close down that city's public housing projects, some of the only affordable units in the city. Most of the buildings sustained minimal flood damage, but they happen to occupy valuable land that make for perfect condo developments and hotels.

The final showdown over New Orleans public housing is playing out in dramatic fashion right now. The conflict is a classic example of the "triple shock" formula at the core of the doctrine.

Comment on this SOTT Focus

---
UK & Euro-Asian News
---
Greece, Bulgaria, Romania say Serbian EU membership not linked to Kosovo issue


International Herald Tribune/Associated Press
2007-12-22 16:47:00

Athens, Greece: Serbia's future lies within the European Union and its eventual entry into the bloc must not be tied to developments in Kosovo, the foreign ministers of Bulgaria, Romania and Greece said Saturday.

Comment on this SOTT Focus

---

Russia sees U.S. missile shield as threat to nuclear deterrent


RIA Novosti
2007-12-24 14:40:00

Moscow regards U.S. plans to deploy missile defense bases in Central Europe as an attempt to weaken Russia's nuclear deterrent, the official Foreign Ministry spokesman said on Monday.

"If a radar [in the Czech Republic] along with missiles in Poland are deployed, this will be a military operation ...to weaken Russia's nuclear deterrent potential," Mikhail Kamynin said in a statement.

"We will have no other option but to take measures to make up for this new factor in our strategic balance of forces with the United States."

Comment on this SOTT Focus

---

UK: Ripper Stabbed In Face At Broadmoor


Sky News
2007-12-24 14:03:00

Serial killer Peter Sutcliffe has been stabbed in the face by a fellow patient at Broadmoor secure hospital.

The murderer - dubbed the Yorkshire Ripper - is thought to have been attacked with a piece of cutlery.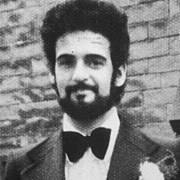 ©Unknown
Sutcliffe was jailed for 13 murders
Comment on this SOTT Focus
---

Police Stop Would-be Bomber in Istanbul


Associated Press
2007-12-24 13:27:00

Turkish police thwarted a bomb attack in Istanbul on Monday, arresting a 25-year-old man with explosives in his backpack outside a subway station, the city's governor said.

The man was carrying more than 7 pounds of A-4 plastic explosives when he was arrested in the Sisli district, one of the most crowded areas of the city, Turkish news agencies reported.

Comment on this SOTT Focus

---

Thousands Sought over Child Porn


BBC News
2007-12-24 13:13:00



German prosecutors are investigating 12,000 suspected members of a child sex abuse network on the internet - the biggest in the country's history.



A senior public prosecutor said the suspects were accused of downloading or possessing illegal images of children.

Comment on this SOTT Focus

---

Uzbek president returned in election 'farce'

Luke Harding
The Guardian
2007-12-24 01:13:00

Uzbekistan's autocratic ruler Islam Karimov yesterday tightened his grip on power, when he was re-elected president in an election condemned by opposition activists as illegal and a "farce".

Karimov won an overwhelming victory despite being ineligible to stand as a candidate, having already served two consecutive presidential terms.

Comment on this SOTT Focus

---

Catholicism now Britain's "most popular" faith


Reuters
2007-12-24 00:41:00

London - Catholics have overtaken Anglicans in church attendance in Britain, according to research published on Sunday.

England officially split from Rome during the reign of Henry VIII more than 400 years ago, making Anglicanism and the Church of England dominant.

Comment on this SOTT Focus

---

Twin bomb attacks injure two in Corsica


Agence France-Presse
2007-12-24 00:31:00

AJACCIO, France - Two bomb attacks rocked the Corsican capital of Ajaccio on Sunday, slightly injuring two people including a five-year-old child, security sources said.

The bombs detonated almost simultaneously outside the treasury building and a police barracks before dawn. Neither of the two victims were seriously hurt.


Comment on this SOTT Focus

---

Holloway Case Suspect Regrets No Trial


Associated Press
2007-12-23 23:26:00

AMSTERDAM, Netherlands - A former suspect in the disappearance in Aruba of American teenager Natalee Holloway told a Dutch newspaper he regretted that he was not formally prosecuted for any crime.


Comment on this SOTT Focus

---

Queen launches YouTube channel


BBC
2007-12-23 18:55:00

The Queen has launched her own channel on the video-sharing website YouTube.

The Royal Channel will feature her Christmas Day message, and has recent and historical footage of the monarch and other members of the Royal Family.

Comment on this SOTT Focus

---

France fears arrival of cigarette-smoking ban

William Langley
Telegraph
2007-12-23 18:57:00

The authentic French bistro-dweller's look of perpetual anguish requires that the eyes be directed upwards, the corners of the mouth drawn downwards, and a crumpled cigarette balanced vaguely on the horizontal. From next month, the expression will feature more despair and fewer cigarettes.

The day of reckoning has arrived for Europe's most incorrigible smokers. On January 1, it will become illegal to light up in bars, restaurants or nightclubs, and as the deadline nears, a palpable sense of panic is taking hold.

Comment on this SOTT Focus

---

Brazil unhappy at Menezes ruling


BBC
2007-12-23 18:51:00

Brazil's government has expressed its "unhappiness" that no senior police officers involved in Jean Charles de Menezes's shooting will be disciplined.

The Brazilian electrician was shot dead in 2005 by police who mistook him for a terrorist after the London bombings.

Comment on this SOTT Focus

---

Russia, Iran tighten the energy noose

M K Bhadrakumar
Asian Times Online
2007-12-23 14:59:00

Foreign ministers are busy people - especially energetic, creative diplomats like Russia's Sergei Lavrov and Iran's Manouchehr Mottaki, representing capitals that by tradition place great store on international diplomacy.

Therefore, the very fact that Lavrov and Mottaki have met no less than four times in as many months suggests a great deal about the high importance attached by the two capitals to their mutual understanding at the bilateral and regional level.


Comment on this SOTT Focus

---

UK: Rape monster branded 'untreatable psychopath' jailed


The Citizen
2007-12-04 13:48:00

Psychopath John White has been convicted of the brutal rape of a student nurse in Gloucester 16 years ago.

The woman said she feared for her life during the horrific attack and now her evil rapist is facing life behind bars.

His conviction at Gloucester Crown Court came about after advances in technology which matched his DNA.

Comment on this SOTT Focus

---

Uzbeks vote to re-elect hardline president


Agence France-Presse
2007-12-23 03:03:00

TASHKENT - Uzbekistan voted Sunday in an election where hardline President Islam Karimov faces only token opposition to his bid for a new seven-year term at the head of the isolated Central Asian state.

In the run-up to the election Karimov, 69, told foreign diplomats that he wanted "a free society and prosperous life" for the ex-Soviet republic of 28 million people.

Comment on this SOTT Focus

---
Around the World
---
New Zealand: 50 drunken Santas ransack cinema


The Sun
2007-12-24 16:21:00

A 50-strong gang of rampaging drunken Santas ransacked a cinema frightening customers, damaging property and swearing.


©Unknown
Comment on this SOTT Focus
---

Nine dead as train and minibus collide in Tajikistan


RIA Novosti
2007-12-24 14:51:00

Nine people were killed and three seriously injured after a minibus collided with a train at a railway crossing in Dushanbe, the capital of Tajikistan, police said on Monday.

Comment on this SOTT Focus

---

Japan continues to boost its missile defenses


RIA Novosti
2007-12-24 14:47:00

Japan's Cabinet endorsed Monday a review of emergency missile defense rules giving Self-Defense Forces (SDF) the discretion to fire missile interceptors without the premier's go ahead, the Kyodo agency said.

The government also authorized the use of U.S. SM-3 interceptor missiles as part of Japan's two-layer missile shield, following a successful test of the missile earlier in December.

Comment on this SOTT Focus

---

Five Dead in Egyptian Building Collapse

Aziz El-Kaissouni
Reuters
2007-12-24 12:02:00

Five Egyptians were killed on Monday when a 12-storey residential building collapsed in Egypt's Mediterranean city of Alexandria, a security source said.

Rescue workers pulled the five bodies from the rubble, but authorities expect the death toll to rise as more are uncovered, according to security sources.

Comment on this SOTT Focus

---

Indian Parliamentary panel favours reconstituting of its premier investigating agency


The Times of india
2007-12-23 00:00:00

A Parliamentary Committee is considering reconstituting the CBI ( Central Bureau of Intelligence ) as Central Bureau of Intelligence and Investigation to handle federal cases such as terror attacks and those pertaining to national importance.


Comment on this SOTT Focus

---

Families of hostages held in Colombia by FARC in emotional vigil awaiting release


Agence France-Presse
2007-12-24 00:58:00

BOGOTA - Colombia Sunday said there were no impediments to the release of three hostages leftist FARC rebels have promised to hand over to Venezuela, as families of abductees sent anguished Christmas messages to their loved ones.

"There isn't any military operation aimed at preventing the hostages from being freed," Peace Commissioner Carlos Restrepo said Sunday, after an opposition lawmaker said ongoing military operations against the rebels could delay the release.

Comment on this SOTT Focus

---

Pro-Thaksin party claims victory in Thailand's post-coup election


Agence France-Presse
2007-12-24 00:29:00

BANGKOK - Allies of deposed Thai premier Thaksin Shinawatra claimed victory in Sunday's elections, setting the stage for the billionaire's political comeback more than a year after his ouster in a coup.

Samak Sundaravej said his People Power Party (PPP), which regroups Thaksin's political allies, would form the next government although he predicted they would fall short of an absolute majority in parliament.

Comment on this SOTT Focus

---

India's Hindu nationalists win Gujarat poll


Agence France-Presse
2007-12-24 00:26:00

NEW DELHI - Controversial Hindu nationalist party leader Narendra Modi swept back to power in India's religiously divided Gujarat state Sunday in what was called a national victory over the rival Congress Party.

The Congress loss in the Hindu nationalist bastion, though expected, was the fourth setback in regional polls this year for the party, which governs nationally, and raised questions about its federal poll prospects in 2009.

Comment on this SOTT Focus

---

Sri Lanka army, rebels claim heavy losses in fighting


Agence France-Presse
2007-12-24 00:26:00

COLOMBO - Tamil rebels and Sri Lankan troops fought fierce battles in the north at the weekend, leaving several combatants dead or wounded, according to conflicting statements from both sides Sunday.

The rebel Liberation Tigers of Tamil Eelam (LTTE) said they resisted a 10-hour military push on Saturday into the district of Mannar, killing at least 17 soldiers and wounding 54.

Comment on this SOTT Focus

---

Nepal to End Its Monarchy in a Deal With Ex-Rebels


Reuters
2007-12-23 23:38:00

KATMANDU, Nepal - Nepal's government agreed Sunday to abolish the centuries-old monarchy in a political deal with Maoist former rebels, but the decision will go into effect only after next year's elections, party officials said.


Comment on this SOTT Focus

---

Despicable! Dozens of Dead Discovered on Shores of Yemen


Médecins Sans Frontières
2007-12-23 22:40:00

Every year, thousands of people risk their lives crossing the Gulf of Aden: Somalis fleeing the fighting in their country and Ethiopians leaving because they cannot find work back home, for political reasons, or because of the conflict in the Somali region.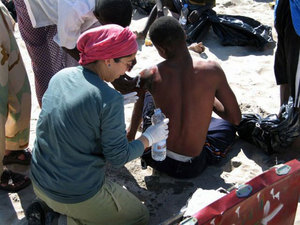 ©Médecins Sans Frontières
MSF staff treat the wounds of the survivors onshore. Yemen 2007
Comment on this SOTT Focus
---

Flashback: Shades of the Holocaust! African migrants trying to reach Yemen thrown overboard


BBC
2007-10-23 22:21:00

Sixty six African migrants are dead or missing after being forced overboard by people traffickers off the coast of Yemen, the UN refugee agency says.

The incident involved two smugglers' boats that left the Somali coastal town of Bossaso on Saturday with 244 people aboard, mostly Somalis and Ethiopians.

Comment on this SOTT Focus

---

Latin America breaks free of the US

Janette Habel
Le Monde diplomatique
2007-12-21 18:41:00

The US has lost ground in Latin America over the past decade, since the project to develop the Free Trade Area of the Americas flopped and since leftwing governments took power and used it with imagination and vigour. The US continues to try to block such emancipation by promoting more free trade agreements, and increasing military cooperation in the name of the war on terrorism and narcotics and the defence of market democracy.

Comment on this SOTT Focus

---

Australia: Youth's body in drain mystery

Paul Anderson
Herald Sun
2007-12-23 13:29:00

Mystery surrounds the death of a young man found wedged in a stormwater drain at Healesville yesterday.

Residents of Donnelly's Weir Rd found the local man's body stuffed in the drain, with his legs and upper torso protruding from the opening, just before noon.

They had first noticed a black bag belonging to the victim sitting beside the gravel road about 7pm Saturday, but did not make the gruesome discovery until they took a closer look in the overgrown culvert yesterday.

Police are treating the death as suspicious due to the awkward position of the body.

Comment on this SOTT Focus

---

Eight killed, seventeen injured in Pakistan suicide bomb attack


RIA Novosti
2007-12-23 13:05:00

At least eight people were killed and seventeen others wounded in a terrorist attack in northwestern Pakistan, local TV channels said on Sunday, referring to police sources.

The attack occurred in the town of Mingora in the Swat valley when a suicide bomber blew himself up while a military convoy was returning to its base.

Comment on this SOTT Focus

---
Big Brother
---
Australia: Police taser urinating man in Valley


CourierMail
2007-12-24 16:27:00

Police have tasered a man after he refused to stop urinating on a shop window in Fortitude Valley this morning.

Comment on this SOTT Focus

---

Wisconsin Police Begin Fingerprinting on Traffic Stops

Sarah Thomsen
wbay.com
2007-12-23 17:25:00

If you're ticketed by Green Bay police, you'll get more than a fine. You'll get fingerprinted, too. It's a new way police are cracking down on crime.

If you're caught speeding or playing your music too loud, or other crimes for which you might receive a citation, Green Bay police officers will ask for your drivers license and your finger. You'll be fingerprinted right there on the spot. The fingerprint appears right next to the amount of the fine.

Comment on this SOTT Focus

---

NY Police Move Forward With License Plate Readers, Cameras

Solana Pyne
NY1 News
2007-12-23 15:14:00

New York City police are moving forward on a multimillion-dollar counter-terrorism initiative, installing more than a hundred license plate readers and eventually thousands of cameras in Lower Manhattan. NY1 Criminal Justice Reporter Solana Pyne takes a look at the program in the following report.

As Police officer Michael Gerbasi drives, a camera on the roof of his patrol car photographs license plates. A computer then checks a database to see, for example, if the car is stolen.

Comment on this SOTT Focus

---

US Planned Mass Jailing in 1950

Tim Weiner
New York Times
2007-12-23 08:17:00

A newly declassified document shows that J. Edgar Hoover, the longtime director of the Federal Bureau of Investigation, had a plan to suspend habeas corpus and imprison some 12,000 Americans he suspected of disloyalty.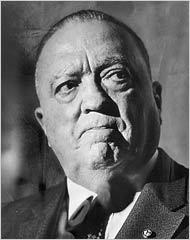 ©Neal N. Boenzi/The New York Times
J. Edgar Hoover was F.B.I. director from 1924 to 1972.
Comment on this SOTT Focus
---

FBI aims for world's largest biometrics database


Reuters
2007-12-22 00:23:00

The FBI is embarking on a $1 billion project to build the world's largest computer database of biometrics to give the U.S. government more ways to identify people at home and abroad, the Washington Post reported on Friday.

The FBI, the main investigative arm of the Department of Justice, has already started compiling digital images of faces, fingerprints and palm patterns in its systems, the paper said.

Comment on this SOTT Focus

---
Axis of Evil
---
Game Theory and Doomsday Scenario: US report that 'Israel would win nuclear war'

Yitzhak Benhorin
Ynet
2007-12-24 08:02:00

Study compiled by US Center for Strategic and International Studies (CSIS), headed by a former Pentagon analyst, explores several hypothetical scenarios for unconventional warfare in our region. Authors find 'Israel's residents and economy could weather nuclear war with Iran'.

All out nuclear war between Israel and Iran: a doomsday scenario that we all fear deeply. A new study compiled by the US Center for Strategic and International Studies (CSIS), headed by former Pentagon analyst Anthony H. Cordesman, explored just such a nightmare scenario, noting that it could lead to the death of between 16- 28 million Iranian civilians, and 200-800 thousand Israelis.

This hypothetical, research-oriented study also explored other contingencies for unconventional warfare in our region, noting the tactics that various countries could potentially employ in such instances.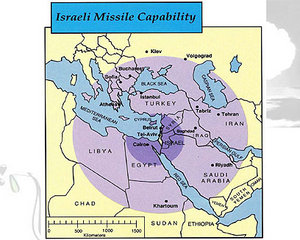 ©csis.org
Comment on this SOTT Focus
---

Mitt Romney's pursuit of tyrannical power, literally

Glenn Greenwald
Salon
2007-12-23 03:52:00

In yet another superb piece of journalism, the peerless Charlie Savage of The Boston Globe submitted to the leading presidential candidates a questionnaire asking their views on 12 key questions regarding executive power. Savage's article accompanying the candidates' responses makes clear why these matters are so critical:


In 2000, George W. Bush and Dick Cheney were not asked about presidential power, and they volunteered nothing about their attitude toward the issue to voters. Yet once in office, they immediately began seeking out ways to concentrate more unchecked power in the White House -- not just for themselves, but also for their successors. . . .

Comment on this SOTT Focus


---


US: Turkey Has Right to Defend Itself

Sinan Salheddin
Associated Press
2007-12-23 14:24:00

Baghdad -- Turkey has the right to defend itself against Kurdish rebels based in Iraq but must make sure it does not destabilize its neighbor, the U.S. ambassador to Iraq said Sunday.

Comment on this SOTT Focus


---


US military deaths in Iraq at 3,897


Associated Press
2007-12-23 14:04:00



©Jamie Rector/Getty Images



As of Saturday, Dec. 22, 2007, at least 3,897 members of the U.S. military have died since the beginning of the Iraq war in March 2003, according to an Associated Press count. The figure includes eight military civilians. At least 3,171 died as a result of hostile action, according to the military's numbers.



Comment on this SOTT Focus


---


9-11 Panel Study Finds That C.I.A. Withheld Tapes

Mark Mazzetti
The New York Times
2007-12-22 12:27:00

WASHINGTON - A review of classified documents by former members of the Sept. 11 commission shows that the panel made repeated and detailed requests to the Central Intelligence Agency in 2003 and 2004 for documents and other information about the interrogation of operatives of Al Qaeda, and were told by a top C.I.A. official that the agency had "produced or made available for review" everything that had been requested.

The review was conducted earlier this month after the disclosure that in November 2005, the C.I.A. destroyed videotapes documenting the interrogations of two Qaeda operatives.

Comment on this SOTT Focus


---


Barbie 'boasted of hunting down Che'

David Smith
The Guardian
2007-12-23 08:48:00

The CIA made use of a Nazi war criminal's anti-guerrilla skills

Oscar-winning British director Kevin Macdonald has raised the intriguing possibility that Che Guevara's capture by the CIA in the forests of Bolivia 40 years ago was orchestrated by Klaus Barbie, the Nazi war criminal called the 'Butcher of Lyon'.

Comment on this SOTT Focus


---


Gitmo and the Supreme Court: What Happened?

Andy Worthington
AlterNet
2007-12-22 23:31:00

The Supreme Court's decision in June 2004 has been undermined twice by Congress in the intervening years.

The recent Supreme Court showdown over Guantánamo was billed as "probably the most important habeas corpus case in modern history," according to Law.com, and "the most important civil liberties case of the past 50 years," according to the Center for Constitutional Rights (CCR). This was no understatement. At stake was the validity of the administration's novel contention, first formulated in November 2001, that it can seize foreigners anywhere in the world, designate them as "enemy combatants" -- rather than as criminals or prisoners of war -- and hold them indefinitely, without charge or trial.

Comment on this SOTT Focus


---


Propaganda Alert! US troops could soon begin partial Iraq pullout: Gates


Agence France-Presse
2007-12-22 08:15:00

WASHINGTON - US Defense Secretary Robert Gates Friday voiced hope that US troops will soon start returning home from Iraq, saying improved security there will enable five units to pull out by July as planned.

"The situation on the ground, I think, makes it likely that General (David) Petraeus will be able to decide to bring out the first five teams by July," Gates told an end of year press conference.

Comment on this SOTT Focus


---



Middle East Madness

---

In Gaza, Santa Is Insolvent

Mohammed Omer
Uruknet
2007-12-24 17:36:00

"Santa Claus is empty handed this year...insolvent," says Father Manuel Musallam, head of the Holy Family School in Gaza City.

Comment on this SOTT Focus


---


Jewish immigration to Israel at lowest in 20 years


Agence France-Presse
2007-12-24 14:24:00

Jewish immigration to Israel continued to slide in 2007 with the number of newcomers at just 19,700, the lowest level in 20 years, according to figures published on Monday.

Immigration was down six percent from 2006, the immigrant absorption ministry said.

The number of immigrants from former Soviet countries, which made up 30 percent of all newcomers, dropped 15 percent from 2006.

Comment on this SOTT Focus


---


Gunmen Kidnap 14 Members of Iraqi Family

Alaa Shahine
Reuters
2007-12-24 13:20:00

Gunmen posing as Iraqi security forces kidnapped 14 members of one family in the volatile Diyala province north of Baghdad on Monday, police said.

Comment on this SOTT Focus


---


Collective punishment begins in Gaza

Marian Houk
Al-Ahram Weekly
2007-12-24 09:49:00

While illegal according to international law, Israel presses ahead in denying Gaza access to fundamental commodities


Comment on this SOTT Focus


---


Basra: Exit her majesty, enter militias

Nermeen Al-Mufti
Al-Ahram Weekly
2007-12-24 09:45:00

On Sunday, and amid fears of renewed clashes among rival Shia groups, Britain handed over security in the southern city of Basra to local Iraqi authorities. In the past, security handovers in Iraq's southern cities have been followed by assassinations and turbulence. Basra, 580 kilometres south of Baghdad, is unlikely to be an exception. The city is Iraq's only port, produces 70 per cent of the country's oil (and exports 80 per cent of it), and offers opportunities for cross-border trafficking with Iran. Iraqi officials and the Shia parties that control the city vowed to maintain security and cooperate with each other. But reality on the ground appears shaky.


Comment on this SOTT Focus


---


Wishful thinking: Palestinian aid like 'trying to breed fish in toxic waters'.

Khaled Amayreh
Al-Ahram Weekly
2007-12-24 09:41:00

While the Palestinian Authority is euphoric about the more than $7 billion pledged by the Paris Donor Conference to help rebuild the ravaged Palestinian economy, many Palestinians remain sceptical about whether such a goal is possible under military occupation.

Monday's one-day donor conference was attended by representatives of more than 90 countries. Islamic and leftist camps within Palestine, though, view the Paris pledges as little more than an attempt to buy political concessions from a Palestinian government almost entirely dependent on international aid. Their scepticism will only have been reinforced by the continued killing of Palestinians by the Israeli army -- 10 Palestinians were murdered on Monday alone -- and by relentless settlement expansion in the West Bank, especially in and around East Jerusalem.


Comment on this SOTT Focus


---


Iraq cover-up claims: MPs call for inquiry

Henry McDonald, Duncan Campbell and Richard Norton-Taylor
The Guardian
2007-12-24 01:08:00

UK security firm accused of failing to pass on intelligence to army in Basra

MPs called yesterday for a full parliamentary inquiry into the British security company ArmorGroup after allegations made about its operations in Iraq by former employees. Two MPs have issued the call in response to claims that an employee had been told to withhold intelligence from the British armed forces and that the company had exaggerated the numbers of its employees on the ground.

Comment on this SOTT Focus


---


Hamas says uncovered network of collaborators

Ali Waked
Ynet News
2007-12-23 23:09:00

Palestinian security forces reported Sunday that Hamas' internal security service has uncovered a network of Palestinian collaborators with Israel.


Comment on this SOTT Focus


---


Agitation Alert: Bahrain rocked by days of clashes


BBC
2007-12-23 19:04:00



©AP Photo
Protestors in Bahrain on 20 December. Shias complain of discrimination by the Sunni-led government.



Comment on this SOTT Focus


---


Provocation Alert: Israel unveils settlement plans on peace talks eve

Adam Entous
Reuters
2007-12-23 17:56:00

Israel unveiled plans on Sunday to build hundreds of new homes on occupied land near Jerusalem next year, drawing protests from Palestinian President Mahmoud Abbas on the eve of renewed peace talks.

Comment on this SOTT Focus


---


Hamas denies reports suggesting truce with Israel


Palestinian Information Center
2007-12-22 14:47:00

Leaving no room for speculations, the Hamas Movement has categorically denied Saturday Hebrew reports suggesting talks between Hamas and Israel to forge truce in Gaza Strip.


Comment on this SOTT Focus


---


Help! A Cease Fire!

Uri Avnery
Gush Shalom
2007-12-22 14:40:00

FORGET THE Qassams. Forget the mortar shells. They are nothing compared with what Hamas launched at us this week:

The chief of the Hamas government in the Gaza Strip, Ismail Haniyeh, has approached an Israeli newspaper and proposed a cease-fire. No more Qassams, no more mortars, no suicide bombings, no Israeli military incursions into the Strip, no "targeted liquidations" of leaders. A total cease-fire. And not only in the Gaza Strip, but in the West Bank, too.


Comment on this SOTT Focus


---


GI Saves Iraqi Boy in Long-Shot Adoption

Carrie Antlfinger
Guardian
2007-12-23 14:34:00

Mauston, Wis. - Capt. Scott Southworth knew he'd face violence, political strife and blistering heat when he was deployed to one of Baghdad's most dangerous areas. But he didn't expect Ala'a Eddeen.

Comment on this SOTT Focus


---


'No rule of law in Israel': Ramon's vice premiership challenged once more

Aviram Zino
Ynet
2007-12-23 09:49:00

High Court to hear petition by 17 women's organizations asking that appointment be annulled. 'The fact the government welcomes a convicted sex offender into its midst proves the system is biased,' say plaintiffs.

Seventeen women's organizations have a petition the High Court Sunday, asking it to convene an extended judicial panel to discuss the continuing service in public office of Vice Premier Haim Ramon.

Ramon was convicted of committing an indecent act in January of 2007, and sentenced to 120 hours of community service. His appointment to vice premier was immediately challenged, but the State and the Court have since maintained that there were no legal grounds to prevent the appointment.



©Gil Yohanan
'A disgrace.' Ramon



Comment on this SOTT Focus


---


'Father Christmas' beaten in West Bank demo


Agence France-Presse
2007-12-21 09:10:00



©AFP/Musa al-Shaer

An Israeli soldier tackles a Palestinian protester dressed as Santa Claus or Father Christmas during at a protest against Israel's separation barrier in the village of Umm Salamunah near the biblical West Bank town of Bethlehem. Israeli guards beat five demonstrators during the protest on Friday, organisers said.



BETHLEHEM, West Bank - Israeli guards beat five demonstrators, including one dressed as Father Christmas, during a protest on Friday against Israel's separation barrier in the West Bank, organisers said.

About 50 Palestinian, Israeli and international peace activists attended the rally in the village of Um Salomona, near Bethlehem, the Biblical birthplace of Jesus that is preparing to celebrate Christmas.

Comment on this SOTT Focus


---



The Loan Gunmen

---

Foreign Buyers Snap Up 2nd Homes in US

Leslie Wines
Breitbart.com/Associated Press
2007-12-24 16:35:00

New York - Panden Rota, a Nepalese producer of fine rugs, is about to become a Manhattanite, the owner of a sumptuous apartment in the luxurious downtown neighborhood of Battery Park City.

His primary residence will remain Katmandu, but his new home will allow him to spend more time at U.S. showrooms that display his rugs and with a brother and sister in New York. "I looked at many places and I decided that a Manhattan apartment will always hold its value," he said.

Rota is part of a growing wave of foreigners who buy second homes in the U.S. for work and play and as an investment.

Comment on this SOTT Focus


---


Singapore to Provide Merrill Lynch with $6.2 Billion Capital Injection


New York Times
2007-12-24 11:47:00

Merrill Lynch said Monday it will take $6.2 billion in investments from the Singapore government and a mutual fund manager to shore up its capital base, as many analysts expect the investment bank to announce a second consecutive quarterly loss next month.



It is the latest instance of a Western bank to seek emergency financing from cash-rich Eastern investment funds, as turmoil in the subprime mortgage market continues to shake up Wall Street.



Comment on this SOTT Focus


---


Unpaid Credit Cards Bedevil Americans

Rachel Konrad and Bob Porterfield
Associated Press
2007-12-23 14:33:00

Americans are falling behind on their credit card payments at an alarming rate, sending delinquencies and defaults surging by double-digit percentages in the last year and prompting warnings of worse to come.

Comment on this SOTT Focus


---


Britain: Northern Rock crisis deepens

Ann Talbot
World Socialist Web Site
2007-12-21 11:16:00

What began as a crisis of liquidity for one bank has become a major political crisis for the British government. The failure of the attempt to bail out Northern Rock has led to serious political recriminations and conflicts among the political and financial elite as the Labour government of Prime Minister Gordon Brown finds itself pouring money into a bottomless pit.


Comment on this SOTT Focus


---


Severe food shortages, price spikes threaten world population

Naomi Spencer
World Socialist Web Site
2007-12-22 11:12:00

Worldwide food prices have risen sharply and supplies have dropped this year, according to the latest food outlook of the United Nations Food and Agriculture Organization. The agency warned December 17 that the changes represent an "unforeseen and unprecedented" shift in the global food system, threatening billions with hunger and decreased access to food.


Comment on this SOTT Focus


---


South American trade block signs trade pact with Israel


International Herald Tribune/AP
2007-12-18 05:09:00

MONTEVIDEO, Uruguay: South America's Mercosur trade bloc signed a free trade treaty with Israel Tuesday and Venezuela sought new momentum for its stalled bid for full membership in the group.

The agreement with Israel was the first that the four-nation bloc has signed with a country outside the Americas. Leaders said they hoped to use it as a model for treaties with other Mideast nations, South Africa and India.

The treaty calls for a decade-long phase-out of tariffs on most goods and services and took more than two years to negotiate. Eliyahu Yishai, Israel's commerce and industry minister, signed on behalf of his nation.



Comment on this SOTT Focus


---


Unhappy new year


Economist.com
2007-12-21 04:37:00



More suprime damage is revealed




©Reuters



Comment on this SOTT Focus


---


Fed: Another $20B Auctioned to Banks

Martin Crutsinger
Associated Press
2007-12-21 21:51:00

The Federal Reserve, working to combat the effects of a severe credit crunch, announced Friday it had auctioned another $20 billion in funds to commercial banks at an interest rate of 4.67 percent. Fed officials pledged to continue with the auctions "for as long as necessary."

Comment on this SOTT Focus


---


US: Statement Introducing the Free Competition in Currency Act


Rep. Ron Paul, M.D.
2007-12-13 21:32:00

Madame Speaker, I rise to introduce the Free Competition in Currency Act. This act would eliminate two sections of US Code that, although ostensibly intended to punish counterfeiters, have instead been used by the government to shut down private mints. As anti-counterfeiting measures, these sections are superfluous, as 18 USC 485, 490, and 491 already grant sufficient authority to punish counterfeiters.

Comment on this SOTT Focus


---


Business as Usual as Recession Looms

Peter Morici
CounterPunch
2007-12-21 21:22:00

The stock market remains unsettled, as the nation's economic problems grow. Washington from the White House to Capitol Hill to the Federal Reserve gives us lots of bustle but no truly comforting action.

The Democrats pushed through an energy bill that will likely leave the nation in the desperate in the gasp of Middle East oil exporters. Wall Street banks continue to sell out their shareholders to Chinese and Middle East investors to pay for their big bonuses. The Federal Reserve cracks down on predatory lending on Main Street, when the real crooks work on Wall Street. The recession watch continues.

Comment on this SOTT Focus


---



The Living Planet

---

Major Snow Storm Causes Swath of Blackouts

Carrie Antlfinger
Associated Press
2007-12-23 15:10:00



©AP Photo/Topeka Capital-Journal, Mike Burley
Greg Weakland, 19, secures a tow hook to a stranded passenger's car to help it up an inclined street as snow blows down in Topeka, Kan.



MILWAUKEE - Highways were hazardous for holiday travelers Sunday and thousands of homes and businesses had no electricity in the Midwest as a storm blew through the region with heavy snow and howling wind.

At least eight deaths had been blamed on the storm.

Comment on this SOTT Focus


---


Indian authorities say probing mysterious fish deaths


Agence France-Presse
2007-12-19 13:17:00

Pollution authorities in the northeastern Indian state of Assam began Wednesday investigating the mysterious deaths of thousands of fish in the Brahmaputra River, officials said.

More than 1,500 dead fish have been found floating in the river, lifeline of India's northeast this week, fuelling fears that toxic chemicals are being used by fishermen.

Groups of fishermen sometimes use explosives and toxic chemicals to net fish in large quantities, authorities said.

Comment on this SOTT Focus


---


US: Louisiana lake testing offers some answer for mysterious bubbles


Associated Press
2007-12-23 13:10:00

The bubbles popping up in Lake Peigneur are explosive but apparently natural, says a leader of the group trying to stop expansion of a natural gas storage operation under the lake.

Tests by the U.S. Geological Survey show the bubbles are 70 percent methane and 30 percent air, with more than double the oxygen needed for a volatile mix, said Nara Crowley, vice president of Save Lake Peigneur. She said that doubles both the chance of explosions and the power of any that might occur.

Comment on this SOTT Focus


---


At least 5 dead in Plains, Midwest storm


Associated Press
2007-12-23 03:09:00

AMARILLO, Texas - A blinding snowstorm blew from the Plains to the Midwest on Saturday, causing at least 5 deaths and dozens of injuries in numerous multi-car pileups and forcing authorities to close portions of several major highways.

In Texas, one person died in a chain-reaction pileup involving more than 50 vehicles, including several tractor-trailer rigs, on Interstate 40, police said. Authorities said it would take a few days to determine exactly how many were involved.

Comment on this SOTT Focus


---


Holiday travelers delayed in Chicago


Associated Press
2007-12-22 15:18:00

Dense fog and a low cloud ceiling forced airlines to cancel more than 200 flights at Chicago's O'Hare International Airport on Friday at the start of the busy holiday travel season.

Travelers also encountered weather-related delays at airports in the New York City area.

Comment on this SOTT Focus


---


16 dead in Tajikistan avalanche


Agence France-Presse
2007-12-22 08:02:00

At least 16 people died in an avalanche that swept across a road linking Tajikistan's capital Dushanbe with the north of the Central Asian state, the interior ministry told AFP.

A ministry spokesman said "rescue work is continuing and we don't know how many vehicles and people could still be under the many metres thick avalanche".



©Unknown





Comment on this SOTT Focus


---


China reels from worst drought in a decade


Reuters
2007-12-21 05:19:00



©Unknown



China is suffering its worst drought in a decade, which has left millions of people short of drinking water and has shrunk reservoirs and rivers, state media said on Friday.

Hardest hit are large swathes of the usually humid south, where water levels on several major rivers have plunged to historic lows in recent months.

Comment on this SOTT Focus


---


Squirrels Use "Snake Perfume" to Fool Predators

Sara Goudarzi
National Geographic
2007-12-22 01:44:00



©Video stills courtesy Barbara Clucas
Video stills show a ground squirrel chewing on a rattlesnake's shed skin and then licking its body to apply the masticated mush. The act most likely persuades serpents that another snake, not a squirrel, is in the area. A new study suggests that this behavior is part of a host of tricks the squirrels have evolved to use to avoid predation.



To mask their odor from rattlesnakes, California ground squirrels and rock squirrels chew on sloughed-off snake skin and smear it on their fur, according to a new study.

The act most likely persuades the predators that another snake, not a squirrel, is in the area.

Comment on this SOTT Focus


---


Most Endangered Duck Finds Refuge on Midway Atoll


usgs.gov
2007-12-21 19:10:00

The most highly endangered duck species, the Laysan teal, had a very successful 2007 breeding season at a refuge that was once part of its historic range, according to U.S. Geological Survey (USGS) and U.S. Fish & Wildlife Service biologists. This year's total tally of adult and fledgling Laysan ducks, now residing on Midway Atoll National Wildlife Refuge (NWR), rose during 2007 to approximately 200 ducks.

This is only the third year since these highly endangered birds, also known as Laysan teal, were trapped in the wild and carefully transported by ship from their only remaining population on Laysan Island to re-establish a second population.

"These rare, wild ducks could not co-exist with rats, migrate, or disperse away from Laysan Island, so a few birds were translocated by ship to restore the species to a larger range," USGS wildlife researcher Michelle Reynolds, coordinator for the project, explained. "Now Laysan ducks are found on three rat-free islands for the first time in hundreds of years and are flying between islands at Midway Atoll."



©unknown
Map of study sites: Laysan Island Hawaiian Islands National Wildlife Refuge and Midway Atoll, NWR. The source population occurs on Laysan and the translocated population on Midway Atoll NWR.



Comment on this SOTT Focus


---



Health & Wellness

---

Drug contaminated with HIV-AIDS in Iraq


Uruknet
2007-12-24 17:39:00

Fear spread among Babel Province residents after receiving reports from Babel medical officials that the "Albumin" drug was contaminated with HIV-AIDS.

Comment on this SOTT Focus


---


Food poisoning outbreak affects 53 Siberian children


RIA Novosti
2007-12-24 15:29:00

A total of 53 school children have been hospitalized following an outbreak of food poisoning in Buryatia, a republic in East Siberia, local officials said.

Doctors said the infection could have been caused by salads made from raw vegetables, which were served at the school canteen.

Meanwhile, Russia's consumer rights regulator, Rospotrebnadzor, said Monday that another possibility could be rodents at the warehouse where the vegetables were stored.

Comment on this SOTT Focus


---


Thanks to testosterone, men are more humorous than women

Chandan Das
NewsLocale
2007-12-24 14:16:00

If you ever wondered why the male comedians outnumber women in showbiz, the scientists now have an answer for you. Findings from a recent study in London claim that men are logically more comedic than women owing of the male hormone testosterone!

The study conducted by Professor Sam Shuster of Norfolk and Norwich University Hospital, says that testosterones found in males stimulate belligerence and this in turn, develops humor.

It may be mentioned here that nearly two years ago, on the basis of studies of brain patterns scientists at the Stanford University had asserted that a gender divide exists while it comes to appreciating humor.

Comment on this SOTT Focus


---


Man turns blue after using silver extract to treat a skin condition

Owen Williams
Showbiz Spy
2007-12-24 13:59:00

Paul Karason is feeling blue - literally.

The US man used a silver extract to treat a skin condition. But it ended up changing the colour of his face, leaving him with a deep blue tinge.

The 57-year-old was fair-skinned and freckled 14 years ago, until he developed a bad case of dermatitis caused by stress. When it got so bad that the skin on his face began to peel and crack he began to use a substance called colloidal silver, he told US television.



©Unknown



The product is said to be made by extracting silver from metal into water with an electrical current before it is drunk.

Comment on this SOTT Focus


---


What Science And History May Owe To Homeopathic Medicine


Medical News today
2007-12-23 23:36:00

A new scholarly written book describes hundreds of well-known and respected physicians, scientists, politicians, corporate leaders, and literary greats who used or advocated for homeopathic medicine.

Comment on this SOTT Focus


---


Camel 'plague' puzzles scientists

Robin McKie
The Guardian
2007-12-23 23:06:00

An unprecedented number of camels across North Africa and the Middle East died last year, researchers have discovered. The several thousand deaths have baffled scientists who are probing toxins, antibiotic pollution, viruses and even climate change as possible causes.


Comment on this SOTT Focus


---


The British Are Guzzling 30% More Alcohol Than Previously Thought


Medical News Today
2007-12-23 22:06:00

British people are consuming about one third more alcohol than previous estimates had calculated, mainly because there are more stronger beers, ciders and wines on the market than there used to be. While people's drinking habits/frequencies are not really changing, adjustments have to be made regarding the amount of total alcohol content that consumers are drinking.




©British Pub Crawling
The Olde Ship bar




Comment on this SOTT Focus


---


Short legs signal increased risk of liver disease - But long enough to reach the ground


Reuters Health
2007-12-23 21:57:00

Women with short legs may have a higher risk of liver disease, with both probably caused by diet or other factors early in life, British researchers reported.

Comment on this SOTT Focus


---


New guidelines boost folic acid recommendations

Andre Picard
Globe and Mail
2007-12-23 21:29:00

Women of childbearing age should increase their intake of folic acid to five milligrams a day to protect against common birth defects, according to new Canadian guidelines.



©Adam, Inc.
Women who are thinking of becoming pregnant or who are pregnant often require additional supplementation of folic acid. Adequate folic acid is important for pregnant women because it has been shown to prevent some kinds of birth defects, including neural tube defects such as spina bifida. Many foods are now fortified with folic acid to help prevent these kinds of serious birth defects.



Comment on this SOTT Focus


---


Flashback: Inconclusive conclusions: Folic Acid in bread is dangerous

Lucy Cockcroft
Telegraph UK
2007-10-31 02:07:00

Adding folic acid to bread in an attempt to cut birth defects may lead to serious health problems, scientists have warned.



©Adam, Inc.
Folate (folic acid) is necessary for the production of red blood cells and for the synthesis of DNA (which controls heredity and is used to guide the cell in its daily activities). Folic acid also helps with tissue growth and cell function. In addition, it helps to increase appetite when needed and stimulates the formation of digestive acids.






Comment on this SOTT Focus


---


'Bubble boy' develops leukaemia


BBC News
2007-12-23 19:48:00

One of the boys with no immune system being treated with pioneering gene therapy at Great Ormond Street has developed leukaemia, his doctors say.



©BBC
Without treatment, affected children have to be kept in sterile conditions.




Comment on this SOTT Focus


---


Study suggests some brain injuries reduce the likelihood of post-traumatic stress disorder


NIH/National Institute of Neurological Disorders and Stroke
2007-12-23 13:32:00

A new study of combat-exposed Vietnam War veterans shows that those with injuries to certain parts of the brain were less likely to develop post-traumatic stress disorder (PTSD). The findings, from the National Institutes of Health (NIH) and the National Naval Medical Center, suggest that drugs or pacemaker-like devices aimed at dampening activity in these brain regions might be effective treatments for PTSD.

PTSD involves the persistent reliving of a traumatic experience through nightmares and flashbacks that may seem real. Twenty percent to 30 percent of Vietnam vets (more than 1 million) have been diagnosed with PTSD, and a similar rate has been reported among Hurricane Katrina survivors in New Orleans. Public health officials are currently tracking the disorder among soldiers returning from Iraq. Yet, while war and natural disasters tend to call the greatest attention to PTSD, it's estimated that millions of Americans suffer from it as a result of assault, rape, child abuse, car accidents, and other traumatic events.

Previous studies have shown that PTSD is associated with changes in brain activity, but those studies couldn't determine whether the changes were contributing to the disorder or merely occurring because of it.

Comment on this SOTT Focus


---


New bird flu outbreak reported in Poland


RIA Novosti
2007-12-23 13:07:00

A fresh, eighth, outbreak of H5N1 bird flu has been confirmed in the north of the country, where the deadly virus was discovered earlier this month, the chief sanitary official said on Saturday.

Ewa Lech said the virus was confirmed at poultry farms in the village of Sadlowo Parcele, where 190,000 egg-laying hens are found.

Comment on this SOTT Focus


---


Italian rush for vaccines after meningitis deaths


EuroNews
2007-12-23 12:59:00

Worried residents in northern Italy are flooding vaccination centres after three deaths from bacterial meningitis.

Health authorities in the town of Treviso have already given vaccines to a thousand people and have enough to treat up to 18,000 more.

Comment on this SOTT Focus


---


Losing Your Hearing? Here's How to Restore Your Hearing Naturally


Mercola.com
2007-12-23 05:52:00



©n/a



If you have trouble hearing, or notice that your hearing is not as good as it used to be, listen up.

Age-related hearing loss may be retrievable, according to Dr. Jonathan Wright, MD, medical director of the Tahoma Clinic in Washington.

By supplementing three patients with the bioidentical hormone aldosterone, all of the men -- who were either losing their hearing or who had lost a lot of their hearing -- were able to regain much of what had been lost.

Comment on this SOTT Focus


---



Science & Technology

---

Caught In The Act: The Dynamic Dance Of Enzymes


Medical News Today
2007-12-23 23:53:00

In a new study in Nature, Brandeis University Howard Hughes Medical Investigator Dr. Dorothee Kern and collaborators pull back the curtain on the secret lives of enzymes, the ubiquitous proteins that catalyze chemical reactions in the cell.



©Howard Hughes Medical Institute
Dr. Dorothee Kern Ph.D. Professor of Biochemistry





Comment on this SOTT Focus


---


Small Asteroid Caused Mysterious 1908 Blast, Study Says

Brian Handwerk
National Geographic News
2007-12-21 18:33:00

A huge explosion that devastated a swath of Siberia a century ago was caused by an asteroid that was much smaller than had previously been believed, according to new research.

The blast produced an enormous fireball over the Tunguska region of northwestern Russia in June 1908 (see map). The so-called Tunguska event leveled trees up to 10 miles (16 kilometers) away.

New supercomputer models of the event show that the devastation may have been the result of a surprisingly small asteroid that never hit the ground.

Comment on this SOTT Focus


---


Bahamas "Blue Hole" Yields Pre-Human Fossil Treasures

Brian Handwerk
National Geographic News
2007-12-17 13:54:00

A unique "blue hole" is giving expert divers and scientists a chance to travel back in time for a rare glimpse of life in the pre-human Bahamas.



©PNAS/National Academy of Sciences
The well-preserved skull of an extinct bird called the Bahamas caracara was found in Sawmill Sink, a deep "blue hole" that has yielded a treasure trove of fossils dating from pre-human Bahamas. A new study about Sawmill Sink says that some of the more unusual finds are the remains of ancient tortoises and crocodiles previously unknown to exist in the West Indies. The discovery locations of tortoise ("t") and croc ("C") fossils are indicated in a map of the sinkhole.




Comment on this SOTT Focus


---


Strange object found on Mars


CNews
2007-12-22 13:43:00

Alexander Novgorodov, the reader of the portal R&D.CNews from Moscow Region, has pointed to an object of unusual morphology found on Mars images made by the spacecraft Mars Reconnaissance Orbiter.



©NASA
Unusual mountain formation on Mars



On the images taken from the orbit an unusual mountain formation is depicted, which seems to have resulted from weathering (erosion) and is located amid the frozen ocean. The given formation drop-like shape (in section), its evidently erosion origin and the unusual structure at the base, which might be conventionally called a 'door' for its physical resemblance, are of interest.



©NASA
The door-like structure at the base of the mountain formation.



Comment on this SOTT Focus


---


How Mars Could Have Been Warm And Wet But Limestone-Free

David Chandler
marsdaily.com
2007-12-23 10:57:00

Planetary scientists have puzzled for years over an apparent contradiction on Mars. Abundant evidence points to an early warm, wet climate on the red planet, but there's no sign of the widespread carbonate rocks, such as limestone, that should have formed in such a climate. Now, a detailed analysis in the Dec. 21 issue of Science by MIT's Maria T. Zuber and Itay Halevy and Daniel P. Schrag of Harvard University provides a possible answer to the mystery.

In addition to being warmed by a greenhouse effect caused by carbon dioxide in the atmosphere, as on Earth, the early Mars may have had the greenhouse gas sulfur dioxide in its atmosphere. That would have interfered with the formation of carbonates, explaining their absence today.

It would also explain the discovery by the twin Mars rovers, Spirit and Opportunity, of sulfur-rich minerals that apparently formed in bodies of water in that early Martian environment. And it may provide clues about the Earth's history as well.



©unknown
Neither Man nor Limestone.



Comment on this SOTT Focus


---


Nanowire battery lasts 10 times longer


United Press International
2007-12-23 00:06:00



©u/a
disclaimer: image is for illustration purposes only



U.S. researchers say they've found a way to use silicon nanowires to create a new rechargeable lithium-ion battery.

Comment on this SOTT Focus


---


Months After Mummy Claim, DNA Still Lags

Anna Johnson
Associated Press
2007-12-22 17:08:00

CAIRO, Egypt - Months after Egypt boldly announced that archaeologists had identified a mummy as the most powerful queen of her time, scientists in a museum basement are still analyzing DNA from the bald, 3,500-year-old corpse to try to back up the claim aired on TV.


Comment on this SOTT Focus


---


China Raises 800-Year-Old Sunken Ship


Associated Press
2007-12-22 16:53:00

BEIJING - After 800 years at the bottom of the sea, a merchant ship loaded with porcelain and other rare antiques was raised to the surface Friday in a specially built basket, a state news agency reported.


Comment on this SOTT Focus


---


First Dec. 25 Xmas Tied to Pagan Shrine

Ariel David
Associated Press
2007-12-22 16:27:00

ROME - The church where the tradition of celebrating Christmas on Dec. 25 may have begun was built near a pagan shrine as part of an effort to spread Christianity, a leading Italian scholar says.

Italian archaeologists last month unveiled an underground grotto that they believe ancient Romans revered as the place where a wolf nursed Rome's legendary founder Romulus and his twin brother Remus.


Comment on this SOTT Focus


---


Songbirds offer clues to highly practiced motor skills in humans

Jennifer O'Brien
UCSF
2007-12-22 15:54:00

The melodious sound of a songbird may appear effortless, but his elocutions are actually the result of rigorous training undergone in youth and maintained throughout adulthood. His tune has virtually "crystallized" by maturity. The same control is seen in the motor performance of top athletes and musicians. Yet, subtle variations in highly practiced skills persist in both songbirds and humans. Now, scientists think they know why.

Their finding, reported in the current issue of "Nature," suggests that natural variation is a built-in mechanism designed to allow the nervous system to explore various subtle options aimed at maintaining and optimizing motor skills in the face of such variables as aging and injury.

Comment on this SOTT Focus


---


Mars rovers find new evidence of 'habitable niche': perilous third winter approaches

Lauren Gold
Cornell Chronicle
2007-12-22 15:41:00

Inch by power-conserving inch, drivers on Earth have moved the Mars rover Spirit to a spot where it has its best chance at surviving a third Martian winter -- and where it will celebrate its fourth anniversary (in Earth years) since bouncing down on Mars for a projected 90-day mission in January 2004.

Meanwhile, researchers are considering the implications of what Cornell's Steve Squyres, principal investigator for NASA's Mars Exploration Rover mission, calls "one of the most significant" mission discoveries to date: silica-rich deposits uncovered in May by Spirit's lame front wheel that provide new evidence for a once-habitable environment in Gusev Crater.



©NASA/JPL-Caltech/University of Arizona/Cornell/Ohio State University
Victoria Crater, about 800 meters (one-half mile) in diameter, has been home ground for NASA's Mars Exploration Rover Opportunity for more than 14 of the rover's first 46 months on Mars. This view shows the rover's path overlaid on an image of the crater taken by the High Resolution Imaging Science Experiment on NASA's Mars Reconnaissance Orbiter.



Comment on this SOTT Focus


---


Da Vinci drawings affected by mold

Colleen Barry
Associated Press
2007-12-22 15:22:00

Leonardo da Vinci's Codex Atlanticus, the largest collection of drawings and writings by the Renaissance master, has been infiltrated by mold, officials said Friday.

The extent of any damage is not yet known to the roughly 1,120-page Codex containing his drawings and writings from 1478-1519 on topics ranging from flying machines to weapons, mathematics to botany.

But officials say any conservation measures will be very expensive and there are no funds for the work.



©Unknown
Codex Atlanticus



Comment on this SOTT Focus


---


Asteroid may hit Mars in next month

Alicia Chang
Associated Press
2007-12-22 10:08:00

LOS ANGELES - Mars could be in for an asteroid hit. A newly discovered hunk of space rock has a 1 in 75 chance of slamming into the Red Planet on Jan. 30, scientists said Thursday.

"These odds are extremely unusual. We frequently work with really long odds when we track ... threatening asteroids," said Steve Chesley, an astronomer with the Near Earth Object Program at NASA's Jet Propulsion Laboratory.


Comment on this SOTT Focus


---


Mars Magic: Red Planet Shines Bright

Space.com Staff
livescience.com
2007-12-21 19:04:00

Mars is closer to Earth now than any time until the year 2016, offering skywatchers a great look.

The Hubble Space Telescope took advantage of the opportunity, too, photographing the red planet earlier this month. The images were pasted together into a video showing Mars' full rotation.

The red planet is now the brightest "star" in the evening sky, easily visible by mid-evening until dawn. It comes closest to the Earth today at 6:46 p.m. EST, when it will be 54,783,381 miles (88,165,305 kilometers) from us.

Mars looks like an orange star to the naked eye, but it's revealed as a disk with many features in modest telescopes. It will put on a good show all month.


©NASA, ESA, the Hubble Heritage Team (STScI/AURA), J. Bell (Cornell University), and M. Wolff (Space Science Institute, Boulder)
Mars makes its closest approach since 2003 on Dec. 18, 2007 at 6:46 p.m. EST.



Comment on this SOTT Focus


---


Full Moon Meets Mars

Joe Rao
livescience.com
2007-12-21 18:58:00

If skies are clear in your area on Sunday night, Dec. 23, you'll be able to partake in a rather unusual sight as the full moon appears to glide very closely above the planet Mars.

Mars, which made its closest approach to the Earth on Dec. 18, will be only hours from a Christmas Eve opposition with the sun and is now shining prominently with a bright yellow-orange glow.

And if you're favorably positioned in certain parts of the Pacific Northwest, western Canada, or Alaska, you'll actually see the moon occult (hide) Mars for a short time as the pair sits low above the east-northeast horizon. A similar encounter in 2003 created a great photo opportunity.



©unknown
Look east on the evening of December 23 to see the Moon and Mars so close together that you'll be able to see them in the same pair of binoculars.



Comment on this SOTT Focus


---



Our Haunted Planet

---

San Diego: Strange lights seen in night sky


signonsandiego.com
2007-12-23 18:26:00

Residents in Oceanside and Point Loma called to ask about mysterious lights that appeared in the sky at sunset Saturday. Both men reported two parallel orange lights that appeared for three or four minutes. One said the lights moved from north to west, then went straight up and disappeared.

Comment on this SOTT Focus


---


MoD to open British UFO X-files

Aislinn Simpson
Telegraph
2007-12-23 13:47:00

Top-secret details about hundreds of sightings of Unidentified Flying Objects are to be released for public viewing in response to the nation's continuing fascination with the subject.

The Ministry of Defence will release a total of 160 files dating back to that time to the National Archives in Kew.

The first files will be made available in Spring 2008 and the process is expected to take three years.

Comment on this SOTT Focus


---


Flashback: California: Motorist reports strange object in sky above I-5 freeway


North County Times
2007-11-29 13:36:00

A motorist who is a high school football coach is seeking more information about a strange object he says he saw in the skies above Camp Pendleton late Tuesday.

Heading south on Interstate 5 at about 10:45 p.m., Tony Paopao said he and his wife saw what appeared to be a large, brightly lit flying vehicle pass overhead and briefly hover in place, before heading toward the mountains of Camp Pendleton and then out of sight.

"It was about 100 yards up. It was too low to be a plane and it was too fast and too quiet to be a helicopter," Paopao said. "I'm just curious if anybody saw what I saw."

Comment on this SOTT Focus


---



Don't Panic! Lighten Up!

---

Baby Jesus statue gets GPS for Christmas


Associated Press
2007-12-24 00:29:00

BAL HARBOUR, Fla. - A baby Jesus statue here is getting a Global Positioning System for Christmas. The statue, part of a nativity scene, will be equipped with the device after the previous statue went missing, even though it had been bolted down.

Comment on this SOTT Focus


---


Clinton urges Iowa voters to caucus on wrong day


Reuters
2007-12-23 23:34:00

DES MOINES - Democratic presidential hopeful Hillary Clinton may have shot herself in the foot trying to get Iowa voters to pledge support to her -- she is encouraging them to go caucus on January 14, 11 days too late.

Comment on this SOTT Focus


---


Pope converts to New Labour


NewsBiscuit
2007-12-23 18:44:00



©NewsBiscuit



Pope Benedict XVI has sent shockwaves throughout the Catholic Church by announcing his conversion to the faith of New Labour.

Comment on this SOTT Focus


---


One-third of Canadian adults believe in Santa Claus


Winnipeg Free Press
2007-12-23 12:52:00

Yes, Virginia, a whopping eight million Canadians believe in Santa Claus -- and that figure doesn't include children.

According to a national survey that asked adult men and women if they put faith in the Fat Man, nearly one-third of Canucks "personally believe in Santa."

Middle-age Canadians were more likely to profess their allegiance to Old Saint Nick (37 per cent) than those older or younger than themselves (32 per cent and 22 per cent, respectively).

Comment on this SOTT Focus


---


Satire: Rove Resigns To Spend More Time In Shadows


The Onion
2007-12-22 21:18:00

WASHINGTON - Longtime political adviser and Republican strategist Karl Rove announced Aug. 13 that he would step down from his role as White House deputy chief of staff to spend more time in the shadows and devote his energy to the things he really cares about, such as creeping, slithering, and disappearing for all time into an ever-darkening realm shut off from hope and goodness.


Comment on this SOTT Focus


---


Santa on Cross Protests Commercialism


Associated Press
2007-12-22 16:56:00

BREMERTON, Wash. - Art Conrad has an issue with the commercialism of Christmas, and his protest has gone way beyond just shunning the malls or turning off his television. The Bremerton resident nailed Santa Claus to a 15-foot crucifix in front of his house.


Comment on this SOTT Focus


---


Revealed: The seven great "medical myths"

Peter Griffiths
Reuters
2007-12-22 00:52:00



©REUTERS/Yonathan Weitzman
A lone traveller reads a newspaper in Ben-Gurion international airport near Tel Aviv March 21, 2007. Reading in dim light won't damage your eyes and is a well-worn theory among seven "medical myths" exposed in a paper published on Friday in the British Medical Journal, which traditionally carries light-hearted features in its Christmas edition.



Reading in dim light won't damage your eyes, you don't need eight glasses of water a day to stay healthy and shaving your legs won't make the hair grow back faster.

Comment on this SOTT Focus


---





---


Remember, we need your help to collect information on what is going on in your part of the world!
Send your article suggestions to: sott(at)signs-of-the-times.org


---


Click here to return to the Signs of the Times Archive

Click here for today's Signs Page