---
Sections on today's Signs Page:
---
SOTT Focus
---
No new articles.
Best of the Web
---
No new articles.
U.S. News
---
One Nation, Under a One Party System: Bill Clinton, 'George H.W. Bush will help President Hillary'


CNN
2007-12-18 17:10:00

Former President Bill Clinton said Monday that the first thing his wife Hillary will do when she reaches the White House is dispatch him and his predecessor, President George H.W. Bush, on an around-the-world mission to repair the damage done to America's reputation by the current president - Bush's son, George W. Bush.

Comment on this SOTT Focus

---

New Jersey Governor Signs Bill Ending Executions

Jeremy W. Peters
New York Times
2007-12-18 15:46:00

Few other issues have prompted the kind of intensity and conviction that Gov. Jon S. Corzine shows when he talks about preventing even one more execution.

On Monday, those sentiments were on full display as he signed a bill repealing New Jersey's death penalty and then commuted the death sentences of eight death row inmates to life in prison with no chance of parole, making the state the first in a generation to abolish capital punishment.

Comment on this SOTT Focus

---

Retired theologian rattles roots of religion

David Yonke
The Blade
2007-12-18 10:29:00

For a genteel, erudite, and personable cleric, Episcopal Bishop John Shelby Spong sure has a way of getting under people's skin.

The 76-year-old retired bishop of the Episcopal Diocese of Newark is a theologian who believes the Bible is "time-bound and time-warped" by the first-century Jewish culture in which it was written. He is on a mission to change the way people look at the Bible and at Jesus, stating that he wants to "break Jesus out of the boundaries of antiquity and explain it in the 21st century."

Comment on this SOTT Focus

---

'Brave New World' author Aldous Huxley's widow, writer Laura Archera Huxley, dies at 96

Robert Jablon
Associated Press
2007-12-18 09:53:00

Laura Archera Huxley, the widow of "Brave New World" author Aldous Huxley who preserved his legacy for nearly half a century while authoring her own books and continuing his exploration of human potential, has died. She was 96.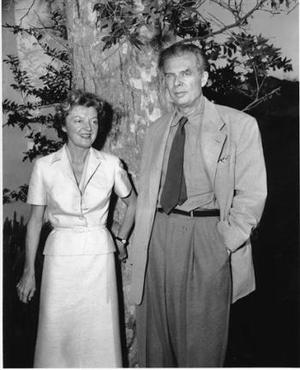 ©AP
Aldous Huxley, British novelist, and his bride of eight days, Laura, are pictured in their home in the Hollywood section of Los Angeles on March 27, 1956. They married in Yuma, Ariz. Huxley's widow, who preserved his legacy for nearly half a century after his death while authoring her own books and continuing his exploration of human potential, has died. She was 96. She died from cancer on Thursday night, Dec. 13, 2007, at her Hollywood Hills home, said Karen Pfeiffer, her legal ward
Comment on this SOTT Focus
---

Conservative Student Admits Faking Attack

Winnie Hu
New York Times
2007-12-18 09:28:00

A Princeton University junior who claimed to have been beaten by two men in black ski caps for his conservative views admitted on Monday that he made up the attack, according to Princeton Township police officials.

Comment on this SOTT Focus

---

The wonders of privatization! Thousands lack power 8 days after storm

Sean Murphy
Associated Press
2007-12-18 00:36:00

OKLAHOMA CITY - More than 100,000 homes and businesses remained without power Monday, more than a week after an ice storm battered Oklahoma, and the emergency has outlasted the ability of many residents to pay for it.

Some depleted their funds stocking up on food before the storm that went bad after the power went out, while others used money to stay in a hotel, thinking power would be restored within a day or two.


Comment on this SOTT Focus

---

House passes $516 billion spending bill

Andrew Taylor
Associated Press
2007-12-18 00:25:00

WASHINGTON - The House Monday approved a $516 billion measure funding 14 Cabinet agencies and funding for troops in Afghanistan, setting the stage for a year-end budget deal with the White House.

President Bush has signaled he'll ultimately sign the measure - assuming up to $40 billion more is provided by the Senate for the Iraq war - despite opposition from GOP conservatives.



Comment on this SOTT Focus

---

White House told to detail Christian leader visits

Randall Mikkelsen
Reuters
2007-12-18 00:18:00

WASHINGTON - A U.S. judge ordered the Secret Service on Monday to disclose records of visits by nine prominent conservative Christian leaders to the White House and Vice President Dick Cheney's residence.

The ruling, in response to a legal watchdog group's suit, could shed light on the influence leaders like James Dobson of Focus on the Family have had on President George W. Bush's administration. It may also affect legal efforts to force the release of visiting records of convicted lobbyist Jack Abramoff and other similar cases.

Comment on this SOTT Focus

---

NY couple in slavery case found guilty


Reuters
2007-12-18 00:15:00

NEW YORK - A wealthy New York couple were found guilty on Monday of forced labor charges after being accused of keeping two Indonesian women as slaves in a dramatic verdict that resulted in the wife fainting.

Indian-born Varsha Mahender Sabhnani, 35, and Mahender Murlidhar Sabhnani, 51, were convicted of charges including forced labor, harboring illegal residents and conspiracy in what prosecutors dubbed a "case of modern-day slavery."

Comment on this SOTT Focus

---

Senate postpones consideration of spy bill

Thomas Ferraro
Reuters
2007-12-18 00:06:00

WASHINGTON - Senate Democratic leader Harry Reid, facing stiff opposition, on Monday abruptly postponed until next month consideration of a measure to give immunity to telephone companies that participated in President George W. Bush's warrantless domestic spying program.

"Everyone feels it would be to the best interest of the Senate that we take a look at this when we come back after the first of the year," Reid, facing a pile of unfinished work, said on the Senate floor.

Comment on this SOTT Focus

---

Ohio Elections Official Calls Voting Machines Flawed

Bob Driehaus
New York Times
2007-12-15 19:14:00

All five voting systems used in Ohio, a state whose electoral votes narrowly swung two elections toward President Bush, have critical flaws that could undermine the integrity of the 2008 general election, a report commissioned by the state's top elections official has found.

"It was worse than I anticipated," the official, Secretary of State Jennifer Brunner, said of the report. "I had hoped that perhaps one system would test superior to the others."

Comment on this SOTT Focus

---

Border Patrol Fires Tear Gas Into Mexico

Elliot Spagat
Associated Press
2007-12-17 15:31:00

New Procedure: Target Areas Rather than Individuals

SAN DIEGO - The Border Patrol says its agents were attacked nearly 1,000 times during a one-year period along the Mexican border, typically by assailants hurling rocks, bottles and bricks. Now the agency is responding with tear gas and powerful, pepper-spray weapons, including firing into Mexico.

The counteroffensive has drawn complaints that innocent families are being caught in the crossfire.

Comment on this SOTT Focus

---
UK & Euro-Asian News
---
China faces acute problem of ageing society


RIA Novosti
2007-12-18 14:38:00

Chinese population authorities announced that 21.4% of the world's elderly people live in China and their number is set to rise 3.2% annually, national media said on Tuesday.

According to the data of the China National Committee on Aging (CNCA), the number of people above 60 has increased by 18.3%, to 149 million in 2006. Elderly people make up 11.3% of the country's population and the figure will rise to 248 million in 2020, and to 437 billion, or a quarter of the Chinese population, in 2050.

Comment on this SOTT Focus

---

Three men convicted of abusing 136 boys in east Siberia


RIA Novosti
2007-12-18 14:22:00

A court in Krasnoyarsk, east Siberia, has sentenced three men to between 9-15 years in prison for sexually abusing young boys in a trial that lasted more than a year, a court spokesperson said on Tuesday.

"The defendants in the case, unprecedented for the city, are three men, two of whom have children of their own," Irina Rukosuyeva said, adding their victims were young boys from problem families.

Comment on this SOTT Focus

---

UK: Millions more ID records go missing from a "secure facility" in the US

Philip Webster
The Times
2007-12-18 14:05:00

The records of more than three million British learner drivers have gone missing from a "secure facility" in the US, an embarrassed Government admitted last night.

Labour's dismal autumn hit another low as, minutes after ministers admitted that they still did not know the whereabouts of two discs holding sensitive information on 25 million people, they were forced to confess they had lost the details of all candidates for the driving theory test between 2004 and 2007.

Opposition politicians raised questions last night over whether the Government could safely go ahead with plans to place the records of 50 million health service patients on an electronic database, its "spy-in-the-sky" scheme to monitor every journey by 33 million vehicles, and national ID cards.

Comment on this SOTT Focus

---

Left Bank girl and Right Bank boy: Now Sarkozy goes public with new amour

Angelique Chrisafis
Guardian
2007-12-18 13:01:00

· President criticised for use of celebrity media
· Private life overshadows political difficulties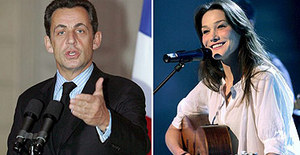 ©Vidon/Carstensen/EPA
Nicolas Sarkozy, who is dating Carla Bruni, a musician and former model.
Comment on this SOTT Focus
---

Ukraine parliament backs Timoshenko as PM


Itar-Tass
2007-12-18 12:40:00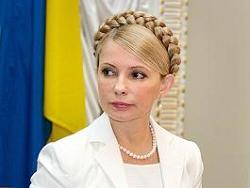 ©n/a



Ukraine's parliament voted on Tuesday for the appointment of Yulia Timoshenko as Prime Minister. Timoshenko won with 226 out of 450 votes.

The ex-head of the Ukrainian Security Council and deputy from the Our Ukraine-People's Self-Defence bloc, Ivan Plyushch, abstained from voting.

Deputy Ivan Spodarenko was absent.

Comment on this SOTT Focus

---

Russian general says Pentagon is seeking direct confrontation with Moscow


Associated Press
2007-12-15 08:39:00

Russia's top military officer on Saturday accused the United States of seeking direct confrontation with Moscow and warned again that U.S. plans to deploy missile defenses in Europe would destabilize the continent.

Gen. Yuri Baluyevsky spoke at a joint news conference along with Deputy Foreign Minister Sergei Kislyak, who repeated that Russia would not increase troop levels on its western border even after suspending participation in a key arms treaty.

Comment on this SOTT Focus

---

Greece: Mother exploited children as sex slaves and authorities knew for years


eKathimerini
2007-12-18 05:53:00

Authorities had received several complaints over the past four years regarding the abuse of three children, whose alleged exploitation as sex slaves by their mother came to light last Friday, but took inadequate action to protect them, it was revealed yesterday.

At least three people reported their concerns regarding the two brothers, aged 8 and 9, and the 11-year-old sister - one four years ago, the next eight months ago and the latest in October, sources told Kathimerini.

Comment on this SOTT Focus

---
Around the World
---
Vietnam, India to strengthen defense cooperation


Xinhua
2007-12-18 18:02:00

Vietnam and India have agreed to negotiate to sign an agreement on their defense cooperation, local newspaper Vietnam News reported Tuesday.

During the meeting between Vietnamese Prime Minister Nguyen TanDung and visiting Indian Defense Minister Shri AK Antony here Monday, the two sides also discussed issues on fostering the bilateral cooperation on navies and air defense forces, and training.

Comment on this SOTT Focus

---

Castro hints might step down


RIA Novosti
2007-12-18 14:32:00

Ailing Cuban leader Fidel Castro, who has not been seen in public since summer 2006, suggested he might step down, Spanish news agency EFE said on Tuesday.

Debates as to whether the 81-year-old leader would resume the leadership have continued since Castro temporarily handed over power to his brother Raul in July 2006, after undergoing intestinal surgery.

Comment on this SOTT Focus

---

Angola: Actors gunned down while filming crime caper


IOL
2007-12-18 14:00:00

Two actors were shot dead and another three were wounded while filming a crime drama in the Angolan capital Luanda on Monday when police mistook them for armed robbers, their director said.

According to Radical Ribeiro, a director for the Banda Mulundi production company, the tragedy happened as a crowd of onlookers were watching a scene being filmed in the crime-ridden suburb of Sambila.

"We saw the (police) pick-up speeding towards us. It looked empty but then suddenly it stopped and people appeared on the back and without asking any questions they started shooting at everybody at close range," a stunned Ribeiro told reporters.

Comment on this SOTT Focus

---

World food stocks dwindling rapidly, UN warns

Elisabeth Rosenthal
International Herald Tribune
2007-12-17 08:48:00

In an "unforeseen and unprecedented" shift, the world food supply is dwindling rapidly and food prices are soaring to historic levels, the top food and agriculture official of the United Nations warned Monday.

The changes created "a very serious risk that fewer people will be able to get food," particularly in the developing world, said Jacques Diouf, head of the UN Food and Agriculture Organization.

Comment on this SOTT Focus

---

The Biggest Global Warming Crime in History

Cahal Milmo
AlterNet
2007-12-17 23:26:00

The Canadian wilderness is set to be invaded by BP in an oil exploration project dubbed 'the biggest global warming crime' in history.

BP, the British oil giant that pledged to move "Beyond Petroleum" by finding cleaner ways to produce fossil fuels, is being accused of abandoning its "green sheen" by investing nearly £1.5bn to extract oil from the Canadian wilderness using methods which environmentalists say are part of the "biggest global warming crime" in history.

Comment on this SOTT Focus

---
Big Brother
---
UK Police Taser innocent man eight times

Robert Booth
The Guardian
2007-12-18 14:22:00

Police fired a 50,000-volt Taser into the head of a 45-year-old company director who later proved to be unarmed and innocent. Daniel Sylvester, the owner of an east London security firm employing 65 staff to guard council offices, pubs and nightclubs, was driving home on October 20 when he was stopped by armed police because of "firearms related intelligence".

Comment on this SOTT Focus

---

10-Year-Old Girl Arrested At School for Cutting Food with Knife


WFTV
2007-12-18 09:36:00

A 10-year old Ocala girl brought her lunch to school and a small kitchen knife to cut it. She now faces a felony charge after being arrested. The school and the sheriff's office disagree on the reason for the arrest.

Comment on this SOTT Focus

---

Police brutality up 25% since 9-11

Kevin Johnson
USA Today
2007-12-18 09:31:00

Federal prosecutors are targeting a rising number of law enforcement officers for alleged brutality, Justice Department statistics show. The heightened prosecutions come as the nation's largest police union fears that agencies are dropping standards to fill thousands of vacancies and "scrimping" on training.

Comment on this SOTT Focus

---

Phone and Email Data-Mining Used in War on Drugs, Too

Ryan Singel
Wired
2007-12-18 07:04:00

Do not let it be said that the Bush administration forgot the War on Drugs while waging the War on Terror.

The Drug Enforcement Agency, for one, continued and expanded the data mining records of phone calls and emails from the United States to Latin American countries in order to catch smugglers, according to the New York Times. The program began under President Clinton in he 1990s and expanded under President Bush.

Comment on this SOTT Focus

---

Minneapolis police apologize for raid that led to man defending his family from SWAT team

David Chanen
Minneapolis Star Tribune
2007-12-18 06:55:00

Sunday's high-risk search by Minneapolis police of a house on the city's North Side was to be one of the last pieces in a long-term investigation focused on violent gang members.

But minutes after a SWAT team entered the house about 12:30 a.m., things went awry. The homeowner, a father of six, thinking the intruders were burglars, fired at them through a bedroom wall. He hit two officers, one in the back and one in the head, but both were uninjured because they were wearing protective armor. Police shot back, but did not hit him.


Comment on this SOTT Focus

---

France: Group Bombs Seven Speed Cameras


TheNewspaper.com
2007-12-14 06:47:00

An anti-speed camera group demands that the French government lower taxes or it will continue destroying its revenue machines.

Comment on this SOTT Focus

---

Israel: New law allows authorities access to cell phone, Internet info


Ynet
2007-12-18 04:26:00

Amendment to criminal law passes second, third readings; will allow police access to private information such as cell phone location, IP address, SIM card info. Bill carried with 35 for, 5 against.

The Communication Information bill passed its second and third readings in the Knesset on Monday. The motion was carried with a majority of 35 voting for and 5 voting against.

The bill amends the criminal law and is expected to grant the police the authority to more effectively fight crime, by allowing them access to technical communication information including previously held privileged, such as IP addresses, cell phone location and SIM card details.

The one reservation included in the bill pertains to the immunity of people with so-called "sensitive professions", meaning lawyers, doctors, religious leaders and others.

The new law defines three manners in which the police may access privileged information: Using a court order; in emergency situations, a police officer with the rank of chief superintendent or higher may authorize access; or through an information database set to be transferred to the police.

Comment on this SOTT Focus

---

White House Repeats Veto Threat On Domestic Spying Bill

Corey Boles
Dow Jones Newswires
2007-12-17 10:38:00

The White House repeated its threat to veto legislation renewing the Bush administration's warrantless wiretapping program unless the measure includes retroactive immunity for phone companies that allegedly participated in the program.

The Foreign Intelligence Surveillance Act is scheduled to come to the Senate floor for debate and possible vote Monday.

Comment on this SOTT Focus

---
Axis of Evil
---
Mazuz to Winograd: IDF acted in accordance with international law


Ynet
2007-12-18 14:42:00



"The most legislated war in the history of Israel, maybe the world"

- this is how Atorney General Menachem Mazuz characterized the Second Lebanon War. On Tuesday afternoon, the Winograd Commission published Mazuz's testimony before the investigative body, which mostly addresses the questions of legality and morality in relation to the rules of war.

Comment on this SOTT Focus

---

French Author investigated for Outing 9-11 Secrets

Verena Von Derschau
Associated Press
2007-12-07 07:24:00

A French anti-terrorist judge has filed preliminary charges against an investigative journalist and author accused of publishing defense secrets, judicial officials said Friday.

Comment on this SOTT Focus

---

Flashback: The War on Liberals

David Neiwert
Cursor
2003-08-25 08:59:00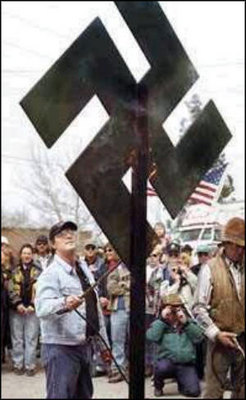 ©Robin Loznak
ANTIGREEN FERVOR: John Stokes, a Kalispell, Mont., radio host, lit a green swastika on fire at an 'anti-Earth Day' rally he helped organize.
Comment on this SOTT Focus
---
Middle East Madness
---
Turkey carries out ground raid into Iraq

Yahya BarZanji
Associated Press
2007-12-18 17:23:00

Turkey sent hundreds of troops about 1 1/2 miles into northern Iraq early Tuesday in an operation against Kurdish rebels but then withdrew them later in the day, Kurdish officials said.

The raid came two days after Turkey carried out airstrikes against rebel positions in the Iraqi Kurdish region of northern Iraq, and Turkey claimed it inflicted a "heavy blow" to the rebels.

Comment on this SOTT Focus

---

Israeli airstrikes in Gaza kill at least 13 Palestinians

Ilene R. Prusher
The Christian Science Monitor
2007-12-18 14:30:00

At least 13 Palestinians were killed in Israeli airstrikes in the Gaza Strip, intensifying tensions that many analysts say may presage a larger-scale Israeli ground offensive in Gaza.

The strikes targeted Islamic Jihad, which has stepped up its launches of low-grade Qassam rockets into Israel in recent weeks. One of those killed was Majid el-Harazin, a commander of Islamic Jihad's military arm, in Gaza City Monday evening. Later, Israeli strikes killed Karim Dahduh, who Israel says led rocket production for Islamic Jihad

Comment on this SOTT Focus

---

U.S. Helps Turkey Hit Rebel Kurds In Iraq

Ann Scott Tyson and Robin Wright
Washington Post
2007-12-18 12:24:00

The United States is providing Turkey with real-time intelligence that has helped the Turkish military target a series of attacks this month against Kurdish separatists holed up in northern Iraq, including a large airstrike on Sunday, according to Pentagon officials.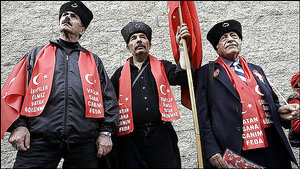 ©Murad Sezer - Associated Press
Turkish military veterans wearing scarves reading "Martyrs never die! The nation will never be divided!" take part in a protest at the U.S. Consulate in Istanbul ahead of a visit by Secretary of State Condoleezza Rice in November.
Comment on this SOTT Focus
---

Student tells of Gaza siege hell

Paddy McGuffin
This is Bradford
2007-12-18 09:49:00

Bradford University student Khaled al-Mudallal is delighted to be back after spending six months trapped in Gaza by an Israeli siege - but he faces only a few weeks before his first catch-up exams.

Comment on this SOTT Focus

---

Turkish army sends soldiers into Iraq

Yahya Barzanji
Associated Press
2007-12-18 07:41:00

KIRKUK, Iraq - The Turkish army sent soldiers about 1.5 miles into northern Iraq in an overnight operation on Tuesday, Kurdish officials said. A Turkish official said the troops seeking Kurdish rebels were still in Iraq by midmorning.


Comment on this SOTT Focus

---

Blackwater in Baghdad: "It was a horror movie"

Jennifer Daskal
Salon
2007-12-18 07:17:00

New testimony from witnesses and victims provides the most in-depth, harrowing account to date of the U.S. security firm's deadly rampage in Iraq.



©Salon
L-R: The car of one of the victims; the injured arm of another of the victims; Ahmed Haythem and his mother, Mohasin, who were both killed in the shooting spree.



For Khalaf, a 38-year-old Iraqi, Sept. 16 started like many other sunny summer workdays. He donned his police uniform -- a white shirt, navy trousers and hat -- and headed to Baghdad's busy Nissour Square. By 7 a.m. he was out in the street, directing the flow of traffic coming from the multi-laned Yarmouk access road into the square. When he spotted four large all-terrain vehicles with guns mounted on top, he did what he always did. He stopped traffic and cleared the area for what he knew, from the tell-tale sign of the two accompanying helicopters, to be a security firm's convoy.

Comment on this SOTT Focus

---

Troop pullouts to leave only US in Iraq

Simon Lauder
ABC News (Australia)
2007-12-18 07:14:00

Nearly five years into the occupation of Iraq, the 'coalition of the willing' is about to lose two of its key supporters.

Comment on this SOTT Focus

---

UK has left behind murder and chaos, says Basra police chief

Mona Mahmoud, Maggie O'Kane and Ian Black
The Guardian
2007-12-18 07:09:00

Blunt assessment delivered as British hand over security to Iraqis

(Warning: The film below contains graphic images which some viewers may find distressing)