Printer Friendly Version
New Article! Co-opting the 9/11 Truth Movement
New Article! The Canary in The Mine
Pentagon Strike Flash Presentation by a QFS member
---
Picture of the Day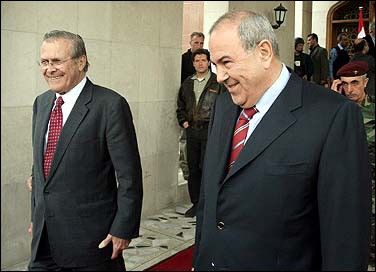 Rumsfeld visits with Iraqi Interim Prime Minister Iyad Allawi in central Baghdad. Upon hearing of the escalating violence in the country, Rummy reportedly told Allawi, "Everything is proceeding according to my plans" before cackling like a madman. (AFP Photo)
BAGHDAD (AP) - A car bomb detonated by remote control exploded Thursday in Baghdad, killing two Iraqis but missing a U.S. military convoy as insurgent violence claimed more than 50 lives.
Clashes between Iraqi police and guerrillas erupted along a major highway southeast of the capital. With violence on the rise after the Jan. 30 election, Iraqi officials announced they would seal the country's borders for five days this month around a major Shiite Muslim religious holiday. Last year during the holiday, about 180 people were killed in suicide attacks at Shiite shrines.
The car bomb detonated on Tahrir Square in the heart of Baghdad, shattering the vehicle and setting several other cars on fire. At least two Iraqis were killed and two others were wounded, U.S. military spokesman Lt.-Col. James Hutton said.
A U.S. military patrol had just passed through the area but there were no casualties, Hutton said.
Most of the violence Thursday targeted Iraq's security forces.
The biggest attack occurred in Salman Pak, 20 kilometres southeast of Baghdad, when insurgents attacked Iraqi policemen who came to look for weapons, showering them with machine-gun fire, rocket-propelled grenades and mortar rounds, police said.
Iraq's Interior Ministry said 14 policemen were killed, 65 wounded and six were missing after the two-hour gunbattle. Four insurgents also died in the fighting, the ministry said.
U.S. troops evacuated some of the wounded, the U.S. command said, and residents said helicopters were prowling the skies.
"We were on patrol to search for weapons," wounded policeman Waad Jassim said from his hospital bed.
"When we arrived, they opened heavy fire at us. There were many of them and some were charging out of houses."
Elsewhere, bodies of 20 Iraqi truck drivers who had been shot were found dumped on a road, their hands bound behind their backs, police Capt. Ahmed Ismail said. Some of the trucks were owned by the government, Ismail said.
Gunmen fired on an Iraqi police patrol Thursday in Baqouba, north of Baghdad, triggering a gunbattle that killed a civilian and wounded two police officers, officials said. Assailants also killed a police lieutenant in Baqouba.
Five bodies in Iraqi National Guard uniforms were found Thursday in the insurgent stronghold Ramadi, 113 kilometres west of Baghdad. Hospital director Ala al Ani said residents reported the slain men were among 13 guardsmen who went missing recently. Two insurgents were killed Thursday in clashes with U.S. forces north of Ramadi, residents and hospital officials said.
A strong explosion shook the Rahmaniyah neighbourhood of western Baghdad late Thursday and residents said the blast occurred near a small Shiite mosque. Witnesses said there were casualties but police had no report.
A videotape obtained Thursday showed gunmen killing four blindfolded men who identified themselves as Iraqi policemen. The video showed the four young men sitting cross-legged on the floor of a room. A date stamp on the video indicated it was recorded Feb. 3.
Several gunmen with assault rifles standing just steps away from the captives fired repeatedly at the men one by one, shooting them in the back of their heads.
Elsewhere, a body was found riddled with bullets in Mosul and in the northern oil centre Kirkuk, a roadside bomb exploded several minutes after a U.S. military patrol passed, killing one Iraqi, police said. In Baghdad, gunmen shot dead a hospital receptionist.
Election officials had expected to release final results Thursday from the vote for a National Assembly, provincial councils and a regional legislature for the autonomous Kurdish north. On Wednesday, however, election commission spokesman Farid Ayar said the deadline would not be met because ballots in about 300 boxes had to be recounted.
"We don't know when this will finish," Ayar said.
"This will lead to a little postponement in announcing the results."
BAGHDAD : US helicopters attacked an Iraqi police station overrun by rebels as the Islamic new year started with dozens more deaths at insurgent hands.
At least six police were killed in the rebel assault on the police station, while the rotting bodies of more than 20 drivers from a government food convoy were found in the same region south of the capital, dubbed the triangle of death, and a dozen people were killed in other violence.
The US military sent in helicopters after insurgents overran the police station at Salman Pak, following a siege that lasted several hours.
The rebels had fired anti-tank rockets at the building, police said.
"The insurgents did assume control of the police station temporarily," a US military spokesman told AFP. "We attacked them with helicopters, which fired missiles, and the insurgents fled."
The US spokesman said six police and an unknown number of insurgents were killed. An official at Kindi hospital in Baghdad said earlier that 42 police were wounded in the fighting and two had died in hospital.
The bodies of more than 20 truck drivers and four Iraqi police and soldiers were found in the same region. Their convoy had been attacked at least two days earlier, police said, but no one had dared touch them.
The convoy had been taking sugar to Baghdad for food warehouses which distribute monthly rations. They were attacked on the road from Salman Pak to nearby Suwairah.
In Baghdad, a car bomb exploded behind a US military patrol, killing at least two people and wounding five. The US patrol escaped unscathed.
Another bomb aimed at a US patrol in the northern oil city of Kirkuk left one civilian dead. And a civilian and a police officer were killed in attacks in the town of Baquba, north of Baghdad.
In the Sunni Arab heartland, three Iraqi soldiers were killed by a roadside bomb at Dhuluiyah, the army said, and the body of an interpreter for US forces was found near the key refinery town of Baiji.
At least one person was killed in an ambush in Baghdad's notorious Haifa Street district, a Sunni insurgent bastion which sees daily clashes.
The mounting rebel campaign has cast a shadow over the euphoria that followed Iraq's historic January 30 election.
Scores of policemen and soldiers have been killed since the polls, while politicians, officials and journalists have been targeted in drive-by shootings.
The authorities announced Iraq's land frontiers would be closed from February 17 to 22 for the annual Shiite religious festival of Ashura. [...]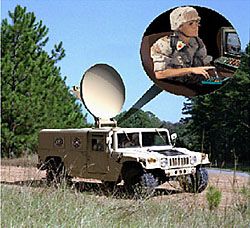 The Active Denial System uses millimeter-wave electromagnetic energy that can be directed at targets at a range of 1 kilometer.
The United States has developed a non-lethal microwave weapon for use in Iraq.


Officials said the vehicle, termed Sheriff, would contain the Active Denial System. The system uses millimeter-wave electromagnetic energy that can be directed at targets at a range of 1 kilometer, Middle East Newsline reported.
The ADS system would be downgraded for Iraqi deployment in urban areas, officials said. The modified weapon causes a burning sensation on the skin, causing the people to run away.
The Pentagon eventually plans to install the non-lethal, high-powered microwave weapon on a military vehicle. The deployment of the first platforms in Iraq would take place in September 2005.
The project is designed to give U.S. troops options to battle hostile crowds without the use of lethal weapons. Officials said in many cases Sunni insurgents fire weapons and rocket-propelled grenades from crowds to prevent U.S. retaliation.
The Sheriff would be deployed by the U.S. Army and Marines. The two services will receive up to six platforms, equipped with a system to intercept rocket-propelled grenades.
Officials said the military would not design a new vehicle for the Sheriff. Instead, the Army will probably use a Striker or M117 armored security vehicle while the Marines would obtain a Light Armored Vehicle.
The ADS could be expanded to autonomous vehicles or platforms, officials said. This would include the use of the Sheriff at Air Force bases and other military facilities.
VIENNA, Austria (AP) - The United States is seeking backing from allies in a possible bid to oust the head of the UN nuclear watchdog agency at a meeting later this month, diplomats and western government officials said Wednesday.
During the same Feb. 28 meeting of the International Atomic Energy Agency, Washington also will increase the pressure on Iran for allegedly trying to make nuclear weapons, the officials told The Associated Press.
Washington considers IAEA head Mohammed ElBaradei too soft on Iran and its alleged plans to make nuclear arms and the international community ineffective in dealing with the same perceived threat.
No U.S. comment was available for Washington's strategies for the upcoming IAEA board of governors meeting.
But several diplomats and government officials from IAEA member countries dismissed recent reports that the United States had given up attempts to unseat ElBaradei because of lack of support from other countries.
"They've been lobbying, and close friends have given them a good reception," said one of those familiar with the issue, who spoke on condition of anonymity.
Another said U.S. Undersecretary of State John Bolton and other senior State Department officials "were still lobbying the capitals." [...]
WASHINGTON - What CNN chief news executive Eason Jordan said, or didn't say, in Davos, Switzerland, last month has become a burgeoning controversy among bloggers and media critics.
Rep. Barney Frank, D-Mass., who attended the World Economic Forum panel at which Jordan spoke, recalled this week that Jordan said he knew of 12 journalists who were killed by coalition forces in Iraq.

At first, said Frank, "it sounded like he was saying it was official military policy to take out journalists." But Jordan later "modified" his remarks to say some U.S. soldiers did this "maybe knowing they were killing journalists, out of anger. ... He did say he was talking about cases of deliberate killing," Frank said.
Jordan denied that Monday night, saying he had been responding to Frank's comment that the 63 journalists who have been killed in Iraq were "collateral damage" in the war. "I was trying to make a distinction between 'collateral damage' and people who got killed in other ways," Jordan said last night. "I have never once in my life thought anyone from the U.S. military tried to kill a journalist. Never meant to suggest that. Obviously I wasn't as clear as I should have been on that panel."
In some of the cases, "with the benefit of hindsight, had more care been taken, maybe this could have been avoided," Jordan said, referring to shootings that involved mistaken identity. But, he said, "it's a war zone. Terrible things happen."
'He walked it back'
Two other panelists backed Jordan's account. David Gergen, editor at large at U.S. News & World Report, said he "sort of gasped" when Jordan spoke of journalists being "deliberately killed," but that Jordan "realized, as soon as he said it, he'd gone too far" and "walked it back." Jordan then expressed "a very deep concern about whether our soldiers on the ground level are using as much care as they should" when journalists are involved, said Gergen, who moderated the discussion.
BBC World Services Director Richard Sambrook, in a note to New York University journalism professor and blogger Jay Rosen, said Jordan was objecting to the phrase "collateral damage."
"He clarified this comment to say he did not believe they were targeted because they were journalists, although there are others in the media community who do hold that view (personally, I don't)," Sambrook wrote. "They had been deliberately killed as individuals - perhaps because they were mistaken for insurgents, we don't know. However the distinction he was seeking to make is that being shot by a sniper, or fired at directly is very different from being, for example, accidentally killed by an explosion."
No transcript exists of the Jan. 27 session, which was supposed to be off the record, and a videotape of the event has not been made public. The dispute erupted when Rony Abovitz, co-founder of the technology company Z-Kat, posted an account on the forum's Web site of what Jordan said, while also noting that he had backpedaled when challenged.
Conservative bloggers weigh in
This triggered widespread denunciations of Jordan by conservative bloggers, who have also criticized the mainstream media for not reporting the remarks.
"Why would Arab members of the audience come up and congratulate him for having the courage to speak the truth?" asked Jim Geraghty of National Review Online. "One of the most senior news execs in the world tells a crowd of dignitaries from around the globe that the U.S. military targeted a dozen journalists for death, and there is no (mainstream media) coverage of that?" wrote radio talk show host Hugh Hewitt. Edward Morrissey of the Captain's Quarters blog urged his senators in Minnesota to hold public hearings "to establish once and for all whether the U.S. military has a policy of assassinating and torturing journalists, in Iraq or anywhere else, and correct the terrible damage Mr. Jordan may have inflicted on our image abroad."
In the interview Monday night, Jordan said he and a group of other news executives have discussed with a top Pentagon official allegations by Iraqi employees of NBC, Reuters and al-Jazeera "who claimed to have been detained and tortured by the U.S. military. They all came out with horrific statements about what had been done to them."
At the World Economic Forum, participants say, the only specific case cited by Jordan was the April 2003 incident in which U.S. forces fired a tank round at Baghdad's Palestine Hotel, killing a cameraman employed by Reuters and another for the Spanish network Telecinco. Military spokesmen said the troops were responding to sniper fire from the hotel, which was known to house about 100 foreign journalists, and defended the shelling as "a proportionate and justifiably measured response."
But Jordan supplied a list of the other incidents, such as a tank firing on and killing Reuters cameraman Mazen Dana as he was filming outside Abu Ghraib prison in 2003. U.S. officials said the troops mistook Dana's camera for a rocket-propelled grenade launcher.
Frank said he found Jordan's remarks "troubling" and in a later phone conversation asked him for specifics about the journalistic casualties so he could make inquiries at the Pentagon. Jordan said Frank was responding to a note from him and that there had been a "misunderstanding" if the congressman expected a further response.
Sen. Chris Dodd, D-Conn., who was in the audience, "was outraged by the comments," said his spokesman, Marvin Fast. "Senator Dodd is tremendously proud of the sacrifice and service of our American military personnel."
No stranger to controversy
Jordan's comments have sparked controversy before. He drew widespread criticism in 2003 for saying in a New York Times op-ed piece that CNN had withheld information about some of Saddam Hussein's abuses out of concern for the network's Iraqi employees in Baghdad. "Withholding information that would get innocent people killed was the right thing to do, not a journalistic sin," Jordan told his staff in a memo.
Three CNN staffers have been killed in Iraq, two of them in January 2004 when the cars they were traveling in came under fire by insurgents.
Gergen said Jordan had just returned from Baghdad and was still "deeply distraught" over the journalists who have died in Iraq. "This was a guy caught up in the tension of the moment," Gergen said. "He deserves the benefit of the doubt."
A Broward County businessman has touched off a firestorm of controversy with an Internet report that the news chief of CNN accused American troops in Iraq of deliberately killing journalists.
"I'm about as apolitical a guy as you can get," said Rony Abovitz, co-founder of the Hollywood medical technology company Z-Kat Inc. "I'm just amazed at the blood frenzy."
Abovitz's account of remarks he heard from Eason Jordan, CNN's chief news executive, during a panel discussion at an economic conference in Switzerland have not only rocketed around the Internet, but triggered fierce attacks on CNN from mainstream media critics.
They've also touched off another major credibility crisis for television news, still reeling from the scandal over a botched preelection CBS report on President Bush's military service. And they've demonstrated the new power of the independent Internet diaries known as Web logs, or blogs.
Jordan's remarks -- which he says were misinterpreted -- were not reported in the mainstream media until hundreds of blogs had been buzzing about them for a week and demanding explanations from CNN.
"When thinking people, especially journalism professionals, say something like that -- that U.S. troops might be war criminals -- and can't substantiate it, you've got to follow it up," said Jack Shafer, media critic for the influential website slate.com. "Blogs always seem to ask much tougher questions of a powerful media figure than Time magazine or The New York Times or Newsweek do."
At the center of the media hurricane is Abovitz, a mild-mannered 34-year-old specialist in computer-assisted surgery. He was invited last month to the World Economic Forum, a meeting of global movers and shakers, to pick up an award for technology developed by his company. While there, organizers invited Abovitz to write up his impressions of the forum for its blog.
JOURNALISTS 'TARGETED'
During a Jan. 26 panel discussion of threats to reporters, Abovitz was shocked to hear CNN's Jordan say American troops in Iraq had "targeted" journalists and killed a dozen of them.
"He was going on and on about it," recalled Abovitz. 'My first thought was, gee, have I been missing something? And I stood up and asked, 'Is this documented? And if so, why hasn't it been on the cover of Time magazine? Because if it's true, it's much bigger than [U.S. military abuses at] the Abu Ghraib prison.' "
Jordan seemed surprised at the question, said Abovitz. "He kind of froze, and then he started backpedaling. But the crowd included a lot of people from the Middle East, who were cheering him on, so then he wiggled back and forth."
Jordan was traveling Wednesday and could not be reached for comment, but a CNN spokeswoman said he used the word "targeted" only to mean that the reporters had been fired on by U.S. troops who thought they were enemy combatants.
"Mr. Jordan emphatically does not believe that the U.S. military intended to kill journalists and believes these accidents to be cases of mistaken identity," the spokeswoman said.
But several others who were in the room, including Massachusetts Rep. Barney Frank and Connecticut Sen. Chris Dodd, told The Herald that Abovitz's account was essentially correct.
"It sounded as if [Jordan] was saying the killings had been deliberate," said Frank, who was part of the panel. "I sat up, and I said, 'That's very troubling to me, I feel an obligation to act on this.'
'He answered, 'I'm not saying this is American military policy.' And my recollection is that he next said that American military personnel had deliberately shot at journalists and not been punished."
Frank said he asked Jordan whether he was talking about cases of mistaken identity or itchy trigger fingers "in the heat of battle," and Jordan said no.
After the panel, Frank said he pressed for more details. 'I called [Jordan] and said, 'If you think there are cases where American military personnel killed reporters and weren't disciplined, I want to know, and [Congress] will take action,' " Frank said. "He said he'd get back to me." But Jordan called only after the controversy surfaced, Frank said, and then to say he had been misunderstood.
Sen. Christopher Dodd of Connecticut, who was in the audience, also agreed with Abovitz's account and "was outraged by the comments." A spokeswoman for David Gergen, the U.S. News & World Report editor who chaired the panel, said that Gergen also felt Abovitz's report was generally accurate.
This is not Jordan's first brush with controversy over the intersection of journalism and U.S. foreign policy in Iraq. He found himself in hot water with not only political conservatives but many journalists last year over an op-ed page article he wrote for The New York Times shortly after American troops toppled Saddam Hussein.
CNN for a dozen years, Jordan wrote, had suppressed news of Hussein's atrocities -- "awful things that could not be reported because doing so would have jeopardized the lives of Iraqis, particularly those on our Baghdad staff."
POWER OF THE BLOGS
The outcry over that statement, however, has been dwarfed by the response to this one.
Since Abovitz posted his original account of the panel, more than 400 other blogs have taken up the cry. They located the first corroborating witnesses, pressed the World Economic Forum to release its videotape of the panel (Forum officials initially agreed, but changed their minds earlier this week and said the panel's ground rules prohibited any direct quotations) and taunted mainstream news organizations into covering the story.
That finally happened this week with stories in the Washington Post, the Boston Globe and other papers, as well as on CNN's rival cable news networks.
Media critic Shafer said the sheer immensity of the blog response forced the story onto newspaper front pages. "What they were practicing was virtuous pack journalism," he said. "Everybody thinks pack journalism is bad, but sometimes, like on 9/11, you want a pack. This was pack journalism at its best."
This marks the second time in a few months that blogs have surfaced a major controversy over television news. Blogs were the first to accuse CBS' 60 Minutes of using forged documents in a story last year on President Bush's Vietnam-era National Guard service.
Their claims eventually forced CBS to retract the story and launch an internal investigation that cost Dan Rather his anchor job and resulted in the dismissal of five other CBS staffers.
Abovitz, for one, is impressed. He plans to start writing his own regular blog. "The blog swarm is now percolating into mass media," he said.
"This is a new era where you can't just make statements anymore. There are too many eyes. The blogs are like a million little cameras and tape recorders."
NEW YORK Jeff Gannon, the controversial reporter for conservative Web site Talon News who drew complaints for gaining access to White House press events, resigned from his job last night amid liberal blogs' allegations about his real name and his personal and professional life.
Today, Rep. Louise Slaughter (D-N.Y.) sent a letter to President Bush asking him to "address the matter" in light of "mounting evidence that your Administration has, on several occasions, paid members of the media to advocate in favor of Administration policies."
Last night, in a message on his Web site (www.jeffgannon.com), Gannon announced: "Because of the attention being paid to me I find it is no longer possible to effectively be a reporter for Talon News. In consideration of the welfare of me and my family I have decided to return to private life. Thank you to all those who supported me."
In an e-mail to E&P last Friday, not published until now, Gannon wrote: "Much has been made about whether I use a professional name or not, but I am reluctant to provide information one way or another because of the threats that have been made against my person, property and family in both internet postings ... as well as in e-mails that I have forwarded to law enforcement. I'm sure you understand."
E&P has not been able to reach Gannon again today.
Gannon, whose real name, according to investigators at DailyKos and other blogs, is James "J.D." Guckert, first gained attention several weeks ago when he asked a question at a presidential press conference that some in the press corps considered so friendly it might have been planted. Later it was revealed by E&P that Gannon had been turned down last year for a congressional press pass because he could not prove his employer was a valid news organization. That denial barred him from receiving a White House "hard pass," allowing regular access to White House press events.
But Gannon had been obtaining daily White House press passes, a situation that had irked some veteran White House reporters who also questioned his credentials or considered him to be too partisan in his questioning.
Gannon's refusal to deny he used a fake name sparked investigations by a number of blogs, including Daily Kos, Eschaton, and World O' Crap, that probed his true identity. In addition, those sites posted allegations yesterday that Web sites such as hotmilitarystud.com, militaryescorts.com, and militaryescortsm4m.com, were registered to the same owner as Gannon's personal Web site, according to the blog MediaCitizen.
In her letter to President Bush, Rep. Slaughter charged that "it appears that 'Mr. Gannon's' presence in the White House press corps was merely as a tool of propaganda for your Administration."
Dan Froomkin, the Washington Post columnist, said today in an online chat, "I had less of a beef with Gannon than I did with the folks who actually on him (at press conferences)." He said "the heat should be on" Bush spokesman Scott McClellan: "Why did he call on Gannon? Did they ever pre-arrange anything? Did they have contact with his parent organization?"
Another intriguing issue is his involvement, along with better known Robert Novak, Judith Miller and others, in the Valerie Plame/CIA episode. His name turned up on a list of reporters targeted for questioning by the federal prosecutor in the case. Froomkin of the The Washington Post wrote last spring that "the reason Gannon is on the list is most likely an attempt to find out who gave him a secret memo that he mentioned in an interview he had with Plame's husband, former ambassador and administration critic Joseph Wilson."
The Talon News site today scrubbed its archives of many "Gannon" articles and removed his biography.
WASHINGTON -- A conservative reporter who asked President Bush a loaded question at a news conference last month resigned Wednesday after liberal bloggers uncovered his real name and raised questions about his background.
Jeff Gannon, who had been writing for the Web sites Talon News and GOPUSA, is actually James Dale Guckert, 47, and has been linked to online domain addresses with sexually provocative names. He has been under scrutiny since he asked Bush how he could work with Senate Democratic leaders "who seem to have divorced themselves from reality." The information about Gannon was posted on liberal sites including Daily Kos and Atrios.
Under the headline "A Voice of the New Media: The Voice Goes Silent," Gannon wrote on his personal Web page that because of the attention, "I find it is no longer possible to effectively be a reporter for Talon News," and that he is quitting "in consideration of the welfare of me and my family." Gannon added in a brief interview that "my family has been victimized" and he wanted to "put some separation between Talon News and the White House."
Gannon's stories appeared on a site founded by Texas Republican activist Robert Eberle.
Eberle said in a statement: "I understand and support Jeff's decision, and have accepted the resignation," adding that Talon is looking for a replacement.
Among the domain names registered by Gannon's company several years ago, but never launched, were Hotmilitarystud.com, Militaryescorts.com and Militaryescortsm4m.com and Exposejessejackson.com.
Jim Manley, a spokesman for Senate Minority Leader Harry Reid (D-Nev.), welcomed the news. In his question at the presidential news conference, Gannon had said that in an effort to disparage the U.S. economy "Harry Reid was talking about soup lines," which is not accurate and which Gannon later acknowledged was a characterization he picked up from Rush Limbaugh.
"New media or old media, the fact is the question he asked was based on a lie, and that's unacceptable," Manley said. "Fundamentally, what he was reporting was not truthful."

Jim Guckert, aka Jeff Gannon, on the web
WASHINGTON - A conservative ringer who was given a press pass to the White House and lobbed softball questions at President Bush quit yesterday after left-leaning Internet bloggers discovered possible ties to gay prostitution.
"The voice goes silent," Jeff Gannon wrote on his Web site. "In consideration of the welfare of me and my family, I have decided to return to private life."
Gannon began covering the White House two years ago for an obscure Republican Web site (Talon-News.com). He was known for his friendly questions, including asking Bush at last month's news conference how he could work with Democrats "who seem to have divorced themselves from reality."
Gannon was also given a classified CIA memo that named agent Valerie Plame, leading to his grilling by the grand jury investigating her outing.
He came under lefty scrutiny after revelations that the administration was paying conservative pundits to talk up Bush's proposals. By examining Internet records, online sleuths at DailyKos.com figured out that his real name was Jim Guckert and he owned various Web sites, including HotMilitaryStud.com, MilitaryEscorts.com and MilitaryEscortsM4M.com.
"The issue here is whether someone with connections to male prostitution was given unfettered access to the White House and copies of internal CIA documents. For a family values administration, that's pretty creepy," said John Aravosis, one of the bloggers chasing the story.
The White House didn't return a call asking how someone using an alias was given daily clearance to enter the White House.
On his TalonNews Web site, Gannon had written that liberals were out to get him because he's a white conservative man who owns a gun, drives a sport-utility vehicle and is a born-again Christian.
Yesterday, however, he abruptly quit, and all of the stories he wrote were erased from the Web site. A great many were on gay issues, including one detailing John Kerry's "pro-homosexual platform" that was headlined mockingly, "Kerry Could Become First Gay President."
As the Iraq war raged and as the truth surrounding the forged documents that claimed Saddam attempted to buy yellowcake uranium from Niger emerged, a website and news organization came into being... Talon News (March 29, 2003)... owned by GOPUSA.com. Within days 'Jeff Gannon', a man with no journalism experience secured White House briefing room press credentials (April 3, 2003).
As the hunt for the supposed WMDs kept going to no avail, Ambassador Joseph Wilson wrote a NYTimes Op-Ed entitled "What I didn't find in Africa" (July 6, 2003). On July 7, 2003 the White House retracted their Niger claim, which was their sole admission to date that the justification for war was not accurate.
Within a week Robert Novak (July 14, 2003) wrote a column and 'outed' Joe Wilson's wife, Valerie Plame as a CIA operative and claimed she was responsible for the decision to send Mr. Wilson to Niger. It was quite clear that Novak was trying to discredit the CIA at the behest of "two senior administration officials" by silencing any critics and making the claim that the CIA sent a diplomat vs. an intelligence operative to verify the yellowcake documents for patronage reasons. Novak's CIA source however would not confirm that Valerie Plame worked for the CIA.
Two Newsday reporters, with CIA contacts, attempt to verify that Ms. Plame was an undercover operative, and they do so. They also interview Mr. Novak and he claims that "I didn't dig it out, it was given to me," he said. "They thought it was significant, they gave me the name and I used it."
Two days later, JeffGannon.com debuts online (July 24, 2003).
Mr. Wilson was interviewed on a few shows and mentioned that if what Novak alleged was true, then as David Corn in the Nation wrote, a crime might have been committed. For months the news is filled with angry ex-CIA officials and journalists covering the outing of an undercover operative for political reasons by the administration. The CIA files a 'crime report' with the Department of Justice and finally calls for an investigation.
The Department of Justice decides an investigation is warranted on September 26, 2003. After that point Mr. Wilson begins to appear in the news regularly and to openly denounce the administration for using his wife and potentially endangering other operatives for political purposes.
On September 28, 2003 a source inside the administration tells the Washington Post that at least 6 other journalists were contacted with the leak and claims: "Clearly, it was meant purely and simply for revenge." He stated that he was sharing the information because the disclosure was "wrong and a huge miscalculation, because they were irrelevant and did nothing to diminish Wilson's credibility."
Things are heating up for Novak and the Bush administration. The meme is not spreading according to plan and there is a criminal investigation beginning. Time to provide cover and quick.
On September 29, 2003 Clifford May in NRO tries to insert the claim that Valerie Plame's name "was common knowledge" and that he did not include it in his article on July 11th because he didn't see how it added value to the story. This is obviously a false claim since it definitely would have made a difference in helping to discredit the CIA and push the partisan and patronage claims. No other reporters step forward to verify they knew Valerie Plame worked for the CIA or had anything to do with sending Mr. Wilson to Niger.
Karl Rove's potential involvement is raised by numerous news sources and Novak on CNN continues to push the partisan politics of Wilson, claiming he was a supporter of Clintons.
The White House press briefing is quite contentious on September 30, 2003 with reporter after reporter hammering away at Scott McClellan about who knew what when and what was being done about the leak. And then Jeff Gannon asks his question:
Q: Scott, a quote coming out of this controversy is that the real story is why Ambassador Wilson was chosen for this mission. Has the White House asked the CIA why they've sent somebody who was so vehemently opposed to the administration's position on Iraq?

MR. McCLELLAN: Not that I'm aware of. We made it clear that we weren't aware of his trip before we saw it in the media reports, and that still stands. (bold emphasis in WH press release)
Perfect timing on Jeff's part... push the 'real story' of why Wilson was chosen. However, it also shows that Gannon has no inside knowledge of the memo purporting to 'prove' why Wilson was chosen.
Joe Wilson on Nightline reveals that a journalist (confirmed later as Chris Matthews) called him and said: 'I just got off the phone with Karl Rove. He tells me your wife is fair game.'
On October 1st Novak writes a column and contradicts his earlier statements surrounding Wilson and how he came to leak Plame's name. He continues to push that Wilson was a partisan by tying him to the Clinton administration, while neglecting to re-iterate that he himself wrote Wilson was a hero in the H.W. Bush administration in his July 14th column. He also admits that the CIA official he spoke with asked him not to use Plame's name as it "might cause difficulties".
The pressure continues to mount and more people begin to question Rove's role in the leak, including two of his biographers.
On October 2nd, the White House begins to change its tone and push the idea that nothing illegal occurred because Plame's name was 'common knowledge'. And this is where Gannon becomes extremely useful. Novak and NRO are well known "conservative" mouthpieces and therefore their claims to have known all about Plame can be questioned. But if a new, fresh off the boat journalist at an unknown news organization knew about her too... well, then it was common knowledge and therefore no crime was committed by leaking her identity. But it takes a bit of time to get him up to speed on the plan... and boy do they need to do damage control, and soon, because journalists are all over the issue and the public believes a crime has been committed.
As well, on October 2nd, the investigation is extended to the Departments of Defense and State and it is revealed that Rove worked on three of Ashcroft's campaigns in the 1980's and 1990's. Further, Jack Oliver, Ashcroft's former chief of staff is now the deputy finance chairman of President Bush's 2004 reelection campaign.
Other operatives may have been put in harms way with the exposure of Plame's name and the front company she used as cover, as reported on October 4th... and of course Novak's column of October 4th reveals the front companies name to the world, as well as confirms that he knew Plame was working under official cover... he also continues to push the partisan politics aspect of Wilson's appointment by revealing that both Plame & Wilson gave $1000 to Gore's election campaign.
On October 6th, Gannon weighs in again and confirms by his tone that he still doesn't know more than what has been in the press reports, but, he knows enough to push the partisan politics meme with this statement:
It was after his article appeared that columnist Robert Novak revealed his wife's name, calling her a "CIA operative." Novak discussed the possibility that Wilson was selected for the assignment in Africa because of the position and influence of his wife at the CIA.

It is still unknown as to the reason Wilson was sent on the February 2002 mission to Niger, but allowed that it could have been at his wife's suggestion. Some have suggested that his clear partisanship cast doubt on the findings in his report.
Yet, between 15 and 21 days later when Gannon conducts a phone interview with Wilson, Gannon references the 2002 CIA memo definitively.
October 7th is an interesting day for the story when it is revealed that before the internal investigation has even begun the White House has ruled out Karl Rove, vice presidential chief of staff Lewis Libby, and National Security Council senior director Elliott Abrams as possible sources for the news leak. It is also revealed that in December 1975, Novak got a classified leak, that President Ford and Secretary of State Kissinger were ready to make concessions to the Soviet Union to save the SALT II treaty. Donald Rumsfeld, then, as now, the secretary of defense, intervened to block Kissinger. The main leak suspect then was Richard Perle, then an influential aid to Senator Henry Jackson (D-Wash.) and at that time a member of the Pentagon's Defense Policy Board and a confidant of neoconservatives in the Bush Administration.
The news continues with the information in circulation until October 17th when David S. Cloud from the WSJ mentions the 2002 CIA memo. The first mention other than Novak. Cloud writes:
An internal government memo addresses some of the mysteries at the center of the White House leak investigation and could help investigators in the search for who disclosed the identity of a Central Intelligence Agency operative, according to two people familiar with the memo.

The memo, prepared by U.S. intelligence personnel, details a meeting in early 2002 where CIA officer Valerie Plame and other intelligence officials gathered to brainstorm about how to verify reports that Iraq had sought uranium yellowcake from Niger.

Ms. Plame, a member of the agency's clandestine service working on Iraqi weapons issues, suggested at the meeting that her husband, Africa expert and former U.S. diplomat Joseph Wilson, could be sent to Niger to investigate the reports, according to current and former government officials familiar with the meeting at the CIA's Virginia headquarters. Soon after, midlevel CIA officials decided to send him, say intelligence officials.

Classified memos, like the one describing Ms. Plame's role, have limited circulation and investigators are likely to question all those known to have received it. Intelligence officials haven't denied Ms. Plame was involved in the decision to send Mr. Wilson, but they have said she was not "responsible" for the decision.
Cloud is relying on "two people" who had seen the memo, but presumably not himself. And the intelligence officials he spoke with subsequently did not deny (which also means would not go on the record to confirm) she was involved, but would go on the record to say she was not responsible for the decision.
He then goes on...
According to current and former officials familiar with the memo, it describes interagency discussions of the yellowcake mystery: whether the reports of Iraq's uranium purchases were credible; which agency should pay for any further investigation; and the suggestion that Mr. Wilson could be sent to check out the allegations. Other officials with knowledge of the memo wouldn't say if it mentions Ms. Plame by name as the one who suggested Mr. Wilson, or if her identity is shielded but obvious because of what is known now about the mission. Operations officers like Ms. Plame are sometimes identified only by their first names even in interagency meetings.
I interpret this is as: Cloud was told of the memo by "two people" who had seen it and then tried to get confirmation from sources at the CIA who would not confirm that Plame was even mentioned by name in said memo. This means, the only person to have potentially seen the memo was Novak, and even he doesn't claim he actually saw it, only that "two senior administration officials" told him of its contents.
At some point during the week leading up to October 28th, Gannon interviews Wilson by phone. The contents of that interview are astonishing.
TN: An internal government memo prepared by U.S. intelligence personnel details a meeting in early 2002 where your wife, a member of the agency for clandestine service working on Iraqi weapons issues, suggested that you could be sent to investigate the reports. Do you dispute that?
Gannon also continues to push the partisan politics meme.
TN: You have mentioned that you are not partisan. Doesn't that appear to be the case considering the candidates you've supported?

Wilson: Including Bush. When Ed Gillespie was running around doing his little schpiel, he knew that I contributed to the Bush campaign but decided he would selectively use information on candidates I have supported to bolster a case that simply cannot be made. I contributed to the Bush campaign, the Gore campaign, and I contributed to the campaign of Ed Royce on several occasions. He is a conservative Republican from Orange County, California, and I have contributed to a number of other candidates. I contributed to the Kerry campaign after I made my trip out to Niger -- well after that. Almost a year and a half after that. But I will tell you this: I reserve the right to participate in the political process of my country just like any other citizen.

I was named ambassador to Gabon by George Herbert Walker Bush. One of the highlights of my professional career was serving a charges d'affair in Baghdad in the run up to the gulf war. When I came back to Washington and was introduced to the war cabinet, President Bush introduced me as a true American hero, and I take great pride in that.

TN: Your activities of late have some suggesting that there's certainly a partisan motivation.
....

TN: The so-called neo-cons, who do you think that they are?
As detailed by Cloud above, the CIA (presumably, because he just says "intelligence" officials) would not confirm that Plame suggested this or even that she was identified by name. Neither would Novak's CIA source. So how is Gannon able to make this claim definitively... he may not have seen the memo, but someone definitely told him about it. It is possible that he just decided to use the info from Novak and Cloud to paint Wilson into a corner, but there is no way he would have known that this was indeed accurate and then his "gotcha" moment (i.e. Wilson lied to me) would have been for naught since no one went on the record (other than Novak's "two senior administration officials") to verify the claim. This is also the first time Gannon drops all qualifiers - i.e according to reports, some say, etc.
Except, once Gannon thought the storm had passed, he reveals that he was leaked the memo, or at least told of its contents... (sometime last year in an article on his website "Joe Wilson Lied and Owes George W. Bush and America (and Me) an Apology". There is no date stamp on the article)
A memo written by an INR (Intelligence and Research) analyst who made notes of the meeting at which Wilson was asked to go to Niger sensed that something fishy was going on. That report made it to the outside world courtesy of some patriotic whistleblower that realized that a bag job was underway.

....

The classified document that slipped out sometime after the meeting put her name before the public, albeit a small group of inside-the-beltway types, but effectively ended the notion that she was still covert.

....

I raised all of these questions with Wilson in October 2003 in an interview for Talon News. Since I was aware of the INR report, I confronted him about it.

What is difficult to understand is the reason that the CIA would want to discredit this report. The first clue came when the agents from the FBI came to my home in March 2003 to question me in connection to the leak probe. I was flattered to think that I was important enough to be included among the luminaries like Andrea Mitchell, Tim Russert and Chris Matthews who were also named in a Justice Department subpoena of records from the White House. But most of the questions were about the INR report. They wanted to know where I got it and what I knew about it. Of course, as a journalist there wasn't much I could say without revealing my sources. I'm sure they were not satisfied, but it made me wonder why they were so interested in a document the CIA said was false.
So how is it that a journalist who only set up shop in March 2003 and received WH press credentials on April 3, 2003 and posts regularly on the FreeRepublic.com bulletin boards, was "in the loop" enough to have knowledge of a classified CIA memo by October 2003, that supposedly only "inside-the-beltway types" knew about and no one at the CIA would confirm? There is only one conclusion. He was planted by, and used to help, the administration.
On November 3rd, Part III of the Wilson/ Gannon interview is posted. And now the agenda is to discredit the CIA and push the story that Plame's name was already known so there was no crime in disclosing it.
TN: Nicholas Kristoff wrote in the New York Times recently that the CIA believes that Aldrich Ames may have betrayed your wife to the Russians prior to his arrest in 1994. That would make her not an undercover operative for the CIA in effect.

Wilson: I don't know where Kristoff got that. I think that there is a fair amount of material in the public record to suggest that there is a lot of concern that Mr. Ames betrayed a number of American operatives during his spying.

TN: Including your wife?

Wilson: I don't know about that. I can't tell you anything about that.

TN: But if that is in fact true, then the leak is not necessarily a leak.

Wilson: Let me put it to you this way, I don't believe that the CIA would refer this to the Justice Department frivolously, if they thought it was a frivolous matter or if it was not a leak that might be a violation of the Intelligence Agents Identification Act.

TN: There are some who are skeptical that the CIA is fully on board with our actions in Iraq.

Wilson: Well, the CIA is not a policy organization, the CIA is paid to provide the best intelligence information it can.

TN: So you don't believe the CIA has an agenda that's different from that of the White House?

Wilson: Well in the particular piece of this that I own, the trip to Niger, the CIA produced my report, but there were two other reports produced that said that "Gee this story of uranium going to Iraq is just bogus." Subsequent to that we now know this particular "16 words" were the subject of a number of telephone conversations and a couple of memoranda that somehow were lost in the system or forgotten about. But the two uncontested facts in this matter are the following: The 16 words in the State of the Union did not rise to inclusion in the State of the Union, that's the White House's statement. Had my report or the other two reports been accepted instead of this information that was based as we know on forgeries and even at the time didn't pass the smell test for an Italian weekly tabloid, then the President would not have found himself in this predicament. That is not a CIA betrayal of the political system, that is if anything a political betrayal of the intelligence assessment process.

And the second uncontested fact is that a national security asset's name was leaked to the American public in what may have been a crime but certainly is considered to be of sufficient concern to the CIA that they referred the matter to the Justice Department. Now in neither of those it seems to me do you have nefarious CIA involvement unless you are prepared to make the argument that the CIA would have "outed" one of its own, which seems to me to be highly, highly unlikely.
Gannon is definitely being the good soldier here. Call into question the patriotism and partisan politics of the CIA and help to build the case that Rummy needs a new spy agency (which he formed at some point in 2003) and keep pushing the case that there was no crime in the leak because Plame's name was common knowledge.
Finally, on December 26th, the leak to Gannon is mentioned in the Washington Post.
Sources said the CIA is angry about the circulation of a still-classified document to conservative news outlets suggesting Plame had a role in arranging her husband's trip to Africa for the CIA. The document, written by a State Department official who works for its Bureau of Intelligence and Research (INR), describes a meeting at the CIA where the Niger trip by Wilson was discussed, said a senior administration official who has seen it.

CIA officials have challenged the accuracy of the INR document, the official said, because the agency officer identified as talking about Plame's alleged role in arranging Wilson's trip could not have attended the meeting.

"It has been circulated around," one official said. CIA and State Department officials have refused to discuss the document.

On Oct. 28, Talon News, a news company tied to a group called GOP USA, posted on the Internet an interview with Wilson in which the Talon News questioner asks: "An internal government memo prepared by U.S. intelligence personnel details a meeting in early 2002 where your wife, a member of the agency for clandestine service working on Iraqi weapons issues, suggested that you could be sent to investigate the reports. Do you dispute that?"
Interestingly, these reporters weren't leaked the memo either... they just relied on a "senior administration official" who had seen it to provide all the background. And once again, the CIA would not discuss the document.
On December 30th two bombshells are dropped. The first is that AG Ashcroft has recused himself from the investigation and the second is that at some point in 2003 Rove (who historically did not agree to interviews with anyone) sat down for a chat with Bobby Eberle of GOPUSA.com.
Early 2004 the investigations continue and grand jury subpoenas are issued (included to Gannon).
On March 9, 2004 Gannon gets into a heated exchange with another poster on FreeRepublic.com regarding the Grand Jury subpoena... and Gannon sticks to his talking points - Plame wasn't covert.
To: Peach

You are kind. What is interesting about this is that I have become ensnared in this matter because I asked questions of my government.

This may a chilling effect on freedom of the press.

All this commotion, but the central question has yet to be answered: At the time that Robert Novak's column was published, was Valerie Plame a "covert operative"?

The CIA has refused to comment on this very important point.

If she was not, then no crime has been committed and all communications between the administration and reporters is just gossip. ---Jeff Gannon

....

To: Jeff Gannon

That is simply not true, Jeff.

You are ensnared because you made reference to a government document, which appears to have been a forgery. You need to tell the Grand Jury who made you privy to that document. ---JohnGalt

To: Jeff Gannon

What was the document you referred to in the interview with Wilson? ---JohnGalt

To: JohnGalt

I disagree with your characterization of the document itself, but that aside, I maintain that I am under no obligation whatsoever to reveal my sources. That is a fundamental element of maintaining a free press. ---Jeff Gannon
In that exchange Gannon makes a sloppy mistake. How can you disagree with the characterization of a classified document that you hadn't seen? Looks like he was leaked it after all... or he must really trust his source.
In conclusion:
Jeff Gannon was planted by the administration to disseminate their talking points unfettered by any journalism ethics or investigation shortly after the Iraq war, when the failure to find WMDs was becoming apparent. He became incredibly useful in L'Affaire Plame to continue to push the dual stories that a) Plame's name was already common knowledge and therefore 'outing' her was not a crime and b) to continue to help discredit the CIA and Wilson.
Based on the evidence, I believe the 2002 CIA memo was leaked to Gannon when Novak became unusable and when the 'mainstream' reporters with CIA contacts were not pushing the WH's preferred story line. They needed cover, and they got it.
And as is evidenced by his remarkable access to Scott McClellan and President Bush in the White House press room, to this day, he was rewarded handsomely...
And it continues as business as usual... until today when he became expendable and 'resigned' from Talon News.
Comprehensive timeline:
NEW YORK - A veteran civil rights lawyer was convicted Thursday of crossing the line by smuggling messages of violence from one of her jailed clients - a radical Egyptian sheik - to his terrorist disciples on the outside.
The jury deliberated 13 days over the past month before convicting Lynne Stewart, 65, a firebrand, left-wing activist known for representing radicals and revolutionaries in her 30 years on the New York legal scene.
The trial, which began last June, focused attention on the line between zealous advocacy and criminal behavior by a lawyer. Some defense lawyers saw the case as a government warning to attorneys to tread carefully in terrorism cases.
Stewart slumped in her chair as the verdict was read, shaking her head and later wiping tears from her eyes. Her supporters gasped upon hearing the conviction, and about two dozen of them followed her out of court, chanting, "Hands off Lynne Stewart!"
She vowed to appeal and blamed the conviction on evidence that included videotape of Osama bin Laden urging support for her client. The defense protested the bin Laden evidence, and the judge warned jurors that the case did not involve the events of Sept. 11.
"When you put Osama bin Laden in a courtroom and ask the jury to ignore it, you're asking a lot," she said. "I know I committed no crime. I know what I did was right."
Lawyers have said Stewart most likely would face a sentence of about 20 years on charges that include conspiracy, providing material support to terrorists, defrauding the government and making false statements. She will remain free on bail but must stay in New York until her July 15 sentencing.
The anonymous jury also convicted a U.S. postal worker, Ahmed Abdel Sattar, of plotting to "kill and kidnap persons in a foreign country" by publishing an edict urging the killing of Jews and their supporters. A third defendant, Arabic interpreter Mohamed Yousry, was convicted of providing material support to terrorists. Sattar could face life in prison and Yousry up to 20 years.
Attorney General Alberto Gonzales called the verdict "an important step" in the war on terrorism.
"The convictions handed down by a federal jury in New York today send a clear, unmistakable message that this department will pursue both those who carry out acts of terrorism and those who assist them with their murderous goals," Gonzales said.
Stewart was the lawyer for Omar Abdel-Rahman, a blind sheik sentenced to life in prison in 1996 for conspiring to assassinate Egyptian President Hosni Mubarak and destroy several New York landmarks, including the U.N. building and the Lincoln and Holland Tunnels. Stewart's co-defendants also had close ties to Abdel-Rahman.
Prosecutors said Stewart and the others carried messages between the sheik and senior members of an Egyptian-based terrorist organization, helping spread Abdel-Rahman's venomous call to kill those who did not subscribe to his extremist interpretation of Islamic law.
Prosecutor Andrew Dember argued that Stewart and her co-defendants essentially "broke Abdel-Rahman out of jail, made him available to the worst kind of criminal we find in this world - terrorists."
At the time, the sheik was in solitary confinement in Minnesota under special prison rules to keep him from communicating with anyone except his wife and his lawyers.
Michael Ratner, president of the Center for Constitutional Rights, said the purpose of the prosecution of Stewart "was to send a message to lawyers who represent alleged terrorists that it's dangerous to do so."
But Peter Margulies, a law professor at Roger Williams University in Rhode Island who conducted a panel on lawyers and terrorism recently, called the verdict reasonable.
"I think lawyers need to be advocates, but they don't need to be accomplices," he said. "I think the evidence suggested that Lynne Stewart had crossed the line."
Stewart, who once represented Weather Underground radicals and mob turncoat Sammy "The Bull" Gravano, repeatedly declared her innocence, maintaining she was unfairly targeted by overzealous prosecutors.
But she also testified that she believed violence was sometimes necessary to achieve justice: "To rid ourselves of the entrenched, voracious type of capitalism that is in this country that perpetuates sexism and racism, I don't think that can come nonviolently."
A major part of the prosecution's case was Stewart's 2000 release of a statement withdrawing the sheik's support for a cease-fire in Egypt by his militant followers. Prosecutors, though, could point to no violence that resulted from the statement.
KARLSRUHE, Germany - Germany's federal prosecutor on Thursday rejected calls to investigate allegations that Defense Secretary Donald Rumsfeld was guilty of war crimes over the Iraq prisoner abuse scandal.
The ruling came ahead of a European security conference in Munich this weekend, which a Pentagon spokesman said Rumsfeld was likely to attend.
The U.S. Center for Constitutional Rights (CCR) and four Iraqis who say they were abused by American soldiers at Iraq's Abu Ghraib prison had filed a criminal complaint with German Federal Prosecutor Kay Nehm in November.
They were seeking to take advantage of a 2002 German law allowing for the prosecution of human rights abuses and war crimes regardless of where they occur.
The complaint said that Rumsfeld, former CIA Director George Tenet, a senior defense official and seven U.S. military officers, including the former top U.S. commander in Iraq, Lt. Gen. Ricardo Sanchez, were ultimately responsible for the torture and humiliation of Iraqis at Abu Ghraib.
The German federal prosecutor said in a statement it was up to the United States in the first instance to pursue legal action against the alleged perpetrators and their superiors.
German prosecutors could step in only if U.S. authorities failed to act, for which there was currently no evidence, the prosecutor added. [...]
The CCR said its action was a last resort after the failure of the U.S. congress to properly investigate Abu Ghraib.
WASHINGTON - The public's confidence in President Bush's job performance and the nation's direction has slipped in the opening weeks of his second term, particularly among people 50 and older, according to an Associated Press poll.
Adults were evenly divided on Bush's job performance in January, but now 54 percent disapprove and 45 percent approve. The number who think the country is headed down the wrong track increased from 51 percent to 58 percent in the past month.
The survey wasn't all bad for the Bush administration: People are slightly more optimistic about the possibility of a stable, democratic Iraq.
The poll, conducted for the AP by Ipsos-Public Affairs, was taken after the president's State of the Union address and the elections in Iraq and at the start of a heated debate over creating personal Social Security accounts.
Older Americans, especially those 65 and above, were most responsible for the declining confidence and approval numbers. Middle-aged people between 30 and 50 were about evenly split on Bush's job performance.
"It looks like people are reacting to the State of the Union and plans to change Social Security," said Charles Franklin, a political scientist from the University of Wisconsin-Madison.
The AP poll did not ask about Social Security, although only four in 10 in the poll said they approved of Bush's handling of domestic policy in general. And a majority of people disapproved of his handling of the economy. [...]
The U.S. House of Representatives approved on Thursday a sweeping set of rules aimed at forcing states to issue all adults federally approved electronic ID cards, including driver's licenses.
Under the rules, federal employees would reject licenses or identity cards that don't comply, which could curb Americans' access to airplanes, trains, national parks, federal courthouses and other areas controlled by the federal government. The bill was approved by a 261-161 vote.
The measure, called the Real ID Act, says that driver's licenses and other ID cards must include a digital photograph, anticounterfeiting features and undefined "machine-readable technology, with defined minimum data elements" that could include a magnetic strip or RFID tag. The Department of Homeland Security would be charged with drafting the details of the regulation.
Republican politicians argued that the new rules were necessary to thwart terrorists, saying that four of the Sept. 11, 2001, hijackers possessed valid state-issued driver's licenses. "When I get on an airplane and someone shows ID, I'd like to be sure they are who they say they are," said Rep. Tom Davis, a Virginia Republican, during a floor debate that started Wednesday.
States would be required to demand proof of the person's Social Security number and confirm that number with the Social Security Administration. They would also have to scan in documents showing the person's date of birth and immigration status, and create a massive store "so that the (scanned) images can be retained in electronic storage in a transferable format" permanently.
Another portion of the bill says that states would be required to link their DMV databases if they wished to receive federal funds. Among the information that must be shared: All data fields printed on drivers' licenses and identification cards, and complete drivers' histories, including motor vehicle violations, suspensions and points on licenses.
The Bush administration threw its weight behind the Real ID Act, which has been derided by some conservative and civil liberties groups as tantamount to a national ID card. The White House said in a statement this week that it "strongly supports House passage" of the bill.
Thursday's vote mostly fell along party lines. About 95 percent of the House Republicans voted for the bill, which had been prepared by the judiciary committee chairman, F. James Sensenbrenner, a Wisconsin Republican. More than three-fourths of the House Democrats opposed it.
Rep. Eleanor Holmes Norton, a Democrat from Washington, D.C., charged that Republicans were becoming hypocrites by trampling on states' rights. "I thought the other side of the aisle extols federalism at all times," Norton said. "Yes, even in hard times, even when you're dealing with terrorism. So what's happening now? Why are those who speak up for states whenever it strikes their fancy doing this now?"
Civil libertarians and firearm rights groups condemned the bill before the vote. The American Civil Liberties Union likened the new rules to a "de facto national ID card," saying that the measure would force "states to deny driver's licenses to undocumented immigrants" and make DMV employees act as agents of the federal immigration service.
Because an ID is required to purchase a firearm from a dealer, Gun Owners of America said the bill amounts to a "bureaucratic back door to implementation of a national ID card." The group warned that it would "empower the federal government to determine who can get a driver's license--and under what conditions."
Reader E-mail: UK Marches towards National ID Card
SOTT
The News here today has been FULL, of coverage of Prince Charles' wedding announcement, even BBC News 24 has turned into "BBC wedding announcement 24", so effectively there was no news here today, just lots of jollying up the announcement.

So you get to thinking, hmm, this would be "a good day to bury bad news", so I looked up the Parliament web site and saw that they were reading the National ID card bill today, and sure enough, here it is, came up on BBC web at 7.15pm:

Identity card plans clear Commons

BBC
February 10, 2005

Controversial plans for identity cards have been passed by MPs.

The Tories abstained from a crucial vote on the scheme, though some of their backbenchers joined Labour rebels and Lib Dems in opposing the measure.

Tony Blair says the proposals are "long overdue" and are the best way to fight terrorism, organised crime and immigration abuses.

The Identity Cards Bill will introduce a single, universal ID Card for all UK citizens. [...]
Ottawa - Canadians worry federal anti-terrorism powers could be used to invade personal privacy, unfairly target minorities or turn neighbours into snitches, a government study has found.
While those who took part in the study accepted an overall need for the Anti-Terrorism Act, several provisions of the three-year-old legislation proved to be cause for concern.
"I say that it's dangerous for our rights and freedoms," one participant from Quebec City said. "They were already trampled and ridiculed. Now, it's worse."
The study was prepared last March for the Justice Department in anticipation of a parliamentary review of the Anti-Terrorism Act. A copy of the study was recently obtained by The Canadian Press.
Consulting firm Millward Brown Goldfarb convened 22 focus group sessions with a total of 196 people late last winter in Calgary, Halifax, Montreal, Ottawa, Quebec City, Regina, Toronto, Vancouver and Winnipeg.
Separate Commons and Senate committees are set to review the Anti-Terrorism Act, passed following the Sept. 11, 2001, attacks on the United States.
The act allows the government to brand individuals and organizations as terrorists, imposing stiff penalties against anyone who participates in their activities or assists members of the groups.
The law also gives police the power to make "preventive arrests" of those suspected of planning a terrorist attack. And it requires anyone with information relevant to the investigation of a terrorist act to appear before a judge.
The act has come under heightened scrutiny since police used one provision early last year to search a journalist's home.
RCMP officers seized items from Ottawa Citizen reporter Juliet O'Neill in an effort to find the source of an information leak in the case of Maher Arar, a Canadian engineer deported by U.S. authorities to his native Syria on suspicion of terrorism.
Many who took part in the study knew little about the anti-terror law until they read descriptions of the act provided by the focus group leaders.
But some who were aware of specific aspects of the law expressed concern it might infringe on the rights of Canadians.
"Anything can be defined as terrorist activity," said a French-speaking participant from Ottawa. "Like the journalist who talked about Arar; the RCMP thought she might have more information and they searched her house."
Participants saw the labelling of certain groups as terrorist organizations as something of a "necessary evil," the study says.
"However, several questioned whether having the right to appeal being listed as a terrorist entity only after the fact goes against the traditional presumption of 'innocent until proven guilty."'
Thirty-five groups - from Osama bin Laden's al-Qaeda network to the International Sikh Youth Federation - have been listed as terrorist so far.
A number of people in the study took issue with provisions of the law compelling individuals to report information about terrorist finances or property.
"Several imagined themselves in a situation where they might see something suspect going on in their neighbourhood, for example, and be 'scared' to report the person."
The powers of preventive arrest and investigation evoked the communist-hunting McCarthy era for some who feared police might use the legal tools to probe crimes other than terrorism.
The Anti-Terrorism Act requires the government to report to Parliament annually on the use of these controversial provisions.
A few participants felt the reporting obligation "should be more frequent than once a year."
WASHINGTON-Canada's outgoing ambassador to Washington revealed for the first time yesterday the shock and disbelief in the Bush administration when prime minister Jean Chrétien kept Canadian troops out of Iraq.
Michael Kergin said in an interview yesterday that administration insiders had all but ignored the diplomatic signals from Ottawa in the run-up to the invasion of Iraq.
Despite all the signs and statements from Ottawa about the need for United Nations backing, the decision somehow still caught official Washington off guard, he said.
"Sometimes in these things, the wish gives father to the thought," said Kergin, who retires at the end of this month.
Canada had flagged its intentions, Kergin said, but in the National Security Council, then the domain of national security adviser Condoleezza Rice, and in Donald Rumsfeld's Pentagon - "in spite of themselves, they still thought ... somehow we would find a way.
"It's like you can't quite believe it when you're told it and you really believe in the end it would happen. And in this case, it didn't."
Kergin said before a final message could be conveyed, Chrétien's statement to the House of Commons was broadcast live on CNN.
The U.S. State Department and National Security Councils both used the term "disappointment," as did U.S. Ambassador to Canada Paul Cellucci, Kergin said, but the tone of the reaction he received indicated anger and irritation, even if those words were never used.
"What I kept hearing from up on (Capitol) Hill, was 'You were with us in World War II, you were always with us, how could you let us down now?'" Kergin recalled.
"I'd hear 'You were with us in Korea, how could you not be with us,' ignoring entirely the sort of unilateral approach to Iraq. That just doesn't figure in their thinking, particularly."
Republicans upbraided him for ignoring the threat to the North America continent because Saddam Hussein was believed to have weapons of mass destruction - a claim now refuted.
Kergin also said he did not believe the Bush administration's ballistic missile defence program would lead to weapons in space, casting doubt on a key concern used by Prime Minister Paul Martin for his reluctance to sign on to the plan.
"My own sense ... people I talk to tell me they don't believe it is in the U.S. interest to go into the weaponization of space, because they are probably the most vulnerable of all," he said.
Kergin said he believed U.S. President George W. Bush now understood that missile defence was a "hot button" in Canada and his administration realized it was not wise to try to force a quick decision on Ottawa's participation.
He said there was less pressure coming from Bush for a Canadian pronouncement than there was six months ago, partly because the technology - as evidenced by a spectacular test failure last December - needed work and was likely setting the program back.
But Kergin said if Ottawa stayed out of the plan, it could find Washington viewed its role in continental defence much differently and could try to "reframe" NORAD, the Canada-U.S. North American defence pact - when it is renewed and possibly expanded to include maritime protection next year.
Opponents of the missile defence plan on both sides of the border say they believe the Bush plan is the first step to creating a space-based arms race.
Late last year, Jonathan Dean, a former U.S. disarmament negotiator, told a Commons committee the Pentagon was preparing to test a space-based satellite sensor this year which could be used to shoot incoming missiles.
Kergin, who was in the room when Martin and Bush discussed missile defence last November, said the president was trying to find out why there was such an "allergy" to his plan north of the border.
He did not "bully" Martin, as suggested by one U.S. newspaper, Kergin said, but instead Bush said, "I've got to understand the origin of this fear ... or phobia."
This, he said, was characteristic of the candour used by the two men behind closed doors.
"He didn't lean over the table or anything like that," Kergin said, adding that Bush believed in the value of the ballistic shield so much he was puzzled his enthusiasm was not being shared.
Kergin, a 62-year-old career diplomat made his remarks during a conversation reflecting on the end of a tenure marked by the Sept. 11, 2001, terrorist attacks, the historic dip in relations following the Iraq decision, dealing with a U.S. administration deeply unpopular in Canada and a series of "bumpy" trade irritants.
After 38 years in public service, Kergin will retire and be replaced March 1 by former New Brunswick premier Frank McKenna.
Yesterday, Kergin spoke candidly for the first time about seeing his job publicly offered to former deputy prime minister John Manley after Martin came to power.
Kergin said he was given a heads-up that Martin was going to offer his job to Manley in December 2003, but "it surprised me a little bit that he would offer him the job ... and it surprised me he offered the job to someone who hadn't accepted it yet."
And, he added, he was surprised to see it all unfold on live television.
He was prepared to take another job in Ottawa, expecting his posting to end quickly. Instead, Martin did nothing for more than a year.
Kergin said he had a close relationship with Chrétien, for whom he had had been foreign affairs adviser, but he didn't really know Martin, so he expected the new Prime Minister would bring in his own person.
Kergin also contrasted his style with that of Cellucci, his counterpart in Ottawa, who leaves his post next month.
There is always a demand for Cellucci as a speaker in Canada, Kergin said, because he is the spokesperson for the U.S. president.
Cellucci's constant mantra about the need for Ottawa to boost military spending, for example, was a direct response to instructions from then-secretary of state Colin Powell to create a constituency for that point of view in Canada.
"He made it clear to Cellucci at the outset that one of Cellucci's messages was to develop a constituency which would increase defence spending in Canada which he, Colin Powell, felt had declined over the past decades," Kergin said.
"It is up to somebody else to argue whether that became counterproductive over time."
In this town, Kergin said, the job demands a different style.
"I could sit down here on the corner of Pennsylvania Ave. and yell all sorts of awful things, and I don't think I would excite people, or get much attention from the media here," he said.
BOGOTA : At least 19 Colombian troops and 11 leftist guerrillas died in fierce combat in Colombia's northwest, officials said, after one of the worst military setbacks yet for President Alvaro Uribe.
"We have 18 dead, six wounded, a soldier injured and two others missing," Jorge Mejia, of the Antioquia province governor's office, told AFP, referring to army forces. One of the wounded soldiers later died.
The commander of Colombia's military, General Carlos Alberto Ospina, had said the previous day that his troops "penetrated deep into the mountains to intercept a column" of the Revolutionary Armed Forces of Colombia, or FARC, the largest of leftist groups fighting a 40-year civil war against the government.
Last week, the FARC ambushed a navy infantry base, killing 16 sailors. [...]
OSLO, Norway - A bored 12-year-old boy passing time by trying out his new balaclava triggered a terrorism alert at a southern Norway airport.
Glen Tommy Hvorup was waiting in a car for a delayed passenger at the Sandefjord Airport, about 100 kilometers (60 miles) south of Oslo, when he got fidgety, the local newspaper reported Monday.
"We had been waiting for an hour and a half, and I was really bored," the boy told the Sandefjords Blad newspaper. "I sat in the car and pulled the knitted cap down over my face a few times. I didn't notice anyone reacting."
Someone did. A passer-by noticed a person sitting in a black Volvo with his face covered by a cap, and immediately notified security officers at the regional and charter airport, who sounded the alarm.
Police in the small city sent all available personnel, which at the time of the incident Thursday were two patrols. They searched the airport and the surrounding area for the black Volvo and its "terrorist" without success, because Glen Tommy had just left.
When the 12-year-old learned later that he had briefly been a wanted man, he promised to be more careful with his new cap
"I bought it because it's handy when we play 'Kick the Can,'" the boy told the newspaper. "It's an advantage to not be seen in the dark. But after this, I don't think I'll use the balaclava for anything other than 'Kick the Can.'"
ANKARA (AFP) - Thirty-nine airport staff were quarantined in Ankara after discovery of a parcel giving off a suspicious smell that turned out later to be only garlic, airport authorities said.
Medical and civil defence teams and emergency services were rushed to the scene when cargo staff at Turkish Airlines reported the object giving off a strong odour apparently of garlic, the news agency Anatoliya said.
The area was sealed off and 39 people, mainly airline baggage handlers, were temporarily isolated in an Ankara hospital.
Airport authorities said tests showed the package to be harmless.
Confusion had risen because it had been placed in the hold next to several cans of garlic oil from India, one of which had been leaking, Anatoliya quoted an airport official as saying.
"None of the people working under the plane were affected," he said.
Initial reports spoke of 27 people being quarantined as a precaution here Thursday after what was at first described as a suspected gas leak from a parcel.
NORTH LAUDERDALE, Fla. Florida police say a newborn baby tossed out a car window onto a street is in critical condition.
Authorities in North Lauderdale believe the boy is only hours old. A car sped off after the child was tossed. The boy was rescued by a woman passing by in her car. A sheriff's spokesman "we're hopeful that he'll recover."
Incident Happens Three Days After Teenager Shot With Stun Gun

CHICAGO -- Three days after a teenage boy was hospitalized after Chicago police used a Taser gun on him, a man has died after being stunned by a Taser gun.

NBC5's Rob Elgas reported that the Cook County Medical Examiner's office confirmed that police called investigators to the scene at an apartment complex at 336 N. Wellington Street for a Taser gun-related death. Elgas reported that police commanders arrived at the scene of the incident, but later left. Police forensic investigators were also on the scene. Police are calling the investigation an "in-custody death investigation."
The man was described as being in his 40s, Elgas reported. He was reportedly visiting someone he knew in the building when the incident happened. [...]
A Chicago fire lieutenant charged in a series of arson fires on the Northwest Side admitted to investigators he had no reason for setting the blazes except that he did so when he felt stressed, authorities said today.
Lt. Jeffrey Boyle "said he was just stupid. He did stupid things at different times in his life when he was under stress," said police Lt. Wayne Micek of the Bomb and Arson unit.
"He really could not give one solid explanation of why he did this. He would just drive around at times he wasn't feeling right, and all of sudden, an unknown emotion would trigger him and he would go set a fire," Micek said at a noon news conference at Chicago police headquarters.
The firefighter was charged with four counts of arson in connection with four fires earlier this week within a one-mile radius in the Norwood Park neighborhood, police said. No injuries were reported in the fires.
Chicago Fire Commissioner Cortez Trotter said, "These charges are very serious, especially for a person who swore to protect the citizens of our city from the perils of fire," Trotter said.
"My sentiments reflect those of the nearly 5,000 men and women of the Chicago Fire Department who share my sadness and disappointment that these incidents occurred and that a member of the department has been placed under arrest and these allegations are in force."
The fire department has no record of Boyle seeking help for stress, Trotter said. "Nothing related to any emotional pressures or problems he was having. ... Certainly we did not see this coming." [...]
A final analysis of the Indian Ocean earthquake and tsunami is likely to create a death toll in 2004 greater than any caused by ground shaking in more than four centuries.
While the total deaths from the Dec. 26, 2004 disaster remains uncertain, it stands at 275,950, according to a U.S. Geological Survey (USGS) statement released Thursday. A comparatively small number of other earthquake-related fatalities for the year brings the total to 276,856, the agency reported.
However, other disaster officials put the known deaths at between 162,000 and 178,000, with a list of missing between 26,000 to 142,000. Those figures add up to a possible death toll range of between 188,000 and 320,000.
It remains to be seen whether the final tally will exceed 1976, when a magnitude 7.5 temblor killed roughly 255,000 people in and around Tangshan, China. [...]
CARAWAY, Ark. (AP) - A small earthquake centered in northeastern Arkansas rattled parts of several states Thursday but caused no major damage.
Shaking was felt as far away as Memphis, Tenn., and in Mississippi casinos. Window blinds and doors shook and swayed, pictures fell from the walls and telephone service was briefly interrupted in one small town in Arkansas.
The quake hit at 8:05 a.m. about four miles east of Caraway. Over the course of the day, the U.S. Geological Survey gave varying magnitudes for the quake - from 3.9 to 4.2.
A moderate earthquake that rattled parts of Arkansas and Tennessee Thursday should serve as a wake-up call to the central United States about the potential for much stronger events, experts said.

The temblor, preliminarily put at magnitude 4.1, shook eastern Arkansas and western Tennessee early in the morning. It was centered 47 miles north-northwest of Memphis.

There were no reports of significant damage.

"Although today's earthquake was what we characterize as 'light,' this area is capable of producing an earthquake that can result in significant loss of life and property damage," said Charles "Chip" Groat, director of the U.S. Geological Survey.

Groat pointed out that the region was host to the strongest earthquake on record in the lower 48 United States.

Midwest record-setters

The infamous series of three New Madrid quakes in 1811-1812 occurred a few weeks apart, from Dec. 16 to Feb. 7. They measured 8.1, 8.0 and 7.8 and represent three of the four strongest earthquakes ever recorded in the lower 48.

"Strong earthquakes in the New Madrid seismic zone are certain to occur in the future," states a USGS fact sheet. "There is a 9-in-10 chance of a magnitude 6 to 7 temblor occurring in the New Madrid Seismic Zone within the next 50 years."

The New Madrid fault's remarkable spree of shifts devastated the sparsely populated area at the time. Amazingly, the quakes were so strong they were felt in much of the country -- as far away as Boston. Damage was reported as far away as Charleston, South Carolina, and Washington, D.C.

Differences in geology east of the Rockies account for the widespread effects, geologists say.
PETROPAVLOSK-KAMCHATSKY, - Three volcanoes became active on Kamchatka on Thursday. Hot gas, steam and ashes were ejected from the craters of Shiveluch, Klyuchevskaya Sopka and Bezymyanny volcanoes, Itar-Tass was told at the Kamchatka seismology station.
The eruption of Klyuchevskaya Sopka, the highest active volcano of Eurasia, which rises more than 4.8 kilometres above the sea level, is continuing. Clouds of gas and steam, which it is spewing forth, have risen to an altitude of two kilometres over the volcano's peak. The stream of tiny particles of volcanic dust has spread over twenty kilometres to the northeast of the giant.
Volcanic ashes have fallen on the town of Klyuchi, which is approximately thirty kilometres away from the volcano. A stream of lava from two to three kilometres long, is continuing to descend down the slope of Klyuchevskaya Sopka. It is melting all the ice on its way. There is the danger of powerful mud streams running down the slopes of the volcano. The population was recommended not to come close to the erupting volcano.
The Sheveluch volcano, located in the same district, ejected ashes to an altitude of two kilometres on Thursday. The stream of ashes is approximately twenty kilometres long. Local earthquakes were recorded in the area of the volcano.
Steam and gas was ejected 1,000 metres up from the crater of the Bezymanny volcano on Thursday.
Moreover, scientists are watching for the second day running the clouds of steam rising from the Avachinsky volcano, which is approximately thirty kilometres away from Petropavlovsk-Kamchatsky. They have risen to an altitude of some 600 metres. In expert opinion, this is due to the melting of snow on the peak of the volcano, which is continuing to be quite tranquil.
The inhabited localities, located near the Kamchatka volcanoes are not in danger. Scientists are keeping an eye on them all the time.
QUETTA, Pakistan - More than 130 people have been killed across Pakistan in the heaviest rains in 16 years that caused a dam to burst, provincial officials said on Friday.
Authorities rushed thousands of troops to join rescue operations in the remote southwestern Baluchistan province, where some 20,000 people had been affected by the floods, said Raziq Bugti, a government spokesman in the province said.
Officials said at least 60 people died on Thursday night after Baluchistan's Shadikor dam burst, sweeping through villages near the coastal town of Pasni. More than 40 more died from heavy rains in other parts of the province.
Some reports said hundreds were missing, though officials said there were no reliable estimates. [...]
Officials said at least five villages, home to around 7,000 people, had been submerged by waters that poured through the 35 meter (115 foot) high and 300 meter long embankment of the dam, constructed just two years ago. [...]
Pakistan has seen its heaviest rains and snowfalls for 16 years, according to the Meteorological Department.
In Peshawar, the provincial capital of NWFP, four people, including a mother and her three children, were killed when the roof of their house caved in on Thursday night.
Elsewhere, two soldiers were killed by an avalanche in the Neepa valley of Pakistan-controlled Kashmir on Thursday.
Another three people died, and two are missing, after an avalanche hit them in Astore valley near Gilgit, the main town in Pakistan's mountainous Northern Areas, police said.
The Northern Areas, where the Himalaya, Karakoram and Hindu Kush mountain ranges meet, have been cut off, with roads buried under several feet of snow and the Chitral valley particularly badly affected.
The Karakoram Highway, linking Pakistan and China, has been blocked and flights have been suspended since Feb. 3, said residents of Gilgit, the main town in the Northern Areas.
Weather officials said the intensity of rains had subsided in Baluchistan but would continue in most of the rest of Pakistan for the next 24 hours.
Venezuela's government has sent military helicopters and patrol boats to evacuate thousands of coastal residents stranded by torrential rains and flooding that left at least 14 people dead.
The rescue operation is taking place in the northern state of Vargas. It is the same area where heavy rains and flooding more than five years ago left thousands dead.
President Hugo Chavez visited the coastal state on Thursday.
On Wednesday, the severe weather forced the government to declare a state of emergency in northern coastal areas as well as the capital, Caracas.
The rains are expected to continue for at least two more days but with less intensity.
BELGRADE, Serbia - Snowbound villagers fought off starving wolves and the Danube River iced over as a Siberian frost gripped much of the Balkans for the second straight week, killing at least a dozen people.
Serbia, Croatia, Bosnia, Montenegro, Kosovo, Macedonia, Bulgaria, Romania and Albania all registered record or near-record low temperatures, according to local press reports.
In Karajukica Bunari on the Serbia-Montenegro border the temperature fell to minus minus 29 Fahrenheit. Meteorologists predicted the January 1954 record would fall in the coming days.
According to inland shipping reports, the Danube River was partially iced up in dozens of places, from Hungary to Romania.
"Huge blocks of thick ice are floating on the river. We expect the lower Danube to be completely iced by tomorrow," the Bulgarian state news agency BTA quoted an official as saying.
The Black Sea coast was badly hit by frozen snowdrifts topping 6 feet and many roads were closed.
In Macedonia, an army captain was found frozen solid just yards from his border post in the Sar mountains on the Kosovo border.
Three people died of cold in rural Croatia, four hypothermia fatalities were reported in Bosnia and four in Albania.
Hospitals in central Bosnia were closed when antiquated heating systems lost the battle against the freeze.
"We are sending patients home and operation rooms are closed except for the most urgent cases," hospital spokesman Marko Radoja told Reuters in the Bosnian Serb capital Banja Luka, which has recorded its lowest temperatures in 20 years.
In Albania and western Kosovo, villagers in remote areas had to drive off wolves and wild boar searching for food.
The Albanian daily Metropol said a 27-year-old mentally ill man was found devoured by wolves in the mountains near Elbasan, where villages lie six feet deep in snow.
Readers who wish to know more about who we are and what we do may visit our portal site Quantum Future
---
Remember, we need your help to collect information on what is going on in your part of the world!
We also need help to keep the Signs of the Times online.
---
Send your comments and article suggestions to us

---
Fair Use Policy
Contact Webmaster at signs-of-the-times.org
Cassiopaean materials Copyright ©1994-2014 Arkadiusz Jadczyk and Laura Knight-Jadczyk. All rights reserved. "Cassiopaea, Cassiopaean, Cassiopaeans," is a registered trademark of Arkadiusz Jadczyk and Laura Knight-Jadczyk.
Letters addressed to Cassiopaea, Quantum Future School, Ark or Laura, become the property of Arkadiusz Jadczyk and Laura Knight-Jadczyk
Republication and re-dissemination of our copyrighted material in any manner is expressly prohibited without prior written consent.