Printer Friendly Version
New Page! Translations from other sites
New Travel Log! The Quantum Future Group Goes to Rennes-le-Chateau
New Article! Word Control, Thought Control, World Control
Pentagon Strike Flash Presentation by a QFS member
---
Picture of the Day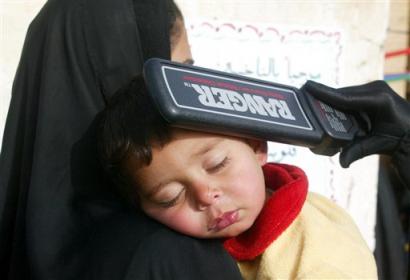 A young boy and his mother are scanned before entering a polling station in the centre of Az Zubayr, Southern Iraq. (AP photo)
The Border Police is planning to demolish an Arab neighborhood in Jerusalem to protect the separation fence built in the area.
Commander Amitai Levy, the Border Police commander of the area enveloping Jerusalem, has announced that dozens of buildings of the Al-Muntar neighborhood in Jerusalem's Tzur Baher village must be torn down.
This follows from his decision to create a 500-meter-wide security strip on each side of the barrier along its entire length, he said.
The residents of Al-Muntar said this week that at least 74 houses come within 500 meters of the barrier. In the rest of the country, the security buffer along the fence is only 50 to 80 meters wide.
Levy's statement contradicts the instructions of Dan Tirza, a retired colonel in charge of the security fence administration for the Israel Defense Forces. Tirza permitted two architect firms hired by the residents to plan the buildings only dozens of meters away from the fence.
Recently he ratified his decision and said it was reached in coordination with the IDF command of the area surrounding Jerusalem.
Levy said the illegal buildings will be demolished and "if the whole neighborhood is illegal, it must be destroyed." He also said Tirza is not authorized to make any security decisions in the fence region. "He is not a security authority in this region and cannot legalize illegal buildings," he said.
The houses in Al-Muntar were built without a building permit, in the absence of a master plan in the area. However, their owners have been acting for years together with the Interior Ministry and Jerusalem municipality to issue legal permits for the houses that were built.
Attorney Giat Nasser, who represents 27 Al-Muntar residents, said the plans for the houses were made following the residents' petition to the High Court of Justice and on the instructions of the Jerusalem municipality.
The architects are working on a master plan for the village, which, once approved, will render the houses legal. However, red tape is holding up the plan's approval, and meanwhile the residents keep receiving demolition orders to their homes.
Although their homes are in the process of being approved, they are forced to pay heavy fines and make efforts to persuade the courts to withhold the demolitions.
The residents started building their houses in Al-Muntar in 1992 in the village's east wing, after three Jewish settlements (the neighborhoods Har Homa, East Talpiot and Kibbutz Ramat Rahel) were built around Tzur Baher since 1967. The residents of Tzur Baher, which is mostly inside Jerusalem's municipal area, said the building in Al-Muntar results from the village's natural growth in the only unbuilt area left.
The residents were angry this week at Levy's statement. "The commander is not supposed to promote the demolition of illegal structures. Since when do the police or Border Police interfere with the affairs of the Jerusalem municipality or the Interior Ministry?" they asked.
The Jerusalem municipality denied the city is dragging its feet approving the plans and said it is debating two of the plans submitted by the residents. The Interior Ministry said, "The Jerusalem district Planning Bureau in the ministry is handling the residents' calls to replan Tzur Baher's margins."
The Palestinian Authority has accused Israel of seeking to frustrate Palestinian efforts to restore calm and achieve a ceasefire in preparation for the possible resumption of the stalled Middle East peace process.

Abd Allah Abd Allah, director-general of the Palestinian foreign ministry, said Israeli Prime Minister Ariel Sharon's plans to annex Jewish settlements in the heartland of the West Bank were a "clear provocation aimed at thwarting efforts to end the violence".

"I am confident Sharon is not really interested in the restoration of calm," he said. "He is more interested in stealing more Palestinian land and shutting-in Palestinian population centres with this satanic wall."

Speaking to Aljazeera.net on Sunday, shortly after Israeli soldiers killed a Palestinian civilian in Rafah in southern Gaza, Abd Allah said the Israeli decision to move the route of the gigantic wall deep into the West Bank in the southern Bethlehem and northern Hebron regions would kill peace efforts.

"It would mean cutting Hebron from Bethlehem and turning both into separate Bantustans surrounded by Jewish-only settlements and the hateful wall," he said.

Abd Allah said the Palestinian Authority (PA) would urge the Bush administration and the European Union to pressurise Israel to stop "mutilating our homeland".

Appeasement

Seeking to appease his Likud hardliners opposed to the planned withdrawal from the Gaza Strip, Sharon has apparently endorsed a new route for the wall that would take tens of thousands of acres of Palestinian land and ghettoise a number of small Arab towns and villages in the Hebron region.

According to Israeli media sources, the new route will reduce Palestinian towns such as Surif and Nahalin and several other surrounding villages into virtual detention camps.

Inhabitants in the area will not be able to leave their towns except through so-called security gates manned by Israeli soldiers. The gates would be open only during certain times of the day.

Moreover, thousands of Palestinians from the Bethlehem and Hebron regions would lose their land and farms due to the wall.

Reactions

The Israeli newspaper Haaretz has reported that the Israeli government will go ahead with its plan to build the wall in the southern part of the West Bank despite Palestinian objections and possible American consternation.

An Israeli spokesperson told Aljazeera.net the new route was consistent with a ruling by the Israeli High Court issued last year.

"The government is trying as much as possible to avoid harming the Palestinians in accordance with the High Court decision," said Amira Oron at the Israeli foreign ministry.

However, this ruling was incompatible with a verdict by the International Court of Justice (ICJ) in The Hague in early July 2004, which declared the wall was illegal as it was built on occupied territory.

However, Israel, which routinely ignores UN resolutions pertaining to the Arab-Israeli conflict, rejected the ICJ ruling, arguing that Israel considered the West Bank disputed rather than occupied territory.

Provocations

The Israeli decision to unilaterally and illegally seize more Palestinian land in the West Bank is only one of many measures the Sharon government has taken since the new reformist Palestinian leader Mahmud Abbas was elected on 9 January.

Earlier this month, the Israeli government revealed it had taken a secret decision several months earlier which allowed for the confiscation of property and land on the "Israeli side of Jerusalem" that is owned by Palestinians living on that side of the wall.

According to the decision, Palestinian proprietors owning real estate or land in Jerusalem but living outside the city, even a few metres away on the other side of the separation wall, are considered absentees.

This means their property can be seized without compensation and automatically passed on to the ownership of the Jewish Agency for the exclusive benefit of Jews.

Evictions

Interestingly, the manifestly racist decision has so far drawn no reaction from the Bush administration.

Last week, the Israeli government took another decision requiring the estimated 300,000 Palestinian inhabitants of East Jerusalem to obtain a special permit from the Israeli domestic intelligence service, the Shin Beth, in order to travel outside Jerusalem.

The decision affects only non-Jews since Jewish settlers living in the West Bank travel freely from their settlements to Israel proper and vice versa.

Israeli observers say openly the decision is aimed at getting as many non-Jews as possible to leave Jerusalem.
"The Breaking the Silence" organization has collected new testimony from Israeli troop on harsh actions carried out during the course of the fighting in the occupied Palestinian territories, Haaretz reported Friday in its headline page. Palestinian body



Two of the testimonies pertain to a military doctor who gave medics lessons in anatomy using the bodies of Palestinians killed by Israeli forces.

An Israeli conscript who served as a medic in Ramallah area some two years ago told Haaretz that the "lesson" had taken place following a clash between an armed Palestinian and Israeli forces.

According to the soldier, the Palestinian's body had been riddled with bullets and that some of his internal organs had spilled out. The doctor pronounced the man dead and then "took out a knife and began to cut off parts of the body," the soldier was quoted as saying by the Tel Aviv-based daily.
A mentally handicapped Palestinian man has died after being shot by Israeli soldiers in the southern Gaza Strip, hospital sources said.
Ibrahim al-Shawas, 36, died on Saturday after being shot in the head near Khan Yunus on Friday, they said. Witnesses said he was approaching a border fence near the town when a shot rang out from the Israeli side.
Aljazeera reported that al-Shawas was on his way to his farm when he was shot and killed.
His death brings the number of people killed since the start of the Palestinian intifada or uprising in September 2000 to 4721, including 3666 Palestinians and 981 Israelis.
Al-Shawas' death comes as Palestinian security forces widened their control in the Gaza Strip on Friday under orders from President Mahmud Abbas to prevent attacks on Israelis in another important move towards reviving peace talks.

JERUSALEM (AP) - A political rally by the militant Palestinian group Hamas turned violent Saturday, as supporters of the rival Fatah faction opened fire, sparking a melee that left more than 20 people wounded, Palestinian officials said.
The incident in the Maghazi refugee camp in central Gaza was the first instance of violence between rival Palestinian factions since the election of Palestinian leader Mahmoud Abbas in early January.
Abbas has been holding talks with rival political factions, including Hamas, in hopes of reaching a truce agreement between militants and Israel.
The shooting occurred at an outdoor rally staged by Hamas to celebrate its victory in municipal elections in Gaza earlier in the week. Hamas's strong showing dealt a setback to Abbas's dominant Fatah faction.

A Palestinian security official, speaking on condition of anonymity, said the violence broke out after several hundred Hamas supporters marched from the nearby Ansarat refugee camp to Maghazi, one of the few districts won by Fatah in Thursday's elections.
"You chose secularism. You should have chose Islam," the Hamas crowd chanted, angering a crowd of Fatah supporters who had gathered.
One of the Fatah supporters opened fire, seriously wounding one Hamas supporter in the chest and causing shrapnel wounds to four others, officials said. Some 17 other people were hurt by knives, clubs and beatings in the ensuing melee.
While rival Palestinian factions have sporadically fought one another, such instances of fighting are rare, with the various groups all saying they are committed to ending Israel's occupation of the West Bank of the Jordan River and Gaza Strip.
The Palestinian security official said late Saturday the clash had ended and leaders of the rival factions were meeting to reconcile their differences.
While Syrian President Bashar Assad denied that he was in Moscow to shop for weapons, he defended his country's right to acquire surface-to-air missiles from Russia. He said during his four-day visit that was due to end on Thursday that "these are weapons for air defense, meant to prevent aircraft from intruding in our airspace".
"If Israel objects to our acquisition of these defensive weapons, it is as if it is saying, 'We want to attack Syria but we do not want them to defend themselves.' That's not logical," concluded Assad while addressing the State Institute for Foreign Relations. But Assad reiterated an earlier denial of a deal for SA-18 missiles and long-range Iskandar-E missiles that could reach targets all over Israel.
Ever since the United States invaded Iraq in March 2003, Syria has been threatened both by Israel and the US. Assad was furious when Israeli jets recently buzzed him in his palace.
To mark the historic Syrian visit, Russia announced that it would write off 73% of US$13.4 billion in debt owed by Syria from the days of the USSR. Russian President Vladimir Putin said this created "opportunities for long-term cooperation".
A joint statement issued on Wednesday included a conciliatory message to the US that both countries "vehemently condemn terror in all its forms and expressions, and affirm the strong need of the international community to channel its effort to fight effectively this dangerous challenge to the human race".
But Assad invited Russia to the region because "Russia has an enormous role, and has a lot of respect from Third World countries ... which really hope that Russia will try to revive the positions it used to hold". He added that US foreign policy on Iraq was "disastrous".
Russia seems to be returning to the Middle East. At the time of the first Gulf crisis and war in 1990-91, when then Soviet president Mikhail Gorbachev made moves for a peaceful settlement, he was brushed aside by US president George H W Bush.
The other main points of the statement are as follows.
On Iraq, the two sides, while stressing commitment to Iraq's territorial integrity, sovereignty and security, asserted support to the political process under way in Iraq to achieve reconciliation and secure the rights of all Iraqis regardless of their religious or ethnic belonging in line with United Nations Resolution No 1546, whose implementation creates the proper conditions for foreign troops to pull out from the country.
Regarding the United States' unilateralism, they expressed confidence that the 21st-century world system should be built on international law, taking into consideration the interests of all countries and mechanisms of formulating unanimous stances to solve international issues through the pivotal role the UN assumes.
On Israel's reported nuclear stockpile and Western countries' emphasis against weapons of mass destruction (WMD), Syria and Russia agreed to cooperate in the field of boosting international stability and preventing the proliferation of WMD, pointing to the importance of commitment to UN Security Council Resolution No 1540 and freeing the Middle East from all kinds of WMD.
The joint statement criticized US President George W Bush's daily lectures on spreading liberty, elections and democracy. "Democracy and reforms in the Middle East should be in line with the historical, spiritual and civilizational features of states and are strongly linked to the achievement of a just and comprehensive peace in the region," the statement said. Defense cooperation was muted in the phrase "it underlined that the two sides would develop traditional cooperation in the military technical field in a way that meets the mutual concerns of both countries and their international commitments".
Shivers down the Israeli spine
Commenting on the visit, a jittery Jerusalem Post, while describing the Russian role in the region, wrote, "Russia's planned sale of SA-18 missiles to Syria looms ominously as a throwback to the [Leonid] Brezhnev era's most misguided attitudes. Economically, Syria is a basket case whose debt-return record must make one doubt its financial commitments. Ideologically, Syria remains part of the terrorist internationale which has repeatedly victimized Russia. And diplomatically, arming Damascus while Washington suspects it of fueling the war on its troops in Iraq brings to mind memories of Russia's role in the Vietnam and Korea wars.
"President Vladimir Putin has earned himself a reputation as a rational man out to restore Russia's global stature. In itself, this is a worthy goal. However, by pandering to regimes such as Assad's, not only will Putin not have restored Russia's clout, he will convince people that he has learned nothing from his Soviet predecessors' downfalls. He will also make people reconsider their impression of his rationalism."
But then where would Israel be without massive annual US aid? Would not Israel be a basket case too? Or for that matter take the massive US aid given to Pakistan in return for its support in the "war on terror", despite Pakistan allowing its territory to be used for training and recruitment of jihadis to attack Indian territory, among other places.
Syrian strategic analyst Gamal Barout said recently, "Back in 2001, the Russian side showed a desire for a strategic alliance with Damascus, but traditional government wrangling poured cold water on the bid. Now, Syria needs Moscow to stave off European-American pressures." Last September, the UN Security Council adopted a resolution put forward by the US and France that demanded the withdrawal of foreign forces (Syrian) from Lebanon and non-interference in the Lebanese presidential elections. Russia, which has the power of the veto, abstained in that vote.
US Secretary of State Condoleezza Rice (shortly before her confirmation to that position) warned that Damascus faced new sanctions because of "its suspected interference in Iraq and ties to terrorism". As a riposte, Russian Foreign Ministry spokesman Alexander Yakovenko described Syria as one of its "most important partners" in the Middle East. He added, "It's well known that slapping labels on countries and unilaterally describing certain states as part of the 'axis of evil' has not improved anyone's security."
While an impoverished Syria needs to maintain and modernize its army, Russia also needs a foothold in the Middle East in view of the security and strategic significance of the region and Euro-American competition. The revival of the old strategic alliance of the Cold War is mutually beneficial. Another expert said, "Moscow has been facing several problems recently. It realized that Washington had gone too far in extending its influence at the expense of Russia," arguing that Washington was seeking to encircle Moscow, one way or the other.
Syrian journalist Hayan Niouf said that Syria could also play a positive role in pushing for Moscow's active role, if not membership, in the Organization of Islamic Conference (OIC), in exchange for Russian political support in the UN and the Security Council. Russia, with a population of tens of millions of Muslims, was invited as a guest at the most recent OIC summit in Malaysia last year. With many Muslim nations distrusting the US government and its policies, and hatred against the US in much of the Muslim ummah (community), the OIC would be happy to grant a bigger role to Russia.
Assad's visit to China
Assad has been trying hard to escape the suffocating straitjacket that Israeli and US policies have tied him in. US sanctions, signed into law at the end of 2003, include a near-blanket ban on US exports to Syria and the power to freeze Syrian assets in the US. Except for food and medicines and items intended for certain exempt entities, such as the US Embassy, foreign diplomatic missions and UN agencies in Damascus, all US exports to Syria, estimated at some $100 million a year, were banned under the sanctions. The US resolution also banned the exportation of "dual use" technology and restricted over-flight rights for Syrian aircraft inside US airspace.
Last June, Assad visited China, the first ever visit by a Syrian head of state. A more liberal politician in the economic field than his late father, Hafez Assad, the visit was made with the aim of learning from China's economic boom. The editor-in-chief of Syria's state-run al-Thawra newspaper remarked that the landmark visit demonstrated Damascus's keenness on following in the footsteps of Beijing's open-door economic policy, growth rates and political reforms. Syria was also interested in acquiring technology from China.
Chinese Foreign Minister Zhaoxing Li, while welcoming the visit, endorsed Syria's right to the occupied Golan Heights, and described the US sanctions on Syria a "double-standards policy". A Chinese diplomat in Damascus also highlighted the military cooperation between both countries, pointing to the mutual visits of military delegations. Syria of course has energy resources, and many European and even Asian oil giants have shown great interest in bidding for oil and gas contracts after the withdrawal of US oil companies.
Missile talk
Two weeks ago, when the media reported a possible missile deal between Russia and Syria, Russian Defense Minister Sergei Ivanov, then on a visit to Washington, denied it, but Israeli Foreign Minister Silvan Shalom was the first official to admit that Israel did ask Russia to halt the deal. "We turned to the Russians and asked that they not complete this deal," said Shalom. "Syria is a country that supports terror and is supplying Hezbollah with weapons non-stop." He added that the sale "will disrupt regional stability and won't improve the chances for peace".
Israeli analyst Gerald Steinberg said the reported sales came as a surprise because the Syrians did not have money to buy Russian weapons. "If this report is true, it is very problematic and will pose a challenge to Israeli military planners," said Steinberg. The Jerusalem Post cited top Israeli diplomatic officials as saying that Israel asked the US to pressure Russia to scrap the deal, claiming that the missiles could be smuggled into Iraq and endanger the US forces there.
For Israel and the US it would be an adverse development in the wake of the deteriorating situation around Iraq, but Moscow has made its point and more. Russia does not like being pushed around by US-led Western efforts, as it was in Ukraine and Georgia, or being lectured on the sale of Russian oil giant Yukos, and it resents support for the insurgency in Chechnya.
Syria has Soviet-era Scud ground-to-ground missiles, but media reports suggest that Moscow is ready to sell a vastly updated version of the Scud, the Iskandar, or even SS-26 missiles. These are capable of pinpoint strikes against targets within a 300-kilometer range, which could reach most Israeli targets, including its atomic reactor at Dimona.
US North Atlantic Treaty Organization ally Turkey's Prime Minister Recep Tayib Erdogan recently completed a visit to Moscow, soon after Putin's postponed visit to Ankara last month. While relations between Turkey and the US have cooled down, primarily because of differences over the US-led invasion of Iraq, Turkey is coming closer to its historical enemy, Russia.
In 1999, Turkey threatened to invade Syria if it did not expel Kurdish rebel leader Abdullah Ocalan (which it did, and he was captured and imprisoned in Turkey), but since then relations have warmed up, with the exchange of visits by Assad and Erdogan. And after a visit by Iranian President Mohammed Khatami to Ankara, relations with Tehran, historically soured by the Shi'ite-Sunni rivalry, are also improving.
At the same time, relations between Turkey and Israel, which were quite close during the Cold War and almost hot after the fall of the Berlin Wall, have deteriorated recently, with Erdogan accusing Israel of state terrorism in the occupied territories. Turkey also asked Israel to leave Kurdish north Iraq alone, following reports that Mossad had been training Kurdish peshmergas (paramilitaries) to operate in the neighborhood, especially in Iran and Syria. Turmoil in northern Iraq has always adversely affected Turkey's own Kurdish southeast.
Why Putin is angry
Speaking to the media in Moscow last month, Putin expressed his anger at the West, whether it was about the latter's encouragement to the insurgency in Chechnya or a string of US-led Western "franchised" successes in getting anti-Russian leaders elected in its strategic neighborhood, that is, the "Rose Revolution" in Georgia in November 2003 and the "Orange Revolution" in the even more vitally important Ukraine, in which finally anti-Russian Victor Yushchenko won. His utterances and the appointment of anti-Russian Yulia Tymoshenko as prime minister are provocative.
Putin said last month, "Every country has the right to choose the development path it considers best, including in organizing its political system." Referring to US criticism of the November 21 elections in Ukraine (then US secretary of state Colin Powell said Washington would not accept them), Putin retorted that he was not ecstatic about what happened in the US. "Do you think that the electoral system in the United States is entirely flawless? Do I have to recall the last elections in the United States or the one before?" he added. He pointed out that the Organization for Security and Cooperation in Europe had criticized the US for barring observers from some polling stations in last month's Ukrainian elections. "There was even intimidation of voters."
He also ridiculed a Texas judge's ruling on the sale of Russian oil giant Yukos. "I am not sure whether they know where Russia is. The level of professional training [of the judge] perplexes me," he said. He also lambasted the scheduled January 30 election in Iraq, saying that "it could not be fair while the country remained occupied by US-led forces".
Russia, despite US pressure, is going ahead with cooperation in setting up nuclear power stations in Iran. China recently signed a major long-term agreement with Iran for energy purchases and development of the Iranian oil and gas sector. Energy-hungry China and India are aggressively bidding for investment and development of Yukos energy assets.
The US reaction
Before the Russian denial, while describing Russian arms sales to Syria as speculative, State Department spokesman Richard Boucher made it clear that the US was opposed in principle to all arms sales to Syria. He said, "We have seen reports of the sale. The US policy on this is very clear. We're against the sale of weaponry to Syria, the sale of lethal military equipment to Syria, which is a state sponsor of terrorism. We think those kinds of sales are not appropriate. The Russians know about this policy. They know about our views." He added that the Russian entities involved in such a sale would be subject to US sanctions under a law aimed at curbing the flow of arms to countries on US terrorism lists. Russian Defense Minister Ivanov was in Washington for high-level talks, including with Powell.
The proposed sale has injected tension not only into Russian-Israel relations, but with the US as well. Israel said that the missiles might end up in the hands of Lebanese Hezbollah guerrillas and would be aimed at Israeli targets. Hezbollah, which is close to Syria, fought an 18-year guerrilla war against Israeli forces in south Lebanon, firing rockets at northern Israel until 2000, and threatens to do so again, say the Israelis.
This development might bring some restraint over the policies pursued by Israeli Prime Minister Ariel Sharon. The missiles deal would beef up Syria's air defenses and discourage Israel from making regular threats to Syria. The Moscow Daily Kommersant said that Damascus had asked for 18 Iskandar missiles in August, but was told they had not been fully tested. The Syrians have now been told that the missiles are ready.
Paul Beaver, a London-based defense analyst, commented that while Russia has upgraded Syrian military equipment, it has not sold it new arms since 1990. Beaver added that the SA-18 evolved from the Russian shoulder-held SAM-7, which was widely used during the Vietnam War. The SA-18 is much more flexible and can even target the non-heat-emitting section of an aircraft. It can also overcome many Western defensive maneuvers, such as flares, used to deflect anti-aircraft missiles. It weighs just over 10 kilograms, has a maximum range of six kilometers and can be used to shoot down planes and helicopters. The sophisticated missiles cost about US$250,000 each. Analysts said the US might be concerned that Iraqi insurgents would get their hands on these, threatening US warplanes in Iraq. This palpably is an Israeli line.
Israel asked for US intervention in stalling the missile deal. David Siegel, a spokesman for the Israeli Embassy in Washington, said, "The reports in this regard are very disturbing and, as in other cases with strategic implications, we conduct an ongoing dialogue with the administration."
"We have enough problems on the ground with Syria and we don't need more problems from the sky," Vice Prime Minister Shimon Peres said. Foreign Minister Silvan Shalom said, "We have close contacts with the Russians. We had consultations over the past few days, and we hope to reach the necessary agreement." Russian Deputy Foreign Minister Alexander Saltanov is in the region to discuss the missile issue.
Israelis are keen not to jeopardize improving relations with Russia, in place since the unraveling of the USSR. Israeli Foreign Ministry official Gideon Meir denied a Russian media report that Israel had recalled its ambassador. The ambassador was in Israel, but would return to Moscow soon, added Meir. Many millions of Russian Jews have immigrated to Israel, changing the demographic makeup of Israel and making its policies more right-wing and aggressive. Sharon, who is of Russian descent, has visited Moscow three times since becoming prime minister in 2001. He asked Putin to stop Iran in its covert nuclear-arms program and to restrain Syria, along with its Lebanese and Palestinian proxies: a case of the wolf blaming the lamb.
Conclusion
Assad's visit to Russia marks the first stirrings of the Russian bear, which was sent into hibernation after the USSR's power was partly dismantled by Mikhail Gorbachev, without leveraging anything in return. A drunk or drugged Boris Yeltsin then set Russia on the road to economic ruin, robbing it of public property, which saw the emergence of a handful of dollar multibillionaires.
Putin, a karate expert, has come of age. He no longer appears to trust Bush. Russia is still a world nuclear power and can defend itself and its interests. A majority of nations, almost all of the Muslim countries, oppose the United States' unilateralist policies and targeting of Muslims. Russia has accumulated more than 500 billion rubles ($16.7 billion) in its energy-stabilization fund because of unprecedented high global oil prices: its economic situation is getting better. Putin will follow his own path.
K Gajendra Singh served as Indian ambassador to Turkey and Azerbaijan from 1992-96. Prior to that, he served as ambassador to Jordan (during the 1990-91 Gulf War), Romania and Senegal. He is currently chairman of the Foundation for Indo-Turkic Studies and editorial adviser with global geopolitics website Eurasia Research Center, USA.
The conclusion that Israel came up with after the United Nations' commemoration of the 60th anniversary of the liberation of the Auschwitz camp has nothing to do with the memory itself. Sharon voiced his conclusion that the Jews can only rely on themselves to defend their enemies. Israeli minister Sylvan Shalom has also added that this commemoration might signify a transformation in the role of the UN in the Middle East. Naturally, the United Nations was rightly involved with this memory because it concerns all of humanity as much as it concerns Jews. However, using the UN and the memory of the Holocaust in order to clean up the bloody record of the State of Israel is a completely different issue. Every single programmed and deliberate Israeli use of the Holocaust is an insult and an assault on its meanings because war crimes are not justified by others previously committed.

Meddling with history in the sense of justifying Israel's existence as an alternative to the Holocaust could only reignite a historic debate, which the Jews strongly avoid. What is the meaning then of having Shalom claim that this represents the first time that members of the UN have spoken positively about Israel and did not attack it as usual? Of course, these delegates did not forget the hundreds of international resolutions which condemn Israel and its crimes but they were talking about the Holocaust, not about the Israeli occupation which must end in the Palestinian territories. Israel has found it convenient to correlate the international sympathy with the Jews with support to its crimes against the Palestinian people and its destructive policies in the Middle East.

What allowed Israel to stray away from the real moral behind the Holocaust is that the Secretary General of the UN did not recognize the danger of Israel's taking advantage of the memory just like it hijacked George W. Bush's "war on terror" or just like it interfered in the fabrications which justified the war on Iraq and as it is doing now in preparation for another Bushite war on Iran. Kofi Annan was wrong to say that Israel has risen from the ashes of the Holocaust, for he has linked the establishment of that state with the Nazi crime, and even so, he has no right to insist on forgetting the other people who paid with their blood and land the price of the emergence of that state. Annan was also mistaken, he who condemns hatred of the "other", to quote his "friend" Eli Wiesel who is a symbol of denying and hating the other by his condolence to the hostility against the Palestinian people; he even received the Nobel peace prize for these positions.

For history, Annan's speech in the memory of the Holocaust was designed to forget about the Palestinians. He remembered Cambodia, Rwanda and former Yugoslavia and rightfully the pains of Darfur. He said: we are witnessing today horrifying models of inhumanity; yet, he forgot what is happening in Palestine. It has truly become a concern, considering the logic that Annan has adopted, that the "transformation" mentioned by Shalom is real. It seems as if silencing the United States' criticisms of the UN and of Annan himself pass through a "reconciliation" between the international organization and the Zionist lobby. This implies that the UN is called to forget most of its Charter's articles when it deals with Middle Eastern matters.

As much as the commemoration of a chapter of history reflects a civilized human sensibility, as much as the memory should contribute to dealing with the present in the same approach. The most important aspect of the memory of the Holocaust is its condemnation of a crime that all the world has shunned, but the worst aspect of the memory is its use to justify crimes that are being committed before our eyes. What we saw in the UN ceremony of commemoration is a programmed neglect of the Palestinian misery. It would be wiser for Annan and his aides to remember in such events that balance is crucial especially after the United States and Israel have made the Muslims targets, like the Jews were in the time of the Nazis.
Auschwitz "reminds us that evil is real," US Vice President Dick Cheney declared in addressing a ceremony marking the 60th anniversary of the Nazi death camp's liberation by troops of the Soviet Red Army.
"Men without conscience are capable of any cruelty the human mind can imagine," the US vice president said at the commemoration. "And in every generation, free nations must maintain the will, the foresight and the strength to fight tyranny and spread the freedom that leads to peace."
It is not necessary to invoke the horrors of Auschwitz to remind us that "evil is real." But Cheney's presence at the site of the greatest crime of the 20th century gave this platitude a chilling significance.
In Europe in general, and Poland in particular, Bush's failure to attend the commemoration himself was taken as a significant slight. An even more glaring expression of Washington's indifference apparently went unnoticed—at least by the pliant media. Sections of Cheney's speech were lifted virtually unchanged from an address given by Bush when the US president and his wife made a quick tour of the camp a year-and-a-half ago (see: "A presidential visit to Auschwitz: The Holocaust and the Bush family fortune").
Cheney, like Bush before him, came to Auschwitz with one purpose in mind: to twist and exploit the atrocities of Hitlerite fascism to justify Washington's own acts of aggression and inhumanity.
For a number of reasons, this year's ceremony has attracted greater attention—and more heads of state—than the 50th anniversary marked in 1995. On the one hand, there are great power interests involved. The commemoration of Auschwitz and repudiation of the crimes of the Third Reich have become enmeshed in the attempts to create a common political and ideological framework for the eastward extension of European integration.
There are also more human considerations. The ranks of those who survived the death camp have dwindled to a handful, and few remain of the Soviet soldiers who were stunned by the scenes of depravity and death they encountered when they liberated the camp. There is a growing realization that their entire generation is passing from the world stage.
One of the camp survivors, Franciszek Jozefiak, 80, saw his father gassed at Auschwitz and suffered horrific torture and abuse at the hands of the Nazis. "The message today is: no more Auschwitz," he told the Associated Press. "But the world has learned nothing so far—you see they are fighting and killing each other everywhere in the world. Today they are saying a lot because of the anniversary, but tomorrow they will forget."
Jozefiak touched on the most compelling source of the Auschwitz anniversary's heightened resonance today. The world confronts once again the growth of militarism, the deepening of international tensions, and an escalating attack on democratic and human rights—tendencies that found their consummate expression in the Nazi regime and its "final solution." Though the world has entered a new millennium, the worst barbarities of the previous century seem closer to us, and a repetition of such atrocities more possible.
Cheney did not have to deliver a speech to remind his audience that those in power are capable of unspeakable cruelty; his mere presence sufficed. He is identified, perhaps more than any other world figure, with such evils.
Who is Cheney to represent the American people at Auschwitz? The US vice president is identified with the most right-wing political forces in America. In the 1980s, as a Republican congressman from Wyoming, he acted as a defender of the Apartheid regime in South Africa, voting against a resolution calling for an end to the quarter-century imprisonment of Nelson Mandela. Currying favor with homegrown racists, he likewise voted against the decision to make Martin Luther King's birthday an official holiday.
As defense secretary in the administration of Bush the elder and in his current role as vice president, he has been the most vociferous proponent of the use of military force to achieve Washington's global aims. He oversaw the first Persian Gulf War and acted as a principal organizer of the illegal invasion and occupation of Iraq, orchestrating a campaign of public deception and propaganda that had no precedent since the days of the Hitlerite "big lie."
In between, he enriched himself as the chief executive officer of the oil industry giant Halliburton, a principal Pentagon contractor from whose war profiteering the vice president stands to reap future dividends.
Cheney's entire political and business career strongly suggests that if, by a twist of fate, he had grown to maturity in pre-war Germany rather than in the post-war United States, he would have found his way either into the Nazi regime or among the corporate criminals who financed the Nazis and profited off of the slave labor of concentration camp inmates.
The Bush administration is not the Third Reich and Cheney is not a Nazi, but the parallels between the course upon which German imperialism embarked in the 1930s and the one taken today by the government in Washington are real and have profound objective roots. With his invocation to "fight tyranny and spread the freedom that leads to peace," Cheney used the Auschwitz commemoration to echo the threat of global US military aggression advanced by Bush in his inauguration address a week earlier.
The US vice president's presence in Poland was bound up with the continuation of this aggression. One of primary objectives of his visit was to dissuade the Polish government from moving ahead with plans to begin withdrawing its 2,400 troops from Iraq, the only numerically significant contingent outside of the US and British occupation forces.
Aggressive war and the crimes of the Nazis
There is a grim irony in Cheney's use of Auschwitz as a stage for promoting such a strategy.
When the surviving leadership of the Nazi regime was brought before an international war crimes tribunal at Nuremberg, the principal charge against them was conspiring to wage aggressive war. The ruling that sentenced the Nazi leaders to hang declared the waging of aggressive war to be "essentially an evil thing." The launching of such a war, it said, "is not only an international crime; it is the supreme international crime, differing only from other war crimes in that it contains within itself the accumulated evil of the whole."
Thus, in the view of the prosecution, the atrocities carried out by the Nazis—Auschwitz and the murder of 6 million European Jews, the destruction of the German workers' movement, the liquidation of all political opposition—flowed from the fundamental policy of aggressive war.
In his closing statement to the tribunal, the lead prosecutor, US Supreme Court Justice Robert Jackson, dismissed a key justification given by the Nazi defendants for their crimes. "Some of the defendants argue that the wars were not aggressive and were only intended to protect Germany against some eventual danger from the 'menace of communism,' which was something of an obsession with many Nazis."
Substitute the word "terrorism" for "communism," and you have the basic justification given by Bush, Cheney and company for their policy of preventive war. Should they be brought to trial for the war crimes they have committed against Iraq, the prosecution would have only to cite Jackson's words to establish the applicability of the Nuremburg principle to their case.
US imperialism's policy of aggressive war has yet to produce killing on the scale of Auschwitz, but in resurrecting this criminal strategy it has opened the door to such atrocities. While it has not erected gas chambers and crematoriums, Washington has embarked on the construction and running of a growing international network of concentration camps, including Guantanamo Bay in Cuba, Bagram Air Base in Afghanistan, and Abu Ghraib in Iraq. It has legitimized both torture and assassination, while claiming the right to indefinitely imprison citizens and non-citizens alike without charges or trial.
This turn in American policy, like the rise of European fascism in the 1930s, has its ultimate source in profound and insoluble contradictions of the world capitalist system. Faced with the loss of its undisputed economic and political hegemony, US imperialism has embraced aggressive war as the principal means for reasserting its domination of the world's markets and sources of raw materials, above all oil.
This drive will inevitably assume an increasingly destructive character and, sooner rather than later, provoke countermeasures by America's imperialist rivals. This is the climate in which Auschwitz looms not merely as a historical reminder of abstract "evil," but as a grim and urgent warning of what capitalism in crisis is capable of inflicting upon humanity.
In his arguments before the Nuremberg tribunal, Robert Jackson declared: "It is not necessary among the ruins of this ancient and beautiful city, with untold members of its civilian inhabitants still buried in its rubble, to argue the proposition that to start or wage an aggressive war has the moral qualities of the worst of crimes. The refuge of the defendants can be only their hope that international law will lag so far behind the moral sense of mankind that conduct which is crime in the moral sense must be regarded as innocent in law..."
In the face of 100,000 or more dead in Iraq, and with Fallujah and major portions of other Iraqi cities in rubble, there can be no question that Bush, Cheney and others in the current US administration stand guilty of this "worst of crimes." Yet the US vice president's ability to deliver his obscene speech at Auschwitz condemning "evil" and "cruelty" make it clear that today the "moral sense of mankind" finds no reflection in international law. Only the emergence of an independent and socialist political movement of the working class can create the conditions for bringing these war criminals to justice.
This week, grim ceremonies marked the 60th anniversary of the liberation of Auschwitz, where the Nazis murdered 1.5 million people. These remembrances of horror provoked extensive commentary, summed up in a single agonizing question: How could this have happened?
Answers -- some simplistic, others more nuanced -- were offered by various pundits and scholars: It was one man's madness; it was the result of unique historical circumstances; it was the inevitable byproduct of a totalitarian system, and so on. Implicit in these comments was the comforting notion that such deliberate mass atrocity is possible only under a tyrannical regime, led by brutal dictators, "madmen" like Hitler, Stalin and Saddam; it could never happen in a democracy, where a free people exercise its electoral will, and strong civic structures curb the excesses of state power. Indeed, in his "fire sermon" at the inauguration, U.S. president George W. Bush claimed that democracy is a divine system, created by God Himself. It could therefore never be an instrument of evil.
Does this stance correspond to reality, to history? To get at the deeper truth, perhaps the question we should ask is not, "How did Auschwitz happen?" but rather, "What exactly happened at Auschwitz?"
Well, here's what happened: Government leaders ordered the murder and torture of innocent people in the defense of "the Homeland" and the superior "moral values" of their culture. They produced copious justifications for their actions, including legal rulings from top government attorneys, while concealing the actual operational details from public knowledge in the name of "national security." When faced with undeniable evidence of atrocity, they blamed "bad apples" in the lower ranks.
Suddenly, viewed in this light, Auschwitz doesn't seem so strange, so otherworldly, so removed from us. For we have seen all of these things come to pass today, perpetrated by the world's greatest democracy, by elected leaders whose initially dubious hold on power has just been ratified by the free vote of a free people. We have seen these democratic leaders launch a war of aggression on false pretenses -- a deliberate action which they knew would lead to mass murder.
We know this war has killed at least 100,000 innocent people, according to a scientific study by the respected medical journal The Lancet. The overwhelming majority of these 100,000 have been killed by direct military action of the U.S.-U.K. coalition, most of them long after "major combat operations" ended, The Lancet reports. (It's fascinating to watch the Bushists quibble over this number -- "The death count's not really that high, it wasn't deliberate, it was collateral damage, it's anti-American propaganda," etc. -- like Holocaust revisionists disputing the reality of Auschwitz: "It wasn't really 1.5 million, it wasn't deliberate, it was disease, overwork, Jewish propaganda, etc.")
We know that thousands of Iraqis have been imprisoned unjustly; up to 90 percent of all detainees were innocent of any offense, the Red Cross reports. We know that many of these innocents have been tortured, using techniques and guidelines laid down by Pentagon chief Donald Rumsfeld and approved by Bush. We know that many people have died from this torture, as the pro-war Times of London reports, not only in Iraq but also in secret CIA prisons around the world, where thousands of people are being held without charges -- and where the administration's tepid restrictions on torture do not apply, as Bush's legal factotum, Alberto Gonzales, admits.
And we know that whenever fragments of truth about this widespread, thoroughgoing program of atrocity do manage to surface from the darkness, Bush and his apologists run for cover and cast the blame on underlings. "This so-called ill treatment and torture in detention centers ... were not, as some assumed, inflicted methodically, but were excesses committed by individual prison guards, their deputies, and men who laid violent hands on the detainees." These words have a familiar ring, echoed almost daily by a Bush official or a right-wing commentator -- but in fact the quote is from Rudolf Hoess, commandant of Auschwitz, as Scott Horton notes in the Los Angeles Times. Horton and other writers also unearthed statements by Nazi leaders and jurists declaring the Geneva Conventions "obsolete" for the "new kind of war" they were fighting against Bolshevik "terrorists" on the Eastern Front -- precise equivalents to the language used by the Bush White House in its "torture memos."
There is nothing new in this, of course. Richard Nixon, first elected on a deceptive platform of "ending" the Vietnam War, in fact expanded the conflict with secret invasions of Laos and Cambodia that killed hundreds of thousands of innocent civilians. Even after these invasions came to light, Nixon was re-elected, democratically, by one of the largest margins in U.S. history. His infamous Oval Office tapes capture this democratic leader mocking aides who sought to restrain his most murderous impulses (including his repeated proposals to use nuclear weapons in Vietnam): "You're so goddamned concerned about the civilians, and I don't give a damn. I don't care." Yet as the Pentagon Papers showed, Nixon was just part of a decades-long, bipartisan record of U.S. deception and military escalation in Indochina that led to millions of deaths.
Yes, democracy remains the best system yet devised for the ordering of human society. But even the strongest democracy can be subverted by leaders bent on deception and aggression. Even the strongest democracy can give rise to a ruthless, corporate-driven war machine, to secret prisons, secret armies, torture regimens and mass slaughter. Democracy, for all its virtues, is not proof against systematic moral corruption -- or monstrous atrocity. The ashes of Auschwitz are still falling on the innocents being murdered today.
Iraqi "Elections" - Meet the New Boss...

SOTT
30/01/2005
A subtly implied argument often heard in the mainstream US media is that, since Iraqis appear to have accepted Saddam's totalitarian rule for so many years, they lack the "qualities" to live under a democratic form of government. The argument goes that, either they are just naturally violent people ("evil terrorists") who have more respect for the iron fist of dictatorship than the supposed velvet glove of democracy, or they are simply too weak-willed to prevent the rise to power of fascist elements within their society.
Of course, such a simplistic, uninformed and racist point of view goes down very well with a significant portion of Americans and many Europeans. But it is also an example of the fact that, very often, an impressive ability to find fault in others is due to the fact that the fault finders themselves possess the very same faults in abundance. It is the well-known art of loudly pointing the finger at others in order to distract from your own embarrassing situation, and it is an art at which the US government and media excel.
Before condemning the Iraqis for supporting life under Saddam for so long, the American people might first consider the lies and deceit that they have been fed by successive US governments, and the fact that only a tiny proportion ever refused to swallow those lies. Think of the massive yet obvious deceptions that have been passed off on the American people over the decades. From Magic bullets to weather balloons to "they hate us because of our freedom", it seems that no lie was ever big or blatant enough to rouse the revolutionary spirit of the American people.
Saddam tried to convince the Iraqi people that he was god-like, and most Iraqis were smart enough to make like devoted subjects when required, but all of them KNEW that they were living under a dictatorship. Today, despite the overwhelming evidence showing the present administration has lied consistently to the American people about virtually ever aspect of their policies, 50 million remain convinced that George Bush was divinely ordained to the Presidency and a majority still fervently believe that they are living in the "greatest democracy on earth" rather than a burgeoning fascist police state.
Today the mainstream news sites are turning their duplicitous gaze upon the Iraqi "elections", almost all of them reporting triumphantly on "the first free election to have been held in Iraq for 50 years."
The problem is that these "elections" were no bargain for the Iraqi people, unless you consider a price tag of one country and 200,000 innocent civilians a reasonable exchange for the imposition of an unrepresentative proxy US government. "Elections" is also a strange word to use, when most Iraqi civilians do not know who they are voting for and consequently a large percentage will probably not vote. By now, the entire world knows that the US lied about its reasons for invading Iraq. The real reasons remain an enigma to this day, but one thing is certain, they have nothing to do with spreading freedom and democracy.
Even in the case that the US government had been able to reach this "historic" day without all of the preceding (and ongoing) bloodshed and carnage, and if the elections really were free and democratic, can Bush honestly claim credit for the ousting of a dictator that America's intelligence agencies were responsible for placing in power in the first place? Do we think that the belligerent foreign policy that lead the CIA to place a man like Saddam in power in Iraq is any different today?
Australia's daily newspaper "The Age" tells us:
"Saddam, like so many other blood-soaked thugs tormenting unhappy nations, is the creature of the CIA. James Critchfield, head of the CIA in the Middle East when the Baathists took over in 1961, says: "We regarded it as a great victory." The Baath secretary-general at the time said: "We came to power on a CIA train." President Qassim, overthrown by the Baathists, intended to nationalise the foreign consortium that controlled Iraq's oil, so he was doomed."
Or as UPI's Richard Sale reported:
While many have thought that Saddam first became involved with U.S. intelligence agencies at the start of the September 1980 Iran-Iraq war, his first contacts with U.S. officials date back to 1959, when he was part of a CIA-authorized six-man squad tasked with assassinating then Iraqi Prime Minister Gen. Abd al-Karim Qasim.
If the truth is to be told, rather than being a cause for celebration, today should go down in history as the day when one more big lie was added to the long list of deceptions that have been passed off on the people of the world, and 26 million more people had their aspirations for true freedom and self determination terminally quashed by a fascist cabal determined to force all of humanity to submit to its will.
Shias are about to inherit Iraq, but the election tomorrow that will bring them to power is creating deep fears among the Arab kings and dictators of the Middle East that their Sunni leadership is under threat.

America has insisted on these elections which will produce a largely Shia parliament representing Iraq's largest religious community because they are supposed to provide an exit strategy for embattled US forces, but they seem set to change the geopolitical map of the Arab world in ways the Americans could never have imagined. For George Bush and Tony Blair this is the law of unintended consequences writ large.

Amid curfews, frontier closures and country wide travel restrictions, voting in Iraq will begin tomorrow under the threat of Osama bin Laden's ruling that the poll represents an "apostasy". Voting started among expatriate Iraqis in Britain, the US, Sweden, Syria and other countries, but the turnout was much smaller than expected.

The Americans have talked up the possibility of massive bloodshed tomorrow and US inteligence authorites have warned embassy staff in Baghdad that insurgents may have been "saving up" suicide bombers for mass attacks on polling stations.

But outside Iraq, Arab leaders are talking of a Shia "Crescent" that will run from Iran through Iraq to Lebanon via Syria, whose Alawite leadership forms a branch of Shia Islam. The underdogs of the Middle East, repressed under the Ottomans, the British and then the pro-Western dictators of the region, will be a new and potent political force.

While Shia political parties in Iraq have promised that they will not demand an Islamic republic, their speeches suggest that they have no desire to recreate the Iranian revolution in their country, their inveitable victory in an election that Iraq's Sunnis will largely boycott mean that this country will become the first Arab nation to be led by Shias.

On the surface, this may not be apparent; Iyad Allawi, the former CIA agent and current Shia "interim" Prime Minister, is widely tipped as the only viable choice for the next prime minister, but the kings and emirs of the Gulf are facing the prospect with trepidation.

In Bahrain, a Sunni monarchy rules over a Shia majority that staged a mini-insurrection in the 1990's. Saudi Arabia has long treated its Shia minority with suspicion and repression.

In the Arab world, they say that God favoured the Shia with oil. The Shias live above the richest oil reserves in Saudi Arabia and upon some of the Kuwaiti oil fields. Apart form Mosul, Iraqi Shias live almost exclusively amid their own country's massive oil fields. Iran's oil wealth is controlled by the country's overwhelming Shia majority.

What does all this presage for the Sunni potentates of the Arabian peninsula? Iraq's new national assembly and the next interim government it selects will empower Shias throughout the region, inviting them to question why they too cannot be given a fair share of their country's decision making.

The Americans oringinally feared that parlimentary elections in Iraq would create a Shia Islamic republic and made inevitable and unnecessary warnings to Iran not to interfere in Iraq. But now they are far more frightened that without elections the 60 per cent Shia community would join the Sunni insurgency.

Tommorrow's poll is thus, for the Americans, a means to an end, a way of claiming that, while Iraq may not have become the stable, liberal democracy they claimed they would create, it has started its journey on the way to Western-style freedom and that the American forces can leave.

Few in Iraq believe that these elections will end the insurgency, let alone bring peace and stability. By holding the poll now, when the Shias, who are not fighting the Americans, are voting while the Sunnis, who are fighting the Americans, are not, the elections can only sharpen the divisions between the country's two largest communities.

While Washington had clearly not envisaged the results of its invasion in this way, its demand for "democracy" is now moving the tectonic plates in the Middle East in a new and uncertain direction. The Arab states outside the Shia "Crescent" fear Shia political power even more than they are frightened by genuine democracy.

No wonder, then, that King Abdullah of Jordan is warning that this could destabilise the Gulf and pose a "challenge" to the United States. This may also account for the tolerant attitude of Jordan towards the insurgency, many of whose leaders freely cross the border with Iraq.

The Americans claim that they move secretly from Syria into Iraq is largely false; the men who run the rebellion against US rule in Iraq are not likely to smuggle themselves across the Syrian-Iraqi desert when they can travel "legally" across the Jordanian border.

Tommorrow's election may be bloody. It may well produce a parliament so top-heavy with Shai candidates that the Americans will be tempted to "top up" the Sunni assembly members by choosing some of their own, who will inevitably be accused of collaboration.

But it will establish Shia power in Iraq and in the wider Arab world for the first time since the great split between Sunnis and Shias that followed the death of the Prophet Mohammad.
Suicide attacks and explosions have struck polling stations in Iraq as voters take part in the country's first multi-party elections for 50 years.

At least 20 people died in attacks that centred on Baghdad, though mortars and explosions were heard in other cities.

Turnout is patchy so far, with queues in some Shia and mixed neighbourhoods, but deserted polling stations in some cities in the Sunni heartland.

Iraqis are voting for a 275-member assembly to draw up a new constitution.

More than 100 parties and coalitions are standing in the poll.

In the hours since polls opened at 0700 local time (0400 GMT), several attacks have been reported:
* At least six people died when a bomber with explosives strapped to his body blew himself up outside a polling station in eastern Baghdad

* In western Baghdad, a suicide bomber killed at least four others and injured at least six people outside a polling station, and two policemen died in separate suicide attacks on polling stations

* In the capital's Sadr City district, at least four people died and seven were wounded when a mortar struck a polling station

* At least four other people were reported to have died in other attacks in or near the capital

* Explosions were also heard in Basra, Mosul and Baquba - where fighting is reported to have broken out in the south of the city

* The BBC's Caroline Hawley in Baghdad says the political party of Interim Prime Minister Iyad Allawi has been reprimanded for campaigning past the deadline there.
The attacks came after militant leader Abu Musab al-Zarqawi issued a warning to Iraqis not to vote, and declared "all-out war" on the election.
Uneven turnout
The BBC's Ben Brown in Basra says electoral officials have been surprised by the high turnout there, and some polling stations had to open early.
Queues have also formed outside polling stations in Shia areas - such as Sadr City in Baghdad - and some mixed Sunni-Shia neighbourhoods.
The BBC's Jim Muir in Irbil, in Iraq's mostly Kurdish north, says people are patiently waiting in large queues to undergo security checks before voting.
He says voters here are eager to secure as big as possible bloc of seats in the transitional national assembly in Baghdad, so that the Kurdish desire for autonomy will be taken into account as the new constitution is drafted.
But reports from central Sunni cities, such as Falluja, Samarra and Ramadi, say few polling stations are open, and there is at best a trickle of voters.
The head of the local council in Samarra, Tana Hussein, said people were staying away because of fears over security.
Some Sunni political parties urged Iraqis to boycott the election. In a poll conducted by Zogby International, 76% of Sunni Arabs said they "definitely would not vote". Only 9% said they would vote.
Record numbers of US soldiers are reported to be on duty to enforce security measures, which include a dusk-till-dawn curfew in most cities and a ban on travel between provinces.
Iraq's borders and the main international airport in Baghdad are also closed.
Cars without special authorisation have been banned from the roads.
'Proud and happy'
Iraqi Interim President Ghazi Yawer was among the first to vote.
He said on the eve of the poll that voters would probably stay away from polling stations over safety concerns, not as a protest.
But for polling day he had a more upbeat message, congratulating the Iraqi people and calling on them to vote.
"I'm very proud and happy this morning," he said as he voted in Baghdad's Green Zone.
"I congratulate all the Iraqi people and call them to vote for Iraq."
BAGHDAD—Coalition troops and Iraqi security forces may be responsible for up to 60 per cent of conflict-related civilian deaths in Iraq — far more than are killed by insurgents, the BBC reports.
Data from the beginning of July, 2004, through the end of the year covers all conflict-related civilian deaths and injuries recorded by Iraqi public hospitals.
The figures exclude, where known, the deaths of insurgents, the BBC says.
The figures reveal that 3,274 Iraqi civilians were killed and 12,657 wounded in conflict-related violence during the period. Of those deaths, 60 per cent — 2,041 civilians — were killed by the U.S.-led coalition and Iraqi security forces. A further 8,542 were wounded by them. Insurgent attacks claimed 1,233 lives and wounded 4,115 people in the same period.
Official figures compiled by Iraq's Ministry of Health break down deaths according to insurgent and coalition activity, according to the BBC website. The figures are normally available only to Iraqi cabinet ministers, it says.
The coalition had yet to respond to the figures.
Meanwhile, authorities in Iraq have arrested three close associates of Abu Musab al-Zarqawi, officials said yesterday, claiming to be close to capturing the Al Qaeda-linked terror mastermind himself two days ahead of historic elections extremists want to subvert.
The announcements, made days after the arrests, appeared aimed at helping reassure Iraqis about security ahead of tomorrow's polls.
Still, violence continued:
Insurgents killed five U.S. soldiers, set off a suicide car bomb that killed four Iraqi police officers in Baghdad and targeted more polling sites across the country.
BAGHDAD - Insurgents killed eight Iraqis and a U.S. soldier in attacks today and blasted polling places across the country on the eve of landmark elections, as Prime Minister Ayad Allawi's government urged Iraqis to overcome their fear of violence and vote.
The soldier from Task Force Baghdad was killed by a roadside bomb in a western district of the capital, the military said. Bursts of heavy machine-gun fire rattled through central districts at midday, and several heavy explosions shook the downtown area in the afternoon. American fighter jets roared through the skies in a show of force.
Iraqi police and soldiers set up checkpoints through streets largely devoid of traffic as the country battened down for the vote, with a night-time curfew imposed across the country and the borders sealed. Seven American soldiers were killed Friday in the Baghdad area, including two pilots who died in the crash of their OH-58 Kiowa Warrior helicopter.
West of the capital, in the insurgent bastion of Ramadi, five Iraqis with hands tied behind their backs were found slain today on a city street. One of the bodies was decapitated. Militants accused them of working for the Americans.
Sunni Muslim extremists have warned Iraqis not to participate in the election Sunday, threatening to "wash the streets" in blood. [...]
BAGHDAD, Iraq - A rocket hit the U.S. Embassy in Baghdad today, killing two Americans who worked there and wounding four others on the eve of Iraq's landmark elections, a U.S. Embassy official said.
The rocket fell into the Embassy's compound, near the building itself in the heavily fortified Green Zone in central Baghdad, according to the embassy official, who spoke on condition of anonymity.
One civilian and one Navy sailor, both assigned to the embassy, were killed in the rocket attack, a military official said, also on condition of anonymity.
Of the four injured Americans, two were military, one was a civilian and the fourth was as yet underdetermined, the military official said.
Embassy spokesman Bob Callahan confirmed the embassy had been hit in an attack, but could give no details about casualties.
The second Embassy official, speaking anonymously, then confirmed that two had been killed and four injured.
BAQOUBA, Iraq - A car bomb exploded Saturday near the police headquarters in the mostly Kurdish city of Khanaqin on the Iranian border, a senior police official said. A Kurdish official said three Iraqi soldiers and two civilians, one of them a child, were killed.
The police commander of Diyala province, Brig. Gen. Adel Mulan, confirmed the blast but had no initial casualty reports.
However, an official of the Patriotic Union of Kurdistan, Walah Bakhtiar, gave the casualty figures. He said nine people were injured.
The blast occurred between the U.S. base and the court house in the city, located about 110 kilometers (70 miles) northeast of Baghdad, he said.
The French embassy in Kuwait has advised its citizens in the Gulf state to avoid shopping malls and to move around only when necessary after clashes between suspected insurgents and security forces, sources said.
The embassy contacted its wardens asking them to convey the new warning to French nationals, the sources said, adding that the advice was precautionary and not based on any specific threat.
Two Kuwaiti security officers were killed and four others wounded in two gun fights with suspected insurgents on 10 and 15 January.
Two suspects, including a Saudi, were also killed in the clashes.
Threat
The French warning followed an advisory from the US embassy on Thursday warning of the danger of more unrest, saying residential complexes for Westerners could be targeted.

The British embassy also warned its citizens of a continued threat to Westerners in Kuwait.
Kuwait, which served as the main launch pad for the US-led invasion of Iraq in March 2003, is home to about 12,000 Americans and 9000 Europeans, mostly Britons.
Kuwaiti security forces have arrested about 15 suspected Islamist insurgents, according to Interior Minister Shaikh Nawaf al-Ahmad Al Sabah, but an unspecified number, including the group's spiritual leader, are still at large. [...]
MIAMI -- Carlos Delgado is willing to stand up for his beliefs -- or, in his case, not stand up.
At his introductory news conference Thursday with the Florida Marlins, Delgado said he'll continue to not stand up this season during the playing of God Bless America.
An opponent of the war in Iraq, Delgado refused to stand when God Bless America was played last season at games involving his Toronto Blue Jays. Instead, he would stay on the bench or go into the dugout tunnel.
"I wouldn't call it politics, because I hate politics," Delgado said Thursday after finalizing his four-year, $52 million contract. "The reason why I didn't stand for God Bless America was because I didn't like the way they tied God Bless America and 9/11 to the war in Iraq in baseball."
"I say God bless America, God bless Miami, God bless Puerto Rico and all countries until there is peace in the world."
Marlins officials, who gave Delgado the richest per-season contract in the team's 12-year history, made no objection to his war protest.
"The Marlins don't support it, and we don't not support it," team president David Samson said. "He's an adult. The club's position is that what he does is up to him."
Florida is mostly interested in Delgado producing runs the way he did with Toronto, where he hit at least 30 homers each of the past eight seasons. He's the kind of hitter the Marlins have long coveted -- a left-handed slugger capable of altering the balance of power in the NL East. He's also a box-office draw who boosted season-ticket sales at least fivefold this week. [...]
During negotiations with the free agent, teams raised the issue of Delgado's stance regarding the Iraq war, said his agent, David Sloane. It wasn't an obstacle to a deal with any club because Delgado was willing to follow team policy regarding God Bless America, Sloane said.
"He didn't like the politicization of baseball making use of the song," Sloane said. "But he told me, 'I will never do anything to place myself above my teammates.' If you have a policy that everybody has to be on the top step, he'll be on the top step."
The Blue Jays had no such policy, and neither do the Marlins.
Even Toronto teammates who disagreed with Delgado accepted his right to refuse to rise for the song. Conine predicted there will be little reaction from Delgado's new teammates.
"That's an opinion of his, and you have to respect that," Conine said. "He's man enough to stand by it. I don't think there's going to be one thing said or one ill thought in the clubhouse."
While Delgado doesn't make a public show of his protest, he was the target of scattered jeers when he played last summer at Yankee Stadium, the only park in the majors where God Bless America has been played during every game since the Sept. 11 attacks.
But he said reaction to his stance has been mostly supportive.
"Probably 90 percent of the people I've talked to say they agree with that," he said. "I don't do stuff so people agree with me. But it's always nice to get some sort of support."
Regarding his war protest, Delgado fielded the questions cleanly. Word is he can also hit.
The Bush administration was confronted with fresh evidence of a far-reaching clandestine campaign to influence public opinion yesterday after a third conservative commentator admitted receiving payments for championing its policies.
Michael McManus, a newspaper columnist, was paid up to $10,000 to praise the administration's marriage initiative, which diverts funds from welfare to marital counselling, the Los Angeles Times reported.
His fees were approved by a branch of the department of health and human services, and were funnelled through the Lewin Group, a consultancy firm. The commentator's rightwing Marriage Savers Foundation received an additional $49,000 in government grants. Mr McManus did not disclose the payments in his columns.
Neither did Maggie Gallagher, another conservative columnist and even a more prominent supporter of the marriage plan.
The Washington Post reported on Wednesday that Ms Gallagher received $21,500 from the department of health and human services, and $20,000 from the justice department for championing the initiative in her syndicated newspaper columns.
George Bush tried to distance the administration from such payment practices earlier this week, and an official from the health department said the payments would cease.
But a report issued on Thursday by Democratic members of the House of Representatives suggested the Bush administration may rely far more heavily on pay-per-view columnists than had been previously thought.
The administration spent more than $88m on public relations contracts last year - more than double the $37m it spent during Mr Bush's first year in office. That brought the administration's first-term spending on PR to $250m.
The first sign of a political payola scandal erupted this month when USA Today reported that Armstrong Williams, a conservative African-American columnist, had been paid $240,000 by the education department to champion the administration's controversial policies in his print, radio and television outlets.
Mr Williams was paid through Ketchum PR, the public relations firm also involved in producing fake "news pieces" last year that touted the administration's prescription drug bill. Some US television stations put the clips straight on the air.
The administration claimed that its use of a fake reporter, Karen Ryan, to sell its programmes, was an isolated incident. It now appears that such covert campaigns were widespread.
The Bush administration's readiness to pay for favourable press at a time of mounting budget deficits has raised eyebrows in Congress.
"While not all public relations spending is illegal or inappropriate, this rapid rise in public relations contracts at a time of growing budget deficits raises questions about the priorities of the administration," a report on public relations spending by the Democratic staff of the house government reform committee said.
Condi proudly invoked the name of Dr. Martin Luther King Jr. during her recent Senate confirmation hearings.
Yes, the same Dr. Condoleezza Rice who's consistently burnished her conservative career by bashing the Civil Rights Movement craftily told Senators she's "indebted" to the sacrifices of that movement which enabled her to "be here" poised to become America's first Black female Secretary of State.
Two days after Rice plucked Senators' heartstrings with her 'bootstrapping-out-of-segregated-Birmingham' autobiographical account, her boss the President made a bold statement about racism in his inaugural address.
America "must abandon all the habits of racism" President Bush declared.
Yes, the same George W. Bush who usually rejects pleas for intervention on race related issues as comparable to a four letter profanity condemned the "baggage of bigotry" during his inaugural, promising to "strive in good faith to heal" divisions in America.
What's going on here?
Is this the dawning of the long promised era of compassionate conservatism?
Has Condi actually abandoned her of-stated antipathy for affirmative action, antipathy credited with convincing Bush to publicly condemn minority admissions policies at the University of Michigan on MLK's birthday in January 2003?
Does Bush's inaugural articulation of realities like "freedom by its nature [requires] protection of minorities" and "there is no justice without freedom" mean he now truly embraces these truths that should be self-evident?
Absolutely not!
Condi crassly played the race-card during her confirmation snowing some Democratic Senators while George's sweeping pronouncements criticizing racism constituted a duplicitous attempt to 'play' Americans as fools.
Yes, show and not substance motivated the respective Capitol Hill performances of Rice and Bush.
Proof of Bush's sleight of hand on racism is evident in his choosing Mississippi Republican Senator Trent Lott as the master of ceremonies for his inauguration.
Selecting the racial segregation praising Lott is not a shining example of sincerely showing the asserted reversal of what is one of the worst civil rights records of any president in recent memory.
Actions speak louder than words and Bush's first term record in the arena of racial fairness is truly repugnant.
In July 2000, when then presidential candidate Bush addressed the NAACP ­ America's oldest and largest civil rights organization ­ he pledged, "Strong civil rights enforcement will be a cornerstone of my administration."
Yet, during the waning months of Bush's first term, the US Civil Rights Commission issued a report analyzing his administration's record on civil rights that drew dismal conclusions.
"President Bush has implemented policies that have retreated from long-established civil rights promises" in a number of areas from affirmative action to voting rights to issues dealing with women.
The same President Bush who calls affirmative action evilly improper "racial preferences" to non-whites sees no problem in providing special preference, no-bid contracts worth billions to powerful corporations like Halliburton, the firm once headed by his Vice-President, Dick Cheney.
While Bush extolled his intent to "widen the ownership of businesses" during his inauguration speech, his first term policies didn't dent the deliberate exclusion of Black business from billions in federal highway and transportation contracting opportunities according to a 2003 position paper issued by the National Black Chamber of Commerce.
Black contractors, according to data in this paper, provided 1.4 percent of the work on projects funded by the Federal Highway Administration, down from 6 percent in 1982, despite the existence of an affirmative action initiative known as the Disadvantaged Business Enterprise program.
The National Black Chamber described this exclusion as a "sham and national disgrace," blaming federal officials for "systematically killing Black contractors."
Given Bush's repeated praise of his (deadly & federal deficit-raising) campaigns to install democracy in Afghanistan and Iraq, it is disturbing that the Civil Rights Commission's report criticized Bush's failure to "act swiftly toward election reform" that ensures enforcement of voting rights across America.
Reports of GOP lead disenfranchisement campaigns against Blacks peppered the 2004 presidential election, repeating voter suppression practices in Florida and elsewhere during the 2000 presidential election.
Bush, in February 2001, told Congress that he wanted to end racial profiling, repeating a pledge he made repeatedly on the campaign trail.
Yet, an Amnesty International report issued last fall rebuked Bush for backing off his pledges to end this ineffective practice that Bush once called wrong.
"Almost four years later [Bush] has failed to support any federal legislative effort to eliminate racial profiling in the United States," stated the AI report.
This report noted how racial profiling has expanded beyond the traditional targets of African-Americans and Hispanic-Americans.
"Native Americans, Asian-Americans, Arab-Americans, Persian-Americans, American Muslims, many immigrants and visitors, and, under certain circumstances, white Americans" endure racial profiling that now ravages "32 million Americans, a number equivalent to the population of Canada," the AI report stated.
Also last fall, the Congressional Black Caucus released statistics showing that African-Americans comprised only 7 percent of Bush's 165 appointments to important federal district court slots.
This appointment record compounds the already persistent problem of under-representation of African-Americans at all levels of the federal judiciary from district courts through courts of appeals.
Further, the CBC statistics pointed out the "stark contrast" between the judicial appointment record of Bush and his predecessor Bill Clinton.
Blacks comprised 20 percent of the 170 district court appointments during Clinton's first term in office.
"President Bush's record is truly disturbing and demonstrates a lack of commitment to having a judiciary that looks like America," noted a CBC press release issued at the end of last September.
Bush's deliberate exclusion of Blacks from a position as freedom-ensuring/securing as the federal judiciary continues the hollow ring of American democracy, a brand of democracy that Bush repeatedly said in his inaugural address that he wants to ring loudly around the world.
Bush's inauguration address articulated a "goal of ending tyranny in our world."
However, Bush's stated intent to require "other governments" to treat their citizens decently doesn't square with his administration's sabotaging of the democratically elected presidents of Haiti and Venezuela who worked hard to improve the daily lives of their grossly impoverished Black citizens.
As National Security Advisor, Dr. Rice took point in defending Bush Administration assaults on Venezuela's Chavez while the man Condi called "my mentor" during her recent confirmation ­ former Secretary of State Colin Powell ­ played a scurvy role in the removal of Haiti's Aristide.
While presidential candidate Bush addressed the NAACP in 2000, President Bush became the first Oval Office occupant in over seven decades to not speak at the organization's national convention.
Bush spurned a NAACP convention speaking invitation last year, claiming anger over the organization's 'harsh' criticism of his civil rights record. [...]
Bigotry is not an irreversible condition so it is possible that Bush can fulfill his inaugural pledges related to racism.
But the real measure here is not possibility but probability and based on past performance it's a poor bet that Bush will do a real 180 on race.
Virginia Military Institute officials are investigating a 2004 barracks Halloween observance during which cadets dressed as Nazi soldiers, drag queens and a starving African.
Officials at the Lexington college were alerted to the behavior when someone referred them to an Internet message board on which four photographs of the costumed men are posted.
"We've been made aware of the possible involvement of a small number of VMI cadets in various insensitive and inappropriate photographic poses appearing on a Web site unaffiliated with VMI," spokesman Stewart MacInnis said. "VMI does not condone such behavior and this matter is being investigated accordingly. While recognizing cadets have rights as private citizens to express themselves, we are disappointed in their behavior and judgment."
MacInnis said officials are satisfied that the pictures posted at richmond.indymedia.org are from an October event in barracks during which cadets were permitted to dress in costume for the evening. The Web site is operated by the Richmond Independent Media Center and offers a forum for "promoting social and economic justice in the Richmond area," according to its mission statement.
One picture shows three men in their VMI-issued black shirts and gray pants giving the Nazi salute to the camera. Two are wearing homemade swastika armbands. One is wearing a small Hitler-style mustache.
Another picture shows two men dressed in tiaras, wings, lipstick and eye shadow. One is holding a wand, and both are wearing underpants and tank tops that read, "I [heart] a man in uniform."
There are also pictures of a man smeared head-to-toe in dark makeup and wearing a loin cloth, and a man with a bull's-eye drawn with tape on the rear of his pants.
Posted Thursday, the photos immediately generated a running online debate about their offensiveness. Some posters noted that they appeared weeks after England's Prince Harry was criticized by Jewish organizations for wearing a Nazi uniform to a recent costume party and that Thursday was the 60th anniversary of the liberation of the Auschwitz death camp.
Using the screen name "CBC," the person who posted the images said others should "condemn VMI's ability to laugh at the deaths of millions, make light of famine and race and mock homosexuality. These are, after all, the men who are supposed to one day graduate to their own posts at Gitmos [Guantanamo Bays] and Abu Ghraibs around the world."
A writer identified as "Sean," who said he is a VMI cadet, defended the costumes.
"We, the Corps of Cadets, were apalled [sic] at the Abu Ghraib incident, but seeing as how we're going to be in the midst of death and inhumanity and other such facts of life we need to be able to keep a sense of humor," he wrote.
"What's funny about the Nazis?" replied poster "James Spady."
A poster named "Joseph" advised others to "lighten up, anyone construing this as anything other than absurd and jovial is nothing short of anal retentive."
Even if they acted without malice, the cadets involved could still face disciplinary action.
MacInnis was unsure of what specific regulations VMI has regarding racial or ethnic sensitivity, but he noted that such behavior might also fit in the category of "conduct unbecoming a cadet."
New cadets receive instruction in sensitivity to matters of gender, race and the like, MacInnis said.
"VMI will continue to make strong efforts to educate the Corps in civility and respect for others," he said.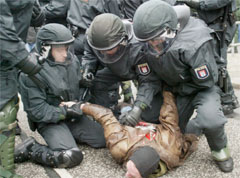 Police arrest a violent demonstrator during a protest against far-right extremism in Kiel, northern Germany, Saturday. (AP/Heribert Proepper)
FRANKFURT, Germany (AP) - Police arrested dozens of violent demonstrators in northern Germany Saturday after roughly 7,000 peaceful protesters took to the streets against far-right extremism.
Some 42 protesters were detained in the northern city of Kiel following clashes with police who were protecting a much smaller demonstration of several hundred neo-Nazis, said Hans-Joachim Schmidt, a spokesman for Kiel police.
Angry protesters lobbed stones, bottles and firecrackers at officers during the "massive and difficult" clashes, Schmidt said.
Police responded with water cannons in an attempt to break up the group that was trying to break through a barricade separating the leftist demonstration from the neo-Nazis.
No explosive device has been found; "all the rooms at the bank have been thoroughly searched; the threat of blast proved to be false," the source said.
An anonymous caller told police at 16:40 on Friday that a bomb had been planted at the commercial Bank of Moscow. City emergency services rushed to the scene.
It is a second incident this week near the Bank of Moscow's central office.
On January 25, an explosion ripped through the Bank's inner yard. The blast had an estimated power of 100 grams of TNT. The bomb came in a parcel by post.
Moscow police chief Vladimir Pronin said the blast had been planned by an organized group
A student, who is a follower of a left-wing radical party, has been detained on suspicion of involvement in this crime. "We have information that it was he who committed this crime," Pronin told reporters on Friday.
At the same time, investigators are convinced that the detainee had had help in carrying it out.
A criminal case under the article on terrorism was opened. The FSB branch for Moscow and Moscow Region leads the investigation.
Law-enforcement bodies have information that a series of similar acts against the Bank of Moscow is being prepared, according to city prosecutors.
KHARTOUM - At least 14 people -- and possibly as many as 23 -- have been killed in clashes between supporters of a rebel group in eastern Sudan and security forces in Port Sudan, on the Red Sea.
A dusk-to-dawn curfew was imposed and 100 people were arrested after the riots, which flared Friday during demonstrations by members of the Beja community of eastern Sudan who are seeking more powers and resources for their region.
Provincial governor Major General Hatim al-Wasilah al-Sammani said 14 people were killed and 16 wounded in the clashes, although witnesses told AFP that as many as 20 people were killed, including a child.
The Beja Congress, based in exile in neighbouring Eritrea, said government security forces killed 23 people and wounded more than 100 when they broke up a Beja demonstration in Port Sudan.
"The people were killed by security forces deployed by the government in Khartoum. Signs of bullets were found at houses," Salah Barqueen, a Beja Congress spokesman told AFP from Asmara by phone.
Demonstrations -- clamouring against the Beja's exclusion from recent peace agreements signed between Khartoum and southern rebels -- have spread to the towns of Kassala and Sinkat in eastern Sudan, he said. [...]
CAIRO, Egypt - Almost a 100 people were killed and wounded in a Sudanese air force bombardment in South Darfur on Wednesday, U.N. spokeswoman Radhia Achouri said Friday.
The bombardment of villagers outside Shangil Tobaya put to flight "thousands" of people, Achouri said in a phone interview from Khartoum.
"It is definitely one of the most serious violations of the cease-fire" signed by the government and the Darfur rebels last year, Achouri said.
The United Nations mission in Khartoum spoke to Sudan's Foreign Ministry about the bombardment, but has received no reply.
Achouri said African Union observers at the scene had reported "almost 100 casualties," but did not give the numbers of dead and wounded.
"But 100 casualties is 100 too many, be they wounded or dead," she said.
NGO field workers based in Shangil Tobaya, 65 kilometers (40 miles) south of El Fasher, reported witnessing bombs exploding on the ground and an air force Antonov circling overhead on Wednesday afternoon. Later the same day, the African Union, which has 1,400 cease-fire monitors and protection troops in Darfur, confirmed the aerial bombardment and called it a "major violation" of the cease-fire. [...]
KINSHASA, Congo (AP) - Militiamen armed with guns and machetes killed 16 people and kidnapped at least 34 girls in attacks this week on a remote area of eastern Congo, a UN spokesman said Saturday.
Two platoons of UN peacekeepers arrived in the remote area by helicopter early Saturday to protect the population from further violence, UN spokesman Christophe Boulierarch said by telephone from Bunia, capital of Ituri province. Bunia is 65 kilometres south of Che, an area that has been attacked several times since Jan. 19.
Earlier this week, aid workers with the group German Agro Action reported seeing burning houses and residents streaming out of Che as it was under attack.
Boulierarch cited witnesses saying 34 girls had been kidnapped from Che and two others were missing.
Residents told the UN that 15 people were murdered by armed Lendu militiamen. Boulierarch said he saw the body of another old man along the road outside town who had been shot once in the head. Ituri has long been the scene of savage fighting between Lendu and Hema militias.
Since 1999, fighting in Ituri has killed more than 50,000 and forced 500,000 to flee their homes, UN officials and human rights groups say. [...]
HANOI - A 13-year-old girl has died from bird flu, becoming Vietnam's 11th victim of the disease in the past month, a doctor said, after worried Thai and UN experts met in the country for talks on the outbreak.
"The girl from southern Dong Thap province died early Saturday morning," a doctor from Ho Chi Minh City's Pediatric Hospital No.1 told AFP, requesting anonymity.
The girl's mother, 35, died of the virus on January 21, a night after being admitted to hospital.
State media said the mother and child lived in an area where several chickens had died from the virus. They had slaughtered an infected duck for a meal.
The doctor said a 10-year-old girl also suffering from the H5N1 bird flu virus was in a "very critical condition". Another two patients are in stable condition in Hanoi after testing positive.
The virus has claimed 11 lives in Vietnam since December 30 and 31 since the end of 2003. Twelve people have also died in Thailand from the virus that has swept Asia since December 2003. [...]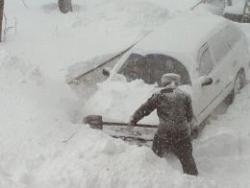 YUZHNO-SAKHALINSK, - A cyclone with frosty winds and a snowstorm came from the Sea of Japan to Sakhalin on Saturday.
A storm warning is issued for all the appropriate services.
Meteorologists say the wind speed will reach 19-24 metres a second for two days and the height of waves will be five metres in the Tatar Strait.
The situation is expected to be particularly tense in the north of Sakhalin, where the temperature was 43 degrees Centigrade below zero overnight.
The cyclone shows its power in the south as well. The snowstorm is raging in Yuzhno-Sakhalinsk.
Such weather conditions will remain in the region till January 31, and it will become a bit warmer on the island when the cyclone goes away to the Sea of Okhotsk.
ATLANTA - Freezing rain and sleet coated parts of the Southeast with a layer of ice Saturday, canceling hundreds of airline flights, knocking out power to thousands of customers and shutting down sections of every interstate highway in the metro Atlanta area.
Three weather-related traffic deaths were reported, two in Georgia and one in South Carolina, police said.
At Hartsfield-Jackson Atlanta International Airport, only one of the four runways was open for much of the day and "very few flights are coming or going," said airport spokeswoman Felicia Browder.
"I don't have an official number of cancellations, but I can say with confidence a significant number have been canceled," Browder said.
AirTran alone canceled 90 flights for the day, said spokesman Tad Hutcheson.
Delta could not provide a number of canceled flights until the end of the day, but had cut its schedule systemwide by about 40 percent in anticipation of the storm, said spokesman Anthony Black.
In South Carolina, Delta, Northwest Airlines, U.S. Airways, and others canceled flights from Greenville-Spartanburg International Airport and from Columbia Metropolitan Airport.
Browder said most travelers in Atlanta were aware of the approaching storm, so few people are stranded at Hartsfield-Jackson.
Not everyone was so lucky. The Atlanta Hawks basketball team spent the night at the airport aboard their chartered airplane waiting to be deiced and then for permission to take off, and finally gave up Saturday morning and went to a hotel to await word on their scheduled Saturday night game in Memphis against the Grizzlies.
The ice also accumulated on power lines and tree limbs, and at least 109,000 Georgia Power customers were without power Saturday afternoon, about half of them in the Atlanta area, said spokesman Tal Wright.
Georgia Electric Membership Corp. reported 39,000 homes and businesses without power around the state.
The number of Georgia customers without power was expected to grow significantly during the night as ice continued to accumulate, and utilities in the Carolinas made preparations for expected outages, said utility officials.
Throughout the Atlanta metropolitan area, wrecks led police to shut down sections of Interstates 85, 20, 75 and 285 and some other highways during the morning, said state Department of Transportation spokeswoman Karlene Barron. Most were reopened by midday, officials said.
CANAKKALE (AA) - Two people were injured in a tornado in Ayvacik town of northwestern city of Canakkale, on Thursday.
Sources said that the tornado which hit Ahmetce village of Ayvacik town injured two people and damaged 6 houses and a mosque.
Head official of Ahmetce village Hasan Huseyin Kus said that injured people were taken to Ayvacik State Hospital. He added that minaret of the village's mosque collapsed and 6 houses were damaged during the tornado.
GENEVA (AP) - Many Arctic animals, including polar bears and some seal species, could be extinct within 20 years because of the effects of global warming, a major conservation group said Sunday.
Traditional ways of life for many indigenous people in the Arctic will also become unsustainable, unless the world "takes drastic action to reduce climate change," said the World Wide Fund for Nature.
"If we don't act immediately the Arctic will soon become unrecognizable" said Tonje Folkestad, a climate-change expert.
"Polar bears will be consigned to history, something that our grandchildren can only read about in books."
By 2026, the Earth could be an average two degrees Celsius warmer than it was in 1750, said research commissioned for WWF to be presented to a Feb. 1-3 conference on climate change in Exeter, England.
"In the Arctic, this could lead to a loss of summer sea ice, species and some types of tundra vegetation, as well as to a fundamental change in the ways of life of Inuit and other arctic residents," WWF said in a statement.
The total area covered by summer sea ice in the Arctic is already decreasing by 9.2 per cent a decade and "will disappear entirely by the end of the century," unless the situation changes, WWF said.
This would threaten the existence of polar bears and seals that live on the ice, which in turn would remove a major source of food for the indigenous communities who hunt them.
Forested areas will spread northward as those areas become warmer, threatening habitats for birds like ravens, snow buntings, falcons, loons, sandpipers and terns.
"Migratory birds will lose a vital breeding ground in the Arctic, affecting biodiversity around the globe," WWF said.
Indigenous peoples such as the Inuit in North America and Saami in Scandinavia could lose their traditional livelihoods and their communities will be threatened by the thinning sea ice, melting glaciers and thawing permafrost. [...]
Readers who wish to know more about who we are and what we do may visit our portal site Quantum Future
---
Remember, we need your help to collect information on what is going on in your part of the world!
We also need help to keep the Signs of the Times online.
---
Send your comments and article suggestions to us

---
Fair Use Policy
Contact Webmaster at signs-of-the-times.org
Cassiopaean materials Copyright ©1994-2014 Arkadiusz Jadczyk and Laura Knight-Jadczyk. All rights reserved. "Cassiopaea, Cassiopaean, Cassiopaeans," is a registered trademark of Arkadiusz Jadczyk and Laura Knight-Jadczyk.
Letters addressed to Cassiopaea, Quantum Future School, Ark or Laura, become the property of Arkadiusz Jadczyk and Laura Knight-Jadczyk
Republication and re-dissemination of our copyrighted material in any manner is expressly prohibited without prior written consent.
.