Printer Friendly Version
New Page! Translations from other sites
New Travel Log! The Quantum Future Group Goes to Rennes-le-Chateau
New Article! Word Control, Thought Control, World Control
Pentagon Strike Flash Presentation by a QFS member
---
Picture of the Day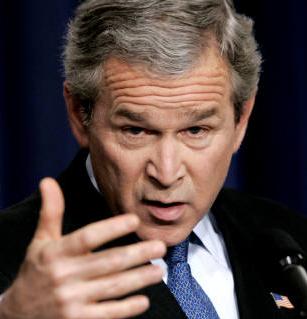 "Don't Read The News, Just look Into My (beady) Eyes And repeat After Me:
'Arabs Evil, Zionists Good!'"


Staff and agencies
Thursday January 27, 2005
World leaders and Holocaust survivors today gather to mark the 60th anniversary of the liberation of Auschwitz.
Twenty nine world leaders will gather at the site of the Auschwitz-Birkenau camp in Poland - where up to 1.5 million people died - to pay their respects.
Soviet troops reached the camp on January 27, 1945, finding 7,000 survivors, many barely alive. The retreating Nazis had driven most of the prisoners who still had strength to walk out into the snow on a "death march" toward camps further west.
Today Jack Straw, Vladimir Putin and Dick Cheney will join the Israeli and Polish presidents and survivors at the infamous rail siding at Birkenau camp, where Nazi doctors carried out the selection of new arrivals.
That meant choosing those deemed able to be worked to death from the majority that were immediately to the gas chambers.
Six million Jews died in the Nazi camps, along with several million others, including Soviet prisoners of war, Roma gypsies, homosexuals, beggars, alcoholics, mentally ill and disabled people and political opponents of the Nazis.
In Auschwitz and Birkenau - the most notorious of the death camps - up to 1.5 million people died in the gas chambers or of disease, starvation, abuse and exhaustion.
The German president, Horst Köhler, will attend but is not scheduled to speak.
In Britain, the Queen, Tony Blair and religious leaders will join more than 600 victims from the concentration camps and ghettos in a ceremony marking the atrocities.
Grandchildren of the survivors will read a list of 3,000 of their relatives who perished at the hands of the Nazis. As part of the programme, the Queen will lead survivors by lighting the first of 60 candles in Westminster Hall.
Former soldier Charles Salt, 87, who entered the Belsen camp in Germany shortly after it was liberated by the British in 1945, will escort the Duke of Edinburgh to his place.
Prince Harry, who sparked outrage with his Nazi soldier fancy dress uniform, is not attending an official event.
Survivors who returned to Poland for the commemoration stressed that each new generation needs to be educated about the Holocaust.
"It's very important. You are the last generation that can talk to the survivors; we are every day less," Trudy Spira, who was deported to Auschwitz in 1944 with her family as an 11-year-old from Slovakia, told reporters in Krakow.
"We can give living testimony ... to let the world know, to try to get them to learn even though they don't, so that it doesn't happen again."
The German foreign minister, Joschka Fischer, will attend memorial events this evening In the northern Greek city of Thessaloniki, which was once a vibrant hub of Jewish culture.
More than 65,000 Greek Jews - nearly 90% of the country's prewar population - were killed during the second world war, many of them at Auschwitz. There are now around 5,000 Jews in Greece.
David Saltiel, head of Thessaloniki's 1,100-strong Jewish community, said the memorials did not concern Jews alone. "It is an event to mark acts of barbarism, and it concerns anyone who believes in the value of freedom."
The Israeli prime minister, Ariel Sharon, yesterday said that the Holocaust had taught Jews that they could rely on no one but themselves for their survival.
"The allies knew of the annihilation of the Jews. They knew and did nothing," he told the Israeli parliament.
"When, in the summer of 1944, the mass deportations in Hungary were carried out, the allies did not bomb the train tracks which led to Auschwitz from Hungary, nor the murder facilities in Birkenau, and this was despite the fact that they had the ability to do so."
The home secretary, Charles Clarke, said the Holocaust had taught the responsibility" of ensuring a democratic and tolerant society, free of the evils of prejudice, racism and other forms of bigotry, lies on us all".
A thought-provoking new anthology edited by English historian Vivian Bird casts stark new light on what really happened at Auschwitz during World War II. As the evidence shows, the official "facts" just don't add up.
In the summer of 1997 I was invited to speak at a California college seminar about my book, Final Judgment, which contends that Israel's intelligence agency, the Mossad, played a front-line role in the JFK assassination conspiracy alongside the CIA. Almost instantaneously I was hit by a media barrage orchestrated by the Anti-Defamation League (ADL) of B'nai B'rith, a lobby for Israel.
The ADL told the press I was "a Holocaust denier" and, for that reason alone, I should not be allowed to discuss my book (which, incidentally, never once mentions the Holocaust). Evidently the ADL was determined to shift the focus away from what my book really does address, so they determined the best way to discredit me was to smear me as "a Holocaust denier" (which I am not).
The ADL's tactic succeeded, setting off a firestorm of opposition—a "holocaust," so to speak—and the seminar was canceled, illustrating one point most clearly: The Holocaust has become a powerful propaganda tool for the state of Israel.
And what is important to remember is this: What did—or did not—happen at the Auschwitz concentration camp in Poland is, in fact, integral to the foundation of the basic story of the Holocaust.
Auschwitz is central to the Holocaust legend. If it can be proved that the official stories we have been told about Auschwitz are not true, the entire fabric of the Holocaust ultimately has to unravel. What, then, did happen at Auschwitz?
On April 18, 1945, in the immediate aftermath of World War II, The New York Times reported that 4 million people died at Auschwitz. This "fact" was reported over and over again during the next half-century, without being questioned.
However, on January 26, 1995, commemorating the 50th anniversary of the Auschwitz liberation, both The Washington Post and The New York Times itself reported that the Polish authorities had determined that, at most, 1.5 million people (of all races and religions)—not "4 million"—died at Auschwitz of all causes, including natural causes.
Yet this was not the first time this drastically reduced figure appeared in the major media. Almost five years previously, on July 17, 1990, The Washington Times reprinted a brief article from The London Daily Telegraph. That article stated:
Poland has cut its estimate of the number of people killed by the Nazis in the Auschwitz death camp from 4 million to just over 1 million . . . The new study could rekindle the controversy over the scale of Hitler's "final solution" . . .
Franciszek Piper, director of the historical committee of the Auschwitz-Birkenau Museum, said yesterday that, according to recent research, at least 1.3 million people were deported to the camp, of whom about 223,000 survived.
The 1.1 million victims included 960,000 Jews, between 70,000 and 75,000 Poles, nearly all of the 23,000 Gypsies sent to the camp and 15,000 Soviet prisoners of war.
Shmuel Krakowsky, head of research at Israel's Yad Vashem memorial for Jewish victims of the Holocaust, said the new Polish figures were correct: "The 4 million figure was let slip by Capt. Rudolf Hoess, the death camp's Nazi commander. Some have bought it, but it was exaggerated." . . . [P]laques commemorating the deaths of 4 million victims were removed from the Auschwitz museum earlier this month.
This detail of history was intriguing, since, after all, history books had said for a generation that of the 6 million Jews who died during the Holocaust, 4 million died at Auschwitz alone. Thus, if the new facts were correct, the actual overall number of Jewish Holocaust victims had to be considerably less than the much-talked-about figure of 6 million. Put simply: subtract the former 4 million Jews dead at Auschwitz from the popular 6 million, and that leaves 2 million Jews dead. Simple math—and a controversial conclusion indeed.
More recently, Walter Reich, former director of the U.S. Holocaust Memorial Museum in Washington, jumped into the debate over Auschwitz. On September 8, 1998, The Washington Post published an article by Reich in which he addressed Jewish outrage over a group of elderly Polish nuns who wanted to place crosses in memory of Christians who died at Auschwitz. Reich was responding to what he described as a "well-meaning" August 31, 1998 editorial in The Post about the affair.
Reich commented that the editorial "illustrates how old fictions about Auschwitz have been accepted as facts—fictions that have been used repeatedly to distort the camp's history." Evidently, the Post had forgotten its own report on the Auschwitz numbers that it had published three years previously and chose, instead, to repeat "old fictions . . . accepted as facts." What, then, were those "old fictions . . . accepted as facts"? Here's what Reich had to say:
The Post identified Auschwitz-Birkenau as the death camp "where 3 million Jews and millions of others were murdered by the Nazis." Recent scholarship by a Polish historian has put the number of deaths there conservatively at about 1.1 million, with other estimates ranging to about 1.5 million. Approximately 90 percent of the dead were Jews.
The Post's numbers may have been derived in part from the inflated estimate—originally of Soviet origin and endorsed by Polish authorities after the war—of about 4 million dead. This number, and other numbers of similar magnitude, were repeated so often that they came to be accepted by many as true, even though historians in Poland and elsewhere have revised this number down considerably.
Honest people find no problem with Reich's call (in the essay) for "only words of accurate history" in reportage about Auschwitz. Today, a major first step toward "only words of accurate history" is the release of a new anthology on Auschwitz, assembled by English writer Vivian Bird.
Auschwitz: The Final Count examines the "new" reports in the mainstream media (outlined above) and provides essential additional facts that must be considered in order for the full story of Auschwitz to finally be told. Bird's 109-page book is a compendium (supplemented with commentary by Bird) of four complete, previously published works relating to Auschwitz and the Holocaust.
The book features a fascinating introduction by Bird exploring the little-known but thoroughly documented phenomenon in which the numbers of the official Auschwitz "death toll" have plummeted from a "high" of 9,000,000 dead to a rock bottom of 73,137 (of whom 38,031 were Jews). And readers will note that of the 26 widely varying figures cited by Bird, all come from a variety of "responsible" and mainstream sources. No figure Bird cites comes from any source accused of "denying the Holocaust," whatever that means.
Clearly, the number of people who died at Auschwitz is central to understanding what did happen there. But the figures keep changing. If Bird's book proves anything, it proves that.
However, there's much more to Auschwitz than the changing numbers. The essays in Bird's volume each provide a uniquely different facet to the overall problem:
• The Auschwitz Lie by Thies Christophersen is an insider's view of Auschwitz. The German author, an agrarian, was sent to Auschwitz, not as an inmate, but as a scientist researching the development of synthetic rubber. Working side by side with inmate staff, Christophersen saw, firsthand, day-to-day life at Auschwitz and, in postwar years, was astounded to hear the stories of "gassings" and all the tall tales that we today associate with Auschwitz.
His essay, The Auschwitz Lie, first published in German in 1973, caused great consternation. However, Christophersen would not back down, and, as a consequence, he was variously fined or imprisoned for daring to tell his eyewitness account. Those accustomed to "docu-drama" renditions of Auschwitz will find a new perspective in Christophersen's report.
• Zyklon B, Auschwitz, and the Trial of Dr. Bruno Tesch is the second feature in Bird's anthology. Written by a veteran chemist, the late Dr. William Lindsey, this is a carefully documented demolition of the war crimes trial of Dr. Tesch, who was ultimately convicted and hanged. The unfortunate Tesch was co-owner of a company which bought in bulk (from the manufacturers) and then supplied (as the middleman) to the German concentration camp authorities the now-infamous Zyklon B pesticide.
Although we have been told Zyklon B was used to gas millions of Jews to death, Lindsey shows that the compound was used as an insecticide and disinfectant to delouse not only the Auschwitz inmates but also SS members running the camp and to fumigate their clothes, bunkhouses etc. Zyklon B, in short, was used to maintain and sustain human life—not to end it. Lindsey's essay examines the fraudulent evidence and testimony in the Tesch trial and eviscerates another critical element of not only the Auschwitz legend, but of the Holocaust story as a whole.
• Inside the Auschwitz "Gas Chambers" is by Fred A. Leuchter, a spunky American engineer once known as perhaps the foremost U.S. authority on the mechanics of judicial execution. Leuchter describes how he conducted scientific experiments on the structures at Auschwitz that court historians say were used to exterminate vast numbers of people—the infamous gas chambers. Leuchter concluded no such gassings could have ever taken place as the official story describes. For daring to present his findings—the only known such study carried out at the gas chambers—Leuchter was relentlessly harassed. But his point was made. His findings cut right to the core of the matter of Auschwitz.
• The final essay is Why Is "The Holocaust" Important? written by TBR publisher Willis A. Carto, who points out that the Holocaust has become a lucrative industry unto itself, used as a highly effective political tool to not only extort billions of German and American taxpayer dollars to Israel but also to force the United States to conduct its foreign policy in a fashion beneficial to Tel Aviv (and contrary to U.S. national interests). Carto's essay puts the Holocaust in perspective.
Thus, there's clearly much more to the story of Auschwitz and the Holocaust than meets the eye. The facts assembled paint a perhaps much more interesting story about what really did happen.
Bird's book will, in many ways, very much serve as the final judgment on Auschwitz. Auschwitz: The Final Count will outrage many—but as Bird puts it: "For those who care to investigate the facts—not the myths—about the events of World War II, this volume should put at least some of the major legends of the Holocaust to rest."
Subjecting an ethnic group or nation to torture under any pretext is quite unacceptable, but it is worse when the suffering is abused, and it is the worst when a group tries to exaggerate the event for political purposes.
By exaggerating the suffering of the Jews during World War II, Zionist groups and the Israeli regime are taking advantage of the situation by raising the issue at international organizations in order to neutralize any opposition to their diabolical plots.
No one is trying to ignore the suffering of the Jews at the hands of the Nazis, but the suffering of a religious/ethnic group should not cause the world to forget the suffering of another nation or allow those who suffered persecution to do the same injustice to another nation.
Every year on January 27 the media give wide coverage to the so-called Holocaust and Tel Aviv rebukes the world for the historic suffering that they claim they experienced in the past.
Today the Holocaust has very complicated connotations. The exaggeration of this phenomenon can be interpreted as the Europeans' attempt to salve their guilty consciences by handing over the lands of the Palestinian nation to a people to whom the Europeans believe they have done an injustice.
After the end of the war in 1945, the Allies along with Zionist leaders began formulating strange conceptions about the killing of Jews at Nazi camps which a modern man can hardly accept. By conjuring up images of gas chambers, they are attempting to convey the idea that the Jews have undergone indescribable torture and that the world's conscience should be awakened to this issue so that the Jews are not subjected to injustice again.
In pursuit of this goal, the West, spearheaded by Britain and the United States, began sowing seeds for the seizure of Palestine and condemned the Palestinians to pay for a crime that the Westerners themselves had committed. Thus, this nation, which claims to have been the perennial victim of violence and torture over the course of history, is now doing the same thing to the Palestinians.
It was not long before a group of revisionist historians in the West began to question the claim that six million Jews were butchered by the Nazis and even asked whether the slaughter of six million Jews during World War Two was possible or not.
The revisionist historians have proven in two decades of study that if Hitler had carried out a systematic program to eradicate the Jews, it would have taken more time than the six years that the war lasted. They have also proven that such an act of ethnic cleansing through the use of the poison gas Zyklon-B, as the Zionists claim, was not possible at the time.
Norman J. Finkelstein, a Jewish professor at New York University critical of Zionist policies, has called the claim the "Holocaust Industry", which is only meant to boost support for the government of Israel.
Over the past several decades and since the event was questioned, Zionist propagandists have tried to substantiate this claim through various means.
The Zionists are trying to revitalize an issue which has become discredited in the eyes of world public opinion by using the press, radio, television, the Internet, and, most importantly of all, cinema and the great filmmaking industry in Hollywood, since most of the significant players of this influential industry are Jews.
It can be said that any war, and particularly one that affects the world, will always lead to many problems and disasters, and World War II is no exception.
Undoubtedly, the Nazi concentration camps were not holiday resorts and imposed various difficulties on the prisoners, just like any other detention camps in other wars.
Many people in these camps, including innocent men, women and children, died of hunger, illness, and other causes.
The victims were from different nations and ethnic groups, including the Jews, who also lost many people, but the Jews were not the only victims of the war and a greater number of innocent people from other ethnic groups also lost their lives.
The issue of the Holocaust and the anniversaries held for the event are only meant to promote the repressive policies of the Zionists.
The Jews suffered as a result of Hitler's expansionism, just like other innocent victims but should not be granted special privileges over the others.
The declaration that six million Jews were killed in World War II is an exaggeration of the truth. Furthermore, the suffering and pains of a nation cannot justify their crimes against other nations.
The issue of the Holocaust is only being highlighted to cover up Israel's crimes in Palestine.
The Associated Press
Published: Jan 26, 2005
JERUSALEM (AP) - In a speech marking the 60th anniversary of the liberation of Auschwitz, Israeli Prime Minister Ariel Sharon said Wednesday that the world "didn't lift a finger" to stop the Holocaust.
Sharon said Jews learned a lesson from the genocide that they can only rely on themselves.
In unusually harsh remarks to parliament, Sharon noted that when the Nazis began deporting Jews from Hungary to Auschwitz in large numbers in 1944, Allied forces did not bomb the railroad tracks leading to the death camp in Nazi-occupied Poland. Sharon said that over a period of several weeks, more than 600,000 Jews from Hungary were killed in Auschwitz.
"The sad and terrible conclusion is that no one cared that Jews were being killed," Sharon said.
"At the time of the most terrible test, friends and benefactors didn't lift a finger," he said. "This is the Jewish lesson of the Holocaust."
"The state of Israel has learned this lesson, and since its founding, it has defended itself and its residents, and provides safety to Jews everywhere. We know that we can only rely on ourselves," he said.
For this reason, Israel as the Jewish state must always remain strong, Sharon said.
"We must always remember that this is the only place in the world in which we, the Jews, have the right and the power to defend ourselves with our own strength," Sharon said. "This we will never surrender."
Even 60 years after Auschwitz was liberated, anti-Semitism still exists throughout the world, Sharon said.
According to a report in the Israeli newspaper, "Haaretz" (reproduced
below) a lengthy, well-researched letter was published this week in the influential Russian newspaper,"Rus-pravoslavnaya," signed by 500 Russian newspaper editors, academics and intellectuals, connecting the Talmud to the expulsion of the Palestinians. The document is so sophisticated it extensively quotes from the Shulchan Aruch and other Talmudic law codes, correctly citing these "sacred" texts as the genocidal backdrop to Israeli leader Avigdor Lieberman's plan for the mass deportation ("transfer") of all Palestinians. (Anyone who can furnish this writer with a complete copy of this document in Russian or English, please do so).
By specifically citing the Shulchan Aruch, the Russian authors undercut
the standard disinformation ploy used by rabbis and their apologists
when responding to exposes of Talmudic hate. The rabbinate lie to the inquiring dumb goyim and claim that "the Talmud is only a series of debates," hoping that the naive goy doesn't know the difference between responsora and minhag on one hand, and the Mishneh Torah and Shulchan Aruch on the other. The latter two constituting the halacha which rigidly regulate every minute and every action in the life of an observant Judaic.
The Russians, among the world's most accomplished chess players, have not fallen for that semantic trap, even as many Americans have.
Americans often report to this writer that my book "Judaism's Stange
Gods" can't be true because they have found out from the rabbis that the Talmud is "just a collection of non-binding debates."
You will also note in the article below that Russian-Israeli Natan
Sharansky, who, according to the US media, is reputed to have assisted with or at the very least inspired the writing of George W. Bush's Second Inaugural Address on "freedom," has called on Vladimir Putin to "treat the authors of the document harshly." In other words, Sharansky wants Putin to fine or imprison the authors for criticizing the Talmud. Here is the "freedom" exemplified by the American-Israeli empire, the freedom to suppress the intellectual expression of the enemies of the Pharisees. Meanwhile, every conceivable incitement against Christ and true Christians and against Muslims and Mohammed is allowed to flourish in the U.S. under the shibboleth of "democracy" and "fighting terror."
Russia harbors the largest and most astute analysts and critics of
Freemasonry, Judaism and Zionism in the world. No wonder that
Russophobes like the John Birchers are encouraged by the occult secret society known as the OTO (as documented by Craig Heimbichner), while certain segments of Catholic "Fatima apparition" believers are backed and promoted by Rabbi Meyer Schiller. Both of these groups are used to agitate against Russia as the supreme font of evil in the world, by
Israelis and Freemasons who fear that Russia, alone among the nations of the West, has the potential to produce a government that will one day wield the might of the state to officially oppose Freemasonry and Judaism.
Blood libel makes comeback in Russia
By Lily Galili
Haaretz | Jan. 25, 2005
A blood libel accusing Jews of murdering Christians for ritual purposes
- a concept that disappeared for years from Russia's anti-Semitic
lexicon - made a comeback this week as an important crux in a remarkably fierce anti-Semitic diatribe that was published Sunday in the Russian newspaper Rus-pravoslavnaya.
The fundamentalist Pravoslavic paper, which defines itself as
"patriotic," ran a letter asking the Prosecutor General of the Russian
Federation, Vladimir Ustinov, to open an investigation against all
Jewish organizations throughout the country on suspicion of spreading incitement and provoking ethnic strife.
The letter calls for an end to government subsidies for these groups.
The lengthy document was signed by 500 people, including newspaper editors, academics and intellectuals. These signatories were joined by 19 nationalist members of the lower parliament, the State Duma, from the nationalist Rodina (homeland) party, Vladimir Zhirinovsky's Liberal Democratic Party of Russia (LDPR), and the Russian Communist Party.
Even though the story was picked up by radio stations and leading
Internet sites in Russian, there has been no official condemnation.
The libelous document is divided into chapters with such titles as "The
Morality of Jewish Fascism," "Provocateurs and People Haters" and
"Jewish Aggression as an Expression of Deviltry."
"I'm not a psychiatrist, and I can't help them if they're crazy," said
Russia's co-chief rabbi, Berel Lazar, in response. "The worst
possibility is that they're sane and are making a cynical move for
electoral purposes."
The blood libel, described here as a ritual murder of Christian children
that has already been proved in the courts, is only one thrust of the
letter, which is thousands of words long and weaves a convoluted web between classic religious anti-Semitism and current anti-Israeli
sentiment.
The writers see a direct line between the Shulhan Aruch (Code of Jewish Law) and other halakhic sources they quote profusely, and the transfer program espoused by Yisrael Beitenu chairman Avigdor Lieberman.
The letter also indirectly criticizes President Putin and the state
courts for their policy of trying anyone charged with anti-Semitism and
incitement without verifying the claims' veracity. Those charged spoke
the truth, the letter maintains, and those accused of anti-Semitism were nothing but patriots.
The writers make use of quotations from traditional Jewish sources and current Israeli and Jewish publications. In the chapter on the Jewish oligarchs' devastating control of Russia's economy and politics, the letter quotes Jewish writers from Israel and the United States, along with excerpts from interviews with the oligarchs themselves.
Israeli Minister of Diaspora Affairs Natan Sharansky expressed shock
yesterday at the fierceness of the anti-Semitic letter, saying that
although the signatories represent a slim segment of Russian society,
latent anti-Semitism is clearly a major danger there.
Sharansky quoted Putin saying that anti-Semitism is not only a danger to his country's Jewish population, but a threat to the stability of his regime.
According to Sharansky, even though popular anti-Semitism is entrenched in Russian culture, Putin viewed the Jews as a bridge in new relations with the West, and granted freedom to Jewish communities there.
"However, Putin, for reasons of his own, precisely now needs to bolster Russia's national pride," Sharansky said. "The problem is that the moment you start playing with nationalist slogans, they immediately link up with the most primitive prejudice."
Sharansky called on Putin and the Russian parliament to treat the letter and its authors harshly.
The disengagement plan will cause a humanitarian disaster if Israel and the donor countries fail to make preparations for rehabilitating the Palestinians health system in the Gaza Strip, Physicians for Human Rights said in a report released Wednesday.
The organization warns that Israel must continue after the pullout to allow Palestinians to leave Gaza for life-saving treatments either in Israel or abroad. At the same time, the organization says, Israel is obliged to plan and implement the rehabilitation of the Palestinian health system, which has been in dire straits in recent years.
The report notes, for example, that the beds per capita ratio in Palestinian hospitals is 614:1, as opposed to 145:1 in Israel.
In light of the state of the Palestinian health system, thousands of patients from the Gaza Strip are required every year to seek treatment at hospitals in Israel, East Jerusalem, the West Bank or overseas. Hospitals in Gaza, for example, don't perform catheterizations or cardiac surgery, and don't have the facilities to treat burn victims, administer radiotherapy, carry out MRI scans and more.
The report states that thus far Israel has done nothing to continue allowing patients who require medical services unavailable in Gaza to seek such services outside the Strip following the pullout.
Physicians for Human Rights estimates that some $250 million a year will be needed to bring the medical services in Gaza up to the level available in Jordan.
The Israeli army is set to activate a special psychological warfare unit (PWU) whose main role is to "disseminate disinformation" and "carefully manipulated information" about Iran and other countries in the Middle East deemed to be "hostile".
According to Israeli media sources, the unit, which was disbanded some five years ago, is staffed with dozens of mostly Arabic-speaking intelligence officers including Shin Beth operatives. Shin Beth is Israel's domestic intelligence service.
The PWU is to be headed by a veteran intelligence officer and will be mainly involved in "the battle for the consciousness".
Only last year the Israeli Chief of Staff Moshe Ya'alon spoke of the need to "sear into the consciousness of the Palestinians" that resistance to Israeli occupation was futile.
The Israeli army did attempt to put to effect Ya'alons recommendations through military incursions and the destruction of property belonging to Palestinians. The Jenin massacre in 2002 and the destruction of Rafah in the southern Gaza Strip in 2003 were apparently part of Ya'alon's insistence of "searing into the consciousness of the Palestinians".
With the military incursions failing to have an 'effect' on the Palestinians, the PWU is being re-activated in order to conduct "awareness operations" that would influence Palestinian public opinion. These "awareness operations" would be conducted though propaganda and disinformation.
The unit is reportedly already being activated in the Gaza Strip where 'messages' are being spread that ordinary Palestinians are suffering because of the resistance and not because of the occupation and illegal Jewish settlements in the area.
Another step being conducted by the PWU is at the Mintar (Karni) Crossing between Gaza and Israel where posters saying "Closed because of Hamas" have been put up.

The objective behind the 'poster campaign' is so that Palestinians target their bitterness and anger at resistance groups such as Hamas and Islamic Jihad rather than at Israel or the Talmudic Jewish settlers.

Limited Effect
The Palestinian political analyst Hani al Masri believes that Israel's psychological war has a very limited effect on the Palestinians.

"I think most Palestinians, including myself, don't believe and even don't listen to the Israeli media. We know they are first-class liars. The continuation of the resistance and the strong public support it enjoys testifies to the mendacity of Israeli claims. Israeli propaganda won't succeed. Israeli criminal actions on the ground have a greater effect than any PR efforts."
Instead al Masri believes that what is actually happening is that it's the Israeli public who is being effected by the plight of the Palestinians.
"On the contrary, we have been able to sear into their consciousness that the occupation is futile and will have to come to an end and that there can be no peace and security for Israel as long as the occupation is not dismantled."
Israeli media
The PWU is said to have a definite "working relationship" with Israeli journalists and the media as a whole.
According to Amos Harel, the author of the PWU report, Israeli media did publish and circulate reports originating from the Israeli army propaganda department.
"Psychological warfare officers were in touch with Israeli journalists covering the Arab world, gave them translated articles from Arab paper (which were planted by the Israeli army) and pressed the Israeli reporters to publish the same news here," he says.
He points out that purpose of the disinformation was to strengthen the perception of an Iranian threat in Israeli public opinion.

1/26/2005 4:00:00 PM GMT
Al-Jazeerah
The Israeli occupation killed nearly 650 Palestinian children since the outbreak of the intifada
Israeli occupation forces shot dead on Wednesday a three-year-old girl inside in her house in Gaza, witnesses and medical sources said.
Witnesses said that Rahma Ibrahim Abu Shamas was inside her house in Deir al Balah in Gaza when the Israeli gunfire struck her in the head, killing her instantly.

The Israeli military admitted the killing, saying it was investigating the "incident."
A spokesman for the Israeli military justified the girl's killing, saying that soldiers thought that Palestinian resistance fighters were somewhere in the neighborhood.
However, the Israeli-state run radio, Cal Yisrael, asserted that no Palestinians fighters were present in the area at the time of the shooting.
PA security officials in the Gaza Strip strongly denounced the killing, a "another hideous crime."
"Imagine that a Jewish child was killed…and how Israel would react…they are killing our children in cold blood as they are vociferously reminding the world of the so-called holocaust," said Abu Muammar, a Palestinian security official in Deir al Balah.
Sine the Palestinian uprising, intifada broke out more than four years ago, the Israeli occupation killed more than 650 Palestinian children and minors. And hundreds more were also injured or maimed by Israeli gunfire and shells.
During the past week, the Israeli occupation forces killed at least five Palestinians, three of them children.
The latest killing came as the Palestinian resistance groups agreed with the newly elected Palestinian President Mahmoud Abbas on a draft ceasefire deal .
Under this agreement, Resistance gorups should stop anti-Israel attacks, and Israel too should stop all forms of assassinations or so-called targeted killings, home-demolitions, incursions into Palestinian territories.
According to a report published by the Israeli newspaper ha'aretz, the Israeli army ordered a suspension of assassinations of leaders of the Palestinian political groups and resistance fighters, but the killing of the girl on Wednesday raises questions about the credibility of the report.
Ten-year-old child wounded
Also Wednesday a ten-year-old child was hit with the Israeli gunfire in his leg in village of Seelat Al-Harthiya to the west of Jenin city.
Correspondent said that the shooting was heard all over the town as occupation soldiers continue to storm civilians houses, claiming they're searching for Hamas members.
On Tuesday, Israeli soldiers raided and ransacked the house of Sheikh Yehya Ziyud, whom their arrested earlier in the day together with his brother and ten others.
Jewish settlers attacked a car carrying a Palestinian security delegation which had just met with their Israeli counterparts at the Tufah crossing on Wednesday.
Aljazeera's Gaza correspondent said the Palestinian officials were forced to return from the talks in military vehicles and others returned on foot as their vehicle had been damaged during the meeting.

Windows were smashed and tyres slashed, he said.

The meeting held between Israeli and Palestinian field leaders on Wednesday discussed the deployment of Palestinian security forces, identifying their positions, numbers and type of weapons allowed.

The Israeli delegation agreed to offer safety measures at Abu Huli military crossing and Rafah crossing.
This so-called ill treatment and torture in detention centers, stories of which were spread everywhere among the people, and later by the prisoners who were freed… were not, as some assumed, inflicted methodically, but were excesses committed by individual prison guards, their deputies, and men who laid violent hands on the detainees.
Can anyone tell me who said that? Was it:
A) George W. Bush
B) John Ashcroft
C) Donald Rumsfeld
D) Someone else
If you answered "someone else", you'd be right. It was Rudolf Hoess, SS Kommandant of the infamous Auschwitz death camp where over 2.5 million people were murdered.
Conservatives, who love to call Liberals whiny, get whiny as hell when the Bush administration is compared to Nazi Germany, or to fascism in general. Guess what, though? The comparisons are beginning to come through more and more.
Scott Horton wrote in the LA Times:
Consider the memorandum written by Alberto Gonzales – then the president's attorney, now his nominee for attorney general. He wrote that the Geneva Convention was "obsolete" when it came to the war on terror. Gonzales reasoned that our adversaries were not parties to the convention and that the Geneva concept was ill suited to anti-terrorist warfare.
In 1941, General-Field Marshal Wilhelm Keitel, the head of Hitler's Wehrmacht, mustered identical arguments against recognizing the Geneva rights of Soviet soldiers fighting on the Eastern Front. Keitel even called Geneva "obsolete," a remark noted by U.S. prosecutors at Nuremberg, who cited it as an aggravating circumstance in seeking, and obtaining, the death penalty. Keitel was executed in 1946.
Hitler was installed, then re-elected. Bush was installed, then re-elected. Hitler had Reichstag, Bush had 9/11. (I am not implying government collusion in 9/11, FYI) Both used their respective catastrophes to assume more power (Hitler with the Enabling Act, Bush with the USA PATRIOT Act), and to assume dictatorial powers.
Hitler used Christianity to give his words absolute authority and decried any who dissented as unpatriotic. Bush uses Christianity to give his words absolute authority and decries any who dissent as unpatriotic.
Hitler said:
"The German people are not a warlike nation. It is a soldierly one, which means it does not want a war, but does not fear it. It loves peace but also loves its honor and freedom"
Bush said:
We're pursuing a strategy of freedom around the world, because I understand free nations will reject terror. Free nations will answer the hopes and aspirations of their people. Free nations will help us achieve the peace we all want.
I have rejected this type of comparison of Bush to Hitler for months, because Hitler was a genocidal maniac bent on ruling the world with his ideology. I submit this comparison now because I believe the same to be true of George W. Bush.
George W. Bush will have his empire, and he will kill any person, group, or country that stands in his way. I challenge any of you to tell me why that is not so, as he has already proved it.
I've just had an email from a friend in the Green Zone. He has not set foot outside the compound since he's been there, and probably never will. Helicopter to and from the airport only. Welcome to free Iraq, and especially to liberated Falluja.
The New York Times reported that "Residents trickling back to Falluja . . . enter a desolate world of skeletal buildings, tank-blasted homes, weeping power lines and severed palm trees. Sullen and anxious, tens of thousands of residents have passed through stringent checkpoints to find out . . . whether their homes and shops were reduced to rubble or merely ransacked . . . people have to file through huge coils of razor wire and a gantlet of armed marines to pick up their supplies. On the road . . . Lt. Col Patrick Malay . . . watched the scene with satisfaction. "This is how I like it, just like Disneyland," he said. "Orderly lines and people leave with a smile on their face"."
They are not happy, you unfeeling, ignorant trog. They are utterly miserable and they hate you for destroying and looting their city and especially their family homes. They loathe the US and the Western world - and it is you and your ilk who are responsible for their hatred. It will take centuries before Fallujans come to terms with the fact that Christian barbarians smashed and obliterated their dwellings and shops. Iraq and the entire Middle East will never recover from your president's illegal war and his chaotic military occupation of a country that presented not the remotest threat to America.
The Director of Falluja hospital told the BBC that "about 60% to 70% of the homes and buildings are completely crushed and damaged . . . Of the 30% still left standing, I don't think there is a single one that has not been exposed to some damage." Maybe Disneyland should create a Falluja display to include real dogs eating real human corpses and happy Iraqis wandering round the rubble with Goofy to fill dirty cans with even filthier water. Perhaps LtCol Malay could act as technical advisor to Disney on how to present slaughter and destruction attractively. He could be joined by the carefree LtCol Tim Ryan who (blogger Billmon points out) had a piece in the Tacoma News Tribune on January 18 describing his happy life : "From where I sit in Iraq, things are not all bad right now. In fact, they are going quite well . . . In the distance, I can hear the repeated impacts of heavy artillery and five-hundred-pound bombs hitting their targets. The occasional tank main gun report and the staccato rhythm of a Marine Corps LAV or Army Bradley Fighting Vehicle's 25-millimeter cannon provide the bass line for a symphony of destruction."
How poetic. How liberating. How psychotic.
[...] The evil that has been wrought on Iraq by Bush and his demented coterie is in no fashion better exemplified than by the death of the city of Falluja. Its annihilation was said to be essential - or so we were told by one of these peculiarly robotic military officers who seem to be churned out mercilessly by US training institutions, like talking sausages, programmed to utter fatuous comments at the drop of a salute.
One particular robot sausage proclaimed that his mission of mass destruction had been wonderfully successful. In November Marine LtGen John Sattler said his troops had "taken away this safe haven" of Falluja, which he stated was the base for the entire Iraqi uprising (he called it "rebellion") against US occupation troops. The Marine offensive, he said two months ago, has "broken the back of the insurgency" across Iraq. "We have", he announced proudly, "liberated the city of Falluja . . . the enemy is broken."
Following General Sattler's declaration that his enemy was broken there was a massive increase in ferocious anti-US attacks throughout the country. In the weeks after he mouthed his idiot words, over 150 US soldiers have been killed and scores more maimed. A few hundred Iraqi fighters against occupation have died. And hundreds, perhaps thousands, of Iraqi civilians have been slaughtered - but who the hell cares about them?
As for "liberating" Falluja, it would be interesting to know what General Sattler's definition of "liberation" might be. Does it include total destruction of cities and creating hatred of his country for evermore?
Where do they get these generals from?
Disneyland, probably.
ARBIL, Northern Iraq, - Arbil is normally a quiet place. Capital of the Kurdish autonomous area in Northern Iraq, the city of 800,000 has largely avoided the bloodshed of 22 months of war and occupation.
Kurdish fighters here fought alongside the United States in the initial invasion. Since the fall of Saddam, the area has been governed by Kurdish leaders, whose followers provide security. There are no American soldiers on the streets, and no humvee patrols. The area had not seen a single American attack since the invasion.
Until this month, that is.
Just past midnight Wednesday Jan. 5, three U.S. helicopters arrived over Arbil from a base in Baghdad, and began circling over a college dormitory near the centre of town. Many in the boys dorm, who attended nearby Salahudin University, were still awake cramming for midterm exams scheduled for the next day.
"Suddenly, American soldiers began to jump out of one of the helicopters and started shooting at the building," says Salam, an English department student. Local police tried to intervene to stop the attack, but were pushed back by the Americans, students and Kurdish officials say.
Then the helicopters opened fire. First they fired bullets at the dormitory, and then they launched four rockets. One of the rockets hit the electricity generator on top of the dorm, which exploded in a giant fireball. "The whole building was in flames," Salam said. "It's a miracle nobody died."
The helicopter attack sent a wave of dismay throughout the Kurdish autonomous region, where nearly everyone supports the U.S. presence.
After strong condemnation by the Kurdish government, and unrest in the streets, the U.S. commander in charge of Northern Iraq issued an apology. "I ask the President, the Kurdistan Regional Government, and the people of Arbil to accept our sincere apologies," Gen. Carter F. Ham told Kurdish television.
But Gen. Ham provided no reason for the attack. He told Kurdish leaders the attack was ordered from Baghdad and carried out by U.S. forces based there. [...]
Seven people were killed in a car bomb attack yesterday on a police station in the city of Kirkuk, as insurgents aimed to make good on threats to escalate violence ahead of Iraq's landmark elections.
Elsewhere, a US marine helicopter crashed in western Iraq and four American soldiers were wounded in a car bomb attack targeting a military convoy on the Baghdad airport road.
Pentagon officials, meanwhile, estimated the monthly cost of the war in Iraq at more than $US4 billion ($A5.2 billion).
A string of other attacks rocked Iraq yesterday, including several against polling centres, as rebels stepped up their campaign of intimidation ahead of Sunday's polls, the first in the post-Saddam Hussein era.
Major General Turhan Yusef, police chief in the ethnically-divided northern city of Kirkuk, said three policemen, two soldiers and two civilians were killed in the blast.
Another car bomb exploded in a market area in Kirkuk, he said, but could not give immediate details.
A car bomb attack wounded four US soldiers on the perilous airport road in Baghdad, while another four American troops were wounded when a booby-trapped vehicle exploded in the town of Tikrit, north of the capital.
Local officials reported one civilian killed in the blast in Saddam's hometown.
Rebels pounded eight polling stations with rockets, mortar shells and bombs within a few hours in the same restive regions, Iraqi police and local officials said.
Three were hit in Baqouba and two others outside the troubled town. A voting centre came under rocket fire in the town of Dhuluiyah, and another was hit by a bomb blast near Samarra.
A bomb also went off near a school in Baghdad that like many other schools is being turned into a polling station for the elections. [...]
Most Americans hold these truths to be self-evident: Torture is wrong; attacking another country that hasn't attacked you is wrong; occupying another country with your army and imposing your will on its people is wrong. These policies are not only immoral. They are illegal.
Most Americans believe that even the highest government officials are bound by law. They reject Attorney General-designate Alberto Gonzales' view that the law is whatever the President says it is - that if the President says something isn't torture, then it's O.K. to order it.
Most Americans don't agree that their president can unilaterally annul treaties like the Geneva conventions. They don't accept, as Gonzales put it in a 2002 legal memo, that if the President simply declares there's a "new paradigm" he can thereby "render obsolete Geneva's strict limitations on questioning of enemy prisoners."
Aggression, military occupation, and torture were the war crimes, crimes against peace, and crimes against humanity for which the Axis leaders were prosecuted at the Nuremberg and Tokyo trials after World War II. The U.S. has supported similar charges against Slobodan Milosevic and Saddam Hussein.
But what about the U.S. attack on Iraq, which Kofi Annan has bluntly called "illegal"? What about the leveling of Fallujah and the targeting of hospitals and urban neighborhoods? What about torture at Abu Ghraib and Guantanamo? If a single standard is applied, these too are crimes of war. And as the Tokyo War Crimes Tribunal stated, "Anyone with knowledge of illegal activity and an opportunity to do something is a potential criminal under international law unless the person takes affirmative measures to prevent the commission of the crimes." How many Americans can honestly claim to know nothing about this "illegal activity"? It's reported in detail in the daily newspapers and shown in full color on the nightly news, from the phony reports of Iraq's "yellowcake" uranium to the shooting of ambulances to the horrors of Abu Ghraib.
In 1967, faced with evidence of the napalming of villages and massacring of civilians in Vietnam, a distinguished group of Americans signed a "Call to Resist Illegitimate Authority." They declared the Vietnam War illegal under U.S. and international law and pledged to support young people who were resisting the draft.
When the Johnson administration charged world famous pediatrician Dr. Benjamin Spock, Yale Chaplain William Sloan Coffin, and others with conspiracy to "aid, counsel, and abet" resistance to the draft, it identified the "Call" as their first overt act.
There's no draft yet, but there's plenty of resistance. The Pentagon acknowledges 5,500 desertions since the Iraq war began. Army Reserve and National Guard recruitment is plummeting. Many in the military are deciding not to reenlist.
"60 Minutes" recently interviewed U.S. resisters in Canada and reported that "conscience, not cowardice, made them American deserters." One of them, Specialist Jeremy Hinzman of Rapid City, South Dakota joined the 82nd Airborne as a paratrooper in 2001 and served in Afghanistan. But when he was ordered to Iraq, he went to Canada instead. He explained to "60 Minutes," "I was told in basic training that, if I'm given an illegal or immoral order, it is my duty to disobey it. And I feel that invading and occupying Iraq is an illegal and immoral thing to do."
Senior officials like Alberto Gonzales set the policies that led to Guantanamo and Abu Ghraib. Nearly 140 low-level military service members have been disciplined or face courts-martial for abusing detainees. Instead of being punished, Gonzales is being rewarded with the job of U.S. Attorney General.
It's time for all Americans to face our responsibility to halt Bush administration war crimes. It's time to give our support to those who are refusing to participate in those crimes. It's time for a new "Call to Resist Illegitimate Authority."
I for one will say right now that I support those who refuse illegal orders to participate in this illegal war. I know there are many who will join me.
To Alberto Gonzales, I would like to say that I encourage all Americans, military and civilian, to disobey orders based on your memos justifying torture. I say it's their legal right, indeed their legal and moral duty, to disobey such illegal orders.
Gonzales may disagree. In the era of the misleadingly named PATRIOT Act, he may follow the example of the Johnson administration and bring charges against those who encourage resistance to military authority. If he does, he will test whether a jury of American citizens will agree that the law is whatever the President says it is -- even if that includes torture and an illegal war.
Vikram Dodd, Richard Norton-Taylor and Rosie Cowan
Wednesday January 26, 2005
The Guardian
One of the four men who returned to Britain yesterday after three years in Guantánamo Bay allegedly suffered a series of mental breakdowns and was repeatedly injected with an unknown substance by his US captors.
A lawyer for Feroz Abbasi made the allegations as he and three other Muslim men arrived in Britain aboard an RAF plane, only to be arrested by anti-terrorism officers who took them to a top security police station for questioning.
Mr Abbasi is alleged to have been kept in isolation for 18 months and was left so traumatised that he suffered hallucinations and panic attacks.
Yesterday the four Britons touched down on British soil at 5.02pm, after a battle by their families to secure their release. They had been picked up from Guantánamo Bay, land controlled by the US on Cuba's south-east tip, and flown directly to RAF Northolt, London.
Mr Abbasi, 24, is the only one allegedly detained on the battlefield, in Afghanistan in December 2001. Richard Belmar, 25, and Moazzam Begg, 37, reportedly were arrested in Pakistan, while Martin Mubanga, 32, was detained in Zambia.
The fresh allegations of abuse of British detainees and their suffering came from Gitanjali Gutierrez, the US lawyer for Mr Abbasi. Ms Gutierrez saw Mr Abbasi, who comes from Croydon, south London, in Guantánamo last week where he alleged:
· He was kept in isolation for 18 months in a windowless cell
· He could not go outside to exercise
· Guards were removed to deny him any human contact and he was monitored by a remote camera.
Ms Gutierrez, whose comments are subject to US military censorship, told the Guardian her client was showing clear signs of the debilitating post-traumatic stress disorder and suffering from panic attacks. She said: "The time in isolation led to mental breakdowns, he was talking to himself, hallucinating, sitting in the corner.
"We talked about the difficulties of reintegrating into regular life after being subjected to the abuses and isolation he suffered. He had periods of psychosis that corresponded with the injections." Three British detainees released last year also said they had been given mystery injections.
After touching down on British soil the four Britons were arrested under Section 41 of the Terrorism Act 2000, suspected of involvement in the commission, preparation or instigation of acts of terrorism.
Sir John Stevens, the Metropolitan police commissioner who made the decision to arrest, said: "The intelligence and the information was put to me over the weekend," he said. "I have no other option but to arrest them. If their answers are satisfactory, then they will be released as soon as we can arrange it."
Police said they would be medically examined before interrogation and that because of the "unique circumstances" a family member would be allowed to see them, probably today. Muslim groups and the men's families condemned the arrests.
Intelligence officials suggested yesterday there was no evidence to suggest any of the four presented a security threat. They expected all four to be released quickly, but insisted that the length of detention was up to the police.
Muslim leaders who attended a meeting with Britain's top anti-terrorism officer, assistant commissioner David Veness, claimed he said the men would only be charged if they admitted criminal acts.
The four have been questioned at Guantánamo Bay up to nine times by MI5 officers. Any intelligence relevant to the war on terror would have been acted on already by Britain or the US, anti terrorism officials suggest.
The four flew back to Britain on an RAF-C-17 military aircraft, accompanied by Scotland Yard anti-terrorist officers and two independent observers, one a Muslim. Police videoed the flight to guard against claims of ill treatment.
Up to 550 Muslim men remain in Guantánamo, including at least six British residents who the government has declined to represent.
The four Britons who returned yesterday are expected to receive treatment for the physical and mental effects of their ordeal from the Medical Foundation for the Care of Victims of Torture. One of five Britons released from Guantánamo in March 2004 is still receiving treatment from the charity.
Following the bloody helicopter crash in Iraq, in which 31 U.S. Marines lost their lives, President George W. Bush pleaded for American people's patience on that "very discouraging day" of death and violence for U.S. troops in Iraq.
Hours following reports from Baghdad that indicated that more 31 U.S. Marines were killed in the Helicopter crash, Bush held a White House news conference.
Bush acknowledged that heavy U.S. heavy losses in Iraq were depressing his people.
The latest deaths brought to 1,400, the number of U.S. troops who died in Iraq since the war started in 20 March 2003.
Undeterred after the massive U.S. losses in Iraq war, the U.S. President said during the conference: "We'll have the troop levels necessary to complete the mission. And that mission is to enable Iraq to defend herself from terrorists — homegrown or terrorists that come in from outside of the country," hinting that Iraq is still not ready to handle its own security, apparently preparing people for U.S. involvement in the Iraq the next year.
"In the long term, our children and grandchildren will benefit from a free Iraq," he said.
Almost two years after invading Iraq, Bush, is still defending his decision to go on war, is facing mounting criticism about the war's heavy price in both money and lives. In money alone, Iraq is costing taxpayers in the U.S. more than $1 billion a week.
Trying to calm his people, Bush said the Americans are not alone in their qualms. Iraqis are "losing a lot of people" in bombings and assassinations, he said, and "some are feeling intimidated" about threats against voters. He also said: "The Iraqi people are wondering whether or not this nation has the will necessary to stand with them as a democracy evolves.
"The enemy would like nothing more than the United States to precipitously pull out and withdraw before the Iraqis are prepared to defend themselves."
"Mission must be completed"
Despite the U.S. military casualties in Iraq war, Bush argued that the U.S. could not run away from its long-term aim of "spreading freedom".
"But it is the long-term objective that is vital, and that is to spread freedom," Bush stressed.
If not with the sacrifices the American troops are giving, he said, "the Middle East will continue to be a caldron of resentment, hate, (a) recruiting ground for those who have this vision of the world that is the exact opposite of ours."
In an interview with Al-Arabiya satellite news channel, Bush noted that the U.S. troops will stay in Iraq till security is restored to the war-torn country. "But that mission must be completed. ... I've heard talk that we are occupiers," he said.
"No, the United States and our troops and our coalition are there to help the Iraqi citizens." He said U.S. forces will do the job as quickly as possible and then come home.
Lacking details about Wednesday helicopter crash, Bush said: "The story today is going to be very discouraging to the American people. I understand that. We value life. We weep and mourn when soldiers lose their life," " But it is the long-term objective that is vital, and that is to spread freedom."
Iraqi's elections, to be held on Sunday, is seen by analysts as a major test for Bush, who had always boasted about his goal of spreading democracy in the Middle East. "I anticipate a grand moment in Iraqi history," he said.
"We anticipate a lot of Iraqis will vote," the president said. "Clearly there are some who are intimidated."
Bush, moreover, said the elections will be successful even before they happen.
"The fact that they're voting, in itself, is successful," he said. "Again, this is a long process."
The U.S. President said that he is leading his country toward an honorable goal — in Iraq and across the world. "I firmly planted the flag of liberty," he said.
The U.S. military said it was now studying plans to increase the number of U.S. military advisers to Iraqi soldiers by the thousands to accelerate the training of local troops; identified as America's best exit strategy from Iraq.
WASHINGTON, D.C. -- A syndicated columnist, who has repeatedly supported the Bush administration's push for a $300 million initiative to encourage marriage, also had a $21,500 federal contract to help promote the proposal, the Washington Post reported Tuesday.
Maggie Gallagher had a $21,500 contract with the Department of Health and Human Services. It ran from January through October 2002 and included drafting a magazine article for the department official overseeing the initiative, the Post reported.
"Did I violate journalistic ethics by not disclosing it?" Gallagher was quoted as saying Tuesday. "I don't know. You tell me."
Later in the day, Gallagher filed a column in which she said: "I should have disclosed a government contract when I later wrote about the Bush marriage initiative. I would have, if I had remembered it. My apologies to my readers."
The author of three books on marriage, Gallagher is president of the Washington-based Institute for Marriage and Public Policy, a frequent television guest and has written on the subject for such publications as the New York Times, Wall Street Journal and Weekly Standard.
MOSCOW: Russia hit out on Tuesday against US threats towards Syria over its alleged ties to terrorists and cross-border help for insurgents in neighboring Iraq, saying they only worsened the situation in the region.
"We are concerned about the situation surrounding Syria. It is important not to provoke further tension in a region already overflowing with crises," Russian Foreign Minister Sergei Lavrov said in a statement. "If there are some remaining concerns, they should be backed up by concrete proof and resolved through negotiations. The language of threats can only worsen the situation," he added.
Syrian President Bashar al-Assad arrived Monday on a four-day official visit to Russia and was to hold talks Tuesday with his Russian counterpart Vladimir Putin.
The visit comes as Washington continues to accuse Syria of sponsoring international terrorism and turning a blind eye to anti-American insurgents crossing the border into neighboring Iraq. US President George W Bush warned Syria last month against "meddling" in Iraq and said Washington had a variety of diplomatic and economic measures it could take. afp
01-25-2005
Sergei Chirikov - (AFP/POOL)
MOSCOW (AFP) - Russia and Syria pledged to restore Soviet-era ties, striking an accord on Damascus' debts to Moscow and future military cooperation despite Israel's apparent success in torpedoing Russian weapons sales to its arch-enemy.
Syrian President Bashar al-Assad, whose visit to Moscow provoked a row between Israel and Russia over reported plans to sell advanced Russian missiles to Syria, signed a declaration with Russian counterpart Vladimir Putin on defence ties.
In the statement, inked after Kremlin talks, Moscow and Damascus agreed to "pursue traditional cooperation in the military-technical sphere in keeping with their mutual interests and international obligations," ITAR-TASS reported.
Earlier, the Syrian president, whose country has been branded by the United States as a sponsor of international terrorism, said it had the right to acquire weapons to protect itself against Israeli air attack.
"These are defensive weapons, air defence, to prevent aircraft from entering our airspace," Assad said, asked to comment on the reported contract for portable Igla anti-aircraft missiles, now seen in doubt because of Israeli and US pressure.
"If Israel is against us acquiring them, it's as if it was saying 'We want to attack Syria but we don't want them to protect themselves,'" he told students at the Moscow State Institute of Foreign Relations (MGIMO).
Putin vowed to reinvigorate lapsed ties between Moscow and Damascus, a former Soviet client state which has traditionally been a major purchaser of Russian weapons.
"Syria is a country with which the Soviet Union and today's Russia have always had particularly warm relations," Putin told Assad as the two men met in the gilded splendour of the Kremlin.
The Russian president regretted that there had been "a long pause" since the last visit of a Syrian leader to Moscow but expressed the hope that they could revive "a tradition of friendship and cooperation that is decades-old."
In a breakthrough, the two sides reached a deal on writing off more than 70 percent of the 13 billion dollars (10 billion euros) of Syria's debts mainly incurred from arms purchases during the Soviet era.
The Syrian leader arrived in Moscow Monday on a four-day state visit overshadowed by furious Israeli protests over the reported contracts for Russian missiles that would erode the Jewish state's military edge over its arch-foe Damascus.
Despite official denials, Russian commentators Tuesday said that the sale of Igla missiles and Iskanker-E next-generation missiles capable of striking Israel had been in the pipeline but had been shelved after Israeli and US protests.
However, the Russian weapons industry continues to regard Syria as an important export market.
Assad, 39, who became president in 2000 after the death of his father who had ruled Syria for 30 years, discussed a range of major issues with Putin including the situation in the Middle East and Iraq and bilateral economic ties.
His visit to Russia, the first by a Syrian head of state since 1999, is seen as an opportunity to put relations on a better footing after years of decline since the break-up of the Soviet Union in 1991.
Traditionally close to Arab states, Moscow in recent years has built warm ties with Israel because of the sizeable Russian Jewish immigrant population there and cooperation in anti-terrorism.
Russia, one of the four international sponsors of the Middle East peace process, is hoping to use renewed influence with Syria to boost its role in the region while Damascus wants Russian help in securing the return of the Golan Heights from Israel captured in the 1967 war, analysts said.
WASHINGTON, Jan. 26 (Xinhuanet) -- Douglas Feith, the US defense department's undersecretary for policy, announced Wednesday that he would resign this summer for personal reasons.

Feith, an architect in the Bush administration's strategy for the anti-terror war and the war on Iraq, said in an interview that he had informed Defense Secretary Donald Rumsfeld of his plan to leave sometime this summer, without giving a specific date.

Feith, 51, would be the highest-ranking Pentagon official to leave the administration.

Rumsfeld said on Capitol Hill that he had wanted Feith to stay longer and hoped he would "stay until we are able to find an appropriate successor."

Feith "is creative, well organized and energetic, and he has earned the respect of civilian and military leaders across the government," Rumsfeld said in a statement.

Feith oversaw the Pentagon's Office of Special Plans, which was accused of selectively using uncorroborated intelligence reports on Iraq's alleged stockpiles of weapons of mass destruction to help build the case for the war against Iraq.
BEIJING, Jan. 27 -- China has lost faith in the stability of the US dollar and its first priority is to broaden the exchange rate for its currency from the dollar to a more flexible basket of currencies, a top Chinese economist said Wednesday at the World Economic Forum.

At a standing-room only session focusing on the world's fastest-growing economy, Fan Gang, director of the National Economic Research Institute at the China Reform Foundation, said the issue for China isn't whether to devalue the yuan but "to limit it from the U.S. dollar."

But he stressed that the Chinese government is under no pressure to revalue its currency.

China's exchange rate policies restrict the value of the yuan to a narrow band around 8.28 yuan, pegged to $1.

"The U.S. dollar is no longer — in our opinion is no longer — (seen) as a stable currency, and is devaluating all the time, and that's putting troubles all the time," Fan said, speaking in English.

"So the real issue is how to change the regime from a U.S. dollar pegging ... to a more manageable ... reference ... say Euros, yen, dollars — those kind of more diversified systems," he said.

"If you do this, in the beginning you have some kind of initial shock," Fan said. "You have to deal with some devaluation pressures."

The dollar hit a new low in December against the euro and has been falling against other major currencies on concerns about the ever-growing U.S. trade and budget deficits.

Fan said last year China lost a good opportunity to do revalue its currency, in July and October.

"High pressure, we don't do it. When the pressure's gone, we forgot," Fan said, to laughter from the audience. "But this time, I think Chinese authorities will not forget it. Now people understand the U.S. dollar will not stop devaluating."

Asked how speculation about revaluation could be curbed, he noted that China imposed a 3 percent tariff on Chinese exports.

Some Chinese experts say that perhaps inflation can be reduced this year, "but I'm not that optimistic," Fan said, noting that fuel prices keep rising.

"So maybe China (will) have 4-5 percent inflation in 2005," he said.

Fan, whose nonprofit institute specializes in analyzing the Chinese economy, stressed that the country's development is a long-term process that will take decades, maybe a century.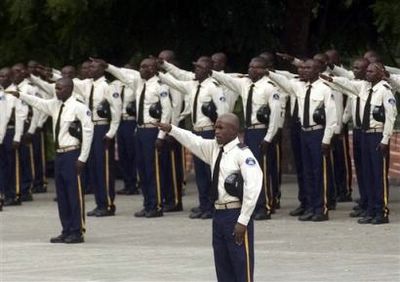 According to the Associated Press, new members of the Haitian National Police took an oath during the graduation ceremony of 393 new members at the Police Academy in Port-au-Prince, Haiti on Friday, Jan. 21, 2005.
The police are using the hitler salute.
Joint operations are being conducted in Haiti by the United Nations Stabilization Mission in Haiti and the Haitian National Police.
West Palm Beach Fire/Rescue is investigating a leak of radiological material at 321 South Dixie Highway. The fire department recieved an initital report of smoke in the area with a high radiantion level at the Corodino Environmental Management Group. The fire department has evacuated a four block area between Quadrille, Olive, Dixie, and Fern. The evacuation has proceeded calmly and the fire department has not issued any type of advisory that would affected breathing or other health concerns. There have been no reported injuries.
CHICAGO (Reuters) - A U.S. Army infantryman whose unit was about to be sent to Iraq for a second time was taken into custody after making bomb threats aimed at disrupting the deployment, officials at Fort Campbell in Kentucky said on Wednesday.
Specialist Rodney Whitacre, 26, of Decatur, Illinois, was detained on Sunday while "he was on the phone making the alleged threats to an Army-wide counseling service," the post said in a news release.
The threats, it said, were "in reference to his unit's deployment to Iraq." No other details were divulged.
No explosives were found during a search of his room and the aircraft being used in the deployment, the announcement said. The Third Infantry Division of which he was a member continued the move to Iraq.
A spokesman said Whitacre had served a tour of duty in Iraq last year. He described the threat and arrest as an "isolated incident."
Whitacre was being held at the post pending an investigation, the announcement said.

Watch this story...Department of Homeland Security officials forced a small plane carrying four apparently illegal Chinese immigrants and a pilot identified as a Mexican national to land at an airport in San Antonio Monday night, officials said today. The immigrants were being held at Stinson Airfield shortly after federal agents forced their plane down.
Update: Four Chinese Nationals Not Linked to TerrorismAuthorities are trying to determine if the four pasengers on board the Cessna 172-P, two men and two women, are linked to a report that several Chinese nationals were attempting to set off a 'dirty bomb' in the Boston area.
Online records of the Federal Aviation Administration show the 20-year-old plane is co-owned by Afzal Hameed of Dover, Del. The other co-owner is listed as Alyce S. Taylor, but no address is given for her. The FAA records state that the plane's last three-year registration was filed in 1999, and that the agency received no response in 2002 after mailing new registration forms to Hameed.
San Antonio Police surrounded the airport close to 9 p.m. Monday after receiving a call for help from the Department of Homeland Security, officials said. The single-engine plane was intercepted after officials said it was flying in American airspace illegally. [...]
MIAMI, Florida (CNN) -- Passengers aboard a Southwest Airlines flight helped wrestle a fellow passenger to the floor Tuesday night after he tried to force his way into the cockpit, law enforcement officials said.
The incident happened aboard Flight 2161, which was traveling from Philadelphia, Pennsylvania, to West Palm Beach, Florida.
Christopher Egyed, 37, made "threatening comments about the government" and tried to make his way into the cockpit, Palm Beach County Sheriff's Office spokesman Paul Miller said.
"He had been acting in an obnoxious way throughout the flight," Miller said.
Egyed exchanged punches with a flight attendant before passengers joined the scuffle and subdued him, authorities said.
"They used duct tape to tie him up," FBI spokeswoman Judy Orijuela said.
Egyed was charged with interfering with a flight crew, she said.
Midway plans barrier system
Airport officials hope to curb security lockdowns
By Jon Hilkevitch
Tribune transportation reporter
Published January 26, 2005
A lockdown system of sliding doors is being designed for Midway Airport to prevent mass evacuations of the concourses during security breaches and other emergencies, Chicago aviation officials said Tuesday.
The half-million-dollar physical-barrier system is designed to end airport-clearing breaches that inconvenience passengers, delay flights and cost the city thousands of dollars in extra police expenses, officials said.
A bomb scare at Midway's passenger security checkpoint on Nov. 15, later blamed on a screener erroneously interpreting an X-ray image, prompted the evacuation of about 500 passengers and delayed 41 flights for hours when the passenger involved innocently picked up his bag and got on a flight before he could be detained for a second inspection.
A subsequent investigation determined that the screener failed to realize there was never a real bomb in a bag. The image of a hand grenade on the X-ray scanner was part of a computer-generated exercise used to test screener performance.
The incident was at least the third major breach at Midway since the terrorist attacks of September 2001, authorities said.
Passengers at Midway are funneled through a single security checkpoint area to three concourses.
The new security apparatus will consist of sliding doors electronically activated to contain passengers in the area around the security checkpoint and the airport food court, minimizing the likelihood of having to clear out the concourses and re-screen passengers who have already cleared security, according to the Transportation Security Administration. [...]
GLENDALE, Calif. -- A suicidal man parked his SUV on the railroad tracks and set off a crash of two commuter trains Wednesday that hurled passengers down the aisles and turned rail cars into smoking, twisted heaps of steel, authorities said. At least 10 people were killed and more than 180 injured.
The collision took place just before daybreak on the outskirts of Los Angeles, creating a scene of carnage: Employees at a Costco store rushed to the scene and pulled riders from the tipped-over double-deck cars before the flames reached them. Dazed passengers staggered from the wreckage, some limping. One elderly man on the train was covered in blood and soot, his legs and arms apparently broken.
"I heard a noise. It got louder and louder," said passenger Diane Brady, 56. "And next thing I knew the train tilted, everyone was screaming and I held onto a pole for dear life. I held on for what seemed like a week and a half it seemed. It was a complete nightmare."
Dozens of the injured were in critical condition, and more than 120 people were sent to hospitals. [...]
BROOKSVILLE, Florida (AP) -- Two school buses flipped over Wednesday morning in Florida and West Virginia, injuring 13 children and both drivers.
The elementary school bus north of Tampa overturned completely with 24 children aboard, sending eight to the hospital. One was taken by helicopter to a Tampa hospital, but none of the injuries was believed to be life-threatening, Florida Highway Patrol spokesman Larry Coggins said.
The other seven injured children and the driver were taken to local hospitals.
The bus left the road and overturned at about 8:20 a.m., Coggins said. It was unclear why the bus left the road, he said. The investigation was continuing.
In Logan, West Virginia, at around the same time, a school bus hit a patch of black ice near a railroad crossing and turned on its side, causing minor injuries to the bus driver and five children, four of them elementary school pupils.
The children suffered bumps, bruises and cuts that were treated at a hospital. The bus driver was having X-rays to determine the extent of his injuries.
BRAINTREE, Mass. (AP) - A piece of the giant metal frame that once held shipbuilding cranes collapsed onto a building at a former shipyard Wednesday, killing two workers and sending rescuers rushing to save others trapped under the twisted metal.
At least four people were injured, two of them seriously. [...]
WAPT 16 | January 26 2005
DENVER -- Some people are angry when they see Shasta Bates' derogatory bumper sticker about President George W. Bush -- but she didn't think she'd be threatened with arrest because of it.
The Denver Police Department is investigating a sergeant who allegedly threatened to arrest the 26-year-old for displaying the bumper sticker.
Bates said she was told by the sergeant Tuesday that her bumper sticker was illegal because it was profane. She said he told her he'd arrest her if she didn't remove it.
But City Attorney Cole Finegan said he doesn't believe there's any city ordinance against displaying a profane bumper sticker.
Colorado ACLU Legal Director Mark Silverstein said the alleged threat of arrest clearly violates First Amendment protection.

London Guardian | January 25 2005
A woman tempted by an apple while driving set off a Kafkaesque chain of events, a court heard yesterday, including aerial photography by a police helicopter, nine preliminary court hearings, and a trial lasting more than 2 hours.
Unlike Eve, nursery nurse Sarah McCaffery, 23, had not taken a bite out of the forbidden fruit when she was stopped by PC Lee Butler on December 4 last year, but she was holding it in her right hand whilst swinging her Ford Ka into a left turn.
Apple or not, the manoeuvre at a junction in Hebburn, South Tyneside, free of pedestrians and other traffic, was carried out "perfectly" said her solicitor, Geoffrey Forrester, but it was spotted by a patrol car parked nearby.
PC Butler pounced, initially because he thought that Ms McCaffery's apple was a mobile phone. He then issued the nurse with a £30 fixed penalty notice as part of a Northumbria police drive against food or drink at the wheel.
Ms McCaffery was found not to have been in proper control of her car by South Tyneside magistrates yesterday, but Mr Forrester said that her real offence had been to fight the case.
"This is all about trying to crush her because she is the one who stood up and said 'This is silly'," he told the court. "The police service and the Crown Prosecution Service do not like to be told they are silly.
"Nothing illustrates the nonsense of this case more than the resources that have been thrown at it." The magistrates heard that after Ms McCaffery had the "temerity" to challenge the fixed penalty, police used a helicopter to film the junction. A sergeant and constable in a patrol car made a video.
Mr Forrester claimed that offences such as drug-dealing, burglary or assault on children would not have been lavished with such attention. He added that Ms McCaffery was of "impeccable character".
Prosecutor Chris Kay, whose evidence included a second video taken from the helicopter as well as aerial photographs, said that the proceedings had cost £425, excluding the aerial work. The court heard that the helicopter had not been sent specifically to film the junction, after Ms McCaffery's decision to go to court, but had taken the video and photographs in the course of another job in the area.
Ms McCaffery, of Hebburn, was fined £60 plus £100 costs at the 10th court hearing in the case. The chairman of the bench, Ken Buck, said: "We accept that there are times when you can drive with one hand, but, in holding an apple while negotiating a left hand turn, we consider you not to have been in full control."
A spokesman for Northumbria police said costs did not have any bearing on decisions to prosecute. "The defendant chose for the matter to go to a court trial rather than accept a fixed penalty notice, so we were obliged to gather all appropriate evidence to present our case."
January 18, 2005 — A Houston man says he now knows better than to wear his cowboy hat in the courtroom.
Ken Lanum was in court for a traffic ticket. When a judge ordered him to remove his hat, Lanum says he told her he would as soon as he sat down. But that may not have been soon enough. Lanum was found in contempt of court and jailed for six days.
Court papers show the judge jailed him not for his hat but for chewing gum and reportedly mouthing off when asked to remove it.
Lanum denies that's what happened and an investigation is underway.

JACKSONVILLE, FL -- While all of her friends are at school, Crystal Gonzalez sits at home on suspension.
Gonzalez was suspended from Interlachen High School after she allegedly hit two school resource officers.
"Yeah it hurt," says the 14 year old. Crystal has two marks on her stomach from a taser gun. The Putnam County Sheriff's Office says its officers had to use the taser to get the student under control.
"They are wrong. There was no need to use a taser. This is a 14 year old girl and two police officers. I'm sure they could have handled the situation a lot different, " says Rosalie Gonzalez, Crystal's mom.
Police say the student was in class last Friday when she was called to the main office for breaking school rules.
According to the police report, the 14 year old was out of control. The officer reports Gonzalez hit two school resource officers and yelled profanities.
The officer goes on to say, Gonzalez was handcuffed and that's when she started kicking the police. Police then used the taser gun.
Police say it was on a one to two second stun gun hit and was not a full force taser hit.
Captain Gary Bowling, with the Putnam County Sheriff's Office says it would have felt like a bee sting.
"We found that the officers were properly trained. They acted according to their training. We think the use was justified. Had the student not been violent we wouldn't know her name today," says Captain Bowling.
The School's principal backs the investigation.
"We will not tolerate an assault on an employee or school resource officer," says Suzanne Mathe, principal of Interlachen High School.
The Sheriff's office says its record proves taser guns are only used when necessary.
Since 1999, when tasers arrived in Putnam County, 1,400 students have been arrested, only six of them had a taser gun used on them.
Two boys, aged 9 and 10, were taken from a US school in handcuffs for stick figure drawings of a classmate being stabbed and hanged, say police.
The children were charged with a felony in Ocala, Florida.
The boys were arrested yesterday and charged with making a written threat to kill or harm another person. They were also suspended from school.
One drawing showed the two boys standing on either side of the other boy and "holding knives pointed through" his body, according to a police report. The figures were identified by written names or initials.
Another drawing showed a stick figure hanging, tears falling from his eyes, with two other stick figures standing below him. Other pieces of scrap paper listed misspelled profanities and the initials of the boy who was allegedly threatened.
The boys' parents said they thought the children should be punished by the school and families, not the legal system.
By NICK RESNIK
Contributing Writer
Tuesday, January 25, 2005
UC may soon have to provide the federal government with detailed personal information about students if a new proposal to overhaul the way education statistics are gathered is approved within the next year.
The National Center for Education Statistics, a nonpartisan organization that collects data for the U.S. Department of Education, is searching for ways to more accurately gather educational data to keep higher education institutions accountable for student retention and graduation rates.
"The way we collect data now is inefficient and a lot of students sort of fall through the cracks, particularly those who transfer from one state to another, or who drop out and come back to school," said Mike Bowler, the communications and outreach director for the Institute of Education Sciences, which oversees the statistics center.
The proposal would overhaul the Integrated Postsecondary Education Data System, which currently collects aggregate data about institutions as a whole, including fall enrollment, graduation rates and financial aid levels.
The redesign would eschew institutional data in favor of data about individual students—such as names, social security numbers, tuition and fees paid and financial aid received—to more accurately track students throughout higher education institutions.
"The data we get can be used to help make public policy and to improve federal education programs," Bowler said. "(The center) would keep the data and submit it in yearly reports or something like that, and policy makers could go from there."
Proponents of the proposal argue that the result of existing data collection techniques is misleading: Transfer students, for example, are now considered drop-outs when in fact they have only switched schools.
However, some wonder if the benefits of more detailed data outweigh student privacy concerns.
"We do not believe that the price for enrolling in college should be permanent entry into a federal registry," said Tony Pals, director of public information for the National Association of Independent Colleges and Universities. "We fear that the existence of such a massive registry will prove irresistible to future demands for access and additions to the data for noneducational purposes."
Still, some higher education officials say the data could prove useful for more effective public policy.
"There are some good aspects of this proposal because when we try to look at information about students, we are stymied because different universities use different types of databases," said George Blumenthal, chair of the UC-wide Academic Senate. "If we have this information, we in the education system and in the government can better formulate public policy regarding education."
The new system would hold all of the information regarding the United States' 16.5 million post-secondary students in a centralized database, replacing the multitude of smaller databases in use today.
Despite the apparent benefits for higher education, Blumenthal recognizes that students' privacy rights may be at risk with the new system.
"There are legitimate concerns about privacy, especially in a world where we are increasingly worried about protecting privacy," he said. "In an ideal world, the change would have no negative effect on any individual students. In the long run, any effects on students will probably be positive, but in the short run there may be some breaches of privacy."
The federal government also recognizes the possible privacy infringements, and Bowler said Congress may have to amend the Family Educational Rights and Privacy Act, which protects the privacy of student education records, to sidestep the privacy risks.
But that may not be good enough for some critics.
"The privacy issue is about a student's right to privacy. The idea that students would enter a federal registry by enrolling in college, and could be tracked for the rest of their lives, is chilling," Pals said. "The proposal begins to take us down the slippery slope toward Big Brother oversight of college students, and of those same citizens beyond their college years."
The proposal is currently undergoing a feasibility study to ascertain whether it can or should be implemented. If the study recommends the proposal move forward, it would then require approval from Congress as part of the reauthorization of the Higher Education Act next year.
The law is vague, however, in defining what shape the new standards should take. It only specifies a digital photo "or other unique identifier" and means to make the card resistant to "tampering, alteration, or counterfeiting."
It's already used as the ID of choice throughout most of the United States. To write a check, open a video-store account, or board a plane, you must flash your driver's license.
And now that small card tucked in your wallet is about to get more sophisticated. A piece of the new National Intelligence Reform Act signed into law last week requires national standards for state licenses.
It's another ripple from 9/11, when seven of the hijackers used fake driver's licenses to board the planes.
The standards, to be hammered out over the next 18 months by state and federal officials along with technology specialists and "interested parties," are raising concerns among privacy experts who see the move as the first step down the road to a national ID or centralized information on individuals.
It's a development - described by one congresswoman as "radioactive " - that has long been opposed by privacy advocates in the public and government alike.
What several analysts question is why this standardizing IDs makes us more secure?
"How does identification really relate to security?" asks Daniel Solove, a law professor at George Washington University and author of "The Digital Person: Technology and Privacy in the Information Age." "People just assume it [improves security] as if it was a fundamental truth."
The new law focuses heavily on how a license is obtained, systematizing the list of documents needed to apply and how to verify them. In some states, like New York, it's a long list.
"In other states, it's a fuzzy copy of a birth certificate," says Pam Dixon, executive director of the World Privacy Forum, who testified in Washington last week on new ID standards for federal workers.
Some predict the new standards will simplify the application process and thus reduce the likelihood of fraud.
"There are hundreds of immigration forms that can be used in many states to get licenses," says Melissa Savage, a transportation analyst at the National Conference of State Legislatures in Denver. "That's a lot to expect of DMV employees - to be familiar with all those different documents."
The law is vague, however, in defining what shape the new standards should take. It only specifies a digital photo "or other unique identifier" and means to make the card resistant to "tampering, alteration, or counterfeiting."
Stories about electronic chips, and biometrics, and centralized databases are swirling on the web. But Jason King, spokesman for the American Association of Motor Vehicle Administrators (AAMVA), says they are a lot of red herrings. "There is no call for biometrics in this legislation; there is no call for smart chips; there is no call for a central database."
In fact, his organization won't be recommending a biometric, even though a handful of states already use them. After conducting a study of the latest technologies through the International Biometric Group, Mr. King says AAMVA wants to see the technology become more foolproof first.
But the trend in security in general is toward biometrics, says Professor Solove. "I would be surprised if they don't discuss and push in that direction."
And paradoxically, the new standards "could amplify the problems of losing a driver's license," Solove says. "When you go with a biometric identifier, as opposed to a number, the difficulty is if someone gets hold of that identifier. You can't get new fingerprints. You can't get a new eye replacement."
Biometric systems can be fooled, he explains. People can make fake fingerprints or hold up a high-resolution picture of an eye to an eye-scanner and breech the security.
"The same people who are forging state-issued driver's licenses today will be forging federalized driver's licenses after this provision goes into effect," says Gregory Nojeim, of the ACLU's Washington Legislative office. "The price will go up, but the incentive to make the forgery will go up as well."
Nor is the lack of a centralized database any comfort, Mr. Nojeim says. "The privacy-invasive effect of a centralized database can be accomplished by standardization of the identity document, because it becomes interoperable."
It's that bigger picture that alarms Solove and others - what he calls the first step in a "your papers, please" society.
Information tends to spread beyond its original purpose, Solove says. "It's a rule that works as well as gravity ... whenever the government gets information, it invariably uses it for new purposes in the future."
He gives the example of the government's requirement to fingerprint everyone in the armed services. The stated purpose was to help identify remains. "Then at some point the FBI asked to have all those fingerprints added into their fingerprint database" - where the criminals are, he says.
World Privacy Forum's Ms. Dixon adds, "I always get very nervous when someone builds a technology and then decides how to use it later."
ATLANTA (AP) - When two men walked into a popular country store outside Atlanta, announced a holdup and fired a shot, owners Bobby and Gloria Doster never hesitated. The pair pulled out their own pistols and opened fire.
The armed suspect and his partner were killed. The Dosters won't be charged, according to local officials, because they were acting in self-defence.
"I just started shooting," said Gloria Doster, 56. "I was trying to blow his brains out is what I was trying to do." [...]
ROME (AP) - A plastic candy container exploded Wednesday in northeastern Italy as a group of middle school students walked by, raising fears that the "Italian Unabomber" had struck again, police said. There were no injuries.
The explosive device was packed into the plastic container of one of Italyís most popular candy treats, a chocolate egg whose hollowed inside contains a surprise trinket for children, according to police in Treviso, where the incident occurred.
The candy container exploded after a boy kicked it to start a game with his friends as they walked to a theater on a field trip, said Marco Mantengoli, principal of Morgano Middle School.
A robot-like device was being sent to the explosion site to examine another candy container similar to the one that exploded, the Italian news agency ANSA reported. [...]
Three powerful bursts of energy from different regions of space could presage spectacular explosions of huge stars, astronomers just announced.
The eruptions are likely imminent.
Scientists around the world are scrambling to track the blasts, NASA officials said last night. There is no danger to Earth from the expected stellar explosions, called supernovas.
Yet never before have astronomers had such advance warning of the faraway explosions. In fact, they don't even know if their forecasts are right.
What is clear is that as the flashes develop into explosions -- or not -- knowledge of how stars die is likely to grow.
'Beautiful' bursts
A blast of X-rays was spotted Sept. 12, and another on Sept. 16. Each came from a different location in the sky and from galaxies far beyond our own. A more powerful eruption was detected Sept. 24 from yet another spot in the sky. This third flash, importantly, was on the verge between an X-ray eruption and a more energetic gamma-ray burst, which involves a more powerful form of radiation.
X-rays and gamma rays are types of light, just like less powerful visible light and lowly radio waves. All are part of the electromagnetic spectrum.
The three high-energy flashes were each discovered by NASA's orbiting High-Energy Transient Explorer (HETE- 2) observatory. There is no reason to suspect there's any connection between the three blasts.
"We think it's just a strange coincidence," George Ricker, of the Massachusetts Institute of Technology, said in a telephone interview today.
Telescopes around the world have since raced to track each event.
"Each burst has been beautiful," Ricker said. "Depending on how these evolve, they could support important theories about supernova[s] and gamma-ray bursts."
Ricker told SPACE.com the stars will likely go supernova 10 to 20 days after the initial bursts that were spotted.
The initial events have faded beyond the visibility of small professional telescopes and are now being monitored by some of the world's largest ground-based observatories. Backyard astronomers likely could not find the bursts, Ricker said.
Head-scratchers
Gamma-ray bursts are the most energetic events in the universe other than the Big Bang. They briefly outshine entire galaxies. Astronomers think each burst is related to the explosion of a very massive star that has used up its main fuel. Much material is blasted into space, and some falls back rapidly and collapses into a tiny sphere more dense than most folks can imagine, resulting in the formation of a black hole.
In some cases, however, the energy might be unleashed when two black holes collide.
But experts are not sure why some supernovas are accompanied by gamma-ray bursts and others seem to shoot out only X-rays (the latter assumption has not even been convincingly determined). The leading theory is that when a star collapses after exploding, it sends out two incredibly swift jets of material, one along each of its poles. If a jet is pointed toward Earth, the thinking goes, we see a gamma-ray burst. Otherwise we note only the X rays.
Other theorists argue that gamma-ray bursts and X-ray flashes are different animals altogether.
All this could become much clearer in coming days as the three new eruptions are monitored by a global telescope network designed to detect each of the different wavelengths of energy involved.
Nature on a rampage
The eruptions are all probably a billion or so light-year away, Ricker said. That's relatively close in comparison to most gamma-ray bursts, which may explain why the X-ray flashes have been seen at all.
"These past two weeks have been like 'cock, fire, reload,'" Ricker said. "Nature keeps on delivering."
Until recently, the events leading up to gamma-ray bursts and black hole formation had not been seen.
The bursts are known to come routinely from every direction in the sky. But they last just seconds, sometimes less than a second, so in most cases only the aftermath is witnessed. Astronomers hope this time they've seen the prelude and can witness the entire process.
Observations of other events in recent years linked gamma-ray bursts to supernovas. Now, follow-up observations of the Sept. 24 blast, named GRB040924, suggests X-rays and gamma rays do indeed emanate from the same event.
The recent bursts "may be the first time we see an X-ray flash lead to a supernova," said theorist Stanford Woosley of the University of California at Santa Cruz.
Tuesday, 25 January, 2005
BBC News
Scientists will comb data sent back from Titan by the Huygens probe for the chemical signature of life in a bid to identify the moon's source of methane.
Methane is constantly destroyed by UV light so there must be a source within Titan to replenish the atmosphere.
Life is a possible - though some think unlikely - source of this hydrocarbon along with geological processes.
The surface is too cold for biology, but microbes could survive in an ocean within Titan, a senior scientist says.
Methane can also be released from a trapped form called clathrate and produced by a geological process called "serpentinisation". Neither of these involve biology.
Dominated by nitrogen, methane and other organic (carbon-based) molecules, Titan is thought to resemble a deep-frozen version of Earth 4.6 billion years ago.
Liquid methane rains down on Titan into river channels carved between hills of water ice. Reservoirs of this hydrocarbon probably lie on or just below the surface.
But UV light would destroy all the methane on Titan within 10 million years if it were not being constantly renewed.
"We cannot say there is absolutely no chance for life," Dr Francois Raulin, one of three interdisciplinary scientists on the Huygens mission told the BBC News website.
"There is no chance for life on the surface because it is too cold and there is no liquid water.
"However, models of Titan's interior show there should be an ocean about 100km deep at around 300km below the surface."
If the models are correct, this ocean would be composed mostly of liquid water with about 15% ammonia at a temperature of about -80C, said Dr Raulin.
"We have liquid water, organics not so far away; we have everything on Titan to make life," he explained.
Work in progress
If methane-producing microbes had colonised this habitable zone, scientists might detect its chemical signature by looking at the relationship of two forms (or isotopes) of the element carbon - C12 and C13.
Living cells preferentially incorporate C12. So compounds produced by living things should be depleted of "heavier" isotopes such as C13; they are said to have a high C12/C13 ratio.
Scientists should be able to measure this ratio in data sent back by the Gas Chromatograph Mass Spectrometer (GCMS) instrument on Huygens.
"The GCMS can directly detect the C12/C13 carbon ratio. We haven't done that yet, but we're working on it," said Sushil Atreya, a professor of planetary science at the University of Michigan, US, and a GCMS team member.
"It's one factor we can take into account to figure out how methane is getting replenished."
However, Professor Atreya favours the geological process of serpentinisation as a more likely source of the Saturnian moon's methane.
In serpentinisation, geothermal activity generates methane through the oxidation of metals such as iron, chromium and magnesium which could be contained in crustal rocks below Titan's surface.
Another possibility is that methane molecules are trapped in a water-ice matrix called clathrate (or methane hydrate).
Dr Raulin also considers these geological processes as viable sources of methane on Titan.
On 14 January, the spacecraft plunged through the moon's atmosphere, sending scientific data - including stunning images - back to ground controllers.
It landed on Titan at around 1138 GMT at a leisurely speed of around 5m/s and transmitted a signal until at least 1555 GMT.
Sarah Hall and Ian Sample
The Guardian
Officials prepare for worst-case pandemic
Ministers are preparing for a flu pandemic that they believe poses a far greater risk to Britons than a terrorist threat.
Government statisticians have warned that a worldwide outbreak of flu is overdue, leading ministers to consider contingency plans for inflatable mortuaries, quarantine facilities, and the evacuation of big cities.
The arrangements follow the outbreak of a bird flu virus in south-east Asia, which has killed 32 of the 45 humans it has infected. Test results last week confirmed that two Vietnamese brothers, one of whom has died, were infected, prompting concerns that the virus can spread between humans. The World Health Organisation has warned of a potential pandemic that could cause seven million deaths. Ministers have been told there is a greater probability of this spreading to Britain than a September 11-style attack.
One senior government source said: "People think terrorist attacks are the most serious threat to us but influenza is currently regarded as the most likely. Our statisticians say an epidemic is overdue. Some of the details are graphic. They're the things that keep me awake at night."
The strain of avian flu circulating in south-east Asia is a particular concern to health officials. Their biggest worry is that it might infect someone who is also suffering from the human form of flu. Because the virus is so good at swapping genes, it could easily pick up characteristics of human flu, making it far more infectious - conditions that health officials say could lead to a pandemic.
The government would aim to prevent a pandemic reaching Britain through screening centres at south-east Asian airports. The idea was discussed in China during the Sars outbreak, two years ago, which infected over 8,500 people in at least 29 countries. "We started this with Sars in 2003," the government source said. "The real plan is to prevent this getting into the country through border controls. That's absolutely critical."
If infected passengers manage to get through screening, the government would want to quarantine them in secure accommodation with residential facilities.
In the worst-case scenario, ministers are preparing for mass evacuations of healthy people from cities. "This is absolutely the last resort," the source said.
Any centre with a large Chinese population - such as Liverpool, Manchester, Birmingham, Leeds, Glasgow and Newcastle - is believed to be particularly vulnerable to a flu outbreak: "It could be any big city with a significant population of people from China if someone were to arrive who had the disease or came into contact with it and went to live with friends or family in one of these cities."
The evacuation plan is understood to mirror a blueprint to evacuate affected parts of London in the event of a terrorist attack. Working on the assumption that roads would be gridlocked by panicking people, the government would coordinate a mass evacuation by rail. Officials are also procuring an inflatable mortuary which can house several hundred dead.
Meanwhile, the Department of Health is assessing how many antivirals it should stockpile. The new class of drug works by blocking the action of a key flu protein and stops sufferers passing the virus on.
Research from the Harvard School of Public Health indicates that giving antivirals to between 50% and 75% of the population would check a virus along the lines of the 1918-19 outbreak, when 280,000 died in the UK and 40 million worldwide.
But, while the NHS is understood to have enough doses for groups vulnerable to flu - the elderly and infirm - it has nowhere near the 30m doses for a pandemic.
Statisticians believe a flu pandemic is long overdue. They normally occur at fairly regular cycles, but there has not been one since 1968.
The most serious outbreak was the 1918-19 Spanish flu pandemic, which started in China. In 1957, an Asian flu pandemic, thought to have originated in Russia, affected 10-35% of the world's population though mortality was much lower than in 1918. The 1968 outbreak, first detected in Hong Kong, killed around 700,000 people worldwide.
All the elements are in place for the start of a global flu pandemic, except one, scientists report this week. The missing piece: the ability for the avian flu to spread from person to person with ease.
"The warning signal has been clearer than ever since 1968, when the last pandemic occurred," the World Health Organization's Klaus Stöhr says in an editorial in The New England Journal of Medicine There is now an "unprecedented opportunity to intensify worldwide preparedness," he says.
Some potential red flags:
• In most cases, people who became infected caught the virus from sick birds. But there are a few exceptions. Scientists at the Thai Ministry of Public Health and the U.S. Centers for Disease Control and Prevention, in another article in the journal, conclude that it spread last September from a Thai girl, 11, to her mother and aunt. Both women provided bedside care for the girl. WHO reported Friday that a man who died of the flu Jan. 9 in Vietnam may have passed the virus to his brother, who was infected but survived. The investigators say it is also possible the brother contracted the virus by eating a meal of raw duck blood and organs.
• The virus is growing progressively deadlier in poultry, Stöhr says, and has crossed the species barrier, infecting pigs, cats and other mammals. It also has been found in wild birds and ducks, which could have helped spread it.
• In people, the disease has two "striking" features, Stöhr says: It is concentrated in previously healthy children and young adults, and it has a high mortality rate.
Vietnam has reported eight human cases, including seven deaths, since mid-December in what appears to be a "third wave" of human avian flu cases, says virologist Malik Peiris of the University of Hong Kong and Queen Mary Hospital. Peiris, who spoke Monday at a University of Michigan conference on pandemic flu, says clusters of cases in Vietnam occurred last year from January to March and August to October.
In Vietnam and Thailand, where human deaths have been caused by the avian flu, families commonly keep backyard flocks of chickens, ducks and pigs, and the risk of exposure to the virus is high. "Outbreaks under such conditions may escape detection," Stöhr says, and be tough to control.
Peiris echoed that, saying under such circumstances, it is surprising there have not been more human cases. That there have not suggests the possibility of "other factors that predispose people who are exposed to develop disease," he says, including unknown genetic factors.
Another unknown is whether avian flu will change into a form that is contagious among people, says Arnold Monto, professor of epidemiology at the University of Michigan. So far, that has not happened, he says, but it's the last step before a flu pandemic can occur.
Monto, in a commentary in The New England Journal of Medicine, which released all three flu articles early to coincide with the conference, says that if an outbreak of avian flu in humans were detected early in a limited region, it might be possible to head off a pandemic. Monto said this could be done by using stockpiled supplies of antiviral drugs such as Tamiflu, which has been shown to be effective against the avian flu strain.
Monto disclosed to the journal that he had received consulting fees and grants from Tamiflu's maker, Roche.
MELAKA, Malaysia: The cause of death of over 100 pigs in Kampung Paya Mengkuang in Alor Gajah was due to acute swine fever and suspected poisoning, early reports said.
State Chairman for Human Resources, Health and Consumer Affairs Seah Kwi Tong urged the people not to panic as the deaths had nothing to do with the Japanese Encephalitis (JE) virus.
"The deaths occurred in a single shed and did not spread to surrounding sheds or to humans," he told reporters on Wednesday.
He was commenting on reports by several newspapers on the deaths of 120 pigs in a farm in the village over the last five days.
He said the initial reports were based on post-mortem conducted on two carcasses by a private doctor from Shah Alam, Selangor.
As a precautionary measure, the movement of the pigs in the farm had been restricted since last Sunday.
Seah said samples of the pigs' organs, urine and consumed food had also been taken by the Veterinary Research Institute in Ipoh for investigation.
Paya Mengkuang, which is the biggest pig farming district in Melaka, was hit by an outbreak of JE several years ago.
REGINA - Almost 400 passengers returning from the Dominican Republic were detained on board their planes in Regina and Ottawa late Tuesday following concerns over the highly contagious Norwalk virus.

Health Canada decided to keep 200 passengers on board the Regina plane for three hours after one woman became sick and eight others showed similar symptoms.
A doctor on board, who had been consulting with health officials, told passengers the most likely cause of the illness was the Norwalk virus.
The stomach virus, which causes vomiting and diarrhea, is often spread through the vomit or feces of an infected person. The symptoms usually last for 24 to 72 hours.
Emergency vehicles were dispatched and the sick woman was taken to hospital.
"At first, we weren't really worried, and then we started to hear through the grapevine that people were sick," said passenger Lindsay Strass. "Eventually we heard it might be Norwalk, and then we really started to worry."
Passengers were warned to watch for any signs of the virus over the next few days.

Ottawa flight held
Another plane landing in Ottawa from the Dominican Republic Tuesday night was held up for two hours because of similar concerns.
The 177 passengers on the charter flight were allowed to continue on their way after consultations with Health Canada determined that four sick passengers' symptoms were likely caused by flu, not the Norwalk virus.
Officials with Canada's Public Health Agency say the flights were not quarantined.
"We do need to hold the plane while the assessment is being carried out. That is the standard procedure post-SARS," said Dr. Jean-Pierre Legault.
Earlier in the month, the Public Health Agency said it was monitoring reports of an outbreak of a gastrointestinal illness in the Dominican Republic.
More than 20 years after the AIDS epidemic arrived in the United States, 15 percent of African-Americans embrace the theory that government scientists created the disease to control or wipe out their communities, according to a study by Rand Corp. and Oregon State University.
That belief hurts efforts to prevent the disease among black Americans, the study's authors and activists said.
African-Americans represent 13 percent of the U.S. population, according to Census Bureau figures, yet they account for 50 percent of new HIV infections in the nation in 2002, according to the Centers for Disease Control and Prevention.
Nearly half of 500 African-Americans surveyed said HIV, the virus that causes AIDS, is man-made. The study, supported by the National Institute of Child Health and Human Development, appears in the Feb. 1 Journal of Acquired Immune Deficiency Syndromes.
More than one-quarter said they believed AIDS was produced in a government lab, and 12 percent believed it was created and spread by the CIA.
A slight majority said they believe a cure is being withheld from the poor. Forty-four percent said people who take new medicines for HIV are government guinea pigs, and 15 percent said AIDS is a form of genocide against black people. [...]
Maryann Mott
National Geographic News
January 25, 2005
Scientists have begun blurring the line between human and animal by producing chimeras—a hybrid creature that's part human, part animal.
Chinese scientists at the Shanghai Second Medical University in 2003 successfully fused human cells with rabbit eggs. The embryos were reportedly the first human-animal chimeras successfully created. They were allowed to develop for several days in a laboratory dish before the scientists destroyed the embryos to harvest their stem cells.
In Minnesota last year researchers at the Mayo Clinic created pigs with human blood flowing through their bodies.
And at Stanford University in California an experiment might be done later this year to create mice with human brains.
Scientists feel that, the more humanlike the animal, the better research model it makes for testing drugs or possibly growing "spare parts," such as livers, to transplant into humans.
Watching how human cells mature and interact in a living creature may also lead to the discoveries of new medical treatments.
But creating human-animal chimeras—named after a monster in Greek mythology that had a lion's head, goat's body, and serpent's tail—has raised troubling questions: What new subhuman combination should be produced and for what purpose? At what point would it be considered human? And what rights, if any, should it have?
There are currently no U.S. federal laws that address these issues.
Ethical Guidelines
The National Academy of Sciences, which advises the U.S. government, has been studying the issue. In March it plans to present voluntary ethical guidelines for researchers.
A chimera is a mixture of two or more species in one body. Not all are considered troubling, though.
For example, faulty human heart valves are routinely replaced with ones taken from cows and pigs. The surgery—which makes the recipient a human-animal chimera—is widely accepted. And for years scientists have added human genes to bacteria and farm animals.
What's caused the uproar is the mixing of human stem cells with embryonic animals to create new species.
Biotechnology activist Jeremy Rifkin is opposed to crossing species boundaries, because he believes animals have the right to exist without being tampered with or crossed with another species.
He concedes that these studies would lead to some medical breakthroughs. Still, they should not be done.
"There are other ways to advance medicine and human health besides going out into the strange, brave new world of chimeric animals," Rifkin said, adding that sophisticated computer models can substitute for experimentation on live animals.
"One doesn't have to be religious or into animal rights to think this doesn't make sense," he continued. "It's the scientists who want to do this. They've now gone over the edge into the pathological domain."
David Magnus, director of the Stanford Center for Biomedical Ethics at Stanford University, believes the real worry is whether or not chimeras will be put to uses that are problematic, risky, or dangerous.
Human Born to Mice Parents?
For example, an experiment that would raise concerns, he said, is genetically engineering mice to produce human sperm and eggs, then doing in vitro fertilization to produce a child whose parents are a pair of mice.
"Most people would find that problematic," Magnus said, "but those uses are bizarre and not, to the best of my knowledge, anything that anybody is remotely contemplating. Most uses of chimeras are actually much more relevant to practical concerns."
Last year Canada passed the Assisted Human Reproduction Act, which bans chimeras. Specifically, it prohibits transferring a nonhuman cell into a human embryo and putting human cells into a nonhuman embryo.
Cynthia Cohen is a member of Canada's Stem Cell Oversight Committee, which oversees research protocols to ensure they are in accordance with the new guidelines.
She believes a ban should also be put into place in the U.S.
Creating chimeras, she said, by mixing human and animal gametes (sperms and eggs) or transferring reproductive cells, diminishes human dignity.
"It would deny that there is something distinctive and valuable about human beings that ought to be honored and protected," said Cohen, who is also the senior research fellow at Georgetown University's Kennedy Institute of Ethics in Washington, D.C.
But, she noted, the wording on such a ban needs to be developed carefully. It shouldn't outlaw ethical and legitimate experiments—such as transferring a limited number of adult human stem cells into animal embryos in order to learn how they proliferate and grow during the prenatal period.
Irv Weissman, director of Stanford University's Institute of Cancer/Stem Cell Biology and Medicine in California, is against a ban in the United States.
"Anybody who puts their own moral guidance in the way of this biomedical science, where they want to impose their will—not just be part of an argument—if that leads to a ban or moratorium. … they are stopping research that would save human lives," he said.
Mice With Human Brains
Weissman has already created mice with brains that are about one percent human.
Later this year he may conduct another experiment where the mice have 100 percent human brains. This would be done, he said, by injecting human neurons into the brains of embryonic mice.
Before being born, the mice would be killed and dissected to see if the architecture of a human brain had formed. If it did, he'd look for traces of human cognitive behavior.
Weissman said he's not a mad scientist trying to create a human in an animal body. He hopes the experiment leads to a better understanding of how the brain works, which would be useful in treating diseases like Alzheimer's or Parkinson's disease.
The test has not yet begun. Weissman is waiting to read the National Academy's report, due out in March.
William Cheshire, associate professor of neurology at the Mayo Clinic's Jacksonville, Florida, branch, feels that combining human and animal neurons is problematic.
"This is unexplored biologic territory," he said. "Whatever moral threshold of human neural development we might choose to set as the limit for such an experiment, there would be a considerable risk of exceeding that limit before it could be recognized."
Cheshire supports research that combines human and animal cells to study cellular function. As an undergraduate he participated in research that fused human and mouse cells.
But where he draws the ethical line is on research that would destroy a human embryo to obtain cells, or research that would create an organism that is partly human and partly animal.
"We must be cautious not to violate the integrity of humanity or of animal life over which we have a stewardship responsibility," said Cheshire, a member of Christian Medical and Dental Associations. "Research projects that create human-animal chimeras risk disturbing fragile ecosystems, endanger health, and affront species integrity."
CARROLLTON, Ky. (AP) - A pipeline broke and spilled an estimated 63,000 gallons of crude oil into the Kentucky River early Wednesday, creating a 12-mile-long slick that crews were racing to contain to keep it from contaminating drinking water.
By afternoon the oil spill had crept within five miles of the Ohio River, which several communities in northern Kentucky rely on for their water supplies, said Environmental Protection Agency onsite coordinator Art Smith. The Kentucky River is not used for drinking water in the area.
It was not immediately clear what caused the rupture of the pipeline, which carries about 180,000 barrels of crude daily from the Gulf Coast to refineries in northwest Ohio. [...]
Vancouver — More than three centuries after a series of massive waves crashed onto the west coast of Vancouver Island, destroying villages and sweeping people out to sea, 14 native communities are asking to be moved to higher ground.
"I think after Asia we do feel threatened," Robert Dennis, Chief of the Huu-ay-aht First Nation, said yesterday.
Today is the 305th anniversary of the Jan. 26, 1700, tsunami.
Chief Dennis and other native leaders in the Nuu-chah-nulth Tribal Council, representing about 3,000 people along the southwest coast of Vancouver Island, are putting together a detailed proposal that will ask for federal and provincial government assistance in relocating houses at risk and developing emergency plans.
Costs are unknown at this point, but some communities aren't waiting for the government to respond.
Chief Dennis said that when the Huu-ay-aht, who number about 500 in a village near Bamfield, built a new community centre a few years ago, they abandoned the original building site near the ocean and moved it higher up the slope after an elder reminded them of the tsunami threat outlined in old stories.
Chief Dennis said native leaders shouldn't have needed a reminder because the tsunami of 1700 has been talked about within their communities for generations.
The tsunami was triggered by an earthquake that ruptured the sea floor from California all the way north to mid-Vancouver Island. The devastation it caused had such an impact on native cultures that the story was largely mythologized, becoming a giant thunderbird battling a whale the size of a mountain. That became a motif of Pacific Northwest art, reflected in fearsome totem poles, longhouse paintings and haunting ceremonial masks.
Many historians ascribed the story to fanciful legend, but the Huu-ay-aht and other bands along the coast never doubted the authenticity of the tales. In recent years scientists have unearthed geological proof of the tsunami, reviving fears that another one is overdue.
As a small boy, Chief Dennis heard stories about the tsunami from his great-grandfather. But he never really knew what to make of it until he saw the television images of the Boxing Day tsunamis in Asia, with people running for their lives and the sea wiping out villages.
"I was thinking of my people when I saw that," Chief Dennis said. "That changed how I feel dramatically because now I can visualize what really happened to my people. That's exactly what was going through my mind when I watched that. This is a replay for my benefit."
Chief Dennis said some communities had been trying to get government help to move to higher ground for years, but after the Boxing Day tsunamis, demand for action started to grow.
"The Nuu-chah-nulth Tribal Council has agreed to develop a comprehensive plan to deal with the tidal wave that will hit our coast sooner or later. We will present it to the federal and provincial governments, and we will ask their assistance. They just can't ignore it," he said.
Chief Judith Sayers, of the Hupacasath First Nation, said her community, located on river flats near Port Alberni, is particularly vulnerable because they are at the head of a long inlet.
"As the wave comes up the inlet it will get higher. We really need to move the [40] residential homes . . . because we would be wiped out," she said.
Like Chief Dennis, Chief Sayers said the Boxing Day tsunamis brought alive the stories she'd heard as a child.
"The elders tell the stories of when people floated up the mountain and tied themselves to trees with cedar bark so that they wouldn't be dragged out to sea," she said.
Chief Keith Atleo, of the Ahousat, or "people facing the open ocean," said there are about 130 homes at risk in his village, near Tofino.
"We are concerned about the safety of our community and we are searching for funding to come up with a disaster plan," he said.
Ruth Ludwin, an earthquake scientist at the University of Washington, has been researching native legends of earthquakes and tsunamis.
She said the ancient stories are eerily similar to those told by the survivors of the Boxing Day catastrophe. One of the stories she found was told in 1933 by Annie Miner Peterson, who was then 73.
"My grandfather saw one of the old women who had been left alive," she said. "She had been hung up on a tree and the limbs of that tree were too high up."
The girl tried to let herself down with a pack line, but fell, broke her back and lived her life as a hunchback in the village.
"It's only a matter of time before there's another megathrust earthquake off the West Coast," she said.
WASHINGTON, DC, - The number of people known to be dead or missing one month after the December 26 earthquake and tsunami neared 300,000 Tuesday after Indonesia revised its casualty figures. The countryís health ministry said 228,164 people are now believed dead or missing, an increase of more than 50,000 over earlier figures.
The total death toll includes fatalities in 10 other Indian Ocean rim countries.
More than 40 Red Cross and Red Crescent Societies, mobilizing at least 9,000 volunteers and nearly 300 international staff, from donor nations as well as from affected countries, are delivering food, clean water, health care, psychological support, shelter materials as well as household and hygiene articles to the survivors of the worst natural catastrophe in living memory.
Dozens of other aid agencies are doing their utmost to help the nearly two million displaced people in difficult conditions, including heavy rains, and a runaway fire Monday in Banda Aceh started by residents burning garbage.
The United Nations said warnings about the threat of infectious diseases after the tsunami have helped prevent a major outbreak of cholera or dysentery in the region.
On the Indonesian island of Sumatra, some areas of the west coast still are cut off except for helicopter access, due to the destruction of more than 50 bridges along that coast. But the surviving population in these hardest hit areas is low, according to Dr. Tony Stewart, a medical epidemiologist with Australia's Centre for International Health and the Burnet Institute for Medical Research and Public Health who is in Aceh working to strengthen disease surveillance after the tsunami.
"In some areas the mortality due to the tsunami was greater than 90 percent," he said Tuesday. [...]
YUZHNO-SAKHALINSK, - An earthquake measuring 5.9 points on the Richter scale jolted Northern Kurile Islands in the Russian Far East, Northern Kurile seismology service told Itar-Tass on Wednesday.
The earthquake took place at 4:54 a.m. local time (21:54 p. m. Moscow time, January 25).
The epicentre was located 220 kilometers off the Paramushir Island at a depth of 158 kilometres under the Pacific Ocean floor. This is the second earthquake during the recent 48 hours. The previous on occured on January 24.
There were no immediate reports about casualties or damage. The service said there was no threat of a tsunami.
KHABAROVSK, January 27 (Itar-Tass) - An earthquake measuring 6-6.5 points on the Richter scale jolted Yakutia republic on Wednesday.
The Far Eastern regional centre of the Russian Emergency Situations Ministry told Itar-Tass on Thursday its epicentre was located at a depth of 10 kilometres 86 kilometres northeast of the Deputatsky settlement of the Ust-Yansk district.
The force of earth tremors in the Deputatsky settlement did not exceed three points. Nobody was hurt, there was no destruction, the centre said.
A strong earthquake struck off the tsunami-ravaged west coast of Sumatra in northern Indonesia, Hong Kong seismologists said today.

There were no immediate reports of damage or casualties.

The 6.1-magnitude quake hit the coast at 5:06 a.m. local time today (0336 IST), the Hong Kong Observatory said.

The seismologists said the quake was centered about 300 km southwest of Banda Aceh, the capital of the Indonesian province hit hard by a massive quake on December 26 and the tsunami it spawned.
BANDA ACEH, Indonesia (AP) - A 5.6-magnitude earthquake jolted tsunami-ravaged Aceh province late Tuesday afternoon, one of the many aftershocks that have hit the region since last month's disaster.
The tremor, which struck about 4:50 pm, lasted about 10 seconds.
The quake was centred 70 kilometres (43 miles) southwest of Banda Aceh under the floor of the Indian Ocean, said Syahnan Sobri, head of the Banda Aceh Geophysics Centre.
A quake must be above magnitude 6.5 to cause a tsunami, he said.
Areas along the shores of the Indian Ocean have been jolted by numerous aftershocks since the Dec. 26 tsunami that was spawned by the world's largest earthquake in 40 years - keeping residents still recovering from the disaster on edge.
At least 14 aftershocks hit Aceh on Monday, the strongest with a 6.0 magnitude, according to the local geophysics station.
A strong earthquake Monday on Sulawesi island, far from Aceh, sent residents fleeing to the hills even though it was centered under land and not strong enough to create a tsunami.
New Delhi, January 26: A slight intensity quake rocked Bhuj town in the Rann of Kutch region of Gujarat in the early hours on Wednesday, the Indian Meteorological Department said.
The quake, measuring 4.5 on the richter scale, was felt at 00:35 hrs, IST, it said.
The quake was epicentred at 23.3 degree North latitude and 70.2 degree East longitude, The IMD said.
It was not immediately known whether the quake caused any damage. Bhuj was the epicentre of a massive earthquake that occurred on Republic Day four years ago. As many as 12,000 people lost their lives in the devastating quake.
KUNMING, Jan. 26 (Xinhuanet) -- An earthquake measuring 5.0 on the Richter scale jolted Simao, a city in southwest China's Yunnan Province, at 0:30 Wednesday, leaving three people injured.
The epicenter of the quake is at 22.7 degrees north latitude and 100.8 degrees east longitude, according to China Seismological Network.
Three people were injured but no one was yet found dead. A batch of houses were damaged at different level.
The local government has quickly organized the disaster relief work.
TAVURVUR volcano in Papua New Guinea's is emitting ash plumes as high as 3km, ending 11 months of calm.
The volcano near Rabaul on the eastern end of the island of New Britain, began erupting on Monday night, the Rabaul Volcanological Observatory reported.
It had been quiet since February 17 last year.
Rabaul was evacuated in September 1994 before it was devastated by twin eruptions from Mt Tavurvur and nearby Mt Vulcan.
Residents and businesses have since restored the shattered and ash-covered town and are worried about the latest activity.
The town's Chamber of Commerce President Bruce Alexander said today the ash plumes were being taken out to sea by the prevailing north-west winds.
But if the eruptions continued, Rabaul would be under threat of ash falls when the seasonal wind shift to the south-west came in April, he said. [...]
KAMLOOPS, B.C. (CP) - Some 500 people packed bags and nervously watched the Barriere River swirl threateningly outside their windows Tuesday night.
They have been put on an evacuation alert and were told to be ready to flee should the river spill over the banks toward the communities of Little Fort and Barriere, north of Kamloops. The Barriere River is jammed with ice and the currents are barely able to flow through, said Barb Jackson, a spokeswoman with the Thompson-Nicola Regional District. "Search and Rescue teams are monitoring the icepack. Should it move, an evacuation order will be called," she said.
Meanwhile, 100 people remained out of their homes because of ice-caused flooding in the tiny community of Birch Island near Clearwater. [...]
Five Suspended After Man Left In Body Bag For Two Hours
LOUISBURG, N.C. -- Four paramedics and a volunteer EMS are suspended with pay after a medical examiner studying a body in a morgue discovered the person was still alive.
Larry Donnell Green, 29, was removed from the morgue at the Franklin County Sheriff's Department and taken to Duke University Medical Center in Durham, where he is listed in critical condition.
Medical examiner J.B. Perdue was documenting Green's injuries to certify a cause of death when he noticed Green breathing. Green had been declared dead by paramedics at the accident scene Monday after being hit by a car driven by 36-year-old Tamuel Jackson almost two hours earlier at the U.S. 401-N.C. 39 split.
"We were making funeral arrangements, family came by, everybody thought he had passed away," said Green's brother, Steve.
Emergency medical technicians declared Green dead Monday night and put him in a body bag for transport to the morgue. At the morgue, Perdue detected an irregular breath and called the same paramedics who attended to Green to take him to the hospital. [...]
Readers who wish to know more about who we are and what we do may visit our portal site Quantum Future
---
Remember, we need your help to collect information on what is going on in your part of the world!
We also need help to keep the Signs of the Times online.
---
Send your comments and article suggestions to us

---
Fair Use Policy
Contact Webmaster at signs-of-the-times.org
Cassiopaean materials Copyright ©1994-2014 Arkadiusz Jadczyk and Laura Knight-Jadczyk. All rights reserved. "Cassiopaea, Cassiopaean, Cassiopaeans," is a registered trademark of Arkadiusz Jadczyk and Laura Knight-Jadczyk.
Letters addressed to Cassiopaea, Quantum Future School, Ark or Laura, become the property of Arkadiusz Jadczyk and Laura Knight-Jadczyk
Republication and re-dissemination of our copyrighted material in any manner is expressly prohibited without prior written consent.
.