Printer Friendly Version
New Page! Translations from other sites
New Travel Log! The Quantum Future Group Goes to Rennes-le-Chateau
New Article! Word Control, Thought Control, World Control
Pentagon Strike Flash Presentation by a QFS member
---
Picture of the Day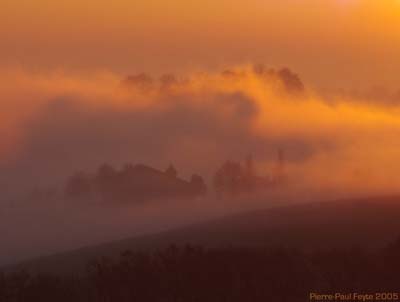 Farm Lost in Fog
©2004 Pierre-Paul Feyte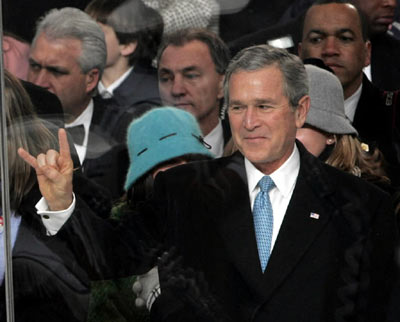 OSLO, Norway -- President Bush's "Hook 'em, 'horns" salute got lost in translation in Norway, where shocked people interpreted his hand gesture during his inauguration as a salute to Satan.
That's what it means in the Nordics when you throw up the right hand with the index and pinky fingers raised, a gesture popular among heavy metal groups and their fans in the region.
"Shock greeting from Bush daughter," a headline in the Norwegian Internet newspaper Nettavisen said above a photograph of Bush's daughter Jenna, smiling and showing the sign.
For Texans, the gesture is a sign of love for the University of Texas Longhorns, whose fans are known to shout out "Hook 'em, 'horns!" at sporting events.
Bush, a former Texas governor, and his family made the sign to greet the Longhorn marching band as it passed during the inaugural parade through Washington during Thursday's festivities, explained Verdens Gang, Norway's largest newspaper.
Julian Borger in Washington
Saturday January 22, 2005
The Guardian
'God-drenched' speech is second nature to born-again Bush
George Bush's speechwriter Michael Gerson suffered a mild heart attack while working on Thursday's inaugural address, and its fire-and-brimstone rhetoric seems to have been aimed at having the same effect on some of the world's leaders.
The declaration of an American mission to spread liberty around the world, combined with the religious rhetoric in which it was couched, gave the speech a scarily messianic flavour to many ears, and not just foreign ones.
In a column headed 'Way Too Much God' in yesterday's Wall Street Journal, Ronald Reagan's former speechwriter Peggy Noonan described the speech as "somewhere between dreamy and disturbing" and suggested that the Bush White House might be suffering from "mission inebriation".
"It was a God-drenched speech," she wrote. "This president, who has been accused of giving too much attention to religious imagery and religious thought, has not let the criticism enter him. God was invoked relentlessly."
The main thrust of the speech was that America's founding principle, that all people "bear the image of the maker of heaven and earth" and thus have inalienable rights, should now be extended around the globe with the help of the US.
The spread of democracy and defeat of tyranny was a calling ordained by "the author of liberty".
Mr Bush has reportedly told aides and supporters in private that he feels he was chosen by God to lead America in its hour of need, and he raised eyebrows earlier this month with the observation that he did not "see how you can be president without a relationship with the Lord".
Language like this is second nature to the president and Mr Gerson, both born-again Christians. Mr Gerson, 40, was a theology graduate and church volunteer before he started writing speeches for Mr Bush in 1999, and it shows. He finished writing the speech after his mild heart attack.
Mr Bush would not have picked him if his use of language did not fit his own outlook on the world. Mr Bush carefully shaped his second inaugural address, reportedly telling Mr Gerson in November: "I want this to be the freedom speech" and sending back 21 drafts, no doubt contributing to the writer's poor health.
Mr Gerson's skill has been to draft speeches that fit the president's tone of voice. But he has denied that the vocabulary is intended as a subtle message to Evangelical Christians that the White House is on their side.
"I try to explain that they're not code words; they're literary references understood by millions of Americans ... they're our culture," he said at a discussion organised last month by the Pew Forum on Religion and Public Life.
"I don't believe that any of this is a departure from American history. I don't think it's disturbing because it's new," he added. "President Clinton referred to Jesus or Jesus Christ more than the president does."
Luis Lugo, the Pew Forum's director, said Mr Bush tended to be more ecumenical in his oratory than his predecessors, careful to mention mosques and synagogues in the same breath as churches. On Thursday he was the first president to mention the Qur'an in an inaugural address.
"Studies I have seen recently suggest his references to religion are not out of step with Clinton's use of language. Clinton, after all, talked about his 'new covenant'," Mr Lugo said.
Many other presidents, notably Woodrow Wilson, Jimmy Carter and Ronald Reagan, have employed religious language. Mr Bush was apparently also impressed by John Kennedy's 1961 inaugural address, which he echoed in his call to America's youth for selfless service, and his use of the phrase "survival of liberty".
Kennedy's speechwriter Ted Sorensen dismissed the comparison. "I measure the speech not by the beauty of the words but the sincerity of its principles. Is the speaker willing to live up to those ideals?" he said.
"Kennedy was making it clear that he was going to work with others. He referred to the UN as our last best hope. I'm glad to hear President Bush say that we look to our allies for our counsel but I'm sure that's news to the allies.
"As was said of Lyndon Johnson, it's words that get you into the credibility gap but words can't get you out. It's actions."
US Defence Secretary Donald Rumsfeld cancelled a planned visit to Germany after a US human rights organisation asked German authorities to prosecute him for war crimes, Deutsche Presse-Agentur (dpa) has learned.
Rumsfeld has informed the German government via the US embassy that he will not take part in the Munich Security Conference in February, conference head Horst Teltschik told dpa on Thursday.
The New York-based Centre for Constitutional Rights filed a
complaint in December with the Federal German Prosecutor's Office against Rumsfeld accusing him of war crimes and torture in connection with detainee abuses at Iraq's Abu Ghraib prison.
Rumsfeld made it known immediately after the complaint was filed that he would not attend the Munich conference unless Germany quashed the legal action.
Today, George W. Bush was sworn in for a second term as President of the United States of America.
Unlike the Ukraine, there were not enough Americans willing to protest the highly questionable election ... but this should have come as no surprise.
Unlike the Ukraine -- and most other nation-states -- there is no real opposition party in the United States.
Very little separates the majority of politicians in the Republican and Democratic parties ... both endorse the illegal war, invasion and occupation of Iraq. Both endorse "Homeland Security", the "War on Terrorism" and the suppression of individual liberties, along with the denial of the US. Constitution and International Law. Both endorsed the "election" results -- except for 37 Members of the House of Representatives and one lone Senator (not Kerry).
No, not enough Americans took to the streets, like their Ukrainian counterparts.
What difference would it have made?
"The American People", as a whole, are no longer represented in Washington, D.C. ... they are ruled by the Republican and Democratic parties -- which are in reality, the Right and Left Wings of the unacknowledged "Corporatist Party".
Those comparatively few stalwart individuals who continue to protest the "election" and the illegal war (or wars), who continue to question the overthrow of the democratically-elected President of Haiti. and who continue the investigation of the actual criminals who brought about the horrors of Eleventh September 2001, have a very difficult task ahead.
Until there is a real alternative to the "Republicrats", there is little hope for an American return to observance of either the US Constitution or International Law.
Until then, Americans -- and the rest of the world -- must bear the consequences.
Inaugural rhetoric doesn't match first-term record
Many close allies in terrorism fight are rights abusers

WASHINGTON—U.S. President George W. Bush's soaring rhetoric yesterday that the United States would promote the growth of democratic movements and institutions worldwide is at odds with the administration's increasingly close relations with repressive regimes in every corner of the world.
The administration's band of allies in the war against terrorism — including Egypt, Saudi Arabia, Pakistan and Uzbekistan — are ranked by the U.S. State Department as among the worst human-rights abusers.
Bush has proudly proclaimed his friendship with Russian President Vladimir Putin while remaining largely mute about Putin's dismantling of democratic institutions in the past four years. The administration, eager to enlist China as an ally in the effort to restrain North Korea's nuclear ambitions, has played down human rights concerns there as well.
Bush's speech "brought to a high level the gap between the rhetoric and reality in U.S. foreign policy," said Thomas Carothers, co-author of a new book, Uncharted Journey: Promoting Democracy in the Middle East.
"The rhetoric is seamless but the policy is very muddled. In fact, the war on terrorism has pushed the U.S. to be friendlier with non-democratic regimes," said Carothers, director of the democracy and rule of law project at the Carnegie Endowment for International Peace.
Administration officials say Bush's goals are a "generational challenge," and should not be judged by the results of one or even two terms.
In the speech yesterday, Bush said "success in our relations will require the decent treatment of their own people." But often in his first term, Bush's objectives on democracy have been set aside by more pressing and immediate concerns, such as a need for co-operation in the war on terrorism.
Autocratic rulers in Saudi Arabia and Pakistan, moreover, would probably be replaced by opponents of U.S. policy if free and fair elections were held there today. Since shortly before the invasion of Iraq, the president has advocated democracy in the Middle East in a series of bold statements and speeches. But the follow-up has often fallen short.
In a speech before the National Endowment for Democracy on Nov. 6, 2003, Bush pointed to Egypt, ruled for almost a quarter-century by President Hosni Mubarak, and declared that the Arab country "should show the way toward democracy in the Middle East."
But Mubarak, who appears likely to run for president this year in yet another tightly controlled election, has sidestepped possible U.S. pressure to reform by providing key assistance in trying to resolve the Israeli-Palestinian conflict.
Egypt has helped the war on terror in less savoury ways.
Bush expressed support yesterday for "democratic reformers facing repression, prison or exile." But in late 2001, U.S. authorities forcibly transferred an Australian citizen to Egypt, where, he alleges, he was tortured for six months before being flown to the U.S. military prison at Guantanamo Bay. Human-rights experts said Bush's commitment to freedom was undercut by such actions, as well as the administration's treatment of detainees and terrorist suspects at Guantanamo, Abu Ghraib prison in Iraq and Bagram air base in Afghanistan.
Kenneth Roth, executive director of Human Rights Watch, was struck by the fact that Bush mentioned "liberty" repeatedly but did not use the phrase "human rights" as an overriding goal.
"The decision to speak in terms of liberty instead of human rights was deliberate," Roth said. "Liberty is an abstract concept but human rights bind everyone, including the Bush administration.
"It's easy to say I'm for liberty but difficult to say I'm for human rights when he's overseeing what we know is a conscious policy of coercive interrogation including inhuman treatment and sometimes torture."
During her confirmation hearings this week, U.S. Secretary of State-designate Condoleezza Rice also stressed she would focus on spreading democracy and freedom around the globe.
Several senators questioned her on the administration's inconsistency in its approach, notably Rhode Island Republican Lincoln Chafee. He challenged her to explain why the administration looks the other way at countries with near-dictatorships such as Russia, Turkmenistan, Uzbekistan, Tajikistan and Pakistan, while heaping scorn on nations with some level of elections like Venezuela and Iran.
"Some of this is a matter of trend lines and where countries have been and where they are now going," Rice replied. Countries are "going to move at different speeds on this democracy test. I don't think there is any doubt about that. But what we have to do is that we have to keep this item on the agenda."
Pakistan President Pervez Musharraf, who took power in a bloodless coup, last month reneged on a promise to give up his title as army chief of staff, eliciting little protest from the administration. At her hearings, Rice said she felt Pakistan has "come a long way" in recent years because Musharraf broke ties with the Taliban who ruled Afghanistan and assisted in fighting Al Qaeda.
The U.S. State Department, in its annual human rights report, has cited Uzbekistan for its "very poor" human rights record, including torturing and killing citizens held in custody for political reasons. There is virtually no freedom of speech or the press.
Yet Bush met with Uzbekistan's president in 2002 and signed a declaration of "strategic partnership," and senior officials including U.S. Secretary of State Colin Powell and Defence Secretary Donald Rumsfeld have visited the country.
Jennifer Windsor, executive director of Freedom House, said Bush's goals are laudable but "my sense from the first four years is that you didn't see that consistency of message in all parts of the administration." She noted the administration signed trade deals with Morocco and Bahrain, which have after some promising steps on political reforms begun to crack down on rights groups.
President Bush's second inaugural address has received widespread praise for its recognition of the imperative of advancing human freedom worldwide, not just for its own sake, but for America's own national interest.
Unfortunately, this ignores the fact that the United States has long been the number one military, diplomatic, and economic backer of the world's most repressive regimes, a pattern that has only been strengthened under the Bush administration.
Correctly recognizing the roots of terrorism, President Bush noted that "as long as whole regions of the world simmer in resentment and tyranny prone to ideologies that feed hatred and excuse murder violence will gather, and multiply in destructive power, and cross the most defended borders, and raise a mortal threat." For much of the second half of his first term, he has emphasized that as a necessary means of curbing the threat of terrorism the United States much push for reform and democratization of the autocratic governments of Afghanistan, Iraq, Syria, Iran, Libya, and the Palestine Authority.
It is important to note, however, that none of the 9/11 hijackers came from those countries. Instead, they came from U.S.-backed dictatorships like Saudi Arabia, Egypt, and the United Arab Emirates, which continue to receive billions of dollars worth of U.S. military equipment annually. Oman, Kuwait, Bahrain, Qatar, Uzbekistan, Pakistan, Azerbaijan, Tunisia and Morocco are also among the autocratic regimes in the Islamic world which continue to receive unconditional support from the United States.
A look at the six family dictatorships of the Persian Gulf region propped up by American arms and advisors underscores the irony that the nation founded in one of the first republican revolutions against monarchial rule is now the primary supporter of the world's few remaining absolute monarchies.
It is presumably no coincidence that the only autocratic regimes toward which the Bush administration has pressed for reform have been those which have traditionally opposed American hegemonic goals in the region.
In addition, while Israel serves as an exemplary democracy for its Jewish citizens, the right-wing government of Ariel Sharon has engaged in a pattern of gross and systematic human rights violations in its occupied Palestinian territories, practices made possible in large part through billions of dollars worth of unconditional military and economic assistance sent annually courtesy of the American taxpayer.
If U.S. policy is indeed so contrary to the promotion of freedom and liberty, why has this become such a focal point of the Bush administration at the start of its second term?
Perhaps it is a means of diverting attention from the administration's disastrous policies in Iraq. Though claims that Saddam Hussein still possessed "weapons of mass destruction" and had operational links with Al-Qaeda have been proven false, no one can deny the repressive nature of his regime or the Iraqi people's right to live freely. Unfortunately, American forces have been responsible for far more civilian (deaths) in the nearly two years since the U.S. occupation began than during the final two years of Saddam's regime.
It may also be a means of silencing opposition. If, for example, the American public can actually be made to believe that the primary purpose of U.S. foreign policy under President Bush is to promote democracy, critics of Bush administration policy can therefore be depicted as not supporting democracy. Indeed, in the only reference President Bush made to critics of his policies in his inaugural address, he blithely dismissed them as those who have "questioned the global appeal of liberty."
President Bush promised that "All who live in tyranny and hopelessness can know: the United States will not ignore your oppression, or excuse your oppressors." If this is actually the case, President Bush must immediately make it clear to all governments that oppress their own people or those under their military occupation: unless and until you respect human rights, including the rights of people to choose their own government, the United States will immediately cease all economic and security assistance, withdraw American advisors to your police and military, block all transfers of American armaments and other implements of repression, and encourage other countries to do the same.
Unfortunately, there are currently no signs that President Bush is prepared to do this or that either party in Congress is willing to pressure him to do so.
Unless or until that time comes, President Bush's noble words at his inauguration can only be seen as self-serving hypocrisy of the worst kind.
The security apparatus for the inauguration was unprecedented. More than 7,000 law enforcement officers from over 100 different agencies were deployed on the streets and throughout the DC area. There were also National Guard and Army officers at various checkpoints throughout the parade grounds. There were also undercover police, some of whom were dressed like protesters. Democracy Now! correspondent Jeremy Scahill reports on two undercover officers dressed like activists, wearing Arab neck scarves, who arrested a demonstrator.
AMY GOODMAN: Jeremy Scahill, Democracy Now! correspondent and producer. He joins us now in our Washington studio. Welcome, Jeremy.
JEREMY SCAHILL: Well, Amy, we were in the streets quite a bit yesterday, you and I and the crew from Democracy Now!, and we got caught in some of the most violent exchanges that occurred yesterday at the heart of a scene early on in the day when about 1,500 or so Black Bloc protesters broke off from the main dawn march and held a spontaneous march through the city and attempted to gain access to the parade ground. Then the police responded with quite a significant amount of brutality, hitting people, using some form of chemical agent, spraying people with high velocity, sort of mini cannons. And so we were kind of moving with that crew throughout the day.
AMY GOODMAN: I have to say, in that situation, what we found, one of the things as we were pushed up against the stores, people we thought were just passers-by, who were also there, suddenly at the moment where the police moved in were pushing us into the crowd, and it turned out, they were undercover police officers. They were dressed in suits.
JEREMY SCAHILL: Right. And they also as well were people in military uniform. I remember one naval officer guy who was about in his 40s shoving people, methodically shoving them back into the direction of what was being sprayed at the crowd. The police were also using these metal whips that almost look like a larger version of an antenna on a car. They would whip them out and they were hitting people with them. So there were a number of these exchanges that happened in this area around 13th and Pennsylvania, ultimately is where it ended up, at one of the main access routes to the parade grounds where people were lining up. There were a number of confrontations throughout the day between Black Bloc protesters and then women in mink fur coats, men in cowboy hats, and some of the most creative demonstrations took place there where people were charging toward the lines where the supporters of Bush were lining up to get in, and some of the protesters would charge toward them. Then they would flee and they actually forced the police to shut down two of the access points for people going on to the parade ground. We were sort of monitoring the situation in that area, and as the day moved on and the parade ended, people started filing out of the parade grounds, and there was some people burning an American flag, and there was some arguments going on between Bush supporters and protesters. And we were interviewing people, and I noticed that a large column of riot police were sort of in a methodical way exiting the parade ground through a security tent. It appeared as though they were marching in formation, not simply leaving. And so I thought, I'm going to go check this out. This may be another attempt to confront demonstrators. Perhaps spray them again. So I started to walk over there. As I walked toward this column of the riot police that were coming out, I noticed two, what I thought were, activists who seemed to be kind of swaying into the line of riot police. So I paid attention to them, because I thought this was extraordinary. They looked like they were about to fall into them, and I thought they were going to get their heads cracked. One of them was a young woman, who had a very colorful mohawk, and the other was white male, about 6'2", who was wearing a kafia, an Arab scarf, and a ski jacket. Both of them looked like any number of people we had seen in the streets. And so I thought they were falling into this column of riot police and that the riot police were trying to arrest the woman and that the man in the kafia was pulling her away, but as I watched it more closely, I realized that the man in the kafia, the Arab scarf, was actually trying to get this woman with the mohawk to the ground. And ultimately he put his knee in her back, he pulled out metal pair of handcuffs, not the plastic cuffs, from behind himself and he cuffed her. And the riot police seemed like they had no idea what was going on. Another man comes over also dressed like a protester, wearing a black leather jacket, also with a kafia, an Arab scarf, around him, and he sort of intervened and essentially got the riot police to understand that these two were officers who were arresting this young woman, with the mohawk. Once the demonstrators, other demonstrators, realized what was going on, they began to chant, let her go, let her go. And so surrounded by this massive riot cops, these two undercover police officers dressed not just like protesters, but like protesters wearing Arab scarves around their necks, which is very common now among Palestinian solidarity activists who are opposed to the war in Iraq. It has sort of become a symbol of the resistance in this country and around the world. And so they marched this young woman all the way up the street and put her into a police wagon, and the police beating people along the way. So this is very similar to what we also witnessed in Miami when we saw at the F.T.A.A. meetings, a plain clothes officer arrest an activist, actually taser another activist.
AMY GOODMAN: And we're going to talk more about the tactics of undercover police officers and lawsuits here in the District against the use of undercover police officers in one case of a lawsuit as provocateurs next week.
JEREMY SCAHILL: Amy, I want to add we will put the pictures of these undercover police officers on the Democracy Now! website and people can go to that at democracynow.org to see these plain clothes officers exactly as we have described them.
WASHINGTON - Michael K. Powell, who called for an easing of regulations when he became the Federal Communications Commission's chairman but later supported levying the largest-ever fines for broadcast indecency, plans to step down, officials said Friday.
Powell, who has held the job for four years, planned to issue a statement Friday but was not expected to hold a formal news conference, these officials said, speaking on condition of anonymity.
Powell, the son of departing Secretary of State Colin Powell, does not plan to step down immediately, the officials said. However, he will leave soon.
Jonathan Cody, a friend of Powell and his FCC adviser on media ownership issues, said Friday that Powell planned to step down in March, but said he did not know the nature of his plans. [...]
Powell, a champion of deregulation who critics say is too pro-big business, rose from commissioner to chairman when Bush took office in 2001. His term was to run until 2007.
While tackling complex issue ranging from telephone competition to rules for media ownership, Powell is perhaps best known for overseeing a dramatic crackdown on broadcast indecency that began before the infamous "wardrobe malfunction" during singer Janet Jackson's Super Bowl halftime performance last February. [...]
Powell led the Republican-dominated FCC in easing decades-old rules governing ownership of newspapers and television and radio stations. The commission approved changes in 2003 that allow individual companies to own TV stations reaching nearly half the nation's viewers and combinations of newspapers and broadcast outlets in the same community. [...]
NEW YORK - The Dow Jones was looking set to close lower for the week Friday -- marking the first time in more than 20 years it has fallen for the first three weeks of the start of a year.
Dow Jones Indexes said the last time the Dow had fallen for the first three weeks of a year was 1982.
A weak January could set the tone for the months ahead, said Robert Drust, managing director of listed trading at regional investment bank Wedbush Morgan.
"It seems to me that it sets the tone for how people will position themselves for the coming months," he said.
"I think traders have been disappointed with what's going on in January and will be more cautious going forward and less likely to buy on the dips."
Heading into the final hour of trading, the Dow on track to end the week 1.2 percent lower, its fourth consecutive week of losses.
Middle East Online
2005-01-22
YUSUFIYAH, Iraq - At least 12 people were killed and 25 injured in a suicide attack on a Shiite wedding party south of Baghdad, the chief of the village where the blast occurred said Saturday.
"Four children, a woman and seven men were killed in an attack on the house of Zayd Abbas al-Amiri in the village of Albu Amer" in Yusufiyah about 20 kilometers (12 miles) south of the capital, the chief said on condition of anonymity.
The attack was carried out with a booby-trapped ambulance driven by a suicide bomber late Friday, police said.
Dawd al-Tai, director of the hospital in the nearby city of Mahmudiyah, a rebel bastion, said he had received four dead and 18 wounded, four of them seriously.
An interior ministry official said Friday that 42 people had been wounded in the attack.
A witness, Mohammad Abdullah al-Amiri, said the ambulance had ploughed through the guests who had gathered after the wedding dinner.
"The guests had just finished dinner and the people were collecting the chairs and taking down tents, while others were saying their good-byes," he said.
"That is when the attack happened."
Albu Amer is home to the Shiite tribe of the same name.
"I was with the guests at the entrance to the house when I saw an ambulance speeding toward us. I just had the time to think something horrible would happen when the explosion hit," a wounded man admitted to Yarmuk hospital in Baghdad said.
Grieving families set out to the hospital to identify and reclaim the corpses of their loved ones, an AFP photographer said.
Yusufiyah and Mahmudiyah are two key cities in the notorious "triangle of death" south of Baghdad known for frequent murders and kidnappings.
Attacks against Shiites, the religious majority in Iraq, have mounted in recent days in the run-up to the January 30 landmark national election.
On Friday, 15 Iraqis were killed in a suicide attack in front of a Shiite mosque in Baghdad.
Abu Musab al-Zarqawi, the Al-Qaeda leader in Iraq, released an audiotape this week calling for holy war and denouncing Shiites for taking part in a US-led assault on the city of Fallujah.
BAGHDAD : Fifteen people were killed and scores wounded on Friday in a car bomb attack on a Shiite mosque in Baghdad as they celebrated a major Muslim holiday, after Al-Qaeda's frontman in Iraq threatened to fan the flames of civil war.
Hours later, an explosives-laden ambulance ripped through a wedding near the rebel bastion of Mahmudiyah, south of Baghdad, on Friday wounding at least 42 people, police said.
There were no immediate reports of any dead.
Kidnappers holding eight Chinese vowed to show "mercy" if Beijing banned its nationals from Iraq, while an Italian soldier was killed when his helicopter came under fire in southern Iraq.
Hospital officials said 15 people were killed, two of them children, and 39 wounded when a car bomb ripped through a crowd of worshippers pouring out of Baghdad's Shuhada al-Taf mosque after special prayers for the Eid al-Adha feast.
The shrapnel and debris cut children who had gathered around as Shiite Dawa party volunteers gave away candies, cake and watches to celebrate the holiday, the most sacred on the Muslim calendar, said mosque caretaker Mahmud Mohammed.
"The people were leaving the mosque when someone sped up in a car and rammed a minibus which was parked there in front of the mosque," he said.
Children's shoes, sandals and an abaya - the traditional black cloak worn by Shiite women - could be seen in puddles of blood in front of the mosque.
Senior Shiite political leader Abdel Aziz Hakim - whose list is expected to dominate January 30's general elections - said the attack was the latest salvo by extremists trying to stoke civil war between Shiites and Sunnis.
"It is quite obvious why there is such an attack. They are trying to create sectarian strife," Hakim told AFP.
KUALA LUMPUR : An explosion in a monorail coach leaves three people injured on Friday.
Bernama news agency reported that the blast occurred at the Chow Kit station at 9pm.
A spokesman from the Civil Defence Department said three passengers - a woman, her daughter and a niece - were sent to the Kuala Lumpur Hospital for treatment.
The woman sustained serious injury on her right leg, while her daughter and her niece had injuries on their hands.
The spokesman said the cause of the blast could not be ascertained.
Bernama said the incident happened soon after the coach from KL Sentral pulled into the Chow Kit station.
Reporters who rushed to the scene were told to stay away by an employee at the station.
The KL Monorail authorities, when contacted, declined comment on the incident.
A pipe bomb discovered in a car parked near a Torrance motel was detonated Thursday by a bomb squad, police said.
The discovery during a forgery investigation resulted in the arrests of a man and woman staying at the Days Inn at 4111 Pacific Coast Highway, Torrance police Lt. Mike Jezulin said.

The case began about 6:45 a.m. when a woman tried to use fake identification at Rite Aid at Sepulveda Boulevard and Arlington Avenue.
Officers who responded investigated and learned she had stayed the night before at the Days Inn.
"Usually people with false IDs have other ones back where they stay," Jezulin said.
Police found a car belonging to the woman's companion parked near the motel. They looked inside and found a pipe on the center console near the gear shift. It contained gunpowder and a fuse, police said.
Officers cordoned off the motel and called for a Sheriff's Department bomb squad. No one was forced to evacuate but police closed off the parking lot and Ladeene Avenue.
Bomb squad deputies used a robot to remove the bomb from the car and detonated it.
The car's owner, Aaron Richey, 45, of Carson was arrested on suspicion of possession of a destructive device and booked at the Torrance jail. He was held on $500,000 bail.
Police were investigating why he had the bomb.
WASHINGTON : US authorities in Boston, Massachusetts, are looking for an additional 10 people, at least half of them Chinese, in an unspecified potential threat against the city.
Five of the 10 individuals in the FBI's list of "persons of interest" in the investigation have Chinese passports.
Four others have Chinese names and one has a Hispanic name, but the FBI did not indicate their nationalities.
"None of the names has been validated as a person of interest on any previously existing watch list," the FBI said in a statement released late Thursday asking the public for information regarding the individuals.
They were identified after authorities in Boston said earlier this week they were looking for four Chinese nationals in an "unspecified potential threat" to the northeastern US city.
The five Chinese nationals identified Thursday included one woman named Yu Xian Weng.
The FBI had two spellings for the names of two individuals, identified as Qinquan Lin or Qiquan Lin, and Xiang Wei Liu or Xing Wei Liu.
The two other Chinese nationals are named Liqiang Liang and Min Xiu Xie.
Four people with Chinese names were identified as: Mei Xia Dong; Xiuming Chen; Cheng Yin Liu; and Zao Yun Wang.
One of the 10 individuals was identified as Jose Ernesto Beltran Quinones. His age and nationality were not released.
The FBI said the threat information was "uncorroborated and of unknown reliability and that all law enforcement agencies are working together to address the issue.
Criticism intensifies over the arrest that involved an airport police sergeant shocking a 78-year-old man after he resisted being handcuffed.
A videotape released Thursday appears to show that an elderly man was resisting attempts to handcuff him but not fighting with officers right before a Los Angeles International Airport police sergeant shocked him with a 50,000-volt Taser last month.
Other than attempting to handcuff the 78-year-old man, the three officers who were present in the LAX police station lobby do not appear to have tried less aggressive means of restraining him before turning to the Taser.
The incident intensified criticism of the LAX Police Department, which is already under fire for unprofessional actions by some officers.
However, two civilian witnesses signed statements in which they reported that the officers involved in the Taser incident acted professionally while the man was acting "crazy" and screaming profanity, people familiar with the case have said. The sergeant shocked him only after he ignored their repeated efforts to calm him down, the witnesses said. [...]
LOS ANGELES -- A mysterious oil slick off southern California has damaged more wildlife than any in state coastal waters since 1990, officials said Thursday as they struggled to find its source.
Dead or oiled seabirds are now turning up on beaches from Santa Barbara to Huntington Beach, with estimates that as many as 5,000 birds may have been coated with the black goo. So far, nearly 1,400 birds have been retrieved since the first grebes washed ashore in Ventura County a week ago.
What makes this so perplexing is that wildlife officials are overrun by birds but have not found a major tell-tale slick on the water or tar balls washing ashore.
"It's a tough nut to crack," said Dana Michaels, a spokeswoman for the California Department of Fish and Game. "It's not like there's a big slick someplace and we can say, `That's the responsible party.' This is a real mystery." [...]
The Sun spewed forth a massive amount of radiation this week, causing brilliant auroras and a radio blackout.
Since 14 January alone, it has unleashed at least 17 medium and five large solar flares from a single sunspot cluster. Forecasters at the US National Oceanic and Atmospheric Administration (NOAA) expect medium to high solar activity to continue until 23 January.
"Having so many big flares from one particular region of the Sun is quite something," says Bernhard Fleck, project scientist for the Solar and Heliospheric Observatory satellite.
The X-rays produced by the flares did not rise to the level of the notorious solar storms of October and November 2003, but in terms of high-energy protons, this is the largest radiation storm since October 1989. [...]
Friday, 21 January, 2005, 08:56 GMT

A mild earthquake hit Perthshire late on Thursday evening, police have confirmed.
The epicentre of the tremor was five kilometres north west of Killin, north of Stirling.
Several householders called Central Scotland Police after hearing a mystery large bang at about 2220 GMT.
Some described it as an explosion or sonic boom and others said they felt the ground shake and their windows rattled.
Once an emergency had been ruled out, police contacted the British Geological Survey.
Records were checked and it was found that there had been a tremor, registering 2.7 on the Richter Scale.
Senior seismologist Brian Bapti said that although it was a "pretty small" earthquake by global and UK standards, it would have caused public concern.
He told the BBC's Good Morning Scotland programme: "We experience about three earthquakes of magnitude and about five of about this size in the UK every year.
"The crust below us is riddled with faults and the UK is still under some tectonic stress.
Earthquake prediction
"These earthquakes are the result of present day stresses combining with ancient faults in crusts.
"It's very difficult to assign an earthquake this small to a particular fault but I would probably expect last night's one to have occurred on quite a small fault."
He said there had been a sequence of tremors in the Aberfoyle area in September 2003.
An earthquake measuring 4.9 on the Richter scale hit nearby Comrie in 1839.
Mr Bapti added: "We certainly can't predict earthquakes of this size and nobody around the world has successfully predicted any although there's been a huge amount of research into earthquake prediction."
TAIPEI: A powerful earthquake measuring 6.0 on the Richter scale rocked Taiwan Friday night, rattling buildings across the island, the Seismology Centre said.
There were no immediate reports of damage or casualties.
"The quake originated deep from the sea far off Taiwan's eastern coast so its strength was greatly reduced," said the center's deputy director Lu Pei-ling.
"It was a normal release of force," Lu said, adding the submarine tremor was not expected to impact on the island.
The quake hit at 10:28 pm (1428 GMT) with an epicenter 65 kilometers (40 miles) east of the eastern coastal city of Suao, 84.2 miles under the seabed.
Taiwan's worst earthquake, measuring 7.6 on the Richter scale, struck in September 1999, leaving some 2,400 people dead.
New Delhi, January 21: An earthquake of moderate intensity jolted parts of Andaman and Nicobar islands in the wee hours of Friday.
The quake, measuring 5.2 on the Richter scale, had its epicentre off the west coast of little Nicobar island, the meteorological department said in Delhi.
The tremor occurred at 0056 hrs, IST and was epicentred at 7.4 degrees North latitude and 92.8 degrees East longitude, it said.
BACOLOD CITY—Kanlaon Volcano spewed steam Friday morning, sending the Negros Occidental government into full alert, as volcanologists said there is no cause for alarm and that such activity was, in fact, to be welcomed.
Residents from towns on the slopes of the volcano sent text messages to journalists here to report white smoke coming out of Kanlaon's crater past 9 a.m. Ben Panatan of the Philippine Institute of Volcanology and Seismology (PHIVOLC)'s monitoring station in Canlaon City, Negros Oriental, confirmed steam emissions from the volcano at around 9:30 a.m. and a light ash fall in barangay Cabagna-an, La Castellana.
However, he assured people living around the volcano "not to worry. This is a natural activity and is no cause for alarm."
A COUPLE were sent flying when 80mph winds plucked their mobile home from the ground, lifted it OVER another caravan and smashed it into a THIRD.
Ann and Trevor Sharples were knocked unconscious as the rented caravan was blown 120ft in the middle of the night.
The couple came round to find Trevor, 61, underneath a TV set and a cupboard — and the 30ft holiday home smashed to smithereens.
Amazingly, they escaped injury in the hurricane-force blast.
And they emerged from the wreckage to discover ANOTHER home had been thrown on to their car at the site in St Bees, Cumbria. [...]
A snowstorm moving Friday from Canada into the Great Lakes drew weather warnings from North Dakota to New Jersey and the Long Island Sound, with some areas bracing for a foot of snow or more.
The storm blanketed parts of Minnesota on Friday evening, stalling rush-hour traffic in the Twin Cities and shutting down Interstate 94 and other highways in western Minnesota because of zero visibility. Just a single runway of Minneapolis-St. Paul International Airport was open by 6 p.m., and more than 200 flights were canceled.
New Jersey and areas around New York City expected up to 15 inches of snow over the weekend. Several areas to the west expected less snow, but some, such as southwestern Ohio, already had several inches on the ground from earlier storms. [...]
Bitter cold already closed schools Friday in central New York and hampered road-clearing efforts. Early morning temperatures dipped as low as minus 15 in Ithaca, and Syracuse's low of 11 below zero beat the date's previous record of 8 below, set in 1984.
"It actually hurts - I mean, breathing actually hurts," Syracuse schools spokesman Neil Driscoll told AP Radio. "It's such a drastic change to just step outside with a minus 15 degree actual temperature and a wind chill that ranges somewhere from 20 to 30 below." [...]
The coming storm was expected to bring strong wind to areas around the city along with heavy snow, prompting the National Weather Service to issue a blizzard warning along the Long Island Sound.
More than 8 inches of snow were expected to fall in Minneapolis by Saturday morning, and Milwaukee and other cities along Lake Michigan area could get close to a foot. Chicago was expecting up to 10 inches by Saturday, along with winds of around 25 mph, and as much as 8 inches of snow were expected in northern Ohio.
The snow could fall as fast as 2 inches an hour in Pennsylvania, which could get up to 10 inches. That state and New Jersey each had more than 2,000 trucks available to salt and plow major roadways, authorities said. [...]
In eastern North Dakota, where 6 inches of snow and wind gusts approaching 50 mph were expected Friday and early Saturday, blowing snow and icy roads made driving difficult.
"Everybody from every direction says the roads are terrible," Jessie Puppe, manager of a West Fargo truck stop, said Friday.
KABUL, Afghanistan, - Nazifa, six, looks dishevelled as she stands beside her father amid the puddles and snow outside the tent that is their home in the Chaman-e-Hozori section of Kabul.
Her blue eyes well up with tears as she calls out for her mother, who froze to death in December during one of the cityís first snowfalls.
Her father, Abdul Qahar, 60, tells how he brought his family of six to Kabul from the northern province of Kapisa three years ago. He said that his wife became ill when the cold weather arrived late in 2004. He said he took her to the hospital several times for treatment but he was unable to pay the doctorís bills, and she died on December 20.
Since the collapse of the Taliban regime in 2001, dozens of international relief agencies have arrived in Afghanistan to provide help to those displaced by years of war and drought. Yet the capital still faces a serious refugee problem, and this yearís especially cold winter has dramatized the scale of the hardship.
Snow is making life difficult for refugees in Kabul this winter.
About 3,000 refugee families are living either in tents or abandoned government buildings in Kabul, according to Mohammad Hafiz Nadim, spokesman for the Ministry for Refugees and Repatriation.
He said there are currently about 30 "tent towns" in Kabul. About 300 families live in the Chaman-e-Hozori camp alone. At least three people have died there so far this winter.
Hanoi — Vietnam on Friday confirmed its seventh human bird flu death in three weeks, prompting the UN health organization to warn that the virus could turn into a global pandemic that would eclipse the devastation caused by last month's Asian tsunami.
A 47-year-old man from northern Thai Binh province died of bird flu in Hanoi on Jan. 10, about 10 days after developing a high fever and coughing, officials said.
The victim's younger brother, who cared for him in the hospital, has also tested positive for bird flu and is hospitalized in stable condition, able to sit up in his bed and talk.
With three new bird flu deaths confirmed this week, the UN-affiliated World Health Organization expressed concern about the high fatality rate — more than 70 per cent of those infected have died — and the lack of research to answer critical questions about how it is transmitted, especially since no vaccine or effective treatment exists.
"We've got to be very careful that we don't lose sight of, or control of, the bird flu health threat which could have much greater public health implications than the tsunami," said William Aldis, the WHO's top representative in Thailand.
The Dec. 26 tsunami that struck a dozen nations has killed between 158,000 and 221,000 people and overshadowed the resurgence of bird flu in Vietnam and Thailand, which on Thursday reported its first case among poultry in two months.
The string of deaths in Vietnam renewed concerns that the virus could combine with a human flu virus and create a new version that is easily transmitted among people, although there is no evidence this has happened yet. Human cases generally have been traced to direct contact with sick birds.
But as more human bird flu cases occur, the chances become greater for the deadly virus to acquire more ability to be transmitted from person to person. That could spark the next global pandemic — possibly killing millions, WHO experts have warned.
"If we continue to experience these frequent new outbreaks with the virus spread both in poultry and people, it finally might result in an awful virus strain that could become a pandemic with a horrendous outcome," said Hans Troedsson, WHO's representative in Vietnam.
"The more frequently we get outbreaks, the higher risk we have to infect." he said.
Vietnam has reported seven bird flu deaths since Dec. 30. The latest victim marks the first death in northern Vietnam and brings the toll to 27 in Vietnam over the past year. In Thailand, 12 people died of the disease last year.
Pham Van Diu, director of Thai Binh Preventive Medicine Center, said a week before the latest victim developed a high fever and coughing, the family slaughtered a duck and ate blood pudding made from it. No other relatives have developed symptoms, he added.
Outbreaks among poultry have re-emerged in recent months across Vietnam, killing or forcing the slaughter of more than 360,000 birds. WHO has warned the outbreak could worsen as Vietnam's Lunar New Year celebrations approach. It is the busiest time of the year for the transport of people and poultry.
"It's a bit of a disappointment to have this outbreak and the international community not responding more adequately to this threat," Mr. Troedsson said. "If you had this situation in Europe or London or New York ... you can imagine how much resources would be put toward this."
WHO has a team of four people in Vietnam working on the bird flu outbreak.
Readers who wish to know more about who we are and what we do may visit our portal site Quantum Future
---
Remember, we need your help to collect information on what is going on in your part of the world!
We also need help to keep the Signs of the Times online.
---
Send your comments and article suggestions to us

---
Fair Use Policy
Contact Webmaster at signs-of-the-times.org
Cassiopaean materials Copyright ©1994-2014 Arkadiusz Jadczyk and Laura Knight-Jadczyk. All rights reserved. "Cassiopaea, Cassiopaean, Cassiopaeans," is a registered trademark of Arkadiusz Jadczyk and Laura Knight-Jadczyk.
Letters addressed to Cassiopaea, Quantum Future School, Ark or Laura, become the property of Arkadiusz Jadczyk and Laura Knight-Jadczyk
Republication and re-dissemination of our copyrighted material in any manner is expressly prohibited without prior written consent.
.