Printer Friendly Version
New Page! Translations from other sites
New Travel Log! The Quantum Future Group Goes to Rennes-le-Chateau
New Article! Word Control, Thought Control, World Control
Pentagon Strike Flash Presentation by a QFS member
---
Picture of the Day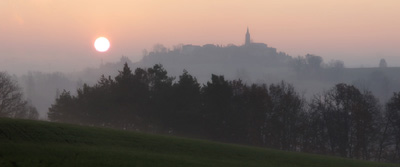 Blaz Sunrise
©2005 Pierre-Paul Feyte
SUNBURY, PA. - As the year-end approaches, mortgage foreclosures in Northumberland County are approaching an all-time high.
Maria Birster, the real estate officer in the Sheriff's Department, reports 191 sheriff's sales so far this year. She says that's up from 159 in 2003 and more than the 187 mortgage foreclosures recorded in 2002.
Birster says all the foreclosures have been on homes. The lowest was recorded value was eight-thousand dollars and the highest this year was 262-thousand dollars.
Birster says the increase in foreclosures is a sign of the times throughout the region. She says foreclosures are sometimes the result of a disputed divorce but most result from the loss of employment.
Unemployment rates dropped slightly across the central Susquehanna Valley last month.
New figures from the state Department of Labor and Industry show the seasonally adjusted rate is now six-point-two-percent -- down a tenth of a percent from October -- but still higher than the state and national unemployment rate of five-point-four-percent last month.
GEORGIA — Residential foreclosures in Gwinnett rose almost 40 percent in December from the same time a year ago, according to the real estate tracking service Foreclosure.com.
Gwinnett's new foreclosures reached 176 last month versus 108 in December 2003, the Boca Raton, Fla.-based firm said. Georgia had 2,120 newly foreclosed residential properties for sale compared to 34,446 in the United States.
Overall, it was a busy year outside the Gwinnett Justice and Administration Center, where foreclosed properties are publicly auctioned each month. Gwinnett had 5,130 properties in foreclosure in 2004, the most in the past four years and the third highest total in metro Atlanta, behind only Fulton and DeKalb, according to Marietta-based real estate tracking firm Equisystems.
Meanwhile, mortgage rates across the United States continued to fall, opening new doors for home buyers.
Freddie Mac's weekly survey of mortgage rates released Thursday showed that rates on 30-year, fixed rate mortgages averaged 5.77 percent for the week ending Jan. 6. That was down from last week's 5.81 percent.
For all of 2004, rates on benchmark 30-year mortgages averaged 5.84 percent, second only to last year's 5.83 percent, the lowest annual rate in Freddie Mac's record keeping.
Low mortgage rates have powered home sales. Analysts believe sales hit a record high for all of 2004. The housing market is expected to post another good year in 2005, analysts said.
Long-term mortgage rates have remained well-behaved even as the Federal Reserve has boosted short-term interest rates five times in 2004. That's because inflation, while creeping higher, is not currently viewed as an immediate danger to the economy, analysts said.
''Economic news seems to reflect steady growth and low inflation, placing little upward pressure on interest rates,'' said Amy Crews Cutts, Freddie Mac's deputy chief economist.
DENVER - More than 12,100 homes in six of seven metro counties fell into foreclosure in 2004, an increase of 30 percent over the previous year.
Last year's foreclosures reached the highest level since 1988, when 17,122 were recorded after the oil-and-gas industry's bust.
Risky loan strategies, such as no-money-down loans, and a year of low housing appreciation contributed to the rise, experts say.
The rising number of foreclosures stands in contrast to the overall market for homes, which set records in 2004. Front Range home resales reached an all-time high of 54,012; the total price paid for homes was $14.3 billion, up 18 percent.
Foreclosures are a lagging economic indicator, often coming several months after homeowners have lost jobs and exhausted means to hold on to their homes, said Mary Schaefer, public trustee for Jefferson County. She predicts foreclosures will hold steady this year, or perhaps rise slightly.
"There aren't a lot of new jobs, and it's not a home seller's market, so people who need to sell their homes quickly can't always get enough money out of them to avoid the process," she said. "I know we're supposed to be in a recovery, but I don't see an end to this right now."
Public trustees in Adams, Arapahoe, Boulder, Denver, Douglas and Jefferson counties on Monday reported 12,132 foreclosures for 2004, up from 9,333 in 2003. Foreclosures in the six counties for the fourth quarter alone are up 14 percent over the fourth quarter of 2003.
Figures for Broomfield County were not available.
Arapahoe County posted the biggest jump for the year - a rise of 39 percent over 2003. Foreclosures there have risen steadily since 1995, public trustee Mary Wenke said. At the close of business Monday, Wenke said her office had received 125 foreclosure filings to start off the new year.
Wenke said a cursory review of last year's foreclosures suggest that a "substantial number" of lenders and borrowers have acted irresponsibly. She said dozens of foreclosures processed by the end of 2004 were for properties purchased early last year. Wenke also noted that "an alarmingly high number" of owners "slipped in and out of foreclosure at least twice on the same property" last year.
Figuring prominently in many foreclosures are adjustable-rate mortgages and second lines of credit, she said. [...]
OHIO - About 3,000 Summit County homeowners got notices of foreclosure from their lenders last year, and most quietly hid their financial problems from friends and neighbors.
But Kimberly Beauford did not.
The single mother of five is fighting to save the home on Stadelman Avenue in Akron that she has spent thousands of dollars renovating since she bought it in March 1999.
In many ways, Beauford typifies the problem of foreclosures in Summit County.
She's African-American, female and lives in an older home in an older neighborhood. She's also the apparent victim of predatory lending practices, according to a national group that helps consumers. [...]
Great Neck, NY -- GovernmentAuctions.org, a division of Cyweb Holdings Inc, announces that it has finalized plans to include an additional 20,000 high-quality real estate foreclosure listings in its current foreclosure database.
The additional listings, which are set to be incorporated in the coming months, will come from a variety of sources and will feature both REO (Real Estate Owned by the Lender) properties and foreclosure sales. GovernmentAuctions.org members will be able to access the expanded information at no additional charge. Foreclosure information will continue to be updated weekly.
"Our existing customers are eager for the opportunity to view additional affordably priced real estate. By adding 20,000 more high-quality listings, we will have significantly increased our already substantial database of foreclosures, and will have taken a important step forward in our effort to provide the most comprehensive and relevant residential foreclosure property information in the United States," said Cyweb Holdings VP Michael Pesochinsky. "We have worked hard to make our GovernmentAuctions.org division an excellent resource for bargain hunters of all types, and we intend to continue enhancing our offerings to meet needs of our current and future customers." [...]
TEXAS - Residential foreclosures surged 15 percent, with 863 Tarrant County houses scheduled for auction in February, figures released Thursday show.
The Addison-based Foreclosure Listing Service reported that foreclosure postings rose in much of the Metroplex as more homeowners found themselves unable to keep up with mortgage payments.
George Roddy, president of the listing service, said job losses in recent years have strained some families' budgets beyond recovery. Other homeowners have crumpled under the weight of mortgages for homes they could never quite afford.
He expects foreclosures to remain at "unhealthy levels" until at least the third quarter. [...]
Dallas and Denton counties posted foreclosure increases of 16 percent and 14 percent, respectively, over February 2004. Collin County foreclosures remained unchanged.
In Tarrant County, where monthly foreclosures topped 1,000 postings several times last year, Roddy said lenders now appear to be foreclosing on 800 to 1,000 homes a month.
"They plateaued, and we're waiting for a decline," he said.
LONDON - The dollar surged on Friday after a senior Federal Reserve official hinted the United States could accelerate the pace of raising interest rates and Washington pledged for a tighter budget and strong dollar policy.
St. Louis Federal Reserve President William Poole told Reuters that the central bank would not hesitate to depart from its pace of measured interest rate increases if necessary.
"The latest surge in the dollar came after comments from Poole, who suggested the Fed could raise rates more and faster than expected," said Carsten Fritsch, currency strategist at Commerzbank in Frankfurt.
President Bush said in an interview on Thursday that the budget he proposes next month will freeze spending for some programs and deny funding to others to meet his deficit reduction goals.
"There's a perception in the market that something tangible may be coming out (from the Bush administration) to tackle the budget and current account deficits," said Kamal Sharma, foreign exchange strategist at Dresdner Kleinwort Wasserstein.
Bush repeated the administration's strong dollar policy and said he was confident foreign investors would find the U.S. a good place to invest. [...]
WASHINGTON, Jan. 13 (Xinhuanet) -- US President George W. Bush begins his second term with a lower approval rating than other US presidents after their reelection in the past five decades, according to the results of a poll released on Thursday.

Only 50 percent of Americans approve Bush's job performance, the lowest for a re-elected president since 1957, when Dwight Eisenhower began his second term with a approval rating at 73 percent, according to the poll by the Pew Research Center for the People and the Press.

Bill Clinton, Ronald Reagan, Richard Nixon, Lyndon Johnson and Dwight Eisenhower all enjoyed higher approval ratings when they took office for a second term, showed the survey, which was conducted Jan. 5-9 among 1,503 Americans.

The poll found that 43 percent of the respondents disapprove of Bush's job performance, higher than those for Clinton, Reagan, Nixon, Johnson and Eisenhower as they began their second term.
Author and educator George Grant was Executive Director of Coral Ridge Ministries for many years. He explains in The Changing of the Guard, Biblical Principles for Political Action:
Christians have an obligation, a mandate, a commission, a holy responsibility to reclaim the land for Jesus Christ -- to have dominion in civil structures, just as in every other aspect of life and godliness.

But it is dominion we are after. Notjust a voice.

It is dominion we are after. Not just influence.

It is dominion we are after. Not just equal time.

It is dominion we are after.

World conquest. That's what Christ has commissioned us to accomplish. We must win the world with the power of the Gospel. And we must never settle for anything less... Thus, Christian politics has as its primary intent the conquest of the land -- of men, families, institutions, bureaucracies, courts, and governments for the Kingdom of Christ. (pp. 50-51)
The Heritage Foundation and the Wall Street Journal have released their 11th "Index of Economic Freedom." The media hook is that the United States "for the first time ever no longer ranks among the top 10 'free' nations of the world." Topping the list is Hong Kong, China's "free port," whose citizens do not even enjoy the measure of freedom they had under British colonial rule. ("Red China" is red now only in the sense that Mississippi is a "red" state.)

The index "measures 161 countries against a list of 50 independent variables divided into 10 broad factors of economic freedom." The degree of freedom a country enjoys is determined by the "level of government interference in the economy."

In other words, the freedom under discussion bears little relation to freedom - even economic freedom - as understood by most of the peoples of the world, because it has nothing to do with people. It's corporate freedom, and the freedom of capital, that is at issue. This is the kind of bizarro-world reasoning that sees nothing amiss with American corporations having the right of personhood under the law.

The study offers no consideration that unfettered capital may be a bad thing. Nor that governments - even representative governments, as conventionally understood - ought to act as a counterweight to corporate power. In other words, Heaven for the Heritage Foundation would be Grover Norquist's lucid dream of a government so small it can be drowned in the bathtub.

Again, Venezuela is judged "repressed" under President Hugo Chavez, who "tightened his grip" on the country by victory in a referendum the dafters of the report can't bring themselves to admit was fair. Bolivarian land reform persecutes the idle foreign barons such as "Lord Spam," while the fact that unemployment is the lowest it's been in nearly a decade does not deserve a mention. Yet Chavez does get spanked for "appropriating" billions of dollars in oil revenue to "fund social programs."

Cuba, of course, is an even worse offender. While the report allows that "private entrepreneurship exists," it remains, heaven forfend, "heavily regulated." That Cuba now has a lower infant mortality rate than the United States - fewer than four deaths per thousand, compared to seven - is not a factor, because lives are not a factor in the consideration of the health of capital.

"Economic freedom" for much of the world means freedom from poverty; freedom to work and to earn a living wage; freedom from the burden of crushing medical expenses. To the Heritage Foundation and the Wall Street Journal, we may as well be talking about the freedom to float in mid-air, it makes as much sense to them.
The other day I posted a Dahr Jamail piece entitled, Iraq: The Devastation, but another word has recently come to mind that, I suspect, might apply no less aptly to Iraq and other areas where the Bush administration is exerting its muscle. That word is "desolation."
Let's forget for a minute the recent Newsweek report that the Pentagon is considering funding 1980s El Salvador-style "death squads" in Iraq, an article which caused enough of a stir to be addressed both by the Secretary of Defense ("somebody has been reading too many spy novels and went off in flights of fancy, which I hope have been put to rest") and by the White House press spokesman; or the urge among administration hardliners to extend a failing war and occupation across a border in the next few weeks with strikes into Syria; or the fact, just revealed in a front-page New York Times piece that the "we don't torture" administration sent Condoleezza Rice on a special mission to Capitol Hill to oppose the imposition of Congressional restrictions on, and oversight of, what the two Times reporters politely call CIA "extreme interrogation measures." Instead, what stays in my mind is a single incident reported recently that caught for me the desolation the Bush administration is spreading in its wake: a desolation of place, of our military, of our values, of our language.
On January 7, an American plane dropped a 500-pound bomb on a house in a village near the northern Iraqi city of Mosul. The house, the military announced afterwards, was "not the intended target" in what was called "a cordon and search operation to capture an anti-Iraqi force cell leader." An argument promptly began as to whether, as the military claimed, 5 people had been killed or, as people on the ground claimed, 14 people, including 7 children. (This sort of argument has been a commonplace of such incidents in both Afghanistan and Iraq since 2001.) The military also issued an expression of regret -- and it was a phrase in that statement which still hangs desolately in my memory. The military announced that it "deeply regretted the loss of possibly innocent lives." Think of that. A 500-pound bomb hits what they themselves then believed not to be "the intended target" and what they regretted was the loss of "possibly innocent" lives. Was it simply assumed by now that so many Iraqis support the insurgency in areas like Mosul that even in the "wrong" house the odds of "innocence" were slim?
Wed Jan 12, 2005
By Michael Georgy
BAGHDAD (Reuters) - Departing from fiery Islamic slogans, Iraqi guerrillas have launched a propaganda campaign with an English-language video urging U.S. troops to lay down their weapons and seek refuge in mosques and homes.
The video, narrated in fluent English by what sounded like an Iraqi educated in the United States or Britain, also mocked the U.S. president's challenge to rebels in the early days of the insurgency to 'bring it on'.
"George W. Bush; you have asked us to 'bring it on'. And so help me, (we will) like you never expected. Do you have another challenge?," asked the narrator before the video showed explosions around a U.S. military Humvee vehicle.
Threats intended to demoralise and frighten in the tense build up to elections at the end of the month were tempered with invitations to desert and escape retribution.
A masked guerrilla from an unknown group called the Islamic Jihad Army, eschewing past impassioned Arabic-language threats of holy war, told U.S. soldiers: "This is not your war, nor are you fighting for a true cause in Iraq."
"To the American soldiers we say you can also choose to fight tyranny with us. Lay down your weapons and seek refuge in our mosques, churches and homes. We will protect you," he said.
There was no way of verifying the authenticity of the video obtained by Reuters.
Previous insurgent videos have been dominated by grisly beheadings of foreign hostages who kneel beside radical Islamic banners before their deaths.
The Islamic Jihad Army video featured familiar scenes of guerrillas blowing up U.S. convoys but also highlighted some of the key issues of the Iraq war, from weapons of mass destruction to the September 11, 2001 attacks on the United States.
"We have not crossed the oceans and seas to occupy Britain or the U.S. nor are we responsible for 9/11. These are only a few of these lies that these criminals present to cover their true plans," said the narrator, apparently referring to the Bush administration's assertion of a link between Saddam Hussein and those attacks.
A masked speaker with a machine gun beside him delivered his message to triumphant music with the ring of U.S. military propaganda films during World War Two.
He said the enemy was on the run as the video showed guerrillas firing on U.S. convoys, standing beside the corpse of an American soldier, or loading a large shell for an attack.
The U.S. military has said it would stay in Iraq until the country is by its definition secure.
The rebels focused on political issues that divided the United States and its European allies over the war in Iraq while reminding troops of casualties with images of burning trucks.
"We also thank France, Germany and other states for their positions, which we need to say are considered wise and valid until now," said the narrator, who also urged economic warfare against Washington.
"Stop using the U.S. dollar. Use the Euro or a basket of currencies," he said on the video dated December 10, 2004.
At least 1,067 U.S. troops have died in combat since the start of the war that toppled Saddam Hussein in 2003.
American Gulags Become Permanent
By Ted Rall
Tue Jan 11, 7:59 PM ET
NEW YORK--A new documentary, "Hitler's Hit Parade," runs 76 minutes without narration. Comprised entirely of archival footage, the film prompts its reviewers to remark upon Hannah Arendt's famous observation about the banality of evil. German troops subjugated Europe and shoved millions of people into ovens; German civilians went to the movies, attended concerts, and gossiped about their neighbors. People lived mundane, normal lives while their government carried out unspeakable monstrosities.
Sound familiar?
As Congress prepared to rubberstamp the nomination of torture aficionado Alberto Gonzales as the nation's chief prosecutor, the Washington Post broke news that would have torn a saner nation apart. The Bush Administration, the paper reported January 2, is no longer planning to keep hundreds of Muslim prisoners currently rotting away in U.S. concentration camps at Guantánamo, Abu Ghraib and Bagram merely "indefinitely." The Defense Department and CIA are now planning "a more permanent approach for potentially lifetime detentions" for these innocents.
We're locking them up forever. Without due process.
Before gangsters like Alberto Gonzales seduced us into abandoning our values, a person was considered innocent before being proven guilty. Now we're locking people away because "the government does not have enough evidence to charge [them] in courts." And everyone, including Democrats, is OK with this.
Untold thousands of people are being held without charges, tortured and occasionally murdered in the system of gulags hastily strung together by the CIA, FBI, INS and Pentagon. According to the government itself, only a few dozen are former Al Qaeda officials. Most of these postmodern misérables were farmers, truck drivers, grunt militiamen and political enemies sold into bondage by Afghan warlords and similarly trustworthy souls for cash bounties on a no questions asked basis. We know they have no ties to terrorism, but they've already spent years getting beaten up. Releasing them would serve as a tacit admission that we were wrong to describe them as--in Dick Cheney's words--"the worst of the worst." They would sue our government, and eventually win. Worst of all, they have unpleasant tales to tell about systemic sodomy and countless other forms of horrific taxpayer-funded abuse. We can never let them out.
Bush plans to divide U.S. concentration camp victims into two groups. One set of "lifers" will end up in U.S.-run stalags like Gitmo's new Camp 6, built to hold 200 "detainees who are unlikely to ever go through a military tribunal for lack of evidence, according to defense officials." But not to worry: Camp 6 would "allow socializing among inmates."
Others captured in the "war on terrorism" will be outsourced "to third countries willing to hold them indefinitely and without proceedings" in foreign-run gulags that pledge to make victims available for torture by American interrogators. This practice, some claim, is "an effective method of disrupting terrorist cells and persuading detainees to reveal information."
"The threat of sending someone to one of these countries [where they are likely to be tortured] is very important," said Rohan Gunaratna, author of "Inside Al Qaeda: Global Network of Terror."
But the so-called "ticking time bomb" rationale for torture is patently fallacious. We've heard the scenario repeatedly: wouldn't it be worth torturing someone who knew the location of a nuclear bomb that was about to destroy Manhattan? The short answer, to a moral person, is obviously no. Moreover, its logic is ludicrous.
Suppose we had captured Osama bin Laden on 9/10 and immediately gone to work on him with our Alberto Gonzales-approved psychotropic drugs and our Alberto Gonzales-approved "waterboard" dunking technique. It wouldn't take long for Osama's pals to notice that he'd failed to show up at the Terrorcave. They'd assume that we had him and were torturing him. They'd assume that he'd tell us everything he knew. So they'd delay 9/11 to 10/11 or 11/12 or 9/11/02. Or go to Plan B. Or develop a Plan C. No one in an underground organization, not even its top leader, is indispensable. Arrests are inconvenient, not debilitating.
The information a person possesses at the moment of his capture ages like a ripe cheese in hot sun. Even if what he told you at the beginning was true, anything you'd get out of him days and weeks and months and years later would be completely worthless.
Wait a minute.
Look at what we're talking about. Consider the breezy way we Americans--Americans!--are debating the pros and cons of torture. Marvel at our moral bankruptcy. The liberal argument against torture used to be that it was wrong. Now it's that it doesn't work.
So.
Read any good books lately?
WASHINGTON — International travelers will soon be able to zip through JFK Airport with the blink of an eye.
The airport will be home to a new pilot program that uses high-tech eye scans to speed pre-registered passengers through security and customs checkpoints.
"Our vision is to enhance our security and facilitate the legitimate flow of trade and travel to and from the U.S.," Homeland Security Secretary Tom Ridge announced yesterday in the Netherlands — a country that has used a similar eye-scan program since 2001.
"Some say you can't achieve both at the same time, but we are beginning to prove the skeptics wrong," added Ridge in one of his final official acts as the nation's security chief. "We can and must achieve both these goals."
Travelers who voluntarily enroll in the eye-scan program must undergo an extensive background check, including criminal history reviews, fingerprinting and a face-to-face interview with a homeland security official.
Once approved, they'll receive a special "smart card" that holds their passport and iris details.
When they arrive at JFK, the pre-approved passengers can skip the long lines at customs and head straight to special kiosks, plug in their smart card and have their eyes scanned.
Provided their eyes match the records held in the smart card, the travelers can grab their bags and enter the country "without routine Customs and Border Protection."
Ridge said there are "no plans" to charge travelers who take part in the eye-scan program. The Dutch counterpart program forces travelers to cough up about $130 a year for the privilege of skipping passport checkpoints.
The eye-scan program will be open to U.S. citizens and legal permanent residents, as well as foreigners who frequently travel to America.
It aims to cut down on the waiting time for the many of the 6 million travelers who pass through JFK each year.
Ridge said a fingerprinting program already in place to speed frequent travelers and truckers through checkpoints along the Mexican and Canadian borders — including the crossings at Lake Champlain and Buffalo — "has given us the confidence" to move forward with the JFK iris scans.
With the success of the fingerprinting program at the borders — known as US-VISIT — and now the launch of the iris scanning, Ridge is urging the United States to rely more heavily on biometrics rather than paper documents to assure a person's identity.
He's also calling to include a citizen's fingerprints on his or her American passport — a move Ridge hopes would force many foreign countries to do the same. [...]
At least five Israelis and three Palestinians have been killed in an explosion set off by Palestinian resistance fighters at a vital Gaza crossing, the Israeli military says.
Thursday's attack on the Karni crossing was the biggest since Mahmud Abbas won Sunday's election to succeed Yasir Arafat as head of the Palestinian Authority.
The attack took place just before 11pm (2100 GMT) at the crossing where farm produce and other goods enter and leave the Gaza Strip.
The Palestinian fighters entered the crossing in a bomb-laden truck minutes before it was to close, the Israeli military said. As the explosives detonated, at least two fighters stormed the Israeli positions.
Abbas defied
Palestinian officials were not immediately available for comment.
Abbas has been trying to persuade resistance groups such as Hamas and Islamic Jihad to agree to a ceasefire, but so far with no success.
Shortly afterwards, an Israeli helicopter fired two missiles at a target in a Gaza refugee camp.
Witnesses said the missiles struck a medical centre in Deir el Balah refugee camp run by an Islamic charity with links to Hamas.
There were no immediate reports of casualties.
Israeli occupation forces have killed two Palestinians, including a man who was driving his pregnant wife to hospital in the north of the Gaza Strip, Palestinian hospital and security sources said.
Alaa Hassuna, 23, was shot in the Bait Lahya area on Thursday shortly after leaving the family home in a nearby Beduin village around dawn.
His wife and another passenger in the vehicle were wounded, the sources said.
Hassuna died instantly, a Palestinian security official said.
However, the Israeli army said troops fired near the man's vehicle because he was speeding towards them and they feared an attack was imminent.
As a result of the gunfire - which the army said did not hit the vehicle - it veered off course, and it is possible the man died as a result of the crash, the Israeli army said.
Shot in the eye
The military's version was contested by Mahmud al-Asali, director of the Bait Lahya hospital, said Hassuna died of fatal bullet wounds.
"He was shot in the right eye and the bullet exited from the back of the brain. There were no scratches to show that he had been in an accident," he said.
Hassuna's wife sustained a bullet wound in the hand while the second passenger was slightly injured by a bullet wound to the leg, al-Asali added. The Israeli army added that its arrest operation in Bait Lahya was "successful" and a "fugitive" had been taken into custody.
Overnight operation
Also on Thursday, a Palestinian was shot dead by Israeli troops during an army incursion into a refugee camp in the central Gaza Strip, Palestinian medical sources said.
Said Abd al-Salaam, 22, was hit in the chest when troops swarmed into the Buraij refugee camp, which lies between Gaza City and Dair al-Balah, they said, adding that several others were wounded during the raid.
An army spokeswoman said there had been an overnight arrest operation just east of the camp, during which an armed Palestinian approached the troops and opened fire.
"They returned fire and identified a hit," she said.
Missiles fired
In another incident, an Israeli helicopter fired missiles at a Palestinian car in the Gaza Strip and witnesses said they saw smoke rising from the vehicle.
"We attacked a suspicious car in an open area south of (the
Jewish settlement of) Kfar Darom and identified a hit," an
Israeli military source said.
The car was standing in an empty field when the helicopter
launched the attack, the source said. Palestinian medics said it appeared no one was hurt.
Israel Radio said the missile strike was not an assassination attempt against Palestinian fighters but an attack on a suspected car bomb.
GAZA CITY : Five Israelis were killed in a suicide attack coordinated by three Palestinian militant groups, dealing a massive blow to hopes that Mahmud Abbas' election as Palestinian leader would revive the Middle East peace process.

The attack was led by three Palestinian militants who moved into the Israeli side of the crossing at the entrance to the southern Gaza Strip through a hole in a concrete wall punctured by a lorry bomb, the army said.

The militants sprayed gunfire and hurled grenades before being shot dead by Israeli security forces after a firefight. It was not clear under what circumstances the Israeli victims had died, but their deaths were confirmed by the army.

Four Israelis were also wounded in the attack at the Karni crossing point between Israel and Gaza, two of whom were in a critical condition.

The attack was claimed in a joint phone call by three groups, including the Al-Aqsa Martyrs Brigade, which is linked to Abbas's own mainstream Fatah movement. The caller later said that three Palestinians had been killed in a suicide mission.

The other groups claiming the attack on the Karni crossing between Israel and the southern Gaza Strip were the Ezzedine Al-Qassam Brigades of the Hamas Islamist group and the armed wing of the Popular Resistance Committees.

The deaths brought to 4,694 the number of people killed since the start of the Intifada in September 2000, including 3,641 Palestinians and 978 Israelis.

It was the first such suicide attack since the election of Abbas as Palestinian leader, which raised hopes of a breakthrough in the moribund Middle East peace process.

The timing and the coordinated nature of the attack appeared to be a clear message to Abbas that he still has little control over the militant movements despite his protestations that Palestinian statehood would not be won through violence.

Until the attack there had been widespread hopes of a revival of the peace process, following Abbas' election as president of the Palestinian Authority. [...]

In other violence, a 23-year-old Palestinian man, Alaa Hassuna, was shot dead by Israeli soldiers while driving his pregnant wife to hospital in the Gaza Strip.

Israeli military sources initially said that only warning shots had been fired but later confirmed that troops had opened fire at the vehicle as it drove towards them at speed and was regarded as "an immediate danger".

A 22-year-old Palestinian was also shot dead by troops during an army incursion into Bureij refugee camp in central Gaza while several miles further south, the Israeli air force fired a missile at a Palestinian car but without causing any injuries.
Two foreigners have been seized in separate incidents in Iraq and armed men have stolen millions from a Ramadi bank in a day of widespread violence.
At 6.30am (0330 GMT) on Thursday, armed men opened fire on a minibus that had gone to pick up a Turkish businessman from the Bakhan Hotel in central Baghdad.
All six on board were killed, police Lieutenant Bassam al-Abid said.
The businessman, identified as Abdulkadir Tanrikulu, was captured by at least 10 men.
Five of the dead were local Iraqi employees working for the businessman, who runs a construction company, al-Abid said. The other victim was the driver of the minibus.

The assailants carried the bodies off the bus and drove off in the vehicle and two other cars, al-Abid said.
Egyptian seized
A Turkish news channel said the construction company was working in Iraq with the US.

An employee of the hotel, who gave only his first name, Alaa, said the businessman has been in Iraq for about a year.
Elsewhere, an Egyptian was seized around the northern Iraqi city of Kirkuk, local police and party officials said on Thursday.

"Egyptian Abd al-Khalik Ahmad, 43, who worked at a service station, was kidnapped on Thursday in front of his workplace by armed men who arrived in two cars, some of whom wore uniforms of the New Iraqi Army," Lieutenant-Colonel Ali Ahmad said.

Millions stolen

In a separate development on Thursday, armed men stole millions of dollars worth of Iraqi dinars after breaking into a bank in Ramadi, the troubled capital of western Anbar province.

The men broke into Al-Rashid Bank and stole $13.5 million worth of Iraqi dinars.

"At 11am (0800 GMT), a group broke into the Al-Rashid Bank and locked all the employees in a room and took all the money from the bank before escaping," a police captain said.

Against this backdrop of continued unrest, it was revealed on Thursday that armed men have killed two aides to Shia cleric Grand Ayat Allah Ali al-Sistani, a senior official working with him said.
Cleric Mahmud al-Madahaini was killed on Wednesday in Salman Pak, an ancient town two kilometres south of Baghdad, along with his son and four guards. Halim al-Afghani, another aide working in Sistani's office in Najaf, was also found dead.
Iraqi officials have not confirmed the reports.
Other incidents

Elsewhere too, there has been no let-up in violence. In the city of Hyit west of Ramadi, two US military vehicles were destroyed in a rocket attack on Thursday, Aljazeera reported. US helicopters were seen evacuating wounded US soldiers.

And in the Haqlaniya area, west of Ramadi, an explosive device went off near a US military patrol, destroying two military vehicles.

Aljazeera also reported that US forces have detained Shaikh Ahmad al-Jiburi, a member of the Association of Muslim Scholars and imam of Al-Khashab Mosque in al-Huriya neighbourhood, northwest of Baghdad

The raid damaged his house and the mosque.

Furthermore, in the Buhriz neighbourhood, south of Baquba, Imad Majid, a member of the Iraqi Communist Party, was shot dead by armed men.

While in al-Aziziya, south of Baghdad, four Iraqi police officers were wounded in an attack targeting their patrol.
TORONTO, - Although Canada conspicuously stayed out of the war in Iraq two years ago, Ottawa's decision to help monitor the controversial Jan. 30 elections in the violence-torn country has some critics wondering about the choices being made by a national government that styles itself as a promoter of democracy internationally.
"The Iraq situation is insane," said Duff Conacher, coordinator of Democracy Watch, a non-partisan advocate of increased citizen participation and less dominance by wealthy interests in Canada.
"There should not be an election. It is not possible to hold a free and fair election when there is a very plausible threat that people will be killed if they go to the ballot box," he said.
Conacher is concerned that Canada is furthering the political agenda of U.S. President George W. Bush, who is pushing hard for the voting to go ahead as scheduled, even as violent resistance to the occupation continues to grow and the biggest Sunni political party has pulled out of the polls completely.
Canada does have something to offer other countries in terms of its experience with independent and fair elections and the rule of law, says Tony Clarke, director of the Polaris Institute, which opposes corporate-led globalisation.
At the same time, Clarke told IPS that Canada is in danger of "being led by the nose in terms of U.S. empire interests."
Canada's chief electoral official, Jean-Pierre Kingsley, defends the credibility of the international team of experts that his country is heading up to assess the fairness of the Iraqi election. [...]
January 12, 2004, PST 0800 (FTW) -- On December 16, 2004, another new Osama bin Laden video hit the air waves. Like previous productions, the tape was conveniently timed to reinforce and invigorate Washington's expanding war agenda, keep the populations of Western nations fearfully compliant and supportive of the Bush administration's "war on terrorism," further provoke anti-Western sentiment in the Middle East, and distract from exploding political and economic fault lines all over the world, from Ukraine and Kuwait, to the financial markets and tension within the Bush administration itself ("wag the dog").
Although the (never to be trusted) CIA has expressed "high confidence" that the voice is that of Bin Laden, the tape was not dated and, according to the Reuters report, "its authenticity could not be verified."
Analysis of previous alleged Osama bin Laden videos, and other loudly-promoted "terror tapes," "arrests," and "trials" have been exposed as propaganda, likely produced by operatives of the Bush administration. We can logically conclude that this work is more of the same.
If the case can be made that the tapes are, in fact, manufactured by US intelligence agencies, it stands to reason that the words out of the mouth of the Osama image have also been conceived, written and planted by these same agencies. It is therefore foolish to "read" the tapes without this likely framework in mind.
What is telling about the new tape, and the previous (October 29, pre-presidential election) Osama product, is the specific content, planted amidst other intentionally deceptive gibberish, that seems to confirm and forecast US/Bush administration policy and geostrategy.
Before getting into these details, it is useful to remind oneself of the perfect Orwellian dynamics that expert propaganda ministries seek to create: Lies become truth. Truths become lies.
One need only look at present conditions to see that this dynamic is in full flower. Western political leaders, and every member of the Bush administration and their agencies, tell lies on a daily basis, in front of cameras and microphones. Americans are conditioned to embrace these repeated lies as truth. At the same time, these same agencies, and the US corporate media, portray (real and manufactured) opponents of US war policy as liars, regardless of what they say (or are made to say).
An "image of evil" is the central element. For propaganda purposes, the US has typically hung out despotic former US allies and intelligence assets who have outlived their usefulness (Noriega, Saddam Hussein) and/or long-time US intelligence assets who, for war purposes, must remain at large (Osama bin Laden, Zarqawi, etc. etc.).
With the Osama image, propaganda manufacturers have created a demonic and lurid icon designed to divide and provoke. With repetition, the Osama image has become a universal icon of "evil" in American culture. Indoctrinated, brainwashed and ill-informed individuals in the US, viewing the image, have had their thinking shaped to think: "Whatever this image is saying is evil and untrue. Therefore, I support whatever is the opposite."
So what happens when propaganda ministers broadcast "evil images" that speak factual truths? Targeted populations who "hate" the image, believing that the words are lies, oppose truth and deny facts.
Against this model ("anything that 'Osama' wants, we're against; anything that 'Osama' doesn't want, we're for"), consider what the evil "Osama" image was made to speak, and the response that US propaganda ministers likely want:
1. The Osama image issues a specific comment about oil: "Stop the Americans from getting hold of the oil. Concentrate your operations on the oil, in particular in Iraq and the Gulf."
It is a fact, that the current world war (and the "war on terrorism") has been waged for the purpose of seizing, occupying and controlling key energy and resource regions in preparation for the worldwide depletion crisis known as Peak Oil (see the extensive analysis of Peak Oil at From The Wilderness).
The effect of the Osama image's statement, then, is to make US/Western populations support "American efforts to get the oil in Iraq and the Gulf" as a way to "fight bin Laden and 'terrorists.'"
Gradual manipulation of public opinion that spoon-feeds the idea of Peak Oil has already begun over the past year (evidenced by increasing media acknowledgement of energy depletion in mainstream publications and networks, after years of denial or silence).
This will certainly be followed by the planting of the idea that it is acceptable for the US and the West to control remaining world energy supplies "at any cost" - therefore, making the current Iraq war - and probable future wars in Iran, Saudi Arabia Latin America and elsewhere " acceptable." What better anti-messenger than "Osama"?
2. The Osama image accuses the Saudi regime of forging an alliance with the "infidel" world led by US President George W. Bush, while calling the rulers of the world's largest oil exporter "corrupt and oppressive US agents."
Both statements are true. But because "Osama says so," American and Western populations will be disposed to dismiss the idea of a corrupt alliance between Saudi Arabia and the US, and to rally around "the good guys." This was the case during the first Gulf War (with Saddam Hussein playing the "bad guy," Israel and Saudi Arabia as "good guys"), and it is also true now.
3. The Osama image warns that Saudi rulers should be toppled like the Shah of Iran.
It is a fact, that the Saudi regime (like that of the Shah of Iran) is an outpost of the American empire, one that simmers on the brink of implosion and civil war - ripe for intervention. It is also a fact that (1) Saudi Arabia holds the world's largest oil reserves; (2) US efforts to get oil from everywhere else, including Iraq, Central Asia, etc. have so far been unsuccessful, resisted or botched; (3) the world economy is teetering on the brink of collapse because cheap oil is no longer flowing, and (4) the Bush administration knows that they need, and must have, Saudi Arabia and its oil. It is not a question of if, but when.
Propaganda ministers are setting up Western public opinion with the idea that the House of Saud will indeed fall - but it must not be allowed to get into the hands of "Osama" and Islamist fanatics (such as those perceived to have toppled the Shah of Iran). This plants the idea in American minds that a US military intervention, an "anti-terror" occupation, will "save" the Saudi regime.
4. The Osama image says: "Muslims are determined to recover their rights, whatever the price. Either you give them back what they entrusted you with (power), by allowing them to choose their rulers, or you refuse to give power back to them."
It is true that these sentiments reflect the dominant opinion of Muslims throughout the Middle East and around the world. Certainly, it is the majority opinion within war-ravaged Iraq, where sham elections are about to be forced upon a nation that the Bush administration continues to try to beat and bomb into submission.
But because "Osama" is saying it, the Western public will reflexively dismiss the words as "radical fundamentalist hatred," and then rally around the opposite: Bush, continuing war and genocide against Muslims, and the absolute denial of power and rights to Muslims in occupied regions.
The lasting effect of Bush administration propaganda has been to fool mass populations around US/Bush administration policies that are based on criminal falsehoods, cover-up, and the absolute denial of political realities. At the very least, they seek to plant the notion that the alternative is even worse.
Going back to a telling piece of the previous propaganda tape of October 29, the Osama image spoke about how George W. Bush sat in a Florida schoolroom on 9/11, and read from a storybook about a pet goat, while the 9/11 atrocity happened.
Another fact.
But the Osama image said it. Therefore, it is "patriotic" to say "it didn't happen"- and fully embrace the lies of 9/11 cover-up operations such as the 9/11 Commission.
In the minds of indoctrinated masses in the United States and the West, whatever the Osama image says is a lie. It is a neat trick.
In Crossing the Rubicon, Mike Ruppert writes:
"I believe that bin Laden was, and remains, a CIA/US government/Wall Street asset. This would explain why he has never been caught. There are still wars to fight. He can't be caught for a variety of reasons, including his family's enormous and diverse financial connections to the same elites that control the United States financial system, and his close interrelationship with a Saudi ruling class that could pull the plug on the US economy even before Peak Oil does. Osama bin Laden also knows way too much, and without him, the Bush administration would have had no excuse for any of what it has done over the last four years. From a strategic point of view, Osama is Dick Cheney's best friend."
And Osama videos are the CIA's best weapons.
It is not a stretch to expect future bin Laden tapes to issue more specific planted facts about a variety of issues that the Bush administration wants American citizens to oppose.
The aircraft carrier leading the US military's tsunami relief effort has left Indonesian waters after Indonesia declined to let the ship's fighter pilots use its airspace for training missions.
USS Abraham Lincoln's diversion, which will not affect aid flights, came as the White House asked the Indonesian Government to explain why it appeared to be demanding the US military and other foreign troops providing disaster relief leave the country by the end of March.
"We'll seek further clarification from Indonesia about what this means," said Scott McClellan, the White House press secretary. "We hope that the Government of Indonesia and the military in Indonesia will continue the strong support they have provided to the international relief efforts so far."
Under US Navy rules, pilots of carrier-based warplanes cannot go longer than 14 days without flying, or they have to undergo extensive retraining.
The Indonesian Government said on Wednesday that foreign troops would be out of the country by March 31.
Subsequently US marines have scaled back plans to send hundreds of troops into Indonesia to build roads and clear debris.
After long discussions with the Indonesian Government, the US military called off plans to base the marines on land. Instead, smaller numbers are going ashore by day to help with relief and returning to their vessels in the evening. The marines' primary task is now ferrying humanitarian workers and food from the amphibious assault ship USS Bonhomme Richard.
The Financial Times reported on Monday that a US plan to use navy landing craft to deploy about 1000 marines in Aceh had been delayed because of Indonesian concern that it might resemble an invasion. [...]
WASHINGTON - Outgoing Homeland Security Secretary Tom Ridge said Wednesday the United States should put the fingerprints of citizens traveling abroad on their passports.
"If we're going to ask the rest of the world to put fingerprints on their passports, we ought to put our fingerprints on our passports," Ridge told a room full of homeland security experts at a morning speech at the Center for Strategic and International Studies.
Asked what advice he would give to newly nominated Homeland Security secretary Michael Chertoff, Ridge added: "Be aggressive. ... It's a lot easier to negotiate with your allies if you've already done what you're asking them to do."
Ridge made the assertion just before he was to take off on a trip to build security ties with the European Union.
The United States recently began fingerprinting and photographing citizens of 27 countries _ including nations that are staunch allies _ when they arrive for short visits. The idea was to close a perceived national security gap.
Critics fear that fingerprinting could violate personal privacy rights.
FBI says accused had poison ricin and several weapons

MIAMI, Florida -- An Ocala, Florida, man was arrested by the FBI after they found the biotoxin ricin in his possession in the home he shares with his mother.
Steven Michael Ekberg, 22, had at least 83 castor beans and other byproducts consistent with the manufacture of ricin in his possession, the FBI said.
Ricin is a poison that can be made from the waste from processing castor beans, according to the Centers for Disease Control and Prevention.
The former waiter also had several weapons, including an AK-47 and an Uzi, the FBI said.
Ekberg was taken into custody Wednesday night and was scheduled to appear Thursday afternoon before a federal magistrate in Ocala.
He is being charged with possession of a biological weapon.
"We are still investigating and are trying to determine what his intentions were, but we have no information that he released it to anyone," said FBI spokesman Jeff Westcott.
"We believe that he acquired the materials over the Internet, but we are still investigating," he said.
In their affidavit, FBI officials said they found a number of seeds in packaging that describes the material as "very poisonous."
They said they also found, in a cardboard box in Ekberg's room, glass vials containing white granules suspected of being husk-less, chopped castor beans, a byproduct of the manufacture of ricin.
The FBI said Ekberg has no known ties to terrorists or extremists. [...]
CHICAGO, Illinois -- An apparent natural gas explosion ripped a 150-foot-long trench through the parking lot of a shopping mall on Chicago's Southside Wednesday night, injuring nine people who were transported to area hospitals, according to the city's fire department.
All the injuries were moderate to minor, many of them caused by flying debris, fire commissioner Cortez Trotter said. Others were taken to the hospital as a precaution because they inhaled gas fumes.
The blast which happened outside a restaurant at the Ford City Mall around 8 p.m. (9 p.m. ET) sent pieces of a gas main flying through the air, shattered windows and overturned about a dozen cars. No vehicles appeared to have fallen into the wide trench, Trotter said.
The few shoppers left in the mall were evacuated, and Trotter said those were the only evacuations.
The investigation into what caused the blast is still underway.
"The police department's on the scene, also investigating to ensure that this wasn't some malicious act but at this point they've determined that it was not, that it was merely a gas main explosion," Trotter said.
It is still unclear what could have caused the gas main to rupture; there was no construction or digging in the area, police and gas company officials said.
"Sometimes right after the winter, because of freezes and expansions and contractions of pipes, something can happen," Peoples Gas spokesman Rod Sierra said. "There may have been small crack for a long period of time that just built up. We don't know any of that until we get in that hole and take a close look."
The 20-inch medium pressure gas main, about six feet underground, was shut off after the blast, Sierra said. No residents were affected by the shutdown, he said.
Trench rescue workers and investigators waited late Wednesday for the gas to clear the lines so they can enter the hole and determine if anyone is trapped and begin investigating what caused the explosion.
"We don't see this very often," Sierra said. "Usually when a gas main leaks or blows it's because someone hits it."
One witness, who lives near the mall, said the loud blast "felt like a small earthquake."
A device that tests the strength of concrete caused a bomb scare at Santa Fe High School on Wednesday that evacuated the school, a school district spokeswoman said.
A security guard at the school of about 1,800 students discovered what he thought was a suspicious-looking package on the sidewalk along the access road near Siringo Road, said Ruthanne Greeley, Santa Fe School District spokeswoman.
The guard reported the package to the principal, who called police, she said. Police officers arrived, looked at thew item and called the bomb squad, Greeley said.
Students at the school were taken to the gym just before noon and then allowed to go home between 1 and 1:30 p.m., she said. Faculty were also evacuated.
However, police soon determined the suspicious item was a test cylinder for concrete, Greeley said. A contractor is doing some concrete work at the school and set up the test cylinder to determine how much pressure the concrete can stand, she said.
The cylinder featured a tube and gauges, and "to a lay person it might look suspicious," Greeley said. [...]
AUBURN, Calif. -- Five incendiary devices were found Wednesday inside a Placer County office building that is under construction.

The devices were found inside the building at an office park in Auburn on Auburn-Folsom Road.
Investigators said the devices could have destroyed the entire complex.
"They are devices that operate off a red dye diesel fuel propellant that would be used to create a large fire and a lot of destruction," said FBI spokesman Keith Slotter.
The FBI said the devices are linked to other devices found last month at a housing development under construction in Lincoln. Investigators say the it appears that the devices at both locations were made by the same person or group.
"A lot of times, there are organizations or groups that do this that love to claim credit for it. That, so far, has not really been the case," Slotter said.
Although investigators admit they have few leads and no suspects; they believe they are dealing with two cases of ecoterrorism -- a person or group against growth and expansion.
The FBI also said that they believe whoever placed the devices could do it again.
WEST MEMPHIS, Ark. Jan 13, 2005 — Arkansas' naked jogger has been zapped.
For months, officers have been getting reports about a man making late-night runs in the buff. On Monday, police said they think they got their mystery jogger.
Fate Patterson, 39, of West Memphis, was arrested after he ran past a police car and failed to stop when he was ordered to do so by officers. Police chased him and were able to rein him in by using a Taser.
Patterson was charged with indecent exposure, fleeing and resisting arrest. [...]
The Miami-Dade Police Department has proposed revisions to its policy on the use of electronically charged Tasers, which has been under scrutiny following reports the stun gun had been used on young children.
The department's revised policy calls on officers to consider such factors as age and size, but does not ban the use of the electrically charged stun guns on minors.
Commissioner Barbara Carey-Shuler proposed such a ban following reports last year that Tasers had been used on children as young as 6 and 12 years old. A committee of county commissioners was scheduled to review the department's new set of rules Wednesday, but the item was deferred at Carey-Shuler's request.
Although Carey-Shuler met with department brass earlier this week and said she believes the new rules ''looked good,'' she asked that police officials meet with other commissioners before bringing the revised rule up for public discussion.
While the revised policy does not specifically ban the use of Tasers on minors, it is ''much more detailed than it was before,'' said Detective Nelda Fonticiella, a police department spokeswoman.
The policy requires officers to gauge factors such as age, size, weight and the subject's ``ability to physically challenge the officer or or do harm to himself or others.''
Under the revised policy, officers cannot use Tasers as a ``tool of coercion, to intimidate an individual into compliance with simple requests or directives by an officer.''
The policy now also specifies the body language and ''physically evasive movements'' that can warrant Taser use, including assuming a ''boxer's stance,'' circling an officer and bracing or tensing the body.
Tasers can also be deployed if an officer is faced with ``overt, hostile, attacking movements with or without a weapon.''
The rules note that ``misuse or abuse of Tasers may result in disciplinary action.'' [...]
Fri Jan 14, 2005
By Daniel Trotta
MADRID (Reuters) - An Argentine former navy captain, haggard and weak after a month on hunger strike, has gone on trial accused of pushing drugged political prisoners out of planes in the "dirty war" of Argentina's military government.
Adolfo Scilingo had his eyes closed and was held up by two police officers as he was brought into a Madrid court at the start of Spain's first genocide trial. Wrapped in a blanket, he slumped over his chair in the courtroom.
Asked by chief Judge Fernando Garcia if he understood he was on trial, Scilingo only answered weakly: "My head aches."
The judge ordered a suspension of the trial on Friday after just 15 minutes so Scilingo could undergo a medical examination, but it resumed after two doctors testified he could continue.
After the resumption, Scilingo covered his eyes and did not answer the judge.
Scilingo went to Spain voluntarily in 1997 to testify about his involvement in the "death flights" in the 1970s and faces charges of torture, murder, terrorism and genocide. The Madrid court has powers to try suspects for genocide committed anywhere, if there might have been Spanish victims.
Antonio Segura, a lawyer for an Argentine human rights group, accused Scilingo of faking illness.
Scilingo, 58, has been refusing solid food since December 12, protesting that he is the only one to face charges from Argentina's "dirty war" in the 1970s.
He has lost 13 kg (29 lb), according to court sources.
The charges against Scilingo, who has not been brought to trial in Argentina, focus on accusations that he pushed drugged political prisoners from planes into the sea.
Scilingo previously told High Court Judge Baltasar Garzon that he participated in the notorious flights in the 1970s during military government repression against suspected leftist insurgents, although he later withdrew his testimony.
Defence lawyers said he was pressured to lie under oath to help build a case against other dirty war figures.
Scilingo, who recently fired his private defence lawyer and is now represented by a public defender, came to Spain voluntarily in 1997 to testify about his involvement in the "death flights", telling Reuters in an interview the following year he was repentant.
Garzon, an investigating magistrate, succeeded in bringing Scilingo to trial even though he failed to do the same with former Chilean dictator Augusto Pinochet, arrested in Britain in 1998 on Garzon's orders but never handed over to Spain for medical reasons.
Argentine human rights groups estimate 30,000 suspected leftists were killed from 1976 to 1983, when military governments cracked down on leftists.
The CIA's official documents state that at one time, some members of the intelligence commnity recommended making Contreras into a paid contact because of his closeness to junta Chairman General Pinochet; the plan was rejected based on Contreras' poor human rights track record, but the single payment was made due to miscommunication.
The US government has released the first batch of documents relating to the violence unleashed between 1973-1990 by General Augusto Pinochet's dictatorship in Chile. Reading some of the memos, cables and intelligence reports, I was stunned by the shock of recognition.
The documents shockingly show what many people already knew. US officials helped Chile's secret police, DINA, or covered up their atrocities. Try to imagine a US official writing: "Severe repression is planned. The military is rounding up large numbers of people, including students and leftists of all descriptions, and interning them. 300 students were killed in the technical university…"
An October 26, 1973 CIA cable reports on Pinochet's plan "to destroy any and all resistance within two months." And, the cable continues, "This will require more killing by the military…"
A February 5, 1974 cable refers to DINA using techniques "taken directly from the Spanish Inquisition, which often left the person interrogated with visible bodily damage."
Washington covered up Pinochet's excesses so that Congress -- the public -- wouldn't know.
Listen to a September 27 1973 report from US Ambassador Nathaniel Davis. He offers a job description for "an advisor …qualified in establishing a detention center for the detainees who will be held for a relatively long period of time."
The "advisor must have knowledge in the establishment and operation of a detention center." Davis suggests that the State Department send tents, blankets, etc…which need not be publicly and specifically earmarked for prisoners" -- so as not to admit we're outfitting Chilean concentration camps.
In June 1976, Secretary of State Henry Kissinger visited Pinochet in Chile. Indeed, Kissinger had helped Pinochet organize six South American secret police forces to form OPERATION CONDOR. The CIA had even donated to DINA a sophisticated computer that allowed agents to conduct surveillance on exiled dissidents and then murder them - as DINA did in 1974 to former Chilean Chief of Staff Carlos Prats in Buenos Aires.
In June 1976 Kissinger visited Pinochet in Chile and blessed his regime Three months later, in September 1976, three months after Kissinger approved Pinochet's methods, CONDOR agents assassinated former Chilean Chancellor Orlando Letelier in Washington, DC. Ronni Moffitt, Letelier's American colleague at the Institute for Policy Studies, also died in the car bombing.
US officials traced the assassination to Pinochet's office but stopped short of charging him. They all knew Pinochet was guilty. They knew his thugs had beaten and administered electric shocks to the genitals of some 200,000 Chileans, that they had murdered 3200 people in Chile. By applying pressure, Washington could have stopped the horror. Chile's military depended on the US for legitimacy and support.
How now to use the documents that show US officials countenanced torture and murder? First, support the current Spanish case charging Pinochet with crimes against humanity. Second, extradite Pinochet for assassinating Orlando Letelier. Finally, consider charges against Henry Kissinger and George Bush, who, documents show, willingly abetted mass murder and torture.
Baroness Thatcher has visited General Pinochet at the home where he is staying under house arrest near London - and talked of the "debt" she believes the UK owes him.
General Pinochet is staying in the rented mansion during his legal battle to avoid extradition to Spain.
Lady Thatcher thanked her old friend for being an ally during the 1982 Falklands War - and for "bringing democracy to Chile".
"I know how much we owed to you for your help," she said.
"The information you gave us, communications, and also the refuge you gave to any of our armed forces who were able, if they were shipwrecked, to make their way to Chile."
She added: "I'm also very much aware that it is you who brought democracy to Chile, you set up a constitution suitable for democracy, you put it into effect, elections were held, and then, in accordance with the result, you stepped down."
General Pinochet said it was an honour to have Lady Thatcher there at the "simple house" on the estate, and thanked her for her "kindness".
Seated in a chair and clutching a cane, he told her in Spanish, "This is a small house, but it is full of gratitude to you. It is only a small way to thank you for all your kindness."
She said she was glad he was "comfortable".
No absolute immunity
The televised interview marks the first time the 83-year-old has been seen in public since his arrest on 16 October.
On Wednesday, the House of Lords ruled that Pinochet had no absolute immunity from arrest as a former head of state.
But the Lords also threw out almost all the charges levelled against him, since they pre-dated Britain's adoption of an international law allowing any nation to try anyone accused of torture.
That left the Spanish case against him consisting of only one count each of torture, conspiracy to torture and murder conspiracy.
However, Spanish judge Baltasar Garzon on Friday added 30 more cases of torture and murder to the extradition charge sheet against Mr Pinochet.
Immediately after Wednesday's ruling, Pinochet's lawyers filed an appeal of Home Secretary Jack Straw's December decision to allow Spain's extradition request to go forward.

The High Court will consider that appeal on Monday.
Pinochet was an annual visitor to her home in London after he stepped down from power in 1990, always sending flowers and chocolates on his arrival in England.
Days before his arrest he was invited for tea at the former premier's home.
TEHRAN, Iran, -- A malfunctioning heater in an Iranian school ignited a barrel of kerosene, touching off a blaze that killing 13 children Thursday, state television reported.
Eighteen other students were injured, some seriously, by the fire in Safilan village, some 435 miles south of Tehran, in the mountains of Chaharmahal va Bakhtiari province, the state TV reported.
A teacher who tried to save the children was admitted to hospital with serious burns, state television reported.
District Governor Ali Khani told state television the dead included seven girls and six boys. He didn't provide ages.
Khani said that owing to technical failure, flames shot out of the heater and ignited a barrel of kerosene that had been left nearby. He gave no other details.
Later Thursday villagers buried the dead in the local cemetery, the television reports said.
PORT-AU-PRINCE, Haiti (AP) - UN troops fired tear gas into a crowd at a food-distribution site in northern Haiti on Thursday after people started throwing rocks at troops, a UN official said.
At least 30 people received treatment for tear-gas inhalation and skin irritation at a Red Cross medical centre in the flood-ravaged city Gonaives, said Dan Moskaluk, a spokesman for UN police in Haiti. It was unclear why the crowd started throwing rocks at the Argentine troops, who were providing security at a CARE distribution site in a Gonaives slum.
Skirmishes are not uncommon during relief efforts in Gonaives, where floods killed at least 1,900 people and left another 1,000 missing and presumed dead when tropical storm Jeanne struck in September.
The disaster destroyed agriculture and left hundreds homeless, straining UN forces struggling to restore stability after the bloody rebellion in February that ousted President Jean-Bertrand Aristide.
Armed men have attacked relief vehicles, while UN troops have been forced to disperse desperate crowds seeking food.
Pakistani authorities have shut a natural gas plant and security forces have taken control of it after eight people died following a rocket attack, according to government officials.
The fatalities occured in clashes triggered by renegade tribesmen whose rocket attack blew up a gas pipeline in Sui, 350km southeast of Quetta city.
Soldiers were dispatched to control the situation on Tuesday after the armed tribesmen stormed the gas plant and "started damaging it", senior government official Abdul Samad Lasi said.
Eight people, three of them security personnel, were killed and another 33 people, mostly civilians, were wounded in five days of shootouts between assailants and government forces, he said.
"The civilians suffered casualties when rockets fired by attackers hit their homes," Lasi said, adding that soldiers were patrolling Sui and efforts were under way to arrest the assailants. [...]
Britain closed its embassy in Jakarta today following a bomb threat, the foreign ministry announced.
Indonesian police mobilised bomb squads and anti-terror personnel after reported threats of a possible attack near the British and Thai embassies in Jakarta.
"The British Embassy and the Consulate General have suspended services with immediate effect in response to the specific bomb threat to the embassy," the British Foreign Office said in a statement.
"We continue to receive reports that terrorists in Indonesia are planning further attacks on Westerners and Western interests".
A spokesman for the city's police said telephone calls warning of an attack on the missions, both located in the central business district close to several major upmarket hotels and media organisations, were being taken seriously.
"Earlier, two telephone calls were placed to the British embassy and the Thai embassy in central Jakarta warning them of a bomb attack," Jakarta police spokesman Chief Commissioner Ciptono told AFP.
"Two police bomb squads and two additional teams including an anti-terror unit are now scouring the area where both embassies are located. We are not taking this threat lightly," he said.
Indonesia, the world's largest Muslim-populated country, has been hit by a series of terrorist attacks in recent years, all blamed on the Jemaah Islamiah extremist group said to be the Southeast Asian arm of al-Qaeda. [...]
MADRID : Seven workers died and five more were seriously injured when an accidental blast tore through an underground warehouse in northern Spain, officials said.
The explosion in the city of Burgos occurred in an area of the building storing machinery belonging to a construction company which makes bicycle paths, a local official told a private radio, Cadena Ser.
The explosion killed six Spaniards and one Moroccan instantly.
Earlier reports had said eight workers had died and four were seriously injured.
The local police department revised the toll Thursday afternoon, saying a worker originally thought dead had suffered several heart attacks but remained alive.
One of the other four injured was in a critical condition, officials said.
Burgos mayor Juan Carlos Aparicio told public radio RNE the blast probably occurred when workers were handling a jerry can with fuel.
The relatively new building in downtown Burgos -- some 200 kilometers (125 miles) north of the capital Madrid -- was not damaged in the blast and there was "no risk of collapse," Tricio said.
In a separate accidental gas explosion late Wednesday in Getafe, south of Madrid, two women were killed and 11 people injured including an 11 month-old baby, described as being in critical condition.
BEIJING3 : Ten miners have been killed and 17 more injured, three seriously, in a coal mine accident in China's central Henan province, the government says.
Poisonous fumes from burning gas were emitted at the Qiaoyan coal mine in Chengguan township on Wednesday morning while 27 miners were working underground, the State Administration of Work Safety said on its website.
Authorities were still investigating the cause of the accident, the report said. [...]
BOGOTA : Twenty soldiers died when their Black Hawk helicopter, working with the drug eradication and counterinsurgency programme Plan Colombia, crashed near the border with Ecuador, army chief General Reinaldo Castellanos said in a statement.

The general said the helicopter crashed after encountering bad weather. [...]
RAWLINS, Wyo. – An air ambulance crashed, killing three people, and the sole survivor was rescued after calling authorities on his cell phone and guiding them to the wreckage by describing the sirens and other sounds he could hear.
Timothy Baldwin, 35, a medic, spent about 90 minutes on his cell phone directing rescuers to the site. He then waited 21?2 hours more after his battery died.
The plane went down in snow and fog Tuesday night while on its way to pick up a victim of an automobile accident. The pilot and two medics were killed. [...]
KUALA LUMPUR: A power blackout hit the Malaysia capital of Kuala Lumpur and several southern states on Thursday, sending several cities into semi-darkness.
The country's most widespread power failure since August 1996, when peninsular Malaysia was blacked out for 14 hours, turned out the lights in Kuala Lumpur at lunch time.
Also affected were Malacca, Negeri Sembilan, Johor and the Klang Valley.
A spokesman for power utility Tenaga Nasional said the blackout was caused by a faulty switch in the Kapar power station in Selangor state, to the west of the capital. [...]
Dense fog reported near crashes in Michigan, Indiana
ALAIEDON TOWNSHIP, Michigan (AP) -- At least two people died and 37 others were injured when about 200 vehicles crashed Wednesday in thick fog on a Michigan highway, police said.
One person also was killed in Indiana when at least 20 vehicles piled up amid heavy fog on a highway east of South Bend. Numerous others were injured.
The National Weather Service had issued a dense fog advisory for the area, saying visibility could be less than a quarter mile.
In Michigan, a 14-year-old boy was killed when the sport utility vehicle he was riding in and about 10 other vehicles -- including a tractor-trailer -- crashed on Interstate 96 outside Lansing on Wednesday afternoon. The boy's mother and grandmother were in critical condition, Ingham County Sheriff Gene Wriggelsworth said.
The other fatal crash occurred about 30 minutes later when a man hit a semitrailer from behind, Wriggelsworth said. The victim was not immediately identified.
In all, 114 vehicles were involved in pileups in the eastbound lanes, while between 80 and 100 vehicles crashed in the westbound lanes, the sheriff's department said. [...]
EUGENE, Ore. - A small earthquake rattled the Mohawk Valley northeast of Springfield late last night.
According to the The Pacific Northwest Seismograph Network based at the University of Washington, the preliminary magnitude 2.4 quake was centered near the unincorporated town of Mohawk.
Mohawk Valley resident Betty Halverson said her blinds and windows were swaying back and forth and so was the television.
ANKARA, Turkey -- A moderate earthquake shook western Turkey on Thursday, but no damage or injuries were immediately reported.
The quake with a preliminary magnitude of 4.1 was centered in the town of Kirkagac in Manisa province, the Istanbul-based Kandilli Observatory said. It struck the area at 1 p.m.
Manisa is some 340 miles west of the capital, Ankara.
Quakes are frequent in Turkey, much of which lies atop the active North Anatolian fault.
Two devastating earthquakes killed about 18,000 people in northwestern Turkey in 1999.
A tornado swept through Arkansas and Louisiana overnight. Two people are dead and 20 injured after an apparent tornado hit on the Arkansas-Louisiana border near Union Country, Arkansas. Powerful winds ripped through the area toppling trees and power lines. Along with several homes, a fire station was also damaged. The same storm hit Southern Louisiana leaving a path of destruction and injuring four people.
(Louisiana) - A tornado touched down in Claiborne Parish late Wednesday night, demolishing at least one mobile home and injuring an undetermined number of people, Claiborne Sheriff Ken Bailey said.
"One has touched down here. We don't know how many houses."
The tornado hit Harris Road just south of Homer and along Airport Loop and Bream Island Road near Lake Claiborne southeast of Homer, Bailey said.
Nearby in Webster Parish, law enforcement officials reported to the National Weather Service office in Shreveport at 10:35 p.m. that hail measuring 0.88 of an inch was falling six miles northeast of Minden.
BIRMINGHAM, Ala. (AP) — Strong storms with heavy rain and stiff winds swept across Alabama early Thursday, damaging buildings and trees but not causing any reported injuries.

The storms briefly knocked out power in areas including Winston County, where the wind peeled part of the roof off a building in Haleyville and sent a trampoline flying across a street.

"Garbage cans were going everywhere, and they were those really big, green ones with wheels," said Debra Hood, city clerk in Haleyville. "There was a lot of rain all of a sudden that lasted for about 20 minutes. It was really blowing hard." [...]
Big waves and strong winds produced by Cyclone Kerry in the Coral Sea are expected to batter the far northern NSW and south-east Queensland coasts on Friday.
The Category 1 cyclone is moving closer to the southern coast of Queensland and a gale warning has been issued for coastal waters between Sandy Cape on Fraser Island and Wooli in NSW.
Queensland's Tropical Cyclone Warning Centre meteorologist Peter Otto said the winds were expected to freshen on Friday and reach gale force in the afternoon.
"Associated with the strong winds on the southern Queensland coast and the northern NSW coast we could see swells of up to four to five metres," he said.
"It could be really quite dangerous out on the water."
Some saltwater inundation is also expected on the morning's high tide.

Wind gusts near the centre of the cyclone were estimated to be up to 120kph. [...]
PETROPAVLOVSK-KAMCHATSKY, January 14 (RIA Novosti's Oksana Guseva) - A second magnitude 4.5 Richter quake has hit Kamchatka within hours of the first one, RIA was told at the Kamchatka test methods seismological group.
The scientists report that an earthquake with the epicenter 30km east of the mouth of River Khodutka 40km under the seabed was registered at 8:08 p.m. local time (11:08 a.m. Moscow time). The quake had 2-3 magnitude in Petropavlovsk-Kamchatsky, located 180km north of the epicenter.
The first quake of the same magnitude was registered at 3:49 p.m. local time (6:49 a.m. Moscow time) in the Avacha Bay 80km southeast of Petropavlovsk-Kamchatsky, with the epicenter 20km under the seabed.

JAKARTA, Jan. 14 (Xinhuanet) - The most prevalent diseases among Acehnese refugees in three camps at Pulole, Fatiha and Simpang Kuah in Banda Aceh are cholera, measles and malaria, the Antara News Agency of Indonesia qu oted a medical group as saying.

The conclusion was made by a team of Medical Emergency Rescue Committee (MERC) in Aceh, Antara quoted MERC chief Jose Rizal as saying.

Jose said that the diseases had infected refugees because the water sources they use have been polluted.

The lack of enough public sanitary facilities like toilets is one of the major reasons for the pollution of water, as many refugees are not patient enough to wait for two hours queuing at public toilets, he said.
LAGOS, Jan. 14 (Xinhuanet) -- A Nigerian woman has given birth to a baby with many abnormalities in the form of two male organs, no anus and four legs and the family appeals for financial assistance for an orthopedic operation, state media reported Friday. [...]
Abdulraman Bukar, a medical director, was quoted as saying thatlack of prenatal and antenatal care on the part of the mother might have led to the baby having deformities.
Bukar added some drugs taken by the mother during pregnancy might have contributed to the deformities.
The headmaster of a San Francisco school may not invite a popular speaker back to an annual career day after he advised girls they could earn a good living as strippers.
Management consultant William Fried told 13-year-olds at Jane Lathrop Stanford Middle School that stripping and exotic dancing can pay €178,000 or more per year, depending on their bust size.
"It's sick, but it's true," Fried said later. "The truth of the matter is you can earn a tremendous amount of money as an exotic dancer, if that's your desire."
Fried has given a popular 55-minute presentation, The Secret of a Happy Life, at the school's career day the past three years. He counsels students to experiment with a variety of interests until they discover something they love and excel in.
But school principal Joseph Di Salvo said Fried may not be back next year.
He said Fried's comments to the class came after some of them asked him to expand on why he included "exotic dancing" on his list of 140 potential careers.
Fried spent about a minute answering questions, defining strippers and exotic dancers synonymously. According to Jason Garcia, 14, he told students: "For every two inches up there, you should get another €35,600 on your salary."
Readers who wish to know more about who we are and what we do may visit our portal site Quantum Future
---
Remember, we need your help to collect information on what is going on in your part of the world!
We also need help to keep the Signs of the Times online.
---
Send your comments and article suggestions to us

---
Fair Use Policy
Contact Webmaster at signs-of-the-times.org
Cassiopaean materials Copyright ©1994-2014 Arkadiusz Jadczyk and Laura Knight-Jadczyk. All rights reserved. "Cassiopaea, Cassiopaean, Cassiopaeans," is a registered trademark of Arkadiusz Jadczyk and Laura Knight-Jadczyk.
Letters addressed to Cassiopaea, Quantum Future School, Ark or Laura, become the property of Arkadiusz Jadczyk and Laura Knight-Jadczyk
Republication and re-dissemination of our copyrighted material in any manner is expressly prohibited without prior written consent.
.