Printer Friendly Version
New Page! Translations from other sites
New Travel Log! The Quantum Future Group Goes to Rennes-le-Chateau
New Article! Fallen Stars
Pentagon Strike Flash Presentation by a QFS member
New Publication! 'The Wave' finally in book form!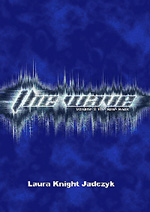 The Wave: 4 Volume Set
Volume 2
by Laura Knight-Jadczyk
With a new introduction by the author and never before published, UNEDITED sessions and extensive previously unpublished details, at long last, Laura Knight-Jadczyk's vastly popular series The Wave is available as a Deluxe four book set. Each of the four volumes include all of the original illustrations and many NEW illustrations with each copy comprising approximately 300 pages.
The Wave is an exquisitely written first-person account of Laura's initiation at the hands of the Cassiopaeans and demonstrates the unique nature of the Cassiopaean Experiment.
---
Picture of the Day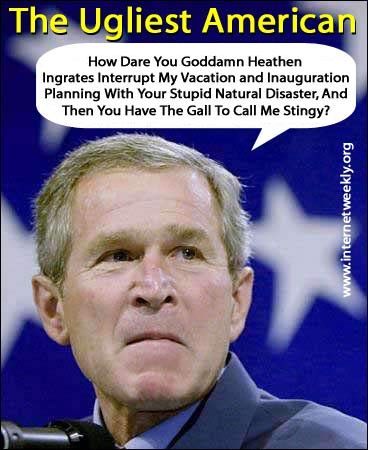 President Bush finally roused himself yesterday from his vacation in Crawford, Tex., to telephone his sympathy to the leaders of India, Sri Lanka, Thailand and Indonesia, and to speak publicly about the devastation of Sunday's tsunamis in Asia. He also hurried to put as much distance as possible between himself and America's initial measly aid offer of $15 million, and he took issue with an earlier statement by the United Nations' emergency relief coordinator, Jan Egeland, who had called the overall aid efforts by rich Western nations "stingy." "The person who made that statement was very misguided and ill informed," the president said.
We beg to differ. Mr. Egeland was right on target. We hope Secretary of State Colin Powell was privately embarrassed when, two days into a catastrophic disaster that hit 12 of the world's poorer countries and will cost billions of dollars to meliorate, he held a press conference to say that America, the world's richest nation, would contribute $15 million. That's less than half of what Republicans plan to spend on the Bush inaugural festivities.
The American aid figure for the current disaster is now $35 million, and we applaud Mr. Bush's turnaround. But $35 million remains a miserly drop in the bucket, and is in keeping with the pitiful amount of the United States budget that we allocate for nonmilitary foreign aid. According to a poll, most Americans believe the United States spends 24 percent of its budget on aid to poor countries; it actually spends well under a quarter of 1 percent.
Bush administration officials help create that perception gap. Fuming at the charge of stinginess, Mr. Powell pointed to disaster relief and said the United States "has given more aid in the last four years than any other nation or combination of nations in the world." But for development aid, America gave $16.2 billion in 2003; the European Union gave $37.1 billion. In 2002, those numbers were $13.2 billion for America, and $29.9 billion for Europe.
Making things worse, we often pledge more money than we actually deliver. Victims of the earthquake in Bam, Iran, a year ago are still living in tents because aid, including ours, has not materialized in the amounts pledged. And back in 2002, Mr. Bush announced his Millennium Challenge account to give African countries development assistance of up to $5 billion a year, but the account has yet to disburse a single dollar.
Mr. Bush said yesterday that the $35 million we've now pledged "is only the beginning" of the United States' recovery effort. Let's hope that is true, and that this time, our actions will match our promises.
The Bush administration more than doubled its financial commitment yesterday to provide relief to nations suffering from the Indian Ocean tsunami, amid complaints that the vacationing President Bush has been insensitive to a humanitarian catastrophe of epic proportions.
As the death toll surpassed 50,000 with no sign of abating, the U.S. Agency for International Development added $20 million to an earlier pledge of $15 million to provide relief, and the Pentagon dispatched an aircraft carrier and other military assets to the region. Secretary of State Colin L. Powell, in morning television appearances, chafed at a top U.N. aid official's comment on Monday that wealthy countries were being stingy with aid. "The United States is not stingy," Powell said on CNN.
Although U.N. Emergency Relief Coordinator Jan Egeland yesterday withdrew his earlier comment, domestic criticism of Bush continued to rise. Skeptics said the initial aid sums -- as well as Bush's decision at first to remain cloistered on his Texas ranch for the Christmas holiday rather than speak in person about the tragedy -- showed scant appreciation for the magnitude of suffering and for the rescue and rebuilding work facing such nations as Sri Lanka, India, Thailand and Indonesia.
After a day of repeated inquiries from reporters about his public absence, Bush late yesterday afternoon announced plans to hold a National Security Council meeting by teleconference to discuss several issues, including the tsunami, followed by a short public statement.
Bush's deepened public involvement puts him more in line with other world figures. In Germany, Chancellor Gerhard Schroeder cut short his vacation and returned to work in Berlin because of the Indian Ocean crisis, which began with a gigantic underwater earthquake. In Britain, the predominant U.S. voice speaking about the disaster was not Bush but former president Bill Clinton, who in an interview with the BBC said the suffering was like something in a "horror movie," and urged a coordinated international response.
Earlier yesterday, White House spokesman Trent Duffy said the president was confident he could monitor events effectively without returning to Washington or making public statements in Crawford, where he spent part of the day clearing brush and bicycling. Explaining the about-face, a White House official said: "The president wanted to be fully briefed on our efforts. He didn't want to make a symbolic statement about 'We feel your pain.' "
Many Bush aides believe Clinton was too quick to head for the cameras to hold forth on tragedies with his trademark empathy. "Actions speak louder than words," a top Bush aide said, describing the president's view of his appropriate role.
Some foreign policy specialists said Bush's actions and words both communicated a lack of urgency about an event that will loom as large in the collective memories of several countries as the Sept. 11, 2001, attacks do in the United States. "When that many human beings die -- at the hands of terrorists or nature -- you've got to show that this matters to you, that you care," said Leslie H. Gelb, president emeritus of the Council on Foreign Relations.
There was an international outpouring of support after the attacks on the World Trade Center and the Pentagon, and even some administration officials familiar with relief efforts said they were surprised that Bush had not appeared personally to comment on the tsunami tragedy. "It's kind of freaky," a senior career official said.
The president of Bread for the World, a leading advocacy group lobbying for more U.S. assistance to suffering people abroad, did not criticize the Bush administration, but did urge the United States to play a central role in the relief effort. "This is a disaster of biblical proportions and one that calls for a global response, with the United States playing a key role," David Beckmann said. [...]
Still, the United Nations' Egeland complained on Monday that each of the richest nations gives less than 1 percent of its gross national product for foreign assistance, and many give 0.1 percent. "It is beyond me why we are so stingy, really," he told reporters.
Among the world's two dozen wealthiest countries, the United States often is among the lowest in donors per capita for official development assistance worldwide, even though the totals are larger. According to the Paris-based Organization for Economic Cooperation and Development of 30 wealthy nations, the United States gives the least -- at 0.14 percent of its gross national product, compared with Norway, which gives the most at 0.92 percent.
KUALA LUMPUR, Dec 30 (Bernama) -- The death toll in Acheh, the region worst hit by last Sunday's tsunami, may exceed 400,000 as many affected areas could still not be reached for search and rescue operations, Indonesia's Ambassador to Malaysia Drs H. Rusdihardjo said Thursday.

He said the estimate was based on air surveillance by Indonesian authorities who found no signs of life in places like Meulaboh, Pulau Simeulue and Tapak Tuan while several islands off the west coast of Sumatera had "disappeared".

He said the latest death toll of more than 40,000 in Acheh and northern Sumatera did not take into account the figures from the other areas, especially in the west of the region.

"Aerial surveillance found the town of Meulaboh completely destroyed with only one buiding standing. The building, which belonged to the military, happens to be on a hill," he told reporters after receiving RM1 million in aid for Indonesia's Tsunami Disaster Relief Fund here Thursday.

Rusdihardjo said there were about 150,000 residents in Meulaboh, which was located 150km from the epicentre of the earthquake while Pulau Simeuleu had a population of 76,000.
JOHANNESBURG, South Africa (Reuters) -- Wild animals seem to have escaped the Indian Ocean tsunami, adding weight to notions they possess a "sixth sense" for disasters, experts said on Thursday.
Sri Lankan wildlife officials have said the giant waves that killed over 24,000 people along the Indian Ocean island's coast seemingly missed wild beasts, with no dead animals found.
"No elephants are dead, not even a dead hare or rabbit. I think animals can sense disaster. They have a sixth sense. They know when things are happening," H.D. Ratnayake, deputy director of Sri Lanka's Wildlife Department, said on Wednesday.
With a death toll rising above 120,000, and large affected areas still inaccessible to rescuers, the Asian tsunami disaster has become a truly global crisis. Millions from all over the world have been affected, whole industries, villages, even tribes destroyed in an instant. Although the human casualties alone are so far of the magnitude of about 40 9/11's, the US government's initial reaction was sluggish at best. It took the scathing "stingy" comment from UN official Jan Egeland to provoke the Bush Administration into taking "the lead," as they are saying now. Perhaps they will. But the question remains, why was it a full 3 days into the catastrophe before they took the initiative?

The US government initially offered $15 million, but after the Egeland comment increased it to $35 million. The New York Times quite rightly pointed out that the latter was still a "miserly drop in the bucket" from the world's wealthiest nation. The newspaper put the initial offering in perspective, dismissing $15 million as less than what the Republicans will shell out for George W. Bush's inaugural ceremony -a vestigial formality if ever there was one - alone.

It is all too obvious that the US's relative disinterest in the disaster has to do with its cause: a random act of nature. Absent a human actor who can easily be held up to blame, an act of natural terror is not interesting for the powers that be, because it does not allow a reaction of the order of regime change or "shock and awe" bombardment. Really, who wants to feed the people who are starving for food, when it's so much more satisfying to feed those who seem to be starving for democracy? When there's no one to punish, no perceived political wrong to right, the US tends to ignore the crisis. Or, as with the devastating Bam earthquake in Iran, which killed over 20,000 and occurred exactly one year to the day before the tsunami, the government grudgingly pledged to help out with some relief - and then immediately started baying for Iranian blood once again. However, as the Times pointed out, the aid for Iran "still has not been delivered." We shouldn't hold our breath.

As everyone knows, wars and regime change cost a lot of money. In other words, well-connected individuals and corporations make a lot of money from them. Sure, relief agencies have always been marred by corruption charges, but a similar capacity for profiteering does not exist here, and the work is hardly as sexy. And, at least sometimes, such agencies do get the job done - as Eric Garris points out with Medecins Sans Frontieres.

How much does war cost, and what uses could that money be put to instead? Costofwar.com answers both questions, displaying a running counter of the cost of fighting the war in Iraq, along with a comparative study beneath of such worthy causes as health, education, college scholarships, immunizations, AIDS and world hunger. The amount comparisons are astonishing, and should provoke some serious thought about America's priorities.

The same logic certainly applies to the Tsunami relief, which although being shared by the UN and numerous foreign countries and bodies could certainly benefit from the generosity of Uncle Sam. After all, it could have been us ('us' is anyone who happens to live near a coastline with similar geographic dynamics in play, not just Americans). And if the US government is indeed so eager to display its alleged benevolence, this would be a good opportunity to make the most of of a horrendous situation.

The government is not entirely insensitive to charges of profligacy when it comes to wars. But here it tends to revel in its own deceptive language, as with today's New York Times story that announces Pentagon "budget cuts" in "the billions." While officials trumpet a $60 billion cut (over the next 6 years), part of this amount seems to be represented by the perceived value of an old aircraft carrier which is set to be mothballed - hardly an unexpected or sudden decision. The other parts of the "cuts" just mean not buying in the future - actually, just putting off the purchase of - some F/A-22 fighters for the Air Force and a new Navy destroyer.

The Times states that since 9/11 Pentagon spending has gotten a healthy 41 percent boost, "to about $420 billion this year." In other words, far from offering $60 billion "cuts," the Pentagon got a mere $360 billion increase - and that's even ignoring the fuzzy logic behind the deceptive language.

It is a shame that the US government has chosen to display its military's flawless technology, logistical depth and manpower through killing tens of thousands in Iraq and Afghanistan, all for no good reason and with no logical justification. They talk about winning "hearts and minds" in the outside world - and even believe that they can do it through war. But if the US really wanted to "shock and awe" the rest of the world, it would have immediately directed its available forces in the region to provide tsunami relief. In light of the tragedy, it could have even called a halt (if even a temporary one) to offensive actions in Iraq. As it stands, the incongruity between the US pledging to save lives in one corner of the world even as it stamps them out in another can only be seen as grotesque.

By the way, in the 90 minutes it took to write this article, the cost of the war in Iraq jumped from $147,561,500,303 to $147,571,322,304. That's a difference of almost 10 million dollars or, in other terms, the better half of the Bush inaugural.

Yet right now, every passing moment is critical for tsunami survivors left without homes, possessions, families and food. Time is of the essence: the UN is warning that epidemics may break out soon, and increasing looting and violence indicate the poorest and weakest victims may be trampled underfoot. Nevertheless, it appears that securing Iraq's show elections and transformation into a Jeffersonian democracy outweigh these problems.
Q: How prepared is the U.S. Government to deal with (inaudible)?
A: I think we have to really intensify our efforts. That's the reason for the Nunn/Lugar II program. That's the reason why it's a local responsibility, as such, but the Department of Defense is going to be taking the lead as far as supervising the interagency working groups, and to make the assessments as to what needs to be done. So we're going to identify those 120 cities and work with them very closely to make sure that they can prepare themselves for what is likely to be a threat well into the future.
Q: Let me ask you specifically about last week's scare here in Washington, and what we might have learned from how prepared we are to deal with that (inaudible), at B'nai Brith.
A: Well, it points out the nature of the threat. It turned out to be a false threat under the circumstances. But as we've learned in the intelligence community, we had something called -- and we have James Woolsey here to perhaps even address this question about phantom moles. The mere fear that there is a mole within an agency can set off a chain reaction and a hunt for that particular mole which can paralyze the agency for weeks and months and years even, in a search. The same thing is true about just the false scare of a threat of using some kind of a chemical weapon or a biological one. There are some reports, for example, that some countries have been trying to construct something like an Ebola Virus, and that would be a very dangerous phenomenon, to say the least. Alvin Toeffler has written about this in terms of some scientists in their laboratories trying to devise certain types of pathogens that would be ethnic specific so that they could just eliminate certain ethnic groups and races; and others are designing some sort of engineering, some sort of insects that can destroy specific crops. Others are engaging even in an eco- type of terrorism whereby they can alter the climate, set off earthquakes, volcanoes remotely through the use of electromagnetic waves.
So there are plenty of ingenious minds out there that are at work finding ways in which they can wreak terror upon other nations. It's real, and that's the reason why we have to intensify our efforts, and that's why this is so important. [...]
In the immediate aftermath of the 2004 election, when the topic of conversation turned to religion and a) republican's claim to be the party of Christianity; and b) the claim that evangelicals helped re-elect Bush; one of the callers to my radio show made the suggestion that we should not try and "out-Jesus" the right. I agreed, and added that we should also endeavor to demonstrate that the right is not anywhere near as "Jesus-y" as they claim to be (along with of course, alerting our fellow citizens as to who owns the media, not to mention the machines that count the votes.)
Looking back at this Christmas season and what it's supposed to represent, namely, the whole "Christ thing" republicans always get their edible undies and leather G-strings in a wad over; I found myself pondering a few remarks attributed to alleged "Christian" spokespeople. You have Pat Robertson rallying millions to lobby God for the deaths of liberal Supreme Court justices – recommending prayers for coronaries and cancer; you have the gluttonous Jerry Falwell calling for the deaths of our enemies; and you've got the chaste Jimmy Swaggart calling for the deaths of gays.
I then thought about the millions of brainwashed, brain-dead, Bush boot lickers who continue on their merry quest for a seemingly utopian, fascist state (where blissful, willful ignorance reigns supreme) and continue to support the wanton murder of innocent human beings in Iraq (and anywhere else the Bush administration lies them into thinking they have go to kill people). And yet, over the holidays, I would hear these same people - these same self-professed "Christians" - call conservative talk radio, completely unaware of what colossal hypocrites and fools there were exposing themselves to be.
On the one hand, they seemed completely oblivious to the fact of how they have willfully eliminated the "Thou Shalt Not Kill" Commandment from their subverted, perverted and immensely watered down republican version of Christianity (not to mention being their brother's keeper or loving their enemy). They seemed equally unconscious to how they're completely ignoring the atrocities and war crimes against humanity that they are sanctioning and allowing to be committed in their name. Instead, remarkably - the only thing these perverters and subverters of true Christianity seemed to be concerned about this holiday season with regards to Christianity was chastising department store clerks for saying "Happy Holidays", instead of "Merry Christmas."
Talk about misguided priorities! But we always have to remember - this is all just part of the conservative republican ideology. Live in delusion, denial and ignorance - and the most important element, of course, remains - whine, moan, bitch and complain, and accuse the other side of that which they are most guilty of themselves. Author Paul Waldman (Fraud) calls it "Orwellian Misdirection."
And how does that work? Here's where the lessons of fascist propagandization come in handy. They whine and accuse so often (because they've been so thoroughly brainwashed into believing they actually have a legitimate complaint), and they whine and accuse so loudly - that even those who know they're full of crap eventually give up trying to combat their lies out of sheer frustration and disgust (except you and me, Thom Hartman, Air America and a few others, of course.) But when that happens - by and large - the abuser then gets to play the victim instead.
Classic example? The media. Rather than admitting to being the biggest abusers, subverters and perverters of the media which they now own - they just keep whining about, and accusing the media of being the "liberal media", which in the real world is absolutely ludicrous. But done often enough and loudly enough - and promulgated by the very media they now own - even rational thinkers begin to consider the irrational as a possibility. Ultimately, the very people who abuse the media the most get to play the victim of the media instead - victims of the republican owned, republican managed and republican controlled liberal media. Makes sense, doesn't it? To a psychotic, delusional, perverted and brainwashed republican mind - yes it does, sadly. Don't believe me? Tune in to conservative radio sometime. This scenario as I just laid it out is replayed on a daily basis on literally hundreds of radio stations coast to coast.
And it's the same thing with Christianity. Rather than admitting to being the biggest abusers, subverters and attackers of Christianity – they just keep whining about, and accusing the other side of, trying to remove either Christianity or Christ himself from their already un-Christian, anti-Christ lives. And done often enough and loudly enough - and promulgated by the media, which they now own – again, the irrational becomes rational. Unreality becomes reality. The un-Christian becomes Christian. And the real attackers of Christianity get to play the victims of Christian attacks instead.
Nothing has exposed these self professed Christians' ignorance, blatant hypocrisy and lack of ownership of the religion they claim to own - than has George W. Bush's murderous, corporate invasion of Iraq (although almost any other republican policy would suffice.) But here's where republican's adherence and devotion to denial, ignorance and quite frankly, gross stupidity, comes into play. Just like they ignore who owns the media they claim to be a victim of; and just like they ignore a) the ownership of the voting machines that somehow ran counter to the traditionally reliable exit polls and b) the fact that their boy Bush can only manage a 48% approval rating the month after the election in a Fox News Poll – and instead, tell us he was elected overwhelmingly; they also ignore their own blatant Christ crimes and their transparent ignorance as to even the basic tenets of Christianity; and accuse the other side of trying to subvert Christianity instead.
Would sure love to be a fly on the wall when it's time for these religious hypocrites to give an accounting of themselves before their Creator. Tell Him how 9-11 changed everything – including His Commandments. Tell Him how the oceans He created no longer protected you. Tell Him how you demonized and deemed every one of His human creations who dared disagree with your false Bush prophet a "terrorist." Tell him why you disagreed with Christ's message of peace - and why you laughed at Dennis Kucinich when he suggested a Department of Peace. And tell me how you're going to respond when He asks, "Where was your faith?" Just a hunch, but somehow, I just don't think playing the victim will absolve you of your earthly republican crimes before the Almighty.
And this inherent delusion, ignorance and stupidity doesn't stop with Christianity, the media or voting machines. Consider the run up to the election - when it came to the issue of military service. Rather than admitting it was their boy who had the less than stellar military record, they accused the other side (who actually did have a genuine war hero) of having a candidate with a less than a stellar record. And done often enough and loudly enough - and promulgated by the media which they now own - once again, the irrational became rational. And instead of the focus being on draft dodging, drugs, alcohol, womanizing, bribery, coercion, influence, going AWOL, and deserting, the focus was shifted to whether or not the other guy was injured seriously enough to warrant his first military decoration.
Now I'm no psychiatrist, but I would be willing to bet when an abuser or a victimizer constantly claims to be the abused or the victimized - over infractions far less egregious than those they commit themselves - these are truly sick people, and ones that should have no influence what so ever in government, religion, the media or elections. To draw an analogy; it's exactly the same as a rapist complaining because his victim scratched him in the face. And why would this rapist do this? If he felt he was "entitled" to rape his victim. And so it is with republicans. They feel entitled to rape this country. Of course, they call it "governing," but for those of us who have found it increasingly more difficult to sit down the past 4 years, rape is probably a more accurate terminology. (Haven't these Neanderthals ever heard of Vaseline?)
Bottom line? These people should be committed immediately - not only because they're a danger to themselves - but also before they can do any more harm to what was once considered to be the most intelligent, progressive nation in the world.
It is truly amazing that an ideology this shallow, this despicable and this disingenuous and downright hypocritical - can be marketed, sold and bought as one that is married to Christianity and Jesus Christ himself - when in reality, it is an ideology that is so entirely and transparently un-Christian and anti-Christ. But welcome to the insanity that has become George W. Bush's republican, neo-theocratic America.
And as I heard a familiar and valuable message throughout this Holiday season (the one pertaining to drinking and driving and the roll friends must play at times like these) I paraphrased that message into one I think has the potential to be even more valuable and more critical.
Friends don't let friends vote republican. For Christ's sake.
The head of the CIA's analysis branch has become the latest victim of a purge of the intelligence agency following the appointment of its new director, Porter Goss, it was reported yesterday.
Jami Miscik has told her department she will leave in February, calling her exit part of the CIA's "natural evolution" under new management. But former intelligence officials who know her say she would have preferred to stay and was being forced out by Mr Goss, a close ally of President Bush. One former official told the New York Times: "The decision to depart was not hers."
Half a dozen other senior CIA officials have left in the three months since Mr Goss took office accompanied by a team of Republican aides he brought with him from his days as a congressman.
The turmoil comes as the agency is about to lose its primary role in the espionage world in a revamp which will place all 15 US intelligence bodies under a new national intelligence director, due to be named early in the new year.
Ms Miscik's department, the directorate of intelligence, is responsible for assessing foreign intelligence from all sources and presenting its conclusions to policy makers.
She is responsible, in particular, for the "president's daily brief" delivered to the White House every morning.
Ms Miscik took the job in 2002, as the CIA was trying to fix lapses that allowed al-Qaida to mount the September 11 attacks the previous year.
Under her leadership, however, CIA analysts consistently misinterpreted intelligence on Iraq and wrongly concluded that Saddam Hussein was developing weapons of mass destruction.
An internal agency study last year found that directorate of intelligence staff had "never been more junior or more inexperienced", and pointed to "systemic problems".
Ms Miscik's supporters argue that she was among the first to acknowledge those problems, and attempted to put them right with more rigorous analysis and a more careful review of intelligence sources.
Critics of the administration have also argued that Ms Miscik's analysts had expressed considerable caution over some of the claims about Iraqi WMD and had played down allegations of links with al-Qaida, but those warnings had been ignored by the White House and the Pentagon in their determination to oust Saddam.
A commission is investigating intelligence failures over Iraq and is due to deliver its report in the spring.
The culling of the US secretary of state is symptomatic of a swing even further to the right
Sidney Blumenthal
The Guardian
Thursday November 18, 2004
Colin Powell's final scene was a poignant but harsh exposure of his self-delusion and humiliation. The former general held in his head an idea of himself as sacrificing and disciplined. But the good soldier was dismissed at last by his commander-in-chief as a bad egg. Bush, Cheney and Rumsfeld regarded him either as a useful tool or a vain obstructionist. They deployed his reputation as the most popular man and the most credible face in the US for their own ends, and when he contributed an independent view he was isolated and undermined.
As secretary of state has been a peripheral figure, even a fig leaf, ever since his climactic moment before the UN security council on which he staked his credibility. There he presented the case that WMD in Iraq required war, a case consisting of 26 falsehoods, and about which he later claimed to have been "deceived". When the statue of Saddam was toppled, he offered President Bush 17 volumes of his Future of Iraq project, but it was rejected. Predicting everything from the looting to the insurgency, and suggesting how it might be avoided, the project was politically incorrect.
Powell had wanted to stay on for the first six months of Bush's second term to help shepherd a new Middle East peace process, but the president insisted on his resignation. Condoleezza Rice was named in his place. She had failed at every important task as national security adviser, pointedly neglecting terrorism before September 11, enthusiastically parroting the false claim that Saddam had a nuclear weapons programme, while suppressing contrary intelligence, mismanaging her part of postwar policy so completely that she had to cede it to a deputy, and eviscerating the Middle East road map.
As incompetent as she was at her actual job, she was agile at bureaucratic positioning. Early on, she figured out how to align with the neo-conservatives and to damage Powell. Her usurpation is a lesson to him in blind ambition and loyalty.
Powell's sacking and Rice's promotion are more than examples of behaviour punished and rewarded. His fall and her rise signal the purge of the CIA and the state department, a neocon night of the long knives. Bush's attitude is that of the intimidating loyalty enforcer that he was in his father's political campaigns.
The CIA has not been forgiven for failing to support Cheney's phantasmagorical case linking Saddam to al-Qaida. And the release in September of the outline of the most recent National Intelligence Estimate, laying out dark scenarios for Iraq, was considered an act of insubordination intended to help oust Bush in the election. The new CIA director, Porter Goss, has installed partisan aides at the top, and senior officials have been fired. He has issued a party line diktat that the CIA's mission is to "support the administration and its policies".
At the state department, senior career officers, especially those who were close to Powell, believe they are next on the chopping block. Indeed, Bush has charged Rice with bringing the department under control. Its bureau of intelligence and research, which has provided the most accurate analysis of Iraq, is a special target for purging. Cheney is heavily involved in the planning, and he intends to fill key slots with neocons and fellow travellers. "By the time she takes over, Rice will have been manoeuvred into a prestructured department staff," one state department source, who has been close to Powell, told me.
The dictation of a political line has conquered policy-making. Since the US emerged as a world power, the executive, because of immense responsibilities and powers, has relied upon impartial information and analysis from its departments and agencies. But vindictiveness against the institutions of government based on expertise, evidence and experience is clearing the way for the intellectual standards and cooked conclusions of rightwing think- tanks and those appointees who emerge from them.
A system of bureaucratic fear and one-party allegiance is being created in this strange soviet Washington. Only loyalists are rewarded. Rice stands as the model. One can never be too loyal. And the loyalists compete to outdo each other. Dissonant information is seen as motivated to injure the president, disloyalty bordering on treason. Success is defined as support for the political line; failure perceived as departure from the line. An atmosphere of personal vendetta and an incentive system for suppressing realities prevails. This is not an administration; it does not administer - it is a regime.
On one of Powell's futile diplomatic trips, his informal conversation with reporters turned to a new book, The Accidental American: Tony Blair and the Presidency, by James Naughtie. In it, Powell is quoted as describing the neocons to British foreign minister, Jack Straw, as "fucking crazies". That, the reporters suggested, might be an apt title for his next volume of memoirs. Powell laughed uncontrollably.
Sidney Blumenthal, a former senior adviser to President Clinton, is Washington bureau chief of salon.com
The Night of the Long Knives (German, Nacht der langen Messer), also known as Reichsmordwoche or "the Blood Purge", was a purge ordered by Adolf Hitler of potential political rivals in the Sturmabteilung, or S.A. The Night of the Long Knives took place during the late night of Saturday June 30 and the early morning of Sunday July 1 in 1934. Official records tally the dead at 77, though 400 are believed to have been killed.
By the summer of 1933, the S.A. had grown discontent with the progress of the Nazi regime. Many had taken seriously the "socialism" of "National Socialism", and were angry that Hitler and the other party leaders had not. As a result, they grew increasingly distant from the Nazi leadership and believed further steps needed to be taken to achieve substantive social and economic change. They also wanted to become the core of a new German army.
By 1934, Hitler dominated Germany's government, but still feared losing power in a coup d'état. To maintain complete control, he allowed political infighting to continue among his subordinates. As a result, a political struggle grew, with Hermann Göring, Joseph Goebbels, Heinrich Himmler and Reinhard Heydrich on one side and Ernst Röhm, the leader of the S.A., on the other. The S.A. was the only remaining viable threat to Hitler's power.
The power of Röhm and his violent organization frightened his rivals. Goering and Himmler asked Heydrich to assemble a dossier of manufactured evidence to suggest that Röhm had been paid 12 million marks by France to overthrow Hitler. Himmler presented the "evidence" to Hitler, fuelling his suspicion that Röhm intended to use the S.A. to launch a plot against him. At the time, Himmler was also organizing his own Nazi paramilitary group, which later came to be known as the SS (Schutzstaffel).
Hitler had always liked Röhm; he was one of the first members of the Nazi Party, participating in the Beer Hall Putsch. But Hitler was under increasing pressure to reduce the S.A. influence. German military leaders were unhappy with Röhm's proposal that the German army be absorbed into the larger S.A., and the industrialists that supported Hitler were concerned over the S.A.'s socialist leanings. The regular army was also alarmed by the size of the S.A. — in early 1934 it numbered 2.5 million, while the army was limited by the Treaty of Versailles to 100,000. Members of the Nazi party also viewed Röhm and some other S.A. leaders with distaste because they frequently practiced homosexual acts.
With all these groups aligned against Röhm, Hitler decided to act. He ordered all S.A. leaders to attend a meeting at the Hanselbauer Hotel in Wiessee near Munich. On June 30 Hitler took personal command of Röhm's arrest. Alfred Rosenberg's diary provides an account:
With an SS escort detachment the Führer drove to Weissee and knocked softly on Röhm's door: "Message from Munich," he said with disguised voice. "Well come in," Röhm called to the supposed messenger, "the door is open." Hitler tore open the door, fell on Röhm as he lay in bed, seized him by the throat and screamed, "You are under arrest, you swine." Then he turned the traitor over to the SS. At first Röhm refused to get dressed. The SS then threw his clothes in the Chief of Staff's face until he bestirred himself to put them on. In the room next door, they found young men engaged in homosexual activity. "And these are the kind who want to be leaders in Germany," the Führer said trembling. (Spielvogel, 78)
In the following hours other S.A. leaders were also arrested, and many were shot out of hand. Apparently Hitler intended to pardon Röhm, but eventually decided to have him die. It is believed that Röhm was offered a chance of suicide but was eventually shot. Hitler also used this purge of the S.A. to settle old scores: Third-Positionist pioneer Gregor Strasser, former Bavarian Commissar and Triumvir Gustav von Kahr, General Kurt von Schleicher and Conservative Revolutionary figure Edgar Jung were all murdered, totaling over 100. Former Chancellor Franz von Papen was put under house arrest.
On July 3, the Reich government decided upon the Law Regarding Measures of State Self-Defense, consisting of a single article simply declaring the "measures taken" to be "legal State self-defense."
Hitler announced the purge on 13 July, claiming 61 had been executed, 13 shot while resisting arrest, and 3 had committed suicide. In announcing the purge he stated, "If anyone reproaches me and asks why I did not resort to the regular courts of justice, then all I can say is this: In this hour I was responsible for the fate of the German people, and thereby I became the supreme judge (oberster Gerichtsherr) of the German people". - from William L. Shirer, The Rise and Fall of the Third Reich, Simon and Schuster, New York, 1959.
As a result of the purge, Hitler gained a measure of gratitude and support from the Reichswehr. On July 26th, the S.S. was made independent of the S.A., with Himmler as its Reichsführer, answerable only to Hitler. Victor Lutze became the new leader of the S.A., and it was soon marginalized in the Nazi power structure.
For years, it has been my position that the threat of radical Islam implies an imperative to focus security measures on Muslims. If searching for rapists, one looks only at the male population. Similarly, if searching for Islamists (adherents of radical Islam), one looks at the Muslim population.
And so, I was encouraged by a just-released Cornell University opinion survey that finds nearly half the U.S. population agreeing with this proposition.
Specifically, 44 percent of Americans believe that government authorities should direct special attention toward Muslims living in the United States, either by registering their whereabouts, profiling them, monitoring their mosques or infiltrating their organizations.
That's the good news; the bad news is the near-universal disapproval of this realism. Leftist and Islamist organizations have so successfully influenced public opinion that polite society shies away from endorsing a focus on Muslims.
In the United States, this intimidation results in large part from a revisionist interpretation of the evacuation, relocation and internment of ethnic Japanese during World War II.
Denying that the treatment of ethnic Japanese resulted from legitimate national security concerns, this lobby has established that it resulted solely from a combination of "wartime hysteria" and "racial prejudice."
As radical groups like the American Civil Liberties Union wield this interpretation, in the words of columnist Michelle Malkin, "like a bludgeon over the War on Terror debate," they pre-empt efforts to build an effective defense against today's Islamist enemy.
The intrepid Malkin, a specialist on immigration, has re-opened the internment file.
Her recently published book, bearing the provocative title In Defense of Internment: The Case for Racial Profiling in World War II and the War on Terror (Regnery), starts with the unarguable premise that in time of war, "the survival of the nation comes first." From there, she draws the corollary that "Civil liberties are not sacrosanct."
She then reviews the historical record of the early 1940s and finds that:
• Within hours of the attacks on Pearl Harbor, two U.S. citizens of Japanese ancestry, with no history of anti-Americanism, shockingly collaborated with a Japanese soldier against their fellow Hawaiians.
• The Japanese government had established "an extensive espionage network within the United States" believed to include hundreds of agents.
• In contrast to loose talk about "American concentration camps," the relocation camps for Japanese were "Spartan facilities that were for the most part administered humanely." As proof, she notes that more than 200 individuals voluntarily chose to move into the camps.
• The relocation process itself won praise from Carey McWilliams, a contemporary leftist critic (and future editor of The Nation), for taking place "without a hitch."
• A federal panel that reviewed these issues in 1981-83, the Commission on Wartime Relocation and Internment of Civilians, was, Malkin explains, "Stacked with left-leaning lawyers, politicians, and civil rights activists -- but not a single military officer or intelligence expert."
• The apology for internment by Ronald Reagan in 1988, plus the nearly $1.65 billion in reparations paid to former internees, was premised on faulty scholarship. In particular, it largely ignored the top-secret decoding of Japanese diplomatic traffic, codenamed the MAGIC messages, which revealed Tokyo's plans to exploit Japanese-Americans.
Malkin has done the singular service of breaking the academic single-note scholarship on a critical subject, cutting through a shabby, stultifying consensus to reveal how, "given what was known and not known at the time," FDR and his staff did the right thing.
She correctly concludes that, especially in time of war, governments should take into account nationality, ethnicity, and religious affiliation in their homeland security policies and engage in what she calls "threat profiling."
These steps may entail bothersome or offensive measures but, she argues, they are preferable to "being incinerated at your office desk by a flaming hijacked plane."
George W. Bush's vision for America's future is coming into clearer focus following Election 2004: For the next generation or more, it appears the American people will be asked to sacrifice their children, their tax dollars and possibly the remnants of their democracy to what a top U.S. commander now candidly calls the "Long War."
While Central Command's Gen. John Abizaid defines the "Long War" as the indefinite conflict against Islamic extremism around the world, Bush and his supporters have already opened a second front at home, determined to silence or neutralize domestic dissent that they see as sapping American "will."
Not only has Bush continued to purge his second-term administration of even the most soft-spoken skeptics, but his disdain for criticism has emboldened his supporters to routinely refer to public dissenters as "traitors."
Take, for instance, this letter from a Bush supporter who was infuriated when USA Today's founder Al Neuharth suggested in an opinion column that U.S. troops should be brought home from Iraq "sooner rather than later."
"This is war and you should be put in prison NOW for talking like this," wrote someone by the name of Mel Gibbs. "You give aid and comfort to our enemies and aid them in murdering our proud soldiers. You people are a disgrace to America. Your families should be put in prison with you."
In case readers think the extreme contents of this letter represent either parody or an aberration, they should peruse other comments that Neuharth's modest suggestion elicited. Editor & Publisher editor Greg Mitchell has compiled a number of responses in a follow-up column. [See Editor & Publisher, Dec. 29, 2004]
Similar sentiments, of course, can be heard on right-wing talk radio or from commentators, such as best-selling author Ann Coulter. To many Bush backers, extremism in defense of W. is no vice.
An interesting phenomenon is taking place today in the Iraqi city of Falluja.
For months now, the Bush administration had been building up the image of a massive network of foreign terrorists using Falluja as a base for their terror attacks against targets associated with the interim government of Iyad Allawi and the US military which backs him.
One name appeared in western media accounts, over and over again: Abu Musab al-Zarqawi, a wanted Jordanian turned alleged "terror" mastermind. Almost overnight, Zarqawi's terrorist group, al-Qaida Holy War for Iraq, expanded its operations across the width and breadth of Iraq.
Al-Zarqawi was everywhere, his bombers striking in Mosul, Baghdad, Samarra, Najaf, Baquba, Ramadi and Falluja. Islamist websites published accounts of al-Zarqawi's actions, and the western media, together with western intelligence services, ran with these stories, giving them credibility. The al-Zarqawi legend, if one can call it that, was born.
The problem is, there is simply no substance to this legend, as US marines are now finding out. Rather than extremist foreign fighters battling to the death, the marines are mostly finding local men from Falluja who are fighting to defend their city from what they view as an illegitimate occupier. The motivations of these fighters may well be anti-American, but they are Iraqi, not foreign, in origin.
There is, indeed, evidence of a foreign presence. But they were not the ones running the show in Falluja, or elsewhere for that matter. As a result, the US-led assault on Falluja may go down in history as the tipping point for the defeat of the US occupation of Iraq. The January 2005 elections are now very much in doubt, and anti-coalition violence has erupted throughout Iraq (including from sources claiming to be aligned with - no surprise - Abu Musab al-Zarqawi).
Reflecting back, one cannot help but wonder if al-Zarqawi was used as a lure to trap the Americans into taking this action. On the surface, the al-Zarqawi organisation seems too good to be true. A single Jordanian male is suddenly running an organisation that operates in sophisticated cells throughout Iraq. No one man could logically accomplish this. But there is an organisation that can - the Mukhabarat (intelligence) of Saddam Hussein.
According to former Iraqi intelligence personnel I have communicated with recently, the Mukhabarat, under instructions from Saddam Hussein, had been preparing for some time before the invasion of Iraq on how to survive, resist and defeat any US-led occupation of Iraq. A critical element of this resistance was to generate chaos and anarchy that would destabilise any US-appointed Iraqi government.
Another factor was to shift the attention of the US military away from the true heart of the resistance - Saddam's Baathist loyalists - and on to a fictional target that could be manipulated in an effort to control the pace, timing and nature of the US military response.
According to these sources, the selection of al-Zarqawi as a front for these actions was almost too easy. The Bush administration's singling out of al-Zarqawi prior to the war, highlighted by Colin Powell's presentation to the Security Council in February 2003, made the Jordanian an ideal candidate to head the Mukhabarat's disinformation effort.
The Mukhabarat was desperate for a way to divert attention from the fact that it was behind the attacks against Iraqi civilians. Iraqis killing Iraqis would turn the public against the resistance. It needed a foreign face, and al-Zarqawi provided it. A few planted CD disks later, and the al-Zarqawi myth was born.
In its attempts to use the al-Zarqawi myth to distract and defeat the US military and the interim government of Iyad Allawi, the Mukhabarat is engaged in a dangerous game. In embracing the al-Zarqawi myth, the Mukhabarat has engaged the forces of Islamist activism to a degree never before seen in modern-day Iraq.
According to my contacts, the goal in creating a foreign Islamist face for the violence taking place in Iraq is to get the Iraqi populace to turn away from Iyad Allawi and the US military as a source of stability, and endorse the return of the Baathists (under a new guise, to be sure), who would then deal with the Islamists by shutting down an operation the Mukhabarat thinks they control.
But engaging these activists may not be without cost. Having created a fiction, there is a potential danger of it becoming a reality. Al-Zarqawi may not be the real force behind the anti-US resistance in Iraq, but many now, in Iraq and throughout the Muslim world, believe him to be.
Having created this giant the Mukhabarat may not be able to control it. The real danger in Iraq is not the inevitable defeat of the United States and the interim government of Iyad Allawi, but the fact that the longer it takes for the United States to realise that victory cannot be achieved, the more emboldened the Islamists become.
Right now, the Mukhabarat controllers of the al-Zarqawi network think themselves clever as they watch the US military play into their hands through the destruction of Falluja, and the futile search for a phantom menace.
But the tragedy that is the war in Iraq is far from over, and it may very well be that it is al-Zarqawi and his followers, and not the Baathist Mukhabarat, who will have the last laugh. And, as always, it will be the people of Iraq who will pay the price.
Scott Ritter was a senior UN arms inspector in Iraq between 1991 and 1998. He is now an independent consultant.
London: British MP George Galloway has refused to condemn suicide attacks on the country's troops in Iraq in an interview being broadcast today.
Asked if he would condemn suicide bombers, the anti-war MP said: "I will not condemn an occupied people for using their legal rights, their legal rights as well as their moral rights to resist the illegal occupation of their country".
But Galloway insisted he detested the idea of British soldiers being killed and that was why he was trying to get them pulled out of Iraq.
He said: "Because I detest the idea of our soldiers being killed, I'm out here in the streets every day, public meetings every night, trying to get our troops out of harm's way.
"It's [British Prime Minister Tony] Blair who put them in the way of the suicide bombers. It's Blair who put them in the way of the improvised explosive devices. It's Blair who sent them into this disaster. If they'd listened to me, they'd never have been in this mess in the first place."
Galloway makes the comments in a program to be shown on British TV's Channel Four tonight.
He also pointed to UN Secretary-General Kofi Annan's pronouncement that the war was illegal.
Galloway said: "It follows that the only people fighting legally in Iraq, therefore, are the people defending their country against an illegal invasion".
"But it's precisely because I don't want to see our troops being killed for what you say is democracy in Iraq, that we say that the forces should be brought back.
"Because we don't believe our young men should be asked to kill, or still worse be killed for [US President] George Bush and Tony Blair because that's really why they are there - nothing to do with democracy."
Galloway was expelled from the Labour Party over his anti-war stance. He has announced he is to stand against Labour MP Oona King at the next general election, labelling her a "New Labour stooge".
The 50-year-old MP launched Respect, the Unity Coalition, in January.
Last week he won STG150,000 ($384,000) in libel damages from the Daily Telegraph over claims he received money from ousted Iraqi president Saddam Hussein's regime.
BAGHDAD - A mortar strike set fire to Baghdad's Dura oil refinery Thursday night, an interior ministry official told AFP.
Baghdad firemen were struggling to put out the blaze and called for help at the refinery in the southwestern Baghdad suburb, the official said.
"We cannot stop the fire so we called other fire departments from outside Baghdad," the official said.
The attack occurred at 10:00 pm (1900 GMT), the official said.
The Dura refinery is also home to Baghdad's main power plant. The refinery provides fuel for the plant, which provides electricity for most of Baghdad and outlying areas.
It was not immediately clear if the fire had affected the power plant.
In Baghdad and much of Iraq, electricity is erratic, with households enjoying power sometimes for as little as three hours per day.
RIYADH : Saudi security forces have killed 10 suspected Al-Qaeda militants in two days of clashes in the capital which was rocked by twin car bombings that left two people dead and injured 100 more, reports said.
Wednesday's bomb attacks in the oil-rich kingdom, which has been battling a wave of Islamic unrest since May last year, prompted security alerts elsewhere in the Gulf region and sent world oil prices rising.
The militants struck at the heart of the Saudi regime's security apparatus, targeting the interior ministry and a special forces base in Riyadh.
"It is clear now that their aim is not confined to fighting 'infidels' as they claim, but also... to destabilise security through killing Muslims and harming peaceful citizens," Deputy Interior Minister Prince Ahmad bin Abdul Aziz said during a visit to the site of the ministry blast.
A Pakistani taxi driver and a Saudi security man were killed in the attack on the ministry building, the Al-Eqtissadiyah newspaper said, adding that about 90 were wounded in the two blasts.
The interior ministry said six guards were wounded in the attack on its offices, along with several bystanders, and that foreigners were among the wounded in the second explosion at the special forces base in eastern Riyadh.
Ministry spokesman Mansur al-Turki said both attacks appeared to have been suicide operations, as human remains were found inside the vehicles.
In the first attack, the bomber rammed the gate of the ministry compound, triggering a shootout with guards before the vehicle blew up, witnesses said.
In the second, guards at the special forces base intercepted the vehicle before it reached the gate, forcing the bomber to detonate his charge more than 350 metres (yards) away, the ministry said.
Saudi forces killed a total of 10 militants in gunbattles both Tuesday and Wednesday, state television said Thursday. [...]
Russian authorities detained a South Korean businessman in the Far East region of Sakhalin on Wednesday for illegally importing radioactive instruments.
Kim Jong-Hyun, of South Korea's All Nations Co., was detained after a foreign ship carrying 13 radioactive instruments that included non-enriched Uranium-238 arrived in the port of Korsakov, the Itar-Tass news agency reported.
The equipment, which was giving off radiation that was measured to be 200 times the normal amount and deadly within a three-meter range, were intended for a foreign company that was building a factory to liquefy natural gas.
The documents accompanying the radioactive equipment were all forged.
A senior Ukrainian security officer has been found dead in his apartment. The body of 38-year-old Vladimir Pavlenko, a lieutenant-colonel of the Lviv Security Service Directorate, was found in his apartment on Dec. 20, an informed source told Ukraine's Forum news agency.
Upon examining the site, police established that the security officer had committed suicide. However, forensic experts claim that Pavlenko had been beaten to death. Pavlenko has already been buried. Prosecutors are still investigating his death.
Earlier this week the body of the transport minister, Mr Heorhiy Kyrpa, was discovered in his summer house near Kiev with gunshot wounds in another apparent suicide. Ukrainian prosecutors opened an investigation into whether the violent death of a government minister was "assisted suicide".
Some media speculated that Kyrpa, accused of playing a key role in the rigged presidential elections last month, was murdered by the fraud ring-leaders. Kyrpa's was the second apparent suicide of a leading government figure this month, following the death of the financier Yuri Lyakh, 39, on Dec. 3.
Both Kyrpa and Lyakh were close associates of the outgoing president, Leonid Kuchma. Lyakh was found with a paper knife embedded in his throat at his home.
Both men are accused of being involved in an elaborate fraud operation, apparently committed by the authorities, to rig the Nov. 21 presidential election, which was rerun last Sunday, with the opposition leader Viktor Yushchenko confirming his victory.
EDMONTON - A package of war medals and other memorabilia dumped at an Edmonton bank sparked a bomb threat that closed the main downtown street.
Police said an elderly woman entered the Canadian Western Bank on Jasper Avenue on Wednesday, put down a suitcase and a plastic bag, told a bystander that police would know what to do with it, then left.
Officers ordered a dozen people to leave the building and sealed off a block along the street.
The bomb squad blasted the packages with a water cannon, then opened them to find a collection of memorabilia, including four war medals inside a tin box.
Insp. Dan Jones said the police want to speak with the woman, whose identity isn't known. He stressed that the incident isn't considered to be a criminal matter.
By DALE EMCH
BLADE STAFF WRITER
Wednesday, December 29, 2004
Unit to use downtown Toledo
The Marines will take over parts of downtown Toledo as sounds of gunfire will echo off buildings when training exercises are conducted next weekend.
A Marine Corps unit based in Perrysburg will stage the exercises from 9 p.m. Jan. 7 to about noon Jan. 9, Maj. Gregory Cramer said.
Major Cramer said most of the 130-member unit - Weapons Company, 1st Battalion, 24th Marines - will take part in the exercises.
"We're looking for an urban environment to do our training," he said. "Urban training is one of the proficiencies we're required to maintain."
Major Cramer said Marines will be dressed in green and will be carrying rifles through the streets, but the exercises should have a minimal impact on the downtown area. He said the Marines will be firing blanks and conducting operations throughout the area.
"The only request we would have of folks, if they happen to be near where an exercise is taking place, is to stay away as much as possible," Major Cramer said. [...]
"We used to do this when we were kids - you know, running around the woods," Ms. Atkin said. "They're just going to use the downtown."
NAPLES -- A teenager died after he was zapped with a Taser gun and doused with a substance similar to pepper spray during a fight with Collier County sheriff's deputies, officials said.
Christopher Hernandez, 19, of Fort Myers, was the third suspect to die in Florida this month after being subdued with a Taser gun. Hernandez died Tuesday, several hours after officials say he attacked deputies, kicking and ripping their uniforms. He ignored orders to stop.
Hernandez, who had no local criminal record, was taken for treatment at Naples Community Hospital for a cut above his eye, but Collier County sheriff's spokesman Dennis Huff said there had been no indication that Hernandez' wounds were life-threatening. An autopsy will be performed to determine the cause of death.
But Hernandez's relatives say he was badly beaten. They said that when they saw him at the emergency room his head was swollen, his eyes were "blood red'' and his arms and face had road rash. Blood from somewhere on his head stained the hospital pillow.
"He was beaten unnecessarily,'' said his uncle, Xavier Hernandez.
Hernandez's father, Jose Hernandez, said he rushed to the hospital and talked to his son about what happened, but he wouldn't say what his son said. His son was then taken to the intensive care unit and died about an hour later.
The incident began about 1 a.m. in a parking lot near a nightclub, when the driver of a car in which Hernandez was a passenger was cruising recklessly, police said. When deputies ordered the driver to stop, he continued instead, and police halted the car in the parking lot of a nearby convenience store.
Hernandez got out of the back seat, and attacked deputies. They used CapStun, similar to pepper spray, and a Taser stun gun, which inflicts a shock, in an attempt to subdue him, but several minutes passed before he was handcuffed, they said. At least one deputy suffered knee injuries.
The driver of the car, a 16-year-old from Fort Myers, was arrested on an outstanding warrant. Front-seat passenger Jasper Johnson, 17, of Fort Myers, was arrested on suspicion of possession of a concealed firearm, and possession of an altered firearm, after police found a .25-caliber handgun under his seat.
Taser stun guns zap suspects with 50,000 volts of electricity, incapacitating them. Arizona-based Taser International says its weapons are safe to use to subdue violent individuals, and are a non-lethal alternative to shooting a suspect.
But a 36-year-old man died Dec. 16 after he was zapped with a Taser by Hollywood police, and a 31-year-old man died Dec. 23 after being zapped by Delray Beach police. The cause of those death has not been determined.
Also, Miami-Dade County police were criticized last month after it was revealed that its officers used Taser guns to subdue a 6-year-old boy and a 12-year-old girl. The boy had cut himself twice with a shard of glass and was threatening to harm himself further, while the girl was drunk and fleeing officers.

CLEVELAND -- Authorities are investigating a mysterious laser beam that was directed into the cockpit of a commercial jet traveling at more than 8,500 feet.
The beam appeared Monday when the plane was about 15 miles from Cleveland Hopkins International Airport, the FBI said.
"It was in there for several seconds like (the plane) was being tracked," FBI agent Robert Hawk said.
The pilot was able to land the plane, and air traffic controllers used radar to determine the laser came from a residential area in suburban Warrensville Heights.
Hawk said the laser had to have been fairly sophisticated to track a plane traveling at that altitude. Authorities had no other leads, and are investigating whether the incident was a prank or if there was a more sinister motive.
In Colorado Springs, Colo., Monday night, two pilots reported green pulsating laser lights shined into their cockpits. Both the passenger plane and a cargo plane landed without problems.
Police dispatched patrol cars and a helicopter to a neighborhood to investigate but found nothing. FBI agents were continuing to conduct interviews, agency spokeswoman Monique Kelso said.
Federal officials have expressed concern about terrorists using laser beams, which can distract or temporarily blind a pilot.
A memo sent to law enforcement agencies recently by the FBI and the Homeland Security Department says there is evidence that terrorists have explored using lasers as weapons. Authorities said there is no specific intelligence indicating al-Qaida or other groups might use lasers in the United States.
In September a pilot for Delta Air Lines reported an eye injury from a laser beam shone into the cockpit during a landing approach in Salt Lake City. The incident occurred about 5 miles from the airport. The plane landed safely.
Lasers are commonly used in a number of industries and are featured in outdoor light shows.
The FAA mandates that laser light shows must register their locations and the lights cannot be directed above 3,000 feet. Lasers are also often used by construction companies to line up foundations.
Interfering with a commercial flight is a felony punishable by up to five years in prison.
WASHINGTON, Dec. 30 (Xinhuanet) -- The US Federal Bureau of Investigation (FBI) has started investigation into seven incidents in which laser beams were directed into plane cockpits since Christmas, media reports here said Thursday.

The FBI was probing into two incidents in Colorado, and one each in Ohio, Washington, Texas, New Jersey and Oregon, the reports quoted law enforcement and transportation officials as saying.

Laser beams can temporarily blind or disorient pilots endangering a plane, and the FBI was concerned that laser beams could be used by terrorists as weapons.

There was no evidence of a terrorist plot to use laser beams asweapons so far, but pilots were troubled by the incidents, the reports said.

Earlier this month, the FBI issued a warning that there was a possibility terrorists might use laser devices as weapons, although there was no intelligence indicating they might use them in the United States, according to the reports.
Washington — The FBI, concerned that terrorists could use lasers as weapons, is investigating why laser beams were directed into the cockpits of seven airplanes in flight since Christmas.
Laser beams can temporarily blind or disorient pilots and possibly cause a plane to crash.
The FBI is looking into two incidents in Colorado Springs, Colo., and one each in Cleveland, Washington, Houston, Teterboro, N.J., and Medford, Ore., according to federal and local law enforcement and transportation officials, some of whom spoke only on condition of anonymity.
A federal law enforcement official, who declined to be identified by name, said Thursday there is no evidence of a plot or terrorist activity. But pilots are troubled by the incidents, and the FBI earlier this month warned of the possibility that terrorists might use the devices as weapons.
"It's not some kid," said Paul Rancatore, a pilot who serves as deputy chairman of the security committee for the Allied Pilots Association. "It's too organized."
Loren Thompson, who teaches military technology at Georgetown University, called it a "rather worrisome development," though he said experts would be more puzzled than alarmed.
"What we're talking about is a fairly powerful visible light laser that has the ability to lock onto a fast-moving aircraft," Thompson said. "That's not the sort of thing you pick up at a military surplus store."
Thompson said a piece of equipment that could do the things the FBI suspects would be "fairly expensive and fairly sophisticated."
"It sounds like an organized effort to cause airline accidents," Thompson said.
Law enforcement officials, though, say they have no evidence of such an effort and that the lasers in question are readily available. Further, they say they've had reports of similar incidents since the technology became popular.
But a memo sent to law enforcement agencies recently by the FBI and the Homeland Security Department says there is evidence that terrorists have explored using lasers as weapons, though there's no intelligence that indicates they might use them in the United States.
Pilots and safety officials have long been concerned about the dangers of laser light shows, which have caused temporary eye injuries to several pilots over the last decade.
Most recently, a pilot for Delta Air Lines reported an eye injury from a laser beamed into the cockpit while approaching the Salt Lake City airport in September. The plane landed safely.
The Civil Aerospace Medical Institute has a database of several hundred reports in which civilian or military aircraft were illuminated by lasers. Though there have been no accidents reported, pilots in some cases were startled, temporarily blinded and disoriented.
The Food and Drug Administration, which regulates laser light shows, consults with the FAA when someone proposes operating a laser outdoors near an airport. The FAA recommends the maximum safe level of laser light exposure for pilots maneuvering near airports.
LOS ANGELES : A man sparked a security alert scare at Los Angeles airport when he dashed onto a jet as it prepared to depart, dropped something, and ran off, officials said.
The man, who was waiting for another flight, left the terminal, walked onto the tarmac and ran on board an ATA airlines jet packed with passengers, airport spokeswoman Gaby Pacheco said.
Authorities evacuated the ATA airliner and towed it to a remote area of the airport where bomb-sniffing dogs were deployed to detect any explosives that may have been put on the plane.
The man, who had successfully cleared a security checkpoint ahead of his flight, was arrested by police shortly afterwards as he tried to board another waiting plane.
"Airport police apprehended the individual within minutes of the start of the incident and law enforcement determined that he did not pose a threat," Pacheco said.
Television pictures showed the unidentified suspect being dragged, kicking and thrashing, out of the back of a squad car by police officers before being strapped to a waiting gurney and taken away.

HANOI : A teenage girl in southern Vietnam has been infected with the lethal strain of bird flu that has killed at least 20 people in the communist nation since late last year, officials said Thursday.
The 16-year-old girl from the rural southern province of Tay Ninh was receiving treatment at the Hospital of Tropical Diseases in Ho Chi Minh City, a doctor there said, requesting anonymity.
"She is suffering from respiratory failure and is in a critical condition. We suspect that she contracted the H5N1 virus after killing and preparing a chicken for cooking," he told AFP. [...]
Scientists have shown that tiny changes to modern flu viruses could render them as deadly as the 1918 strain which killed millions.
A US team added two genes from a sample of the 1918 virus to a modern strain known to have no effect on mice.
Animals exposed to this composite were dying within days of symptoms similar to those found in human victims of the 1918 pandemic.
The research is published in the journal Nature.
The work of the US team, lead by Dr Yoshihiro Kawaoka of the University of Wisconsin, was carried out under the tightest security. [...]
Writing in Nature, the researchers say: "Once the properties of the (1918) HA gene that gave rise to its lethal infectivity are better understood, it should be possible to devise effective control measures and to improve global surveillance networks for influenza viruses that pose the greatest threat to humans as well as other animal species."
Scientists believe the 1918 virus leapt to humans by mutating from bird flu, possibly after passing through pigs, which are able to harbour both human and avian viruses and thus allow them to swap genes as the viruses reproduce.
For that reason, experts are deeply concerned that the avian flu that has broken out in poultry flocks in parts of south-east Asia may acquire genes that will make it highly infectious as well as lethal for humans.
Professor John Oxford, an expert in virology at Queen Mary College London, told BBC News Online the latest research underlined just what a threat all flu viruses potentially posed.
He said: "It is not a big difference at all between a virus that kills 15m people and one that does not kill anyone at all.
"The lesson is not to be complacent about anything to do with flu. Every flu virus must be carrying baggage that could potentially harm us, and we would be well advised not to ignore them."
Many deaths
The 1918 "Spanish" flu pandemic is estimated to have infected up to one billion people - half the world's population at the time.
The virus killed more people than any other single outbreak of disease, surpassing even the Black Death of the Middle Ages.
Although it probably originated in the Far East, it was dubbed "Spanish" flu because the press in Spain - not being involved in World War I - were the first to report extensively on its impact.
The virus caused three waves of disease. The second of these, between September and December 1918, resulting in the heaviest loss of life.
It is thought that the virus may have played a role in ending World War I as soldiers were too sick to fight, and by that stage more men on both sides died of flu than were killed by weapons.
Although most people who were infected with the virus recovered within a week following bed rest, some died within 24 hours of infection.
Ottawa — The Canadian Food Inspection Agency says it has detected what may be another case of mad cow disease, a potentially devastating hit to an already struggling Canadian beef industry.
The disclosure of the suspect case early Thursday came just hours after the United States announced sweeping plans for the reopening of its border in March to nearly all Canadian exports of beef and live cattle.
The border was closed 19 months ago when a cow in northern Alberta tested positive for mad cow disease, or bovine spongiform encephalopathy (BSE).
The CFIA released few details on the new suspect case, except to identify it as a 10-year-old dairy cow.
The preliminary testing results were completed on Wednesday, said the agency, adding that the testing was conducted after the cow was identified as a "downer" — unable to walk.
The finding is not definitive, but the CFIA says multiple screening tests have yielded positive results. No part of the animal entered the human food or animal feed systems, said the agency. [...]
A Russian scientist has warned that a deadly tsunami like the one that devastated south-east Asia over the weekend could strike in places like Ecuador, Peru, and Columbia.
Yevgeny Dolginov, a professor of geological studies at the Russian University for Peoples' Friendship, estimated the risk to areas around the world using a theory based on tectonic plate movements, the Interfax news agency reported.
"I feel it is necessary to warn the embassies of countries located around the equator about the possibilities of massive earthquakes in the near future," Dolginov was quoted as saying.
"According to my theory, there are lineaments that present a danger in terms of seismic activity."
Among other possible danger zones, he named Equatorial New Guinea, Cameroon, Nigeria and Gabon.
A moderate earthquake shook Turkey's capital and caused panic in a nearby town early today. There were no reports of any damage or injuries.
The quake centred on the town Cubuk, just outside Ankara, at 12.22am (9.22pm Irish time yesterday) and had a preliminary magnitude of 4.6, the Istanbul-based Kandilli Observatory said. It was followed by a magnitude 3.4 aftershock.
Anxious Cubuk residents ran into the streets following the quake, but there were no reports of any damage or injuries, the Anatolia news agency said.
Jakarta, Dec 30 : An earthquake measuring 4.8 on the Richter scale shook Indonesia's province of Papua Thursday, but there were no reports of damage and casualties, Xinhua reports.
"The low-scale tremor lasted for about three seconds," a meteorology official was quoted by the official Antara news agency as saying.
The quake occurred at 11:00 a.m. local time (02:00 GMT) but the location of its epicentre could not be detected, he said.
TOKYO (AP) - A moderate earthquake shook northern Japan late Thursday, the quake-prone country's second tremor this week. There were no immediate reports of injuries or damage.
The quake, which hit at 10:29 p.m., had a preliminary magnitude of 5.0 and was centred off the Pacific coast of Miyagi prefecture at a depth of about 80 kilometres beneath the ocean floor, the Meteorological Agency said.
There was no threat of a tsunami, the potentially destructive waves triggered by seismic activity or underwater landslides, the agency said. [...]
BOGOTA, Colombia - An earthquake of 5.3 on the Richter scale jolted Colombia's province of Bolivar about 300 miles northwest of the capital Bogota Thursday morning, the Andean country's National Seismological Network said.
There were no immediate reports of injuries or damage from the quake, which occurred around 10:02 a.m. (1502 GMT) centered on the town of Cordoba.
Tremors from the quake were felt in the coastal resort city of Cartagena, which is filled with holiday vacationers, some 70 miles away.
LOS ANGELES — A slow-rolling series of storms that battered the West this week brought snowfall and high wind Thursday to parts of California, where weather-weary residents have already endured lashing rain, heavy snowfall and a destructive tornado.
Since the wild weather began slogging ashore Monday, five deaths in California and two in Colorado have been blamed on storms. Searchers on Thursday recovered what they believed were the bodies of two missing college students who had vanished after their canoe capsized in a flooded Arizona creek.
Up to a foot of snow fell on Colorado mountains, and northern Nevada was expecting as much as 6 feet on top of the 3-4 feet that already had fallen.
In Arizona, residents of Sedona — a tourist community known for its stunning red rock formations — began cleaning up after a heavy storm bloated a creek from a trickling stream to a rushing river of mud. Residents in an area including three resorts, an RV and mobile home park, and 40 homes had been urged to evacuate after the flooding Wednesday.
California has taken brunt of the Pacific barrage, first in Southern California then in the north.
Heavy rain, wind and blizzard conditions struck Northern California early Thursday, snarling traffic, cutting power to thousands in the San Francisco Bay Area, while temporarily closing major routes across the Sierra Nevada.
Forecasters expect the area to receive several more storms over the next few days that will continue to make travel difficult.
"They've got blizzard conditions up there right now and there's no reason to think anything is going to get any better tonight," California Highway Patrol spokesman Steve Kohler said of the shutdown of Highway 80 in the Sierras.
Inland, a winter storm warning was posted around Lake Tahoe on the Northern California-Nevada line. A combination of heavy snow and wind gusting to 100 mph pummeled the area.
In Southern California, two days of downpours have brought up to 12 inches of rain and scores of highway accidents.
As the storm moved east, three Colorado highways were closed, one from accidents and two by avalanches.
The two storm victims in Colorado died when their pickup truck hit a jackknifed trailer Wednesday night. The victims, Tom Thorne and Beth Williams, were a husband-and-wife team of wildlife veterinarians who were nationally prominent experts on chronic wasting disease and brucellosis.
Elsewhere, freezing rain put an icy layer on roads in the northern Plains early Thursday, sending vehicles into ditches.
"At 7:30 this morning, the entire town was a sheet of ice," said Dennis Walaker, public works director in Fargo, N.D.
REGINA - A blizzard is blowing its way across the southern Prairies, with snow and freezing rain making travel difficult for drivers in Saskatchewan and Manitoba and delaying flights at the Regina airport.
Motorists are reporting zero visibility and heavy snow, and police are advising drivers to stay off the roads.
Driving was so treacherous on southern highways in Manitoba that provincial transportation officials pulled snowplows off the roads.
Provincial officials also closed several major highways late Thursday afternoon.
Most of southern Manitoba had already received five to 10 cm of heavy snow, as well as freezing rain and ice pellets. An additional 10 to 25 cm was expected overnight and early Friday.
Weather conditions prompted the Saskatchewan Highways Department to advise motorists to stay off highways in a number of regions.
It was predicted the eastward-moving storm system would dump as much as much as 20 centimetres of snow on some communities. Freezing rain was also a possibility for some parts.
Wind chill is expected to bring the temperature down to as low as –34 C in Regina and –29 C in Winnipeg.
DUBAI - Snow has fallen over the United Arab Emirates for the first time ever, leaving a white blanket over the mountains of Ras al-Khaimah as the desert country experienced a cold spell and above-average rainfall.
Dubai airport's meteorology department told AFP that snow fell over the Al-Jees mountain range in Ras al-Khaimah, which is the most northerly member of the UAE federation.
The English-language Gulf News reported that the mountain cluster, 5,700 feet (1,737 metres) above sea level, "had heavy night-time snowfall for the past two days as a result of temperatures dropping to as low as minus five Celsius (23 Fahrenheit)" and stunning the emirate's residents.
On Monday, 12.6 millimetres (half an inch) of rain fell on the desert emirate of Dubai, where it hardly ever rains, as police reported 500 accidents on its roads in 24 hours, including one fatality, as a result of a three-day downpour.
A cold spell has hit the country this week, with the mercury plunging to 12 degrees Celsius (53.6 Fahrenheit) in Dubai on Wednesday night.
The meteorology department, however, said the chilly weather in Dubai, where summer temperatures reach 50 Celcius (122 Fahrenheit), will probably end by next week.
Wednesday, 29 December, 2004, 01:40 GMT
By Molly Bentley
There is now an active programme of permafrost monitoring
In parts of Fairbanks, Alaska, houses and buildings lean at odd angles.
Some slump as if sliding downhill. Windows and doors inch closer and closer to the ground.
It is an architectural landscape that is becoming more familiar as the world's ice-rich permafrost gives way to thaw.
Water replaces ice and the ground subsides, taking the structures on top along with it.
Alaska is not the only region in a slump. The permafrost melt is accelerating throughout the world's cold regions, scientists reported at the recent Fall Meeting of the American Geophysical Union (AGU) in San Francisco.
In addition to northern Alaska, the permafrost zone includes most other Arctic land, such as northern Canada and much of Siberia, as well as the higher reaches of mountainous regions such as the Alps and Tibet. All report permafrost thaw. [...]
Sink to source
In steep mountainous regions, permafrost thaw can lead to slope failure and rock falls.
In these areas, the permafrost ice is in hard rock. Where rocks are jointed, the ice serves as a kind of cement holding them together.
When it melts, the rock loses its strength and falls. A dramatic example of this occurred during the European heatwave of 2003 when a huge block of the Matterhorn broke off suddenly, leaving Alpine climbers stranded.
Moscow, Dec 29 - Iran and Russia are to finalize an agreement for the construction of the Zohreh satellite for Iran.
In a meeting between Iranian Ambassador to Moscow Gholam Reza Shafei and Russian Federal Space Agency (Rosaviakosmos) Chief General Anatoly Perminov, the two sides agreed to carry out joint space projects, including construction of satellites and exchange of experience.
The two sides also reached an agreement on bilateral cooperation in the scientific study of UFOs (Unidentified Flying Objects).
Shafei and Perminov stressed expansion of bilateral cooperation particularly in space research and construction of satellites.
Officials of the Russian Federal Space Agency and Iran held discussions in Tehran last month on implementation of the Iranian Zohreh satellite project.
THE genteel east coast resort of Filey has been named as the unlikely UFO hot spot of the British Isles.
The claim is made by an independent research group called the British UFO Hunters .
They say more sightings of mysterious objects are made there than anywhere else in Britain - with Selby and Fife as distant runners-up.
The UFO Hunters base their findings on evidence from Filey Ufologist Russell Kellett who founded the International UFO Network eight years ago.
"Yes, this is the UFO capital," he said, "and it has taken over from Bonnybridge, near Falkirk in Scotland.
"So far we have 48 recorded sightings in Filey this year. The next nearest is Selby with 20.
"People are coming here from places like Newcastle, Leeds and Hull because they have heard about its reputation.
"Some people think that because researchers like me are active in these towns, we attract these mysterious objects in the sky. We are like conduits for them."
Mr Kellett said the most spectacular sighting in Filey this year was late at night in June when a couple walking their dog saw a flying triangle soar out of the sea and up into the sky.
He said: "I have also been in touch with a young woman living on the outskirts of the town who says she met a tall alien in her home. She has no memory of how he left."
The UFO Hunters claim that the North Sea is an experimental area for top-secret US aircraft.
But Mr Kellett dismisses the idea that UFO sightings near the coast are of man-made craft.
"They would not come so close to the town," he said. "The US Government does not like people to see its new technology."
Mr Kellett has a large library of UFO video footage, some of which will be included in a documentary being made for the Cannes Film Festival.
He and his fellow researcher, Jody Holden, of Selby will be featured on the Bravo TV channel next month in Video Vigilantes, a programme about their work.
Russia and Iran have agreed to a joint program studying the UFO phenomenon after a series of sightings of unidentified flying objects.
The two nations are stressing "expansion of bilateral cooperation particularly in space research and construction of satellites," the Islamic Republic News Agency reports.
This comes in the wake of a skywatching mania that struck Iran amid state-media reports of sightings of flying objects near Iran's nuclear installations.
The Resalat news agency reported "shining objects" in the sky near Natanz, where Iran's uranium-enrichment plant is situated. One of those objects is said to have exploded, prompting "panic in the region".
Tehran's air force was ordered to shoot down any unknown or suspicious flying objects in its airspace, amid security concerns for its nuclear plants.
"Flights of unknown objects in the country's airspace have increased in recent weeks... [they] have been seen over Bushehr and Isfahan provinces," the Resalat daily reported. Nuclear facilities are located in both provinces.
The WorldNetDaily has reported UFO sightings in Iran in the past.
Readers who wish to know more about who we are and what we do may visit our portal site Cassiopaea.org
---
Remember, we need your help to collect information on what is going on in your part of the world!
We also need help to keep the Signs of the Times online.
---
Send your comments and article suggestions to us

---
Fair Use Policy
Contact Webmaster at signs-of-the-times.org
Cassiopaean materials Copyright ©1994-2014 Arkadiusz Jadczyk and Laura Knight-Jadczyk. All rights reserved. "Cassiopaea, Cassiopaean, Cassiopaeans," is a registered trademark of Arkadiusz Jadczyk and Laura Knight-Jadczyk.
Letters addressed to Cassiopaea, Quantum Future School, Ark or Laura, become the property of Arkadiusz Jadczyk and Laura Knight-Jadczyk
Republication and re-dissemination of our copyrighted material in any manner is expressly prohibited without prior written consent.
.