Printer Friendly Version
New! The Global Game of Survivor: America's Next Four Years
Pentagon Strike Flash Presentation by a QFS member
New Publication! The Wave finally in book form!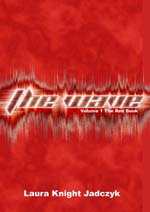 The Wave: 4 Volume Set
Volume 1
by Laura Knight-Jadczyk
With a new introduction by the author and never before published, UNEDITED sessions and extensive previously unpublished details, at long last, Laura Knight-Jadczyk's vastly popular series The Wave is available as a Deluxe four book set. Each of the four volumes include all of the original illustrations and many NEW illustrations with each copy comprising approximately 300 pages.
The Wave is an exquisitely written first-person account of Laura's initiation at the hands of the Cassiopaeans and demonstrates the unique nature of the Cassiopaean Experiment.
Pre-order Volume 1 now. Available at the end of November!
---

Picture of the Day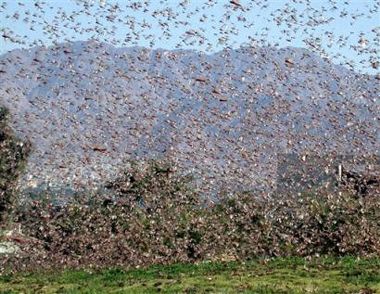 Locusts invade Israel
GAZA -- The Palestine Liberation Organization (PLO) political bureau head Farouq Qadoumi said the late Palestinian leader Yasser Arafat died of poisoning, the official Palestinian daily al Hayat al Jadeeda said Sunday.
Qadoumi made the remarks when he arrived in Syria Saturday evening on a short visit for talks with Syrian officials, said the paper.
"I realized this when I visited him and there are results that we have not received yet," he told reporters upon arrival.
He, meanwhile, affirmed that the Palestinian leadership was a collective one and no one would monopolize it and "we will not allow this."
Qadoumi said his visit was aimed at enhancing coordination and cooperation with Syria and Lebanon.
How to promote negotiations to establish a comprehensive and permanent peace based on the Arab Peace Initiative, ratified at the Beirut Summit in 2002, would also top his visit agenda, the official added.
JERUSALEM - Millions of locusts swarmed through Israel's Red Sea resort town of Eilat on Sunday, devouring crops and flowers in the country's south.
Israeli agriculture officials sent crop dusters into the air to spray against the locusts that swept in from North Africa in the first such invasion since 1959. Eilat residents reported clouds of locusts eating palm trees bare and wiping out entire gardens.
"You watch as trees that are covered with flowers are devoured. They ate everything, even a grassy roundabout which is covered with locusts," said Meir, an Eilat resident.
Curious residents swatted locusts as long as 10 cm (3.9 inches) which filled the air as they walked outside to inspect the damage. "It's like the plagues of Egypt," said one resident.
In the Bible, locusts were the eighth of 10 plagues that God inflicted on the ancient Egyptians before Pharaoh, their leader, let the Israelites go. [...]
The effective sacking of Colin Powell as US Secretary of State came after he told President George Bush he wanted greater power to confront Israel over the stalled Middle East peace process.
Although Mr Powell's departure was announced on November 15, his letter of resignation was dated November 11, the day he had a meeting with Mr Bush.
According to White House officials, at the meeting Mr Powell was not asked to stay on.
"The clincher came over the Mid-East peace process," said a recently-retired State Department official. "Powell thought he could use the credit he had banked as the President's 'good cop' in foreign policy to rein in Ariel Sharon and get the peace process going. He was wrong."
The Vice-President, Dick Cheney, and his fellow hardliner John Bolton, an under-secretary of state to Mr Powell, are believed to have urged Mr Bush to replace him.
Mr Powell's final pitch to remain in office for at least another year was made during the Washington visit of Britain's Prime Minister, Tony Blair, 10 days ago. Earlier indications had been that he intended to step down after enduring four years of clashes with the office of Mr Cheney and the Pentagon under Donald Rumsfeld.
Friends of Mr Powell later briefed journalists that he had changed his mind because he saw the chance of progress on the peace process and wanted to see through the Iraqi elections.
Mr Powell heads to Israel and the Palestinian territories today to promote a smooth transition of power after the death of the Palestinian leader Yasser Arafat.
He visited Israel and the Palestinian territories most recently in May 2003.
Mr Powell said:
"I think the Palestinians have shown a rather mature approach to the situation they find themselves in, in the immediate post-Arafat period." [...]
SANTIAGO, Chile - President Bush stepped into the middle of a confrontation and pulled his lead Secret Service agent away from Chilean security officials who barred his bodyguards from entering an elegant dinner for 21 world leaders Saturday night.
Several Chilean and American agents got into a pushing and shoving match outside the cultural center where the dinner was held. The incident happened after Bush and his wife, Laura, had just posed for pictures on a red carpet with the host of the Asia-Pacific Economic Cooperation summit, Chilean President Ricardo Lagos and his wife, Luisa Duran.
As Bush stepped inside, Chilean agents closed ranks at the door, blocking the president's agents from following. Stopping for more pictures, Bush noticed the fracas and turned back. He reached through the dispute and pulled his agent from the scrum and into the building.
The president, looking irritated, straightened his shirt cuffs as he went into the dinner. The incident was shown on APEC television.
"Chilean security tried to stop the president's Secret Service from accompanying him," said White House deputy press secretary Claire Buchan. "He told them they were with him and the issue was resolved."
Hours after President Bush dove into a fracas to rescue his lead Secret Service agent from a confrontation with Chilean security officials, word surfaced of another security dispute. This time, an elaborate state dinner Sunday night was the casualty.
The dinner planned for Bush and 200 others by Chilean President Ricardo Lagos was reportedly scrapped after Chile was unwilling to accept security measures sought by the U.S. Secret Service, including a demand that all guests pass through metal detectors.
Leading Chilean newspaper El Mercurio reported that the disagreement led Bush and Lagos to instead hold a small "social dinner" with a handful of aides from each side.
On Saturday night, Chilean security barred Bush's bodyguards from accompanying the president into a dinner for Asia-Pacific leaders. As a pushing and shoving match ensued, Bush strode over to the melee, reached into the group and pulled mustachioed agent Nick Trotta out by the lapel and into the dinner.
Trotta has been taking good-natured ribbing for having to be rescued by the man he's charged with protecting.
The melee and Bush's intervention, caught on tape by the official television camera of the Asia-Pacific Economic cooperation summit, was replayed incessantly on American stations. "Bush the Brave," said a Fox News Channel crawler promoting the upcoming footage.
Though clearly pleased at the macho image Saturday night's events painted of their boss, the White House kept its comments understated. "The president is someone who tends to delegate, but every now and then he's a hands on kind of guy," Bush press secretary Scott McClellan said.
As for the dispute over Sunday's dinner, the White House remained mostly mum, merely confirming the event had been downgraded.
White House spokesman Scott McClellan refused to discuss the matter further, referring reporters to the Chilean government.
SANTIAGO - US President George W. Bush told Russian President Vladimir Putin in person for the first time that he worried about "overcentralization of power" in the Kremlin, said a senior US official.
"The president raised this, noted the concerns that we've had about checks and balances, about the centralization of power inside Russia, and asked Putin to give his own explanation of what was going on and why these steps were being taken inside Russia," the official told reporters on condition of anonymity.
The official, speaking after the leaders met on the sidelines of the Asia-Pacific Economic Cooperation (APEC) summit here, said Putin "went back deep into Russian history, the Stalinist period" in his response.
He said that he was trying "to develop a democratic style of government that was consistent with Russian history and the unique problems that Russia faced as a multiethnic society on a large land mass," the US official said.
Putin has drawn fire from Western governments and rights groups for what they say are increasingly authoritarian measures, including scrapping direct elections for regional governors and deputies to the lower house of parliament.
Under Putin's system, which is nearly identical to the one practiced in the Soviet era, Russians will directly choose only their president and local officials.
"There was a lot of back-and-forth, the president asking questions, underscoring his concerns and wanting to know exactly how this would move forward to, or help develop a democratic Russia," the US official said.
Bush reiterated "his concern about checks and balances within the Russian system and the overcentralization of power," the US official said.
"We've laid the basis for further discussions of this as we move forward. And, as I said, I think it was a very open and frank discussion of the nature of the issues facing the Russian state," the official said.
A senior Russian official had a slightly different view, saying that Putin, not Bush, had raised the issue "at his own initiative," telling the US president about the steps he had taken. [...]
And Putin was among a handful of world leaders who openly expressed the hope that Bush would win a second four-year term in the November 2 elections pitting him against Democratic Senator John Kerry, who was openly critical of Russia.
In their first debate, Bush and Kerry had each said relations with Moscow were important, but the Democrat had much more forceful criticisms of Putin's style of governing.
"Mr. Putin now controls all the television stations. His political opposition is being put in jail," he said. "This is a very important country to us. We want a partnership, but we always have to stand up for democracy."
How better to commit the perfect crime than to insist it never happened?
Bush & company's theft of the election was a crime so obvious that it requires more effort to deny than to affirm. This rip-off was as flagrant as the L.A. cops' assault on Rodney King, Kerry's stellar soldiering in Vietnam, or Bush's lousy record in the Texas Air National Guard, and yet this national calamity is being dismissed as a delusion.
The reason for the Busheviks' denial is as obvious as the theft itself: How better to commit the perfect crime than to insist it never happened?
And yet what makes this stance so dangerous is not just its use on the right, but its prevalence throughout the corporate media (MSNBC's Keith Olbermann excepted) and even among those on the left. To charge that the Republicans did not legitimately rout the Democrats provokes the counter-charge that such claims "hurt the cause" by floating angry fantasy instead of scientific fact.
Rather than urge cautiousness, such automatic counter-claims quash all discussion of electoral fraud, as if the very notion were far-fetched. "This charge was false, so all charges must be wrong," is the response that Karl Rove wants from us, as we will then conclude, conveniently for him, "Case closed!"
A niggling over-focus on particulars is just the attitude that propagandists seek to cultivate because it helps them cloud the issue. Thus were a few trivial aspects of John Kerry's military record used to call that entire record into question. And thus did Rove succeed in driving journalists away from Bush's scandalous Guard service by distracting them with the canard that those incriminating documents revealed by CBS were fakes—or rather, that one of them might not have been authentic.
To let ourselves believe that the "election" was legitimate because this claim or that has been disproved(apparently) is to not honor reason. On the contrary, a veritable sea of evidence, statistical as well as anecdotal and circumstantial, supports the claim that Bush, again, was not elected by the people.
To nod agreement that this was indeed an honest win is to forget how Bush was shoehorned into office in the first place; to ignore the ease with which electronic totals can be changed without a trace; to suppress the fact that Diebold, Sequoia and ES&S—the major manufacturers of touch screen voting machines and central tabulators—are owned and run by Bush Republicans, who have made no secret of their partisan intentions; to deny the value of the exit polls, which turn out to have been "mistaken" only in the swing states; to downplay the weird inflation of the Bush vote in county after county, where the number of votes for president was somehow higher than the number of voters who turned out; to ignore the bald chicanery of the Bush supporters who ran the central polling station in Ohio's Warren County and forced out the press and poll monitors so they could count the vote in secret; to forget the numerous accounts of vote fraud coast to coast throughout the prior weeks of early voting; to overlook the fact that every single "glitch" or "error" that has been reported favors Bush; to ignore the countless instances of ballots—absentee, provisional—thrown away or left uncounted; to forget that the civilian vote abroad (some four million Americans) was being mishandled by the Pentagon (which had somehow become responsible for doing the State Department's job); and to ignore the many dirty tricks reported—the polling places quickly relocated at the last minute, the fake voter-registration drives, the thousands of Americans who found themselves not on the rolls, the police road-blocks, the bullying pro-Bush poll workers, the machines that kept translating votes for Kerry into votes for Bush. And so on.
To forget or ignore all this and to accept—on faith—the mere say-so of Bush & Company (and our compliant media) is to make clear that you are not a member of what the Busheviks deride as "the reality-based community." Those who help discredit false reports are doing that community, and this erstwhile democracy, a precious service. But, those who would abort the whole inquiry in the name of science or journalistic probity and "closure" are putting that community, and this nation, at grave risk.
Condoleezza Rice may be the apple of U.S. President George W. Bush's eye, but in Europe her nomination as Secretary of State is being met with disappointment and dismay.
The long-anticipated resignations of the respected state secretary, Colin Powell, and his tough, able deputy, Richard Armitage, leave U.S. foreign policy in the hands of bellicose VP Dick Cheney and his neocon Pentagon allies. The new National Security Adviser, Stephen Hadley, is a bland functionary well known for being under Cheney's thumb.
Powell, an honourable soldier and gentleman, was humiliated, ignored, and cynically used to sell the Iraq war. He made a fool of himself before the world with his UN presentation about Iraq's supposed arsenal of death. In my view, Rice, an academic Soviet expert, has been the worst national security adviser since the Reagan administration's bumbling William Clark, whose only foreign affairs experience, wags said, came from eating at the International House of Pancakes.
But Rice is totally loyal to Bush, a consummate yes-woman in an administration prizing subservience and the party line. At least she will speak abroad with full presidential authority.
Prior to 9/11, Rice advocated cutting anti-terrorism spending and concentrating on anti-missile defence. She played a key role in misleading Americans into believing Iraq had weapons of mass destruction and Saddam posed a dire threat. She urged Bush to invade Iraq and plunge deeper into Afghanistan. Her ludicrous claims about Iraqi "mushroom clouds" panicked many Americans. For this alone she should have been dismissed.
The most important function of national security adviser -- and I can say this having myself been interviewed at the White House for a position on the National Security Council -- is to co-ordinate all national security policy. But under Rice, defence, state and CIA were at each other's throats. She allowed the president to humiliate himself over Iraq's non-existent weapons, Saddam's uranium and "drones of death."
After the European powers refused to join the trumped-up Iraq war, Rice famously advised Bush to "punish France, ignore Germany, and forgive Russia." Bush followed this amateurish, vindictive misadvice, seriously damaging U.S.-Europe relations and helping advance dictatorship in Russia.
Bush's second-term foreign policy may grow even more aggressive, unilateralist, and driven by right-wing ideology and religious zealotry.
Fortunately, Bush's declared intention to pursue his ideological crusading will be curtailed by the fact that he has run out of more soldiers and money for new military adventures.
Educated Americans must yearn for foreign policy greats George Marshall, Dean Acheson, Paul Nitze, George Kennan, and Zib Brzesinski whose brilliant strategic minds ably guided the U.S. through the Cold War.
Instead, we have Rice, who, whatever she may know about outside world, knows a lot about Bush, with whom she reportedly likes to belt out gospel hymns. And at the Pentagon, that latter-day Robert McNamara, Don Rumsfeld, is stuck in a lost war in Iraq engineered by the neocons.
CIA's new chief, Porter Goss, another Bush yes-man, whose agency is in revolt, just issued a ukase to all CIA officers ordering them to obey Bush's party line or else. Such boot-licking is how the Bush administration got so much wrong about Iraq.
Attorney General John Aschroft blessedly took his leave. But further dashing hopes Bush would soften and upgrade his cabinet, Ashcroft is to be replaced by an unknown lawyer, Alberto Gonzales, whose main claim to fame is authoring a memo to the president saying the "quaint" Geneva Conventions governing treatment and torture of prisoners did not apply to al-Qaida or the war in Afghanistan -- an act that hardly merits elevation to high office.
The image of Condi Rice and George Bush sitting at the White House piano singing Onward Christian Soldiers is unsettling Europe, which thought Bush II might restore America to its traditional multilateral foreign policy. Even Bush's faithful British retainer, Tony Blair, is looking increasingly unhappy.
BAGHDAD, Iraq - When a hail of bullets hit the car in which Jinan Adnan and her family were riding, she followed her maternal instincts and paid with her life.
Adnan, 37, used her body to shield her three children in the back seat. Her husband and the children survived. She was mortally wounded.
Because American soldiers had been in a firefight nearby around the time, it remains unclear if a U.S. bullet killed her, though her husband, Aref Taha, says he saw four American soldiers firing in the car's direction.
"That's what Americans do, isn't that so?" Taha said. "They do this all the time in Iraq."
Taha said he did not lodge a complaint with the U.S. military, which had no comment on the alleged incident. It is not clear why American soldiers would fire at a car carrying a family, although similar incidents have taken place when cars failed to stop at checkpoints. The four American soldiers moments earlier had checked the family's car for weapons, Taha said.
But even if it can't be proved that an American bullet killed Adnan, it's the kind of heartbreaking incident that Iraqis routinely blame on U.S. soldiers.
Accounts of events such as the Nov. 9 shooting of the Taha family have spread through mosques, coffee shops and markets of this crisis-ridden nation, fueling anger and stoking the insurgency. The credibility Iraqis give to such accounts stems in part from the humiliation felt by many because of the U.S. military presence in Iraq despite the formal end to the occupation on June 28.
Many of the stories amount to little more than hearsay or are grossly exaggerated. But some are credible, and they have contributed to an image of American troops as trigger-happy, fond of excessive force and acting with little regard for Iraqi lives.
The recent video of a U.S. Marine shooting a wounded and apparently unarmed Iraqi in a Fallujah mosque, aired frequently by Arab satellite television stations, has only served to reinforce the negative stereotype.
"They are criminals," Zaid, Adnan's 15-year-old son, said of the Americans on Friday. His father said he cannot find words to describe his rage at the loss of his wife of 16 years. Making matters worse, U.S. troops surrounded the cemetery in Mahmoudiya, an insurgent-heavy area south of Baghdad, while his wife was being buried on Nov. 10.
Anmar Faleh, who attended the funeral, said the Americans told the 1,000 mourners that they surrounded the cemetery because they believed insurgents killed in a gunfight the previous day were being buried.
The U.S. military has investigated virtually every case of unlawful killing or gross abuse by its soldiers in Iraq. Some of these investigations have led to trials and convictions. But Iraqis remain bitter.
Killings are not the only cause of discontent. Other acts that provoke rage include raids of private homes, the detention of women and the perceived humiliation of men in front of women and children. The recent U.S. military campaign to retake the Sunni city of Fallujah has given rise to an entirely new set of dangerous accusations.
Residents who fled Fallujah this week speak of U.S. soldiers defacing mosques, destroying minarets to deny insurgents their use as firing positions and causing widespread devastation.
U.S. military commanders say their men operate under difficult circumstances in a country where they don't speak the language, don't share the Islamic faith of most of its people and face the constant threat of attack.
Individual American soldiers complain that the rules governing when they can shoot are too restrictive and almost guarantee the insurgents the first shot. [...]
AFP
Monday, November 22, 2004. 9:11am (AEDT)

The US military says marines in Fallujah have shot and killed an insurgent who engaged them as he was faking being dead, a week after footage of a marine killing an apparently unarmed and wounded Iraqi caused a stir in the region.
"Marines from the 1st Marine Division shot and killed an insurgent who while faking dead opened fire on the marines who were conducting a security and clearing patrol through the streets," a military statement said.
The point-blank shooting on November 13 of a wounded Iraqi was caught on tape and beamed around the world.
It raised questions about the degree of military restraint and fanned Arab resentment.
The marine was withdrawn from combat and an investigation launched.
Military sources had said that the rules of engagement were looser during the operation launched in Fallujah, for fear that rebels would be disguised, fake death or wear suicide explosives belts.
The US military and Iraqi government troops are still carrying house-to-house searches in the rebel bastion but two weeks after it was launched, the largest post-Saddam military operation in Iraq is all but over.
According to US military figures, more than 1,200 insurgents have been killed in the intense fighting, as well as 51 US troops and eight Iraqi personnel.
NEAR FALLUJAH, Iraq - The US military said it has discovered close to 20 torture sites in the course of its massive military operation against the insurgency in the Iraqi city of Fallujah.
The US military also said that it had no immediate plans to scale back its deployment in Fallujah and added that a small delegation had arrived to start planning the reconstruction of the battered city.
"They had a sick, depraved culture of violence in that city," Lieutenant Colonel Daniel Wilson, from the 1st Marine Expeditionary Force, told reporters at a briefing near the rebel city.
"It looks like we found a number of houses," where torture took place, said intelligence officer Major Jim West. The US officers said the number of torture sites was "close to 20".
On November 8, US troops backed by Iraqi government forces launched the largest post-Saddam military operation in Iraq in a bid to reclaim lawless enclaves across the country ahead of the January elections.
The marines believe they found some of the houses where foreign hostages were held.
Among them were the homes where British engineer Kenneth Bigley and his two US colleagues, Jack Hensley and Eugene "Jack" Armstrong, were executed after being kidnapped in mid-September.
West said the marines had found a house thought to belong to associates of Iraq's most wanted man, Al-Qaeda frontman Abu Musab al-Zarqawi.
However, US intelligence indicates that Zarqawi himself did not live in Fallujah -- a city of 300,000 west of Baghdad that had become a no-go zone and one of the main obstacles to the January polls -- although he had visited several times.
Activities at the nearly 20 "atrocity sites" included "murder and torture", West said, as he showed slides of bloodstained walls and floors.
"These thugs depended on fear and intimidation," West said, adding "hostages have been found chained to walls in some incidents." [...]
According to official figures, the Iraq war has so far seen 9,000 US soldiers wounded in action, in addition to the more than 1,200 troops killed. These wounded, whose numbers may well be underestimated, include those with gunshot and shrapnel wounds, lost limbs and other injuries caused by landmines and bombs. Less well known, however, is the terrible toll enacted through brain and psychological injuries, which frequently have devastating and permanent effects.
The war has seen unusually high rates of traumatic brain injury (TBI). This head injury causes life-long damage in many cases. Symptoms include memory loss, difficulty with attention and reasoning, headaches, confusion, anxiety, irritability and depression.
TBI rates in previous wars have been estimated at about 20 percent. In July, a San Francisco Chronicle survey of troops being processed through Walter Reed Army Medical Hospital in Washington DC indicated that as many as two-thirds of all soldiers wounded in Iraq suffer from the condition.
The increase in brain injury cases is largely due to the advanced body armor and helmets now used by US forces. As the death rate of wounded troops has declined compared to previous conflicts, the rate of TBI has shot up. The nature of the Iraq war has also increased the number of brain injuries. Rocket propelled grenades, mortars, and other explosive devices cause concussive shock blasts damaging to the brain.
Traumatic brain injury often goes undetected until the affected soldier returns home and his or her family notices that something is wrong. The San Francisco Chronicle reported on the case of Sgt. 1st Class Alec Giess, of the Oregon National Guard, whose truck rolled over him as it crashed while avoiding a suspected land mine:
"Geiss' wife, Shana, noticed after his return that the easygoing, relaxed dad who went to Iraq had become a quick-tempered man who couldn't remember the family's daily schedule, jumped up screaming when the family cat landed on his bed and couldn't tolerate crowds. The world inside his head, Giess said, was even stranger: he felt bewildered, with no sense of time other than 'daytime' and 'nighttime.' He also felt cut off from his emotions. 'When my kids come and hug me, I don't feel a thing,' he said." [...]
Memo To: Editors and reporters
From: Jude Wanniski
Re: Please get off your behinds
Now that most of you have apologized for sitting on your duffs while the neo-cons planned and executed the totally unnecessary war against a toothless regime in Baghdad, I suggest you get off your duffs in regard to the neo-con plot to war against Iran. I've been posting memos here for months pointing out that Iran has not done anything to warrant the propaganda directed at it from the Perle Cabal, i.e., Richard Perle's network that is laced through both political parties, Congress and the White House. Iran is in full compliance with the Nuclear Non-Proliferation Treaty (NPT) and has a hundred times publicly pledged to permit the International Atomic Energy Agency (IAEA) to inspect any gol-durned site inside its borders if someone has reason to believe it has a secret nuclear program underway. Iranian exile groups pop up from time to time with press conferences about some diabolical site they have discovered, but Iran ALWAYS allows the inspectors to go in, and they find nothing.
Now I know it is impossible to get the Wall Street Journal editorial page to take a good look at the dopey charges being leveled against Tehran. It has been intellectually corrupted by the Perle Cabal and robotically publishes anything the Cabal asks it to. Today it runs a long op-ed by Henry Sikolski, a Perle stooge, who warns that Iran is not only deceiving all of us, but that it could soon be weeks or months away from having a nuke to rain down upon its adversaries in the region, i.e., Israel. Can this be possible? Not on your life. Not on your life.
But for goodness sakes, the New York Times has been pulled into the same orbit, a recent editorial wringing its hands over Iran and the possibility that it could have a nuke to threaten the region, i.e. Israel. The Times editors are well-meaning, but they do not seem to check anything out with independent sources. Here is what I wrote the Times editors after reading their editorial:
My longtime friend Gordon Prather, a nuclear physicist who actually designed nukes (when we were still designing new nukes) tells me your editorial today is factually incorrect in a very basic way and that you would do well not to accept the material being presented to reporters by the Boltons and Sikolskis of the world.

That is, the edit says: "The centrifuges at [Natanz] can just as easily be used to make bomb-grade enriched uranium as to prepare lower-grade fuel for reactors. Any country that builds and operates such a plant has taken the most crucial step down the road toward building nuclear weapons."

Dr. Prather says your editorial writer seems to think it would be easy to make a nuke once you have a uranium enrichment plant. He points out that Iran could not take the first step unless it first completed the plant at Bushehr and ran it for a year, then announced its withdrawal from the NPT, which requires six months lead time, and then spends several YEARS taking the fuel out of Bushehr, allowing it to cool down for a few years so it could be handled, then reprocessed, and eventually turned into one nuke device.... probably not one small enough to be able to be carried by a missile.

His recommendation is that you send your editorial writer to one of the URENCO plants in Europe, where he/she can ask the people who run their uranium enrichment plants what it would take for Iran to go from A to Z with what they have now. Prather believes the protocols Iran would sign in order to proceed with a low-enrichment plant would make it absolutely impossible for them to take steps two or three or eight hundred, etc., to make a nuke, without being detected.

Because Iran has the right to enrich uranium under the supervision of the IAEA in order to have a complete nuclear fuel cycle you are really asking the Iranian government to give up that right if it wishes to produce nuclear power.
Please editors and reporters, I hate to challenge your collective intelligence, but I must do so. In 2002-2003, the whole world demanded through the United Nations Security Council that Saddam Hussein open up his whole country to prove to us that he had no weapons of mass destruction. And HE DID SO!!!! He invited inspectors from the U.N., from the IAEA, and from the US Congress, and from the CIA to come to Iraq and look into every nook and cranny. We did, found nothing, and still invaded. Now, dear editors and reporters, please take note that the neo-cons have been insisting Iran has all kinds of WMD programs underway and Tehran says it does not... and says we can send inspectors into any nook and cranny of Iran to check that out.
Doesn't it ever occur to you, dear journalists of the Fourth Estate, that you are not doing the MINIMUM to prevent a second or a third unnecessary war? Huh?
SEOUL, South Korea - Impoverished North Korea might resort to selling weapons-grade plutonium to terrorists for much-needed cash, and that would be "disastrous for the world," the top U.S. military commander in South Korea said Friday.
Gen. Leon J. LaPorte said the communist state may have harvested plutonium from 8,000 spent nuclear rods, which experts say could yield enough material for several atomic bombs.
The North's intent was a mystery, but "from the military standpoint, they do have a capability that we must address," LaPorte said during a breakfast meeting of retired South Korean air force officers.
In early 2003, North Korea withdrew from the Nuclear Nonproliferation Treaty. It has since said it completed reprocessing its spent fuel rods. In September, a North Korean diplomat claimed that the country "weaponized" the nuclear fuel.
"And there is concern that North Korea, in its desire for hard currency, would sell weapons-grade plutonium to some terrorist organizations," LaPorte said. "That would be disastrous for the world."
LaPorte's comments come as nuclear talks with North Korea have broken down.
U.S. officials have already designated the isolated and impoverished North as a key proliferator of missiles, missile technology and other military hardware. And North Korea has recently threatened to strengthen its "nuclear deterrent" to counter what it calls a U.S. plot to launch a nuclear war against it. [...]
Some things, like the DeLay Rule, are outrageous but not that surprising.
But what I'm about to describe is outrageous and almost literally unbelievable.
As you've probably heard, the congress is pushing through a big omnibus spending bill this weekend. And at the last minute, Republican leaders tried to slip in a provision that would give certain committee chairman and their staffers unlimited access to any American's tax return, with none of the standard privacy protections applying.
You heard that right.
They could pull anyone's tax return, read it over and do whatever they wanted with the information. Those who would have this power would be the chairs and ranking members of the senate and house appropriations committees and subcommittees and "their designees."
The key is that the privacy rights provisions, and criminal and civil penalties that go with them, don't apply for the appropriations committees.
At the last minute, Senate Democrats caught the language (keep in mind these omnibus bills can be like phone books), protested and the Republicans beat a hasty retreat. Some of it is discussed in this AP article at MSNBC, though they lamely call it a "tax-disclosure gaffe."
The Republicans are acting like it was all an innocent mistake. And it seems clear that there are Republican senators who didn't know anytihng about it and are pissed. But clearly this was no accident, unless provisions have started to write themselves. [...]
When Ed Schwebel was whittling down his mound of credit card debt at an interest rate of 9.2 percent, the MBNA Corporation had a happy and profitable customer. But this summer, when MBNA suddenly doubled the rate on his account, Mr. Schwebel joined the growing ranks of irate cardholders stunned by lenders' harsh tactics. [...]
Mr. Schwebel had stumbled into the new era of consumer credit, in which thousands of Americans are paying millions of dollars each month in fees that they did not expect and that strike them as unreasonable. Invoking clauses tucked into the fine print of their contract agreements, lenders are doubling or tripling interest rates with little warning or explanation.
This year, credit card companies are changing the terms of their accounts at a historically high rate, said Michael Heller, an industry consultant. [...]
ROSEAU, Dominica (AP) - A strong, early morning earthquake shook the Caribbean islands of Dominica and Guadeloupe on Sunday, causing some damage to buildings. There were no immediate reports of injuries.
The tremor had a preliminary magnitude of 6.0, said John Minsch, a seismologist at the U.S. National Earthquake Information Service. It's epicentre was about 45 kilometres north-northwest of Dominica.
The facade of a Roman Catholic Church collapsed in Portsmouth, 40 kilometres north of the capital, Roseau, said Ian Douglas, a parliamentary representative from the area.
There was nobody in the church at the time. Sunday services had previously been cancelled because Catholics in Dominica were celebrating a special feast in the southern part of the country.
Portsmouth's hospital also suffered damage and patients were evacuated to a nearby building, Douglas told state-run Dominica Broadcasting Corp.
The radio station also reported that there was some damage in neighbouring Guadeloupe.
EL CAMPO, Texas -- Hundreds of people were forced to flee their homes in boats and large trucks after 15 inches of rain fell on this south Texas town Sunday.
The rain, which fell at a rate of up to 2 1/2 inches an hour in Wharton County before tapering off Sunday afternoon, also prompted officials to close a stretch of U.S. 59 after a creek overflowed its banks. No injuries had been reported by Sunday afternoon.
"I haven't seen this much rain in a long time," El Campo Mayor Randy Collins said. "There are still some areas of town you are not able to access by car. The south part of town is the worst hit."
Between 50 and 100 homes were flooded in El Campo, causing about 250 people to be evacuated, Collins said. Two shelters were filled by Sunday afternoon.
Parts of the surrounding counties of Colorado and Jackson got 10 to 12 inches of rain. A flood watch remained in effect through early Monday morning for a 23-county area around Houston. [...]
Readers who wish to know more about who we are and what we do may visit our portal site Cassiopaea.org
---
Remember, we need your help to collect information on what is going on in your part of the world!
We also need help to keep the Signs of the Times online.
---
Send your comments and article suggestions to us

---
Fair Use Policy
Contact Webmaster at signs-of-the-times.org
Cassiopaean materials Copyright ©1994-2014 Arkadiusz Jadczyk and Laura Knight-Jadczyk. All rights reserved. "Cassiopaea, Cassiopaean, Cassiopaeans," is a registered trademark of Arkadiusz Jadczyk and Laura Knight-Jadczyk.
Letters addressed to Cassiopaea, Quantum Future School, Ark or Laura, become the property of Arkadiusz Jadczyk and Laura Knight-Jadczyk
Republication and re-dissemination of our copyrighted material in any manner is expressly prohibited without prior written consent.