Printer Friendly Version
New! The Global Game of Survivor: America's Next Four Years
Pentagon Strike Flash Presentation by a QFS member
New Publication! The Wave finally in book form!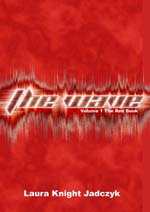 The Wave: 4 Volume Set
Volume 1
by Laura Knight-Jadczyk
With a new introduction by the author and never before published, UNEDITED sessions and extensive previously unpublished details, at long last, Laura Knight-Jadczyk's vastly popular series The Wave is available as a Deluxe four book set. Each of the four volumes include all of the original illustrations and many NEW illustrations with each copy comprising approximately 300 pages.
The Wave is an exquisitely written first-person account of Laura's initiation at the hands of the Cassiopaeans and demonstrates the unique nature of the Cassiopaean Experiment.
Pre-order Volume 1 now. Available at the end of November!
---
Picture of the Day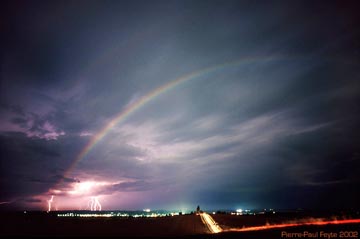 Nocturnal Rainbow
©2004 Pierre-Paul Feyte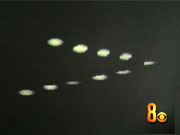 (Nov. 18) -- Eyewitnesses all over the country are reporting glimpses of something large, dark and mysterious in the skies above big cities and busy highways. The crafts are often described as triangular in shape, silent in their movements, and of unknown origin, and they've been seen here in southern Nevada. It looks like these mystery craft might be a secret military project, but if so, why are they flying around in the open?
"Look at them, there's three or four of them." In 1997, thousands of eyewitnesses watched in awe as a boomerang-shaped formation of lights cruised slowly and silently over the city of Phoenix. "They're lined up in a pattern." Witnesses first thought these were separate lights, flying in formation, but quickly realized the lights were all part of a single, gigantic something.
Military officials were asked about the Phoenix lights but said they hadn't seen anything. Months later, they explained that a National Guard unit had been training with flares near the city. The public didn't buy it.
Eight years earlier, the airspace over Belgium was repeatedly violated by huge unidentified black triangles. Ten thousand witnesses saw them. Several were photographed. The Belgian Air Force dispatched F-126s to intercept and destroy the unknown intruders, but the triangles performed maneuvers that seem virtually impossible.
Dr. Colm Kelleher said, "They launched on several occasions top of the line military aircraft against these things and they were left in the dust. One minute they're overhead, and the next they're over the horizon."
Dr. Kelleher is a research scientist who spent several years with the National Institute for Discovery Science, or NIDS, a private Las Vegas science organization. A four-year NIDS study of the mystery triangles has found that these craft have been seen for decades all over the world.
There were a daylight sightings in Russia in the 70s. In the early 80s, there were hundreds of nighttime sightings in rural New York. Belgium was inundated in the late 80s, but more recently, the mystery triangles have really come out of the closet and have been seen in every state, including Nevada, flying low and slow over cities.
Dr. Kelleher describes, "These things are huge, football field sized. Sometimes they are stealthy; sometimes flying with very bright lights, disco-flashing lights -- red, green, blue, some bright white lights. They're always silent."
NIDS now has a database of more than a 1,000 black triangle reports, 17 of them from Nevada. The witnesses often say the craft seem to float, like a blimp or airship, but they are also capable of aeronautical magic.
"They were able to drop altitude 10,000-20,000 feet in a matter of seconds. They went from a hovering position to several thousand miles an hour, and this was caught on radar," said Dr. Kelleher.
"It was heading straight north. The right edge was over that tree." Las Vegas journalist Cateland White was in the backyard of her southeast Las Vegas home last year when she saw a dark behemoth fly over. She drew a picture and described, "It was triangular shaped with rectangular reflectors. No interior light at all. By the time it got out of sight, it was 5-8 minutes. It was so slow, I couldn't figure out how it was staying in the air."
White called the police, who connected her to Nellis Air Force Base, which is the direction the triangle seemed headed. "The man said, 'I don't want you to talk about this anymore, and you're gonna forget it.' I said, 'Look buddy, I'm not drinking, I'm not on drugs, something is headed for your base.' Then he got real terse and said, 'Mam, I'm gonna tell you one more time and this is the last time I'm gonna tell you. Forget what you saw and don't tell anybody.' At that point, I was freaked," described White.
The frequent proximity of triangle sightings to air force bases led NIDS to conclude two years ago that the craft must be part of a secret military project. But in the two years since, the triangles have become so prevalent over big cities and interstate highways that the theory doesn't fit anymore.
Dr. Kelleher said, "Why would unacknowledged aircraft be flying at 500 feet over populated areas? If you look at the B-2 and F-117, prior to them being acknowledged, there was no flying over populated areas. They flew in the desert. They flew at high altitudes."
FALLUJA -- The urban battlefield of Falluja is disgorging its dead. Slowly.

Another truckload of bodies reached the outskirts of the city for burial Friday in a ceremony marked by anger at U.S. troops, who say they killed 1,200 Iraqi and foreign fighters.
With Marines scouring the largely deserted city house by house and occasionally clashing with remnants of the insurgent force, travel in or out is limited but the Americans have allowed local voluntary organizations to retrieve some bodies.
Two dozen arrived on a truck at the dusty outlying village of Saqlawiya Friday, greeted by a crowd of about 150 men who removed the corpses from military body bags to try to identify them and to bury them in shrouds, according to Muslim custom.
Amid the flies and stench of the blackened and bloated bodies, apparently dead for many days, identification was next to impossible but most appeared to be of men of fighting age and at least one wore an ammunition vest.
U.S. commanders say they do not believe civilians were killed during the offensive begun 11 days ago.
Some pits had been dug in expectation alongside several other freshly covered graves bearing simple headstones on a barren stretch of waste ground among electricity pylons.
As onlookers stood in line to hear the traditional prayers for the dead, the preacher also called for revenge on Americans and their Iraqi allies, who believe the assault on Falluja has "broken the back" of the Sunni Muslim insurgency.
"We ask you God to be merciful," the preacher chanted.
"Shake the earth beneath the feet of the Americans, shake the earth beneath the feet of the Crusaders, shake the earth beneath the feet of the hypocrites that help them.
"God grant victory to Iraq."
Falluja, most of whose population of 300,000 fled before the assault, has been a bastion of revolt against the U.S.-backed Iraqi interim government. Some in the city, just west of Baghdad, fear that planned elections will lead to them being dominated by the long-oppressed Shi'ite Muslim majority.
BAGHDAD - An eyewitness commentary to IPS through a U.S. raid on a Baghdad mosque Friday gives a vivid picture of what a 'successful raid' can be like.

U.S. soldiers raided the Abu Hanifa mosque in Baghdad during Friday prayers, killing at least four and wounding up to 20 worshippers.
At 12:30 pm local time, just after Imam Shaikh Muayid al-Adhami concluded his talk, about 50 U.S. soldiers with 20 Iraqi National Guardsmen (ING) entered the mosque, a witness reported.
"Everyone was there for Friday prayers, when five Humvees and several trucks carrying INGs entered," Abu Talat told IPS on phone from within the mosque while the raid was in progress. "Everyone starting yelling 'Allahu Akbar' (God is the greatest) because they were frightened. Then the soldiers started shooting the people praying!"
Talat said he was among a crowd of worshippers being held back at gunpoint by U.S. soldiers. Loud chanting of 'Allahu Akbar' could be heard in the background during his call. Women and children were sobbing, he said.
"They have just shot and killed at least four of the people praying," he said in a panicked voice. "At least 10 other people are wounded now. We are on our bellies and in a very bad situation."
Talat gave his account over short phone calls. He said he was witnessing a horrific scene.
"We were here praying and now there are 50 here with their guns on us," he said. "They are holding our heads to the ground, and everyone is in chaos. This is the worst situation possible. They cannot see me talking to you. They are roughing up a blind man now." He evidently could talk no further then.
The soldiers later released women and children along with men who were related to them. Abu Talat was released because a boy told him to pretend to be his father.
Other witnesses gave similar accounts outside the mosque. "People were praying and the Americans invaded the mosque," Abdulla Ra'ad Aziz from the al-Adhamiya district of Baghdad told IPS. He had been released along with his wife and children. "Why are they killing people for praying?" He said that after the forces entered "they went to the back doors and we heard so many bullets of the guns -- it was a gun bigger than a Kalashnikov. There were wounded and dead, I saw them myself."

Some of the people who had been at prayer were ordered by soldiers to carry the dead and wounded out of the mosque, he said.
"One Iraqi National Guardsmen held his gun on people and yelled, 'I will kill you if you don't shut up'," said Rana Aziz, a mother who had been trapped in the mosque.. "So they made everyone lie down, then people got quiet, and they took the women and children out."
She said someone asked the soldiers if they would be made hostages. A soldier used foul language and asked everyone to shut up, she said. Suddenly, she laughed amid her tears. "The Americans have learnt how to say shut up in Arabic, 'Inchev'."
Soldiers denied Iraqi Red Crescent ambulances and medical teams access to the mosque. As doctors negotiated with U.S. soldiers outside, more gunfire was heard from inside.
About 30 men were led out with hoods over their heads and their hands tied behind them. Soldiers loaded them into a military vehicle and took them away around 3.15 pm.
A doctor with the Iraqi Red Crescent confirmed four dead and nine wounded worshippers. Pieces of brain were splattered on one of the walls inside the mosque while large blood stains covered carpets at several places.
A U.S. military spokesperson in Baghdad did not respond to requests for information on the raid.
"We are deeply concerned by the devastating impact that the fighting in Iraq is having on the people of that country."- Statement by Pierre Krähenbühl, Director of Operations of the ICRC (International Committee for the Red Cross)

As hostilities continue in Falluja and elsewhere, every day seems to bring news of yet another act of utter contempt for the most basic tenet of humanity: the obligation to protect human life and dignity. This week it was the killing of a wounded fighter and of yet another hostage – humanitarian worker Margaret Hassan – that shocked the world. Like any other armed conflict, this one is subject to limits, and they must be respected at all times.

For the parties to this conflict, complying with international humanitarian law is an obligation, not an option. There is an absolute prohibition on the killing of persons who are not taking active part in the hostilities, or have ceased to do so. It is also prohibited to torture them or to subject them to any form of inhuman, humiliating or degrading treatment. Furthermore, the parties to the conflict must provide adequate medical care for the wounded – friend or foe – on the battlefield or allow them to be taken elsewhere for treatment. They must do everything possible to help civilians caught up in the fighting obtain the basics of survival such as food, water and health care. The taking of hostages, whether Iraqi or foreign, is forbidden in all circumstances. If these rules or any other applicable rules of international humanitarian law are violated, the persons responsible must be held accountable for their actions.

Regrettably, recent events have again shown just how difficult it has become for neutral, independent and impartial humanitarian organizations to assist and protect the victims of the conflict in Iraq. Once again, the International Committee of the Red Cross appeals for everything possible to be done to allow such organizations to come to the aid of the thousands of Iraqis who are suffering."
Poisoning Palestinian President while under siege/imprisoned in his residence, detailed plans of assassinations and invasions, razing houses and plants, hundreds of checkpoints to embitter the lives of citizens, organized destruction of the economy, deliberate shooting of school children, thousands of prisoners who are purposely abused, stealing lands under the pretext of establishing the segregation wall, recruiting settlers and organizing them in armed militias to attack Palestinians, military ideology for the Israeli army that legalizes war crimes that does not admit any peaceful solutions and allows soldiers to desecrate people, stones, and trees, political parties that compete over extremism and do not admit any mistakes committed by their militarized state…

Ariel Sharon does not see in the aforementioned any reason to provoke the other, the Palestinian, not only to defend himself but also to incite him to reach the highest levels of violence. He wants to monopolize violence and he wants it as an exclusive right for Israel. As for the other, he has only to submit and silently accept attacks and insults. The elected war criminal Ariel Sharon is trying to put the Palestinian Authority (PA) in front of a 'test of intentions' asking to stop media incitement to initiate dialogue with the PA.

After Yasser Arafat's death, there are many reasons that render Sharon unqualified to communicate with the other, simply because he never had anything to negotiate about. Since he took power, he has not announced any ideas that aim at establishing peace with the Palestinians: authority, leadership, and people. On the contrary, and his glories still provide him with the utmost popularity in the polls, a popularity which Sharon gained with record violence, destruction, and killing. He was originally elected to end the peace process and return the Palestinian cause to the way it was before 1948. He was elected to unleash havoc, which he did; even his expected successor - according to polls - is not Benjamin Netanyahu, who looks more dovish with respect to the infamous war criminal Shaul Mofaz.

Stopping media provocation, which Sharon is asking for, is in sync with a similar request that the American administration proclaims in front all of those who oppose its occupation of Iraq and Afghanistan, those who oppose its plans for future wars, and all of those who want to be categorized as a "friend" of the U.S. Practically, this only means asking regimes and governments to silence the media and suppress freedom of expression, even when it is not available. Thus, George W. Bush and his ally Ariel Sharon do not consider free media of the democratic components that they claim desiring to spread in Arab countries. Some countries submitted to the request long ago, hence they rewrote their history and cancelled specific verses from the Koran. After they were given a certificate of good conduct with respect to silencing the media, it sterilized speeches in the mosques. Still, they need to enter houses to tap its residents, paving the way to enter their heads and monitor their thoughts, desires, and stances concerning the offenses and insults, which they have to accept as correct.

In the Palestinian and Iraqi cases, request to stop incitement does not look like a simple rude hallucination, but as an order that suits the dictators of past ages.

In Palestine, Iraq, and everywhere, no one will accept occupation as a natural situation; however, it is a provocative one. The Americans failed where the Israelis failed by creating "friendly" occupation; regarding the aggressive, destructive occupation it is impossible to complain about media "incitement" practiced by those who oppose the occupation. Whenever pressure increased to make occupation acceptable and desired, the resisting spirit should increase and deepen. Moreover, it must produce extremism and violence, taking advantage of the occupation forces' disdain for the symbols of peace and moderation. Occupation is the first inciting act that should be stopped, for it hides serious diseases like the ones we witnessed in invading Fallujah, and that appeared in invading Rafah and Jenin. Whoever has the political power to eradicate, goes beyond his humanity and becomes disqualified to give lessons in media incitement.
BERLIN (AP) - Germany's finance minister said Saturday that he and his U.S. counterpart have reached an agreement under which Iraq's creditors would write off up to 80 per cent of the country's debt.

"I had talks with my American colleague, John Snow, which created the basis on which the forgiveness of Iraqi debt can be settled mutually in the Paris Club" of creditor countries, Hans Eichel told reporters on the sidelines of a meeting of ministers from the Group of 20 major economies.

"We agreed that there should be a write-off of debts in several stages amounting to 80 per cent in total," Eichel said.

Thirty per cent would be written off immediately, another 30 per cent in a second stage "tied to a program of the International Monetary Fund" and a further 20 per cent "linked to the success of this program," he said.

"Within this framework, the necessary decisions can now be taken in the Paris Club," Eichel said. He did not say when the debt write-off would be formally approved or when the second and third stages of the deal would take effect, and took no questions.

The United States has been pushing hard for a generous debt write-off for Iraq, while other governments have questioned whether a country rich in oil should benefit from huge debt reduction.

Iraq has said its overall foreign debt of $146 billion Cdn is hindering postwar reconstruction.

Iraq owes about $50 billion Cdn in debt to the Group of Eight countries and other rich nations who make up the Paris Club of creditor countries. Another $96 billion is owed to various Arab governments.

Eichel was keen to stress that the planned Iraqi debt write-off "is not a precedent for any other case."

"We only see a special situation for Iraq," he said.
SANTIAGO, Chile (Reuters) - President Bush on Saturday warned Iran of growing international concern over reports that Tehran is preparing large amounts of uranium for an enrichment process that can be used to make nuclear weapons.

"This is a very serious matter. The world knows it's a serious matter and we're working together to solve this matter," Bush told reporters during a meeting with Japanese Prime Minister Junichiro Koizumi in Santiago.

The two leaders were in Chile for a summit hosted by the Asia Pacific Economic Cooperation forum.

Bush was referring to reports from diplomats that Iran was aggressively producing uranium hexafluoride, or UF6, days before a Nov. 22 deadline by which Tehran promised the European Union that it would freeze enrichment and all related activities.

UF6 is the form of uranium that is fed into gas centrifuges, which purify uranium for use as fuel in nuclear power plants or weapons.

Iran had promised France, Britain and Germany to freeze its enrichment program in a bid to ease concerns that its nuclear plans are aimed at producing atomic weapons and to escape a referral to the U.N. Security Council when the International Atomic Energy Agency, or IAEA, meets on Nov. 25.

"It's very important for the Iranian government to hear that we are concerned about their desires," Bush said.

"We're concerned about reports that show that prior to a certain international meeting, they're willing to speed up processing of materials that could lead to a nuclear weapon."

Iran, which maintains that it has no ambition to attain nuclear weapons, also denied diplomats' claims that it had ramped up UF6 production.

IAEA chief Mohamed Elbaradei said Monday in a report on his two-year investigation of Iran's nuclear program that Tehran had not diverted any of its declared nuclear materials to a weapons program.

But he did not rule out the possibility that other secret atomic activities existed.
A recent statement by US Secretary of State Colin Powell regarding Iran's purported march to nuclear armament caused a stir in Washington, especially since it concerned intelligence that President Bush had only shared with British Prime Minister Tony Blair.
According to the Washington Post, an American newspaper, Bush told Blair of Iran's possible weapons development when Blair visited the White House last week. An investigation is underway to determine whether or not the intelligence, which was addressed in a 1,000 page document of Iran's nuclear capability, is genuine. The Post wrote that the intelligence concerns warhead technology; specifically, long-range Shahab-3 missiles and other middle-range missiles. Iranians have been able to enrich uranium for a nuclear bomb since 2002.
A major concern in Washington is that the intelligence is immature and may be as faulty as previous estimates regarding Iraq's capabilities. If the intelligence estimate is confirmed however, then the information could become "clear proof of evidence" on Iranian nuclear capability.
Bush said Powell's statement was a "mistake" while other officials were less gentle, and were reportedly furious that he shared US intelligence with reporters. Powell's statement, furthermore, distressed the three European countries who signed an agreement to halt Iran's nuclear capacity last Sunday.
Iran denied Powell's statement, accused them of being baseless and continued to stress its defense program did not contain weapons of mass destruction.
By Adam Wild Aba, IOL Correspondent
WASHINTGON, November 18 (IslamOnline.net)
Nominated US Secretary of State Condoleezza Rice is likely to pick a neo-conservative known for hatred of Arabs to be her deputy for Middle East affairs, a Congress source told IslamOnline.net.
Danielle Pletka, a researcher at the American Enterprise Institute – a major neo-conservatives' think tank in Washington – is the favorite choice for the post, currently occupied by William Burns.
The post holder is the main reference for the US foreign policy on Arab and Mideast countries.
The name of David Welch, current Ambassador to Egypt, is also being mentioned in Washington's circles as a possible Burns successor.
Asked on Welch's chances, a high-profile State Department source told IOL the seasoned diplomat would be a far better choice than Pletka, an expert on the Middle East, South Asia, terrorism, and weapons proliferation.
Pro-Israel
Pletka is known for her staunch support to Israeli Prime Minister Ariel Sharon's Likud government and rooted hatred of Arabs and Muslims as manifested in her speeches and seminars.
She repeatedly defended the US justifications for the invasion-turned-occupation of Iraq as well as the so-called pre-emptive wars on other Islamic countries.
Pletka supported the Project for the New American Century, which was conceived by neo-conservatives and international Zionism.
The PNAC is a non-profit educational organization dedicated to a few fundamental propositions: that American leadership is good both for America and for the world; that such leadership requires military strength and diplomatic energy; and that too few political leaders today are making the case for global leadership.
Pletka, a Jew, has lobbied for establishing "Watch", a project meant to watch all non-governmental organizations opposed to Israel's interests in the US and across the world.
She was also a senior professional staff member for Near East and South Asia with the US Senate Committee on Foreign Relations, 1992-2002.
Mass Resignations
Despite that record, the State Department source expect Pletka to win the prestigious post.
He said a wave of mass resignations in the State Department's Near East Office is the expected reaction to Pletka's appointment.
She is an extremist, given her positions on Arabs and Muslims, and would fan anti-American sentiments in the Arab region, the source added.
[...] Bush had also appointed Rice's deputy Stephen J. Hadley as the new national security adviser.
Hadley is also a supporter of pre-emptive strikes and developing small nuclear weapons.
American press expected after the appointments that the policy toward Iran and North Korea may take a new turn, with a bigger push for sanctions rather than the diplomacy adopted by Powell.
GAZA CITY, November 19 (IslamOnline.net & News Agencies)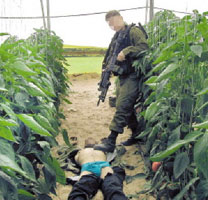 Israeli soldier pointing his weapon at a corpse of a Palestinian while pressing his foot into the half-naked body.

An Israeli newspaper splashed out Friday, November 19, photographs showing Israeli soldiers abusing and posing for photographs with the bodies of dead Palestinians.

The Israeli army said it was launching an investigation to get to the bottom of the scandal.

Mass-selling Israeli daily Yedout Ahronot carried the photos, in which Israeli occupation soldiers were posing next to the bodies of dead Palestinians.

In another picture, a soldier points his weapon at a corpse while pressing his foot into the half-naked body.

A third picture shows a dead man, a cigarette allegedly stuck in his mouth by troops.

Yedout Ahronot's investigation of the scandal includes numerous accounts of Israeli soldiers who photographed the bodies of Palestinians or who were themselves photographed with bodies.

"When walking by a Palestinian shot in combat, several troops would fire into the dead body. One of them even shot four bullets," one soldier is quoted as saying by the Israeli newspaper.

One account, provided by a soldier serving in the Nahal Haharedi battalion, told of the abuse of the remains of a bomber who blew himself up at the unit's Hamra checkpoint in the Jordan Valley .

Soldiers from the unit positioned the bomber's head on a concrete barrier and placed a cigarette in his mouth before taking photographs.

Israeli Defense Forces Chief of Staff Lieutenant General Moshe Ya'alon ordered Military Police Friday to investigate the report.

Labor MK Ophir Pines-Paz submitted an urgent motion to the Knesset concerning the abuse of dead bodies by Israeli soldiers, Israeli daily Ha'aretz reported Friday.

According to Pines-Paz, the soldiers' actions "testify to a moral imperviousness and there must be action taken to prevent this from recurring."

Similar Incidents

Meanwhile, Israeli army opened investigation into an officer accused of shooting a 13-year-old Palestinian girl repeatedly at point-blank range, a lawyer for the girl's family said Thursday.

Lea Tzemel, an Israeli lawyer representing the girl's family, was quoted by The Associated Press as saying that soldiers fired at the girl, Iman Al-Hams, while she was on her way to school.

Iman Al-Hams was riddled with 20 bullets, mostly in the upper body, by three Israeli soldiers in the southern Gaza Strip city of Rafah .

Al-Hams was left lying in a pool of blood because ambulances had been denied access.

Hundreds of Palestinian children and teens have been killed by army fire in the past four years, often in clashes between stone throwers and Israeli troops, according to the AP.

A 10-year-old Palestinian schoolgirl died Wednesday, October 13, of her wounds after Israeli occupation troops shot her in the chest while sitting inside a United Nations school in a Gaza refugee camp.

The army rarely launches investigations into the incidents, the American news agency said. [...]

JERUSALEM, Nov. 19 - The Israeli Army has ordered an investigation into allegations that soldiers in the West Bank photographed one another two years ago posing with the head of a suicide bomber with a cigarette stuck in its mouth, the chief of staff, Gen. Moshe Yaalon, said Friday. He was responding to a report in the weekend magazine of Yediot Aharonot, the country's largest-selling daily.
The paper also reported several incidents of abuse of corpses of Palestinian fighters by soldiers who then took photos.
General Yaalon told the army radio that any such behavior "is inappropriate for an Israeli and a Jewish soldier," adding, "Our moral fortitude is no less important than our military fortitude." He said he had ordered an investigation by the military police.
"I intend to reach the truth," he said. "God forbid if we are compared and likened to those against whom we are fighting."
In one of the most gruesome acts detailed in the report, soldiers in a strictly Orthodox unit reassembled the body parts of a Palestinian suicide bomber, sticking a cigarette in his mouth and then posing for photographs, according to the report.
"Everyone was really excited," said a soldier identified as Y. The newspaper quoted him saying: "I tried to tell them: 'Are you crazy? You are disgusting.' They didn't understand what I was talking about."
The chief rabbi of the army, known as the Israel Defense Forces, or I.D.F., Gen. Israel Weiss, also condemned the reports. "I don't know what term of condemnation to use, as these actions are immoral, inhuman, inappropriate to the I.D.F., un-Jewish," he said on the army radio. "One terrible action such as this cuts away the I.D.F. moral ground."
"We have proved, as an army and as a nation, more than once, that we are different, that we are other,'' he said. "We don't rejoice when blood is spilled. We don't sing and dance in celebration over a dead body lying at our feet, though some of our enemies do this, with great delight."
The newspaper details soldiers' accounts of several other incidents, including one in the Gaza Strip last year, when soldiers shot and killed a Palestinian who was walking in a forbidden area. Although the man turned out to be unarmed, soldiers tied his body to the hood of an army jeep and drove him to a base, where they photographed the scene.
According to Yediot, the Israelis nicknamed the dead Palestinian "Hefi," short for "innocent" in Hebrew. Later, when other Palestinian dead were brought to the base, some soldiers would joke, "He's nothing like Hefi."
In the weekend edition of another daily, Maariv, journalists describe a short-lived sniper unit called the Ice Men, made up of six soldiers, all trained in the Russian Army, who were professional snipers. The unit, put together in September 2003, lasted only 10 months, according to the paper, because the six, though regarded as highly professional, were "light on the trigger."
"There was a gap between them and us on understanding open-fire rules," an officer of the Givati Division told Maariv. "They come from a different mentality and thought it was enough to have intuition to suspect someone."
One of the snipers, identified as Dima, told the paper: "We destroyed terrorists, those that shot at our soldiers and harmed Israel. To this day, there has not been one complaint against us that we fired at civilians, at children, or at farmers.''
"Soldiers told us that finally they managed to sleep at night because there was less Palestinian shooting,'' Dima continued. "That testifies to our professionalism. Why did they shut us down? Because the officers above became frightened of us."
CARACAS, Venezuela — A remote-controlled car bomb killed the state prosecutor preparing to press charges against supporters of a short-lived 2002 coup against Venezuelan President Hugo Chavez, officials said Friday.
The killing of Danilo Anderson, 38, stirred concern that a fresh wave of violence could beset this country, the world's fifth-largest oil exporter and the United States' biggest supplier in the Western Hemisphere.
Anderson was traveling through the Los Chaguaramos district of Caracas, the capital, around midnight Thursday when his sport utility vehicle exploded. His charred body was recovered from the vehicle and identified at the city morgue early Friday, police at the scene reported.
The prosecutor had been compiling evidence against nearly 400 opposition activists who signed a declaration of loyalty to Pedro Carmona, who served two days as interim president in April 2002 before a popular revolt reinstated Chavez.
"This can only be described as terrorism," Interior Minister Jesse Chacon said of the slaying. He added that forensic tests showed the bomb had been placed under Anderson's seat and was detonated by remote control.
No arrests were made Friday, but early suspicion focused on opposition supporters.
Anti-Chavez activists were devastated when an Aug. 15 recall election failed to unseat the populist president. They suffered further setbacks in regional elections last month. Some observers said they feared radical elements of the opposition might resort to violence after failing to oust Chavez through the ballot box.
Atty. Gen. Isaias Rodriguez said those who were being investigated by Anderson would be suspects in the slaying.
"This is a political murder whose main objective is to intimidate the judiciary and stop the investigations he was working on," said Information Minister Andres Izarra. He accused unnamed "terrorists" among Cuban and Venezuelan exiles in Florida of being behind the killing.
Venezuela has been in turmoil during Chavez's nearly six-year rule.
Business leaders say the president's policies have benefited the poor at their expense. Chavez enjoys majority support, as demonstrated by the 59% of voters who cast ballots against his recall.
After Anderson's killing, Chavez appeared on national television to urge the nation to remain calm. "There will be peace in Venezuela, but peace must be accompanied by justice," said the president, who canceled a trip to Costa Rica where he was to take part in an Ibero-American summit.
Anderson's coffin was taken to the attorney general's office in downtown Caracas for a wake. National guard soldiers in riot gear struggled to hold back an angry crowd that had gathered to denounce the attack.
Some opposition figures condemned the prosecutor's killing. "Even though Anderson may have been an instrument of repression for this government, a terrorist attack cannot be the answer," said Pompeyo Marquez, a veteran politician and member of the Democratic Coordinator opposition alliance.
Henrique Capriles, mayor of the capital's Baruta district, spent three months in jail this year while Anderson prepared a case against him for his alleged involvement in the coup.
"The government and the judicial system must find those responsible and do justice," Capriles said.
"I had many differences with Danilo Anderson, but these were fought out in the public prosecutor's office," he said.
Anderson was widely viewed as a Chavez ally for his handling of high-profile cases against coup plotters and opposition figures who supported a two-month national strike last year and the recall referendum.
But in a recent interview in the Quinto Dia weekly newspaper, Anderson denied any political favoritism, saying he had prosecuted cases against government supporters. He said he had received death threats from the soldiers and police accused of staging the coup and had acquired a bodyguard while investigating those cases.
Although Chavez now has firm control of the country after Oct. 31 elections in which his allies swept 20 of 22 gubernatorial posts, some analysts worry that the former army colonel will crack down on opponents.
Luis Vicente Leon, director of the Datanalysis polling firm, said it was too early to gauge the political fallout from Anderson's death.
"One possibility is that the president uses this to further clamp down on the opposition," the pollster said. "However, if he does try to squash his enemies, then he may further fuel the radical groups that did this, and I'm not sure that would suit him."
Chavez is popular thanks to his "revolution for the poor" in which he deployed Cuban doctors to treat slum dwellers, sought to eradicate illiteracy and confiscated idle land from wealthy owners to give to indigent farmers.
Relations with Washington have been strained since the Bush administration recognized the coup leadership and openly supported opposition groups during the strike and recall campaign.
The Bush administration has made clear its concern over the close ties Chavez nurtures with communist Cuba, to which he ships discounted oil in exchange for relief work by Cuban doctors, teachers and engineers.
U.S. Ambassador to Venezuela William R. Brownfield denounced the killing of Anderson as "brutal and barbaric."
"In the civilized world, there is no place for terrorist acts," Brownfield said in a radio interview.
The assassination of prosecutor Danilo Anderson has put Venezuela once again on the spotlight of world events with all important news agencies of worldwide reach wiring up-to-date reports on the latest spark of violence from Venezuela.
One of those news agencies in Reuters, who main correspondent in Caracas seems to be Patrick Markey, judging from the number of reports he has bylined on behalf of the agency.
Markey once again is covering events in Venezuela that may stir up the political outcome in the near future in that country, so it is of utmost that this time he assumes his role of meticulous journalist; such a delicate issue as the assassination of a top prosecutor who had been investigating major players in the April 11, 2002 coup deserves careful analysis and objectivity.
I read the latest report by Markey titled "Bomb Kills Venezuela Prosecutor, Gov't Swipes at US" and I concluded that Markey is falling in the same mistake of reducing a complex issue into an array of tiresome clichés. He then tries to sell to his readers the same old line of an "increasingly authoritarian (never mind the referendum victory)," "Fidel-loving, left-leaning Chavez" bashing out at the United States, just for the heck of it, one is led to believe, since Markey doesn't bother to suggest whether there's any substance to Chavez and his information minister's charges regarding a number of Venezuelan military and civilians who have openly admitted using US territory as a base of operations for future terrorist acts against the Venezuelan government.
A serious journalist like Markey should have known that before his death, Danilo Anderson was investigating two high-level military dissidents suspected of masterminding the bombings of the Colombian and Spanish diplomatic missions in Caracas on February 23, 2003. The two were given asylum in the United States in violation of International law and treaties against terrorism, despite the Venezuelan government's request for their extraditions and after Anderson had obtained incriminating evidence linking them to military rebels who favored violence through any means to overthrow President Chavez.
Markey should have known that even the Wall Street Journal and the Miami Herald, both strongly anti-Chavez, reported on a former Venezuelan National Guard captain who had formed a "civic-military alliance" with a shady Cuban-exile militant group that has training camps in the Florida Everglades and brags on its web site about blowing out tourist and government buildings in Cuba and of baffling that country's security force in their incursions.
More disturbing is the fact that there isn't a single mention in the report about Anderson's investigations on the US Congress-financed National Endowment for Democracy (NED)'s role in its funding of coup-plotting opposition organizations. Markey could have gained much and lost nothing if he just had checked on detailed documents on the NED's role in Venezuela that so far have been declassified in the United States.
With this information in mind, a paragraph could easily have been added to balance the report a bit more. However, when Venezuela presses charges against the US government for providing safe haven to people who may be implicated in the prosecutor's assassination Markey seems disingenuous in his source-findings. To refute the aforementioned background and the possibility of a major, non-isolated plot, Markey only cites an unnamed US official in Caracas, who said "The charge is ridiculous and more of a politically motivated conspiracy theory."
And that's where it ends for Markey; the next topic of concern in his report is whether any instability in Venezuela affects the oil market or one should lend credibility to the opposition's "fears" that the prosecutor's demise may have resulted in Chavez' own Reichstag (with all possibilities open in this case; no conspiracy theory here, of course).
* Inadvertently or not, Markey is distorting the news of a major and tragic event in Venezuela by misrepresenting or omitting crucial facts.
I hope that Reuters and Markey find it in their own interest not to inflame the attitudes among its readers against the country by selling them a cheap line that oversimplifies the country's crises as it perpetuates clichés that do not correspond to reality.
If integrity and credibility means anything to Markey, it's time he realizes that he has plenty of journalism homework ahead of him.
Speaking at Venezuela's National Assembly (AN), Executive Vice President Jose Vicente Rangel has said that US Ambassador to Venezuela, William Brownfield "should provide an explanation about the behavior of Orlando Urdaneta and the legal status that allows him to continue to reside in the United States of America."

Rangel was commenting the former actorís broadcast statements on a Miami-based television station in which he advocated finding ways and means to assassinate Venezuela's President Hugo Chavez Frias.
"Urdaneta's appearance on a television program in Miami ... where he said Venezuelan affairs could be solved with a rifle enhanced with a telescopic sight, deserves an explanation,î Rangel said, referring to Urdanetaís suggestion to use a sniper to get rid of Chavez Frias.
Asked about those responsible of such a plan, Rangel stressed that "the order was issued. But, despite the gravity of such irresponsible declarations, US authorities have not said or done anything ... absolutely nothing." [...]
By Bruce Finley
Denver Post Staff Writer
Quito, Ecuador - A U.S. push to expand the war on terrorism in partnership with Latin America is proving difficult.
Defense chiefs from Brazil, Argentina and Chile this week balked at mobilizing armed forces in that cause.
And from mothers on the street to well-connected activists in office suites, U.S. military overtures sparked suspicion.
The efforts U.S. officials propose are a veiled attempt "to consolidate control" over Ecuador's water and oil, said Gen. Rene Vargas, a former head of Ecuador's armed forces, an ex-congressman and now a political player.
"In Latin America, there are no terrorists - only hunger and unemployment and delinquents who turn to crime. What are we going to do, hit you with a banana?"
U.S. Defense Secretary Donald Rumsfeld made a high- level pitch for concerted action Wednesday morning at a meeting here of defense ministers from 33 countries.
Latin American "terrorists, drug traffickers, hostage takers and criminal gangs form an anti-social combination that increasingly seeks to destabilize civil societies," Rumsfeld told his counterparts.
Fueling suspicions, Navy and Coast Guard vessels patrolling the eastern Pacific earlier this year sank at least eight Ecuadoran boats that U.S. officials said were involved in smuggling. Disputes over what happened have gone as high as the Ecuadorian presidency.
"Now, I can't work," said Manual Santana, 53, who contends his boat, blown up March 3 near the Galapagos Islands, carried "only fishermen." Human-rights workers advocating for those who lost boats say these incidents enraged many people.
Even U.S. humanitarian projects face suspicion.
Last year, military forces planned storage facilities for disaster relief supplies around the country in case one of Ecuador's many active volcanoes erupts. But charges that the facilities would be operating bases for U.S. military forces blocked construction.
U.S. officials say they are trying to be sensitive in pushing for a broader war on terrorism.
Flanked by palace soldiers wearing uniforms from the early 1800s - when liberation leader Simon Bolivar's forces fought Spanish rulers - Rumsfeld assured Ecuadorian journalists that "the role that Ecuador should play is the role that Ecuador decides is important."
Each country here "has a different perspective," said Deputy Assistant Secretary of Defense Rogelio Pardo-Maurer, the top Pentagon official for Western Hemisphere affairs. "You cannot tell any country how to do it."

SANTIAGO : Chilean anti-riot forces cracked down on pockets of stone-throwing youngsters but masses of people joined a separate peaceful, samba-like protest against a major Asia-Pacific summit.
Military-style police, with helmets and plastic shields, took action hours before the arrival of President George W. Bush for a weekend Asia-Pacific Economic Cooperation (APEC) summit.
They fired tear gas and water cannon as radical protesters tried to cluster in in the sidestreets and main Alameda boulevard of the capital Santiago.
Security forces hauled about a dozen of the protesters into buses, a couple of whom carried what appeared to be "Molotov cocktails".
"This gathering is not authorised. Go away," a loudspeaker blared from an armored car fitted with water cannon.
Protesters chucked stones at the police vehicles.
"No to APEC, No to Bush, No to capitalism," read one protest banner.
"No to rubbish pay," read another.
A few blocks away, police let a colorful, authorized march of about 10,000 anti-globalisation demonstrators go ahead under tight supervision.
Security forces walked along side and guarded street intersections.
Every facet of the anti-capitalist movement was on show: Scantily clad girls dancing the samba alongside a Brazilian beating drums, painted indigenous Mapuche people, two beauty queens, one them a transvestite, and Amnesty International activists with the Palestinian flag.
One group danced around an Iraqi flag, shouting curse words. A banner read: "Resist, Fallujah."
Cyclists rode ahead of the procession, featuring an effigy of revolutionary Che Guevara, another of Bush, people carrying the Chilean Communist Party flag, red flags, and elderly unionists.
"No violence allowed here," read one banner.
"Bush terrorist, assassin," read another.
Four or five floats made to look like tanks rolled along.
An eagle made of plastic sheeting dragged plastic bottles behind it, the creation of the "Interesting Patriotic Theater Group" which said it represented the eagle of imperialism turning everything into garbage.
Fifteen people walked in silence blindfolded.
Antonia, 15, said: "These are the blindfolds they put over our eyes so we don't see the reality and exploitation."
In a straw hat and flowery shirt, 75-year-old Graciela said: "Peace not war. Bush is bloodthirsty."
In stark contrast to the rock-throwing protests nearby, the march was peaceful but heavy on symbolism.
Two blind people led the march chanting: "No to the dictatorship of the market."
SANTIAGO, Chile (CP) - Prime Minister Paul Martin is urging Canadians to remain peaceful if they want to protest against U.S. President George W. Bush's visit next week.
The prime minister made the request while Chilean police pelted protesters with water cannons and tear gas as the demonstrators jeered Bush's arrival at the Asia-Pacific leaders' summit Friday. Martin said protesters voicing their disdain for the U.S. president or any politician is valuable - as long as it doesn't get carried away.
"I think that (protest) is an essential part of democracy," Martin said after arriving at the summit.
"As long as they're done peacefully...then I think it's an important part of the evolution of policy in the way the world works."
Bush is scheduled to arrive in Ottawa next week for his first-ever official visit to Canada.
At his first international summit since winning re-election Nov. 2, Bush had a taste Friday of the worldwide rage that's resulted from his invasion of Iraq.
Police blasted water and tossed volley after volley of tear gas into crowds of protesters galvanized by their opposition to the U.S. president. Some of them sported anti-Bush headbands and waved posters hurling every imaginable epithet at Bush, including murderer and assassin.
A Canadian television crew spotted some burning a mock coffin, while accusing Bush of killing world peace. [...]
WHITE SANDS MISSILE RANGE, N.M. - The latest version of the U.S. Army's Patriot interceptor missile has successfully destroyed target missiles in flight over White Sands Missile Range.
The two target missiles were downed Thursday morning by two Patriot Advanced Capability-3 _ or PAC-3 _ missiles launched one after the other from the range, said Pam Rogers, an Army spokeswoman in Huntsville, Ala.
"Both targets were destroyed," she said. "Both impacted over the range."
A Storm target missile was launched from Fort Wingate near Gallup, and the other target _ a Patriot designed to mimic a short-range ballistic missile _ was fired from the northern end of the missile range.
The test was designed to demonstrate the performance of PAC-3 hardware changes that improve production and reduce missile costs, the Army said.
The test also was intended to demonstrate the PAC-3's ability to detect, track, engage and intercept two missile targets flying simultaneously, the army said.
The Army on Sept. 2 conducted a similar PAC-3 test, which also was successful.
The PAC-3 was first used in combat in Iraq last year.
The missile uses kinetic energy, rather than an explosive warhead, to destroy targets such as cruise missiles and advanced tactical ballistic missiles.
The Government is planning a change in the law to allow police to arrest suspects without evidence, it was claimed today.

The Law Society said it believed the new powers would be included in the Bill which will create the new British FBI.
It warned that the cumulative effect of the Government's clampdown on crime and terrorism would be a step towards a police state.
Janet Paraskeva, the Law Society's chief executive, said: "The Government is in serious danger of overstating the threat to public order and national security and bringing in draconian new laws, which will take away centuries of hard won rights.
"If the Bill to establish the Serious Organised Crime Agency (Soca) includes the power to arrest someone without evidence, then solicitors could not support it.
"That would be a serious step in the direction of a police state.
"Anyone could be lifted from the streets or from their homes just on the basis of suspicion."
She added: "The threat to end jury trials for terrorism cases is another chipping away of the centuries old rights for people to be tried before a jury of their peers, which goes back to Magna Carta."
Soca will have around 5,000 investigators to crack down on serious crime and fraud, merging the National Crime Squad, the National Criminal Intelligence Service and the investigating arms of customs and the immigration service.
A Law Society spokesman said they had been told on good authority that the new powers of arrest were being considered by ministers.

LISBON, Nov 18: The global managing editor of British news provider Reuters said on Thursday the US military was entirely to blame for the deaths of three of its employees in Iraq since the start of the war there in March 2003, an allegation disputed by the Pentagon.
"All of them were killed by the American army," Reuters chief David Schlesinger told reporters on the sidelines of a media conference in the southern Portuguese resort of Vilamoura, national news agency Lusa reported.
"There is no understanding on the part of the US military regarding the exercise of journalism," he added according to the agency.
"We can't run the risk that journalists will become targets (in Iraq). We must learn the lessons from these tragic cases."
Two Reuters photographers and a cameraman are among the more than 60 war-related deaths of media workers recorded in Iraq.
The most recent death occurred in the Iraqi city of Ramadi on November 1.
The US military says a cameraman killed there while on assignment for Reuters died in a gunbattle between Marines and militants, but the Iraqi man's colleagues and family have said they believe he was shot by a US sniper.

NEW YORK -- The post-election bounce in the stock market and the weakening of oil prices might have grabbed attention from another story that could put U.S. financial markets and the economy in jeopardy: the steep fall of the dollar.
The dollar has been struggling for almost two years, but in recent weeks its slump has been exaggerated, dropping against most major currencies and tumbling to a record low against the euro.
Should it stay on such a course, the implications extend a lot further than just bumping up the costs of vacations in Europe. And while the weak dollar is helping U.S. exporters and companies doing business abroad, it might mean higher borrowing and mortgage costs and could make everything from imported cars to toys more expensive.
The dollar hit new lows against the euro this week, when it cost about $1.30 to buy one euro, the common currency used by 12 European nations. On Friday, the dollar sank to a 40-year low against the Japanese yen and flirted with a record low against the euro. The greenback has lost 10 percent of its value against the currencies of the major U.S. trading partners since mid-May.
There are many reasons for the decline. Most recently, pressures are coming from investors' nervousness that President Bush and his administration would do little to stem the dollar's slide.
U.S. Treasury Secretary John Snow said Monday that the United States would like the dollar to strengthen, but he repeated his position that international currency markets should be left to set its value.
Also weighing down the dollar are the huge U.S. trade and budget deficits. Friday's slide was touched off by comments by Federal Reserve Chairman Alan Greenspan that the trade gap poses risks to the economy. [...]
FRANKFURT (Reuters) - Investors' appetite for U.S. assets will eventually dwindle and the United States must reduce its budget deficit to prevent major economic damage, Federal Reserve Chairman Alan Greenspan said on Friday, in remarks that hit the dollar hard.
Speaking before meetings where financial policymakers may tackle the dollar's tumble, Greenspan also said large scale intervention in foreign exchange rate markets to calm currency moves help somewhat, but did not have a lasting effect.
The clarity of these warnings surprised market analysts, even though Greenspan combined them with a call for the U.S. administration to tackle the huge budget and current account deficits that lie behind the dollar's drop.
"We see only limited indications that the large U.S. current account deficit is meeting financing resistance. Yet, net claims against residents of the United States cannot continue to increase forever in international portfolios at their recent pace," Greenspan told a bankers' conference in Frankfurt.
"It seems persuasive that, given the size of the U.S. current account deficit, a diminished appetite for adding to dollar balances must occur at some point," he said.
After his remarks the dollar slumped to a four and a half year low against the yen and nearly nine-year low against the Swiss franc. The euro was up 0.8 percent at $1.3055, within sight of its all-time peak around $1.3074. [...]
BERLIN - Finance ministers and central bank chiefs from the world's 20 biggest economies voiced concern on Saturday over sudden currency swings, venturing for the first time into the territory of the more influential Group of Seven.
German Finance Minister Hans Eichel, the meeting's host, said there was a general view that sudden changes in exchange rates or oil prices from global imbalances were undesirable.
He also announced a tentative deal, thrashed out with the U.S., to write off up to 80 percent of Iraq's $120 billion in foreign debt.
Officials have been at pains to point out that the G20 was not a forum for focusing on exchange rates but the recent sharp falls in the dollar mean it was impossible to discuss the economy without touching on exchange rates.
"The imbalances that exist without doubt in the world economy should not lead to abrupt changes, either in oil prices or exchange rates. That's a common position," Eichel told reporters during a break in the G20 talks that end on Sunday.
The dollar sank to a multi-year low versus the yen and within a whisker of its low against the euro on Friday after remarks from U.S. Federal Reserve Chairman Alan Greenspan.
Policymakers faced a barrage of questions from reporters on exchange rates and European and Japanese delegations, worried the dollar's slide could hurt their exporters, said they were concerned.
Markets are now waiting to see if Sunday's communique makes an explicit reference to currencies.
Some G20 members were less bothered and one official said there was no appetite among the G20 as a whole intervene to stem the slide.
But Hiroshi Watanabe, Japan's top financial diplomat, said Tokyo viewed recent forex moves as "very rapid," said it was watching developments closely and added it would take decisive action if necessary.
German Chancellor Gerhard Schroeder, who lunched with ministers, put the blame for the dollar's slide firmly on the huge U.S. budget and current account deficits, a view shared by other delegations.
He said the dollar's exchange rate against the euro was a source of concern and that central banks, including the ECB, should consider what action they could take to halt the dollar's decline.
But Brazilian Finance Minister Antonio Palocci, speaking shortly after Eichel, said "the movement in world currencies is not considered to be a worrying thing" and the ministers' debate had been dominated by the potential impact of oil prices on growth. [...]
[..] The world's foreign exchange markets are rife with rumours that the latest wave of $US selling has been led by foreign governments seeking to cut their exposure to US assets in general and the US Dollar in particular. India and Russia have reportedly been selling US paper assets. So have petrodollar-rich Middle East investors. China, with reserves of $US 515 Billion, is said to be selling Dollars and buying Asian currencies, preparing to switch the Yuan's US Dollar peg to a new currency basket arrangement.

The US government is so flat broke that it must raise its debt ceiling by November 18 or stop many normal government functions because they will have no cash. The Treasury has already said that due to debt limit constraints, it does not have the capacity to settle a four-week bill auction scheduled to be held on November 16. The lame duck Congress returns on November 16. It has two days in which to act. [Ryan: We now know that Congress has voted to increase the debt ceiling.] [..]

The Real US Economy:

In effect, the US economy is being artificially held up by US Treasury borrowing, and spending that borrowed money into the US economy, in the process "boosting" the US GDP. The Labor Department reported that the US labour market snapped out of its summer lull to add 337,000 new jobs in October, the biggest increase since March. 71,000 of these jobs were new jobs in all levels of government. All the rest were in services. US Manufacturers shed 5,000 jobs in October - and that's where it matters.

When US defence materials are subtracted, new US factory orders dropped a full 1 percent in September.

Internal demand has dropped sharply for manufactured goods other than defence materials, the Commerce Department reported. Overall, US factory orders slipped by 0.4 percent, or $US 1.3 Billion, in September to $US 368.3 Billion, following a decrease of 0.3 percent in August that had reversed a months-long trend of increases. These were the first back-to-back declines since November - December 2002 and the first economic indicator to be released after the November 2 election. The data shows a contracting economy. [..]

The Geo-Politics Of Isolating The US:

If the global process of selling by most foreign holders of US Dollars and US Dollar paper assets has begun, it has inherent in it certain economic characteristics. The first of these is that the sum of foreign holders must not allow one of the major sellers to bolt - to make a sudden fast dash for the exits. Such an action could easily cause a world wide cascade of US Dollar and US paper assets to be sold in an avalanche. To prevent that, behind the stage these foreign sellers must have (for their own safety) some explicit/implicit accord or agreement. For as long as that holds together (it rarely holds for long), their selling of their US Dollar and its Dollar denominated paper assets will take place in stages, with even longer pauses in between waves of "orderly" selling. There is literally not a thing the US can do about this - except to raise its official interest rates high enough to stop the US credit expansion.

If US Dollars and paper assets are sold in stages, the US Dollar will fall in stages. It will find trading ranges where it will wobble around for a while before it begins to fall again. Internal US market rates of interest will climb, in matching stages, as foreign holders sell down their current holdings of US Treasury paper and all other forms of US commercial paper. The US internal credit and lending markets will see diminished total liquidity as newer loans are not entered into by American borrowers. The US retail markets will contract, as will US internal employment, led by the service industries. US internal unemployment will climb, corporate US earnings will fall and the US stock markets will break on the downside. Prices for imports will climb to be followed by climbing internal US prices. Then these price climbs will slow down as internal borrowing and buying ebbs away. When that happens, most Americans will finally realise that they are now in the long postponed real recession.

Inside Washington, and in the Fed and Treasury, they are well aware that for at least the past three years, the entire US economy has been held up mainly by the Asian Central Banks. They also know that this situation will end. But instead of waiting for it to end, and taking the resultant selling of the US Dollar, US Treasury and other debt paper and US stocks by current foreign holders of same, the Bush Administration is more likely to act to pre-empt the event. They are determined to avoid leaving the control of events and the global initiative in foreign hands. Their obvious response is PROTECTIONISM. That would take the form of a sudden and savage barrage of tariffs, quota restrictions, mandated selling prices etc., etc., while proclaiming to the American people they are fighting "unfair competition" to "protect jobs and US living standards".

The imposition of US protectionism would obviously hammer particularly hard the Chinese, and then Japan and all the other Asians who presently export so much to the US economy. Their export sectors would be torn apart. These nations do have a response, held as a hammer presently hidden behind their backs. That is to ACTUALLY START A MASSIVE SELL-OFF OF US DOLLARS.

The Bush Administration has a classic and historic response to that. It could initiate a FULL-SCALE FREEZE OF ASIAN FINANCIAL ASSETS INSIDE THE US. This would say to the Asians: "You can sell, but you cannot take your money out of here". That is what the US did to Japan in June 1941, when it "froze" Japan's US assets. Japan, being strangled economically, attacked the US on December 7, 1941.

An Asian "asset freeze" would leave foreign accounts frozen inside the US financial system. Were this to happen, all other nations around the world would live in fear that it could happen to them. If the US does act in this manner, the US Dollar would promptly lose its present global reserve currency status. Then the US would find itself in the same position as the rest of the world. It would have to pay for imports in "foreign" currencies, not in US Dollars.

The resultant economic recession inside the US would be massive. But Americans would be told that it was the fault of "foreigners". Nothing would be said about the real cause - US borrowing or credit policy. [..]

Do Those At The "Top" Know?:

Robert McTeer, who resigned in early November as President of the Dallas Fed, has recently mused (only "theoretically") that when foreign capital inflows into America dry up: "There will be a crisis that will result in rapidly rising interest rates and a rapidly depreciating dollar that will be very disruptive".

They Know, But What Do They Do?:

Short answer - nothing! A statement like the one above, made in public, brings to the fore the basic and simple question of what Mr McTeer has been doing at the top level of the Federal Reserve when he KNOWS what the real consequences of a monetary and credit policy which were willing followed are. As the quote makes clear, Mr McTeer sees the consequences coming. Being at the top level of the Fed, Mr McTeer could have pushed to put in place US monetary and credit policies which would make the crisis he now talks about impossible. He did just the opposite, so now, all he can offer Americans is his version of throwing his hands up in the air. When - not if - the foreign capital inflows into the US stop, then US interest rates will soar and the US Dollar will do a massive dive in international value. It's a dismal prospect, a prospect which the Fed has created and now does NOTHING to prevent. [..]

The Canadian dollar came back to life today, rising almost nine-10ths of a U.S. cent as the U.S. dollar sold off after a speech by U.S. Federal Reserve chairman Alan Greenspan.
In remarks to a banking conference in Frankfurt, Greenspan warned the huge American trade deficit eventually could threaten the economy at some point if foreigners lose interest in holding U.S. dollar-denominated investments.
"What Greenspan has done is reaffirm the concerns of the market that the U.S. dollar will slide further," said Andrew Pyle, senior economist at Scotiabank.
"It brings up the point again that at some point in time, foreign investors are not going to have the same appetite for providing the funds to keep financing what is now almost a $700 billion (U.S.) trade deficit." [...]
WASHINGTON (Reuters) - U.S. lawmakers struck a deal late on Friday on a $388 billion package of government funding for the current fiscal year after days of battling over foreign aid, nuclear waste, milk subsidies and overtime.
To fit into spending limits demanded by President Bush, lawmakers agreed to make an across-the-board cut of 0.83 percent in spending levels backed earlier by the House and Senate.
But last minute increases were allowed for some pet White House and Republican projects like space programs and a new foreign aid initiative.
The spending bill is expected to be one of the last pieces of legislation lawmakers will tackle in the post-election session of the 108th Congress set to end this weekend.
Congress only passed four of 13 spending bills before the election break so lawmakers must wrap the remaining nine into one for the 2005 fiscal year that began Oct. 1. This bill funds more than a dozen agencies including the departments of labor, agriculture, treasury, state and justice.
The Bush administration had threatened to veto the massive bill if the cost of its programs pushed spending for all 13 spending bills above an $821.9 billion limit.
"We have resisted many requests for additions to the package that would have busted the budget by billions of dollars," said House Appropriations Committee Chairman Bill Young, a Florida Republican.
In a victory for the White House, lawmakers agreed to open up some government agency jobs to the private sector.
The bill dropped language that would have challenged new Bush rules on overtime and travel to Cuba.
On another tricky issue, the compromise bill included $577 million in funding for a nuclear waste site at Yucca Mountain in Nevada but did not include language that would reclassify fees paid into the Nuclear Waste Fund.
Senate Majority Leader Bill Frist, a Tennessee Republican said the talks had been "very challenging." [...]
A provision that would have extended milk subsidies for small dairy farmers was also left out as lawmakers from states with large dairy farms are fiercely opposed to this measure.
Left in the bill was a measure requiring Mexican truckers operating in the United States to meet the same safety standards as domestic carriers before they cross the border, aides said.
The bill also included $403 million dollars for Sudan, including $93 million switched from unused Iraq reconstruction funds, to support troops and ease the humanitarian crisis in the African nation.
The bill chopped $1 billion from Bush's request for $2.5 billion for the Millennium Challenge Account, a new program to encourage economic and political reforms in poor countries. But this was slightly above the numbers approved in the House and Senate versions of the bill.
Funding to fight HIV/AIDS and other diseases around the world received $2.9 billion but the Global Fund will see less money than advocacy groups had hoped for.
The NASA space agency found a last minute boost to $16.2 billion, an increase of $822 million over last year's levels. NASA has operations in the home district of House Majority Leader Tom DeLay, a Texan from the Houston area.
Aides also said the bill included legislation to allow satellite companies to retransmit broadcasters' television signals so customers in remote areas could access shows.
WASHINGTON - The Pentagon is spending more than $5.8 billion a month on the war in Iraq, according to the military's top generals.
That is nearly a 50 percent increase above the $4 billion-a-month benchmark the Pentagon has used to estimate the cost of the war so far.
The Army alone is spending $4.7 million a month while the Air Force is spending $800 million a month transporting soldiers and flying combat missions. The Marine Corps is spending $300 million a month, the four service chiefs told the House Armed Services Committee Wednesday.
Since 2003, the Pentagon has received some $160 billion for the wars in Iraq and Afghanistan in supplemental funding -- that is, in addition to its annual budget. It will be requesting another multibillion-dollar supplement early next year to cover the continuing cost of the war.
UNITED NATIONS, Nov. 19 - Faced with polarizing division in the 191-member General Assembly, the United States on Friday abandoned its aggressively pursued attempt to obtain a United Nations treaty banning all human cloning, including that done in the name of medical research.
The outcome - an agreement to come up with a nonbinding declaration against cloning to reproduce humans - fell far short of the American goal and represented a setback for President Bush. He called for a worldwide ban on all cloning when he addressed the United Nations General Assembly in August, and he made limiting stem cell and other related research an issue in his presidential campaign.
All 191 United Nations members have agreed on the need for a treaty to prohibit reproductive cloning. But a vote has been stalled for three years by sharp differences over whether to broaden the ban, as the United States wishes, to prohibit cloning to create stem cells for research, part of a field known as therapeutic cloning.
The push for a total ban has set the Bush administration against close allies like Britain and much of the world's scientific establishment, who contend that it would block research on cancer, Alzheimer's disease, Parkinson's disease, diabetes, spinal cord injuries, multiple sclerosis and other conditions. The White House argues that enough stem cells from human embryos exist for research and that cloning an embryo for any reason is unethical. [...]
THE HAGUE, Netherlands -- One of the most popular politicians in the Netherlands said Friday the country's democracy is under threat and called for a five-year halt to non-Western immigration in the wake of the killing of a Dutch filmmaker by a suspected Muslim radical.
"We are a Dutch democratic society. We have our own norms and values," right-wing lawmaker Geert Wilders told The Associated Press in an interview. "If you chose radical Islam you can leave, and if you don't leave voluntarily then we will send you away. This is the only message possible."
In his first interview with the foreign media since the slaying of filmmaker Theo van Gogh on Nov. 2, Wilders said his own life has been repeatedly threatened. He said he has begun living under state protection and has even had to stay away from his own home.
Wilders split with the free-market coalition partner Liberal Party two months ago because it backed the candidacy of predominantly Muslim Turkey for the European Union.
He formed his own conservative party, the Wilders Group, which has one seat in the 150-member parliament. But a recent poll suggested his anti-immigrant message was reverberating through the electorate, and he would win 24 seats if elections were held today -- up from 19 seats before Van Gogh's murder.
Wilders said that without swift, bold action, Islamic fundamentalism will topple the country's democratic system.
"The Netherlands has been too tolerant to intolerant people for too long," he said. "We should not import a retarded political Islamic society to our country. There is nothing to be ashamed of to say this. It's not Islam. I speak out against the facts."
In Brussels, Belgium, European Union leaders met Friday to discuss immigration, one of Europe's most pressing and sensitive issues. EU justice and interior ministers agreed to demand that new immigrants learn the language of their adopted countries and adhere to "European values" to guide them toward better integration.
Even as the number of immigrants arriving in Europe falls due to tougher policies, led by a sharp drop in the Netherlands, Wilders said closing the borders isn't enough. Newcomers should be forced to integrate.
"If in a mosque there is recruitment for jihad, it's not a house of prayer, it's a house of war. If it's not a house of prayer, it should be closed down," he said.
Wilders, known for his radical positions and peroxide-blond hair, has been a member of parliament since 1998. He was born and educated in the southern city Venlo, near the German border.
"I'm very tough on radical Islam. I have the toughest ideas on beating this problem and I'm proud of it. I say nothing wrong. I'm no racist, no anti-Islamist," he said.
Wilders and the police took the death threats more seriously following the slaying of Van Gogh, who had produced a television drama critical of how women are treated in some Muslim societies. The filmmaker was shot and stabbed to death, allegedly by a 26-year-old suspected Islamic extremist who holds Dutch and Moroccan citizenship.
The most recent threats were disclosed when two terror suspects, arrested Nov. 10 after a standoff in which several policemen were wounded by a hand grenade, were charged with threatening Wilders and other politicians, their lawyer said.
The latest video threat broadcast on the Internet -- in Dutch, with Arabic music in the background -- condemns Wilders for insulting Islam and offers the reward of paradise for his beheading.
Wilders' style and cause are reminiscent of Pim Fortuyn, a flamboyant political outsider who put immigration on the national agenda before the 2002 elections. Fortuyn was shot to death by an animal rights activist days before the vote, but major parties since have largely embraced his ideas.
Wilders said he is not opposed to mainstream Islam but is concerned by studies saying 10 percent of the Dutch Muslim population -- or about 100,000 people -- support radical Islamic views.
He cited a report by Dutch intelligence saying recruitment for jihad, or holy war, is taking place in as many as 20 mosques in the Netherlands, and said they should be closed and their imams, or preachers, arrested and deported.
"If we don't do anything ... we will lose the country that we have known for centuries. People don't want the Netherlands to be lost, and this is something that I get angry about and I am going to fight for, to keep the country Dutch," he said.
Sri Lanka has stepped up security in the capital Colombo as police launched an investigation into the slaying of a judge and his bodyguard.
A section of a road leading to the residences of senior government figures was declared off limits for other motorists as police sought to identify a motive for Friday's killing of High Court judge Sarath Ambepitiya.
Ambepitiya and his police bodyguard were shot dead as they returned to the judge's official residence in a fashionable residential quarter Friday.
"The initial suspicion is that two gunmen were involved in the attack," a police official said. "We are working on a few leads, but so far there is no breakthrough."
He said security had been stepped up following the slaying.
The judge was known for his tough sentencing, including a 200-year jail term he handed in absentia to the main leader of the Tamil Tiger rebel group, Velupillai Prabhakaran.
The judge found Prabhakaran guilty in 2002 of masterminding the January 1996 bombing of the Central Bank of Sri Lanka in which 91 people were killed and 1,400 injured.
He also handed down the death sentence to two police officers implicated in the massacre of more than 25 Tamil youngsters in a state detention centre and has given record jail terms to child molesters.
BELGRADE, Serbia-Montenegro - A probe into the mysterious shooting of two soldiers has revealed the existence beneath the Serbian capital of a secret communist-era network of tunnels and bunkers that could have served as recent hideouts for some of the world's most-wanted war crimes suspects.
The 2-square-mile complex — dubbed a "concrete underground city" by the local media — was built deep inside a rocky hill in a residential area of Belgrade in the 1960s on the orders of communist strongman Josip Broz Tito. Until recently its existence was known only to senior military commanders and politicians.
The secret was revealed during an investigation this month into the deaths of two soldiers who were guarding an entrance to the complex. Both were found fatally shot.
Official explanations of the Oct. 5 incident have failed to satisfy the soldiers' families or a skeptical media, sparking speculation that fugitive Bosnian officers wanted by the United Nations for atrocities during the 1990s Balkans wars may have sought refuge in the complex, which was originally designed to resist nuclear attack.
"My son died because he saw some big secret," Petar Milovanovic, the father of one of the two soldiers, said recently. "They had to die to take the secret to the grave with them."
The army initially said the two soldiers shot each other, then backtracked and reported that one had murdered the other before committing suicide. An independent commission is now investigating.
The circumstances surrounding the deaths — and any link with high-profile war crimes fugitives such as Gen. Ratko Mladic — remain murky. But the probe has shed light on a complex that was once so secret military men here say NATO didn't even suspect its existence when it bombed Serbia in 1999.
Tito, who ruled Yugoslavia from World War II until he died in 1980, ordered it built because he feared a nuclear attack by the Soviet Union after his country's 1948 split with the Eastern European communist bloc led by Joseph Stalin.
The entrance is hidden beneath a hilltop army barracks in Belgrade's Topcider district, which is home to several embassies and luxurious diplomatic residences.
According to media reports citing unnamed military sources, a 185-foot-deep elevator shaft leads down to a six-story underground complex dug into rock and reinforced by 10-foot-thick concrete walls.
Retired Gen. Momcilo Perisic, who was the army's chief of staff until 1999, confirmed that the sprawling complex is intended as a wartime command center.
The main hall is as big as a subway station and could be used to shelter tanks and trucks, the reports by the Vecernje Novosti newspaper and other media said.
Tunnels stretching for hundreds of yards link palaces, bunkers and safe houses. Rooms are separated by steel vault doors 10 feet high and a foot thick. The complex has its own power supply and ventilation.
Former Yugoslav President Slobodan Milosevic is believed to have convened his war Cabinet there in 1999 while NATO bombs fell on his country for 78 days to punish him for cracking down on independence-seeking ethnic Albanians in Kosovo.
The complex is so well designed that Yugoslav construction firms were reportedly hired by deposed Iraqi dictator Saddam Hussein to build a duplicate bunker near his hometown of Tikrit in the 1980s. [...]
SALISBURY, N.C. — A community college instructor who was suspended for showing Fahrenheit 9/11 in class the week before the presidential election is offering no apologies and says he was unfairly punished.
Davis March showed the Michael Moore documentary critical of President Bush to his film class. Administrators pulled the plug on the movie with about 20 minutes left when March tried to show it to English composition students.
"This story is now about academic freedom ... the movie is ancient history," said March, who served a four-day suspension and returned Nov. 2 to Rowan-Cabarrus Community College, about 75 kilometres northeast of Charlotte.
School officials said March disobeyed orders by refusing to meet with administrators before showing the film, but March said no edict to seek permission had been issued.
"If I'm wrong about this, I've been wrong my entire career," said March, 54, who has taught at the school for two decades. "If I backed down, how could I go back into the classroom and face my students?"
The school's executive vice-president, Ann Hovey, said the board of trustees has a clear policy of nonpartisanship regarding political issues. She said college President Richard Brownell has issued several memos on the topic.
One dated Oct. 25 stated that college employees may not use "the classroom or college environment as a platform to promote their own personal, religious or political views or to advocate for specific political candidates.''
Hovey said March asked school officials in August if he could send out fliers promoting a screening of Moore's movie. The school rejected that request.
"He was insistent about wanting to show it before the election, which implied some possible political intent," Hovey said. She said March erred by not also presenting an opposing view to the film.
"We are not about trying to suppress critical thinking or academic thought," she said. "But if you are trying to promote critical thinking, then both sides need to be presented.''
Greg Lukianoff of the Foundation for Individual Rights in Education described the school's actions as deplorable.
"It's true the university cannot endorse a candidate, but the distinction of what a university professor can do is increasingly getting blurred," he said.
According to the official account, 19 Arabs hijacked four passenger planes on September 11, 2001 and crashed these planes with passengers and crew onto the World Trade Center, the Pentagon and a field near Shanksville, Pennsylvania. Two of the aircraft belonged to American Airlines and two to United Airlines.
In view of the huge losses incurred by these airlines in terms of human lives and assets, one would have expected them to help shed light on the criminal events.
As will be shown below, the airlines have, on the contrary, refused to disclose crucial evidence to the families of the victims and to the public in general and continue to do so. One of the immediate worries of American Airlines on September 11, 2001, was how to mould information flow to the general public and prevent "rumors" and wrong "theories" to leak out.
A prestigious public-relations agency was put on the scene by AA "minutes after the first crash" to help carry out that communications task. Concurrent to such public-relations efforts, both airlines refused and continue to refuse to disclose the most fundamental data in their possession regarding the murderous events, such as passenger lists and access to eye-witnesses. This evidence suggests airlines' complicity in covering up the truth on 9/11.
THE OFFICIAL ACCOUNT
While the US administration has not issued any authoritative "official account" (or "white book") of the events of 911, as promised shortly after the events by Secretary of State Colin Powell (1), the report issued by the bi-partisan Congressional Commission of Inquiry in June 2004 (2) may be regarded as the nearest thing to an "official account".
According to this report, 19 Arab hijackers, whose names and photographs have been posted shortly after the attacks on the FBI website (3)(4), perpetrated the atrocities on September 11 through a collective suicide operation. Two AA and two UA passenger jets were, according to this account, flown as living missiles into the named targets. The first AA aircraft (flight AA11, tail no. N334AA) is said to have left Logan airport in Boston at 7:59 with 92 people on board (crew, passengers and hijackers) and crashed at 8:46 on the North Tower of the World Trade Center in New York City. The second AA aircraft (flight AA77, tail no. N644AA) is said to have left Dulles airport in Washington, D.C. at 8:20 with 64 people on board and crashed into the Pentagon at 9:37. The above departure times, incidentally, are still disputed and in the case of AA11 (5). As of November 13, 2003, the statistical database of the Department of Transportation (BTS) did not even mention AA11 as a flight scheduled for September 11, 2001 (6). At a later date the Department added a record for this flight with the departure time set as zero. Checking again the BTS database for this article on November 18, 2004, I discovered that the DoT again amended its database by setting the scheduled departure of AA11 to the "official time" of 7:45 (6). It appears that the DoT had received orders to align its database with the "official account" on the crime of 9/11. Should this have happened, there would be grounds to charge the DoT for falsification of official records and participation in a criminal cover-up.
Hundreds of questions regarding the events of 9/11 remain unaddressed both by the Joint Senate House Committee as well as by the 9/11 Commission of Inquiry. The present article examines only one particular question:
Whether American Airlines (and United Airlines) are participants in the vast cover-up of the crimes committed on September 11, 2001.
WAS THERE PRIOR KNOWLEDGE ?
On the morning of September 11, 2001, the Dallas office of Weber Shandwick, one of world's largest public relations agencies, mobilized a nationwide network of public relations professionals to assist the American Airlines corporate communications department. The details are reported on Weber Shandwick's website:
"Within minutes of the first terrorist attack involving American Airlines, Weber Shandwick put in motion a national strategic support network, comprising more than 75 Weber Shandwick professionals, to assist American Airlines during this unprecedented crisis situation. Over the following week, the W.S. team worked around the clock on site at the AA corporate headquarters in Fort Worth, Texas, as well as in New York, Washington, D.C., Boston and Los Angeles, providing strategic counsel and tactical support for both internal and external communications. Additionally, the Dallas office of W.S. was staffed 24 hours a day, monitoring breaking national broadcast and online news. Communications specialists in crisis management, consumer relations, internal communications, and government affairs provided support....Externally, AA faced the difficult challenge of controlling what was being said about the airline by unauthorized spokespeople. Flight attendants, pilots – and their unions - along with contracted security firms, airport authorities, government agencies including the FBI, FAA and National Transportation Safety Board, and local government agencies all issued statements regarding the events. Eyewitnesses, stranded passengers and post-September 11 travelers were also of concern. All of these external groups has an impact on American Airlines' communications strategy, requiring that the W.S. team ensure consistent communications with all audiences."(7)
Timothy Doke was AA Vice President of Corporate Communications at the time of the 9/11 events. He is now Vice President – Corporate Communication at Freescale Semiconductor, Inc.
As a response to the present author's inquiry, Tim Doke responded by email on October 6, 2004:
"Dear Elias. There seems to be some confusion around the way AA handled the crisis at the time of 9/11. We did not 'outsource' all our crisis communications to Weber Shandwick. We managed it from beginning to end in-house. Because of our staffing resources were limited and the air transportation system was shut down, precluding us from getting our staff to key locations around the country, we relied heavily on W.S. professionals to supplement our PR resources at our headquarters in DFW and to provide on-site personnel to support our people in Boston, LA and New York...Nothing in [our crisis] plan contemplated having the FBI move into our offices, declare an incident a criminal investigation and shut-off any of the traditional external media communications we would do in the case of a crash."
Tim Doke added, laconically: "Most of the people who were involved in the crisis on 9/11 have left AA."
According to Sherri Green and Claire Murphy of PR Week USA of November 11, 2001(5), who interviewed Tim Doke, he "immediately called Ken Luce, president of Weber Shandwick Worldwide's Southwest US office. The agency sent more than 20 people to American's headquarters and to airports around the U.S. [according to the agency, the figure was 75 professionals, see above – E.D.]..It seemed like every media call raised a new issue". Doke also reportedly said that "spokespeople subtly steered reporters away from false rumors and leaked information. Employees from WSW and American's other agency, Burson-Marsteller, served as the firm's eyes and ears in the airports its staff couldn't reach while planes were grounded".
The above account raises various questions with far-reaching consequences:
(a) Weber Shandwick states on its website that it deployed 75 P/R professionals around the country in support of AA "within minutes" of the crashes. The accuracy of this statement was confirmed to a colleague of the present author by Weber Shandwick's Ken Luce on October 5th 2004. How could Tim Doke, let alone Ken Luce of Weber Shandwick, know within minutes that AA aircraft were involved in the attacks on the World Trade Center and the Pentagon, when it is publicly claimed that neither the US President, the US military and other security agencies, knew at the time what was going on, let alone could know the identity of the crashed aircraft? Is it plausible that a service agreement, detailing the nature, scope and costs of Weber Shandwick's P/R services for American Airlines, could have been drafted, finalized and negotiated within minutes of the attacks? Or were AA and Weber Shandwick executives forewarned on the attacks, ready to act on the spur of the moment? If so, by whom were they forewarned?

In an email of November 7, 2004 to the present author, Tim Doke dismisses that AA or Weber Shandwick "had any premonition of the events of 9/11. It was the furthest thing from our minds." Regarding the promptness of Weber Shandwick's reaction he merely explained that "Weber Shandwick had people ready to respond quickly to this event."

(b) What were the specific interests that prompted AA to engage in a massive P/R efforts on the very day of the attacks? A hint is given in the statement by Weber Shandwick that it was necessary for AA to "ensure consistent communications with all audiences". In his email of November 7, 2004, Tim Doke shed some light on the term "consistent communications" by saying: "Lots of people claimed to have knowledge or theories about what happened that they shared with any reporter who would listen. It was important for us to go 'off the record' with certain media who were straying from the facts as we, at AA, uniquely knew them. We did this to prevent inacurate reporting." However, in his email he maintained that "employees who were in contact with the terrorists on the ground were fully interviewed by the FBI, but had no desire to speak to the media. Of course, they could not talk to reporters anyway under the FBI's restrictions."
One may surmise that AA employees were strictly forbidden to talk to media and the public about what they knew so that only "authorized" individuals could describe the events in line with what the corporation wanted the world to know. This required to "subtly steer[...] reporters away from rumors and leaked information". AA was apparently concerned, and seriously so, that some facts regarding the events of 9/11 and AA's relation to these events, would reach the public.
PARTICIPATING IN THE COVER-UP?
As mentioned already in the previous section, part of the public relations efforts carried out by Weber Shandwick, at the request of American Airlines, was to "subtly steer[.,.] reporters away from rumors and leaked information". What type of "leaked information" was AA concerned with?
It is argued here that the information AA did not want to "leak" to the public was the same information that AA refuses to reveal to the families of the victims and to the public in general since 9/11. Such information includes:
(a) Names of ground personnel who saw off the passengers and crew at the departure gate on 9/11 and could testify on what they saw;

(b) Authentified copies of the flight manifests, which would show the names of the alleged hijackers and of the passengers;

(c) Copies of boarding cards, which would show the names of the alleged hijackers and of the passengers and confirm their seat numbers;

(d) Computer listing of the boarding times of individual passengers and hijackers;

(e) Positive evidence that the aircraft which left the airport was indeed the aircraft which later crashed into the known target (aircraft serial number, tail number, engine serial numbers, black boxes, etc.);

(f) Names and contacts of AA personnel who reportedly communicated by cellphones with crew or passengers on the hijacked aircraft and could publicly testify on these conversations.
The present author asked both American and United Airlines to provide some of the above information. Both airlines declined to provide the information and referred the author to the FBI for all such data. The last attempt to obtain information from American Airlines (a letter to AA spokesman Marty Heires of October 6, 2004) did not elicit any response at all. Neither airline, however, justified in its answer its refusal on a legal restraining order or on the need to protect the privacy of the families of the victims or of its personnel. The author has not come across any Justice Department order, or any legal ruling, that prohibits airlines from releasing the above information and airline personnel to communicate freely with the media on matters relating to 9/11. However, Tim Doke, in his email to the present author claimed that the FBI "limited what we could say publicly through the media" and that "employees who were in contact with the terrorists on the ground... could not talk to reporters... under the FBI's restrictions."
A spokesperson of the FBI, asked why the agency has not publicized the original flight manifests in support of its allegation against 19 named hijackers, did not maintain that the FBI or the airlines were legally prohibited from disclosing the original flight manifest. She simply referred the present author to the airlines for such information.
The airlines' apparently uncoerced refusal to produce the above information suggests that this refusal is prompted by their interest to prevent their employees, the families of victims and the public from knowing the full truth on the events of 9/11,
DID AA OFFICIALS POSITIVELY IDENTIFY THE CRASHED PLANES ?
In order to obtain insurance benefits, owners of a crashed plane must positively identify the plane as theirs. Yet, in the case of the reported crashes of the four planes on September 11, 2001, no evidence could be found in the public domain that airline experts positively identified the crashed planes from the planes' wreckage. If such expertise did take place beyond public gaze, why would American or United Airlines not announce such positive identification on their website or in a press release? The Report by the Congressional Inquiry Commission does not either, for its part, refer to any positive forensic identification of the aircraft by the airlines or by public agencies.
According to the "official account", the aircrafts were the weapons with which the passengers were killed. In a proper criminal investigation, one of investigators' first tasks is to identify the owner of the murder weapon and find out how that weapon reached the scene of the crime. Yet, no reference to such an investigation could be found in the allegedly "comprehensive" report by the Congressional Commission of Inquiry.
The lack of positive identification of the aircraft means that the families of the dead or missing passengers cannot know with certainty where and how their beloved ones actually died nor who caused their deaths.
WHAT COULD THE AIRLINES BE COVERING UP ?
It might be argued that the airlines' secrecy is prompted by their fear of being sued for negligent security measures rather than by charges of criminal complicity. If this were the case, what would explain the refusal of the airlines to release the original flight manifests or allow eyewitnesses to be questioned publicly? It appears, therefore, that the airlines cooperate with US public agencies in covering up the crime of 9/11.
Unless American and United Airlines show readiness to produce the above evidence, duly authenticated, and cooperate fully with the families of the victims and the general public to shed light on the events of 9/11, they must be regarded as suspects in the vast criminal conspiracy to commit a mass murder in America on September 11, 2001.
Notes
(1) "We are hard at work bringing all the information together--intelligence information, law enforcement information—and I think in the near future we'll be able to put out a paper, a document, that will describe quite clearly the evidence that we have linking him to this attack," said Secretary of State Colin L. Powell. Los Angeles Times, 24.9.2001.
(2) (1) http://www.9-11commission.gov/report/index.htm
(3) http://www.fbi.gov/pressrel/pressrel01/091401hj.htm
(4) http://www.fbi.gov/pressrel/penttbom/penttbomb.htm
(5) link
(6) http://www.sherrigreen.com/American Airlines braces ..
(7) According to Gerard Holmgren's report dated Nov. 13, 2003 (http://members.surfeu.fi/11syyskuu/holmgren.htm ), and a display of BTS database records of all American Airlines flights scheduled on September 11, 2001 from Logan Airport, Boston (at ), no AA11 flight was scheduled from Logan on that day.
A BRITISH teacher lurched into a War of the Worlds-style disaster when she tried to motivate her pupils by telling them a meteor was about to hit the Earth.
The teacher at the high school in Manchester, northwest England, told about 250 pupils at St Matthew's Roman Catholic High School she had bad news: a meteor would strike the Earth in 10 days, and they should go home and say their final farewells.
After many of the 13 and 14-year-olds burst into tears, she swiftly explained she was only trying to encourage them to "seize the day".
"Some of the children were 100 per cent convinced they were going to die," the father of one pupil said.
"God only knows what this teacher thought she was doing."
In 1938, Orson Welles ignited panic among thousands of Americans when his news broadcast adaptation of H.G. Wells' War of the Worlds convinced many that the Martians were invading.

ST. PETERSBURG, Fla. — A customer survived a gunman's deadly rampage inside a Radio Shack store by dropping to the ground and then prayed aloud as the moans of his victims echoed around her, tapes of her call to 911 showed today.
Leellette D. Rutherford was inside the store buying a computer mouse yesterday evening when Justin Cudar walked in and began firing without warning, killing a customer and a clerk and severely wounding another employee before turning the gun on himself.
A terrified Rutherford pleaded with the 911 operator to send help as she prayed aloud. She grabbed the hand of one of the bloodied clerks after he was hit in the face.
"Please God, there are people dying here," Rutherford, 55, said. "There's blood all over the place."
The tape of the dramatic emergency call was released as authorities and families struggled to understand Cudar's motive.
Police said Cudar, 25, a psychology major at the University of South Florida, may have undergone treatment for paranoia and was being investigated in a road rage incident earlier in the day.
His mother last saw him several hours before the shooting when he left their St. Petersburg home and told her he was "going to do some target practice," police Sgt. Mike Puetz said.
There is no known connection between Cudar and the Radio Shack store or any of the employees, police said. Cudar had purchased the Glock .40-caliber handgun legally Nov. 5.
"It appears to be a random and senseless act at this time,'' police spokesman Bill Proffitt said.
Killed were customer Kenneth Powell, 23, and store clerk Joana Cruz, 19. Another clerk, James Dolan, 30, was hospitalized in critical condition Friday. Cudar shot himself to death; his body was found in the store.
Puetz said Rutherford had dropped to the ground in the fetal position when Cudar, who was standing behind her, started shooting. Rutherford told reporters at her home that she doesn't know why he passed her over.
"Why me? Why didn't he shoot me?" she said. "I would have given my life for the others."
Barbara Cudar did not answer her door Friday. Michelle Luciano, a neighbour, said Justin Cudar never showed signs of trouble.
"He was a good kid," Luciano said. "It's just shocking."
Marianne Pasha, a spokesperson for the sheriff's office, said deputies spoke with Cudar's mother after receiving a report earlier in the day of a driver exchanging hostile glances with two people in a pickup truck, then throwing a steering-wheel locking device through the pickup's window. The frightened victims hid behind a store and called for help, Pasha said.
"His mother said her son had anger-management issues," Pasha said Friday. "I am not sure anyone will know what set him off."
In 2000, a police report said Cudar punched a student at a college in an unprovoked incident, but he wasn't arrested. Earlier this year, a woman complained that Cudar was harassing her by telephone; police referred the matter to the telephone company.
MANILA : Three people have been killed and 1,000 others displaced as Typhoon Muifa struck the eastern Philippines.
One man drowned and an elderly man succumbed to hypothermia in the island of Catanduanes, the first region to experience Muifa's 120 kilometer (74.4 mile) per hour winds, the civil defense office said.
Another man drowned off Bulan town in the Bicol peninsula near Catanduanes, where 40 houses were destroyed or damaged.
A man was injured and more than 1,000 others were displaced in Catanduanes and Bicol.
The civil defense office said power has been restored to these areas, but that some roads and bridges remained closed due to landslides or floods.
Muifa hovered over the Philippine Sea just off the northeastern town of Casiguran early Friday, the weather bureau said.
(Alaska) - No, it wasn't the furnace rumbling or the cat jumping up on the bed.
Fairbanksans who guessed they were gently rocked from their sleep by an earthquake early Wednesday morning guessed it right.
The Alaska Earthquake Information Center reported a minor earthquake with preliminary magnitude of 3.8 at 2:29 a.m. Wednesday.
The earthquake was located at a depth of about 11 miles and was centered roughly midway between Fairbanks and Manley Hot Springs.
The Information Center mapped the quake's location at about 43 miles west of Fairbanks and 44 miles east of the hot springs.
The rumbling was felt by residents in Fairbanks and surrounding areas. No damage reports have been received, the center reported.
BERLIN - A storm accompanied by violent gusts of wind, heavy snowfalls and chilling temperatures knifed into the center of Europe after earlier causing major disruption in Scandinavia and Poland.
Winds gusting at up to 180 kilometers (112 miles) an hour were recorded at Wendelstein in Bavaria. Fallen trees disrupted traffic in several regions, including Stuttgart in the southeast.
Heavy snow fell on Lower Saxony, obstructing traffic and cutting of domestic electricity supplies. The snow was responsible for a multi-vehicle pile up on the A3 highway near Westerwald, causing damage estimated at 150,000 euros (196,000 dollars).
Police said a 49-year-old man was killed when his car hit a pitch of black ice and skidded off the road in Saxony-Anhalt. Another man died of exposure in the Sauerland.
A woman was killed in Slovakia in the Tatra mountains near the border with Poland when the car she was driving was struck by a falling tree, and a woman passenger was injured, police said.
Austrian authories said the driver of a small van was killed near Vienna when a gust of wind blew his vehicle into the path of an automobile coming from the opposite direction. The driver of the other vehicle was reported grievously injured.
A worker was seriously injured when he was blown off scaffolding at Styria in southern Austria, and a pedestrian was hit by a flying tile in Salzburg.
The APA news agency said the high winds overturned five heavy trucks, caused numerous electricity cuts and resulted in blocked lines of traffic dozens of kilometers long.
In the Czech Republic, a 27-year-old man was crushed and killed when the gable of his house collapsed near Brno.
Road and rail services were seriously affected and hundreds of trees were uprooted.
The Czech-German border at Cinovec/Altenburg was closed for several hours Friday due to heavy snowfalls, police said.
In Croatia one person was killed when high winds overturned his camper. High winds caused widespread electricity outages.
Earlier, at least seven people including a six-month-old child were killed in gales in Poland Thursday that widely disrupted road traffic and left tens of thousands of homes without electricity.
The massive storm also swept across Scandinavia on Thursday disrupting land, sea and air traffic.
PHILADELPHIA (AP) -- An olfactory offense sent officials sniffing for the source of a stench that wafted across Philadelphia.
A mysterious invisible cloud carried an odor that left sour faces and perplexed officials in its wake Thursday.
Emergency dispatchers began receiving the first of hundreds of 911 calls about the strong smell shortly past 2 p.m., first from the southern tip of South Philadelphia, then further north as the scent drifted on the wind.
Transit officials, fearful of a gas leak, evacuated a subway line in South Philadelphia for about 45 minutes.
Some people said it smelled like propane. Others said it smelled more like sulfur.
Authorities collected air samples, phoned nearby refineries and checked the pressure of natural gas lines, trying to determine if there had been an industrial mishap.
"We don't know what it is. But we've gathered enough samples to know that it's not toxic. It's just offensive," said mayoral spokeswoman Barbara Grant.
A police spokesman said authorities were checking out theories that the odor came from dust released as a substance was transferred between two train cars, or that it may have originated at a refinery in Paulsboro, N.J.
SAN JOSE, Costa Rica -- A strong, early morning earthquake Saturday jolted the Costa Rican capital, where leaders of 21 nations were gathered for the Ibero-American Summit.
Local radio stations said there were scattered reports of collapsed walls, shattered windows, toppled trees and landslide-blocked highways from the quake, which hit at 2:07 a.m. local time.
Red Cross spokesman Luis Huertas said a 64-year-old woman in San Jose died of a heart attack and that several people suffered minor injuries. All the summit figures were reportedly unharmed.
The U.S. National Earthquake Information Center said the quake had a magnitude of 6.2 and was centered 30 miles south-southwest of San Jose.
Falling trees knocked out power to the area around Quepos and the beach town of Jaco, said Rebeca Madrigal, spokeswoman for the National Emergency Commission. Parts of the capital also briefly lost power.
The police station on the Pacific island of Damas reportedly collapsed.
Jorge Rojas, a security official at the hotel where the summit is headquartered, said some of the leaders fled their rooms when the quake hit. He said none had been harmed and that there was no damage there.
At another hotel nearby, some people sobbed with fear as they ran from their rooms.
The king and queen of Spain and officials from 19 Latin American nations were attending the summit, which formally opened Friday night. Six heads of state had sent lower-ranking officials and some, notably the president of Mexico, had reportedly left Friday night.
Swarms of large locusts landed on Saturday evening near the village of Faran in the Arava region and the village of Neot Hakikar south of the Dead Sea.
Agriculture Ministry workers have been scanning the area in order to find the exact location of the swarms.
A fresh wave of relatively large locusts were spotted flying over the southern town of Eilat earlier on Saturday. This was the second wave of locusts to have hit the town in as many days.
The swarms came in from the north west and were seen at the outskirts of a neighborhood. Agriculture Ministry officials believe more waves could hit southern Israel before Saturday evening.
The ministry stated however that it wasn't clear whether the new swarms of locusts would swoop down on Israel or carry on into Jordan.
The ministry said earlier on Saturday it was preparing to spray insecticides in the event that more locusts are spotted in the region. The ministry began spraying pesticides against locusts on Saturday morning after swarms hit agricultural areas in the southern Negev desert on Friday.
The locusts are not expected to advance further north, because swarms in Egypt and Cyprus - countries the insects have already invaded on their way north to Israel - have already been destroyed.
Five cropdusting planes began spraying Saturday morning against locusts that have descended on agricultural areas in the Negev desert. The planes sprayed the pesticides in riverbeds near Kadesh Barnea on Israel's border with Egypt.
The Plant Protection and Inspection Services say thousands of locusts have also hit Eilat and municipality workers were spraying the parks in the city on Saturday morning. After the workers sprayed in the city, there were no further reports of locusts spotted in Eilat.
"We are checking all the time and the planes are spraying in areas where there is a large concentration of locusts," said an Agriculture Ministry official.
The substance used to destroy the locusts was authorized by the ministry and the Plant Protection and Inspection Services have promised they would use a diluted version of the insecticide, which won't cause other kinds of animals to be poisoned, should they consume the dead locusts.
Locusts were first spotted Friday afternoon in the southern neighborhoods of Eilat and in the hotel district of the city. Many residents of Eilat called the municipality's hotline to report the arrival of the insects.
The younger locusts cause a relatively limited amount of damage, usually attacking gardens or vegetable patches. But one swarm, which was spotted near kibbutz Eilot, concerned the members of the kibbutz, since crops including vegetables and melons could be compromised, some of which have already ripened and are ready for harvest.
Israeli officials and their counterparts in the region have been monitoring the locusts' movement for weeks. Earlier this month, a few individual locusts were spotted along the coastal plain and in communities including Palmahim, Tel Aviv and Karmiel.
The Agriculture Ministry received a request from its Palestinian counterpart to coordinate steps aimed at eliminating the locusts if they do arrive in the area.
GIROUXVILLE - A loud humming noise breaks the silence of night, causing Ron Cloutier's dogs to bark crazily, and announces the arrival of Unidentified Flying Objects in the Girouxville skyline.
The skin-tingling X-Files-like scene has haunted Cloutier over the last five months, as he is awakened to watch strange lights and shapes cutting through the darkness above his home.
The appearance of the unexplained objects has deeply shaken the 41-year-old oilfield trucker.
"It's really disturbing to witness something like this and not know what it is," he said. "It's bothering enough to see this once, but it happens all the time now... and it gives me the creeps."
In hopes of having the objects identified, Cloutier has been carefully recording their appearance with precise times and dates through film, photos and his notebook since they began appearing in mid-July. Thus far he has received no answers as to what they may be.
The longtime UFO nonbeliever says he has seen up to four objects in the sky at one time, appearing from the north, and moving eastward until they all disappear.
Approximately 150 kilometres southwest of Cloutier's home, Grande Prairie resident Beverly Kettner admits she too has witnessed a UFO-like object move erratically through the night's sky on at least three occasions.
"Over the last couple of months I've watched what first looked to be a star dart across the sky and stop dead in its tracks, start up again, then stop and then finally disappear," said Kettner.
"It wasn't a plane, satellite or shooting star... it didn't appear to be anything from this world."
Especially unsettling for Kettner is that her four-year old daughter has recently discussed late-night conversations with alien-like people. She says the girl describes the stereotypical short, grey large-headed alien without having ever seen them on television or read about them in storybooks.
The sightings reported by Cloutier and Kettner are part of a record number of Albertans who have reported possible UFO activity in 2004.
UFOlogy Research of Manitoba numbers show Alberta has already broken last year's UFO sighting record of 76 with more than a month left in the year.
Canadian UFO researcher Brian Vike says a growing social acceptance to the unexplained has made Albertans more willing to report potential sightings.
"The acceptance of UFOs into popular culture, increased media attention, and the discovery of new planets in the galaxy have all helped convince people it's OK to come forward with unexplainable sightings," said Vike, who from his home in Houston, B.C., maintains a website tracking Canadian UFO sightings.
Vike points out Albertans have reported seeing triangular, round, square and glowing flying objects, an unusual beam of light enveloping an unidentified figure and claims of missing and stopped time so far this year. Those reports come from nearly every section of the province including metropolitan Edmonton and Calgary.
Former High Prairie resident and UFOlogist Rick MacDonald points to a 2001 poll by Leger Marketing suggesting 40.7 per cent of Alberta residents believe in aliens - the highest of any province - as an example that Albertans are starting to believe.
"More people then ever before are looking at the existence of UFOs and aliens as a real possibility," said MacDonald, whose Disclosure Project group claims Canadian and American governments already know of alien existence.
"After watching UFO sightings on TV and reading sighting reports from hundreds of Albertans on the Internet, disbelief is dwindling."
The increased sightings and growing acceptance of UFOs are both positive steps towards finally unveiling proof of extraterrestrial life, says Alberta UFO Study Group member Jim Moroney.
"There is now enough solid evidence from reputable people in Alberta and across the globe to support the idea we are being visited," said Moroney, who spent the last 18 years investigating Alberta UFO sightings.
"It is now just a matter of time now before we'll be able to prove the existence of UFOs."
ORLANDO, Fla. -- A bright streak of light that some said turned blue and included sparks startled some Central Floridians early Friday morning.
Hundreds of callers to Local 6 and a local Orlando radio talk show said the light lasted about 30 seconds and was so bright that they had to look away.
"They called up a little before 6 a.m. this morning and it was kind of an alarmed voice and they saw a blue light near the airport with sparks in the sky," radio morning show host Scott McKenzie said. "As soon as the first call came through, then the phones lit up like a Christmas tree with people backing up the same story about how bright it was."
The light may have been caused by the annual Leonid meteor shower, which peaked Friday morning.
"This could have been a meteorite and there was some talk that their might have been a satellite going back through earth's atmosphere," Local 6 meteorologist Reynolds Wolf said. "Right now, we are thinking maybe a meteorite."
"It was bright enough to light up the patio at Florida Today," said employee Tom Deer, who is a former Air Force meteorologist.
Deer said at first he thought it was an explosion. "It was a bright streak of white light," said. "The glow lasted for about 30 seconds."
Officials at Patrick Air Force Base and the National Weather Service office in Melbourne had no firm reports on what caused the event.
Readers who wish to know more about who we are and what we do may visit our portal site Cassiopaea.org
---
Remember, we need your help to collect information on what is going on in your part of the world!
We also need help to keep the Signs of the Times online.
---
Send your comments and article suggestions to us

---
Fair Use Policy
Contact Webmaster at signs-of-the-times.org
Cassiopaean materials Copyright ©1994-2014 Arkadiusz Jadczyk and Laura Knight-Jadczyk. All rights reserved. "Cassiopaea, Cassiopaean, Cassiopaeans," is a registered trademark of Arkadiusz Jadczyk and Laura Knight-Jadczyk.
Letters addressed to Cassiopaea, Quantum Future School, Ark or Laura, become the property of Arkadiusz Jadczyk and Laura Knight-Jadczyk
Republication and re-dissemination of our copyrighted material in any manner is expressly prohibited without prior written consent.
.