Printer Friendly Version
New! The Global Game of Survivor: America's Next Four Years
Pentagon Strike Flash Presentation by a QFS member
New Publication! The Wave finally in book form!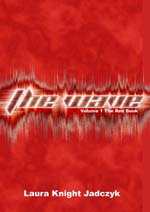 The Wave: 4 Volume Set
Volume 1
by Laura Knight-Jadczyk
With a new introduction by the author and never before published, UNEDITED sessions and extensive previously unpublished details, at long last, Laura Knight-Jadczyk's vastly popular series The Wave is available as a Deluxe four book set. Each of the four volumes include all of the original illustrations and many NEW illustrations with each copy comprising approximately 300 pages.
The Wave is an exquisitely written first-person account of Laura's initiation at the hands of the Cassiopaeans and demonstrates the unique nature of the Cassiopaean Experiment.
Pre-order Volume 1 now. Available at the end of November!
---
Picture of the Day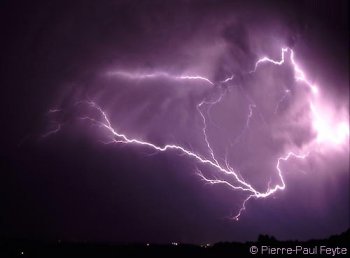 ©2004 Pierre-Paul Feyte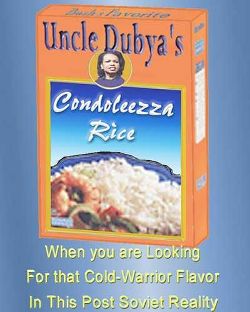 Washington — U.S. President Bush has chosen national security adviser Condoleezza Rice to replace Colin Powell as secretary of state in his second term, a senior administration official said Monday. [...]
Most of the speculation on a successor to Mr. Powell has centred on Ms. Rice, who is generally seen as more hawkish and is one of Mr. Bush's closest advisers. She is widely considered the President's first choice for the top diplomat job despite reports that she intends to return to California — she was provost at Stanford University — or was hoping to replace Donald Rumsfeld as defense secretary. [...]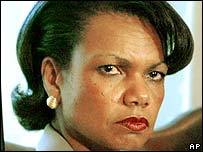 National Security Advisor Condoleezza Rice finally testified under oath before the 9/11 Commission Thursday. And what did we get? An attempt to filibuster commission members' questions with variations on an old standard, "Don't Blame Me."
Rice also juggled a mélange of bureaucratic gobbledygook. She took great pains, for example, to parse the distinctions of historic briefings, warning briefings, and threat briefings. And she did so over and over and over and over. She used the same redundant technique in throwing around distinctions between tactical responses and strategic responses.
What Rice appeared incapable of giving was a yes or no answer to any question, even when a simple yes or no was called for. [...]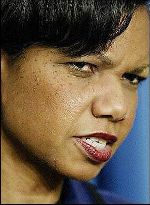 Watching our national security advisor deposed before the 9-11 commission, you had to be awed by this superwoman. What should one admire the most? Was it the confidence with which she expatiated on simple questions where a yes or no answer would have sufficed? Or the coolness with which she kept shrugging off responsibility? With her it was always the CSG, FBI or CIA's job. One was reminded of the many-armed goddesses of Hindu mythology, only in Convolute-a case, the hands seemed to have an sure knack of pointing in all directions except her own.
At one point, she couldn't help playing the race card. She pointed out, though not out entirely of context, that the founding fathers, when they said, "We the People", certainly didn't mean people like her. Certainly, the color of the skin should not be the basis of discrimination. Its thickness is another matter entirely. Any national security advisor with a shred of shame would have quit first thing September 12, 2001. As Richard Reeves wrote in the Washington Post, if 9-11 had happened in Japan, there would be no one left in the government to turn out the lights.
This, however, is America. Our rulers live by different standards. When Bob Kerrey asked about using the 'M' (Mistake) word, or when Tim Roemer asked about why no one had resigned, Conscienceless-a Rice did not appear embarrassed in the least. [...]
Daily Mislead Archive


April 8, 2004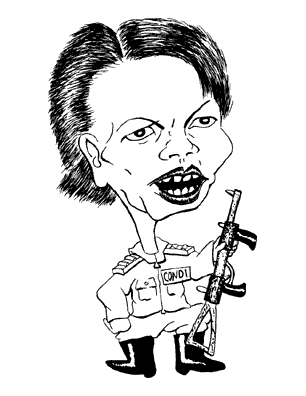 As Condoleezza Rice's testimony before the 9/11 Commission approaches, she continues to push two distinctly dishonest statements in an effort to blur President Bush's failure to defend America in 2001.
First and foremost, Rice continues to make the now-discredited claim that the White House did not have intelligence warning them that terrorists were plotting to use airplanes as missiles in an attack on America. In 2002 she said, "I don't think anybody could have predicted that ... they would try to use an airplane as a missile, a hijacked airplane as a missile". She said this in spite of the intelligence community having issued 12 separate warnings of such a plan, including a 1999 warning saying that "suicide bomber(s) belonging to al Qaeda's Martyrdom Battalion could crash-land an aircraft...into the Pentagon, the headquarters of the Central Intelligence Agency (CIA), or the White House".
When presented with these facts, she told the 9/11 Commission in January 2004 that she misspoke and that she "regretted" her earlier denials. Yet less than four months after her apology, she made the same false claim, writing in a March 22, 2004 op-ed in the Washington Post that "we received no intelligence that terrorists were preparing to attack the homeland using airplanes as missiles".
Secondly, Rice is now saying through spokesmen that she was "not briefed" about terrorists' plans to use airplanes as missiles before 2002, when she began making the false claim that she had no such warnings. But even if Rice did neglect all 12 previous intelligence reports, she cannot claim she was never briefed about such a threat, considering she was the top national security official accompanying President Bush to the G-8 Summit in Genoa, Italy in July 2001. There, she and the president were explicitly warned that "Islamic terrorists might attempt to kill world leaders by crashing an airliner" into the summit.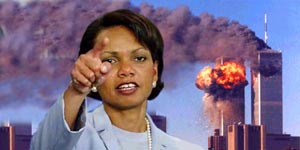 Hon. Condoleezza Rice
National Security Advisor
The White House
1600 Pennsylvania Avenue NW
Washington, DC 20500
April 9, 2004
Dear Ms. Rice:
I am writing to communicate four points regarding your testimony yesterday under oath before the National Commission on Terrorist Attacks Upon the United States.
Point #1: You are a liar.
Attorney General Ashcroft sits on the National Security Council. Warned by his FBI security detail, the head of law enforcement for the United States knew to avoid commercial airlines on September 11, 2001.
It was your job as National Security Advisor to make sure that the people who flew on American Airlines Flight 11, United Airlines Flight 175, United Airlines Flight 93 and American Airlines Flight 77 had the benefit of the same warnings as those they paid to protect us.
You knew. You kept silent. They died. [...]
Point #2: Your motives are transparent.
The World Trade Center is in the heart of New York City – one of the great financial capitals of the world. The Pentagon is in the heart of Washington -- the appropriation and accounting capital for the US federal budget and credit and the US Treasury – the largest issuer of securities in the world.
Unlike many other terrorist attacks, these attacks killed people whose family, friends and neighbors understand how these financial systems work.
Victim families, friends and the residents of the communities directly harmed can calculate who made money on 9-11 profiteering. They can trace the flow of money into the 2004 Presidential campaign coffers from the profits your supporters made as a result of 9-11 profiteering. They can calculate how 9-11 profiteering connects to the financing and silence of corporate media. [...]
Point #3: You are going down.
The richest and most powerful people in the world pay for performance. They pay you to make the US governmental apparatus look legitimate while they use it to centralize economic and political power. That means they need liars who are better at lying than you. [...]
Point #4: You are guilty of criminal gross negligence.
If you want to catch a terrorist today, you need look no further than your own mirror.
MOSUL, Iraq - US and Iraqi forces backed by aircraft swept into the northern Iraqi city of Mosul to secure police stations and restore order as insurgents in Fallujah fought US-led troops to the death.
The new operation to reclaim control of a city that had descended into lawlessness came as the US military was hit by claims that one of its troops shot dead a wounded, unarmed man during its assault on Fallujah.
About 1,200 US troops moved into Mosul, their biggest operation in the flashpoint city in recent times, striking back at groups of rebel fighters who over-ran police last week and seized control of police stations.
"The operation has been launched," said one military officer, Stuart Williams. "Two battalions are sweeping from the west side to the east."
With combat helicopters and warplanes buzzing overhead, the military targeted isolated pockets of insurgents that who it said were continuing to operate in the mainly Sunni Muslim city, 370 kilometres (230 miles) north of Baghdad.
On Monday, Iraq's interior ministry said seven police and 30 rebels were killed in clashes in Mosul on Sunday, including one incident in which a policeman was dragged from his hospital bed and hacked by insurgents.
As the assault in Fallujah entered its second week, sporadic bursts of gunfire crackled through southern districts of the one-time insurgent bastion where the rebels were trying to regroup.
"Very few have given up," said Colonel Michael Regner, chief of operations of the 1st Marine Expeditionary Force. "They are fighting to the death, and they're making it difficult on marines and soldiers."
But despite clashes with groups of up to a dozen rebels, Regner said the marines had accomplished all their objectives. "We can go anywhere we want in that city."
Meanwhile the military said it was investigating claims that a marine shot dead an unarmed wounded man as he lay in a Fallujah mosque, after pictures of the incident were broadcast on US television stations.
The First Marine Division said it wanted to determine whether the marine, who has been taken off duty, acted in self-defence in the incident on Saturday or violated military law.
A still from the video, filmed by an NBC cameraman embedded with the marines, showed a marine standing above a figure slumped against a wall aiming his rifle at the man's body.
"He's dead now," one marine is heard shouting, after a clatter of gunfire.
While the city is effectively under US and Iraqi control, the military has yet to declare the end of the largest operation since the war to oust former leader Saddam Hussein last year.
At least 39 US soldiers have been killed and 275 wounded so far in Operation Dawn, while at least five Iraqi troops and more than 1,200 insurgents have also died, according to the US military. There has been no independent confirmation of the casualty toll.
The Fallujah assault has also raised fears about a humanitarian disaster with tens of thousands of residents forced to flee, while the plight of the unknown number of civilians who stayed behind remained uncertain. [...]
While there has been an escalating resistance throughout Iraq, with over 100 attacks a day, the invasion of Fallujah has fuelled an even greater effort to expel American forces from the country.
Here are just a few of the attacks that occurred over the weekend.
BAGHDAD
Airport Road Ambushes Sunday Take High Toll
Iraqi Resistance fighters firing two RPG7 rockets attacked a US patrol on Airport Road in the al-'Amil neighborhood at 6pm Sunday, destroying a Humvee and killing three US troops. At 6:30am Iraqi Resistance fighters firing BKC automatic weapons attacked a joint US-puppet "national guard" patrol on Airport Road in the al-'Amil neighborhood, destroying a Nissan pickup truck and killing three US foot soldiers. One Resistance fighter was martyred. At 7:20 Sunday Iraqi Resistance fighters detonated bombs under a column on Airport Road in the al-'Amil neighborhood and then attacked with RPG7 rockets, destroying a Humvee and a GMC vehicle belonging to the Zionist Mossad. Three US troops and seven Mossad agents were killed.
Resistance Attack In Qanat Al-Jaysh
At 3:30pm Sunday Iraqi Resistance forces attacked a civilian truck loaded with supplies for US occupation troops as it traveled along the highway passing through the Qanat al-Jaysh area of Baghdad. The attack destroyed the truck as well as a Humvee and killed two US troops and wounded two others. The Asian truck driver was also killed.
Ambushes In Al-A'Zamiyah
Iraqi Resistance forces in al-A'zamiyah in Baghdad attacked a joint US-puppet "national guard" patrol at 5pm Sunday, destroying a Humvee and a Nissan pickup and killing three US troops and four puppet soldiers.
Iraqi Resistance forces firing RPG7 rockets ambushed a joint US-Iraqi "national guard" patrol in al-A'zamiyah in Baghdad at 11:30am Sunday, destroying two Humvees and a Nissan pickup belonging to the puppet forces. Six US troops and four Iraqi puppet soldiers were killed.
Fighting Reported In At-Taji
At 9:45am Sunday clashes broke out between Resistance forces and the US occupation troops in at-Taji north of Baghdad. The fighting left a military fuel tanker, a Humvee, and a US military truck destroyed and six American troops dead. Two Resistance fighters were killed and six others wounded.
An Iraqi Resistance anti-tank land mine destroyed an Abrams tank in the al-Mushahadah area of at-Taji at 10:30am Sunday, killing seven US troops. Iraqi Resistance forces firing RPG7 rockets attacked a US convoy in Hur al-Basha in the at-Taji area at 12:15pm Sunday, destroying two Turkish tank trucks bringing fuel to the US troops. The two Asian drivers of the Turkish trucks were killed. Iraqi Resistance bombs exploded under a civilian truck supplying the US occupation troops in al-Mushahadah near at-Taji at about 4pm Sunday, killing the driver who probably was Asian.
Clashes In As-Suwayrah
Clashes between the Resistance and US occupation forces erupted in the as-Suwayrah area south of Baghdad at about 9am on Sunday. Resistance fighters firing C5K and SPG9 rockets destroyed two Humvees and a Bradley armored vehicle and left seven US troops dead and two others wounded.
Resistance Attacks US Convoy In Al-Ishaqi North Of Baghdad
Iraqi Resistance fighters firing RPG7 rockets and detonating bombs destroyed two US Bradley armored vehicles and three US fuel tank trucks in an attack in the al-Ishaqi area north of Baghdad on Sunday. Twelve American soldiers were killed in the attack after which the road was shut down for two and a half hours.
US Forces In Abu Ghurayb Hit
At 8am Sunday, Iraqi Resistance forces fired rockets at a US patrol on the highway in Abu Ghurayb, destroying two military trucks loaded with provisions for the US troops. Three American soldiers were killed and one other wounded. At 2:45pm Sunday Iraqi Resistance fighters firing RPG7 rockets attacked a US patrol on the Old Street in Abu Ghurayb, destroying an armored vehicle and killing four US troops. Iraqi Resistance fighters fired RPG7 and C5K rockets at a US column in the al-Kharnabat area of Abu Ghurayb on Sunday, destroying a Bradley armored vehicle and killing three US troops and wounding two others.
Fighting On Hayfa Street In Al-Karakh
At about 10am Iraqi Resistance forces destroyed one Bradley armored vehicle and disabled another and killed five US troops on Hayfa Street. Two Resistance fighters were martyred. At 1:30pm Sunday, clashes spread to the Vanguards' Square [Sahat at-Tala'i'] on Hayfa Street after US troops tried to enter the al-Jaghifi Center from the ar-Rahmaniyah Road. Two Humvees were destroyed and a Bradley armored vehicle and a smaller armored vehicle were disabled in the combat after they came under RPG7 rocket and BKC automatic weapons fire from the Resistance. Nine US troops were killed, two of them by Iraqi Resistance sharp shooters. Four Americans were wounded.
Attacks In Ad-Durah
Iraqi Resistance forces firing RPG7 and C5K rockets attacked US troops near 60 Street in the Hur Rajab area of the southern Baghdad suburb of ad-Durah, destroying a Humvee and a Bradley armored vehicle and killing seven US troops and wounding two. US forces opened fire indiscriminately around the area, killing six innocent Iraqi passersby.
A heavy Iraqi Resistance bomb exploded in the 'Arab Jabbur area of ad-Durah killing two US troops and wounding three at 1:45pm Sunday. In the Abu Tushir area of ad-Durah, Iraqi Resistance forces firing RPG7 rockets and BKC automatic weapons attacked a US convoy destroying a Humvee civilian truck bringing supplies to the US forces at 1:30pm Sunday. Twelve US troops and the Asian driver of the truck were killed.
At 4:30pm Sunday a fierce battle erupted in the al-Bu 'Isa area in which the Resistance detonated bombs and then fired RPG7 rockets, killing nine US troops and wounding four more. One Iraqi Resistance fighter was martyred and three seriously wounded.
Battles In Various Baghdad Districts Saturday
At 2:30pm Saturday afternoon clashes broke out on Hayfa Street in the al-Karakh area of Baghdad, in which one Bradley armored vehicle was destroyed and another disabled. Five US troops were killed. US troops opened fire indiscriminately around the area, killing three Iraqi civilians, including a woman and a small boy.
At 5:15pm Saturday, clashes broke out again in the al-Karakh area. Iraqi Resistance fighters firing RPG7 and C5K rockets destroyed a small armored vehicle and disabled two others. Six US troops were killed. One Iraqi Resistance fighter was killed by a US sniper.
Iraqi Resistance forces firing RPG7 rockets destroyed two US GMC vehicles belonging to American intelligence, killing five US personnel, in the ad-Dallu'i neighborhood in the al-Hurriyah area of Baghdad at about 10:30am.
A US Humvee was destroyed on the highway in the ash-Sha'b area of Baghdad when Resistance fighters attacked it with an RPG7 rocket, killing three US troops and wounding three others.
At about 11am Iraqi Resistance fighters firing RPG7 rockets attacked US supply trucks on the highway in the ash-Sha'b area of Baghdad, killing two persons aboard the trucks.
Iraqi Resistance fighters firing RPG7 and RPG8 rockets attacked US forces in the al-A'zamiyah section of Baghdad, killing five US troops and wounding others.
At about 9:30am Saturday Iraqi Resistance fighters firing C5K, RPG7, and RPG8 rockets and BKC automatic weapons battled US forces and their puppet police in the al-A'zamiyah section of Baghdad, destroying two Land Cruisers, a Bradley armored vehicle, and a bus carrying 11 troops. Eight US troops and 12 puppet policemen were also killed. Six Iraqi civilians were wounded when US forces opened fire indiscriminately.
At about 9:30am Saturday an Iraqi Resistance bomb exploded in as-Sayyidiyah, disabling a small truck that was carrying a number of US troops, killing five and wounding eight of them seriously.
At 8:30am Saturday morning Iraqi Resistance forces destroyed an armored vehicle on Airport Road in Baghdad's al-'Amil neighborhood, killing two and wounding three of the US troops aboard the vehicle.
At about 7am Saturday Iraqi Resistance fighters firing RPG7 rockets battled US troops in al-Ghazaliyah, killing seven American soldiers and destroying a Humvee and a supply truck.
In Hur Rajab in the southern Baghdad suburb of ad-Durah Resistance fighters firing an RPG7 rocket destroyed a Humvee and killed two and wounded three US troops aboard it.
On 60 Street in Baghdad's southern suburb of ad-Durah, Iraqi Resistance forces firing RPG7 rockets destroyed a Humvee and killed three US troops at about 3pm Saturday.
Iraqi Resistance forces firing RPG7 rockets attacked a US column on the highway in the al-'Adl neighborhood in central Baghdad at about 6pm Saturday, killing four US troops and destroying a Humvee and one truck and disabling a second.
At about 2:30pm Saturday, clashes broke out between the Resistance and the US and their puppet "national guard" forces west of Baghdad. Two Bradley armored vehicles were destroyed, and one other was damaged. Two Humvees were also destroyed. Nine Iraqi civilians were killed and two others wounded in the course of the fighting. Eyewitnesses reported seeing two Resistance fighters wounded, but not killed.
AL-LATIFIYAH
Black Hawk Downed
Iraqi Resistance fighters fired a C5K rocket and shot down a US Black Hawk helicopter in the al-Janabayn area west of al-Latifiyah at about 2:30pm Sunday. At about 7:30am Sunday Iraqi Resistance forces firing RPG7 and SPG9 rockets attacked a US column, destroying two Bradley armored vehicles and a Humvee in al-Latifiyah.
At 2:30pm Sunday, Iraqi Resistance forces ambushed and destroyed two US GMC vehicles belonging to US intelligence in al-Latifiyah, detonating bombs under them and killing the five agents aboard.
An Iraqi Resistance bomb destroyed a Humvee and killed three US troops and wounded three others in an attack in al-Latifiyah.
Iraqi Resistance forces firing RPG7 rockets attacked US troops in al-Latifiyah, destroying two Toyota Landcruisers belonging to the collaborationist Badr Brigades and killing four gunmen aboard.
In the al-Karaghul area of al-Latifiyah where there is a tribe by the same name, extremely fierce fighting broke out between the US forces and the Resistance in which 11 US troops were killed and a Bradley armored vehicle, another armored vehicle, and a Humvee were destroyed. US troops then opened fire indiscriminately on Iraqi civilians, killing six and wounding two more.
In the as-Sayyid 'Abdallah area of al-Latifiyah Iraqi Resistance forces detonated 15 very powerful bombs under a US patrol. The Resistance then opened fire with RPG7, C5K, and SPG9 rockets to make sure that they had totally destroyed the US patrol. Two Bradley armored vehicles, three Humvees and a military fuel tanker were destroyed and 18 American troops killed.
US aircraft then opened fire on Iraqi civilian houses in the area to get revenge, destroying four homes and damaging three others and killing seven Iraqi civilians and wounding 14 others.
Mosul
Resistance In Control Of Major Parts Of Mosul
Informed sources report that bloody battles have been raging in Mosul since Thursday as Iraqi Resistance forces seized basic control over major parts of the third largest city in Iraq. Groups known as the Brigades of the Army of the Mustafa [Kata'ib Jaysh al-Mustafa] and the Army of the Conquerer [Jaysh al-Fatih] have extended their control over the western part of the city.
The Resistance has destroyed 13 American Stryker troop carriers and killed more than 35 American troops. They have taken control of puppet police stations and headquarters of the puppet so-called "Iraqi national guard" recruited and run by the US invaders. The Resistance has killed 18 puppet "national guardsmen."
The sources add that Resistance forces launched a broad attack on the headquarters of the Kurdish chauvinist collaborator parties, expelling them from those buildings. The Resistance has also seized full control of one of the American headquarters in the al-'Arabi section of Mosul, after the US occupation troops fled under a fierce Resistance attack. The battles lasted for several hours and were so intense that American armored vehicles could not take to the streets. Three US helicopters were shot down during the fighting.
Sources denied to Mafkarat al-Islam claims that had appeared in some satellite media that 10 Resistance fighters had been killed and five taken prisoner. One fighter had been martyred, the sources said and another wounded and his body was taken from the battlefield.
Resistance Drives US Troops Out Of As-Suqur Base
Iraqi Resistance forces compelled US troops to evacuate their as-Suqur base south of Baghdad on Saturday evening, after they came under a barrage of about 25 powerful Tariq and Grad rockets. At the time he filed his report – posted at 1:58am Sunday morning local time (12:58am Sunday Mecca time) the local correspondent wrote that the only personnel in the as-Suqur base at that time were Iraqi puppet so-called "national guards" and informed sources expected that the Resistance might storm the base.
The Americans who fled the base moved to the al-Yusufiyah area and the US base in what was formerly the Iraqi Meat Company.
Ahmed Ghanim's nightmarish week began as Iraqi national guardsmen and US Marines entered the city's general hospital, handcuffed the doctors and forced patients out to the car park.
The guardsmen "stole the mobile phones, the hospital safe where the money is kept and damaged the ambulances and cars," said Dr Ghanim, an orthopedic surgeon.
"The Americans were more sympathetic with the hospital staff and ... untied the doctors and allowed them to go outside with the patients."
But the worst was yet to come as the bombing came closer to the city centre.
"I was doing amputations for many patients. But I am an orthopedic surgeon; if a patient came to me with an abdominal injury, I could do nothing," he said, close to tears. "We would bring the patient in and we would have to let him die."
Electricity to the city was cut. There was no water, no food, no fluids for the patients, Dr Ghanim said. But patients kept coming.
"We were treating everyone. There were women, children, mujahids. I don't ask someone if they are a fighter before I treat them. I just take care of them," he said.
Late Tuesday, a bomb struck one side of the triage centre. Dr Ghanim ran out of the building.
A second bomb landed, crashing through the roof and destroying most of the facility.
Dr Ghanim believes it killed at least two or three of the young resident doctors working there and most of the patients. "At that moment, I wished to die," he said. "It was a catastrophe."
BAGHDAD : A US officer was charged with murder and conspiracy to commit murder for his role in the shooting dead of a wounded Iraqi in a Baghdad slum, the US military said.
"Second Lieutenant Erick Anderson of Company C, 1st Battalion, 41st Infantry Regiment, Fort Riley, Kansas, has been charged with premeditated murder and conspiracy to commit premeditated murder," a statement said. [...]
Anderson had been put under investigation over whether he granted two soldiers permission to shoot a man whom they thought was so badly injured he would die anyway.
One of the two, Staff Sergeant Cardenas Alban, already appeared for a pre-trial hearing at a Baghdad military court last month. The second, Staff Sergeant Johnny Horne, is due to appear before a judge at a later date.
If convicted they face a minimum of life in prison and a maximum penalty of death. Horne faces the additional charge of solicitation to commit murder.
The alleged incident occurred early on August 18 when US soldiers spotted a garbage truck apparently dropping homemade bombs in Sadr City, the capital's most populous Shiite neighbourhood.
It was unclear if any bombs were subsequently found.
Troops at the time were clashing with militiamen loyal to Shiite radical leader Moqtada Sadr.
They started shooting at the truck, which caught fire, as more soldiers were sent to the scene. A severely wounded Iraqi man pulled himself out of the truck and was leaning to the side, the prosecution charged during Alban's hearing.
According to previous testimony by Alban, Horne walked over and inspected the man's injuries and afterwards received orders from his commander, Lieutenant Anderson, to do whatever was needed "to put the man out of his misery."
The testimony was read in court by James Suprynowicz, a warrant officer who has been leading the investigation.

Americans were fascinated by the trial of Scott Peterson. And if they liked the trial of the alleged murderer of just ONE pregnant woman, imagine how much America will love the trial of George Bush, a man who is responsible for the murder of possibly THOUSANDS of pregnant women!
Was Laci shot, strangled or drowned? Did she suffer before she died? And what about her unborn child? We may never know for sure but you can imagine that she did. But what we DO know is that all across the Middle East, hundreds -- if not thousands -- of pregnant women have been shot, blown up, starved to death and/or drowned as a direct result of the actions of George W. Bush.
To his credit, Bush agrees with the charges against him. "Any time an expectant mother is a victim of violence, two lives are in the balance, each deserving protection and each deserving justice," Bush said in an East Room ceremony at the White House recently. "If the crime is murder, and the unborn child's life ends, justice demands a full accounting under the law."
News teams from all over the world are expected to cover the Bush trial. Did Bush actually kill all those pregnant women? Without a doubt. But perhaps his high-paid lawyers will be able to get him off with just a light sentence. The only sure thing about this trial is that Americans will be riveted to the edge of their seats until the verdict comes down.
"Guilty!"
Sources say White House has ordered new chief to eliminate officers who were disloyal to Bush
BY KNUT ROYCE
WASHINGTON BUREAU
November 14, 2004
WASHINGTON -- The White House has ordered the new CIA director, Porter Goss, to purge the agency of officers believed to have been disloyal to President George W. Bush or of leaking damaging information to the media about the conduct of the Iraq war and the hunt for Osama bin Laden, according to knowledgeable sources.
"The agency is being purged on instructions from the White House," said a former senior CIA official who maintains close ties to both the agency and to the White House. "Goss was given instructions ... to get rid of those soft leakers and liberal Democrats. The CIA is looked on by the White House as a hotbed of liberals and people who have been obstructing the president's agenda."
One of the first casualties appears to be Stephen R. Kappes, deputy director of clandestine services, the CIA's most powerful division. The Washington Post reported yesterday that Kappes had tendered his resignation after a confrontation with Goss' chief of staff, Patrick Murray, but at the behest of the White House had agreed to delay his decision till tomorrow.
But the former senior CIA official said that the White House "doesn't want Steve Kappes to reconsider his resignation. That might be the spin they put on it, but they want him out." He said the job had already been offered to the former chief of the European Division who retired after a spat with then- CIA Director George Tenet.
Another recently retired top CIA official said he was unsure Kappes had "officially resigned, but I do know he was unhappy."
Without confirming or denying that the job offer had been made, a CIA spokesman asked Newsday to withhold naming the former officer because of his undercover role over the years. He said he had no comment about Goss' personnel plans, but he added that changes at the top are not unusual when new directors come in.
On Friday John E. McLaughlin, a 32-year veteran of the intelligence division who served as acting CIA director before Goss took over, announced that he was retiring. The spokesman said that the retirement had been planned and was unrelated to the Kappes resignation or to other morale problems inside the CIA.
It could not be learned yesterday if the White House had identified Kappes, a respected operations officer, as one of the officials "disloyal" to Bush.
"The president understands and appreciates the sacrifices made by the members of the intelligence community in the war against terrorism," said a White House official of the report that he was purging the CIA of "disloyal" officials. " . . . The suggestion [that he ordered a purge] is inaccurate."
But another former CIA official who retains good contacts within the agency said that Goss and his top aides, who served on his staff when Goss was chairman of the House intelligence committee, believe the agency had relied too much over the years on liaison work with foreign intelligence agencies and had not done enough to develop its own intelligence collection system.
"Goss is not a believer in liaison work," said this retired official. But, he said, the CIA's "best intelligence really comes from liaison work. The CIA is simply not going to develop the assets [agents and case officers] that would meet the intelligence requirements."
Tensions between the White House and the CIA have been the talk of the town for at least a year, especially as leaks about the mishandling of the Iraq war have dominated front pages.
Some of the most damaging leaks came from Michael Scheuer, former head of the CIA's Bin Laden unit, who wrote a book anonymously called "Imperial Hubris" that criticized what he said was the administration's lack of resolve in tracking down the al-Qaida chieftain and the reallocation of intelligence and military manpower from the war on terrorism to the war in Iraq. Scheuer announced Thursday that he was resigning from the agency.
Washington — A man set himself afire Monday just outside a White House gate and repeatedly yelled "Allah Allah" after Secret Service officers put out the flames and one held him facedown on the sidewalk.
Alan Etter, spokesman for the District of Columbia Fire and Emergency Medical Services, said guards at the gate quickly extinguished the flames, and the man had second- and third-degree burns on about 30 per cent of his body.
The man had burns to his head, back, arms and face but was conscious when medics took him to Washington Hospital Center, Mr. Etter said.
White House doctors joined uniformed Secret Service personnel in administering first aid until the emergency service technicians arrived. They transported the 52-year-old man, who was not identified, to the burn unit of Washington Hospital Center.
Lorie Lewis, a Secret Service spokeswoman, said the man "set himself on fire on Pennsylvania Avenue on the north side of the White House complex." That section of Pennsylvania Avenue was recently reopened to pedestrians after being closed for security.
There was no immediate word on the man's condition or what led to the fire. There was evidence of an ignitable liquid at the scene, Etter said.
The Secret Service, which disclosed no additional details, is investigating the incident.
LONDON (Reuters) - Britain's Tony Blair urged Europe and the United States on Monday to bury differences over Iraq and focus their energies on global challenges such as lasting peace between Israelis and Palestinians.
Blair, speaking three days after meeting President Bush, said to lampoon the U.S. administration was self-defeating and that a positive attitude from EU leaders could temper impulses in Washington to go it alone around the world.
"It is not a sensible or intelligent response for us in Europe to ridicule American arguments and parody their political leadership," the prime minister told the Lord Mayor's Banquet in London -- his major foreign policy speech of the year.
"What is entirely sensible however is for Europe to say terrorism won't be beaten by toughness alone," he said.
Ever since London and Washington waged war in Iraq last year, substantial cracks have opened between them and European powers like France and Germany, which argue the war made the world less safe and galvanized support for militants.
Blair has stood staunchly beside Bush since the Sept. 11 attacks on the United States at a serious cost to his public standing at home and with fellow EU leaders.
Despite facing an election next year, he shows no sign of moving away from Bush who is disliked by many Britons.
"I am not, repeat not, advocating a series of military solutions ... but I am saying that patiently but plainly Europe and America should be working together to bring the democratic, human and political rights we take for granted to the world denied them," Blair said.
TWO-WAY STREET
But cooperation is a two-way street.
"None of this will work however unless America too reaches out. Multilateralism that works should be its aim. I have no sympathy for unilateralism for its own sake," Blair said.
French President Jacques Chirac makes a state visit to Britain later this week and will hold talks with Blair.
But with bitterness still lingering, Blair faces a major challenge to make real his dream of Britain acting as a bridge between Europe and the United States, something he acknowledged.
"Europe is divided over the scale of economic reform and Iraq has divided it further into those enthusiastic for the trans-Atlantic alliance and those nervous of it," he said.
"We believe passionately that Europe must take the road of reform in its economy and renewal of its alliance with America.
"Britain should be proud of its alliance with America, clear in its role in Europe and a tireless advocate of a strong bond between the two ... Of course it's difficult but that doesn't mean it isn't still right and worth striving for."
Bush and Blair set out on Friday a four-year goal of seeing a Palestinian state established and vowed to mobilize global support to help the push for peace after Yasser Arafat's death.
Bush also stressed he wanted to work with European allies and pledged to visit EU capitals early next year.
"Here there is an opportunity for Europe. American policy is evolving," Blair said.
"Both Europe and America are coming to realize that lasting security against fanatics and terrorists cannot be provided by conventional military force but requires a commitment to democracy, freedom and justice."
JERUSALEM - Israel's spy agency Mossad has been rocked to the core by an internal crisis which has seen scores of resignations over the policies of its controversial boss Meir Dagan, according to a television report.
Dagan, a close associate of Israeli Prime Minister Ariel Sharon, has come under fire for launching risky operations abroad, a documentary broadcast on the private Channel 2 television said.
The documentary, which was based on interviews with former officials in the agency, also claimed that relations with the US Central Intelligence Agency have sharply deteriorated under Dagan.
It said more than 200 agents including seven department heads had resigned in recent months.
When Dagan, a reserve general, took over the agency in October 2002, Mossad turned its sights on international terrorism with a renewed focus on overseas commando operations
But the Israeli press has accused him of pushing the fight against "Islamic terrorism" to the top of its priority list at the expense of its information collection and analysis.
Referring to operations abroad, the television documentary highlighted a car bomb attack in Damascus in September which killed a leading member of the Palestinian Islamist movement Hamas.
Both Hamas and Syria blamed Israel for the bombing.
Dagan was Sharon's political advisor during his election campaign and previously served as an anti-terror advisor to Sharon's main political rival and former prime minister Benjamin Netanyahu.
In 1970, Dagan ran a secret commando unit called Rimon, which, according to press reports, summarily executed Palestinians accused of carrying out attacks in the Israeli-occupied Gaza Strip.
PARIS - The medical files of Palestinian leader Yasser Arafat can be released upon demand to eligible parties, such as his family, a French defence ministry spokesman told AFP.
"If the eligible parties ask for Mr Arafat's file to be transferred, the law, which also applies to military doctors, says the medical file should be released," said spokesman Jean-Francois Bureau.
Palestinian prime minister Ahmed Qorei has asked France to provide him with a medical report detailing the cause of Arafat's death, his office said Monday.
Arafat died in a French military hospital last Thursday at the age of 75 after sinking into a coma, but no information has been released about the exact cause of death.
The Arab world has been abuzz with suspicions that the veteran leader was poisoned, a theory echoed by a number of Palestinian officials.
Most point the finger at Israel, whose Prime Minister Ariel Sharon had repeatedly threatened to kill his longtime archfoe.
The French defence ministry was unable to say on Monday whether the military hospital had received a request for the release of Arafat's files.
Under French medical secrecy laws, the files of the deceased are not automatically made available, Bureau explained. Family members or other interested parties must make a request explaining why they wish to have access.
Medical files can be released "to uncover the material conditions surrounding a death, or the causes of death," he said.
French officials have insisted there is no reason to suspect poisoning in Arafat's death.
Foreign ministry spokesman Herve Ladsous stressed on Monday that French law, under which the causes of illness and death are a medical secret, "continues to apply" to the veteran leader.
If the government of Israel does anything consistently, beyond killing Palestinian school children, it is blackmailing other governments, especially its cash cow, the United States. Now comes word that Israel may release Marwan Barghouti, Arafat's heir apparent and Fatah Tanzim leader, who is wasting away in an Israeli prison for the crime of supporting the intifada and Palestinian nationalism, if Egypt and the United States release two Israeli spies, Azzam Azzam and Jonathan Pollard.
Many Israelis are irked by Pollard's life sentence for espionage, a fact admitted to by former Israeli PM Binyamin Netanyahu. For some reason Pollard's conviction—he pleaded guilty to the charges—caused considerable damage to the relationship between Israel and the United States, mostly because Israelis believe there is no such thing as espionage. After all, Israel has a right to do whatever it wants, especially in regard to classified material in the United States, as the reaction of Israel and the Strausscons to the AIPAC spy case make obvious. Of course, the "considerable damage to the relationship between Israel and the United States" was short- lived, as Bush and Congress now, more than ever, write blank checks for the Israelis as they destroy the Palestinians, often with U.S. planes and helicopters, courtesy of the American taxpayer.
Israeli Druze Azzam Azzam was arrested in Cairo in 1997 and sentenced to hard labor for spying on behalf of Mossad. Israel insists Azzam is innocent (since spying for Israel is not a crime). However, the Egyptians have a right to be paranoid of Israeli spies and agents provocateurs, as the Lavon Affair makes obvious. It should be noted that the target of the Lavon Affair was America (Israeli operatives fire-bombed U.S. Information Service libraries in Cairo and other targets). Friends don't bomb friends—that is unless the friend doing the bombing is Israel (an outlaw nation that really does not have any sincere friends, only dupes to be exploited). For some reason—mostly because Zionists control Congress—the United States has remained "friends" with the self-serving and murderous Israelis, even after they attacked a U.S. ship and killed sailors, as they did on June 8, 1967. It takes far less provocation—in fact no provocation—for the United States to attack Arab countries. But then the Arabs are enemies of the Israelis and as it now stands the Israelis and their Strausscon fellow travelers run U.S. foreign policy and will continue to do so for at least the next four years (remember: the Democrat Clinton also kissed Israel's posterior).
You'd think the United States would have told the Israelis to screw off after Mossad attempted to kill John Gunther Dean, U.S. ambassador to Lebanon, in 1979. Dean made the mistake of involving the Palestinians in an effort to secure the release of American hostages. But no, they keep coming back for more, the saps. Like a battered wife, the United States keeps making excuses for Israel's behavior, even covering up its crimes (for instance, Lyndon Johnson and his defense secretary, Robert McNamara, ordered the inquiry into Israel's attack on the USS Liberty to conclude the incident was an accident).
In fact, they are in denial. For instance, Susan Dryden, a Justice Department spokesperson, called the well-documented Israel "art student" spy ring an "urban myth," even though a 60-page document released by the DEA provides evidence of the spy ring and the Office of the National Counterintelligence Executive, in a March 2001 summary, reported on "suspicious visitors to federal facilities." According to the Jewish newspaper Forward, "one former high-ranking American intelligence official, who asked not to be named, [said] the FBI came to the conclusion at the end of its investigation [of an Israeli moving company] that the five Israelis … were conducting a Mossad surveillance mission and that their employer, Urban Moving Systems of Weehawken, N.J., served as a front."
Lorie Kramer writes:
According to reports of the scandal, around 120 young Israeli citizens, posing as art students and selling paintings door-to-door, have been arrested and deported from the United States. The door-to-door sale of art works, it is claimed, was a front for a sophisticated spy ring: the students would turn up at homes and offices—especially at buildings housing federal authorities and military bases, and even went to the homes of those employed in these offices. The students attempted to form friendships with federal employees, photograph their offices, tap their phone lines and infiltrate their databases.
So what did the battered wife do? She simply deported the Israeli spies for "visa problems." End of problem—that is until the next crop of spies is uncovered and the next instance of abuse arises.
As Ed Blanche writes, the "mainstream US media has been uncharacteristically silent on this bizarre episode, as it has been in earlier instances when there were suspicions that Israeli intelligence agencies were engaged in clandestine operations in the US." Fox News' Carl Cameron reported extensively (and remarkably) on the above mentioned spy ring—only to see his work relegated to the memory hole. Probably most damning was the following Cameron comment: "There is no indication that the Israelis were involved in the 9-11 attacks, but investigators suspect that the Israelis may have gathered intelligence about the attacks in advance, and not shared it." In other words, our "friend" knew about the 9/11 plot and didn't tell us about it. Friends also allow friends to step off the curb and get run over by beer trucks.
Jonathan Pollard, as a convicted spy, should stay in prison for selling out his country (since his imprisonment, Israel has granted him honorary citizenship, thus demonstrating that compromising the secrets of "friends" is behavior to be rewarded). Bush, however, who said recently that he wants a Palestinian state (he meant a Palestinian gulag), may give in to the latest attempt to free Jonathan Pollard, a pet project of the last few Israeli prime ministers, who find nothing wrong with spying on their "friends" (or attempting to kill their diplomats or killing their sailors). Marwan Barghouti may very well be released. Of course, this does not prevent Israel from assassinating him, as they do other Palestinian leaders (this is very popular in Israel)—as they may have done to Yasser Arafat (it is rumored Israel killed him through gradual poisoning).
JERUSALEM - A foreign submarine sneaked into Israeli waters last week and got away without being identified, an Israeli military spokeswoman told The Associated Press on Monday.
The mystery craft was discovered within three miles (five kilometers) of Nahariya, a northern Israeli coastal town near the border with Lebanon. The official army statement gave no details of the precise time or location of the incident, a report on Israeli Army Radio said.
"The navy spotted and tracked last week an underwater target which was identified as a submarine," the military spokeswoman said. "After it was spotted and tracked, the submarine left."
She could not say to which country the intruder belonged.
Defense publications list Lebanon as having no submarines, while Syria's three are believed to be unserviceable. Of Israel's close neighbors that leaves Egypt as a possible candidate, defense analyst Joseph Alpher told The Associated Press.
"If you ask the question, what countries in the region have submarines and would be likely to snoop, then Egypt is probably the most likely," he said. "We are assuming that Syria's submarines are inoperable, if they are operable they're a natural candidate."
Egypt has a peace treaty with Israel, although relations are cool and Cairo has withdrawn its ambassador amid complaints about Israel's treatment of the Palestinians. Syria and Israel are formally at war, although the border between them has been relatively quiet since Israel captured the Golan Heights from Syria in the 1967 Mideast war.
Alpher said it should not be taken for granted that the mystery sub belonged to an Arab navy.
"It could be from Russia, Ukraine, it could be from a NATO country and have been there for a quite benign reason," he said.
Israel Radio, citing an unnamed military source, said the vessel was on an intelligence-gathering mission for a Western country and fled when Israeli missile boats were sent to intercept it. It said the incident occurred last Wednesday.
Cape Town - A great white shark estimated to be at least five metres long attacked and killed an elderly South African woman Monday off a beach near Cape Town, officials said.
Tyna Webb, 77, who lived in the area, was swimming Monday off Sunny Cove in Fish Hoek when the massive shark circled her and then attacked, witnesses and officials said. About 15 people witnessed the attack.
"All that was left was a little red bathing cap," said Paul Dennett, who witnessed the attack from his home nearby.
Mr. Dennett estimated the shark to be at least five metres long.
Rescue workers using boats and aircraft to search for the woman's body later spotted the shark. Great whites often are seen in the area feeding off the large seal population.
"The shark is bigger than the helicopter ... it is huge," a crewman said.
Law enforcement officials advised people not to swim along the Cape of Good Hope.
MARSEILLE, France : In a major broadside, President Jacques Chirac and Prime Minister Jean-Pierre Raffarin rejected a senior government minister's idea of using state funds to build mosques and train Islamic religious leaders.
Chirac obliquely accused his arch rival - Finance Minister Nicolas Sarkozy is expected to seek his job in the 2007 presidential election - of trying to "open up a new and pointless debate in France on topics that enjoy consensus."
Raffarin said for the government to get mixed up in religion in any way would undermine the very foundations of the French republic, which is based on a strict separation of church and state.
Reflecting concern about the rise of Islamic fundamentalism, Sarkozy is quoted as saying in a new book that it was "preferable for youth to have spiritual hope than to have in their heads the religion of violence, drugs or money," and arguing that the state should be allowed to help minority faiths struggling to assert themselves amid the Roman Catholic majority.
Without mentioning Sarkozy by name, Raffarin likened those who hold such views to "sorcerer's apprentices" threatening the basis of the republic.
Sarkozy recently described the republic and religion as complementary, but Raffarin said it was vital to preserve intact a 1905 law on the separation of church and state. [...]
Athens (Ohio) News senior writer Jim Phillips writes: If people in the United States think about Hugo Chavez, it's probably as a kind of Latin American Huey Long. The Venezuelan President is portrayed in US media as a populist and potential communist dictator, buying off the masses with government handouts.
An Athens County man who spent four months last summer working for Chavez, however, tells a different story.
"If you go to Venezuela, you will not see any manifestations of communism," claimed Jason Tockman, a long-time environmental activist in the Athens area. "Private enterprise is very much alive and well in Venezuela ... it is a capitalist country with deep-seated reform occurring."
Chavez, a former paratrooper with the Venezuelan military, first tried to take power in a 1992 coup. It failed and he was imprisoned, but came back in 1998 to win the President's seat in an election. Since then, he has used the country's oil revenues to finance a reform effort to bring its huge underclass out of poverty.
Dislike of Chavez both inside and outside Venezuela is ferocious. Ousted opposition parties have tried on three occasions to get rid of him -- through an oil strike, a failed coup attempt, and most recently, a recall election. Chavez has survived each time, winning the August referendum by two million votes in an election deemed fair by international observers.
Critics point to his close relationship with Fidel Castro and claim he is taking advantage of high oil prices to buy popularity. They also detect signs of incipient tyranny in Chavez' treatment of political opponents and the media -- which generally revile him.
• A new set of laws put in the works after his recent consolidation of power, they say, will outlaw most forms of dissent and crack down heavily on free speech in the media and elsewhere.
Supporters argue that many of Chavez' reforms are not just giveaways ... instead, they are aimed at building up Venezuela's economic independence and addressing the chronic needs of its poorest people for medical care, housing and education. "He has tremendous popular support," said Tockman, who worked for Chavez' government doing research on economic globalization.
Perhaps the centerpiece of Chavez' social program has been nationalization of the oil industry, which for years was in private hands, and whose profits during that time, according to Tockman, benefited mainly the richest Venezuelans and outside investors. "Chavez changed that when he came to power."
The profits from the oil industry are the reason he has been able to finance his social schemes, while avoiding the kind of "structural adjustments" often forced on debt-ridden countries by the International Monetary Fund (IMF). Though Chavez is attacked for his use of the oil money, Tockman argued "what would his critics have him do? Not spend that money for the social welfare of his people? If he does spend it, he gets called a manipulator, or someone who's bribing people for votes."
Accomplishments by Chavez during his term include the adoption of a new Constitution, and a package of social and economic reform laws. According to Tockman, the concrete results of this effort includes a push to create new low-cost housing, the importation of many Cuban doctors to provide health care, and efforts to relocate some of the huge, impoverished urban population back into the countryside as farmers.
• Chavez also has seized (with compensation) any large unused tracts of land over 12,500 acres for redistribution, and Tockman said, so far, 150,000 families have received 30 acres apiece from this program. A "micro-credit" program has helped nurture small-business enterprise.
As mentioned, in his own country, Chavez is loathed by many in the middle and upper classes, and is viciously attacked in the press, which tends to be owned by the rich.
"It's interesting," Tockman said of the media's treatment of Chavez. "First of all, the press has virtually complete freedom to print whatever they want ... if you watch Venezuelan TV, they are rabidly anti-Chavez. You will hear people call for the violent overthrow of Chavez on TV. If those things were said by people in newspapers and on TV in the United States, they would be arrested."
Tockman argues that while the United States likes to suggest that it's exporting democracy to the benighted Third World, "Venezuela has a lot to teach the United States in the area of democracy." He points out that the referendum in which Chavez' opponents tried to unseat him was a new feature in the Venezuelan constitution, and applies to all elected offices in the country ..."Wouldn't it be great if we had the option to recall George W. Bush halfway through his term?"
Though many in the United States would no doubt love to see Chavez topple -- and many in Venezuela, Chavez included, take it for granted that the CIA had a hand in the coup attempt against him -- Tockman says it would be much bigger task than was, for example, driving out the Sandinistas in Nicaragua.
For one thing, Venezuela has all that oil ,... which helps keep it somewhat immune to the kind of economic thumbscrews applied by the IMF and other global banking entities. For another, Chavez, an ex-military man, has strong support in the military, which in some ways is a progressive political force.
"They are not debt-ridden like many Latin American countries ... they have some debt, but it is sustainable." Though the United States has tried a "divide-and-conquer" strategy against Chavez, he alleged, "it hasn't been successful," and the President is probably stronger now than he's ever been.
For those who agree with his positive assessment of Chavez, he added, one way to support it is to buy gasoline from Citgo, which uses Venezuelan petroleum.
Ohio University political science professor Thomas Walker, who specializes in Latin America and helped observe the Venezuelan referendum with the Carter Center, agreed that many of Chavez' reforms are helping improve the quality of life in that country. "I think what he's doing is quite sincere and well-intentioned, and with all the oil money, quite effective."
Walker also agreed that Chavez tends to be "demonized" in the US press, but added that he doesn't help matters by his take-no-prisoners approach and fiery class-war rhetoric. "He's not a dictator, but he's pretty heavy-handed," Walker said. "He's a bit of a demagogue. He's very in your face about the middle- and upper-class people, and they really dislike him."
Walker said that by his reading, however, Chavez is probably right to finger the CIA as helping to sponsor the failed coup. "The U.S. was undoubtedly involved up to its ears in the coup attempt ... it was just boilerplate CIA."
THE INTERNATIONAL FORECASTER editor Bob Chapman writes in the Latin America section of this weekend's issue that victims of the 4/11/02 coup against President Hugo Chavez Frias in Caracas have filed court papers at the World Court in The Hague and in US courts, charging the former US Ambassador to Venezuela, Charles Shapiro for his involvement in sniper shootings, which left 20 people dead.
Shapiro was Deputy Chief of Mission, a CIA position, at the US Embassy in Chile, at the time of the coup against President Salvador Allende on 9/11/73.
The result was 10 years of dictatorship.
The evidence against Shapiro is extensive ... there is no question the Bush administration has used any tools available to overthrow the duly-elected Venezuelan government.
Judges approve more than 99 per cent of the requests by CSIS to spy on people in Canada, according to records obtained by The Globe and Mail.
While the government says espionage is one of its most intrusive powers, records show that Federal Court judges almost never disagree with Canadian Security Intelligence Service agents who ask for permission to take extraordinary steps so they can discover more about suspected terrorists or foreign spies.
CSIS officials say this speaks to the fact that they run a highly disciplined spy service, whereas critics suggest judges are giving carte blanche to intelligence operations. "What I would think is mostly the courts rubber-stamp the requests," said defence lawyer Paul Copeland, who has represented several clients accused of being national security threats.
Intelligence-gathering warrants, described in Section 21 of the CSIS Act, allow agents to intercept the communications of suspected terrorists or foreign spies. The warrants also allow CSIS agents to take highly invasive steps -- they can "enter any place" in order "to obtain access to any thing," according to the law -- in the name of safeguarding national security.
Because these spying powers are so vast, they require a high threshold to exercise. Judges must be convinced that "other investigative procedures have been tried and have failed" and "the urgency of the matter is such that it would be impractical to carry out the investigation using only other investigative procedures."
Yet the Federal Court is nearly always persuaded. Between 1993 and 2003, CSIS filed warrant applications at a rate of between 200 and 300 a year for a total of 2,544 applications.
Only 18 of these requests were rejected by the Federal Court, the last denial occurring five years ago, according to records obtained by The Globe under the Access to Information Act.
This means CSIS has succeeded in having its warrant applications approved 99.3 per cent of the time. [...]
WASHINGTON — The Food and Drug Administration and several major drug makers are expected to announce an agreement on Monday to put tiny radio antennas on the labels of millions of medicine bottles to combat counterfeiting and fraud.
Among the medicines that will soon be tagged are Viagra, one of the most counterfeited drugs in the world, and OxyContin, a narcotic that has become one of the most abused medicines in the United States. The tagged bottles — for now, only the large ones from which druggists get the pills to fill prescriptions — will start going to distributors this week, officials said.

But the technology is not expected to stop there. The adoption by the drug industry, officials said in interviews, could be the leading edge of a change that will rid grocery stores of checkout lines, find lost luggage in airports, streamline warehousing and add a new weapon in the battle against cargo theft.
"It's basically a bar code that barks," said Robin Koh, director of applications research at the Auto-ID Labs of the Massachusetts Institute of Technology. "This technology is opening a whole series of opportunities to make supply chains more efficient and more secure."
Wal-Mart and the Department of Defense have already mandated that their top 100 suppliers put the antennas on delivery pallets beginning next January. In June, Accenture, a technology consulting firm, won a contract worth as much as $10 billion from the Department of Homeland Security to use radio tags at United States border checkpoints. Other companies are rushing into the market for scanners, computer chips and other elements of the technology. [...]
A moderate earthquake occurred at 03:39:36 (UTC) on Tuesday, November 16, 2004. The magnitude 5.1 event has been located in the SOLOMON ISLANDS. (This event has been reviewed by a seismologist.)
A strong earthquake occurred at 10:06:53 (UTC) on Tuesday, November 16, 2004. The magnitude 6.1 event has been located in the NEW BRITAIN REGION, PAPUA NEW GUINEA. The hypocentral depth was estimated to be 52 km (32 miles). (This event has been reviewed by a seismologist.)
A moderate earthquake occurred at 11:57:30 (UTC) on Tuesday, November 16, 2004. The magnitude 5.4 event has been located in NEAR THE EAST COAST OF KAMCHATKA, RUSSIA. The hypocentral depth was estimated to be 68 km (42 miles). (This event has been reviewed by a seismologist.)
Anyone who lives in the eastern part of the United States or Canada and gazing skyward on Tuesday evening may have noticed something strange in their west-northwest sky.
At around 9 p.m. EDT, a small, bright, silvery circular cloud of light suddenly appeared. Over the next 25 minutes, the cloud appeared to gradually expand and fade, finally becoming invisible to the unaided eye. Those who saw it, wondered exactly what it might have been.
John Bortle, a well-known amateur astronomer with over four-decades of experience of sky observing first caught sight of the cloud at 9:03 p.m. EDT from his home in Stormville, New York. Initially, he thought the cloud was as bright as zero or first magnitude and upon examining it carefully with binoculars, thought that it " ... resembled the petals of a day lily." By 9:30 p.m., he reported that the cloud had faded completely from his view.
From the North Fork of Long Island, Bill Bogardus and his wife were out observing when they took note of the cloud " ... about the size of the moon" in the northwest sky. "It was a roundish, yet not all that round, object drifting towards our location very slowly, slower that most satellites because it took at least twenty minutes to move from where we first saw it to pretty much our zenith."
After studying it for a while through an 8-inch telescope, Bogardus noticed two points of light, " ... like a satellite would appear, in line and above a jet of gas that seemed to come from them."
Observing from Ithaca, New York, Joseph Storch used 7x50 binoculars on the cloud and reported a star-like point or nucleus and four butterfly shaped petals radiating outward.
Other reports, received as far west as Toronto tell of people who initially thought that what they were seeing was the moon behind a cloud. Typical was the comment: "For a second I thought it was the moon, then I realized the moon was in the east."
What was it?
Not a few people who saw this strange, expanding cloud thought that it might have been an atmospheric experiment sent aloft by a sounding rocket. Over the years, those living along the US East Coast have been accustomed to occasionally seeing unusual brightly colored clouds caused when exotic chemicals such as barium and trimethylaluminum were released into the Earth's ionosphere by rockets launched from NASA's Wallops Island, Virginia site.
However, in this case it was the U.S. National Reconnaissance Office -- not NASA -- that was responsible for the unusual cloud formation on Tuesday night.
It was a fuel dump of the Centaur stage involved in the NRO-1 satellite launch from Cape Canaveral late Tuesday afternoon. Dumping excess fuel is the usual practice for all Centaur-booster assisted launches. It happens after spacecraft separation; the fuel bleeding off from a Centaur upper rocket stage on its second orbit after launch. Being just after nightfall, the cloud of fuel was still sunlit at that altitude.
And those who were fortuitously outside when the dump occurred, were the ones who saw this very unusual sight!
Readers who wish to know more about who we are and what we do may visit our portal site Cassiopaea.org
---
Remember, we need your help to collect information on what is going on in your part of the world!
We also need help to keep the Signs of the Times online.
---
Send your comments and article suggestions to us

---
Fair Use Policy
Contact Webmaster at signs-of-the-times.org
Cassiopaean materials Copyright ©1994-2014 Arkadiusz Jadczyk and Laura Knight-Jadczyk. All rights reserved. "Cassiopaea, Cassiopaean, Cassiopaeans," is a registered trademark of Arkadiusz Jadczyk and Laura Knight-Jadczyk.
Letters addressed to Cassiopaea, Quantum Future School, Ark or Laura, become the property of Arkadiusz Jadczyk and Laura Knight-Jadczyk
Republication and re-dissemination of our copyrighted material in any manner is expressly prohibited without prior written consent.