Printer Friendly Version
New! The Global Game of Survivor: America's Next Four Years
Pentagon Strike Flash Presentation by a QFS member
New Publication! The Wave finally in book form!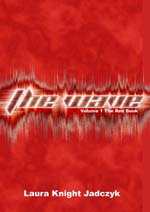 The Wave: 4 Volume Set
Volume 1
by Laura Knight-Jadczyk
With a new introduction by the author and never before published, UNEDITED sessions and extensive previously unpublished details, at long last, Laura Knight-Jadczyk's vastly popular series The Wave is available as a Deluxe four book set. Each of the four volumes include all of the original illustrations and many NEW illustrations with each copy comprising approximately 300 pages.
The Wave is an exquisitely written first-person account of Laura's initiation at the hands of the Cassiopaeans and demonstrates the unique nature of the Cassiopaean Experiment.
Pre-order Volume 1 now. Available at the end of November!
---
The Pyrenean Quest - Part II : The Sacrifice
A True Story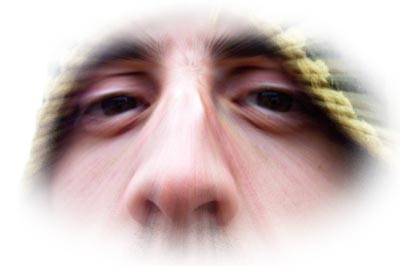 Deep in the darkest forest of the French Pyrenees, a shaman was acting (with the help of dark STS forces?) in order to take his revenge against the Space Brother who'd become the center of all the attention of the Human Tribe.
Step by step, day after day, the Space Brother revealed his Human Nature, thanks to heavy use of delicate French Wines: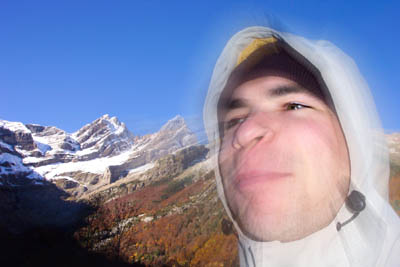 Unfortunately, in this way his vividness dimmed slowly. The Bright Rays emanating from his body and noble face were no longer a wonderful display of light.
But nobody realized what was going on in the tribe. In only a couple of days, all the humans became addicted to the charismatic leader from Outer Space.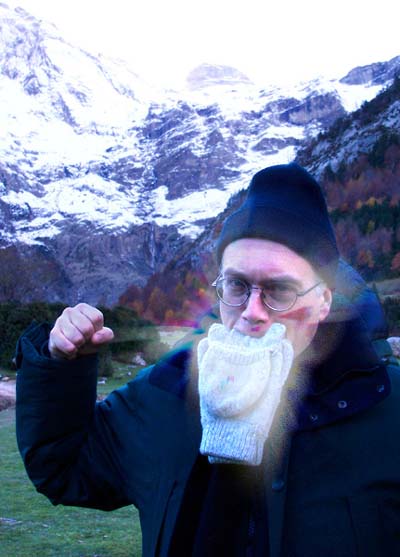 Even H. the Wise, the Glove-Eater, became addicted to the Space Brother Cult. As can be seen in this picture, some Soft Light Rays started to glow out of his famous Gloves. But under this deceptively luminous appearance, something evil was festering!
One evening, they met an unfortunate girl who was foolishly snapping photos in the mountains. The Space Brother immediately ordered the hypnotised humans to sacrifice her as a sign of their devotion to him! Here are a few dramatic pictures of this Horrible Terror Act: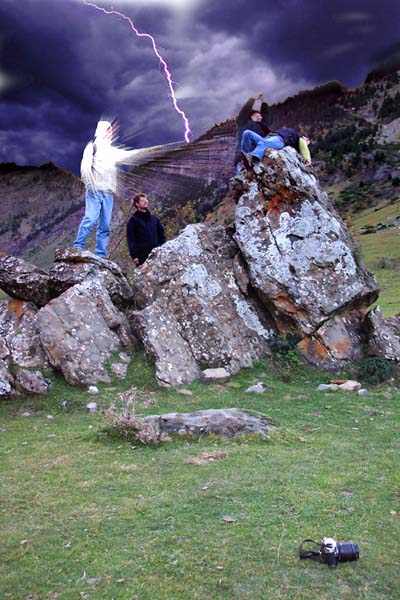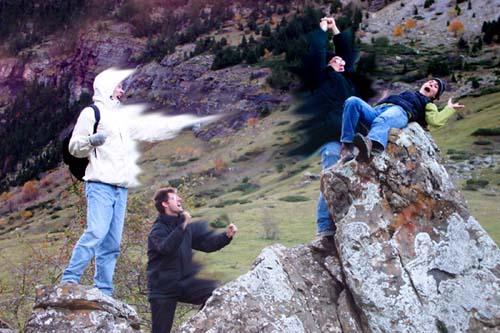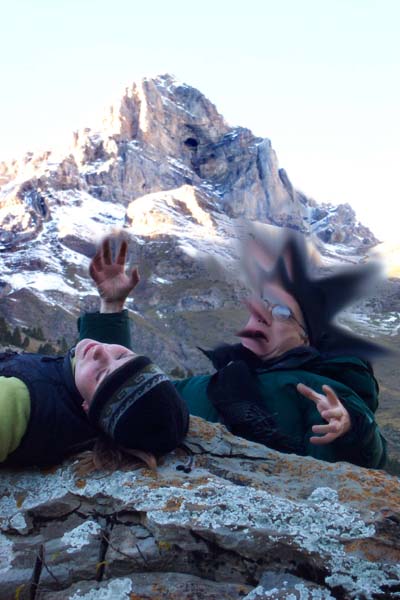 See how even the Wise can become distorted by the power of the Evil Forces!
But exactly at that moment a powerful bright light suddenly appeared over the sacrifice scene: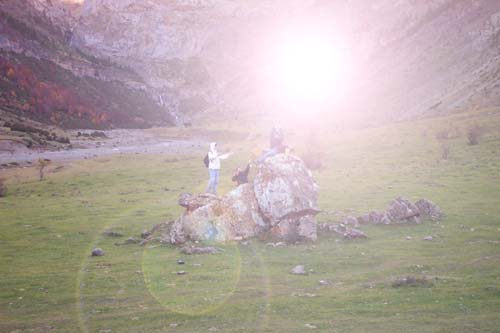 And all the members of the Tribe were thrown into the far reaches of the atmosphere!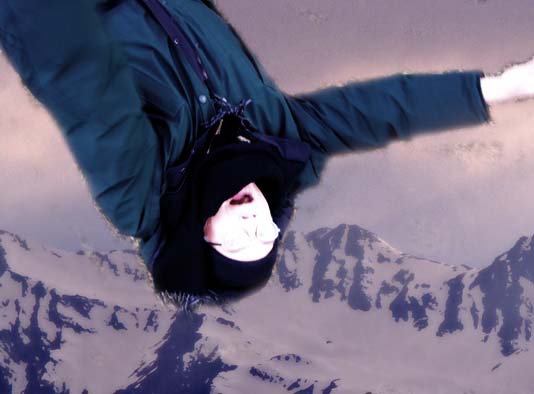 Even Space Brother himself experienced a giant smack: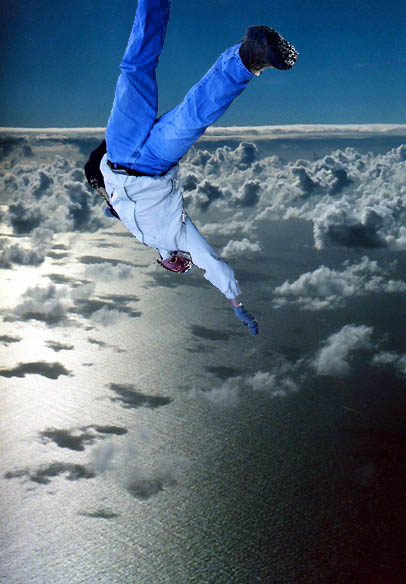 What happened?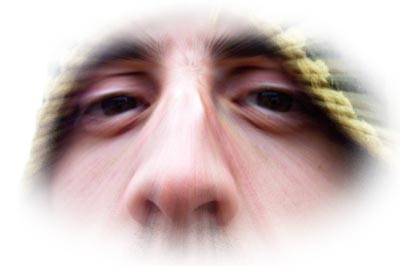 Was the shaman behind it??
What happened next?!
Tune in next week... if there is a "next week"...
FALLUJAH, Iraq - Iraq says the battle to retake the rebel bastion of Fallujah was over, with more than 1,000 insurgents killed, but US Defense Secretary Donald Rumsfeld says the reports are premature, and US commanders say the six-day assault operation was still going on.
Iraq's most wanted man, Abu Musab al-Zarqawi, is meanwhile belived to have fled the city.
"Operation Fajr (Dawn) has been achieved and only the malignant pockets remain that we are dealing with through a clean-up operation," Qassem Daoud, secretary of state for national security, told a Baghdad press conference.
He said that Zarqawi, whose supporters had made Fallujah their base, and a militant cleric who was one of his top aides had slipped through their fingers.
"Abu Musab al-Zarqawi and Abdullah Junabi have fled," Daoud said, "leaving their supporters to taste death."
Asked about the situation in the south of the city, where violent clashes had erupted Saturday afternoon, Daoud said: "The mission is accomplished and there only remains these few pockets, which are being cleaned up."
A rebel spokesman told Arab television station Al-Jazeera Saturday that US forces were in an impasse in Fallujah, and denied the offensive had succeeded.
"The announcement of the end of the military offensive is proof that American forces are in an impasse ... the American criminals and the Iraqi apostates have suffered more than 150 killed and more than 270 wounded," said Abu Saad al-Dlimi, spokesman of the Shura (consultative) Council of the Muhajedeen in Fallujah, speaking by telephone to the Qatar-based TV station.
Rumsfeld, on a visit to Panama, told reporters the attackers had wrested most of Fallujah from insurgent control, although the battle was not over.
The Iraqi and US troops were "operating in one way or another in much if not all of the city at the present time," he said.
"Needless to say there still will be pockets of resistance and areas that will be difficult, so I don't mean to suggest that it is concluded. It's not, to be sure. [...]
KIRKUK, Iraq - Attackers set off separate explosions at oil and gas pipelines in northern Iraq, an official of the Northern Oil Co. said Saturday.
The gas pipeline, running from a gas field in the Kirkuk area to the Dibis power station, was hit Saturday about 30 kilometers (18 miles) northwest of Kirkuk, said the official, speaking on condition of anonymity.
The blast set off a fire that was later extinguished but the pipeline won't be repaired for three days, the official said. Kirkuk is located 290 kilometers (180 miles) north of Baghdad.
An earlier explosion hit an oil pipeline close to Beiji, 100 kilometers (60 miles) southwest of Kirkuk, the official said. The late Friday blast set off a fire that was still raging Saturday. [...]
EINDHOVEN, NETHERLANDS - The Muslim woman adjusted her head scarf and gazed wearily on Friday at her daughters' elementary school, one of many Islamic sites attacked since a Muslim radical allegedly killed a Dutch filmmaker who criticized Islam.
An explosion earlier in the week not only shattered windows and doors, but it also damaged the Muslim community's faith in the tolerance of their neighbors.
One mother said the attack made her afraid.
"I always thought the Netherlands was the safest place in the whole world, but if you see all that's happening, I don't know anymore," said the woman, who didn't want to be quoted by name for fear of reprisals. "I didn't know what to tell my daughter. She asked me: 'Mommy, why us? All we did was go to school.' "
In Amsterdam, meanwhile, Queen Beatrix made her first public appearance since the slaying of Theo van Gogh and sought to assuage Muslims' anxieties by reaching out to Islamic youths.
One woman who met the monarch, 26-year-old Naziha Daoudi, said she had not felt safe on the streets since the Nov. 2 killing.
"We have to watch a lot of Dutch people watching us like we're criminals," said Daoudi, who works at the Argan Moroccan youth center. "The Dutch community doesn't know much about Islam. They think (Muslims) are all the same."
The arrest of Muslim militant Mohammed Bouyeri, 26, as the main suspect in the killing has been followed by what seems to be a cycle of retaliation between Christian and Muslim extremists.
A half-dozen arson attacks on Muslim buildings were answered by fire bombings that caused minor damage at churches in Rotterdam, Utrecht and Amersfoort.
After Monday's pre-dawn attack on the Islamic school in this sprawling southern industrial city of 200,000 people, another Muslim school was gutted by fire in the town of Uden.
On Wednesday, Dutch youths brawled with Turks and Moroccans in the first direct ethnic confrontation since Van Gogh's slaying.
For Muslims, the conservative government's reaction to the slaying has been almost as disturbing as the violence.
On Friday, Parliament asked the government to draft legislation that would compel Dutch mosques to employ only imams who have studied Islam in the Netherlands. Legislators are also considering laws that would enable the closure of mosques that spread non-Dutch values.
Prime Minister Jan Peter Balkenende promised "a hard-line approach to those who want to wreck" Dutch society. He also pledged more money for efforts to combat terrorist groups, stricter monitoring of foreign funding for Holland's roughly 500 mosques, and new government powers to revoke Dutch nationality for terrorism suspects with dual citizenship.
As legislators met in The Hague, hundreds of neighbors, students and parents of children who attend Eindhoven's damaged Tarieq Ibnu Zyad Islamic school staged a protest against anti-Muslim violence.
LOUISVILLE, Ky. Presbyterian Churches in the U-S have been put on high alert.
This after a letter received at the church's Louisville, Kentucky, headquarters threatened arson attacks because of the church's policies toward the Middle East.
A church spokesman says the letter threatened to set churches on fire while people were inside in retaliation for "anti-Israel and anti-Jewish attitudes."
The spokesman says the letter had no return address, but was postmarked Queens, New York.
The church's General Assembly decided in June to begin the process of selective divestment from corporations supporting the Israeli occupation of Gaza and the West Bank.
An F-B-I spokesman says the agency is investigating
The Pentagon has reportedly laid the first connections for a secure, wireless information network that proponents say will fundamentally transform warfare.
The New York Times reports that estimates suggest the Global Information Grid will cost $US200 billion in the next decade alone but take two decades to complete.
The new network would fuse US military and intelligence services into a unified system and make volumes of information instantly available to soldiers on the battlefield, the Times said.
Robert Stevens, chief executive of top US military contractor Lockheed Martin Corporation, says every member of the military would have "a God's-eye view" of the battlefield.
Proponents say it will become the most lethal weapon in the US arsenal and change the military and warfare in the way the Internet has changed business and culture.
The Times says Peter Teets, Under Secretary of the US Air Force, told Congress that the system would allow "marines in a Humvee, in a faraway land, in the middle of a rainstorm, to open up their laptops, request imagery" from a spy satellite, and "get it downloaded within seconds".
But the effort faces staggering technological hurdles.
Vint Cerf, one of the inventors of the Internet, is a consultant to the Pentagon on the project. "I want to make sure what we realise is vision and not hallucination," he told the Times.
"This is sort of like Star Wars, where the policy was, 'Let's go out and build this system', and technology lagged far behind," he said.
"There's nothing wrong with having ambitious goals. You just need to temper them with physics and reality."
The military has twice before tried to build information networks for the military.
The 1960s-era Worldwide Military Command and Control System often failed in crises. A $US25 billion successor completed in 2003 is already outdated.
Four decades ago, Pentagon scientists invented the systems that became the Internet. However, the global network leapt forward once it emerged in the world of commerce a decade ago.
The war net is "an attempt to catch up", Mr Cerf said.
Military contractors and information-technology innovators formed a consortium to develop the war net on September 28, the Times said.
The group includes Boeing, Cisco Systems, General Dynamics, Hewlett-Packard, Honeywell, IBM, Lockheed Martin, Microsoft, Northrop Grumman, Oracle, Raytheon, and Sun Microsystems.

WASHINGTON--The military installed its sixth and final interceptor of the year at Fort Greely on Thursday, but the ground-based, mid-course missile defense system has yet to be declared in working form.
The 55-foot interceptors at Fort Greely, 100 miles southeast of Fairbanks, are designed to shoot down a warhead launched by an enemy missile from overseas.
The Bush administration had pushed to start up the system this fall, a goal that some critics saw as political. The 2004 general election went by, though, without the sixth interceptor in place and with no declaration of "initial defensive capability," as the military calls start-up. [...]
Ten more interceptors will go into silos at the fort next year. Those silos have been excavated and are being prepared now, Maxon said.
Long-term budget documents from the MDA indicate another 10 will go to Fort Greely in following years. The site has enough room for 40.
In the news release announcing the sixth interceptor, the MDA included its standard description and disclaimer: "Although the system will initially have a limited capability when it becomes operational later this year, it will mark the first time the United States has a capability to defend the entire country against a limited long-range ballistic missile attack."
Critics have scoffed at that assertion, saying the system has not been tested to the degree necessary to make such a claim. Five of eight intercept attempts have connected with dummy missiles, but the critics say those were not conducted under real-world conditions. An X-band radar destined for Adak in Alaska's Aleutian Islands is not done yet, nor is a new system of satellites used for detection of enemy launches.
Military leaders insist that having something is better than nothing. Improving the system while using it is the most prudent policy, they say.
MIAMI (AP) - Police have acknowledged using a stun gun to immobilize a 12-year-old girl just weeks after an officer jolted a six-year-old with 50,000 volts.
Police director Bobby Parker defended the decision to use a Taser stun gun on the six-year-old boy last month because he was threatening to injure himself with a shard of glass. But Parker said Friday he could not defend the decision to shock the fleeing girl, who was skipping school and apparently drunk.
According to the incident report, officer William Nelson responded to a complaint that children were swimming in a pool, drinking alcohol and smoking cigars on the morning of Nov. 5.
Nelson said he noticed the girl was intoxicated and was walking her to his car to take her back to school when she ran away through a parking lot.
Nelson, 38, said he chased her and yelled several times for her to stop before firing the Taser when she began to run into traffic. The electric probes hit the girl in the neck and lower back, immobilizing her.
Nelson said he fired "for my safety along with (the girl's) safety." Paramedics treated the girl, who went home with her mother.
Parker said department policy permits officers to use the Taser to apprehend someone, but he said he expected his officers to use better judgment, especially when police had no plans to arrest the girl.
The first incident had already exposed the department to more criticism for its use of Tasers, which it has begun distributing in greater numbers to officers. [...]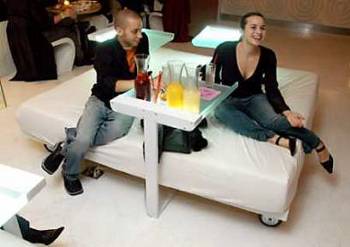 It's the Roman Empire revived in the Big Apple, if some new restaurants are any indication. The latest trend is eateries that offer beds instead of tables and chairs, giving New York residents the chance to do as the Romans did and indulge in a meal out while reclining. (Seth Wenig/Reuters)
SACRAMENTO, Calif. - Californians will soon see advertisements urging them to help give Gov. Arnold Schwarzenegger and other foreign-born citizens the chance to run for president.
The cable television ads, set to being running Monday, are from a Silicon Valley-based group that wants to amend the U.S. Constitution, which limits the presidency to people born in the United States. Schwarzenegger was born in Austria but became a U.S. citizen in 1983.
"You cannot choose the land of your birth. You can choose the land you love," Lissa Morgenthaler-Jones says in the ads.
She is a San Francisco Bay area mutual fund manager and major Schwarzenegger campaign donor who is helping pay for the ads and created a companion Web site.
Schwarzenegger, 57, has said he would consider running for president if the Constitution allowed but hasn't pushed for a constitutional change.
The TV ads mark the first significant attempt to build public support for an amendment. While polls show Schwarzenegger remains popular with voters, the idea of a constitutional change is not.
Four proposed amendments are circulating in Congress, but none has advanced. Constitutional amendments require congressional approval and ratification by 38 states.
GAUHATI, India (AP) - Wild elephant herds have been terrorizing India's remote northeast, killing people, flattening houses and even guzzling local rice beer supplies, prompting villagers to retaliate against the pachyderms with firecrackers, drums and bonfires.
With an estimated 5,000 elephants, Assam state has the largest concentration of wild Asiatic elephants in India, said M.C. Malakar, Assam's chief wildlife warden.
The big herds, faced with shrinking forest cover and human encroachment of their corridors, venture into human settlements looking for food and attack those who try to stop them.
The wild elephants have stampeded across the region, stomping down houses and feasting on standing crops, Pradyut Bordoloi, Assam state's forest minister, said Saturday.
Rice beer is an attraction. Workers in tea plantations in Assam make rice beer at home and store it in drums.
"There are many instances of wild elephants guzzling the brew and returning for more," Bordoloi said.
Wild elephants have killed at least 22 people so far this year in the state, wildlife authorities say. A rapidly shrinking habitat is the main reason for elephants killing more than 600 people in the past 15 years, the authorities say. [...]
BOGOTA, Colombia - The government declared a state of emergency in eight Colombian states which have been flooded amid continued torrential rains that have killed 17 people and damaged 190,000 shops and homes, authorities said Thursday. [...]
BIG BEAR LAKE, Calif. -- A magnitude-4.2 earthquake rattled the Big Bear area on Saturday but no damage or injuries were reported.

The temblor at 9:39 a.m. was centered six miles north of town, said seismologist Joe Franck of the California Institute of Technology in Pasadena.
No damage or injuries were reported to the San Bernardino County Sheriff's Department.
The area is about 100 miles east of Los Angeles.
On this day in History...
1985: Volcano kills thousands in Colombia
BBC
Nov 13
About 20,000 people are feared dead after a volcanic eruption in northern Colombia.
Four towns in the Andes region are reported to have been buried when ash spewed out of the volcano, Nevado del Ruiz, causing a mudslide.
The worst-affected was Armero, the province of Tolima's second largest city, about 50 miles from the Colombian capital, Bogota.
Armero, which lay in a valley below the 16,200-foot high (4,937m) volcano, was virtually destroyed - buried by mud and rubble swept down on to it.
The fatal eruption happened during the night when most of the town's 27,000 residents were in bed. [...]
ROCHESTER, N.H. (AP) - A woman and her boyfriend are accused of plotting to sacrifice the woman's three children on a church altar.
Nicole Mancini, 29, and John Thurber, 35, were arrested at St. Mary's Church on Wednesday after workers said they heard the woman say she wanted to sacrifice the boys.
"We could tell this woman was not right," said church secretary Donna Landolfi. "She said, 'Let's go make the sacrifice.' "
Mancini and Thurber were in jail Saturday on more than $25,000 bail. They were arraigned Friday on three counts each of misdemeanour child endangerment. Thurber was also charged with marijuana possession.
The children, aged 9, 7 and 2, were not harmed and were placed in state custody. Police said Thurber is the father of the youngest boy.
Police said Mancini told them that Jesus sacrificed Himself for her, so she was going to sacrifice the boys to free her soul. [...]
WASILLA (AP) -- A principal at a Christian school who was fired for being voluntarily whipped in front of two students does not regret his decision.
"I'm not bitter," Steve Unfreid said Friday of his dismissal as principal of Matanuska Christian School in Palmer.
Unfreid said his choice of discipline was inspired by the actions of Jesus. He asked teacher Joe Brost to whip him in front of two male students in the school's basement last month after the boys were caught kissing girls in the locker room for the second time in a week.
When the two seniors, 17 and 18, got caught kissing the girls in front of younger students, Unfreid said he contemplated about what discipline to hand out. He woke at 3 a.m. and prayed how to avoid expelling them.
He said that was when he remembered years ago he had cured his son of chronic lying by telling his son to hit him with a wooden ladle instead of spanking the youngster.
Later at school, Unfreid walked the boys down to a basement room with Brost. He told them, " 'Guys, this has gotta stop,' " he said. " 'I've let the atmosphere get too lax. I share in this discipline. This is a one-time deal.' "
Then the principal took off his belt, gave it to Brost, and instructed the teacher to "discipline me like you would discipline your own son," he recalled.
He told the teacher to stop only when the students acknowledged their mistake. The whole thing, starting with the trip downstairs, lasted 5 to 10 minutes, he said.
The next day, Unfreid mentioned the lesson in Bible class. A student in class complained, talked to school officials, and word of the incident spread. Unfreid was put on administrative leave that Thursday.
The school's board of directors unanimously decided in a closed door session to fire Unfreid. Brost resigned.
Unfreid violated school policy by not notifying parents before going ahead with discipline, particularly with "anything that unusual," school board president and acting administrator Scott Richardson said Friday.
Unfreid said in an interview Friday at his Wasilla home that he should have called the boys' parents first, but expressed no regret for his behavior.
Since coming to the school as a teacher several years ago, Unfreid said he pushed for the school to admit a married student, laid on hands in an effort to heal a girl basketball player's injured ankle, and has taken troubled students into his family's home.
"The vision I had is the love of God can change everything," Unfreid said.
Parent Mitch Rausa said he was trying to remain neutral.
"Being a believer, I know that the only one that can take on the sins of anyone is Jesus," he said.
About 20 students have left the school of roughly 120 students following the incident
WILLMAR, MINN. -- A small Willmar church has been conned out of thousands of dollars for the second time in a year.
Last winter, Rejoice Ministries hired Dennis Bennett as pastor. Authorities say he turned out to be a veteran con artist who allegedly swindled the church out of $10,000. Prosecutors filed criminal charges.
In August, the church hired a new preacher. In less than a month, the church claims, he took almost $3,500 with promises of paying it back. He didn't.
A broad stroke of fresh white paint across the Rejoice Ministries sign now covers the name of the man: "Pastor James Poole."
"I feel like we are a clearinghouse for bad pastors," church secretary Mary Steffens said. "A lot of what this fella has done is similar to what Dennis Bennett has done."
According to the complaint Rejoice Ministries filed in Kandiyohi County Conciliation Court, Poole owes them $3,344.34. But church officials plan to drop the claim because they have no idea where he is.
Rejoice Ministries hired Bennett, whose real name is believed to be Jerry Andrews, after an Internet search for a pastor. In a little more than a month, he had allegedly swindled the church out of money for a car, a house and other items. Police later discovered he'd been conning people nationwide over the last three decades.
Cautiously, Rejoice Ministries began searching for a new minister. They found Poole, again via the Internet.
Wary of what Bennett had done, the church asked Poole to come up and preach.
"He did a good service," Steffens said. "I will give him credit for that."
The church hired Poole, who moved to the area with his family. Steffens said Poole quickly grew demanding but was much smoother than Bennett.
"Even with this fella, as cautious as we were, he was so manipulative that he still got what he wanted," she said.
Poole persuaded the church to front him money for rent, a down payment, a new bathtub and asked for help in paying for trips.
After some members objected to Poole's efforts to gain greater control and shift Rejoice Ministries' money into a new church he wanted to call Breath of Life International Ministries, Steffens said Poole told her he was taking his church to nearby Raymond. Poole tried to start a church at the Raymond Community Center.
He had one service there, according to his neighbor there, Jewel Tomlinson. The next Saturday night, starting around 8:30 p.m., Tomlinson said, the Pooles moved out.
"They left a lot of their things," she said.
Steffens said the church later found Poole had a criminal record and had served jail time for writing bad checks and credit card theft.
Rejoice's congregation of 12 is now trying to decide whether to look for a new pastor or shut down.
"I don't know where we are going to go from here," Steffens said. "Each time it's cost us a lot of money."
(AP) -- A single-engine plane crashed and burst into flames while approaching an airport Friday, killing the pilot, authorities said.
The plane had reported engine trouble before it went down shortly before noon EST near the Richmond-Madison Airport, said Kentucky State Police dispatcher Kay Maupin. [...]
The Cessna 210 was approaching from the south when it crashed about two miles west of the airport near Berea in central Kentucky, an airport employee said.
The plane hit a power line before becoming entangled in several trees in a field. The plane was engulfed in flames when rescue workers arrived, said state police Trooper Chris Lanham.
The FAA and NTSB were sending investigators to the crash scene.
Readers who wish to know more about who we are and what we do may visit our portal site Cassiopaea.org
---
Remember, we need your help to collect information on what is going on in your part of the world!
We also need help to keep the Signs of the Times online.
---
Send your comments and article suggestions to us

---
Fair Use Policy
Contact Webmaster at signs-of-the-times.org
Cassiopaean materials Copyright ©1994-2014 Arkadiusz Jadczyk and Laura Knight-Jadczyk. All rights reserved. "Cassiopaea, Cassiopaean, Cassiopaeans," is a registered trademark of Arkadiusz Jadczyk and Laura Knight-Jadczyk.
Letters addressed to Cassiopaea, Quantum Future School, Ark or Laura, become the property of Arkadiusz Jadczyk and Laura Knight-Jadczyk
Republication and re-dissemination of our copyrighted material in any manner is expressly prohibited without prior written consent.
.