Printer Friendly Version
New! Article - 911 Eye-witnesses
New! Article - High Strangeness
New! Article - The Blair Belief Project
New! Pentagon Strike Flash Presentation by a QFS member
Picture of the Day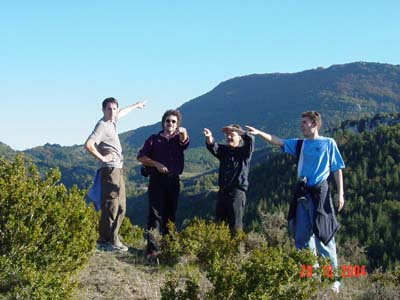 Recently we decided that we have been somewhat negligent as regards our duty to not only bring you the news each day but to also solve the most enigmatic mysteries of our time for the benefit of all humanity. We came to the conclusion therefore that it was high time that we paid a visit to the famous Rennes-Le-Chateau.
So this morning we set out, with hope in our hearts, faith in abilities and French bread in our bellies. Accompanied by our Alchemist friend, we struggled through many trials and tests, too gruesome to recount here.
They say that "great minds think alike" however, and as can be seen from the above photo, a consensus of opinion about just where the treasure lay was soon reached. For now however, we cannot say more, we must rest.
For this reason, today's Signs page is shorter than normal.
Tomorrow we will return.
Can you believe it?
Our Congress likes these guys. It gives them money and tells them the people who have lived on the land for centuries are unworthy—in fact, they deserve one thing and one thing only: to be killed in large numbers. Normally, this would be considered genocide, but Congress does not consider it such because the Judeo-Christian God gave certain people the right to do whatever they want—that is to say kill people of other religions, mostly Muslims and Christians.
I'm talking about the Gush Emunim messianic settlers in Israel.
Earlier this week these dangerous homicidal maniacs converged on the Israeli Knesset building and told lawmakers to vote against the proposed unilateral withdrawal from the Gaza Strip.
It's curious, this so-called unilateral withdrawal from the Gaza Strip.
Apparently it can only be completed after the IDF destroys the place and kills a whole lot of Palestinian school kids. Of course, it really isn't a unilateral withdrawal. It's just an excuse to murder Palestinians. Israel's Zionists have no intention of withdrawing from Gaza and the West Bank or allowing the Palestinians to set up their own state, as originally agreed to.
Ariel Sharon is playing a shell game. He knows the Zionists will never leave Gaza. Doing so runs against the very grain of his murderous and double-dealing soul. Sharon made his name killing Palestinians (in Qibya, Qalqilya, Sabra and Shatila, Jenin, and elsewhere) and more than a few Lebanese (18,000 Lebanese and Palestinians were killed, 30,000 injured, and 500,000-800,000 made homeless during Sharon's "Operation Peace for Galilee" invasion in 1982 ).
Gush Emunim is Ariel Sharon and Ariel Sharon is Gush Emunim.
Sharon is a Likudite and Likudites love Gush Emunim.
Menachem Begin, the first Likud PM of Israel, said "we will have many more Elon Morehs," referring to a settlement on the hilltop of Elon Moreh near Nablus in Palestine in 1975. For Gush Emunim, this particular hilltop is significant because the Old Testament says it is where God told Abram, the first Jewish settler, "To your offspring will I give this land" (Gen 12:7).
Some members of Gush Emunim even think Lebanon, Egypt, Jordan, Syria, Iraq, and Saudi Arabia are part of Eretz Israel, or Greater Israel.
According to the fanatical Gush Emunim rabbis who converged on the Israeli Knesset building, Muslims and Christians in Palestine are to be expelled—and if that is not possible they are to be killed in numbers, otherwise the Jewish messiah will not return.
Naturally, the Jewish messiah is more important than the lives of any number of Palestinians—or for that matter any number of lives, period.
Our Christian Zionists here in America believe likewise about their messiah, who is a Jew but not accepted as a messiah by Gush Emunim or other religious Jews.
For some reason this is not a problem.
Mostly because the Christian Zionists naively believe they can convert the Jews to their version of Christianity while the Zionist Jews laugh up their sleeves as they rake in mounds of cash with the other arm.
As the Israeli peace activist Uri Avnery writes, Gush Emunim and likewise settler groups are pushing Israel toward civil war. "The seeds of the civil war were sown when the first settlement was put up in the occupied territories," Avnery explains.
The process was led by religious cranks. Their declared aim, as they said then and never tire of repeating, is to drive all the Arabs out of the country that God promised us. And the land God promised us, as one of them reminded us on TV the other day, is not the "Palestine" of the British mandate, but the Promised Land—including Jordan, Lebanon and parts of Syria and Sinai. Quoting the Bible, another one declared that we have come to this country not only to inherit, but also to disinherit the others, to drive them out and take their place.
It would easy to simply declare this an Israeli problem and forget about it (as if we could forget about the suffering of the Palestinians). But thanks to Bush, the Straussian neocons (many who are Zionists and Likudites), and Israel lovers in Congress, this is an American problem as well.
Here in America we have our own variety of religious cranks, led by people such as Pat Robertson and Jerry Falwell, who for entirely selfish reasons (they want a one-way ticket to heaven) believe the Zionists should be killing more Palestinians, or at least ejecting them from the land, as ordained in the Old Testament (a document that does not go lightly on genocide). Of course, Sharon and the Likudites believe the Christian Zionists are nut cases (and Jesus contradicted the Torah) but this certainly will not stop them from exploiting the Christian Zionists for their own purposes, namely evicting or killing the Palestinians and eviscerating Arab nations in the Middle East and allowing Americans to pay for it.
In the months ahead, things will only get worse. Bush and Kerry are steadfastly behind Sharon, so it does not matter who is "elected" in a few days. Iran and Syria will be invaded, as Sharon and the religious mental cases in Israel (and their fellow travelers in America) demand. As Avnery warns, there may be a civil war in Israel between the Gush Emunim settlers and the rest of society (nearly half are firmly onboard with the idea of evicting the Palestinians) and this will assuredly result in more war and mass murder.
In fact, it is an engineered war, conceived in Israel and at the Straussian neocon foundations and think-tanks in Washington (recall Bush's speech at one such organization, the American Enterprise Institute, where he thanked them for allowing his administration to "borrow" their criminal minds).
Americans can watch the first inning of the Sharon-Bush serial wars on Fox and CNN. Eventually, though, Bush will reinstitute conscription (slavery) because Israel's fight is America's fight (thanks to the Straussian neocons and the Israel lovers in Congress) and because there are millions of enemies to slay.
Rest assured (or nervously) it will be a meat grinder like one not experienced since World War II (in fact, the neocons like to call their upcoming blood fest "World War IV," providing us with a hint of its expected magnitude and horror).
It's a war—or rather end-to-end wars waged against Arabs and Muslims—Sharon keeps telling Bush the United States needs to squander its treasure and the lives of its soldiers on. Arik says victory will be "easier to achieve" (think Iraq) if Bush moves now.
It would have been relatively simple to avoid all of this a generation ago—when our rulers were less enamored with the Zionists and not connected at the hip to Israel—but as it now stands we will be sucked in the quicksand up to our necks. It's what Sharon wants. It's what Pat Robertson and Jerry Falwell and other Christian Zionist sky daddy worshippers want (our loss is their one-way ticket to heaven). It's what Bush wants. It's what Kerry wants. As for Kerry, I don't think he wants World War IV—but his slavish kissing of Sharon's posterior makes it inevitable. I don't think Kerry has the balls to pull back from the brink.
In the meantime, you may want to fasten your seat belt.
RAMALLAH, Palestine, -- Prime Minister, Ahmad Qurei, called Monday on the international community to stop keeping silent towards the Israeli occupation crimes against the Palestinian people, believing that words are no longer efficient.

Qurei, during a meeting of his cabinet Monday in the West Bank City of Ramallah, stressed the need for actions rather than words by the international community, expressing the belief Israel is a acting as if it were a state above law.
He called on all concerned parties around the world including the Quartet (United Nations , United States, European Union, Russia) to act regarding the Palestinian blood being let on daily basis at the hands of the Israeli soldiers, pointing out that the Palestinian children are not less dear than children of the world.
In response to the underway Israeli aggression on the Gaza Strip City of Khan Younis, Qurei hinted that what is going on in Khan Younis is an Israeli war crime, holding the entire world responsible for the outcome of such a crime.
The Palestinian premier also asserted that any Israeli heinous aggression that targets any Palestinian city, town, village and refugee camp, comes under Israeli allegations on possible withdrawal from the Gaza Strip, raising the question: is what we are witnessing a withdrawal or just a wonton destruction of the Strip before it is being evacuated?
Israeli tanks, covered by warplanes gunship, invaded yesterday morning the western refugee camp of the Khan Younis, south of the Gaza Strip, killing at least 16 Palestinian men, women and children and wounding scores others.
RAFAH, Palestine, - - Medical sources declared today that a civilian died of wounds today in the city of Rafah, as several others were wounded when Israeli occupation forces opened fire at a funeral procession, while soldiers burned down businesses in Hebron.

Dr. Moaweya Hasanein, director of emergency at the Ministry of Health, told WAFA news agency that Abdul Aziz Abu Moammar died of wounds he sustained early this morning near Sofa crossing, northeast of Rafah City.
Meanwhile, IPC correspondent in the city of Khan Younis said Israeli forces opened heavy gunfire at a funeral procession of the civilians killed during the Israeli invasion last Sunday, which lasted till early this morning.
Doctors at Nasser Hospital mentioned that Israeli forces stationed near the illegal settlement 'Neveh Dkalim' opened gunfire at hundreds of civilians marching in the funeral procession towards the city's cemetery, wounding many of them. The gunfire prevented the demonstrators from burying the civilians.
Elsewhere, Israeli forces bulldozed two Palestinian security posts in northern Gaza Strip, security sources said.
The sources explained that armored Israeli bulldozers razed two security posts and vast areas of arable lands near the town of Beit Lahya.
Businesses Burnt Down in Hebron
Israeli troops arrested four civilians and burnt down a carpentry and a jeweler's shop in the city of Hebron in the West Bank.
Our correspondent in Hebron said Israeli forces raided the Wad Abu Kattila neighborhood in the city, arresting four civilians and burning down a carpentry and jeweler's shop, in addition to robbing an amount of jewelry.
Dozens of Israeli soldiers and military jeeps raided early this morning a number of houses and businesses in the neighborhood, blasting through doors and destroying furniture. Of the burnt down businesses, a shoe workshop, carpentry and jeweler's shop were identified as owned by Abu Shkheidem family.
In the meantime, Israeli forces arrested six civilians in the town of Deir Ghassana, northwest of Ramallah and Al Bireh province, including three brothers.
Local sources said large Israeli forces stormed the town and surrounded a number of houses. The soldiers then searched the houses, then arrested six civilians, including three brothers from the Shueibi family, before taking them to an undisclosed location.
JEDDAH, — Hours after the gruesome murder of 49 unarmed Iraqi army recruits on Saturday, the group Tawhid wal Jihad (Monotheism and Combat) claimed responsibility for it in the name of its leader Abu Mussab Al-Zarqawi.
Over the past six months Zarqawi has been built up into an almost legendary figure, a kind of hero to radical Islamists and the arch-villain to Iraqis, Americans and many others. The US has put a $25 million bounty on his head - the same sum they are offering for Bin Laden himself. The reward was increased after American authorities intercepted a letter that, they claimed, confirmed he was working with Al-Qaeda to drive the US out of Iraq.
Zarqawi is suspected of direct involvement in the kidnap and beheading of several foreigners in Iraq - even of wielding the knife himself. Washington has also accused the 37-year-old Jordanian radical of masterminding a string of spectacular suicide bombings in Iraq, and of being linked to Al-Qaeda.
But many question his very existence while others insist that, even if he is in Iraq, he is unlikely to have the central role that US intelligence claims.
"Zarqawi is a semi-literate former petty thief with a low IQ," says Husam Ghassen, a Jordanian ex-militant who knew the fugitive in the 1990s. "Having lost a leg in an American air raid on one of the Mujahedeen camps in Afghanistan, Zarqawi is more likely to be hiding somewhere in Pakistan or Iran than leading holy war in Iraq."
After viewing a video of the beheading of American engineer Eugene Armstrong, taken hostage in Baghdad in September 2004 along with a fellow American and a Briton, the CIA announced with a "high degree of confidence" that it was Zarqawi who read out a statement and then carried out the murder.
The video followed a pattern, which has become grimly familiar since American contractor Nick Berg was shown being beheaded last May.
A group of militants clad in black stand in front of the banner of Zarqawi's group with their victim kneeling before them. After reading a statement, a militant leans over the bound and blindfolded prisoner and cuts off his head with a knife.
Those killed in this fashion include another American, a South Korean, a Bulgarian, a Briton, a Turk and several Iraqis.
In the run-up to the Iraq war in February 2003, US Secretary of State Colin Powell told the United Nations Zarqawi was an associate of Osama Bin Laden who had sought refuge in Iraq. Intelligence reports indicated he was in Baghdad and — according to Powell — this was a sure sign that Saddam Hussein was courting Al-Qaeda, which, in turn, justified an attack on Iraq. But some analysts contested the claim, pointing to Zarqawi's historical rivalry with Bin Laden. Both men rose to prominence as "Afghan Arabs" - leading foreign fighters in the "jihad" against Soviet forces in Afghanistan in the 1980s.
It was a far cry from Zarqawi's youth as a petty criminal in Jordan, remembered by those who knew him as a simple, quick-tempered, and barely literate gangster. But after the defeat of the Soviets in Afghanistan, Zarqawi went back to Jordan with a radical Islamist agenda. He spent seven years in prison there, accused of conspiring to overthrow the monarchy and establish an Islamic caliphate.
Not long after his release, he fled the country. Jordan tried him in absentia and sentenced him to death for allegedly plotting attacks on American and Israeli tourists.
Western intelligence sources claim Zarqawi sought refuge in Europe. German security forces later uncovered a militant cell that claimed Zarqawi was its leader.
The cell-members also told their German interrogators their group was "especially for Jordanians who did not want to join Al-Qaeda".
There are also reports that Zarqawi spent some time in Brussels, London and Paris where he contemplated going to Algeria to fight alongside Islamist terrorists there. What is certain is that Zarqawi ended up in Afghanistan where he underwent training in a camp near Herat, close to the Iranian border. The camp trained specialists in the manufacture and use of poison gases.
According to most sources Zarqawi established contacts with Al-Qaeda sometime in the year 2000 and spent several months training at the Badr II camp, set up in southeastern Afghanistan
It is during this period that Zarqawi is thought to have renewed his acquaintance with Al-Qaeda.
He is believed to have fled to Iraq in 2001 after losing a leg in a US missile strike on his Afghan base. US officials argue that it was at Al-Qaeda's behest that he moved to Iraq and established links with Ansar Al-Islam — a group of Kurdish Islamists, operating under the label of Ansar Al-Islam (Companions of Islam) from the north of the country in an area close to the Iranian border. He is thought to have remained with them for a while — feeling at home in mountainous northern Iraq.
When US aid official Laurence Foley was gunned down in Amman in October 2002, the Jordanian authorities claimed he had masterminded and financed the attack.
If the intelligence agencies are to be believed, it was just the beginning of a busy year for Zarqawi. In 2003, he was named as the brains behind a series of lethal bombings - from Casablanca in Morocco to Istanbul in Turkey. Later Spanish officials were reported to be looking into allegations that he may have been behind the Madrid bombings on March 11, 2004, which killed 191 people.
It is in Iraq, though, that he appears to be most active.
The assassination of the Iraqi Shiite cleric, Ayatollah Muhammad-Baqer Al-Hakim, at a shrine in the town of Najaf, was one of the bloodiest attacks in Iraq last year - over 50 Shiite worshippers died. US authorities pinned the blame on Zarqawi.
The intercepted "Zarqawi" letter released by the Americans in February 2004 seems to support their claim.
In it, the author appeared to share his plans for igniting sectarian conflict in Iraq as a means of undermining the US presence there. And he claims to have already undertaken 25 successful attacks against the enemy.
Within days of the letter's release, bomb attacks on recruiting centers for the Iraqi security forces had killed nearly 100 people. Attacks have continued across Iraq almost daily in recent months. Whether or not Zarqawi is behind them all, he is seen by the US as the biggest obstacle to their hopes of progress in Iraq — their most dangerous enemy in the country.
The US has justified its daily attacks against Fallujah, west of Baghdad, with the claim that it is targeting Zarqawi and his gang. On Saturday, however, Zarqawi was supposed to be near Kirkush, some 200 kilometers east of Fallujah, killing Iraqi army recruits.
The people of Fallujah, however, insist that they have never seen the man or heard about him except through the media.
So, where is Zarqawi or, indeed, does he exist? That is the $25 million question.
BAGHDAD, Iraq -- Gunmen killed an Iraqi television anchorwoman Wednesday as she was traveling by taxi to her home in southeastern Baghdad, a station official said.
Leqaa Abdul Razzaq, an anchorwoman for Al-Sharqiyah television, was killed about 6 p.m. en route to the Dora district, said Salah al-Askary, a news director at the station.
Al-Askary said the motive for the killing wasn't clear and as far as he knew Abdul Razzaq had received no threats. Her husband was murdered about two months ago, he said.
Abdul Razzaq had worked for the U.S.-funded Iraqiya television until about a month ago. She read the news on one of Al-Sharqiyah's newscasts and moderated a daily program about the Iraqi press, he said.
Under Saddam Hussein's regime, Abdul Razzaq, who was about 30, worked for Shabab, or Youth, TV, which was owned by Saddam Hussein's son Odai.
Earlier this month, Zeina Mahmoudan, an Iraqi female TV journalist working for Kurdish-run Al-Hurriya TV, was killed by gunmen in a drive-by shooting in Baghdad.
ALGIERS, Algeria - Suspected Islamic militants decapitated three soldiers in Algeria in an upsurge of violence during the Muslim holy month of Ramadan, reports said Wednesday. Security forces killed seven alleged militants in an ensuing operation.
La Tribune newspaper said 30 armed men intercepted the soldiers at a roadblock Monday some 90 miles east of the capital Algiers.
The soldiers, one of them a naval officer who was shot first, were beheaded. Two other people, including a police officer, also were killed.
Security forces later killed seven of the suspected assailants, L'Expression reported.
Three suspected militants from the extremist Salafist Group for Call and Combat killed another soldier in an attack Tuesday in the Boumerdes region about 30 miles east of Algiers, the daily El Watan reported. Another soldier was injured and a third escaped.
About 40 people have been killed since the start of Ramadan earlier this month in attacks by suspected militants and security forces' anti-terror operations.
No major acts of violence or assassinations occurred during the holy month last year, the first time that had happened since Algeria's Islamic insurgency erupted in 1992 after the army canceled national elections to thwart a likely victory by Muslim fundamentalists.
LOS ANGELES - ABC News has asked U.S. security officials to examine a videotape it obtained in Pakistan of an English-speaking man threatening a massive attack on the United States in retaliation for its war against al-Qaida, the network said today.
A source familiar with the tape -- whose authenticity U.S. intelligence officials have so far been unable to verify -- said it contains a threat that the "streets will run with blood."

Responding to questions about the tape after its existence was first reported by Internet columnist Matt Drudge, ABC News vice president Jeffrey Schneider said the network has not aired the video because its authenticity has not been verified.
"We've been working around the clock in an effort to authenticate the content of the tape," Schneider told Reuters. "We have worked with the CIA and the FBI, neither of whom have authenticated the tape. Obviously, it would be beyond irresponsible to broadcast this tape without first authenticating it."
He said the tape was obtained from a source in Pakistan over the weekend and arrived in New York Monday, where it was first viewed by network officials. He declined to discuss details of it.
Government officials in Washington confirmed that the CIA was analyzing the videotape. One official said it was not yet known whether the tape is authentic or a hoax.
The source familiar with the tape told Reuters that the hourlong video features a man, whose face is concealed by a headdress, warning that a forthcoming attack on the United States would dwarf the suicide hijackings on Sept. 11, 2001, that claimed nearly 3,000 lives.
According to the source, the man says, "The streets will run with blood" and says the United States has brought this on itself for electing a president who has declared war on Islam by attacking the former Taliban rulers in Afghanistan and waging war against al-Qaida.
The source added that linguistic experts who have examined the tape believe the man, who identifies himself only as "Assam the American," learned English at a very young age but is not a native speaker of the language.
"The intelligence community is analyzing it, working to verify its authenticity," White House spokesman Scott McClellan told reporters in Vienna, Ohio.
A U.S. intelligence official said, "We have been unable to verify the tape's authenticity." The official added the review was continuing.
The question of whether the United States could be subjected to another Sept. 11-type attack has been a major issue in the presidential campaign.
WASHINGTON -- Nearly two months after the seizure of a Russian school left hundreds dead, the State Department on Wednesday warned Americans visiting or living in the country that "there remains a heightened potential for terrorist actions, including attacks against civilians."

In extending its warning through March 2005, the State Department said that Russia's security situation "is likely to continue for some time" and that Americans should take precautions to avoid becoming a random victim of another attack.
A series of terrorist attacks in late August and early September left some 430 people dead. Twin plane bombings killed 90 people aboard, and an attack near a Moscow subway station killed nine, plus the bomber. More than 330 hostages died during the Sept. 1-3 seizure of a school in Beslan by heavily armed attackers.
Chechen warlord Shamil Basayev has claimed responsibility for the Beslan massacre and other recent attacks.
The State Department reiterated warnings against travel throughout much of Russia's Caucasus region, in particular to Chechnya and bordering areas.
The public announcement also advised Americans to remain alert when using public transportation and to consider avoiding the subway.
ABOARD THE IZU (AP) Elite Japanese troops rappelled from helicopters and soldiers scudded across the water in speed boats in a multinational exercise off Tokyo on Tuesday aimed at intercepting weapons of mass destruction at sea.
Nine ships from Japan, the United States, Australia and France joined in the exercises off Tokyo under U.S. President George W. Bush's Proliferation Security Initiative.
The maneuvers, the first in East Asia and the first hosted by Japan, have been criticized by nearby North Korea as a "provocation."
While officials said the exercises are not directed at any one nation, U.S. Undersecretary of State John Bolton said the measures were needed to foil nations like North Korea, which he termed a "serious proliferation problem."
"It's the world's foremost proliferator of ballistic missile technology," Bolton said of North Korea. "But it's important that the PSI be operational worldwide and that it be seen as operational worldwide."
The "Team Samurai" drills, held in Sagami Bay south of Tokyo, involved a scenario focusing on the interception and boarding of two ships suspected of transporting sarin, a deadly nerve gas.
As Japan Coast Guard ships crossed its bow, a squad of specially trained troops rappelled down from helicopters to board the first target ship, which flew a skull-and-cross-bones flag.
Boarding teams from the U.S. Coast Guard, along with Australian and French units, took control of the second ship, racing to it in speed boats and climbing onto it from rope ladders.
Attesting to Washington's strong interest in pushing the initiative, Bolton and Rear Adm. James Kelly, commander of the U.S. aircraft carrier Kitty Hawk, were aboard the Izu, the second of the two targets.
"We regard this activity as extremely important," Bolton said. "We have enormous capabilities on a worldwide basis which are aimed at stopping the illicit trafficking in weapons of mass destruction."
The exercises are part of a U.S. administration effort to block shipments of nuclear, chemical and biological weapons, the material and equipment needed to make them and missiles that could be used to carry them. Seventeen nations, from Turkey to Norway, sent observers to the drill.
"It's a very good opportunity for the nations in the regions to cooperate," said Australian military attache Col. Mark Hoare. "It's a message of resolve."
Eleven similar drills have been held since September 2003, when Australia hosted the first exercises in the Coral Sea after the initiative was formally backed by 11 nations.
Drills have also been held in the Arabian Sea, where heavily armed U.S. and Spanish troops used military helicopters to track, board and search a vessel disguised as a merchant ship carrying concealed chemical and biological weapons. The next drill is to be held next month in the Caribbean.
The 11 nations that initially backed the PSI initiative last year are Australia, France, Germany, Italy, Japan, the Netherlands, Poland, Portugal, Spain, the United Kingdom and the United States.

BROWARD COUNTY, Fla. -- Local 10 has received many phone calls from viewers in Broward County who say they have not received the absentee ballots –- and the news from the elections office doesn't sound good.
Local 10 has learned that many as many as 58,000 ballots that were supposed to mailed out on Oct. 7 and 8 could be missing.
The Broward County Supervisor of Elections office is saying only that the situation is "unusual," and they are looking into it.
Gisela Salas, Broward Deputy Elections Supervisor, said, "I hate to say 'missing' at this time because that has not yet be substantiated. Some ballots are starting to arrive. But there is an extraordinary delay."
An elections office representative told Local 10 that the office has investigated with the U.S. Post Office what might have happened to the ballots, but so far, no one has been able to figure it out.
"It is unusual. It's a puzzle on the part of our office and the postal service," Salas said. "Our office did make the delivery and the post office assures us they were processed. What happened is in question."
The postal service told Local 10 late Tuesday that they don't have 58,000 ballots floating around. They did say that they have several employees assigned to deal only with ballots and they are being delivered in one to two days -- once they get them. [...]
As far as the voters go that haven't received their ballots, the elections office is now suggesting that they take the opportunity to vote early.
Since many who request absentee ballots cannot physically vote in their county, there are likely to be some angry voters. [...]
(CNN) -- Police in Sarasota, Florida, arrested a man accused of trying to run down Rep. Katherine Harris and her supporters with a car Tuesday, a police spokesman said.
A silver Cadillac "swerved off the road and drove up the sidewalk" heading "straight towards Ms. Harris," according to the police arrest report.
"Harris stated that she was afraid for her life," according to the police report, "and could not move as the vehicle approached her."
No one was injured in the alleged incident.
It happened as Harris and her supporters were campaigning in Sarasota, her spokeswoman said Wednesday.
A witness to the incident saw part of the vehicle tag before the car left the scene, according to the report. Police matched the tag to a car registered to Barry Seltzer, 46, of Sarasota.
After police tried to contact Seltzer, he came to to the Sarasota Police station where, according to a police report, he admitted trying to "intimidate" a group of Harris supporters.
"I was exercising my political expression," Seltzer told police, according to the report.
He was arrested on a charge of aggravated assault with a deadly weapon. He is now in Sarasota County Jail, and is to have a court appearance Thursday.
Harris emerged as a controversial figure during her role as Florida Secretary of State during the 2000 presidential election recount.
She used that attention to fuel her campaign for the House of Representatives in 2002. In her bid for re-election, she faces Sarasota lawyer, Jan Schneider, who lost to Harris in the last election.
VANCOUVER - A 14-year-old boy has been charged with uttering threats in the wake of the police lockdown at Gleneagle Secondary School in Coquitlam on Tuesday.

More than 1,000 students were confined to the school gym and cafeteria for about three hours as heavily-armed members of the RCMP's Emergency Response Team swarmed over the school.

The teenager, who cannot be identified, was arrested on Tuesday afternoon in Vancouver. He was new to the Coquitlam school.
Police say they were reacting to a threat that had been phoned in, but they wouldn't discuss it publicly.
Some parents who gathered at the school – including Jerry Jamieson – weren't happy with the way officials handled the situation.

"We are approaching two hours and 20 minutes since the onset of this incident and we have gotten very little information," he said.
"Most of the information has come from parents who have cell phones and are dialoguing with their kids in the gym."
School district officials told parents not to worry, but spokesperson Julie Pierce admits that message didn't match what parents were seeing.
"To look back at the Gleneagle site and see that, I really do understand how confusing, how upsetting that would be," she says.
RCMP spokesperson Corp.Jane Baptista defends the police actions, saying the officers were simply doing their job.
"Many of us are parents also and we can understand that. However, when we receive information, we have to take the actions necessary and follow certain protocols."
On Thursday, school district officials and the RCMP will sit down and review their handling of the Gleneagle incident
It's the second time in recent months the RCMP Emergency Response Team has descended on a Coquitlam school.
VANCOUVER - The Canada Customs cargo facility at Vancouver International Airport had to be evacuated on Wednesday after inspectors were called in to check out a suspicious package.
A mobile bomb unit was used to inspect the package, which was described as a hollowed-out book containing wires and batteries.
The cargo terminal remained off limits while the fire department, RCMP, and Airport Authority investigators examined the parcel.
It turns out it was not an explosive device, but rather an improperly wrapped training aid.
Airport officials say no passengers or flights were affected by the incident.
BUCHAREST, Romania -- A strong earthquake with a preliminary magnitude of 5.8 shook Romania late Wednesday, Romania's Earth Physics Institute said. Authorities said there were no immediate reports of injuries or damage.
The quake was centered in Vrancea, 110 miles northeast of Bucharest on the eastern rim of the Carpathian mountains, the center said. It struck at 11:34 p.m. and was felt in several Romanian cities, including Iasi, Bacau and the capital, Bucharest, where it knocked out telephone service.
The quake also rattled portions of Turkey, Moldova and Ukraine, Turkey's private NTV television reported.
The Istanbul-based Kandilli Observatory's seismology center said the quake had a preliminary magnitude of 6.5. There was no immediate explanation for the discrepancy between that higher initial reading and the Romanian measurement.
In some Istanbul neighborhoods, people rushed out of their homes in panic, NTV said. The observatory's telephone lines were jammed with people calling seeking information.
On Monday, a magnitude-4.2 earthquake Vrancea, where another magnitude-5.1 quake hit on Sept. 27.
The mountainous area is home to a major fault line and has seen dozens of quakes in recent years. In 1977, a 7.6-magnitude quake killed more than 1,000 people in the Vrancea area when dozens of buildings collapsed.
Readers who wish to know more about who we are and what we do may visit our portal site Cassiopaea.org
---
Remember, we need your help to collect information on what is going on in your part of the world!
We also need help to keep the Signs of the Times online.
---

Check out the Signs of the Times Archives

Send your comments and article suggestions to us

---
Fair Use Policy
Contact Webmaster at signs-of-the-times.org
Cassiopaean materials Copyright ©1994-2014 Arkadiusz Jadczyk and Laura Knight-Jadczyk. All rights reserved. "Cassiopaea, Cassiopaean, Cassiopaeans," is a registered trademark of Arkadiusz Jadczyk and Laura Knight-Jadczyk.
Letters addressed to Cassiopaea, Quantum Future School, Ark or Laura, become the property of Arkadiusz Jadczyk and Laura Knight-Jadczyk
Republication and re-dissemination of our copyrighted material in any manner is expressly prohibited without prior written consent.
.