Printer Friendly Version
New! Article - High Strangeness
New! Article - The Blair Belief Project
New! Pentagon Strike Flash Presentation by a QFS member
Picture of the Day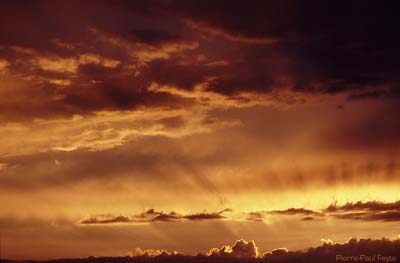 Sumptious Sky
©2004 Pierre-Paul Feyte
The Peakers claim that 'Peak Oil' is the single most important issue that we are facing today. I agree with that assessment (but not because 'Peak Oil' is a valid concept).

The Peakers claim that much of America's military might has been directed in recent years at conquering the key oil and gas producing regions of the world. And that is obviously quite true. Central Asia and Iraq have been seized, Venezuela has suffered through constant meddling by the CIA, the Sudan has been targeted for a future assault, and Saudi Arabia and Iran have been subjected to saber rattling. [...]

The Peakers claim that we will very soon be facing a world where chaos reigns supreme -- a world of war, famine and death on a scale unknown in recorded human history. And that does, in fact, appear to be the case. And we're not talking about the distant future here, folks; we're talking about the very near future.

But the Peakers also claim that this global "die off" will be a regrettable, but quite natural, and entirely unavoidable, consequence of the world's oil taps running dry. And that is the really big lie. That is the lie that will very soon be used to rationalize the killing off of hundreds of millions, possibly billions, of the world's people. There are, you see, simply too many people in the world who, by merely being alive, are standing in the way of the aspirations of the global elite.

The people that the 'Peak Oil' pitchmen are fronting for are deadly serious about selling 'Peak Oil' to the masses -- and not just in theoretical terms, as a cynical ploy to raise prices and increase profits. No, it has become clear that the real goal is to actually cut off most of the world's oil supplies under the ruse that the oil simply no longer exists. The desired result is massive social unrest, widespread famine, and endless war. The majority of the world's people will not survive. Those that do will find themselves living under the overtly authoritarian form of rule that will quickly be deemed necessary to restore order. And if you think that we here in America are exempt, you are sadly mistaken.

In order to pull off this stunt, all the world's major oil producing regions must be solidly under the control of the U.S. and it's co- conspirators, otherwise known as 'allies.' In other words, the puppet- masters have to control all the major oil taps, so that they have complete control over the flow of oil -- or lack of it. And that, in a nutshell, is the real reason for America's recent military ventures. The goal, you see, is not to steal Iraq's oil, or the oil in the 'Stans, or in the Sudan, or in Venezuela, or anywhere else. We don't want to take their oil, because the truth is that we don't really need it . What we want to do is sit on the taps so no one else can get to the oil.
Friday 15 October 2004, 13:24 Makka Time, 10:24 GMT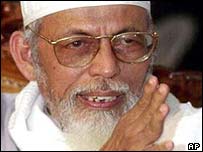 Indonesian prosecutors have filed terrorism charges against cleric Abu Bakar Bashir in a major step towards a new trial of the accused leader of South-east Asia's Jemaah Islamiya network.
"It has been submitted to the south Jakarta court today," Didik Istiyanta, south Jakarta state prosecutor, said on Friday.
Asked whether the charges related to terrorism, he said, "Something like that," adding, "but for details, wait until the trial".
Another prosecutor, Andi Herman, confirmed the charges were related to terrorism. "Yes they are," he said, but declined to elaborate.
Herman said normally a trial would be convened within two weeks of the charges being submitted.
The attorney general's office had said earlier Bashir would face charges of helping to plot the August 2003 blast at the JW Marriott hotel in Jakarta which killed 12 people and of involvement in a conspiracy to hide large amounts of explosives in central Java.
Charges denied
Authorities believe Bashir inspired fighters who bombed nightclubs on the tourist island of Bali in 2002 and who carried out the Marriott bombing and other attacks.
Bashir, who denies any connections with Jemaah Islamiya or terrorism, was first arrested days after the Bali blasts that killed 202 people, amid suspicions he led Jemaah Islamiya and had links to violent acts.
However, following a trial using the ordinary criminal code, the court said there was not enough evidence to prove Bashir led the group, and ultimately only convictions related to immigration violations were upheld in appeals courts.
After he had served time on those convictions, Indonesian police detained Bashir under a tough anti-terror law passed
in the wake of the Bali bombings.
Abu Bakar Ba'asyir does not cut the terrifying figure expected of a man accused of being a leading figure in the murky world of international terrorism.
He is a frail, 65-year-old man with a wispy beard, embroidered white skull cap and heavy glasses perched on his aquiline nose.
Before his arrest a week after the 2002 Bali bombings, Mr Ba'asyir was a teacher at an Islamic school in Solo, central Java. He still insists he is just a simple preacher.
But according to the Indonesian and foreign governments, Mr Ba'asyir was also the spiritual leader of Jemaah Islamiah (JI), a shadowy group accused of the 2002 Bali bombings.
Prosecutors accused Mr Ba'asyir of plotting to assassinate Indonesian leader Megawati Sukarnoputri when she was vice-president in a bid to turn the country - the world's most populous Muslim nation - into a hardline Islamic state.
He was also accused of orchestrating a series of church bombings on Christmas Eve 2000.
The problem for the authorities is that Indonesia's courts have not found the evidence compelling.
First the courts acquitted him of being JI's spiritual leader, after judges said there was not enough proof. Then an appeal court overturned a subversion conviction, cutting his original jail term from four years to 18 months, since his only remaining offence was immigration-related.
I support Osama Bin Laden's struggle because his is the true struggle to uphold Islam, not terror - the terrorists are America and Israel
Abu Bakar Ba'asyir
Denial
Despite his outspoken support for Osama Bin Laden, Mr Ba'asyir denies having personal links with him or with terrorism in general.
The cleric has repeatedly denied all the charges against him, and condemned the Bali bombing as a "brutal act".
Most of the case against Mr Ba'asyir has been based on statements made by a Kuwaiti man, Omar al-Faruq, who was arrested in Indonesia last June and is now in US custody.
The jailed cleric accused of heading a militant group blamed for last week's Australian embassy bombing condemned the attack today, while accusing Indonesian authorities of trying to frame him.

Nine people died on September 9 when a car bomb detonated outside the Australian mission in the Kuningan district of central Jakarta. About 180 people were wounded in the attack blamed on Jemaah Islamiah, a South-East Asian militant network allegedly linked to al-Qaeda.

"I personally condemn the bombing (and) I am deeply sorry and express my condolences to the victims," Abu Bakar Bashir said according to his lawyer Wirawan Adnan who had visited the cleric in his cell in Cipinang Prison.

Bashir has been in jail since 2002, when he was convicted for minor immigration infractions. Prosecutors say they now plan to charge him with heading Jemaah Islamiah, and for a deadly bombing last year at the JW Marriott Hotel in Jakarta that killed 12.

There has been speculation that he could also be charged over the latest embassy attack.

Bashir has repeatedly denied any involvement in terrorism and claimed that Jakarta buckled under pressure from Washington to arrest him as part of a crackdown on Islamic activists in the world's most populous Muslim nation.

"I deny all accusations that connect the bombing with me," Bashir said. "I had nothing to do with the Kuningan bombing, the Marriott bombing or any other bombing."

"Terrorists must be punished and eliminated for good," he said.

Adnan told reporters that Bashir was convinced that the police were trying to make him a scapegoat to cover up their failure to prevent terrorist attacks.

"At the time of the Marriott bombing I was locked up for eight months. How can that be?" Bashir said, according to his attorney.
[...] Although initially only one blast had been reported, a Japanese woman who was taking lunch at a restaurant in an adjacent building at the time of the attack told Kyodo News there a second explosion followed the first, and shattered the restaurant's windows.

The Jakarta Post quoted an eyewitness as describing four separate blasts at the hotel, including two smaller explosions on the upper floors of the hotel.

''I was going to take some pictures after the first blast when suddenly the second blast hit after about 10 minutes. The second was the largest of four,'' the eyewitness, a journalist, reportedly told the daily. He said the second blast was the one that caused a crater in the hotel's Sailendra Restaurant.

Earlier, Jakarta Gov. Sutiyoso had told reporters it appeared that a suicide bomber drove a car to the entrance of the hotel and detonated an explosive device. Antara quoted a source as saying the bomb or bombs were brought by a taxi.
There was something interesting happened just hours before the explosion shocked the JW Marriott Hotel, Mega Kuningan, South
Jakarta. The US Embassy cancelled the booking of 10-20 rooms in that hotel. The cancellation was on 8.00 West Indonesian Time, Tuesday, or only 4.5 hours before the explosion.
This information is from employee of Marriot Hotel who refused to be identified. He explained that the booking was made several days ago.
The US Embassy's guests were planned to stay for 3 days. And the ceremony was planned on Wednesday.
For information, when there was the explosion, the security of US Embassy directly came to the Marriot Hotel in Mega Kuningan. JW
Marriot Hotel is known to be used frequently by US Embassy. On 4 July 2003, the Independent Day of US was celebrated on this hotel. Last year, it was also celebrated there.
Jakarta police seized documents last month showing terrorists were planning an attack in the area around the Marriott Hotel, where 14 people died yesterday in suicide car bombing. [...]
FOREIGN Minister Alexander Downer today rejected claims that Indonesian police had discovered a list of terrorist targets, including the JW Marriott Hotel, in recent raids on terror suspects.
Mr Downer said he had heard such media reports and immediately checked with Australian authorities to see what was known.
"I understand now more recently that there wasn't information that was so specific that would identify the Marriott Hotel," he said on ABC radio.
"It was just more general information of possible terrorist attacks and plans to develop terrorist operations. I have been told that it wasn't specific to the Marriott Hotel.
"There wasn't a list which included the Marriott Hotel."
TEMPO Interactive, Jakarta: Former State Intelligence Coordinating Board (BAKIN) chief A.C. Manulang has said that Kuwaitd citizen Omar Al-Faruq, a terrorist suspect who was arrested in Bogor, West Java, on June 5, 2002 and handed over to the US three days later, is a CIA-recruited agent.
Al Faruq was assigned to infiltrate Islamic radical groups and recruit local agents within these groups.
"When Al Faruq finished his assignments, the CIA created a scenario that he had been arrested," Manulang told Tempo News Room in Jakarta on Thursday afternoon (19/9).
Manulang made this analysis based on the pattern used by Al Faruq, that of having Kuwait citizenship but holding a Pakistani passport, entering Indonesia as a refugee and marrying an Indonesian woman.
This kind of operation is aimed at starting conflicts in Indonesia and creating the image that Indonesia is a land of terrorists.
"After the CIA obtained complete data on this matter, they then made Al-Faruq disappear. It's common in intelligence world," said Manulang.
Manulang said he considered several matters in the arrest of Al Faruq last July to be odd, such as the denial of National Police chief Gen. Da'i Bachtiar over the police's involvement in Al Faruq's arrest, and the lack of official documents in Al Faruq's handing over to the US.
"In the handing over of a detainee to other country, there should be an announcement or deportation document. Al Faruq's case indicated a lack of coordination between the Indonesian police and intelligence agencies," said Manulang.
As for Al Faruq's testimony in Time magazine that he had masterminded the plan to murder Indonesian President Megawati and several bombings in Indonesia, Manulang considered this as an attempt to making Islamic groups the scapegoats for all terrorism incidents.
"Anti-Islam intelligence agencies committed the bombings in Indonesia. They have been trained for this and they are very organized," said Manulang.
Therefore, he added, it was useless to arrest the bombers.
"We must arrest the mastermind of the bombings in Indonesia," stated Manulang.
According to Manulang, it's possible that Al Faruq recruited radical people from Islamic groups for his plan.
In regards to the murder attempt on Megawati, Manulang did not consider this as a serious matter.
"Megawati does not need to be worried. She's not the real target in this matter," said Manulang.
Manulang requested the government immediately verify the CIA report on Al Faruq.
"Such a report could only be a dummy or false intelligence information that is aimed at misleading the public," stated Manulang. (Sapto Pradityo-Tempo News Room)
French police were investigating a possible terrorist connection after 10 people were slightly injured in a pre-dawn bomb blast outside the Indonesian embassy in Paris.

The anti-terrorist section of the Paris prosecutor's office took charge of the judicial enquiry, amid suspicions it could have been carried out by Islamic extremists. No claims of responsibility had been received by the end of the day.

After a meeting of intelligence chiefs chaired by Interior Minister Dominique de Villepin, the ministry announced that security is to be stepped up at diplomatic missions, while Foreign Minister Michel Barnier said the attack "reinforces our determination ... to continue our fight against terrorism."

However for want of firm evidence the authorities continued to class the attack as "criminal" rather than "terrorist," and officials said other theories including a settling of accounts inside the embassy were also being looked into.

Radio Monte Carlo unnamed investigators as saying that this was the favoured theory.

Several hours after the blast in an upscale district in the west of the capital, forensic experts were combing through debris and broken glass in search of clues for the type of explosive used, while investigators interviewed embassy staff.

Nine of the injured -- who included four embassy staff members -- were treated for cuts in local hospitals and the tenth was attended to at the scene.

The explosive device was left on the pavement beneath the Indonesian flag flying from the embassy building on a narrow street corner and went off shortly after 5:00 am (0300 GMT), leaving a small crater some 50 centimetres (20 inches) wide by 20 centimetres deep.
Lies and the Lying Liars that Lie about Lying

SOTT Commentary
15/10/2004
What a tangled web we weave when first we practice to deceive, or in Bush's case, when we are born that way.
Just to make it absolutely, undeniably, positively crystal clear. Bush is a liar. He lies all the time. He probably can't help it. He and the members of his administration survive and thrive on the massive lies they tell to the world public, who willingly swallow every single word.
This is a fact.
The entire population of America, that's right, approximately 300 million people, and much of the other 6 billion people on the planet are being deceived by a few dozen men in Washington.
You want proof?
In the recent presidential debate, Kerry accused Bush of stating that he was not concerned about Osama Bin Laden, the alleged murderer of 3,000 Americans on September 11th and the reason for the entire "war on terror". To this accusation, Bush responded:
"Gosh, I just don't think I ever said I'm not worried about Osama Bin Laden, that's kind of one of those - exaggerations."
Well, you see, Bush DID say that he was not concerned about Osama, America's arch nemesis and the reason for the "war on terror".
In a March 2002 clip of a White House press conference, Bush replied to a question about Bin Laden's whereabouts by saying:
"I don't know where he is. You know, I just don't spend that much time on him. ... I truly am not that concerned about him"
Now you tell us, was Bush's comment that he DID NOT say that he is not worried about Osama, a lie? Do our leaders lie? If you agree that they do, can any of us say categorically that they would not lie about any particular subject? The 9/11 attacks for example?
What will you do given the clear cut evidence that Bush is prone to lying in front of millions of people? Are you going to dismiss it as an anomaly? Are you going to deny the uncomfortable reality into which this fact thrusts us?
The real truth is that lying to and deceiving the masses is synonymous with government, it always has been. Our task is to wake up to this reality and modify our approach to life accordingly.
Part I - Branch Warfare and the Evolution of Aggression
The pages of history, those monuments to humankind's brief rule over the planet, are replete with violence, death and destruction. Indeed, it can be argued successfully that war, genocide, ethnic cleansing and human violence against each other have defined humanity's tumultuous existence on Earth. We are inseparable from death and destruction, suffering and violence, having become creatures addicted to the malice inherent in human evil. Turning the pages of the little we know of our own past, one thing becomes quite apparent: Throughout time, in all corners of the world, mankind has lived side by side with war, destruction and death. We have defined our existence through the self-inflicted violence we unleash upon ourselves. What is it about the human condition that espouses in us a propensity to grossly annihilate ourselves, inflicting horrendous misery onto our kind and never learning from the devastation unleashed by us onto us?
Violence and humanity were born conjoined twins out of the thick canopy of our ancestral home in the Eastern African jungles. Even in the ape-like appearance and behavior of our primate selves could our violent genes be discerned. Competition forced upon us the will to survive through the defeat of competitor groups. Wars waged high in the canopy became the first symptoms of our disease. Group versus group, competitor versus competitor, the violence ingrained in us manifested itself in the primitive battles and hollowed screams of our long-gone ancestors.
Branch to branch, foot by foot, with nail and teeth the prelude to modern warfare was born. This reality can today be seen in modern mammals of today. In time we fell off our comfortable branches high above the canopy, now bipedal and stepping forward in evolutionary exigencies, ready to take the next leap forward. As we made the savannah our new ecosystem competition once more reared its ugly head. New predators arose, new rivalries emerged. Survival of the fittest never seemed so important. Those born aggressive survived, those less fortunate perished.
Struggling over territory we fought interlopers; competing for finite resources we waged battles. Our drive to procreate pitted male versus male in animalistic bouts of combat that killed, wounded or banished. The winner of such fights controlled fertile females, claiming new forested territory as a result, thus becoming the new procreator of genetic bonds, killing off genetic competitor's offspring if he had to. Survival of the fittest ensured that only our most able ancestors succeeded and passed on their seed to future generations.
Our story mirrors that of so many diverse mammals. We are similar to them in so many ways, living, breathing and surviving in nature much the same as they have for hundreds of thousands of years. Species have come and gone, yet mammals we all remain, birthing, eating, parenting, sleeping, defending, surviving, thriving and dying in very similar ways. Behaviors and social structures, hierarchy and competition are, if studied carefully, similar in many species, including our own. We were once part of the animal world as much as the animal world was once part of us.
In a world of survival that depended on an ability to defend the group and protect territory from alien invaders our primate ancestors had to evolve violence. Only those who developed the greatest propensity to violence and those who possessed the best skills in combat could be assured of survival. Thus, it was these skills and propensities that got passed down generation to generation, eventually becoming attached to our evolving makeup. Survival of the fittest demanded that violence become part of the human condition, a necessary and adaptable behavior needed to survive and thrive. Through eons and generations of evolutions our bodies changed and minds grew, yet the struggle for survival heeded the need to defend, kill, maim and protect. Aggression thus became a tool necessary for continued existence. To fail in this genetic battle was to declare defeat and almost certain death. Left without genetic progeny, those lacking violent arsenals disappeared into the realm of the forgotten, made extinct by the insufficient predisposition toward aggressiveness.
To fight or fail, to battle and survive became, in our early days full of competition for sexual mates, territory and finite resources, the primitive engenderer of the violence that befalls humanity today, just as it has throughout history. To develop aggressiveness, propensity to violence and skill in combat assured our ancestors lived another day. To fail in battle meant almost certain extinction and genetic banishment. It was those who survived and those who are today our most direct predecessors that were the most violent, the most lethal and most adept in aggression whose genes we eventually inherited.
The greatest symptom of our disease today was spawned in the wars of survival emanating in the now forgotten days of yesteryear. The virus that causes so much death, destruction and misery today was forged before we knew what we would eventually become. Out of necessity, out of adaptability and based on the laws of nature humankind arose from the jungles and the savannah bipedal and intelligent, predisposed of violence and competition. The laws meant for the animal world mutated in form and substance with our ever-evolving brains, creating the most lethal, self-destructive and violent mammal the world has ever spawned.
Conditioned Minds, Hidden Realities
Our mistake is not wanting to see who and what we truly are. It is living in the delusion of our grandeur and the imposition of our omnipotence. It is neglecting to acknowledge the reality of our origins and the truth behind our behaviors. It is living in the myth that we are something we are not. Thinking ourselves placed on this planet through the hands of our metaphysical idol, we believe in the façade of the magnificence of our civilization and the perfection of our existence.
Failing to erase the delusion of our god-appointed reign over the planet or the deity-inspired anointment over all living creatures we blindly devour anything in our path, destroying the knowledge of our being by the evisceration of our home. Thinking ourselves a completely different entity than the mammal world we belong to, we refuse to realize that from our cousins our behaviors arise. All mammals derive from a common ancestor, a rat like creature that evolution transformed to the plethora of diversity our species is slowly making extinct. It is only natural, then, that we share many of the same traits and behaviors as our blood relatives. As an example, we share over 98 percent of the same genes as a chimpanzee, while we share over 90 percent of the same genetic makeup as a common mouse.
To study the animal world is to in many ways delve into the far and not so far reaches of human behavior, peering through the unobstructed lens creatures sharing many of our traits comprise. To study the behavior of our closest relatives is to dive into the deepest wells of human evolution and seeing who and what we really are. By understanding that which we fail to escape but refuse to acknowledge better humans can we all be made to be.
We fail to understand where we come from, what we once were and how evolution works. Thinking ourselves immune to the same laws of nature encapsulating the rest of the animal world we are in essence abandoning an enormous chunk of information that can allow us to better understand the human condition. We do not comprehend that evolution works in eons, not decades, that behaviors and genetic mutations transcend generations and that much of what we think of as human nature today was first brought to light hundreds of thousands of years ago, long before the arrival of civilization, technology and religion.
Our religions have made us believe in the exquisite creation of our civilization and in the chosen ascendancy of our almighty sovereignty. They have, through the perceived greatness of our species deriving from the heavens above, guided us on paths of human myths, not realities. Created before our minds could conceive of or understand our relationship with the animal and natural world, religion furthered beliefs at odds with our animal selves and our own behavioral and instinctual evolutions. It condemned the idea of us as animals inclined with many of the same characteristics as the mammalian world. Instead, its dogma demanded that we become gods onto ourselves, rulers of the planet, created by our deity in its same image.
Religion commanded that we look upon ourselves as separate entities from anything living on Earth. We were placed on the planet by powers higher than ourselves, created out of thin air, becoming human the moment we took our first breath. Evolution was non-existent, as was the idea that humankind was once part of the animal world. Our evolving physical and mental realities were never taken into consideration, nor the truth of the natural world that enveloped us.
Religion that was created thousands of years ago continues to control our lives today, with the same primitiveness of days gone by and with the same belief structure that fails to include the knowledge and intelligence we possess today. It is these mechanisms, along with our inability to escape the cloud of self-aggrandizing delusion hovering above us that continues to plague our advancement.
We live in the denial of our existence, believing us superior and chosen, unable, unwilling really, to accept that which our minds and egos refuse to acknowledge. For to degrade ourselves as having risen and indeed being part of the world of the beasts and mammals would be to strike down the fallacy of our own self-absorbed greatness that has led us down the wrong road for the last ten-thousand years. Conditioned for millennia to believe in our own hegemony and importance, we have been led astray, lost in our concrete jungle ecosystems, wandering aimlessly on our road to perdition, passing through the ruins of the knowledge that can save us but that we are destroying, even as we refuse to accept the reality of our creation and the truth behind our behaviors.
The animal world that birthed us have we abandoned, along with the vast knowledge it possesses. The keys to understanding ourselves lie in front of our eyes, in the world we refuse to acknowledge and only seem to want to destroy. Instead primitive we remain, thrust upon our violent selves by our refusal to evolve past the dogma of ancient times that was born to ignorance and fear. A perplexing quandary has arisen that denies the truth behind our ways and the understanding we desperately need to squash our demons. In light we see no evil and in darkness the truth remains.
The grand lie we live of our god-like divinity has for centuries clashed with the great truth of our animal-like reality. Except we are too delusional to see beyond the mirage of greatness we espouse onto our fragile egos. The great fallacy of our omnipotence is corrosively leading to the impotence of our continued existence.

PART II - Evolving Brain, Advancing Civilization, Destructive Violence
Spit out of the jungles by evolution after we landed on solid ground from the dense branches of our trees above, we began our great Diaspora, ever-slowly traversing savannah, desert, forest, tundra and oceans, reaching the far reaches of the globe. Yet within us we carried the virus that to this day continues to plague our existence.
Attaching itself to the human condition like a blood-sucking leach firmly entrenched on a mammalian body, our propensity towards violence has never left us. Like many species of animal, including our primate cousins, aggression and violence are deeply entrenched in our psyches. The real danger, however, lies in the evolving brain we have over the millennia allowed to develop.
What separates our aggression from the instinctual one residing in the animal kingdom is our capacity for intelligent, analytical and cognizant understanding. That is, our intelligent brain has the capability to mutate our many passions, emotions and aggressions into organized violence against our own kind, done methodically and purposefully, thereby superceding any instinct we might possess to the great detriment of our fellow man. The threat to our race is that unlike animals, whose aggression is minimal and based on instincts of survival that also serve the laws of nature, our propensity towards violence exerts pressure to endanger our own kind thanks to the complex mechanizations of the mind. Our deep thinking and highly intelligent brain unleashes violence not according to the laws of the jungle but for much more sinister purposes dealing with our highly volatile and misunderstood animal passions.
With feelings of anger, hatred, competition, revenge and jealousy so ingrained into our animalistic selves, it becomes extremely difficult to sequester them in our daily lives. These emotions, and the reactions inherent in such circumstances, are unique to the human race. It is our species that can act out violently against such passions; we are the only animal that can direct our passions in violent outrage, whether at one person, an entire army or an absolute nation. Our vast superiority in intelligence over the animal world, combined with the same behaviors and propensities as our mammal relatives, makes us much more dangerous animals than previously existed. It is our mind, combined with our animal passions, that allows our violent and aggressive selves to mutate to the kind of destruction, death and misery we are so capable of.
It is this Molotov cocktail of human intelligence and animal passions that makes of man that most dangerous of animals. Intelligence and passion, when mixed together, can create a volatile concoction that has been manifested in the often bloody history of man.
When combined with the collective brain of the many, such as in the case of tribes or nation-states, the propensity towards violence against competitors or rivals becomes even greater, escalating into full-fledged war. The same parameters that led to fighting among our primate ancestors and the animal world of today helps bring to the surface the human hell that has shackled us from our earliest beginnings and that today leads to untold levels of misery worldwide.
Competition for food, resources, sexual partners and territory condemn humans to releasing into the open the virus of violence attached to our psyches that lingers hibernating in the innermost closets of our minds, ready at any moment to makes its ominous entrance into our lives.
With our more intelligent mind, however, new non-nature parameters that open the scabs of violence have emerged in the last several hundred thousand years. As differences of religious dogma arose, eroded and mutated throughout tribal societies, so did the propensity for war based on differences of belief. Indeed, wars of religious inclinations have killed, maimed and destroyed more humans than any other excuse for warfare. The untold suffering caused by religious wars cannot be adequately described in words. The "my god is better than your god" syndrome, combined with the 'my religion is the true and only religion' belief in which battles for the true religion continue to be fought, has condemned hundreds of millions and perhaps billions of human spirits to the nadir of nothingness.
Wars of religious proclivity are the greatest example of the malignant human hell that legitimizes the murder and killing of our fellow man. Added to the already prevalent munitions of aggression our animal selves are born with, this breed of violence, encompassing a small timeframe of our life on Earth, against differences of religion, nationality, ethnicity, race, beliefs, goals and vision of the world, has elevated the violence against one another to a scale the first humans to inhabit the world could never possibly envisage.
Conflict has defined human society from time immemorial. Our gravitation to violence has characterized our existence and our history. After leaving our cradle in Africa, from our earliest nomadic tribal predecessors to our most advanced societies today our fate has in large measure been determined as a result of warfare. Competition for land, homes, food, sexual partners and resources were once the sole reason for human combat. Today, added to those just mentioned we can include the much more sinister wars based on differences of religion, ethnicity, nationality, race, beliefs and goals. With the advancement of human civilization our primitiveness only grows. The introduction of new anthropological creations in human societal evolution have only exacerbated the need to kill one another. The reasons for human hell keep increasing with the advancement of our existence and the continued growth of our species.
Conquest, usurpation, power and control have sealed destinies and advanced humankind to where it stands today. It is these same that will help seal our fates the more we clash and more we bump into each other's vested interests. Under growing pressures for the finite space available and as nation states compete for Earth's dwindling resources, the human hell we have known since the dawn of time will only resurface once more, continuing to dance alongside humanity's unsustainable desires, animalistic passions and our voracious inability to understand the complexity of who and what we truly are that has scarred us during our entire time on Earth.
The Human Hell
What is it about war that makes beasts and demons of man? What is it about destroying our own kind that unleashes such anger and passion? What is it about the human hell that returns us to the savage and barbaric days of the past? Our animal and primitive selves are resurrected with the call to war, opening in our minds the collective memories of an entire history of death, destruction and misery. The human hell opens the conveyor belts of accepted violence, a time when those in power make it moral to destroy a fellow human energy along with the advancement of entire societies. The human hell allows warmonger leaders to condemn to death the citizens comprising the military while permitting those who survive to destroy their fellow men.
From nails and teeth to stones and branches to arrows and spears to guns and cannons to missiles and bullets the human condition has evolved. Along with us, however, is our twin called violence, sitting on our side waiting patiently for the bells of carnage to be heard, clandestinely shrouded in the inner bowels of man, released with the call to arms that mutates us back to the animal world we claim to rule, not be part of. For violence knows that she will eventually reap what man sows, commandeering entire armies of enraged men to become exactly that which human morality and religion stands firmly against.
Through the cross-hairs of a rifle or the aiming of a weapon man stops being man. He who fires and aims has become beast while he who is fired upon is but a subhuman target, losing all personality and humanity. The human hell turns man into beast, Jekyll turns into Hyde and the world becomes a bastion for the demons running rampant in the human condition. Atrocities become accepted, rapes become desirable, carnage fills the air and humanism erodes more and more with each new devastation of land and man.
The human hell legalizes those most heinous crimes our civilization condemns. It makes heroes out of war criminals, replaces justice with destruction and executes devastation upon innocence. Murder and cold-blooded execution are given the legal justifications never granted in society. The losers of war become war criminals while the victors become war heroes, to be honored and rewarded for the crimes against humanity they helped perpetrate. War presidents are given full reign to decimate tens of thousands of civilians and to make toxic entire nations, ruining countless lives in the process.
The human hell orchestrates a symphony of macabre manifestations, unleashing the most deadly weapons known to man upon cities and standing armies. Artillery rains down from the clouds, missiles strike like thunder from the gods. Bullets spray mercilessly onto fragile human bodies while rockets devastate both homes and lives. The human hell war is called, released from the innards of the human condition, magnifying the worst symptoms in our disease.
Death, destruction and misery enliven the energy that feeds from human blood. The animal inside us awakens with the adrenaline rush of death and survival. Hatred, anger, animosity and revenge are spawned as our animal selves usurp our human minds. Humans become worthless, their lives easily taken, their deaths expected. Entire cities are sacked, children and women are murdered without impunity, human morals and virtues are made extinct. Human hell makes monsters of entire peoples acquiescing to the crimes against humanity being committed in their name.
The enemy is hated, though he is unknown. The desire to kill him grows, though he never hurt us. Unleashing pain upon him and his people is ingrained into our minds, though we fail to realize he is as human as us. The human hell blinds us to a humanity we once possessed, unearthing our animal passions that, combined with our human intelligence, causes a weapon of death and destruction, unrepentant, unrelenting and unforgiving. The human hell makes man the incarnation of evil, released upon civilization, thrusting decimation upon our own kind.
It is evil born of man that our religions warn against. It is our violent selves our scribes write about. It is man at his worst that we must fear.
The development of stereotypes, differences in beliefs and racial identity, the arrival of fears and ignorance, ethnic and cultural complexities, different goals and ways of seeing the world, auras of superiority along with competitive pressure for land, food and resources contribute to the ever-growing need to unleash the human hell onto our environment.
Genocide and ethnic cleansing have, along with war, been a part of the virus we call human violence from the very beginning of human understanding. Entire groups have been extinguished, entire regions cleansed of humans. It goes on today as much as it did sixty years ago. Our history has been marked by genocide after genocide, ethnic cleansing after ethnic cleansing, war after war. After every atrocity cries of 'Never Again' rise as if this time humanity will learn its lessons. Yet, as we know too well, the cries go mute as the deaf ears of mankind once more tremble with yet another thunderous blast from a hail of bullets and missiles wiping out an entire grouping of people.
In the unrecoverable echoes of our lost humanity can be heard wails of 'Again and Again,' never learning from our atrocities or the evil born within us. War, that most dastardly of all human hells, as old as our first pioneers and as dangerous as the most venomous human to ever walk among us, has created Holocaust after Holocaust, monopolized by no group of humans, distributed to all corners of the globe, regardless of skin color, ethnic makeup or religious beliefs.
War is hell on Earth, affecting humankind throughout time and space, inconsequential to the perceptions we might have or the delusion we might live. War makes demons of our soldiers, free to roam alongside evil as it infects once placid men who respected human morality in peace but exterminate its principles in war. Through war humankind returns to our primitive selves, becoming the smartest of animals, capable of exterminating its own kind and setting free the misery that has befallen every generation of humanity from the time of first beginni ngs.SPAN
The absurdity of human war has yet to be stopped, for we have yet to fully understand who and what we truly are. Inside us lie the answers; in knowing the animal world lays our salvation. We claim ourselves the epitome of modernity, of civilization and of knowledge, but ape like creatures prone to violence is our reality, intelligent, sure, self-destructive, you bet. War has never ceased, and there is no reason to believe that it one day will. War is violence, and violence is humankind. Our reason is no match for our animal passions; our younger, analytical mind is easily clouded by our older, primitive one.
The salvation to the greatest symptom of our disease has been at our hands since the first human opened its eyes. Yet over the course of our brief stay on Earth we have been made blind, thanks to our own devices, to a reality that is as humbling as it is frightening. Our egos refuse to listen, see or touch that which emanates from all corners of the globe. We fear knowing that which for centuries has been denied, afraid that we will see that we are not what we once thought ourselves to be.
The human hell will continue to linger and determine our fates. It will continue to maim, murder and decimate. For as long as we have walked this now scarred Earth the demons running in our veins have dominated us, corroding our societies and humanity, manipulating us toward unleashing the great evil living within us. In the end, the human hell called war will be our demise as our inability to comprehend who and what we are will crash with the ever-expanding lethality of our technologies. From rocks and sticks to mutually assured destruction, our violent selves have never changed. Except today's version of yesterday's rocks and sticks could conceivably annihilate entire regions and indeed the entire surface of the planet.
Warfare is ingrained inside the human condition, unrelenting and dominating. We have yet to exorcise this most terrible demon from our wake. Humanity and violence are conjoined twins, it seems, inseparable brothers thriving off each other. Where man goes violence and war soon follow; where violence is found man will most certainly be found. In all regions of the globe, in all peoples and societies, violence lingers about and controls us, from spousal abuse to declared war among nations.
All it needs to resurrect itself from outside the crate that lies hidden in our mind is a war like leader eager to launch the trumpets of war. All that is needed for violence to release its most toxic cancers upon our civilization is for good men to do nothing upon the calling of the masses.
As long as we fail to understand the world around us and the true psychology of the human condition violence and war will continue to lead to death, destruction and untold misery. As long as we remain ignorant and silent to the control violence has over our race children will continue to be buried by their parents. For, as Plato is claimed to have once said: "Only the dead have seen the end of war."
To deny the fruit of our impulses is to deny the very existence of our being. Our denial and failure to accept the reality of what we are is guiding us down the road to perdition. The corrosive unwillingness to delve into the internal realizations of our past, present and future will inevitably lead to our never putting a stop to the dastardly deeds our species is capable of unleashing upon ourselves and the lands we inhabit.
As a result, 'Never Again' will continue to be shouted in vain after yet another war, act of genocide or ethnic cleansing. The impotence of such words will only be seen in light of the omnipotence of continued human violence and war. In time, 'Again and Again' will come to be seen as the perpetual reality that haunts our existence, plaguing humanity from the beginning to the very end. We seem incapable of stopping ourselves from repeating a history that is all too familiar to us.
In truth, perhaps our very existence is defined by war and violence, and addicted we have become to the horrors our creative energies wreak upon our world. Maybe violence is as ingrained a part of our psyches as love, affection and happiness are. How else do we explain an entire existence, spanning many hundreds of thousands of years, scarred by death, violence, destruction and suffering? Only when we confront our animal selves and escape this delusion of ourselves as almighty creatures of chosen prowess will we find respite from our evil ways. Until then, only the dead can be assured of never again experiencing that most devastating of human hells called war.
Manuel Valenzuela is social critic and commentator, international affairs analyst, Internet columnist and author of Echoes in the Wind, a novel now on sale by Authorhouse.com. A collection of essays, Beyond the Smoking Mirror: Reflections on America and Humanity, will be published in early 2005. His articles appear in alternative news websites and you can find him regularly on informationclearinghouse.info. His unique style and powerful writing is read internationally and seeks to expose truths and realities confronting humanity today. Mr. Valenzuela welcomes comments and can be reached at manuel@valenzuelas.net.

Echoes in the Wind Sales Page Mr. Valenzuela's new novel now on sale. Almost 600 pages in trade paperback form on sale internationally through secure webpage transaction.
Maimed for Oil and Empire
By NICOLE COLSON
October 14, 2004
"I THINK it's worth it, Jim." During the September 30 presidential debate, George Bush didn't hesitate when asked if the war on Iraq was worth the hundreds of deaths and thousands of terrible injuries suffered by U.S. troops.
Too bad debate moderator Jim Lehrer couldn't ask Sgt. 1st Class Larry Daniels the same question. Daniels is one of hundreds of U.S. troops with critical injuries at Landstuhl Regional Medical Center, the U.S. military hospital in Germany where nearly all ill or wounded troops from Iraq and Afghanistan are sent.
In mid-September, Daniels and his men were guarding Iraqi contractors repairing a chain-link fence near the Baghdad airport when a car bomb exploded. Today, his arms are pinned with metal rods and wrapped in bandages from just below the shoulders to the tip of his fingers. Shrapnel wounds scar his back, from behind his right ear to his ankles. And Daniels is one of the "lucky ones"--because doctors believe he'll make a full recovery and won't suffer disabilities.
Col. Earl Hecker, a critical care doctor at Landstuhl, says that the casualty situation for U.S. troops is far worse than most people in the U.S. can imagine. "[The public has] no idea what's going on here, none whatsoever," he told New York Newsday. Then he blurted out, "Bush is an idiot."
Hecker has every right to feel angry. On an average day, he sees 35 young men and women transported to Landstuhl, mainly from Iraq. Doctors and nurses at the hospital say it is like something out of a nightmare--where "the cost of the Iraq war is measured in amputated limbs, burst eyeballs, shrapnel-torn bodies and shattered lives," wrote Toronto Star reporter Sandro Contenta.
Since September 2001, more than 18,000 military personnel have come to the hospital from Iraq and Afghanistan--roughly 20 percent because of combat injuries, the rest due to accidents or illness. While the Pentagon has reported approximately 7,300 soldiers injured in combat in Iraq, that number doesn't reflect soldiers evacuated for illnesses, like diarrhea or persistent fever, which are often related to living conditions.
And it doesn't count the thousands of soldiers sent home because they are suffering from mental health problems, like post-traumatic stress disorder. At Landstuhl alone, more than 1,400 soldiers have been admitted for mental health problems.
Back at home, the Pentagon says that some 28,000 troops out of the 168,000 who have returned from Iraq and Afghanistan have sought medical care from the Veterans Administration. Nearly 20 percent of those--well over 5,000--have done so for mental health reasons.
It's no wonder why. According to a New England Journal of Medicine study released in July, during the six weeks that the Iraq war lasted officially, 95 percent of Marines and Army soldiers surveyed said that they had been shot at, 56 percent had killed an enemy combatant, and 94 percent had seen bodies and human remains. "It's probably the biggest challenge to mental health [in the military] since Vietnam," Col. Gary Southwell, chief of psychology services at Landstuhl, told Newsday.
For these soldiers, help may not be available, even if they manage to make it home alive. The Veterans Administration (VA) has been overloaded for decades--and has a current backlog of more than 300,000 claims.
Of the claims for benefits filed by soldiers returned from Afghanistan or Iraq, fewer than two-thirds have been processed--leaving more than 9,750 recent veterans waiting for help, according to the Washington Post. And a September 20 Government Accountability Office report concluded that the VA isn't able to determine if it can handle a rush of post-traumatic stress disorder cases.
Meanwhile, soldiers who are injured in Iraq and sent home are in for a rude awakening--a 50 percent pay cut. When Marine Lance Cpl. James Crosby left Iraq, he was unconscious, his legs paralyzed, his guts pierced by shrapnel.
According to the Boston Globe, that's when the military cut his pay. "Before you leave the combat zone, they swipe your ID card through a computer, and you go back to your base pay," said Crosby. "You need that pay more than ever, to move your life around." In a wheelchair and attached to a colostomy bag, Crosby told the Globe: "I still have to fight the consequences of what happened. I struggle every day.''
That struggle is leading more troops and their families to question the war. "The army is not going to like what I have to say, but I think we have no business being there," Larry Daniels' wife, Cheryl, told Newsday.
She says that she voted for Bush in 2000, but has changed her mind this year. "I will definitely vote for Kerry, not because I prefer Kerry over Bush, but because I don't want Bush back in office," she says. "I'm hoping that if Kerry takes office, we'll be pulling out" of Iraq.
Unfortunately, as Kerry has made all too clear, he won't answer the hopes of people like Cheryl. During the first presidential debate, when asked if U.S. soldiers were "dying for a mistake," Kerry answered "No, and they don't have to...I believe that we have to win this. The president and I have always agreed on that." That means more U.S. troops killed and maimed for oil profits.
"I don't want to go to Iraq"
WILL MORE troops be heading to Iraq? No matter who sits in the White House in January, the answer to that question is a definite yes--since both Bush and Kerry have made it clear that they believe the U.S. has too much at stake to withdraw.
That's why the Pentagon recently announced plans to deploy an additional 15,000 troops to Iraq in the first four months of 2005. But with the occupation spiraling out of control, and thousands of troops killed or injured, the military is facing a crisis--both in the number of troops on the ground in Iraq, and in levels of recruitment and retention.
Last month, the Pentagon announced that the Army National Guard fell nearly 10 percent short of its 2004 recruiting goal of 56,000 enlistees--the first time it has fallen short since 1994. This despite the fact that the Army even eased some of its standards for people to qualify.
Meanwhile, the average mobilization for members of the Reserves throughout the military has more than doubled--to 342 days this year, from 156 days during the 1991 Gulf War. The Pentagon has issued a controversial stop-loss order, preventing soldiers whose tours of duty were up or who were scheduled to retire from leaving the military.
And the brass have called up more than 4,400 Individual Ready Reservists, former soldiers honorably discharged after finishing their active-duty tours, but who remained technically eligible for call-up. As of September 28, 1,765 Individual Ready Reservists had been scheduled to report for duty. But, according to the Army, some 622--about 30 percent--failed to show up.
Of course, when orders don't work, the Army figures that threats will do the trick. According to the Rocky Mountain News, soldiers from a Fort Carson combat unit were recently issued an ultimatum--re-enlist for three more years, or be transferred to other units expected to deploy to Iraq.
"They said if you refuse to re-enlist with the 3rd Brigade, we'll send you down to the 3rd Armored Cavalry Regiment, which is going to Iraq for a year, and you can stay with them, or we'll send you to Korea, or to Fort Riley [in Kansas], where they're going to Iraq," said one of the soldiers, a sergeant. "I don't want to go back to Iraq. I went through a lot of things for the Army that weren't necessary and were risky. Iraq has changed a lot of people.''
Nicole Colson writes for the Socialist Worker and is a frequent contributor to CounterPunch.
Pretoria: A South African is killed every month in Iraq, yet US dollar payments continue to lure thousands of locals who flock to the country to help restore "peace and order".
The drawcard is the $1 000 that more than 4 000 South Africans are paid every day while working on security contracts throughout the war-torn country.
This week two more South Africans were killed outside Baghdad while escorting a convoy of US construction engineers to a building site.
Johan Botha, 37, who lived in Pretoria North, and Louis Campher, 43, of Port Elizabeth, were shot dead on Tuesday, bringing the number of South Africans killed in Iraq this year to 11.
On Tuesday last week, Johan Hattingh, 29, a former freefall instructor from 44 Battalion in Bloemfontein, was killed by a suicide bomber in Baghdad.
Both Botha, a former South African infantry soldier at 121 Battalion in Piet Retief, and Campher, an ex-Johannesburg policeman, worked for Pretoria security company, Omega Risk Solutions (ORS).
Botha had been in Iraq for less than a month while Campher, who was working alongside his nephew Terrance Oelofse, a manager at ORS, had been in the country since August 1.
Both men were on six-month contracts and were due to return home in January.
Yesterday, Botha's distraught sister, Petro Rademan, said she was beside herself with grief.
"I cannot understand people going to a place like Iraq for money, especially if you are not going to live to spend it," she said.
Rademan said she hoped that her brother's death would make those who were going think about the horrifying ordeal they were about to put their families through.
Click here
"To grow up without a father is not worth it. Money can't buy you a goodnight kiss, a comforting hug, wisdom or love," she sobbed.
Botha's one-year-old son, Johan, is now without a father.
His widow said the worst was constantly worrying about the whereabouts of a relative while they were in the battle-scarred country.
"Every day we would pray that he would be alright, waiting for his phone calls and e-mails," she said.
The last time Rademan spoke to her brother was on Friday night when he called to tell her that he loved her and that she should look after herself.
"I knew then that, deep down, Johan knew he would not be coming home (alive).
"Johan died as he lived, living his life to the fullest and doing everything to the end.
"If he had to choose how to die, he would have chosen this ..." she said, referring to his "death-in-action".
ORS West African and Middle East managing director, Cobus de Kock, declined to say how many South Africans the company had in Iraq.
"All I can say is that we have plenty on the ground - in fact, more than enough," he said.
He also declined to say how much their employees in Iraq were paid, but confirmed that they were paid in US dollars.
De Kock said because of the number of attacks on construction workers by rebels, it was ORS's job to ensure their safety.
The bodies of both men are due back in South Africa this week for their funerals in Port Elizabeth.
WARSAW (Reuters) - Poland said Friday it plans to reduce the number of its troops in Iraq from early next year and will not remain there "an hour longer than is sensible."
Prime Minister Marek Belka said in a parliamentary speech before a confidence vote in his minority cabinet that Poland will keep troops in Iraq as long as needed to secure a power transfer to local authorities. "Poland will reduce her contingent from the beginning of 2005 and will be talking about further reductions," he said.
"We will not remain in Iraq an hour longer than is sensible, than necessary to achieve our mission's goal: To return Iraq to the Iraqi people and give security to the world," Belka said.
Poland, seen by the U.S. as a key ally in Iraq, has 2,500 soldiers in the south-central part of the country, heading a multinational division of 8,000 troops.
But the government has been under growing pressure to pull out, with nearly three-fourths of Poles against deployment.
Poland said last week it will have plans to pull out its troops after Iraq holds elections, due in January. Defense Minister Jerzy Szmajdzinski also floated the idea of withdrawing troops by the end of 2005.
Seventeen Poles have died in Iraq over the last 13 months.
Belka's cabinet faces a long-scheduled confidence vote in parliament no earlier than noon GMT. His foreign and health ministers face no-confidence votes also Friday.
CAMP PENDLETON, Calif. - Medical evidence could be barred from the court-martial of a Marine major accused of abusing an Iraqi prisoner because military pathologists misplaced body parts, a military judge said Thursday.
If the judge, Col. Robert Chester, decides to bar the evidence, prosecutors would stand a slim chance of convicting Maj. Clarke Paulus of aggravated assault, the most serious charge he faces.
Paulus, 35, is accused of ordering one of his men to drag Nagem Hatab by his neck after the Iraqi prisoner suffered a bout of diarrhea and collapsed in June 2003 at a makeshift detention facility outside Nasiriyah, Iraq, known as Camp Whitehorse. Hatab died soon afterward.
Earlier Thursday, an Army pathologist apologized for misplacing body parts taken from Hatab.
"I should have paid closer attention ... instead of relying on what turned out to be a miscommunication with my assistant," Col. Kathleen Ingwersen said during the hearing at Camp Pendleton Marine Corps Base.
Perhaps the central piece of evidence — a broken bone Ingwersen noted in the throat of the Iraqi prisoner — remains missing.
The broken bone supports the pathologist's finding that Hatab was strangled, but Ingwersen said she has no idea where it is. She said medication she took for an allergic reaction to sand fly bites during her trip to Iraq may have affected her memory.
Other portions of Hatab's throat and his rib cage also had been declared lost. Part of Hatab's larynx — the muscle and cartilage that contains the vocal cords — was later found in Germany, where Ingwersen is based, and his rib cage turned up at the Armed Forces Institute of Pathology in Washington, D.C.
Ingwersen said she thought she had instructed her assistant to ship Hatab's larynx to Washington, but he apparently misunderstood her and the evidence never left Germany. It was unclear how the rib cage got to Washington.
The judge rebuked the pathology institute for its unwillingness or inability to accommodate a defense expert for independent DNA testing on the rib cage.
"I do see a lack of cooperation or attention by personnel at the (institute of pathology) which I find most troubling," Chester said.
The judge did not indicate when he would decide whether to allow the medical evidence, but said Paulus' court-martial will begin on schedule Nov. 1.
Paulus faces up to 4 1/2 years in prison if he's convicted of aggravated assault, dereliction of duty and maltreatment of prisoners. Thursday's hearing was held to address a defense motion to dismiss the aggravated assault charge.
Marine Sgt. Gary Pittman, the first person court-martialed in connection with abuses at Camp Whitehorse, was cleared last month of assaulting Hatab but convicted of dereliction of duty and abuse of prisoners. He was sentenced to 60 days of hard labor and demoted to private.
Hatab, 52, had been rumored to be an official of Saddam Hussein's Baath party and part of the ambush of an Army convoy that killed 11 soldiers and led to the capture of Pfc. Jessica Lynch and five others.
In a U.S. election campaign that is more about foreign policy than any presidential race in decades, one issue is completely off-limits: the Israeli-Palestinian conflict.
George W. Bush and John Kerry both back Israel 100 per cent, and neither man will offer a single word of criticism about Israeli Prime Minister Ariel Sharon's "disengagement" plan, even though it means abandoning the notion of a peace settlement.
Once again, the Israeli tail is wagging the American dog.
Last week, Sharon's chief of staff and most trusted adviser, Dov Weisglass, indulged in a carefully calculated indiscretion in an interview with the newspaper Ha'aretz.
"The `disengagement' is actually formaldehyde," he said. "It supplies the amount of formaldehyde that is necessary so there will not be a political process with the Palestinians." Perfectly true, of course, and yet it was a shocking thing to say out loud.
Sharon was never really going to accept a peace deal with the Palestinians that required giving up most of the illegal Jewish settlements in the occupied territories conquered by Israel in 1967. Indeed, he was the man responsible for starting the settlements in the first place.
Yet, when he came to power in 2001 he inherited the Oslo peace accords, which imagined an Israeli-Palestinian peace based on two states living side by side — and the Palestinian state was to be created on exactly those territories.
Sharon had to pretend that he agreed with that goal because the whole international community (including the U.S.) supported the two-state solution. Over the past few years the "Oslo process" mutated into the so-called "road map" to peace, but the goal remained the same: Israeli evacuation of the occupied territories and the creation of a Palestinian state living peacefully alongside Israel. In the past six months, however, Sharon has achieved breakout.
"Disengagement" means that Israel will evacuate its settlements in the densely populated Gaza Strip, where 7,500 Jews live surrounded by 1.3 million Palestinians, and four other tiny settlements with only a few hundred people that lie beyond the "security fence" in the northern West Bank.
They never made any sense in terms of the cost of protecting them anyway.
But by abandoning them, Sharon can seem to be making a major concession for peace — while hanging on to all the other West Bank settlements where the vast majority of the settlers live forever.
Forever is a long time, and Sharon still maintains the pretense that at some future time, when there is a different Palestinian leadership, there might be further negotiations about a Palestinian state.
But Weisglass spilled the beans on Oct. 6, pointing out that he had negotiated an agreement with the Bush administration in late August in which the United States had changed its policy of 37 years and agreed that the illegal Jewish settlements in the West Bank would eventually become part of Israel.
The 190,000 Jewish settlers there, he boasted, "will not be moved from their place."
"What I effectively agreed to with the Americans was that part of the settlements would not be dealt with at all, and the rest will not be dealt with until the Palestinians turn into Finns," said Weisglass, adding that this would stall the peace process indefinitely.
"When you freeze that process, you prevent the establishment of a Palestinian state, and you prevent a discussion on the refugees, the borders and Jerusalem.
"Effectively, this whole package called the Palestinian state, with all that it entails, has been removed indefinitely from our agenda ... all with a presidential blessing and the ratification of both houses of Congress."
Weisglass said what he did to win back the more fundamentalist supporters of Sharon's Likud party, who are threatening to abandon the party on the grounds that God gave Israel the land and it must never yield an inch of it.
Bush, presumably, did what he did in order to retain the votes of the extreme evangelical Protestants, estimated to account for a third of the Republican core vote, who believe that God's plan requires the expansion of Israel and a great war in the Middle East.
But why does Kerry go along with it?
Presumably because his advisers tell him that in a tight election it would be suicide to alienate American Jews, most of whom reflexively support any Israeli government, regardless of its policies, and most of whom are still traditionally Democratic voters.
It all make sense in terms of political tactics, but it commits America to a policy that is contrary to international law and is not supported by any other government in the world except Israel's.
If Kerry should win, it means he, too, would be shackled to a policy that makes it impossible for America's European and Arab allies to co-operate in any Middle Eastern initiative he might launch with the goal of extricating American troops from the mess in Iraq.
WASHINGTON - Democrats are blaming President Bush for the record 2004 federal deficit of $413 billion, but Republicans say the figure shows that the economic and budget pictures are brightening.
The Treasury Department announced the figure Thursday, two weeks after the government's 2004 budget year ended and just 19 days from an Election Day in which Bush's economic and fiscal performance are pivotal issues.
The number easily surpassed the previous record in dollar terms, the revised $377 billion shortfall of 2003. It was the highest deficit since World War II when inflation is factored out.
Republicans emphasized that the figure was an improvement from earlier deficit projections. At the beginning of this year, the White House projected a $521 billion shortfall for 2004 and the Congressional Budget Office forecast a gap of $477 billion, though both lowered their forecasts as the year progressed.
"While the deficit is unwelcome, if we stick with the president's plan of economic growth and spending discipline, we will continue to see improvement and we will cut the deficit by more than half in five years," said White House budget director Joshua Bolten.
Citing data pointing to economic improvements, Treasury Secretary John Snow said, "All of this shows that the president's tax relief initiatives are having the intended effects." [...]
LONDON (Reuters) - Questions about the sustainability of global economic growth held many markets hostage Friday as crude oil prices bumped close to $55 a barrel and investors awaited a raft of U.S. data.
European and Japanese stocks fell on worries about the impact of pricey oil. Currency and bond price moves were limited by the upcoming data and anticipation of a speech on oil later in the day by U.S. Federal Reserve Chairman Alan Greenspan.
Wall Street looks set to open higher, based on stock index futures, after falling around 1 percent Thursday.
Investors were looking particularly for signs of whether rising fuel costs were affecting consumer sentiment, spending and industrial production.
U.S. retail sales number were expected to show a rise of 0.7 percent in September after a 0.3 percent decline in August. September industrial production was seen rising 0.3 percent and the University of Michigan's preliminary October consumer sentiment index was seen easing to 94.0 from 94.2.
Greenspan was to speak on oil at 1600 GMT.
The soaring price of oil has undermined investors' sentiment, and brought with it fears of inflation and lower corporate profits.
Crude futures were down slightly on the day, but within reach of record highs as concern persisted that U.S. heating oil stocks have yet to build sufficiently to take consumers comfortably through winter.
NYMEX November crude was down 16 cents at $54.60 a barrel. December Brent was down 25 cents at $49.80 a barrel.
STOCKS, DOLLAR, BONDS
European shares hit fresh 2-week lows, led down by insurers such as Munich Re amid fears they could be exposed to a U.S. lawsuit and battered by oil worries.
The insurance sector was by far the biggest declining sector in early dealings after New York Attorney General Eliot Spitzer sued Marsh & McLennan Cos., the world's No. 1 insurance broker, for steering unsuspecting clients to certain insurers in exchange for lucrative payoffs.
The FTSE Eurofirst 300 index was off 0.51 percent while the DJ Euro Stoxx 50 index shed 0.64 percent.
"There's really a shortage of good news around right now and unless this changes, equity markets may be set for something of a bear run over the next few days," said Matthew Buckland, a trader at CMC Group in London.
Earlier, Japanese stocks fell for a sixth day.
The Nikkei average finished down 0.47 percent at 10,982.95, breaking the key support level of 11,000.The broader TOPIX index dropped 0.38 percent to 1,105.39.
The dollar steadied broadly after a swelling U.S. trade deficit and steep oil prices pushed it lower in the previous session. [...]
LAFAYETTE, La. - A University of Louisiana at Lafayette physics professor was banned from the campus Wednesday and taken to the coroner's office for evaluation after threatening his class, university officials said.
Student Kacie Spears said professor Louis Houston lost control right after class began Wednesday morning and was yelling obscenities.
"Then he told us if we got out of our seats he's gonna kill us. He went on the black board and wrote "911 now", so we were really in fear for our lives," Spears told KATC-TV.
Spears said Houston slapped a student and then told his class he was God.
After class ended, students left the room in Broussard Hall and someone called campus security.
Houston was taken to campus police to answer questions. Officials then evacuated Broussard Hall and canceled all classes there while police searched the building. University police contacted the FBI, State Police, and the Lafayette Parish Sheriff's Department Intelligence Unit for assistance.
A bomb dog was also brought in to check for explosives, but nothing was found.
Spears said it wasn't the first time Houston had an outburst in class.
"He's always acted a little strange, he's yelled and cursed before, and this time we waited for it to stop, but it never did," Spears says.
Law enforcement officers transported Houston to the Lafayette Parish Coroner's Office to be evaluated for possible involuntary commitment to a mental health facility. In the meantime, Houston has been banned from the university's campus and his faculty duties have been suspended.
University officials said in a statement they would make a final decision about Houston's employment once a full investigation into the incident is complete.
A new-found field of impact craters may mark the site of a recent comet strike.

We have identified an exceptional field of meteorites and impact craters stretching from the town of Altötting to the area around Lake Chiemsee in southeastern Bavaria, Germany. While there are many meteorite "strewnfields" known around the world, few contain significant craters. The Chiemgau field, which falls within an ellipse 36 miles long and 17 miles (58 by 27 kilometers) wide, holds at least 81 impact craters ranging from 10 to 1,215 feet (3 to 370 meters) in size. Many more craters may lie hidden in heavily forested areas within the ellipse, and farming activities in the region may have destroyed others.

In autumn 2000, a group of amateur archaeologists working the area around Lake Chiemsee discovered pieces of metal containing minerals not found previously in the region. Werner Mayer, the independent scholar who led the amateur team, noticed that the material was associated with what appeared to be impact craters, most of which showed clear rims. In 2004, four other scientists joined Mayer to form the Chiemgau Impact Research Team: Kord Ernston, a geologist at the University of Würzburg; independent scholar Gerhard Benske; Michael Rappenglück, an astronomer with the Institute for Interdisciplinary Sciences in Gilching; and Ulrich Schüssler, a University of Würzburg mineralogist.
| | | | |
| --- | --- | --- | --- |
| name | location | crater no. | width of largest crater |
| Chiemgau | Germany | 81 | 1,215 feet (3700m) |
| Henbury | Australia | 13 | 607 feet (158m) |
| Kaalijarvi | Estonia | 9 | 360 feet (110m) |
| Campo del Cielo | Argentina | 9 | 328 feet (100m) |
| Morasko | Poland | 8 | 312 feet (95m) |
| Sikhote Alin | Russia | 159 | 87 feet (26.5m) |
| Wabar | Saudi Arabia | 4 | 380 feet (116m) |
Geological evidence makes clear the site's extraterrestrial connection. Sandstone boulders and small, weathered rock fragments called cobbles in and around the craters are completely coated by silica glass, which requires unusually high temperatures. We believe the cobbles were superheated and ejected in the impact. We found bluish-gray, dark green, and black glass-like material in unusual shapes — such as teardrops and dumbbells — indicating rapid cooling and solidification during flight.
The peculiar minerals found throughout the site include the iron-silicon alloys gupeiite (Fe3Si) and xifengite (Fe5Si3), both of which were identified in a meteorite discovered in the Yanshan Mountains of China in 1984. Gupeiite was also found in FRO 90036, a ureilite-class meteorite found in the Frontier Mountains of Antarctica, and related minerals were found in Dhofar-280, a meteorite that probably came from the Moon.
When did the impact occur? Archaeological finds in the area, as well as the ages of trees within the craters, tell us the impact occurred in historical times. The oldest tree we found rooted in a crater wall is at most 500 years old, and we found xifengite and gupeiite beneath the retaining walls of Burghausen Castle, which has been dated to the 15th century a.d. At another site, we unearthed impact-related minerals along with Celtic artifacts. The artifacts seem to have been strongly heated on one side. This pushes the earliest date for the impact to the late Roman period, between 480 b.c. and 30 b.c. Radiocarbon dates from ash samples we removed from layers in several craters are not yet available.
The growth patterns of Irish oaks slowed dramatically between a.d. 536 and 545, indicating a much cooler climate. Historical records refer to famine and a dimmed Sun during this period. Many have argued this so-called "dust-veil event" was the aftermath of a large (0.3 mile, or 500m) comet fragment exploding high in Earth's atmosphere. To date, no craters related to such an event have been found.
However, the rings also show slowed growth around 207 b.c. Roman authors wrote about showers of stones falling from the sky and terrifying the populace. In 205 b.c., because of these events, the Senate ordered that a conical meteorite known as the Needle of Cybele (which had been worshipped in Asia Minor in connection with the fertility goddess Cybele) be brought to Rome. On the rim of the largest crater, named Tüttensee, archaeologists have found Roman relics from about a.d. 200. This, in addition to the heated coins from the late Roman period we found at the Chiemgau impact site, lead us to favor this early date.
We believe an asteroid or comet fragment exploded above southeastern Germany in the late Roman period. Our candidate impactor is a low-density object, perhaps something like the C-class asteroid 253 Mathilda. Astronomers believe Mathilda was once completely shattered but reassembled as a loose aggregate of material — that is, a rubble pile. Given the material we recovered and the length of the ellipse of scattered debris, we suggest the impacting body was more likely a comet fragment — rich in methane, ammonia, and water, with a relatively small fraction of rocky matter.
We estimate the projectile had a diameter of about 0.7 mile (1.1 km) and a mean density about 30 percent greater than water (1.3 g/cm3). It entered Earth's atmosphere at a speed of 27,000 miles per hour (43,000 km/h) and broke up at an altitude of 43 miles (70 km). The main mass of the projectile struck the ground at 2,200 miles per hour (3,500 km/h), releasing an amount of energy equivalent to 106 million tons of TNT. Based on the size distribution of the craters — the larger ones are in the southern part of the field, the smaller ones in the northern part — we conclude the meteoroid came out of the northeast and moved southwest. Multiple fragmentation events may account for the cratered area's large size.
What would people on the ground have experienced? About 2 seconds after the strike, people 6 miles (10 km) away would have felt the ground shake as it would in a magnitude 6.0 earthquake. The air blast, arriving 30 seconds after impact, would have swept through at a speed of 500 miles per hour (800 km/h) and produced a peak pressure of about 1.4 atmospheres (142,000 Pa), easily collapsing buildings, especially wooden ones. Even from 10 km away, sound from the impact would have reached 103 decibels — loud enough to cause strong ear pain. Up to 90 percent of the trees would have blown over; the rest would have lost their branches.
We found a thin layer of ash in and between the craters. The forest beneath the blast would have ignited suddenly, burning until the impact's blast wave shut down the conflagration. Dust may have been blown into the stratosphere, where it would have been transported around the globe easily, so it may be possible to trace the event in ice cores from Greenland or Antarctica.
In any case, the impact undoubtedly had a major effect on the environment and people then living in the vicinity of Altoetting-Chiemgau. The region must have been devastated for decades. We are currently looking for gaps in the historical and archaeological records during the time we propose for the impact to better understand both the event itself and its cultural effects.
Bay window
By JOEY HOLLEMAN
Staff Writer
Posted on Fri, Oct. 15, 2004
SHILOH — Hundreds of thousands of Midlands residents taking the southern route to Myrtle Beach each summer pass within a few miles of Woods Bay State Natural Area. Only a handful take the left turn and head for the park.
That's probably a good thing. Woods Bay in the summer is only for hearty souls with lots of bug repellent.
Between the first frost of fall and the first 90-degree day of spring, however, Woods Bay is the ideal place to spend an afternoon experiencing the intriguing geological phenomenon of the Carolina bay.
These oval-shaped, swampy depressions crop up throughout the Atlantic coastal plain, but they are as mysterious as they are common. Scientists aren't sure why the bays almost always have a northwest to southeast orientation. They are intrigued by the sand rims that usually form on the southeast and sometimes the northwest edges of the oval. They are perplexed how the bays formed in the first place.
One theory is that a meteor broke into pieces, which impacted throughout the Southeast thousands of years ago. Folklorists like to claim the Carolina bays are dinosaur footprints.
Modern scientists can only say for sure that the ovals are disappearing under housing developments and shopping centers as the growing Southeastern population spreads out. That's why the state felt the need to buy and protect the 1,541 acres of Woods Bay straddling the Sumter-Clarendon county line in the 1970s.
The park opened in 1975 but never has drawn many people. In 2003-2004, Woods Bay ranked last among the 46 state parks in attendance, with only 2,124 visitors.
That frustrates park manager Geoff Akins, who has to remind himself what one of his supervisors told him about the park: "We're not popular. We're important."
One reason for the low attendance is the park is a long way from any large population area, nearly a half-hour drive from Florence or Sumter. Another is it's hard to get your hands around.
"One of the unfortunate things about the park is so much of it is inaccessible," Akins said. "I've had a lot of people walk around the nature trail and think they've seen the whole park."
TAIPEI, Taiwan (AP) -- A strong, offshore earthquake of magnitude 7.0 has rattled Taiwan, shaking tall buildings in the capital during lunchtime.
The quake -- the strongest to hit Taiwan in five years -- had its epicenter under the ocean about 110 kilometers (70 miles) east of Taiwan's east coast harbor town of Su'ao, the Central Weather Bureau said.
Su'ao is 150 kilometers (90 miles) southeast of the capital Taipei.
There were no immediate details on damage or casualties.
The weather bureau said the temblor was the strongest to hit the island since a 7.6-magnitude earthquake hit central Taiwan in 1999, causing more than 2,300 deaths.
The quake rocked buildings for about one minute in Taipei.
On the city's streets, the quake caused sidewalks to go up and down slightly.
Earthquakes frequently hit Taiwan but usually cause little or no damage.
Tokyo - Japan's southern Okinawa island chain was rocked by an earthquake measuring 6.6 on the Richter scale, the Meteorological Agency said on Friday.
The quake is likely the same one as reported by Taiwanese authorities measuring 7.0 on the Richter scale, an agency official said.
There were no reported casualties or damage.
The quake struck at 4am, 20km north-west of southern Yonakuni island near Taiwan, and 90km below sea level, the agency said.
There was no danger of tsunami waves, the agency said.
MEXICO CITY -- Western Mexico's Volcano of Fire spewed hot lava and rock Thursday, the latest in a series of spectacular but non-threatening eruptions in the past few weeks.
The volcano near the city of Colima, 430 miles northwest of Mexico City, unleashed a column of smoke and ash along with a flow of burning orange lava on Sept. 29. Since then, scientists have reported nearly daily eruptions from its 12,533-foot peak.
The eruptions have been caused by seismic activity, and scientists can't predict how long they will last.
The activity has sometimes left a light coating of ask on nearby communities, but officials say there is no immediate danger.
A major eruption in 1999 sent glowing rock down the volcano's slopes and fired a plume of ash more than five miles high.
In 1913, an explosion created a crater 1,650 feet deep, blasted fast-moving flows of hot ash down the volcano's slopes and rained ash on Guadalajara, 75 miles to the north.
Vulcanologists consider the Colima volcano to be one of the most active and potentially the most destructive of the volcanoes in central Mexico.
It has erupted violently dozens of times since its first recorded eruption in 1560.
Lava began to ooze out of the Mount St Helens volcano in the U.S. this week, building up the lava crust in the volcano's crater.

The U.S. Geological Survey (USGS) has kept its warning level at the agency's second-highest setting of "heightened activity".

As magma continued to build up underneath the lava dome created after Mount St Helens' violent eruption in 1980 there was still a chance that the volcano could erupt again, USGS scientists said.

Scientists said the volcano was entering a new period of dome growth. Lava would continue to add mass to the volcano's lava dome, accompanied by small steam and ash eruptions, similar to a previous dome-building period that lasted until 1986, USGS geologist Tina Neal said.

"The volcano remains restless," said Neal.
Imagine finding unexplained condoms around your house and then waking up one night to find your partner having sex with a stranger.

It might sound like an affair, but what if your 'cheating' partner was fast asleep during the act?

The phenomenon, called sleep sex, was described to doctors at a meeting in Australia.

Sleep physician Peter Buchanan, from Sydney's Royal Alfred Hospital, described this real life case.

Sleeping partner

Mr Buchanan told the Australasian Sleep Association how a patient of his, who was a respectable middle-aged woman with a steady partner, would leave the house while sleepwalking and have sex with strangers.

The woman was totally unaware of her double life until her partner became suspicious and found her engaged in the act.

"He was aware of some sleepwalking and there was circumstantial evidence, including the unexplained presence of condoms around the house," Mr Buchanan told the conference.

Mr Buchanan ran a series of tests on the woman and diagnosed her problem - sleep sex.


Whatever they are dreaming about, which at that time is their reality, they actually do
Sleep expert Neil Stanley

This is a condition completely distinct from sleepwalking and is a form of sleep disorder called REM behavioural disorder.

Normally, when a person enters the deepest phase of sleep, the REM (rapid eye movement) phase in which we dream, our bodies are immobilised.

In the case of sleep sex, this doesn't happen and the person can act out their dreams.

UK sleep expert Neil Stanley from the Human Psychopharmacology Research Unit at Surrey University explained.

Reality check

"In some people, it can be genetic or in others it is triggered by alcohol or stress, they do not lose the muscle tone.

"So that means whatever they are dreaming about, which at that time is their reality, they actually do."

He said if what the person was acting out fitted with the dream they might not wake up.

"If you are lying there dreaming about having sex with your wife and you just happen to be having sex with your wife then there's nothing there to stop the dream. You don't perceive that as wrong."

He said there were documented cases where people had committed murders in their sleep.

"There is a case in English law where a guy was beating his girlfriend over the head with a video recorder and she was screaming at him."

He said the man only woke up when the girlfriend said "I love you".

"Probably that was such a stupid thing in his dream that did not fit that it woke him up.

"It's like when you hear the phone in the middle of your dream and you wake up."

He said people would not necessarily remember what they had done while they were dreaming.

"You only remember your dreams if you wake up during them.

"But even then, it can be very difficult to comprehend that you have done what you dreamed about."

He said finding out what was the trigger of the REM behavioural disorder and eliminating it could help.

Other treatments include medications to induce sleep or reduce muscle tone.

Mr Buchanan said almost half of all sleep sex cases were associated with psychological problems and, in the case of the woman he described, psychotherapy helped.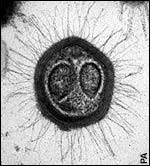 A strange life form has been identified in Bradford.
Genetic analysis reveals that the organism is so bizarre and unlike anything else seen by scientists that perhaps it should be placed in its own category of living things.

The mimivirus at 200,000 times' magnification
The creature, first discovered in a small industrial cooling tower on the outskirts of the city, could qualify for a new "domain" in the tree of life - where a domain is a bigger category than a kingdom or a phylum.
The "giant virus", dubbed the Mimivirus, or "mimicking microbe", because it was first mistaken for a bacterium, inhabits amoebae and is more than twice as big as any other virus so far found. At about half a millionth of a metre across - around the size of a small bacterium - it is one of the few that can be seen under a light microscope.
Two research teams in the Marseille School of Medicine, led by Prof Didier Raoult and Prof Jean-Michel Claverie, have "read" the genetic code of the organism and found a number of genes previously thought to belong only to more complex life forms.
The size and complexity of the Mimivirus genetic code - which is 1.2 million "letters" long, at least 10 times larger than the code of a typical virus - "challenges the established frontier between viruses and parasitic cellular organisms", they report today in the journal Science.
One of the defining characteristics of a virus is that it is unable to make proteins independently, instead relying on the cells it infects to manufacture its proteins and thus reproduce. But the Mimivirus contains a number of genes for protein translation.
It also contains genes for DNA repair enzymes and other proteins, all typically thought to be trademarks of cellular organisms.
The Mimivirus - which so far has only been found in Bradford - appears to represent a new family of "nucleocytoplasmic" large DNA viruses that emerged with the first life on Earth some four billion years ago, said Prof Raoult. After much debate among his team, "for the first time we have enough genetic information to conclude that there is a fourth domain of life", he said. "If this is true, this is revolutionary."
The other three domains of life are the eukaryotes, which have cells that contain a nucleus, and the prokaryotes, unicellular organisms that are divided into the bacteria and archaea.
The family tree drawn up by Prof Claverie shows that the Mimivirus is no more related to the eukaryotes as it is to bacteria. 'This organism is as old as all the rest of living organisms," he said.
However, Dr Dave Roberts, head of microbiology at the Natural History Museum, London, was "deeply sceptical" that the Mimivirus deserves to be placed in its own domain, though he agreed that it did mark a new family.
"There are a lots of odd things turning up in the microbial world all the time," he said.
"It is a fascinating paper and very exciting. The virus seems to link to a group prior to the appearance of the three domains we currently recognise. But we are not convinced that the tree of life is still a branching structure when you get that deep."
The giant virus has not so far been linked with disease.
A select group of people have a unique ability to spot when someone is lying, US research shows.

A University of San Francisco study found only 31 people out of 13,000 could identify in nearly all cases when someone was lying.

The group used facial expressions, body language and ways of talking and thinking to spot liars while the others did little better than chance.

The team are now using them to help train police and other investigators.

In the tests, during which the participants were shown video clips of people, the select group, dubbed wizards, were able to observe a few seconds of footage and detect lying.


Our wizards are attuned to picking up 'micro-expressions'
Dr Maureen O'Sullivan, of the University of San Francisco
The study said the wizards had a "natural talent" although they were highly motivated and tended to be older.

Police, lawyers and FBI agents were all among the groups who were unable to tell if people were lying.

The wizards' success rate was even higher than the traditional polygraph test, which is used in the US and is claimed to have a 60% to 70% success rate.

Dr Maureen O'Sullivan, the university's professor of psychology, said: "We hope that by studying wizards, we'll learn more about the kinds of behaviours and ways of thinking and talking that can betray a liar to an experienced interviewer."

Emotions

She said that even though people may try to control their expressions, most are not able to keep their feelings from showing on their faces.

"Some of the muscles involved in expressions are not under conscious control.

"Especially when we feel strong emotions, those expressions appear on our faces, even if only for a fraction of a second.

"Our wizards are attuned to picking up 'micro-expressions'."

By analysing how the wizards spot liars, Dr O'Sullivan's team has developed a training course to help people become better lie detectors.

The course stresses the importance of emotional clues and cognitive clues, such as inconsistencies in the way people are talking.

But Aldert Vrij, professor of social psychology at the University of Portsmouth, who has written books on lie detection, cast doubt on whether people possessed the ability to spot liars.

"People who lie react differently when they lie so there is no set pattern. They can feel afraid, guilt or excitement while lying, it really depends on the person.

"And even if a select group are able to tell if people are lying, will they be able to explain how they do it?"
Readers who wish to know more about who we are and what we do may visit our portal site Cassiopaea.org
---
Remember, we need your help to collect information on what is going on in your part of the world!
We also need help to keep the Signs of the Times online.
---

Check out the Signs of the Times Archives

Send your comments and article suggestions to us

---
Fair Use Policy
Contact Webmaster at signs-of-the-times.org
Cassiopaean materials Copyright ©1994-2014 Arkadiusz Jadczyk and Laura Knight-Jadczyk. All rights reserved. "Cassiopaea, Cassiopaean, Cassiopaeans," is a registered trademark of Arkadiusz Jadczyk and Laura Knight-Jadczyk.
Letters addressed to Cassiopaea, Quantum Future School, Ark or Laura, become the property of Arkadiusz Jadczyk and Laura Knight-Jadczyk
Republication and re-dissemination of our copyrighted material in any manner is expressly prohibited without prior written consent.
.