Printer Friendly Version
New! Article - The Blair Belief Project
New! Pentagon Strike Flash Presentation by a QFS member
Picture of the Day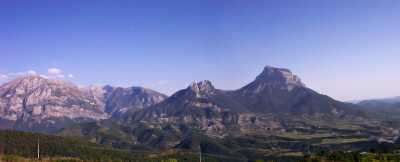 ©2004 Pierre-Paul Feyte
DCDave.com
October 10, 2004
"However history may ultimately judge his opposition to the establishment of Israel, by 1949 it was clear that Forrestal was, in a sense, one of the casualties of the diplomatic warfare that had led to the creation of the Jewish state." Arnold Rogow, James Forrestal, A Study of Personality, Politics, and Power, 1963
James V. Forrestal was America's first Secretary of Defense. He was also the leading official in the Truman administration opposing the creation and U.S. recognition of the state of Israel. President Truman relieved Forrestal of his position in late March of 1949. Within a few days he was committed, apparently against his will, to Bethesda Naval Hospital suffering from "exhaustion." In spite of the invaluable service he had rendered to the country during World War II, first as Under Secretary of the Navy and then Secretary of the Navy, he had in 1948 and early 1949 been the subject of an unprecedented press vilification campaign, led by powerful columnists Drew Pearson and Walter Winchell.
At around 1:45 am, May 22, some seven weeks after his admission to the hospital, Forrestal plunged from a 16th floor window of the hospital to his death. A belt or cord, said to be from his dressing gown, was tied tightly around his neck.
On May 23, a review board was appointed by Admiral Morton D. Willcutts, the head of the National Naval Medical Center to investigate the death. The board completed its work on May 31, but not until October 11, did it publish a brief, summary report of only a few lines. No explanation of the delay was given. The summary concluded that Forrestal had died from the fall, but it had nothing to say about what caused the fall, except to conclude that no one associated with the Navy was responsible. In short, it did not conclude that he had committed suicide, as initial reports stated and the public is still given to believe. No mention was made in the summary, or in those later October press reports, of the belt around Forrestal's neck.
The Willcutts Report, itself, was kept secret, and, curiously, no hue and cry was raised over that fact. After two unsuccessful Freedom of Information Act tries with the National Naval Medical Center, I was finally able to get the report of the review board from the office of the Navy's Judge Advocate General, and my analysis is at www.dcdave.com/article4/040922.html.
At the time of the death, all the press made much of a book containing a morbid poem from Sophocles, "Chorus from Ajax," that Forrestal had supposedly been copying from shortly before his plunge from the window. The press reports all say that the book and a transcription "were found," but they never say by whom. Neither does the Willcutts Report. No witness is produced who claims to have discovered the book or the transcription. Rather, the first person to get a good look at Forrestal's vacated hospital room found broken glass on his bed, a likely sign of some sort of struggle. She also described bedclothes half turned back, but the official "crime scene" photographs taken many hours later, show a bed with a bare mattress, an obvious sign of a cover-up. One can also see that articles were moved around from one picture to the next: www.dcdave.com/article4/040916.html. Needless to say, no news report has ever mentioned the broken glass or the laundering of the room before photographs were taken.
Pro-Israel writers like Rogow, Winchell biographer, Neal Gabler, Jack Anderson, Charles Higham, John Loftus, and Mark Aarons have continued the character assassination against Forrestal, falsely characterizing him as an an anti-Semitic nut who had made several previous suicide attempts. This claim of several previous suicide attempts, echoed at this Arlington Cemetery web site: www.arlingtoncemetery.net/jvforres.htm , is virtually proved to be false by the testimony of Forrestal's Bethesda Hospital doctors in the Willcutts Report. They agree that, from all indications, he had never before attempted suicide.
The indications are very strong that the Roman Catholic Forrestal kept his no-suicide-attempt record intact on May 22, 1949, and became another casualty of the creation of the state of Israel in the same sense that Lord Moyne, Count Bernadotte, Yitzhak Rabin, Rachel Corrie, 34 crewmen on the USS Liberty, and Palestinian leaders on a regular basis have been casualties.
Copies of the Willcutts Report should be available for perusal at the Seeley Mudd Manuscript Library at Princeton University, the Harry S. Truman Library in Independence, Missouri, and the Library of Congress. I have given the appropriate officials at each of these libraries compact discs of the report. I will also mail a copy of the CD, free of charge, to any library requesting it by e-mail to dcdave1@erols.com The file, with all its exhibits, is too large to e-mail.
Freed Israeli nuclear spy Mordechai Vanunu said in an interview published today that Israel was behind the 1963 assassination of U.S. President John F. Kennedy, prompting some Israeli officials to hope aloud the far-fetched comments will hurt Vanunu's credibility.
Vanunu, a former nuclear technician who was recently released from Israeli prison after serving an 18-year sentence for exposing Israel's nuclear program at Dimona to Britain's Sunday Times, has been barred from leaving the country, talking to the media or meeting with foreigners.
But the London-based al-Hayat newspaper published an interview yesterday it claims is the first Vanunu has given, in which the spy said that according to "near-certain indications," Kennedy was assassinated due to "pressure he exerted on then head of government, David Ben-Gurion, to shed light on Dimona's nuclear reactor."
"We do not know which irresponsible Israeli prime minister will take office and decide to use nuclear weapons in the struggle against neighboring Arab countries," Vanunu was quoted as saying. "What has already been exposed about the weapons Israel is holding can destroy the region and kill millions."
Vanunu, who would not be in a position to know the current security apparatus of Israel's nuclear plant, also claims the Middle East is at risk of a "second Chernobyl" in the event of an accident at the Dimona plant. He said an earthquake could cause fissures to the core that would create a massive radiation leak "threatening millions."
Jordan should test residents in the border regions with Israel to be sure that they have not already been exposed to any radiation and administer the necessary medicine, Venunu said. He also criticized the visit to Israel early this month by the head of the Atomic Energy Agency, Mohammed el-Baradei.
"He (Baradei) should have refused to have visited Israel (because) he was not allowed to inspect the nuclear reactor," Vanunu said.
According to al-Hayat, Vanunu now lives "with his Palestinian friends" in east Jerusalem.
Israeli officials would not comment on what actions they would take against Vanunu, who had agreed as part of the terms of his release, that he would not grant media interviews.
"The opinions on Vanunu are divided," Ra'anan Gissin, a spokesman for Prime Minister Ariel Sharon, told reporters. "Some say let him speak and it adds to the ambiguity policy, while others say the more he speaks the more he raises tensions, particularly in the current atmosphere."
Gissin said Vanunu's comments regarding JFK work to discredit the former spy. "This is something you would expect from [Yasser] Arafat," Gissin said.
Separately, an Israeli source told WorldNetDaily that after the Kennedy assassination, Israeli intelligence carried out an exercise to see how shooter Lee Harvey Oswald, who used a mail-order, clip-fed 6.5mm rifle, was able to kill Kennedy from his angle on the sixth floor of a nearby building.
The simulation exercise reportedly featured expert marksmen using more powerful equipment set up on tripods and utilized a laser direction-finder to show where the people in Kennedy's car would have been hit after the marksmen fired. The source said the exercise showed it was "nearly impossible for Oswald to have done what he did."
SOTT Editorial
By RJ
10/10/04
It is with sadness and foreboding that I write these words. John
Howard and the Liberal Coalition have been re-elected to lead the
nation of Australia. The sadness and foreboding does not arise so much from the fact that they were re-elected; rather, from the massive swing in support TO the government, in full light of their actions over recent years.
Commentary was recently made on ABC news election coverage that this was the first time since the 1960's that an incumbent government has actually gained support during each of two successive elections. John Howard is two months away from becoming our second-longest serving Prime Minister since Bob Hawke, second only to Robert Menzies.
What does it say about the nature of a population that has re-elected
someone who is almost certainly a psychopath? What does it say about the nature of a population that not only re-elected him, but also handed over a significantly higher percentage of their vote? What does it say about the media of a nation that pretended at impartiality, only to swing to full endorsement of the government during the last week of the election campaign?
It speaks of a nation afraid.
Having devoted a good deal of time to observing this campaign, both
from mass-media, internet, and peer opinion perspectives (of various
political leanings), I can confidently say this campaign was very much
run in the style of that tried-and-trusted favourite of the Cosmic
COINTELPRO brigade, "good cop, bad cop".
Mark Latham and Labor were the "good cop". They ran a campaign that most people would say "focused on the positives". They promoted plenty of policy alternatives, and generally stayed away from fear and smear tactics. Health, education and national security were key issues. There was quite a large "carrot" offered to the people in terms of election promises should they be voted in.
John Howard and the Coalition were the "bad cop". They ran a campaign on fear, uncertainty, and doubt. Policy was kept on the hush-hush. The main focus was on Latham's inexperience as a leader and propagation of a meme that Labor governments were bad economic managers and thus interest rates would rise, costing many people their homes. Even the mass media admitted that the government were running an "interest rates scare campaign".
And the Australian people voted overwhelmingly for the "bad cop".
In a certain sense, they cannot be blamed for this. Gurdjieff says man
only lives between "I like" and "I don't like". Recent world events
have produced many changes around us, many of which are not
particularly likeable. This fear of change, fear of that which is
different, fear of attack, and most of all, fear that we could lose our
comfort zones, are all common programs that run the automaton which is the typical human being.
John Howard ruthlessly exploited these programs, and has been
re-elected for his efforts.
But the fault does not rest on Howard's shoulders alone. Throughout the years of his time in office, many brave journalists, public servants
and academics came forward with factual data that proved Howard a liar. He lied about Iraq, he lied about the children of refugees being thrown overboard, he lied about taxation, political back-room deals and corporate cronyism.
http://www.johnhowardlies.com/
By voting this man into power yet again, the Australian people have
chosen to accept the lies; they have chosen that they want, and need
lies. They have chosen lies over truth. As with all things in this
Universe, there will be consequences to be borne from this.
At this stage in the count, it appears that the Liberals and their
various Christian fundamentalist allies could control the majority of
the Senate, something which previously functioned as somewhat of a
"check and balance" against the railroading of legislation through
parliament. If this becomes the case, then some "favourites" that the
government has been trying to push through the Senate could become reality. These "favourites" include issues such as:
Foreign ownership reforms, allowing greater "investment" by foreign (read: American) companies.
Media cross-ownership reforms, allowing greater concentration of
media organisations into fewer hands.
Full privatisation of Australia's main telecommunications company,
Telstra (rumours have included a possible buy-out by AT&T)
Industrial Relations reforms, decreasing the power of unions and
allowing big business to squeeze their employees ever tighter.
The US-Australia Free Trade Agreement.
With total control over both houses of parliament, the government can do what it likes with few restrictions. My personal belief is that the Howard government will more closely align Australia with the USA,
further integrating media, economic and defence networks. A
post-election interview with the member for Townsville (in north
Queensland) made pointed reference to defence projects, one of which has been previously reported in the Sydney Morning Herald as being the further establishment of "training" bases for US troops. I have a pretty good idea these "training" bases will be the destination of a large number of US troops (perhaps relocated from Okinawa or South Korea?)
And of course, this election result is a fantastic signal for
Republicans in the US, who will no doubt point out that Australians are "tough on terror" and want a leader who is willing to "do what it
takes", and thus US citizens should do likewise and re-elect Bush. If
this election result is a foreshadowing of the US elections, then Bush
will win by a landslide and Kerry will fade into the background as the
"straw man" who did his duty by pretending to give Americans a choice.
Perhaps I fell into the mass-mind trap of honestly thinking this would
be a close race, with a slight chance that Howard could be unseated. If so, I gave the Australian people too much credit. Once again another veil has been ripped away, revealing the Terror of the Situation just that little bit more.
Someone once noted that:"Invasion happens when programming is complete."
I don't know what "complete" might mean, but I'm pretty sure this
result heralds proof that we're one large step further down that wide,
wide road.
CNN
Sunday, October 10, 2004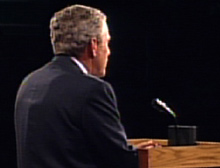 CHANHASSEN, Minnesota (AP) -- Bush campaign aides are laughing off widespread Internet suggestions that President Bush was wired during his first debate with John Kerry, to get help from advisers.
A photo taken during the September 30th event appears to show a small, boxy shape between the president's shoulder blades.
Musings on various Web sites suggest it could have been a radio receiver so the president's aides could feed him answers during the debate.
Spokesman Scott Stanzel calls the idea "ridiculous," and adds, "Some people have been spending too many hours looking at left-wing conspiracy Web sites."
He adds, "Did you hear the one about Elvis moderating the third debate?"
"Strange victory"
By John Chuckman
YellowTimes.org Columnist (Canada)
Printed on Monday, October 04, 2004 @ 16:17:55 CST
Nothing tells us more about the odd political state of America than the recent presidential debate and reactions to it.
The American debates, of course, are not debates at all. They are more a set of joint press conferences, a staged opportunity for both candidates to repeat memorized lines in a cozy environment, protected by elaborate rules and an always-undemanding moderator. Still, once in a while, something manages to happen.
You cannot look to the prominent members of either major American political party for an honest assessment of how their candidate performed. Despite being regularly trotted out on America's political discussion programs, these people leave the impression of old Soviet apparatchiks offering spontaneous views on Stalin's latest speech.
If you looked to the mainline press or the small group of people who hold lifetime sinecures on television, you would have concluded the morning after that the debate was a tie, an opinion generated by the same tireless machinery that churns out most of what Americans hear about Iraq. Only the so-called instant polls told you something else, and there was a clue from John McCain, a man desperate to cleanse his conscience of groveling for Bush, who briefly admitted that Kerry had his best night in a long stretch.
If you had read the words of former Vice President Al Gore just before the debate, you might have expected Bush to be a formidable opponent, consistently underestimated. But to credit Gore's judgment required you to ignore the fact that he is the man whose inept campaign in 2000 put Bush into office. Gore does not want to be remembered as the smart man, groomed for decades in politics at the highest level, who let one of the most sniveling and uninformed politicians in American history take the country's highest office, but that is precisely Gore's legacy.
With most of the usual sources of authority discounted, you were left to your own judgment, something with which Americans are not all that comfortable. American television's hazy, synthetic vision of the world, where everything from the best choice of toilet-bowl cleaner to what should be your view of the latest colonial slaughter is appealingly served up to be consumed as directed, makes independent judgment unfamiliar territory.
Still, once in a while, there's no shaking the effect of a stark fact. Any fool could see that Bush is a man who cannot think on his feet, that his responses are those of a toy doll whose same scratchy set of recordings play each time you squeeze him. Winning a debate with a man of his quality would not be an achievement anywhere, except in America. Gore should have landed a string of knock-out punches during the 2000 debates, but he utterly failed to do so. My private guess as to why he didn't is that he thought the audience might judge him harshly for assisting an incompetent to appear incompetent. It reflects the same political sensibility that had the razor-sharp mind of Mrs. Clinton focused on baking cookies. Kerry's wife, an outspoken woman of foreign birth, has only just been asked to make herself a little scarce. She doesn't go down well with the "bowling bag and Barbara Bush" set.
Before the debate, Kerry pretty much had followed Gore's script for campaign as light farce. On a few occasions, Kerry indulged an inexplicable taste for the Keystone Cops, making floundering, bizarrely-twisted statements about the war in Iraq. You almost expected to see his eyes crossed while his jaw worked at the words. His audience, not surprisingly, failed to see a Keystone Cop as someone to rescue them from a moron, and the polls marked Kerry down as someone the Political Angel of Death was not going to bypass in November. As for turning instead to a thoughtful, honest man like Ralph Nader, that simply is not on in an America that only buys brands with billion-dollar advertising budgets.
So, Kerry had little to lose in the debate. Still, he offered nothing heroic, nothing startling, only just managing a few pointed comments most of the world takes as common sense, but in politically-asthmatic America even that little wheeze is significant. Judging by Bush's reaction, which (broadcast on split-screen despite a previous understanding not to do so) resembled the movements of one of those old monkey-on-a-stick toys, even these few comments were deeply irritating. It may be that the broadcast of Bush's reactions was more telling than anything Kerry managed to say. Get ready for years of howling cries about a stab in the back from those who await the coming of a new Dr. Goebbels to save them from the sick fantasy of a liberal American press.
The ridiculous circumstance in America that tends to make an incompetent like Bush seem above scrutiny and criticism starts with the very nature of a Constitution making the President both head of state and head of government. Thus, when you criticize a President for doing something stupid, you are seen to be criticizing the symbol of the country itself, and not merely another politician, which is of course what Presidents are, first and foremost. In the case of war - even a totally illegal, bungled, and pointless war like the one in Iraq - you may be regarded as giving aid and comfort to some undefined enemy or as not supporting the "boyz in hawm's way," perhaps the most unforgivable transgression an American politician can commit.
Less instant polls at this writing indicate the public opinion impact of Bush's broadcast reactions may be substantial. If so, it is remarkable that it took Americans four years to see what a pathetic lump their President is, but it is equally remarkable that Kerry, who has said little of anything beyond the obvious, will benefit.
[John Chuckman is former chief economist for a large Canadian oil company. He has many interests and is a lifelong student of history. He writes with a passionate desire for honesty, the rule of reason, and concern for human decency.]
"He had a feeling that the answer was quite different and that he ought to know it, but he could not think of it. He began to get frightened, and that is bad for thinking."
- J.R.R. Tolkien
George W. Bush, still smarting from his embarrassing performance in the Florida debate, decided on Friday night in St. Louis that volume was a good substitute for strength, that yelling would be mistaken for gravitas. The result was an ugly, disturbing, genuinely frightening show.
In my report on the first debate, I described Bush as, "Shrill. Defensive. Muddled. Angry, very angry. Repetitive. Uninformed. Outmatched. Unprepared. Hesitant." As bad as that display was, it honestly paled in comparison to the frenzied hectoring Bush sprayed at 140 Missouri citizens who had the ill fortune of watching the man come unglued before their eyes.
John Kerry, by comparison, was every inch the controlled prosecutor pressing his case to the jury. It was, perhaps, that calm delineation of Bush's myriad errors which caused the Republican candidate to blow his stack. Exactly 30 minutes into the debate, Bush became so agitated by Kerry's description of the "back-door draft," which is literally bleeding the life out of our National Guard and Reserve forces, that he lunged out of his chair and shrieked over moderator Charles Gibson, who was trying to maintain some semblance of decorum.
"You tell Tony Blair we're going alone," Bush roared. "Tell Tony Blair we're going alone!" The disturbed murmur from the crowd was audible. Bush, simply, frightened them.
More unsettling than Bush's demonstrable agitation was his almost uncanny disconnect from reality.
The voluminous report released by Charles Duelfer and the Iraq Survey Group, compiled by 1,625 U.N. and U.S. weapons inspectors after two years of searching some 1,700 sites in Iraq at a cost of more than $1 billion, stated flatly that no weapons of mass destruction exist in that nation, that no weapons of mass destruction have existed in that nation for years, and that any capacity to develop weapons of mass destruction within that nation has been crumbling for the same amount of years.
"My opponent said that America must pass a global test before we used force to protect ourselves," said Bush during the Iraq phase of the debate. "That's the kind of mindset that says sanctions were working. That's the kind of mindset that said, 'Let's keep it at the United Nations and hope things go well.' Saddam Hussein was a threat because he could have given weapons of mass destruction to terrorist enemies. Sanctions were not working."
What? First of all, the Duelfer Report proves beyond any question that sanctions had worked incredibly well. The stuff wasn't there, because Scott Ritter and the UNSCOM inspectors destroyed it all during the 1990s, along with any and all equipment and facilities to make it. The stuff wasn't there because the sanctions put into place against Hussein prevented him from getting any material to develop weapons. The stuff wasn't there because Hussein stopped making it years ago, because the sanctions were breaking his back. The sanctions worked.
When Bush made the statement about Hussein giving weapons of mass destruction to "terrorist enemies," the needle edged over from 'Dumb' to 'Deranged.' How many different ways must one say "The stuff wasn't there" before George picks up the clue phone? How does someone give away something he doesn't have?
Bush continued in this appalling vein when he said, "He keeps talking about, 'Let the inspectors do their job.' It's naive and dangerous to say that. That's what the Duelfer report showed." Welcome to Bush World, where everything is upside down and two plus two equals a bag of hammers. It is naive and dangerous to point out that the inspectors got the job done in the 1990s, that Iraq had no weapons of mass destruction whatsoever? No, George. It is simply the truth.
The mental disconnect reared its shouting head repeatedly throughout the evening. Bush somehow lost track of where he was at one point and called his opponent, "Senator Kennedy." He told one questioner that he would control the deficit by stopping Congress from spending, only a few minutes after defending the fact that he had never, not once, vetoed a spending bill from Congress.
He made an accountant crack about "Battling green eyeshades," a statement that immediately became a first-ballot nominee for the Gibberish Hall of Fame. When asked what kind of Supreme Court Justice he would nominate if given an opportunity, he wandered off along a free-association rant about Dred Scott. Clearly, this President will make sure to nominate people to the bench who are opposed to chattel slavery.
Perhaps the most telling moment came when questioner Linda Grabel asked Bush, "Please give three instances in which you came to realize you had made a wrong decision, and what you did to correct it."
As with his April prime time press conference, in which he was asked a very similar question, Bush absolutely refused to admit to any errors in judgment, beyond a cryptic quip about mistakes in personnel appointments which he would not elaborate upon. He opened himself up to the judgment of history, a sad straddle given the simple fact that no President can avoid such a judgment. That was all he was willing to offer. Ms. Grabel did not hear about three mistakes. She did not even hear about one.
Bush was every inch the angry man on Friday night, which is dangerous enough. But to witness anger combined with belligerent ignorance, with a willful denial of basic facts, to witness a man utterly incapable of admitting to any mistakes while his clear errors in judgment are costing his country in blood, to see that combination roiling within the man who is in charge of the most awesome military arsenal in the history of the planet, is more than dangerous.
It is flatly terrifying.
Saddam Hussein saw his life as an unfolding epic narrative, with retreats and advances, but always the same ending. He would go down in history as the glorious Arab leader, as the Saladin of his day. One thousand years from now, schoolchildren would look back and marvel at the life of The Struggler, the great leader whose life was one of incessant strife, but who restored the greatness of the Arab nation.
They would look back and see the man who lived by his saying: "We will never lower our heads as long as we live, even if we have to destroy everybody." Charles Duelfer opened his report on Iraqi weapons of mass destruction with those words. For a humiliated people, Saddam would restore pride by any means.
Saddam knew the tools he would need to reshape history and establish his glory: weapons of mass destruction. These weapons had what Duelfer and his team called a "totemic" importance to him. With these weapons, Saddam had defeated the evil Persians. With these weapons he had crushed his internal opponents. With these weapons he would deter what he called the "Zionist octopus" in both Israel and America.
But in the 1990's, the world was arrayed against him to deprive him of these weapons. So Saddam, the clever one, The Struggler, undertook a tactical retreat. He would destroy the weapons while preserving his capacities to make them later. He would foil the inspectors and divide the international community. He would induce it to end the sanctions it had imposed to pen him in. Then, when the sanctions were lifted, he would reconstitute his weapons and emerge greater and mightier than before.
The world lacked what Saddam had: the long perspective. Saddam understood that what others see as a defeat or a setback can really be a glorious victory if it is seen in the context of the longer epic.
Saddam worked patiently to undermine the sanctions. He stored the corpses of babies in great piles, and then unveiled them all at once in great processions to illustrate the great humanitarian horrors of the sanctions.
Saddam personally made up a list of officials at the U.N., in France, in Russia and elsewhere who would be bribed. He sent out his oil ministers to curry favor with China, France, Turkey and Russia. He established illicit trading relations with Ukraine, Syria, North Korea and other nations to rebuild his arsenal.
It was all working. He acquired about $11 billion through illicit trading. He used the oil-for-food billions to build palaces. His oil minister was treated as a "rock star," as the report put it, at international events, so thick was the lust to trade with Iraq.
France, Russia, China and other nations lobbied to lift sanctions. Saddam was, as the Duelfer report noted, "palpably close" to ending sanctions.
With sanctions weakening and money flowing, he rebuilt his strength. He contacted W.M.D. scientists in Russia, Belarus, Bulgaria and elsewhere to enhance his technical knowledge base. He increased the funds for his nuclear scientists. He increased his military-industrial-complex's budget 40-fold between 1996 and 2002. He increased the number of technical research projects to 3,200 from 40. As Duelfer reports, "Prohibited goods and weapons were being shipped into Iraq with virtually no problem."
And that is where Duelfer's story ends. Duelfer makes clear on the very first page of his report that it is a story. It is a mistake and a distortion, he writes, to pick out a single frame of the movie and isolate it from the rest of the tale.
But that is exactly what has happened. I have never in my life seen a government report so distorted by partisan passions. The fact that Saddam had no W.M.D. in 2001 has been amply reported, but it's been isolated from the more important and complicated fact of Saddam's nature and intent.
But we know where things were headed. Sanctions would have been lifted. Saddam, rich, triumphant and unbalanced, would have reconstituted his W.M.D. Perhaps he would have joined a nuclear arms race with Iran. Perhaps he would have left it all to his pathological heir Qusay.
We can argue about what would have been the best way to depose Saddam, but this report makes it crystal clear that this insatiable tyrant needed to be deposed. He was the menace, and, as the world dithered, he was winning his struggle. He was on the verge of greatness. We would all now be living in his nightmare.
Tony Blair and George Bush have been accused of "clinging to straws" to justify war by Hans Blix, the man charged with finding Iraqi weapons.
Saddam Hussein had no weapons of mass destruction, the Iraq Survey Group, sent in by the coalition, reported this week.
The Prime Minister and the United States President seized on author Charles Duelfer's suggestion that the dictator might have started producing them again if sanctions were lifted.
However Hans Blix, who feels his work as head of the hunt for WMD was cut short by the invasion, said: "This is the new straw to which the governments have begun to cling."
Writing in the Independent on Sunday, the former United Nations chief weapons inspector, who wanted more time to complete his work, rejected the suggestion.
"Even if sanctions were lifted any breakout by Saddam would have caused loud alarm bells to ring," he writes.
"Duelfer's report confirms that the combination of UN sanctions and inspection, plus external pressures including the no-fly zones, had kept Saddam contained."
There was no hint that the Iraqi dictator had attempted to revive his nuclear programme, he continues.
"Iraq was further away from a nuclear weapon in 2003 then it was in 1991," he says.
"It had not used the period between 1999 and 2002, when there were no inspections, for any revival. Thus while George Bush has been maintaining that Saddam was a growing threat he was a diminishing danger to his neighbours and the world."
Mr Blix also takes a sideswipe at the intelligence services, pointing out that the report "underlines the importance of having inspectors".
SOTT Editorial
By Glenn Becker
10/10/2004
Throughout human history religions have been formed, as methods, in which to attempt to explain a purpose and ascribe some sort of meaning, for our existence. In other words, why are we here? Religions are formed in such a way as to also reflect the social and cultural mores of any particular society or grouping. When those who feel as if they are disenfranchised or excluded from a given religious perspective, they create a new religion, or sect, of an established religion, that more adequately encompasses the day-to-day personal reality that they themselves experience. Therefore, subjectivity in actuality becomes a harness that precludes a more complete understanding of the true nature of our being.
The oversight of objectivity, or truth, because of the subjugation of personal and prejudicial beliefs, caused by an individual experience or irrationally induced fear, deflects our attention away from what should be obvious, and that is, that God is a metaphor for truth, and vice versa. The point that seems to be lost, by so many who use religion as a means to control others, and those who allow themselves to be manipulated, is that truth is a constant, not a gray area that could be used for whatever purpose suits the moment.
When reading guiding principle passages from the Bible, the Koran, or any other scriptural religious tome, insert the word 'truth' wherever the word 'God' appears and the forgotten metaphor becomes quite evident. Conversely, juxtapose the word 'lies' for the term 'Satan' or whichever term is used for that negative entity, and the message intended also becomes just as clear.
The search for, and living the truth is what is really intended for humanity to find the pathway to a better understanding as to why we exist. It's also, as stated in these good books, the only way to overcome the negative sphere of influence we are inundated with, in order to truly allow ourselves to become one with each other and the Creator. The forgotten metaphor; truth being God, and God being truth, remembered and lived, is the only way to break out of the cycle of negativity we bring upon ourselves in a world full of lies and delusions.
I have watched the Pentagon strike video presentation by a QFS member and I have read the comments on the Signs forum from some people who can't believe that the U.S. government would ever lie to them. Remember the old "Leave It To Beaver" TV episodes where Beaver would make an uncomfortable discovery about the nature of social reality and would lament, "Say it ain't so, Wally!", or words to that effect?
Well, it is so! Don't believe that could be true? I suggest you read Mike Ruppert's brand new book, "Crossing the Rubicon", and see the hard evidence on what happened on 9-11 for yourself:
It seems that there are many grown-ups walking around who are in Beaver's position. Maybe for the very *first time* in their life they are beginning to realize the profound depths of the lies and deceptions that the American government has told them. For years they have been blissfully asleep, profoundly secure in their knowledge and belief that the American government is good and true and always right and well-intentioned.
Until today, when they saw the Pentagon plane crash video expose. And suddenly they-- maybe you who are reading this?-- have begun to suspect that all is not as they have been led to believe that it is, that there are mad men and liars manipulating the strings of government.
So they/we have before us a choice. We can take the blue pill or the red pill. We can wake up and see the situation as it is, as uncomfortable and dangerous as it may be, or we may remain smug in our accustomed preconceptions and attack anyone who challenges our assumed knowledge of the way the world works, and slander anyone who questions our views.
Consider this: in recent days, we have seen prominent news stories saying that there WERE NO stockpiles of weapons of mass destruction in Iraq prior to the American invasion. We have seen other stories verifying that there IS NO link between the Saddam Hussein regime and Al Queda.
These were all assertions that the Bush administration made prior to launching the war. Now we see that they are ALL LIES. Not true. Now we see in the newspaper that when Colin Powell went up to the United Nations in New York and presented evidence of Iraqi programs for weapons of mass destruction that it was all FALSE. Colin Powell lied. George Bush lied. So did Condoleeza Rice, Dick Cheney, Donald Rumsfeld. They are all liars.
So if the Bush administration will lie, repeatedly, flagrantly and without shame, in order to launch a war against a country that did not attack the United States -- if they will lie to you about that, and they have - then why is it so hard to accept that they will lie to you about other things, things like the attacks of September 11th?
As for what happened (or didn't happen) at the Pentagon, I can tell you that I was driving in my car listening to the news that day. I clearly heard an interview with a man who described personally seeing the jet that struck the Pentagon. He watched it fly right past his apartment building and slam into the Pentagon. He described it as a small commuter plane, like a small business jet-- NOT A BOEING 757.
I have looked carefully at the Pentagon lawn as seen in photos taken immediately after the 9-11 attacks and there simply is not the wreckage of a huge passenger jet on the Pentagon lawn. It isn't there.
Ergo, the things we have been told about what happened that day must be false.
The lies run real deep.
Deal with it.
But don't attack the messenger who points out the truth to you. Reserve your criticism and scorn for those who have lied to you. The evidence suggests that the conspirators -- at least some of them -- hold very high positions in the United States government.
Don't believe me? Get Mike Ruppert's new book, "Crossing the Rubicon". He sets out the whole evidence trail clear as a bell.
If you want to know who ordered and carried out the 9-11 attacks you must first realize that it was an elaborate inside job. We've been conned by the American government and the major news media, and massively so.
The reality is that the official explanation for the events of the 9-11 attacks is a carefully crafted web of lies. Almost all of what the average American thinks he or she *knows* about what happened that day is an illusion and delusion, carefully spun up to deflect attention from the great violence and terrible betrayal of the American people that lies at the heart of the American government and mass media.
That's the sad and painful truth, and we need to deal with it. It's just that simple.
ERIE, Pa. (AP) - Erie-area researchers are studying whether low-cost commercial radar might be used to track vessels on the Great Lakes for U.S. homeland security purposes.
"In the wake of 9-11, the United States and Canada have taken significant measures to further secure our borders. However, the Great Lakes borders remain a significant weak spot," said Susan Breon, president of the Center for eBusiness & Advanced Information Technology.
"Ask the border patrol and Homeland Security how many boats go back and forth between Canada and the U.S. and they don't have any way to know," said Robert Gray, director of the Center for Navigation, Communication, and Information Systems at Penn State-Behrend.
About 2,000 kilometres of the U.S.-Canadian border consist of the Great Lakes.
Breon's business-development group is partnering with researchers at Behrend and Mercyhurst College and have already received a $50,000 seed grant for the project's first phase - testing whether the radar will work.
"This radar was never intended for this kind of a mission and we have to see how it performs...if it will be able to tell the difference between a boat and a flock of gulls," Gray said.
"It sounds easy but it's not."
The other partner in the venture is Robert Heibel, the FBI's deputy chief of counter-terrorism during the late president Ronald Reagan's administration, who now directs Mercyhurst's Institute for Intelligence Studies.
Heibel has the government contacts to determine which national security agencies could use the boat traffic data generated by the project.
Breon's group, and Pennsylvania state Senator Jane Earll, who obtained the Pennsylvania Department of Community and Economic Development Grant for the initial study, are interested in the project because it could bring jobs to the area, should a security centre or technology cluster result from it.
"This project not only does that, but also shows the benefits of collaboration with our area colleges and universities," Earll said.
Testing the radar could take up to a year, Gray said.
The federal government has finalized a $43.3-million deal that will see the 2006 census conducted with the help of the Canadian subsidiary of a U.S. weapons manufacturer.
While Lockheed Martin Canada Inc. won an open competition for the work, some peace groups and opposition politicians are concerned about taxpayer dollars' going to a weapons-builder.
"There's a moral issue, I believe, in having an arms manufacturing industry ... do our census data collection among citizens who are very diverse and also have relatives ... abroad who could be hurt from the actual products they use," New Democrat MP Brian Masse said in an interview from his home in Windsor, Ont.
"We're concerned about Lockheed Martin's advocacy of the Star Wars program of missile defence," said Darrell Rankin, an organizer with the No War Coalition in Manitoba.
Lockheed Martin officials were not immediately available for comment.
When negotiations with the company began more than one year ago, federal officials defended the contract, saying Lockheed Martin helped the United States and the United Kingdom modernize their census programs.
Under its contract with Statistics Canada, Lockheed Martin Canada will develop hardware and software to process census forms, even ones filled out by hand.
"It's very specialized software, using scanners, to actually digitize hand-written responses from 13.6 million households," said Anil Arora, director of the federal census program.
The computer programs will, for the first time, allow Statistics Canada to accept census forms filed electronically.
There are safeguards in place to ensure the private company cannot get access to the census information, Mr. Arora said.
Lockheed Martin has worked in the United States to develop the space-based missile-defence system – dubbed Star Wars – and its Canadian subsidiary has worked with the Canadian military. The company also works in the information technology sector.
While the company will supply the technology for the census, it will not have access to any completed census forms.
"All the locations where questionnaires and data are handled are Statistics Canada sites," Mr. Arora said. "They are completely isolated. There's no external connection from the outside that anybody could hack into."
Critics fear some census information could leak out and make its way into the hands of the U.S. government.
They point to the U.S. Patriot Act, which was enacted following the terrorist attacks of 2001. It allows the FBI and other U.S. authorities access to information held by private U.S. companies. There are concerns that power might extend to companies in Canada and other countries with headquarters in the United States.
"It's our understanding that it makes Canadian information vulnerable," said Mr. Masse, who is the NDP's industry critic.
British Columbia's privacy commissioner has launched an investigation into how the Patriot Act might affect B.C. residents.
Two firms with U.S. headquarters have bid to help administer medical billings for the province.
Privacy commissioner David Loukidelis is examining whether the Patriot Act would let the U.S. government force such companies to hand over personal information about British Columbians.
Statistics Canada says security concerns about the census are not valid.
"No private sector contractor will have access to completed census questionnaires," Mr. Arora said.
That information, he added, will be available only to Statistics Canada employees who have signed confidentiality agreements.
SRINAGAR, India (AP) - A car laden with explosives rammed into a convoy of army vehicles in India's portion of Kashmir on Saturday, triggering a massive explosion that left four people dead and 22 others injured, an army spokesman said.
Two soldiers, a civilian and the driver of the car died in the attack on a highway connecting Srinagar, the summer capital of Jammu-Kashmir state, with the frontier town of Uri, a major army garrison, said Lt.-Col. V. K. Batra.
Four army trucks and three civilian vehicles were damaged in the attack near Singhpora village, about 40 kilometres north of Srinagar.
Shortly after the attack, a local news agency in Srinagar said it received a telephone call from the Jaish-e Mohammed group claiming responsibility for the "suicide attack."
Jaish-e-Mohammed is one of more than a dozen Islamic groups fighting for Kashmir's independence from India or its merger with neighbouring Pakistan.
More than 65,000 people, mostly civilians, have been killed in the conflict since 1989.
GAZA, Palestine -- An Israeli occupation army officer further killed a Palestinian little girl with cold blood by spraying her with his rifle, leaving at least 20 bullets in her small body, Arab48 website reported Friday. NA

According to the Israeli-Arab website, the Israeli Yed'out Ahronot Daily, published today that an officer of an Israeli army unit, serving in the southern Gaza Strip city of Rafah, shot to death a 13-years-old local Palestinian girl Eman Alhems last Tuesday, when the soldiers under his command spotted a person moving in suspicious way about 70 meters a way from their military outpost.
The Israeli Daily quoted the soldiers who witnessed the killing as saying that between 6:00am and 7:00am, on Tuesday morning, they observed a person moving about 70 meters away from the Girit military outpost where they are stationed.
The soldiers who serve within an elite Israeli occupation army Shakid unit, belonging to the Giv'ati well-known brigade, told Yed'out Ahronot, that their commander had further killed the child Eman, by emptying his rifle in her body, though they were certain the child was already killed.
One of the soldiers said " when we spotted the suspicious figure, about 100 meters away from our post, we fired on it, then it fell down"
Another soldier accounted on by saying " I saw a head moving up and down between heaps of sand, all opened their machine guns towards the figure, until it fell down, after that we found out that it was merely a little girl".
The soldier further explained " some of the soldiers identified the figure as a girl before others opened their fire on it".
A third soldier told the Israeli Daily" I saw a little girl, then I informed the post's command that the girl is almost 12 years-old , so I didn't shoot at her, yet another soldier opened fire, making her to fall down".
All the soldiers confirmed that their commander, got then out of the outpost and headed, along with other soldiers, for the place where the girl's body was laying on the ground.
" the unit's commander shot two bullets on the girl, then stepped a few meters back and sprayed her with all the bullets in his machine gun, thus the event came to an end", a soldier revealed.
He went onto saying " there was no reason as to such killing by the commander, as his first bullets had already killed the girl; in brief, he abused the girl's dead body".
The abovementioned witness soldiers, asserted that they had already informed their commander about what happened, wondering as to why he sprayed the girl although she was dead.
The paper quoted Israeli military sources as saying that the said commander confessed his action, by claiming he believed the girl was a 'terrorist' , when he approached her.
The unit's soldiers who expressed astonishment of their commander's deed, called on the Israeli concerned authorities to investigate the matter.
Last Tuesday, Eman Alhems, 13, from the southern Gaza Strip city of Rafah was reportedly shot dead with several live Israeli bullets.
It's almost humorous to read corporate media accounts about the supposed fall of the Straussian neocons. "Inside the Bush administration, the influence and ideas of the neoconservative movement seem to be in decline," writes James Mann for the Financial Times. Philip Stephens, also for the Financial Times, declares "Pre-emption is dead" and "Mr. Bush's version of the doctrine—unilateral military action based on necessarily incomplete and imprecise threat assessments—cannot survive the Iraq war." Moises Naim, writing for Foreign Policy this month, believes the "neoconservative approach to foreign policy… lie buried in the sands of Iraq."
Don't believe a word of it.
As Jim Lobe writes,"while the neocons may be down, they are by no means out. As more than one foreign-policy analyst has noted, no neocon within the administration has resigned or been fired, despite their responsibility for the Iraqi quagmire and public calls by even some senior Republican lawmakers and retired military officers that they be ousted." As the State Department and the CIA see it, "the neocons may actually enjoy greater influence if Bush wins reelection."
Lobe points to a recent editorial posted on Salon by "Anonymous," a veteran Foreign Service officer currently serving as a State Department official, who believes that Colin Powell will, upon Bush's "re-election," resign. After his departure "the last bulwark against complete neoconservative control of U.S. foreign policy" will crumble. "The implications are enormous, yet the American electorate appears to be blinded by the Bush campaign's deliberate manipulations of 9/11."
As Lobe notes, Straussian neocon luminaries are busy at work plotting their next moves upon Bush's "re-election" in November. During a symposium co-sponsored by the Likudite influenced Committee on the Present Danger (CPD), co-chaired by the war against Islam—fondly referred to as WW IV by the neocons—fanatic and former CIA director James Woolsey, Norman Podhoretz, the Straussian neocon godfather, called for the United States to use Israeli tactics (think Gaza) as a "model for how to fight this kind of war" and said "Iran is unquestionably on the agenda" of a second Bush administration. "I have no doubt that we're going to have to do it and do it fast," Podhoretz declared. As if to signal the Bushites are in-sync with the CPD warmongers, Deputy Defense Secretary Paul Wolfowitz was in attendance at the symposium. Wolfowitz's participation, Lobe writes, also confirms "that the neocon faction within the Bush administration is alive, kicking and unashamed despite the quagmire in Iraq."
But is Iraq a quagmire or something else? Is it possible what is going on in Iraq is precisely what the Straussian neocons desire—a social and cultural breakdown of the Arab world resulting in a realignment along ethnic and tribal lines? Currently there is a lot of talk of civil war in Iraq—a conflict likely to result in the fragmentation of the country and the creation of small, ethnically comprised mini-states. More than anything, Israel fears Arab nationalism, especially pan-Arab nationalism. So fearful was Israel of Palestinian nationalism it funded Hamas in the belief that Islamic fundamentalism would stem the tide of unity represented by the PLO. Obviously, it will be easier for the U.S. (at the behest of the Likudites in Israel) to lord over small mini-states than deal with larger entities such as Syria and Iran—or for that matter an Arab world united behind a common cause, namely (as Osama bin Laden supposedly wants) reducing the influence of the West in the Middle East and uniting to fight against its perennial enemy, Israel.
This is precisely what the Straussian neocon war against Islam is all about, regardless of all the highfalutin talk about democracy and modernizing Arab and Iranian societies. As Norman Podhoretz understands, in order to accomplish this objective the United States will need to follow Israel's lead—that is to say launch brutal invasions and terrorize entire populations, as the Israelis are currently doing in the Gaza Strip. The Iraqi "quagmire" will need to be replicated in Iran and Syria—and sooner before later, as Podhoretz urges.
There is, however, one big problem with this scenario. Sooner before later—or as the Straussian neocon Michael Ledeen puts it, "faster, please"—will require more "boots on the ground," or bullet-stoppers in the hopper. As is now painfully obvious, the Iraq "quagmire" has nearly stretched the U.S. military to its breaking point—and after back-to-back "duty" in Iraq, a whole lot of soldiers will not be re-uping—so a fresh batch of soldiers will be needed for ambitious "adventures" in Iran and Syria. Although the Republicans are angrily denouncing the Democrats for apparently raising the specter of conscription in the run-up to the election—and have killed a draft reinstatement bill that was languishing in Congress, as if to prove they have no intention of reviving conscription—reality dictates: the Pentagon will need more soldiers, a whole lot more soldiers, if they are going to invade Iran, with a population three times the size of Iraq, and Syria.
So, the question is: Are you ready to donate your kids or yourself to fight Israel's war against the Muslim world, currently pegged at over a billion people? Are you ready for generations of ceaseless war—as Bush promised—and the possibility of thousands, maybe hundreds of thousands of U.S. kids slaughtered in the name of Greater Israel? Are you ready to accept the mass murder of possibly a million or more Iraqis, Iranians, Syrians, and maybe Lebanese and Saudi Arabians?
I didn't think so.
Tehran, Oct 9, IRNA -- An earthquake measuring 4 degrees on the open-ended Richter scale shook the city of Kahnouj in the southeastern province of Kerman on Saturday.

According to the seismological base of Tehran University's Geophysics Institute, the tremor occurred at 09:38 hours a.m. local time (0608 GMT).

There are no reports of any damage to property caused by the quake.

Two earthquakes measuring 5.2 and 4.6 degrees on the Richter scale shook the vicinity of Jiroft in Kerman province on Wednesday and Thursday morning.

Iran is situated on some of the world's most active seismic fault lines and quakes of varying magnitudes are of usual occurrence.
TEHRAN (AP) - An earthquake of magnitude 5.8 shook buildings in northeastern Iran on Friday, injuring 12 people as frightened residents fled their homes for safety, state radio reported.

Provincial official Mohammad Hassan Moheimani told state radio the quake's epicentre was located in a sparsely populated area near the Iran-Turkmenistan border.

"Most of the 12 people were slightly injured as they ran to safety," he said.

A magnitude five quake can damage houses and buildings in densely populated areas.

Iran is located on seismic fault lines and is prone to earthquakes. A December earthquake in Bam, in southeastern Iran, measured 6.6 magnitude and killed 26,000 people.
MANAGUA, Nicaragua Oct. 9, 2004 — A powerful earthquake rocked Nicaragua's western coast on Saturday, sending residents running from their homes. No major injuries or damage were immediately reported.

The magnitude 6.9 quake struck at 5:26 EDT, or 3:26 p.m. local time in Nicaragua, and was centered about 50 miles southwest of Managua, the National Earthquake Information Center said.

Emergency officials said they had no immediate reports of major damage or injuries.
BAKERSFIELD -- A minor earthquake shook an area on the border of Los Angeles and Kern counties on Saturday but there were no immediate reports of injuries or damage, authorities said.

The magnitude-3.1 quake struck at 5:02 a.m. and was centered 12 miles north of Lake Elizabeth, according to a preliminary report from the U.S. Geological Survey.

A Kern County sheriff's dispatcher said there has been no reports of injuries or damage.

MOUNT ST. HELENS, Wash. -- Earthquake activity has increased at Mount St. Helens, but overcast skies Saturday hampered scientists' ability to see what was happening at the volcano.
"Seismicity has been picking up steadily since Friday, and now it's at levels equal to or higher than the Oct. 5 steam and ash eruption," said Jeff Wynn, U.S. Geological Survey's chief scientist for volcano hazards at Vancouver.
Earthquake activity had been low until Friday, indicating molten rock is moving upward with little resistance.
By Saturday, however, quakes of magnitude 2.4 were occurring every one to two minutes, Wynn said.
Clouds lifted a little at dawn Saturday to reveal the mountain covered with snow, but continued to hamper visibility and frustrate scientists.
"Exactly where the magma is, since we don't have visuals, we just can't say," Wynn said.
A bubble on the south side of the dome has risen to at least 330 feet since scientists first spotted it Sept. 30, and it was now almost as tall as the dome's 1,000-foot summit, said USGS geologist John Pallister.
"The blister is a rather remarkable event," he said, saying that it infers magma is somewhere at shallow depths less than a mile below the surface.
Scientists will monitor the bulge to see how the uplift relates to the seismic activity, Pallister said.
Despite the swelling and the increase in earthquake activity, scientists said there was no reason to raise the alert level around the 8,364-foot volcano.
There was an outside chance an eruption could shoot ash 15 miles into the air or higher, but there was no indication that any eruption is imminent or that one would be powerful enough to threaten lives or property, said Larry Mastin, a USGS expert in the physics of volcano eruptions.
There's no way to tell when magma -- molten rock -- might reach the surface, scientists said.
Weather has discouraged many of the thousands of visitors who initially visited the awakening mountain, but some still anxiously watched from the Coldwater Ridge Visitors Center, the closest open vantage point for viewing the crater.
"We were here last Sunday, too," said Kathy Gurnee of Whidbey Island.
Hearing that seismic activity was ramping up again Saturday, she said, "it gives us a little tentative feeling about it."
"I think today's going to be a big one. I can feel it," Gurnee's husband Mike said.
The center is 8 1/2 miles north of the southwest Washington mountain.
Since Sept. 23, thousands of small earthquakes have shaken the peak in the Cascade Range. The volcano spewed clouds of steam mixed with small amounts of old volcanic ash each day from Oct. 1 through Oct. 5.
An hour-long blast Oct. 5 was the largest, sending a thick gray cloud thousands of feet in the air and dusting some areas northeast of the volcano with gritty ash.
Seismic activity diminished afterward, and scientists on Wednesday lowered the alert level from "volcano alert" to "volcano advisory."
The downgrade indicated the probability of a life-threatening eruption had decreased significantly since Oct. 2, when thousands of people were evacuated from areas around the mountain.
Geologists said the most likely scenario now is for weeks or months of occasional steam blasts and possibly some eruptions of fresh volcanic rock.
Officials have cautioned, however, that an eruption still could occur with very little warning.
Closures around the volcano -- including the Johnston Ridge observatory five miles north of the crater -- remained in effect. Johnston Ridge is usually closed for the winter by the end of October.
Geologists have said there is little chance of anything similar to the blast that blew 1,300 feet off the top of the peak, killed 57 people and paralyzed much of the inland Pacific Northwest with gritty volcanic ash on May 18, 1980.
Some 450 million years after a meteorite slammed into western Wisconsin, geologist William Cordua's star is on the rise.
Cordua, along with two other scientists, confirmed this spring what he had suspected for more than 20 years: that the 4-mile-wide crater near Rock Elm was caused by a meteor, making it the second meteor-impact site in Wisconsin and one of 120 currently confirmed around the world.
As a result of that finding, Cordua — a University of Wisconsin-River Falls professor — is increasingly in demand as a speaker, and chances of grant money to continue his work have improved.
"I don't know what to do with my minor rock-star fame," he said.

Readers who wish to know more about who we are and what we do may visit our portal site Cassiopaea.org
---
Remember, we need your help to collect information on what is going on in your part of the world!
We also need help to keep the Signs of the Times online.
---

Check out the Signs of the Times Archives

Send your comments and article suggestions to us

---
Fair Use Policy
Contact Webmaster at signs-of-the-times.org
Cassiopaean materials Copyright ©1994-2014 Arkadiusz Jadczyk and Laura Knight-Jadczyk. All rights reserved. "Cassiopaea, Cassiopaean, Cassiopaeans," is a registered trademark of Arkadiusz Jadczyk and Laura Knight-Jadczyk.
Letters addressed to Cassiopaea, Quantum Future School, Ark or Laura, become the property of Arkadiusz Jadczyk and Laura Knight-Jadczyk
Republication and re-dissemination of our copyrighted material in any manner is expressly prohibited without prior written consent.