Printer Friendly Version
New! Article - The Blair Belief Project
New! Pentagon Strike Flash Presentation by a QFS member
Picture of the Day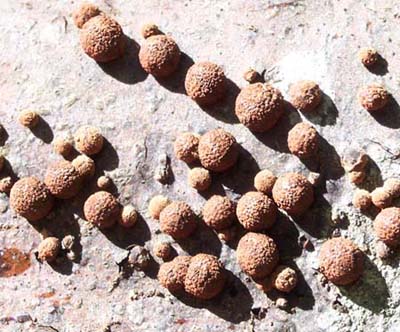 ©2004 Pierre-Paul Feyte
As The World Looks The Other Way
By Alan Johnston
BBC, Gaza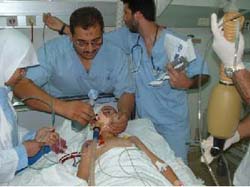 Nine-year-old Raghda al-Assar died last week after being hit by Israeli fire while sitting at her school desk in the Gaza Strip - the fourth child hit in similar circumstances in 18 months. The BBC's Alan Johnston visits the scene of the incident:
I step into a classroom full of little girls at an elementary school in the Khan Yunis refugee camp.
Today, they are getting on with their work as normal, but there was nothing normal about the scene in this room one Tuesday morning three weeks ago.
During an English lesson these girls heard firing outside. They dived for cover, but when the shooting was over, they found their classmate Raghda al-Assar slumped over a desk up at the front, covered in blood.
She had been shot through the head.
"We didn't hear the sound of the bullet when it came," says Alaa Assad, who was sitting a few places away from Raghda.
Alaa says Raghda was one of the brightest pupils in the class.
"We are very very sad. I am thinking about it all. I have bad dreams and I get up and I start thinking about Raghda and what happened to her... I don't sleep... I keep thinking about her," she says.
Stray bullet
The United Nations runs this school. Its investigators believe that Raghda was hit by a bullet fired by Israeli soldiers.
The shooting began when Palestinian militants who oppose the Israeli occupation of Gaza launched a series of missiles at a nearby Jewish settlement.
In the Israeli town of Sderot, the threat is from crude Hamas rockets
The UN says that the soldiers shot indiscriminately into the crowded refugee camp for more than half an hour.
The Israeli army says that it never directed fire at the school.
A spokesman said that it was impossible to say whether the stray bullet came from the army or from fire by the militants.
Headmistress Um Khalid says the incident has caused a lot of fear among her pupils, with some crying uncontrollably and others too afraid to come to school.
"The teachers tried to make them calmer, but they were also frightened," she says.
A group of psychological counsellors have since been working at the school, helping the children work out their stress through play and drawing, as well as talking to the teachers.
'Where's the light?
The UN believes that altogether, over the past 18 months, four Palestinian children in Gaza have been hit by Israeli bullets while sitting at their school desks.
It has been particularly bad in Khan Yunis in the last few days: a 62-year-old man was shot dead visiting an elementary school on Monday; an 11-year-old girl survived after being struck in the head as she sat in a classroom two days earlier.
One victim, 13-year-old Huda Darwish, remembers being told to shelter from the gunfire, but there being no time before she was struck in the head by a bullet.
"The teacher took me to the hospital and they said that this is a very serious case... that I might die," she says.
"After 12 days I got up and I felt lots of pain in my head. I asked about the light, I said 'Where's the light?'
"I told my mum I couldn't see. She said that the lights had gone out... That they had gone out in the whole world - that it wasn't just me in the dark.
"But later, they had to tell me that I wouldn't see again. That was very difficult," she says.
It is not just young Palestinians who are in the firing line.
Israeli children living in the settler communities of the Gaza Strip are under constant threat.
Four little girls and their pregnant mother were shot dead when militants ambushed their car in May.
Densely crowded
Groups like the Hamas organisation often fire crudely made missiles into the settlements or nearby towns in Israel where they can fall on family homes, or on schools or nurseries.
Israel occupation means fear for many Palestinian children
And the militants say that as long as the Israeli occupation of Gaza continues they will strike at these targets.
They attack from the edges of the refugee camps and the Israeli army tries to hit them there.
The soldiers fire into some of the most densely crowded places in the world.
This has gone on here almost every day for four years.
And this is why so many children and teenagers in the occupied territories have died - 34 Israelis, and more than 550 Palestinians.
Love, Childhood, Friendship and School Year… Ended by Israeli Bullets
KHANYOUNIS, September 23 2004 (WAFA)- In the early morning of a sunny day, the 10 -year-old year girl, Raghda al-Assar, left her house heading to school in the southern Gaza Strip city of Khanyounis. After less than hour, she was receiving medical treatment in emergency room of Nasser Hospital after having been struck with an Israeli gunshot in the head while she was in her classroom listening to her English teacher. Raghda died yesterday (Wednesday) of her critical wounds she sustained two weeks ago.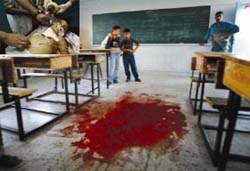 On September 7, Raghda was one of hundreds of Palestinian schoolgirls, dressed in stripped school uniforms (marking the UNRWA schools students), packed to the streets of Khanyounis refugee camp. They were so enthusiastic to the new school year, and happy with their new uniforms.

She was so happy for her new jeans she wears for the first time. Chatting with her cousin, Rula 10 , on her new white clothes and books.

Heavy gunshots cut the humming of the girls moments before the lesson. Israeli soldiers, stationed at mobile watchtowers of Neve Dekalim colony, west of the refugee camp of Khanyounis, opened random fire at houses of the camp. Raghda was hit with a live gunshot in the head when her classmates took cover under the desks.

UNRWA's official statement issued on September 7 , said that Raghda was shot with Israeli gunfire.

A wall of crying and shouting filled the UNRWA's Elementary C Girls School when her classmates saw blood stains sprinkled in the class.

"It was the firs lesson that day, Raghda put her ruler beside mine, we arranged the desk together... I was listening to the English teacher and she was writing. The sound of the gunshot filled the area. We kept silence for a moment, then a bullet struck Raghda in her head, her blood covered her face and neck, her English book and copybook were also tainted with spots of blood," Hanin Assaf 10 , Raghda's classmate, said.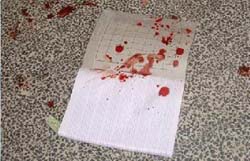 She slumped on the seat...she was so calm while blood streaming on her cheeks, some classmates dashed out of the class, others hided under the desks, all of them were shouting and crying, Raghda slowly extended her two hands to the teacher who dashed to carry he . . . she was carried to a hospital".

The murder of Raghda left horrible effect and a strong obstacle between Hanin and the school.

"I began hate my desk because it is without Raghda. It is dangerous also I do not know why they shot her?...Before having been shot, I borrowed a rubber from Raghda, I hope she will com back to school because I want to give her the rubber".

Dr. Fawwaz Abu Ziada, head of Neuro surgical Unit at the European Hospital, south of Khanyounis, said that a gunshot pierced the face of Raghda and went out from the back of the head.

"Critical damages in brain and cerebellum put an end to her life after two weeks of receiving treatment at the Intensive Care Unit (ICU)," Abu Ziada said.

At the door of ICU, Salwa al-Assar40 , the mother, spent long hours filled with hope to hear Raghda's voice again. But on Wednesday overnight, the hopes have "gone with the wind".

"It was around 8 o'clock in the morning. I was helping my son in organizing his books, the telephone rang, minutes after, my husband stormed the room and told me that Raghda was shot. I felt my heart leapt up and an earthquake trembled me," the mother said.

"She waked me up early morning, she dressed her school clothes. I combed her hair and tied a white ribbon over her head. She was so happy with her new dark blue jeans and black sandals, it was the first time she wears. She was so proud with the red badge around her neck. I gave her an apple she put it in her bag, said [good bye mum] and left home, it was the last day I talked to her," Salwa added while sighing.

"Mum, you see, the teacher awarded this badge to me, she asked me to participate in imposing order in the school, she asked me because I am a good girl," the mother recalled her daughter as saying.

The father, Adnan al-Assar42 , was so astonished while recalling his sweet daughter. The father who works as a governmental employee, said that every year Raghda, and her brothers, had one school uniform. "This year I bought two uniforms for her, she said that she is older than before and should enjoy with two uniforms, she also insisted to have much more pocket money than before.

"Believe me, she was so skillful and so enthusiastic to be the best in her class. A day before her shooting, she asked me to buy an advanced book of sciences, I gave her money, but she was so upset as the new edition has not been available yet," the father said while wiping his tears and asking why the Israeli soldiers target children at schools?.

Two 10 -year old children were hit, last June, by Israeli bullets and ricochets in UNRWA's elementary schools in Rafah. In March 2003 , an Israeli bullet penetrated the head of 12 -year old Huda Darwish, in Khanyounis, an left her blind, according to UNRWA's statement.
Chris McGreal in Jabaliya refugee camp
Wednesday October 6, 2004
The Guardian
Palestinian 15-year-olds among growing number of children hit by Israeli snipers during 'Days of Penitence'
Islam Dwidar's classmates were still taking in her shocking death - the teacher weeping outside before facing the girls, her closest friend recounting how they walked to school together each day - when the news arrived about Tahreer Abu El Jidyan.
The two 15-year-old pupils at Jabaliya's school were both shot in the head by Israeli soldiers inside their homes just a few blocks and several hours apart. Islam died almost immediately after the bullet smashed through her forehead as she baked bread with her mother in their yard on Sunday. Tahreer is still on life support at a Gaza hospital after an operation to remove shards of shattered skull from her brain.
She lies motionless, with little to suggest she is alive other than gentle breathing. Doctors do not expect her to survive.
Tahreer's mother, Intisar, was at her bedside yesterday.
"Oh Tahreer, my heart. I wish I were lying in this bed, not you," she whispered to her child. "She was sweeping the floor in front of the door," said Mrs Abu El Jidyan. "I was standing talking to her. We knew the Israeli soldiers were around, we knew they had snipers in the buildings on our street but we didn't expect what happened. They just shot her in the head. Her brains spilled out. She said: 'Mum, I'm hit'. She praised God and she collapsed."
There were two bullets. The first struck Tahreer in the head. As she fell, the second hit the wall behind her. "I've no doubt a sniper shot her deliberately. There was no fighting in the area. There were no other shots, only the ones that hit Tahreer," said her mother.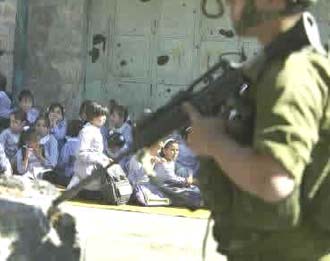 With her stood Tahreer's 14-year-old brother, Naser, who was wounded by shrapnel last week. Israeli forces killed their father 11 years ago during the first intifada.
Mrs Abu El Jidyan regrets preventing Tahreer from walking to school on Sunday morning. She thought it would be too dangerous to venture out of their home in Jabaliya's Sikka neighbourhood because it is on the edge of the area occupied by Israeli troops and tanks last week. Snipers are posted in buildings overlooking their street and a tank is less than a block away.
"I wouldn't let her out of the house but it was dangerous at home too. When there was fighting, bullets came through the walls. We stopped using some rooms on the side where the Israelis are," she said.
Israeli and Palestinian human rights groups say that about half of the nearly 80 people killed by the army over the past week of "Operation Days of Penitence" are civilians. The military says it has carefully targeted Hamas and Islamic Jihad fighters with missile strikes.
But while the numbers are in dispute - in part because it is often hard to say whether youths in their mid to late teens are bystanders or part of the Palestinian resistance - there is no doubt that a growing number of children have been felled by Israeli snipers.
At Islam and Tahreer's school in Jabaliya yesterday morning, the headmistress, Rukaya Kamal al Budani, fielded calls from parents wanting to know if it was safe to send their girls. "If they can get here, it's safe," was her stock reply. But of 1,150 pupils, fewer than 200 turned up.
Before word reached the school about Tahreer, Mrs al Budani was getting to grips with the death of Islam.
"This is our first casualty at the school," she said. "I don't know how to deal with the girls. It's going to have a big impact on her classmates and friends. I'm shocked that no one in the free world condemns the killing of a child."
Then one of the male teachers tells Mrs al Budani about the shooting of Tahreer the previous day. The headmistress sits in silence.
Until June, the two young women had been classmates, but then Tahreer failed her exams and was held back for a year. Asmaa Abu Samaan walked to school with her each morning.
"I met her in front of my house each morning to walk to school. I did my homework with her. I keep thinking that if she is brain-dead and not killed perhaps she is still suffering. I can't stand it," she said.
Asmaa walked to school yesterday morning without her friend."I walked against the wall hoping the soldiers can't see me. I want to go to school because I know the Jews do not want us to study because we need to be educated to build our country," she said.
But the killing went on as the conflict claimed the life of another teenage girl in the Gaza strip yesterday. Palestinian medics said Israeli soldiers fired about 20 bullets into 13- year-old Iman al-Hams, including five into her head.
The military said she had entered a forbidden zone in Rafah refugee camp, and that she dropped a bag that soldiers feared was a bomb.
The Palestinians said Iman was walking to school when troops entered the camp and that she dropped her bag as she ran away in fear.
The bag was not found to contain a bomb.

By KARIN LAUB
Associated Press Writer
JERUSALEM (AP) -- The real objective of Ariel Sharon's offer to withdraw from the Gaza Strip and parts of the West Bank is to freeze Palestinian statehood indefinitely, with U.S. blessing, the prime minister's point man with the Bush administration acknowledged in an interview published Wednesday.
The adviser, Dov Weisglass, also said Israel is avoiding negotiations with the Palestinians because it does not want to be forced into concessions on issues such as the future of Jerusalem and the fate of millions of Palestinian refugees.
The unusually frank (ed: read "truthful") comments, published in the Haaretz daily, contradicted the Israeli government's assurances that it remains committed to the U.S.-backed "road map" and its vision of Palestinian statehood, and that Israelis ready to resume peace negotiations once there is a change in Palestinian leadership.
Weisglass said Sharon's plan of "unilateral disengagement" from the Palestinians, to be carried out next year, is meant to prevent a resumption of negotiations. "It (the plan) supplies the amount of formaldehyde that is necessary so there will not be a political process with the Palestinians," he told Haaretz. [...]
In Washington, U.S. Secretary of State Colin Powell said he hoped the Israeli campaign in northern Gaza - the deadliest there in four years of Israeli-Palestinian fighting - would end soon.
"The immediate problem right now is that Israeli built-up areas are being hit by rockets and Sharon finds a need to respond to that. I hope it does not expand," Powell said. "And I hope ... that this operation can come to a conclusion quickly."
At the United Nations, the United States vetoed a Security Council resolution condemning the Israeli raid. U.S. Ambassador John Danforth called it "lopsided and unbalanced," because it did not mention Palestinian rocket attacks.
In Israel, meanwhile, Sharon's adviser delivered the most far-reaching comments by a senior Israeli official on Sharon's policy toward the Palestinians.
"The significance of the disengagement plan is the freezing of the peace process," Weisglass told the Haaretz daily. "Effectively, the whole package called the Palestinian state with all that entails has been removed indefinitely from our agenda. And all this with authority and permission - all this with a presidential blessing and the ratification of both houses of Congress."
Weisglass said Bush administration officials supported Sharon's plan to freeze the peace process with the Palestinians and keep large West Bank settlements.
"What I effectively agreed to with the Americans was that part of the settlements would not be dealt with at all, and the rest will not be dealt with until the Palestinians turn into Finns," he was quoted as saying.
United Nations Relief and Works Agency for Palestine Refugees
04 October, 2004
Jerusalem – Peter Hansen, Commissioner-General of the United Nations Relief and Works Agency for Palestine Refugees (UNRWA), has written a strongly-worded protest to Silvan Shalom, Israel's Minister of Foreign Affairs, demanding an apology for allegations made against UNRWA's ambulance drivers in the Gaza Strip.
Israel's military and its ambassador to the United Nations have alleged that it has footage of a Palestinian rocket being transported in an UNRWA ambulance. An investigation by UNRWA and analysis of the footage has established that the object in question was a patient stretcher.
In the letter, which was sent today, Mr Hansen writes:
"Given the technical means and military expertise at the disposal of the IDF to enlarge and analyse the pictures taken by the IDF drone, it is inconceivable that the IDF could have made this egregiously erroneous allegation in good faith. While UNRWA's denial has now been acknowledged by responsible media outlets, there is no such denial shown on the IDF website."
"It is appalling that, with the serious conflict now raging in the Northern Gaza Strip, where UNRWA ambulances are operating in constant danger alongside those of other humanitarian agencies to try to save and transport scores of wounded Palestinians to hospital, the Government of Israel would put out such deliberately inciteful, false and malicious propaganda, encouraging IDF soldiers on the ground (or in the air) to think that UNRWA ambulances and other humanitarian vehicles are transporting terrorists and weapons."
"Accordingly, I request an immediate public retraction and apology from the Government of Israel and that the apology and retraction be transmitted to all the media outlets who received the film clip in the first instance and be placed on both the IDF and the MFA websites."
Mr Hansen has repeatedly been made the subject of personally offensive and distorted accusations of bias by the Israeli authorities. UNRWA believes it is noteworthy that the Agency and Peter Hansen have most often been the targets of false allegations following extensive Israeli military operations in the occupied Palestinian territory in which there have been large numbers of Palestinian casualties.
UNRWA asked the IDF on Saturday to provide it with the original footage of the incident to assist the Agency in its own investigation. There has so far been no response to that request.
JERUSALEM - Israel backtracked on a claim that a U.N. ambulance crew transported a rocket for Palestinians, with military officials acknowledging Tuesday they might have made a mistake in analyzing drone footage.
The army removed the video from its Web site and a senior officer said defense specialists differed over interpretation of the grainy images, which the U.N. said showed a stretcher not a rocket.
"There are doubts among the experts continuing to this moment," head of operations, Maj. Gen. Israel Ziv told news reports. "Some think this is a type of weapon. Others think there is quite a high probability this is a harmless object."
Israeli government spokesman Raanan Gissin said the army may have been too hasty in publicizing the footage, but other, undisclosed evidence, linked the United Nations with Palestinian militants.
The dispute highlighted the long-running antagonism between Israel and the United Nations, especially the U.N. Relief and Works Agency, which cares for Palestinian refugees.
There was no sign of the apology the United Nations demanded over the rocket accusations. Instead, Israeli officials again criticized Peter Hansen, UNRWA's head.
"He has been problematic in the past," Israel's former U.N. ambassador Dore Gold told Israeli television. "He has supported the Palestinians on every issue."
U.N. Secretary-General Kofi Annan said there was no reason to believe the rocket accusation, but sent a team to examine procedures in general and the Israeli charges in particular.
The delegation was to arrive Tuesday night, led by U.N. official Geir Pedersen, formerly Norway's chief diplomatic representative to the Palestinian Authority, a U.N. official said.
Disputes between Israel and the world body have increased during the past four years.
U.N. peace envoy Terje Roed-Larsen drew widespread Israeli condemnation during an April 2003 visit to the Jenin refugee camp in the West Bank. Larsen described the scene, after an intense Israeli offensive, as "horrifying beyond belief."
In May, Israeli officials said UNRWA vehicles helped sneak remains of Israeli soldiers away from the site of a bombing attack in Gaza City. The remains were flaunted before news cameras, outraging Israel.
The allegations against UNRWA were never substantiated or withdrawn. Neither were charges that U.N. personnel in Lebanon helped Hezbollah gunmen ambush an Israeli patrol on the Lebanese border in 2000, killing three soldiers.
UNRWA, with 24,000 workers, most of them locally recruited Palestinians, has gripes of its own against the Israelis, including a soldier's killing of a senior British staffer in a West Bank U.N. compound during a nearby gunfire exchange between troops and Palestinians in November 2002.
The agency says the allegations it ferries militants and their arms puts its staff in grave danger of Israeli ground or air fire.
A letter sent Monday from Hansen to Israeli Foreign Minister Silvan Shalom and Defense Minister Shaul Mofaz said the object an Israeli drone filmed being loaded into an ambulance was a stretcher and the accusation it was a rocket was "deliberately inciteful, false and malicious propaganda."
An accompanying UNRWA statement implied the Israelis fabricated the latest dispute to distract attention from their military offensive in the northern Gaza Strip. At least 72 Palestinians have been killed in a week of fighting.
The United States on Tuesday said an Arab-backed U.N. resolution demanding a halt to the Israeli offensive Strip, calling the resolution lopsided and unbalanced.
Gissin called on the United Nations to make a full overhaul of its Palestinian refugee operation.
"I think that a thorough investigation will reveal the extent to which local workers of UNRWA in various refugee camps are actually participating in acts of terror or aiding and abetting them," he said.
But Israeli political analyst Ronnie Shaked said Israel should thank UNRWA for caring for the more than one million Palestinian refugees in the West Bank and Gaza, since Israel is actually responsible for them under international law.
"It is the most important organization operating in the (Palestinian) territories and it is not worth falling out with," he said.
"What no one seemed to notice," said a colleague of mine, a philologist, "was the ever widening gap, after 1933, between the government and the people. Just think how very wide this gap was to begin with, here in Germany. And it became always wider. You know it doesn't make people close to their government to be told that this is a people's government, a true democracy, or to be enrolled in civilian defense, or even to vote. All this has little, really nothing, to do with knowing one is governing.
"What happened here was the gradual habituation of the people, little by little, to being governed by surprise; to receiving decisions deliberated in secret; to believing that the situation was so complicated that the government had to act on information which the people could not understand, or so dangerous that, even if he people could understand it, it could not be released because of national security. And their sense of identification with Hitler, their trust in him, made it easier to widen this gap and reassured those who would otherwise have worried about it.
"This separation of government from people, this widening of the gap, took place so gradually and so insensibly, each step disguised (perhaps not even intentionally) as a temporary emergency measure or associated with true patriotic allegiance or with real social purposes. And all the crises and reforms (real reforms, too) so occupied the people that they did not see the slow motion underneath, of the whole process of government growing remoter and remoter.
"You will understand me when I say that my Middle High German was my life. It was all I cared about. I was a scholar, a specialist. Then, suddenly, I was plunged into all the new activity, as the universe was drawn into the new situation; meetings, conferences, interviews, ceremonies, and, above all, papers to be filled out, reports, bibliographies, lists, questionnaires. And on top of that were the demands in the community, the things in which one had to, was "expected to" participate that had not been there or had not been important before. It was all rigmarole, of course, but it consumed all one's energies, coming on top of the work one really wanted to do. You can see how easy it was, then, not to think about fundamental things. One had no time."
"Those," I said, "are the words of my friend the baker. "One had no time to think. There was so much going on."
"Your friend the baker was right," said my colleague. "The dictatorship, and the whole process of its coming into being, was above all diverting. It provided an excuse not to think for people who did not want to think anyway. I do not speak of your "little men", your baker and so on; I speak of my colleagues and myself, learned men, mind you. Most of us did not want to think about fundamental things and never had. There was no need to. Nazism gave us some dreadful, fundamental things to think about - we were decent people - and kept us so busy with continuous changes and "crises" and so fascinated, yes, fascinated, by the machinations of the "national enemies", without and within, that we had no time to think about these dreadful things that were growing, little by little, all around us. Unconsciously, I suppose, we were grateful. Who wants to think?
"To live in this process is absolutely not to be able to notice it - please try to believe me - unless one has a much greater degree of political awareness, acuity, than most of us had ever had occasion to develop. Each step was so small, so inconsequential, so well explained or, on occasion, "regretted," that, unless one were detached from the whole process from the beginning, unless one understood what the whole thing was in principle, what all these "little measures" that no "patriotic German" could resent must some day lead to, one no more saw it developing from day to day than a farmer in his field sees the corn growing. One day it is over his head.
"How is this to be avoided, among ordinary men, even highly educated ordinary men? Frankly, I do not know. I do not see, even now. Many, many times since it all happened I have pondered that pair of great maxims, Principiis obsta and Finem respice - "Resist the beginnings" and "consider the end." But one must foresee the end in order to resist, or even see, the beginnings. One must foresee the end clearly and certainly and how is this to be done, by ordinary men or even by extraordinary men? Things might have changed here before they went as far as they did; they didn't, but they might have. And everyone counts on that might.
"Your "little men," your Nazi friends, were not against National Socialism in principle. Men like me, who were, are the greater offenders, not because we knew better (that would be too much to say) but because we sensed better. Pastor Niemoller spoke for the thousands and thousands of men like me when he spoke (too modestly of himself) and said that, when the Nazis attacked the Communists, he was a little uneasy, but, after all, he was not a Communist, and so he did nothing: and then they attacked the Socialists, and he was a little uneasier, but, still, he was not a Socialist, and he did nothing; and then the schools, the press, the Jews, and so on, and he was always uneasier, but still he did nothing. And then they attacked the Church, and he was a Churchman, and he did something - but then it was too late."
"Yes," I said.
"You see," my colleague went on, "one doesn't see exactly where or how to move. Believe me, this is true. Each act, each occasion, is worse than the last, but only a little worse. You wait for the next and the next. You wait for the one great shocking occasion, thinking that others, when such a shock comes, will join with you in resisting somehow. You don't want to act, or even to talk, alone; you don't want to "go out of your way to make trouble." Why not? - Well, you are not in the habit of doing it. And it is not just fear, fear of standing alone, that restrains you; it is also genuine uncertainty.
"Uncertainty is a very important factor, and, instead of decreasing as time goes on, it grows. Outside, in the streets, in the general community, everyone is happy. One hears no protest, and certainly sees none. You know, in France or Italy there will be slogans against the government painted on walls and fences; in Germany, outside the great cities, perhaps, there is not even this. In the university community, in your own community, you speak privately to your colleagues, some of whom certainly feel as you do; but what do they say? They say, "It's not so bad" or "You're seeing things" or "You're an alarmist."
"And you are an alarmist. You are saying that this must lead to this, and you can't prove it. These are the beginnings, yes; but how do you know for sure when you don't know the end, and how do you know, or even surmise, the end? On the one hand, your enemies, the law, the regime, the Party, intimidate you. On the other, your colleagues pooh- pooh you as pessimistic or even neurotic. You are left with your close friends, who are, naturally, people who have always thought as you have.
"But your friends are fewer now. Some have drifted off somewhere or submerged themselves in their work. You no longer see as many as you did at meetings or gatherings. Informal groups become smaller; attendance drops off in little organizations, and the organizations themselves wither. Now, in small gatherings of your oldest friends, you feel that you are talking to yourselves, that you are isolated from the reality of things. This weakens your confidence still further and serves as a further deterrent to – to what? It is clearer all the time that, if you are going to do anything, you must make an occasion to do it, and then you are obviously a troublemaker. So you wait, and you wait.
"But the one great shocking occasion, when tens or hundreds or thousands will join with you, never comes. That's the difficulty. If the last and worst act of the whole regime had come immediately after the first and the smallest, thousands, yes, millions would have been sufficiently shocked – if, let us say, the gassing of the Jews in "43" had come immediately after the "German Firm" stickers on the windows of non-Jewish shops in "33". But of course this isn't the way it happens. In between come all the hundreds of little steps, some of them imperceptible, each of them preparing you not to be shocked by the next. Step C is not so much worse than Step B, and, if you did not make a stand at Step B, why should you at Step C? And so on to Step D.
"And one day, too late, your principles, if you were ever sensible of them, all rush in upon you. The burden of self deception has grown too heavy, and some minor incident, in my case my little boy, hardly more than a baby, saying "Jew swine," collapses it all at once, and you see that everything, everything, has changed and changed completely under your nose. The world you live in – your nation, your people – is not the world you were in at all. The forms are all there, all untouched, all reassuring, the houses, the shops, the jobs, the mealtimes, the visits, the concerts, the cinema, the holidays. But the spirit, which you never noticed because you made the lifelong mistake of identifying it with the forms, is changed. Now you live in a world of hate and fear, and the people who hate and fear do not even know it themselves; when everyone is transformed, no one is transformed. Now you live in a system which rules without responsibility even to God. The system itself could not have intended this in the beginning, but in order to sustain itself it was compelled to go all the way.
"You have gone almost all the way yourself. Life is a continuing process, a flow, not a succession of acts and events at all. It has flowed to a new level, carrying you with it, without any effort on your part. On this new level you live, you have been living more comfortably every day, with new morals, new principles. You have accepted things you would not have accepted five years ago, a year ago, things that your father, even in Germany, could not have imagined.
"Suddenly it all comes down, all at once. You see what you are, what you have done, or, more accurately, what you haven't done ( for that was all that was required of most of us: that we do nothing). You remember those early meetings of your department in the university when, if one had stood, others would have stood, perhaps, but no one stood. A small matter, a matter of hiring this man or that, and you hired this one rather than that. You remember everything now, and your heart breaks. Too late. You are compromised beyond repair.
"What then? You must then shoot yourself. A few did. Or "adjust" your principles. Many tried, and some, I suppose, succeeded; not I, however. Or learn to live the rest of your life with your shame. This last is the nearest there is, under the circumstances, to heroism: shame. Many Germans became this poor kind of hero, many more, I think, than the world knows or cares to know."
I said nothing. I thought of nothing to say.
"I can tell you," my colleague went on, "of a man in Leipzig, a judge. He was not a Nazi, except nominally, but he certainly wasn't an anti-Nazi. He was just – a judge. In "42" or "43", early "43", I think it was, a Jew was tried before him in a case involving, but only incidentally, relations with an "Aryan" woman. This was "race injury", something the Party was especially anxious to punish. In the case a bar, however, the judge had the power to convict the man of a "nonracial" offense and send him to an ordinary prison for a very long term, thus saving him from Party "processing" which would have meant concentration camp or, more probably, deportation and death. But the man was innocent of the "nonracial" charge, in the judge's opinion, and so, as an honorable judge, he acquitted him. Of course, the Party seized the Jew as soon as he left the courtroom."
"And the judge?"
"Yes, the judge. He could not get the case off his conscience – a case, mind you, in which he had acquitted an innocent man. He thought that he should have convicted him and saved him from the Party, but how could he have convicted an innocent man? The thing preyed on him more and more, and he had to talk about it, first to his family, then to his friends, and then to acquaintances. (That's how I heard about it.) After the "44" Putsch they arrested him. After that, I don't know."
I said nothing.
"Once the war began," my colleague continued, "resistance, protest, criticism, complaint, all carried with them a multiplied likelihood of the greatest punishment. Mere lack of enthusiasm, or failure to show it in public, was "defeatism." You assumed that there were lists of those who would be "dealt with" later, after the victory. Goebbels was very clever here, too. He continually promised a "victory orgy" to "take care of" those who thought that their "treasonable attitude" had escaped notice. And he meant it; that was not just propaganda. And that was enough to put an end to all uncertainty.
"Once the war began, the government could do anything "necessary" to win it; so it was with the "final solution" of the Jewish problem, which the Nazis always talked about but never dared undertake, not even the Nazis, until war and its "necessities" gave them the knowledge that they could get away with it. The people abroad who thought that war against Hitler would help the Jews were wrong. And the people in Germany who, once the war had begun, still thought of complaining, protesting, resisting, were betting on Germany's losing the war. It was a long bet. Not many made it."
[...] I have often reflected, wistfully, on how much happier modern history might have been had Hitler been brought up as an atheist, an agnostic, or, at least, a Unitarian. Born and bred a Catholic, he grew up in a religion and in a culture that was anti-semitic, and in persecuting Jews, he repeatedly proclaimed he was doing the "Lord's work."
You will find it in Mein Kampf: "Therefore, I am convinced that I am acting as the agent of our Creator. By fighting off the Jews, I am doing the Lord's Work."
Hitler said it again at a Nazi Christmas celebration in 1926: "Christ was the greatest early fighter in the battle against the world enemy, the Jews ... The work that Christ started but could not finish, I -- Adolf Hitler -- will conclude."
In a Reichstag speech in 1938, Hitler again echoed the religious origins of his crusade. "I believe today that I am acting in the sense of the Almighty Creator. By warding off the Jews, I am fighting for the Lord's work."
Hitler regarded himself as a Catholic until he died. "I am now as before a Catholic and will always remain so," he told Gerhard Engel, one of his generals, in 1941.
There was really no reason for Hitler to doubt his good standing as a Catholic. The Catholic press in Germany was eager to curry his favor, and the princes of the Catholic Church never asked for his excommunication. Religions encourage their followers to hold authority in unquestioning respect; this is what makes devout religionists such wonderful dupes for dictators.
When Hitler narrowly escaped assassination in Munich in November, 1939, he gave the credit to providence. "Now I am completely content," he exclaimed. "The fact that I left the Burgerbraukeller earlier than usual is a corroboration of Providence's intention to let me reach my goal." Catholic newspapers throughout the Reich echoed this, declaring that it was a miraculous working of providence that had protected their Fuhrer. One cardinal, Michael Faulhaber, sent a telegram instructing that a Te Deum be sung in the cathedral of Munich, "to thank Divine Providence in the name of the archdiocese for the Fuhrer's fortunate escape." The Pope also sent his special personal congratulations!
Later the Pope was to publicly describe Hitler's opposition to Russia as a "highminded gallantry in defense of the foundations of Christian culture." Several German bishops openly supported Hitler's invasion of Russia, calling it a "European crusade." One bishop exhorted all Catholics to fight for "a victory that will allow Europe to breathe freely again and will promise all nations a new future."
Biographer John Toland wrote of Hitler's religion: "Still a member in good standing of the Church of Rome despite detestation of its hierarchy, he carried within him its teaching that the Jew was the killer of god. The extermination, therefore, could be done without a twinge of conscience since he was merely acting as the avenging hand of god -- so long as it was done impersonally, without cruelty. Himmler was pleased to murder with mercy. He ordered technical experts to devise gas chambers which would eliminate masses of Jews efficiently and 'humanely,' then crowded the victims into boxcars and sent them east to stay in ghettos until the killing centers in Poland were completed."
Jews, of course, were not the only "holy" victims. In Yugoslavia, Hitler installed a Croatian, Ante Pavelic, as his puppet, and Pavelic, a Catholic like Hitler, began extermination of the Serbs, who were Greek Orthodox. One of my relatives by marriage is a Yugoslavian, a Serb, who survived World War II by going "underground" with the advent of Nazism in his country. Out of his immediate family of 17 (this includes his parents, siblings, aunts, uncles and first cousins), only three survived. His mother and sister just disappeared, his mother shortly after being given the opportunity to convert to Catholicism, an offer she refused. The Vatican was not unaware of the massacres conducted in Yugoslavia in the name of Catholicism, but Pope Pius remained diplomatically quiet. In fact, one of his actions was to receive Ante Pavelic in private audience, thereby giving his blessing to this regime.
War's causes, of course, are complex, but it would be difficult to overestimate the disastrous role religion played in World War II. Distrust, fear and hatred of Jews was a lesson Hitler learned early in life. It was taught by his church and reinforced by his culture. It became his obsession, his version of "the Lord's work." That Hitler, that supreme villain of the 20th century, could see himself, and be seen by others, as "providentially" guided, protected and inspired should certainly serve as an ominous clue to the dangers of religious belief. Just as the Vatican umbrella could be maneuvered to shield the massacres of Serbs by Catholics in Yugoslavia, so can religion validate any behavior, any atrocity, any war.
Using archive film material rarely seen before, scenes of "Lohengrin" directed by Richard Wagner's great-grandson, Gottfried Wagner, and interviews with European specialists, this documentary shows the religious elements of National Socialism.
Nazism as political religion is one explanation for the enthusiasm with which people in Central Europe followed Hitler. 50 years after the end of the Third Reich, Gottfried Wagner staged a new, uncompromising production of Hitler's favorite opera in Dessau. Besides Hitler, the film draws a portrait of four men who inspired the Nazi ideology:
Richard Wagner (1813-1883), who already demanded in 1881 a "Germany free of Jews".
August Strindberg (1849-1912), who accused in his racist novella "Tschandala", the female devil Eve of being the mother of subhuman creatures like Jews, Gypsies and Blacks.
Adolf Lanz (1874-1954), who used the word "Tschandala" for his Aryosophy. He later claimed that Adolf Hitler plagiarised his Aryan theory in "Mein Kampf" with only minor changes, making no acknowledgement to Lanz.
Heinrich Himmler (1900-1945), who founded the SS and modeled it on the Jesuit order. He brought in Karl Wiligut, a follower of Lanz, to be the doctrinal advisor to the SS. Wiligut produced a graduated plan for abolishing the Christian religion.
Why do so many Americans dismiss the evidence that the occupation of Iraq has gone disastrously wrong? Because the US has a long tradition of putting faith before facts. Jonathan Raban on George Bush's debt to the Puritans
In the secular, liberal, top-left-hand corner of the US where I live, the prevailing mood was one not far short of despair as incredulity mounted that the daily avalanche of bad news from Baghdad, Fallujah, Tikrit, Samarra, Najaf, Nasiriyah, Kufa, Ramadi, Baquba and elsewhere was apparently failing to make any significant dent in Bush's poll numbers, or expose his claim that freedom and democracy are on the march in Iraq as a blithe and cynical fiction.
What would it take? people asked: How many more American and Iraqi deaths? When would it sink in that the occupation of Iraq is a bloody catastrophe? Why was the electorate so unmoved by the abundant empirical evidence that the administration's policy in the Middle East wantonly endangers America as it endangers the wider world?
Kerry's performance in the first presidential debate brought a much-needed lift of spirits to this neck of the woods, but the Democratic candidate is up against something more formidable than the person of George Bush: he has to deal with the unquiet spirit of American puritanism and its long and complicated legacy.
Last Monday, on the school run, I caught an interview on NPR's Morning Edition with the grieving family of a sergeant in the Oregon National Guard who was killed in Iraq on September 13. Here's what Sergeant Ben Isenberg's dad said:
"This war is not about Iraqis and Americans, or oil: this is a spiritual war. The people who don't understand that just need to dig into their Bible and read about it. It's predicted, it's predestined. Benjamin understood that the president is a very devouted [sic] Christian. Ben understood that the calling was to go because the president had the knowledge, and understood what was going on, and it's far deeper than we as people can ever really know. We don't get the information that the president gets."
In context it's clear that by "information" he wasn't talking about the stuff that passes from the CIA to the White House. This information comes from the guy whom Bush likes to call his "higher Father". As the president said in the closing lines of his acceptance speech at the Republican convention last month, "We have a calling from beyond the stars ..." - a claim that in some societies might lead to a visit from the men in white coats, but in America, among the faithful, is met with rapturous applause.
Every Bush speech is richly encrypted with covert Biblical allusions and other secret handshakes with his fundamentalist listeners, but one need not be a fundamentalist to warm to this sort of religiose rhetoric, for it is every bit as much of an "American" thing as it is a "Christian" one.
Rationalist liberals, tone-deaf to its appeal, make a serious mistake in their assumption that facts-on-the-ground, in Iraq or in the domestic US, can readily explode what the Bush administration has managed to project as a matter not of reason but of faith.
Faith, as Mark Twain's apocryphal schoolboy said, "is believing what you know ain't so".
Faith always contradicts the visible evidence, like the putrefying body or the fossil in the rock - obstacles put in our way to test the mettle of our belief and reveal the inadequacy of our merely sublunar knowledge. Ben Isenberg's father was certain of this: "It's far deeper than we as people can ever really know."
No culture in the world has elevated "faith", in and of itself, with or without specific religious beliefs, to the status it enjoys in the United States. Faith - in God, or the future, or the seemingly impossible, which is the core of the American Dream - is a moral good in its own right.
In no other culture is the word "dream" so cemented into everyday political language, for in America dreams are not idle, they are items of faith, visions that transcend the depressing available evidence and portend the glorious future as if it were indeed "predicted . . . predestined", as Isenberg's father saw the war on Iraq.
When Americans tell their own history at the grade-school, storybook level, they conveniently forget the earliest and most successful colony of tobacco- aristocrats in Virginia (a bunch of degenerate smokers) and instead trace themselves back to the zealous theocrats in tall black hats who founded the Massachusetts Bay Colony, and whose first harvest is celebrated in the all- American orgy of Thanksgiving.
The names of the Susan Constant, Godspeed, and Discovery, which put into the James River in 1607, have little resonance now, but everyone knows about the 1620 voyage of the Mayflower and its Pilgrim Fathers because the Puritans, who have never gone out of date, left behind a peculiarly American philosophy of the miraculous power of faith and hard labour, along with a dangerously uplifting vision of America's rightful place in the world.
In a sermon of 1651, Peter Bulkeley laid out the essential rhetorical frame of Bush's foreign policy: "We are as a city set upon a hill, in the open view of all the earth, the eyes of the world are upon us because we profess ourselves to be a people in covenant with God ... Let us study so to walk that this may be our excellency and dignity among the nations of the world among which we live; that they may be constrained to say of us, only this people is wise, a holy and blessed people ... We are the seed that the Lord hath blessed." The sting in that exclusive only has been lately felt by almost every foreign ambassador to the UN who's had to listen to Bush or Powell lecturing the assembly on America's historic moral exceptionalism.
It was axiomatic to Puritan belief that the city on the hill had been raised in a land previously inhabited by devils whose spirits still walked abroad, conspiring against the holy, wise, and blessed citizens. At the time of the Salem witch trials in 1693, Cotton Mather struck exactly the same note as Bush strikes when he speaks of al-Qaida.
"The devil is now making one attempt more upon us; an attempt more difficult, more surprising, more snarled with unintelligible circumstances than any we have hitherto encountered; an attempt so critical, that if we get well through, we shall soon enjoy halcyon days, with all the vultures of hell trodden under our feet." A "horrible plot" had been detected, "which if it were not seasonably uncovered would probably blow up and pull down all the churches in the country." More than 21 witches "have confessed that they have signed unto a book, which the devil showed them, and engaged in his hellish design of bewitching and ruining our land."
While the Virginia colony brought 18th-century rationalism to America, and supplied four of its first five presidents (Washington, Jefferson, Madison, and Monroe), the New England puritans of Massachusetts gave Americans an intensely dramatic and emotional sense of their peculiar predicament. They were an exception among nations, uniquely favoured by Providence. They alone enjoyed the liberty to walk with God according to their own lights. They were a people of faith beleaguered on all sides by wicked spirits. Cleaving to their faith, they must distrust "imperfect reason" (Mather's phrase) as a means of discerning the mystery of creation and the visible world around them. Not least, the Puritan plain style (Mather warned writers of "muses no better than harlots" and of prose "stuck with as many jewels as the gown of a Russian ambassador"), which owed much to the teaching of Peter Ramus, the French philosopher and rhetorician, made these ideas accessible to the least educated, and gave them the unvarnished vigour that they still have today.
The remarkable survival of this 17th-century worldview in 21st-century America has as much to do with style as with theological substance: people who would now find Jefferson or Madison hard going could easily thrill to the words of Mather, John Winthrop, the rollicking hellfire poet Michael Wigglesworth, or the poet of domestic sublimity Anne Bradstreet.
The Puritans live! And the shrewd men of the Bush administration have expertly hotwired the president to the galvanic energy-source of Puritan tradition.
It's as if America, since 9/11, has been reconstituted as a colonial New England village: walled-in behind a stockade to keep out Indians (who were seen as in thrall to the devil); centred on its meeting house in whose elevated pulpit stands Bush, the plain-spun preacher, a figure of nearly totalitarian authority in the community of saints. The brave young men of the village are out in the wilderness, doing the Lord's work, fighting wicked spirits who would otherwise be inside the stockade, burning down Main Street and the meeting house.
That, at least, is how the presidential handlers have tried to paint things, and, given the continuing power of the American Puritan tradition, it's not very surprising that a likely electoral majority have gratefully accepted the picture at its face value: that the proportions are all wrong (the world's remaining superpower simply won't fit into the space of a pious, beleaguered village) doesn't matter, for the administration has successfully tapped into a toxic national mythos.
Faith rules.
After a faltering start to his presidency, Bush found his role in the aftermath of the attacks of September 2001 as America's pastor-in-chief. His inarticulacy without a script was an earnest of his humility and sincerity, his dogmatic certitude a measure of his godly inspiration. "His way of preaching was very plain," as Mather wrote of John Eliot of Roxbury, Massachusetts, "He did not starve [the people] with empty and windy Speculations."
Confronted a couple of weeks ago with the CIA's grim forecast of mounting unrest and possible civil war in Iraq, Bush airily said, "they were just guessing".
The president doesn't guess. As he intimates to his congregation on every possible occasion, his intelligence is leaked to him by He Who Holds the Stars in His Right Hand.
To doubt is to succumb to temptation by the wicked spirits.
In the New Testament, empiricism gets a bad press in the person of poor Thomas Didymus, and Christ's rebuke: "Blessed are they that have not seen, and yet have believed."
That the facts on the ground in Iraq are in clear contradiction of all Bush's claims about the flowering of liberty and democracy there is merely one of those tests of faith to which all true believers are subject. Of course we can't see it, but that makes the miracle only more marvellous, its very invisibility an inspiring moral challenge for the faithful.
In last Thursday's debate with Kerry at the University of Miami, Bush appeared petulant and bemused (especially in the reaction shots that were shown by the networks in defiance of the rules agreed by the Commission on Presidential Debates) to find himself there at all. There's no space in the meeting house for two rival pulpits, and Pastor Bush, for the first time since his election, if that's the right term for what happened in 2000, had to endure standing on an equal footing with an upstart congregant who was the spitting image of Doubting Thomas.
There was a note of wounded incredulity in Bush's voice when he said of Kerry that "He changes positions on something as fundamental as what you believe in your core, in your heart of hearts, is right in Iraq."
O faithless Kerry! - apostate! - unbeliever! In Bush's Puritan theology, to change one's mind in the face of overwhelming evidence is tantamount to denying the very God who rules your "heart of hearts". How can my belief be wrong if He placed it there?
Yet debates - even ones as stilted as those agreed between the campaigns this year - are rational exercises with an inbuilt bias favouring reason over faith. Unsurprisingly, the rationalist on Thursday beat the preacher at the rationalist's own game, and in my own political neighbourhood there was hardly less elation that evening than if the Seattle Mariners had carried off the World Series. But a debate is a very different thing from an election, and if Kerry did manage to win on November 2, it would be a surprising triumph of cold reason over hot religious mythology.
No more classic American sentiment has ever been put into a foreigner's mouth than when the New York lyricist Joe Darion made Don Quixote sing, in Man of La Mancha, "To dream the impossible dream,/ To fight the unbeatable foe,/ To bear with unbearable sorrow,/ To run where the brave dare not go."
Only an entrenched belief in one's own exceptionalism and a wonder-working Providence could justify such otherwise self-evidently futile activities.
With Bush, we're now dreaming an impossible dream and fighting an unbeatable foe, and tens of millions of Americans - enough, quite probably, to give Bush a second term - believe that is the right, because it's the American thing to do.
Tony Blair has lately given the impression that he's been channelling the same source (Almighty God and/or Karl Rove) who inspires the rhetoric of Bush, but in Britain there is no rich mulch of popular national tradition in which Blair's words can take root.
The historic connection between the Labour party of Keir Hardie's time and the Methodist church is something altogether different from the great folk memory of the embattled God-fearing city on the hill that stirs deep in the American imagination.
When Bush plays the faith card, he summons powerful ancient ghosts. When Blair tries to bring off the same trick, he merely calls attention to his conscience, his private religious beliefs, awakening no echoes in the land of mild, secularised Anglicanism where to speak of one's own intimacy with God's purpose is to place oneself in the embarrassing company of the man in the ragged overcoat, haranguing a non-existent audience from a soapbox at Speakers Corner - which, come to think of it, is a convenient short stroll from the Blair family's new quarters in Connaught Square.
Knoxville, TN -- An unknown gunman fired several shots into the Bearden, Tenn., Bush-Cheney campaign office Tuesday, WBIR-TV in Knoxville reported.
According to Knoxville police officers on the scene, it is believed that the two separate shots were fired from a car sometime between 6:30 a.m. and 7:15 a.m. One shot shattered the glass in one front door and the other cracked the glass in another of the front doors.
There were no witnesses to the shooting. A customer at a nearby dry cleaning store noticed shattered glass on the sidewalk in front of the headquarters and called police. [...]
Local6.com
October 5, 2004
ORLANDO, Fla. -- A group of protestors stormed and then ransacked a Bush-Cheney headquarters building in Orlando, Fla., Tuesday, according to Local 6 News.
Local 6 News reported that several people from the group of 100 Orlando protestors face possible assault charges after the group forced their way inside the Republican headquarters office.
While in the building, some of the protestors drew horns and a mustache on a poster of President George W. Bush and poured piles of letters in the office, according to the report.
"We told them to leave, they broke the law," Republican headquarters volunteer Mike Broom said.
Two protestors received minor injuries when the crowd stormed the building, including a Republican volunteer.
One of the protestors said she wanted to send a message.
"We want to send a clear message to Bush, we want him to take his hands off our overtime pay," protestor Esmeralda Heuilar said.
Local 6 News learned that most of the protestors were from the AFL-CIO and were taking part in one of 20 other coordinated protests around the country.
A spokesperson with the AFL-CIO told Local 6 News that the Orlando protest did not go as planned.
A protest similar to Orlando's demonstration was held at a Bush-Cheney office in Miami at the same approximate time, Local 6 News reported.
The U.S. Air Force is quietly spending millions of dollars investigating ways to use a radical power source -- antimatter, the eerie "mirror" of ordinary matter -- in future weapons.
The most powerful potential energy source presently thought to be available to humanity, antimatter is a term normally heard in science-fiction films and TV shows, whose heroes fly "antimatter-powered spaceships" and do battle with "antimatter guns."
But antimatter itself isn't fiction; it actually exists and has been intensively studied by physicists since the 1930s. In a sense, matter and antimatter are the yin and yang of reality: Every type of subatomic particle has its antimatter counterpart. But when matter and antimatter collide, they annihilate each other in an immense burst of energy.
During the Cold War, the Air Force funded numerous scientific studies of the basic physics of antimatter. With the knowledge gained, some Air Force insiders are beginning to think seriously about potential military uses -- for example, antimatter bombs small enough to hold in one's hand, and antimatter engines for 24/7 surveillance aircraft.
More cataclysmic possible uses include a new generation of super weapons -- either pure antimatter bombs or antimatter-triggered nuclear weapons; the former wouldn't emit radioactive fallout. Another possibility is antimatter- powered "electromagnetic pulse" weapons that could fry an enemy's electric power grid and communications networks, leaving him literally in the dark and unable to operate his society and armed forces.
Following an initial inquiry from The Chronicle this summer, the Air Force forbade its employees from publicly discussing the antimatter research program. Still, details on the program appear in numerous Air Force documents distributed over the Internet prior to the ban.
These include an outline of a March 2004 speech by an Air Force official who, in effect, spilled the beans about the Air Force's high hopes for antimatter weapons. On March 24, Kenneth Edwards, director of the "revolutionary munitions" team at the Munitions Directorate at Eglin Air Force Base in Florida was keynote speaker at the NASA Institute for Advanced Concepts (NIAC) conference in Arlington, Va.
In that talk, Edwards discussed the potential uses of a type of antimatter called positrons.
Physicists have known about positrons or "antielectrons" since the early 1930s, when Caltech scientist Carl Anderson discovered a positron flying through a detector in his laboratory. That discovery, and the later discovery of "antiprotons" by Berkeley scientists in the 1950s, upheld a 1920s theory of antimatter proposed by physicist Paul Dirac.
In 1929, Dirac suggested that the building blocks of atoms -- electrons (negatively charged particles) and protons (positively charged particles) -- have antimatter counterparts: antielectrons and antiprotons. One fundamental difference between matter and antimatter is that their subatomic building blocks carry opposite electric charges. Thus, while an ordinary electron is negatively charged, an antielectron is positively charged (hence the term positrons, which means "positive electrons"); and while an ordinary proton is positively charged, an antiproton is negative.
The real excitement, though, is this: If electrons or protons collide with their antimatter counterparts, they annihilate each other. In so doing, they unleash more energy than any other known energy source, even thermonuclear bombs.
The energy from colliding positrons and antielectrons "is 10 billion times ... that of high explosive," Edwards explained in his March speech. Moreover, 1 gram of antimatter, about 1/25th of an ounce, would equal "23 space shuttle fuel tanks of energy." Thus "positron energy conversion," as he called it, would be a "revolutionary energy source" of interest to those who wage war.
It almost defies belief, the amount of explosive force available in a speck of antimatter -- even a speck that is too small to see. For example: One millionth of a gram of positrons contain as much energy as 37.8 kilograms (83 pounds) of TNT, according to Edwards' March speech. A simple calculation, then, shows that about 50-millionths of a gram could generate a blast equal to the explosion (roughly 4,000 pounds of TNT, according to the FBI) at the Alfred P. Murrah Federal Building in Oklahoma City in 1995. [...]
Officials at Eglin Air Force Base initially agreed enthusiastically to try to arrange an interview with Edwards. "We're all very excited about this technology," spokesman Rex Swenson at Eglin's Munitions Directorate told The Chronicle in late July. But Swenson backed out in August after he was overruled by higher officials in the Air Force and Pentagon.
Reached by phone in late September, Edwards repeatedly declined to be interviewed. His superiors gave him "strict instructions not to give any interviews personally. I'm sorry about that -- this (antimatter) project is sort of my grandchild. ...
"(But) I agree with them (that) we're just not at the point where we need to be doing any public interviews."
Air Force spokesman Douglas Karas at the Pentagon also declined to comment last week.
In the meantime, the Air Force has been investigating the possibility of making use of a powerful positron-generating accelerator under development at Washington State University in Pullman, Wash. One goal: to see if positrons generated by the accelerator can be stored for long periods inside a new type of "antimatter trap" proposed by scientists, including Washington State physicist Kelvin Lynn, head of the school's Center for Materials Research.
A new generation of military explosives is worth developing, and antimatter might fill the bill, Lynn told The Chronicle: "If we spend another $10 billion (using ordinary chemical techniques), we're going to get better high explosives, but the gains are incremental because we're getting near the theoretical limits of chemical energy."
Besides, Lynn is enthusiastic about antimatter because he believes it could propel futuristic space rockets.
"I think," he said, "we need to get off this planet, because I'm afraid we're going to destroy it."
RAW STORY has received numerous e-mails suggesting that President Bush wore an earpiece during the Florida debate Thursday with Senator Kerry. While at this point the suggestion is simply rumor, the volume of emails and the demands of our readers required we at least post the information for public review.
The crux of the rumor centers around a part of the debate where President Bush says, "let me finish," though neither Senator Kerry or moderator Jim Lehrer have moved to interrupt him. The video file can be seen here.
Viewers also note the numerous pauses during Bush's answers, though some also note that Bush regularly uses dramatic pauses as part of his replies.
The final element of the rumor surrounds an alleged wire in the back of the president's suit jacket, the photograph of which appears below.
Early in the Bush administration, commentators poked fun at his inability to accurately read a teleprompter. Then he seemed to improve. Some Bush watchers believe he now wears a hidden earplug of some kind and says whatever comes through to him from his (unseen) handlers. Hard evidence for this theory is hard to find but... consider this quote from a December 15th press conference.
After Bush makes a mistake (saying "commiserate" instead of "commenserate") he doesn't correct himself but rather appears to echo his unseen handlers frustrated comment.
George Bush: "I want to remind you all that in order to fight and win the war, it requires an expenditure of money that is commiserate with keeping a promise to our troops to make sure that they're well paid, well trained, well equipped. ... See, without the tax relief package, there would have been a deficit, but there wouldn't have been the commiserate -- not 'commiserate' -- the kick to our economy that occurred as a result of the tax relief."
An email to Meet The Press asking whether Bush wore an earpiece during the interview received a lightning quick response from Executive Producer Betsy Fischer: "The President was not wearing an earpiece at any time during the interview."
Was Bush wearing an earpiece during today's Meet The Press Interview? Consider the following excerpt (italics added):
Russert: "In light of not finding the weapons of mass destruction, do you believe the war in Iraq is a war of choice or a war of necessity?"
President Bush: "I think that's an interesting question. Please elaborate on that a little bit. A war of choice or a war of necessity? It's a war of necessity. We-- in my judgment, we had no choice when we look at the intelligence I looked at that says the man was a threat."
When Bush said "please elaborate on that a little bit" he did not appear to be asking Russert to elaborate the question. He seemed to be talking almost to himself. Perhaps he was just momentarily confused by an unexpected question. However...
If Bush was wearing an earpiece the odd statement makes more sense. An unseen handler would have had an excellent reason to say "please elaborate on that" to encourage Bush to give more of an answer than "I think that's an interesting question." Seen in this light, when Bush said "please elaborate on that" he mistakenly repeated an instruction from an unseen handler.
This one small incident alone is (obviously) not proof. But there have been others. Consider this quote from a December 15th press conference (italics added):
George Bush: "See, without the tax relief package, there would have been a deficit, but there wouldn't have been the commiserate -- not 'commiserate' -- the kick to our economy that occurred as a result of the tax relief."
Again... he could have just said "not commiserate" by mistake. But why? A less contradictory explanation would be that an unseen handler tried to correct him and instead of understanding the correction, Bush simply repeated what he heard in his earpiece.
Early in the Bush administration, commentators poked fun at his frequent verbal gaffes and his inability to accurately read a teleprompter. Then he seemed to improve. Perhaps Bush simply learned to speak more coherently.
But an earpiece connected to a room of unseen handlers also explains this change.
A few commentators - like Salt Lake City Weekly columnist D.P. Sorensen - write about the subject as if it's common knowledge (20 Mar 2003 Edition):
[...] When the president appears on public occasions, observers have noticed that he now wears a tiny earpiece. There is speculation that God is telling Mr. Bush what to say, using a celestial wavelength almost impossible for evil-doers to intercept. Some observers think the divine prompting via the earpiece explains the president's propensity for verbal gaffes, such as his comment in February of 2000 that "there is madmen in the world, and there are terror." [...]
Does it matter if Bush wears an earpiece? I think it should.
Even sitting at a desk, Cheney walks all over beta-male Edwards
by James Ridgeway
October 4th, 2004 11:37 PM
WASHINGTON - Dick Cheney was every inch the president so many accuse him of being in Tuesday night's debate.
Unlike the stumbling George Bush of last week's contest, the vice president turned aside John Edwards's attacks by simply saying the senator didn't know what he was talking about.
Cheney hammered the Kerry-Edwards ticket as having a record of being inconsistent and duplicitous. He painted Edwards and John Kerry as having been AWOL for Senate votes, and as two insignificant con men not worth talking to or about.
In doing so, Cheney may well have rescued Bush from losing any further support in the polls. He gave no ground to Edwards and successfully stuck to the tried- and-true politician's answer to any and all accusations: Stonewall and repeat your position over and over, no matter how ridiculous.
Most amazing was that Edwards got nowhere with Halliburton's performance in Iraq. A former Halliburton boss, Cheney just said Edwards had the facts wrong. And Edwards dropped the subject.
Domestic policy was treated as an afterthought. Neither candidate even mentioned inflation and the spiraling cost of oil, which are badly hurting ordinary people.
Time after time, Cheney trapped Edwards into explaining Kerry's positions, forcing him to waste time and transform himself into an often embarrassing P.R. guy.
On domestic issues, neither Republicans or Democrats have much to offer. The parties long ago abandoned New Deal social policies in favor of laissez faire private competition. Their economic plans amount to little more than a complex shell game of shifting tax rates.
Tonight, there was no serious discussion of health care. Nothing on free trade. Nothing on social issues, such as reproductive choice and stem cell research, except for both men expressing sympathy—but not support—for gay people who want to get married.
Neither of the candidates did more than mention in passing the loss of jobs and decline in wages and standard of living. Instead they droned on about the cost of lawsuits. On health care, Edwards's main program—as it was in his campaign—is to promise he would stand up to misleading drug company ads on television. Cheney's preposterous claims of Medicare reform went pretty much unchallenged.
The debate took place against a back drop of turmoil and hectic maneuvering in the Bush camp. [...]
Meanwhile the Bush campaign was maneuvering wildly, trying to get the president on solid footing before he faces Kerry again on Friday. The White House scheduled a "significant speech" for the president Wednesday in which he can clarify his positions on national security and domestic policies.
After signing the so-called "middle class" tax cut bill, which in fact offers scant rewards to the middle class, Bush let it be known that he was opposed to changes in corporate taxes under discussion in a House-Senate conference. Republican leaders in Congress have been trying to get the legislation passed and signed into law. John W. Snow, secretary of the Treasury, said the legislation had included "a myriad of special-interest tax provisions that benefit few taxpayers."
Thus Bush, who already offered a spurious tax-cut bill in the name of relieving the middle class, continues trying to play the good-guy populist by attacking corporate special interests.
WASHINGTON (Reuters) - The House of Representatives on Tuesday crushed a bill to reinstitute the draft as Republicans accused Democrats of raising the specter of compulsory military service to turn voters against President Bush's reelection bid.
After a bitter debate on Bush's handling of Iraq, the House killed the bill 402- 2 as Republicans sought to stamp out rumors of an impending draft that have swept college campuses and the Internet, worrying young people and parents across the country.
With the presidential and congressional elections less than a month away, the White House also worked to dampen draft rumors that Republicans said have been fueled by Democrats. It threatened to veto the bill it called "both unnecessary and counterproductive."
"This campaign is a baseless and malevolent concoction of the Democrat party," said House Majority Leader Tom DeLay, a Texas Republican. "It has one purpose -- to spread fear."
Rep. John Conyers, a Michigan Democrat, countered that Bush's Iraq policies have so strained U.S. forces, that a draft was possible no matter how unpopular it would be.
"Guess what, we're running out of troops ... Let's not be astounded that what follows is a draft. The only problem is that you can't announce it until after the election," Conyers said." [...]
House Democrats accused Republicans of a dirty election-year trick, and used the debate to attack Bush's Iraq policies which they said have left the country in chaos and discouraged help from foreign troops.
"This president's foreign policies are what's scaring the kids of this country," said Rep. Tim Ryan, an Ohio Democrat.
Some Democrats also said they doubted Bush would have taken the country to war if members of wealthy families had been called on to fight it.
"He would never have been able to say bring 'em on with other people's children," Rangel said.
"This is a rich man's war, and it's a poor man's fight," said Rep. John Dingell, a Michigan Democrat. "We do not have enough troops in the field to prevail," he said, while accusing Republicans of ducking debate on how to get more forces. [...]
McDermott said Republicans were worried because new voter registrations were going up "and they know those people are going to come out and vote against them. So they're trying their best to tamp down this fire, but they can't get anyone to believe them any more."
NBC Nightly News NBC's "RATS"? Four years ago, the NBC Nightly News took seriously the appearance of the letters "RATS," in a single frame of an enlargement of part of the word "BUREAUCRATS," in an anti-Gore ad from the Bush campaign. The September 12, 2000 NBC Nightly News carried two full stories on the controversy. Jump ahead four years, and on Monday night the NBC Nightly News displayed the letters "ILIE" for 16 seconds next to President George W. Bush's face in a "Decision 2004" graphic beside anchor Tom Brokaw as he introduced a story by David Gregory.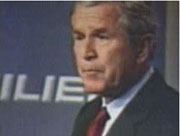 The letters came from the word "FAMILIES" in a sign on the far side of Bush, which read: "TAX RELIEF FOR WORKING FAMILIES"
At the Iowa event, Bush signed bills to extend some provisions of his tax cuts which otherwise would have expired next year.
NBC Nightly News's Tom Brokaw The right half of NBC's screen was consumed by a waist-up shot of Brokaw. On the left, at the bottom, the NBC News "Decision 2004" graphic. Above that, a side shot of Bush's head turned slightly toward the TV viewing audience. The letters "ILIE," the MRC's Tom Johnson astutely noticed, ran from screen edge to his Bush's chin. The rest of the background was blank. The letter "I" could be seen, but since it was partially cut off on the lower left side of it, viewers may have assumed they were only seeing part of another letter and so saw "LIE." If they identified it as an "I," then they saw: "ILIE." Brokaw's intro took 20 seconds, but for four seconds Bush's movements obscured the last two letters, "IE."
To view a picture of what NBC displayed, go to the posted version of this CyberAlert where the MRC's Mez Djouadi will place it: www.mediaresearch.org
Inadvertent, I'm sure. Just as was "RATS," for much less time, in the 2000 anti-Gore ad from the Bush campaign. But NBC took it quite seriously, covering it for two straight mornings on Today and devoting campaign stories to it at night.
From the September 13, 2000 CyberAlert, about the Tuesday, September 12, 2000 NBC Nightly News:
Claire Shipman showed the ad and allowed Gore to maintain: "I find it a very disappointing development. I've never seen anything quite like it."
Shipman then took the Gore campaign complaint gimmick quite seriously, trying to nail down who knew what, when: "The Bush campaign says it's a meaningless flash, silly even. But explanations for how it got there are confused. Last night, Alex Castellanos the veteran Republican ad man who made the commercial, says the reference is unintentional but today he suggests he put it there on purpose to emphasize the tail end of the word 'bureaucrats,' but he says he wasn't trying to call Al Gore a rat."
Castellanos: "It doesn't matter, all it was was a drumbeat to get you to pay attention to the real thing, bureaucrats." Shipman ominously warned: "A marketing expert on the effects of so-called subliminal advertising says in his experience, this sort of word flash is not accidental and it can be effective." Professor Robert Goodstein, Georgetown University: "I think it was a curious selection of letters to take the last four letters in bureaucrats, in saying Gore's health plan is being developed by rats. I think it's a word that contains a lot of emotions when you're talking about people's health." Shipman concluded by admitting the stunt she was gullible enough to buy: "In public the Gore campaign is trying to stay away from this story, but behind the scenes aides are pushing it relentlessly, expressing shock, passing out background materials on subliminal advertising. As for the ad itself, Republicans say it was due to be pulled off the air today anyway."
Next, David Gregory noted how the Bush campaign was "knocked off message" as Bush was "forced to answer" questions about the "rats" ad. Gregory argued: "Similar missteps last week and the debate over the debates consumed most of Bush's efforts to get his message out."
Gregory surreally concluded: "Today Bush says all of this is just another example of Democrats making quote 'everything out of anything.' Maybe so, but some believe the problem for Bush is that it doesn't take much to throw him off his message or his game."
Michael V. Kostiw withdrew from consideration yesterday as CIA executive director, the third-ranking position at the agency, after it was publicly disclosed that he had resigned from the agency under pressure more than 20 years ago.
"Allegations about my past would be a distraction from the critical work the Director of Central Intelligence needs to focus on," Kostiw said in a statement released by the CIA yesterday. He withdrew, he added, because "I thought it was in the best interests of the agency and all concerned." [...]
The change came after The Washington Post reported Sunday that, in late 1981, Kostiw was caught shoplifting a $2.13 package of bacon from a supermarket in Langley, according to two former CIA officials familiar with the incident. At the time, Kostiw had been a CIA case officer for 10 years.
In a CIA polygraph test, Kostiw's responses to questions about the incident and his past tours abroad led agency officials to place him on administrative leave for several weeks, according to four sources familiar with the events. Kostiw has told friends he decided to resign during the leave. Agency officials arranged for the misdemeanor shoplifting charge to be dropped and the police record expunged in return for his resignation and agreement to seek counseling, a former official said.
Kostiw, a colonel in an Army Reserve military intelligence unit at the Pentagon, has worked as a lobbyist for ChevronTexaco Corp. and more recently was staff director of the terrorism subcommittee of the House intelligence committee, which Goss chaired. [...]
The Pentagon said yesterday it was investigating cockpit video footage that shows American pilots attacking and killing a group of apparently unarmed Iraqi civilians.
The 30-second clip shows the pilot targeting the group of people in a street in the city of Fallujah and asking his mission controllers whether he should "take them out". He is told to do so and, shortly afterwards, the footage shows a huge explosion where the people were. A second voice can be heard on the clip saying: "Oh, dude."
The existence of the video, taken last April inside the cockpit of a US F-16 fighter has been known for some time, though last night's broadcast by Channel 4 News is believed to be the first time a mainstream broadcaster has shown the footage.
At no point during the exchange between the pilot and controllers does anyone ask whether the Iraqis are armed or posing a threat. Critics say it proves war crimes are being committed.
Civilian contractors are fleecing taxpayers; US troops don't have proper equipment; and supposedly liberated Iraqis hate them. After the release of Fahrenheit 9/11, Michael Moore received a flood of letters and emails from disillusioned and angry American soldiers serving in Iraq. Here, in an exclusive extract from his new book, we print a selection.
From: RH
To: mike@michaelmoore.com
Sent: Monday, July 12, 2003 4:57 PM
Subject: Iraqi freedom veteran supports you
Dear Mr Moore,
I went to Iraq with thoughts of killing people who I thought were horrible. I was like, "Fuck Iraq, fuck these people, I hope we kill thousands." I believed my president. He was taking care of business and wasn't going to let al Qaeda push us around. I was with the 3rd Squadron, 7th Cavalry, 3rd Infantry division out of Fort Stewart, Georgia. My unit was one of the first to Baghdad. I was so scared. Didn't know what to think. Seeing dead bodies for the first time. People blown in half. Little kids with no legs. It was overwhelming, the sights, sounds, fear. I was over there from Jan'03 to Aug'03. I hated every minute. It was a daily battle to keep my spirits up. I hate the army and my job. I am supposed to get out next February but will now be unable to because the asshole in the White House decided that now would be a great time to put a stop-loss in effect for the army. So I get to do a second tour in Iraq and be away from those I love again because some guy has the audacity to put others' lives on the line for his personal war. I thought we were the good guys.
From: Michael W
Sent: Tuesday July 13 2004 12.28pm
Subject: Dude, Iraq sucks
My name is Michael W and I am a 30-year-old National Guard infantryman serving in southeast Baghdad. I have been in Iraq since March of 04 and will continue to serve here until March of 05.
In the few short months my unit has been in Iraq, we have already lost one man and have had many injured (including me) in combat operations. And for what? At the very least, the government could have made sure that each of our vehicles had the proper armament to protect us soldiers.
In the early morning hours of May 10, one month to the day from my 30th birthday, I and 12 other men were attacked in a well-executed roadside ambush in south-east Baghdad. We were attacked with small-arms fire, a rocket- propelled grenade, and two well-placed roadside bombs. These roadside bombs nearly destroyed one of our Hummers and riddled my friends with shrapnel, almost killing them. They would not have had a scratch if they had the "Up Armour" kits on them. So where was [George] W [Bush] on that one?
It's just so ridiculous, which leads me to my next point. A Blackwater contractor makes $15,000 [£8,400] a month for doing the same job as my pals and me. I make about $4,000 [£2,240] a month over here. What's up with that?
Beyond that, the government is calling up more and more troops from the reserves. For what? Man, there is a huge fucking scam going on here! There are civilian contractors crawling all over this country. Blackwater, Kellogg Brown & Root, Halliburton, on and on. These contractors are doing everything you can think of from security to catering lunch!
We are spending money out the ass for this shit, and very few of the projects are going to the Iraqi people. Someone's back is getting scratched here, and it ain't the Iraqis'!
My life is left to chance at this point. I just hope I come home alive.
From: Specialist Willy
Sent: Tuesday March 9 2004 1.23pm
Subject: Thank you
Mike, I'd like to thank you for all of the support you're showing for the soldiers here in Iraq. I am in Baghdad right now, and it's such a relief to know that people still care about the lemmings who are forced to fight in this conflict.
It's hard listening to my platoon sergeant saying, "If you decide you want to kill a civilian that looks threatening, shoot him. I'd rather fill out paperwork than get one of my soldiers killed by some raghead." We are ta ught that if someone even looks threatening we should do something before they do something to us. I wasn't brought up in fear like that, and it's going to take some getting used to.
It's also very hard talking to people here about this war. They don't like to hear that the reason they are being torn away from their families is bullshit, or that their "president" doesn't care about them. A few people here have become quite upset with me, and at one point I was going to be discharged for constantly inciting arguments and disrespect to my commander-in-chief (Dubya). It's very hard to be silenced about this when I see th e same 150 people every day just going through the motions, not sure why they are doing it.
[ Willy sent an update in early August ]
People's perceptions of this war have done a complete 180 since we got here. We had someone die in a mortar attack the first week, and ever since then, things have changed completely. Soldiers are calling their families urging them to support John Kerry. If this is happening elsewhere, it looks as if the overseas military vote that Bush is used to won't be there this time around.
From: Kyle Waldman
Sent: Friday February 27 2004 2.35am
Subject: None
As we can all obviously see, Iraq was not and is not an imminent threat to the United States or the rest of the world. My time in Iraq has taught me a little about the Iraqi people and the state of this war-torn, poverty- stricken country.
The illiteracy rate in this country is phenomenal. There were some farmers who didn't even know there was an Operation Iraqi Freedom. This was when I realised that this war was initiated by the few who would profit from i t and not for its people. We, as the coalition forces, did not liberate these people; we drove them even deeper into poverty. I don't foresee any economic relief coming soon to these people by the way Bush has already div erted its oil revenues to make sure there will be enough oil for our SUVs.
We are here trying to keep peace when all we have been trained for is to destroy. How are 200,000 soldiers supposed to take control of this country? Why didn't we have an effective plan to rebuild Iraq's infrastructure? W hy aren't the American people more aware of these atrocities?
My fiancee and I have seriously looked into moving to Canada as political refugees.
From: Anonymous
Sent: Thursday April 15 2004 12.41am
Subject: From KBR truck driver now in Iraq
Mike, I am a truck driver right now in Iraq. Let me give you this one small fact because I am right here at the heart of it: since I started this job several months ago, 100% (that's right, not 99%) of the workers I am aw are of are inflating the hours they claim on their time sheets. There is so much more I could tell you. But the fact is that MILLIONS AND MILLIONS of dollars are being raped from both the American taxpayers and the Iraqi people because of the unbelievable amount of greed and abuse over here. And yes, my conscience does bother me because I am participating in this rip-off.
From: Andrew Balthazor
Sent: Friday August 27 2004 1.53pm
Subject: Iraqi war vet - makes me sound so old
Mr Moore, I am an ex-military intelligence officer who served 10 months in Baghdad; I was the senior intelligence officer for the area of Baghdad that included the UN HQ and Sadr City.
Since Bush exposed my person and my friends, peers, and subordinates to unnecessary danger in a war apparently designed to generate income for a select few in the upper echelon of America, I have become wholeheartedly ant i-Bush, to the chagrin of much of my pro-Republican family.
As a "foot soldier" in the "war on terror" I can personally testify that Bush's administration has failed to effectively fight terrorists or the root causes of terror. The White House and the DoD failed to plan for recons truction of Iraq. Contracts weren't tendered until Feb-Mar of 2003, and the Office of Reconstruction and Humanitarian Assistance (the original CPA) didn't even come into existence until January 2003. This failure to plan for the "peace" is a direct cause for the insecurity of Iraq today.
Immediately after the "war" portion of the fighting (which really ended around April 9 2003), we should have been prepared to send in a massive reconstruction effort. Right away we needed engineers to diagnose problems, w e needed contractors repairing problems, we needed immediate food, water, shelter, and fuel for the Iraqi people, and we needed more security for all of this to work - which we did not have because we did not have enough troops on the ground, and CPA decided to disband the Iraqi army. The former Iraqi police were engaged far too late; a plan should have existed to bring them into the fold right away.
I've left the military. If there is anything I can do to help get Bush out of office, let me know.
From: Anthony Pietsch
Sent: Thursday August 5 2004 6.13pm
Subject: Soldier for sale
Dear Mr Moore, my name is Tony Pietsch, and I am a National Guardsman who has been stationed in Kuwait and Iraq for the past 15 months. Along with so many other guard and reserve units, my unit was put on convoy escorts. We were on gun trucks running from the bottom of Iraq to about two hours above Baghdad.
The Iraqi resistance was insanity. I spent many nights lying awake after mortar rounds had just struck areas nearby, some coming close enough to throw rocks against my tent. I've seen roadside bombs go off all over, Iraqi s trying to ram the side of our vehicle. Small children giving us the finger and throwing rocks at the soldiers in the turrets. We were once lost in Baghdad and received nothing but dirty looks and angry gestures for hour s.
I have personally been afraid for my life more days than I can count. We lost our first man only a few weeks before our tour was over, but it seems that all is for nothing because all we see is hostility and anger over ou r being there. They are angry over the abuse scandal and the collateral damages that are always occurring.
I don't know how the rest of my life will turn out, but I truly regret being a 16-year-old kid looking for some extra pocket money and a way to college.
From: Sean Huze
Sent: Sunday March 28 2004 7.56pm
Subject: "Dude, Where's My Country?"
I am an LCPL in the US Marine Corps and veteran of Operation Iraqi Freedom. Mr Moore, please keep pounding away at Bush. I'm not some pussy when it comes to war. However, the position we were put in - fighting an enemy th at used women, children, and other civilians as shields; forcing us to choose between firing at "area targets" (nice way of saying firing into crowds) or being killed by the bastards using the crowds for cover - is indesc ribably horrible.
I saw more than a few dead children littering the streets in Nasiriyah, along with countless other civilians. And through all this, I held on to the belief that it had to be for some greater good.
Months have passed since I've been back home and the unfortunate conclusion I've come to is that Bush is a lying, manipulative motherfucker who cares nothing for the lives of those of us who serve in uniform. Hell, other than playing dress-up on aircraft carriers, what would he know about serving this nation in uniform?
His silence and refusal to speak under oath to the 9/11 Commission further mocks our country. The Patriot Act violates every principle we fight and die for. And all of this has been during his first term. Can you imagine his policies when he doesn't have to worry about re-election? We can't allow that to happen, and there are so many like me in the military who feel this way. We were lied to and used. And there aren't words to describe th e sense of betrayal I feel as a result.
From: Joseph Cherwinski
Sent: Saturday July 3 2004 8.33pm
Subject: "Fahrenheit 9/11"
I am a soldier in the United States army. I was in Iraq with the Fourth Infantry Division.
I was guarding some Iraqi workers one day. Their task was to fill sandbags for our base. The temperature was at least 120. I had to sit there with full gear on and monitor them. I was sitting and drinking water, and I cou ld barely tolerate the heat, so I directed the workers to go to the shade and sit and drink water. I let them rest for about 20 minutes. Then a staff sergeant told me that they didn't need a break, and that they were to f ill sandbags until the cows come home. He told the Iraqis to go back to work.
After 30 minutes, I let them have a break again, thus disobeying orders. If these were soldiers working, in this heat, those soldiers would be bound to a 10-minute work, 50-minute rest cycle, to prevent heat casualties. Again the staff sergeant came and sent the Iraqis back to work and told me I could sit in the shade. I told him no, I had to be out there with them so that when I started to need water, then they would definitely need water. He told me that wasn't necessary, and that they live here, and that they are used to it.
After he left, I put the Iraqis back into the shade. I could tell that some were very dehydrated; most of them were thin enough to be on an international food aid commercial. I would not treat my fellow soldiers in this manner, so I did not treat the Iraqi workers this way either.
This went on for eight months while I was in Iraq, and going through it told me that we were not there for their freedom, we were not there for WMD. We had no idea what we were fighting for anymore.
Will They Ever Trust Us Again? Letters from the Warzone to Michael Moore by Michael Moore, to be published by Allen Lane on October 7 at £12.99. Copyright © Michael Moore 2004. To order a copy for £12.34 with free UK p&p, call the Guardian Book Service on 0870 836 0875, or go to the Guardian bookshop.
DENVER - Several 9News viewers e-mailed us with accounts of what appeared to be a low-flying meteor.
One witness says he was walking through Bow Mar around 6:00 a.m. Tuesday and saw a shooting star, comet or something traveling from north to south at about 15 degrees off the horizon. It was travelling horizontal and according to witnesses was much larger than any shooting star they'd ever seen.
Another witness in Fort Collins saw a similar event around 5:50 a.m. It was described as a flying object which was believed to be a meteor. It was moving fast and straight from east to west and had a huge trail of fire behind it.
We contacted the Denver Museum of Nature & Science and workers there also received calls about the flash in the sky.
The Denver Museum of Nature & Science would like anyone who saw the event to record what they saw at a web site specifically designed for that.
TEHRAN, Oct 5: Iran has increased the range of its missiles to 2,000 km (1,250 miles), a senior official was quoted as saying on Tuesday. The range would put parts of Europe within reach for the first time.
Military experts had earlier put Iran's missile range at 1,300 kilometres (810 miles) which would allow it to strike anywhere in Israel.
"Now we have the power to launch a missile with a 2,000 km range," the news agency IRNA quoted influential former President Akbar Hashemi Rafsanjani as saying. "Iran is determined to improve its military capabilities."
"If the Americans attack Iran, the world will change... they will not dare to make such a mistake," Mr Rafsanjani was quoted as saying in a speech at an exhibition on Space and Stable National Security.
Washington has accused Tehran of secretly developing nuclear weapons. Iran insists its nuclear programme is aimed only at generating electricity. It says its missiles are for defensive purposes and would be used to counter a possible Israeli or US strike against its nuclear facilities.
In recent months, Iranian officials have frequently Warned that they have the capability to strike back at any aggressor, and in August they announced they had successfully tested an upgraded version of the medium-range Shahab-3 missile.
Military experts say the unmodified Shahab-3 had a range of 1,300 km (810 miles). Shahab means meteor in Persian. Tehran recently announced plans to launch its own satellite into space next year. Military experts say a satellite launch rocket could easily be adapted for military purposes.
TEHRAN, Oct 6 (AFP) - An earthquake measuring 5.2 on the open-ended Richter scale on Wednesday hit the far southeastern Iranian town of Jiroft, but there were no immediate reports of casualties or serious material damage.
"We have no reports of damage or victims, but the quake was felt in Kerman," situated 240 kilometers (145 miles) to the north, Kerman province's natural disasters office director Mohsen Salehi told the state news agency IRNA.
Jiroft has a population of 208,000, and is situated not far south of the city of Bam -- devastated in a quake in December 2003 that killed 31,000 people.
Iran is criss-crossed by seismological faults, and tremors and quakes are an almost daily occurrence.
The group hunting for banned weapons inside post-war Iraq is set to report that it has found no chemical, biological or nuclear weapons.

But the Iraq Survey Group (ISG) will assert that Saddam Hussein had plans to start producing weapons in defiance of UN sanctions, US officials say.

US President George W Bush has again defended last year's invasion of Iraq.

He said the risk of Saddam Hussein passing WMD to terror groups was "a risk we could not afford to take".

Addressing supporters in Pennsylvania, Mr Bush said that after the 11 September 2001 attacks, the US had to look for sources of WMD (weapons of mass destruction) available to terrorists.

"We had to take a hard look at every place where terrorists might get those weapons," he said.

"One regime stood out. The dictatorship of Saddam Hussein."

Before the March 2003 invasion of Iraq, the Bush administration cited WMD as the main reason for overthrowing the Iraqi regime, asserting that Saddam Hussein posed a serious and immediate threat.

But later on Wednesday, chief weapons inspector Charles Duelfer is expected to tell the Senate Armed Services Committee that Iraq did not possess WMD at the time of the invasion.

That verdict has been widely anticipated since the former head of the ISG, David Kay, resigned in January, and following the leaking of a draft copy of the report last month.

'Clandestine schemes'

British Foreign Secretary Jack Straw said the report would show that Saddam Hussein posed a more serious threat than had previously been imagined.

Speaking in Baghdad, Mr Straw said "the threat from Saddam Hussein in terms of his intentions" was "even starker than we have seen before".

Saddam Hussein would have built up his WMDs had he been left in power, Mr Straw added.

His comments were backed by Iraq's Deputy Prime Minister, Barhem Saleh, who said anyone who doubted that Saddam Hussein had WMDs only needed to visit Halabja - where the former Iraq dictator gassed thousands of Kurds.

"We know Saddam had weapons of mass destruction. He used them," Dr Saleh said, adding that in his view Saddam Hussein was himself a weapon of mass destruction.

'Definitive'

US government officials told the New York Times the report would include new evidence that Saddam Hussein had plans to break UN-imposed sanctions and renew the production of banned weapons.

The officials, speaking anonymously, said the report would detail efforts by Iraq to bypass sanctions while they were still in place, and to undermine international support for them.

Those efforts were reported to include the use of clandestine laboratories to manufacture small quantities of chemical and biological weapons for use in assassinations.

BBC Pentagon correspondent Nick Childs says the report, which runs to more than 1,000 pages, is being billed as the most definitive account yet of Iraq's weapons programmes.

Our correspondent says that with the political stakes in the US so high and Iraq so central to the debate, Republican and Democratic camps in the presidential race will seize on the different elements of the report to argue that it bolsters their case for or against the Iraq war.

However, the document will stop short of offering a final judgement about the situation before the war.

Instead, the ISG is expected to continue translating and evaluating an estimated 10,000 boxes of documents seized in Iraq.
---
Remember, we need your help to collect information on what is going on in your part of the world!
We also need help to keep the Signs of the Times online.
---

Check out the Signs of the Times Archives

Send your comments and article suggestions to us

---
Fair Use Policy
Contact Webmaster at signs-of-the-times.org
Cassiopaean materials Copyright ©1994-2014 Arkadiusz Jadczyk and Laura Knight-Jadczyk. All rights reserved. "Cassiopaea, Cassiopaean, Cassiopaeans," is a registered trademark of Arkadiusz Jadczyk and Laura Knight-Jadczyk.
Letters addressed to Cassiopaea, Quantum Future School, Ark or Laura, become the property of Arkadiusz Jadczyk and Laura Knight-Jadczyk
Republication and re-dissemination of our copyrighted material in any manner is expressly prohibited without prior written consent.
.