---
Printer Friendly Version
New! Signs Supplement: The Suicide Bombing Cycle
Picture of the Day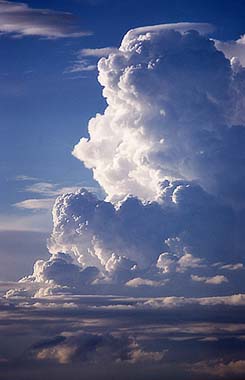 Cloudy Thinking
©2004 Pierre-Paul Feyte
We received the following e-mail today:
No one would put up with this just for oil or because some Texan said they should. It really is for you and for me.

----- Original Message -----
Subject: Fw: WOW!!!

I HOPE I DO NOT HEAR OF ANYONE BREAKING THIS ONE OR SEE DELETED
This is a ribbon for soldiers fighting in Iraq. Pass it on to everyone and pray.

Something good will happen to you tonight at 11:11 PM.

This is not a joke.

Someone will either call you or will talk to you online and say that they love you. Do not break this chain.
Send this to 13 people in the next 15 minutes. Go.

SLEEP LAST NIGHT?
Bed a little lumpy...
Toss and turn any...
Wish the heat was higher...
Maybe the a/c wasn't on...
Had to go to the john...
Need a drink of water...

???

Scroll down

Yes... It is like that!
Count your blessings, pray for them, and the next time when...
the other car cuts you off and you must hit the brakes,
or you have to park a little further from Walmart than you want to be,
or you're served slightly warm food at the restaurant,
or you're sitting and cursing the traffic in front of you,
or the shower runs out of hot water,

Think of them...

Protecting your freedom!
Doesn't that just bring the patriotic tears to your eyes? Doesn't it make you wanna stand up and belt out the Star Spangled Banner? Of course it does. That's what propaganda is designed to do: turn off your ability to think rationally by pumping your brain full of chemicals to work you into an emotional frenzy. If you support Bush and the so-called war on terror, you may indeed be experiencing such a chemical rush as you read these words.
In any case, the technique is nothing new. The Nazis were masters at this type of manipulation and brainwashing. Why do you think the Republican National Convention was held in New York, complete with references to 9/11? It's all about preventing the ability to think for oneself.
Never mind that there doesn't seem to be any evidence linking Iraq or Saddam Hussein with 9/11. Never mind that countless Iraqi civilians lost their lives. Never mind that the US government approved the use of torture on prisoners who were guilty of nothing more than being Iraqi. Never mind that depleted uranium munitions were already poisoning Iraq, so America thought it would add some more DU dust into the mix to jack up the cancer and birth defect rates in Iraq even more. These are all facts. We have presented enough evidence on the Signs page to warrant an independent and unbiased investigation of all these crimes - and yet we are still waiting.
But forget all of that - just focus on one thing:
No one would put up with this just for oil or because some Texan said they should. It really is for you and for me.
We are supposed to believe that none of the soldiers in the above photographs would tolerate such harsh conditions - unless they were fighting for a just cause: Freedom, with a capital "F". In this case, perhaps a good question to ask is: Do US soldiers in Iraq believe in what they are doing? We present the following food for thought:
FLASHBACK:
Streets of Rage

How George Bush and his Republicans mobilized half a million people

by Tom Robbins & Jennifer Gonnerman
August 31st, 2004 12:00 PM

All week in the host city, his name was a curse on the lips of hundreds of thousands.

It was the first word of the opening act in a week of protests, chanted singsong by 80 marchers who had trooped 250 miles from the Democratic convention in Boston to New York, arriving Thursday night. "Yo-ho, yo-ho, Bush has got to go-oh!" they cried, as they strode down Broadway under a luminous three-quarter moon and the piercing searchlight of a police helicopter. [...]

Sunday, in the largest protest march seen here in 20 years, thousands of placards and banners brandished his name, as half a million people angrily denounced him. His image was depicted goateed and swathed in head scarves, dubbed "The Real Terrorist." A half-dozen presidential imitators walked the streets, one dressed in a "Mission Accomplished" flight suit, another with silver duct tape wound around him, holding this sign: "Protect America with duct tape." His face leered out of a thousand posters reading, "He Lied. They Died."

Some were more personal. "Bush lied, my son died," said the sign carried by Al Zappala, 64, of Philadelphia, who this spring buried his adopted son, Sherwood, a National Guardsman killed in Iraq.

During the week, protesters hung the president's name off the Plaza Hotel, floated it with balloons into the starry ceiling of Grand Central Terminal, and draped it across Brooklyn rooftops so that sightseeing conventioneers couldn't escape the near-universal outrage he has engendered in this, the host city. As the first contingent of Sunday's marchers neared the convention site at heavily guarded Madison Square Garden, a burst of pink taffeta, shaped into a giant woman's slip, emerged from the roof of a 20-story building. "Bush lied, fire him," it read, as demonstrators cheered and waved.

Scores of cardboard coffins draped in American flags and carried shoulder-high by marchers were backed up in the throng along Seventh Avenue. A pair of Brooklyn men, film animator Michael de Seve and designer John Lake, had created the coffins after deciding that something needed to be done.

"This is the picture they tried to suppress," said de Seve, 41, whose work includes the Beavis and Butt-head film. "People haven't been able to see the cost of this war. Here is the invoice."

The arrival of George Bush and his Republicans in New York churned the city into a frenzy of events, some zany, some dangerous, some solemn. A few, like Sunday's long-contested march organized by the coalition group United for Peace and Justice, represented an unprecedented, massive display of Bush condemnation.

All week, people have invoked his name in anger and ridicule in documentaries, art shows, poetry readings, even die-ins, all part of the convulsion of creative dissent that his presidency has unintentionally unleashed.

The impact of George W. Bush on America was even more striking in the presence of Michael Hoffman, 25, from the faded steel town of Allentown, Pennsylvania, marching in Sunday's heat in one of his old Marine jackets with a contingent of the one-month-old group Iraq Veterans Against the War. Hoffman's story is fodder for the films of Michael Moore, who marched at the head of Sunday's procession. His father was one of the last workers at the now demolished Bethlehem Steel plant; his mother, a Teamster, is a janitor at a local school.

"I bounced around for about a year and a half after high school doing odd jobs," he explained at one of many press conferences he attended last week. "The last one was as an assistant manager at a toy store. I made about $15,000 a year, your basic poverty-level job. I had a good friend who was joining up, and he kind of talked me into it. I thought that the military represented a lot of good things, was a good opportunity. When I joined in February 1999, the war in the Balkans was a big deal. I thought we were doing the right thing there, and I wanted to be a part of that."

His four-year hitch in the Marines was up when news came that the Pentagon had imposed "stop-loss orders" preventing all discharges. Instead of mustering out, he and his artillery unit were dispatched to Kuwait. "We crossed over into Iraq and pushed north up to Baghdad. We were firing 155-millimeter howitzers." About a day south of the capital, he said, he drove past a town they had blasted. "It was just entirely in flames. The people were wandering around, like in a daze."

Discharged a year ago, he found himself talking with other vets haunted by what they'd seen, along with families who had lost loved ones in the conflict. "I'm just opposed to what we are doing there; this [protesting the war] is all I'm doing now."

The war has seemed like little more than the cruelest of tricks to Fernando Suárez del Solar, who carried a photo of his son, Jesús, handsome in his lance corporal's Marine uniform, along Sunday's parade route. Originally from Tijuana, Mexico, Suárez's family had moved to Escondido, California, in 1997. Military recruiters had persuaded Jesús, who aspired to be a firefighter, that if he signed up he would obtain both a green card and valuable experience. But there wasn't time.

On March 27, 2003, Suárez learned that his son had been killed in Iraq. It wasn't even hostile fire that took his son's life. He had stepped on an unexploded U.S. cluster bomb and died from his injuries. "I paid the highest price for free speech," he told a roomful of reporters at a pre-march press conference last week. "My son."

The president's invasion also turned around the life of 26-year-old Kelly Dougherty, of Colorado Springs, who spent a year in Iraq with the National Guard, part of the 220th Military Police Company. For Sunday's march she wore an Iraq Veterans Against the War T-shirt and brown camouflage shorts, with a black armband that read, "Support Our Troops, Bring Them Home Now." On Friday night, she had shyly addressed the audience at a fundraising event in a hot and crowded Soho loft. Patrolling the broiling streets around Nasiriya after its capture, she said, she had seen local citizens turn from friend to foe. "When we first got there, the people would smile when they saw us, but as time went on, they started averting their eyes and scowling," she said. "I felt like we treated them like trespassers in their own country."

As an MP, part of her job was to respond to accidents, and she had seen a grisly one in which a U.S. truck had inadvertently run down a seven-year-old boy who had been trying to cross a desert highway with his donkey. Under standing orders, the truck driver had kept right on going, reporting it later. "I couldn't blame the Iraqis for their hostility," she said.

Marching alongside Hoffman and Dougherty was Michael McPhearson, who spent 11 years in the Army, long enough to serve in the 1991 Gulf War, and to later have severe doubts about U.S. actions in Iraq. The son of a schoolteacher and a railroad worker, McPhearson, 40, grew up in Fayetteville, North Carolina, next door to Fort Bragg. He had a pair of uncles and a grandfather who were veterans of the world wars, and he joined the Army the first chance he got, at the age of 17.

He was in a mechanized infantry division that took part in the invasion of Iraq. His unit fired armor-piercing shells composed of depleted uranium. When he returned to Iraq last December as part of a peace delegation, he visited hospitals filled with children suffering from cancer. "They believe it is from those shells we fired," he said last week.

"That affected me very strongly. In Iraq, people asked me, 'If American citizens were treated the way we are being treated, would they stand for it?' I had to say, 'No, they wouldn't stand for it.' " [...]
FLASHBACK:
"It's a sniper's dream"

By Mike Davis
April 19, 2004

The young American Marine is exultant. "It's a sniper's dream,' he tells a Los Angeles Times reporter on the outskirts of Fallujah. "You can go anywhere and there so many ways to fire at the enemy without him knowing where you are."

"Sometimes a guy will go down, and I'll let him scream a bit to destroy the morale of his buddies. Then I'll use a second shot."

"To take a bad guy out," he explains, "is an incomparable "adrenaline rush." He brags of having "24 confirmed kills" in the initial phase of the brutal U.S. onslaught against the rebel city of 300,000 people.
FLASHBACK:
Iraqi 'beaten to death' by US troops

April 14, 2004
The Australian

AN Iraqi has died of his wounds after US troops beat him with truncheons because he refused to remove a picture of wanted Shiite Muslim leader Moqtada Sadr from his car, police said today.

The motorist was stopped late yesterday by US troops conducting search operations on a street in the centre of the central city of Kut, Lieutenant Mohamad Abdel Abbas said.

After the man refused to remove Sadr's picture from his car, the soldiers forced him out of the vehicle and started beating him with truncheons, he said.

US troops also detained from the same area five men wearing black pants and shirts, the usual attire of Sadr's Mehdi Army militiamen and followers.

Qassem Hassan, the director of Kut general hospital, identified the man as Salem Hassan, a resident of a Kut suburb.

He said the man had died of wounds sustained in the beating.

A spokesman for the US-led coalition could not confirm the incident.
At this point in our little recap, it appears that US troops are downright brutal. As far as we can tell, there are two primary reasons for such brutality: psychopathy, or the feedback loop of emotional turmoil, low morale, and guilt that results from slaughtering other human beings against one's own reason.
FLASHBACK:
Report Details Low U.S. Army Morale, Suicide in Iraq

By Will Dunham
Fri Mar 26, 2004 8:26 AM ET

WASHINGTON (Reuters) - U.S. soldiers in Iraq were plagued by low morale, experienced spikes in suicides last July and November and lacked access to some medications sought by military mental-health specialists to treat emotional problems, Army experts reported on Thursday.

A 12-person Army Mental Health Advisory Team issued a 38-page report on issues faced by U.S. soldiers in Iraq, including suicide, combat stress and the availability of help from the Army. The team traveled to Iraq from August to October 2003 and interviewed almost 760 soldiers.

The report found a "significant proportion" of soldiers "experienced and reported behavioral health concerns, and that there was an unmet need for behavioral services." [...]
FLASHBACK:
G.I. Seeks Conscientious Objector Status

By ERIK SCHELZIG, Associated Press Writer
March 16, 2004
NORTH MIAMI, Fla. - Shaken by a gunfight in Iraq that killed innocent civilians, a 28-year-old U.S. soldier declared the invasion "an oil-driven war" and said he won't return to the Middle East and fight.

Staff Sgt. Camilo Mejia, of Miami Beach, surrendered Monday at an air force base in Massachusetts, where he was ordered to report to his unit Tuesday at the North Miami Armory in suburban Miami.

His attorney, Louis Font, said he believes Mejia is the first soldier to turn himself in after refusing to return to Iraq. Mejia said he would seek conscientious objector status. [...]

"This is an oil-driven war, and I don't think any soldier signs up to fight for oil," Mejia said Monday after arriving at Fort Lauderdale-Hollywood International Airport.

Mejia said he was particularly upset over an incident in which he and others were ambushed and innocent civilians were hit in the ensuing gunfire.

"That's one of the things that tells me there's no such thing as a fair war, no such thing as a just war," he said.

He did not believe his refusal to return to service in Iraq affected morale among the troops, saying: "I think the morale of the soldiers is already affected." [...]
FLASHBACK:
By Robert Fisk
Feb 22, 2004

(The New Nation) Running the gauntlet of small arms fire and rocket-propelled grenades after check-in at Baghdad airportBaghdad, Iraq --I was in the police station in the town of Fallujah when I realised the extent of the schizophrenia. Captain Christopher Cirino of the 82nd Airborne was trying to explain to me the nature of the attacks so regularly carried out against American forces in the Sunni Muslim Iraqi town. His men were billeted in a former presidential rest home down the road--"Dreamland", the Americans call it--but this was not the extent of his soldiers' disorientation. "The men we are being attacked by," he said, "are Syrian-trained terrorists and local freedom fighters." Come again? "Freedom fighters." But that's what Captain Cirino called them--and rightly so. [...]

Captain Cirino's problem, of course, is that he knows part of the truth. Ordinary Iraqis--many of them long-term enemies of Saddam Hussein--are attacking the American occupation army 35 times a day in the Baghdad area alone. And Captain Cirino works in Fallujah's local police station, where America's newly hired Iraqi policemen are the brothers and uncles and--no doubt--fathers of some of those now waging guerrilla war against American soldiers in Fallujah. Some of them, I suspect, are indeed themselves the "terrorists". So if he calls the bad guys "terrorists", the local cops--his first line of defence--would be very angry indeed.

No wonder morale is low. No wonder the American soldiers I meet on the streets of Baghdad and other Iraqi cities don't mince their words about their own government. US troops have been given orders not to bad-mouth their President or Secretary of Defence in front of Iraqis or reporters (who have about the same status in the eyes of the occupation authorities). But when I suggested to a group of US military police near Abu Ghurayb they would be voting Republican at the next election, they fell about laughing. "We shouldn't be here and we should never have been sent here," one of them told me with astonishing candour. "And maybe you can tell me: why were we sent here?"

Little wonder, then, that Stars and Stripes, the American military's own newspaper, reported this month that one third of the soldiers in Iraq suffered from low morale. And is it any wonder, that being the case, that US forces in Iraq are shooting down the innocent, kicking and brutalising prisoners, trashing homes and--eyewitness testimony is coming from hundreds of Iraqis--stealing money from houses they are raiding? [...]
While low morale in only one third of soldiers may not seem so bad, note that this percentage is from the US military's own newspaper. As the following article demonstrates, not all soldiers are in agreement with this figure...
FLASHBACK:
US Soldier: "Sometimes it is a soldier's duty to tell the truth, no matter what"

By Jay Shaft
Coalition For Free Thought In Media
2/06/04

The following interview was conducted with a US Army high level commander who has been back from Iraq less than two weeks. I was shocked that someone of his rank would be so open and willing to speak out, but he told me he has lost over 100 soldiers from his command since the war started.

The man I spoke too had spent months with a front line combat unit and had seen terrible and horrific sights. I consider myself extremely fortunate to have the opportunity to get his tale of the horrors in Iraq.

I have taken every precaution to insure his identity remains a secret for reasons he details in this article. In this time of war and reprisals against soldiers who speak out, he has exhibited extreme bravery and true valor.

JS - Good morning sir, are you enjoying your time back in the states?

USO - No, to be honest, I am not enjoying being back here. I keep seeing the soldiers dying every time I turn on the news or pick up a paper. I can't get a sense of relief at being home when many of my fellow soldiers will not ever be coming home. It is hard to feel good about no longer being in Iraq. I just can't seem to put my feelings in any kind of perspective.

Imagine how terrible it is to be home and not be able to tear your mind away from the worst hellhole you could ever imagine. I pace the floor at night when I think about all the soldiers that are still there or imminently going over, I worry about the ones that are on call up or training to go take their turn at trying to stay alive.

I was in several other combat theaters and I have never seen something as bad as Iraq. I have well over 15 years in service and was in the first Gulf War. I thought I had seen every thing that had to do with combat and police actions. I was wrong, and most of my fellow officers have said the same thing. None of us were really prepared for this, no matter what type of training or experience we have. [...]

JS - All right let's get to that. You told me on the phone the other day that you don't think that there is a good reason for the soldiers continuing to die after the Pentagon has declared major combat operations to be over. Do you have any solution to this?

USO - That is one of the problems that is tearing me apart. We are stuck in Iraq now and committed to long term occupation, no matter what the Pentagon says. There is no simple solution, which is why I get angry with the peace movement on some issues. They just want us to come home right now and get out of Iraq. That is not possible right now, and if it were the US would not withdraw voluntarily. There is no way they are going to give up the foothold we have acquired. That is one of my biggest problems right now with the way they are directing this occupation.

It has nothing to do with liberation or ensuring a free election in Iraq. No way that will ever really happen. If you could see how they are parceling out the Iraq resources to the contractors there right now, you would understand what I mean. I have seen the profiteering on a first hand basis. I have never seen that level of outright greed even around the Pentagon at budget time. [...]

JS - Let's talk about troop morale. I keep hearing from so many people that all they see on the news are soldiers who were quite happy to be in Iraq, and that their morale couldn't be higher. That is one of the things I keep having hammered into my head. How happy are the troops and how is the morale on an overall basis?

USO - Are you really asking me that in a serious manner, or are you just being sarcastic? You have talked to some of the guys who came back. Did their morale seem high to you? Did they seem happy that they were going to have to go back to Iraq? I'd say about 25% of my men actually wanted to be in Iraq and were happy to be in combat.

Most of them were just there because it was their duty, or else they had no choice in the matter. It's not like you can really tell the military no, and most of the soldiers would never think about it.
It's not like we are looking to get out of our duty to fight in Iraq. We just want our duty to be meaningful and not cost unnecessary lives. [...]

I would not have this kind of problem if we were not losing good soldiers to such a stupid drive to completely rule Iraq. If this were about really liberating and freeing Iraq, we would have set up a different type of occupying force. We are trying to lock down a whole country while we keep telling the Iraqis that we are here to bring them freedom.

I have had many Iraqis tell me it is no different than when Saddam ruled them. They see us as just another master trying to control them. One of the comments you hear is that America is the white Saddam. [...]

So no, there are not a lot of recent events that would inspire high morale. The press and government will still keep trying to sell that to the public though. At best most soldiers are just committed to doing their duty and trying to stay alive. I don't think you could say that there are that many ecstatic soldiers. [...]
The military commander in this interview states quite clearly that only one quarter of his men actually wanted to be in Iraq. Keep in mind that this article was written at the beginning of February of 2004 - before the Abu Ghraib story broke.
It is also rather interesting to hear what the commander had to say about his soldiers:
Most of them were just there because it was their duty, or else they had no choice in the matter. It's not like you can really tell the military no, and most of the soldiers would never think about it.
Indeed, once you are a soldier, you cannot "Just Say No" to the military. If your commanding officer orders you to shoot, you shoot. If he orders you to maim, torture, and kill civilians, you maim, torture, and kill civilians. The Geneva Conventions? Rummy says they aren't important.
What is the alternative? A court martial? A conviction for treason? Jail time? What happens if, like many US soldiers in Iraq, you joined the military to get your green card, pay for your schooling, or to get away from your dead-end minimum wage job at the local fast food joint?
Getting back to the first line of the e-mail sent to us this morning:
No one would put up with this just for oil or because some Texan said they should. It really is for you and for me.
While some certainly do believe in their "cause" - since it seems that a soldier sent the "9-11 - We Remember" photo contained in the above e-mail - most soldiers apparently do not believe in what they are doing in Iraq. In any case, the soldiers would put up with harsh conditions and trauma "just for oil or because some Texan said they should" because "some Texan" is their commander in chief. A soldier follows orders - any American can tell you that, whether or not he has been brainwashed by the propaganda spewed forth from the depths of the neocon psyche.
As for the idea that US troops are in Iraq "for you and me" - well, let's just say that we imagine we are supposed to be feeling that warm, patriotic tingling and the tears coming back again... unfortunately, we have seen the "liberation" that American soldiers have brought to Iraq, and we want no part of it.
Click here to comment on this commentary
Text of Michael Ruppert's Speech at the Commonwealth Club
Wednesday, Sep. 01, 2004 at 9:34 AM
"I will name Richard Cheney as the prime suspect in the mass murders of 9/11 and will establish that, not only was he a planner in the attacks, but also that on the day of the attacks he was running a completely separate Command, Control and Communications system which was superceding any orders being issued by the NMCC [National Military Command Center], or the White House Situation Room." -- Michael Ruppert
The speech is long, but a fascinating read for anyone interested in the future of planet Earth. This speech -- a teaser for Ruppert's upcoming book -- is full of critical information that should be on the front page of every newspaper on the planet. It would be difficult to exaggerate the importance of this information.
Announcing the release of Michael C. Ruppert's new book
"CROSSING THE RUBICON: The Decline of the American Empire at the End of the Age of Oil"
By Michael C. Ruppert
foreword by Catherine Austin Fitts
(New Society Publishers)
Crossing the Rubicon: the Decline of the American Empire at the End of the Age of Oil by Michael C. Ruppert is a detective story that gets to the innermost core of the 9/11 attacks. It places 9/11 at the center of a desperate new America, created by specific, named individuals in preparation for Peak Oil: an economic crisis like nothing the world has ever seen.
The attacks of September 11th, 2001 were accomplished through an amazing orchestration of logistics and personnel. Crossing the Rubicon discovers and identifies the key suspects and persons of interest -- finding some of them in the highest echelons of American government -- by showing how they acted in concert to guarantee that the attacks occurred and produced the desired result.
In describing the contents of the book he has spent two and a half years researching and writing Ruppert said:
"In my new book I will be making several key points:
I will name Richard Cheney as the prime suspect in the mass murders of 9/11 and will establish that, not only was he a planner in the attacks, but also that on the day of the attacks he was running a completely separate Command, Control and Communications system which was superceding any orders being issued by the NMCC [National Military Command Center], or the White House Situation Room.
I will establish conclusively that in May of 2001, by presidential order, Richard Cheney was put in direct command and control of all wargame and field exercise training and scheduling through several agencies, especially FEMA. This also extended to all of the conflicting and overlapping NORAD drills on that day.
I will also demonstrate that the TRIPOD II exercise being set up on Sept. 10th in Manhattan was directly connected to Cheney's role.
I will also prove conclusively that a number of public officials, at the national and New York City levels, including then Mayor Rudolph Giuliani, were aware that Flight 175 was en route to lower Manhattan for 20 minutes and did nothing to order the evacuation of or warn the occupants of the South Tower. One military officer was forced to leave his post in the middle of the attacks and place a private call to his brother -- who worked at the WTC -- warning him to get out. That was because no other part of the system was taking action.
I will also show that the Israeli and British governments acted as partners with the highest levels of the American government to help in the preparation and, very possibly, the actual execution of the attacks."
"There is more reason to be afraid of not facing the evidence in this book than of facing what is in it."
Click here to comment on this article
Anti-War Activists Protest Bush Convention Speech
By Grant McCool
Fri Sep 3,12:14 AM ET
NEW YORK (Reuters) - A handful of protesters were arrested at the Republican convention on Thursday night as President Bush accepted the party's nomination for another term, and thousands of people on the street near the convention chanted "No More Bush."
One woman protester inside the convention arena took off her dress revealing a pink slip that said "fire Bush, women say bring the troops home now." The incident culminated of a week of demonstrations against the Iraq war and other Bush policies in which at least 1,800 people have been arrested.
Demonstrators have repeatedly accused Bush of lying about Saddam Hussein's weapons of mass destruction as the reason for invading Iraq. No weapons stockpiles have been found and thousands of soldiers and civilians have been killed.
It was the third night running that protesters penetrated security and entered the convention hall. Among them were members of the activist group Code Pink, which said in a statement, "We want to ask how can they secure the country if they cannot secure their own convention."
In the three hours before the start of Bush's address, about 10,000 protesters gathered within two blocks of the Madison Square Garden convention arena. As Bush began speaking inside the hall, the crowd noise outside built to a roar and then became a chant of "No More Bush." [...]
Police said at least 1,800 people were arrested in a week of demonstrations and acts of civil disobedience, the most in the history of a U.S. political convention.
One consequence of the large number of arrests has been a strain on the court system to formally charge people within 24 hours as required by law.
New York State Supreme Court Judge John Cataldo on Thursday ordered that 500 people who had been held for more than 40 hours should be processed and released. The judge took the unusual step of holding the city in contempt, and by the end of the night, the jailed protesters were let go. [...]
Click here to comment on this article
Judge orders immediate release of 470 protesters
by Sarah Ferguson
September 2nd, 2004 6:45 PM
At a press conference on Wednesday morning on the West Side Highway—just opposite the warehouse detention center that activists have dubbed "Guantanamo on the Hudson"—activists simultaneously denounced and exulted at the extraordinary number of people who have been arrested protesting the Republican Convention: 1200 on Tuesday, nearly 1800 over the week.
That's the largest number of arrests in the history of party conventions, they noted, and coming on the heals of the hundreds of thousands who marched on Sunday, the strongest show of dissent ever mounted against a president.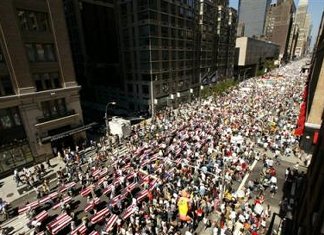 But now comes the familiar litany of stories of abuse in jail, people denied access to lawyers, locked up for no reason or held for unnecessarily long stays. Bails have gone as high as $200,000 (for the kid nabbed during Sunday's puppet burning incident), while protesters are being taken to the hospital for skin reactions and asthma attacks from the chemicals and diesel soaked into the concrete floor at the Pier 57 detention center, a former bus depot, where reports are that as many as 40 protesters at a time had been crammed into the 10' by 20' pens covered in wire mesh.
At a news conference, Police Commissioner Ray Kelly dismissed the protesters' complaints, saying the air quality at the center had been tested and found safe. Kelly maintained that most protesters were transferred to Central Booking within 90 minutes, with the longest stays being eight hours there.
"He's either grossly misinformed or that's a baldfaced lie," counters Bruce Bentley of the National Lawyers Guild, who accused the city of "deliberately slowing down the processing in order to suppress dissent and keep people from protesting" Thursday night, when Bush delivers his acceptance speech at the convention. Bentley said protesters have reported spending an average of 12 hours at the pier and much longer in Central Booking, and noted that many bystanders—including several nuns, legal observers, and a New York Times reporter—were among those held.
David Duvant, a 23-year-old student from Montreal who got swept up outside the New York Public Library on Tuesday, was released just this morning. He says he spent a total of 57 hours between the pier and Central Booking, during which time he says he was moved 14 times and repeatedly handcuffed and shackled to other protesters as young as 15. His crime: disorderly conduct, a charge that normally warrants a desk appearance ticket.
On Thursday afternoon, a judge ordered the city to immediately release 470 protesters, including some who had been waiting arraignment for three days.
"These people have already been the victims of a process," State Supreme Court Judge John Cataldo told the city's top lawyer. "I can no longer accept your statement that you are trying to comply." But at press time, reports were that the city was continuing to stall.
Among those who gathered outside the court house at 100 Centre Street were angry parents and Andre 3000 of Outkast, pissed that a member of his group was still in jail. Earlier today, 55 detainees in Central Booking launched a hunger strike to protest conditions at Pier 57 and their extended detentions. They include several bystanders caught up in the sweeps.
Meanwhile, the streets are still charged, and people are still marching and finding all sorts of ways to show their dissent. Last night a Code Pink lady zapped Dick Cheney during his speech, briefly unfurling a banner near the stage that read "Cheney And Halliburton Make A Killing Off Iraq." A dozen ACT UP members also got inside the convention, and 20 more were busted for dropping a banner and chaining themselves to the information booth in Grand Grand Central Station this morning. Bush was greeted with protests in Queens last night, and expect more noise tonight, when thousands hit the streets to shout "No!" at 9:30 p.m. when "King George" is scheduled to give his acceptance speech.
There's yet another call to "reclaim" the streets for democracy. Starting at 8 p.m. at Union Square, there will be a candlelight vigil and "drums, street theatre skits, good vibes, free food and free speech."
Click here to comment on this article
Jewish Groups Irked by Cross on Republican Podium
By Mark Egan
Wed Sep 1, 6:39 PM ET
NEW YORK (Reuters) - Speakers at this week's Republican convention make their remarks at a wooden podium that some Jewish groups find offensive because its decorative panels appear to form the shape of a Christian cross.
A cross is even more visible in a waist-high gavel stand adjacent to the podium, leading some to question whether the party is trying to send a subtle message to its base among conservative Christians.
"It is the very height of insensitivity for the Republican Party to feature a cross at the center of the podium of this convention," Ira Forman, executive director of the National Jewish Democratic Council, said in a statement.
"This wooden cross must be at least three feet (one meter) tall, and it sends a signal of exclusivity loudly and clearly."
Two other Jewish groups interviewed by Reuters expressed similar sentiments.
A convention spokesman declined to comment about the podium flap, telling reporters he did not understand why people were asking questions on the issue.
President Bus's chief political strategist, Karl Rove, told CNN he did not think the podium's decorative woodwork looked like a cross.
"My God, where do they come up with this stuff?" he said. "Does it look to you like it's a cross? I don't think so." [...]
Comment: Translation: "Of course it looks like a cross, you nitwit! The ultraconservative ultra-Christian right loves that kind of thing. And anyway, Bush was appointed by the Almighty himself..."
"I'm a Roman Catholic myself, but I continue to be amazed about the inappropriate dissolution of the line between church and state," said Village Voice media critic Michael Musto, adding that he saw the cross as a "subliminal nod to the religious right."
Separation of church and state is a key issue for U.S. Jewish voters and among the reasons why they typically vote for Democrats. Bush, who will accept the nomination as the Republican presidential candidate on Thursday, refers regularly to God and his religion in his speeches. [...]
In the 2000 election against Al Gore, Bush took about one fifth of Jewish votes. But despite irritation among some Jews about the symbolism at the convention, his support among Jews could rise to about one third in November's election, said David Twersky, director of international affairs at the American Jewish Congress.
That increased Jewish vote will come from Bush's tough stand on terrorism, his assertion of Israel's right to defend itself and because his road map for Middle East peace demands that Palestinians must stop attacks on Israel, he said.
Click here to comment on this article
POLL: TWO-THIRDS OF NEW YORKERS WANT 9/11 CASE RE-OPENED
Today as the Republican National Convention kicks off in New York City, a major new poll by Zogby International reveals that 66 percent of New Yorkers want the 9/11 investigation reopened. A majority of respondents agree that Congress or Elliot Spitzer, New York's Attorney General, should re-open the investigation and address the unanswered questions.
While the Republican Party and the Bush Administration tout their response to 9/11, the Zogby findings will show that the majority of New Yorkers doubt the official version of the events of that day. The poll found that many, including a significant percentage of Republicans, suspect complicity on the part of government officials who deliberately failed to respond to specific warnings and allowed the attacks to occur.
This is the first scientific poll of it kind in the wake of the 9/11 tragedy. Zogby International will release full details at 2pm Eastern time today.
"This stunning findings will knock the red, white and blue wind out of the Republican convention and make them regret they ever returned to the scene of the crime," predicts David Kubiak, Executive Director of 911truth.org, a coalition of researchers, journalist and victim family supporters that sponsored the poll and is dedicated to full disclosure about the 911 attacks.
"Extraordinary numbers of Americans suspect elements of our own government were complicit in the attacks of 9/11," said Nick Levis of the New York City 9/11 Truth Alliance. "This case is anything but closed."
Click here to comment on this article
Bush aides 'knew of Israeli spy probe'
Friday 03 September 2004, 11:50 Makka Time, 8:50 GMT
President George Bush's security advisers knew years in advance about an FBI investigation into whether classified information was being leaked to Israel.
US officials on Thursday said national security adviser Condoleezza Rice and her deputy Stephen Hadley were appraised of the counterintelligence investigation more than two years ago.
The counterintelligence investigation started earlier than the year-old criminal investigation now focusing on whether a Defence Department analyst passed secret documents to Israeli intelligence through the American Israel Public Affairs Committee (AIPAC).
The official said the investigation centered on whether the AIPAC was acting as a "conduit" – relaying information the group collected from the administration and the US Congress to Israel.
Comment: Isn't it curious that when they finally go about nailing a "spy" for Israel that it isn't someone Jewish, it is a gentile?
Click here to comment on this article
Thriller: Spies Or/And Victims
By: Hichem Karoui
The case of Lawrence A. Franklin, the Pentagon's official, recently accused of espionage for the account of Israel, necessarily brings to our minds the case of Jonathan Pollard, an American intelligence analyst, who in 1985 was arrested and convicted of spying for Israel too. The case is thus neither unique nor exceptional. And one cannot but state that if the American Court did not find any evidence of Pollard's guilt, it would never have sentenced him to spending the rest of his life "in the shade".
Of course, the United States of America is the closest friend to Israel, and the main funds' backer which finances the Israeli machine, as everybody knows. Yet, theses facts seemingly do not prevent the Israelis from spying and blackmailing the "most cherished friend and ally", as M. David Siegel (Israeli ambassador to Washington) depicted the relationship. America has always been attracting the Jews from the entire world, and there is no other country on earth gathering the same number of Jews except Israel itself. To be sure, America's Jews are not all necessarily convinced Zionists. The fact is that many Jews hate Zionism and consider it a big lie aiming at their extirpation from their original countries. But Zionism - as Herzl predicted - is nourished by the anti-Semitism and whenever the pressure on the Jews increases anywhere in the world, their loyalty to their countries becomes threatened by their attraction to Israel.
M. Larry Franklin is not Jewish, but he is accused by the FBI of passing classified information to the Israeli government, related to American policy toward Iran. Franklin has served as an Air Force reservist in Israel, where he served also as a specialist in foreign political-military affairs, and was reportedly based in the US Embassy in Tel Aviv. He has been since working in the Pentagon's policy offices, under the orders of M. Douglas Feith under-secretary of defense for policy, and involved with regional strategic planning.
FBI officials have been quietly investigating for the last months whether Franklin's connections with the Israelis were of a nature that pushed him to pass some sensitive information, since it was known how anxious the Israelis have grown about the Iranian nuclear business. Franklin may be of a particular interest to them in this context. He participated, for example, in secret meetings with Manucher Ghorbanifar, an Iranian who had acted as an arms deal middleman in the Iran-Contra affair during the Reagan administration. According to the New York Times <![if !supportFootnotes]> [1] <![endif]> , the "secret meetings were first held in Rome in December 2001 and were brokered by M. Ledeen. He said he arranged the meetings to put the Bush administration in closer contact with Iranian dissidents who could provide information in the war on terrorism" <![if !supportFootnotes]> [2] <![endif]> .
As a matter of fact, the Iranian affairs have grown to be recently an important issue of the struggle between Democrats and Republicans, as are also usually the relations with Israel. Then, some political aspects should be considered.
1– Franklin works under the responsibility of D. Feith. The latter has been a target of Democrat's criticism since, as an element of a study group of American Conservatives in the mid-1990s, he has urged then Israel's Prime Minister, B. Netanyahu, "to abandon the Oslo peace and reject the basis for them". Then more recently, the Democrats accused Feith of trying to manipulate intelligence to improve the Bush administration's case for war against Iraq. However, House and Senate intelligence Committee investigators found no evidence for the accusations.
2– During this presidential campaign, we see Democratic vice presidential nominee John Edwards, charging the Bush administration of abdicating responsibility for the Iranian nuclear threat to the Europeans. M. Kerry first outlined the idea of providing nuclear fuel to Iran in a speech in June – a proposal reportedly favored by many Europeans- but Edwards, who twice described the concept as a bargain, was more explicit in suggesting the Kerry administration would actively try to reach an agreement with the Iranians. <![if !supportFootnotes]> [3] <![endif]>
This is the political context of the Franklin's case. A context apparently marked by an important debate inside the USA, as well as in Europe (and with it), in Israel (and with it), about how to deal with the Iranian nuclear program. Maybe this background suggests that Larry Franklin is just a scapegoat in a game that bypasses him. Nevertheless, there are other cases making his own not that amazing for the investigators and the public as well. A little memory's refreshing would perhaps help the understanding:
In 1985 , U.S.-Israeli relations were rocked by two spy cases. Richard K. Smyth was indicted in California for illegally exporting 800 Krytons to an Israeli company. Krytons are high-speed electronic switches that can be used to detonate nuclear weapons. Israel claimed that it was not aware of needed export licenses for the devices. Smyth jumped bail in 1985 but was arrested by Spanish authorities in July 2001 .
Smyth was extradited to the United States in November 2001 , pleaded guilty in December, and was sentenced to 40 months in prison in April 2002 .
On November 21, 1985 , Jonathan Pollard, a U.S. naval intelligence employee, and his wife Ann Pollard were charged with selling classified documents to Israel for $2, 500 per month over an18 -month period. The Israeli government said the spy network, headed by former Israeli intelligence officer Raphael Eitan, was a renegade operation. In March 1987, Pollard was sentenced to life in prison, and his wife to two consecutive five-year terms. Four Israelis were also indicted, including Israeli Air Force Col. Aviem Sella. Israel promoted both Sella and Eitan, although Sella's command of a major air base and promotion were rescinded after negative U.S. reactions. Israelis continue to complain that Pollard received an excessively harsh sentence. Ann Pollard was released in 1990, and moved to Israel where she divorced Jonathan Pollard. Pollard was granted Israeli citizenship in January 1996 . It should be noticed also that Israel sought Pollard's release as part of the 1998 Wye negotiations with the Palestinians.
In addition to the Smyth and Pollard cases, U.S. Customs agents raided three U.S. companies on December 12, 1985, to seize materials describing a metallurgical process for tank guns that were being transferred illegally to Israel. In another case, three Israelis were arrested on April22 ,1986 , for conspiring to sell arms to Iran. On May 15, 1986, two Israelis were arrested in New York on another weapons selling scheme. On July 8, 1986 , U.S. Customs agents searched three U.S. companies for information about a plan to transfer technical information for cluster bombs to Israel. An Illinois company said on August 8, 1986 , that Israelis tried to steal data on aerial reconnaissance cameras. Israel denied any connection with any of these cases. In February 1997, an engineer at a military testing facility in Michigan admitted that he had "inadvertently" given classified materials to Israel over a ten-year period. Press reports in early May 2000 said that Israeli intelligence had tapped into White House and State Department communications, but a later FBI investigation cleared Israel. <![if !supportFootnotes]> [4] <![endif]>
Now, would the FBI dare to charge an American official without evidence? This is the important question. The investigators have even interviewed the under-secretary of state, Douglas Feith as well as M. Paul Wolfowitz. Would they really make both men waste their time without a sound argument?
Despite that, there are still strong defenders of Larry Franklin, not only his stunned colleagues, but also personalities like Dennis Ross, special envoy on the Arab-Israeli peace process in the first Bush administration and the Clinton presidency. He said: " The Israelis have access to all sorts of people. They have access in Congress and in the administration. They have people who talk about these things..." <![if !supportFootnotes]> [5] <![endif]> M. Yval Steinitz, the chairman of the foreign and defense committee in Parliament, is " 100 percent confident – not 99 percent, but 100 percent- that Israel is not spying in the United States". <![if !supportFootnotes]> [6] <![endif]> And this is, of course, what Sharon 's office says also. Thus, the agreement is quite complete and harmonious between Steinitz and the Israelis.
The fact is that he is perhaps not mistaken, since the activity of Aipac is quite legitimate whereas its connections to the Mossad cannot be ignored. And as we know, the espionage is precisely an illegitimate activity. Thereupon, how can we possibly reconcile between what is legitimate and what is illegitimate? And since M. Franklin is suspected and charged of passing sensitive classified information about the US policy toward Iran to AIPAC, a pro-Israel lobby group, which in turn is thought to have provided it to Israeli intelligence, then the American justice Department should logically suspend – first - the activity of Aipac as being not conformed with the law, so that the espionage charge becomes possible on these grounds. Otherwise, even if it is true that Larry Franklin provided Aipac with classified information, what makes Aipac innocent and he guilty? The espionage crime is not an act that one can perform alone. To be a real crime, it must involve at least three parties: 1 ) That from which the information has been stolen (the victim: here the USA government).2 ) That for which the information has been stolen. (The instigator or the buyer. Here the Israeli government, with Aipac's kind mediation).3 ) The agent who stole the information (M. Franklin). Without the existence of these parties, nothing can make a case worth an investigation.
Now, we must be aware that we are here talking about a powerful, legitimate organization (AIPAC), with 65,000 members in the USA. Who among them, or among the American officials, ignore the relationship between AIPAC and the Israeli intelligence? If they do – and they do – where is the mistake? Is it lying with L. Franklin who, like many other American officials, deals with Aipac and give and take information? Or is it lying with Aipac, which takes what it is given and passes it to the Israeli boss? Or is it rather lying with the American government, which knows very well what are AIPAC's activities and aims, and tries to play the part of the naive and claims to be surprised?
Either some party is fooling the others, or they are, all of them, fooling each other. And like so many cases of this kind, we see rarely any party acknowledging its mistakes and recognizing its crimes, because in the espionage world there are neither responsibilities nor responsible people, neither chiefs nor subordinates, and most of all nobody knows the other when they are discovered. They may be working together, hand in hand, for years, but in total darkness. That's why, when someone switch on the lights, and they see each other and what they have just been doing, they run away and deny everything. And while trying to repair the unredeemable, they may sometimes need a scapegoat. Thus, anyone of them – rarely the powerful, though – may pass from the status of agent in activity to that of victim in custody.
NOTES:
---
Iran condemns hostage taking in Russia
www.chinaview.cn 2004-09-03 21:32:34
TEHRAN, Sept. 3 (Xinhuanet) -- Iran condemned on Friday the hostage taking of school children in southern Russia and expressed grave concerns over the development of the situation, the official IRNA news agency reported.
"Taking hostages and killing innocent people can not be justified by any motive or reason," Foreign Ministry spokesman Hamid-Reza Asefi was quoted as saying.
Describing the act as "grossly inhuman", Asefi expressed hope that the incident would soon come to an end with the release of the hostages unharmed.
Click here to comment on this article
Iran welcomes IAEA report on uranium
www.chinaview.cn 2004-09-02 15:46:05
TEHRAN, Sept. 2 (Xinhuanet) -- Iran welcomed the world nuclear watchdog's latest report, in which the UN agency cautiously cleared Tehran of enriching uranium on purpose, the official IRNA newsagency reported Thursday.
"The report clearly reflects our stands on nuclear program and approves that our predictions were in the right direction," Foreign Ministry spokesman Hamid-Reza Asefi was quoted as saying.
Earlier Wednesday, it was reported that the International Atomic Energy Agency (IAEA) said in a report that Iran might be honest when it claimed that the uranium contamination found by the IAEA inspectors had come from some imported equipments.
Asefi said "it is clearly stated in IAEA's latest report that 'some of the previous ambiguities have been eliminated'. That is the result of comprehensive talks between IAEA inspectors and our nuclear technicians and scientists."
Asefi also reiterated that Iran has from the very beginning had a transparent and frank cooperation with the IAEA and its inspectors.
"We believe there is today no ambiguity in Iran's file at the IAEA, or if there is any, it is over very minute and insignificant matters," he said.
"Iran has cooperated with the IAEA quite well, and that cooperation would continue in the future as well, since the Islamic Republic of Iran is determined to abide by all its commitments within the framework of the Non-Proliferation Treaty and its additional protocol," Asefi added.
As to another paragraph in the IAEA report which still urges Iran to provide transparent cooperation, Asefi said that it was only a routine reminder.
"The agency's general policy in such cases is to ask all countries to observe transparency in their nuclear projects, and in this latest report, too, it has once again asked Iran to observe transparency," he said.
"We hope the remaining minute issues would be resolved speedily in near future, although some parties keep making hue and cry overthe issue and try to create a chaotic atmosphere," Asefi concluded.
On Wednesday, Ali Akbar Salehi, Iran's former representative to the IAEA, also said that Iran's nuclear case would not be referred to the United Nations Security Council according to the information he had received.
The IAEA will hold a board of governors' meeting in Vienna in September, with Iran's nuclear issue high on the agenda.
Iran has been consistently denying the US accusation that it issecretly developing atomic weapons, asserting that its nuclear research is fully peaceful and US accusation is politically motivated.
Comment: Haven't we been here before. The IAEA puts out a report that pretty well exonerates the country involved while the US and Israel shriek that they know more than the IAEA does?
Iran: Time for a New Approach: Report of an Independent Task Force
Sponsored by the Council on Foreign Relations
Comment: Here is the Council on Foreign Relations report issued in August 2004 detailing the Council's findings and recommendations on Iran. There are a few heavy hitters on the panel including Frank Carlucci, Robert M Gates and Zbigniew Brzezinski. We've added some information about panel members conveniently absent from the report.
Co-chair of the report, Frank Carlucci, is the ex-National Security Advisor, ex-Secretary of Defence, ex-Deputy Director of the CIA and current Carlyle Group President. Carlucci disagrees with the moderation urged by the report and states:
"While I agree with the main thrust of the report I do not agree that the U.S. interventions in Iraq and Afghanistan may offer Iran new incentives to open a mutually beneficial dialogue. On the contrary, I believe Iran has few incentives for dialogue. They are convinced we intend to overthrow them, and they believe we are bogged down in Iraq and have lost what support we had in the Arab world. From their perspective, it is better to wait and let us stew in our own juice. Overtures on our part, under these circumstances, are likely to be interpreted as a sign of weakness and be rebuffed."
We learn from The Centre of Co-Operative Research:
The Committee for Peace and Security publishes an open letter to President Bill Clinton outlining a 9-point "comprehensive political and military strategy for bringing down Saddam and his regime." The letter is signed by a litany of former US government officials known for their neoconservative viewpoints. Several of the signatories are also involved with the Project for the New American Century and had endorsed a similar letter published by that organization the previous month.
[Committee For Peace and Security, 2/19/98; CNN, 2/20/98 Sources: February 19, 1998 Open Letter to Bill Clinton]

People and organizations involved: Jarvis Lynch, Robert C. McFarlane, Joshua Muravchik, Frederick L. Lewis, Robert A. Pastor, Bernard Lewis, Zalmay M. Khalilzad, Frank Gaffney, Jeffrey Gedmin, Fred C. Ikle, Sven F. Kraemer, Martin Peretz, Roger Robinson, Peter Rodman, Leon Wienseltier, Peter Rosenblatt, Max Singer, Caspar Weinberger, Helmut Sonnenfeldt, Paula J. Dobriansky, William B. Clark, Richard Burt, Frank Carlucci, William Kristol, Richard Perle, Paul Wolfowitz, Elliott Abrams, Gary Schmitt, Michael Ledeen, Robert Kagan, Dov Zakheim, Donald Rumsfeld, Douglas Feith, John R. Bolton, Stephen Solarz, David Wurmser, Stephen Bryen, Jeffrey T. Bergner, Richard Armitage, Richard V. Allen
We also learn that Carlucci knew Donald Rumsfeld pretty well and has been described as a friend in Forbes magazine - in fact numerous reports claim they were roommates in college.
So do you think a friend of Donald Rumsfeld and who employed George H Bush (senior) as an advisor at Carlyle and co-signing a strategy urging Clinton to invade Iraq in 1998 is going to be impartial and objective? You be the judge.
Another heavy hitter on the panel is co-chair Robert M Gates, CIA head from 1991 to 1993. From a FAS report we learn that:
"Robert M. Gates was the Central Intelligence Agency's deputy director for intelligence (DDI) from 1982 to 1986. He was confirmed as the CIA's deputy director of central intelligence (DDCI) in April of 1986 and became acting director of central intelligence in December of that same year. Owing to his senior status in the CIA, Gates was close to many figures who played significant roles in the Iran/contra affair and was in a position to have known of their activities. The evidence developed by Independent Counsel did not warrant indictment of Gates for his Iran/contra activities or his responses to official inquiries."
So is a report about Iran co-chaired by the Director of Intelligence during a period when his minions were taking part in illegal sales of arms to Iran is going to be objective and impartial? You be the judge.
From Wikipedia we learn this about co-chair Zbigniew Brzezinski:
From 1977 to 1981, co-chair Brzezinski served as National Security Advisor to US President Jimmy Carter, where he was known for his hardline policies on the Soviet Union and his support for mujaheddin training camps in Pakistan and Afghanistan, which were run by Pakistani security services with financial support from the CIA and Britain's MI6.

Brzezinski's policies had the explicit aim of promoting radical Islamist and anti-Communist forces to overthrow the secular People's Democratic Party of Afghanistan government in Afghanistan, which had been destabilized by coup attempts against Hafizullah Amin, the power struggle within the Soviet-supported Khalq faction of the PDPA and a subsequent Soviet military intervention.
So is a report co-chaired by a "co-architect" of modern fundamentalist terrorism leading to the problems in Afghanistan is going to be impartial an objective? You be the judge.
We also note that Brzezinski lost his job with the defeat of Jimmy Carter in 1980, after the Republicans arranged a deal with the Iranian mullahs to hold the US hostages until after the elections. Had they been released before, it would have given Carter a boost. Instead the Iranians released the hostages on the day of Reagan's coronation...er inauguration. Might he hold a grudge? You be the judge.
Note the CFR report puts in a standard disclaimer:
Founded in 1921, the Council on Foreign Relations is an independent, national membership organization and a nonpartisan center for scholars dedicated to producing and disseminating ideas so that individual and corporate members, as well as policymakers, journalists, students, and interested citizens in the United States and other countries, can better understand the world and the foreign policy choices facing the United States and other governments. The Council does this by convening meetings; conducting a wide-ranging Studies program; publishing Foreign Affairs, the preeminent journal covering international affairs and U.S. foreign policy; maintaining a diverse membership; sponsoring Independent Task Forces; and providing up-to-date information about the world and U.S. foreign policy on the Council's website, www.cfr.org.

THE COUNCIL TAKES NO INSTITUTIONAL POSITION ON POLICY ISSUES AND HAS NO AFFILIATION WITH THE U.S. GOVERNMENT. ALL STATEMENTS OF FACT AND EXPRESSIONS OF OPINION CONTAINED IN ITS PUBLICATIONS ARE THE SOLE RESPONSIBILITY OF THE AUTHOR OR AUTHORS.

The Council will sponsor an Independent Task Force when (1) an issue of current and critical importance to U.S. foreign policy arises, and (2) it seems that a group diverse in backgrounds and perspectives may, nonetheless, be able to reach a meaningful consensus on a policy through private and nonpartisan deliberations.Typically, a Task Force meets between two and five times over a brief period to ensure the relevance of its work. Upon reaching a conclusion, a Task Force issues a report, and the Council publishes its text and posts it on the Council's website.
So is a report from two ex-National Security Advisers and an ex-head of the CIA going to be taken lightly by the Bush Administration? You be the judge. Keep in mind that George H. Bush (senior) was once held a position on Carlucci's Carlyle group as an advisor and George W. Bush (junior) served on the board of a company owned by Carlyle. Also note that Carlucci was a protege of Rumsfeld and secretary of state and ex-secretary of defense, and Brzezinski once co-chaired the Bush National Security Advisory Task Force.
The Octopus has tentacles everywhere.... but not to worry, nothing to see and no conflicts of interest here, as the report soothingly reassures us:
THE COUNCIL TAKES NO INSTITUTIONAL POSITION ON POLICY ISSUES AND HAS NO AFFILIATION WITH THE U.S. GOVERNMENT. ALL STATEMENTS OF FACT AND EXPRESSIONS OF OPINION CONTAINED IN ITS PUBLICATIONS ARE THE SOLE RESPONSIBILITY OF THE AUTHOR OR AUTHORS.
Keep in mind whilst reading this report that there's a massive US force on the Iranian eastern and western doorsteps, Israel is the only country with nuclear capabilities in the Middle East, Iran was described as one of the "axis of evil" by George W Bush in his 2002 State of the Union Address, and "interesting" facts may still be available regarding the Iran Contra affair.
"Mutually beneficial dialogue" between the US and Iran is most likely going to be in the form of "Be a good boy and we won't do to to you what we did to Iraq."
Anyway, happy reading. This is the executive summary (read "dummy brief") for those too busy invading countries (where the installment of the new leader went horribly wrong) to read the whole report. A map of Iraq is conveniently included for those unaware of Iran's location. Hint: it's the country on the right of Iraq and to the left of Afghanistan.
EXECUTIVE SUMMARY

Twenty-five years after its Islamic revolution, Iran represents a challenge and an opportunity for the United States. The issues at stake reflect the urgent and multifaceted dilemmas of U.S. security in the post-9/11 era: nuclear proliferation, state support of terrorism, the relationship between religion and politics, and the imperative
of political and economic reform in the Middle East. At this time, as Iraq—Iran's neighbor and historic adversary—embarks on a difficult transition to post-conflict sovereignty, and as the International Atomic Energy Agency (IAEA) extends its scrutiny of Iranian nuclear activities, Iran looms large on the U.S. policy agenda.
Recognizing this relevance to vital U.S. interests, the Task Force advocates selectively engaging with Iran to address critical U.S. concerns.

The Task Force centered its deliberations on Iran's domestic situation and overall foreign policy, in order to illuminate the context for U.S. policy. It did so in the recognition that the long absence of U.S. relations with Iran and Washington's limited ongoing contact with the country mean that any assessment of the internal dynamics
of the Islamic Republic is inevitably imperfect. Nevertheless, it is the view of this Task Force that despite considerable political flux and popular dissatisfaction, Iran is not on the verge of another revolution. Those forces that are committed to preserving Iran's current system remain firmly in control and currently represent the
country's only authoritative interlocutors. Direct U.S. efforts to overthrow the Iranian regime are therefore not likely to succeed; nor would regime change through external intervention necessarily resolve the most critical concerns with respect to Iran's policies. The ferment of recent years demonstrates that the Iranian people themselves will eventually change the nature of their government for the better. In the meantime, the durability of the Islamic Republic and the urgency of the concerns surrounding its policies mandate that the United States deal with the current regime rather than wait for it to fall.

U.S. concerns have long focused on Iran's activities and intentions toward its neighbors.Over the past decade, Iran's foreign policy has gradually acceded to the exigencies of national interest, except in certain crucial areas where ideology remains paramount. As a result,Tehran has reestablished largely constructive relations with
its neighbors and has expanded international trade links. The changing regional context has produced new pressures and uncertainties for Iran. The Task Force concluded that although Iran's leadership is pursuing multiple avenues of influence and is exploiting Iraqi instability for its own political gain, Iran nevertheless could play a potentially significant role in promoting a stable, pluralistic government in Baghdad. It might be induced to be a constructive actor toward both Iraq and Afghanistan, but it retains the capacity to create significant difficulties for these regimes if it is alienated from the new post-conflict governments in those two countries.

The Task Force also reaffirms the proposition that one of the most urgent issues confronting the United States is Iran's nuclear ambitions. Although Task Force members voiced differing opinions on whether evidence is sufficient to determine that Iran has fully committed itself to developing nuclear weapons, the Task Force agreed that Iran is likely to continue its pattern of tactical cooperation with the International Atomic Energy Agency while attempting to conceal the scope of its nuclear program in order to keep its options open as long as possible.

At the core of the Task Force's conclusions is the recognition that it is in the interests of the United States to engage selectively with Iran to promote regional stability, dissuade Iran from pursuing nuclear weapons, preserve reliable energy supplies, reduce the threat of terror, and address the "democracy deficit" that pervades the Middle East as a whole. For these reasons, the members advocate a revised strategic approach to Iran.

The Task Force concluded that the current lack of sustained engagement with Iran harms U.S. interests in a critical region of the world and that direct dialogue with Tehran on specific areas of mutual concern should be pursued.

1.) A political dialogue with Iran should not be deferred until such a time as the deep differences over Iranian nuclear ambitions and its invidious involvement with regional conflicts have been resolved. Rather, the process of selective political engagement itself represents a potentially effective path for addressing those differences. Just as the United States maintains a constructive relationship with China (and earlier did so with the Soviet Union) while strongly opposing certain aspects of its internal and international policies,Washington should approach Iran with a readiness to explore areas of common interests, while continuing to contest objectionable policies. Ultimately, any real rapprochement with Tehran can only occur in the context of meaningful progress on the most
urgent U.S. concerns surrounding nuclear weapons, terrorism, and regional stability.

2.) A "grand bargain" that would settle comprehensively the outstanding conflicts between Iran and the United States is not a realistic goal, and pursuing such an outcome would be unlikely to produce near-term progress on Washington's central interests. Instead, the Task Force proposes selectively engaging Iran on issues where U.S. and Iranian interests converge, and building upon incremental progress to tackle the broader range of concerns that divide the two governments.

3.) U.S. policies toward Tehran should make use of incentives as well as punitive measures. The U.S. reliance on comprehensive, unilateral sanctions has not succeeded in its stated objective to alter Iranian conduct and has deprived Washington of greater leverage vis-à-vis the Iranian government apart from the threat of force. Given the increasingly important role of economic interests in shaping Iran's policy options at home and abroad, the prospect of commercial relations with the United States could be a powerful tool in Washington's arsenal.

4.) The United States should advocate democracy in Iran without relying on the rhetoric of regime change, as that would be likely to rouse nationalist sentiments in defense of the current regime even among those who currently oppose it. The U.S. government should focus its rhetoric and its policies on promoting political evolution that encourages Iran to develop stronger democratic institutions at home and enhanced diplomatic and economic relations abroad. Engaging with the current government to address pressing regional and international issues
need not contradict U.S. support for these objectives; indeed, engagement pursued judiciously would enhance the chances of internal change in Iran.

5.) The Task Force is mindful of repeated efforts over the last twenty-five years to engage the regime in Tehran, and that all of these have come to naught for various reasons. However, the Task Force believes that the U.S. military intervention along Iran's flanks in both Afghanistan and Iraq has changed the geopolitical landscape in the region. These changes may offer both the United States and Iran new incentives to open a mutually beneficial dialogue, first on issues of common interest, such as regional stability, and eventually on the tough issues of terrorism and proliferation.We recognize that even the most perspicacious policy toward Iran may be stymied by Iranian obstinacy.

Recommendations for U.S. Policy

In pursuit of the new approach outlined above, the Task Force recommends the following specific steps to address the most urgent issues of concern:

1.) The United States should offer Iran a direct dialogue on specific issues of regional stabilization. This should entail a resumption and expansion of the Geneva track discussions that were conducted with Tehran for eighteen months after the 9/11 attacks. The dialogue should be structured to encourage constructive Iranian involvement in the process of consolidating authority within the central governments of both Iraq and Afghanistan and in rebuilding their economies. Regular contact with Iran would also provide a channel to address concerns
that have arisen about its activities and relationships with competing power centers in both countries. Instead of aspiring to a detailed road map of rapprochement, as previous U.S. administrations have recommended, the executive branch should consider outlining a more simple mechanism for framing formal dialogue with Iran. A basic statement of principles, along the lines of the 1972 Shanghai Communiqué signed by the United States and China, could be developed to outline the parameters for U.S.-Iranian engagement, establish the overarching objectives for dialogue, and reassure relevant domestic political constituencies on both sides.The effort to draft such a statement would give constructive focus and substance to a serious, but also realistic, bilateral dialogue. Should that effort end in stalemate, it should not preclude going forward with the dialogue on specific issues.

2.) The United States should press Iran to clarify the status of al- Qaeda operatives detained by Tehran and make clear that a security dialogue will be conditional on assurances that its government is not facilitating violence against the new Iraqi and Afghan governments or the coalition forces that are assisting them. At the same time,Washington should work with the interim government of Iraq to conclusively disband the Iraq-based
Mojahideen-e Khalq Organization and ensure that its leaders are brought to justice.

3.) In close coordination with its allies in Europe and with Russia, the United States should implement a more focused strategy to deal with the Iranian nuclear program. In the immediate future, Iran should be pressed to fulfill its October 2003 commitment to maintain a complete and verified suspension of all enrichment-related and reprocessing activities. While this suspension is in effect, the United States and other members of the international community should pursue a framework agreement with Iran that would offer a more durable solution to the nuclear issue. Such an agreement should include an Iranian commitment to permanently renounce uranium enrichment
and other fuel-cycle capabilities and to ratify the International Atomic Energy Agency's Additional Protocol,
an expanded set of safeguards intended to verify the peaceful intentions of its nuclear program. In return, the United States should remove its objections to an Iranian civil nuclear program under stringent safeguards and assent to multilateral assurances that Tehran would be able to purchase fuel at reasonable market rates for nuclear power reactors as long as it abided by its nonproliferation commitments. The agreement should
also commit both sides to enhancing political and economic relations, through a dialogue that would take place in parallel with Iran's established talks with the European Union.

In the short term, the United States should press the IAEA to exercise its Additional Protocol verification rights
vigorously in order to deter and detect any clandestine nuclear activities. This should serve as a decisive test case for Iranian compliance with its obligations under Article II of the Nonproliferation Treaty and for the credibility and viability of the global nuclear nonproliferation regime. Tehran must clearly understand that unless it demonstrates real, uninterrupted cooperation with the IAEA process, it will face the prospect of multilateral sanctions imposed by the United Nations Security Council.Over the longer term, the United States should aim to convene a dialogue on issues of cooperative security involving Iran and its nuclear-armed neighbors.

4.) The United States should resume an active involvement in the Middle East peace process and press leading Arab states to commit themselves to providing genuine, substantive support for both the process and any ultimate agreements. Iranian incitement of virulent anti-Israeli sentiment and activities thrives when there is no progress toward peace. Efforts to curtail the flows of assistance to terrorist groups must be coupled with steps to offer a meaningful alternative to the continuing cycle of violence. A serious effort on the part of Washington aimed
at achieving Arab-Israeli peace is central to eventually stemming the tide of extremism in the region.

5.) The United States should adopt measures to broaden the political, cultural, and economic linkages between the Iranian population and the wider world, including authorizing U.S. nongovernmental organizations to operate in Iran and consenting to Iran's application to begin accession talks with the World Trade Organization. Iran's isolation only impedes its people's ongoing struggle for a more democratic government and strengthens the hand of hard-liners who preach confrontation with the rest of the world. Integrating Iran into the international community through formal institutional obligations as well as expanded people-to-people contacts will intensify demands for good governance at home and add new constraints on adventurism abroad.
Click here to comment on this article
Hopes raised for weekend release of French hostages
BAGHDAD, Sept 3 (AFP) - Hopes grew Friday that two French journalists kidnapped two weeks ago in Iraq would be released by their Islamist captors.
"They are out of danger as was declared yesterday by Sheikh Hareth al-Dhari, their release could just be a matter of time," said Sheikh Abdel Salam al-Kubeisi, an influential cleric on the Committee of Muslim Scholars.
Kubeisi's organisation has privileged contacts with the Sunni militant groups operating in Iraq. One expert on the militants said the two Frenchmen were being held in the Sunni insurgent stronghold of Fallujah, west of Baghdad, and suggested that recent US strikes on the town risked complicating the negotiations.
Another source with close links to the insurgency told AFP on condition of anonymity that journalists Georges Malbrunot and Christian Chesnot were still in the hands of the Islamic Army in Iraq and being detained in the Baghdad region.
But French diplomatic sources in Baghdad said Friday afternoon they had no fresh information on the whereabouts of the two reporters and expressed irritation at the "completely groundless" speculation on their fates of recent days.
The pair abducted August 20 on the perilous road between Baghdad and Najaf are "alive, in good health and being well treated" but still captive, one diplomat said, on condition of anonymity.
"There is hope and a great chance of a happy outcome. When will this happen? No one can tell. Maybe today, tomorrow or the day after that, but the situation in Iraq is such that it could not take much to scupper the whole process."
The Islamic Army in Iraq follows the strict Wahabist school of Islam and has already claimed responsibility for several abductions and executions in Iraq, including the killing of Italian reporter Enzo Baldoni last week.
The militant group thought to be based mainly in Fallujah has demanded Paris lift a controversial ban on headscarves in state schools to secure the release of the hostages.
But the law came into effect regardless on Thursday as the French school year began. The ultimatum from the captors was the first time kidnappers here had made demands external to Iraq.
However the targeting of a country which vigorously opposed last year's US-led invasion apparently backfired as France managed to muster broad international support for its efforts to free the journalists and united the vast majority of Muslim institutions behind its cause.
Messages of support continued to flow in Friday, with Shiite radical leader Moqtada Sadr calling for the reporters' release in recognition of France's anti-war stance through a sermon read by one of his aides.
Another member of Sadr's organisation accused America of masterminding the kidnappings during a vitriolic sermon in Baghdad.
"We have concrete information confirming that it is the Americans who are behind the abduction. The aim is to turn the people and government of France against us," Sheikh Nasser al-Assadi told worshippers at al-Hikma mosque in Sadr City.
Hardline Sunni cleric Sheikh Mahdi Al-Sumaidaie urged the kidnappers to spare the pair and lavishly praised France in his Friday sermon, applauding the country's opposition to the US-led invasion of Iraq and hailing French media coverage.
Abdullah Zekri, who represented the Paris Mosque in a delegation which travelled to Baghdad for talks on Thursday, cited "fear of the Americans" and pressure from some groups wishing to involve France in the conflict as the main reasons delaying the release.
The delegation of the French Council for the Muslim Faith had travelled to Iraq to issue a fresh appeal for the journalists' freedom.
Though it did not reveal its sources, members of the delegation had voiced optimism that Malbrunot and Chesnot could be released very soon following a meeting with the Committee of Muslim Scholars.
The delegation left Iraq on Thursday night and was Friday back in the Jordanian capital with French Foreign Minister Michel Barnier awaiting new developments.
"We are still in Amman waiting for news. We hope it will all happen today," said Mohammed Beshari, who heads the French Federation of French Muslims.
Meanwhile Iraqi President Ghazi al-Yawar, who was due in Paris on Sunday to start a European tour, postponed his visit in the light of the continuing hostage crisis.
Comment: There is still no word on whether the hostages have been released or not. According to Le Monde, it is a question of days, not hours. What is intriguing in this report is that an aid to Muqtada Sadr says it is the Americans who masterminded the kidnappings. We think it likely that more than one country was involved.
The situation has been confusing this week, with the "kidnappers" giving a deadline of what was thought to be Tuesday night, and then Wednesday. Jacques Chirac was obliged to set back a meeting with his Minister of Finance, Nicolas Sarkozy, until Wednesday because he was personally involved in trying to settle the dispute. Obviously something clicked and by Wednesday evening, the situation was looking more and more hopeful. More on that story below.
However, we find it funny that it was French journalists that were targeted. Moreover, it is curious that it was two French journalists who have been sympathetic to the Palestinians, as this next article notes:
Click here to comment on this article
Free the French Journalists in Iraq
Randa Takieddine Al-Hayat 2004/09/1
A French Muslim woman, who protested in France against the law of banning the headscarf, said that she does not want her veil to be tainted with innocent blood.
The kidnapping of the two French colleagues, Christian Chesnot and Georges Malbrunot, is a crime that defiles the image of Islam and the Arabs; not only in France but around the world. What is the meaning in this horrid blackmail of innocent lives who did their job with great loyalty and professionalism? Malbrunot was covering the news of the Middle East and the Palestinian issue with great balance, in addition to recording the Israeli practices inside the Palestinian territories, to portray the daily Israeli violations of Palestinian rights to the public opinion in France. As for Christian Chesnot, he too is a professional who wrote a book on the Palestinian crisis under the Israeli occupation. Do the kidnappers wish to deprive the world of knowing the truth simply because of some awful blackmail?
Blackmail is cowardly. It is a crime when used in the name of Islam with a country such as France; Jacques Chirac is the most fervent defender of real Islam, the Arabs, and their issues.
France opposed the war on Iraq. France is the most persistent country from the European Union in demanding respect of the Palestinians' rights, the necessity to dismantle the Israeli settlements, and ending the Israeli occupation. France passed the headscarf law only in public schools, because the state is secular and respects all religions outside the government's range. Moreover, France continuously objected to sending troops or foreign forces to Iraq because its president is aware of the tragedies of occupation.
How can it be possible for these organizations, which claim to be Islamic, to threaten killing innocent people and silencing voices that report bitter realities in an Arab world that has never sunk so low? How can it be possible for the Iraqi Prime Minister Iyad Allawi to criticize a country like France for its neutralism? Does Mr. Allawi want to lure the French armies into the swamp of the American armies and their allies, in an Iraq which the American forces with its modernized military arsenal and technologically advanced weapons were not capable of securing stability; where innocent people are kidnapped by gangs, and mafias whose mushrooming was reinforced by the American occupation?
Using the lives of Georges Malbrunot and Christian Chesnot has united the French because the French public opinion refuses blackmail. However, God forbid, if the two colleagues are murdered, it would greatly damage the image of Islam and the French Muslims who are united in their demand for the release of the two journalists.
What is required is the prompt release of Georges Malbrunot and Christian Chesnot and putting an end to their psychological torture, and sending them home to their families and jobs. They are soldiers of freedom and justice. Let the crime against them and against all the detained journalists around the world be stopped in the name of freedom and justice.
Comment: While we imagine there may be some deluded Islamic fighters who are against anyone and everyone Western, and that such people might kidnap the French journalists, in spite of the wise words of this writer, given the well-known connections between the CIA and Mossad and "Islamic terrorists", we consider it far more likely that these acts are being done in the name of Islam in order to soil that name. These kidnappings and beheadings then go straight into the homes of millions of Americans and only confirm the idea they have that Islam is a blood thirsty religion and that Arabs are a crazy and violent people.
Who benefits from cultivating that image?
Israel and its "best friend" the US. (Please note, all those who think we are talking about all Israelis and all Americans: we consider that our readers are intelligent, that you will understand that these are shorthand terms referring to the governments of these countries, their military-industrial complexes. End parentheses.)
Then there was this curious bit of editorialising from Baghdad on the question...
Click here to comment on this article
Iraqi mouthpiece blames Chirac for kidnappings
BAGHDAD, Sept 2 (AFP) - A newspaper controlled by the Iraqi prime minister on Thursday blamed French President Jacques Chirac's refusal to help in Iraq for the kidnapping of two French journalists.
In an editorial headlined "Chirac you did not hear our pleas", the Baghdad newspaper said: "Chirac, who wants to present himself as fair, must take his share of responsibility in the kidnapping of his two compatriots as he opposed all international resolutions aimed at restoring Iraqis' security."
The newspaper is the mouthpiece of Prime Minister Iyad Allawi's party, the Iraqi National Accord.
Comment: So now it is not about the veil in schools, but it is a bit of revenge on France for not helping out the Iraqi carpetbaggers and their American backers. Perhaps they know more about the kidnappers true motives than the rest of us.
Click here to comment on this article
"Me, too! Me, too!" Department
Berlusconi says Italy helped to free French hostages
ROME, Sept 3 (AFP) - Italian Prime Minister Silvio Berlusconi said on Friday that his government had contributed to efforts to secure the release of two French journalists held hostage by Islamists in Iraq.
"We have worked a lot and in all possible directions," Berlusconi told a press conference, as French diplomats and Muslim clerics in Iraq expressed optimism that the pair would be released soon.
"The French side also made use of our help. I hope we made a very important contribution," he said, without giving further details.
Click here to comment on this article
Republicans make France their whipping boy
NEW YORK, Sept 2 (AFP) - More than a year after falling out with the United States over the Iraq war, France is still a prime target for the rage of Republicans, who are not showing much amour for the longtime US ally.
Democrat John Kerry may be enemy number one but France is a close number two at the chest-thumping Republican national convention, where the word Paris is code for weakness, indecision and international cooperation.
"Senator Kerry has made it clear that he would use military force only if approved by the United Nations," Senator Zell Miller said in a thundering address to the party faithful on Wednesday.
"Kerry would let Paris decide when America needs defending. I want Bush to decide," he said, drawing cheers from the crowd.
Throughout their four-day gala, Republicans have painted President George W. Bush as the man to trust for national security after September 11 - and Kerry as a dangerous appeaser.
They have ridiculed his recent talk about a more "sensitive" war on terror, hammered him for trying to vote both sides of issues in the Senate and lambasted his remarks at forging international consensus for US war plans.
"Senator Kerry denounces American action when other countries don't approve, as if the whole object of our foreign policy were to please a few persistent critics," Vice President Dick Cheney said in his speech Wednesday.
"He talks about leading a more sensitive war on terror, as though Al-Qaeda will be impressed with our softer side," Cheney said. But a delegation of half a dozen members of France's ruling Union for a Popular Movement (UMP), here to observe the convention, played down the repeated barbs at France.
"You can't take too seriously what you hear in a convention," said Philipe Briand, a UMP member of the French parliament.
"If you are a little sensitive, you come away somewhat angry," Briand said. "But if you know it's just part of the campaign, it's no big deal."
France helped lead opposition to the Iraq war on the UN Security Council, which set off an orgy of French-bashing nationwide last year.
Bottles of champagne were emptied into sewers, French cheeses went unsold on store shelves and angry US politicians called to rename America's favourite snack "Freedom Fries."
After it emerged during the presidential campaign that Kerry spoke the language, he reportedly stopped giving interviews with foreign media in French, for fear of giving the Bush camp more ammunition.
The connection between anti-French anger and Kerry's policy statements, which sometimes do not sound much different than what comes out of the French government, has been an easy one for critics to make.
"Just a few months ago, John Kerry kind of leaked out that claim that certain foreign leaders who opposed our removal of Saddam Hussein prefer him," former New York mayor Rudolph Giuliani told the convention this week.
"That raises the risk that he might well accommodate his position to their viewpoint," he said.
Giuliani went on and attacked several European nations for their positions on terrorism, taking Italy to task for its handling of the Achille Lauro ship hijacking in 1985.
That may have been a bit of a faux pas - Italy is now one of the staunchest US allies on the war on terror, robbing Republicans of at least one European nation to target with scorn and abuse.
But they shouldn't worry: they'll always have Paris.
Comment: The sight of Giuliani denouncing French influence over Kerry is rather amusing considering the influence Israel has over Bush! But hypocrisy has always been a strong point of US politics. However, the anger the neocons and the Christian fundamentalists spew at France certainly gives credence to the idea that there was American involvement in the kidnapping of the French journalists.
Click here to comment on this article
Sarkozy confirms leadership bid
French Finance Minister Nicolas Sarkozy has told President Jacques Chirac that he will stand for the leadership of the main governing party, officials say.
Correspondents say he is the favourite to replace Alain Juppe, who will stand down after being convicted of graft.
Mr Sarkozy is seen as placing himself for a future run at the presidency.
Mr Chirac, who regards him as a rival, told Mr Sarkozy earlier that he would be sacked as minister if he took the leadership of the UMP party.
Officials at the president's office said Mr Chirac - who continued to back Juppe after his conviction - supported Mr Sarkozy's bid.
They added that Mr Sarkozy will retain his job at the finance ministry until the party election in November.
Comment: As we mentioned above, Sarko and Chirac met on Wednesday to discuss Sarko's future as candidate for the presidency of the UMP and his continued role in the Raffarin government where he serves as Minister of Finance. Both men claimed the meeting had been warm, and tried to put aside differences for the good of the French political right. Sarko was all smiles Thursday as he began his campaign. Chirac returned to the question of the kidnapped French journalists. Sarkozy was supposed to give a major speech this weekend to militants of the party he wishes to lead, but this will depend upon how the kidnapping plays out.
Sarkozy and Chirac have been at loggerheads for many years, ever since Sarkozy backed a rival against Chirac for the presidency in 1995. He is ambitious, and has made no bones about the fact he thinks Chirac is too old to run again in 2007. Sarkozy is what is called in France an "Atlanticist", that is, he is in favour of strong Franco-American ties. He would have supported French participation in the invasion and sacking of Iraq. He appears to be a neo-liberal in the tradition of Margaret Thatcher and is eager to privatise as much of the French state as he possibly can. He is also a very strong supporter of Israel, perhaps influenced by the fact his Hungarian-born father was Jewish.
Perhaps a clue to his personality and drive can be found in the following discussion of Hungarian Jews written by the Hungarian physicist Bruce Schecter, himself Jewish, and quite frankly amazed at the number of brilliant people in all fields produced by the Hungarian Jewish community:
At the turn of the century bankers, merchants, industrialists, artists, and intellectuals thronged the broad boulevards that ring [Budapest] or rode beneath them in Europe's first subway. Between 1890 and 1900 the population of Budapest had increased by more than 40 percent to over three-quarters of a million souls, making it the sixth largest city in Europe. Because of Budapest's lively cafes, boulevards, parks, and financial exchange, visitors called it the "Little Paris on the Danube." What would not become apparent for years was that while the cares were doing a booming business, the maternity wards of Budapest were churning out [Jewish] geniuses like a Ford assembly line.

Hungary's economic and intellectual flowering began with the Ausgleich of 1867, which established the dual monarchy with Austria. Under that agreement Hungary achieved something approaching independence from Austria; the Austrian Empire became the Austro-Hungarian Empire. With astonishing rapidity the engines of the industrial age and capitalism would transform Hungary. "The operators of those mechanisms," writes historian Richard Rhodes, "by virtue of their superior ambition and energy, but also by default, were Jews."

Shortly after the establishment of the dual monarchy, discriminatory laws against Jews were repealed, opening to them all civic and political functions. The surge of Jewish immigration followed, paralleling the contemporaneous flood of Jewish immigrants from Russia to New York City.

Political power remained in the hands of the nobility, whose indifference to the gentile non-Hungarian minorities - nearly half the population - would keep a third of the gentiles illiterate as late as 1918, and most of them tied to the land. The Hungarian nobility, unwilling to dirty its hands on commerce, found allies in the Jews. By 1904 Hungarian Jews, who comprised about 5 percent of the population, accounted for about half of Hungary's lawyers and commercial businessmen, 60 percent of its doctors, and 80 percent of its financiers. Budapest Jews were also a dominant presence in the artistic, literary, musical, and scientific life of the country, which caused the growing anti-Semitic community to coin the derogatory label "Judapest."

The growing anti-Semitism would in later years cause many of the brightest members of the Hungarian Jewish community to flee their country. Some of the leading scientists and mathematicians, whose ideas and inventions would help form this century, were part of this tide of immigration. Among the better known were Leo Szilard, who was the first person to understand how chain reactions can unleash the power of the atom; John von Neumann, inventor of the electronic computer and game theory; and Edward Teller, the father of the hydrogen bomb. Less well known outside the world of science but equally influential were Theodor von Karman, the father of supersonic flight; George de Hevesy who received a Nobel Prize for his invention of the technique of using radioactive tracers that has had a revolutionary impact on virtually every field of science; and Eugene Wigner, whose exploration of the foundations of quantum mechanics earned him a Nobel Prize.

The list of the great Hungarian scientists could be extended almost indefinitely, but even outside the sciences the prominence of Hungarians is extraordinary. In music it would include the conductors Georg Solti, George Szell, Fritz Reiner, Antal Dorati, and Eugene Ormandy, and the composers Bela Bartok and Zoltan Kodaly. Hungarian visual arts in this century were dominated by Laszlo Moholy-Nagy, who founded the Chicago Institute of Design. Holly wood was even more influenced by the Magyar emigration. Movie moguls William Fox and Adolph Zukor were Budapest-born, as were Alexander Korda and his brothers, Vincent and Theodor, the director George Cukor, and the producer of Casablanca, Michael Curtisz. And of course, Zsa Zsa Gabor and her sisters were Hungarian, as were Paul Lukas and Erich Weiss, better known as Harry Houdini.

Trying to account for what the physicist Otto Frisch called the "galaxy of brilliant Hungarian expatriates," is a favorite activity in scientific circles. The leading theory, attributed to the theoretical physicist Fritz Houtermans, is that "these people are really from Mars." Andrew Vazxonyi offers a particularly charming version of the extraterrestrial theory. "Well, at the beginning of the century," he says quite seriously, but with a twinkle in his eye, "some people from outer space landed on earth. They thought that the Hungarian women were the best-looking of all, and they took on the form of humans, and after a few years, they decided the Earth was not worth colonizing, so they left. Soon afterward this bunch of geniuses was born. That's the true story.[My Brain is Open, Bruce Schecter, 1998, Touchstone, New York]
For more on this topic, we refer you to the article The Beast and His Empire.
Click here to comment on this article
Worldwide terrorism-related deaths on the rise
NBC News findings run counter to recent Bush administration claims
By Robert Rivas and Robert Windrem
NBC News
Updated: 10:43 a.m. ET Sept. 2, 2004
NEW YORK - As speakers at the GOP convention trumpet Bush administration successes in the war on terrorism, an NBC News analysis of Islamic terrorism since Sept. 11, 2001, shows that attacks are on the rise worldwide — dramatically.
Of the roughly 2,929 terrorism-related deaths around the world since the attacks on New York and Washington, the NBC News analysis shows 58 percent of them — 1,709 — have occurred this year.
In the past 10 days, in fact, the number of dead has risen by 142 people in places as diverse as Russia, Afghanistan, Iraq and Israel. On Tuesday, the number of civilians killed by terrorists totaled 38 — 10 at a subway entrance bombing in Moscow, 16 in a bus bombing in Israel and 12 Nepalese executed in Iraq.
Moreover, the level of sophistication is increasing. Terrorism experts point in particular to the attacks apparently carried out by Chechen rebels during that 10-day period. The rebels, whose top military commanders have been Arabs, are operating at a whole different level.
'This is all coordinated'
"You have bombs on board planes, bombs at a train station and now a hostage taking," said Roger Cressey, a former deputy Nantional Security Council director of counterterrorism. "This is all coordinated. These things do not happen by accident, and in fact, United States officials are frantically trying to determine if they are a forerunner of an attack aimed at the U.S."
Cressey, who is an NBC News analyst, was referring in particular to last week's twin bombings of Russian airliners that left 90 dead in southern Russia, an attack Cressey says indicates a greater level of coordination and sophistication than thought possible just last year.
While fewer than 60 of the deaths since Sept. 11 have been of American citizens — and all of which took place overseas — other countries continue to suffer at higher levels than ever before.
Since Sept. 11, 2001, according to the analysis, around 1,500 have died in terrorist attacks in Iraq, nearly 700 in Russia, more than 350 have died in Israel, around 200 in Spain and more than 100 in the Philippines. The numbers sometimes are imprecise because of the nature of the attacks, which leave many missing.
Comment: Hmmm, if the Americans hadn't invaded Iraq, there would have been no Iraqis killed. The Spanish bombings were a failed attempt by the American-Israel alliance to influence the outcome of the Spanish elections, the "terrorists" in Russia were trained by the Pakistani ISI, which has worked very closely with the CIA. And those figures for Israel, they only include the Israelis who have died from suicide bombings, bombings that have the uncomfortable habit of falling at times when they serve the needs of the Israeli government.
During the same period, over 2500 Palestinians have been killed by Israeli state terror. But they don't rate a mention in this report.
'Central al-Qaida'
Senior U.S. intelligence officials note that in fact, the frequency of terrorist attacks carried out by Muslim radicals is increasing, not decreasing. Moreover, they say the attacks carried out by what they now refer to as "central al-Qaida" are being dwarfed by those carried out by affiliates, such Ansar al Sunnah in Iraq, the Chechen rebels and even ad hoc groups like those who blew up the Madrid train stations.
While there may be links to al-Qaida in terms of training and in some cases money, these groups operate independently of Osama bin Laden's command.
The threat in fact is "morphing," as one senior U.S. intelligence official put it.
"You're talking about an al-Qaida that's trying to regenerate, and you're also talking about a movement that has looked to al-Qaida for inspiration but is not really al-Qaida central," said another intelligence official.
Concern: 'Localization of threat'
"The thing we worry about a lot is what we call, in some ways, the localization of threat," the official said. "Regional organizations that operate in different environments, that may have had some training from al-Qaida, that may have had some money, but that really see the world in al-Qaida terms and that's why we worry about them, and they are the wave of the future, and I believe that's the wave of the future for us operationally."
As more and more groups get into the mix, say officials, there are more and more attacks.
In fact, the three worst months for Islamic terrorism since Sept. 11 were March (431 dead), February (393 dead) and June (245 dead) of this year.
With the three terrorist attacks on Tuesday, the suicide bombing in Israel, the car bombing in Moscow and the execution of the Nepalese workers in Iraq, the August total will rise to 228 dead, the sixth worst month since Sept. 11.
Comment: Curious, isn't it, that the countries the hardest hit are those that had nothing to do with 9/11.
Click here to comment on this article
Ninety-three Years of Bombing the Arabs
Gavin Gatenby Al-Hayat 2004/09/1
In Iraq, few days pass without the U.S. Air Force bombing civilian targets. In a high-profile atrocity in May, a bunch of trigger-happy fly-boys shot up a village wedding in western Iraq, killing 45 guests including many children, and a Baghdad singer loved by millions, but these things happen almost daily in towns like Najaf, Samara and Fallujah, and in other places too far from public gaze to warrant media attention.
The explanation - on the increasingly rare occasions that one is given - is always that these are precision strikes against "terrorists" (newspeak for resistance fighters), but the injured that reach the hospitals and the bodies that turn up in the town morgues are largely women and children.
The explanations don't play well on Arab Street where they're received as confirmation of the persistent anti-Arab bias of the West - a view that is essentially correct.
Before you scoff, try this general knowledge test on a few well-read, politically literate friends: Ask them to name the first town in the world where civilians were indiscriminately bombed from the air.
More likely than not, they'll cite Guernica, the Basque town reduced to rubble by aircraft of the German Condor Legion during the Spanish Civil War. If they're really up on their history, they'll know it happened in 1937 and they'll mention Picasso's famous painting of the atrocity.
That answer is wrong, and symptomatic of a Euro-centric view of history that's led western politicians to gravely underestimate the nationalist feeling and visceral distrust of the West that now has the U.S.-led Coalition bogged down in Iraq.
In fact the Guernica answer is wrong by a quarter of a century. It was the Italians, hell-bent on acquiring an African empire, who got the ball rolling. In 1911 the Libyan Arab tribes opposed an Italian invasion. Their civilians were the first to be bombed from the air, when the infant Italian air force bombed the oases of Tagiura and Ain Zara in a reprisal attack. The French followed in 1912, sending six planes to a "police action" in their bit of Morocco.
Pilots soon discovered that far from being a discriminating technique, aerial bombing was most effective against soft civilian targets - towns, bazaars, livestock and crops. In 1913 the Spanish began dropping shrapnel-type bombs on rebellious Moroccan villagers. Over the following years they graduated to poison gas.
The British, struggling to suppress nationalist movements in their vast empire, soon got in on the act. From 1915 onwards, the Royal Air Force bombed Pathan villages on India's North-West Frontier. In May 1919 they attacked the cities of Afghanistan, dropping six tons of bombs on Jalalabad and inflicting 600 casualties in a dawn to dusk raid on Dacca. Then, on Empire Day, they hit Kabul with history's first four-engine bomber raid. The British Government even offered poison gas bombs to their Indian Viceroy. Fortunately, he declined the offer.
Bombing the natives saved the RAF when post-WWI austerity measures looked like killing it off. The fly-boys proposed an experiment: if they could bomb a Somali tribal leader dubbed "The Mad Mullah" into submission at a fraction of the cost of a ground expedition, they'd survive. The aerial assault worked, and a delighted Winston Churchill told the RAF to take on rebellious Iraq, over which Britain had assumed a League of Nations mandate.
They called it "control without occupation", and, under Arthur "Bomber" Harris, the RAF took to "police bombing" Iraqi Arabs and Kurds with enterprise and enthusiasm. By 1922 the RAF was deploying high-explosive and phosphorous bombs, an early form of napalm, anti-personnel shrapnel, "crows feet" shrapnel designed to kill and maim livestock and incendiaries to set alight thatch rooves. They even used bombs with time-delay fuses to prevent tribesmen from tending their crops under cover of darkness but when they stooped to machine-gunning women and children who had taken refuge in a lake, even the bellicose Churchill protested.
On other occasions, bombing was used to punish recalcitrant impoverished villagers for "non-appearance when summoned to explain non-payment of taxes".
In 1924, in a draft report to parliament (complete with photos of what had been Kushan-al-Ajaza) Harris boasted that the RAF could wipe out an Iraqi village and a third of its inhabitants in 45 minutes.
1925 was a landmark year. The French bombed dozens of Syrian villages and even parts of Damascus, but probably the worst pre-Guernica incident occurred at Chechaouen, a Muslim holy town in Spanish Morocco. There, American mercenary fliers of the French Flying Corp indiscriminately bombed the undefended town in revenge for a severe defeat suffered by the retreating Spanish army. The London Times reporter called it "the most cruel, the most wanton, and the most unjustifiable act of the whole war," and reported that "absolutely defenseless women and children were massacred and many others were maimed and blinded."
Thus it went on, until the Second World War, and afterwards, through the eight years of the French war in Algeria, the Israeli repression of the Palestinians and the bombing of Iraq during the 12 years of post-Gulf War sanctions. The technology has "improved", but the political intention, and the outcome, in terms of dead civilians, remains the same.
So why do most of us think of Guernica was the first indiscriminate air attack on civilians? Well, the Basques were on the north side of the Mediterranean, and were thus European, whereas, in Western public opinion and international law, people outside the pale of European civilization just didn't count - they were "turbulent", "rebellious" or "uncivilized" tribesmen, bombing of whom was a normal, acceptable, policing technique.
They didn't teach you this stuff at school or show it to you on TV during phase one of the Iraq war, but don't imagine the Arabs and Afghans don't remember.
Click here to comment on this article
Commandos storm Russian siege school as children flee
BESLAN, Russia (AFP) - Russian special forces stormed a school ending a three-day hostage crisis and freeing hundreds of children, parents and teachers held without food or water by rebels demanding independence for Chechnya.
Amid the cackle of gunfire and bursts of explosions, dozens of children held hostage since Wednesday, many wearing nothing but their underwear, were seen running out of the school into the arms of waiting troops. Later soldiers were seen evacuating the injured on stretchers.
Russian media said most of the children had survived, but an AFP correspondent saw the bodies of at least 10 people, children and adults, taken out on stretchers from the school in Beslan, North Ossetia.
Quoting local officials, the media said 160 people were wounded in the confusion surrounding the dramatic end to the hostage-taking, which began on Wednesday when masked rebels, with explosives strapped around their waists, raided the school in southern Russia.
They had reportedly mined the school's grounds, and at one point threatened to kill 50 children for every one of their number killed. Hostages released on Thursday reported that they were being held without food or water in grim conditions in the school's gymnasium.
Parents had maintained an agonising round-the-clock vigil outside the school since Wednesday, the first day of the new school year and traditionally a day of festivities and celebrations in Russia.
The ITAR-TASS news agency said just hours later that all the hostages had been freed.
The Interfax news agency, citing a source in the regional interior ministry, said the majority of the children were still alive after the siege.
"Some children who fled the school were hurt, and some rebels opened fire on them. Those who stayed in the school in general were not harmed," the source said.
Russian television network NTV reported that five of the hostage-takers had been killed. [...]
Putin received strong if qualified backing from the West on his approach to Chechnya, with the United States and other governments tempering calls for a political solution with support for Russia's territorial integrity.
Russia has been rocked by a series of attacks in the past week alone.
Those have included a bomb at a bus station on August 24, bomb attacks that brought down two airliners the next day and killed 90 people and an attack by a female suicide bomber outside a Moscow subway on Tuesday that left nine dead and 51 people wounded.
Click here to comment on this article
High death toll in Russia siege

BBC
Friday, 3 September, 2004, 16:11 GMT 17:11 UK

At least 150 people are reported to have died at a school in southern Russia where Chechen separatists had been holding hundreds of hostages. Dozens of corpses were seen outside a local morgue, and the number of dead is expected to rise further.
Heavy gunfire and loud explosions were heard throughout the morning as Russian troops stormed the school, in the town of Beslan in North Ossetia. Russian troops are fighting to free children still held hostage.
The BBC's Jonathan Charles in Beslan reports hearing more loud blasts in the area of the school after a period of relative calm.
There is confusion over what sparked the operation, which was unplanned.
Correspondents say the day's events have taken Moscow by surprise. The BBC's Humphrey Hawksley in Moscow says there has been a wall of silence from President Vladimir Putin and his government.
Meanwhile, the US White House condemned the hostage-taking as "barbaric" and blamed the hostage-takers for the lives lost during the storming of the school.
Battle continues
Hundreds of children were freed in the seizure, though some are badly injured.
However Aslanbek Aslakhanov, an aide to Mr Putin who has just arrived in the region, said the death toll would be considerably higher than 150. Around 60 of the dead have so far been identified.
Itar-Tass news agency said 646 people, 227 children, were taken to hospital during the day.
Officials put the number of hostages at 354 before Thursday's release, but Mr Aslakhanov said up to 1,200 could have been held.
He added that 20 hostage-takers had died in exchanges of fire with troops, at least nine of them Arabs. But several hours after the assault, a group of rebels was still firing from a building in the school compound, Itar-Tass said.
Other reports said three militants, possibly including the group's leader, were hiding in the school's basement. Russian security officials said they had still been intending to negotiate with them before Friday's events unfolded.
"I want to point out that no military action was planned," said regional Federal Security Service chief Valery Andreyev. "We were planning further talks."
Security forces had opened fire to save the lives of hostages who were being fired on by gunmen, he said. It is unclear what caused the initial explosion.
Witnesses later saw at least 100 bodies piled inside the school.
White sheets
Correspondents say many of those released were desperate for water when they came out, and some were barely able to stand.
There were scenes of pandemonium, as children ran terrified and half-naked through the streets grabbing water bottles from medics. One boy described his escape.
"I smashed the window to get out," he told Russian TV. "People were running in all directions... [The rebels] shot from the roof."
Ambulances ferried hundreds of people to hospital. Our correspondent says at least 150 children were among them.
Reuters said six bodies lay covered with white sheets near the school gates, and parents filed past lifting the sheets to see whether their children were underneath.
The attackers - both men and women, some wearing bomb belts - struck on Wednesday, the first day of the new school year in Russia. They demanded independence for the troubled region of Chechnya, where Russian forces have been involved in a bloody conflict with separatists for several years.
Click here to comment on this article
Florida Braces for Hurricane Frances
By BRENDAN FARRINGTON
Sep 3, 11:07 AM (ET)
MELBOURNE, Fla. (AP) - Bracing for a monstrous storm, residents and tourists clogged shelters or made last-minute preparations Friday as Hurricane Frances churned toward the Atlantic coast, where the state's second pummeling in three weeks could begin as soon as Saturday. About 2.5 million residents were ordered to evacuate - the largest number in state history.
The slow-moving storm's core was now expected to hit Florida Saturday afternoon or evening, instead of early Saturday as had been earlier predicted.
Frances had weakened Friday into a strong Category 3 storm packing 120 mph winds and the potential to push ashore waves up to 14 feet high. Its top sustained winds were down from about 145 mph on Thursday, but forecasters said the weakening could be fluctuation typical with large storms and Frances could regain its former strength.
If it did, it could be the worst storm to hit the state since Andrew in 1992. [...]
Click here to comment on this article
More fierce hurricanes may loom on horizon
By Michael Coren
CNN
Friday, September 3, 2004

(CNN) -- As Hurricane Frances bears down on the United States, weather trackers are sounding the alarm. Yet Frances may only be the first in a series of large, powerful storms to march across the Atlantic in coming years.
The arrival of hurricanes like Charley and Frances within weeks of each other is a rare anomaly, but some meteorologists say more storms like Frances -- both very intense and very large -- are possible.
"Over the past few years, we've seen an increasing trend toward greater activity in the Atlantic Basin and increased strength in storms," said Marshall Shepherd, a research meteorologist at NASA's Goddard Space Flight Center. "[That] has been leading us to believe that we are going to start seeing more intense hurricanes. That may be bearing itself out right now."
A combination of natural cycles and warming ocean temperatures from global warming may be fueling the destructive storms. Scientists like Shepherd employ an array of satellites, aircraft and computer models to answer those questions in their mission to comprehend the Earth's climate. [...]
Disaster coordinators still advise those in the potential path of many hurricanes to evacuate. Although measures can be taken to secure property, little can be done against the worst hurricane winds that can exceed 150 mph and send floodwaters many miles inland.
"[With] enough money, you can build buildings resistant against the wind," said Andy Coburn, associate director of the Duke University program for the study of developed shorelines. "The force of water is completely different. We don't have the technology or the economic feasibility that can withstand the forces of moving water."
America's infatuation with coasts, and the dense population centers on the Eastern Seaboard, mean that it will not escape hurricanes' wrath. If storm intensity and frequency pick up, the country could be in for a wild ride.
Coburn offered only one solution. "Get the hell out of the way," he said.
Click here to comment on this article
The Japan Times
Sept. 2, 2004
Mount Asama, which straddles Gunma and Nagano prefectures, erupted around 8 p.m. Wednesday, the Meteorological Agency said.
The agency said the activity level of the 2,568-meter volcano was rated at 2 during the past month. It raised the level to 3 following the eruption.
It said small or midsize eruptions occurred and warned of the possibility of falling rocks on the mountain's southern slope within 1 km of the crater. The resort town of Karuizawa is on the mountain's southern slope.
The volcano has shown signs of activity since June 2002 and repeated tiny eruptions occurred between February and April last year.
Click here to comment on this article
Trauma linked to risk of arthritis
By ANDRÉ PICARD
From Wednesday's Globe and Mail
The expression ''scared stiff'' now has a more literal meaning. New research suggests that people who suffer traumatic experiences during childhood or adolescence are significantly more likely to develop arthritis later in life.
The study, published today in the Canadian Journal of Public Health, found that people who experience adverse childhood events, such as parents' divorce or physical abuse, are about 27-per-cent more likely to develop arthritis.
Jacek Kopec of the Vancouver-based Arthritis Research Centre of Canada said the findings may seem unusual at first glance but they are quite "plausible from an
epidemiological point of view."
He noted that while the research is the first to make a link between trauma and arthritis, a number of previous studies have found an association between traumatic events and chronic pain.
"There is emerging evidence that psychosocial factors affect the musculoskeletal system through the hormonal pathways," Dr. Kopec said.
In other words, traumatic experiences, and the stress that accompanies them, may induce biological changes that make a person more susceptible to pain, or to specific medical conditions, later in life.
Jennifer Mason has no doubt there is a link.
In a period of a few months, she experienced a dizzying array of traumatic events, including the death of her father, a serious motor-vehicle collision that almost claimed her life, and the breaking off of an engagement to be married. At the same time, she was finishing a university degree and trying to launch a career as a musician.
"I remember feeling panic-stricken and a little overwhelmed. . . . But I had to keep going," said Ms. Mason, a Toronto resident.
As the stress mounted, she began experiencing sharp pain in her hands, then her other joints. She was ill for more than a year before being diagnosed, at age 25, with rheumatoid arthritis.
Her doctor told her that he had seen the pattern many times before -- a series of traumas culminating in a diagnosis of arthritis. "He was careful to say the stress didn't cause the illness but that it may have been a trigger for something that was already dormant or in my genetic makeup," said Ms. Mason, now 50. [...]
Click here to comment on this article
Earthquake Evidence Uncovered In Tzfat
14:34 Sep 03, '04 / 17 Elul 5764
An archaeological excavation in the middle of the Galilee city of Tzfat has uncovered findings approximately 700 years old in buildings destroyed in an earthquake. The Antiquities Authority is carrying out the dig at the foot of the Citadel, near Tzahal St.
Under the floor of one of the buildings was found a box with no fewer than 123 coins. Some of the coins are from Venice, and some are from the Mamluke dynasty. Researchers hope to learn not only about life in Tzfat during the Mamluke period, which lasted from 1250 to 1517, but also about earthquakes and measures that can be taken against them.
Click here to comment on this article
Earthquake measuring 4.5 on Richter scale shakes Taiwan
Taipei, Sep 2 (DPA) An earthquake measuring 4.5 on the Richter scale shook Taiwan today afternoon, but there were no immediate reports of damage or injuries.
The quake occurred at (1407 hrslocl time) 06:07 GMT with its epicentre 2.2 kilometres northwest of Tainan in southern Taiwan. The quake, located just 6.4 kilometres beneath the earth surface, was felt in most parts of southern Taiwan.
Taiwan sits on the circum-Pacific seismic belt, where about 68 per cent of the world's earthquakes occur. Most of Taiwan's earthquakes hit the country's east coast because of friction from the Filipino Plate and the Eurasian Plate.
Click here to comment on this article
---
Remember, we need your help to collect information on what is going on in your part of the world!
We also need help to keep the Signs of the Times online.
---

Check out the Signs of the Times Archives

Send your comments and article suggestions to us

---
Fair Use Policy
Contact Webmaster at signs-of-the-times.org
Cassiopaean materials Copyright ©1994-2014 Arkadiusz Jadczyk and Laura Knight-Jadczyk. All rights reserved. "Cassiopaea, Cassiopaean, Cassiopaeans," is a registered trademark of Arkadiusz Jadczyk and Laura Knight-Jadczyk.
Letters addressed to Cassiopaea, Quantum Future School, Ark or Laura, become the property of Arkadiusz Jadczyk and Laura Knight-Jadczyk
Republication and re-dissemination of our copyrighted material in any manner is expressly prohibited without prior written consent.
.