---
Printer Friendly Version
New! Film Review: The Manchurian Candidate
Picture of the Day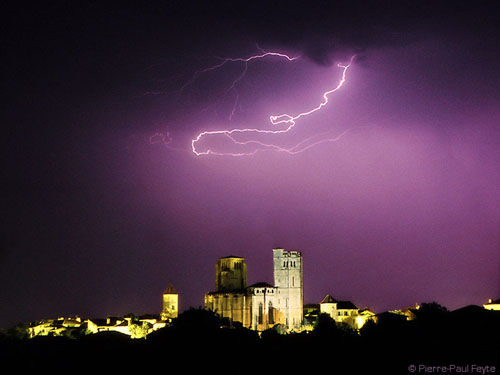 Lightening over La Romieu
©2004 Pierre-Paul Feyte
Nicotine and the Observer
From recent news reports, it has come to our attention that smoking is a vice that "leaders" around the world are determined to stamp out. But why? The official story is that our ever benevolent governments wish to prevent "we the people" from damaging our health, and that of others (if you believe the "second hand smoke" fable. Those of a more cynical disposition claim that the truth has more to do government aims of cutting back on public health expenditure for preventable diseases like lung cancer.
Yet this explanation is relevant only for those few countries where public health care is free and is also contingent on the, as yet, missing evidence that smoking really is the number one cause of cancer, rather than the many other pollutants that we all inhale every day.
Given what we know of the contempt in which The Powers That Be hold most of humanity, and the lack of convincing evidence that even moderate smoking really is a risk to public health, we are forced to look for another reason for the increasingly world-wide witch hunt on smoking and smokers.
First of all, lets take a look at the evidence for the fact that smoking has recently become public enemy number one.
(AP) In a smoke-choked Manhattan tavern, Cynthia Candiotti asked a neighbor for a light and took a deep drag on her cigarette, savoring a last barstool puff before the city outlawed smoking in bars and nightclubs.

March 28, 2004
By Health Talk Staff

Ireland is set to ban smoking in the country's pubs as of midnight Sunday. The move to ban smoking in Irish pubs is being viewed as a test case for the rest of Europe.

Montenegro bans smoking in public

By Matt Prodger
BBC, Belgrade
Monday, 2 August, 2004

The parliament in Montenegro, which has one of the highest rates of smoking in Europe, has passed a law banning smoking in public places.

Thursday, August 12, 2004

Plans to ban smoking in all closed public areas, including bars and offices, in Portugal could be in place by October, after parliament agreed to consider new proposals aimed at protecting passive smokers.

The move follows a petition presented by the Humanitarian Union of Patients with Cancer (UHDC) in April. The Commission for Work and Social Affairs analysed the UHDC recommendations and concluded that "existing legislation in Portugal is insufficient from the point of view of protecting non-smokers – it fails to recognise their rights, with grave consequences for their health."

Hélène Mulholland
Friday August 13, 2004

London council leaders may seek powers from Westminster to ban smoking in the capital, it emerged today.

The move to ban smoking in public places in the capital is one of several ideas being mooted by the Association of London Government (ALG) before a private parliamentary bill is drawn up this autumn.

BRIAN FERGUSON CITY COUNCIL REPORTER
Thu 12 Aug 2004

EDINBURGH'S Lord Provost today threw her weight behind demands for a nationwide ban on smoking in all public places.

Lesley Hinds, head of Scotland's national health promotions agency and the Capital's civic leader, called on the Scottish Executive to take the "brave" decision to introduce legislation as soon as possible.

State's cities could light the way to wider smoking ban (Nebraska, USA)

OMAHA (AP) - Having Nebraska's largest cities discuss bans on smoking in restaurants, bars and other workplaces could pave the way to a statewide ban, some activists say.

"All states ultimately will go smoke free," said Dave Holmquist, director of government relations for the American Cancer Society in Nebraska.

Mum gets jail term for smoking near her kids

WASHINGTON - A Virginia mother has been sentenced to 10 days in jail for defying a court order not to smoke in front of her children.

Tamara Silvius, 44, who has said she smokes about a packet of cigarettes a day, was led from a Caroline county courtroom in handcuffs on Thursday but the judge later allowed her to post a US$500 (S$850) bond to stay out of jail while she appeals against the ruling. Advertisement

'It should never have come to this,' Ms Silvius said in a telephone interview after spending four hours in jail before being released.

'I hope and pray my two little kids don't think they had their mama sent to jail.'

The sentence is the latest development in a long-running custody battle between Ms Silvius and her ex-husband Steven over their children, aged 10 and eight, but the restriction on smoking, especially in this tobacco-friendly state, has captured far greater attention.

Ms Silvius' lawyer said: 'It is within the court's powers to jail somebody for criminal contempt but...I've never heard of a case where you restrict behaviour this way.'

Her ex-husband's lawyer, Mr Mark Murphy, said the measure was necessary to protect the health of the children, who live with their father and often visit their mother on weekends. The Silviuses have joint custody.

Yahoo's "arbitrary" anti-smoking propaganda - for the good of your "health", but what of your mind?
Of course, the question in all of this is "why now"? Interestingly, around the same time a ban on smoking was being discussed in many countries, other information was coming to light that tells a very different story about nicotine and the most effective and accessible way of infusing it into the brain - smoking.
Scientists have known for some time that smoking seemed to delay the onset of Alzheimer's but they haven't known how.

A new study reveals the active agent is a by-product of nicotine itself, nornicotine.

Published today in the journal Proceedings of the National Academy of Sciences, the study's authors, Kim Janda and Tobin Dickerson of the Scripps Research Institute, say the known toxicity of smoking means using cigarettes as a fix isn't on and that further research is necessary to produce a non-toxic mime of the nicotine/nornicotine effect.

Heritable factors produce about one-third of Alzheimer's cases. About 20 per cent of the population, for example, carries a gene known as Apoe 4, which puts them at greater risk of developing the affliction and doing so earlier in life. But the balance of Alzheimer's seems to be down to environmental factors and risk is accelerated by side-effects of the aging process.

High among those biological inevitabilities is a stiffening of the blood vessels in the brain, a process accelerated by high blood pressure. Stiffening in these vessels reduces the amount of oxygen that passes to brain cells, making them less efficient and eventually causing them to die.

Graves' pooled reanalysis found, "A statistically significant inverse relation between smoking and Alzheimer's disease was observed at all levels of analysis, with a trend towards decreasing risk with increasing consumption . A propensity towards a stronger inverse relation was observed among patients with a positive family history of dementia."

Only three studies have ever linked smoking with AD. The reanalysis, in which the author of one participated, noted, "Since veterans may be expected to smoke more than the general population, and since smokers have been found to respond less frequently to questionnaires than non-smokers, the positive result observed for this study may be spurious."

Over 4 million people suffer from AD, and annual costs are over $88 billion. There may be 73,000 excess cases per year among non-smokers, with $17.5 billion in excess costs.

Nicotine patches benefit patients with Alzheimer's

Independent News : UK, 22 February 2000

Nicotine, the scourge of 20th-century medicine, might actually benefit people suffering from debilitating brain disorders such as Parkinson's and Alzheimer's diseases, according to new scientific studies of the drug.

Independent.co.uk
August 05, 2003

We all know that smoking endangers our health. But has nicotine's image problem led scientists to overlook the drug's potential health benefits? Geoff Watts investigates

Light a cigarette and inhale lungfuls of smoke. Good for you? Hardly. But spend time with people suffering from schizophrenia or other forms of severe mental illness, and you'll find many of them going at it like chimneys. Why? Poor judgement about the consequences, perhaps. Or the need for anything to soothe their distress. But there's a third possibility that is much more intriguing. For them, and others with psychiatric and even physical illnesses, smoking amounts to an oddly neglected form of self-medication.

Of course, tobacco smoke - an airborne cocktail of nasty chemicals - is harmful. What's at issue is a single non-carcinogenic ingredient: nicotine. This already has one medically approved application: taken by mouth in the form of gum, or through the skin from an impregnated patch, would-be ex-smokers aim to absorb a dose sufficient to dampen their cravings. And for many trying to kick the habit, particularly when used as part of a complete programme, it works. But though we hear occasional whisperings of other possible benefits of nicotine, they never seem to get taken seriously.

In ulcerative colitis, for example, the symptoms - pain in the lower abdomen, and diarrhoea - result from an inflammation of the colon and rectum. The cause of this inflammation still isn't known, but it's now 20 years since doctors first noticed that ulcerative colitis is found mainly among non-smokers. And intermittent smokers may find that their symptoms improve when they return to tobacco. Nicotine is the ingredient most likely to have the beneficial effect, and doctors have tested its effects using nicotine patches. Surprisingly, though, only a handful of properly controlled trials have been carried out, and medical advice seems to be to use patches only with caution.

No one is yet certain how nicotine might work in ulcerative colitis. One of the leading researchers in the field, the gastroenterologist Professor John Rhodes of the University Hospital of Wales, has shown that receptors of the kind that respond to nicotine are present in the lining of the large bowel. But ideas on what effect nicotine might actually be having range from damping down an overactive immune system to reducing the amount of blood reaching the surface regions of the bowel. And, adding to the confusion, nicotine seems to worsen the symptoms of Crohn's disease, another inflammatory bowel disorder.

Schizophrenia, too, has attracted interest. Surveys have suggested that up to 90 per cent of people with the disorder smoke. There are at least two possible reasons: to calm the effects of the illness itself, or to mitigate those of some of the drugs used to control it. On this second point, there have been indications that nicotine can reverse the memory problems and slowness of thought induced by a commonly used medicine, haloperidol. But it does seem more likely that the urge to smoke is driven by its effects on the disease itself. One possibility is that nicotine suppresses inconsequential or distracting information coming into the brain. A radio playing in the next room may be irritating, but most of us learn to ignore it. People with schizophrenia find this much harder. Nicotine may help, but the evidence is mostly inferential.

Nicotine has been studied in the context of two neurological disorders: Alzheimer's and Parkinson's. A 1992 survey of Alzheimer's reported that, in 13 out of 17 published studies on the topic, smokers had shown a reduced risk of the illness. And some (though not all) researchers have shown that nicotine or nicotine-like compounds improve patients' speed at completing information-processing tasks.

When Professor David Balfour of the University of Dundee Medical School and Karl Fagerstrom, then of the drug company Parmacia and Upjohn, reviewed the effects of nicotine in 1996, they were encouraging about its clinical potential. But, they added: "In our view, the beneficial effects of nicotine in Alzheimer's disease have not been investigated in a thorough way yet." Besides testing it on more patients, what was needed were longer trials of several months. Only then would it be possible to detect real improvement in symptoms, never mind any change in the progress of the disease.

Attempts to use nicotine in Parkinson's date back to the 1920s when one clinician injected it intravenously into a dozen patients. Although benefits were immediately apparent, little more happened for 50 years. Interest picked up again in the Eighties, but virtually all studies used small numbers of patients, and results were mixed. Even so, to quote Balfour and Fagerstrom, "the experience from these few cases, although mostly uncontrolled and preliminary... warrants further investigation". For one thing, they say, nicotine may improve only certain symptoms, so may be more valuable to some patients than others.

Nicotine has also been tested in small studies on pain, depression, attention deficit hyperactivity disorder, obesity and anxiety. In these disorders the evidence so far has been even more patchy. But serious research programmes have often been triggered by less impressive findings. So why the relative lack of interest in nicotine as a research topic with clinical payoffs?

The usual explanation is that nicotine, a natural material, cannot be patented. Few companies would be prepared to invest in testing it for disorders if, when it was licensed, anyone could make and sell it. Melatonin, thought to be good for jet lag, is similarly disadvantaged. The standard way round this is to jiggle about with the basic molecule in the hope of finding a new, patentable version that works as well or better. Some nicotine-like compounds have been tested, but with results no more conclusive than those from nicotine itself.

Of course, there is also a quite separate reason for the lack of interest: nicotine has an image problem. The reasoning seems to be that nicotine is found in cigarettes, that smoking is bad, and therefore that nicotine, too, must be bad.

Writing in Pharmacology and Experimental Therapeutics, the drug-industry researchers G Kenneth Lloyd and Michael Williams stressed the absurd consequences of nicotine's negative connotations. "An analogous situation would be if the serotonin (5-HT) receptor family, which has yielded many efficacious and widely used therapeutic agents... had been termed the LSD receptor because the latter was the first [molecule] identified to react with [it]."

Fagerstrom agrees that nicotine is tainted by association. "It's politically very difficult to give nicotine to a young person," he says. True, nicotine is addictive, but this does not of itself impress Fagerstrom. The taint, in his view, is not just unfortunate, but unfounded. "There is no such thing as a pure nicotine addiction. There is addiction to nicotine when the vehicle is tobacco. But have you heard of a culture in which people distil the nicotine out of tobacco and use it by itself? Have you heard of anyone walking into a pharmacy and buying nicotine gum or spray and then starting a primary addiction?" He doesn't wait for an answer. "Well, neither have I."

Nicotine addiction, Fagerstrom argues, arises specifically through inhaling burnt tobacco. "If you want a psychoactive effect, speed of absorption matters a lot. All addicts try to get their drugs in as fast as possible. They don't eat or chew them. They prefer to smoke, sniff or inject them."

Nicotine, after all, is only the world's second most popular drug; caffeine is still No 1. "We could take caffeine in a pill if we wanted. I don't want to. I'm sure it's much more addictive when it comes in a cup with a smell, with a look, with a taste, and combined with some social activity." Clearly there is a big difference between being given a drug to treat an illness and seeking it out for non-medical reasons. Fears of inducing nicotine addiction by giving a pill or a piece of gum are, he believes, unwarranted.

We've long since learnt that even the best drugs have side effects. We seem to find it harder to accept that "bad" drugs might also do some good.
So what is it about smoking, and nicotine in particular that prevents, or lessens the effects of Alzheimer's and Parkinson's Diseases among others? The answer, it seems it to be found in nicotine's capacity to mimic the effects of a molecule found naturally in the body. This is acetylcholine, one of the neurotransmitters, or chemical messengers, by which signals traveling through the nervous system are relayed from one nerve cell to the next, or from nerves to the muscles they control. The activation occurs when the nicotine attaches to receptors: special sites on the surfaces of cells that act as molecular switches.
Or as Laura Knight Jadczyk has written in a chapter of the Wave Series:
Nicotine is a most interesting drug. Nicotine mimics one of the body's most significant neurotransmitter, acetylcholine. This is the neurotransmitter most often associated with cognition in the cerebral cortex. Acetylcholine is the primary carrier of thought and memory in the brain. It is essential to have appropriate levels of acetylcholine to have new memories or recall old memories.

Now, let's go off to the side here for a moment. I cruised the net for sources on acetylcholine and the results were positively amazing as you will see from the following excerpts:

Acetyl-L-Carnitine (ALC) is the acetyl ester of carnitine, the carrier of fatty acids across Mitochondrial membranes. Like carnitine, ALC is naturally produced in the body and found in small amounts in some foods. ...Research in recent years has hoisted ALC from its somewhat mundane role in energy production to nutritional cognitive enhancer and neuroprotective agent extraordinaire. Indeed, taken in its entirety, ALC has become one of the premiere "anti-aging" compounds under scientific investigation, especially in relation to brain and nervous system deterioration.

ALC is found in various concentrations in the brain, and its levels are significantly reduced with aging.(1) In numerous studies in animal models, ALC administration has been shown to have the remarkable ability of improving not only cognitive changes, but also morphological (structural) and neurochemical changes. ...ALC has varied effects on cholinergic activity, including promoting the release(2) and synthesis(3) of acetylcholine. Additionally, ALC promotes high affinity uptake of choline, which declines significantly with age.(4) While these cholinergic effects were first described almost a quarter of a century ago,(5) it now appears that this is only the tip of the ALC iceberg. [Gissen, VRP's Nutritional News, March, 1995]

It turns out that Alzheimer's, a veritable epidemic in our country, is directly related to low levels of acetylcholine. In Alzheimer's disease, the neurons that make acetylcholine degenerate, resulting in memory deficits. In some Alzheimer's patients it can be a 90 per cent reduction! But, does anyone suggest smoking and exercising the brain as a possible cure?

Nope.

Another interesting little snippet found in a doctoral dissertation by Galen Knight says:

Thyrotropin is the single most important modulator of thyroid function. However, several of its effects are mimicked by neurotransmitters, acetylcholine and catecholamines...

Which suggests to us that low thyroid function can be partly ameliorated by nicotine.

The next excerpt is the most interesting. It is a from a Bioelectromagnetics Research Laboratory, paper first presented at a workshop to discuss possible biological and health effects of Radio Frequency Electromagnetic waves. The workshop was held by the Department of Bioengineering at the University of Washington, Seattle. The paper was later presented to "Mobile Phones and Health, Symposium," October 25-28, 1998, University of Vienna, Austria. What they are talking about here is the effects of cell phone towers and the use of cell phones and pagers, etc:

...We carried out a series of experiments to investigate the effect of RFR exposure on neurotransmitters in the brain of the rat. The main neurotransmitter we investigated was acetylcholine, a ubiquitous chemical in the brain involved in numerous physiological and behavioral functions.

We found that exposure to RFR for 45 min decreased the activity of acetylcholine in various regions of the brain of the rat, particularly in the frontal cortex and hippocampus. Further study showed that the response depends on the duration of exposure. Shorter exposure time (20 min) actually increased, rather than decreasing the activity. Different brain areas have different sensitivities to RFR with respect to cholinergic responses [Lai et al., 1987b, 1988b, 1989a,b].

In addition, repeated exposure can lead to some rather long lasting changes in the system: the number of acetylcholine receptors increase or decrease after repeated exposure to RFR to 45 min and 20 min sessions, respectively [Lai et al., 1989a].

Changes in acetylcholine receptors are generally considered to be a compensatory response to repeated disturbance of acetylcholine activity in the brain. Such changes alter the response characteristic of the nervous system. Other studies have shown that endogenous opioids are also involved in the effect of RFR on acetylcholine [Lai et al., 1986b, 1991, 1992b, 1996].

Since acetylcholine in the frontal cortex and hippocampus is involved in learning and memory functions, we carried out experiments to study whether exposure to RFR affects these behavioral functions in the rat. Two types of memory functions: spatial 'working' and 'reference' memories were investigated.

Acetylcholine in the brain, especially in the hippocampus, is known to play an important role in these behavioral functions. In the first experiment, 'working' memory (short-term memory) was studied using the 'radial arm maze'. This test is very easy to understand. Just imagine you are shopping in a grocery store with a list of items to buy in your mind. After picking up the items, at the check out stand, you find that there is one chicken at the top and another one at the bottom of your shopping cart. You had forgotten that you had already picked up a chicken at the beginning of your shopping spree and picked up another one later. This is a failure in short-term memory and is actually very common in daily life and generally not considered as being pathological. A distraction or a lapse in attention can affect short-term memory.

This analogy is similar to the task in the radial-arm maze experiment. The maze consists of a circular center hub with arms radiating out like the spokes of a wheel. Rats are allowed to pick up food pellets at the end of each arm of the maze. There are 12 arms in our maze, and each rat in each testing session is allowed to make 12 arm entries. Reentering an arm is considered to be a memory deficit. The results of our experiment showed that after exposure to RFR, rats made significantly more arm re-entries than unexposed rats [Lai et al., 1994].

This is like finding two chickens, three boxes of table salt, and two bags of potatoes in your shopping cart.

In another experiment, we studied the effect of RFR exposure on 'reference' memory (long-term memory) [Wang and Lai, submitted for publication]. Performance in a water maze was investigated. In this test, a rat is required to locate a submerged platform in a circular water pool. It is released into the pool, and the time taken for it to land on the platform is recorded. Rats were trained in several sessions to learn the location of the platform. The learning rate of RFR-exposed rats was slower, but, after several learning trials, they finally caught up with the control (unexposed) rats (found the platform as fast). However, the story did not end here. After the rats had learned to locate the platform, in a last session, the platform was removed and rats were released one at a time into the pool. We observed that unexposed rats, after being released into the pool, would swim around circling the area where the platform was once located, whereas RFR-exposed rats showed more random swimming patterns.

To understand this, let us consider another analogy. If I am going to sail from the west coast of the United States to Australia. I can learn to read a map and use instruments to locate my position, in latitude and longitude, etc. However, there is an apparently easier way: just keep sailing southwest. But, imagine, if I sailed and missed Australia. In the first case, if I had sailed using maps and instruments, I would keep on sailing in the area that I thought where Australia would be located hoping that I would see land. On the other hand, if I sailed by the strategy of keeping going southwest, and missed Australia, I would not know what to do. Very soon, I would find myself circumnavigating the globe.

Thus, it seems that unexposed rats learned to locate the platform using cues in the environment (like using a map from memory), whereas RFR-exposed rats used a different strategy (perhaps, something called 'praxis learning', i.e., learning of a certain sequence of movements in the environment to reach a certain location. It is less flexible and does not involve cholinergic systems in the brain).

Thus, RFR exposure can completely alter the behavioral strategy of an animal in finding its way in the environment.

...What is significant is that the effects persist for sometime after RFR exposure. If I am reading a book and receive a call from a mobile phone, it probably will not matter if I cannot remember what I has just read. However, the consequence would be much serious, if I am an airplane technician responsible for putting screws and nuts on airplane parts. A phone call in the middle of my work can make me forget and miss several screws. Another adverse scenario of short-term memory deficit is that a person may overdose himself on medication because he has forgotten that he has already taken the medicine.

Lastly, I like to briefly describe the experiments we carried out to investigate the effects of RFR on DNA in brain cells of the rat. We [Lai and Singh 1995, 1996; Lai et al., 1997] reported an increase in DNA single and double strand breaks, two forms of DNA damage, in brain cells of rats after exposure to RFR. DNA damages in cells could have an important implication on health because they are cumulative. Normally, DNA is capable of repairing itself efficiently. Through a homeostatic mechanism, cells maintain a delicate balance between spontaneous and induced DNA damage. DNA damage accumulates if such a balance is altered. Most cells have considerable ability to repair DNA strand breaks; for example, some cells can repair as many as 200,000 breaks in one hour. However, nerve cells have a low capability for DNA repair and DNA breaks could accumulate. Thus, the effect of RFR on DNA could conceivably be more significant on nerve cells than on other cell types of the body.

Cumulative damages in DNA may in turn affect cell functions. DNA damage that accumulates in cells over a period of time may be the cause of slow onset diseases, such as cancer. ...Cumulative damage in DNA in cells also has been shown during aging. Particularly, cumulative DNA damage in nerve cells of the brain has been associated with neurodegenerative diseases, such as Alzheimer's, Huntington's, and Parkinson's diseases.

Since nerve cells do not divide and are not likely to become cancerous, more likely consequences of DNA damage in nerve cells are changes in functions and cell death, which could either lead to or accelerate the development of neurodegenerative diseases. Double strand breaks, if not properly repaired, are known to lead to cell death. Indeed, we have observed an increase in apoptosis (a form of cell death) in cells exposed to RFR (unpublished results).

However, another type of brain cells, the glial cells, can become cancerous, resulting from DNA damage. This type of response, i.e., genotoxicity at low and medium cumulative doses and cell death at higher doses, would lead to an inverted-U response function in cancer development and may explain recent reports of increase [Repacholi et al., 1997], decrease [Adey et al., 1996], and no significant effect [Adey et al., 1997] on cancer rate of animals exposed to RFR.

Understandably, it is very difficult to define and judge what constitute low, medium, and high cumulative doses of RFR exposure, since the conditions of exposure are so variable and complex in real life situations.

Interestingly, RFR-induced increases in single and double strand DNA breaks in rat brain cells can be blocked by treating the rats with melatonin ... [Lai and Singh, 1997]. Since it is a potent free radical scavenger, this data suggest that free radicals may play a role in the genetic effect of RFR. [Lai and Singh, 1998].

Well, isn't that just fine and dandy! What clues do we have about the use of cell phones and cell-phone towers?

Q: (L) Can you give me an approximate number of aliens currently interacting with, or on, or under our planet as a whole?
A: "Aliens?" What constitutes such?
Q: (L) Okay. Well then, non-human beings. Extra- terrestrials, Ultra-terrestrials, and so forth.
A: These bases have naturalized the inhabitants. Anomalies occur as much because of where the bases are chosen to be located as any other factor. Magnetic faults and their inherent portals, you know!
Q: (L) This [source on the Internet] thinks that there is a rather limited number of aliens, and that people ought to get together and resist this threat because our numbers are greater. Is that, in fact, correct?
A: Not point. The question of the hour is: what is the motive? Build a house step by step, and when it is finished, you can move into the neighborhood and out of the motel.
Q: (L) Oh jeez. So, these are a bunch of aliens hanging out in 'motels' waiting for their house to be built. That does not sound good.
A: Many of you have recently become "bedazzled" by the "information superhighway," and its accompanying computer hardware. Gee, we wonder why? Q: (L) Well, you told us to network. We have been networking like crazy, digging up information, reading and comparing. Yes, there is a ton of garbage out there, but if we don't ask, how will we know?
A: Point was: who is manipulating thee? Not so much you specifically, but the others? So many kids and kids-at- heart are thunderstruck by techno-sensory toys. Those cellular phones, those pagers and the Christmas toy computers... They are like, so cool!
Q: (L) So what are you implying about these techno toys?
A: Ponder.
Q: (L) Give me a clue.
A: Fuzzy jello-brained kids.
Q: (L) Are you saying that pagers and cell phones, and techno toys that kids get for Christmas can have effects on them that turn their brains to jello?
A: In a figurative sense. All this technology represents a Brave New World. Like Huxley said: Woe is to those who have been led to eat their brains for lunch.
Q: (L) My kids have pagers. Are pagers, in particular...
A: What do you think comprises the signal content?
Q: (L) I don't know. What does comprise the signal content?
A: Microwaves.
Q: (L) What do these microwaves do to the individual?
A: Contour brain cell structure.
Q: (L) Do they emit a signal continuously, or only when they are being used?
A: Wave cycle low to high.
Q: (L) Well, that's not good. How close does the pager have to be to you to have this effect?
A: Four meters. Cell phones too and television and computer screens can be transmitted through thusly.
Q: (L) When you say 'contouring brain cell structure,' what would be evidence or results of such effects?
A: Increasingly narrow outlooks and being unable to employ discriminatory thinking.
Q: (L) Confusion? A: No. Just lack of depth and breadth to one's mental and psychic abilities.
Q: (A) Now, about pagers... we were told that pagers emit some radiation which can be detrimental up to a distance of four meters. As far as I understand a pager is a passive device, a receiver. It is not emitting anything. How can a pager be detrimental?
A: Microwave "bounce effect."
Q: (A) So, they bounce from the receiver... I see.
A: Cell phones too.
Q: (L) Is there any kind of device that we can build or purchase that can emit a blocking signal?
A: Knowledge protects.

And it is here and now that we are learning how true that statement is in just about every sense of the word! So, let's get on with it.

Work in the Laboratory of Neurochemistry at the Barrow Neurological Institute principally concerns molecules critically involved in such signaling called nicotinic acetylcholine receptors (nAChR). nAChR act throughout the brain and body as "molecular switches" to connect nerve cell circuits involved in essential functions ranging from vision and memory to the control of heart rate and muscle movement.

Defects in nAChR or their loss cause diseases such as myasthenia gravis and epilepsy and can contribute to Alzheimer's and Parkinson's diseases and schizophrenia.

nAChR also happen to be the principal targets of tobacco nicotine. ...nicotine-like medicines show promise in the treatment of diseases such as attention deficit/hyperactivity disorder (ADHD) and Tourette's syndrome and in alleviation of anxiety, pain, and depression, suggesting involvement of nAChR in those disorders.

...We have shown that numbers and function of diverse nAChR subtypes can be influenced by many biologically active substances, ranging from steroids to local anesthetics, and by agents acting on the extracellular matrix, the cytoskeleton, on second messenger signaling, and at the nucleus. We also have shown that chronic nicotine exposure induces numerical upregulation of many diverse nAChR subtypes via a post-transcriptional process that is dominated by effects on intracellular pools of receptors or their precursors.

Some current studies are testing our hypothesis that chronic nicotine exposure, as occurs with habitual use of tobacco products, disables nAChR and the nerve cell circuits they subserve, thereby contributing to long-lasting changes in brain and body function. [Lukas, 1999]

Now, notice in the above account how tricky they were when they said that nicotine ..." That is jargon for "it increases the number of receptors" as well as the amount of acetylcholine. But, of course, the AMA wouldn't let them get away with any of their work if they weren't adding that they have a hypothesis that "habitual use of tobacco products... disables acetylcholine." Never mind that in the beginning they are proposing it as a therapeutic drug for some of the very problems that have risen to almost epidemic numbers in the present time.

Let's say it again: Research shows, however, that daily infusions of nicotine actually INCREASE the number of acetylcholine receptors by up to 40 %. Some researchers, such as the above, brush this finding off by saying "regardless, their function diminishes." But that is not empirically observed. Most people who smoke find a "set point," and once they have reached it, it does not take more and more and more to satisfy it.

How does nicotine act?

There are two major types (or classes) of acetylcholine receptors in the body, and they are commonly named by the other drugs which bind to them: nicotine and muscarine. Muscarinic acetylcholine receptors (mAChRs) can bind muscarine as well as ACh, and they function to change the metabolism...

Acetylcholine acts on nicotine acetylcholine receptors to open a channel in the cell's membrane. Opening such a channel allows certain types of ions (charged atoms) to flow into or out of the cell. ...When ions flow, there is an electrical current, and the same is true in the nervous system. The flowing of ions, or the passing of current, can cause other things to happen, usually those "things" involve the opening of other types of channels and the passing of information from one neuron to another.

Nicotinic AChRs are found throughout the body, but they are most concentrated in the nervous system (the brain, the spinal cord, and the rest of the nerve cells in the body) and on the muscles of the body (in vertebrates).

We say that nicotine acts like ACh at the receptors to activate them, and both substances are called agonists. The opposite type of drug, something that binds to the receptors and does not allow them to be activated is called an antagonist.

...When a substance comes into the body that can interfere with ACh binding to muscle nAChRs, that chemical can cause death in a relatively short time (because you use muscles to do things like breathe). A class of chemicals in snake and other poisonous venoms, neurotoxins, do exactly that. If you are bitten by a krait or a cobra, for example, and enough venom gets into the blood, there will be enough of their neurotoxin in your body to shut down the diaphragm muscle expands your lungs. Without that muscle functioning, the person ceases to breathe and dies of asphyxiation.

One of the reasons we know so much about these receptors is precisely that--plants and people have used substances [acetylcholine antagonists] which cause paralysis and asphyxiation for a long time. Plants use them to prevent being eaten by herbivores. Animals use similar substances to paralyze their prey. At least one human neuromuscular disease is related to nAChRs, and that is myasthenia gravis...

So, as you can see, nAChRs are important to life. ...All known nicotinic receptors do share some common features. They are composed of 5 protein subunits which assemble like barrel staves around a central pore. ...When the ligand (ACh or nicotine) binds to the receptor, it causes the receptor complex to twist and open the pore in the center. [Pugh]
Essentially then acetylcholine is one of the main chemicals required for "critical thinking", as Laura goes on to say:
Thinking with the cortex, it turns out, is basically a way to rewire your brain. It is like working on the back roads to develop them into the commanding interstate system of the brain they were meant to be. Research shows that changes in the brain are the result of learning experiences, and it seems that learning - acquiring knowledge - is the path of rewiring the synaptic connections in the brain.

It seems that the key to this is the fact that learning, hard thinking and pondering, requires that certain brain chemicals - usually acetylcholine - be squirted out at just the right place and in the right quantities. It is becoming clear that the molecules of memory are blind to the kind of memory - whether it is conscious or unconscious - that is occurring. What determines the quality of different kinds of memories is not the molecules that do the storing but the systems in which those molecules act. If they act in the hippocampus, the memories that get recorded are factual and accessible to our consciousness. If the chemicals are acting in the amygdala, they are emotional and mostly inaccessible to conscious awareness.

So, what happens is that even if we don't know what has triggered a given emotional response until after the fact, we do have an awareness that we are "feeling" a certain way. This awareness is called our "working memory."

Working memory, or awareness, involves the frontal lobes of the brain just above and behind the eyebrows. This is what we use when we want to remember a new phone number just long enough to dial it, or to remember what we went to the kitchen for long enough to get it! It is also the place where many different kinds of information is held simultaneously while we are comparing one thing to another. We can have all kinds of things going on there at once. We can look at something, hold this image in working memory along with the memory of something that we have pulled out of long term memory which we wish to compare it to; sounds, smells, and even the ongoing physiological input from our system as we are considering this: does it make us feel peaceful, happy, sad, afraid?

All of these elements come together simultaneously. However, this working memory can only do one thing at a time, even if that one task is multi-factored. A classic example is when you try to remember a new phone number and someone asks you a question before you get to dial it. The number flies out the window as you answer the question and you have to go back and look it up again.

It seems that this "working memory," or "awareness," is - if not consciousness itself - at least a window to it.

It is in working memory that "conscious feelings" occur. In working memory, three things come together to create conscious feeling: present stimuli, activation of the amygdala in some way and activation of conscious memory in the hippocampus.

Present stimuli might include standing inside a church. This would arouse the amygdala so that the unconscious memories of the many experienced in church - the flooding of the receptors with neurochemicals; and this would activate conscious memory of the last time you were in church, or several memorable times will pass through the mind. When all these things come together in working memory, with the body now activated with chemistry and past history, this is perceived as "feeling."

The same thing can occur in any kind of encounter as we have already described. Something that is present now will turn on the chemicals which will arouse conscious memories that are related to those chemicals, and then the present moment will be interpreted in those same terms.

Since what we are looking at here is the fact that unconscious, chemical imprints, have a much greater ability to influence thinking than vice versa, we realize that we are face to face with an age-old debate between reason and emotion, logic and passion, knowledge and faith.

When you are aroused emotionally whether by fear or pleasure or sexual attraction, it is a cold hard fact that emotion dominates thinking.

Philosophers going all the way back to Plato have endlessly analyzed this fundamental schism. The body fills us with passions and desires and fears and fancies and foolishness and fairy tales made up to justify these chemical reactions. Plato opined that the true philosopher was one who could master his emotions by the use of reason. Socrates said "Know thyself," by which he meant that we had to understand our emotions in order to be able to control them.

The vast majority of philosophers and philosophical writers throughout man's recorded history have believed that in order to be truly human - as opposed to just an animal - we must activate reason. Descartes didn't say "I FEEL, therefore I am." Thinking seems to be the distinctly human thing that humans do which separates them from animals. But, as Theodore Dreiser wrote:

Our civilization is still in the middle stage, scarcely beast in that it is no longer guided by instinct, scarcely human in that it is not yet wholly guided by reason.

The prime example of this is, of course, Star Trek's Dr. Spock. Captain Ahab, the hero of Melville's Moby Dick was just the opposite. Melville wrote: "Ahab never thinks, he just feels, feels, feels." Perhaps the mindless pursuit of a white whale is a good metaphor for the result of living by emotion.

However, I am not advocating domination of cognition; merely balance. There is, at present, such an imbalance between the amygdala's input to the cortex and the very sparse control of the cortex over the amygdala. Even though thoughts can readily trigger emotions by activating the amygdala, it is very difficult to willfully turn off emotions.

As it happens, the cortical connections to the amygdala are actually far greater in primates than in other animals. It seems that more balanced cortical pathways are the evolutionary trend. It is my opinion that we will develop them or perish. A more harmonious integration of emotion and thinking would allow us to both know our TRUE feelings, and why we have them, and to be able to use them more effectively.
Not only that, but it would increase our ability to discern the truth in our exterior world also. So perhaps we are a little closer to a more realistic reason behind the apparently world-wide push to stamp out smoking? Is it really possible that it is connected to the dumbing down of the population, the withdrawal of civil rights and freedoms under the guise of "fighting terror", the lies and illusions our governments continue to feed us about war, health, the economy, "global warming", ancient civilisations and science, our very selves and why we are here?
Could it possibly be that it is simply another part of the grand, millenia-long game plan to ensure that, at a specific point in time, all observers on the planet see only one reality - their reality? The evidence to date suggests that this is indeed the case. But do not take our word for it. Look at the world around you. All the answers are there.
Click here to comment on this article
Police to have power to arrest litterbugs
By Nigel Morris, Home Affairs Correspondent
13 August 2004
Police will be given tough new powers - including the right to arrest anyone committing an offence and to take fingerprints in the street - under proposals published yesterday by David Blunkett, the Home Secretary.
To free up officers for front-line duties, the rapidly expanding number of civilian wardens will also get extra authority to direct traffic, tackle beggars and search for weapons.
Civil rights groups said the plan to make every offence arrestable could lead to arrests for discarding litter and scrawling graffiti. But the Home Office said the moves were aimed at overhauling and modernising a complex network of outdated laws.
The proposals, in a consultation paper intended to be the basis for legislation, came days after Michael Howard, the Tory leader, promised a "zero-tolerance" approach to crime if the Conservatives came to power.
A police officer can only arrest someone suspected of an offence that could result in a prison sentence of at least five years. But Mr Blunkett's paper said that exceptions to that rule had created "often bewildering" situations that needed to be replaced with a "straightforward" system.
Click here to comment on this article
Flashback: 'Arrests for every offence' planned

Under the plans all offences could in theory lead to an arrest.

Police could arrest people for minor offences such as dropping litter, under government proposals being outlined on Thursday. A Home Office consultation paper also suggests making it easier for officers to search suspects' premises. Under current laws police can arrest people only for offences attracting prison sentences of five years or more.
But there are dozens of exceptions to that rule and the Home Office says it is confusing for police and the public. The government is also considering allowing police to test anyone they have arrested for drugs, regardless of whether they have been charged with an offence. Police could also have the power to fingerprint drivers at the roadside, as well as at police stations.
The Home Office also wants to chan! ge the way search warrants work. They would be granted for any address a suspect is found in, not just a single address
Click here to comment on this article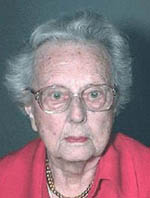 Dolly Kelton
97 Year Old Arrested for Expired Tags

Boy, she looks likea hardened criminal, doesn't she? Meet Dolly Kelton, of Highland Park (Texas), seen here in a mug shot taken by Highland Park PD after they arrested her on a traffic warrant. Apparently the Highland Park PD have a no-tolerance policy for such flagrant scofflaws - because even though Dolly is 97 - yep, that's right - 97 - they didn't give her a break when they stopped her for expired tags.
She'd already received a prior ticket for the same expired tags, and hadn't paid it, which is why she had a warrant out for her arrest. So, the cops handcuffed her and took her in. Jeez, crime must be really slow in Highland Park, Texas if all the cops have to do is pick on 97-year-old women.
Click here to comment on this article
Mike Wallace Arrested...'no threat' at 86

"60 Minutes" correspondent Mike Wallace, arrested in a dispute with parking enforcement inspectors, says he wonders why anyone thought that he, at age 86, was a threat. The TLC said Wallace approached the inspectors and became "overly assertive and disrespectful," interfering with their ability to perform their duties, according to WCBS. The inspectors then asked him to step away from the car and Wallace refused, lunging at one of the inspectors, according to the TLC. Spokesman Allan Fromberg told the New York Post that "the other inspector feared for his partner's safety." Wallace laughed off the notion.
"I'm an 86-year-old man," he told the Post. "For whatever reason, this guy and his buddy were intent upon telling me that I was interfering with the execution of the law." Luigi Militello, t! he manager of Luke's Restaurant, told WCBS that the inspectors "manhandled" Wallace.
Click here to comment on this article
Cleveland Rapper Arrested for Threatening Rap Lyrics
Nolan Strong
City News Ohio
Originally posted 6/2/2004
A rapper in Cleveland, Ohio was indicted last week after leaving what authorities allege were threatening CD's on car windshields in a local high school's parking lot in January.
Kevin Beebe, 19, of Jefferson, left CD's with just an email address on car windshields. Authorities allege the lyrics on the CD's contained violent language, references to the Columbine school shootings, references to suicide and aggressive lyrics aimed at students, local police and the principle.
Alarmed by the lyrics, schools in the surrounding areas were put on alert for three days as authorities attempted to apprehend Beebe.
When Beebe learned authorities were attempting to find him, he turned himself in and was charged with two felony counts of inducing panic and two misdemeanor offenses of menacing.
Beebe's attorney maintained that the rapper was simply promoting his music and wasn't out to harm anyone. Furthermore, Kurchasrski said that Beebe was protected by the First Amendment which ensures his freedom of speech and that he didn't cause panic.
Prosecutors maintain that the references to the grizzly Columbine shootings were the cause of the panic.
Click here to comment on this article
Marybeth Pompei of Cambridge had her iris checked at Logan Airport yesterday as TSA contractor Ola Martins observed.
Eye scans get frequent fliers' ayes

Plan seen easing Logan screenings

Frequent fliers at Logan International Airport began signing up for a trial program yesterday that will use eye scans to speed their check-ins. Despite complaints from civil libertarians who believe the program will allow the government greater access into citizens' personal lives, those who signed up yesterday morning said they were thrilled.
The travelers -- for now only those who regularly fly American Airlines out of Boston -- registered their fingerprints and other personal information with the Transportation Security Administration before having digital pictures taken of their eyes. Then, they received a wallet-sized ID with a special computer chip. Beginning next week, those cards will allow the fliers to bypass long lines leading to security checkpoints by swiping the card through a machine, which will scan an index fingerprint and a! n iris -- physical attributes unique in every person -- instantly checking them against the digital information stored on the chip, and approve travelers to advance to baggage screening.
Although the government says it may expand the security advancement beyond frequent fliers, for now airports and passengers hope the system will cut down on lines for everyone and give screeners more time to focus on travelers who could be a greater security threat.
Click here to comment on this article
Former spy chief to head "Britain's FBI"
www.chinaview.cn 2004-08-14 03:41:50
LONDON, Aug. 13 (Xinhuanet) -- The British government appointed on Friday a former spy chief to head a new national police unit organized in the US FBI's style with the main aim to fight organized crime.
Sir Stephen Lander, the former head of Britain's domestic spy agency MI5 for six years until 2002, will head the Serious Organized Crime Agency (SOCA), British Home Secretary David Blunkett said.
Local media said it is the first time an ex-spymaster has played such a crucial role in British policing.
Click here to comment on this article
"The coverage by US television networks and the American press conveys none of the true horror. . . . The US media has failed to take note of the bitter irony in the American military laying waste to the religious and cultural center of Iraq's Shiite population."
By the Editorial Board 13 August 2004
The US assault on Najaf is a war crime. The spectacle of the world's foremost imperialist power unleashing its overwhelmingly superior military might against poorly armed opponents of foreign occupation recalls the most notorious crimes of the twentieth century, including the fascist bombardment of Guernica in Spain, Mussolini's rape of Ethiopia, and the Nazi blitzkrieg against Germany's European neighbors in World War II.
The US military, in the name of Washington's puppet government under Iyad Allawi, is carrying out the slaughter of supporters of cleric Moqtada al-Sadr who have taken up arms against the attempt to turn Iraq into a de-facto American colony.
The coverage by US television networks and the American press conveys none of the true horror of what is being perpetrated by the 11th Marine Expeditionary Force and First Cavalry Division in Najaf. US bombers, helicopter gunships, field artillery and tanks are being unleashed against Iraqi fighters armed only with small arms and grenade launchers that are next to useless against American armored vehicles.
If the US body counts from Najaf are accurate, at least 500 of the Iraqi fighters have been killed, and thousands more wounded, in a week of bitter fighting to drive Sadr's Mahdi Army militiamen from their defensive positions in the cemetery to the west of the Imam Ali Mosque—one of the most sacred of Shiite Muslim shrines.
Describing the conduct of the US forces, a Marine spokesman told the Associated Press on August 11 that they had "pretty much just been patrolling and flying helicopters all over the place, and when we see something bad, we blow it up."
No estimate is being given by the US attackers of civilian casualties, but given the massive firepower being thrown against urban centers—including the Shiite slum of Sadr City in Baghdad and other southern Iraqi cities besides Najaf—they must number in the thousands.
Earlier this week, the US military told tens of thousands of Najaf residents their homes were a "military zone" and ordered them to evacuate. Thousands chose to defy the invaders, or were prevented from leaving by the fighting raging all around them.
Electricity, water and medical services have ceased to function in the city of 600,000. Thousands of shrines and graves in the revered cemetery have been destroyed or damaged. Much of the historic old city, dating back 1,300 years, which surrounds the mosque has been reduced to rubble.
The US media has failed to take note of the bitter irony in the American military laying waste to the religious and cultural center of Iraq's Shiite population. The "no-fly zone" enforced by the US over southern Iraq from 1991 until last year's invasion was justified as a measure to protect the Shiite population from repression by Saddam Hussein's Baathist regime. The US invasion was propagated as an act of "liberation" of the oppressed Shiites.
Now the American "liberators" are unleashing the most savage repression the Shiites have suffered since 1991. The Shiite masses have responded with large demonstrations against the slaughter in Najaf in cities such as Baghdad, Basra, Nasiriya and other predominantly Shiite cities in Iraq. Demonstrations have also been held in other Middle Eastern countries.
Following a US push into the city center over the past 24 hours, hundreds of Sadr's militiamen, and possibly Sadr himself, are making a last stand inside the compound of the Imam Ali Mosque. They are surrounded by tanks and thousands of American troops, as well as a largely symbolic presence of Iraqi troops under the nominal command of the US-installed interim government. The US forces are demanding the surrender of Sadr's militia and threatening to storm the complex or starve out the defenders. Isolated pockets of the Mahdi Army are believed to be trapped inside the cemetery and buildings in the old city.
The looming massacre underscores an irrefutable political fact: the entire charade of installing a "sovereign" interim government was a smokescreen behind which Washington prepared a bloodbath against the Iraqi resistance. For all the cynical claims in the US media that the puppet regime under Prime Minister Allawi represented a "transition to democracy," its real function all along was to provide an indigenous face for a homicidal onslaught that Washington had wanted to carry out last spring, but felt obliged to delay for political reasons.
The physical destruction of the Shiite movement led by Sadr was first ordered by the Bush administration in March, when the US authority in Iraq ordered the arrest of Sadr himself and other leaders of the Mahdi Army. At the same time, the White House ordered an assault on the city of Fallujah, the center of the Sunni-based insurgency against the occupation.
The repression, however, provoked an uprising that rapidly engulfed most of Iraq. The official US lie that resistance to the occupation was limited to supporters of the former Baathist regime was exposed by the entry into struggle of tens of thousands of Iraqi Shiite and Sunni youth from the working class and most oppressed areas of the country.
In the United States, the scenes of indiscriminate bombing of Iraqi cities, soaring American casualties, and the revelations of torture at Abu Ghraib prison led to a groundswell of antiwar sentiment. In polls conducted in the US in late April, 58 percent said the war "was not worth the loss of American life," and 50 percent supported the withdrawal of all US troops from Iraq "as soon as possible."
The Bush administration responded to the growing political and military crisis by ordering US forces in Iraq to make a series of tactical retreats. Truces were struck, first with the Sunni insurgents in Fallujah, and then with the Mahdi Army in Najaf, Karbala and the Sadr City suburb of Baghdad.
The aim of the truces was always to give US imperialism the time to prepare the political and military conditions for the bloodbath that has now begun. The Bush administration pushed ahead with the installation of a "sovereign" interim government, with the sanction of the United Nations, in order to provide a fig leaf of Iraqi support for mass US repression.
The White House ensured that Allawi, who had been on the payroll of the CIA for a decade, was named as prime minister. Allawi's qualifications were his total subservience to American imperialism and his well-known penchant for brutality. He has not hesitated to place his imprimatur on the renewed US offensive against the Iraqi resistance.
To spearhead the offensive, 7,000 extra Marine assault troops were rushed to Iraq by mid-July, taking up positions outside Fallujah and Najaf. These military preparations were carried out in conjunction with crucial political preparations within the US. In this, the American media and, even more critically, the Democratic Party, played an indispensable role.
The corporate conglomerates that control the American media are in full agreement with the real war aims behind the invasion: the installation of a puppet government to sanction permanent US military bases in Iraq and the takeover of the country's oil resources by US corporate interests.
From right-wing publications to so-called liberal publications such as the New York Times and Washington Post, the press has worked to suppress the antiwar views of the majority of the American population and censor any questioning of the legitimacy of the war.
But the greatest service to the war criminals responsible for the events now unfolding was provided by the Democratic Party and its presidential candidate, John Kerry. It is no accident that the current offensive comes in the wake of the Democratic National Convention, which was a non-stop spectacle of militarism and chauvinism. The Democratic Party hierarchy and Kerry have made every effort to marginalize antiwar sentiment. Opposition to the Iraq invasion has been excluded from the official discussion in the lead-up to the November presidential election.
Kerry himself has declared that any administration he heads will keep US troops in Iraq until "stability" is established—a euphemism for the total suppression of the Iraqi resistance.
The willingness of the American ruling class to employ the most savage and brutal methods to achieve its imperialist aims cannot be underestimated. More than three million Vietnamese died before US imperialism finally accepted defeat. Washington and Wall Street are more than prepared to inflict similar carnage in Iraq.
The authors of the Iraq invasion are deluding themselves, however, if they believe that the mass murder being committed in Najaf will consolidate the country as a US colony. It has already intensified the resistance to the US-led occupation forces and further inflamed the popular hostility toward Allawi's regime.
Fearing the retribution of the masses, the Najaf province deputy governor and 16 of the 30 members of the US-vetted Najaf provincial council have resigned in protest. The US military has been forced to deploy thousands of troops on the fringes of Sadr City in Baghdad to prepare for major battles with the thousands of Iraqis who have taken up arms among the suburb's two million residents. Fighting is taking place in Kut, Nasiriya and other Shiite cities.
The British forces occupying southern Iraq are confronting the prospect of a mass uprising in the predominantly Shiite southern cities of Basra and Amara. The deputy governor of Basra province, Hajj Salam Awdeh al-Maliky, called Tuesday for the shutdown of oil exports from the city's port "in response to the crimes committed against Iraqis by an illegal and unelected government, and occupation forces who claimed they came to liberate Iraq, but it turned out have come to kill Iraqis."
Workers in the southern Iraqi oil fields have walked out on strike, shutting down operations.
An estimated 1,000 British-recruited police and paramilitary troops in Basra have declared their allegiance to Maliky and hailed his threats to join forces with Sadr.
The main Sunni Muslim religious organization, the Association of Muslim Scholars, has issued a fatwa, or instruction, prohibiting all Sunnis in the interim government's military and police forces from assisting the US military in the attack on Sadr's movement. Fighting is once again flaring in the Fallujah area.
Across the Middle East and beyond, the US occupation of Iraq is inflaming the masses and intensifying their outrage over the venality and impotency of their own bourgeois governments. The popular sentiment in Iran—the most populous Shiite Muslim nation—for an open struggle against the US is such that the country's theocracy has been compelled to issue threats of intervention. A question mark hovers over the survival of some of the key regimes upon which US imperialist interests in the region depend: in particular, those of Hosni Mubarak in Egypt, the Hashemite monarchy in Jordan, the Saudi royal family, and the Pakistani military dictatorship of Pervez Musharraf.
Above all, US imperialism is on a collision course with the American working class. While the criminality of the occupation of Iraq may be excluded from official discourse, it is sowing increasing discontent and revulsion among tens of millions of Americans.
Against the attempts of the Democrats and the media to drown out the mass opposition to the crimes being committed in the name of the American people, the demand must be raised for the immediate withdrawal of all US and allied forces, the payment of reparations for the immense suffering inflicted on the Iraqi people, and the prosecution of the organizers, planners and propagators of the invasion of Iraq for war crimes.
Click here to comment on this article
US Offensive In Najaf 'Genocide': Law Experts
By Abdul Raheem Ali, IOL Correspondent
CAIRO, August 13 (IsmamOnline.net) – As Arabs called for an immediate halt to sweeping US offensives in the holy Iraqi city of Najaf, law experts underlined that such offensives, under the pretext of confronting Moqtada Sadr's Mehdi Army militia, are classified as "genocide", according to the recognized rules of international law.
The Arab League and the Egyptian government have Thursday, August12 , voiced their concern over the deadly fighting in Najaf, calling for the resumption of dialogue.
Arab League Secretary General Amr Mussa issued a statement warning that any attack on the holy sites of Najaf could have "dangerous consequences".
The head of the22 -member pan-Arab body urged "all the warring parties to immediately halt military operations under way in Najaf in order to allow the evacuation of the dead and wounded."
As US troops, backed by some Iraqi forces, sealed off all approaches to the heart of Najaf, which includes the revered Imam Ali shrine, US warplanes pounded Mehdi Army positions, forcing civilians to flee. The unprecedented intensity of the fighting in Najaf raised fears of a high casualty toll.
Mussa also said he was "confident the interim Iraqi government could start an immediate dialogue in order to stop the fighting."
Egyptian Foreign Minister Ahmed Abul Gheit also issued a statement saying Cairo had "expressed its concern over the latest developments in Najaf ... and urged restraint on all parties."
Genocide
Commenting on the deteriorating situation in Najaf, an Egyptian international law expert said, "What's happening in Najaf is classified as genocide and a humanitarian crisis by all means".
Hassan Ahmed Omar, speaking to IslamOnline.net, further emphasized the necessity of calling "upon the UN General Assembly to convene" in order to take decisions with regard to trying perpetrators of such massacres.
Omar accused the UN Security Council of conspiring with the United States , underlining that the Security Council could not be trusted to "make any calls" as long as the situation in Iraq is concerned.
"According to the rules of the international law, it is impermissible that a state acts as an adversary and arbitrator simultaneously. The United States and Britain take part in the violations perpetrated in Iraq and control the UNSC. Their involvement in the UNSC decision-making regarding such violations contradicts the simple rules of the international law." [...]
Click here to comment on this article
Najaf assault turns allies against US
Friday 13 August 2004
Former US ally and president of the Iraqi Governing Council (IGC), Muhammad Bahr al-Ulum, has lost faith in the US-led occupation.
When the US wanted a Shia cleric to strengthen the credibility of the IGC, it turned to Bahr al-Ulum, whose family had lost many members for opposing Saddam Hussein.
But watching his hometown of Najaf come under US bombardment to crush Muqtada al-Sadr and his supporters, Bahr al-Ulum has lost faith in US intentions towards Iraq, and says millions of moderates like him, who welcomed last year's invasion, now regard Washington as an enemy.
"The Americans have turned the holy city into a ghost town. They are now seen as full of hatred against Najaf and the Shia. Nothing I know of will change this," the former president of the now defunct council said on Friday.
"I do not understand why America craves crisis. A peaceful solution to the confrontation with Muqtada could have been reached. We were hoping that Prime Minister Iyad Allawi would lead the way, but he sided with oppression."
Bahr al-Ulum has been one of the most outspoken critics of violence fuelled by al-Sadr and his supporters, who have challenged the authority of elder clerics such as Ayatollah Ali al-Sistani and Bahr al-Ulum himself.
Click here to comment on this article
Rallies slam US military assault on Najaf
Friday 13 August 2004, 18:29 Makka Time, 15:29 GMT
Protests against the US assault on Najaf have broken out in Iraqi cities and Iran, with some demonstrators calling for the resignation of Iraqi interim Prime Minister Iyad Allawi.
In one of the biggest protests, enraged Iraqis in the southern town of Diwaniya on Friday swarmed over the local office of his political party, ripping down signs and throwing rocks.
A military offensive by US and Iraqi forces on the al-Mahdi Army of the Iraqi Shia leader Muqtada al-Sadr has inflamed passions among Iraqis and Muslims.
Willing to die
Thousands of supporters of al-Sadr, who was reported wounded on Friday in the besieged city of Najaf, marched through Baghdad, saying they were willing to die as his martyrs.
The crowd set out from the Shia leader's stronghold in the northeast of Baghdad, Sadr City, for the heavily fortified Green Zone, which houses some government offices.
The men chanted slogans such as "We want to be martyrs for you, Muqtada al-Sadr" and "He's the bridge to paradise" while making their way through the centre of the city.
"We want to hold a peaceful demonstration outside the convention centre" inside the Green Zone, said one of the protesters, who refused to give his name.
The men held aloft a sea of flags and carried banners reading "Shoot Down American Planes" and "Leave Muqtada al-Sadr".
Sunni Muslim support
The Najaf offensive has also infuriated residents of the Sunni-dominated town of Falluja, which has been a significant anti-US occupation spot.
About 3000 people marched in the centre of Falluja carrying pictures of al-Sadr and placards denouncing the US bombing of Najaf, where the cleric and his followers are surrounded.
"Long live Sadr. Falluja stands by Najaf against America," the marchers shouted.
South of Baghdad, in the small town of Kut al-Hayy, more than 1000 people - both Sunni and Shia Muslims - marched through the streets after Friday prayers to demand an end to bloodletting.
Sadr's local representative, Ashraf al-Husayni, called for an immediate end of the occupation and for the assault in Najaf to stop, as protesters held up a banner calling for the dismissal of the defence, interior and prime ministers.
Iranian protests
Thousands of Iranians marched through the streets of Tehran on Friday in protest against US military actions in Iraq after a senior hardline cleric praised the resistance of Shia Muslims in Najaf.
Chanting "Death to America" and burning US flags, the protesters flooded streets in central Teheran carrying banners proclaiming: "Death to the occupiers" and "American democracy = massacre of innocent people".
Similar state-sponsored rallies were planned across the country.
"They (Americans) want to fully eliminate Islamic groups from the Iraqi scene and give power to a secular group who are US agents," Ayatollah Ahmad Jannati told worshippers at Friday prayers in Teheran before the protest march started.
"I must appreciate those who are resisting around the holy shrine (of Imam Ali in Najaf) against the bloodthirsty wolves," he said.
Jannati, who heads a powerful hardline constitutional watchdog, criticised Iraq's interim government for "giving the green light" to the US military to carry out raids against Shia fighters in Najaf.
But he made no direct reference to al-Sadr, whose supporters have been fighting US and Iraqi forces in Najaf for more than a week now.
A statement read by the protesters expressed "hatred for the occupiers' presence in Iraq and our support for the innocent Iraqi nation".
"Iran condemns the international community's silence on the crimes being committed by occupying forces in Iraq," it said.
One protester, Muhammad, 53, said it was the duty of Muslims to confront the US military in Iraq.
"America attacked Iraq and looted the country and now the Iraqis want to defend their rights," he said. "The Americans call them terrorists, but the Iraqi people are not terrorists, they (the Americans) are the real terrorists."
Charge denied
Scores of riot police surrounded the nearby British embassy where many of the marchers were expected to congregate later.
In the absence of a US embassy in Iran since Washington broke diplomatic ties in 1980, the British mission has borne the brunt of protests against US-led occupation of Iraq.
Jannati mocked accusations by some US and Iraqi officials that Teheran had been arming Shia rebels in Iraq.
"This is just another pretext against Iran. Could it be any more amusing than this?" he said.
Relations between the two neighbours, who fought a bitter 1980-1988 war, have been strained by the charges of Iranian meddling and by the arrest of several Iranian journalists and business people and the kidnapping of an Iranian diplomat in Iraq in recent weeks.
Click here to comment on this article
Juan Cole
Saturday, August 14, 2004
In a press conference on Friday, Muqtada al-Sadr called on the caretaker government of Iyad Allawi to resign: "I advise the dictatorial, agent government to resign ... the whole Iraqi people demands the resignation of the government ... they replaced Saddam (Hussein) with a government worse than him."
Muqtada seemed to accept the current de facto truce in Najaf, but warned that his militia would fight to the death rather than leave Najaf. A spokesman conveyed Sadr's sentiments: "I will not leave this holy city . . . We will remain here defending the holy shrines till victory or martyrdom."
The report also notes, "Sadr urged supporters in other cities in central and southern Iraq to continue their uprising, saying the truce was restricted to Najaf."
Obviously, Allawi and the Americans have Muqtada right where he wants them.
Shooting 'Signals Attack'

An assassination of a prominent US or international leader will launch the next major al Qaeda attack, it has been reported. A video or audio tape by Osama bin Laden will prompt al Qaeda operatives to begin a wave of strikes.
They could include "multiple targets in multiple venues" across the US, the Washington Times reported. Al Qaeda is thought to be primed to disrupt the US presidential elections in November.
The information came from the laptop of computer expert Naeem Noor Khan.
Click here to comment on this article
US soldiers fear Afghan drug war as opium profits find their way to al-Qa'ida
By Nick Meo in Kandahar
14 August 2004
US soldiers in Afghanistan fear they are about to be launched into a bloody war on drugs amid mounting evidence that the country's booming opium trade is funding terrorists linked to al-Qa'ida.
The US Defence Secretary, Donald Rumsfeld, raised the prospect of the 17,000 combat troops based in the country taking an active role against the drugs trade on a visit to Kabul this week when he spoke of a need for a new strategy.
Comment: Another hidden reason for the attack on Afghanistan? Under the Taliban opium production was kept to a minimum. Enter the US military, the Pentagon nutjobs and their "Afghani" friends, and Opium production explodes...Now you tell us, is that a coincidence? But ignore the Afghan Opium and heroin that is now flooding Europe, just listen to Rummy harp on about the "kiosks and cars"...
Click here to comment on this article
Rumsfeld Hails Free Elections for Afghans

Halfway through the deadliest year yet for American soldiers in Afghanistan, Defense Secretary Donald H. Rumsfeld pointed optimistically Wednesday to a revival in commerce and rising registration for October's election as proof the country is making progress.
Despite a continued Taliban insurgency, growing election violence and a booming opium trade, the Pentagon chief on a daylong visit said: "Each time I come I notice the amazing progress that's being made — the energy on the streets, the new stores, kiosks, cars."
Comment: Well of course 'ol Donny would say this, he has to. The reality, unfortunately, is a little different...
Click here to comment on this article
US-imposed "democracy" in Afghanistan

Loya jirga rubber-stamps autocratic regime

By Mike Head
8 January 2004
[...] To even speak of democracy in these circumstances is farcical. Washington has illegally conquered one of the most impoverished and ruined countries on earth, overturned its government and joined hands with notorious butchers to repress and intimidate the population. Around 12,000 US-led combat troops remain in Afghanistan, terrorising the population in the name of hunting down Taliban and Al Qaeda supporters. They are accompanied by 5,700 NATO "peacekeepers," which are mainly propping up the Karzai administration in the capital.
Even the timetable for elections in Afghanistan is driven by the Bush administration's immediate domestic political considerations. It badly needs a symbolic show of success for its "war on terror" in the lead-up to the US presidential election in November. It is proceeding with its characteristic mixture of cynicism and short-sightedness. All that matters in Afghanistan is a public relations victory, regardless of the completely catastrophic reality.
Many parts of the country are no longer safe for allied troops, or for that matter, UN officials, aid workers and ordinary civilians. Mounting guerilla attacks have forced international aid agencies to withdraw to Kabul, halting even elementary welfare efforts. On December 18, the World Food Program admitted that its food distribution program had been severely affected by the breakdown in security.
The deteriorating situation was highlighted on January 6, when a truck bomb blast near a military base in the southern city of Kandahar killed at least 16 people and wounded 52, many of them school children. Despite the indiscriminate terror employed by the insurgents, the methods being employed by the US seem to be simply increasing support for the Taliban fundamentalists.
Heavy-handed repression by US troops is intensifying popular opposition and resistance to the occupation, particularly in the southern and eastern Pashtun regions. Last month, the US military launched its largest operations in Afghanistan since the overthrow of the Taliban, aimed at tracking down anti-government forces and quelling wider unrest in the lead-up to the loya jirga.
Karzai's fiefdom is largely confined to Kabul, where US troops guard him around the clock. Elsewhere, private armies roam, with a total of half a million men under arms, some linked to drug barons and others to members of Karzai's government.
There is no prospect that even the semblance of a democratic regime will emerge in Afghanistan under these hellish and neo-colonial conditions. Democracy is only possible through a genuine popular revolution, spearheaded by the working class, throughout the Middle East and Central Asia. Only such a movement could liberate the region from decades of great power domination and overcome its legacy of economic backwardness, warlordism and theocratic oppression.
Click here to comment on this article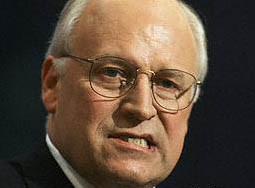 Cheney Says Kerry War Policy Won't Stop Beheadings

Vice President Dick Cheney criticized Democratic presidential candidate John Kerry's call for a "more sensitive war on terror,'' saying such an approach wouldn't stop those who committed the Sept. 11, 2001, attacks or beheaded Americans abroad. Kerry said that if he were in charge, he would fight a "more sensitive" war on terror,'' Cheney, 63, said in an excerpt of a speech he is to deliver to supporters in Ohio later today.
"A sensitive war will not destroy the evil men who killed 3,000 Americans and who seek chemical, nuclear and biological weapons to kill hundreds of thousands more,'' Cheney says. "The men who beheaded Daniel Pearl and Paul Johnson will not be impressed by our sensitivity.''

Cheney's comments refer to a speech Kerry, 60, made last week, in which he said he would fight a "more effective, more thoughtful, more strategic, more proactive, more sensitive war on terror that reaches out to other nations and brings them to our side.'' [...]
Comment: Cheney wants us all to be "insensitive" to "terrorists", which should be read as "insensitive" to the murder of the people of whichever country Cheney decides to invade next. By 'sensitive' Cheney actually means 'objective'. No one should stop and look objectively at the actions of the US government, what is needed is the fear and emotion that cloud logical thought and our ability to see What Is.
Click here to comment on this article
"Wage War to Join the UN" Powell Tells Japan

Secretary of State Colin Powell said Japan must consider revising its pacifist constitution if it wanted to become a permanent member of the U.N. Security Council, Kyodo news agency reported on Friday. Article Nine of Japan's postwar, U.S.-drafted constitution, renounces the right to go to war and forbids a military, although it is interpreted as permitting forces for self-defense.

"If Japan is going to play a full role on the world stage and become a full active participating member of the Security Council, and have the kind of obligations that it would pick up as a member of the Security Council, Article Nine would have to be examined in that light," Kyodo quoted Powell as saying. [...]
Comment: Not content with the destructive power of their own military, the US government wants as many other countries as possible to join in the party to end all parties (and all life on earth too probably)
Click here to comment on this article
The Daily Record
Aug 14 2004
GEORGE BUSH is ready to 'take the rap' over Iraq at the presidential election.
The US president admitted for the first time that the November ballot might go against him.
But he stressed he had taken on Saddam Hussein expecting to find weapons of mass destruction. In an interview with chat show host Larry King, he said: 'We thought we'd find stockpiles. The whole world thought we'd find stockpiles.
'What we know is that Saddam had the capability of making weapons of mass destruction.
'After September 11 we could not take the risk that he shared that capability with our enemies.'
King asked: 'Does the buck stop with you?'
Bush replied: 'Absolutely.' King went on to remind him that JFK 'took the rap' over the botched Bay of Pigs invasion of Cuba in 1961.
Bush admitted: 'I'm taking the rap too, of course, that's what elections are all about. I don't know if it's going to be close or not. But I believe I'll win. I believe the American people know my style of leadership.'
'They understand the commander in chief must not waver in this era. We must continue to stay on the offence.'
He then went on to praise the military record of his election rival, Democrat John Kerry. Kerry served in Vietnam - while Bush dodged the war by joining the National Guard.
Yet he claimed he was still the best military leader for America. Bush said: 'Senator Kerry is justifiably proud of his record.
'But the question is, 'Who can best lead the country in a time of war?' I think it's me as I understand the stakes.'
Comment: Well how do ya like that?! What would Americans do if they didn't have ol' peabrain Shrub to tell them what they do and do not understand. And just in case anyone was wondering about who is the best leader for American citizens; don't bother. Half-baked George is willing to assume that responsibility for y'all too - and guess what, he reckons that he's the best gosh derned leader there ever was.
Click here to comment on this article
US plans to cut forces overseas by 70,000
By Peter Spiegel in London
Financial Times
August 14 2004 00:51
The US is expected to announce on Monday that it is pulling 70,000 troops out of Europe and Asia in the largest restructuring of its global military presence since the second world war.
People briefed on the plan say two-thirds of the reductions will come in Europe, most of them military personnel stationed in Germany who will be sent back to US bases.
An additional 100,000 support staff and military families worldwide will be part of the realignment.
The changes are expected to be announced by President George W. Bush at a speech to the Convention of Veterans of Foreign Wars in Cinncinatti, Ohio, on Monday.
Although Germany will remain home to the largest contingent of American forces on the continent, both army divisions now based there the 1st Armoured and the 1st Infantry could be moved to US bases.
Germany will continue to be home to sophisticated training and command facilities and to a mobile infantry force which will be equipped with the new light-armoured Stryker vehicles and is expected to form the core of a restructured European presence.
The Bush administration has been re-evaluating the US military's global posture almost since its first days in office. Senior Pentagon officials emphasised that the move was not intended as a punishment for Germany's lack of support in the Iraq war.
In Asia, the reduction is expected to include the 3,500-soldier brigade from South Korea, which was recently deployed to Iraq.
There will also be a shift of some European command headquarters. The navy's European HQ, which has been in London since the second world war, will be moved to Naples.
Click here to comment on this article
U.S. Repeats Saudi Arabia Travel Warning
AP
Fri Aug 13,11:57 AM ET
WASHINGTON - Families of American diplomats in Saudi Arabia, ordered to leave the kingdom last April, will not be permitted to return "until further notice," the State Department has announced.
Also, Americans who worked at the U.S. Embassy in Riyadh and at the U.S. consulates in Jeddah and Dhahran, ordered to depart along with the families, will not be permitted to return, as well, the department said in a travel warning Thursday.
"Continued security concerns," is the reason, the department said in designating U.S. diplomats posts in Saudi Arabia as "unaccompanied."
The U.S. Embassy in Iraq and a handful in Europe and Asia are similarly restricted to essential U.S. personnel without their families.
The statement renewed a warning to U.S. citizens not to travel to Saudi Arabia. There is a serious threat to their safety because of targeted attacks on U.S. citizens that have resulted in deaths, injuries and kidnappings, the statement said.
"The U.S. government continues to receive credible information indicating that extremists are planning further attacks against U.S. and Western interests," the statement said.
At times of increased terrorist threats in foreign countries, non-emergency U.S. personnel often have the option of departing at government expense. The April 15 order for Saudi Arabia was mandatory.
Also on Thursday the department lifted the authorized voluntary departure of non-emergency embassy employees and family members from the nearby kingdom of Bahrain.
That decision was made after a careful review of the security situation there, State Department deputy spokesman Adam Ereli said.
Click here to comment on this article
Taiwan Flaunts Its Air Superiority Over China
By Richard Chung
Sat Aug 14, 1:19 AM ET
TAOYUAN, Taiwan (Reuters) - Taiwan flaunted its fighter jets in the biggest-ever air show on the island on Saturday, a show of strength as tensions simmer with arch-foe China.
U.S.-made F-16s, French Mirage fighters and Taiwan-made Indigenous Defense Fighters (IDFs) streaked across the sky above the Taoyuan airbase in northern Taiwan, spinning 360 degrees in sharp formations in front of a cheering crowd.
The exhibition came as Taiwan and China hold annual military drills, with tensions especially high this summer because Beijing is convinced the island it views as a renegade province could push for formal statehood under President Chen Shui-bian.
It is a move, China says, that can lead to war.
"Communist China has deployed missiles pointed at Taiwan and is building its sea and air power to attack Taiwan," Chen told a conference in Taipei.
"This kind of scheme by China to use military might to intimidate Taiwan is a challenge not only to Taiwan's democratic system but also to regional security and stability."
Military analysts say there is now a rough balance of power across the Taiwan Strait: China's 2.5-million-strong People's Liberation Army far outnumber Taiwan's 400,000 troops, but the island maintains a qualitative advantage.
The PLA has about 3,400 aircraft, but Taiwan possesses three times as many fourth-generation fighters, according to a Pentagon report issued in May. Taiwan says it has about 340 F-16s, Mirage fighters and IDFs.
"Our military strength is very strong and we can definitely defend Taiwan," said Vice Defense Minister Huo Shou-yeh at the opening ceremony of the air show.
Fighter jets smoothly carried out high-difficulty barrel rolls, twisting and turning at high speeds and soaring sharply with smoke screaming from their engines.
Besides fighter jets, the air show also featured parachuters, stunt planes, helicopters, and aircraft from different countries. The exhibition was Asia's first leisure air show, organizers said.
Taiwan's war games will culminate in joint-force exercises on Aug. 25, with all branches of the military expected to demonstrate how the island can fend off an invasion.
Click here to comment on this article
From Veronique Dupont in New York
August 14, 2004
WORLD oil prices tore to all-time highs today as a hurricane thundered near oil platforms, oil-rich Venezuela faced a strike risk and fighting raged in Iraq. [...]
Click here to comment on this article
Layoffs under Bush administration among highest in U.S. history

During the first three years of the Bush administration, the layoff rate reached 8.7 percent for workers over 20 years old, one of the highest rates on record, according to the New York Times . The survey also recorded the highest layoff rate ever for long-tenured workers -- those who held their job for more than three years. Employers laid off 5.3 million, or 6.3 percent of all long-tenured workers between 2001 and 2003.
In the past, layoffs peaked during recessions and declined during economic booms; but a new survey by the Bureau of Labor Statistics shows that the layoff rate is increasing regardless of the state of the rest of the US economy.
Tracking return of Dead Zone in Pacific: Scientist see 'tipping of the balance of the ecosystem'
Friday, August 13, 2004 Posted: 1404 GMT (2204 HKT)
[...] Two years ago when local fishermen started hauling up pots filled with dead crabs, scientists figured out that a huge mass of sub-Arctic water with very low levels of oxygen and high levels of nutrients had welled up from the ocean's depths and settled in for the summer on the Continental Shelf off central Oregon.
The Dead Zone dissipated that fall, and based on 40 years of ocean monitoring and local fishing lore, many thought they would never see it again. This summer, the Dead Zone came back.
"What I think we are seeing is a tipping of the balance of the ecosystem," said Jack Barth, a professor of oceanography at Oregon State University. "We don't fully understand what the cause of that is. We have some good ideas that it is related to some fundamental changes in circulation and the source of water for the Oregon Continental Shelf."
There are more than 30 man-caused dead zones -- scientists call them hypoxic or low-oxygen events -- around the world in enclosed waters, including Hood Canal in Puget Sound, the Mississippi River delta and Chesapeake Bay.
There, excess fertilizer from farm fields washing down rivers fuels a surge in microscopic plants called phytoplankton. When they die, bacteria decompose them, using up the oxygen in the water and leaving fish, crabs and other sea life to suffocate.
Naturally caused dead zones in open water, like the one off Oregon, are rare and less well understood. Others have been found off the coasts of Peru and South Africa.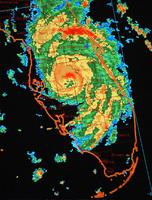 Hurricane Charley covers Florida, the Rigged Election State.
Hurricane Charley Whips Fla.; Three Dead
By JILL BARTON and ALLEN G. BREED
Aug 14, 12:58 AM (ET)
PUNTA GORDA, Fla. (AP) - Hurricane Charley struck west-central Florida with a wicked mix of wind and water Friday, ravaging oceanfront homes and trailer parks, tearing apart small planes and inundating the coast before moving inland to assault Orlando and Daytona Beach. Three people died during the storm and dozens were injured.
The Category 4 storm was stronger than expected when the eye reached the mainland Friday afternoon at Charlotte Harbor, pummeling the coast with winds reaching 145 mph and a surge of sea water of 13 to 15 feet. More than a million customers were without power statewide.
President Bush declared a major disaster area in Florida. His brother, Gov. Jeb Bush, projected damage from Charley could exceed $15 billion, but that estimate was preliminary.
Damage was especially heavy in downtown Punta Gorda on Charlotte Harbor.
"It looks like a war zone - power lines down everywhere, street signs, pieces of roofs blown off, huge trees uprooted," said Buddy Martin, managing editor of the Charlotte Sun.
Martin said he saw homes ripped apart at two trailer parks. "There were four or five overturned semi trucks - 18-wheelers - on the side of the road," he said.
Extensive damage was also reported on exclusive Captiva Island, a narrow strip of sand west of Fort Myers.
The hurricane rapidly gained strength in the Gulf of Mexico after crossing Cuba and swinging around the Florida Keys as a more moderate Category 2 storm Friday morning. An estimated 1.4 million people evacuated in anticipation of the strongest hurricane to strike Florida since Andrew in 1992.
By midnight, the center of the storm had moved offshore into the Atlantic Ocean northeast of Daytona Beach.
Charley reached landfall at 3:45 p.m. EDT, when the eye passed over barrier islands off Fort Myers and Punta Gorda, some 110 miles southeast of the Tampa Bay area.
Wayne Sallade, director of emergency management in Charlotte County, was angry that forecasters underestimated the intensity of the storm until shortly before landfall.
"They told us for years they don't forecast hurricane intensity well, and unfortunately we know that now," he said. "This magnitude storm was never predicted."
Florida Emergency Management Director Craig Fugate was adamant that local officials should have been prepared but acknowledged: "Hurricane forecasting is not a perfect science."
The president's declaration made federal money available to Charlotte, Lee, Manatee and Sarasota counties. "Our prayers are with you and your families tonight," Bush said from Seattle.
About 138,000 customers lost electricity in Lee County - including the emergency management center.
A crash on Interstate 75 in Sarasota County killed one person, and a wind gust caused a truck to collide with a car in Orange County, killing a young girl. A man who stepped outside his house to smoke a cigarette died when a banyan tree fell on him in Fort Myers, authorities said.
Anne Correia spent a harrowing two hours alone in a closet in her Punta Gorda apartment.
"I could hear the nails coming out of the roof," she said. "The walls were shaking violently, back and forth, back and forth. It was just the most amazing and terrifying thing. I just kept praying to God. I prayed with my whole heart."
Don Paterson of Punta Gorda rode out the hurricane in his trailer. It began to rock, a flying microwave oven hit him in the head, and then the refrigerator fell on him. He spent the rest of the storm hiding behind a lawnmower, as his home was demolished.
"Happy Friday the 13th," he said.
As an airplane hangar at the Charlotte County airport flew apart around him and his wife, "It sounded like a calypso band gone crazy," said Jim Morgan.
The eye of the hurricane passed directly over Punta Gorda, a city of 15,000. At the county airport, wind tore apart small planes, and one flew down the runway as if it were taking off. The storm spun a parked pickup truck 180 degrees, blew the windows out of a sheriff's deputy's car and ripped the roof off an 80- by 100-foot building.
At Charlotte Regional Medical Center in Punta Gorda, up to 50 people came in with storm injuries. The hospital was so badly damaged that patients were being transferred to other hospitals on Coast Guard helicopters.
"There's a lot of crush injuries," hospital CEO Josh Putter said. "Things have fallen on people, crushed their legs, crushed their pelvis - a lot of bleeding."
In Arcadia, 20 miles inland, one wall collapsed at a civic center serving as a shelter for 1,200 people. Only one person was hurt, and her injuries were minor.
The wall "started peeling back," said one evacuee, Alida Dejongh. "It lifted, and you could just see more and more light. You could hear this popping and zipping noise like a giant Ziploc bag."
On Sanibel Island and in Cape Coral, streets were flooded, trees uprooted and power lines down, but there were no reports of major damage. In Desoto County outside Arcadia, several dead cows, wrapped in barbed wire, littered the roadside.
On Fort Myers Beach, sea water swamped the barrier island. At least 20 people sought treatment at a hospital in Fort Myers.
"We're going under," said Lucy Hunter, a hotel operator. "When the ocean decides to meet my bay, that's a lot of water. It's already in my pool."
At 11 p.m. EDT, the center of the storm was about 10 miles southwest of Daytona Beach and moving north-northeast near 25 mph, with an increase expected. Maximum sustained winds were near 85 mph with higher gusts.
The center was expected to move into the Atlantic Ocean near Daytona Beach, then approach the South Carolina coast Saturday morning. A hurricane warning was in effect from Cocoa Beach to North Carolina.
About a million people in the Tampa Bay area had been told to leave their homes. Some drove east, only to find themselves in the path of the storm as it moved north.
"I feel like the biggest fool," said Robert Angel of Tarpon Springs, who sought safety in a Lakeland motel. "I spent hundreds of dollars to be in the center of a hurricane. Our home is safe, but now I'm in danger."
The storm forced the closing of Orlando theme parks Walt Disney World, Universal Orlando, SeaWorld and Animal Kingdom. The only previous time the parks closed for a hurricane was in 1999 for Floyd.
Charley was the strongest hurricane to hit Florida since the Category 5 Andrew hit south of Miami in 1992. Hurricane Mitch, which stalled over Honduras in 1998, also was Category 5 with sustained wind over 155 mph. Mitch killed some 10,000 people in Central America.
Charley was expected to slide along Georgia's coast on Saturday. Farther north, hurricane warnings and watches were raised along the South Carolina coast.
Click here to comment on this article
In Carolinas, Tourists, Residents Flee
By BRUCE SMITH, Associated Press Writer
August 14, 2004
CHARLESTON, S.C. - Tourists and residents fled inland in droves as a slightly weaker Hurricane Charley bore down on the South Carolina coast after smashing into Florida.
Roads clogged Friday night as some of the 180,000 vacationers and inhabitants of the state's Grand Strand — beaches and high-dollar homes and hotels — heeded a mandatory evacuation order as Hurricane Charley's path swung toward South Carolina.
Gov. Mark Sanford had urged voluntary evacuation earlier Friday. Then the Hurricane's strength increased and it veered to the east as it made landfall in Florida with 145 mph winds.
"This has proven to be an unpredictable storm," Sanford said as he ordered the mandatory evacuation.
Early Saturday, the center of the storm was in the Atlantic Ocean, about 190 miles south-southwest of Charleston, S.C., and moving north-northeast at 25 mph. Forecasters expected Charley to increase in speed. Maximum sustained winds were near 85 mph with higher gusts. [...]
Click here to comment on this article
---
Remember, we need your help to collect information on what is going on in your part of the world!
We also need help to keep the Signs of the Times online.
---

Check out the Signs of the Times Archives

Send your comments and article suggestions to us

---
Fair Use Policy
Contact Webmaster at signs-of-the-times.org
Cassiopaean materials Copyright ©1994-2014 Arkadiusz Jadczyk and Laura Knight-Jadczyk. All rights reserved. "Cassiopaea, Cassiopaean, Cassiopaeans," is a registered trademark of Arkadiusz Jadczyk and Laura Knight-Jadczyk.
Letters addressed to Cassiopaea, Quantum Future School, Ark or Laura, become the property of Arkadiusz Jadczyk and Laura Knight-Jadczyk
Republication and re-dissemination of our copyrighted material in any manner is expressly prohibited without prior written consent.
.