---
Printer Friendly Version
New! Film Review: The Manchurian Candidate
Picture of the Day
Frosty Tree
©2004 Pierre-Paul Feyte
The current "war on terror" is a war on the human spirit. The few real terrorists that exist are those that seek revenge, albeit misguidedly, against the brutality and inhumanity perpetrated against them and their people by government policies over the years. But note, there are few real terrorists. By slowly increasing their power and control over many many years, "the powers that be" have ensured that, at this stage, their global reign is uncontested.
The global elite maintain their position of complete dominance by enticing us all to give up our independence and will, and live on our knees. Using the fake "war on terror" they subtly send a message to us all that resistance, that admirable quality of the human spirit, is futile and will be crushed. It is a message to all of us, not just the "terrorists".
It is an invitation to lie down and submit to our "masters".
The only thing that remains to be decided is if we will do so. Many have already chosen. In order to help those of our readers that are still undecided in making that decision, below we present a few things that we all should know about the man soon to be tasked with providing intelligence that will protect Americans against further "terror attacks".
Fox to Guard Henhouse

August 10, 2004
The appointment of Porter Goss to head the CIA comes as no surprise, but if reform is on the agenda, Goss isn't the man. During his tenure as head of the House Permanent Select Committee on Intelligence, Goss shredded any last iota of oversight by the committee, turning it into a cheerleader for the agency were Goss once worked. Goss virtually pulled HPSCI out of the oversight business, repeatedly saying that he sees the committee's role as a partner with the U.S. intelligence community, not as its overseer and watchdog. (The contrast with the Senate Select Committee on Intelligence is especially stark.) In my opinion, Goss has the potential to be the worst, most adventurous CIA chief since Bill Casey.
The sad thing is that the CIA didn't really need a chieftain to get it through the elections, since its acting director, John McLaughlin, seems quite capable of getting us there. And it raises a question of tenure, since, if Kerry wins in November, he'll have to decide whether to oust Goss or keep him on. Goss' appointment could be one the shortest ever atop the agency, shorter even than James Schlesinger's ill-fated months-long tour there in 1973.
Click here to comment on this article
Ex-Spy Goss Is Known for His Loyalty to CIA
The lawmaker headed the House Intelligence Committee for seven years. Critics say he's too close to the agency and the Bush White House
By Bob Drogin, Times Staff Writer
August 11, 2004
WASHINGTON — When terrorists attacked the United States on Sept. 11, 2001, House Intelligence Committee Chairman Porter J. Goss was having breakfast here with Gen. Mahmud Ahmed, the visiting chief of Pakistan's intelligence agency.
Their chief topic, however, was not Pakistan's support for the Taliban regime in Afghanistan or its tacit tolerance of Osama bin Laden. Goss and his guest focused instead on Pakistan's rivalry with India and the dispute over the territory of Kashmir.

With his nomination Tuesday by President Bush to be the next director of central intelligence, Goss must face critics in the CIA, on Capitol Hill and elsewhere as they look into his background and question whether he can bring the right focus to America's demoralized intelligence agencies.
A former spy and longtime public official, Goss, 65, served seven years as head of the House Intelligence Committee, longer than almost any other chairman, before resigning the post Tuesday to prepare for his new role.
His patrician stewardship of the oversight committee overlapped with the troubled tenure of George J. Tenet, who stepped down last month as head of the CIA and nominal chief of America's 14 other intelligence agencies.
Goss would bring an unusual pedigree to the top CIA job. If confirmed by the Senate, Goss would be the first U.S. intelligence chief since William E. Colby, who retired in 1976, to have served in the CIA's clandestine service. Goss spent nine years as a covert CIA case officer in Latin America and Europe, recruiting spies and running operations, and was one of a handful of legislators with hands-on experience in intelligence matters.
However, he could be out of a job if Democratic presidential candidate John F. Kerry, whom Goss has criticized, is elected in November. Even if Bush is reelected, Goss could find his authority sharply reduced by a restructuring of the intelligence community. The White House has proposed naming a national intelligence director who would outrank the CIA chief, and other reforms are being pushed by members of the commission that investigated the Sept. 11 attacks.
Goss, in turn, hopes to strengthen the CIA director's job. He introduced legislation in June that would give the CIA chief control over most of the intelligence community's estimated $40-billion annual budget. The Pentagon now controls most of that money.
Goss Was Once Latin America Operative

Details of Goss' career remain shrouded by four decades of secrecy. It is among the least-explored decades of any current U.S. politician's past. Neither he nor the CIA have given any but the sketchiest description. Goss apparently joined the CIA just out of Yale, where he earned a degree in ancient Greek in 1960. He worked in Miami, which was becoming a magnet for Cuban emigres. Some were recruited by the CIA and trained for what turned out to be one of the agency's greatest disasters: the 1961 invasion of Cuba that was crushed by Fidel Castro at the Bay of Pigs.
A year later, the world narrowly averted nuclear war during the Cuban missile crisis involving the United States and Soviet Union.
Comment: So Goss may have been involved in the Cuban "Bay of Pigs" affair - that's the same debacle that gave rise to "Operation Northwoods", a plan by US government and military representatives to carry out a fake terror attack in order to galvanise public opinion for an invasion of Cuba. Very interesting.
Click here to comment on this article
U.S. Military Drafted Plans to Terrorize U.S. Cities to Provoke War With Cuba
By David Ruppe
ABCNEWS.com
N E W Y O R K, May 1 — In the early 1960s, America's top military leaders reportedly drafted plans to kill innocent people and commit acts of terrorism in U.S. cities to create public support for a war against Cuba.
Code named Operation Northwoods, the plans reportedly included the possible assassination of Cuban émigrés, sinking boats of Cuban refugees on the high seas, hijacking planes, blowing up a U.S. ship, and even orchestrating violent terrorism in U.S. cities.
The plans were developed as ways to trick the American public and the international community into supporting a war to oust Cuba's then new leader, communist Fidel Castro.
America's top military brass even contemplated causing U.S. military casualties, writing: "We could blow up a U.S. ship in Guantanamo Bay and blame Cuba," and, "casualty lists in U.S. newspapers would cause a helpful wave of national indignation."
Details of the plans are described in Body of Secrets (Doubleday), a new book by investigative reporter James Bamford about the history of America's largest spy agency, the National Security Agency. However, the plans were not connected to the agency, he notes.
The plans had the written approval of all of the Joint Chiefs of Staff and were presented to President Kennedy's defense secretary, Robert McNamara, in March 1962. But they apparently were rejected by the civilian leadership and have gone undisclosed for nearly 40 years.
"These were Joint Chiefs of Staff documents. The reason these were held secret for so long is the Joint Chiefs never wanted to give these up because they were so embarrassing," Bamford told ABCNEWS.com.
"The whole point of a democracy is to have leaders responding to the public will, and here this is the complete reverse, the military trying to trick the American people into a war that they want but that nobody else wants." [...]
One idea was to create a war between Cuba and another Latin American country so that the United States could intervene. Another was to pay someone in the Castro government to attack U.S. forces at the Guantanamo naval base — an act, which Bamford notes, would have amounted to treason. And another was to fly low level U-2 flights over Cuba, with the intention of having one shot down as a pretext for a war.
"There really was a worry at the time about the military going off crazy and they did, but they never succeeded, but it wasn't for lack of trying," he says.
After 40 Years
Ironically, the documents came to light, says Bamford, in part because of the 1992 Oliver Stone film JFK, which examined the possibility of a conspiracy behind the assassination of President Kennedy.
As public interest in the assassination swelled after JFK's release, Congress passed a law designed to increase the public's access to government records related to the assassination.
The author says a friend on the board tipped him off to the documents.
Afraid of a congressional investigation, Lemnitzer had ordered all Joint Chiefs documents related to the Bay of Pigs destroyed, says Bamford. But somehow, these remained.
"The scary thing is none of this stuff comes out until 40 years after," says Bamford.
Comment: Scary indeed. What, we wonder, might "come out" about the 9/11 attacks 40 years from now - if any of us live that long? Personally, we would prefer to know now, because if the world atropies in the next 40 years to the same degree as it has in the last 40, then we fear that there will be no world left to speak of. We wonder if Mr. Goss knows anything about more recent fake terror attacks carried out on American soil. As it happens...
Click here to comment on this article
The New CIA Chief, Breakfast in Florida and the Pakistani ISI
If the 9-11 Commission is really looking for a smoking gun, it should look no further than at Lieutenant-General Mahmoud Ahmad, the director of the Pakistani Inter-Services Intelligence (ISI) at the time. In early October 2001, Indian intelligence learned that Mahmoud had ordered flamboyant Saeed Sheikh - the convicted mastermind of the kidnapping and killing of Wall Street Journal reporter Daniel Pearl - to wire US$100,000 from Dubai to one of hijacker Mohamed Atta's two bank accounts in Florida.
A juicy direct connection was also established between Mahmoud and Republican Congressman Porter Gross and Democratic Senator Bob Graham. They were all in Washington together discussing Osama bin Laden over breakfast when the attacks of September 11, 2001, happened.
Mahmoud's involvement in September 11 might be dismissed as only Indian propaganda. But Indian intelligence swears by it, and the US Federal Bureau of Investigation (FBI) has confirmed the whole story: Indian intelligence even supplied Saeed's cellular-phone numbers. Nobody has bothered to check what really happened
Click here to comment on this article
White House Nominee to Head the CIA has Dubious Links to the Terror Network
Michel Chossudovsky
Following George Tenet's resignation as Director of Central Intelligence at the CIA, the Bush administration immediately pointed to Rep. Porter Goss, as its handpicked nominee. Porter Goss, a Florida Republican and former CIA spy, is chairman of the House Intelligence Committee. He also chaired, together with Senator Bob Graham, the Joint Senate House Committee, on the September 11 attacks.
Amply documented, Porter Goss had a close personal relationship to the Head of Pakistan Military Intelligence (ISI), General Mahmoud Ahmad, who according to the Washington Post "ran a spy agency notoriously close to Osama bin Laden and the Taliban". Moreover, according to intelligence sources and the FBI, General Mahmoud Ahmad played an undercover role in channeling financial support to the 9/11 hijackers.
Yet this same individual, General Ahmad, was on an official visit to Washington from the 4th to the 13th of September 2001, meeting his counterpart George Tenet as well as key members of the administration and the US Congress including Rep Porter Goss. General's host on Capitol Hill during his official visit to Washington was Rep. Porter Goss, Bush's nominee for the position of Director of Central Intelligence.
In fact, on the morning of September 11, Porter Goss was hosting a breakfast meeting on Capitol Hill in honor of General Ahmad, the alleged "money-man" (to use the FBI expression) behind the 9/11 hijackers.The meeting was described by one press report as a "follow-up meeting" to that held with Porter Goss and Bob Graham with General Ahmad in Pakistan in late August 2001, barely two weeks before 9/11.'
Rep Porter Goss could have pleaded ignorance on the morning of 9/11: "I did not know about the General." But the "Pakistani ISI connection" and the role played by its former head, General Mahmoud Ahmad have since then been well documented.
It is worth mentioning that one of the recommendations of the Joint Senate House Report on the 9/11 attacks chaired by Goss and Graham, was a massive reorganization of the intelligence apparatus which would put the CIA in control of 70 percent of the agency's 40 billion budget (as opposed to 12% under the current arrangement). In anticipation of his nomination to the helm of the agency, Porter Goss, has carefully set the stage.
He has introduced a bill in the House which follows through on the Joint Senate House Report. The legislation if adopted would "significantly expand the CIA director's executive and management authority over the whole intelligence community
Comment: So there you have it. Porter Goss, friend and confidante of the terrorists, is soon to be the head honcho of a revamped CIA which will, moreso than ever before, be tasked with unconditionally carrying out the will of the megalomaniacal few. Of course, "confidante of the terrorists" is not such an alarming title for the director of the CIA, when you understand that the director of the CIA is employed by the "terrorists".
Click here to comment on this article
Flashback: Bush's Independent Commission: Exonerating the Spooks
by Kurt Nimmo
February 2, 2004
Bush's so-called independent commission looking into "intelligence failures" will be handpicked by the administration. It will be similar to the 9/11 investigative commission -- that is to say it will produce results acceptable to Bush and the spooks. The chairman of the 9/11 commission is Thomas Kean.
Consider Kean emblematic.
"Thomas Kean is a director (and shareholder) of Amerada Hess Corporation, which is involved in the Hess-Delta joint venture with Delta Oil of Saudi Arabia (owned by the bin Mahfouz and Al-Amoudi clans)," notes Michel Chossudovsky. "In other words, Delta Oil Ltd. of Saudi Arabia -- which is a partner in the Hess-Delta Alliance -- is in part controlled by Khalid bin Mafhouz, Osama's brother in law."
You'd think concerned people would be up in arms over a commission assigned to investigate a terrorist incident blamed on Osama bin Laden with a director who does business with the main suspect's family. And yet nothing said about it -- at least nothing said by the Bush Ministry of Disinformation, otherwise known as Fox, CNN, and all the other alphabet corporate news agencies.
A so-called "news analysis" of the Bush commission published in the New York Times notes that another commission -- one head up by Frank Church in the 1970s chaired to look into the dirty dealings of the CIA -- "is remembered by many as an inquisition."
Of course, the CIA and its apologists consider it an "inquisition" because it revealed the true nature of the intelligence organization: election rigging, assassination, staged military coups, and other covert dirty tricks.
Bush will hand his commission a big wide brush and a tub of white paint.
Intelligence "professionals" will run the show. Porter Goss (R-Fla.), a former CIA and Army intelligence officer, and currently the Republican chairman of the House Intelligence Committee, "is among those who have argued that any new intelligence inquiry should look forward, rather than dwell on any past mistakes."
In short, Goss will make sure the closet remains closed and the sacred territory of the Office of Special Plans (OSP) will not be trespassed. Instead, the CIA will be issued a mild rebuke and then it will be time to move on. For its effort, the CIA may even be rewarded.
"Mr. Goss and others will argue that an inquiry ought to lead Americans to understand that intelligence gathering and analysis is, at best, an imperfect science."
Americans ought to learn one thing and one thing only -- the CIA, DIA, NSC, and OSP are not open to public inquiry.
"We've been watching too many James Bond movies, to think it always comes out all right in the end. It doesn't," Goss excoriated the American people. In other words, the CIA (actually the untouchable OSP; in this instance the CIA is a momentary patsy) will not be held accountable for making up far fetched stories about Saddam's illusory WMD, lies Bush used to invade a nation. Hey, we all make mistakes, right?
Let's move forward.
Forward means invading countries more effectively. Both Goss and David Kay believe Bush's invasion of Iraq was the right thing to do. The problem wasn't Rumsfeld's OSP and its unprincipled lies about Iraq's WMD or Saddam's imaginary connections to al-Qaeda, but rather the inability of the CIA to penetrate Saddam's inner circle of thugs.
If Bush's commission demonstrates anything, it will be that the CIA and other spook agencies need more power, not less. Less oversight, not more.
According to the Bushites and Goss, the CIA needs less political correctness and more understanding of why the US did business with the likes of the Shah of Iran, "Papa Doc" Duvalier, Mobutu Sese Seko, Vinicio Cerezo, Pol Pot, Alfredo Christiani, General Suharto, and a whole lot of other reprehensible dictators and sadists, including Saddam Hussein.
Following the logic of Goss and Kay, the arbitrary arrest, torture, disappearance, and killings of political opponents in Guatemala, Honduras, El Salvador, the Philippines, Chile, Nicaragua, Indonesia, the Dominican Republic, Iran, and Iraq -- all facilitated with the assistance and encouragement of the CIA and the US government -- is nothing less than business as usual. Such behavior does not need to be modified. It only needs to be accomplished more effectively.
"One option sure to be addressed by the new commission is one already under review by the independent panel looking into the Sept. 11 attacks," writes the New York Times. "The idea is to establish a single director of national intelligence, appointed to a fixed term of office like the current FBI chief, and give that director real authority over bodies like the Defense Intelligence Agency and the National Security Agency, which now remain under Pentagon control."
But not the OSP, which remains unnamed. It will continue to crank out customized "intelligence" and feed it to Bush in preparation for invasions of Syria and Iran. In the future, if the CIA et al want to stay out of hot (actually lukewarm) water, they will make sure they are on the same page with Rumsfeld and the OSP.
Maybe the new intelligence czar will issue straight from the ranks of the OSP or Bush's inner circle. Is it possible the grooming of Abram Shulsky or William Luti -- both OSP hacks -- has already moved forward?
Bush's commission will not only mean a reshuffling of the deck, but a fresh influx of cash.
"[The] attention the inquiry will get may bring other help, like bigger budgets for agencies whose spending has soared since the Sept. 11 attacks but that plead for still more money for spies, satellites and other means of collecting intelligence."
As it now stands, we don't even know the numbers of the CIA's budget. US District judge Thomas Hogan threw out a lawsuit in 1999 attempting to compel the government to tell the public how much it spends on intelligence. The CIA said the numbers are irrelevant. Hogan said revealing the budget would provide "too much trend information and too great a basis for comparison and analysis for our adversaries."
Adversaries -- like the American people.
"It is not a question of reluctance on the part of CIA officials to speak to us," said Senator Leverett Saltonstall in 1966. "Instead it is a question of our reluctance, if you will, to seek information and knowledge on subjects which I personally, as a Member of Congress and as a citizen, would rather not have."
Nothing has changed in the 30 odd years since Saltonstall made his comment. Congress does not want to know what the CIA or the OSP does -- and they certainly don't want you to know.
As Chalmer Johnson writes, the term "blowback" came to be "shorthand for the unintended consequences of U.S. policies kept secret from the American people. In fact, to CIA officials and an increasing number of American pundits, blowback has become a term of art acknowledging that the unconstrained, often illegal, secret acts of the United States in other countries can result in retaliation against innocent American citizens. The dirty tricks agencies are at pains never to draw the connection between what they do and what sometimes happens to those who pay their salaries."
And that's what Bush's "independent" commission is all about – severing the connection between what the CIA and the OSP do under the cover of darkness and the outcome of their actions. It will serve as a grandstand not to reform the agencies, but rather increase their power and magnify the damage they inflict. It is a case of rudimentary physics: for action there is a reaction.
Bush and Congress have bunkers.
We're expected to get by on duct tape.
Comment: Of course, apart from his relationship with the "terrorists", we might at least expect the new CIA head to be qualified, right?...
Click here to comment on this article
Moore embarrasses new CIA chief
US Congressman Porter Goss, nominated to be the new director of the CIA, may be talking himself out of the job, according to film-maker Michael Moore.
Moore, who directed the film Fahrenheit 9/11, has released an interview with Mr Goss in which he says he lacks the qualifications for the top spy post.
"I couldn't get a job with CIA today. I am not qualified," Mr Goss told Moore's production company in March.
The White House has dismissed the interview as "ridiculous hearsay".
The interview did not make it into the final edit of the film, which criticises President George W Bush's policy on Iraq.
But following Mr Goss's nomination by the president, Moore has released the transcript and video excerpt on his website.
"I don't have the language skills. I, you know, my language skills were romance languages and stuff. We're looking for Arabists today. I don't have the cultural background probably," Mr Goss says on the video.
"And I certainly don't have the technical skills, as my children remind me every day: 'Dad, you got to get better on your computer.'
"So, the things that you need to have, I don't have."
[...] Announcing the appointment on Tuesday, Mr Bush said Mr Goss was the "right man" to head the agency.
"Porter Goss is a leader with strong experience in intelligence and in fighting against terrorism," he said.
Click here to comment on this article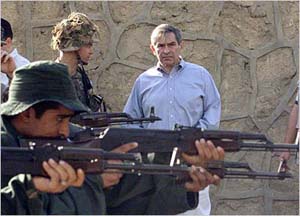 "Gentle-souled" Wolfowitz in his element among the real terrorists
Pentagon plan for global anti-terror army

The Pentagon has urged Congress to authorise a $700 million package designed to build a global anti-terrorist network of friendly militias. Deputy Defence Secretary Paul Wolfowitz, a key architect of the Iraq war, told the House Armed Services Committee the money would be used "for training and equipping local security forces - not just armies - to counter terrorism and insurgencies".
The "new" warfare would also spare the United States the need to deploy large contingents of its own forces around the world. Addressing the Chicago Council on Foreign Relations last week, Defence Secretary Donald Rumsfeld spoke of the need for the Pentagon to adjust to the new reality in which it does not have to confront big foreign armies, navies and air forces it was originally trained to fight.
"There are not a lot of them around at the moment," the secretary pointed out. "And we've got manhunts going on."
Comment:

Question: What is the difference between a "global anti-terror army" and a "global terror army"?
Answer: Nothing.
Click here to comment on this article
Official: No Evidence Attack Is Imminent
By TED BRIDIS, Associated Press Writer
Fri Aug 13, 8:05 AM ET
WASHINGTON - Two weeks ago, when Homeland Security Secretary Tom Ridge warned of possible al-Qaida attacks, the "where" was very specific: financial institutions in New York City, Washington and Newark, N.J. The "when," however, was a mystery. And since Ridge's announcement, the Bush administration has discovered no evidence of imminent plans by terrorists to attack U.S. buildings, a White House official acknowledged Thursday.
Some documents and computer files seized in al-Qaida raids included surveillance reports of the financial buildings during 2000 and 2001, which prompted warnings Aug. 1 from the White House about possible threats. But nothing in the documents themselves has suggested any attack was planned soon, the official said.
"I have not seen an indication of an imminent operation," the official said, speaking on condition of anonymity with reporters from nearly a dozen news organizations. Investigators are still poring over volumes of the seized information. [...]
Another administration official, also speaking on condition of anonymity, said the White House still would have issued the terror alerts even if it had known at the time that the surveillance documents did not point to an imminent operation.
The administration remains deeply concerned about information uncovered separately in the spring suggesting al-Qaida was plotting a major attack inside the United States — perhaps in August or September — to disrupt the elections, the first official said.
None of the documents or computer files recovered in the recent raids in Pakistan mentioned any election-related plots, the same official said.
This official said unspecified intelligence indicates al-Qaida's plans for an attack before the election were "more than merely aspirational" but declined to be more specific because it might reveal the information's source. Timing was unclear, the official said, acknowledging that intelligence agencies "wish we had a sense." [...]
Comment: There is no evidence to indicate an immediate threat. There is evidence that indicates that this whole war on terror is a sham designed to make everyone willingly relinquish their freedoms in return for "protection". Nevertheless, we won't go there because that sounds too much like a conspiracy theory. We will also not suggest that this latest threat has anything to do with boosting Bush's image for the upcoming election or distracting from other issues, such as Israel's latest moves on the world stage.
Click here to comment on this article
Government makes sure soldiers' votes count (the rest of us are on our own)
Associated Press
Aug. 6, 2004
WASHINGTON -- The Pentagon, faced with nearly a half-million troops overseas, has set up a Web site for absentee voters and promised faster mail service as it pushes several programs to avert a repeat of the balloting problems of the 2000 election.
Television and radio announcements and banners in commissaries and classrooms are part of the Defense Department plan to help the 492,000 troops abroad have better access to ballots back home.
Nearly 70 percent of the 258,000 service members overseas during the last presidential election cast ballots, compared to 51 percent of the general public and 37 percent of U.S. civilians overseas, said Charles Abell, principal deputy to the undersecretary of defense for personnel and readiness.
Of those who didn't vote, nearly 22 percent said they never received ballots, according to Pentagon research, and 7 percent said they got them late. Twenty-six percent said they didn't know how to get a ballot.
Military voting problems created an uproar in the 2000 election when some ballots were rejected in Florida, where George W. Bush's razor-thin margin of victory gave him the presidency after an extended legal battle. Several hundred absentee ballots from troops abroad were thrown out in the state for lack of postmarks, as required by state law, or other flaws such as no signatures. [...]
Click here to comment on this article
Radical Shiite cleric Muqtada al-Sadr wounded in clashes, spokesman said
07:30 AM EDT Aug 13
NAJAF, Iraq (AP) - Radical Shiite cleric Muqtada al-Sadr was hit by shrapnel in his chest and a leg Friday as he met with members of his militia during clashes between U.S. and Iraqi forces in Najaf, his aides said. A spokesman described his condition as stable.
Al-Sadr has led an uprising against coalition troops for more than a week in the holy city, vowing to fight "until the last drop of my blood has been spilled." Aide Haider al-Tousi said al-Sadr was hit by shrapnel in the chest and twice in a leg as he met with members of his Mahdi Army militia near the Imam Ali shrine on Friday morning.
"He was moved to an unknown destination, we don't know his whereabouts right now," he said.
Another of his spokespeople described al-Sadr's condition as stable.
[...] Al-Sadr is believed to be with his Mahdi Army loyalists inside a sacred Najaf compound that houses the Imam Ali shrine. U.S. and Iraqi troops have formed a perimeter around the compound, but have so far made no move to raid it, concerned about touching off an outcry from the Muslim world about desecrating one of Islam's most revered sites.
On Thursday U.S. troops stormed al-Sadr's house in Najaf, only to find it empty.
Click here to comment on this article
Top Shiite calls for truce: Key peace broker awaits surgery in London clinic
Analyst warns of `massacre and martyrdom' in Najaf
SANDRO CONTENTA
EUROPEAN BUREAU
LONDON—With the battle in the holy city of Najaf threatening to further destabilize Iraq, the revered Shiite cleric considered crucial for a peace deal lies ill in a London hospital.
Grand Ayatollah Ali al-Sistani, 73, is expected to undergo an angioplasty procedure today to unclog blocked arteries that supply blood to his heart.
Heart problems forced him to leave Najaf last Friday — his first trip out of Iraq in years — just as fighting between U.S. forces and the militia of rebel cleric Moqtada al-Sadr erupted.
Recognized as the top Shiite Muslim cleric in Iraq, Sistani yesterday issued a statement condemning the battle as having "violated" the city's holiness and called on all sides to stop fighting.
But the influence he exerts from a London hospital bed is much reduced.
[...] His absence from the holy city this time around has observers fearing the worst.
"The fact that he's not in Najaf is a bad sign because he can't use his influence to calm things down," said Rosemary Hollis, a Middle East expert with the London-based Royal Institute of International Affairs.
"The Americans are talking about rooting out Sadr's guys, which means it's going to be bloody — we're talking massacre and martyrdom," Hollis added in an interview. "The repercussions of this across the Shia world are such bad news that one wonders why on Earth this confrontation is happening."
[...] When news of Sistani's London medical trip first emerged, some noted that his absence conveniently paved the way for U.S.-led forces to crush Sadr's militia.
But Sistani's London officials insist his medical trip was planned three weeks before fighting broke out in Najaf, and dismiss any suggestion that it was part of a plot against Sadr.
Comment: It seems rather obvious from reading the account that the US and the new "sovereign government" are using the "opportunity" of Sistani being out of the country to move in and take out Muqtada. The real question is, what will be the repercussions? Juan Cole has some thoughts:
Click here to comment on this article
Juan Cole
[...] Note that al-Shinabi called him "Sayyid" Muqtada. A Sayyid is a putative descendant of the Prophet Muhammad. Sayyids have a special status in Muslim societies, and even moreso in Shiite Islam. Tribesman see Sayyids as almost magical purveyors of blessings from God.
Muqtada al-Sadr is not just any Sayyid. He is the son of Muhammad Sadiq al-Sadr, who is almost universally idolized for his strong stance in the mid- to -late 1990s against Saddam Hussein, who had him killed in Najaf in 1999. The Americans and the Allawi government increasingly look to pious Shiites as though they are very little different from Saddam. Muqtada is also the son-in-law of Muhammad Baqir al-Sadr, the theorist of an Islamic state for Iraq whom Saddam had executed in 1980.
The Americans and Allawi cannot compete with Muqtada's religious authority. They also cannot stop his movement by killing him. Muqtada's favorability rating was 68% according to the CPA's own polling last May. It may well be higher now. (It is often argued that Najaf inhabitants hate Muqtada and his Mahdi Army, which justifies the US assault. It is true that Muqtada and his men are not from Najaf and are resented there, but Muqtada does have substantial support in many other southern Shiite cities, so that weakens the argument that he is not liked.)
Although Muqtada and his men are now under siege, Waco-style, it is not for sure that the Marines can capture or kill him. I suspect Najaf is crisscrossed by underground tunnels, which is how Muqtada and others used to evade Saddam's secret police.
If he is trapped in the shrine, and the siege goes on very long, that in itself could inflame Shiite passions against the US. Remember that Waco was in the back of the mind of Timothy McVeigh, who later blew up a Federal building.
My guess is that if Muqtada is killed, and maybe also if he is captured and imprisoned, that will tip the Sadr movement into conducting a long-term low-intensity guerrilla war, similar to what Sunni radicals and Arab nationalists have done in the Sunni heartland for the past 16 months. The south had been much quieter than the Sunni Arab areas, but I suspect that calm can no longer be taken for granted. The question is what happens to the Iraqi government if it faces two major guerrilla insurgencies going on at the same time.
Click here to comment on this article
The Shame of Iraq, Grenada and Palestine: America and the Abuse of Power
Sam Hamod
08/11/2004
Once upon a time America was looked upon as a moral and decent country. It was thought America stood for democracy, freedom and justice. But, after the abuses of power in Grenada, Palestine and Iraq, not to mention other sordid chapters in Allende's Chile, the new attacks and attempts at undermining Chavez in Venezuela and continued attempts to kill and destroy Castro and Cuba—America is now the pariah to the intelligent, moral and just people of the world.
This new attack on Najaf is just the latest in the abuse of power by America. The support of Israel to brutalize the Palestinians, the killing of the democratically elected leadership in Grenada under Reagan, and our pollution through Agent Orange of Viet Nam, and the massive poisoning of Iraq with spent Uranium (which has a half-life of over 1000 years) all show that America now is doing the work of the devil, not the work of God. For many years, America paraded itself to the outside world as a just nation. But Native Americans, Latinos and African Americans all knew better, but their voices were not heard by the outside world. But now that the cruelty is extended further into the world, with colonialism as the goal, there is no way America can hide its dirty, stinking laundry from the greater world.
America, which says it is a Christian nation, being run by a president who is mentally unbalanced with his allegations of "I talked with God," is showing itself to be an anti-Christian nation. Though most of the population of America is moral, there are a couple dozen leaders in the White House, the Defense Department and in the U.S. Military, along with the Justice Department, who are anything but moral. They astound us Americans who want our nation to be just and moral; it leaves us with consternation as to how these few men and women could steal our country.
But, as we think about it, we remember Orwell's , 1984. There, the media was a tool of the government, and it was the media who kept the people off balance with fear from the "outside enemy," the "terrorists" of the novel. It was the media who lied for the liars in the government, making each of their statements gold, when they were but dirt and copper. It was the media who featured them every night in ever facet of their lives.
The same is true today. Each day, we have "warnings about terrorist attacks…", danger is in every breath of the news. When we attack innocent people and religious shrines, as we are doing in Najaf, it is because "they are terrorists, and they are using religious shrines for cover…"—and other such lies to justify the terrorism if our own government.
And yet, the American people do not know that in an international poll, President GW Bush was seen as more of a threat than even Bin Laden! We can find this if we search, but most of the population in America doesn't hear this or have the energy to search for the truth about Bush and how we are seen in the world. America is feared, not respected.
America is loathed, not loved. As President Carter put it, "In a few short years, Bush has taken us from respect and admiration to fear and disgust."
Then we also witness John Kerry, who should know better now saying, after Bush,
"It is good we went into Iraq, even if there were no WMDs." It is clear the virus of lies and unthinking in the Republican Party has also infected the Democrats as well. But then again, if you look, you'll notice that one of the leaders of the Democrats is none other than the devil in the woodpile, Joe Lieberman. Lieberman has voted more money for Israel than he has for American troops to have good armor and medicine; Lieberman has voted for the war, and stood side by side with Bush when he went to war in Iraq—seconding all the lies to support Israel's hope that the U.S. would undertake this immoral act. True, Saddam was a devil, but at least Iraqis had civility, their holy shrines were not under attack, they had medicines and food, clean water and electricity to deal with the 115 degree heat; today, they have none of the above, and they are being ruled by ruthless men such as John Negroponte and Iyad Allawi, who care nothing about Iraq or the Iraqis and abuse them more than Saddam ever did. As one military man said to me recently, on his return from Iraq, "I have lost all respect for our country; I'll never go back, no matter what they do to me. We are no longer the America I loved."
Starting with the Kennedy and Johnson entrance into Viet Nam, continuing through the Reagan attack on Grenada and his continued attacks on Cuba, the killing of Allende and Bishop and now the attempt to kill all of those who are resistance fighters in Iraq—my America has slid down the path of evil, into the lowest depths of Dante's Hell. Yes, we lost thousands on 9/11—but it was not the Iraqis who did it. At last count, the Iraqis have lost over 37,000 people and countless other thousands who have been maimed; our American troops have lost at least 1000 people, and many hundreds or perhaps thousands more who died intransit to Germany so that they may be counted as "being killed in battle" in Iraq, and we have over 12,000 or more Americans maimed—all from this senseless, brutal and evil war in Iraq that is on the heads of Bush, Kerry and all those who supported and continue to support this "war."
America is imitating Israel in this "war"—attacking civilians and resistance fighters with tanks, F16s, Apaches Helicopters and other major weapons – those who resist us, and those Palestinians who resist the Israelis have only rocket propelled grenades, Ak 47s and some roadside bombs—surely no match for the American armaments in Iraq, or the American supplied armaments in Israel that are being used to kill and maim hundreds of Palestinians every week. Grenada, by the way, had no army, no navy or air force; yet, America went in with planes, navy and marines—full force, to take on 12 policemen who tried to defend the island.
No, America has now become like Israel, an immoral beast, whose teeth are bared and who is now feasting, just as does Israel, on the blood of innocents.
Click here to comment on this article
Indian truckers' days of terror
ANKUR, WEDNESDAY, AUGUST 11, 2004
TIMES NEWS NETWORK
CHANDIGARH: The abduction of three Indians by a militant group has meant the beginning of a fresh horror story for several other truck drivers working in the area.
Just like Tilakraj, Antaryami and Sukhdeo Singh, many Indians in the Iraq-Kuwait region are driving trucks through turbulent zones. They want to return home. But their Kuwaiti employer or agent "wouldn't let them", goes the claim. Their employers insist on holding them back till the situation improves.
Nindi of Dehlan village in Himachal Pradesh went to Iraq after his fellow villager Antaryami was taken hostage. Today, Nindi and several others want to come back.
"I have seen seven people dying in front of me and the worst part is that our companies are not bothered about returning the bodies," Nindi said over phone from Kuwait.
Shamsher Singh, who works with KGL — Antaryami's employer — narrated one of his horrifying experiences. "We were returning after offloading a consignment in the base camp at Habbaniyiah, when Iraqi insurgents launched a missile attack on a convoy of 13 trucks. Six trucks were totally destroyed. Two drivers had a narrow escape. They raised their hands and asked for help. But instead of rescuing them and providing medical assistance, American troops shot a rocket and killed the two."
After two hours of fighting with Iraqi guerrillas, their bodies were burnt on the roadside, Singh said. "There is no value for a man's life. Indians are treated like slaves."
Said Al-Hamada employee Rakesh from Kuwait, "I have made 12 rounds to Iraq and my convoy has been attacked everytime." Rakesh said he has seen several people dying in attacks. [...]
Click here to comment on this article
American Double Standards on Atomic Weapons and Religion
Sam Hamod
08/10/2004
There is this very strange thing going on in the world, that only the U.S. and Israel, and a few minor allies may have nuclear warheads. Of course, the biggest stockpiles are in the U.S. and Israel, with neither allowing the International Atomic Inspection group, under Al Baradi, to inspect their major sites either in the U.S. or at any of our military sites in Europe or in the Far East or the Middle East and Israel in Dimona. Of course, the U.S. does not dare push China on this issue because China has its stockpile as well as Russia—but we never hear of these countries being a "threat"—only such Muslim countries as Iran and Pakistan (though it's o.k. that India, Pakistan's major enemy is fine with the U.S. in terms of its atomic stockpiles). Then we have the strange case of North Korea, that allegedly has atomic weapons ready to fire, also a member of "the axis of evil"—but once again, it's hands off.
Some think that there is all this hoopla and all these threats against Iran because it is a Muslim country—not only does this fit with the "Muslim terrorist" label that fits Bush's rhetoric, but I think it's also because Israel sees Iran as a threat to its domination of the Middle East (especially now that the pro-Israeli neo-cons pushed America into destroying the minor military power of Iraq). Most military experts in the world also see the Israeli hand in this new push to have America either "sabotage" Iranian nuclear progress or allow Israel to attack Iran. However, this time, from what I have read in the foreign press (you'll never find it in the U.S. media), Iran has threatened to retaliate against Israel all over the world—not simply a reply to the Israeli mainland.
In truth, Israel and America know this threat is substantial, more so than Iraq ever was and may be the reason that even America is cooling its heels and has cut its blustery rhetoric about Iran a bit. America cannot deal with Iraq, let alone take on another major Muslim country. In addition, our troops are already stretched to the breaking point in Iraq and Afghanistan--there is no way America or Israel could occupy Iran if either went to war with Iran. Israel has not forgotten how the Hezbollah, a small force in southern Lebanon, bloodied the vaunted Israeli IDF. Also, the Russians and Chinese have told America they would not look favorably on such an attack; this has also been a factor that has led to the slowdown in American stupidity in the region. I say stupidity, because our foreign policy in the area has alienated all the Arab peoples in the streets, as well as the world's entire population of Muslims—that's over 1.6 billion people all over the earth. If that's not stupidity, I'm not sure what else you'd call it.
Then this morning, to add to the rhetoric, and to alienate even more people in the Muslim world, as if enough aren't angry enough already, the puppet/Vichy mayor of Najaf, has "given permission" (as if you can't see the hand of Negroponte, Bush, Rumsfeld and Allawi in this) for American forces to attack the Holy City of Najaf. In this case, to wipe out the Shi'a resistance there. Instead of wiping it out, I can assure you that it will create more anti-American fighters in Iraq and elsewhere in the world. I would not be surprised to see attacks on American interests in other parts of the world if this attack takes place.
But once again, as with the atomic matters, this is another stupid move that shows the American double standard. When China attacked certain Buddhist Holy Sites in Burma and Mongolia, America let out a hue and cry; but when American troops are going to attack the Holy Sites in Najaf—it's o.k. I think the long lasting effects of this, and a possible attack on Iran, will be with us during our lifetime and into the lifetime of our children and grandchildren. Muslims have a long memory, as I have stated since this Iraq invasion began—as do others in traditional societies—so America's transgressions in the world will destroy our reputation as a world moral leader, as a country to be believed and to foster democracy and freedom, will be utterly destroyed.
We will be a laughing stock, not only to foreign powers, but also to our own people who have the good sense to see the absurdity of our posture vs our rhetoric of "freedom and democracy." As Robert Bly put it during the Viet Nam War, "The Teeth Mother At Last" ( a book you should read—for the teeth are longer now, more venomous, more cruel and utterly unembarrassed by wanton, reckless and immoral behavior—though one should never forget Agent Orange and the cancers it caused in Viet Namese and in Americans, nor the deforestation of Viet Nam and the destruction of its rice fields—all in the name of "democracy and freedom"—for who?? Somehow, I can't remember—can you?)
So we come today to see that our double standard on atomic weapons, that allows Israel to have them without a peep while Israel and America keep talking about it as if Israel is this "poor little country that just wants to survive" as it builds more atomic weapons, its immoral and illegal wall that destroys more lives and hopes in Palestine—paralleled only by our invasion and destruction of Iraq and threats against Iran. Meanwhile, allowing the Muslim Holy Places to be attacked after 1300 years. This madness of this administration will paint America darkly for decades and perhaps centuries to come if we as citizens don't stop this. I urge you to call and write your congresspersons and senators today before the attack on Najaf is launched. This morning, Iraqi time, residents, many thousands of innocent civilians, were told to evacuate the city—which means only one thing, that an all out American assault on the city is about to take place. When this does, there will no Shi'a in the world, nor any Sunni in the world, who will forget this nefarious, immoral and utterly stupid act. Who will pay for it, not Bush, but you and I and our children, who will be vulnerable to retaliatory attacks.
I fear that the boys in D.C. who have been crying "wolf"—Ashcroft and Ridge, egged on by Bush and Rumsfeld, will be right one of these days, and probably soon—because they will have instigated the attack on America by their insane, immoral behavior toward Islam and some of its Holy Sites in Najaf.
If you don't believe me, just look at the Muslims in Saudi Arabia are doing to foreign interests who have tried to dominate this Muslim Holy Land. From what I know of the region, if this attack on Najaf takes place and Al Sadr is killed, there will be no going back for America nor for the anger of the Muslim world against the Bush team and probably America. It's too bad there is this ignorance, something that our government doesn't seem to want to know, because not only Bush but even the "9/11 Commission" did not ask any real Muslims experts, or even American experts on Islam to comment on matters but instead brought in only foreigners to "help them understand Islam and the reaction of Muslims."
I guess our narrow American ethnocentrism, that led to such follies as "freedom fries" among the ignorant yahoos, is still alive and well. Sad, but you'd have thought that the America government would have progressed beyond what H.L. Mencken called, "Boobus Americanus"—but I fear those in charge of our country fit his description too well—which is sad, for all of our sakes.
Click here to comment on this article
Internet Tales About Islam: What Followers of Christ Need to Know...
By Charles E. Carlson
Recently a friend forwarded a lengthy anonymous treatise on Islam titled A Call to Muslims. The authors called themselves "Humanist former Muslims" and were identified only by a first name Roya in Australia. Roya' s piece interested us because we have found the Internet overflowing with similar material since Day911, some of it arriving within hours of the suicide bombing, and it does not stop coming. Roya claims to be Muslims who are calling for some kind of reform. Roya quoted no less than 20 passages represented to be from the Koran (Qur'an) which Roya gives as evidence of why reform is needed from within Islam. Several of these quotes are provided here, and all of them will be posted to our website for your comments. In examining the quotes, it appears there is considerable distortion which seems to be intentional.
Some of these unsolicited advisory warnings about Islam are more balanced and subtle than others, but most stories seem to be bent on convincing us Islam is equated to terrorism and war. As an organization, We Hold These tries to judge the veracity of popular themes that are going around and influencing large numbers, including our own friends and readers be they religious or secular. We try to examine any extraordinarily popular delusion as best we can, looking at what is being promoted, by whom and why. Backtracking of propaganda is the best way to find out who wants you to believe what.
The most overt example of what may be engineered anti-Islam propaganda was the carefully leaked story of the note inside an Anthrax letter, which the mainline news slyly reportedly bear Islamic identification, a sort of unsigned confession. But it seems, no one has a clue as to who are the senders. The identity of the writers of those letters is even more anonymous than Roya. Clearly, the leakage of anything purposefully written within such letters is nothing less than destructive malicious hearsay, and everybody knows it. Whoever sent the letter(s) might certainly want to make it appear someone else did it. The story and the note have the appearance of a "plant" for one cannot imagine anyone wanting to identify themselves with Anthrax, the only exception being the rock band by that name.
In the interest of truth, a volunteer, Winston Palmer, did a solid research job on Roya's long letter. He found an Internet accessible version of the Koran (Qur'an), located every verse that is recited in Roya's letter and copied them after her recitals. You can compare the two versions. In many cases, but not all, there are substantial and obvious differences in the two translations, and there appears to be a serious question of distorted context. Make your own judgments. Here are several examples where Roya's version seems to contain obvious distortion.
Roya Quotes The Qur'an
"kill the disbelievers wherever we find them" (2191)*
*But for the same verse, Mr. Palmer finds this translation of the Qur'an, an Authorized English Version translated from the original by Dr. Rashad Khalifa, Ph.D. [2191] "you may kill those who wage war against you, and you may evict them whence they evicted you. Oppression is worse than murder. Do not fight them at the sacred masjid, unless they attack you therein. If they attack you, you may kill them. This is the just retribution for those disbelievers."
Roya Quotes The Qur'an
Allah and his messenger announce that it is acceptable to go back on our promises (treaties) and obligations with Pagans and make war on them whenever we find ourselves strong enough to do so (93).*
*Mr. Palmer finds [93] "a proclamation is herein issued from god and his messenger to all the people on the great day of pilgrimage, that god has disowned the idol worshipers, and so did his messenger. Thus, if you repent, it would be better for you. But if you turn away, then know that you can never escape from god. Promise those who disbelieve a painful retribution."
Roya Quotes The Qur'an
It advises to "take a green branch and beat your wife", because a green branch is more flexible and hurts more. (3844).
*Mr. Palmer finds [3844] "now, you shall travel the land and preach the message, to fulfill your pledge." we found him steadfast. What a good servant! He was a submitter." [?]
Roya Quotes The Qur'an
It teaches that women will go to hell if they are disobedient to their husbands (6610).*
*Mr. Palmer finds [6610] "God cites as examples of those who disbelieved the wife of Noah and the wife of Lot. They were married to two of our righteous servants, but they betrayed them and, consequently, they could not help them at all against God. The two of them were told, 'Enter the hell-fire with those who deserved it'."
Not all the passages Roya quoted were so obviously different, both as to the text and the context. Because the Qur'an is written in Arabic we do not pretend to know which translation is right. In one case above having to do with beating wives, Roya seems to miss the pew entirely, which shows, if nothing else, great carelessness untypical of a true reformer. Some of the quotes have to do with war, and one would expect some war lore and language from the recitals of Mohammed who was a warrior, I believe.
We Hold These Truths is more concerned with how this kind of propaganda gets around than with who Roya is. We get it every day, and one of the worst disseminators of anti-Islamic, racist propaganda is our friends who call themselves Judeo-Christians, and whom we have come to call Pop-Christians. We have written a treatise about this phenomenon called "Sherry's War". Islam-o-phobia is a widespread product of Pop-Christianity. They do not usually start the rumors but they are instrumental in keeping them alive and nurturing them.
Israel's official code of ethics says troops can only use force if threatened. But at a checkpoint near Nablus, Israeli author Etgar Keret witnessed another code of behaviour in operation...
Wednesday August 11, 2004
The Guardian
A few days ago, the philosopher Assa Kasher, who had just finalised the Israel Defence Force's Code of Ethics, paid me a visit on the television screen in the dentist's waiting room and explained to me, in a nutshell, how it really works. The Code of Ethics, if I understood it right, says that a soldier can exert force and, under certain circumstances, can even cause suffering if he does it to protect his own safety or the safety of the citizens of Israel. An elderly woman sitting next to me, even more bored than I was, stared at the screen and said that was very good and if she wasn't mistaken, the IDF was the only army in the world to take the trouble to "commission", in her words, a code like that, and not from just any hack, but from a university professor.
If, two weeks earlier, I hadn't gone to the Haware checkpoint, not far from Nablus, I probably would have been quick to agree with her. After all, I was brought up to agree with elderly women. But during that purely chance visit to the checkpoint, more the result of a weak character and my girlfriend's nagging than anything else, I saw a different, rival code, one that might be a little less ethical, but works like a charm. We can call it Udi's Practical Code.
Udi was the checkpoint commander at Haware that day, and his Code was very simple - smiling people don't get through. Of course, he didn't formulate it as a Code - it worked more as intuition - but more than once I heard him and his buddies at the checkpoint exchanging intelligence information on all sorts of smilers in the queue. "You see that guy over there, the tall one with the tie?" I heard a soldier say to Udi, "Do you see how he's laughing at us? Don't worry, I'll wipe that smile off his face." Udi nodded his agreement, and the smiler was in fact detained for more than an hour. When he tried to show them the permit that would justify his smile - he was just a man on his way to his own wedding - it was already too late. A happy father who had bought his three-year-old son a birthday cake imprinted with a picture of the child had also violated the code and was detained. The official reason - he didn't wait in line like everyone else.
When I tried to explain that the people in the queue had let the father get ahead of them because the cream cake would spoil if he waited in the heat, Udi gave me a smile, and from behind the barrel of his gun, which was pointed in the general direction of my chest, explained that he didn't give a shit. Not a very surprising statement considering that an hour earlier he had been just as stingy with his shit when he ignored the distress of a 70-year-old man who had been discharged from the hospital that day after heart surgery and was finding it difficult to stand in the hot sun for such a long time.
There are a lot more clauses in Udi's Practical Code. When a Palestinian student tried to explain to him in English something about a permit he had in his hand, Udi clarified, "This is Israel, so you either speak Hebrew or you shut your mouth." The student immediately recognised the Code he had come up against, and because he didn't know Hebrew, he took the second option, shut his mouth, and was detained for four hours.
Udi's Code, by the way, also has a few pointers about Hebrew-speaking Palestinians, especially the ones who argue. I saw him cock his gun, point it at the head of a Palestinian who was talking without permission, and say, "If you don't shut your mouth, you'll get a bullet in the head." And the talkative Palestinian shut his mouth, too, because a Code is a Code.
The day after the interview with Professor Kasher on the daily TV news magazine, the host on that programme talked about a soldier who had hit a Palestinian he claimed had called him a liar and then shot and wounded him while he was trying to get away. I don't know that soldier's name, but I can assure you it's not Udi. Because Udi's no idiot. And like a few other soldiers, he knows how to put his Code into effect so it doesn't conflict with the IDF Code. If you are a decent, sensitive person, the IDF won't force you to torture people unnecessarily, but if you are an asshole and you have a good enough grasp of how the system operates, you can abuse to your heart's content without exceeding accepted levels of detaining and cursing, or threatening with a cocked gun, and without getting on the TV news magazine.
When I mentioned everything Udi had done that day to his commanding officer - the one the Palestinians called "the good officer," mostly because of his thin-framed glasses and his psychotherapist tone of voice - he nodded empathetically and said that the soldiers have been under terrible pressure the past couple of days. "But the minute I got here," the officer tried to see the good side, "it all started moving like clockwork, didn't it? Almost half the ones they detained went through."
I won't be going to the Haware checkpoint any more. But if one day Professor Assa Kasher gets tired of sitting at his desk and mulling over the Code of Ethics of the most moral army on the planet, I would heartily recommend that he take half a day off and visit a place where Immanuel Kant has never set foot.
Click here to comment on this article
Islamophobia and racism are alive and kicking in France, writes Salil Sarkar from Paris
France's Social Affairs Minister Jean-Luis Borloo pulls no punches. He pointed out that unemployment among the country's youth has risen from 15 to 22 per cent in the past 15 years. And in what the minister calls the "700 sensitive zones" -- suburbs housing immigrants and their descendants -- joblessness among the less-than- 25 year olds has skyrocketed from 25 to 55 per cent.
Meanwhile, racist attacks, the minister added, have shot up from 180 a year in 1999 to 800 today.
Africans and Arabs are often victims of police repression, sometimes violent, but their sorry lot hardly draws media attention. Instead, they are systematically blamed for real or imagined anti- Semitic aggression.
Ministers, politicians, intellectuals all unite in vociferous condemnation when a Jewish person or property are targeted. On 9 July, a young non- Jewish woman lodged a complaint to the police about being attacked. She claimed she was robbed by six Africans and Arabs, in a suburban morning train near Paris, who drew swastikas on her belly.
In the wake of this incident, a verbal maelstrom of insults and abuse were hurled at immigrants. "Nazis from the suburbs" shrieked the pro-Israel League Against Racism and Anti-semitism. Without checking facts, French President Jacques Chirac expressed outrage at such "anti-semitic" action, recommending severe punishment.
"For 13 minutes," wrote the Paris daily Le Monde, "Marie was Jewish in the eyes of six bad boys of African origin." "The Jewish community lives in fear ... anti-Semitic aggression is on the rise", chimed in Socialist Party bigwig Ségolène Royal, a French presidential hopeful.
Barely two days after the alleged aggression, police inquiry revealed that the complaint was pure fabrication. No apologies were made to France's immigrant community, with the exception of editorials in two dailies. Indeed, raising anti-immigrant and pro-Israel hysteria is becoming a national pastime among the elite.
The wonder is that, despite the racist tom-tom beating, the average French person generally keeps a cool head, displaying a maturity and tolerance rare among decision-makers and the media. Take former finance minister Dominique Strauss-Kahn, another socialist hopeful for the country's top job. For him revelations that the "victim" had made up violence stories to nail Arabs and Africans hardly takes away from the fact that Jews in France are being attacked 20 times a week, by his extravagant count.
True, racially-motivated violence is on the rise, but reliable numbers are hard to come by. France's national Consultative Commission on Human Rights says there have been more racist and anti-Jewish attacks in the first six months of 2004 than in the whole of 2003.
For the first half of this year, says the Commission, there have been 207 racist attacks and 94 anti-Jewish aggressions against 128 and 47 respectively the previous year. Figures from France's interior ministry do not tally: 95 racist attacks and 135 anti-Semitic attacks in the first half 2003, as opposed to 92 and 127 all of last year.
The trouble is some of the complaints of anti- Jewish violence or attacks on immigrants have proved fake. In March 2003, a Jewish woman student falsely complained of being assaulted by masked men calling her a "dirty Jew" and carving a Star of David into her arm.
In December 2002, a 30-year old Tunisian was charged with beating up ticket checkers in a Marseille bus, but had to be released when the vehicle's internal video showed him beaten up by transport officials instead.
More recently in Paris, it was revealed that a rabbi claiming to have been stabbed by a man crying Allahu Akbar had mutilated himself. Last year, a Talmudic school north of Paris was burned to the ground provoking strident accusations of anti-Semitism from commentators and politicians, but no evidence of it was ever found. In another case, police unmasked the head of the Zionist Federation of France who was sending himself anti-Jewish messages as proof he was being victimised.
These days in France, statistics of racist and anti-Jewish violence are plentiful if suspect. But beatings, arbitrary detention and torture at the hands of the police are strangely absent from those lists. France's best-informed paper, the satirical weekly Le Canard Enchainé cites the very official Security Ethics Commission, a body monitoring illegitimate police violence.
The commission notes that incidences of illicit police repression has tripled between 2001 and 2003. The commission's chair, veteran judge Pierre Truche expressed surprise at the predominance of Africans and foreigners among the victims.
Le Canard Enchainé commented: "that is another example of tough repression unleashed against the poor by former French police minister Nicolas Sarkozy." Currently finance minister, he is openly challenging his party elder, president Jacques Chirac, for the country's top job.
Sarkozy, as finance minister, visited Washington DC, last year to attend the World Bank group meetings. He found time to lunch with virulently pro-Israel lobby groups, received awards from them, and came back accusing France's former Socialist-led government of not doing enough to battle anti-Semitism.
There are around seven million French citizens and permanent residents in France, who emigrated from the country's former colonies. As for the French Jewish community, they number about 400,000, many of whom support the establishment of a Palestinian state and fight for peace and justice in the Middle East.
However, a minority that hovers around the staunchly pro-Likud Representative Council of Jewish Institutions (CRIF), has been running a campaign for France to line up behind Israel's government.
The president of France-Israel, retired amiral Michel Darmon says, "for the last 10 years, France's Jewish community has been fighting the wrong battle". The enemy is not the far right, he says, "but France's foreign policy", which he and his friends deemed viciously anti-Israel. Writer and philosopher Pierre André Taguieff has written a book entitiled The New Judeophobia in which anti-capitalist globalisation activists, left- wingers, anti-zionists and Islamists are all lumped together in one bag as Jew haters.
Do you all remember the murder of 12-year-old Mohammed Durra by Israeli soldiers? This happened at the beginning of the Second Intifada in the fall of 2002. The footage of the boy's shooting was taken by a Palestinian cameraman from France-2 TV, a channel headed in Israel by Charles Enderlin.
Swamped by tons of hate mail from Zionists worldwide, Enderlin says, "some people have been openly trying to get me sacked". Back in France, prominent French geo-strategist Pascal Boniface had to resign from the Socialist Party, for recommending a more pacifist approach to the Israel-Palestinian conflict.
In some sections of France's ruling class, notwithstanding the government's brave stance on Iraq, peace in Palestine remains a four-letter word. A few years ago, French writer Michel Houellebecq had the main character in his book Plateforme blurt out: "Every time I learn of a Palestinian terrorist, a Palestinian child, or a pregnant Palestinian woman, shot down by bullets in the Gaza strip, I quiver with enthusiasm". Vengeance (against Islam) does exist, Houellebecq explained to the media shortly afterwards.
Click here to comment on this article
Gaza's Siege – "The Killing Fields"
Interview with Dr. Mona El-Farra and Dr. Jess Ghannam
Pacifica Radio, July 2004
By Jess Ghannam
Aug 4

Board Member of the Gaza Community Mental Health Program, Clinical Professor of Psychiatry and Chief of Medical Psychology at the University of California San Francisco.
Dr. Mona El-Farra is Deputy Director of the Union of Health Worker Committees, joined Dr. Ghannam in this interview from her home in Northern Gaza. Drs. Ghannam and El-Farra talked with Johayna and John in this in-depth interview about the current medical conditions in Gaza, and the effects of the prolonged brutality upon the mental health, especially upon the children who are exposed to an unprecedented level of trauma.
"Remind the world - where there is Occupation there is Resistance"
As we speak, Beit Hannoun in northern Gaza is entering the 32nd day (on July 31st- Ed) – over a month – of complete siege by the illegal occupying army of Israel. During this time, at least 14 people have been massacred, with hundreds wounded, most of these children, many of whom are paralyzed from their injuries. Mr. Ibrahim Hamad, the Mayor of Beit Hannoun, this week called the town a "disaster zone", estimating the losses of the town at over $110 million, due to the large-scale destruction of infrastructures, homes, roads, and 7100 dunnums of arable lands by the Israeli forces for four consecutive weeks (including 1900 dunnums of citrus, olive and fruit trees and 17 wells). Israel has, in fact, turned this fertile, productive agricultural area into a wasteland.
Meanwhile the ethnic cleansing of Rafah continues apace: Yesterday, we received a message from our young friend Mohammad in Rafah in which he wrote: "Jamil Al Farmawi insisted on putting the Palestinian flag amidst the rubble of his demolished home in Block 'O' area in Rafah refugee Camp, and an Israeli soldier responded with 7 bullets in different parts of his body. 17 year-old Jamil died, as Israel refused to give permission to the ambulance to bring his body back to his family, and let it stay in the rubble of his house for 24 hours." And at the Rafah crossing (the only border through which Palestinians might be granted "permission" to leave or enter their own country), over 2,500 residents of Gaza - including sick patients, children, and the elderly - are stranded on the Egyptian side of the Rafah crossing where many have been waiting for over two weeksin the most desperate of conditions to be allowed to return to their homes or reach medical treatment. [...]
JM: Dr Ghannam, after returning from Gaza recently you described this once-beautiful area of Palestine, Gaza, as 'The Killing Field'. This is indeed a terrible and very resonant image … can you explain to us what do you mean by 'The Killing Fields'?
JGh: Well, if one can imagine what Palestine was like before 1948 – and it's an image that all of us Palestinians have in our mind – and then on this recent visit, and after reading and seeing the images of what's happening in Rafah right now, as well as in Beit Hannoun, all you can see now is utter devastation of every aspect of civil society: homes being destroyed, clinics being destroyed, hospitals being destroyed, schools being destroyed and then, in addition to that, lives being destroyed.
The Israelis and the Israeli occupation forces commit wanton destruction of not only infrastructure, but of people. It is wanton killing; it is savage killing, and it is premeditated killing. One of the most horrific things that happened in Rafah recently was that three to four thousand people were protesting the savage response by the Israeli occupation forces, in a non-violent protest, and an Apache helicopter fired a missile right into the crowd – killing instantly about ten people and wounding over 60 or 70 people.
This is what happens to Palestinians when we protest non-violently. So, the image of 'The Killing Fields' for me, and for most of us, is a very apt image because nothing is sacred any more in Palestine – the Israelis choose to kill when they want, who they want and wherever they want.
(Ed: at date of writing the total number of Palestinians massacred by the IDF soldiers since September 28 2000 is between 3,600 and 4,000; the number of homes damaged severely or destroyed is in excess of 60,000; over 300 Hospitals have been attacked and damaged; the injured number more than 55,000 and some 1,808 schools have been lost either destroyed or turned into army barracks by the Israelis).
Dr Ghannam, why are the Israelis in Beit Hannoun specifically – does it have something to do with the fact that it is an agricultural area?
Well I think there are probably two reasons why the Israeli occupation forces are in Beit Hannoun now.
One is that Beit Hannoun is a rich agricultural area and, as part of the Occupation, the methodology of the occupation is to annexe, destroy, and undermine any ability that Palestinians have for self-sufficiency. As you know, we have a long history of living off the land ourselves, and one of the things (among many) that Beit Hannoun is known for is having rich agriculture; so one aspect is to destroy the agricultural basis for being able to be self-sufficient.
Secondly, I think it is just the other aspect of the occupation – psychological intimidation.
They have systematically attempted to psychologically instil fear in every Palestinian: they are trying to do it in Rafah, they are trying to do it in Beit Hannoun. It is just another attempt to intimidate and to create an atmosphere of fear on the ground for Palestinians.
Dr Mona El-Farra, Could you talk to us about the impact of the daily crimes against humanity committed by Israel in Gaza on the health – particularly of women and children.
M-El-F: Yes. First, I agree with Professor Ghannam about the systemic destruction of the Palestinian infrastructure, and including the people's psychology - is an ongoing process.
Now we can see it is identified in Rafah or Beit Hannoun and this has been going on along the last four years and it is a systematic process - they are destroying everything with the aim of making an Independent Palestinian State, or the claimed Independent Palestinian State in Gaza and The West Bank, impossible - and I believe they have made it impossible now. If you come to Gaza – the infrastructure has been completely destroyed. The people in Gaza are suffering a lot - and we don't know how many years we need to make amends to these people's suffering. [...]
Dr Mona, this is Dr Ghannam. May I ask you a question because we have been hearing some reports that the situation of the salt in the drinking water for Palestinians, especially in Gaza, has been causing an increase in medical conditions – are you finding any evidence of this?
M-El-F: Yes, thank you for this question. There is a problem – but there is no evidence or study completed yet though some people are doing studies about this - but we notice it from the increased number of people who seek Consultations in the Renal Department. More people are suffering from it.
So you think there is more kidney disease - there looks like there's more renal dysfunction among Palestinians in Gaza
M-El-F: Yes, there is a problem.
"The Israelis dig deeper into the water table so that all that's left is salt water for the Palestinians…This causes kidney problems. I've seen Palestinian children faint in the classroom because of this. And some pass out just because there wasn't proper water to drink." [...]
Dr Jess Ghannam you mentioned your recent visit to Gaza and talked about some horrific events that you witnessed yourself in Rafah – why do the Israelis go to Rafah and destroy houses and destroy neighbourhoods and now besiege Beit Hannoun?
JGh: Well, you know, people really have to understand that what is happening in Palestine right now – when we talk about 'the occupation' - it is systematic, it is systemic, and it is relentless and the kind of media spin that the Israelis put on it in terms of 'for security only' which Dr Mona addresses, is a complete fabrication.
If the Israelis were truly concerned about a tunnel here or someone there, they have the complete ability to go in and arrest people or to take them out if they were concerned about them and at least let them have the opportunity to go through some sort of judicial process. But the Israelis, just as we learned at the International Court of Justice, believe for some reason that they are above International Law, that they do not need to act in accordance with International Law. So rather than acting consistent with the Geneva Convention, consistent with UN Resolutions, they pursue a wanton, extreme, disregard for anything having to do with Palestinian dignity and wellness and well-being, especially in Rafah and now in Beit Hannoun. The occupation is an attempt to systematically dislocate Palestinians from their land, dislocate us from each other and dislocate us from our histories. And what they're doing in Rafah and what they're doing in Beit Hannoun,and what they're doing in Gaza and what they're doing in the West Bank, is part of this systemic uprooting of Palestinians from our history, from our land, and from each other.
So the statement that they're doing it 'for security' is complete rubbish. It has nothing to do with 'security'. It has everything to do with removing the land from anything having to do with being Palestinian, removing the land and the people of Palestine, removing the historical connection to the land – that's what the occupation is and I think that this is missing a lot from the media here.
Dr Mona, many listeners here cannot possibly imagine what it is like to lose one's home, one's property, one's trees, ones olives, one's citrus - and we wondered … we know that you personally have suffered a loss like that in 2001 when your family home was destroyed. Could you just talk a little bit about that?
M-El-F: ... It is not easy for me to talk about it .. because (…I am ... very distressed). OK, then I will try to talk about it.
I know that it's very emotional for you.
M-El-F: It is very emotional. It is very emotional although it is now nearly three years.
When you lose your home, your agricultural land… I mean, it is hard to lose life but to see trees that have been uprooted, trees that have been there for 120 years, a tree that held all of your memories there… Something I would like to stress here – it is not the physical loss: it is the sentimental and the emotional. And the Israelis want to deal with us as numbers, as people who don't have even the least human feelings for losing something sentimental, something emotional. It is a difficult experience, I'll tell you. It was very difficult for my mother – because it was my mother's home. It was my childhood home. When you lose your home, you lose your identity, your roots – this…I don't know exactly how to find the words to say it… they are dealing with us as occupation and I feel sometimes they are dealing with us like animals. We don't have the right to feel, to experience memories – the basic needs… (at this point Dr Mona broke down…and said) - I'm sorry about it but I can't go more with this story - but I had this experience and it was a very traumatic experience for me and for my family. And whenever I go there now and see the area – it is difficult for me to even get there (ed– possible only on dangerous rural by-ways on which you can be shot on sight) - we are not allowed to step a foot there -it was not only the home, it was the water well, it was about 40 dunums of very fruitful agricultural land.
It was not only my family – it was 26 families in the area whose homes were demolished and this was the only the first wave of the home demolitions – it happened in Abu Holi Area in the middle of Gaza: this was the beginning. I remember something about this: 10 days after what happened I wanted to go there, I wanted to go there and to see what happened. After 9 days (because nobody was allowed before) I tried, and I remember the soldiers coming to me and shooting over my head – I was just trying to see, to feel that it is real – that nothing will be the same again. And there was shooting above my head, and I was not allowed to set foot on my home – until this moment too, I am not allowed to reach there.
It got worse after this – that was only 26 houses but now we are talking about at least 3,000 homes that have been completely destroyed here since the destruction of the Intifada and that they are going on with this process is, I believe, because the international community is silent, completely silent. And I believe another thing, that Israel has the full support of the United States of America to do this, otherwise they couldn't do it - they have the support, they have the green light to do this with the support of the United States and here the role of the ordinary American people is crucial – people who refuse to see any injustice inflicted on other entire nations, like what's happening in Palestine and in Iraq. It is the responsibility of the American people to raise their voice and to say - no, enough of this: it is not for the USA (government) to support such actions by the Israeli occupation.
JM: Dr Mona, if I might, I just want to quote from a letter that I found that you had written after the loss of your family home, so I hope you will permit me to do this.
M-El-F: Yes, please do, of course. I feel very emotional about this.
Of course!
You wrote, Dr Mona -
"The world is always willing to blame the victim, the Palestinians. However, I will not lose faith. During these difficult moments, I remember a very touching poem, written by the most gifted Palestinian poet, Mahmoud Darwish:
'I came back from the dead, To live
I represent an uncompromising wound,
The brutality of my executor has taught me,
To bite the bullet,
And carry on,
And sing,
I will sing,
I will resist.
Click here to comment on this article
Jews who leave Israel for good
By Lawrence Smallman
Tuesday 10 August 2004
Every Jewish immigrant that enters Israel is unwittingly taking part in a continual referendum on its chances of survival. But many of those who enter Israel also choose to leave it.
For many of them, involvement in actively subjugating Palestinian refugees in the Occupied Territories and the pressure of living the Zionist ideology every day is just too much.
Igor Dzhadan describes his situation simply. He emigrated to Israel in 1990 but returned home in 2001, blaming what he called the country's "sectarian nature".
"I feel more comfortable in Russia. My life prospects wouldn't be worse than in Israel. I didn't like it. I'm used to operating in an open society where people don't ask you to what community you belong."
Dzhadan was twice required to serve in areas of heavy resistance in Bethlehem and Hebron. "I had to wait during operations to see whether there would be any wounded that I would have to treat... I saw dead bodies."
Boruch Gorin, head of the public relations department at the Russian Federation of Jewish Communities, finds similar sentiments among many of the tens of thousands of Russian Jews that continue to head home.
Dangerous place
Thousands complained of the pressure of living like a Zionist ideologue rather than as a human being. "Living in Israel is an ideology," he says.
Sharon welcomes an immigrant
already wearing army uniform
In the past month - and with much media fanfare - some 450 Jews decided to leave the safety of North America and France to live in what must be the most dangerous place for Jews in the world.
Crowds greeted the new arrivals at Ben Gurion International airport, some even had their hands shaken by Prime Minister Ariel Sharon.
Such a warm welcome is easy to understand. "If the current population trends continue, it is estimated that Jews will be outnumbered by non-Jews in the territory that Israel controls within 10 to 15 years," the BBC reported in July.
But winning the population battle is proving impossibly difficult - particularly when more Jews are leaving Israel than moving in.
Net immigration
Official Israeli sources contain no consistent, annual information about rates of emigration from the country or profiles of those leaving.
Known within the Zionist ideological lexicon as yeridah, government statisticians do not even use the "e" word.
But in a presentation at the Association for Israel Studies in Jerusalem, Ian Lustick of Pennsylvania University has described as much as it is possible to know about emigration - given the lack of official data.
"It is quite likely that the real net immigration of Jews into Israel in 2002 was either near zero or negative," he said. And as the al-Aqsa Intifda continues, the figures are not likely to change.
With fewer than 22,000 immigrants registered for 2003, Lustick also believes only around 30% of these immigrants were classified by the government as Jewish. [...]
Drastic ideas to stem the tide include the wholesale conversion of Beni Menashe immigrants from India and Peruvian Indians to West Bank settlements as well as quick and easy conversion procedures for thousands of non-Jewish immigrants from the former Soviet Union.
Other suggestions are more traditional. Yisrael Harel, a veteran Gush Emunim activist and former editor of the Nekuda newspaper, published an article in April 2003 to propose "a solution".
The Egyptian and Jordanian governments, he suggests, should accept masses of Palestinian refugees and Israel must abandon the Gaza Strip and the heavily Arab areas of the West Bank.
"The Jewish majority between the Jordan and the sea is disappearing day by day, and without an absolute Jewish majority the State of Israel will not be able to survive for long.
"Security for an absolute Jewish majority is a crucial foundation for any plan ... every solution [to the Palestinian presence], that does not guarantee a Jewish majority in the land of Israel is no solution."
Click here to comment on this article
Israeli army detains BBC journalists at gunpoint for three hours
Thursday, August 12, 2004
(08-12) 11:31 PDT NABLUS, West Bank (AP) --
Israeli troops in the West Bank detained three British Broadcasting Corp. journalists and a Palestinian doctor at gunpoint for three hours Thursday before releasing them, BBC officials and the doctor said.
The television crew from the BBC was accompanying the doctor, Ghassan Hamdan, as he visited an 80-year-old woman living in an apartment commandeered by the army.
Army spokeswoman Maj. Sharon Feingold said the military was investigating.
"We regret the incident involving the BBC crew," she said.
Military officials, speaking on condition of anonymity, said the crew happened upon an undercover Israeli operation, and soldiers were concerned for their safety. The crew and the soldiers left together when the danger passed, they said.
Israeli troops routinely take over Palestinian homes for days to use as observation posts.
The journalists were unaware that troops were in the apartment until they entered, said Nick Springate, the BBC's acting bureau chief in Jerusalem.
Hamdan said the soldiers verbally abused the journalists, jabbed them with their rifles and threatened them when they asked to leave.
Springate said the soldiers also confiscated notebooks and tapes from the reporters.
Click here to comment on this article
Your Papers Please: Passport control on Tube

Immigration officers are questioning Tube travellers because they sound "foreign", the Evening Standard has learned. Thousands of passengers are being stopped in a secret operation using tactics the police are specifically forbidden from deploying. Immigration officers are stopping anyone they consider to look or sound foreign and asking them to produce their papers to prove their right to British residence. Their aim is uncover illegal immigrants and failed asylum seekers.
The discovery that these tactics are being used prompted a political row today. The Liberal Democrats are set to write to the Home Secretary demanding an explanation for a scheme civilrights groups dubbed "Stalinist".
Click here to comment on this article
Draft Riots Feared

No Matter Who Wins in November, Draft Will Return

Regardless of the outcome of next November's presidential election, the federal government will initiate a military draft in 2005, unless there is a dramatic slackening of the need for U.S. troops for the ongoing war in Iraq and for "peacekeeping" duties around the world. Last June, the Senate overwhelmingly passed a bill to increase the size of the Army by 20,000 persons, and a month earlier the House voted to add 30,000 soldiers and 9,000 Marines by 2007. If current trends continue, several military experts have told American Free Press, voluntary enlistments will not even dent the number of troops America will need for its global over-commitments.
What is going to happen in late August at the Republican National Convention in New York City many will see as a precursor of what will take place when the nation starts drafting young men, and perhaps even women, for the military.
Comment: As time passes, it seems more and more clear that the events currently unfolding in the US are a repeat of events in Germany in the 1930's and 40's. Only when it is too late will Americans believe the truth which is right now staring them in the face. History provides us all with ample evidence to learn from our mistakes. It is up to each of us to take the mistakes of history seriously and take action to not repeat them.
Click here to comment on this article
VIEWPOINT: Expert: Even odds on an 'American Hiroshima'
By Nicholas Kristof
ASPEN, Colo. - If a 10-kiloton nuclear weapon, a midget even smaller than the one that destroyed Hiroshima, exploded in Times Square, the fireball would reach tens of millions of degrees Fahrenheit.
It would vaporize or destroy the theater district, Madison Square Garden, the Empire State Building, Grand Central Terminal and Carnegie Hall (along with me and my building). The blast would partly destroy a much larger area, including the United Nations. On a weekday some 500,000 people would be killed.
Could this happen?
Unfortunately, it could - and many experts believe that such an attack, somewhere, is likely. The Aspen Strategy Group, a bipartisan assortment of policy mavens, focused on nuclear risks at its annual meeting here last week, and the consensus was twofold: the danger of nuclear terrorism is much greater than the public believes, and our government hasn't done nearly enough to reduce it.
Graham Allison, a Harvard professor whose terrifying new book, "Nuclear Terrorism," offers the example cited above, notes that he did not pluck it from thin air. He writes that on Oct. 11, 2001, exactly a month after 9/11, aides told President Bush that a CIA source code-named Dragonfire had reported that al-Qaida had obtained a 10-kiloton nuclear weapon and smuggled it into New York City.
The CIA found the report plausible. The weapon supposedly had been stolen from Russia, which indeed has many 10-kiloton weapons. Russia is reported to have lost some of its nuclear materials, and al-Qaida has mounted a determined effort to get or make such a weapon. And the CIA had picked up al-Qaida chatter about an "American Hiroshima."
President Bush dispatched nuclear experts to New York to search for the weapon and sent Dick Cheney and other officials out of town to ensure the continuity of government in case a weapon exploded in Washington instead. But to avoid panic, the White House told no one in New York City, not even Mayor Rudy Giuliani.
Dragonfire's report was wrong, but similar reports - that al-Qaida has its hands on a nuclear weapon from the former Soviet Union - regularly have surfaced in the intelligence community, even though such a report has never been confirmed. We do know several troubling things: al-Qaida negotiated for a $1.5 million purchase of uranium (apparently of South African origin) from a retired Sudanese cabinet minister; its envoys traveled repeatedly to Central Asia to buy weapons-grade nuclear materials; and Osama bin Laden's top deputy, Ayman al-Zawahiri, boasted, "We sent our people to Moscow, to Tashkent, to other Central Asian states, and they negotiated, and we purchased some suitcase [nuclear] bombs."
Allison offers a standing bet at 51-to-49 odds that, barring radical new antiproliferation steps, a terrorist nuclear strike will occur somewhere in the world in the next 10 years. So I took his bet. If there is no such nuclear attack by August 2014, he owes me $5.10. If there is an attack, I owe him $4.90.
I took the bet because I don't think the odds of nuclear terror are quite as great as he does. If I were guessing wildly, I would say a 20 percent risk over 10 years. In any case, if I lose the bet, then I'll probably be vaporized and won't have much use for money.
Unfortunately, plenty of smart people think I've made a bad bet. William Perry, the former secretary of defense, says there is an even chance of a nuclear terror strike within this decade - that is, in the next six years.
"We're racing toward unprecedented catastrophe," Perry warns. "This is preventable, but we're not doing the things that could prevent it."
That is what I find baffling: an utter failure of the political process. The Bush administration responded aggressively on military fronts after Sept. 11, and in November 2003, Bush observed, "The greatest threat of our age is nuclear, chemical or biological weapons in the hands of terrorists, and the dictators who aid them." But the White House has insisted on tackling the most peripheral elements of the WMD threat, such as Iraq, while largely ignoring the central threat, nuclear proliferation. The upshot is that the risk that a nuclear explosion will devastate an American city is greater now than it was during the cold war - and it's growing.
Click here to comment on this article
An antidote for apathy: Venezuela's president has achieved a level of grassroots participation our politicians can only dream of
Selma James
Friday August 13, 2004
The Guardian
Increasing numbers of people, especially the young, seem disconnected from an electoral process which, they feel, does not represent them. This is part of a general cynicism about every aspect of public life.
Venezuela has many problems, but this is not one of them. Its big trouble - but also its great possibility - is that it has oil; it is the fifth largest exporter. The US depends on it and thus wants control over it. But the Venezuelan government needs the oil revenue, which US multinationals (among others) siphoned off for decades, for its efforts to abolish poverty. Hugo Chávez was elected to do just that in 1998, despite almost all of the media campaigning against him.
Participation in politics especially at the grassroots has skyrocketed. A new constitution was passed with more than 70% of the vote, and there have been several elections to ratify various aspects of the government's programme. Even government opponents who had organised a coup in 2002 (it failed) have now resorted to the ballot, collecting 2.4 million signatures - many of them suspect - to trigger a referendum against President Chávez, which will be held on Sunday.
For Venezuela's participatory democracy, which works from the bottom up, the ballot is only a first step. People represent themselves rather than wait to be represented by others, traditionally of a higher class and lighter skin. Working-class sectors, usually the least active, are now centrally involved.
Chávez has based himself on this pueblo protagónico - the grassroots as protagonists. He knows that the changes he was elected to make can only be achieved with, and protected by, popular participation.
Chávez has understood the potential power of women as primary carers. Four months of continuous lobbying got women the constitution they wanted. Among its anti-sexist, anti-racist provisions, it recognises women's unwaged caring work as economically productive, entitling housewives to social security. No surprise then that in 2002 women of African and indigenous descent led the millions who descended from the hills to reverse the coup (by a mainly white elite and the CIA), thereby saving their constitution, their president, their democracy, their revolution.
In a country where 65% of households are headed by women, it is they who are the majority in government education and health campaigns: who are users as well as those who nurse, train and educate. Again, women are the majority in the land, water and health committees which sort out how the millions of people who built homes on squatted land can be given ownership, how water supplies are to be improved, and what health care is needed.
Despite oil, 80% of Venezuelan people are poor, and the Women's Development Bank (Banmujer) is needed to move the bottom up. Unlike other micro-credit banks, such as the Grameen in Bangladesh, its interest rates are government-subsidised. Banmujer, "the different bank", is based on developing cooperation among women. Credits can only be obtained if women get together to work out a project which is both viable and what the local community wants and needs.
As Banmujer president Nora Castañeda explains: "We are building an economy at the service of human beings, not human beings at the service of the economy. And since 70% of the world's poor are women, women must be central to economic change to eliminate poverty."
In this oil-producing country 65% of basic food is imported. President Chávez has placed much emphasis on regenerating agriculture and repopulating the countryside, so that Venezuelans can feed themselves and are no longer dependent on imports or vulnerable to blockades which could starve them out. After all, you can't drink oil.
Most importantly, the oil revenue is increasingly used for social programmes as well as agriculture: to enable change in the lives of the most who have least. People feel that the oil industry, nationalised decades ago, is finally theirs. The oil workers have created committees to work out how the industry is to be run and for whose benefit, even what to do about the pollution their product causes. The government has turned the referendum, regarded by Venezuelans as an imperialist attempt to oust Chávez, into an even wider expression of the popular will. The small electoral squads, again mainly women who know the community and whom the community knows, are checking identity cards to weed out the names of those who have died or are under age, and register all who are entitled to vote, so that this time there will be little opportunity for electoral fraud. The turnout is expected to be 85%. Some, especially the well-off, see the political engagement of the whole population as a threat to the status quo. Exactly. But since, increasingly, people find representative government doesn't represent them, it may be the wave of the present.
Comment: Chavez is one of the first truly democratic leaders that South American has had. There exists the chance that, through his example, a "grass roots" movement may spread to other South American nations. As such he is a major threat to the US government. Additionally, Venezuela produces 14% of the world's oil. The US is determined to either have unfettered access to all of the major oil resources on the planet, or own them outright by way of proxy US governments. Chavez is set to win Sunday's referendum on his leadership by an outright majority. As to whether he will remain in power, or remain alive, for much long after, is anyone's guess. After all, we are dealing with a clash of ideologies here. Democracy as it is genuinely meant to be, and "democracy" US style.
Click here to comment on this article
By Marcia Angell, AlterNet
Posted August 13, 2004.
"When I say this is a profitable industry, I mean really profitable. It is difficult to conceive of how awash in money big pharma is."
The following is taken from Chapter 1 of The Truth About Drug Companies by Marcia Angell, published by Random House.
What does the eight-hundred-pound gorilla do?
Anything it wants to.
What's true of the eight-hundred-pound gorilla is true of the colossus that is the pharmaceutical industry. It is used to doing pretty much what it wants to do. The watershed year was 1980. Before then, it was a good business, but afterward, it was a stupendous one. From 1960 to 1980, prescription drug sales were fairly static as a percent of U.S. gross domestic product, but from 1980 to 2000, they tripled. They now stand at more than $200 billion a year. Furthermore, since the early 1980s, this industry has consistently ranked as the most profitable in the United States by a long shot. (Only in 2003 did it fall from that position to rank third among the forty-seven industries listed in the Fortune 500.) Of the many events that contributed to their sudden great and good fortune, none had to do with the quality of the drugs the companies were selling.
In this chapter I'll give you an overview of the pharmaceutical industry – its meteoric rise and the recent, early signs of either a coming fall or an overhaul. I will not go into much detail here; I'll leave that to later chapters. What I want to do now is provide a quick look at what's under this rock when it's lifted. It's not a pretty sight.
Before I begin, a few words about the facts and figures I will use throughout the book. In most cases, I use data from the year 2001, because it is the most recent year for which information is reasonably complete for all the aspects of the industry I will consider. If I stick with one year, it will make it easier to see the whole picture. But for some important facts, I will use figures from 2002 and, whenever possible, 2003. In all cases, I will make it clear what year I am talking about.
I also need to explain what I mean when I say this is a $200 billion industry. According to government sources, that is roughly how much Americans spent on prescription drugs in 2002. That figure refers to direct consumer purchases at drugstores and mail order pharmacies (whether paid for out of pocket or not), and it includes the nearly 25 percent markup for wholesalers, pharmacists, and other middlemen and retailers. But it does not include the large amounts spent for drugs administered in hospitals, nursing homes, or doctors' offices (as is the case for many cancer drugs). In most analyses, they are allocated to costs for those facilities. [...]
Let the Good Times Roll
The election of Ronald Reagan in 1980 was perhaps the most fundamental element in the rapid rise of big pharma – the collective name for the largest drug companies. With the Reagan administration came a strong pro-business shift not only in government policies but in society at large. And with the shift, the public attitude toward great wealth changed. Before then, there was something faintly disreputable about really big fortunes. You could choose to do well or you could choose to do good, but most people who had any choice in the matter thought it difficult to do both. That belief was particularly strong among scientists and other intellectuals. They could choose to live a comfortable but not luxurious life in academia, hoping to do exciting cutting-edge research, or they could "sell out" to industry and do less important but more remunerative work. Starting in the Reagan years and continuing through the 1990s, Americans changed their tune. It became not only reputable to be wealthy, but something close to virtuous. There were "winners" and there were "losers," and the winners were rich and deserved to be. The gap between the rich and poor, which had been narrowing since World War II, suddenly began to widen again, until today it is a yawning chasm.
The pharmaceutical industry and its CEOs quickly joined the ranks of the winners as a result of a number of business-friendly government actions. I won't enumerate all of them, but two are especially important. Beginning in 1980, Congress enacted a series of laws designed to speed the translation of tax-supported basic research into useful new products – a process sometimes referred to as "technology transfer." The goal was also to improve the position of American-owned high-tech businesses in world markets. The most important of these laws is known as the Bayh-Dole Act, after its chief sponsors, Senator Birch Bayh (D-Ind.) and Senator Robert Dole (R-Kans.). Bayh-Dole enabled universities and small businesses to patent discoveries emanating from research sponsored by the National Institutes of Health (NIH), the major distributor of tax dollars for medical research, and then to grant exclusive licenses to drug companies. Until then, taxpayer-financed discoveries were in the public domain, available to any company that wanted to use them. But now universities, where most NIH-sponsored work is carried out, can patent and license their discoveries, and charge royalties. Similar legislation permitted the NIH itself to enter into deals with drug companies that would directly transfer NIH discoveries to industry.
Bayh-Dole gave a tremendous boost to the nascent biotechnology industry, as well as to big pharma. Small biotech companies, many of them founded by university researchers to exploit their discoveries, proliferated rapidly. They now ring the major academic research institutions and often carry out the initial phases of drug development, hoping for lucrative deals with big drug companies that can market the new drugs. Usually both academic researchers and their institutions own equity in the biotechnology companies they are involved with. Thus, when a patent held by a university or a small biotech company is eventually licensed to a big drug company, all parties cash in on the public investment in research.
These laws mean that drug companies no longer have to rely on their own research for new drugs, and few of the large ones do. Increasingly, they rely on academia, small biotech start-up companies, and the NIH for that. At least a third of drugs marketed by the major drug companies are now licensed from universities or small biotech companies, and these tend to be the most innovative ones. While Bayh-Dole was clearly a bonanza for big pharma and the biotech industry, whether it is a net benefit to the public is arguable (I'll come back to that).
The Reagan years and Bayh-Dole also transformed the ethos of medical schools and teaching hospitals. These nonprofit institutions started to see themselves as "partners" of industry, and they became just as enthusiastic as any entrepreneur about the opportunities to parlay their discoveries into financial gain. Faculty researchers were encouraged to obtain patents on their work (which were assigned to their universities), and they shared in the royalties. Many medical schools and teaching hospitals set up "technology transfer" offices to help in this activity and capitalize on faculty discoveries. As the entrepreneurial spirit grew during the 1990s, medical school faculty entered into other lucrative financial arrangements with drug companies, as did their parent institutions. One of the results has been a growing pro-industry bias in medical research – exactly where such bias doesn't belong. Faculty members who had earlier contented themselves with what was once referred to as a "threadbare but genteel" lifestyle began to ask themselves, in the words of my grandmother, "If you're so smart, why aren't you rich?" Medical schools and teaching hospitals, for their part, put more resources into searching for commercial opportunities.
Starting in 1984, with legislation known as the Hatch-Waxman Act, Congress passed another series of laws that were just as big a bonanza for the pharmaceutical industry. These laws extended monopoly rights for brand-name drugs. Exclusivity is the lifeblood of the industry because it means that no other company may sell the same drug for a set period. After exclusive marketing rights expire, copies (called generic drugs) enter the market, and the price usually falls to as little as 20 percent of what it was. There are two forms of monopoly rights – patents granted by the U.S. Patent and Trademark Office (USPTO) and exclusivity granted by the Food and Drug Administration (FDA). While related, they operate somewhat independently, almost as backups for each other. Hatch-Waxman, named for Senator Orrin Hatch (R-Utah) and Representative Henry Waxman (D-Calif.), was meant mainly to stimulate the foundering generic industry by short-circuiting some of the FDA requirements for bringing generic drugs to market. While successful in doing that, Hatch-Waxman also lengthened the patent life for brand-name drugs. Since then, industry lawyers have manipulated some of its provisions to extend patents far longer than the lawmakers intended. [...]
Riding High
As their profits skyrocketed during the 1980s and 1990s, so did the political clout of drug companies. By 1990, the industry had assumed its present contours as a business with unprecedented control over its own fortunes. For example, if it didn't like something about the FDA, the federal agency that is supposed to regulate the industry, it could change it through direct pressure or through its friends in Congress. The top ten drug companies (which included European companies) had profits of nearly 25 percent of sales in 1990, and except for a dip at the time of President Bill Clinton's health care reform proposal, profits as a percentage of sales remained about the same for the next decade. (Of course, in absolute terms, as sales mounted, so did profits.) [...]
In 2002, as the economic downturn continued, big pharma showed only a slight drop in profits – from 18.5 to 17.0 percent of sales. The most startling fact about 2002 is that the combined profits for the ten drug companies in the Fortune 500 ($35.9 billion) were more than the profits for all the other 490 businesses put together ($33.7 billion). In 2003, profits of the Fortune 500 drug companies dropped to 14.3 percent of sales, still well above the median for all industries of 4.6 percent for the year. When I say this is a profitable industry, I mean really profitable. It is difficult to conceive of how awash in money big pharma is. [...]
From the Book: THE TRUTH ABOUT THE DRUG COMPANIES by Marcia Angell, M.D. Copyright (c) 2004 by Marcia Angell Published by arrangement with Random House, an imprint of The Random House Publishing Group, a division of Random House, Inc.
Click here to comment on this article
Oil at New High After U.S. Refinery Blast
By Richard Mably
August 13, 2004
LONDON (Reuters) - Oil prices set new highs on Friday, underpinned by fresh evidence of strong Chinese demand, worries about sabotage in Iraq and fears of unrest in Venezuela ahead of a weekend referendum on the rule of President Hugo Chavez.
News of an explosion at the U.S. Whiting, Indiana refinery spiked U.S. light crude futures to a record $45.93 a barrel on the New York Mercantile Exchange. London Brent set a record $43 a barrel, up 71 cents.
BP said a blast at the 420,000-barrel-a-day plant, the nation's third biggest, had closed a processing unit. U.S. oil demand growth is running at 3.5 percent so far this year and U.S. refinery bottlenecks are a prime factor behind this year's oil price surge. Crude is up more than $10 a barrel since the start of the year. [...]
Comment: Yet another unexplained blast at an oil refinery at just the wrong time...
Click here to comment on this article
Florida Warns 1 Million to Flee Hurricane
By MITCH STACY, Associated Press Writer
August 13, 2004
TAMPA, Fla. - With a "scary, scary" Hurricane Charley zeroing in on Florida's west coast Friday, state officials urged about a million tourists and residents to evacuate and avoid the path of a storm that could submerge parts of this city's downtown and other neighboring areas.
Charley's expected 120 mph top sustained winds and massive storm surge could devastate coastal and low-lying areas in Tampa and St. Petersburg. Everything from waterfront condominium towers to vulnerable mobile homes were in danger on the Gulf Coast.
Charley's center was expected to pass west of the Florida Keys early Friday before hitting the Tampa Bay area later in the day, dumping heavy rain and possibly spawning sporadic tornadoes, Hugh Cobb, a meteorologist at the National Hurricane Center in Miami, said Thursday. About 6.5 million of Florida's 17 million residents were in Charley's projected path, the U.S. Census Bureau reported.
"It does have the potential of devastating impact. ... This is a scary, scary thing," said Gov. Jeb Bush, who had declared a state of emergency. [...]
Click here to comment on this article
Tornadoes Kill 3, Injure 25 in N.C.
By TIM WHITMIRE, Associated Press Writer
August 13, 2004
ROCKY POINT, N.C. - Tornadoes spun off a tropical system and touched down in eastern North Carolina early Friday, killing three people and injuring more than two dozen others, officials said. Buildings also were damaged, and power outages were reported.
One of the victims, a girl, was killed at a trailer park in Rocky Point, north of Wilmington, said Andie Thomas, director of the emergency department at Pender Memorial Hospital. She said at least 15 people were hurt in the trailer park, including the girl's parents.
Ingar Sidbury, 27, said he and his wife and cousin, along with three young children, piled into the bathroom for shelter just before the tornado "sucked the roof right off" of his house in Pender County.
Sidbury was awakened when the power went off. "Then I heard a whistling noise like a train coming," he said.
A shelter was set up at a school for about 100 residents of destroyed houses and trailers. Officials said 25 homes had major damage, and Gov. Mike Easley planned to tour the damaged area.
Sheriff Carson Smith said he expected some weather effects from Hurricane Charley now that the remnants of Tropical Storm Bonnie had passed.
"Bonnie came right over the top of us," Smith said. "Hopefully we'll have most of our emergency operations over by the time it (Charley) gets here."
Identities of the three victims who were killed were not immediately available, said Scott Whisnant, spokesman for Cape Fear Hospital in Wilmington. A mass casualty plan was activated to treat the injuries.
Tornadoes were also reported in other communities Friday, with injuries and building damage. At least five homes in Harnett County were destroyed Thursday by severe weather when the remnants of Tropical Storm Bonnie blew across the state.
Click here to comment on this article
At least 63 dead, 1,800 injured as powerful China typhoon wreaks havoc
August 13, 2004
SHANGHAI (AFP) - At least 63 people were killed and more than 1,800 injured when a powerful typhoon ripped through eastern China, leaving massive destruction in its wake, local officials said.
Typhoon Rananim, one of the strongest storms in years, hit land in Wenling city on the coast of Zhejiang province, about 135 kilometres (85 miles) south of Shanghai, late Thursday.
Provincial officials said Friday 42,400 homes were destroyed and 88,000 were damaged while 260,000 hectares (642,000 acres) of farmland was ruined and thousands of trees uprooted.
The death toll was likely to rise as the storm roared its way through the province.
"Initial statistics show that at least 63 are dead and 185 are seriously injured," an official from the disaster relief section of the Zhejiang provincial civil affairs bureau told AFP.
The bureau said 1,800 people had been injured. More than 31,000 head of livestock also perished.
Another official at the same office, surnamed Su, said at least 15 people were missing and the death toll was likely to rise.
"The conditions are very bad and because we are still gathering information this figure is likely to increase," the official said.
There was no immediate news on the fate of more than 60 people stranded at sea on board fishing boats as the storm hit.
"The typhoon hit the city badly," a Wenling civil affairs bureau official surnamed Wang told AFP.
"Everywhere there are uprooted trees. Some trees have even been cut off in the middle. Virtually all the traffic signs have been blown over and are on the roads," she said.
"There's flooding and most of the roads are closed. Windows are shattered and walls have collapsed, houses have been destroyed."
The city was without power for most of the night although it had been restored by Friday morning.
Some 510,000 people were evacuated from coastal areas in the province before the typhoon, which was packing winds clocked at 160 kilometres per hour (99 mph), whipped in off the sea.
The Wenling Meteorological Bureau said Rananim had now been downgraded to a tropical storm but was still blowing force nine winds as it made its way west into Jiangxi and Hunan provinces.
"The eye of the typhoon has moved to Changshan county and lessened to a tropical storm," said spokesman Xu Huihuang.
"At the centre the wind is now force nine and over the next few days it will move to Jiangxi and Hunan provinces, bringing heavy rain."
An official at the Zhejiang anti flood and drought headquarters added: "The dangerous period had passed. Today the wind speed has reduced a lot but it is still blowing, it is still raining.
"Today's situation is better but it's not over yet."
East China is prone to typhoons and has been pummeled by at least 14 over the past 50 years.
The worst on record was in 1997 when 236 people were killed.
Click here to comment on this article
50,000 lives endangered as quake damages dams in China
Beijing, Aug 13 - Lives of nearly 50,000 people are endangered by possible dam fissures at 22 reservoirs in southwest China where a strong intensity earthquake has already left one-third of the population homeless, the state media reported today.
The State Flood Control and Drought Relief Headquarters said yesterday that the lives of 47,000 people residing near the 22 reservoirs have been endangered after the dams developed cracks following earthquake which jolted Luandian and Zhaoyang counties of Yunnan province.
However, the Headquarters said the water levels of all the reservoirs were below the safety line.
Click here to comment on this article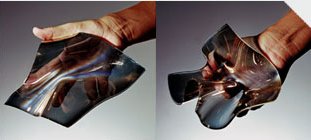 "Smart skin" holds promise for morphing wings and wearable computers.
by Laura Allen
Popular Science
August 2004
Terrible, horrible things can be done to this millimeters-thick patch of shimmering material crafted by chemists at NanoSonic in Blacksburg, Virginia. Twist it, stretch it double, fry it to 200°C, douse it with jet fuel—the stuff survives. After the torment, it snaps like rubber back to its original shape, all the while conducting electricity like solid metal. "Any other material would lose its conductivity," says Jennifer Hoyt Lalli, NanoSonic's director of nanocomposites.
The abused substance is called Metal Rubber, and, according to NanoSonic, its particular properties make it unique in the world of material chemistry. As a result, the company's small office has been flooded with calls from Fortune 500 companies and government agencies eager to test Metal Rubber's use in everything from artificial muscles to smart clothes to shape-shifting airplane wings.
At this stage, however, NanoSonic is busy meeting the demand for its 12-inch-by-12-inch samples, which take custom-built robots up to three days to create. That's speedy, if you consider that Metal Rubber, a product of nanotechnology, must be fabricated molecule by molecule.
The manufacturing process, called electrostatic self-assembly, starts with two buckets of water-based solutions—one filled with positively charged metallic ions, the other with oppositely charged elastic polymers. The robot dips a charged substrate (glass, for example) alternately from one bucket to the next. The dipping slowly builds up tight, organized layers of molecules, bonded firmly by opposing charges. Afterward the substrate is removed, leaving a freestanding sheet of Metal Rubber.
With investor interest booming, Metal Rubber could make its commercial debut within a year or so. Although shape-shifting aircraft wings and sensory robotic gloves are on the horizon, Metal Rubber will probably appear first in more humble, practical roles. Abuse-resistant flexible circuits and wires, for instance, could allow you to do terrible, horrible things to your portable electronics—consequence-free.
Click here to comment on this articles
Super ant colony hits Australia
A giant colony of ants stretching 100km (62 miles) has been discovered in the Australian city of Melbourne, threatening local insect species.
The ants, which were imported from Argentina, are ranked among the world's 100 worst animal invaders.
Although they exist in their usual smaller group size in their homeland, the colonies have merged in Australia to create one massive super colony.
Experts fear that the invasion poses a threat to biodiversity in the area.
Click here to comment on this article
---
Remember, we need your help to collect information on what is going on in your part of the world!
We also need help to keep the Signs of the Times online.
---

Check out the Signs of the Times Archives

Send your comments and article suggestions to us

---
Fair Use Policy
Contact Webmaster at signs-of-the-times.org
Cassiopaean materials Copyright ©1994-2014 Arkadiusz Jadczyk and Laura Knight-Jadczyk. All rights reserved. "Cassiopaea, Cassiopaean, Cassiopaeans," is a registered trademark of Arkadiusz Jadczyk and Laura Knight-Jadczyk.
Letters addressed to Cassiopaea, Quantum Future School, Ark or Laura, become the property of Arkadiusz Jadczyk and Laura Knight-Jadczyk
Republication and re-dissemination of our copyrighted material in any manner is expressly prohibited without prior written consent.
.