---
Printer Friendly Version
New! Film Review: The Manchurian Candidate
Picture of the Day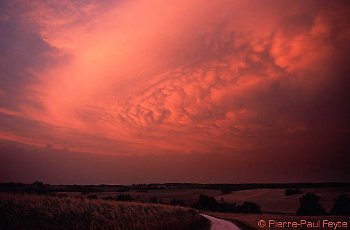 Crépuscule somptueux
©2004 Pierre-Paul Feyte
Look Out! It's The "Oh No Here we Go Again" Department.
Al Qaeda-linked Group Responsible for Madrid Attacks Behind Turkish Blasts - Threatens Further Attacks in Europe

August 10, 2004

DUBAI (AFP) - A group linked to the Al-Qaeda Islamic militant network that claimed deadly attacks in Turkey and Spain said it carried out the latest blasts in Istanbul and warned of more such strikes in Europe.

"The Abu Hafs (al-Masri) Brigades have carried out the first of a series of operations that will be launched in the face of European states... and the upcoming attacks will be more violent," the group said in a statement posted on an Islamist website.

It said the strikes were ordered after "all European states rejected the truce offered by our sheikh," Al-Qaeda leader Osama bin Laden.

Attacks targeting tourist hotels and a gas complex killed two people and wounded another 11 in Istanbul on Tuesday.

"The bitterness that Muslims are tasting in Iraq and Palestine will be tasted by everyone living in Europe, in Istanbul, Rome and the rest of the countries that are following the policy of the United States," the statement said.

A subsequent statement "will disclose the way the mujahedin (fighters) arrived at the site (of the bombing) and how they succeeded in planting the bombs and get away safely," it said.

"Our position is clear. People of Europe, you will not enjoy security as long as you remain in your ugly silence. If you do not remove your governments, which have accepted the slaughter of Muslims, you will hear a response that you will not like," it said. [...]
Comment: Oh no, here we go again. Al-Qaeda and its "affiliated groups" just can't stop shooting themselves in the foot. Just as they did in Spain when they killed mostly "lower class" civilian Spaniards who were probably, to some degree, sympathetic to their cause. Every time those "Arab Terrorists" carry out an attack, they simply serve to demonise themselves in the eyes of the world's public. One might almost think that they were actually trying to promote anti-Arab and anti-muslim sentiment. Heck, it might even lead to a new "crusade" of sorts, just as Bush stated.
Turkey really does seem to be an easy staging point for "Arab terrorists" to launch "terror attacks". Remember this from last year?...
Flashback: Turkish synagogues bombed

Saturday 15 November 2003

Explosions at two synagogues in Istanbul have killed 23 people and wounded more than 80 others.

The first blast rocked the Neve Shalom synagogue, in the central Beyoglu district of the city on Saturday morning.

''It was a huge bang, my windows are full of debris. It shook my stomach," said one eyewitness.

Most casualties are reportedly Muslim Istanbul residents [...]
As we noted at the time, just like the crazy "Iraqi militants", "al-Qaeda" seems to go out of their way to kill as many of their own people as possible...even when they attack a Jewish house of worship. One might have thought that, by now, they would realise that they are only playing into the hands of people like Bush, Sharon, and the "control system"...
Flashback: Synagogue bombings will only serve Israeli interests

By Dr Marwan Asmar
21-11-2003

In its editorial, Al Sharq (Qatar) [...] goes on to point out the attacks in Istanbul, which killed and injured 277, will only increase cooperation between Turkey and Israel in the field of security, and maybe lead to a harsher Turkish stand with regard to Iraq.

[...] The killing of Jews and the bombing of the synagogues in Turkey will only serve the interests of Israel and those against Arabs and Muslims, says Ahmed Al Rub'ie in Ashraq Al Awsat (UK-based). The explosions are a present to Israeli Prime Minister Ariel Sharon and the Zionist media machine to refocus public attention away from the atrocities by Israel and its policy of colonisation against the Palestinians, he adds.
Hang on a minute, we just had a really strange idea...Now don't laugh, but what if Israeli and US intelligence agencies and "Arab terrorists" were actually one and the same! In such a case, there would surely be evidence that those agencies were doing everything possible to ensure that the phony "war on terror" never ends...
US blocks al-Qa'eda evidence at Sept 11 plotter's retrial

10/08/2004

The United States has refused to allow German judges retrying the only man convicted over the September 11 terrorist attacks to question al-Qa'eda suspects it is believed to have in custody.

The decision, announced to the court in Hamburg in a letter from American officials, threatens to undermine the prosecution's case against Mounir El Motassadeq, who is charged with plotting the attacks and with being a member of a terrorist group.

The letter said the judges could not question al-Qa'eda suspects because the United States had to protect its sources and the methods of its intelligence agents.

It even said it could not confirm or deny whether it was holding suspects the court wants to question about whether Motassadeq, a 30-year-old Moroccan, was involved in the al-Qa'eda plot. [...]

Defense cites 'US torture' as German Sept 11 retrial begins

August 10, 2004

HAMBURG, Germany (AFP) - Defense lawyers for the only man convicted over the September 11, 2001 attacks called on the opening day of his retrial for the case to be quashed on the grounds key witnesses had likely been tortured.

Attorney Udo Jacob said Tuesday that any statements made by two leading members of Osama bin Laden's Al-Qaeda network believed to be in US custody had likely been made under duress, tainting any evidence they might provide about the defendant, Moroccan student Mounir El Motassadeq.

"One must assume that (Ramzi) Binalshibh was and may currently be subjected to torture," Jacob told the court in the northern German city of Hamburg, referring to a Yemeni national who has boasted that he masterminded the plot.

The court and the prosecution have also sought the testimony of top Al-Qaeda operative Khalid Sheikh Mohammed. Another defense lawyer, Josef Graessle-Muenscher, quoted US media reports saying he had also been mistreated to extract intelligence.

Motassadeq, 30, is charged with complicity in the murder of some 3,000 people in the attacks in New York and Washington and membership in a terrorist organization.

He has acknowledged being a friend of the three Hamburg-based suicide hijackers but denies prior knowledge of their plot.

Motassadeq was jailed for 15 years in February 2003 for his alleged role in the attacks, but in March this year a new trial was ordered because US authorities refused to allow Binalshibh to testify.

Presiding judge Ernst-Rainer Schudt said at the opening of the hearing that US authorities had again rejected German requests to let terror suspects they are holding in custody testify in Hamburg.

Binalshibh and Sheikh Mohammed are perhaps the only two people alive who could say what role, if any, Motassadeq played in the attacks.

Schudt read documents given to the court in which US officials said they would not allow "any enemy combatants to personally address the court, in line with national security interests".

They also refused to confirm which enemy combatants were in their custody and would not permit the Hamburg judges to question the suspects themselves.

But they said they would supply "certain unclassified documents" that addressed questions posed by the court.

"Some progress has been made," Schudt said. The prosecution also welcomed the American reply as a partial success.

Schudt said he would now take under advisement four large ring binders compiled by the defense on US interrogation methods for terror suspects in Iraq, Afghanistan and the Guantanamo Bay lockup in Cuba. [...]

Leak allowed al-Qaeda suspects to escape

ISLAMABAD, Pakistan (AP) — The disclosure to reporters of the arrest of an al-Qaeda computer expert allowed several wanted suspects from Osama bin Laden's terror network to escape, government and security officials said Tuesday.

Muhammad Naeem Noor Khan, a 25-year-old Pakistani computer engineer, was nabbed in a July 13 raid in the eastern city of Lahore. He then led Pakistani authorities to a key al-Qaeda figure and cooperated secretly by sending e-mails to terrorists so investigators could trace their locations.

His arrest was first reported in American newspapers on Aug. 2 after it was disclosed to reporters by U.S. officials in Washington. Later, the Pakistan government also confirmed his capture but gave no other details.

Two senior Pakistani officials said the reports in "Western media" enabled other al-Qaeda suspects to get away.

"Let me say that this intelligence leak jeopardized our plan and some al-Qaeda suspects ran away," one of the officials said on condition of anonymity. [...]
There might even be evidence that the US and its allies were actually very adept at carrying out fake terror attacks...
Pakistan Angered by F.B.I.'s Fake Plot Against Ambassador

By MARC SANTORA
August 10, 2004

Pakistan expressed outrage yesterday over the tactics used by the Federal Bureau of Investigation in a sting operation that involved a fake plot to import a shoulder-fired missile and assassinate its ambassador to the United Nations in New York.

The operation resulted in the arrest of two leaders of an Albany mosque, Mohammed M. Hossain and Imam Yassin M. Aref, on charges that they conspired with a man who claimed to have ties to Islamic terrorists in laundering $50,000 in payments for a foreign missile that he showed them.

The man was an F.B.I. informer and the missile had been disabled, but a spokesman for the Pakistani foreign ministry, Masood Khan, said the whole plan was "bizarre" and "dangerous."

"It is mind-boggling why they could not use the name of an American functionary," Mr. Khan said during a news conference in Islamabad, according to a transcript provided by the Permanent Mission of Pakistan to the United Nations.

Pakistan has been a close ally of the United States in the fight against Islamic extremists, particularly Al Qaeda. The Pakistani president, Pervez Musharraf, has offered his support despite strong factions in his country that are hostile to American interests.

Mr. Musharraf's stance has made him a target of Islamic extremists and he has narrowly avoided two recent assassination attempts.

Flashback: 'Musharraf faked bid on life'

The Times of India
MONDAY, DECEMBER 15, 2003

ISLAMABAD: Contrary to claims made by Pakistan President Pervez Musharraf that a bomb blast at a bridge near Rawalpindi was directed specifically at him, highly placed sources here say that he may have engineered the incident to retain Washington's support as a key ally in the war against terror and to strengthen his hold on power.

The sources on conditions of anonymity further went on to say that it was ironical that no one had as yet claimed responsibility for the blast. It was also inexplicable that the incumbent establishment was continuing to maintain a stoic silence about who may have been behind the so-called assassination bid.

It was their suspicion that Musharraf may have used the 'bid on his life' to convince the United States that he was still their best hope in Pakistan and in the South Asian region for cooperation as far as tackling the menace of global terrorism is concerned.

Domestically too, Musharraf may have wanted to send a message across to the Bush administration that attempts to remove him from power at this juncture, could damage efforts to usher in a democratic, secular system of government, especially in the wake of reports that religious extremism and militant activity were raising their ugly heads again.
Not only that, but there might also be evidence that the US government, its allies and the government-owned press were using the phony war on terror to further their political goals...
Round Up The Usual Suspects: Evidence Mounts That Bush Officials Are Leaking Old CIA Files to Impact Election

By Mark G. Levey

WASHINGTON, DC, August 8, 2004 - According to Sunday's NYT, British intelligence has complained that members of the Al-Qaeda cells that were the target of high profile arrests earlier this week had been the subject of ongoing surveillance. White House-orchestrated publicity about a CIA-initiated arrest of a suspect in Pakistan forced a premature round up of suspects in Britain, compromising a long-term counterterrorism operation in the UK.

Bush Administration figures claim that the arrests have stopped a plot they say was in the works to disrupt the U.S. elections in November. Such an attack would now have to be in the latter stages of preparation, with personnel and equipment in place inside the U.S. and planning nearly completed. Facts instead point to a well-timed roundup of figures long ago identified in old counterintelligence sting operations. Unlike the months preceding 9/11, this time there is no solid, multi-source evidence warning of an imminent attack.

In his weekly radio address Saturday, President Bush all but admitted that the US intelligence has long known details about the alleged plot. Bush said,

"Information from arrests in Pakistan, taken together with information gathered by the U.S. intelligence community, indicated that al-Qaida has cased financial targets in New York, New Jersey and Washington, D.C . . . This information was buttressed by other information we already had."

There has been no showing of recent significant preparations for the type of pre-election attack described by President Bush and other Administration sources.

Instead, arrests in Britain and Pakistan precipitated by U.S. pressure have merely disrupted allied surveillance operations. Massive publicity after the arrest of Mohammed Naeem Noor Khan, an alleged Al Qaeda communications operative in Pakistan, forced British intelligence to prematurely wrap up an operation against a cell operating in England that had been observed communicating with operatives in the Middle East.

After the monitoring operation was blown, MI5 decided to round up 12 known associates of Mr. Khan in Britain this past week. One of these, Abu Issa al-Hindi, visited the U.S. in 2000 and 2001, allegedly at the behest of senior Qaeda leaders to carry out a reconnaissance operation of potential targets, now identified as the New York, New Jersey and Washington, DC offices of U.S. financial institutions. He was, in fact, already the focus of British surveillance at that time.

The Times reported, "For reasons still not entirely clear, Mr. Hindi was under surveillance by the British authorities - believed to be acting on information supplied by the United States - even before he is said to have been identified as an operative in the surveillance of American financial institutions."

Mr. Khan, it turns, may have been a mole or double-agent working for Pakistani intelligence (ISI) at the time the U.S. disclosed his arrest, according to a report from Reuters.

The Pakistani publication, The Daily Times, further clarifies that Khan was actually arrested by the ISI in mid-July, and had been working with Pakistani intelligence against Al-Qaeda.

There is additional evidence that the plottings against American financial targets of which these accused al-Qaeda operatives are alleged to have been part have been known to U.S. intelligence for several years, and are only now being publicized for partisan political reasons. In March, Vice President Cheney began alluding to possible attacks timed to disrupt the American elections.

One can thus reasonably conclude this latest terrorism scare to be little more than a sloppy dusting of the shelves of old surveillance operations. Another suspect rounded up by the British, Babar Ahmed, was apparently the subject of an American sting operation dating back to 2001. Mr. Ahmed is now accused of receiving communications from someone representing himself to be a U.S. sailor sympathetic to Al-Qaeda. That unidentified U.S. service person was never arrested.

Today's NYT report goes on to state, "Among those in custody is a suspect named Babar Ahmed, who was arrested in Britain this week at the request of the United States. Whatever his role in the surveillance, the authorities now say that Mr. Ahmed obtained detailed information about the movements of the Navy aircraft carrier Constellation, including information about the formations used by the carrier and its escort vessels in maneuvers like its passage through the Strait of Hormuz in the Middle East in 2001."

As these developments unfold, they seem to belatedly confirm the thesis laid out in a New Republic article, "July Surprise?", that revealed the Bush Administration was putting extreme pressure on Pakistan to deliver top al-Qaeda leaders and intelligence before the election.

According to the account in TNR, Pakistan's General Musharraf is eager to accommodate, as he sees his regime's interests better served by Bush than by a Democrat.

By its lastest actions, this Administration has proven that it can no longer address counterterrorism matters without provoking sharp questions about its own motives, credibility and competence. For the sake of the safety of the American people and the world, Bush needs to be replaced.

Suicide bomber files found in flat

Nicholas Rufford and Gareth Walsh – Sunday Times August 8, 2004

Commentary Rixon Stewart

The following report was the lead article in today's Sunday Times, one of Britain's biggest selling newspaper's and supposedly a quality one at that.

"DOCUMENTS found inside a flat that was raided last week by police looking for terrorists show that two of the occupants had been trained by extremist Palestinian groups. They included a would-be suicide bomber who had fled to Britain.

The documents were found by Sunday Times reporters in two briefcases that had been left by police forensic teams which searched the house in Willesden Green, northwest London. Among the papers was a picture of a man dressed in military fatigues cradling an AK-47 assault rifle and letters written on notepaper headed "Al Quds Brigade", a Middle East terror group."

Now just think about that for a moment. Documents 'left' by police forensic teams while searching a terror suspects house are conveniently stumbled upon by Sunday Times reporters and become headline news. It almost sounds too good to be true.

Remember all those reports in our 'free press' about Saddam Hussein's suspected Weapons of Mass Destruction? Well they effectively prepared public opinion for the invasion of Iraq. The fact that Saddam's WMD have not been found is beside the point, at the time they provided a useful pretext for the invasion. Without it, public opinion may have prevented British participation in the Iraq invasion.

This story may be of a similar type.

It goes on to relate how papers and photos were found linked to the "Al Quds Brigade", a terror group linked to Hamas.

So in one stroke we not only have an increased terror threat but the additional prospect of it being Palestinian in origin. The Zionists must be rubbing their hands together in glee because Britain now faces the same enemies as Israel in the "War on Terror". Which automatically means that we should support Israel in its fight against Palestinian terror.

The article continues:

"The Metropolitan police refused to say yesterday why the documents had been left behind in their series of high-profile raids on Tuesday against suspected Al-Qaeda terrorists at addresses across Britain."

And the Sunday Times refuses to speculate on the possibility that the papers were deliberately left for gullible journalists to find – or indeed that they may have been planted by British or even Israeli intelligence to provide just such a story.

This is indeed the measure of the modern press, where it may well be distributing disinformation on behalf of British or Israeli intelligence. And it does so without question, just as it did before the invasion of Iraq with endless stories and speculation about Iraq's WMD. So the billion-dollar question, overlooked by the Sunday Times, is: what the real purpose behind this story?
There might even be historical evidence to show that fake warnings of attack and a threat to the public have been used time and time again to great effect...
Lies Over Gulf of Tonkin Attack Compared to Iraq

Sat Aug 7
By MARGIE MASON
Associated Press Writer

HANOI, Vietnam - A now-disputed account of a North Vietnamese attack on U.S. destroyers in the Gulf of Tonkin led President Lyndon B. Johnson to escalate America's involvement in Vietnam, a chain of events drawing comparisons on its 40th anniversary to the U.S.-led invasion of Iraq

Johnson told Americans that communist torpedo boats fired on U.S. destroyers on Aug. 2 and Aug. 4, 1964. Following that, Congress voted almost unanimously on Aug. 7 to give Johnson approval to step up U.S. involvement in Vietnam.

Some argue Johnson and Congress acted hastily based on limited or misleading information, launching America into a divisive war where some 58,000 Americans and an estimated 3 million Vietnamese troops and civilians died.

"The (Gulf of Tonkin) resolution was a blank check," said Tony Edmonds, a professor at Ball State University in Muncie, Ind., and expert on Vietnam. "Certainly very similar to what happened with the congressional resolution on the Iraq war."

CIA executives gathered in Santiago de Chile revealed in contingency plot to overthrow Venezuela's President Hugo Chavez Frias

Venezuela state-owned news agency VENPRES is quoting an El Mundo de Madrid (Spain) report that the US Central Intelligence Agency (CIA) is set to put a contingency plan in motion in the (likely) event that President Hugo Chavez Frias wins next weekend's Recall Referendum.

The Madrid newspaper says that the White House strategy is to avoid a regional expansion of the President Hugo Chavez Frias 'Bolivarian Revolution' which is seen by Washington D.C. as a direct step into the kind of socialism espoused by many European nations and envisaged in the United States if John Kerry wrests control of the White House from the Bush 2 administration this coming fall.

El Mundo says the CIA plan appears to concede a Chavez Frias victory next weekend "for good or bad" and that Langley spooks are already working on a strategy to "neutralize" Chavez Frias by fair means or foul.

CIA under secretary for southern hemispherical affairs, William Spencer, has been drafted to Santiago de Chile to analyze the "Venezuelan situation" with CIA country directors from Colombia, Ecuador, Brasil and Peru. Spencer is reportedly convinced that Chavez Frias intends (no matter how fanciful) to create two centers of "revolutionary focus" in South America in preparation to overthrow Colombian President Alvaro Uribe Velez and Bolivia's Head of State, Carlos Mesa.

Spencer espouses the theory that Chavez Frias will then forge onwards using a domino effect to include the overthrow of Peru's Alejandro Toledo, using multiple corruption scandals there as a pretext for invasion. Washington apparently sees Chavez Frias' progress as a "corrosive action" in a continuing Bolivarian Revolution which will expand easily into countries such as Ecuador where indigenous political are already reacting strongly to Washington's ideas of neo-liberalism.

The CIA contingency plan against President Hugo Chavez Frias seemingly also includes Argentina and Brazil in the Venezuelan leader's dastardly designs against US Homeland Security ... inciting South American nations further into "contagious anti-USA prejudices..."

According to the Madrid newspaper it is no coincidence that the US CIA delegates have gathered in Chile which is considered by Langley and Crawford (Texas) as the "last bastion of democracy and pro-US economic policies in South America." They are elaborating a financial strategy in cooperation with US Treasury officials and the Pentagon aimed at covering all possible loopholes in the anti-socialist strategy and to halt Chavez Frias "overwhelming ambition" to "transform Latin America into an impregnable replica of Fidel Castro's Cuba..."

Part of the CIA strategy reveals a plot to have Movimiento Quinta Republica (MVR) suspend the referendum using the argument that serious irregularities have been detected ... alternatively that a conspiracy has been uncovered to assassinate Chavez Frias before the result is known. "In such a scenario ... if a State of Emergency is declared, the referendum, would be suspended indefinitely along with Constitutional guarantees and the Congress would be dissolved and public protests would immediately be ruled unlawful."
We would also expect that, once in a while, there would be little discrepancies which pointed to that fact that we are being sold a lie...
Flashback: Plane Lands In Cleveland; Bomb Feared Aboard

Reported by: 9News Staff
Web produced by: Liz Foreman
9/11/01 11:43:57 AM

A Boeing 767 out of Boston made an emergency landing Tuesday at Cleveland Hopkins International Airport due to concerns that it may have a bomb aboard, said Mayor Michael R. White.

White said the plane had been moved to a secure area of the airport, and was evacuated.

United identified the plane as Flight 93. The airline did say how many people were aboard the flight.

United said it was also "deeply concerned" about another flight, Flight 175, a Boeing 767, which was bound from Boston to Los Angeles.

On behalf of the airline CEO James Goodwin said: "The thoughts of everyone at United are with the passengers and crew of these flights. Our prayers are also with everyone on the ground who may have been involved.

"United is working with all the relevant authorities, including the FBI, to obtain further information on these flights," he said.

Two doomed Flight 11s left Boston airport on the moring of September 11th 2001 [...]
Indeed, with a little digging, one might also be able to uncover evidence to suggest that such government conspiracies was endemic among politicians and political leaders, and that, regardless of which group holds power, the game plan will not change...
Neo-cons, Part II

By Youssef M. Ibrahim*
Gulf News

Gulf News - 6 August 2004: For three years the world fumed over the chauvinism, arrogance and policies of Republican neo-conservatives (neo-cons as they are known) riding over George W. Bush's administration. They advocated regime changes and wars-of-choice. They dumped the western alliance, forged even stronger bonds with Israel, dropping the Palestinians altogether, and occupied Iraq.

But for those millions, who aspire to better days under a Democratic administration led by Senator John Kerry, think again. The Democratic Party's neo-con vampires are a lot worse than the current ones - the second movie could be more frightening than the first.

One of the Democratic Party neo-con intellectual gurus, Leslie Gelb, president emeritus of the Council on Foreign Relations has proposed in a New York Times Opinion-Editorial a few months ago the partition of Iraq, stirring quite a fuss, but no real objection by anyone of weight inside the Kerry camp.

Gelb's answer to how American troops get out of Iraq is to split it into three states: Shiites in the South, Kurdish in the North and one Sunni state in the middle. Then American troops can leave a new mess, and say bye-bye.

Another major guru of the Democratic neo-cons, Peter W. Galbraith, wrote a huge analysis in the New York Review of Books on May 13 (volume 51-number 8) in which he argued this model would "solve" many of the contradictions of modern Iraq.

"The Shiites could have their Islamic republic, while the Kurds could continue their secular traditions. Alcohol would continue to be a staple of Kurdish picnics while it would be strictly banned in Basra... The three-state solution would permit the United States to disengage from security duties in most of Iraq," Galbraith asserted. Of course, America would keep some American military bases - just in case.

Never mind that such a solution would result in shifting out major segments of populations, like the two million Shiites living in Baghdad's Sadr city district, as well as hundred of thousands of Sunnis Arabs from Kurdistan and from the South. Far worse, it is a guaranteed formula for a bloody civil war, the destabilisation of Saudi Arabia and Kuwait next door and the entry of Iran into this mess.

The rest of the democratic neo-cons world vision is even more frightening. For the Greater Middle East, their view is to appoint Israel in effect the American pro-consul for the Arab world by supplying it with more military and financial aid while diminishing such aid to Egypt and other Arab countries.

This would permit Israel to complete its ongoing takeover of the West Bank of Jordan and squeezing most Palestinians into a tiny pseudo state in Gaza whose land, sea and sky borders would be under Israeli control - a cage in which the Palestinians can rot. They will not be able to fly, sail or drive in or out of it without Israeli permission. Nor will they have open borders with Egypt or Jordan.

The other chief target in the Democratic neo-cons crosshair is Iran. The American Israel Public Affairs Committee, AIPAC, the most powerful pro-Israel lobby in America, has made it clear to both Republicans and Democrats that Iran must be contained again because after the demise of Iraq it remains the only danger to Israel.

Among other things, AIPAC has asked that Iran be stripped of nuclear research facilities and that sanctions be imposed on Russia if it continues to help Iran in this area.

In fact, the Greater Middle East strategy of Democratic neo-cons is the same as the existing ones: what is good for Israel is good for America. It goes without saying that establishing diplomatic relations with Israel by all Arab countries will become a must for maintaining friendly relations with America.

The next target is the "reform" of Muslim countries and Muslim doctrines. The "war against terror" will become the war against Islam in various forms, targeting school programmes, religious education, public institutions, economic reforms, all under the guise of human rights, free economy and democracy.

There is nothing wrong with more democracy - God knows this region can use it - as long as it is not a Trojan horse for more control by the west and Israel.

Finally, Europe, both new and old, must be neutralised in the sense of understanding it cannot and will not have any influence that is separate or different from America's. This of course will include new pressures to bring an increasingly independent Russia back into line.

In the view of Democratic neo-cons, Vladimir Putin the Russian president, is far too independent for their taste. Russia cannot be allowed to rise again as an industrial, strategic or even oil power.

Russian oligarchs, many of whom happen to be strong supporters of Israel, have already been cultivated and "prepped", as they say, to use both their money and influence in support of the taming of Putin, or, his removal in favour of a more pliant Russian leader. Economic sanctions and such threats should, the Democratic neo-cons believe, be invoked too if necessary.

So if you are upset about the current movie "Republican Vampires" watch out for part two, "Democratic Vampires". Things could get scarier.

* Youssef M. Ibrahim , a former Middle East correspondent for the New York Times and Energy Editor of the Wall Street Journal, is Managing Director of the Dubai-based Strategic Energy Investment Group, a consulting firm specialising in assessing political risk in the Gulf, Middle and Near East region.
So if one of the major goals of such a fabricated "war on terror" were essentially to herd the global population to an ever finer order of control, we might expect to see more and more ridiculous examples of fear-mongering in an attempt to get the public to believe the lie...
Al Qaida targets New York tourist helicopters

Agencies

Washington: Terrorists may attempt to use helicopters or rental vehicles, including limousines, packed with explosives to carry out attacks, the FBI and the Department of Homeland Security have warned.

Three separate bulletins were issued on Friday to law enforcement agencies nationwide, and were disclosed to reporters on Monday. The third one warned about potential terrorist use of rental storage facilities to house bomb components or assemble devices before attacks.

The bulletins were issued after the recently raised terror threat level about possible attacks on financial buildings in New York, Washington and Newark, New Jersey.

"The U.S. government remains concerned that al Qaeda or other terrorist organizations are planning to carry out terrorist attacks in the United States during the summer and fall 2004 time frame," according to the bulletin on rental vehicles.

In the bulletin on helicopters, the FBI and Department of Homeland Security said they could be loaded with explosives and could be used for a chemical or biological attack.

The bulletin said that al Qaeda remains interested in carrying out aircraft attacks and it has expressed interest in using helicopters packed with explosives.

"Although there is no credible, specific evidence supporting the use of helicopters in aerial attacks within the United States, the threat cannot be discounted," the bulletin said.

Concerning rental vehicles, the bulletin noted that rented trucks had been used in the 1993 bombing of the World Trade Center and the 1995 Oklahoma City bombing.
This last comment is very indicative given that, to date, the only group PROVEN to regularly use rental trucks in their "operations" on the mainland US is the Israeli Mossad, as our article "Mossad and Moving Companies - Masterminds of Global Terror?" makes abundantly clear.
But rather than alert the American people to the REAL threat to their lives and liberties, the US government and media prefer to spook the population with increasingly ridiculous "threat alerts". What are we to expect next from the Bush house of propaganda? "Suicide bombers dressed as monkeys hiding in city Zoos"?? Ahhhhhh! Run for your lives!!
Alternatively, you may choose to remain calm and read the following insightful article on the real reason for the US military presence in Iraq from William Rivers Pitt of Truthout.org
Click here to comment on this article
The Writing on the Latrine Walls
By William Rivers Pitt
Monday 09 August 2004
I sat with a photographer from Reuters who had just returned from a six-month tour of Iraq. He had been tagging along with the Kellogg Brown & Root operation, subsidiary of Halliburton, and saw everything there was to see. He went from new military base to new military base, from the oil work in the north and back to the south, observing how busy were the contractors for Halliburton.
"I feel like I compromised every one of my principles by even being over there," he told me after the story had been spun out a bit. His eyes, which had seen too many things through the lens of his camera, were haunted.
It was two years ago that talk about invading Iraq began to circulate. Reasons for the invasion were bandied about - they had weapons of mass destruction, they had a hand in September 11, they will welcome us as liberators - but it wasn't until the Project for the New American Century got dragged into the discussion that an understanding of the true motives behind all this became apparent.
The Project for the New American Century, or PNAC for short, is just another right-wing think tank, really. One cannot swing one's dead cat by the tail in Washington D.C. without smacking some prehensile gnome, pained by the sunlight, scuttling back to its right-wing think tank cubicle. These organizations are all over the place. What makes PNAC different from all the others?
The membership roll call, for one thing:
Dick Cheney, Vice President of the United States, former CEO of Halliburton; Donald Rumsfeld, Secretary of Defense; Paul Wolfowitz, Deputy Secretary of Defense; Elliot Abrams, National Security Council; John Bolton, Undersecretary for Arms Control and International Security; I. Lewis Libby, Cheney's top National Security assistant;
Quite a roster.
These people didn't enjoy those fancy titles in 2000, when the PNAC manifesto 'Rebuilding America's Defenses' (Adobe document) was first published. Before 2000, they were just a bunch of power players who had been shoved out of the government in 1993. In the time that passed between Clinton and those hanging chads, these people got together in PNAC and laid out a blueprint. 'Rebuilding America's Defenses' was the ultimate result, and it is a doozy of a document. 2000 became 2001, and the PNAC boys - Cheney and Rumsfeld specifically - suddenly had the fancy titles and a chance to swing some weight.
'Rebuilding America's Defenses' became the roadmap for foreign policy decisions made in the White House and the Pentagon; PNAC had the Vice President's office in one building, and the Defense Secretary's office in the other. Attacking Iraq was central to that roadmap from the beginning. When former Counterterrorism Czar Richard Clarke accused the Bush administration of focusing on Iraq to the detriment of addressing legitimate threats, he was essentially denouncing them for using the attacks of September 11 as an excuse to execute the PNAC blueprint.
Iraq, you see, has been on the PNAC menu for almost ten years.
The goals codified in 'Rebuilding America's Defenses,' the manifesto, can be boiled down to a few sentences: The invasion and occupation of Iraq, for reasons that had nothing to do with Saddam Hussein. The building of several permanent military bases in Iraq, the purpose of which are to telegraph force throughout the region. The takeover by Western petroleum corporations of Iraq's nationalized oil industry. The ultimate destabilization and overthrow of a variety of regimes in the Middle East, friend and foe alike, by military or economic means, or both.
"Indeed," it is written on page 14 of 'Rebuilding America's Defenses,' "the United States has for decades sought to play a more permanent role in Gulf regional security. While the unresolved conflict with Iraq provides the immediate justification, the need for a substantial American force presence in the Gulf transcends the issue of the regime of Saddam Hussein."
Two years after the talk began, the invasion is completed. There are no weapons of mass destruction, there is no connection to September 11, and the Iraqi people have in no way welcomed us as liberators. The cosmetic rationales for the attack have fallen by the wayside, and all that remains are the PNAC goals, some of which have been achieved in spectacularly profitable fashion.
The stock in trade of Halliburton subsidiary Kellogg Brown & Root is the construction of permanent military bases. The Reuters reporter I spoke to had been to several KBR-built permanent American military bases in his six month tour of Iraq. "That's where the oil industry money is going," he told me. "Billions of dollars. Not to infrastructure, not to rebuilding the country, and not to helping the Iraqi people. It's going to KBR, to build those bases for the military."
According to the Center for Public Integrity, Halliburton subsidiary Kellogg Brown & Root has made $11,475,541,371 in Iraq as of July 1. So that's one PNAC goal checked off the list.
As for the corporate takeover of the Iraqi oil industry, that has become the prime mission of the American soldiers engaged there. Kellogg Brown & Root also does a tidy business in the oil-infrastructure repair market. "The troops aren't hunting terrorists or building a country," said the Reuters photographer. "All they do is guard the convoys running north and south. The convoys north are carrying supplies and empty tankers for the oil fields around Mosul and Tikrit. The convoys south bring back what they pull out of the ground up there. That's where all these kids are getting killed. They get hit with IEDs while guarding these convoys, and all hell breaks loose."
That last goal, about overthrowing other regimes in the region, hasn't been as easy to follow through on as the PNAC boys might have hoped. The Iraqi people are fighting back, and the small-by-comparison force Rumsfeld said would be enough to do the job can't seem to pacify the country. Perhaps that is because too many troops are dedicated to guarding the oil supply lines. More likely, however, it is because of the sincere belief among the Iraqi people that they have been conquered - not 'liberated' but conquered - and their conquerors don't give a tinker's damn whether they live or die.
"The Americans over there have all these terms for people who aren't Americans," the Reuters photographer said. "The Iraqi people are called LPs, or 'Local Personnel.' They get killed all the time, but it's like, 'Some LPs got killed,' so it isn't like real people died. Iraqi kids run along the convoys, hoping a soldier will throw them some food or water, and sometimes they get crushed by the trucks. Nothing stops, those are the orders, so some LPs get killed and the convoy keeps rolling. The labels make it easier for them to die. The people are depersonalized. No one cares."
"Everyone is an 'insurgent' over there," the photographer told me. "That's another label with no meaning. Everyone is against the Americans. There is a $250,000 bounty on the head of every Westerner over there, mine too, while I was there. The Americans working the oil industry over there are the dumbest, most racist jackasses I've ever seen in my life. That's the American face on this thing, and the Iraqi people see it."
930 American soldiers have died to achieve goals the PNAC boys gamed out before they ever came in with this Bush administration. Well over 10,000 Iraqi civilians have likewise died. Over $200 billion has been spent to do this. Fighting today rages across several sections of Iraq, and the puppet 'leaders' installed by U.S. forces are about to drive a final stake into the heart of the liberation rhetoric by declaring nationwide martial law. [...]
The Reuters photographer I spoke to couldn't get any soldiers to talk about how they felt when surrounded by their fellow soldiers. "They don't talk in the ranks, or just about anywhere on base," he said. "You have to go out to the latrine area, to the Port-O-Potties. For some reason, they talk there. You can read how they really feel - all the anti-Bush stuff, all the wanting to go home - in the writing on the shithouse walls.
Click here to comment on this article
Chalabi: murder charge politically motivated
Monday August 9, 2004
Salem Chalabi, the man organising the trial of Saddam Hussein, today said he feared he would be killed in jail if he returned to Iraq to face charges of murdering a government official.
The nephew of Ahmed Chalabi, the former darling of the Pentagon who was this weekend charged with fraud, claimed he would be a target for imprisoned Ba'athist supporters.
"I plan on returning, I just want to get assurances I will not be killed in a jail," he told the BBC Radio 4 Today programme.
Baghdad-born Mr Chalabi, 41, a US-trained lawyer, is at present on what is described as a private visit to London.
He denied any connection to the June murder of Haithem Fadhil, director general of the finance ministry.
"The charge supposedly is that I made a threat to this ministry of finance official who was investigating properties belonging to me," he told the BBC.
"I have no recollection of ever meeting this person. I definitely have not visited him, as the allegation was, in his office."
Mr Chalabi said the charges against him and his uncle were politically motivated.
Ahmed Chalabi was once the Pentagon's preferred candidate to lead Iraq, but he fell from favour amid allegations of links to Iranian hardliners and concerns that he provided faulty intelligence in the run-up to the war. He did not get a job in the interim government.
The Foreign Office today confirmed that Salem Chalabi would not be extradited to Iraq, which restored the death penalty at the weekend. Britain opposes the death penalty and does not extradite individuals to countries where they could face it.
Comment: Perhaps we should ask Under Secretary of Defence for Policy Douglas Feith about the Chalabis, he seems to know them very well indeed.
Click here to comment on this article
FBI probes threat sent to Boston convention
August 9, 2004
Federal authorities are investigating threats to bomb the Democratic National Convention in Boston last month. Agents, who say the threats were mailed from upstate New York, have questioned a Los Angeles-area man who has Binghamton relatives, according to an FBI application for a search warrant. The man was questioned about mid-July threats of the detonation of biological and nuclear weapons at the Democratic convention, according to The Press and Sun-Bulletin of Binghamton. The newspaper did not name the suspect. The warrant application says that one letter referred to chemical weapons allegedly located in Washington state and Peabody, Mass. That letter was signed "Patriot." (AP)
Click here to comment on this article
When Bioterror Moves Next Door
It will be one of the safest and most hazardous places on earth, right in the heart of Boston, a laboratory to combat pathogens like Ebola, smallpox, and anthrax. Scientists are calling it a biosafety lab, but others warn that it's a bioterror lab. So which is it?
By Daniel Schulman and Adam Smith
Deep within the US Army Medical Research Institute of Infectious Diseases in Frederick, Maryland, a maze of hallways, done up floor-to-ceiling in gradations of beige, leads to a wing called "the slammer." The two-room isolation ward on the Fort Detrick base takes its name from the unnerving clank that the reinforced-steel air lock makes as it seals behind you. It sees very little action. When it does, something has gone very wrong. Last winter, the ward saw its first patient in nearly 20 years after a young researcher pricked herself with an Ebola-tainted needle while experimenting with the deadly virus in one of the facility's maximum-containment, level-4 biosafety laboratories -- known as "hot" labs. She spent the better part of February in quarantine, her only face-to-face contact coming with the medical personnel, clad in protective gear, who periodically shuffled in to monitor her condition. She exhibited no symptoms during her three-week internment. No longer a threat to her colleagues, family, or the surrounding community, the young woman returned to work. She was lucky. Months later, in May, under similar circumstances -- Ebola, a needle prick -- a Russian researcher perished slowly in isolation as fever gave way to vital organ failure, then to unfettered internal bleeding.

In a nearby wing, a dim corridor is lined by laboratory suites, some of these also housing hot labs, where researchers explore the deadliest microorganisms known to science -- germs of unknown or lethal pathogenesis, some of which spread easily on air currents. The work is dangerous. But the risk, such researchers would say, is outweighed by the perils of inaction.

In the early 1980s, Boston University microbiologist John R. "Jack" Murphy conducted a study that had been assigned to the research institute at Fort Detrick, home to one of the nation's few level-4 labs. Using the emerging technology of genetic engineering, Murphy led a team of Harvard scientists who sought to insert segments of diphtheria genes into E. coli to create a new, lethal toxin. The goal: forge a hybrid gene that would target malignant cancer cells. The risk: engineering not a new weapon against disease but a new and deadly disease in itself.
"It was never done before," Murphy says. "There was no precedent." Murphy himself didn't know what would happen. "There was a natural level of skepticism and concern that what we were going to make would be truly dangerous," the 62-year-old researcher recalls. Reading from a news clipping from 1982, he quotes a colleague who forecast catastrophe: "Even if the risk is small, this experiment is potentially deadly to every mammalian species on the planet. This means that it's more dangerous than a nuclear weapon, if the risk realizes its potential."
And yet his controversial work led to the discovery of the cancer-fighting drug Ontak, approved by the US Food and Drug Administration five years ago.

Murphy will soon conduct research in a level-4 lab again. The facility will be blocks from his South End apartment and steps from his current office in the Evans Biomedical Research Center. On the future lab site, a parking lot now sprawls for a half block on Albany Street, causing a gap in the industrial landscape where the Boston Flower Exchange leaves off and the Boston University Medical Center's campus begins. Pending environmental impact reviews, work on the facility should be underway by next summer. Heavy machinery will speckle the grounds, and construction crews will pour a foundation. Day by day, the skeleton of what will become a vast laboratory complex will take form. It will be, at once, one of the safest and most hazardous places in North America. [...]
Click here to comment on this article
by Rep. Ron Paul
08/09/04 -- Last week's announcement that the terrorist threat warning level has been raised in parts of New York, New Jersey, and Washington, D.C. has led to dramatic and unprecedented restrictions on the movements of citizens. Americans wishing to visit the U.S. Capitol must, for example, pass through several checkpoints and submit to police inspection of their cars and persons.
Many Americans support the new security measures because they claim to feel safer when the government issues terror alerts and fills the streets with militarized police forces. As one tourist interviewed this week said, "It makes me feel comfortable to know that everything is being checked." It is ironic that tourists coming to Washington to celebrate the freedoms embodied in the Declaration of Independence are so eager to give up those freedoms with no questions asked.
Freedom is not defined by safety. Freedom is defined by the ability of citizens to live without government interference. Government cannot create a world without risks, nor would we really wish to live in such a fictional place. Only a totalitarian society would even claim absolute safety as a worthy ideal, because it would require total state control over its citizens' lives. This doesn't stop governments, including our own, from seeking more control over and intrusion into our lives. As one Member of Congress stated to the press last week, "people who don't want to be searched don't need to come on Capitol grounds." What an insult! The Capitol belongs to the American people who pay for it, not to Congress or the police.
It is worth noting that the government rushes first to protect itself, devoting enormous resources to make places like the Capitol grounds safe, while just beyond lies one of the most dangerous neighborhoods in the nation. What makes Congress more worthy of protection from terrorists than ordinary citizens?
To understand the nature of our domestic response to the September 11th, 2001 attacks, we must understand the nature of government. Government naturally expands, and any crises - whether real or manufactured - serve to justify more and more government power over our lives. Bureaucrats have used the tragedy of 9-11 as an excuse to seize police powers sought for decades, such as warrantless searches, internet monitoring, and access to bank records. It should be no surprise that the recently released report of the 9-11 Commission has but one central recommendation: bigger government and more spending at home and abroad.
Every new security measure represents another failure of the once-courageous American spirit. The more we change our lives, the more we obsess about terrorism, the more the terrorists have won. As commentator Lew Rockwell of the Ludwig von Mises Institute explains, terrorists in effect have been elevated by our response to 9-11: "They are running the country. They determine our civic life. They shape our private life. They decide how public resources are spent. They may dictate who gets to be the next president. It should be obvious that the government doesn't object. Not at all. The government benefits, by getting ever more reason for ever more money and power."
Every generation must resist the temptation to believe that it lives in the most dangerous time in American history. The threat of Islamic terrorism is real, but it is not the greatest danger ever faced by our nation. This is not to dismiss the threat of terrorism, but rather to put it in perspective. Those who seek to whip the nation into a frenzy of fear do a disservice to a country that expelled the British, fought two world wars, and stared down the Soviet empire.
Liberty is lost through complacency and a subservient mindset. When we accept or even welcome automobile checkpoints, random searches, mandatory identification cards, and paramilitary police in our streets, we have lost a vital part of our American heritage. America was born of protest, revolution, and mistrust of government. Subservient societies neither maintain nor deserve freedom for long.
Click here to comment on this article
Real Terror Culprit

By Arnaud de Borchgrave
Published August 2, 2004
The September 11 commission found troubling new evidence Iran was closer to al Qaeda than was Iraq. More importantly, and through no fault of its own, the commission missed the biggest prize of all: Former Pakistani intelligence officers knew beforehand all about the September 11 attacks.
They even advised Osama bin Laden and his cohorts how to attack key targets in the United States with hijacked civilian aircraft. And bin Laden has been undergoing periodic dialysis treatment in a military hospital in Peshawar, capital of Pakistan's Northwest Frontier Province adjacent to the Afghan border.
The information came to the commission's attention in a confidential report from Pakistan as its own report was coming off the presses. The information was supplied with the understanding the unimpeachable source would remain anonymous.
Pakistan still denies President Pervez Musharraf knew anything about the activities of A.Q. Khan, the country's top nuclear engineer who had spent the last 10 years building and running a one-stop global Wall-Mart for "rogue" nations. North Korea, Iran and Libya shopped for nuclear weapons at Mr. Khan's underground black market. Pakistan has also denied the allegations by a leading Pakistani in the confidential addendum to the September 11 commission report.
After U.S. and British intelligence painstakingly pieced together Mr. Khan's global nuclear proliferation endeavors, Deputy Secretary of State Rich Armitage was assigned last fall to convey the devastating news to Mr. Musharraf. Mr. Khan, a national icon for giving Pakistan its nuclear arsenal, was not arrested. Instead, Mr. Musharraf pardoned him in exchange for an abject apology on national television in English. No one in Pakistan believed Mr. Musharraf's claim he was totally in the dark about Mr. Khan's operation. Prior to seizing power in 1999, Mr. Musharraf was -- and still is -- Army chief of staff. For the past five years, Pakistan's Inter-Services Intelligence chief has reported directly to Mr. Musharraf.
Osama bin Laden's principal Pakistani adviser before September 11, 2001, was retired Gen. Hamid Gul, a former ISI chief who, since the 2001 attacks, is "strategic adviser" to the coalition of six politico-religious parties that governs two of Pakistan's four provinces. Known as MMA, the coalition also occupies 20 percent of the seats in the federal assembly in Islamabad.
Hours after September 11, Gen. Gul publicly accused Israel's Mossad of fomenting the plot. Later, he said the U.S. Air Force must have been in on it since no warplanes were scrambled to shoot down the hijacked airliners.
Gen. Gul spent two weeks in Afghanistan immediately before September 11. He denied meeting bin Laden on that trip, but has always said he was an "admirer" of the al Qaeda leader. However, he did meet several times with Mullah Mohammed Omar, the Taliban leader.
Since September 11, hardly a week goes by without Gen. Gul denouncing the United States in both the Urdu and English-language media.
In a conversation with this reporter in October 2001, Gen. Gul forecast a future Islamist nuclear power that would form a greater Islamic state with a fundamentalist Saudi Arabia after the monarchy falls.
Gen. Gul worked closely with the CIA during the Soviet occupation of Afghanistan when he was ISI chief. He was "mildly" fundamentalist in those days, he explained after September 11, and indifferent to the United States. But he became passionately anti-American after the United States turned its back on Afghanistan following the 1989 Soviet withdrawal, and began punishing Pakistan with economic and military sanctions for its secret nuclear buildup.
A ranking CIA official, speaking anonymously, said the agency considered Gen. Gul "the most dangerous man" in Pakistan. A senior Pakistani political leader, also on condition of anonymity, said, "I have reason to believe Hamid Gul was Osama bin Laden's master planner."
The report received by the September 11 commission from the anonymous, well-connected Pakistani source, said: "The core issue of instability and violence in South Asia is the character, activities and persistence of the militarized Islamist fundamentalist state in Pakistan. No cure for this canker can be arrived at through any strategy of negotiations, support and financial aid to the military regime, or by a 'regulated' transition to
'democracy' ".

The confidential report continued: "The imprints of every major act of international Islamist terrorism invariably passes through Pakistan, right from September 11 -- where virtually all the participants had trained, resided or met in, coordinated with, or received funding from or through Pakistan -- to major acts of terrorism across South Asia and Southeast Asia, as well as major networks of terror that have been discovered in Europe.
"Pakistan has harvested an enormous price for its apparent 'cooperation' with the U.S., and in this it has combined deception and blackmail -- including nuclear blackmail -- to secure a continuous stream of concessions. Its conduct is little different from that of North Korea, which has in the past chosen the nuclear path to secure incremental aid from Western donors. A pattern of sustained nuclear blackmail has consistently been at the heart of Pakistan's case for concessions, aid and a heightened threshold of international tolerance for its sponsorship and support of Islamist terrorism.
"To understand how this works, it is useful to conceive of Pakistan's ISI as a state acting as terrorist traffickers, complaining that, if it does not receive the extraordinary dispensations and indulgences that it seeks, it will, in effect, 'implode,' and in the process do extraordinary harm.
"Part of the threat of this 'explosion' is also the specter of the transfer of its nuclear arsenal and capabilities to more intransigent and irrational elements of the Islamist far right in Pakistan, who would not be amenable to the logic that its present rulers -- whose interests in terrorism are strategic, and consequently, subject to considerations of strategic advantage -- are willing to listen to. ...
"It is crucial to note that if the Islamist terrorist groups gain access to nuclear devices, ISI will almost certainly be the source. ... At least six Pakistani scientists connected with the country's nuclear program were in contact with al Qaeda and Osama bin Laden with the thorough instructions of ISI.
"Pakistan has projected the electoral victory of the fundamentalist and pro-Taliban, pro-al Qaeda Muttahida Majlis-e-Amal (MMA) in the November elections as 'proof' the military is the only 'barrier' against the country passing into the hands of the extremists. The fact, however, is that the elections were widely rigged, and this was a fact acknowledged by the European Union observers, as well as by some of the MMA's constituents themselves. The MMA victory was, in fact, substantially engineered by the Musharraf regime, as are the various anti-U.S. 'mass demonstrations' around the country.
"Pakistan has made a big case out of the fact that some of the top-line leadership of al Qaeda has been arrested in the country with the 'cooperation' of the Pakistani security forces and intelligence. However, the fact is that each such arrest only took place after the FBI and U.S. investigators had effectively gathered evidence to force Pakistani collaboration, but little of this evidence had come from Pakistani intelligence agencies.
Indeed, ISI has consistently sought to deny the presence of al Qaeda elements in Pakistan, and to mislead U.S. investigators. ... This deception has been at the very highest level, and Musharraf himself, for instance, initially insisted he was 'certain' bin Laden was dead. ...
"ISI has been actively facilitating the relocation of the al Qaeda from Afghanistan to Pakistan, and the conspiracy of substantial segments of serving Army and intelligence officers is visible. ..."
"The Pakistan army consistently denies giving the militants anything more than moral, diplomatic and political support. The reality is quite different. ISI issues money and directions to militant groups, specially the Arab hijackers of September 11 from al Qaeda. ISI was fully involved in devising and helping the entire affair. And that is why people like Hamid Gul and others very quickly stated the propaganda that CIA and Mossad did it. ... "
"The dilemma for Musharraf is that many of his army officers are still deeply sympathetic to al Qaeda, Taliban militants and the Kashmir cause.... Many retired and present ISI officers retain close links to al Qaeda militants hiding in various state-sponsored places in Pakistan and Kashmir as well as leaders from the defeated Taliban regime. They regard the fight against Americans and Jews and Indians in different parts of the world as legitimate jihad."
The report also says, "According to a senior tribal leader in Peshawar, bin Laden, who suffers from renal deficiency, has been periodically undergoing dialysis in a Peshawar military hospital with the knowledge and approval of ISI if not of Gen. Pervez Musharraf himself."
The same source, though not in the report, speculated Mr. Musharraf may plan to turn over bin Laden to President Bush in time to clinch Mr. Bush's re-election in November.
* Arnaud de Borchgrave is editor at large for The Washington Times and for United Press International.
Comment: It is amazing to see how the above author can gather all the pieces of the puzzle, place them in correct sequence and then entirely miss the key point. Does he really think that, with all of the connections between Pakistan and the CIA and Mossad, the US and Israel are not in fact directing the entire show?? If Pakistan is giving nukes to "terrorists", then might we not expect that Pakistan is merely the middle man, the patsy, the future fall guy? Well, he does work for the Washington Times, so we should expect no less.
Click here to comment on this article
Bush Chooses Rep. Goss to Head CIA
By TERENCE HUNT, AP White House Correspondent
August 10, 2004
WASHINGTON - President Bush has chosen Rep. Porter Goss, chairman of the House intelligence committee and a one-time Army intelligence operative and CIA officer, to head the embattled agency.
A senior administration official, speaking on condition of anonymity, said Bush planned to announce the selection of the 65-year-old Goss later Tuesday during a White House appearance.
Goss, a Republican from Florida, had been mentioned prominently in speculation about a successor to departed CIA Director George Tenet, who left amid a torrent of criticism of the agency's handling of prewar intelligence on Iraq.
Bush's decision also comes in the wake of the president's embrace of a key recommendation of the commission that investigated the Sept. 11, 2001 terror attacks: creation of a new intelligence czar to oversee the activities of the CIA and more than a dozen other intelligence agencies.
Speaking last week of the pleas for change by the 9/11 commission, Goss had said "we cannot afford to make changes blindly or in an unnecessary haste. We can ill-afford to rush to judgment any more than we can tolerate needless delay."
Goss was among the leading candidates mentioned when Tenet announced his resignation in late spring. But there had been more recent speculation that his prospects had dimmed, due at least in part to the unavoidable controversies that follow a leading player in Congress.
Tenet's last day was July 11, and the much-criticized agency since then has been under the leadership of acting Director John McLaughlin.
The administration was believed to have debated internally whether to choose a permanent successor to Tenet before the fall elections, thus putting itself in the position of having to defend its choice in confirmation hearings held in a politically charged atmosphere.
Pending Senate confirmation, Goss is poised to take over the agency at a pivotal moment.
Leaders of various intelligence agencies worry about a series of high-profile events this summer that could become attractive terrorist targets. It is widely believed that al-Qaida and its allies might try to strike the United States in a way that replicates the political and economic impact of March's train bombings in Madrid, Spain.
The Connecticut-born Goss graduated from Yale in 1960 and launched a clandestine career, working for Army intelligence for two years and eventually the CIA's most well-known division, the Directorate of Operations.
When he got into politics, Goss had to get special permission to reveal that he was associated with "the agency" for roughly a decade, reportedly in Europe and Latin America. Goss still doesn't discuss classified details of his work, although he has said he was deployed in Miami during the 1962 Cuban Missile Crisis.
"I had some very interesting moments in the Florida Straits," Goss told The Washington Post in 2002.
In the early 1970s, an almost deadly staph infection forced him to retire to Sanibel, Fla., where retired CIA officers who had made the coastal community their home had convinced him to come for recovery. Each day, he tried to walk to the ocean as part of his rehabilitation.
Gradually, he stepped into local politics and ran for the House in 1988.
Goss has served in Congress for 16 years, including eight years as House Intelligence chairman. He planned on making his 2000 election bid his last, but decided to stay on after the Sept. 11 attacks — with encouragement from Bush and Vice President Dick Cheney. The opportunity was sweetened when Republicans waived a rule limiting his chairmanship to six years.
Along with fellow Floridian, Democratic Sen. Bob Graham, then the chairman of the Senate Intelligence Committee, Goss led an joint congressional inquiry into the attacks, which identified numerous miscalculations that prevented authorities from derailing the attacks.
With his well-placed experience, Washington insiders have speculated for some time that he could take over as director of central intelligence, overseeing the CIA and 14 other agencies that make up the intelligence community. Only one CIA director was also a member of Congress: former President George H.W. Bush.
The 2005 intelligence authorization bill, which passed the House in late June, contained an entire section dedicated to criticizing the CIA's clandestine service, where Goss once worked.
Tenet at the time called some of the judgments "absurd" and "ill-informed."
If Goss's goal was to assert his independence from the CIA, "he may have overachieved. Just about everyone at CIA read the language in the report," said one current intelligence official, speaking on the condition of anonymity.
Click here to comment on this article
Bush-backers-only policy riles voters at RNC rallies
By Steve Larese,
Globe Correspondent | August 9, 2004
RIO RANCHO, N.M. -- A Republican National Committee practice of having people sign a form endorsing President Bush or pledging to vote for him in November before being issued tickets for RNC-sponsored rallies is raising concern among voters.

When Vice President Dick Cheney spoke July 31 to a crowd of 2,000 in Rio Rancho, a city of 45,000 near Albuquerque, several people who showed up at the event complained about being asked to sign endorsement forms in order to receive a ticket to hear Cheney.
''Whose vice president is he?" said 72-year-old retiree John Wade of Albuquerque, who was asked to sign the form when he picked up his tickets. ''I just wanted to hear what my vice president had to say, and they make me sign a loyalty oath."
Nick Lucy, a 64-year-old veteran and Democrat, said he was turned away from a May 7 rally in Dubuque, Iowa, at which President Bush spoke even though he had a ticket given to him by a local Republican leader. Lucy, who was not asked to sign a form, said he has seen every president since Ronald Reagan, but he was denied access because he is not a registered Republican. He is a Democrat and a past commander of the American Legion in Dubuque who plays taps at veterans' funerals.
''They asked the police to escort me out of there," Lucy said. ''I wasn't going to disrupt anything, but I probably wasn't going to clap a lot, either. Every rally the president goes to everyone is cheering for him because they're handpicked."
Republicans contend they foiled a plot by America Coming Together, a 527 organization that supports the Democratic Party, to disrupt the New Mexico rally. The 527 groups are so named for the provision in the tax code that applies to tax-exempt political organizations that operate outside party and candidate organizations.
RNC spokesman Yier Shi said RNC campaign rallies are not official visits, but party events designed to energize the Republican base . He said everyone is welcome at the rallies as long as they support President Bush.
Shi said similar forms are used at other reelection and fund-raising rallies sponsored by the RNC.
He added that the decision was made to use the forms at the New Mexico rally after the local RNC office received ''suspicious calls" about the event before it was advertised. He said the caller identification indicated some numbers were from cellphones of members of America Coming Together.
''I think the Democrats are just disappointed we thwarted their plans to disrupt our event," he said.
Geri Prado, New Mexico coordinator for America Coming Together, denies her group planned to disrupt Cheney's speech.
The form Wade was asked to sign had a disclaimer saying no public funds were used to produce it.
Wade said he filled out the form, was given two tickets, but had second thoughts about signing an endorsement he didn't believe in. Wade said he explained his misgivings to a supervisor, and the form was quickly located. The supervisor wrote ''Do Not Use" on the form, but Wade insisted it be given to him. In the end, Wade said, he offered to give back his tickets in exchange for the endorsement, which he did.
''Sure I'm a Democrat and I'll go head to head with you one on one, but I would never disrupt a speech by the vice president," Wade says.
Bush-Cheney spokesman Danny Diaz said that RNC rallies are separate from Bush-Cheney events and that he does not know of any endorsement forms being requested of people attending Bush-Cheney-sponsored events. But he says said he understands why the RNC would require such forms at the campaign events.
''They want to make sure people can hear the president and vice president's vision for the next four years," he said. ''There are thousands of volunteers who sacrifice and work hard on the campaign and who deserve to see and hear their president without being disrupted and disrespected."
The campaign of John F. Kerry, the Democratic nominee, has had to deal with Republican hecklers at events. The Kerry-Edwards communications director for New Mexico, Ruben Pulido, said that when Kerry visited New Mexico on July 10, several Bush supporters shouted ''Viva Bush" and waved flip-flops.
Click here to comment on this article
Electoral fraud claim returns to haunt America's sunshine state
A new ballot system is accused of erasing records, but the courts say nobody should expect it to be perfect. So is Florida heading for another vote-rigging row? Ros Davidson reports
It's no accident that Florida is where rock star Bruce Springsteen will end his headline-grabbing "vote for change" tour in October. Or that President Bush and Democratic contender John Kerry have visited the sunshine state about 50 times already this year, and there are still 12 weeks of campaigning left. Or that anti-Bush film-maker Michael Moore is promising to take his camera to Florida hotspots on election day on November 2.
Few Americans can forget that four years ago the president won Florida by 527 votes.
That was after a bitterly contested 37 days of recounts and lawsuits. In African- American and other poor Democratic-leaning precincts many voters had been turned away from polling stations.
Florida, centre of the most egregious mishaps in 2000, is too close to call. If Ohio is the foremost battleground for campaigning, Florida is the election's swamp of controversy and fraud. Florida is also the largest swing state, any of which could tip the final result. More money is being spent on registering voters here than in any other while billions in public money has been spent to clean up the system.
Yet the upcoming vote could be 2000 redux. "Florida's election system was a national disgrace, and it is well on its way to becoming one again," warned the New York Times.
Most of Florida's electorate will vote electronically, an attempt to avoid "hanging chads" – tiny pieces of paper – that so famously jammed punchcard machines in 2000. But the electronic systems do not produce paper records.
Florida's governor Jeb Bush, the president's brother, is accused of refusing numerous requests for a paper trail. The Republican-led state legislature has also exempted the machines from recount rules that are required for other voting methods.
In March, during the Democratic primary, precincts with touch-screen rather than optical machines registered eight to nine times as many blank ballots. "There is no reasonable reason for the discrepancy," said Ion Sanchoone, an election supervisor.
Secretary of State Glenda Hood countered that those using touch-screen machines must have intended to cast no vote. She said critics were trying to destroy Florida's credibility.
But in the state's first major test of touch-screen voting, in Miami in 2002, almost all of the records disappeared in two computer crashes a few months later. The loss only emerged in July after a citizens' group demanded an audit.
The results, for the Democratic governor's primary, were eventually found on stray CDs. Also, on the day of the election, computers had failed to start properly and clerks seemed confused by the technology.
Janet Reno, President Clinton's former Attorney General, lost by a slim 4,794 votes. "This is disturbing news and casts doubt on Florida's ability to run a fair election this fall," said the New York Times.
On Friday, a state appeals court dismissed a lawsuit that sought a paper trail, ruling that voters are not guaranteed "a perfect voting system".
Comment: Indeed, the people get the government, and the voting system, they deserve. See Eric Blumrich's excellent Flash presentation for the scoop on how Americans were duped by 'ol George and Co. in 2000.
Click here to comment on this article
Explosive device found in suburb's downtown
By Tom Rybarczyk
Chicago Tribune staff reporter
Published August 9, 2004
Authorities in west suburban Downers Grove today were investigating the placement of an apparent pipe bomb in the downtown area.
"It looks like it was a legitimate explosive device," said Downers Grove Police Lt. Lee Hahn.
Authorities evacuated a section of downtown after a suspicious-looking pipe was discovered by a village employee. Hahn said an employee from the village's public works department discovered the pipe about 8 a.m. in a planter in the 5200 block of Main Street.
Hahn said the employee was doing "basic clean-up work" when he found the pipe.
Police contacted the DuPage County Hazardous Device Unit, which arrived on the scene and shut down Main Street from Curtiss Street to Maple Avenue.
Hahn said the area was reopened about 1:15 p.m., but the incident remains under investigation.
Click here to comment on this article
Fantino calls for DNA sampling
Toronto — Police chief Julian Fantino has renewed his call for mandatory DNA sampling, after a DNA match led to the arrest of a man in the vicious sexual assault of a 17-year-old girl earlier this summer.
The girl was abducted near a downtown nightclub in late June, sexually assaulted by two men and thrown into a dumpster in Scarborough.
Police arrested a 20-year-old Aurora man on Sunday after matching DNA found under her fingernails with a sample taken from the man in an unrelated robbery last month.
Fantino said the arrest is an example of why routine DNA sampling of all arrested people is needed.
"I think it's actually less intrusive then fingerprint gathering," he said. "And I just don't understand why our lawmakers would not appreciate the importance of this science in terms of enhancing public safety."
The Criminal Code currently allows for the collection of DNA evidence only after a conviction.
Toronto lawyer Clayton Ruby said that forcing suspects to give DNA when they're arrested would violate their constitutional rights.
"You have a right of privacy from the state and when they take a DNA sample they physically have to take it," he said. "You have a right to liberty and that's would be violated. There has to be sufficiently strong grounds to justify the intrusion."
The suspect is charged with sexual assault causing bodily harm, assault causing bodily harm, assault with a weapon, forcible confinement, threatening death and robbery.
Click here to comment on this article
IDF legalizes vehicle confiscation in W. Bank
By Amos Harel, Haaretz Correspondent
10/08/2004 14:08
For the first time since the outbreak of the intifada, the Israel Defense Forces has made it legal to confiscate the vehicles of Palestinians in the West Bank.
The practice, which has been going on for several years in the territories, was legalized Monday in an order issued by the commander of the Central Command, Major General Moshe Kaplinski.
From the start of the violent confrontation in the territories in October 2000, soldiers have confiscated the vehicles of Palestinian drivers. Occasionally, only the keys were taken. This was considered an acceptable means of punishing Palestinian drivers who failed to follow the soldiers' orders - by not stopping on time, by bypassing the roadblocks or by trying to avoid being checked.
However, the practice was not backed by law, and the IDF claimed it was not being carried out. Several months ago, Haaretz wrote about a soldier serving near Bethlehem who collected confiscated keys of Palestinian drivers to prove that the IDF was lying. Other soldiers also say this has been the common practice.
Officers had in the past tried to "institutionalize" the practice, but could not get beyond the Judge Advocate General. Another problem was that the involvement of the police of Judea and Samaria was necessary if the process was to be legal, but the arrival of the police was not always possible.
In recent months, Kaplinski forbade the practice in its entirety, in preparation for the passing of the official order.
The order issued Monday allows the confiscation of the vehicles only if there is a violation of a siege on a village. It is therefore only applicable to Nablus, which is the only Palestinian town in the West Bank under siege by the IDF.
The order is meant to target drivers who leave the town using dirt roads, or paths created by the Palestinians, in an effort to avoid being checked by IDF soldiers.
The confiscated vehicles will be held in special parking areas, guarded by the police, and the drivers will be taken back to their home towns. After two weeks, the driver can return and reclaim his vehicle. No keys will be taken this time.
Click here to comment on this article
Baby vaccine withdrawn in mercury fears
By Liam McDougall, Health Correspondent, and Stephen Naysmith, Science Correspondent
THE whooping cough vaccine given to babies which contains mercury is to be withdrawn and parents offered a new combined vaccination but it will not be available before September prompting fears of a re-run of the MMR crisis.
The moves come just weeks after researchers in the US suggested that a mercury-based preservative, thio mersal, used in the vaccine could be linked to the development of autism. [...]
Click here to comment on this article
Parent fury at new super vaccine for 8-week-olds
MURDO MacLEOD AND YAKUB QURESHI
THE government was last night facing a furious backlash from parents and doctors over controversial plans to introduce a new five-in-one vaccine for babies.
Campaigners warned that the new jab, which is set to replace existing separate vaccines as early as next month, faces an MMR-style boycott from many parents fearful of the effect it might have on their children.
Despite the lack of advance publicity or consultation, stockpiles are already being created of the new jab, which will be given at two months to vaccinate against diphtheria, tetanus, hib, polio, and whooping cough.
Ministers, who will formally announce the plan tomorrow, insist the quintuple jab is safe, and a positive development for parents because it replaces the whooping cough vaccine, which contained mercury.
But while many parents, doctors and politicians last night welcomed the removal of the toxic metal, they expressed fears about the safety of combining so many vaccines in one jab.
Opponents argue that even if the vaccines which make up the jabs are safe individually, combining them could give rise to unforeseen reactions and risks. The same fears that the combined MMR jab could be linked to autism led to many children remaining unprotected against deadly diseases.
The Scottish Executive last night refused to comment on the news or even say whether there had been any prior consultation on the switch to the new vaccine.
But official sources confirmed that the new five-in-one treatment had been chosen to replace existing vaccines. They claimed the decision had been taken to avoid giving babies a vaccine containing mercury.
Until now, the whooping cough jab has contained mercury in a form called thiomersal, which is used to preserve the vaccine. But in June, it emerged that researchers at Columbia University had found autism-like damage in the brains of mice exposed to thiomersal.
Although ministers are continuing to insist that there was no evidence that the mercury in the vaccine was harmful, they have said that it is good practice to avoid mercury wherever possible and therefore switch to the new jab.
The other reason for the switch is that the current 'live' polio vaccine will be replaced by a new 'killed' version, which is believed to be safer.
There is to be no change to the meningitis C vaccine programme or to the existing measles, mumps and rubella vaccine, which does not contain mercury.
The change means, however, that NHS patients will be offered no choice but to let their children have the quintuple jab. Anyone who objects will have either to find single jabs privately or leave their baby exposed to dangerous diseases.
The move provoked a furious response last night.
Dr Andrew Wakefield, the scientist whose research in 1998 raised the first fears that the MMR combined jab could be linked to children developing autism, welcomed the decision to remove mercury from the jab as a victory for parents.
He said: "It should never have been there in the first place. Despite how they try to sell it, there is evidence that there is an association between mercury in vaccines and childhood disorders.
"Mercury was taken out of animal vaccinations 20 years ago because it was too toxic. Why on earth have we still been putting it in jabs for our children?"
Comment: Our benevolent governments are tireless in their efforts to find new way to harm our children. Oops, sorry, we meant help our children, of course...
Click here to comment on this article
Oil Hits New Record at $45 a Barrel
By Sujata Rao
August 10, 2004
LONDON (Reuters) - World oil prices set fresh record highs on Tuesday as violence in Iraq disrupted exports, underlining concerns over acutely stretched global energy supplies.
U.S. light crude touched $45.04 a barrel, a record in the 21-year history of crude futures trade on the New York Mercantile Exchange. By 1515 GMT U.S. crude was off six cents on the day at $44.72 and London Brent crude was down 11 cents at $41.45 a barrel.
On Monday, saboteurs loyal to radical cleric Moqtada al-Sadr blew up the main 48-inch pipeline that runs from Iraq's southern oilfields to its offshore Basra and Khor al-Amaya terminals in the Gulf.
A second smaller pipeline was closed as a precaution, although shipments continued from storage and an official from the South Oil Company said supplies should resume along both pipelines on Wednesday.
"The prospect of a cessation of Iraqi exports from the country's southern ports for a prolonged period would almost certainly be enough to push oil prices above $50 a barrel since there is not enough spare capacity to cover the 1.7-1.9m bpd of oil exported from Basra," analysts at Barclays Capital said.
Oil prices have climbed more than 30 percent so far this year for fear that supply may not cope with the fastest demand growth in more than two decades. Demand has remained buoyant in China and the United States, despite high prices. [...]
Click here to comment on this article
Aug 9 2004 07:31 PM PDT
VANCOUVER - The CBC has learned that a warrant has been issued for the re-arrest of Gilbert Paul Jordan – a man who is seen as danger to alcoholic women.
Back in 1988, Jordan was convicted of manslaughter in the death of a Vancouver woman who died in a Downtown Eastside hotel room after drinking with him.
Vanessa Buckner was one of seven women who died of alcohol poisoning while drinking with Jordan during the 1980s.
It was alleged he'd pick them up in hotel bars in the Downtown Eastside, and then ply them with liquor until they died.
He served six years for manslaughter in Buckner's death.

Since then, he's been in and out of jail for breaching his probation more than half a dozen times – after being found drinking in the company of women.
The court has ordered he abstain from the consumption of alcohol. And he's also not allowed to be with women anywhere alcohol is present.
He was just released from jail last Friday on Vancouver Island after his latest breach. And prison officials issued a warning that he's a risk to re-offend.
Now, there's word that Jordan has already breached his probation – by boarding a flight out of Victoria.
And some officials wonder if he's back in Vancouver's Downtown Eastside – where his original crime and latest breach of probation occurred.
Click here to comment on this article
Police Probe Death of Retarded Patient

A mildly retarded man placed a frantic call hours before his death to complain that he was being beaten by staff at a state-run hospital for mentally disabled people, a family friend said. George Holmes "was real upset and worried," Rose Tabron said. "He said they had been hitting him." Police are investigating the death of Holmes, in his early 30s, who died early Wednesday at the Bellefontaine Habilitation Center in north St. Louis County. The center reported that Holmes had a heart attack, slipped on urine on the floor and fell, said Jeannie Henry, spokeswoman for the Missouri Department of Health, which oversees the center.
An initial autopsy finding showed the death as a homicide, but later was changed to sudden death, Henry said.
Click here to comment on this article
Magnitude 5.8 Earthquake Hits Oaxaca Mexico
Click here to comment on this article
Tropical Storms Charley, Bonnie Forming
AP
August 10, 2004
MIAMI - Tropical Storm Charley formed in the Caribbean on Tuesday and moved toward Jamaica while Tropical Storm Bonnie was headed across the Gulf of Mexico toward the U.S. Gulf Coast, meteorologists said.
Bonnie, which grew to tropical storm status Monday, could hit the Gulf Coast anywhere from Louisiana to the Big Bend of Florida, said Navy Lt. Dave Roberts, a meteorologist at the National Hurricane Center.
A tropical storm watch could be issued for that area later Tuesday, he said. The storm could possibly make landfall by Thursday, said James Franklin, a specialist at the hurricane center.
At 11 a.m. EDT, Bonnie was centered about 350 miles south-southwest of the mouth of Mississippi River, with sustained wind blowing at nearly 60 mph. But it was a small system with tropical storm-force wind of at least 39 mph extending only 30 miles from the center. The wind was expected to strengthen over the next day.
Bonnie was moving toward the northwest at about 8 mph, with a gradual turn toward the north likely late Monday.
Charley was centered about 350 miles south-southeast of Santo Domingo in the Dominican Republic and was speeding toward the west-northwest at about 24 mph, the hurricane center said.
A tropical storm watch was posted for Jamaica.
Charley had maximum sustained wind of about 45 mph and was expected to strengthen. Unlike Bonnie, tropical storm-force wind extended 105 miles from the center.
Bonnie and Charley are the second and third named storms of the Atlantic hurricane season, which runs from June 1 to Nov. 30.
Click here to comment on this article
Waterspout cuts across Confederation Bridge
Borden-Carleton, PEI - Passengers on the Confederation Bridge were forced to stop around midday Monday as a rare waterspout crossed the span between the Island and New Brunswick.
The gyrating column of water and spray, formed by a whirlwind between sea and cloud, crossed right over the bridge around 12:30 p.m.
Michel le Chasseur, bridge general manager, said staff first noticed strange patterns on the water from some of the 20 cameras that are constantly scanning the structure.
"The bridge controller started to see something on water, like water movement, spinning, like dust, and it all of a sudden became a funnel," said le Chasseur.
"It stayed in position quite a long time before it started to move. When it started to travel, they were not sure what would happen. We decided to close for about three minutes to allow it to cross."
Debbie Campbell of Stratford, PEI, was on the bridge at the time and said she was frightened at first.
But after realizing conditions were safe, she said it was a real treat to see such a phenomenon up close.
Meteorologist Tim Bullock said while waterspouts are not as powerful as tornadoes, they can still pack a punch.
The spouts can reach speeds of about 80 to 100 kilometres per hour, which could easily toss a small boat.
Mr. Bullock said it's rare to see a waterspout because they normally form out at sea when a cold front lands over warm water.
There were no reports of damage from Monday's funnel.
Click here to comment on this article
Sky explosion investigated; airplane blowup ruled out; probably not a UFO

By MICA THOMAS MULLOY
08/08/2004
BULLHEAD CITY -- It likely was not a UFO that crashed in the desert east of the city Thursday night, but it also was not an airplane as initially reported to authorities.
Firefighters and law enforcement officers were called to the area of Landon Drive and Highway 68 at about 9 p.m. with a report of an airplane that crashed into the desert.
Bullhead City Fire Marshal Jim Dykens said the reporting party met with authorities and said they saw what appeared to an airplane exploding and crashing in the desert somewhere between the highway and Oatman. It was also reported the explosion was followed by three smaller bursts that appeared to be emergency flares.
With assistance from the Department of Public Safety Ranger helicopter, the Bullhead City Fire Department searched the area from the north and the Oatman Fire Department looked from the south, but found nothing.
"The outcome was they really believe that it was a large mortar that was shot off and then some other bottle rockets or other type fireworks," Dykens said.
The peak of Perseid meteor shower is expected in the Arizona skies around Aug. 11 or 12, said Steele Wotkyns, public relations manager at the Lowell Observatory in Flagstaff
Comment: Note that there is no mention of it being a meteorite, apart from a strange little reference at the end to the Perseids.
Click here to comment on this article
Saskatchewan a hotbed of UFO sightings
REGINA - UFO sightings are up across the country and according to a Winnipeg-based research group, the same trend is happening in Saskatchewan.
Saskatoon's Gayle Martiniuk is one of a number of people in the province who have reported an unidentified flying object this year.
Her close encounter was simple. She went out to her porch and up in the sky she saw something she couldn't explain.
"It was larger than a commercial aircraft and it had very large lights on it and it was silent," she says. "There was no after sound or anything."
Chris Rutkowski has been collecting the reports from sources such as Transport Canada and the military for 15 years. He says so far this year, there have been 19 sightings in Saskatchewan, compared to 13 last year.
And across Canada people are reporting UFOs in record numbers.
He's not sure what causing the increase, but he won't rule anything out.
"We are not prepared to say that these are the aliens that are ready to invade Lloydminster. What we are prepared to say is that these are simply unusual objects reported in Canada – and we're not entirely sure what these are."
Rutkowski says the high numbers could be a result of growing numbers of satellites in the sky or increased flight traffic.
And he says people might be becoming more open minded to the possibility of other life forms as humans themselves continue to reach into space.
As for Gayle Martiniuk and her own close encounter, she says she's glad she's not alone.
"The thing that makes me feel more comforted is that more people are seeing [them]."
Click here to comment on this article
Drunk Man Pulls Cop Over, Asks To Be Arrested
WFTV.com
10:49 am EDT August 10, 2004
VERNON, Vt. -- It's not often that police get pulled over by a drunk driver.
It happened recently to Police Chief Ian McCollin, who was in his car when he spotted a driver looking befuddled at an intersection.
Thinking the man might be lost, McCollin stopped on the side of the road. The man pulled alongside of him, rolled down his window and announced he was looking for an officer to arrest him because he was drunk.
McCollin was so startled he called for backup.
"I was just a little nervous about it," he said. "It just wasn't natural."
The man, Bryan S. Condo, 28, showed a non-driver's I.D., and said his license had been criminally suspended. He said he already has been arrested once for driving drunk.
In a preliminary breath test, Condo registered more than four times the 0.08 legal limit, McCollin said.
McCollin said Condo wasn't combative, as is typical in such cases.
"He was a gentleman, very polite and very cooperative," he said. "I think he was looking for or needs help."
Condo was cited for second-offense DUI and driving with a suspended license.
Click here to comment on this article
---
Remember, we need your help to collect information on what is going on in your part of the world!
We also need help to keep the Signs of the Times online.
---

Check out the Signs of the Times Archives

Send your comments and article suggestions to us

---
Fair Use Policy
Contact Webmaster at signs-of-the-times.org
Cassiopaean materials Copyright ©1994-2014 Arkadiusz Jadczyk and Laura Knight-Jadczyk. All rights reserved. "Cassiopaea, Cassiopaean, Cassiopaeans," is a registered trademark of Arkadiusz Jadczyk and Laura Knight-Jadczyk.
Letters addressed to Cassiopaea, Quantum Future School, Ark or Laura, become the property of Arkadiusz Jadczyk and Laura Knight-Jadczyk
Republication and re-dissemination of our copyrighted material in any manner is expressly prohibited without prior written consent.