---
Printer Friendly Version
Picture of the Day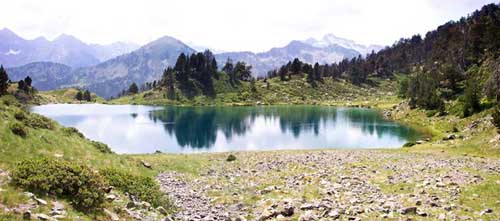 Lac dans Les Pyrénées 30/07/2004
©2004 Pierre-Paul Feyte
From the "Oh My God! We're Gonna Die!!! Department"
"Ve hav vays of making you terrified..."
Official: U.S. to raise terror threat level for Washington
Sunday, August 1, 2004
WASHINGTON (CNN) -- U.S. Homeland Security Secretary Tom Ridge will announce Sunday that the threat level in the nation's capital will be raised from yellow (elevated) to orange (high), a government official told CNN.
Ridge was scheduled to hold a news conference at 2 p.m. EDT today
A Homeland Security official said that Ridge planned to discuss "recent threat reports and update Americans about protective measures that are being put in place in response to these reports."
News of the level increase followed reports of new information indicating that terrorists plan attacks on corporate and financial institutions in New York and Washington, officials said Sunday.
The nation's threat level is at category yellow. But New York has remained at orange since the September 11, 2001, attacks.
A federal law enforcement official said the information, released late last week, suggests "there is a new plan in the works" targeting New York, while a Homeland Security Department official said the nation's capital was also mentioned as a target, although from a different source.
Washington Mayor Tony Williams and several other key officials have been briefed about the threat to international monetary organizations and other financial institutions, according to Tony Bullock, the mayor's director of communications.
"We are activating additional surveillance in specific parts of the city -- keeping a close eye on anything out of the ordinary," Bullock said. "DHS is just sharing what information there is."
Authorities said that they are not aware of any specific attack time frames.
A New York City official said Saturday there have been weekend meetings of police and Joint Terrorism Task Force members, which include federal agency representatives. The official said city agencies are on high alert.
On Friday, the FBI issued a threat advisory to law enforcement officials in New York. The New York Police Department says commercial and financial institutions and some international organizations were possible targets.
"The New York City Police Department has deployed its resources accordingly," the department said in a statement issued Saturday.
Homeland Security officials spoke with New York Police Commissioner Ray Kelly Friday night and indicated that the attacks might be carried out with car or truck bombs. Sources said the information came from a person overseas.
Federal officials also met with Ridge on Friday night and Saturday.
Among the precautions New York police recommended Saturday to companies are:
# Consider posting a security officer at the fresh-air intake in heating, ventilation and air conditioning rooms, if they are accessible to the public, and be sure the rooms are locked.
# Be wary of visitors who appear lost or disoriented, and people asking directions to sensitive areas.
# Challenge and identify maintenance workers when maintenance has not been requested, and watch for unanticipated deliveries.
# Quickly engage loiterers.
# Thoroughly screen new employees and vendors.
# Post clear signs indicating restricted areas, and that persons caught trespassing will be arrested.
# Test alarm systems, and include doors to rooftops in the system.
New York is preparing for the Republican National Convention, which is scheduled to begin August 30 at Madison Square Garden.
The Department of Homeland Security has named the convention a national special security event, meaning the Secret Service will coordinate security.
Ridge said in early July that al Qaeda was planning a large-scale attack in "an effort to disrupt the democratic process" before Election Day on November 2.
Comment: Don't forget the duct tape....for Tom Ridge's mouth. How easy it has become to control the people. A simple press release from one of the SS commanders stating that the Office of Homeland Scaremongering have "information" that "suggests" a new attack in planned, yet, sadly, they cannot corroborate the information. No one questions why. despite the repeated elevated threat levels, no terrorists have been arrested in the US since 9/11 (although many have been allowed to enter and leave), no plots have been uncovered or prevented. No one seems able to see that the only REAL result is that the average US citizen has been slowly mind programmed to believe that those evil terrorists are real and they really do "hate us because of our freedom". Clearly there is a "herding of the population to a much finer order of control", for some as yet, unknown event(s). We all have a choice to believe the lies or stand up for the truth, if only in our own hearts.
Click here to comment on this article
Official: Al Qaeda intends to strike in New York
Corporate, financial institutions considered top targets
Sunday, August 1, 2004 Posted: 1256 GMT (2056 HKT)
(CNN) -- New intelligence indicates al Qaeda is threatening to attack corporate and financial institutions in New York City, a federal law enforcement official has told CNN.
The official said on Saturday the information suggests "there is a new plan in the works."
There are no details on possible methods of attack, and authorities are aware of no specific time frame.
Although the information has not been corroborated, its source is considered credible, the official said.
A New York City official said Saturday that police and members of the Joint Terrorism Task Force, which includes representatives of federal agencies, have met this weekend. The official said city agencies are on high alert.
The New York Police Department issued a statement Saturday, warning, "Intelligence reporting indicates that al Qaeda continues to target for attack commercial and financial institutions, as well as international organizations, inside the United States.
"The New York City Police Department has deployed its resources accordingly."
On Friday, the FBI issued a threat advisory to law enforcement officials in New York.
The nation's threat level is at category "yellow," or elevated, but New York City's has been at "orange," or high, since the September 11, 2001, attacks.
Homeland Security officials spoke with New York Police Commissioner Ray Kelly Friday night and indicated that the attacks might be carried out with car or truck bombs.
Federal officials also met with Homeland Security Secretary Tom Ridge. There were meetings Friday night and Saturday. [...]
Click here to comment on this article
WASHINGTON, July 30, 2004
(AP) Homeland Security Secretary Tom Ridge is considering stepping down after the November election, telling colleagues he is worn out from the massive reorganization of government and needs to earn money in the private sector to put his teenage children through college, officials said.
[...] Ridge, 58, has explained to colleagues that he needs to earn money to comfortably put his two children, Tommy Jr. and Lesley, through college, officials said. Both are now teenagers. Ridge earns $175,700 a year as a Cabinet secretary.
Click here to comment on this article
The curious saga of the Boston FBI's 'unconfirmed reports' of a right-wing threat to the media
by James Ridgeway
July 29th, 2004 4:25 PM
BOSTON—It looks like the FBI's Boston field office faked a threat of domestic terrorism just before the start of the Democratic National Convention by leaking "unconfirmed" reports of white supremacist groups readying an attack against media vehicles in Boston. Fox News, for one, reportedly was wildly trying to disguise its trucks by covering up its logos.
The effect of this probably was to make the press even more suspicious of anti-war demonstrators than it already is—to even view them as possible terrorists, and if not actual terrorists, then a crowd within which terrorists could operate.
All of this is taking place in an atmosphere of fear and tension whipped up by the Bush administration, with its reports of Al Qaeda "sleeping cells" preparing to strike against America in the midst of the presidential campaign.
The white supremacists on the far right have never shown any great interest in the war on terror, and they usually try to use the press, not attack it. Mark Potok, editor of the Southern Poverty Law Center's Intelligence Report, which tracks the far right, told Glynn Wilson of the serious-minded Southerner Daily News blog, "We have had no indication whatsoever, not an inkling, that there is any kind of violent action planned by the radical right in Boston. We follow these groups quite closely."
ABC News said last week (basing its report on anonymous sources) that, just before the convention opened on July 23, statements by a domestic group of college-age people in the Midwest triggered the FBI warning, according to Wilson. The ABC report said the group's members had not gone to Boston, Wilson noted. Other warnings of "a very real concern" about impending "violent action by white supremacists" emanated from the Secret Service, the Boston Joint Terrorism Task Force, and Boston police, Wilson said.
CNN reported July 23 that "authorities fear that some protesters are preparing to target the media" and that the "Boston Joint Terrorism Task Force is investigating." According to the CNN story, the FBI's Boston office issued a statement saying it had "unconfirmed information" that, as CNN put it, "a domestic group plans to attack media vehicles, possibly with 'explosives or incendiary devices.'"
Special Agent Gail A. Marcinkiewicz, the public affairs coordinator for the Boston FBI office, told the Southerner that the report of a "radical domestic terrorist group" planning an attack on media trucks in Boston was "unconfirmed."
Wilson noted that Boston authorities, according to ABC, were worried about two right-wing white supremacist groups in particular: Volksfront and White Revolution. Potok told Wilson that some members of Volksfront pleaded guilty last year in the beating death of a homeless black man, and the Volksfront online bulletin board recently carried a posting urging members to go to Boston and "rally."
"But there was no suggestion whatsoever of any violence," Potok told Wilson, "let alone violence against media trucks. . . . I find it extremely difficult to believe that White Revolution or Volksfront would be involved in an action like this."
Overall, the racist far-right would just love to get some publicity from the war on terror, but these people are stuck in the Stone Age when it comes to weaponry and ideas, and they are definitely not into suicide bombings. Such groups have always tried to manipulate the press, not attack it—except for such rare cases as the neo-Nazis' murder of Denver talk-radio host Alan Berg in 1984.
Click here to comment on this article
US Media kills a Troubling Story that the Rest of the World Saw
by Joshua Holland

The allegation that Iraqi Interim Prime Minister Iyad Allawi shot seven restrained prisoners (killing six) in a fit of anger—with a number of witnesses present—is certainly newsworthy.
But, remarkably, the U.S. media has chosen not to cover it, preferring to accept official denials. The foreign press is not so trusting. The disconcerting result is that we simply aren't getting the same picture of Iraq that citizens of every other English-speaking country see.
If you haven't caught the story, here's how Australia's leading daily, the Sydney Morning Herald broke it on July 17th:
"Iyad Allawi, the new Prime Minister of Iraq, pulled a pistol and executed as many as six suspected insurgents at a Baghdad police station, just days before Washington handed control of the country to his interim government, according to two people who allege they witnessed the killings.
They say the prisoners – handcuffed and blindfolded – were lined up against a wall in a courtyard adjacent to the maximum- security cell block in which they were held at the Al-Amariyah security center…
The Prime Minister's office has denied the entirety of the witness accounts in a written statement to the Sydney Morning Herald in Australia, saying Dr Allawi had never visited the center and he did not carry a gun. But the informants told the newspaper that Dr Allawi shot each young man in the head as about a dozen Iraqi policemen and four Americans from the Prime Minister's personal security team watched in stunned silence…"
In Scotland, the award-winning Sunday Herald ran its sister-publication's copy, as did the New Zealand Sunday Star Times, the Irish Examiner and Canada's Toronto Post. The London Daily Mail and South Africa's Sunday Mail (same ownership) ran a story with a similar lead, although the denial comes right up front:
"IRAQ'S new Prime Minister was fighting to clear his name last night after he was accused of executing as many as six suspected insurgents.

Iyad Allawi is alleged to have shot the prisoners at a Baghdad police station days before power was handed to the interim Iraqi government last month."
Australia's Shadow Minister for Foreign Affairs, Kevin Rudd, told the Australian Broadcasting Corporation that while he personally found the allegations "unbelievable," he also thought that, "because they are written by a credible journalist, [Foreign Minister Alexander] Downer's responsibility is to get the truth from the Australian embassy in Baghdad and from the Government of the United States. It's important that these matters are clarified."
In the UK, there were also calls for an inquiry. "It is vital that [the allegations] are cleared up one way or another and that needs an independent inquiry," said former British Foreign Secretary Robin Cook, who resigned his Cabinet post over the war.
The story was out to a limited degree in the United States, as well. Newsweek reported on the allegation and it also appeared on the UPI wire. In its usually direct way, UPI led with: "Iraqi Interim Prime Minister Iyad Allawi killed six suspected insurgents just days before he was handed power, the Sydney Morning Herald reports."
But, according to a Lexis-Nexis search, no major papers picked up the UPI story. The Los Angeles Times did run a piece under the headline: "Rumors circulate about Allawi's itchy trigger finger," which was republished by the Kansas City Star, the Baltimore Sun and the San Francisco Chronicle. This is how those papers' readers got the story:
"There are many versions of the story on the street. In one, interim Prime Minister Iyad Allawi is driving through downtown Baghdad and sees a frail old man being confronted by three armed men attempting to steal his vehicle.

Allawi leaps out of his car and shoots dead the would-be carjackers.

In another, Allawi is in a Baghdad jail where he interviews suspects, hears their confessions, declares "they deserve to die" and shoots them on the spot.

A third version sets the scene of his violent retribution in the Shiite city of Najaf, which has been racked by violence in recent months.

Is there any truth to these tales that Allawi has shot suspects? The stories have been denied by Allawi and dismissed by members of his government, the U.S. Embassy and a State Department spokesman."
On the last point, Scotland's Sunday Herald reported: "Senior US officials have not made an outright dismissal of the allegations but Allawi's office has denied the claims."
But regardless, while there may be several stories out there, only one was reported by an award-winning journalist, Paul McGeough, in one of our closest ally's leading daily papers. McGeough, while acknowledging that in Iraq "it's very difficult to separate out what people are telling you from what they are hearing," defended the story nonetheless. He found the two witnesses separately, and he and his Iraqi interpreter judged them credible. When he "tested" parts of their stories, they held up.
At least readers of the LA Times and the other three papers that ran its story knew that a "rumor" about Allawi killing the prisoners was out there. That put them ahead of readers of the New York Times, the Washington Post, the Wall Street Journal and every other major daily. They heard nothing whatsoever of the matter. [...]
Now, I'm not arguing that the Allawi story is true, only that the citizens of Australia, Britain, Ireland, Scotland, Canada and South Africa have a view of the Iraqi Interim Government that Americans do not share. That disconnect is striking, and has lead to stories like the one in Pakistan's Daily Times under the headline: "US Media Kills Story that Iraqi PM Executed 6 Prisoners."
Click here to comment on this article
How Disinfo Flows Department
Talking Points Memo: The Niger Documents
Josh Marshall
Today, the Sunday Times of London reports that the Italian middle-man who provided the notorious Niger uranium documents to Italian journalist Elizabetta Burba (she later brought them to the US Embassy in Rome, you'll remember) was himself given the documents by the Italian military intelligence service, SISMI.
I can vouch for the accuracy of this account since I have been working on this story for six months. In fact, I interviewed the Italian middle-man in question two months ago at a restaurant in mid-town Manhattan -- the details of that interview I describe below.
This all requires a bit of explanation. So here goes …
Back on June 17th, I wrote that I and several colleagues were working on a story that might cause quite a stir in Washington when it was published. That story was (and is) about the origins of the forged Niger uranium documents. Since January my colleague Laura Rozen and I have been reporting on this story for an article that will appear in The Washington Monthly. We've also been working in collaboration on this story with an American TV network.
At the time I wrote that post, I thought the story was going to appear in late June, thus my oblique mention of it on the site. It's now slated to appear later this month.
The reasons for the delay in publication are difficult to describe before the piece runs. But, as you can see, we've now been scooped on one part of the story – to my transcendent mortification. So let me share with you some details of what we're working on and expand on what the Times has reported.
What's long been known about the Niger documents is that an Italian 'security consultant' tried to sell them to an Italian journalist named Elisabetta Burba. Burba's editor at Panorama, in turn, instructed her to take them to the US Embassy in Rome. That is how they came into the hands of the American government.
The question has always been, who's the 'security consultant'? Did he forge the documents? And, if not, where did he get them?
You'll remember that in late June there was a piece in the Financial Times which alleged various evidence for the proposition that Iraq had in fact sought to purchase uranium from Niger. The story also suggested that the 'security consultant' was himself the likely forger of the documents and that this 'scam' had only served to obscure the real evidence of the sale of uranium to Iraq.
This is untrue on several counts. And we have little doubt that the information about him contained in the FT article was provided by Italian intelligence sources to get out ahead of the information they knew the 'security consultant' and others had already provided to us -- specifically, their own complicity in the dissemination of the documents.
So who's the 'security consultant'?
The 'security consultant' is a small-time information peddler who buys and sells information in the netherworld of diplomatic, intelligence and media circles in Rome. His clients include foreign intelligence services and also the Italian media. He is himself a former member of SISMI.
He received the forged documents from a current SISMI officer who works in the division specializing in weapons proliferation.
We know the identity of both men. Both are in their early 60s. The identity of the 'security consultant' we've agreed not to disclose. We will publish the identity of the SISMI officer in the upcoming article.
Here are the basic outlines of what happened.
In early 2000, the 'security consultant' was approached by a former colleague from SISMI whom he'd known for some twenty five years. This current SISMI officer told him that he had a source in the Nigerien Embassy in Rome, that they (i.e. SISMI) had no more use for her, but that she could be a source of valuable information for him if he put her on a monthly retainer. They were washing their hands of her, he said. But she could be of use to him.
The 'security consultant' met with the woman in question and agreed to pay her 500 euros a month for various documents and materials which came into her hands in the course of her work for the Embassy. Most of the material in question had nothing to do with Iraq or WMD. It dealt primarily with immigration into Italy and Islamist activities in North and Central Africa --- topics of concern to at least one of the 'security consultant's' longstanding clients.
What wasn't clear at the time, however, was that SISMI hadn't washed their hands of this Niger Embassy employee at all. She remained a SISMI asset. In fact, the relationship which the SISMI officer had set up was intended to serve as a conduit through which SISMI could conceal its role in the dissemination of what proved to be disinformation.
This was how the forged documents came into the security consultant's hands.
You'll remember that most of the papers in the bundle of Niger-uranium documents that arrived at the US Embassy in Rome were actually authentic. It was only a subset of the documents --- those specifically related to the alleged Niger-Iraq transactions and a couple others --- that were bogus.
In late 2001, the SISMI officer brought the Niger Embassy employee a packet of documents --- those later identified as forgeries --- and instructed her to slip them in with the other documents she was providing to the 'security consultant' on an on-going basis.
She mixed those documents in with authentic documents which she had access to in the course of her work at the embassy. She then passed those documents --- again, a mix of authentic and forged ones --- to the 'security consultant'.
The Financial Times article lead to a surge of articles and commentary suggesting that the forged documents were only a minor part of the case for the alleged Iraq-Niger uranium transaction. But, as we've noted earlier, that's a willfully misleading account, one which both the Butler Report and the Senate Select Committee on Intelligence report helped to further.
Contrary to arguments that there was lots of independent evidence of uranium sales between Iraq and Niger, US government sources have told us that almost all of the important evidence derived from the phony documents. Specifically, it came from summaries of the documents Italian intelligence was distributing to other western intelligence agencies -- including those of the US, Britain and France -- in late 2001 and 2002.
The US has long known that the Italians had the forged documents in their possession at least as early as the beginning of 2002. And what we've uncovered is that at the same time Italian intelligence operatives were surreptiously funnelling copies of the documents to this document peddler with the knowledge that he would sell them to other intelligence services and likely to members of the Italian press.
Now, a few more notes on the 'security consultant'. The Financial Times story said that he "had a record of extortion and deception and had been convicted by a Rome court in 1985 and later arrested at least twice." Several of the particulars here are incorrect. But he does have a criminal record. And I'm told by a very reliable source that he is now trying to sell his the detailed version of his story to members of the British press for 30,000 euros. Whether he's successful in doing so we'll probably find out in the next few days.
We already have his account. And needless to say, we didn't pay him. But it's reasonable to ask how trustworthy his account is since he seems to be someone of rather less than spotless integrity. The answer is that we've confirmed the key details of the story I outlined above independently.
Click here to comment on this article
by Michel Chossudovsky
Professor of Economics, University of Ottawa
Comment: This article was originally published on September 12, 2001 on the Centre for Research on Globalisation web site; We are relinking to it today because it gives lie to the absurd idea that US intelligence agencies didn't know what was going on prior to 9/11 and then, two years later, when Bush was pronouncing high and low that Saddam had WMDs. If a researcher such as Chossudovsky can have the information he publishes about Bin Laden, within 24 hours of the supposed "Islamic terrorist attack", how can we believe that the US and British intelligence agencies knew nothing?
Click here to comment on this article
by Rick Salutin
July 30, 2004
[...] Why are there usually just two main parties? Because that is the minimum needed to allow everyone ambitious for power to feel they have an imminent shot. If you're in, you're in; if you're out, the wait line is short.
Click here to comment on this article
Historians: Hollywood distorts facts
Sunday 01 August 2004, 5:13 Makka Time, 2:13 GMT
Hollywood film studios are guilty of a "grotesque distortion of history" which is destroying Britain's national identity, a newspaper quoted British historians as saying.
The chief executive of English Heritage, the government body responsible for the historic environment, told the Independent on Sunday filmmakers' "sloppy" and "formulaic" approach to history had left a generation of children confused.
"One of my principal concerns is that the majority of children now leave school with the sketchiest of chronology about English history," Simon Thurley said, adding that they turned to films for knowledge.
Antony Beevor, Britain's best-selling author of popular history, told the newspaper the Americanisation of British history was a particular problem.
"You can't turn every hero in the world into an American," he said.
Spielberg's distortions
The historians singled out Saving Private Ryan, based on the Normandy second world war landings, U-571 about submariners, and Robin Hood: Prince of Thieves as prime offenders.
In Saving Private Ryan all mention of British or Allied troops was omitted, while the British submariners at the heart of the real action were replaced by Americans in the film U-571.
Robin Hood was accused of distorting Britain's medieval past.
Beevor described the trend as "shameless and totally irresponsible - a grotesque distortion of history".
Classical historian Bettany Hughes said it was not just British history that had been misrepresented.
"Hollywood has committed some terrible crimes against history," she said, describing the Hollywood epic Troy as a "travesty of mismatched cultural references".
"Dead heroes in Greco-Roman dress were cremated with coins on their eyes - before money had been invented," she said.
Comment: While this article might seem to be saying the obvious, it reflects an important problem. When movies were only one of the many ways of obtaining information, they could be seen in context. The information from movies could be compared with the work of historians, sources compared, and the absurdities of the movies shown for what they were. "It's only a movie..." Now, unfortunately, with fewer and fewer people reading, much of what we think we "know" about history comes from Hollywood, either through film or TV. This dumbing down of the population is a conscious act on the part of the ruling elite.
Then again, for those who do turn to the newspapers, there is this...
Click here to comment on this article
Triumph of trivial in U.S. broadcast media
PAUL KRUGMAN
NEW YORK TIMES
The Washington Post recently quoted a voter demanding that John Kerry and John Edwards talk about "what they plan on doing about health care for middle-income or lower-income people. I have to face the fact that I will never be able to have health insurance, the way things are now. And these millionaires don't seem to address that."
Kerry proposes spending $650 billion (U.S.) extending health insurance to lower- and middle-income families.
Whether you approve or not, you can't say he hasn't addressed the issue. Why hasn't this voter heard about it?
Well, I've been reading 60 days' worth of transcripts from the places four out of five Americans cite as where they usually get their news: the major cable and broadcast TV networks.
Never mind the details — I couldn't even find a clear statement that Kerry wants to roll back recent high-income tax cuts and use the money to cover most of the uninsured. When reports mentioned the Kerry plan at all, it was usually horse-race analysis — how it's playing, not what's in it.
On the other hand, everyone knows that Teresa Heinz Kerry told someone to "shove it," though even there, the context was missing. Except for a brief reference on MSNBC, none of the transcripts I've read mentions that the target of her ire works for Richard Mellon Scaife, a billionaire who financed smear campaigns against the Clintons — including accusations of murder. (CNN did mention Scaife on its website, but described him only as a donor to "conservative causes.")
And viewers learned nothing about Scaife's long vendetta against Heinz Kerry herself.
There are two issues here, trivialization and bias. But they're related.
Somewhere along the line, TV news stopped reporting on candidates' policies, turning instead to trivia that supposedly reveal their personalities.
We hear about Kerry's haircuts, not his health-care proposals. We hear about George W. Bush's brush-cutting, not his environmental policies.
Even on its own terms, such reporting often gets it wrong, because journalists aren't especially good at judging character.
("He is, above all, a moralist," wrote George Will about Jack Ryan, the Illinois Senate candidate who dropped out after embarrassing sex-club questions.)
And the character issues that dominate today's reporting have historically had no bearing on leadership qualities. While planning D-Day, Dwight Eisenhower had a close, though possibly platonic, relationship with his female driver. Should that have barred him from the White House?
And since campaign coverage as celebrity profiling has no rules, it offers ample scope for biased reporting.
Notice the voter's reference to "these millionaires." A Columbia Journalism Review website called campaigndesk.org, says its analysis "reveals a press prone to needlessly introduce" Kerry and Edwards "as millionaires or billionaires, without similar labels for President Bush or Vice-President Cheney."
As the site points out, the Bush campaign has been "hammering away with talking points casting Kerry as out of the mainstream because of his wealth, hoping to influence press coverage."
The campaign isn't claiming that Kerry's policies favour the rich — they manifestly don't, while Bush's manifestly do.
Instead, we're supposed to dislike Kerry simply because he's wealthy (and not notice that his opponent is, too).
Republicans, of all people, are practising the politics of envy, and the media obediently go along.
In short, the triumph of the trivial is not a trivial matter.
The failure of TV news to inform the public about the policy proposals of this year's presidential candidates is, in its own way, as serious a journalistic betrayal as the failure to raise questions about the rush to invade Iraq.
PS: Another story you may not see on TV: Jeb Bush insists that electronic voting machines are perfectly reliable, but the St. Petersburg Times says the Republican party of Florida has sent out a flier urging supporters to use absentee ballots because the machines lack a paper trail and cannot "verify your vote."
PPS: Three weeks ago, The New Republic reported that the Bush administration was pressuring Pakistan to announce a major terrorist capture during the Democratic convention. Hours before Kerry's acceptance speech, Pakistan announced, several days after the fact, that it had apprehended an important Al Qaeda operative.
Click here to comment on this article
How brainwashing came to life and thrived
Jeff Stryker
Sunday, August 1, 2004
San Francisco Chronicle
Chronicle Sections
Director Jonathan Demme fiddles with the classics again. After a remake of "Charade," he now offers up "The Manchurian Candidate" for a nervous, post Sept. 11 era.
The original 1962 film featured Angela Lansbury as a political Svengali and Frank Sinatra as an Army major who tracks down Laurence Harvey, an American soldier captured during the Korean War and programmed through hypnotism for assassination by Chinese Communists. The film was based on a 1959 best-selling book by Richard Condon. For all the critical acclaim and subsequent political attention (Did Lee Harvey Oswald see it or not?), the movie flopped initially and was withdrawn from release after John F. Kennedy's assassination.
"The Manchurian Candidate" remake brings to a wider audience questions about the role of the state in brainwashing and mind control, a topic usually reserved for the "nutters" on the Internet, as a character in the new movie puts it succinctly.
Updating the politics of the era, the Communist evil empire has been replaced by a multinational corporation, Manchurian Global. Updating the science, hypnosis and brainwashing have been augmented with electrodes in the brain, microchips implanted in the body and electroshock.
The term "brainwashing" was first popularized by Edward Hunter, in his 1951 book, "Brainwashing in Red China." Brainwashing was his translation for a Chinese term "hsi-nao," meaning, roughly, "cleansing of the mind." "It is practically impossible to fight something until it has been given a name," Hunter wrote, saying that brainwashing had a more "flesh-and-blood" quality than a more clinical alternative, "menticide," which means murder of the mind.
The fear of brainwashing was rooted in wartime, fueled by anti-communist fervor and tinged with racism and xenophobia. Some U.S. prisoners of war in Korea renounced their citizenship in radio broadcasts and many signed confessions against American interests, including charges, still debated today, that the United States was engaged in germ warfare with anthrax.
For Americans to abandon their ideals, the Communists must have devised some nefarious new means of thought control -- or so it was thought.
The Army conducted shipboard interviews with more than 4,000 returning American prisoners of the Korean conflict. Robert Jay Lifton, one of the psychiatrists who conducted the interviews, analyzed them in his 1961 classic book, "Thought Reform and the Psychology of Totalism."
Lifton concluded that the Chinese interrogation techniques were merely time-honored methods of psychological coercion: isolation, humiliation and the repetition of propaganda. But by this time, it was too late. The "flesh-and- blood" term brainwashing had come to life and refused to be contained, never really losing its power.
George Romney's 1967 comment that he had been "brainwashed" about the Vietnam War put the kibosh on Romney's run for the presidency, prompting opponent Eugene McCarthy to quip that a "light rinse would have done."
The question of whether religious cults were brainwashing adherents kept the notion alive through the 1960s and '70s. Brainwashing was claimed as a defense in a number of American court cases, but without much success (It did not work for Patty Hearst, for example). In recent years, claims of brainwashing have been asserted for sniper Lee Boyd Malvo, the American Taliban soldier John Walker Lindh and kidnap victim Elizabeth Smart.
"Today, the notion surfaces in court mostly in child custody disputes, where one parent accuses the other of 'brainwashing' -- more as a rhetorical flourish rather than any real scientific claim," said Alan Scheflin, a professor of law at Santa Clara University and author of "The Mind Manipulators."
To update the science of brainwashing for the new "Manchurian Candidate," Demme, the director, turned to Jay Lombard, a physician who treats brain disorders in Nyack, NY.
Lombard said it wasn't a big stretch to think that as scientists got better and better at understanding how the brain works, they could eventually use that knowledge to influence behavior. As an adviser to Demme, he said he "put on my devil's cap and used my own fantasies as to what might be possible. "
Other experts in neurosciences asked about the technology in "The Manchurian Candidate" agreed that true mind control -- the ability to create specific thoughts or memories with brain chips or electromagnetic waves -- is still the stuff of science fiction. But the movie's theme of medical technology morphing into nefarious military applications resonated nonetheless.
"The same thing that might help a fighter pilot control his plane by brain waves might also help a spinal cord patient control his environment," said Martha Farah, a scientist with the Center for Cognitive Neuroscience at the University of Pennsylvania, who is an exponent of the burgeoning field known as "neuroethics," a term coined by New York Times columnist William Safire.
The worry that research in the neurosciences might get out of hand is not without historical precedent.
Helen McGonigle, a Connecticut lawyer who represents victims of trauma and sexual abuse, knows she sounds like one of the nutters on the Internet when she talks about the history of military involvement in mind control.
When asked if she thinks the government is still in the business of mind control, McGonigle responded without skipping a beat. "Absolutely," she said. "The history of the Bluebird, Artichoke and MKULTRA definitely raise the bar of suspicion," McGonigle said, ticking off a series of government experiments involving hypnosis, sleep deprivation and the use of psychotropic drugs.
MKULTRA, underway from 1953 to 1966, involved research into mind-control agents at scores of prestigious institutions by prominent psychologists. MKULTRA scientists attempted to determine whether LSD could be aerosolized effectively; the CIA even hired a magician to teach field agents how to slip LSD into the drinks of unwitting subjects.
Other experiments involved various forms of sleep deprivation and hypnosis. Consider a research question posed in CIA documents from the Bluebird experiments in the 1950s: "Could we seize a subject and in the space of an hour or two by post-H[ypnotic] control have him crash an airplane, wreck a train, etc.?"
The techniques of Cold War mind control experiments -- slipping unwitting subjects a Mickey Finn -- seem quaint from the perspective of today's high-tech approaches. Indeed, many of the bits and pieces of neuroscience in the new movie are already science fact, even if they don't necessarily add up neatly.
Microchips have long been used to track animals and to tag surgical implants. Today's microchips, which are about the size of a grain of uncooked rice, can now be linked to Global Positioning System equipment for surveillance and equipped with technology to relay information about vital signs remotely. A "brain fingerprinting" technique is already accepted by some courts; scalp-measured brain waves can detect so-called guilty knowledge, such as familiarity with people, objects or even terrorist training. Just a few weeks ago, the Food and Drug Administration approved the first implant to treat a mood disorder: an electrode placed on the vagus nerve to treat depression.
Wrye Sententia monitors these developments, fighting the good fight for "cognitive liberties" as the executive director of the Center for Cognitive Liberties & Ethics in Davis. "We say 'cognitive liberties' rather than 'freedom of thought,' because cognitive liberties marks the intersection of brain science and policy," she said. The center is not out to stop brain research, but believes the Constitution and other legal protections should guarantee both the right to be free from unwarranted mental intrusions and to have access to new neurotechnologies, for those who want them.
"The Manchurian Candidate"-style advances have prompted the center to expand its mission to monitor military activities, including the government's "weaponizing of psychoactive drugs." According to reports in Mother Jones last year and the New York Times magazine last week, university and government scientists interested in "non-lethal weapons" are considering the use of psychoactive drugs, such as ecstasy or Valium, as "calmative" weapons to subdue unruly crowds.
It sounds like something out of a Hollywood blockbuster.
Click here to comment on this article
Explosions, violence hit 3 Iraqi cities
Last Updated Sun, 01 Aug 2004 10:04:06 EDT
BAGHDAD - In another day of turmoil across Iraq, a suicide bombing has killed five people and wounded 30 others, many of them seriously, in the northern city of Mosul, hospital officials said Sunday.
Comment: The liberation of Iraq continues....
Click here to comment on this article
British troops may quit Iraq in new year
www.chinaview.cn 2004-08-01 18:46:25
LONDON, Aug. 1 (Xinhuanet) -- British troops were likely to be withdrawn from Iraq next year after the country's first democratic elections since former Iraqi leader Saddam Hussein was ousted, the Times newspaper reported Sunday.
Despite continuing violence in Iraq, senior British military figures believe that the elected Iraqi government would not want large numbers of foreign troops to stay for long, the paper said.
The report quoted Lieutenant General Andrew Ridgeway, the chief of defense intelligence, as saying that with elections due in Iraq for January, it was unlikely that any political party would win power without promising to scale back foreign troops.
Click here to comment on this article
Fair price for a life? Army pays Iraqi family £390 after shooting girl dead

By Severin Carrell
01 August 2004
The Army has paid out £390 to the family of an eight-year-old Iraqi girl who was killed after being hit by a bullet fired by a British soldier, The Independent on Sunday can reveal.
Hanan Saleh Matrud died in an alleyway near her home in northern Basra after a British soldier with the King's Regiment opened fire nearby. The ricocheting bullet left a deep wound across her stomach, and she later died in hospital.
The soldiers claim they fired a warning shot in the air after being targeted by "heavy stone-throwing" by mobs. Local eyewitnesses dispute the claim, and allege that only children were in the streets.
The Army admitted the shot "possibly" caused her injury and paid her parents $700, but without admitting responsibility for her death. Defence ministers claim such unofficial payments were set after consulting local Iraqi judges, but admit the scheme is now being overhauled.
However, the payment has provoked another row over the conduct of British soldiers in Iraq.
The Plaid Cymru MP Adam Price said: "Payments like these add insult to the terrible injury her family has suffered. The army seems to have an ad hoc way of valuing a human life."
The case comes as ministers wait to hear the outcome of a landmark High Court hearing last week into allegations that British forces broke the Human Rights Act in Iraq, by failing to carry out independent inquiries into 37 cases were civilians were killed or tortured by British troops.
Comment: What value would you put on the life of your own child? Would you accept $700? Perhaps you would have no choice if you were an Iraqi who could not find work since the US military had destroyed the country's infrastructure, and you had to feed your remaining children - but would feel aggrieved in any way?
Would you hate America and its leaders for coming to your town - your home and shooting your child dead? From the point of view of the families and friends of the millions of people that have been slaughtered as a result of US foreign policy over the past 50 years, there is some truth in the much abused term "they hate us because of our freedom and democracy". Many people do hate the US and everything that it stands for, and rightly so. But the real truth is that those that have suffered most at the hands of the US military-industrial complex are those least likely to be able to do anything about it - and that is the way it was planned. To bring the entire world into "order" as a result of contrived wars and economic manipulation.
The people then who are really in a position to carry out any kind of an effective attack on western countries are, paradoxically, those that appear to have most to loose from just such an attack. But when war is a means to an end, you have to find some way of stirring the pot, right? So why not do it yourself? After all, no one would believe that you would do such a thing, and that in itself assures the best protection from every being found out. Now if we were to look at the evidence in an impartial way, who might we conclude was really behind the "terror attacks"? Hmmmm.....
Click here to comment on this article
HUNDREDS OF MOSSAD AGENTS CAUGHT RUNNING WILD IN AMERICA!
What happened to the five celebrating Israeli "movers", (Mossad agents), who were arrested and placed in solitary confinement for weeks after they were spotted in a white van suspected of attempting to blow up the George Washington Bridge. We also know about the Israeli owner of Urban Moving Systems - Dominick Suter - then suddenly abandoned his "moving company" and fled for Israel on 9- 14. But there were still more Israeli "movers" and other Israelis whose actions raise serious suspicions. Even more suspicious is how they are always quietly released and deported.
In October of 2001, three more Israeli "movers" were stopped in Plymouth, PA because of their suspicious behavior. These "movers" were seen dumping furniture near a restaurant dumpster! When the restaurant manager approached the driver, a "Middle Eastern" man later identified as Moshe Elmakias fled the scene. The manager made note of the truck's sign which read "Moving Systems Incorporated" and called the police. When the police spotted the truck, two other Israelis - Ayelet Reisler and Ron Katar began acting suspiciously. The Plymouth police searched the truck and found a video. The Israelis were taken into custody and the video tape was played at the police station. The video revealed footage of Chicago with zoomed in shots of the Sears Tower. The police quickly alerted the FBI and it was also discovered that the Israelis had falsified travel logs and phony paperwork on them. They were also unable to provide a name and telephone number for the customer that they claimed to have been working for. These Israelis were up to some sort of dirty business, and you can be sure it had nothing to do with moving furniture. These Israeli spies may have had a dark sense of humor. The name of their "moving company" actually contained the word MOSSAD embedded inside. Moving Systems Incorporated… MOving SyStems IncorporAteD…….MOSSAD .................
On October 10, 2001, CNN made a brief mention of a foiled terrorist bomb plot in the Mexican Parliament building. They promised to bring any further developments of this story to their viewers, but the incident was never heard of again in America. But the story appeared in bold headlines on the front page of the major Mexican newspapers and was also posted on the official website of the Mexican Justice Department. Two terror suspects were apprehended in the Mexican Chamber of Deputies. Caught red-handed, they had in their possession a high powered gun, nine hand grenades, and C-4 plastic explosives. Within days, this blockbuster story not only disappeared from the Mexican press, but the Israelis were quietly released and deported! The two terrorists were Salvador Gerson Sunke and Sar ben Zui. Can you guess what their ethnicity was? Sunke was a Mexican jew and Zui was a colonel with the Israeli special forces (MOSSAD). The story in El Diario de Mexico went on to reveal that the Zionist terrorists had fake Pakistani passports on them. Can you say "false flag operation?" . Many Mexicans expressed shock at the release of the two Israelis. But when you learn that Mexico's Secretary of Foreign Relations is a Zionist named Jorge Gutman, it's not surprising! La Voz de Aztlan (Mexican-American news service), in it's excellent investigative report revealed:
"La Voz de Aztlan has learned that the Israeli Embassy used heavy handed measures to have the two Israelis released. Very high level emergency meetings took place between Mexican Secretary of Foreign Relations Jorge Gutman, General Macedo de la Concha and a top Ariel Sharon envoy who flew to Mexico City specially for that purpose. Elías Luf of the Israeli Embassy worked night and day and their official spokeswoman Hila Engelhart went into high gear after many hours of complete silence. What went on during those high level meetings no one knows, but many in Mexico are in disbelief at their release."
In November of 2001, 6 more suspicious Israelis were detained in Florida. They had in their possession box cutters, oil pipeline plans, and nuclear power plant plans. The local police called in the Feds and Immigration officials took over the scene and released the men without calling the FBI. The Jerusalem Post ran this story under the headline "FBI Suspects Israelis of Nuclear Terrorism". The Miami Herald and the Times of London also carried this amazing story and all revealed how furious FBI officials were that these Israeli terror suspects with nuclear power plant plans were set free by INS officials. Of course, the corruption riddled FBI would only have caved into Zionist pressure from the Justice Department's Criminal Division boss, Michael Chertoff, and also from the ADL's "partner", FBI boss Robert Mueller - who would no doubt have found a way to eventually release those Israeli terror suspects anyway.
In December, 2001, the Los Angeles Times published the story of how two jewish terrorists were arrested by the FBI for plotting to blow up the office of US Congressman of Arab descent - Darrell Issa (R-CA), and a California mosque. Irv Rubin and Earl Kruger of the Jewish Defense League (JDL) were charged with conspiracy to destroy a building by means of explosives. This story got brief national coverage but quickly disappeared too. These Zionists sure love blowing up buildings and killing innocent people don't they?
In May of 2002, yet another moving van was pulled over in Oak Harbor, Washington near the Whidbey Island Naval Air Station. Fox News reported that the van was pulled over for speeding shortly after midnight. The passengers told the police they were delivering furniture, but because it was so late at night, the police weren't buying the story. A bomb sniffing dog was brought in and the dog detected the presence of TNT and RDX plastic explosives in the truck (great stuff for demolishing buildings!) Both Fox News and the Ha'aretz newspaper of Israel reported that the two "movers" were Israelis.
In December, 2002, Ariel Sharon made the amazing claim that Al-Qaeda agents were operating inside of Israel. But when Palestinian authorities apprehended the suspects, they turned out to be Palestinian traitors impersonating Al-qaeda agents for the MOSSAD!
From the Sydney Morning Herald of Austrailia:
"Palestinian security forces have arrested a group of Palestinians for collaborating with Israel and posing as operatives of Osama bin Laden's al- Qaeda terrorist network, a senior official said yesterday. ..The arrests come two days after Israeli Prime Minister Ariel Sharon charged al-Qaeda militants were operating in Gaza and in Lebanon.

It was considered a surprise because the Gaza Strip is virtually sealed off by Israeli troops. The hardline Israeli leader also charged other members of the terror group were cooperating with Lebanon's Shi'ite militia Hizbollah"
According to FOX news, throughout late 2000 and 2001, a total of 200 Israeli spies were arrested. It was the largest spy ring to ever be uncovered in the history of the United States. The Washington Post also reported that some of these Israelis were arrested in connection with the 9-11 investigation. US. Carl Cameron of FOX News Channel did a excellent four part, nationally televised, series of investigations into this blockbuster scandal. But FOX pulled the investigative series after Zionist groups complained to FOX executives. FOX even went so far as to remove the written transcripts of the series from its website! In it's place was posted a chilling, Orwellian message which reads: "This story no longer exists." (20) Fortunately for the sake of history, the FOX transcripts were copied onto to many other websites and all four parts are available for your review.
The FOX series and other mainstream news media sources revealed that many of these Israelis were army veterans with electronics and explosives expertise. Many of them failed lie detector tests. FBI agents told FOX that some of their past investigations were compromised because suspects had been tipped off by Israeli wiretapping specialists. It was discovered that Israeli companies such as Comverse and Amdocs have the capability to tap American telephones (great for blackmailing all those wife-cheating politicians!) FBI agents also told FOX they believed the Israelis had advance knowledge of the 9-11 attacks. (which certainly would explain why no Israelis died in the WTC) Still another US official informed FOX that some of the detained Israelis actually had links to 9-11, but he refused to describe the nature of those links. The FBI official told FOX's Carl Cameron:
"Evidence linking these Israelis to 9-11 is classified. I cannot tell you about the evidence that has been gathered. It is classified information."
Then there was that small army of Israeli "art students" who were arrested for trying to sneak into secured US Federal buildings and staking out 36 Department of Defense sites. Some of these suspicious "art students" even showed up at the homes of Federal employees. Ron Hatchett, a Department of Defense analyst, told Channel 11, KHOU news in Houston that he believed that the "art students" were gathering intelligence for future attacks. Here's an excerpt from the October 1, 2001 KHOU investigative report by Anna Werner:
"Could federal buildings in Houston and other cities be under surveillance by foreign groups? That's what some experts are asking after federal law enforcement and security officials - nationally and in Houston - described for the 11 News Defenders a curious pattern of behavior by a group of people claiming to be Israeli art students."
"Hatchett says they could be doing what he would be doing if he were a terrorist, sizing up the situation: "We need to know what are the entrances to this particular building. We need to know what are the surveillance cameras that are operating. We need to know how many guards are at this operation, when do they take breaks?" Says Hatchett: This is not a bunch of kids selling artwork."
"A former Defense Department analyst, Hatchett believes groups may be gathering intelligence for possible future attacks. "Some organization, thinking in terms of a potential retaliation against the U.S. government could be scouting out potential targets and … looking for targets that would be vulnerable." And a source tells the Defenders of another federal memo, stating that besides Houston and Dallas, the same thing has happened at sites in New York, Florida, and six other states, and even more worrisome, at 36 sensitive Department of Defense sites. "One defense site you can explain," says Hatchett, "well that was just a serendipitous, …….. Thirty-six? That's a pattern."
Remember the official motto of the Mossad - By Way of Deception Thou Shalt Do War. Are you getting the picture? Can you say "false flag operations"?
In a follow up report a few days later, KHOU Channel 11 revealed that Dallas was also targetted:
"11 News reported how people claiming to be "Israeli art students" might be trying to sneak into federal buildings and defense sites, and even doing surveillance. And at least one expert said he thought it could all be preparation for an attack. Well, now federal sources say they are not ruling out that all of this could be connected with the hijackings on September 11, because of events in another Texas city.

In Dallas, the so-called students hit early this year at the city's FBI building, the Drug Enforcement Administration and at the Earle Cabell Federal building, where guards found one student wandering the halls with a floor plan of the building."
So the Dallas INS went on the alert, finding and arresting 15 people in March. Thirteen claimed to be Israelis and two are professed Colombians. But according to sources, once again their passports were phony. And another federal source says some of those arrested also appeared to have lists of federal employees and their home addresses.
All 15 "students" have now been deported.
Now do you remember the Mossad's "warning" about the 200 "Al-Qaeda terrorists" said to have been preparing major attacks in the US? At the time of this writing, we are three years into the largest investigation in American history, and not one of these 200 "terrorists" has yet to be uncovered. But 200 Israeli spies were uncovered, among them many military members, electronics experts, wiretapping and phone tapping specialists, and explosives experts with the skill to bring down tall buildings. Logic and common sense leads to the conclusion that the "200 Al Qaeda terrorists" were in reality, 200 Israeli Zionist terrorists sent to frame the Arabs for terrorist attacks and drag America into a war.
YOUR GOVERNMENT IS LYING TO YOU.
Click here to comment on this article
Mossad Exposed in Phony 'Palestinian Al-Qaeda' Caper
This article appears in the December 20, 2002 issue of Executive Intelligence Review.
Of the MOSSAD, the Israeli intelligence service, the SAMS officers say: "Wildcard. Ruthless and cunning. Has capability to target U.S. forces and make it look like a Palestinian/Arab act." [Washington Times September 10, 2001]
by Michele Steinberg and Hussein Askary

The United States government has been provided with concrete evidence that the Israeli Mossad and other Israeli intelligence services have been involved in a 13-month effort to "recruit" an Israeli-run, phony "al-Qaeda cell" among Palestinians, so that Israel could achieve a frontline position in the U.S. war against terrorism and get a green light for a worldwide "revenge without borders" policy. The question: Does the United States have the moral fiber to investigate?

Evidence of the Israeli dirty tricks burst onto the public scene on Dec. 6, when Col. Rashid Abu Shbak, head of the Palestinian Preventive Security Services in the Gaza Strip, held a press conference revealing the details of the alleged plot, as his agency had put the pieces together. The revelations undermine the "big lie" that Prime Minister Ariel Sharon has used to justify new brutal attacks on Palestinian civilians in the Gaza Strip and other occupied areas. Sharon claimed on Dec. 4 that Israeli intelligence had "hard evidence" of al-Qaeda operations in the Gaza Strip. Now, the top Palestinian leadership has shown the United States and other nations how Israeli intelligence entities were creating that al-Qaeda link! [...]

News about the Mossad-run attempt to create an al-Qaeda cell came when well- informed intelligence sources based in Washington had already told EIR that there are many doubts about the Mossad's hasty declaration that "al-Qaeda" had been responsible for the Nov. 28 attack on a hotel in Mombasa, Kenya, where three Israelis were killed, and the failed rocket attack on an Israeli chartered jet that was departing from Mombasa airport. There was no identification of the bombers within the first five days of the incident, the sources pointed out, yet Sharon's government ministers went on an immediate propaganda rampage announcing worldwide revenge.

Authorities in Kenya also denied the al-Qaeda link. But the usefulness of blaming al-Qaeda, for the Israeli right, was palpable, when Foreign Minister Benjamin Netanyahu called the Kenya attacks "a golden opportunity" to prove to the United States that Bush's war on terrorism, and Israel's war with the Palestinians is the same thing. Netanyahu's faction has violently rejected the Palestinian Authority's revelations, and so far, the American and European press have followed suit, despite the dramatic nature of these charges, and the documents that the Palestinians have provided to the international press. [...]

The question is whether the U.S. government and other governments will take up the evidence given to them.

It is well established that several top Cabinet officials in the current Sharon caretaker government, including Sharon himself, have a long, jaded history of staging precisely these kinds of "countergang" operations, using Israeli covert operatives and Arabs tortured and brainwashed in Israeli jails and recruited as false-flag terrorists. Sharon, Mossad chief Moshe Dagan, and Gen. Effie Eitam are proponents of such dirty-war tactics.[...]

Even more to the point, the Osama bin Laden authorship of the Sept. 11 terrorist attacks has been a cover story from the first moments the media began reporting it as fact. Interviewed on the morning of Sept. 11 as the attacks were unfolding, LaRouche made clear that the breadth and sophistication of these attacks showed that it was "an inside job," involving U.S. military and intelligence operatives capable of defeating or neutralizing all existing and backup security systems.

Bin Laden was named as the culprit, explains LaRouche, because his name provided entry into the policy of a Clash of Civilizations against Islam, which right-wing neo-conservatives in the Bush Administration have as their goal. LaRouche has also pointedly asked when Osama bin Laden stopped being an American agent—a reality that the "Islamic card" networks of Zbigniew Brzezinski and the Iran-Contra financiers of the Afghansi mujahideen, want to bury.

It must also be asked, when did al-Qaeda stop working for British intelligence?

EIR has documented that British foreign intelligence, MI6, worked closely with so-called Islamist terrorist groups safe-housed in Britain, to destabilize Arab and Muslim nations, in the geopolitical service of Her Majesty's government, and an Anglo-American imperial faction.

As recently as November, this coverup of British/U.S. covert support for terrorism continued, with the case of David Shayler, a former MI5 agent who was sentenced to six months in jail for disclosing "government secret information." Shayler told London Guardian reporter Martin Bright that MI6 hired one of Osama bin Laden's closest collaborators - Anas al-Liby, who remains on the U.S. government's Most Wanted List, with a reward of $25 million for his capture—to assassinate Libya's Col. Muammar al-Qaddafi in 1996. Bright, who could not publish the article in the Guardian, but did so in the Pakistani daily, The Dawn, on Oct. 30, received a gag order from the British Attorney General, threatening him with prison, if he publishes any more information from Shayler.

With this background in mind, the public revelations about the Mossad attempts to set up al-Qaeda cells, could have strategic consequences for the discredited Sharon government - and even more broadly for the Clash of Civilizations zealots covering up the truth about Sept. 11. The Palestinian revelations could become the "straw that broke the camel's back," in this dirty war.

Click here to comment on this article

The Five Dancing Israelis Arrested On 9/11

On the day of the 9-11 attacks, former Israeli Prime Minister Benjamin Netanyahu was asked what the attack would mean for US-Israeli relations. His quick reply was: "It's very good…….Well, it's not good, but it will generate immediate sympathy (for Israel)"

A Mossad surveillance team made quite a public spectacle of themselves on 9-11. The men set up cameras by the Hudson River and trained them on the twin towers. (1)

Police received several calls from angry New Jersey residents claiming "middle- eastern" men with a white van were videotaping the disaster with shouts of joy and mockery. (2)

"They were like happy, you know … They didn't look shocked to me" said a witness. (3)

[T]hey were seen by New Jersey residents on Sept. 11 making fun of the World Trade Center ruins and going to extreme lengths to photograph themselves in front of the wreckage. (4)

Witnesses saw them jumping for joy in Liberty State Park after the initial impact (5). Later on, other witnesses saw them celebrating on a roof in Weehawken, and still more witnesses later saw them celebrating with high fives in a Jersey City parking lot. (6)

"It looked like they're hooked in with this. It looked like they knew what was going to happen when they were at Liberty State Park." (7)

One anonymous phone call to the authorities actually led them to close down all of New York's bridges and tunnels. The mystery caller told the 9-1-1 dispatcher that a group of Palestinians were mixing a bomb inside of a white van headed for the Holland Tunnel. Here's the transcript from NBC News:

Dispatcher: Jersey City police. Caller: Yes, we have a white van, 2 or 3 guys in there, they look like Palestinians and going around a building. Caller: There's a minivan heading toward the Holland tunnel, I see the guy by Newark Airport mixing some junk and he has those sheikh uniform. Dispatcher: He has what? Caller: He's dressed like an Arab. (8)

(*Writer's note: Why would this mystery caller specifically say that these "Arabs" were Palestinians? How would he know that? Palestinians usually dress in western style clothes, not "sheikh uniforms")

Based on that phone call, police then issued a "Be-on-the-Lookout" alert for a white mini-van heading for the city's bridges and tunnels from New Jersey. When a van fitting that exact description was stopped just before crossing into New York, the suspicious "middle-easterners" were apprehended. Imagine the surprise of the police officers when these terror suspects turned out to be Israelis!

According to ABC's 20/20, when the van belonging to the cheering Israelis was stopped by the police, the driver of the van, Sivan Kurzberg, told the officers:

"We are Israelis. We are not your problem. Your problems are our problems. The Palestinians are your problem." (9)

The police and FBI field agents really became suspicious when they found maps of the city with certain places highlighted, box cutters (the same items that the hijackers supposedly used), $4700 cash stuffed in a sock, and foreign passports. Police also told the Bergen Record that bomb sniffing dogs were brought to the van and that they reacted as if they had smelled explosives. (10)

The FBI seized and developed their photos, one of which shows Sivan Kurzberg flicking a cigarette lighter in front of the smouldering ruins in an apparently celebratory gesture. (11)

The Jerusalem Post later reported that a white van with a bomb was stopped as it approached the George Washington Bridge. Of Course, the Post did not reveal the true ethnicity of the suspects. Here's what the Jerusalem Post reported on September 12, 2001:

American security services overnight stopped a car bomb on the George Washington Bridge. The van, packed with explosives, was stopped on an approach ramp to the bridge. Authorities suspect the terrorists intended to blow up the main crossing between New Jersey and New York, Army Radio reported. (12)

TCM Breaking News reported that the van was laden down with tonnes of explosives (13). (*Writer's note: Is it pure coincidence that 'al Qaeda' use huge truck bombs as a hallmark of their terror campaign?)

What's really intriguing is that ABC's 20/20 (14), the New York Post (15), and the New Jersey Bergen Record (16) all clearly and unambiguously reported that a white van with Israelis was intercepted on a ramp near Rout e 3, which leads directly to the Lincoln Tunnel.

But the Jerusalem Post, Israeli National News (Arutz Sheva) (17), and Yediot America, (18) all reported, just as clearly and unambiguously, that a white van with Israelis was stopped on a ramp leading to the George Washington Bridge, which is several miles north of the Lincoln Tunnel.

It appears as if there may actually have been two white vans involved, one stopped on each crossing. This would not only explain the conflicting reports as to the actual location of the arrests, but would also explain how so many credible eye-witnesses all saw celebrating "middle-easterners" in a white van in so many different locations. It also explains why the New York Post and Steve Gordon (lawyer for the 5 Israelis) originally described how three Israelis were arrested but later increased the total to five.

Perhaps one van was meant to drop off a bomb while the other was meant to pick up the first set of drivers while re-crossing back into New Jersey? If a van was to be used as a parked time-bomb on the GW Bridge, then certainly the drivers would need to have a "get-away van" to pick them up and escape. And notice how the van (or vans) stayed away from the third major crossing -the Holland Tunnel- which was where the police had originally been directed to by that anti-Palestinian 9-1-1 "mystery caller". A classic misdirection play.

>From there, the story gets becomes even more suspicious. The Israelis worked for a Weehawken moving company known as Urban Moving Systems. An American employee of Urban Moving Systems told the The Record of New Jersey that a majority of his co-workers were Israelis and they were all joking about the attacks.

The employee, who declined to give his name said: "I was in tears. These guys were joking and that bothered me." These guys were like, "Now America knows what we go through." (19)

A few days after the attacks, Urban Moving System's Israeli owner, Dominick Suter, dropped his business and fled the country for Israel. He was in such a hurry to flee America that some of Urban Moving System's customers were left with their furniture stranded in storage facilities (20).

It was later confirmed that the five detained Israelis were in fact Mossad agents (21). They were held in custody for 71 days before being quietly released. Some of the movers had been kept in solitary confinement for 40 days.(22)

[S]everal of the detainees discussed their experience in America on an Israeli talk show after their return home.

Said one of the men, denying that they were laughing or happy on the morning of Sept. 11, "The fact of the matter is we are coming from a country that experiences terror daily. Our purpose was to document the event." (23)

How did they know there would be an event to document on 9/11?

It doesn't take Sherlock Holmes to connect the dots of the dancing Israeli Mossad agents - here's the most logical scenario: 1. The Israeli "movers" cheered the 9-11 attacks to celebrate the successful accomplishment of the greatest spy operation ever pulled off in history.

2. One of them, or an accomplice, then calls a 9-1-1 police dispatcher to report Palestinian bomb-makers in a white van headed for the Holland Tunnel.

3. Having thus pre-framed the Palestinians with this phone call, the Israeli bombers then head for the George Washington Bridge instead, where they will drop off their time-bomb van and escape with Urban Moving accomplice s.

4. But the police react very wisely and proactively by closing off ALL bridges and tunnels instead of just the Holland Tunnel. This move inadvertently foils the Israelis' misdirection play and leads to their own capture a nd 40 day torture.

5. To cover up this story, the U.S. Justice Department rounds up over 1000 Arabs for minor immigration violations and places them in New York area jails. The Israelis therefore become less conspicuous as the government and media can now claim that the Israelis were just immigration violators caught in the same dragnet as many other Arabs.

6. After several months, FBI and Justice Department "higher-ups" are able to gradually push aside the local FBI agents and free the Israelis quietly.

The US government immediately attributed Osama bin Laden to the 9/11 attacks even though he had no previous record of doing anything on this scale. Immediately after the Flight 11 hit WTC 1 CIA Director George Tenet said "You know, this has bin Laden's fingerprints all over it." (24)

The compliant mainstream media completely ignored the Israeli connection. Immediately following the 9-11 attacks, the media was filled with stories linking the attacks to bin Laden. TV talking-heads, "experts", and scribblers of every stripe spoon-fed a gullible American public a steady diet of the most outrageous propaganda imaginable.

We were told that the reason bin Laden attacked the USA was because he hates our "freedom" and "democracy". The Muslims were "medieval" and they wanted to destroy us because they envied our wealth, were still bitter about the Crusades, and were offended by Britney Spears shaking her tits and ass all over the place!

But bin Laden strongly denied any role in the attacks and suggested that Zionists orchestrated the 9-11 attacks. The BBC published bin Laden's statement of denial in which he said:

"I was not involved in the September 11 attacks in the United States nor did I have knowledge of the attacks. There exists a government within a government within the United States. The United States should try to trace the perpetrators of these attacks within itself; to the people who want to make the present century a century of conflict between Islam and Christianity. That secret government must be asked as to who carried out the attacks.

[...] The American system is totally in control of the Jews, whose first priority is Israel, not the United States." (25)

You never heard that quote on your nightly newscast did you?

To date, the only shred of "evidence" to be uncovered against Bin Laden was a barely audible fuzzy amateur video that the Pentagon just happened to find "lying around" in Afghanistan. How very convenient (and how very fake!).

[P]olice in New Jersey told the New York Times the hijackers who left from Newark airport on the flight which crashed in Pennsylvania had received aid from associates in the area. The paper reported law officials said the team was "aided by confederates in Newark who were responsible for logistical support, including money, rental cars, credit cards and lodging". (26)

[A] number of intelligence officials have raised questions about Osama bin Laden's capabilities. "This guy sits in a cave in Afghanistan and he's running this operation?" one C.I.A. official asked. "It's so huge. He couldn't have done it alone." A senior military officer told me that because of the visas and other documentation needed to infiltrate team members into the United States a major foreign intelligence service might also have been involved. (27)

There is no evidence, be it hard or circumstantial, to link the Al Qaeda "terrorist network" to these acts of terror, but there is a mountain of evidence, both hard and circumstantial, which suggests that the Zionist Mafia has been very busy framing Arabs for terror plots against America.

One last thing. At 09:40 on 9/11 Abu Dhabi television reported that the Democratic Front for the Liberation of Palestine claimed responsiblity for the attacks (28). [9/11 CNN streamed RealVideo item mentioning a Palestinian claim of responsibility]. This claim was immediately denied by the DFLP leader Qais abu Leila who said it had always opposed "terror attacks on civilian targets, especially outside the occupied territories." (29)

Why would a Palestinian organisation comprising of less than 500 people (30) make the suicidal move of immediately claiming responsibility for the attacks?

One thing is for sure - if the the Israelis had successfully framed the Palestinians for the 9/11 attacks then Ariel Sharon and his government would have had the perfect excuse to expel the Palestinian population from the West Bank and Gaza Strip because the citizens there would have been labelled as terrorists.

Sharon and the other Israeli leaders aspire to fulfill what the goals of the political Zionist movement have been since its origin a century ago: to turn all of historic Palestine into an exclusively Jewish state. A central tenet of the Zionist ideology is expressed in the racist slogan, "A land without people for a people without a land." (31)

Click here to comment on this article

Israel May Be Compelled to Pre-empt

Written by Rachel Neuwirth
Saturday, July 31, 2004

Iran is moving rapidly to become a nuclear power. The Iranian mullahs have publicly promised to use nuclear weapons to exterminate Israel even if Israel were to achieve peace with the Palestinians. They also claim that Iran, with 70 million people, could absorb and survive any response from Israel while Israel, with only 5.5 million Jews, is vulnerable to devastating losses if only a few of Iran's missiles got through.

Each time these Iranian threats were announced, the U.S. administration failed to issue any statement in opposition. (When Saddam Hussein earlier vowed to "burn half of Israel" the US administration also remained silent.) The Iranian mullahs could not fail to notice the significant American silence and to draw conclusions. They can also note that Israel is outside NATO and has no mutual defense treaty with the United States. If Iran attacks Israel they need not fear any U.S. response.

All of Israel's past experiences with America and the United Nations underscore the reality of Israel's isolation and vulnerability. Some examples:

At its birth Israel totally accepted the United Nations partition resolution. The Arabs rejected that resolution and attacked the new state, attempting to destroy it at birth. The U.N. failed to help Israel and America imposed a regional arms embargo, which only affected Israel because the Arabs were already well-armed. Israel survived only due to its own sacrifice and would have perished if it depended upon the United Nations and the United States. There was no subsequent punishment or even criticism for Arab aggression.

In 1967 Egypt and Syria were openly poised to launch an unprovoked attack to "drive the Jews into the sea" as Gamal Abdul Nasser vowed. There was no strong U.S. warning to Egypt and Syria not to attack. Instead the U.S. urged Israel not to pre-empt and to wait on U.S. diplomacy. When it became clear that U.S. diplomacy was failing and Israel could face catastrophic losses if the Arabs were allowed to strike first, Israel was forced to pre-empt. Again there was no subsequent punishment or even criticism for Arab aggression.

In 1973 Egypt and Syria again were openly poised to launch an unprovoked attack on Israel. And again there was no U.S. warning to Egypt and Syria not to attack. But this time Secretary of State Henry Kissinger did not just urge Israel "not to fire the first shot," he warned Israel not to pre-empt and to not even mobilize, lest it face the loss of American support, and then have to face Egypt and Syria backed by Russia and be left all on her own. Israel obeyed, was attacked, and almost lost that war while sustaining horrendous loss of life and suffering a brutal blow to its economy. Again there was no subsequent punishment or even criticism for Arab aggression.

These examples illustrate an ongoing pattern of U.S. behavior from Israel's birth until this day. The Arabs are always free to commit aggression and launch repeated attempts to destroy Israel without facing punishment or even criticism. It appears that the U.S. will always act to restrain Israel from exercising its full right of self-defense but will never act decisively to blunt Arab aggression. If Israel obeys U.S. pressure it could gravely endanger its security but if it acts in legitimate self-defense it could face U.S. punishment because of a consistent U.S. double standard.

Today the Iranian threat poses the greatest danger ever, because even a single nuclear missile reaching an Israeli population center could cause catastrophic damage and casualties. The U.S., the U.N., and the Europeans are also concerned, but only because Iranian nukes could also endanger them. However, they have so far failed to generate a sufficient collective response to guarantee that the ongoing Iranian quest for nuclear weapons will be halted and dismantled in time.

The U.S. is the lead player in all this and recent reports suggest that President Bush is unlikely to act until after the November election, assuming that he is re-elected, and that there is still enough time left to act. Note that President Bush, after Iraq, is now gun shy about pre-emption and he has announced no deadline for Iran to terminate its nuclear program.

Perhaps the West believes that Israel is their free insurance policy. The Western nations may prefer to have Israel take out Iran's nuclear facilities for them, as in 1981 when Israel bombed the Iraqi reactor. This means that Israel takes all the risk, Israel takes all the blame and the other nations benefit for free. The U.S. and the other nations still want to avoid alienating more Muslims and want to appear "even handed" concerning Israel. Bluntly put, the survival of Israel may be desirable for the nations, but not at any cost in jeopardizing their essential oil supplies and facing increased enmity among the world's Muslims.

It is not unreasonable to speculate that the U.S. and Europe may have decided to wait and let Israel be forced to pre-empt and do their dirty work, and hopefully be successful. But if something goes wrong they can always claim plausible deniability and join in the denunciation and possible punishment against Israel to appease the Arabs. It has happened before after the 1981 Israeli attack on the Iraqi reactor.

Another possibility is for the U.S. and Europe reluctantly to allow Iran to go nuclear in the same way that we allowed North Korea to go nuclear while downplaying the real threat. And once they do go nuclear to then say that they have become too dangerous to attack and now we must negotiate--just as with North Korea which signed agreements, accepted U.S. aid and then secretly violated their agreement and brazenly announced their nuclear capability. We have established the pattern and Iran can simply follow suit.

Iran will then have additional options besides overt missile attack. They could build mini nukes and secretly distribute them to various terrorists for smuggling into target countries to be used against Israel and the West while adamantly denying all culpability. Heavy Western pressure might be put on Israel, including possible threats, to not pre-empt and to rely on their missile defense. This approach may appeal to the West because it simply plays for time and avoids having to take unpleasant decisions today that could upset their voters in the next election.

What is the military option? Retired Air Force and Army Generals, Thomas McInerney and Paul E. Vallely wrote the book, "Endgame: The Blueprint for Victory in the War on Terror." At a recent lecture, they claimed that the United States has the military capability to effectively take out the nuclear facilities of both North Korea and of Iran and can reach facilities buried deep underground. They stated that American capabilities are much greater than Israel's. If that is true then it is primarily a U.S. political decision rather than one of military capability.

There are further complications if Israel feels compelled to pre-empt. Unlike Iraq in 1981 Iran's facilities are buried underground, dispersed and well protected with air defenses. Israel may not be able to readily neutralize these facilities. Iran also had ample time to develop a counter strategy to deter Israel that may include Syria's launching chemical and biological attacks on Israel combined with Iranian-backed Hezbolla attacks on northern Israel. If Israel is forced to pre-empt, other Arab countries may join in a general attack on Israel. This would rapidly create an entirely new situation that could escalate out of control. In such a situation Israel may be forced to use some of its nuclear weapons. (Note that prior to the invasion of Iraq, the U.S. publicly reserved the right to use tactical nuclear weapons if required.) A worst-case scenario could also include an oil embargo and even destruction of some oil fields resulting in major damage to Western economies. Thus a Western policy that results in Israel feeling gravely threatened and forced to pre-empt could backfire severely against Western interests.

There is also the question of knowing just how close Iran is to having the bomb. Keep in mind how often Western and U.S. intelligence have been wrong in the past. There has also been a tendency to underestimate the capabilities of rogue nations and their ability to deceive. We were fooled by North Korea and then surprised at their progress. After the 1991 Iraq war we were surprised at how close Saddam was to having a nuclear bomb. He fooled us again by moving his nuclear weapons program to Libya while we were still searching in Iraq. We only found out when Momar Khadaffi decided to come clean. And Iran insists its program is only for non-military purposes that legally allow it to progress just short of weapons level. If all their nuclear components are fabricated but unassembled, they may be able to assemble them suddenly and then announce they are now a nuclear power. We know they are also acquiring more and better missiles as delivery systems. We may tell Israel that there is still plenty of time to act but we have little credibility, and Israel can also suspect that we may be lying just to restrain her for our own convenience.

There are still other complicating factors, including the paranoia of the Iranian mullahs who may also act irrationally in response to their own fears, both real and imagined. Nevertheless the Iranian bomb must be stopped. The best way is to mobilize a solid Western front plus any other international support, with an ultimatum to Iran combined with support for Iran's large internal opposition. This will require America to lead with more firmness and more wisdom than we have seen in the past. Any perceived weakness by our side will only serve to increase the defiance of the Iranian mullahs.

In summary, it is definitely not in American or Western interests to leave Israel with no other security option except to pre-empt and thus open Pandora's Box of horrors. The longer we wait to act the higher the stakes and the greater the danger. And to again push this problem into the future may be the worst option of all.

Comment: This writer has missed the foundational fact that the "United Nations partition resolution" was completely illegal... and everything that came after that fact was a violation of the rights of the Palestinians.

What IS interesting is the particular slant of this piece... two incidents in 1967 and 1973 are cited as "proof" of the view that Israel is isolated and has no friends. Completely ignored are all the things Israel has done to which the U.S. has turned a blind eye, all the financial aid Israel has received from the U.S., arms, etc...

Still, an interesting view that reveals how the Israelis may be thinking. But let's look on the bright side, if there is a change of government in the US in November, the Palestinians can look forward to more equality and justice, right?...

Click here to comment on this article

Kerry assures Sharon of his commitment to Israel's security

By Nathan Guttman, Haaretz Correspondent
31/07/2004 17:31

Democratic presidential candidate Senator John Kerry on Friday assured Prime Minister Ariel Sharon of his commitment to Israel's security, aides to Kerry said.

Kerry made the comments during a phone call from Sharon to congratulate him on his official nomination as the Democratic candidate in November's presidential elections, and added his congratulations to Senator John Edwards for his nomination as the candidate for vice-president.

Sharon told Kerry that the friendship between Israel and the United States transcended political parties.

During their conversation, Kerry informed Sharon that he has no argument with President George W. Bush's support for Sharon's rejection of a Palestinian right of return to Israeli territory. [...]

Comment: And what constitutes Israel's security? Murdering Palestinian children with US weapons, apparently...

Click here to comment on this article

IOF Shoot Dead Eight Palestinians in 48 Hours

31/07/2004
Palestine Media Center – PMC

An 11-year-old boy was among eight Palestinians killed within 48 hours by the Israeli Occupation Forces (IOF), who also extra-judicially executed three activists, as a 16-year-old girl was critically wounded with a bullet in the head.

Late Friday, the IOF said that they shot and killed four Palestinian men, claiming they were attempting to plant explosives near a border fence separating the Gaza Strip from the Jewish state east of Al-Buraij refugee camp. Palestinian sources have yet to confirm the report.

IOF sporadic gunfire on Friday also killed an 11-year-old boy in the southern Gaza Strip town of Khan Younis and critically wounded 16-year-old girl Iman Barhoum with a bullet in the head farther to the south in the town of Rafah.

Palestinian officials said the IOF soldiers killed the boy and wounded five others during the funeral of an activist killed by an Israeli helicopter-launched missile on Thursday. They said the boys were throwing stones at Israeli troops guarding a nearby illegal Jewish settlement, AP reported.

A day earlier, the IOF extra-judicially executed Palestinian anti-occupation activists Amre Abu Sitta, 32, and Zaki Abu Zaerka, 40, in Rafah, only a day after assassinating activist Zaher Al-Ashqar, 27, in the northern West Bank village of Allar, near Tulkarem late Wednesday.

Ahmed Abu El-Reish Brigades said Abu Sitta was "wanted" by the IOF since 1994.

Saraya al Quds, the military wing of Islamic Jihad said in a leaflet that Al-Ashqar was the commander of Al-Quds Brigades in Tulkarem and was killed while resisting detention by the IOF.

The IOF shot dead eight Palestinians, including a 12-year-old girl and a 50-year-old woman, between Monday and Thursday.

The latest IOF killings raise the Palestinian death toll to 16 since Monday and to more than 3,429 since the Intifada (uprising) against the Israeli occupation broke out some four years ago.

Click here to comment on this article

ESCWA: 785 Palestinians Killed, 5,130 Injured in a Year

31/07/2004
Palestine Media Center – PMC

The IOF killed some 785 Palestinians and injured 5,130 more within the past year in the Israeli-Occupied Territory, the UN Economic and Social Commission for Western Asia (ESCWA) reported in Beirut Friday.

Children bear a particular brunt of the conflict, the report said, noting that since September 2000, 512 children have been killed in Israeli-Palestinian violence.

The Israeli army demolished 511 homes in the West Bank between December 2002 and December 2003 and 858 homes or shelters in the Gaza Strip.

The IOF also bulldozed 1,107 acres of land, which the report said amounted to 10 percent of Gaza Strip's arable land.

The report cited World Bank figures that said damage in agricultural areas reached $213 million in 2003, while deterioration of equipment and infrastructure was calculated at $700 million to $800 million toward a combined values of $1.7 billion loss at the beginning of 2003.

Calculable physical damage to the Palestinian economy from September 2002 through April 2003 stands at $370 million, cumulatively totaling $1.1 billion since the Palestinian uprising broke out late October 2000, the ESCWA report added.

Click here to comment on this article

Israel attacks Gaza homes, farmlands

Sunday 01 August 2004

Israeli troops have opened fire at Palestinian houses and destroyed farmlands in Jabalya in the Gaza region, but there have been no immediate reports of casualties.

About 10 Israeli military tanks and bulldozers entered and attacked the eastern part of Jabalya city late on Saturday, Aljazeera correspondent Hiba Akila reported.

The military vehicles were stationed at al-Hawuz hill, which overlooks Jabalya and Bait Lahia cities, she said.

The Israeli forces and tanks opened heavy and random fire at Palestinian houses in the area for seven hours, Akila added.

They then withdrew early on Sunday to the eastern border, the correspondent reported.

Israeli operation

The attack is part of an Israeli operation in Bait Hanun city, which started more than a month ago, she said.

The Israeli operation has included a complete closure and destruction of farmlands and houses in Bait Hanun, Akila reported.

Hundreds of Palestinian families have been surrounded and stuck in their houses for more than a month, she said, and humanitarian groups can hardly reach them to supply food.

The Israeli army says its operation is an attempt to prevent Palestinian fighters from firing rockets at Israeli settlements and cities north of and around Gaza city.

Click here to comment on this article

Pro-Arafat militants break up Fatah conference, in sign of leadership split

NABLUS, West Bank An incident in the West Bank is a new sign of fighting among the Palestinian leadership. Gunmen loyal to Yasser Arafat opened fire at a conference of Arafat's Fatah movement.

No one was injured when the 20 or so men broke into the meeting and fired into the air, but the meeting broke up.

The meeting followed weeks of demonstrations against disarray in the security services and corruption in the Palestinian Authority, which governs the West Bank and Gaza Strip.

One conference delegate tells The Associated Press the gunmen believed the meeting was part of a conspiracy against Arafat.

Some Palestinian officials suggest the unrest is a challenge to Arafat by a former security leader in the Gaza Strip.

Click here to comment on this article

"Bush - Nazi Dealings Continued Until 1951" - Federal Documents

By John Buchanan and Stacey Michael
The New Hampshire Gazette Vol. 248, No. 3
November 7, 2003

After the seizures in late 1942 of five U.S. enterprises he managed on behalf of Nazi industrialist Fritz Thyssen, Prescott Bush, the grandfather of President George W. Bush, failed to divest himself of more than a dozen "enemy national" relationships that continued until as late as 1951, newly-discovered U.S. government documents reveal.

Furthermore, the records show that Bush and his colleagues routinely attempted to conceal their activities from government investigators.

Bush's partners in the secret web of Thyssen-controlled ventures included former New York Governor W. Averell Harriman and his younger brother, E. Roland Harriman. Their quarter-century of Nazi financial transactions, from 1924-1951, were conducted by the New York private banking firm, Brown Brothers Harriman.

The White House did not return phone calls seeking comment.

Although the additional seizures under the Trading with the Enemy Act did not take place until after the war, documents from The National Archives and Library of Congress confirm that Bush and his partners continued their Nazi dealings unabated. These activities included a financial relationship with the German city of Hanover and several industrial concerns. They went undetected by investigators until after World War Two.

At the same time Bush and the Harrimans were profiting from their Nazi partnerships, W. Averell Harriman was serving as President Franklin Delano Roosevelt's personal emissary to the United Kingdom during the toughest years of the war. On October 28, 1942, the same day two key Bush-Harriman-run businesses were being seized by the U.S. government, Harriman was meeting in London with Field Marshall Smuts to discuss the war effort.

Denial and Deceit

While Harriman was concealing his Nazi relationships from his government colleagues, Cornelius Livense, the top executive of the interlocking German concerns held under the corporate umbrella of Union Banking Corporation (UBC), repeatedly tried to mislead investigators, and was sometimes supported in his subterfuge by Brown Brothers Harriman.

All of the assets of UBC and its related businesses belonged to Thyssen- controlled enterprises, including his Bank voor Handel en Scheepvaart in Rotterdam, the documents state.

Nevertheless, Livense, president of UBC, claimed to have no knowledge of such a relationship. "Strangely enough, (Livense) claims he does not know the actual ownership of the company," states a government report.

H.D Pennington, manager of Brown Brothers Harriman and a director of UBC "for many years," also lied to investigators about the secret and well-concealed relationship with Thyssen's Dutch bank, according to the documents.

Investigators later reported that the company was "wholly owned" by Thyssen's Dutch bank.

Despite such ongoing subterfuge, U.S. investigators were able to show that "a careful examination of UBC's general ledger, cash books and journals from 1919 until the present date clearly establish that the principal and practically only source of funds has been Bank voor Handel en Scheepvaart."

In yet another attempt to mislead investigators, Livense said that $240,000 in banknotes in a safe deposit box at Underwriters Trust Co. in New York had been given to him by another UBC-Thyssen associate, H.J. Kouwenhoven, managing director of Thyssen's Dutch bank and a director of the August Thyssen Bank in Berlin. August Thyssen was Fritz's father.

The government report shows that Livense first neglected to report the $240,000, then claimed that it had been given to him as a gift by Kouwenhoven. However, by the time Livense filed a financial disclosure with U.S. officials, he changed his story again and reported the sum as a debt rather than a cash holding.

In yet another attempt to deceive the governments of both the U.S. and Canada, Livense and his partners misreported the facts about the sale of a Canadian Nazi front enterprise, La Cooperative Catholique des Consommateurs de Combustible, which imported German coal into Canada via the web of Thyssen- controlled U.S. businesses.

"The Canadian authorities, however, were not taken in by this maneuver," a U.S. government report states. The coal company was later seized by Canadian authorities.

After the war, a total of 18 additional Brown Brothers Harriman and UBC-related client assets were seized under The Trading with the Enemy Act, including several that showed the continuation of a relationship with the Thyssen family after the initial 1942 seizures.

The records also show that Bush and the Harrimans conducted business after the war with related concerns doing business in or moving assets into Switzerland, Panama, Argentina and Brazil - all critical outposts for the flight of Nazi capital after Germany's surrender in 1945. Fritz Thyssen died in Argentina in 1951.

One of the final seizures, in October 1950, concerned the U.S. assets of a Nazi baroness named Theresia Maria Ida Beneditka Huberta Stanislava Martina von Schwarzenberg, who also used two shorter aliases. Brown Brothers Harriman, where Prescott Bush and the Harrimans were partners, attempted to convince government investigators that the baroness had been a victim of Nazi persecution and therefore should be allowed to maintain her assets.

"It appears, rather, that the subject was a member of the Nazi party," government investigators concluded.

At the same time the last Brown Brothers Harriman client assets were seized, Prescott Bush announced his Senate campaign that led to his election in 1952.

Investigation Investigated?

In 1943, six months after the seizure of UBC and its related companies, a government investigator noted in a Treasury Department memo dated April 8, 1943 that the FBI had inquired about the status of any investigation into Bush and the Harrimans.

"I gave 'a memorandum' which did not say anything about the American officers of subject," the investigator wrote. "(Another investigator) wanted to know whether any specific action had been taken by us with respect to them."

No further action beyond the initial seizures was ever taken, and the newly-confirmed records went unseen by the American people for six decades.

What Does It All Mean?

So why are the documents relevant today?

"The story of Prescott Bush and Brown Brothers Harriman is an introduction to the real history of our country," says L.A. art book publisher and historian Edward Boswell. "It exposes the money-making motives behind our foreign policies, dating back a full century. The ability of Prescott Bush and the Harrimans to bury their checkered pasts also reveals a collusion between Wall Street and the media that exists to this day."

Sheldon Drobny, a Chicago entrepreneur and philanthropist who will soon launch a liberal talk radio network, says the importance of the new documents is that they prove a long pattern of Bush family war profiteering that continues today via George H.W. Bush's intimate relationship with the Saudi royal family and the bin Ladens, conducted via the super-secret Carlyle Group, whose senior advisers include former U.S. Secretary of State James A. Baker III.

In the post-9/11 world, Drobny finds the Bush-Saudi connection deeply troubling. "Trading with the enemy is trading with the enemy," he says. "That's the relevance of the documents and what they show."

Lawrence Lader, an abortion rights activist and the author of more than 40 books, says "the relevance lies with the fact that the sitting President of the United States would lead the nation to war based on lies and again st the wishes of the rest of the world." Lader and others draw comparisons between President Bush's invasion of Iraq and Hitler's occupation of Poland in 1939 - the event that sparked World War Two.

However, others see an even larger significance.

"The discovery of the Bush-Nazi documents raises new questions about the role of Prescott Bush and his influential business partners in the secret emigration of Nazi war criminals, which allowed them to escape justice in Germany," says Bob Fertik, co-founder of Democrats.com and an amateur 'Nazi hunter.' "It also raises questions about the importance of Nazi recruits to the CIA in its early years, in what was called Operation Paperclip, and Prescott Bush's role in that dark operation."

Fertik and others, including former Justice Department Nazi war crimes prosecutor John Loftus, a Constitutional attorney in Miami, and a former Veterans Administration official, believe Prescott Bush and the Harrimans should have been tried for treason.

What Next?

Now, say Fertik and Loftus, there should be a Congressional investigation into the Bush family's Nazi past and its concealment from the American people for 60 years.

"The American people have a right to know, in detail, about this hidden chapter of our history," says Loftus, author of The Secret War Against the Jews. "That's the only way we can understand it and deal with it."

For his part, Fertik is pessimistic that even a Congressional investigation can thwart the war profiteering of the present Bush White House. "It's impossible to stop it," he says, "when the worst war profiteers are George W. Bush and Dick Cheney, who operate in secrecy behind the vast powers of the White House."

Comment: Hmm... Leopards don't change their spots. Do we suspect that the Bush Reich activities are also a "False Flag Operation?" Are they setting Israel up? Is it the ultimate agenda of the Brits and Americans to lure Jews to Israel via the "Holocaust Complex", set them up in a trap of their own making, and then destroy them?

Is Bush's claimed "religious conversion" a sham? Is he using it to gain the support of US Fundamentalists who believe that Israel must be re-created in order to bring on the Apocalypse and thus, the Second Coming of Christ? How many examples from history do we have of precisely this kind of double cross? Surely, never on this scale, but the model exists and has been used time and again... Any Americans who can still read ought to have a look at Machiavelli. Read it and weep.

Click here to comment on this article

FAKE TERROR - THE ROAD TO WAR AND DICTATORSHIP

[...] Elected Chancellor of Germany, Hitler... had no intention of living with the strict limits to his power imposed by German law. ... Hitler's thugs ... staged beatings, set fires, caused as much trouble as they could, while Hitler made speeches promising that he could end the crime wave of subversives and terrorism if he was granted extraordinary powers.

Then the Reichstag burned down; a staged terrorist attack.

The Germans were hoaxed into surrendering their Republic, and accepting the total rule of Der Fuhrer. The state-sponsored schools will never tell you this, but governments routinely rely on hoaxes to sell their agendas to an otherwise reluctant public. The Romans accepted the Emperors and the Germans accepted Hitler not because they wanted to, but because the carefully crafted illusions of threat appeared to leave no other choice.

Our government too uses hoaxes to create the illusion that We The People have no choice but the direction the government wishes us to go in. [...]

Are the terrorists really a threat, or just hired actors with bombs and Casio watches, paid for by Cicero and given brown shirts to wear by Hitler?

Is terrorism inside the United States really from outside, or is it a stage managed production, designed to cause Americans to believe they have no choice but to surrender the Republic and accept the totalitarian rule of a new emperor, or a new Fuhrer?

Once lost, the Romans never got their Republic back. Once lost, the Germans never got their Republic back. In both cases, the nation had to totally collapse before freedom was restored to the people.

Remember that when Crassus tells you that Spartacus approaches.

Remember that when thugs in the streets act in a manner clearly designed to provoke the public fear.

Remember that when the Reichstag burns down.

Click here to comment on this article

Farenheit 911 - From a Reader

I just saw this movie today, and like others have mentioned, it made me very, very angry.

Yes, the movie is selectively edited and does seem to have an anti-Bush agenda, but most conspicuous is what Moore leaves out of the movie IMO, namely:

1. An analysis of the influence of the fundamentalist Judeo-Christian lobby groups on the Iraq/Afghanistan conflicts and the broader "War of Terror".

2. Any mention of Israel's role in 9-11 and the facts which point to an "inner circle" of 9-11 conspirators within the government itself.

Religion was definitely given the "kid-gloves" treatement here. Moore could have made this movie a potent force for truth if he had put the Judaic-Christian-Islamic triad under the microscope, and showed just how effectively they are used for control of both the "common man" and the so-called "elites".

But despite Moore's selective editing, omissions and biases coming through the picture, he still raises some very important themes. The main one is that powerful elites such as Bush, Cheney, the Saudi Princes, Taliban Leaders etc simply do not care about the common man's situation. The fact is that most people are simply unable to truly grasp the concept that their leaders not only lie and treat them with contempt, but would happily dispose of their lives in a heartbeat if it would serve their agendas.

The illusion that the people in power care about our welfare - maybe if not individually, then at least collectively - is one of the most dangerous illusions that infect the thinking of societies today, OSIT. If Moore manages to shed the light of truth on this lie for millions of otherwise apathetic people via F-911, then despite its flaws and biases he may have done humanity a great service.

Alas, I fear that it is too little, too late for the USA (and her "willing" allies as well), as the real puppet masters behind the scene will use Moore to their advantage, just as they have used Bush and his administration.

Click here to comment on this article

"The Savage Extreme of a Narrow Policy Spectrum"

Merlin Chowkwanyun: One scholar and activist whom you've cited (and whom I wish more people knew about and read) is Seymour Melman, who more than two decades ago articulated the concept of a "permanent war economy." What was Melman describing, and how does it limit or shape a chief executive's foreign policy?

Prof. Noam Chomsky: The term "permanent war economy" is attributed to Charles Wilson, CEO of GE, who warned at the end of World War II that the US must not return to a civilian economy, but must keep to a "permanent war economy" of the kind that was so successful during the war: a semi-command economy, run mostly by corporate executives, geared to military production. Among other very important contributions, Melman has written extensively on the harmful effects of gearing much of the economy to military production rather than to civilian needs. What he describes is correct and important, but there are other dimensions to be considered.

After World War II, most economists and business leaders expected that the economy would sink back to depression without massive government intervention of the kind that, during the war years, finally overcame the Great Depression. The New Deal had softened the edges, but not much more. Business understood that social spending could overcome market catastrophes as well as military spending, but social spending has a downside: it has a democratizing and redistributive effect while military spending is a gift to the corporate manager, a steady cushion. And the public is not involved. People care about hospitals and schools, but if you can "scare the hell out of them," as Senator Vandenberg recommended, they will huddle under the umbrella of power and trust their leaders when it comes to jet planes, missiles, tanks, etc. Furthermore, business was well aware that high-tech industry could not survive in a competitive free enterprise economy, and "government must be the savior," as the business press explained.

Such considerations converged on the decision to focus on military rather than social spending. And it should be borne in mind that "military spending" does not mean just military spending. A great deal of it is high-tech R&D. Virtually the entire "new economy" has relied heavily on the military cover to socialize risk and cost and privatize profit, often after many decades: computers and electronics generally, telecommunications and the Internet, satellites, the aeronautical industry (hence tourism, the largest "service industry"), containerization (hence contemporary trade), computer-controlled machine tools, and a great deal more. Alan Greenspan and others like to orate about how all of this is a tribute to the grand entrepreneurial spirit and consumer choice in free markets. That's true of the late marketing stage, but far less so in the more significant R&D stage. Much the same is true in the biology-based sectors of industry, though different pretexts are used. The record goes far back, but these mechanisms to sustain the advanced industrial economy became far more significant after World War II.

In brief, the permanent war economy has an economic as well as a purely military function. And both outcomes -- incomparable military force and an advanced industrial economy -- naturally provide crucial mechanisms for foreign policy planning, much of it geared to ensuring free access to markets and resources for the state-supported corporate sector, constraining rivals, and barring moves towards independent development.

Click here to comment on this article

How They Could Steal the Election This Time

by RONNIE DUGGER
The Nation
From the August 16, 2004 issue

On November 2 millions of Americans will cast their votes for President in computerized voting systems that can be rigged by corporate or local-election insiders. Some 98 million citizens, five out of every six of the roughly 115 million who will go to the polls, will consign their votes into computers that unidentified computer programmers, working in the main for four private corporations and the officials of 10,500 election jurisdictions, could program to invisibly falsify the outcomes.

The result could be the failure of an American presidential election and its collapse into suspicions, accusations and a civic fury that will make Florida 2000 seem like a family spat in the kitchen.

Robert Reich, Bill Clinton's Labor Secretary, has written, "Automated voting machines will be easily rigged, with no paper trails to document abuses."

Senator John Kerry told Florida Democrats last March, "I don't think we ought to have any vote cast in America that cannot be traced and properly recounted."

Pointing out in a recent speech at the NAACP convention that "a million African- Americans were disenfranchised in the last election," Kerry says his campaign is readying 2,000 lawyers to "challenge any place in America where you cannot trace the vote and count the votes"

The potential for fraud and error is daunting. About 61 million of the votes in November, more than half the total, will be counted in the computers of one company, the privately held Election Systems and Software (ES&S) of Omaha, Nebraska. Altogether, nearly 100 million votes will be counted in computers provided and programmed by ES&S and three other private corporations: British- owned Sequoia Voting Systems of Oakland, California, whose touch-screen voting equipment was rejected as insecure against fraud by New York City in the 1990s; the Republican-identified company Diebold Election Systems of McKinney, Texas, whose machines malfunctioned this year in a California election; and Hart InterCivic of Austin, one of whose principal investors is Tom Hicks, who helped make George W. Bush a millionaire.

About a third of the votes, 36 million, will be tabulated completely inside the new paperless, direct-recording-electronic (DRE) voting systems, on which you vote directly on a touch-screen.

Unlike receipted transactions at the neighborhood ATM, however, you get no paper record of your vote.

Since, as a government expert says, "the ballot is embedded in the voting equipment," there is no voter-marked paper ballot to be counted or recounted. Voting on the DRE, you never know, despite what the touch-screen says, whether the computer is counting your vote as you think you are casting it or, either by error or fraud, it is giving it to another candidate. No one can tell what a computer does inside itself by looking at it; an election official "can't watch the bits inside," says Dr. Peter Neumann, the principal scientist at the Computer Science Laboratory of SRI International and a world authority on computer-based risks.

The four major election corporations count votes with voting-system source codes. These are kept strictly secret by contract with the local jurisdictions and states using the machines. That secrecy makes it next to impossible for a candidate to examine the source code used to tabulate his or her own contest. In computer jargon a "trapdoor" is an opening in the code through which the program can be corrupted. David Stutsman, an Indiana lawyer whose suits in the 1980s exposed a trapdoor that was being used by the nation's largest election company at that time, puts it well: "The secrecy of the ballot has been turned into the secrecy of the vote count."

According to Dr. David Dill, professor of computer science at Stanford, all elections conducted on DREs "are open to question." Challenging those who belittle the danger of fraud, Dill says that with trillions of dollars at stake in the battle for control of Congress and the presidency, potential attackers who might seek to fix elections include "hackers, candidates, zealots, foreign governments and criminal organizations," and "local officials can't stop it."

Last fall during a public talk on "The Voting Machine War" for advanced computer-science students at Stanford, Dill asked, "Why am I always being asked to prove these systems aren't secure? The burden of proof ought to be on the vendor. You ask about the hardware. 'Secret.' The software? 'Secret.' What's the cryptography? 'Can't tell you because that'll compromise the secrecy of the machines.'... Federal testing procedures? 'Secret'! Results of the tests? 'Secret'! Basically we are required to have blind faith."

The integrity of the vote-counting inside DREs depends on audit logs and reports they print out, but as Neumann says, these are "not real audit trails" because they are themselves riggable. The DREs randomly store three to seven complete sets of alleged duplicates of each voter's ballot, and sets of these images can be printed out after the election and manually counted. The companies claim that satisfies the requirement in the 2002 Help America Vote Act (HAVA) that "a manual audit capacity" must be available. But as informed computer scientists unanimously agree, if the first set of ballot images is corrupted, they all are. I asked Robert Boram, the chief engineer who invented a DRE sold by the RF Shoup voting-systems company, if he could rig his DRE's three sets of ballot images. "Give me a month," he replied.

The United States therefore faces the likelihood that about three out of ten of the votes in the national election this November will be unverifiable, unauditable and unrecountable. The private election companies and local and state election officials, when required to carry out recounts of elections conducted inside the DREs, will order the computers to spit out second printouts of the vote totals and the computers' wholly electronic, fakable "audit trail." The companies and most of the election officials will then tell the voters that the second printouts are "recounts" that prove the vote- counting was "100 percent accurate," even though a second printout is not a recount.

HAVA was supposed to solve election problems revealed in 2000; instead, it has made the situation worse. Under the act the Election Assistance Commission (EAC), appointed by President Bush, is supposed to set standards for the vote- counting process, but four months before the election the new agency had only seven full-time staff members. On June 17 the EAC sent $861 million to twenty- five states, mainly to buy computerized machines for which no new technical standards have been set. Its just-appointed fifteen-member technical standards committee does not include more than one leading critic of computerized vote- counting.

Rather than completely testing the vote-counting codes, there is some secretive testing of systems by three private companies that are chosen by the pro-voting-business National Association of State Election Directors. Th e companies consult obsolete pro-company and completely voluntary standards promulgated by the Federal Election Commission and get paid by the very companies whose equipment is being tested. The three private companies, speciously called Independent Testing Authorities, together constitute a Potemkin village to falsely assure the states and the voters of the security of the systems. Often their work is misrepresented as "federal testing." The states then test and "certify" the systems, and the local jurisdictions put on dog-and-pony-show "logic and accuracy tests," which are not capable of discovering hidden codes that would change vote totals.

"The system is much more out of control than anyone here may be willing to admit," Dr. Michael Shamos, a computer scientist at Carnegie-Mellon University and for many years an examiner of voting machines for Texas and Pennsylvania, told a House panel on June 24. "There's virtually no control over how software enters a voting machine." Shamos told another House panel on July 20, "There are no adequate standards for voting machines, nor any effective testing protocols."

Hackable computer codes control vote-counting in all three kinds of computerized systems that will be used again in the 2004 elections: the ballotless DREs, on which some 36 million will vote; optical-scan systems that el ectronically tally paper ballots marked by the voters, on which 40 million people will vote; and punch-card ballots, also tabulated by computerized card-readers, which gained notoriety in 2000 and are still used by 22 million voters. (Another 16 million still vote on the old lever machines, about a million on hand-counted paper ballots.)

Florida 2000 was universally misunderstood and mischaracterized in the press as a crisis of hanging chads on the punch-card ballots. The serious issue, then as now, was embodied in the explicit though all but unreported p osition that James Baker, George W. Bush's field commander in Florida, staked out to stop the recounting of votes. The computerized vote-counting systems, Baker declared, are "precision machinery" that both count and recount votes more accurately than people do. Now, with Senator Kerry demanding recountability, an ominously intensifying partisan split has developed in Washington over whether to have a voter-verified paper trail and, when necessary, to conduct recounts with it.

Torment in Washington

Though no broad citizens' movement has formed against computerized vote-counting, a nationwide backlash against unverifiable paperless voting has. The paper ballots used in the op-scan and punch-card systems already provi de a voter-verified paper audit trail (VVPAT). The principal proposed security safeguard for the DRE system was invented, but not patented, ten years ago by computer scientist Rebecca Mercuri, now a research fellow at Harvard. In her solution, after voters record their choices on the touch-screen, they confirm them on a paper ballot that appears under glass and then push a button to cast the vote, causing the machine to deposit the paper ballot in a box that will hold it for recounting if that is ordered. The printer for the paper ballots for each voting machine should cost about $50; the total add-on could be $300-$600. Many jurisdictions also have the alternative of expanding or acquiring the relatively inexpensive optical-scan systems or other systems already in place that create paper trails.

In the US Senate seven Democrats and the one Independent are co-sponsoring a bill by Senators Bob Graham and Hillary Clinton to require paper trails on DREs by November, with a loophole for jurisdictions whose officials deem it to be technologically impossible. Clinton told the press that without a voter-verified paper trail GOP-leaning corporations might program voting machines to help Republicans steal elections [see sidebar, page 16]. In an interview in his hideaway office in the Capitol, Graham told me that he regards his and Clinton's bill as so obviously needed that it's "a no-brainer." The absence of a paper trail on the DREs could endanger "the legitimacy" of November's election, Graham said.

New Jersey Democrat Rush Holt introduced a House bill more than a year ago requiring a paper trail on DREs. It has 149 co-sponsors, including a few prominent Republicans. Holt says, "The verification has to be something t hat the voter herself or himself has to do"; without that, "we will never have a truly secure election." Holt's bill has opened up a partisan divide in the House. The chairman of the committee to which his bill is assigned, Ohio Republican Bob Ney, informed Holt that he is against the bill and would not allow a hearing on it. A few days later Graham and Holt wrote their fellow members of Congress that "without an independent, voter-verifi ed paper trail, we will be able only to guess whether votes are accurately counted." Last month Ney relented and scheduled two hearings. Holt plans to offer his bill as an amendment to the Treasury appropriation after Congress returns from its August recess. Graham is still mulling his strategy.

The principal stated objection to a DRE paper trail comes from some spokespersons for the disabled, who characterize it as a step back from the touch-screen's improved accessibility and privacy. Many election officials, whose work paper ballots make both auditable and much more extensive, object variously that the attachment will add costs, that the printers might fail and that paper ballots can be stolen or counterfeited and sometimes pr oduce somewhat different totals.

Leading citizen organizations have been split. Initially the League of Women Voters, concerned to minimize invalidly cast ballots, opposed the paper trail, but there was a revolt in the chapters and a petition for the paper trail was signed by 800 members. At the league's June convention, after a fight led by Barbara Simons, past president of the Association of Computer Machinery, the league switched sides, endorsing voting systems that a re "recountable." Common Cause, placing the highest value on insuring that every vote is counted and can be recounted if necessary, has been among the leaders of the fight for the paper trail.

Around the States

Not surprisingly, the starkest resistance to the voter-verified paper trail comes from Florida, where more than half the citizens will have to vote on touch-screen systems in November. The President's brother, Governor Jeb Bush, and Jeb's Secretary of State, Glenda Hood, express unqualified confidence in the trustworthiness of the DRE systems and militantly oppose providing a paper-ballot trail for them. Hood has denied that the electronic voting machines can be tampered with in the software, saying: "The touch-screen machines are not computers. You'd have to go machine by machine, all over the state." A spokeswoman for her says flatly that "a manual recount is unnecessary."

This past spring a powerful state senator proposed to make it illegal to recount votes in the DRE systems, but she backed down when called on it by activists. Then Ed Kast, director of Hood's division of elections, who has since resigned, sought to achieve the same purpose by diktat, issuing a formal ruling that, despite the extant state law requiring recounts under certain circumstances, supervisors of elections do not need to recount DRE ballots. The ACLU and other groups have sued to invalidate that ruling; a spokesperson for the state Republican Party excoriates the suit as a left-wingers' "ploy to undermine voters' confidence."

Representative Robert Wexler, a Democrat from the southern tier of the three big counties on the Atlantic, which for election scandals is to Florida what Cook County is to Illinois, sued state and county election officials in state and federal court to require the VVPAT on DREs. He argues that allowing some voters to have manual recounts but not others violates the Supreme Court decision in Bush v. Gore compelling equal treatment of voters (although the majority specified it was only for that election). To date his suits, opposed at every step by the Bush Administration in Tallahassee, have gotten nowhere. If he loses, half the voters in Florida, those voting on DREs, will be denied the manual recounts that the other half can have.

The Bush forces in Florida geared up for another purge of released felons from the voter rolls. Ion Sancho, supervisor of elections for Leon County, admits with shame that the state's felon purge in 2000 resulted in more than 50,000 legal voters being disenfranchised. The state elections division identified 47,000 more suspected felons, a list disproportionately heavy with blacks, and asked that local election supervisors purge them. The Bush people refused to make the list public, but were ordered to do so by a judge. Only then was it discovered that the list excluded felons who are Hispanic. In Florida Hispanics tend to vote Republican. This dandy error was "absolutely unintentional," the Bush people said--while abandoning the then indefensible list. Miami Herald columnist Jim Defede wrote that Hood--an "amazing incompetent or the leader of a frightening conspiracy"--must resign.

"What are we going to do if there's a close race?" Wexler asked in the Orlando Sentinel. "The voting records of these machines will have disappeared in cyberspace." He told me angrily: "Apparently their motives are to suppress the vote in Florida in a number of different ways. They are refusing a paper trail on a computerized voting machine. They are again preparing on the felons--they've got a new and improved process. I don't trust 'em to do the right thing." This summer, Representative Alcee Hastings, whose district includes Fort Lauderdale and West Palm Beach, exclaimed, "Any way we cut it, these people are going to try to steal this election."

The Miami-Dade Reform Coalition asked Jeb Bush to audit the touch-screen machines this summer. Bush's spokesperson rebuffed that as "an accusation du jour." Undeterred, Democratic US Senator Bill Nelson of Florida demanded, "Why not do an audit when so much is at stake?... The national election for President could ride on the results coming out of Florida." Senator Nelson even sent a letter to Attorney General John Ashcroft asking that the federal government audit the machines.

This past spring in California, Diebold systems malfunctioned in two counties, disenfranchising thousands of voters. Secretary of State Kevin Shelley discovered that the voting systems in seventeen counties in the state h ad not been certified, as required by law. After two days of tumultuous hearings in Sacramento, during which high-level election officials called the company's behavior "despicable" and accused its officials of lying, She lley prohibited the use of Diebold's systems in four counties, the first time this has happened in the United States. Shelley, who has said to the Los Angeles Times that he doesn't want to be "the Katherine Harris of the West Coast," also made the certification of voting systems in ten more counties dependent on their adoption of twenty-three security improvements that he specified. One of these requires those counties to let citizens vote on paper if they want to, but Shelley flinched at requiring a DRE paper trail this year. Four counties and advocates of the disabled sued Shelley to block his actions, but a federal judge ruled he had the authority and had used it reasonably.

Two secretaries of state, Republicans Dean Heller in Nevada and Matt Blunt in Missouri, have required that DREs in their states have a voter-verified paper ballot for the November election. Sequoia is producing the Mercuri VVPAT on demand for Nevada, and several small election companies, including Avante and AccuPoll, have built Mercuri attachments, won their certification and are ready to sell them to local jurisdictions now. Among the t hirty-one other states with DRE voting systems in some of their jurisdictions, as of early summer legislatures in five had rejected requiring the paper trail, another nine were considering such a requirement and seventeen had no such proposal before them.

In swing-state Ohio, under procedures approved by Republican Secretary of State Kenneth Blackwell, thirty-one counties decided they would not use paperless DREs in November, and three said they would. Blackwell then ruled that because of unsolved security problems, none of them will. In Maryland, which imposed Diebold DREs statewide in 2002, the Board of Elections ruled that paper ballots cast in the March primary by citizens who did not want to vote on the DREs would not be counted. That's now in the courts. The Campaign for Verifiable Voting presented 13,000 signatures for a paper trail and called for the resignation of the state elections chief, Linda Lamone, who, sitting tight, said, "I think everything is going to be just fine." In Texas, Representative Ciro Rodriguez, chair of the Congressional Hispanic Caucus, was renominated by 150 votes until 419 "found votes" ma de challenger Henry Cuellar the winner. Rodriguez is contesting the outcome, but since the voting in Bexar County (San Antonio) was conducted on DREs, the votes there can't be recounted. "There's no paper trail to verify what was put in," Cuellar said.

A paper trail will not assure that elections won't be stolen in the DREs. "The only thing the VVPAT will do is give us the ability to prove that it happened," says Roxanne Jekot of Cumming, Georgia, a self-taught computer specialist who has become one of the most effective activists against paperless computerized voting. "There is nothing to deter that single outsourced information-technology worker [from manipulating the machine]. Nobody can prove that he did it."

Many states require recounts if an outcome in a computer-counted race is within a margin of less than 1 percent or a half or quarter percent, but that invites crooked programmers, if any such be at work, to jimmy their rigged outcomes to fall outside the recount-triggering spreads.

Furthermore, a paper trail isn't an audit unless the ballots are recounted. Even before the advent of touch-screen systems, obtaining actual recounts of elections was becoming more difficult. Election officials, election companies and state laws have often combined to block recounts or discourage narrowly losing candidates from getting them. Incredibly, in 2002 the legislature in Nebraska, the home state of Election Systems & Software, ou tlawed recounts of the paper ballots in the ES&S optical-scan computerized ballot-counting systems that tally 85 percent or so of the votes in that state. Colorado requires that for elections conducted on DRE machines, re counts must be conducted on the very same machines.

In Alabama two years ago, during a controversy over an election for governor conducted mostly on op-scan machines, Attorney General Bill Pryor, backing up the sheriff in one questioned county, ruled officially that under state law anyone recounting the ballots would be subject to arrest. This year President Bush, circumventing Senate hearings, elevated Pryor to the Eleventh Circuit Court of Appeals in a recess appointment.

'It's Really a Matter of Trust'

Confident, friendly, but officious, Jesse Durazo, the registrar of voters of Santa Clara County in the heart of the Silicon Valley, is typical of hundreds of local election officials who berate "the academics." This past spring, despite dire warnings from Professors Neumann of SRI and Dill of Stanford, Durazo led his county into buying 5,500 of the Sequoia AVC Edge DREs at $3,000 each ($20 million, figuring in everything). The anteroom of his county election headquarters is festooned with cheery signs such as one saying Voting Just Got Easier. He is delighted that DREs will facilitate voting by those who speak a foreign language (including Spanish, Vietna mese and Chinese).

Durazo said that the AVC had first been approved by the federal government (which is not correct) and then certified by the California secretary of state. He said that providing a voter-verified ballot would open the way to "unlimited error," while computer error, in contrast, can be "quantified." As for Trojan horses smuggling in corrupt instructions, he said in a confident tone, "I don't have those fears." Stealing votes in the computers is next to impossible, he insisted, because local ballots are set up at the last minute, there are a large number of races and ballot initiatives in any one election, and the order of the candidates' positions on the ballots is rotated in different precincts.

The three sets of all the votes, kept in the computer, provide the recount, he said. Are those not just copies of each other, automatically made? Durazo exclaimed in high dudgeon: "It's a redundant perfection!... It starts with the premise that the information in the system is correct."

Alfred Gonzales, Durazo's Filipino outreach specialist for voters who speak Tagalog, demonstrated the AVC, a sign on the top of which said Try It Out Today. No More Punchcards! I voted on it and asked Gonzales how I knew for sure that my vote would be counted. "Because it will be registered in the machine, saved in the hard drive, and put on a cartridge," he said. "At the end of the day it will be in the printout of the total." How did he know the machine would do that? "Because it has been federally certified!" he said. "There is fool-proof security." Well, one more thing, I asked. There's no ballot--what if you need a recount? "It's really a matter of trusting the machine," Gonzales said. Patting the AVC gently, he intoned with pride, "It's really a matter of trust."

"These companies are basically saying 'trust us,'" Rebecca Mercuri told the New York Times. "Why should anybody trust them? That's not the way democracy is supposed to work." Douglas Kellner, a leader on the New York City Board of Elections, exclaimed at a meeting of computer specialists in Berkeley this past spring, "I think the word 'trust' ought to be banned from election administration!" Dr. Avi Rubin, computer science professor and t echnical director of the Information Security Institute at Johns Hopkins University, recently testified before the federal Election Assistance Commission, "The vendors, and many election officials, such as those in Maryland and Georgia, continue to insist that the machines are perfectly secure. I cannot fathom the basis for their claims. I do not know of a single computer security expert who would testify that these machines are secure."

Mercuri wrote in her dissertation on vote-counting in 2001 that "security flaws (such as Trojan horse attacks)...are possible in all of the computer-based voting systems" and that providing thorough examinations of source code and other circuits for DREs that vary from municipality to municipality "is a Herculean task--one that is likely not to be affordable, even if it were accomplishable."

Not all the scientists agree. Michael Shamos of Carnegie-Mellon, who once warned that computerized vote-counting is highly vulnerable to fraud, now takes the position that "the issue is not whether voting systems are absolutely secure, but whether they present barriers sufficiently formidable to give us confidence in the integrity of our elections."

Voting Machines Stolen in Georgia

In 2000 five out of six Georgians cast a paper ballot that could be recounted on ES&S systems. In January 2001, in a speech to the Democratic-controlled legislature, Georgia Secretary of State Cathy Cox, a Democrat who is expected to run for governor in 2006, declared that considering all the recent problems down in Florida, Georgia should adopt one "uniform electronic voting system by November 2004." Upon Cox's fervent recommendation of the just-born Diebold Election Systems, in May 2002 Georgia agreed to pay Diebold $54 million for 19,000 DRE voting systems. The counties and cities of Georgia had chosen their own voting machines for the last time, and, less obviously, Georgians had lost their ability to recount their votes in contested elections.

At once Diebold set to manufacturing 282 of its AccuVote TS voting systems a day. Some of the earliest ones arriving in Georgia, sent out for use in the training of election workers, were left in a hotel conference room overnight, stolen and never recovered. Late that June the secret vote-counting codes inside nine to fourteen more of the Diebold machines were stolen. Diebold made an uncounted number of apparently illegal changes in the election-conducting code between June and November. The memory cards on which the votes on each of the computers were recorded on election day all over Georgia had no encryption. According to Rob Behler, who served as Dieb old's production deployment manager in Georgia during the first half of that summer, those cards could be used to change the results manually, precinct by precinct.

Incumbent US Senator Max Cleland and incumbent Governor Roy Barnes, both Democrats, were odds-on favorites to win re-election. A week before the voting an Atlanta Journal-Constitution poll showed Cleland ahead by five points, 49-44, but on election day he lost to his Republican opponent, Saxby Chambliss, by seven points, 53-46, a twelve-point swing. The loss of Governor Barnes to Sonny Perdue was even more remarkable: a one-week switch of fourteen percentage points. These were suspicious anomalies, and subsequently in a Peach State Poll one in eight Georgia voters were "not very confident" or "not at all confident" that the DREs had produced accurate resu lts; another 32 percent were only "somewhat confident."

In his front parlor at home in Georgia, Rob Behler told me that just before or just as he took over the Atlanta warehouse for Diebold, some of the voting machines had been sent out to "do demos," and in one southern county "somebody broke in and stole...[nine or] fourteen of the machines and, I think, one of the servers." He says the vote-counting programs in the stolen computers could have been completely reconstructed by reverse engineering and employed to jimmy the election.

"Quality-checking" the AccuVote machines as they arrived from Diebold at a warehouse in Atlanta, Behler and his crew found problems, he says, with "every single one" of them and about a fifth of them were shoved aside as unusable. When Diebold's programmers wanted "patches," that is, changes, inserted into the voting-system software, Behler says, they sent them to him via the company's open, insecure File Transfer Protocol (FTP) site in cyberspace. On his own unsecured laptop (resting on his desk as he spoke), Behler made twenty-two or twenty-three of the cards that were used to change the programs in the machines.

The night of the November 2002 election, sixty-seven of the memory cards used in Fulton County (Atlanta) disappeared. Running his laptop with a dual battery, Behler says, in six or seven hours he could have changed the totals on those sixty-seven cards. "There's no technical problem. There was absolutely zero protection on the card itself. You throw the card in, you just drill down into its files."

Brit Williams, a computer consultant at Kennesaw State University who runs Georgia's testing of voting systems, confirmed to me that the memory cards were not encrypted and all had the same password (1111), but each one, he contended, was "unique to its machine." He snapped, "We had 22,000 voting stations. How would you like to be in charge of 22,000 passwords?" Williams said the sixty-seven missing memory cards in Atlanta had been left in the machines by forgetful workers and were recovered.

The Georgia election of 2002 illustrates how serious risks of technical malfunctions and malicious tampering can occur without anyone outside the voting business finding out about them. No doubt in part because of the hasty start-up, Diebold's "security," though approved by the independent testing authorities and the state, was in fact farcical. Both of the losing Democrats had backed installation of the DRE systems statewide, so they could hardly call for recounts that their own state party had made literally impossible.

The Kids Prick Open a Scandal

Some kids who are "really interested in computers" were playing around last year, spidering through the links on various websites, when they discovered that Diebold had an unsecured FTP site (the same one Behler had used). One of the boys noted the fact on his website. Some other material on that site--not the stuff about Diebold--attracted a lot of hits, and that automatically led Google, the cyberspace search engine, to position it among the early-listed sites for many searches. One day Bev Harris, a literary publicist in Washington who was doing research for a book on vote-counting in computers, fed Google the right search words and the FTP site itself popped up. Knowing little about computers, she turned to David Allen, who was publishing her book, and he recognized the openly posted source codes and much other data concerning Diebold voting machines.

A small group of activists in Georgia worked with Harris. One of them, Roxanne Jekot, who runs a software consulting firm, analyzed "almost every line" of the Diebold source code and found many ways to change vote totals there and also in the Microsoft operating code. "The software is totally junk," she says. "They sold vaporware." Determined to get peer review of what she was finding, Jekot approached David Dill, the Stanford computer science professor.

"Both Roxanne and Bev were very courageous and determined to lift the veil of secrecy on the code," Dill says. "I think most academics would be much more cautious, especially about publishing the fact that they looked at the code. I certainly was, and I wasn't about to get other people in trouble by asking them to help me. A number of us would be inclined to talk to lawyers before doing anything too bold. So it made a huge difference that Bev posted the code in New Zealand for everyone to download. That reduced but didn't eliminate the legal risks of the Johns Hopkins/Rice University people looking at the code. If Bev and whoever else was involved in rele asing this code had not been so brave, people [with strong professional reputations] might not have been able to speak out so freely."

After some agreements on a division of roles, Avi Rubin of Johns Hopkins and three other scientists produced a devastating twenty-three-page exposure of the Diebold software. That was followed by two more damaging technic al studies in Ohio. Then a "Red Team" exercise to break the Diebold code was staged at RABA Technologies' headquarters in Maryland. Four of the eight computer scientists on the team had worked at the National Security Age ncy, and the team director had been the senior technical director for the NSA. The team concluded, "A voter can be deceived into thinking he is voting for one candidate when, in fact, the software is recording the vote for another candidate." A security vulnerability "allows a remote attacker to get complete control of the machine." And one can "automatically upload malicious software" that will "modify or delete elections." Some kids sni ffing around in cyberspace had led, step by step, to the dawning national realization that computerized vote-counting puts democracy in grave danger.

What You Can Do

Public interest groups are mobilizing to head off another Florida. Petitions calling for a paper trail for DREs have attracted something approaching half a million signatures. Lou Dobbs's quick poll on CNN on "paper receipts of electronic votes" was running 5,735 to 85 for them on July 20. Greg Palast and Martin Luther King III have more than 80,000 signatures on their petition against paperless touch-screens and the purging of voter rolls. Global Exchange, the San Francisco-based organization, is inviting twenty-eight nonpartisan foreign observers to monitor the US election. Eleven members of Congress asked Kofi Annan to send UN monitors. Cindy Cohn of t he Electronic Frontier Foundation is organizing attorneys for litigation against paperless electronic voting.

In mid-June the California secretary of state approved the nation's first set of standards for a verified paper trail for touch-screen machines. A recent "Voting, Vote Capture and Vote Counting" symposium at Harvard's Kennedy School of Government has produced an "Annotated Best Practices," available at www.ljean.com/files/ABPractices.pdf. On June 29 the Leadership Conference on Civil Rights and the Brennan Center for Justice, with the endorsement of Common Cause, the NAACP, People for the American Way and most of the leading scientific critics of paperless touch-screen voting, sent the nation's local election officials a "call for new security measures for electronic voting machines," including local retention of independent security experts; the full report is available at www.civilrights.org/issues/voting/lccr_brennan_report.pdf.

Douglas Kellner, the New York City election expert, believes the best practical remedy for the dangers of computerized vote-counting is voting on optical-scan systems, posting the election results in the precincts and kee ping the ballots with the machines in which they were counted. In all computerized vote-counting situations the precinct results should be publicly distributed and posted in the precincts before they are transmitted to the center for final counting, Kellner says. Once they are sent from the precinct the audit trail is lost.

Citizens can stay current on election developments via several websites: electionline.org, a reliable and up-to-date source; VerifiedVoting.org, Dill's group; notablesoftware.com, Mercuri's site; blackboxvoting.org, Bev Harris's site; countthevote.org, the site of the Georgia group led by Jekot; and these will key into many others. For a steady flow of news stories on this subject (and a few others) from around the country, get on the e-mail list of resist@best.com. Official information concerning each state is available online at each state's website for its secretary of state.

People should go down to their local election departments and ask their supervisor of elections how they are going to know that their votes are counted- -and refuse to take "Trust us," or "Trust the machines," for an answer. They can be poll watchers. Many organizations are fostering poll watching, including People for the American Way's Election Protection 2004 project. Common Cause "has made election monitoring a major project," a spokesperson says. VerifiedVoting.org is concentrating on having people watch election technology, including pre-election testing as well as the procedures on election day. Bev Harris is organizing people to do such work (see her website).

Rebecca Mercuri says that if you believe an election has been corrupted through voting equipment, you should collect affidavits from voters; get the results from every voting machine for all precincts; get the names and titles of everyone involved; inventory the equipment, including the software, and try to have it impounded; demand a recount; and go to the press. Noting that all counties that have rushed to purchase DRE voting systems also have paper-ballot systems in place to handle absentee voters, motor-voters and emergency ballots for when the system breaks down, she suggests mothballing the DREs and using paper ballots. "Counties are saying there's nothing they can do but use the DREs in November, and that is simply untrue," Mercuri declares.

Much of this would be unnecessary if Congress enacted either the Graham-Clinton or the Holt bill, which would empower voters to verify their own votes and create a paper trail.

The computerized voting companies have precipitated a crisis for the integrity of democracy. Three months to go.

Click here to comment on this article

GOP flier: Don't trust Florida voting machines

Republican Gov. Jeb Bush is irked by mailing telling voters to avoid touch-screen technology.

By Brent Kallestad
Associated Press
July 30, 2004

TALLAHASSEE, Fla. -- Republican Gov. Jeb Bush has tried for months to convince Florida voters that touch-screen voting machines are reliable. His own party apparently hasn't gotten the message.

The state GOP paid for a flier critical of the new technology and sent it to some voters in South Florida, where a primary election is scheduled next month.

"The new electronic voting machines do not have a paper ballot to verify your vote in case of a recount," the message states. "Make sure your vote counts. Order your absentee ballot today."

That's what Democrats and a coalition of civil rights groups have been saying in legal challenges, trying to force the state to provide a paper trail in case the touch-screen machines malfunction.

"It is insulting that the leadership's own party would believe that the system is broke," said Sharon Lettman Pacheco, spokeswoman for People for the American Way.

The machines are being used in 15 of the state's largest counties.

The governor, unaware of the mailing beforehand, wasn't happy.

"I think he was disappointed that there would be any message that's out there that criticizes these machines," Bush spokeswoman Jill Bratina said.

President Bush, whose picture was featured on the GOP flier, wasn't happy either. "We did not authorize the use of the president's image," said campaign spokesman Reed Dickens. "It was inappropriate. I speak for the president, and it does not represent the views of the president."

Earlier this week, state election officials reported that a computer crash erased detailed records from Miami-Dade County's first widespread use of the touch-screen machines in the 2002 gubernatorial primaries and other elections.

Florida's voting system has been under scrutiny since 2000, when it took five weeks of legal maneuvering and some recounting before Republican George W. Bush was declared president over Democrat Al Gore.

Click here to comment on this article

Kerry is a mass-murderer. Bush is psycho. What's a voter to do?

by Justin Raimondo
July 30, 2004

The more I think about it, the more I'm convinced that we're reliving the last days of the Roman Empire. Of course, that's not all bad, especially if you like peeled grapes, gladiatorial games, and those cute little tunics on men: but it isn't all fun and games, either, particularly when you get into the political arena, not to mention the foreign policy realm. All those wars drained the Roman treasury, and fatally attracted a horde of barbarians whose ire was ultimately the empire's undoing. The once noble Romans, having succumbed to the lure of bread and circuses, and given up their old republic, were saddled with a long succession of tyrannical and often crazed rulers: the depraved Caligula, the murderous Nero, the out-of-control teenage drag queen Elagalabus. A full accounting of the psychos who donned the Imperial purple would read like a volume by Kraft-Ebbing.

Our own degeneracy nearly matches that of our Roman predecessors, and so I am perfectly willing to believe this report from Capitol Hill Blue:

"President George W. Bush is taking powerful anti-depressant drugs to control his erratic behavior, depression and paranoia ….

"The prescription drugs, administered by Col. Richard J. Tubb, the White House physician, can impair the president's mental faculties and decrease both his physical capabilities and his ability to respond to a crisis, administration aides admit privately.

"'It's a double-edged sword,' says one aide. 'We can't have him flying off the handle at the slightest provocation but we also need a president who is alert mentally.'

"Tubb prescribed the anti-depressants after a clearly-upset Bush stormed off stage on July 8, refusing to answer reporters' questions about his relationship with indicted Enron executive Kenneth J. Lay.

"'Keep those mother*uckers away from me,' he screamed at an aide backstage. 'If you can't, I'll find someone who can.'"

If power tends to not only corrupt, but also drives even the best of us a little nuts, then what must it do to a fifth-rate intelligence like George W. Bush, the Boy Emperor of the West? The presidential depression also comes as no surprise: after all, wouldn't you be a little bit down if you had just committed the worst foreign policy mistake in American history?

Bush paranoid? You betcha. With his aides and advisors feeding him phony "intelligence" – misleading both him and the country into thinking Iraq had WMD and a solid link to 9/11 – and even passing off crude forgeries as "proof" of Iraq's nuclear weapons procurement program, no wonder the president is paranoid.

As for Bush being "erratic," in this context that can only be a good sign. The recent trend of U.S. policy – the "handover," the stand-down in Fallujah, dumping Chalabi – is a negligible but very welcome change, one that augurs well for the hope, proffered by Pat Buchanan, that "we are on the way out" of Iraq. That's always been the neocons' great fear, ever since Bush declared "victory" and announced that combat operations in Iraq had "ended" – and one can't help but wonder, in this context, about the source of these rumors around the president's alleged malaise.

Loyalty has never been the neocons' strong suit, and, in any case, one can easily see them jumping ship mid-campaign, especially if John Kerry manages to sell himself as "a hawk among hawks," as Fred Barnes avers. And he's trying mightily. However, it isn't only Kerry's often expressed hostility directed at the Saudis, and his willingness to appease Ariel Sharon and the Likud party's American supporters, that ought to concern antiwar voters. Kerry's character, as well as his politics and policies, will become an issue in this campaign, especially as embodied in his war record.

To begin with, one has to read this account by Alexander Cockburn and Jeffrey St. Clair of Kerry's Vietnam war exploits, which are being touted so loudly from the proscenium in Boston, in tandem with a perusal of this report from the intrepid Matt Drudge, who cites a new book by one of Kerry's Vietnam era comrades:

"Kerry would revisit ambush locations for reenacting combat scenes where he would portray the hero, catching it all on film. Kerry would take movies of himself walking around in combat gear, sometimes dressed as an infantryman walking resolutely through the terrain. He even filmed mock interviews of himself narrating his exploits. A joke circulated among Swiftees was that Kerry left Vietnam early not because he received three Purple Hearts, but because he had recorded enough film of himself to take home for his planned political campaigns."

The introductory video preceding Kerry's convention speech incorporates some of this footage, but, Drudge reports, some shots of bullets hitting the water are "illustrative," according to the director. But the atrocities committed by Kerry in Vietnam are real enough, as he himself admits here.

Basing much of their case on Kerry's diaries and letters of the time – as cited in Douglas Brinkley's recently published and highly complimentary biography, Tour of Duty: John Kerry and the Vietnam War – Cockburn and St. Clair draw a disturbingly dark portrait of Kerry "the conquering war hero."

Already angling for a political career in college, young Kerry made a speech against the war, denouncing LBJ, and then signed up for the Navy and marched off to fight in a conflict he ostensibly opposed. As Cockburn and St. Clair relate:

"Arriving in Vietnam on November 17, 1968, Kerry chafed at patrols around Cam Ranh bay and pushed successfully for assignment to the forward, killing patrols. He was no Al Gore, peaceably smoking dope and shooting hoops on his Army base in Vietnam and writing home fierce moral critiques of the war. 'I was more opposed to the war than ever,' Kerry told Brinkley in 2003, 'yet more compelled by patriotism to fight it. I guess until you're in it, you still want to try it.'"

Whatever.

From what we know about his activities as a star performer in the naval component of Operation Phoenix, which engaged in wholesale atrocities in Vietnam, it was something other than patriotism that motivated Kerry to cut a murderous swathe through "enemy" villages, mowing down innocents without showing the least sign of remorse, not even years later. As Cockburn and St. Clair relate:

"Day after day, night after night, the Swift boats plied the waters, harassing and often killing villagers, fishermen and farmers. In this program, aimed at intimidating the peasants into submission, Kerry was notoriously zealous. One of his fellow lieutenants, James R. Wasser, described him admiringly in these words: 'Kerry was an extremely aggressive officer and so was I. I liked that he took the fight to the enemy, that he was tough and gutsy – not afraid to spill blood for his country.'

"On December 2, Kerry went on his first patrol up one of the canals. It was near midnight when the crew caught sight of a sampan. Rules of engagement required no challenge, no effort to see who was on board the sampan. Kerry sent up a flare, signal for his crew to start blazing away with the boat's two machineguns and M16 rifles. Kerry described the fishermen 'running away like gazelles.'"

That's not "patriotism": that's bloodlust. And here's something from Kerry's record that seems eerily up-to-date:

"Craving more action, Kerry got himself deployed to An Thoi, at Vietnam's southern tip, one of the centers for the lethal Phoenix sweeps and the location of an infamous interrogation camp which held as many as 30,000 prisoners. Kerry's first mission as part of the Phoenix program was to ferry a Provincial Reconnaissance Unit of South Vietnamese soldiers, which would have been led by either a Green Beret or CIA officer. After off-loading the unit Kerry hid his Swift boat in a mangrove backwater. Two hours later a red flare told them that the PRU wanted an emergency 'extraction.' Kerry's boat picked up the PRU team, plus two prisoners.

"The leader of the PRU team told Kerry that while they were kidnapping the two villagers (one of them a young woman) from their hut, they'd seen four people in a sampan and promptly killed them. The two prisoners were 'body-snatched' as part of a regular schedule of such seizures: the victims would be taken to An Thoi for interrogation and torture. Kerry's term to Brinkley for such outings – and there were many in his brief – is 'accidental atrocities.'"

In light of this, Kerry's promise that he will be a better manager of the Iraq war and prosecute it more efficiently seems rather ominous. As Seymour Hersh reports the existence of a secret network of torture prisons maintained by the Pentagon, and the horrors of Abu Ghraib reverberate throughout the Arab world and whatever is left of the American conscience, the Kerry-ite's claim that he'll be just as "tough" as George W. Bush, if not more so, is all too believable. Which is one reason why neocons of the Andrew Sullivan persuasion have jumped on the Kerry bandwagon.

Bush may be a depressed paranoid, but Kerry is a murderous megalomaniac, as revealed by one particularly horrific incident at An Thoi:

"It's daylight, so the population is not under curfew. Kerry's boat is working its way up a canal, with a Cobra above it. They encounter a sampan with several people in it. The helicopter hovers right above the sampan, then empties its machineguns into it, killing everyone and sinking the sampan. Kerry, in his war diary, doesn't lament the deaths but does deplore the senselessness of the Cobra's crew in using all of its ammunition, since the chopper pilot 'requested permission to leave in order to rearm, an operation that left us uncovered for more than 45 minutes in an area where cover was essential.'"

In another grisly scene you didn't see on that "hail the war hero" video, Kerry and his cohorts use an old man as a human minesweeper, making him walk along a path they believed might be paved with Viet-Cong landmines. The trail was clean, there were no Viet-Cong in sight, but the Nung tribesmen Kerry was ferrying slit the guy's throat anyway, leaving a note on the old man's disemboweled remains. It turns out that a great many of those medals he pretended to cast away as part of his "antiwar" protesting were for incurring relatively superficial wounds and firing on unarmed villagers. Cockburn and St. Clair cite former assistant secretary of defense W. Scott Thompson's recollection of a conversation with the late Admiral Elmo R. Zumwalt, Jr.:

"[T]he fabled and distinguished chief of naval operations, Admiral Elmo Zumwalt, told me – 30 years ago when he was still CNO [chief naval officer in Vietnam] – that during his own command of U.S. naval forces in Vietnam, just prior to his anointment as CNO, young Kerry had created great problems for him and the other top brass, by killing so many non-combatant civilians and going after other non-military targets. 'We had virtually to straitjacket him to keep him under control,' the admiral said. 'Bud Zumwalt got it right when he assessed Kerry as having large ambitions – but promised that his career in Vietnam would haunt him if he were ever on the national stage.'"

I wonder if the "antiwar" fake-leftist cheerleaders for Kerry can guarantee that they'll straightjacket him for the duration, and make sure he doesn't go off on another killing spree. I wouldn't count on it, however.

Indeed, the question of who will be straightjacketing whom is raised upon reading the news that Kerry supporter and Nader-hater Medea Benjamin – who gave a speech to San Francisco leftists, covered in this space, exhorting her comrades to get with the program and start pulling for Kerry – was arrested and dragged off the convention floor by security guards. Her crime: unfolding a pink banner proclaiming "End the Occupation."

Hey, Medea, now will you take off that "Kerry for President" button and toss it in the trashcan where it belongs?

Look, I hate to be so bitter about it, but can anyone really blame me for being a little, uh, cranky. After all, here we are faced with a "choice" of war criminals this November, one whose atrocities are in the past and another whose crimes are more recent. We can vote for a paranoid depressive with a megalomaniacal foreign policy, or for a megalomaniac with a history of violence and unmitigated narcissism.

Scylla – or Charybdis?

Poor Medea – now there's another name with strong mythological overtones! – was sucked under and carried away by the latter, but I hope the rest of her compadres on the antiwar Left don't make the same mistake – or else they will suffer the same fate.

The only way to register an effective protest against the war is by voting for one of several antiwar candidates being run by the "minor" parties: a large third party vote will send a strong message that the voters are increasingly rejecting the bipartisan interventionist "consensus" of perpetual war.

Ralph Nader is by far the most well-known of these, but the Democrats have done such a good job of enforcing the two-party monopoly on ballot status that it looks like he'll only be on the ballot in 15 states at the most. I probably won't be able to vote for him in California, since he needs to collect and turn in at least 250,000 signatures very shortly, which is possible, but not, in my view, very probable. In any case, Nader's foreign policy positions combined with his fame make him the leading antiwar candidate, albeit not the only one.

In any case, no matter which third party candidate the ballot access laws in your particular state allow you to vote for, one can hardly go wrong no matter which one you pull the lever for – with one important exception, which I'll get to shortly.

The Kerry-ite Popular Front is yelping that now is not the time to cast a "protest vote," but they couldn't be more wrong. It is precisely now, when the leading – and, in an important sense, the only – issue is the war, that a protest is most crucial, and there is no better way to do that than at the ballot box this November. An unprecedented vote for third party candidates, whether Nader, Michael Badnarik (the Libertarian candidate), or Michael Petroutka (the Constitution party nominee).

I want to pointedly exclude Cobb, the "Green" Party candidate, who is explicitly committed to Kerry's election, and declared that he wouldn't campaign in "swing states" – meaning any states the Democrats tell him to stay out of. Cobb's candidacy, a Democratic Trojan Horse inside the Green Party, has turned the Greens into an unofficial arm of the DNC. This maneuver resulted in the effective marginalization of the only candidate – Nader – who could have given expression to the view held by the majority in this country – who believe that the Iraq war was and is a mistake.

I note that the voice of the antiwar movement was entirely missing from the Democratic party convention, while the tired old refrain of the neocons, represented by Senator Joseph Lieberman, was given a prominent prime-time spot. The co-chairman of the newly-reconstituted Committee on the Present Danger explicitly endorsed the war, and hailed the legacy of "opposition to isolationism" embodied by FDR and Harry Truman. Every minority group and ethnic sub-group under the sun was honored and recognized in some form or fashion, given a voice and a forum at this convention - all but the peace movement.

"I'm John Kerry - and I'm reporting for duty."

Yes, that's right: in service to the War Party.

Okay, so get ready for the next reenactment of a Soviet party congress, the Republican convention in New York City, at which the same warmongering neocon foreign policy line is going to dominate the proceedings, albeit with a unilateralist flair. We'll see the rest of the Committee on the Present Danger in Manhattan, where they'll be a less visible but no less powerful presence, busily policing the place for any small sign of dissent.

Click here to comment on this article

Bush camp solicits race of Star staffer

By C.J. Karamargin
ARIZONA DAILY STAR

President Bush's re-election campaign insisted on knowing the race of an Arizona Daily Star journalist assigned to photograph Vice President Dick Cheney.

The Star refused to provide the information.

Cheney is scheduled to appear at a rally this afternoon at the Pima County Fairgrounds.

A rally organizer for the Bush-Cheney re-election campaign asked Teri Hayt, the Star's managing editor, to disclose the journalist's race on Friday. After Hayt refused, the organizer called back and said the journalist probably would be allowed to photograph the vice president.

"It was such an outrageous request, I was personally insulted," Hayt said later.

Danny Diaz, a spokesman for the president's re-election campaign, said the information was needed for security purposes.

"All the information requested of staff, volunteers and participants for the event has been done so to ensure the safety of all those involved, including the vice president of the United States," he said.

Diaz repeated that answer when asked if it is the practice of the White House to ask for racial information or if the photographer, Mamta Popat, was singled out because of her name. He referred those questions to the U.S. Secret Service, which did not respond to a call from the Star Friday afternoon.

Hayt declined to speculate on whether Popat was racially profiled, but said she is deeply concerned.

"One has to wonder what they were going to do with that information," Hayt said. "Because she has Indian ancestry, were they going to deny her access? I don't know."

Journalists covering the president or vice president must undergo a background check and are required to provide their name, date of birth and Social Security number. The Star provided that information Thursday for Popat and this reporter.

"That's all anybody has been asked to provide," said Hayt, adding that this is the first time in her 26-year career that a journalist's race was made an issue.

Organizer Christine Walton asked for Popat's race in telephone conversations with two other Star editors before she spoke to Hayt. They also refused to provide the information. Walton told Hayt that Popat's race was necessary to allow the Secret Service to distinguish her from someone else who might have the same name.

"It was a very lame excuse," Hayt said.

Popat, a photographer with six years' experience, was on assignment Friday and unaware of the controversy. But she said she was glad the Star refused. "My race shouldn't have anything to do with my job," she said.

Click here to comment on this article

White House Moves Quickly on 9/11 Recommendations

By DEVLIN BARRETT
Jul 29, 2004, 07:16

The Bush administration is moving quickly to enact some of the changes suggested by the Sept. 11 commission, with presidential approval expected by early next week.

Aides are finishing draft versions of executive orders on intelligence to present to President Bush, who is expected to adopt some or all of them soon, a senior administration official said.

The White House, pressed by victims' families and by Democrat John Kerry, is eager to show it is moving on the politically sensitive issue. A working group created by Bush to study the commission's recommendations met by videoconference twice Wednesday, once with Bush participating. [...]

The Family Steering Committee, activist families who lobbied successfully for an independent commission to investigate the attacks, stepped up pressure on lawmakers to take action on recommendations that need congressional approval. They said they would draw up a watch list of Congress members who oppose legislation to implement Sept. 11 commission recommendations.

"We're going to watch events unfold in Congress, and we want America to watch as well," said Lorie Van Auken, who lost her husband at the World Trade Center. "We need to have a list of the lawmakers. ... We need to follow who's opposing and disagreeing and why."

Talk of keeping public track of congressional opponents comes even before legislation has been offered to implement the recommendations, a sign of how intent some Sept. 11 families are to maintain the momentum of public opinion for quick changes.

"This watchdog list, this report card, it's a shame that it's come to this, but we want to work with everyone to ensure that people aren't just feigning cooperation," said Kristen Breitweiser, one of the most outspoken ad vocates among Sept. 11 families.

Already, pressure from the families has produced results.

When the commission released its 567-page report last week, Congress had planned to be away for all of August. But several committees quickly scheduled a return to Washington to hold hearings on the panel's findings. [...]

Comment: Astonishing. The 9-11 commission whitewashes the entire 9-11 event, makes proposals that will only INCREASE the ability of the real perpetrators to do whatever they want from here on out, and the FAMILIES of the victims want to push it through??!! Now THAT'S some masterly manipulation! Good job, folks!

Click here to comment on this article

Clinton Adviser Berger Cleared of Document Theft

(07/30/04)

President Clinton's national security adviser, Sandy Berger -- who'd been accused of stealing classified material from the National Archives -- has been cleared of all wrongdoing.

The National Archives and the Justice Department have concluded nothing is missing and nothing in the Clinton administration's record was withheld from the 9-11 Commission.

The Wall Street Journal reports archives staff have accounted for all classified documents Berger looked at. [...]

Click here to comment on this article

US economy cools amid shopping slowdown

By Andrew Balls
July 30 2004

US economic growth slowed more sharply than expected in the second quarter owing to the weakest consumer spending growth for three years as high petrol prices ate into household budgets. [...]

Click here to comment on this article

God 'told' mother to kill her daughter

The Daily Telegraph
July 31, 2004

A MOTHER who believed she was freeing her only daughter of evil spirits when she killed her with a single stab wound has been found not guilty of murder by reason of mental illness.

The woman, who cannot be named, heard "messages from God" and was convinced she was helping her 15-year-old daughter become an angel when she took her life at their Penshurst home on August 16, 2003.

The teenager and her mother had arrived in Australia from their former home in St Petersburg, Russia, just six months earlier.

They came to Sydney to be reunited with the girl's father who is from St Petersburg, but a permanent Australian resident.

But in July 2003 the mother became depressed and began to have nightmares that she later described to police as "so horrible that I feel like my heart breaks into pieces in the dream".

In the days before the killing she had a major panic attack, was taken to hospital and prescribed anti-depressants.

The mother, 38, had hallucinations and heard the "voice of God".

She complained to family and friends of an uncontrollable fear that she could not explain.

In a judge-only trial at the NSW Supreme Court yesterday, Justice David Kirby accepted the evidence of four psychiatric experts who agreed the mother was mentally ill at the time of the killing and didn't know she was doing wrong.

Justice Kirby ordered that she be detained for treatment at Bunya Forensic Unit at Cumberland Hospital.

Click here to comment on this article

Violence rattles Pakistan over weekend

www.chinaview.cn 2004-08-01 21:31:22
by Zhang Ning

ISLAMABAD, Aug. 1 (Xinhuanet) -- Pakistan has seen series of bloody violent incidents over the past several days.

On Friday, Finance Minister Shaukat Aziz, the would-be prime minister as well, narrowly escaped from an alleged suicide bombing attack, during which at least nine people including the attacker were killed and scores of others injured.

[...] On Saturday bloody episodes continued on show. In the country'srestive western Balochistan province, tribesmen blocked on high way and railway, protesting for a tribal chief's arrest by the local authorities.

The demonstration turned out to be a wild shoot-out afterwards when enraged protestors opened fire on the security forces, who were trying to "restore the law and order."

Four were killed on the spot, three tribesmen and one security personnel and seven others injured.

[...] The same day, three blasts rocked the coastal town of Gwadar inthe same Balochistan , fortunately causing no casualty or damage, yet recalling memories on a gruesome bomb attack taking place in the town this May, in which three Chinese engineers were killed and 11 others injured.

Sunday in the same province, five soldiers among six people were killed and two others were injured when unidentified motorcyclists opened fire on a civilian vehicle some 300 kms southeast of Quetta, the provincial capital.

No one has claimed responsibility for the incident.

Click here to comment on this article

Chavez to prevent "destabilization" attempt

www.chinaview.cn 2004-08-01 10:25:59

CARACAS, July 31 (Xinhuanet) -- Venezuelan President Hugo Chavez said here Saturday that he will prevent any attempt from the opposition to destabilize the country during the Aug. 15 recall referendum.

Chavez said that the US government has intensified its offensive against Venezuela and the Venezuelan opposition is "pupils" of Washington seeking to produce violence during the referendum.

According to Chavez, intelligence reports show that the opposition is analyzing the possibility of cheating the electronicvoting system during the referendum.

He added that the supposed electronic fraud would be supported by the local telecommunications network CANTV, which will broadcast the data from the voting machines.

Click here to comment on this article

Warsaw remembers its fallen in uprising against Nazis

By Vanessa Gera, Associated Press | August 1, 2004

WARSAW -- Sixty years after Poles rose up against Nazi occupiers, only to lose the battle and see the city largely destroyed, the first museum devoted to the revolt opened yesterday with tearful recollections by a former fighter and tributes from dignitaries, including Pope John Paul II.

About 3,000 veterans attended the ceremony as part of an emotionally charged three-day remembrance of the 63-day uprising, which left an estimated 200,000 fighters and civilians dead and which left most of Warsaw destroyed by the Germans.

"This is about truth and remembrance for all Poles, and to show Europe and the rest of the world our true history and what happened in Warsaw," Prime Minister Marek Belka said before a large crowd in the museum garden.

He stood in front of a granite wall inscribed with the names of thousands of fallen combatants.

Compounding the tragedy, the uprising was written out of official history for 40 years of communist rule, when leaders aimed to suppress the fact that the Red Army watched across the Vistula as SSled troops put down the uprising.

Click here to comment on this article

Woman, 69, shoots near lobster divers

Sunday, August 1, 2004 Posted: 0213 GMT (1013 HKT)

KEY WEST, Florida (AP) -- A woman who was upset about lobster divers in the canal behind her house in the Florida Keys was arrested after allegedly shooting at them with a handgun.

Mary Alice Workman fired a shot near a pontoon boat Thursday as others warned divers participating in the state's annual two-day sport lobster hunt, witnesses told investigators. No one was injured.

In a telephone interview Saturday with The Associated Press, Workman said she fired into the water and could see the bullet's downward path.

"That's my canal, and they have no business in there," Workman said. "They was taking the lobster, and we're not going to have no more lobsters."

Click here to comment on this article

After stones, boy sheds thorns from eyes

World News
Kathmandu, July 31

First, he cried stones. And now an 11-year-old Nepalese boy is said to be weeping thorns.

Mandip Pokarel, who lives in Anandnagar in Janakpur district in the southern Terai plains, caused eyebrows to go up when the local media reported that stones were coming out of his eyes.

More than two dozen chips, the size of a grain of rice, have come out of the miracle boy's eyes, the state-owned Rising Nepal daily said.

And since Friday, the stones have given way to thorns, the daily reported Saturday.

"I feel pain when the thorns start coming out of my eyes," the daily quoted the boy as saying. "After they come out, I feel relieved."

The phenomenon, the daily said, has stymied local eye specialists. The worried parents, unable to find cure from Western medicine, are consulting shamans to cure their son, the daily said.

Click here to comment on this article
---
Remember, we need your help to collect information on what is going on in your part of the world!
We also need help to keep the Signs of the Times online.
---

Check out the Signs of the Times Archives

Send your comments and article suggestions to us

---
Fair Use Policy
Contact Webmaster at signs-of-the-times.org
Cassiopaean materials Copyright ©1994-2014 Arkadiusz Jadczyk and Laura Knight-Jadczyk. All rights reserved. "Cassiopaea, Cassiopaean, Cassiopaeans," is a registered trademark of Arkadiusz Jadczyk and Laura Knight-Jadczyk.
Letters addressed to Cassiopaea, Quantum Future School, Ark or Laura, become the property of Arkadiusz Jadczyk and Laura Knight-Jadczyk
Republication and re-dissemination of our copyrighted material in any manner is expressly prohibited without prior written consent.