---
Printer Friendly Version
New Book!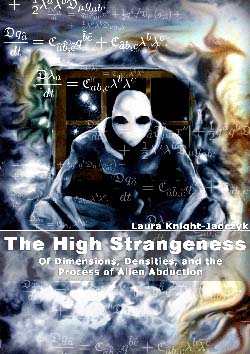 The High Strangeness of Dimensions, Densities and the Process of Alien Abduction
Anyone who wants to understand the hyperdimensional reality which is the "home" of alleged aliens, should pick up Laura Knight-Jadczyk's latest book, The High Strangeness of Dimensions, Densities and the Process of Alien Abduction.
With diligent research and a relentless drive for the facts, Laura strips away the facade of alien abductions masquerading as mind control and mind control masquerading as alien abductions. She then goes on to show how the Evil Elite rulers of the planet have merged, at the highest levels, with the Overlords of the Matrix Control System that underlies the structure of our reality.
Now, after 9-11, the fusion of the two worlds is almost complete. We have little time left, and the Controllers know it, and they have made plans…
Those who prefer the nourishment of truth over the poison of New Age myths, those who want a real peek at what is behind the Stargate Conspiracy, should get this book. Today. Read it - and weep.
Available at the end of August. Pre-order your copy now!
---
Picture of the Day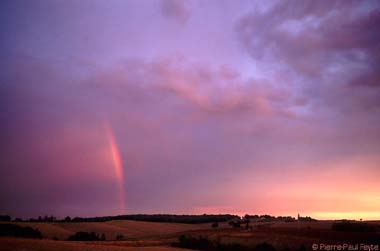 Rainbow - August 2003
©2004 Pierre-Paul Feyte
"Why They Hate US" July 23, 2004
US Congress calls Darfur crisis 'genocide'
Genocide is being committed in Sudan's Darfur region, according to a new US Congress resolution.
Pro-government Arab militias have forced more than one million black Africans from their homes and killed thousands, human rights groups say.
The US is proposing a UN resolution that threatens Sudan with sanctions.
Sudan denies backing the militias, and has warned the US and UK not to get involved in another Iraq-style crisis.
Comment: OK. Let's get this right. If Arabs displace millions and murder thousands in Sudan, it is genocide. When millions of Arabs live under constant attack, in refugee camps, in occupied lands, and thousands are killed, then it is Israel defending itself.... Oh, right. The problem is always the Arabs!
Click here to comment on this article
U.S. policy on Israel key motive for effort
PLOTTER INVOLVED BIN LADEN TO GAIN MORE RESOURCES
By Terry McDermott
LOS ANGELES TIMES
Fri, Jul. 23, 2004
Khalid Shaikh Mohammed, the man who conceived and directed the Sept. 11 terrorist attacks, was motivated by his strong disagreement with American support for Israel, said the final report of the Sept. 11 commission.
Mohammed conceived the initial outline of the attack six years before its execution and brought the plan to al-Qaida leader Osama bin Laden because he thought he did not have the resources to carry it out on his own.
The Sept. 11 report contains the fullest accounting of Mohammed's overarching role from original conception to supervision of details. Bin Laden, too, was fully involved, selecting all or most of the participants, ordering the substance and the location of their training, and contributing to the timing of the attacks and the selection of targets, the report says.
The report makes a strong case that al-Qaida accomplished the attacks without any hint of state sponsorship. The report also appears to lay to rest the notion, long alluded to by administration officials including Vice President Dick Cheney, that hijacker Mohamed Atta traveled to the Czech Republic to meet an Iraqi intelligence operative in the spring of 2001.
In addition to repeating evidence that Atta was in the United States at the time, the report revealed that the Iraqi agent was not in Prague either when the meeting was alleged to have occurred.
Much of the report's detail comes from interrogations of al-Qaida operatives in U.S. custody, including Mohammed and Ramzi Binalshibh. Some of that information is contradictory; much of it is difficult to corroborate.
One CIA analysis cited in the report, for example, is titled "Khalid Shaykh Muhammed's Threat Reporting -- Precious Truths, Surrounded by a Bodyguard of Lies."
Comment: Truth surrounded by lies - boy, is that all too familiar... As for the contradictory information extracting from Mohammed and Binalshibh, the problem might be the fact that prisoners being tortured will generally tell their captors anything just to make the torture end. It is appalling that we have seen America deteriorate from justifying wars based on bad or nonexistent intelligence to relying on the confessions which have been tortured out of "terrorists".
Click here to comment on this article
Israeli reports find more settler outposts
By Laila El-Haddad in Gaza
Friday 23 July 2004, 14:50 Makka Time, 11:50 GMT
Jewish settlers have been erecting tens of illegal outposts throughout the West Bank during the past six months, with the Sharon government turning a blind eye, an Israeli government report has found.
According to the report, which was issued by the Israeli Civil Administration's department for monitoring infrastructure, 70 caravans out of a total of 220 that were approved for transfer to West Bank settlements were relocated to illegal outposts instead.
Critics say the report essentially means that Sharon's government is tacitly cooperating with the settlers to expand illegal settlement outposts.

The report comes despite Israeli promises throughout the past year to dismantle several illegal settlement outposts. The peace roadmap requires that Israel dismantle all outposts set up after March 2001, when Ariel Sharon was elected into office.
Earlier this month Israeli Foreign Minister Silvan Shalom reaffirmed his government's commitment to remove the 23 outposts they say were erected after this date in a meeting with US Secretary of State Colin Powell.
But according to a statement issued on Thursday by the Israeli group Peace Now, its Settlement Watch Team has found that 51 illegal settlement outposts, not 23, have been established since March 2001, with a further 45 having been established before that date.
The group has backed up its findings with detailed aerial photographs and ground surveys posted on its website.
The Settlement Watch team has also discovered that construction on a large road attempting to connect a series of settlement blocs in the West Bank, has continued after being halted for a few months.
The road would create a continuity of settlements ranging from the Itamar settlement blocs to those in the Jordan Valley and the North West areas of the West Bank.
Comment: More proof that Sharon and his cronies have no intent whatsoever for peace. They want it all for themselves. While signing this or that piece of paper saying that they will honour their international commitments, they turn around and do exactly the opposite, knowing that they are backed by the US and that no negative consequences will be the result of their lies. Psychopathic behaviour.
Click here to comment on this article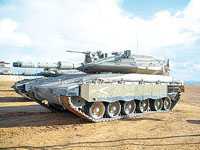 First tour of duty for Merkava IV tank
Jul. 21, 2004
The Merkava IV tank was deployed in operational duty for the first time Wednesday, rolling out with the Menashe Brigade near Jenin.
The deployment came a year after the first soldiers of the Merkava IV battalion were drafted and exactly according to schedule, a senior armored officer said.
Lt.-Col. Amit Tefler, the G3 (operations officer) of the Armored Corps, said the deployment was a significant "milestone" for the 65-ton, Israeli-built tank.
"Today was D-Day for us. We can now say that the fighters and the tanks are officially and operationally ready to enter action," Tefler told The Jerusalem Post. "We're sure they are going to perform most professionally."
Unlike previous tanks whose crews were drawn from other models, the soldiers operating the Merkava IV have been exclusively with this tank from the day they put on their uniforms.
"This method lets them learn the tank inside out and utilize all of its assets to the maximum," Tefler said.
The deployment near Jenin after their training near Nebi Musa was done without fanfare. Neither senior brass nor interested military attaches were on hand.
"There are a lot of expectations from the Merkava IV battalion. All of the IDF leadership is watching them, all of Israel really. This is a national project," he said.
"It was too early to say what its impact is on the conflict [with the Palestinians]. We know its capabilities only theoretically and it needs to be tested," Tefler said.
Comment: Nice tank eh? Ever wonder what the hell a tank like this is doing running all over the Gaza strip? Perhaps a few important points about the Gaza strip would be useful.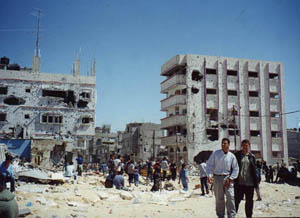 Israeli tanks are very effective in Gaza
It is a piece of land approximately 40 kilometers long by 9 kilometers wide. Crammed into this tiny strip of mostly desert that is soon to be bordered to the south by an 80 feet deep trench if Sharon has his way, there are almost 1,300,000 Palestinian Arabs living in extreme poverty and hardship.
Without doubt there are Palestinian militants, desperately trying to remove the Israeli occupying forces that regularly kill innocent Palestinians and destroy their homes and thereby ease their suffering, but they have no tanks, no helicopters, no missiles, not even armored cars. Mainly, they have guns, and sometimes they are able to cobble together ineffective, hit or miss home-made "rockets".
The idea then that Israel, with all of its modern weaponry, is fighting a "war" with these unfortunate people would be comical if the reality were not so brutal. As the IDF Lt Col says above, far from fighting a just war with Palestinian "terrorists", Israel is using innocent Palestinian men, women and children as "test" subjects and target practice for their newly built toys of destruction, many of which are "gifted" to the Israeli people by the US government on behalf of the people of America.
To say that that there are "human rights abuses being carried out in Palestine by the IDF" is akin to saying that "Hitler was a little overzealous in his treatment of minorities" in Nazi Germany. It is to the eternal shame of the international community that the genocide against the Palestinian people is, on a daily basis, ignored, condoned or supported by western governments and their media whores.
Click here to comment on this article
Flashback: 25 Homes Demolished in Rafah: 350 Palestinians Homeless
Last night, Israeli occupying forces (IOF) demolished 25 houses in Rafah refugee camp, leaving more than 350 homeless and injuring two Palestinians.
According to PCHR's preliminary investigations, at approximately23 : 00on Saturday, 29 May2004 , IOF heavy military vehicles, reinforced by helicopters, moved approximately 300 meters into Block J in Rafah refugee camp, adjacent to the Egyptian border. Under cover of intense shelling, IOF began to demolish a number of Palestinian houses, without allowing residents to retrieve their possessions. By05 : 00on Sunday, 30 May2004 , Israeli troops had demolished 23 houses completely and 2others partially. As a result, 352 people ( 60families) have been rendered homeless. During the IOF action, a60 -year-old woman and a doctor were injured. The doctor was injured when he tried to offer medical help to residents in the area.
Click here to comment on this article
Flashback: Israeli Occupying Forces Continue to Expand Operations in Rafah: 39 Palestinians Killed in Four Days
For the fourth consecutive day, Israeli occupying forces (IOF) have expanded their military offensive in Rafah town and refugee camp in the southern Gaza Strip. Overnight, IOF entered As-Salam and Brazil areas near the border with Egypt. At time of press, eight Palestinians, including a child, have been killed so far today. This brings the number of people killed in Rafah since Monday 17 May 2004 to39 .
Click here to comment on this article
EU vows Middle East role as Israel fumes
Friday 23 July 2004, 17:42 Makka Time, 14:42 GMT
The European Union's top diplomat has insisted that the EU will play a role in ending the Middle East conflict "like it or not" despite Israel's anger for the bloc's backing of a UN resolution against its barrier cutting off parts of the occupied West Bank.
The pledge by EU foreign policy chief Javier Solana followed talks on Thursday in which Israeli Prime Minister Ariel Sharon warned him there would be little chance of EU involvement in ending the conflict without a drastic change in the European position.

Rocky ties between Israel and the EU have hit a new low after the 25-nation bloc voted for a Palestinian-sponsored General Assembly resolution demanding Israel heed a World Court ruling calling on it to tear down the barrier.
Solana said the EU supported Israel's right to defend itself but opposed the barrier because it cuts into occupied territory.
Click here to comment on this article
France "shocked and offended" by Sharon's attack: defence minister
TALLINN, July 23 (AFP) - Defence Minister Michele Alliot-Marie said Friday that France was "shocked and offended" by accusations of anti-Semitism against it from Israeli Prime Minister Ariel Sharon.
"We have been very surprised and shocked by the Israeli Prime Minister's declarations which seemed to us unjustified, excessive and out of place," she told a news conference as she wound up a visit to the Baltic states in Tallinn.
Relations between France and Israel have plummeted in recent days after Sharon called on all French Jews to leave the country immediately to escape "wild" anti-Semitism.
Alliot-Marie said France did more than any country to combat anti-Semitism, and described Sharon's attack as "totally abnormal."
Click here to comment on this article
Car bomb strikes U.S. military convoy in Afghanistan
Last Updated Fri, 23 Jul 2004 06:05:36 EDT
KANDAHAR, AFGHANISTAN - Between one and four American soldiers were seriously injured Friday when a powerful car bomb exploded as their military convoy travelled through Kandahar.
Click here to comment on this article
"Why They Hate US" July 23, 2004, Part 2
Friday 23 July 2004, 15:20 Makka Time, 12:20 GMT
US occupation forces have carried out bombings in the town of Falluja, which hospital sources say has injured five including children.
[...] A hospital in Falluja said it received five injured, including three children, after the bombing.
US military officials said the attack was part of its attempt to strike at suspected hideouts of alleged al-Qaida operative Abu Musab al-Zarqawi.
[...] But residents in Falluja, exhausted from the US bombing campaign, gave a different version of the events.
Dr Kamal al-Ani, a doctor at the local hospital, said a US warplane fired a missile that landed in the garden of a house in the Jubail neighbourhood, in southern Falluja. Associated Press Television News footage showed a massive crater beside the house.
"We were sleeping in the morning when a US missile hit our house," Saddam Jassim, the home's owner, said as he and his brother cleared debris.
"We have nothing to do with the resistance or al-Zarqawi. These are pretexts used by the US military to terrorise the people in Falluja because US soldiers are unable to face the insurgents," he said.
Click here to comment on this article
Army Reports New Allegations of Abuse
By MATT KELLEY, Associated Press Writer
Fri Jul 23, 9:03 AM ET
WASHINGTON - The images were vivid: A U.S. Army sergeant who told his troops to "rough up" two prisoners; a platoon that agreed to make prisoners jump off a bridge into the Tigris River; an interrogator who hit a prisoner in the head. Those were among the new details of abuses by U.S. troops in Iraq and Afghanistan reported by the Army Inspector General's office.
The review found 94 cases of confirmed or alleged abuses and 39 deaths, 20 of which were ruled homicides or remain under investigation.
Still, Army Inspector General Lt. Gen. Paul Mikolashek concluded in Thursday's report that the abuses were the work of rule-breaking soldiers and a few officers and not the fault of Army rules or training. [...]
Click here to comment on this article
Poll: Americans Against Using Torture
AP
July 23, 2004

WASHINGTON - Two-thirds of Americans believe the United States should never use physical torture of people it detains, according to a poll on attitudes about prisoner abuse.
A majority, 55 percent, said this country should never use mental torture — such as making someone think that they or their family will be killed, according to the poll by the Program on International Policy Attitudes at the University of Maryland.
Four of five supported the rights of someone detained to have a hearing where they can answer the charges against them. About that many said detainees should have the right to contact a family member and nine in 10 said the Red Cross should be able to visit people in detention to make sure they are treated properly, according to the poll conducted by Knowledge Networks.
Six in 10 said that people captured who are not conventional soldiers should still be accorded the rights provided by treaties. Such treaties spell out the rights of prisoners of war.
Two-thirds believe the United States president should not have the right to override constitutional requirements that all people in detention should be given a hearing.
Three-fourths agreed with the statement that the United States is a moral leader in the world and should not set a bad example by torturing or degrading people in detention.
An overwhelming majority opposed the use of dogs to intimidate prisoners, making prisoners stay naked, holding prisoners heads under water for extended periods of time and sexually humiliating prisoners.
The poll of 892 adults was taken July 9-15 and has a margin of sampling error of plus or minus 3 percentage points.
Comment: Doesn't the fact that this poll was conducted in the first place pretty much indicate that the US is nowhere even close to being a moral leader in the world??
Click here to comment on this article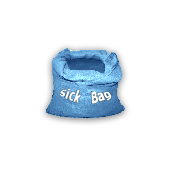 Bush agrees with key findings of September 11 report
July 23, 2004
WASHINGTON (AFP) - US President George W. Bush welcomed the results of a national commission probing the September 11 attacks that found "failures of imagination, policy, capabilities and management," and recommended a sweeping overhaul of intelligence services.
"I agree with their conclusion that the terrorists were able to exploit deep institutional failings in our nation's defenses that developed over more than a decade," Bush said late Thursday after the 10-member bipartisan commission released a 567-page report on its two-year investigation.
Bush, who hopes to win a second term in the November 2 elections, vowed to "give serious consideration to every idea because we share a common goal: To do everything in our power to prepare for and to stop any terrorist attack."
However, he stopped well short of embracing the panel's push for creating a new Cabinet-level "czar" to oversee US intelligence, a move some of his senior aides have publicly dismissed in recent days.
Bush specifically agreed on the need to improve coordination among US intelligence agencies, and for a renewed focus on human sources of information as the United States wages a global war on terrorism.
"We know the best way to figure out what the enemy is thinking is to get to know the enemy firsthand," he said. [...]
Comment: Apparently, Bush's idea of getting to know his enemies firsthand is to blow them up, shoot them to pieces, poison them with DU, torture them, rape them, and otherwise make their lives a living hell. Now, what makes anyone think that he won't do the same to US citizens who disagree with him?
Click here to comment on this article
9/11 Report Builds Case for Expanding the War
By GARY LEUPP
July 23, 2004
One day the headlined fact of significance was that the 9-11 Commission found no Iraq/al-Qaeda link. This was a blow to the Bush administration, especially its neoconservative contingent, which must realize that it has diminishing credibility, even as it struggles to stay in power and doggedly implement its Southwest Asia regime change agenda. The next day the headlined fact was that the same commission found that eight of the 9-11 hijackers had passed between Afghanistan and Iran between October 2000 and February 2001, with Iranian border guards' knowledge, and official orders to those guards not to stamp their passports. In other words, the report says: there's been no al-Qaeda link to Iraq (now occupied by U.S. troops), but there has been one to Iran (not occupied by U.S. troops).
Commission Chairman Thomas H. Kean has said specifically that this passage of Saudis through Iran raises the possibility that Iran and al-Qaeda had an operating relationship, There must be a lot of folks thinking (as some very much want them to think); "The CIA screwed up on the intelligence, so we didn't attack the right country. Turns out Iran's a much more serious enemy."
The CIA, which understands how facts can be used and abused, immediately emphasized that there's no evidence for any operational link between Teheran and the 9-11 attacks. (The CIA has itself, by the way, been abused by the Commission's report that faults it--- for "intelligence failures," rather than the Office of Special Plans---for collecting and disseminating pro-war disinformation.) Iranian officials predictably again denied any Iran/al-Qaeda connections, emphasized the difficulty of policing such a long border, and expressed willingness to improve relations with the U.S. The Iraqi "ambassador" to Washington (interestingly, an American citizen) told the press that Iran has actually cooperated with the present "handover" government, and has detained Afghan fighters, some of whom might have been headed to Iraq. (The new "government" of Iyad Allawi is probably not inclined to contribute to the Iran vilification campaign; Allawi is widely known as a long-term CIA operative, but he may have reasons to oppose U.S. plans for neighboring Shiite Iran.)
But this fact about these eight men, three or four years ago crossing the Afghan-Iranian border, is a potentially powerful piece of information, the sort that the neocons can be expected to maximally exploit. Regime change in Iran is, after all, a major neocon objective (although not official U.S. policy). A government official told Jenifer Johnston of the Sunday Herald that "there will be much more intervention in the internal affairs of Iran" in a second term. The neocons know that if Bush is reelected, they may be able to carry out their plans
This new, manipulable fact about border crossing is a fine addition to the anti-Iran dossier they are building. Here we supposedly find Iranian officialdom interacting in some way with the lives of some al-Qaeda terrorists, at least on the Afghan border. (The question of borders generally, and responsibility for their policing, has been an issue from the outset of the occupation of Iraq. Given the length and porousness of the borders---with Saudi Arabia, Jordan, Syria, Iran, Kuwait---and the inevitability of opposition to U.S. occupation throughout the region, we can expect to hear more charges that unfriendly governments are abetting "terrorist" crossings into Iraq, as moves against those governments are prepared.) One can build on this factoid, to construct a shocking narrative in which named Iranian mullahs have foreknowledge of, and input into, 9-11. Skillfully handled, such a tale might generate sufficient public support for whatever you plan to do in Iran (and if in the future, it comes out that U.S. action rested on lies…well, the deed will be done and the liars unlikely to face trial). Anyway, this announcement of Iran travel by so many 9-11 hijackers is a gain for the neocons, coming just as their prior case for an Iraq attack collapses completely.
The U.S.-Planned "Popular Uprising"
It seems there are plans for a repeat of 1953, when the CIA in one of its boasted success stories removed Mossadegh and returned the shah to the Peacock Throne. There will not be an invasion, but what some have called a "popular uprising." A popular uprising in Iran, planned in Washington, would seem an oxymoron. But perhaps we can view the uprising as a movie scenario, authored by some fine neocon mind.
In it, the youth in a very youthful country (who lack any connection to the era of the brutal shah, which concluded in January 1978-9 with the most genuinely popular revolution ever experienced by a Muslim nation), people dissatisfied with the existing order, rise up and topple the mullahs. These are youth who, in what State Department officials have actually conceded is a form of "democracy," are dissatisfied with the complex legislative process that gives Muslim clerics too much influence over their lives.
They are influenced by American popular culture, know a lot about America from relatives who have lived here, and some are willing to work with Americans to make the "popular uprising" possible. Their environment is oppressive enough to make them demand change, while just free enough to allow for discussion and organization, and for networking with exiles (such as the former shah's son). A series of actions of the above-mentioned exponents of "intervention in the internal affairs of Iran," conducted in tandem with these dissidents (and perhaps others) brings down the existing regime, through a well-planned uprising, replacing the regime with one that is pro-U.S., democratic, and pro-globalization. It agrees to host U.S. military bases, abjure any aspirations for nuclear weapons (such as those possessed by nearby states), reform its Islam, recognize Israel and contribute to a comprehensive solution of the "Middle East problem." That's the scenario.
Some are convinced there will be no attack on Iran, arguing that the Bush administration is overstretched and embarrassed in Iraq. But the above-mentioned "intervention in Iran's internal affairs" (subversion, in other words) is presumably quietly underway, as we speak. Further action must be accompanied by anti-Iran propaganda credible to the American public. The announcement of putative Iran/al-Qaeda links comes as the U.S. government insists Iran is trying to produce nuclear weapons, violating treaties to which it is signatory. The U.S. argues that Iran has no need to even generate electricity through nuclear power, and that the whole program is military in character. (In fact the nuclear program goes back to the 1950s, and in the 1970s the U.S., Germany and France all signed contracts to construct nuclear reactors in the shah's Iran. Meanwhile Iran discussed with Israel the purchase of Jericho missiles capable of carrying nuclear warheads.
The mullocracy that came to power with Khomeini opposed nuclear power in general, but from the early 1990s Iran negotiated with post-Cold War Russia to complete the Bushehr reactor. Putin insists Russia will go ahead with a perfectly legitimate deal. If that happens, the plant could be completed next year or at least by 2007.) The U.S. points to the fact that IAEA investigators detected traces of enriched uranium on gas centrifuges at the Nantanz facility. Iran denies that it has enriched uranium.
Israel, the Nukes and Bush
Jane's Intelligence Digest suggests that Israel is mulling over a preemptive attack on Iranian nuclear facilities, à la Osiraq, 1981.
This has been under discussion for some time. (Israel of course has its own nuclear weapons, but views the acquisition of nukes by Iran or any of the Arab nations as an intolerable existential threat.) One imagines that some in the planning process are thinking about the relationship between this attack and the planned popular uprising. Meanwhile there is a move underway in Congress to produce legislation backing "regime change" in Iran. As with Iraq, there are multiple reasons. Iran has been accused of harboring al-Qaeda members, although Teheran says, plausibly enough, that it detains any found. Iran has been accused of complicity in the May 12, 2003 suicide attacks in Riyadh. Iran aids Hizbollah, the Shiite Lebanese militia, and various Palestinian groups. The same formula that worked in the case with Iraq (weapons of mass destruction threat; al-Qaeda connections; support for some sort of terrorism) is being applied here, while 160,000 troops battle "insurgents" across Iran's long borders with Afghanistan and Iraq. In this situation, the remarks of the Commander-in-Chief, President Bush, are of great interest, expressing succinctly the dialectic of disinformation.
"Acting Director McLaughlin said there was no direct connection between Iran and the attacks of September the 11th," said Bush. (The president is willing to believe the temporary CIA chief's view, for the time being, lest he be seen as chomping at the bit to regime-change Iran.) He immediately added, however, "We will continue to look and see if the Iranians were involved… As to direct connections with Sept. 11, we're digging into the facts to determine if there was one." Do not these "ifs" sound in fact like future news? Do you not suppose that the appointed long-term CIA director will, in the interview process, be asked, "What do you think about the al-Qaeda links to Iran?" There are, I'll bet you, people working around the clock, imaginatively, to find Iranian (and Syrian) involvement in 9-11. White House Press Secretary Scott McClellan has already stated, when asked about Iranian connections to the 9-11 hijackers, "Apparently it's something that's evolved over time." No "if" here, but the imputation of a definite and evolving relationship between al-Qaeda and Iran. Meanwhile despite assertions to the contrary by members of his own administration, Bush labels Iran "a totalitarian society... I have long expressed my concern about."
The world-changing plan of the concerned neocons (which, one must stress, might well be adopted in its essentials by a Kerry administration) targets less the original foe, al-Qaeda, than a list of diversely uncooperative governments and peoples from the Mediterranean to Central Asia. But to proceed down their road they must use 9-11, manipulating the emotions of the masses as they approach each new task, and link each new task to that special day in autumn a few years back that means everything's different now, and from now on, new rules apply. If the Iran/al-Qaeda/9-11 link gets further hyped in weeks to come (as Syria gets further linked to various "forces of evil") we will know that the neocons, however beleaguered, are still driving policy. [...]
Comment: Same song, different verse... and now, Bush is off the hook for 9/11 and anything to do with the invasion and occupation of Iraq.
Click here to comment on this article
There is evidence of foreign intelligence backing for the 9/11 hijackers. Why is the US government so keen to cover it up?
Michael Meacher
Thursday July 22, 2004
The Guardian
Omar Sheikh, a British-born Islamist militant, is waiting to be hanged in Pakistan for a murder he almost certainly didn't commit - of the Wall Street Journal reporter Daniel Pearl in 2002. Both the US government and Pearl's wife have since acknowledged that Sheikh was not responsible. Yet the Pakistani government is refusing to try other suspects newly implicated in Pearl's kidnap and murder for fear the evidence they produce in court might acquit Sheikh and reveal too much.
Significantly, Sheikh is also the man who, on the instructions of General Mahmoud Ahmed, the then head of Pakistan's Inter-Services Intelligence (ISI), wired $100,000 before the 9/11 attacks to Mohammed Atta, the lead hijacker. It is extraordinary that neither Ahmed nor Sheikh have been charged and brought to trial on this count. Why not?
Ahmed, the paymaster for the hijackers, was actually in Washington on 9/11, and had a series of pre-9/11 top-level meetings in the White House, the Pentagon, the national security council, and with George Tenet, then head of the CIA, and Marc Grossman, the under-secretary of state for political affairs. When Ahmed was exposed by the Wall Street Journal as having sent the money to the hijackers, he was forced to "retire" by President Pervez Musharraf. Why hasn't the US demanded that he be questioned and tried in court?
Another person who must know a great deal about what led up to 9/11 is Khalid Sheikh Mohammed, allegedly arrested in Rawalpindi on March 1 2003. A joint Senate-House intelligence select committee inquiry in July 2003 stated: "KSM appears to be one of Bin Laden's most trusted lieutenants and was active in recruiting people to travel outside Afghanistan, including to the US, on behalf of Bin Laden." According to the report, the clear implication was that they would be engaged in planning terrorist-related activities.
The report was sent from the CIA to the FBI, but neither agency apparently recognised the significance of a Bin Laden lieutenant sending terrorists to the US and asking them to establish contacts with colleagues already there. Yet the New York Times has since noted that "American officials said that KSM, once al-Qaida's top operational commander, personally executed Daniel Pearl ... but he was unlikely to be accused of the crime in an American criminal court because of the risk of divulging classified information". Indeed, he may never be brought to trial.
A fourth witness is Sibel Edmonds. She is a 33-year-old Turkish-American former FBI translator of intelligence, fluent in Farsi, the language spoken mainly in Iran and Afghanistan, who had top-secret security clearance. She tried to blow the whistle on the cover-up of intelligence that names some of the culprits who orchestrated the 9/11 attacks, but is now under two gagging orders that forbid her from testifying in court or mentioning the names of the people or the countries involved. She has been quoted as saying: "My translations of the 9/11 intercepts included [terrorist] money laundering, detailed and date-specific information ... if they were to do real investigations, we would see several significant high-level criminal prosecutions in this country [the US] ... and believe me, they will do everything to cover this up".
Furthermore, the trial in the US of Zacharias Moussaoui (allegedly the 20th hijacker) is in danger of collapse apparently because of "the CIA's reluctance to allow key lieutenants of Osama bin Laden to testify at the trial". Two of the alleged conspirators have already been set free in Germany for the same reason.
The FBI, illegally, continues to refuse the release of their agent Robert Wright's 500-page manuscript "Fatal Betrayals of the Intelligence Mission", and has even refused to turn the manuscript over to Senator Shelby, vice-chairman of the joint intelligence committee charged with investigating America's 9/11 intelligence failures. And the US government still refuses to declassify 28 secret pages of a recent report on 9/11.
It has been rumoured that Pearl was especially interested in any role played by the US in training or backing the ISI. Daniel Ellsberg, the former US defence department whistleblower who has accompanied Edmonds in court, has stated: "It seems to me quite plausible that Pakistan was quite involved in this ... To say Pakistan is, to me, to say CIA because ... it's hard to say that the ISI knew something that the CIA had no knowledge of." Ahmed's close relations with the CIA would seem to confirm this. For years the CIA used the ISI as a conduit to pump billions of dollars into militant Islamist groups in Afghanistan, both before and after the Soviet invasion of 1979.
With CIA backing, the ISI has developed, since the early 1980s, into a parallel structure, a state within a state, with staff and informers estimated by some at 150,000. It wields enormous power over all aspects of government. The case of Ahmed confirms that parts of the ISI directly supported and financed al-Qaida, and it has long been established that the ISI has acted as go-between in intelligence operations on behalf of the CIA.
Senator Bob Graham, chairman of the Senate select committee on intelligence, has said: "I think there is very compelling evidence that at least some of the terrorists were assisted, not just in financing ... by a sovereign foreign government." In that context, Horst Ehmke, former coordinator of the West German secret services, observed: "Terrorists could not have carried out such an operation with four hijacked planes without the support of a secret service."
That might give meaning to the reaction on 9/11 of Richard Clarke, the White House counter-terrorism chief, when he saw the passenger lists later on the day itself: "I was stunned ... that there were al-Qaida operatives on board using names that the FBI knew were al-Qaida." It was just that, as Dale Watson, head of counter-terrorism at the FBI told him, the "CIA forgot to tell us about them".
· Michael Meacher is Labour MP for Oldham West and Royton. He was environment minister 1997-2003
Comment: All of the above suggests clearly that there if there as not US government fore-knowledge of the 9/11 attacks, there was at least US government involvement in the bogus "terrorist" threat. Either way, we are all being conned into accepting a world picture that reflects objective reality only insomuch as the government itself can manufacture it by creating facts on the ground - something which they appear to be determined to do.
See our article on the Pakistan connection to 9/11 for more.
Click here to comment on this article
Strike before Iran's nukes get hot
New York Daily News
July 23, 2004
Did we invade the wrong country? One of the lessons now being drawn from the 9/11 report is that Iran was the real threat. The Iraq War critics have a new line of attack: We should have done Iran instead.
Well, of course Iran is a threat. But how exactly would the critics have "done" Iran? Iran is a serious country with a serious army. Can you imagine the Iraq War critics actually supporting war with Iran?
Comment: There obviously weren't enough critics to prevent the invasion of Iraq by the US. If the administration decides to invade Iran, the people and their representatives will either get in line and support the new war, or another "terrorist" attack will convince them to change their minds.
If not war, what then? The Bush administration, having decided that invading one axis-of-evil country was about as much as the country can bear, has gone multilateral on Iran. Washington delegated the issue to a committee of three - the foreign ministers of Britain, France and Germany - that has been meeting with the Iranians to get them to shut down their nuclear program.
The result? They have been led by the nose. Time is of the essence, and the runaround that the Tehran Three have gotten from the mullahs has meant that we have lost at least nine months in doing anything to stop the Iranian nuclear program.
Comment: Here we go again... "Let's not let Old Europe stand in our way! The US is the supreme military authority in the world, and by God we'll kill them A-rabs good!" This "Old Europe" stuff was horse hockey before Invasion Iraq, and it is horse hockey now. The simple truth seems to be that the majority of Americans just can't get enough horse hockey.
Iran instead of Iraq? The Iraq critics would have done nothing about either country. There would today be two major Islamic countries sitting on an ocean of oil, supporting terrorism and seeking weapons of mass destruction - instead of one.
Two years ago, there were five countries supporting terror and pursuing WMDs - two junior-leaguers, Libya and Syria, and the axis-of-evil varsity: Iraq, Iran and North Korea. The Bush administration has just eliminated two: Iraq, by direct military means, and Libya, by example and intimidation.
Syria is weak and deterred by Israel. North Korea, having gone nuclear, is untouchable. That leaves Iran. There are only two things that will stop the Iranian nuclear program: revolution from below or an attack on its nuclear facilities.
The country should be ripe for revolution. But the mullahs are very good at police-state tactics. The long-awaited revolution is not happening. Which makes the question of preemptive attack all the more urgent. Iran will go nuclear during the next presidential term. If nothing is done, a fanatical terrorist regime openly dedicated to the destruction of the "Great Satan" will have both nuclear weapons and the terrorists and missiles to deliver them. All that stands between us and that is either revolution or preemptive strike.
Both of which, by the way, are far more likely to succeed with 146,000 American troops and highly sophisticated aircraft standing by just a few miles away - in Iraq.
Comment: "The mullahs are very good at police-state tactics"... Isn't that the pot calling the kettle black? And take a wild guess who it was who taught and armed these "crazy evil terrorists"? We'll give you a hint: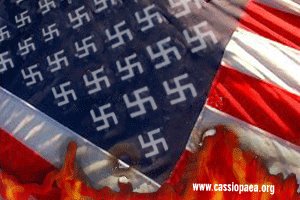 Click here to comment on this article
Border group claims 'WMD' test
Members of a border-watch group conducted an experiment this week: They snuck into the United States carrying a fake "weapon of mass destruction" and made it to a house in Sierra Vista without being caught, the group said.

The test was to show how vulnerable the border is to terrorists, said Glenn Spencer, a spokesman for the group, the American Border Patrol.

The two members carrying a suitcase in a backpack crossed into Arizona west of Naco on Monday night. At one point, the two men crossed a border fence that separates the United States from Mexico, one member said.

U.S. Border Patrol officials had no immediate comment on the claim by the Sierra Vista-based group.

The Mexican government is reviewing a videotape of the event taken by Spencer's group to see if the mem entered Mexico, said Miguel Escobar, Mexico's consul in Douglas. "If the incident can be confirmed, a formal letter of protest will be submitted to the U.S. government," he said.

Mike King, a former Army sniper who was assigned to Fort Huachuca as a National Guardsman after the Sept. 11 terrorist attacks, said he's hoping the demonstration will help convince government leaders that the country's southern border is a national security risk.

"I mean, you have people with backpacks, bottles of water and zero training coming across. I just wanted to show how easy this is for somebody with training to come into this country," said King, who now works as a technical director for the border-watch group.
Comment: Obviously the key point missing here is that "terrorists" are welcome in the US. If the US government has to stand down border controls to make it easier for the Mossad to enter US territory and carry out "false flag" operations, then so be it...
Muslims Use Mexico to Enter U.S. Illegally
While the U.S. government wages war against terrorism on foreign soil, America's poorly guarded Mexican border continues to be used as a covert entry portal by international gangs that smuggle Arabs into the U.S.
In November last year, Mexico's consul in Lebanon, Imelda Ortiz Abdala, was arrested on charges that she helped a smuggling ring move Arabs illegally into the U.S. from Mexico. Also arrested in connection with the smuggling operation was Salim Boughader Mucharrafille, who ran a Lebanese café in Tijuana, Mexico.
U.S. security officials say Boughader, 28, is suspected of smuggling at least 300 Arabs into the U.S. between 1999 and 2002. He had been arrested previously for smuggling and served 10 months of a one-year sentence.
Although the latest case has not received wide publicity, U.S. officials are worried because the case reaches into Mexico's foreign service, which the U.S. depends on for help in security operations against terrorism.
The Chicago Tribune reported last month that discovery of the smuggling of Arabs by Mexicans "set off alarm bells among U.S. security officials." That's because the arrests undercut assurances by pro-immigration groups that it would be difficult for Islamic radicals to slip through the border because they would stand out and Hispanic smugglers might hesitate to assist them.
Security officials note that café owner Boughader, who has pled guilty in one smuggling incident, easily turned his illegal alien clients over to Mexican smugglers who asked no questions about the background or motives of the people they were helping across the border.
"We cannot even talk about border security because of the high levels of corruption," said Victor Clark Alfaro, a Mexican policy analyst in Tijuana. "The smugglers don't care if their clients are terrorists or not." [...]
The biggest story of the Iraq war is about the torture of Iraqi children.

A German TV magazine called 'Report Mainz' recently aired accusations from the International Red Cross, to the effect that over 100 children are imprisoned in U.S.- controlled detention centers, including Abu Ghraib. "Between January and May of this year, we've registered 107 children, during 19 visits in 6 different detention locations," said Red Cross representative Florian Westphal in the report.
Click here to comment on this article
U.S. Clears Way for Arms Sales to Iraq

The Bush administration cleared the way Wednesday to sell arms to Iraq just as it does to other allies, reversing the ban in place for much of Saddam Hussein's regime. Bush made a presidential determination that the standard methods of engaging in munitions transfers with friendly nations are now appropriate in the case of Iraq and will promote democratic reforms, help achieve reconstruction and strengthen the Iraqi government.
The United States, Bush decided, will rely on the Foreign Assistance Act and the Arms Export Control Act in making Iraq eligible for arms sales on a case-by-case basis.
Comment: Great! So while there was a ban on arms sales to Iraq while Saddam was in power and posed no threat to the US or anyone else, now that there is a US proxy government in Baghdad it's open season on weapons imports so that the "new democratic Iraq", under US stewardship, can pose a threat to Iran, Syria, and any other Middle Eastern nation that the US chooses. Logical, ain't it?
Click here to comment on this article
Pamela McClintock, STAFF
Thu Jul 22, 6:23 PM ET
NEW YORK -- The FBI began warning the U.S. news networks and divisions Thursday night of a "credible" terrorist threat targeting media vehicles during the Democratic National Convention in Boston next week.
Feds stressed that the threat comes from a domestic group -- not Al Qaeda or any other foreign terrorist group.
Also in Boston on Thursday, reps for Arab satcaster Al-Jazeera met with Democratic convention officials regarding the removal Wednesday of its skybox banner in the Fleet Center.
It's the first time Al-Jazeera, which also will have a skybox in Madison Square Garden during the Republican convention, is covering the U.S. political conventions.
News execs on scene at the Fleet Center said it was unclear whether the removal was targeted at Al-Jazeera, or whether other media orgs also were asked to take down their signs to make way for more John Kerry banners.
One net exec noted that Al-Arabiya also was asked to take its skybox banner down.
There are roughly 15,000 members of the press descending on Boston to cover the four-day confab.
The FBI's joint terrorism task force in Boston, which is investigating the terrorist threat against the media, is expected to release a formal threat advisory.
News orgs -- well aware of the security concerns surrounding both conventions -- had likely taken certain precautions already but declined to discuss any specifics. [...]
Click here to comment on this article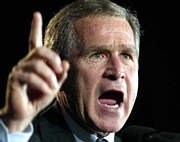 Bush signs into law terror-defense bill

The legislation, which took 18 months to reach his desk despite broad bipartisan support in Congress, enables the government to purchase and stockpile vaccines, expedite research on medicines to combat bioterrorism and, in a crisis, distribute new drugs that have not been approved by the Food and Drug Administration.

President Bush yesterday signed into law a $5.6 billion bill aimed at bolstering the nation's defenses against biological, chemical and nuclear terrorism. In a ceremony in the White House Rose Garden, Bush said the legislation, the Project Bioshield Act of 2004, "will help America purchase, develop and deploy cutting-edge defenses against catastrophic attack." He said the new law "is part of a broader strategy to defend America against the threat of weapons of mass destruction."
Comment: This bill also gives the government the right to scare the hell out of Americans so that they fall over each other to get the vaccine. For an indepth look at government funded vaccines, why they are being developed and what they can do to a human being. see our Signs Flu Supplement.
Click here to comment on this article
Wear A T-Shirt, Get Interviewed by the Secret Service

Appleton official ejected from Bush event
Outagamie County Supv. Jayson Nelson might be new to politics, but he already can attest to the price of freedom of speech. Nelson, who joined the County Board this year, said he got bounced from the VIP list for President Bush's speech Wednesday at the Resch Center in Ashwaubenon because of inappropriate attire.
Nelson attended a John Kerry for President rally in Fond du Lac earlier in the day before taking his spot in line outside the Bush campaign venue. The event was part of a daylong Bush campaign bus tour through eastern Wisconsin, including the Fox Cities. Nelson said he was ejected after being caught sporting a T-shirt endorsing the presumptive Democratic presidential nominee, though he said it was fully hidden beneath a heavy cotton button-down shirt. "I have no idea how they knew I was wearing it," he said Friday.
Click here to comment on this article
Evidence In Police Abuse Case Will ''Shock And Horrify''
Lawyers say the man whose allegations led to the firing of five Campbell County Deputies suffered through two hours of "torture."
Late Wednesday afternoon, 42-year old Lester Siler stood quietly next to his sisters, wife and 6-year old son, allowing a lawyer to explain his side of what happened at his Campbell County mobile home July 8.
Sheriff Ron McClellan had told the media that Siler ran out the back door of his home when five deputies came to serve him a warrant for violating probation on an earlier drug charge. But Siler's lawyer tells a different story.
"When officers arrived, he was standing outside," lawyer Mike Farley explains. "He was brought inside, handcuffed, and set down at the kitchen table. He never attempted to flee."
The five officers involved in Siler's arrest were fired Tuesday. Two detectives, including David Webber and Samuel Franklin, along with three deputies, William Carroll, Shayne Green and Joshua Monday, could still face criminal charges in connection with the alleged abuse.
Siler's lawyers say they'll also file civil charges against the officers who first forced Siler's wife and son to leave their home.
"The officers asked Mr. Siler to sign a consent to search form, waiving his constitutional rights to not search his home," Farley explains.
Farley says when Siler refused to let officers search his home, the five men beat him for nearly two hours.
"There were other forms of torture during this two hours, but at this time we're not at liberty to disclose any more facts about that," Farley says, adding that the Tennessee Bureau of Investigation asked them not to release these details while the investigation continues.
Farley also says a key piece of physical evidence gathered by the family and turned in to the TBI will prove Siler's story that he feared for his life.
"I wish I could give you more details about what this particular evidence is," Farley says. "But at this time, I cannot. What I can tell you, is you'll be shocked and horrified when you are able to view this piece of evidence."
Comment: Can you see it coming yet? Can you imagine a year or two down the road? Look at the signs that are all around you now. Slowly, very slowly your "leaders" are closing the net. That which is unthinkable today will be accepted as necessary in a matter of years. Humans are so incredibly good at self deception, even unto their own destruction, that it is pathetically easy for those in a position of power to control the masses, mind, body, and ultimately, soul (where present).
Click here to comment on this article
NATO likely to soon approve Greek request for security at Olympics

NATO will likely soon agree to a Greek request to ensure security at next month's Olympic Games, to guard against a possible terrorist threat, a spokeswoman for the alliance said. The North Atlantic alliance agreed last month to provide Greece with AWACS radar planes, maritime surveillance, intelligence sharing and a battalion trained to defend against chemical and biological attack.

US Defense Secretary Donald Rumsfeld said Wednesday that additional security for next month's Olympics might be provided by NATO, but played down a report saying US troops would be on the ground to guard US athletes.
Click here to comment on this article
O'Connor likens federal sentencing case to 'No. 10 earthquake'
DAVID KRAVETS
Associated Press
MONTEREY, Calif. - Justice Sandra Day O'Connor told dozens of top judges and prosecutors Thursday that a Supreme Court decision which cast doubt on federal criminal sentencing guidelines was a "No. 10 earthquake" that has rattled the criminal justice system.
O'Connor told the annual conference of the 9th U.S. Circuit Court of Appeals she was "disgusted" by the 5-4 decision, which could undermine tens of thousands of criminal cases annually.
[...] Dissenting justices including O'Connor warned that the ruling would undermine - if not destroy - federal guidelines, which were meant to reduce disparities among punishments handed out by different judges.
In their ruling, a majority of the justices said Washington state's sentencing scheme violated defendants' right to jury trials.
In her dissent, O'Connor wrote, "The practical consequences of today's decision may be disastrous."
Federal prosecutors and judges were equally stunned by the decision, referred to as Blakely, the defendant's name.
Click here to comment on this article
US begins deploying missile interceptor in Alaska
www.chinaview.cn 2004-07-24 00:10:27
WASHINGTON, July 23 (Xinhuanet) -- The US military has deployed a ground-based missile interceptor in Alaska, the first of a national defense system designed to shoot down enemy missiles, local media reported Friday.
The nearly 17-meter-long three-stage interceptor was installed Thursday by military personnel at Fort Greely.
By the end of the year, five more interceptors will be installed in Alaska, and four will be deployed at Vandenberg Air Force Base in California. Ten more will be installed at Fort Greely by late 2005.
The Bush administration has planned to deploy a preliminary missile defense system of six rocket interceptors in Alaska and four in California by the end of September, saying the United States needs such a system to guard against long-range missile attacks.
The US Congress has appropriated over 10 billion US dollars forthe missile defense system for fiscal 2005, and the Missile Defense Agency estimated the system would cost as high as 53 billion dollars for 2004-2009.
Click here to comment on this article
Thailand Has Two Suspected Human Bird Flu Cases
Fri Jul 23, 7:55 AM ET

BANGKOK (Reuters) - Thailand is testing two children for possible infection with bird flu, the deadly disease which has erupted again after devastating Asian poultry flocks earlier this year, officials said on Friday.
One, a 14-year-old boy, was a "probable" case of bird flu, Health Ministry spokeswoman Nittaya Chanruangmahaphol told reporters.
She did not say whether the boy had been in close touch with infected chickens, as were 16 Vietnamese and eight Thais who died of the disease earlier this year when the H5N1 virus swept through much of Asia.
Both suspected cases were in the northeastern province of Nong Khai near the Lao border, one of 15 of Thailand's 76 provinces where recurrences of bird flu have been confirmed, the officials said.
The other suspected case was a 12-year-old girl who had been in close touch with chickens, Dr Charal Trinvuthiphong, head of Disease Control at the Health Ministry, told reporters.
"The girl was reported to have played with and touched chickens," Charal said. "We are waiting for the lab test which was sent to Bangkok.
Thailand, the world's fourth-biggest chicken exporter in 2003, has culled 160,000 fowl since the H5N1 erupted anew early this month.
China also reported a new case recently as did Indonesia. Both governments say their new outbreaks are under control.
The Thai government put the country on high alert, ordering officials to rush anyone to hospital who showed symptoms resembling those of bird flu.
There have been 10 such instances this month and each patient has gone home after being cleared of having bird flu. Friday was the first time that senior officials had reported suspected cases in public.
Click here to comment on this article
Rapid Asian development exacerbating floods: analysts
Thu Jul 22, 1:10 PM ET

HONG KONG (AFP) - As floods ravage Asia in what experts say are, in some cases, the worst in memory, analysts have warned such calamities are likely to increase with rapid economic development in the region.
While rain levels have remained pretty steady for the past few years, changes in land use, especially deforestation and urbanisation, that go hand in hand with economic growth have led to worse flooding, they say.
"Floods are as much man-made as they are natural disasters," said Hong Kong Chinese University geography professor David Chen.
"There is a gap between economic development and provisions for coping with the resulting impact it is having on the environment -- and floods are one of the outcomes."
The main cause of flooding is rain run-off. While most rainfall is absorbed into the soil and lakes in rural areas, in concrete and stone-built towns and cities precipitation literally swills around with nowhere to go.
"It's all about permeability," said Hong Kong Baptist University meteorologist Kenneth Wong. "Rural areas are more permeable, because the soil absorbs water and holds it, whereas cities don't.
"If they don't have adequate storm run-off drainage, then flooding occurs."
Deforestation does much the same thing in rural areas, removing vital tree and shrub roots that help hold the water in the soil.
The worst floods this year have happened in the areas of greatest economic and urban expansion, China and India. [...]
Click here to comment on this article
Underground fire knocks out power to section of Hartford
Wednesday July 21, 2004
HARTFORD, Conn. (AP) A section of downtown Hartford was without electricity for several hours after an underground fire Tuesday night caused an explosion that shot flames 20 to 30 feet into the air from manholes, city officials said.
The outage affected downtown buildings, street lights and traffic signals,
Mayor Eddie Perez said the outage was confined to the central business district, where there are few residential buildings and most businesses have backup generators. But he said there are no backup systems for the traffic signals.
Additional firefighters and police officers were called to duty to "keep things safe,'' Perez said.
Firefighters stationed near Bushnell park reported seeing flames shooting up from manholes at about 10:30 p.m. Tuesday at Jewell and Pearl streets.
Connecticut Light & Power Co. sent crews to the scene to assess and repair the problem.
At one point some 7,000 customers were without power, according to CL&P spokesman David Radanovich.
Radanovich said that by about 3 a.m. workers crews were able to isolate the damaged cables and restore power through cables that were not damaged. The lone building left without power Wednesday morning as the Mass Mutual building.
"It is still a long repair process. There was extensive damage,'' Radanovich said.
Mass Mutual workers and those at nearby Lincoln Financial were told to stay home Wednesday.
Crews were expected to work on repairs throughout the day and into the night, taking some 18 to 30 hours to finish the job, according to Radanovich.
It was not immediately clear what caused the fire and explosion.
Click here to comment on this article
German Workers Agree to Longer Hours
By Sabine Siebold and Mark Thompson
July 23, 2004
STUTTGART/FRANKFURT, Germany (Reuters) - Pressure to lengthen Germany's work week looked set to increase after employees at carmaker DaimlerChrysler and tourism firm Thomas Cook agreed Friday to work longer to save jobs and cut costs.
DaimlerChrysler workers agreed to implement a 40-hour week for some jobs and cut paid break time to secure 6,000 jobs in Germany in a deal that will save 500 million euros ($613 million) a year from 2007.
German Chancellor Gerhard Schroeder greeted the carmaker's deal with the IG Metall union as "a victory for common sense," which would strengthen Germany's economic recovery and set a precedent for talks at rival car maker Volkswagen
"I am certain that after DaimlerChrysler the negotiations at Volkswagen over cost cuts and job security will lead to a successful agreement," said Schroeder, who is on holiday in Italy, in a statement.
The agreement will guarantee companies more flexibility as they face global competition while at the same time securing jobs in Germany, Schroeder said.
At Thomas Cook, workers agreed to raise their weekly working hours to 40 from 38.5 for one year from August, with an option for a 12-month extension. The works council agreement, which excludes Thomas Cook's Condor charter airline, is designed to return the firm to profitability in 2006.
The employees also agreed to delay a pay rise by 18 months. [...]
Click here to comment on this article
Knowledge can interfere with adult's memory: psychologists
Last Updated Thu, 22 Jul 2004 17:15:38 EDT
WASHINGTON - A little knowledge can get in the way when playing a memory game with a child.
Researchers found five-year-olds could beat most adults on a recognition memory test, at least under specific conditions.
Children pay close attention to details to look for similarities between objects when playing a memory game.
In most cases, young adults have better memory than children.
In the new study, psychologists showed 77 children and 71 college students pictures of animals such as cats, bears and birds.
For example, subjects were shown a picture of a cat as they were told it had "beta cells inside its body." They were then shown 30 pictures of animals, one at a time, and were asked to find the one with beta cells.
The children were accurate at identifying pictures 31 per cent of the time, compared to seven per cent among the adults.
The researchers suspect adults applied what they knew to learning the information, hurting their accuracy.
"It's one case where knowledge can actually decrease memory accuracy," said Vladimir Sloutsky, director of the Center for Cognitive Science at Ohio State University, who led the study in the August issue of the journal Psychological Science.
The children, five years old on average, identified the animals with "beta cells" by checking carefully for an animal that looked like the first cat. The researchers called this form of reasoning "similarity-based induction".
The researchers say inductive reasoning is important for learning, since if one learns a cat has a particular biological property, the knowledge can be expanded to other cats.
Adults, though, grouped the animals into categories– once they identified it as a cat, they didn't pay attention to the details, which made it harder for them to recognize the pictures.
When the children were taught to use category-based induction like adults, their scores dropped to a similar level.
Comment: The headline here is misleading. It is not "knowledge" that is the problem, it is calcified thought processes that depend upon categories. Once categories become fixed, we think with our categories, often at the expense of the raw data that we are receiving. As the article suggests, we don't really see or hear the info. We are seeking to classify as quickly as we can, to put it into a slot, in order to "know" what it is. While there are cases where this can be a useful shorthand, as the article reports, there are other times that it is a shortcut that leads to a precipice. Learning to distinguish between the two is important.
Click here to comment on this article
The Tease of Memory: Psychologists are dusting off 19th-century explanations of déjà vu. Have we been here before?
By DAVID GLENN
[...] In their brief late-19th-century flirtation with déjà vu, academic psychologists developed remarkably sophisticated hypotheses, some of which survive today. An article in a German psychology journal in 1878 suggested that déjà vu happens when the processes of "sensation" and "perception," which normally occur simultaneously, somehow move out of sync. Fatigue, it said, may be a cause.
Eleven years later, William H. Burnham, a psychologist at Clark University, in Worcester, Mass., offered the opposite suggestion: that déjà vu occurs when the nervous system is unusually well rested. "When we see a strange object," he wrote, "its unfamiliar aspect is largely due to the difficulty we find in apperceiving its characteristics. ... [But] when the brain centers are over-rested, the apperception of a strange scene may be so easy that the aspect of the scene will be familiar."
That idea may sound peculiar: Could our minds really be thrown out of kilter by unusually speedy and well-greased visual signals? But a large body of modern research strongly suggests that brains do use speed as a tool to assess whether an image or situation is familiar or not. If we can process an image fluently and quickly, our brains unconsciously interpret that as a cue that we have seen it before. Both the "fatigue" and the "well rested" theories of déjà vu remain on the table today.
Click here to comment on this article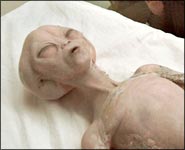 Feeling Is Believing?
Alien Abductees Reveal How Emotion Can Cloud Reality
By Lee Dye
ABCNEWS.com
July 21, 2004 — Researchers at Harvard University called on aliens from outer space to help them solve a problem that surfaces frequently in everything from therapeutic sessions to criminal trials, or even just chatting with a friend.
How do you know if someone is telling the truth when he or she recalls memories of childhood abuse, or being raped by satanic cults, or some other traumatic insult?
One clue that many of us rely on is the emotional reaction of the person telling the story. If the victim breaks out in sweat and becomes extremely emotional while recalling those memories, it's more difficult to dismiss them as false.
But all that really means is the person truly believes his or her memories are true, not that they really are, according to the researchers.
"The person really believes something happened," says Richard McNally, a clinical psychologist and professor of psychology at Harvard, lead author of a study in the July issue of Psychological Science. "But that doesn't necessarily mean it did."
True or False?
Deciding which memories are true, and which are false, is a real tough problem for therapists and law enforcement officials, and sometimes friends. That's especially true when long-buried memories suddenly surface involving traumatic events that may have occurred years ago. McNally has struggled with the problem for years, moving from combat traumas to memories of childhood sexual abuse.
He says that even a seasoned therapist can be influenced by the emotional state of the person recalling the memories.
"A therapist is more inclined to credit the account as authentic if it's accompanied by really intense emotion," he says. "The therapist thinks 'my goodness, something must have happened.' "
Years of research have convinced him that even false memories can stimulate a lot of emotion, but how do you prove that in the lab? That's where the aliens from space come in.
If someone claims to have been sexually abused years ago, it's almost impossible to prove those memories false. What the researchers needed was a group of people who sincerely believed memories of something that clearly never happened.
So they put an ad in newspapers asking for people who had been abducted by aliens from space.
Emotions Cloud Truth
They got a lot of weird phone calls, including some from people claiming to be aliens, but in time they had their subjects, six women and four men who believed they had been abducted by alien beings. Their average age was 47. Seven women and five men who had not been abducted also participated in the study.
The "abductees," as they came to be known, were interviewed and recorded as they told brief stories about their abduction, as well as other stressful, happy and neutral tales. All of the participants were wired so the researchers could monitor for heart rate, sweat production, and facial muscle tension, three strong indicators of emotional stress.
The emotional reaction among the abductees soared while listening to the stories of stress and abductions. But it was much weaker while listening to happy or neutral narratives.
The 12 participants who had never been abducted barely responded to any of the stories.
The verdict was clear, McNally says. The emotional reaction, which can be so convincing, had nothing to do with the veracity of the memories of the folks who believed they had been abducted.
Why did they believe so strongly in something that is so implausible? In answers to a questionnaire, the abductees scored high on personality traits that make them a bit different. For example, just because an idea seems magical doesn't necessarily mean it isn't true.
People with those traits tend to have "a rich fantasy life, and to endorse unconventional beliefs," the researchers say in their report.
Comment: A test verdict cannot be "clear" if the entire test was colored by bias, as is the case with the above, essentially worthless, report that seems designed simply to disinform. The verdict hinges on the "fact" that "alien abduction" is "implausible", but this is simply the opinion of the person conducting the test.
There is one theory however that the above research provides evidence for - that many alleged UFO abductions, particularly by the ubiquitous "grey aliens", are being carried out by some section of the US government and involve some form of mind programming that might lead to the "realness" of the memories of some abductees who, nevertheless, show no other side effects.
A possible reason for this activity by the government is that it is designed to muddy the waters and obscure the truth about the alien and UFO phenomena.
See Laura knight-Jadczyk's new book, featured at the top of this page, for an in depth analysis of all things "hyperdimensional".
Click here to comment on this article
House Hearing On Anti-Depressant Canceled So Chair Can Consider Taking Job With Pharmaceutical Industry
SHANKAR VEDANTAM, WASHINGTON POST
A high-profile congressional hearing into the safety of antidepressant medicines was abruptly canceled on Sunday afternoon by a House panel whose chairman is weighing a top job at a trade group representing the biotech and pharmaceutical industries.
Rep. James C. Greenwood (R-Pa.) is reported to be considering an offer to become president of the Biotechnology Industry Organization, whose members include most of the pharmaceutical companies that were to send representatives to testify at the hearing.
Patients rights advocates voiced outrage at the turn of events
Click here to comment on this article
Crowds Flock To See Jesus Image In Window
POSTED: 1:29 pm EDT July 21, 2004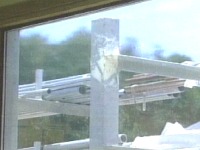 Crowds are flocking to a hardware store in Rio Grande Valley, Texas, to see an image of Jesus that has appeared on a tinted window at the business.
The image first appeared on a True Value store window on July 19 and caused employees to wonder where it came from.
Since being discovered, the image has not faded.
People at the store agree that the image resembles the face of Jesus Christ with a crown of thorns.
"I go to church whenever I get a chance, but I'm not a spiritual person. I do believe, especially now," a resident said after seeing the window.
Click here to comment on this article
Group says Jesus is where Mary was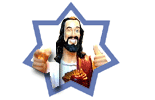 Shepherds of Christ Ministries hopes the image of Jesus on a glass window draws a crowd like the image of the Virgin Mary did.
By EILEEN SCHULTE, Times Staff Writer
Published July 18, 2004
CLEARWATER - To the faithful, Jesus first appeared in a photo of the multicolor Virgin Mary image at Drew Street and U.S. 19 on Feb. 5, 2001.
Albeit fuzzy, Christ seemed to peer out from her womb - contained in the two glass panels at the bottom of the building next door to Pelican Car Wash.
When the upper portion of the Virgin's face was destroyed by a teenage vandal in March, believers say the face of Christ started to become more clearly defined, his features unmistakable.
"He's appearing to tell us how much he loves us," said Rosie Reed, site leader for Shepherds of Christ Ministries, the organization that owns the building. "People are not listening to the message to pray the rosary and to give our hearts and homes to Jesus every day."
But why now?
"Since her face is gone, we have to focus on Jesus," Reed said. "Mary always leads us to Jesus."
Indeed, said Linda Garza of San Antonio, Texas, who was visiting the image with her 16-year-old daughter Brittany and other family members, "She did her part."
In fact, said John Weickert, president of Shepherds of Christ Ministries, "The purpose of her being there was to lead people to Jesus."
[...] "God allowed (the vandalism) to happen," Reed said. "He could have stopped it."
The figure is coming into focus at an opportune time. Where there was once a crowd of people gazing at the Virgin image, now there are just a handful of visitors on any given day.
"The crowds are down," Reed said. "We still owe $1,300,000 on the building. We need more people to come."
[...] But you have to stand in the right place to see him at all.
Reed said the best vantage point is the first row of plastic chairs, standing with one's back toward U.S. 19.
His eye is a dark blue mark at the top right of the bottom left pane. The window divider is his nose. The palm frond is his mouth.
When a reporter pointed out that she was having difficulty making out Christ's features, Reed said, "Not everybody can see him."
"When the wind is blowing the palm tree, it's even harder," she said.
Click here to comment on this article
Free exhibit features mysterious droplets
By Darren Barbee
Star-Telegram Staff Writer
GRAPEVINE - Centuries ago, the fires that cremated the Buddhist masters left something unexpected among the ash -- tiny, crystalline droplets as pale and white as pearls.
Some believe that they have a powerful and mysterious affect. Visitors burst into tears, feel energized, purified, connected to the world.
Huei-Min Wu of Dallas snapped a picture with her cellphone at the free, three-day exhibit that runs through Saturday at Unity Church in Grapevine.
"I feel good," she said. "I feel peace."
The relics include the remains of the religion's founder, Siddhartha Gautama, and have drawn thousands of curiosity seekers and devout Buddhists. They have not been scientifically tested, organizers say.
But they have been scrutinized by living Buddhist masters who are convinced of their authenticity.
Click here to comment on this article
16-Foot-Long Burmese Python Caught On Florida Street
9:58 am EDT July 23, 2004
VERO BEACH, Fla. -- A 16-foot-long Burmese python was captured on a city street after a passing motorist spotted about three feet of it hanging over a curb and called police.
The brown-and-yellow snake was wrestled into a body bag and taken to the home of Vero Beach Animal Control Officer Bruce Dangerfield.
"This is a very irresponsible owner to let something loose like this," he said Thursday of the late Wednesday capture. "Either it escaped -- all snakes are escape artists -- or someone let it loose."
Dangerfield said he has picked up dozens of loose Burmese pythons and boa constrictors over the years, but this was the biggest.
Dangerfield said the responsibilities that come with owning giant reptile become too much for some people. Within a few years, a 20-inch hatchling bought for $100 at a pet store will become a rabbit-munching giant. [...]
Comment: Authorities called George Bush, Sr. and informed him that he must come in person to Dangerfield's house to pick up Jeb.
Click here to comment on this article
Drunk flight attendants attack passenger

Drunken passengers often give air crews trouble, but Russia's leading airline reported an "unprecedented" reversal: a passenger was assaulted by intoxicated flight attendants
Two crew members on a domestic Aeroflot flight beat up a passenger who had complained that the flight attendants were drunk, airline spokeswoman Irina Dannenberg said on Tuesday.
Click here to comment on this article
---
Remember, we need your help to collect information on what is going on in your part of the world!
We also need help to keep the Signs of the Times online.
---

Check out the Signs of the Times Archives

Send your comments and article suggestions to us

---
Fair Use Policy
Contact Webmaster at signs-of-the-times.org
Cassiopaean materials Copyright ©1994-2014 Arkadiusz Jadczyk and Laura Knight-Jadczyk. All rights reserved. "Cassiopaea, Cassiopaean, Cassiopaeans," is a registered trademark of Arkadiusz Jadczyk and Laura Knight-Jadczyk.
Letters addressed to Cassiopaea, Quantum Future School, Ark or Laura, become the property of Arkadiusz Jadczyk and Laura Knight-Jadczyk
Republication and re-dissemination of our copyrighted material in any manner is expressly prohibited without prior written consent.
.