---
Printer Friendly Version
New Book!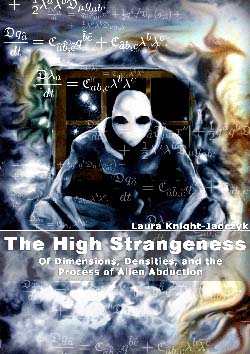 The High Strangeness of Dimensions, Densities and the Process of Alien Abduction
Anyone who wants to understand the hyperdimensional reality which is the "home" of alleged aliens, should pick up Laura Knight-Jadczyk's latest book, The High Strangeness of Dimensions, Densities and the Process of Alien Abduction.
With diligent research and a relentless drive for the facts, Laura strips away the facade of alien abductions masquerading as mind control and mind control masquerading as alien abductions. She then goes on to show how the Evil Elite rulers of the planet have merged, at the highest levels, with the Overlords of the Matrix Control System that underlies the structure of our reality.
Now, after 9-11, the fusion of the two worlds is almost complete. We have little time left, and the Controllers know it, and they have made plans…
Those who prefer the nourishment of truth over the poison of New Age myths, those who want a real peek at what is behind the Stargate Conspiracy, should get this book. Today. Read it - and weep.
Available at the end of August. Pre-order your copy now!
---
Picture of the Day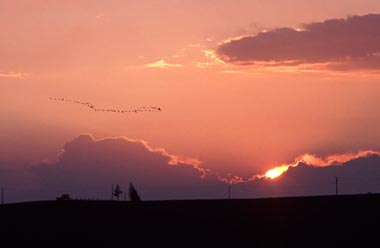 Migration
©2004 Pierre-Paul Feyte
Recipe For An Apocalypse
take 1 president steeped in ambition
cream in 1 congress until thoroughly blended
stir into this mixture chunks of a war machine

season heavily with a propaganda mill
in a cauldron stir these together
throw in a fat dictator for flavor
heat on a peninsula over oil
bring to a boil
warm a planet that you have prepared ahead
spoon the mixture over it
flame
serve with the bread of affliction and the full-bodied wine of death
- Anne Heutte
UN Assembly votes overwhelmingly to demand Israel comply with ICJ ruling
Emergency Special Session on Occupied Palestinian Territory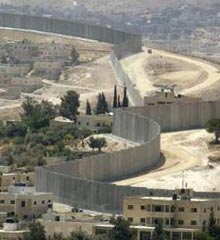 The "Fence"
20 July 2004 – The United Nations General Assembly today voted overwhelmingly to demand that Israel comply with an advisory opinion issued earlier this month by the World Court, which declared the construction of a separation barrier in and around the West Bank to be illegal.
In adopting a resolution by a vote of 150 to 6, with 10 abstentions, the Assembly also called on all UN Member States to comply with its obligations as contained in the finding by International Court of Justice (ICJ), which include a duty "not to recognize the illegal situation resulting from the construction of the wall in the occupied Palestinian territory, including in and around East Jerusalem" and "not to render aid or assistance in maintaining the situation created by such construction."
On 9 July the ICJ - the UN's principal judicial organ - issued an advisory opinion saying the separation barrier was illegal and that construction must stop immediately. The Court also said Israel should make reparations for any damage caused, and that the Assembly and the Security Council should consider what steps to take "to bring to an end the illegal situation" created by the barrier.
[...] Voting against the measure were Australia, the Federated States of Micronesia, Israel, the Marshall Islands, Palau and the United States. The countries that abstained were Cameroon, Canada, El Salvador, Nauru, Papua New Guinea, the Solomon Islands, Tonga, Uganda, Uruguay and Vanuatu.
Speaking after the voting, Israel's representative voiced appreciation for those countries that had opposed the measure as well as those that had "tried to introduce some semblance of balance into the text." Israel, he said, was not above the law and would continue to review the fence's route to protect the human rights of the Palestinians, but it rejected attempts to politicize the law.
The Observer for Palestine expressed thanks to the Assembly for the "magnificent results" that had been achieved in support of international law as well as peace and reconciliation in the Middle East. Calling the ICJ opinion "historic," he voiced confidence that all Member States would implement the resolution's provisions with utmost seriousness.
The representative of the Netherlands, speaking on behalf of the European Union (EU), registered opposition to the route of the barrier. But the EU disagreed with elements of the advisory opinion and supported Israel's right to act in self-defence. The most important step was for all sides to desist from further violence.
Click here to comment on this article
Israel must tear down barrier: UN
Last Updated Tue, 20 Jul 2004 20:09:40 EDT
[...] The panel also recommended that Israel compensate individual Palestinians whose land was seized and homes and businesses that were destroyed during the construction of the 640-kilometre system of walls, fences and ditches.
Critics of the barrier have argued that it's just an excuse to grab land. But Israel had defended the barrier, saying it's needed for protection against suicide bombers.
"Thank God that the fate of Israel and of the Jewish people is not decided in this hall," Israeli Ambassador Dan Gillerman said after the vote. "This resolution cannot but embolden those who are the true enemies of the Israeli and Palestinian people." [??? - Ed.]
Israel has said it will ignore the world court ruling. But the government agreed to comply with a recent ruling by the Israeli Supreme Court which ordered the army to change the route of the barrier in a 30 kilometre stretch near Jerusalem.
Comment: The UN votes overwhelmingly against Israel, and Israel ignores the vote. Well, not ignoring the vote completely, because it gave its UN ambassador the chance to make another outrageous comment. Does anyone really think this guy cares one bit for the "Palestinian people"? The US, lining up with other political heavyweights, such as the Federated States of Micronesia, voted against the motion. Canada, with whimp Paul Martin at the helm, abstained.
Click here to comment on this article
Israel Warns Europe Against Growing Muslim Population
Sharon blamed alleged anti-Semitism in France on the growing Muslim community
By Ibrahim Abdullah, IOL Correspondent
CAIRO, July 20 (IslamOnline.net) – The growing Muslim population across Europe poses threats to the continent's security and social fabric, claims a "classified" Israeli Foreign Ministry report published by an Israeli newspaper on Tuesday, July20 .
An Egyptian specialist on Israeli affairs dismissed the leaking of the reported to Maariv as an "old tactic" used by Tel Aviv in times of crisis with European countries.
Islam has become Europe's second largest religion and the number of Muslims is growing rapidly, which should be a cause for concern to all Europeans, the Israeli report argued.
"According to the demographic data, the number of Muslims will continue to steadily rise due to a high birth rate and the continued mass immigrations.
"The meaning of such a rise could be the increased influence Muslims have on the shape of Europe in the future," it states.
The report also voices concern at an influx of immigrating Muslims, especially women who get married to Muslim citizens.
[...] However, French Muslims fired back, accusing the state of forcing them in these ghettos.
The Israeli report further claimed that the second and third Muslim generations are an easy target for "recruiters of terror organizations".
'Old Tactic'
But Mohammad Abboud, a researcher and specialist in the Israeli affairs at Ein Shams University, Egypt, dismissed such reports as but an "old tactic" used by Israel to maneuver in times of crisis with Europe.
"It has been always the case that when a crisis pops up with a European country, an Israeli media outlet comes up with useless reports described as 'classified' to drift public attention from that crisis," he told IslamOnline.net.
[...] "Add to that, a recent EU poll, which showed that 59 percent of the Europeans believe Israel poses the biggest threat to world peace, just ahead of North Korea, Iran and the United States," Abboud said.
"They only want to wave the Islamic bugaboo at the West against the backdrop of the9 /11 attacks. But Israel will lose the bet at the end of the day as its barbaric raids into the Palestinians are more telling than a plethora of 'classified' reports."
In remarks denounced by French human rights organizations as "racist", Sharon called on all French Jews Sunday, July18 , to leave to Israel "immediately" in view of soaring anti-Semitism and the growing number of Muslims in the European country.
In November last year, Sharon also accused the European Union of inaction against anti-Semitism, alleging that Muslims in Europe posed a threat to the lives of Jews.
American experts told IOL that anti-Semitic charges are sometimes employed to stifle objections to anything the Israelis want to do or have done.
Comment: Indeed, and many would be surprised to know what some so called Zionists have done, and appear to be doing again, in the name of the Jewish people...
Click here to comment on this article
French Jews caught up in a war of words
Fears of attacks and controversial appeal by Israeli prime minister thrust issue of anti-semitism into spotlight
Amelia Gentleman in Paris
Tuesday July 20, 2004
The Guardian
Preparations for a welcome party are under way in Tel Aviv for the arrival next week of a specially chartered El Al flight carrying 200 French Jews who have abandoned their homes, jobs and families in France to start afresh in Israel.
Awaiting them is the promise of help finding work, financial assistance with accommodation for the difficult transition period, language tuition and what they hope will be a release from a growing climate of tension in their home country.
These departures are an uncomfortable subject in France, a nation sensitive to accusations of anti-semitism. This week these migrants have become pawns in a debate raging over France's relationship with its Jewish population, triggered by the call from the Israeli prime minister, Ariel Sharon, for French Jews to emigrate immediately to escape what he described as "the wildest anti-semitism".
His appeal unleashed fury across the political spectrum yesterday, heightening unease among politicians and Jewish community leaders alike at the way Israeli government-funded groups have been using reports of the mounting anti-semitic climate in France to fuel an energetic programme to persuade French Jews to leave.
Although official figures show that attacks and threats of attacks are growing in frequency, there is no consensus among the Jewish community over whether the country has become a worse place for Jews to live. The reason why more Jews are leaving for Israel is hotly contested.
Almost all anti-semitic attacks are the work of disaffected youths from the large, disadvantaged Muslim communities, rather than the result of any historic anti-Jewish sentiment. Many observers fear that while the government focuses on the rise in attacks, it is failing to address the more fundamental issue of Muslim integration.
And there is growing anxiety that the significance of the relatively small exodus of French Jews is being exaggerated by Israel, as part of worsening diplomatic ties between the two nations.
"France is not an anti-semitic nation and Mr Sharon is simply settling scores with France through this question of anti-semitism," Patrick Klugman, deputy president of SOS-Racisme and a former head of the Jewish students' union, said yesterday.
Nevertheless, there has been an undeniable rise in French Jews ready to move to Israel. For the past two years more than 2,000 people have made the journey, double the number who have left each year since the early 1970s. Provisional figures suggest that this year the numbers will rise a further 25%.
Sandrine Cohen, 29, will be on the flight next Wednesday with her husband and her four young daughters aged between seven and 18 months. Pregnant with her fifth child, the optician decided in January that it was time to leave.
"Our family has been attacked several times in the past five years. We've been called dirty Jews in the street and we've been sent hate mail, and the police have failed to help us," she said yesterday. "I'm well aware of the violence in Israel, but I'm scared for my daughters' future in France. On balance, I think we'll be safer there."
Menahem Gourary, the Jewish Agency's European director, has been working on a new drive to promote emigration to Israel.
With Europe's largest Muslim population, at some 5 million, and its largest Jewish population (600,000), France has seen an escalation of religious conflict - often directly linked to violence in Israel.
The agency's latest campaign is partly motivated by the need to stem an overall decline in migration to Israel, which has slowed now that the wave of immigration from the former Soviet Union is over; last year there were fewer than 25,000 new arrivals, a 15-year low.
"No one is making any comparison between the situation now and the Nazi period. But we are very upset by the growing number of attacks against children in schools and universities," Mr Gourary said.
The agency is at pains to address the programme's central paradox - that it is trying to help citizens leave a peaceful European nation to live in a conflict-torn, recession-mired region, where anti-Jewish attacks are much more bloody.
"Attacks in Israel are attacks against the state of Israel, not personal assaults. In Paris you are singled out as someone who is wearing a skullcap, singled out as a Jew, and this individual assault is harder to cope with," explained Michael Jankelowitz, the Jewish Agency spokesman in Jerusalem.
Agency officials add that migration should not simply be viewed as a way of escaping anti-semitism at home, but as a positive decision to devote one's energy to building the state of Israel.
Not everyone is happy once they arrive and some return after a few years, distressed by the violence or unable to find work, but the figure is put at below 10%.
Senior figures in the Jewish community have been angry at the way the rise in emigration figures has been trumpeted by the Israeli media as a clear indication of the worsening situation in France, pointing out that although the exodus has doubled, the figure remains small. Other European nations have seen a similar rise.
"France is xenophobic, not anti-semitic. People are suspicious of anyone foreign," said Michael Grinberg, the proprietor of Goldenberg's, a Jewish restaurant in the Marais quarter of Paris, which was bombed in 1982.
Comment: Is it possible? Can it really be true? Is history repeating itself right before our eyes? WWII was, to a large extent, the creation of "Zionists" who used it to justify the establishment of an Israeli homeland in the Middle East.
During the 1930's, "Zionist" groups in the US engaged in anti-German propaganda designed to frighten Jews into leaving Germany and moving to Palestine. However, as is the case today, most rational Jews saw through this, and it was only after the creation of the "fact on the ground" that was the Jewish holocaust, again apparently a creation of certain "Zionists" as detailed in Lenni Brenner's book - "51 Documents: Zionist Collaboration with the Nazis", that millions of Jews felt compelled to believe the lies of their so-called "leaders".
Today, in an eerie reenactment of those preliminary events, we see Sharon attempting to heighten the tension and fear and force ordinary Jews to return to the powder keg that is Israel that Sharon has been preparing so meticulously for future detonation.
Click here to comment on this article
The Jewish Declaration of War on Nazi Germany
The Economic Boycott of 1933
Article from The Barnes Review, Jan./Feb. 2001, pp. 41-45.
The Barnes Review, 645 Pennsylvania Ave SE, Suite 100, Washington D.C. 20003, USA.
By M. Raphael Johnson, Ph.D., assistant editor of TBR;
published here with kind permission from TBR:
eMail TBR - subscribe to TBR here
The war by the international Jewish leadership on Germany not only sparked definite reprisals by the German government but also set the stage for a little-known economic and political alliance between the Hitler government and the leaders of the Zionist movement who hoped that the tension between the Germans and the Jews would lead to massive emigration to Palestine. In short, the result was a tactical alliance between the Nazis and the founders of the modern-day state of Israel - a fact that many today would prefer be forgotten.
To this day, it is generally (although incorrectly) believed that when Adolf Hitler was appointed German chancellor in January of 1933, the German government began policies to suppress the Jews of Germany, including rounding up of Jews and putting them in concentration camps and launching campaigns of terror and violence against the domestic Jewish population.
While there were sporadic eruptions of violence against Jews in Germany after Hitler came to power, this was not officially sanctioned or encouraged. And the truth is that anti-Jewish sentiments in Germany (or elsewhere in Europe) were actually nothing new. As all Jewish historians attest with much fervor, anti-Semitic uprisings of various degrees had been ever-present in European history.
In any case, in early 1933, Hitler was not the undisputed leader of Germany, nor did he have full command of the armed forces. Hitler was a major figure in a coalition government, but he was far from being the government himself. That was the result of a process of consolidation which evolved later.
Even Germany's Jewish Central Association, known as the Verein, contested the suggestion (made by some Jewish leaders outside Germany) that the new government was deliberately provoking anti-Jewish uprisings.
The Verein issued a statement that "the responsible government authorities [i.e. the Hitler regime] are unaware of the threatening situation," saying, "we do not believe our German fellow citizens will let themselves be carried away into committing excesses against the Jews."
Despite this, Jewish leaders in the United States and Britain determined on their own that it was necessary to launch a war against the Hitler government.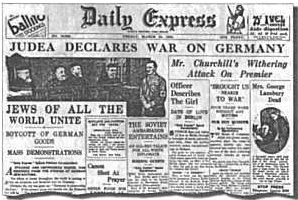 On March 12, 1933 the American Jewish Congress announced a massive protest at Madison Square Gardens for March 27. At that time the commander in chief of the Jewish War Veterans called for an American boycott of German goods. In the meantime, on March 23, 20,000 Jews protested at New York's City Hall as rallies were staged outside the North German Lloyd and Hamburg-American shipping lines and boycotts were mounted against German goods throughout shops and businesses in New York City.
According to The Daily Express of London of March 24, 1933, the Jews had already launched their boycott against Germany and her elected government. The headline read "Judea Declares War on Germany - Jews of All the World Unite - Boycott of German Goods - Mass Demonstrations." The article described a forthcoming "holy war" and went on to implore Jews everywhere to boycott German goods and engage in mass demonstrations against German economic interests. According to the Express:
The whole of Israel throughout the world is uniting to declare an economic and financial war on Germany. The appearance of the Swastika as the symbol of the new Germany has revived the old war symbol of Judas to new life. Fourteen million Jews scattered over the entire world are tight to each other as if one man, in order to declare war against the German persecutors of their fellow believers.
The Jewish wholesaler will quit his house, the banker his stock exchange, the merchant his business, and the beggar his humble hut, in order to join the holy war against Hitler's people.
The Express said that Germany was "now confronted with an international boycott of its trade, its finances, and its industry.... In London, New York, Paris and Warsaw, Jewish businessmen are united to go on an economic crusade."
The article said "worldwide preparations are being made to organize protest demonstrations," and reported that "the old and reunited nation of Israel gets in formation with new and modern weapons to fight out its age old battle against its persecutors."
This truly could be described as "the first shot fired in the Second World War."
In a similar vein, the Jewish newspaper Natscha Retsch wrote:
The war against Germany will be waged by all Jewish communities, conferences, congresses... by every individual Jew. Thereby the war against Germany will ideologically enliven and promote our interests, which require that Germany be wholly destroyed. The danger for us Jews lies in the whole German people, in Germany as a whole as well as individually. It must be rendered harmless for all time.... In this war we Jews have to participate, and this with all the strength and might we have at our disposal.
However, note well that the Zionist Association of Germany put out a telegram on the 26th of March rejecting many of the allegations made against the National Socialists as "propaganda," "mendacious" and "sensational."
In fact, the Zionist faction had every reason to ensure the permanence of National Socialist ideology in Germany. Klaus Polkehn, writing in the Journal of Palestine Studies ("The Secret Contacts: Zionism and Nazi Germany, 1933-1941"; JPS v. 3/4, spring/summer 1976), claims that the moderate attitude of the Zionists was due to their vested interest in seeing the financial victory of National Socialism to force immigration to Palestine. This little-known factor would ultimately come to play a pivotal part in the relationship between Nazi Germany and the Jews. [...]
Click here to comment on this article
51 Documents: Zionist Collaboration with the Nazis
by LENNI BRENNER
CounterPunch.org
In 1983, Croom Helm Ltd. published my 1st book, Zionism in the Age of the Dictators. American writers don't expect favorable reviews from the London Times, but editorialist Edward Mortimer declared that "Brenner is able to cite numerous cases where Zionists collaborated with anti-Semitic regimes, including Hitler's." [...]
By 1936, the Post ran a news flash, "German Zionists Seek Recognition":
"A bold demand that the German Zionist Federation be given recognition by the Government as the only instrument for the exclusive control of German Jewish life was made by the Executive of that body in a proclamation today. All German Jewish organizations, it was declared, should be dominated by the Zionist spirit."
Zionist factions competed for the honor of allying to Hitler. By 1940-41, the "Stern Gang," among them Yitzhak Shamir, later Prime Minister of Israel, presented the Nazis with the "Fundamental Features of the Proposal of the National Military Organization in Palestine (Irgun Zvai Leumi) Concerning the Solution of the Jewish Question in Europe and the Participation of the NMO in the War on the Side of Germany."
Avraham Stern and his followers announced that
"The NMO, which is well-acquainted with the goodwill of the German Reich government and its authorities towards Zionist activity inside Germany and towards Zionist emigration plans, is of the opinion that:
1. Common interests could exist between the establishment of a new order in Europe in conformity with the German concept, and the true national aspirations of the Jewish people as they are embodied by the NMO.
2. Cooperation between the new Germany and a renewed folkish-national Hebraium would be possible and,
3. The establishment of the historic Jewish state on a national and totalitarian basis, bound by a treaty with the German Reich, would be in the interest of a maintained and strengthened future German position of power in the Near East.
Proceeding from these considerations, the NMO in Palestine, under the condition the above-mentioned national aspirations of the Israeli freedom movement are recognized on the side of the German Reich, offers to actively take part in the war on Germany's side."
Comment: And consider this excerpt from the same book:
"After the Holocaust began in 1942, Eichmann dealt regularly with Dr. Rudolf Kastner, a Hungarian Jew, whom he considered a "fanatical Zionist." Kastner was later assassinated in Israel as a Nazi collaborator. At issue then, however, was the bargaining over the eventual fate of Hungary's Jews, who were slated for liquidation in the Nazi-run death camps. Eichmann said this about Kastner, the Zionist representative,

"I believe that [he] would have sacrificed a thousand or a hundred thousand of his blood to achieve his political goal. He was not interested in old Jews or those who had become assimilated into Hungarian society. 'You can have the others,' he would say, 'but let me have this group here.' And because Kastner rendered us a great service by helping keep the deportation camps peaceful. I would let his groups escape."
Click here to comment on this article
Richard Ben Cramer talks about "How Israel Lost," his exploration of how the occupation of Palestinian land has corrupted the soul of the Jewish state he loves.
By Gary Kamiya
July 19, 2004 | Richard Ben Cramer is not afraid of sacred cows. He bulldozed one of America's icons, Joe DiMaggio, in a bestselling biography, and peeped into the stinky hopper in which the sausage of democracy is ground in his classic study of the 1988 presidential campaign, "What It Takes." With "How Israel Lost: The Four Questions," Cramer, who won a Pulitzer Prize for Middle East reporting in 1979, has taken on perhaps the most explosive, emotion-laden subject in America: Israel.
"How Israel Lost" is a mournful, passionate, hilarious lament for the endangered soul of a nation he loves. In a style that slips from the wisecracking cadences of a Miami Beach hondler to the dispassionate observations of a veteran journalist to the moral outrage of a world-weary humanist, Cramer argues that in the 20-plus years since he originally lived there, the Jewish state has suffered a cataclysmic sea-change, a blow to its spirit all the more tragic for being self-inflicted.
The cause of Israel's malaise, Cramer writes, is very simple: Its 37-year occupation of Palestinian land. The occupation, Cramer argues, is a gross and continuing injustice that has coarsened Israel's moral fiber, corrupted her politics and economy, and split Israeli Jews into bitterly opposed, self-interested tribes who have lost all sense of allegiance to anything beyond their own needs. The occupation has also had a deadly effect on Palestinians, stomping out the last embers of hope and creating a generation of sad, hardened children who know Israelis only as soldiers with guns.
"[T]here are no lives in Israel or Palestine that have not been heated or hardened," Cramer writes. "On the Palestinian side, there are so many lives and dreams on hold ('We are under occupation -- what can we do?') that the conflict has more or less replaced life -- or cooked it to a standstill. The only consolation is that everything can be (and is) blamed on Israel. Among the Jews, the effects are harder to pinpoint -- and, to me, more insidious -- because the whole point of Israel was to create a place where Jews could live the best life -- and liveliest -- according to their values."
Cramer acknowledges that many Israelis deny that the occupation is responsible for the woes that have befallen Israeli society, including domestic abuse, suspicion and school violence. But he says: "To me, it's an open-and-shut case: You can't ask two generations of your boys to act in the territories as the brutal kings of all they survey ('Break their bones,' was the order to his troops from the sainted Yitzhak Rabin, during the first Intifada -- six years before he became Israel's martyr to peace) -- and then expect those boys to come home, and live in lamblike gentleness as citizens, husbands, dads."
After the 1967 war, Cramer argues, Israelis were intoxicated by their success and by the epic transformation they had performed, turning the once-victimized Jew into "a fighter, a stoic, a Spartan ... Occupation -- they would make a new kind of occupation, too, the best the world had ever seen -- the Arabs would be grateful! ... And it never occurred to them that they -- their country, them, inside -- could be affected by being the occupiers. No, not these men of steel ..."
To support his thesis, Cramer tells endless stories -- poignant and powerful ones, narrated with verve and passion and controlled outrage. One is about an Israeli journalist of integrity, an editor for a big news show, forced to work around propagandistic demands from his superiors that he not interview Palestinian leaders and that all shows saying anything about Arabs take proper account of "their murderous nature." (He was fired.)
Another is about a Palestinian named Yusuf Abu Awad who "caught some bad luck at a checkpoint outside his village in the hills near Hebron." Awad was stopped by Israeli troops on the road, not even at a checkpoint, as Israeli troops have the right to do at any time. One of the soldiers, for no reason, started throwing rocks at his car. Yusuf complained. The soldier cursed him. The argument got intense.
Yusuf was ordered back into his car. But he couldn't let it drop. "There is no curfew. There's no demonstration. You're the only one throwing stones."
"Shut up, motherfucker, or I'll shoot you right now."
"You want to shoot, go ahead! You are the sonofabitch who's causing the trouble."
Cramer writes, "The soldier shot from a distance of about four feet. His gun had bullets that enter the target, then explode. Later, in the morgue, Yusuf's face was perfectly all right, but the top of his forehead, crown of his skull and his hair were simply gone. He was 31 years old. He left a wife, aged 25, a daughter of 6 and a son of 5."
An officer arrived, screaming, "What are you, crazy? Why'd you have to shoot him down? What could he do to you?" After the family filed a complaint (with the help of the Israeli human rights group B'tselem) the army investigated -- but "it emerged that Yusuf was accused of trying to take the soldier's weapon ... so, of course, the shooting was self-defense." Cramer does not reveal what happened to the soldier, but as B'tselem has revealed, the vast majority of such cases end with the soldiers receiving no more than a slap on the wrist, if that.
But if Cramer argues forcefully that Israel is ultimately at fault because it is the occupying power, he is at pains to show that neither side is blameless. One of his most powerful stories is about a decent, hardworking Palestinian who worked for Jewish Israelis for years, until a rival clan informed on him and the corrupt and thuggish Yasser Arafat machine decided he was a traitor and beat him, brutally, every day, for months. And Cramer makes sure to put human faces on the Israelis who have been killed in the latest bloody phase of the conflict.
Cramer is not a conventionally religious Jew. But his deepest belief is that the occupation, being unjust, represents a falling-away from what is highest and noblest in the Jewish tradition. He sees his work as being in the spirit of the Hebrew word l'hakshot, fearless questioning. "That argument, that questioning, even of the Commandments, of all supposed wisdom, is the essence of the religion," he said. "This was the first act of the first Jew. And the text of the argument is that you cannot kill the innocent with the guilty."
Not surprisingly, Cramer's assertion that the occupation has corroded Israel's moral legitimacy has led many critics to resurrect the venerable charge that he is a self-hating Jew, and provoked enraged or dismissive reviews in the American and Israeli press. But many of the reviews have also been positive. And Cramer thinks that the American Jewish community's monolithic support for Israel -- a support, he notes, that stands in embarrassing contrast to the range of acceptable views in Israel -- is beginning to crack.
I spoke to Cramer, who comes across as a combination of a charming raconteur, tough newspaperman and cigar-chomping Jewish uncle, at his San Francisco hotel during his national book tour -- a tour that he said he wanted to use to "go to every synagogue in America."
So what made you decide to jump into this hornet's nest? Anybody who writes about Israel knows that it's a no-win subject. And you knew you were going to get hammered.
Well, I grew up in this hornet's nest. I came of age as a reporter in this hornet's nest. So I wasn't unprepared. I thought I knew something about Israel. But I started reading news reports from Israel and from the territories that I just didn't recognize as coming from the place I knew. You know, I'd read a little squib, a one-paragraph story, "So-and-so, a photographer, was killed when an Israeli tank shot its cannon into a crowd in Gaza." And I'm thinking to myself, "Wait a minute. Who shot his cannon into a crowd of civilians in Gaza? On whose orders? And what happened to him?" And the short answer was, nothing happened to him. There were no more stories. And that didn't accord with what I remembered about Israel. So I knew something was changing. I didn't really know how much.
I also could see something was changing in the attitudes towards Israel. I'd look on the front page of the New York Times and I'd see two stories tombstoned -- you know, played equal, side by side. One would be about the latest suicide bomb and the other would be what the Israeli army did in the territories in response. And they were exactly equal. No judgment between them, no difference between them. And that never would have happened in my time as a foreign correspondent. Israel was presumed to have some moral standing. So I knew something big was moving there too. This is in the last couple of years, after the al-Aqsa Intifada.
I think when I got thoroughly disturbed by it was in spring 2001, when the Passover bombing happened, and then the Israelis went into the territories wholesale. I mean they took Jenin apart, they moved into all the territory they had ever ceded. Their tanks were rolling. I thought that this was the kind of story that no one was ever going to announce. You had to take it on yourself to go over there and find out what happened.
[...] The main point of your book is the damage the occupation has done to many different aspects of Israeli society. You give a lot of different examples of that. Did you see this in a visceral way with Israelis that you had personally known from your first stint there?
Yes, I saw this on both sides of the divide. I had Palestinian friends who had now given up. The saddest thing I found was people who had not only high ideals before but the energy to pursue them, who now felt beaten down by years of this grinding cycle of violence. Who felt that they had lost the Israeli public when Barak's offer was refused in 2000. Israelis who felt that there was no choice but to vote for Sharon, because after all he was the only leader of standing on the left or the right that they could vote for. And that was shocking to me. People who hated Sharon. People who knew about Sharon from Lebanon, from Qibya! From the 1950s. And yet they ended up voting for Sharon because they simply didn't see what else they could do. The phrase that I heard more than any other was "There's no one else."
And that was another big change, a big loss for Israel. You know, in the old days -- I sound like a total codger, saying "in the old days" -- when I was there 20, 25 years ago, there was a kind of roster of statesmen-in-waiting, any one of whom could have been a prime minister and perhaps a good prime minister. That's not true anymore, either on the left or on the right. And in the Palestinian society there's such a dearth of leaders coming up under Arafat who could be tolerated by the current power structure that it gives you to wonder, "What the hell is going to happen when this generation passes?"
Going back to the notion that "there's no one else" -- you are very critical of the notion that all of the blame for the collapse of the Camp David talks should be laid at the feet of Yasser Arafat. An idea that is accepted, virtually unanimously it seems, in Israeli society. You argue that that is untrue. You blame all three sides, the Americans who rushed into it, Barak not approaching Arafat with any civility in negotiations, Arafat being totally unprepared. Why was the Israeli left so ready to put all the blame on Arafat?
Well, Barak convinced Israelis that he had offered Arafat the moon. And Clinton backed him up. Clinton in fact made Arafat come to that summit at Camp David in the year 2000. Because Clinton needed a deal right now. Clinton needed a legacy that did not involve the name Monica Lewinsky. And so the deal had to be made right now. Now, Barak also had a taste for that sort of instant solution. Arafat had no taste for it and had no expectation that he was going to get anything like a solution. So only when Clinton tells him, "Go ahead and come, if it doesn't work I won't blame you," did Arafat agree to come. And then immediately when it didn't work, Clinton blamed him. So the assurances from Barak and from Clinton were enough for the Israeli left. And they hated Arafat, like every other Israeli. So it was easy for them to believe that their own solution, the left solution, had been tried and had failed. And this was driven home with the force of a bullet by the new round of Palestinian attacks that immediately followed Sharon's visit to the Temple Mount.
Arafat came as usual with nothing in his hand. He didn't have a real lawyer, he didn't have any maps, he had nothing with which to negotiate. Nor had he had any preliminary discussions, either with neighboring states or with his own people. So he was in no position to begin to say, "Well, that doesn't work but what about this?" So he simply went home. Then Sharon went to the Temple Mount, the situation degenerated into a murderous rage on both sides and then Arafat was scrambling to get out in front of his own people and say "Brothers, I am leading you." [Laughs.]
But at that point the Israeli left could not say to the Israeli public, "Look, the proper course of action is to continue talking." The Israeli public recoiled from the entire prospect of negotiations because there's nothing to unite that country like the statement "This is war." So even former peaceniks were saying, "First we win this war, then we'll talk." At that point all the left's options were foreclosed and there was no plan B. When I got there, what I found was that nobody even had a dream of how this thing could be resolved. And that was the saddest change.
Complete disillusionment.
Disillusionment is a good word for it. We're in a situation now where any asshole on either side can either stuff his shirt with dynamite and get on an Israeli bus or strap on a couple of bandoliers of ammo and leave his settlement and go to a mosque somewhere and stop any nascent peace movement cold. It's veto by the nutcases.
In your book you say, "Any Jew who isn't an Israeli can figure out how to make peace in 10 minutes." In a nutshell, give back the land, and no right of return.
Right. The right of return is going to be dead. Everybody knows it. The Palestinians know it. The Israelis are going to give back the land. There are going to be two nations. It's just a matter of how many have to die in the meantime. How many buses get blown up, how many missiles into Palestinian neighborhoods, how many dead kids. It's one of those situations that eludes us not because of its complexity but by the intractable political forces against it.
You talk about the vital role the United States will have to play in making peace, as the only force with the power and connections with both sides to make this happen. Why has this proved to be so difficult for the Americans to do?
It always seems easier to go along with the Jewish organizations, which tend to follow whatever government is in power in Israel. You know, in all the administrations since Carter's, there hasn't been the kind of urgency that would bring change about. Actually, that isn't strictly true. George Bush the elder held up the loan guarantees to Israel, and a substantial amount of them. Jimmy Baker could not get elected dogcatcher over there. But Clinton could. He went along. Reagan could.
You attribute this to a combination of political expediency -- the power of an influential constituency -- coupled with a genuine commitment to the welfare and well-being of the state of Israel, as they perceive it.
And a disinclination to take on something they can't win. It goes back to your first question. We know that if you take this question up you get hammered. Certainly any president knows the same.
Look at John Kerry, who's moved practically to the right of Bush on Israel. And observers of the American political scene aren't surprised.
Because he's running. And somebody's always running. There's a fourth factor at work here, especially in the current administration, which is the Christian right. The Sharon administration has no stauncher support than the fundamentalist Christians of America. They believe, as the Bible tells them, that the Jews were promised this Holy Land. They believe that the Jews must be ingathered once again in Zion so Armageddon can occur and Christ can return. They believe that Israel is their partner in Judeo-Christian values in a sea of Islamic autocracies. And they will go along with anything Israel feels it has to do. And they are George Bush's base.
To return to the American Jewish community. American politicians run scared of the major Jewish organizations, such as AIPAC [the American Israel Public Affairs Committee]. But that all hinges on the degree to which those organizations have the support of the rank and file of American Jews. Do you see any change there? Are ordinary American Jews still prepared to accept and support anything the Israeli government does?
I think that is changing. You can see this in a lot of small ways. My mom lives in an assisted living complex in Rochester, N.Y., which is in fact run by the Jewish Home of Rochester. It's a kosher establishment, mostly filled with Jews. And the ladies there are nice old Hadassah ladies, they've all done their part for the Jewish community and for Israel, but they say to me they can't even bear to pick up the paper anymore because it's so terrible what's going on over there. I was sitting on a plane next to a UJA [United Jewish Appeal] guy who told me that he got pitched out of nice Jewish homes, or he couldn't even get in the door. You see the Canadians take away the tax break for contributions to Zionist agencies, an ambulance for instance, because it might be used in the occupied territories. This sheer and solid wall of support has already crumbled in Europe. And now I think it's fraying here.
Have you seen evidence of that in the response to your book? Have you been hammered less than you thought you might be?
Well, you know, when you get hammered it never feels like less. [Laughs.] Among Jewish reviewers who purport to some expertise, they're often down-the-line Sharon supporters. But I find among regular, common American Jews a willingness to listen that I would not have found 10 years ago. I think they're disturbed by the situation. I think if there was some mechanism of plebiscite among American Jews for the leadership of Israel, Sharon would get nowhere near the prime minister's chair.
George Bush goes before the leadership of the major American Jewish organizations and gets a rapturous reception. This doesn't correspond to the reality that I see. Admittedly this is San Francisco, where many Jews are very liberal. But there seems to be a disconnect between the leadership and the ordinary people.
There are disconnects that you can see and disconnects that aren't seen. Let me tell you a story that didn't make the book. Every year, more or less, there's a big meeting between an umbrella group of Zionist organizations, I believe it's called the World Zionist Organization. It's a new, overarching construct that was created to get around the guarantee that organizations like the UJA had made that they would not support the settlements. Anyway, this umbrella organization, which consists of many potent nabobs, meets with the Jewish Agency, which is the foundation of Zionism in Israel, and is still the greatest source of support for Israel. They own a lot of the land, it was the mechanism for making Israel Jewish in the pre-state days. So while I was there in late 2002, there was such a meeting. The top brass of the Jewish Agency appears and tells of all the exigencies and emergencies which require an emergency contribution of so-and-so many millions. They have the PowerPoint presentation all ready and the emergencies all lined up, and they conclude as usual with a recommendation that the World Zionist Organization provide on an emergency basis a figure of several hundred million dollars.
And a leader of this umbrella group, a tough little businessman named Mendel Kaplan, slammed his fist down on the table and said, "You're not going to get a blankety-blank dime. If I could buy Israel today for what it's worth and sell it back for all the money we've put in over the last 20 years, I could give every Israeli $150,000." And that was the end of the meeting. Now that is a rift that makes a difference. The reporters had been cleared out of the room, this was never reported. But there's a profound unease within the establishment that has been Israel's lifeline. [...]
Well, does Israel need to exist in order to be a haven for persecuted Jews? There is a disturbing upward slope of anti-Semitism in the world, but some people argue that the cause is precisely the existence of the state of Israel. That is, it's no longer a primordial "Jews are evil, they're other, they're an alien body, we must destroy them," but a more political phenomenon -- which of course morphs into various horrible forms of bigotry.
I don't think Israel is causing anti-Semitism. But the people who adduce anti-Semitism as the explanation for this and for that want it both ways. They want to say that there's a terrible rise in anti-Semitism and that's why Israel is criticized. At the same time, they want to say that there was always anti-Semitism and always will be anti-Semitism and that's why Israel is needed. Now which is it? Well, my own view is that there's always anti-Semitism. I go with the people who say it is simply out there, in the ether, in the water.
Because any group of people that defines itself in some way autonomously from the mainstream of society is always going to be persecuted and seen as other?
"In some way autonomously"? Try the Chosen People! [Laughs.] That's bound to raise a few feathers. But let's say for the purposes of argument that there has always been anti-Semitism and there will always be anti-Semitism. Given that, then how do we explain the growing isolation of Israel and the growing disapproval of the world toward Israel? I explain it by saying that the policy of Israel looses the forces of anti-Semitism. When support for Israel began to crumble in Europe, the Israelis told me that this was merely traditional European anti-Semitism. When the rare American criticizes the policy of Israel, they tell me this is anti-Semitism. When the New York Times is seen to criticize the actions or policies of Israel, they tell me this is anti-Semitism. After a while, I'm not listening. The argument begins to lose its force. [...]
This recalls a powerful passage in your book in which you talk about the importance of honor for the Palestinians, for Arab culture. In fact what you're calling for is very humanistic. It takes a common-sense view of our shared humanity. You apologize. That's the way people begin to heal a situation, by acknowledging the faults on both sides. Did this sense of the humanity of the people in the region come from your long personal knowledge of people on both sides?
I guess that's where it came from. I'm accused of being irreligious, anti-religious, anti-Jewish, but I go back to the first Jew, and the first act of the first Jew. Which was to argue with his own God about Sodom and Gomorrah. And the text of his argument was as follows, and I'm mangling the text. But he said in essence, What if there are 100 good ones? Do you wipe out the whole town? And God said, all right, all right, if there's 100 good ones. And Abraham says, so what's the difference between 100 and 10? They're still good.
That argument, that questioning, even of the Commandments, of all supposed wisdom, is the essence of the religion. There's a verb in Hebrew called l'hakshot, and it means this kind of probing, relentless questioning. This was the first act of the first Jew. And the text of the argument is that you cannot kill the innocent with the guilty.
That's a lesson for Israel, and now for America.
You know, it's a total accident of publishing that this book came out just as America became an occupying power. And we have seen in just the few months that we have acted as occupiers -- American boys doing things that we never thought we'd see Americans do. That's what this story is about. It's what happens to the occupiers.
With Bush playing an increasingly Sharon-like role.
Well, Bush and Sharon see eye-to-eye on this. And the Americans have been learning, literally studying at the Israelis' knees. How to pull off a proper targeted killing. How to justify an occupation. How to justify an assassination. We have to be careful what we learn from Israel.
How did the Six-Day War affect American Jews' attitude towards Israel?
Most American Jews grew up with this tremendous admiration for the Israelis. It was a source of tremendous pride that this little, bitty state of Israel defeated the entire Arab world and in six days, no less. I was a teenager at the time and it was a miracle! As I say in the book, Israel was boffo. So there's no question there's that pride in the Jewish fighter and that this was a great and epochal step for the people.
But it changed. After the '67 war a book was published of oral histories of the Israeli soldiers who fought in that war. I can't translate the exact title for you, but it was something like "We Shoot and We Cry." And it was about the mixed feelings they had pursuing this kind of inhumane, brutal prosecution of their state's aims. Not trying to diminish the need for it or their triumph in it. But reinforcing the idea that these were humane and ethical people who were forced to do these things. You would not find such a book today.
I had a talk with a guy I liked very much named Yishai Shuster. It's not in the book. Yishai grew up on a commie kibbutz -- he's a real old lefty. But a good soldier he was -- he was a paratrooper, which in Israel is this big deal. Crème de la crème. Like every other soldier in Israel, he was in the reserves until a scandalously advanced age. I forget what the age is, they just raised it again. It's in the high 40s now. Anyway, he's about 44 years old or something, and they call him up for duty again. And he's got to go to Hebron to guard these settlers who live right in the middle of the Arab city because God told them to.
The settlements established by Levinger.
Right. And he thought of not going, but he couldn't let down the guys in his unit. If his unit had to go he was going to go because those were his guys. But he had to do something. So he had a friend who was a filmmaker, and the guy gave him a video camera. And Yishai went to his reserve duty, but while he was there he made a film about how it was, called "A Soldier's Story." It was a very powerful little documentary about these army guys and what they really think of the settlers they have to guard. And how the settlers treat them. And how the Arabs look at them, and how the soldiers look at the Arabs. It was heartbreaking. It was such a powerful little film by the end that the BBC picked it up and ran it, and it ran, of course, in Israel.
[...] Let me ask you about the American presidential campaign and policy towards Israel and the Middle East. If Bush is re-elected, do you see him continuing the same policy? Or, since it's his second term, do you think he might turn up the heat on Israel?
That never seems to happen. I think Bush listens to the guys he can listen to and he gets his information from the guys he can sit down and have a real talk with. And Sharon is one of those guys. So I think his policy towards Israel will continue.
What about Kerry?
I don't know enough about him. I don't know about his track record in the Senate. Certainly he was not one of those branded by the Zionist organizations as another Hitler. I think it's possible that under Kerry U.S. policy would shift to its former position regarding the territories as occupied land, and the road map. But I don't expect any real pressure on Israel. Certainly from their campaign rhetoric you cannot predict such.
What about the electorate? Americans have tended to see the Israeli situation -- fighting against an enemy that is increasingly religious, increasingly Islamist -- and, insofar as they subscribe to the Bush war on terror, see us as fighting the same fight. But there's been a seismic shift in the American electorate about how we're prosecuting the war on terror. If Americans continue to turn away from Bush, they might begin to question our complete, unswerving allegiance to anything Sharon might dream up.
It might happen that way. You know, it could go either way. The funny thing is, attitudes towards Israel and the Palestinians don't seem to follow in lockstep with attitudes toward American politics. Democrats can be the greatest hawks on Israel, and Republicans can be extremely sympathetic to an argument like mine.
Traditionally, they were more so. Bush the elder, the Texas oil man, tilted towards the Arabs.
You could see it going the other way, too. People becoming increasingly distrustful of the Saudis and the other Gulf states. If we perceive ourselves as having no friends in the Islamic world, we could get closer to Sharon's view of the Islamic opposition.
But I think Americans should know that our actions in Israel are the single greatest emblem of anti-Arabism, anti-Islamicism. They, are for the entire Muslim world, a red flag. And then Americans sit back and say, "Why don't they seem to like us?"
Click here to comment on this article
By DEBORAH DIAZ
21 July 2004
Suspected Israeli spy Uriel Kelman was employed by an international consultancy that designs surveillance systems and listening devices.
He was also a member of the Israeli Defence Force when he visited New Zealand in February and March 1999, travelling on a Canadian passport. He was not discharged from the army till October that year.
Kelman, 31, and his co-defendant, Eli Cara, 50, were sentenced to six months' prison last Thursday and ordered to pay $50,000 each to the Cerebral Palsy Society. They admitted attempting to get a New Zealand passport in the name of an Auckland man immobilised by that condition.
The Government says it has strong grounds to believe the pair worked in intelligence and last week suspended top-level contact with Israel.
Kelman worked for Israel-based YTS Systems between 1999 and 2002 marketing products and services in Israel and internationally, according to a letter from the company provided to the High Court when he was sentenced last week.
YTS advertises anti-terrorism and hi-tech surveillance services, ranging from risk assessments to advice on building fitouts.
Its website says it has designed security systems for six embassies of unnamed countries, with buildings in the United States, Germany and Africa.
Nothing submitted to the court last week gave any clue as to Kelman's present employer. But, before his arrest, he told Auckland acquaintances he was in a similar line of work – that he was a bugging specialist contracted to a private security firm looking at establishing a branch in Sydney.
This would mean Kelman has worked in the industry since 1999.
According to crown evidence at depositions, Kelman visited New Zealand for two months on a Canadian passport in February 1999.
A discharge certificate supplied to the court at sentencing shows Kelman left the army in October that year, after six years' service.
The YTS testimonial describes Kelman as an industrious and loyal employee who demonstrated creativity and strategic thinking. He was a good colleague, personally honest, respectful of others and willing to assist.
YTS's website says the company was founded in 1987, and that co-founder and security manager Tal Berman served in a "top-secret special intelligence unit of the Israel Defence Forces, where he was responsible for developing and constructing smart electronic equipment for special missions and field operations".
According to evidence filed at Auckland District Court in March, Aucklander Michael Zandvoort told police he met Kelman in the latter part of 2003, when the Israeli went by the name of John.
John had said he was contracted to a company dealing with electronic security and bug detection. He was looking around Sydney to set up a branch.
Meanwhile, a New Zealand news website has reported that a third Mossad suspect – Zev William Barkan, 37 – who fled New Zealand is in North Korea.
Click here to comment on this article
Report: Bush losing interest in Middle East
Wednesday 21 July 2004, 10:13 Makka Time, 7:13 GMT
The United States is losing interest in the Middle East peace process and hopes for a viable Palestinian state are disappearing, according to a British government assessment.
"The role of the USA, the country with the most leverage over Israel, is key," said the analysis, written by the Department for International Development (DFID) in consultation with the Foreign Office.
"Frustration with aspects of the Palestinian leadership, preoccupations in Iraq, presidential elections and security concerns for US citizens may risk USA disengagement at the highest levels from the peace process when it is most likely to start collapsing," said the report published in the Guardian newspaper on Wednesday.
"There is now a medium to high probability that there will be a lack of effective international engagement on the Middle East peace process due to other international priorities in 2004."
"The EU, by contrast remains focused, but has limited influence," it said.
"The Palestinian state which would be left if Israel controlled all access and/or permanently withdrew behind the current and planned route of the separation barrier would not be viable or stable"
DFID, Foreign Office report
Without action soon, Israeli settlement expansion and the continuing construction of the separation wall in the West Bank would make a viable two-state solution "almost impossible," said the report.
"Continuing failure to make progress towards a political solution" leading to the "continued construction of the separation barrier on Palestinian land, and gradual disappearance of the prospects for creating a viable Palestinian state" is the most likely scenario, it said.
"The Palestinian state which would be left if Israel controlled all access and/or permanently withdrew behind the current and planned route of the separation barrier would not be viable or stable," the report said.
It might instead prompt a majority of Palestinians to drop support for a two-state solution and "instead back a single bi-national state from the Jordan to the Mediterranean."
"Palestinians would outnumber Jewish Israelis in such a state within the next decade," it added.
The DFID report said this would be "the logical consequence of indefinite occupation by Israel".
Comment: Bush's mindspan is not known to be very long. Maybe the length of a baseball or football game, and even then, he better not be distracted by doing anything else at the same time, such as eating. On the other hand, it is said that he can carry a grudge for years. Now caught up in the election campaign, Bush must be feeling that this ruling the world stuff isn't as easy as it looked. At what point will the puppet realise that there is someone else pulling the strings...and what will he do then?
The article also discloses the real goal of the Zionists. They do not want a Palestinian state. They want a single, Zionist state from the Mediterranean to the Tiber. They know very well that all of this stalling and delaying serves them well. Each day means fewer Palestinians as the murders continue, more kilometres of wall, and more and more Palestinians outrage at what is happening to them under the eyes of the rest of the world, all their supposed "friends" included. This is a timebomb ticking away. What happens when you back a people up against the wall, even it if is metres high and serves as their prison. Eventually, even the most reasonable and even-tempered are going to explode.
What will happen then?
Death and destruction, not only of Palestinians, but also of Jews. This seems to be the ultimate goal of the Zionists.
Click here to comment on this article
Protest zone draws ire: Court to be asked to rule on use of high barriers and netting
By Jonathan Saltzman, Globe Staff | July 21, 2004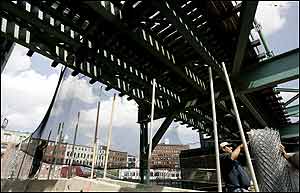 A "Free Speech Zone" in Boston for the Democratic Convention. One of the workers building said ''I'd call it an internment camp." Is this the first step to building a "wall" to separate US politicians from the people?
Cement barriers, 8-foot-tall chain-link fencing, and heavy black netting have been installed around the protest zone outside the FleetCenter, angering protesters who say they will be penned in and closed off from Democratic National Convention delegates.
Much of the area is located under abandoned elevated Green Line tracks that slope downward. The setup, which one netting installer called ''an internment camp," will force tall protesters at the southern end of the zone to lower their heads to avoid banging them on green metal girders.
Furious that protesters are being shoehorned into an enclosed space, lawyers for the American Civil Liberties Union and the National Lawyers Guild said they will ask a federal judge to open up or move the zone.
''We were given every assurance that there would be an adequate space for people to assemble for purposes of protest that is within sight and sound of the convention and the delegates," said John Reinstein, an ACLU lawyer representing activists planning to protest at the convention. "This is neither. . . . It's a pen."
[...] The creation of ''free speech zones," often far from the events that activists are picketing, has become a fierce controversy and the subject of lawsuits recently. When President Bush attended a meeting of world leaders last month on Sea Island, Ga., protesters were kept several miles away.
[...] Urszula Masny-Latos, executive director of the Massachusetts chapter of the National Lawyers Guild, said she was upset when Harris informed her Friday that activists will be forbidden from setting up tables inside the confined area to distribute brochures.
Harris, the legal adviser to the police, said yesterday that tables are banned because they can be used as weapons.
Comment: You're excused if on reading the first paragraph of this story you thought it was describing another "fence" in a country physically far removed from Boston, but ever close to the heart of Massachusetts' John Kerry. Given the Israelis are the experts in terror and dealing with unwanted opposition to their goals, the Bush Reich appears to be learning from the Likudists. We wonder if there were any "technical advisors" in the elaboration of this very curious idea of "free speech zones". Does this mean that outside of the reinforced security of wire and concrete free speech is not permitted?
Click here to comment on this article
The 'War on Terrorism' at Home
By Isa F. Atkins
29 April 2004
Last month, Drake University was subpoenaed by the FBI's anti-terrorism branch for hosting an antiwar forum. Days later, military intelligence officers probed an academic conference on gender and the Islamic law at the University of Texas. These are just two of the dozens of recent instances where law enforcement and intelligence agencies have been caught spying on lawful political activity. News Insider Deputy Editor Isa Atkins feels the chill.
The National Lawyers Guild is no stranger to annoying the government of the United States, though it's been quite a while since it last wore the badge of a national security threat. It was in September 1950, after the House Un-American Activities Committee and J. Edgar Hoover's FBI accused the historic bar association of being a "legal bulwark of the Communist Party" [14]. The Guild had to struggle hard to earn that reputation, which was ultimately awarded to it for having represented the Rosenbergs, the Hollywood Ten, and other prime targets in America's war on communism.
But in America's current war on terrorism, all it took for the Guild to get subpoenaed by the Joint Terrorism Task Force (JTTF) [17] was to co-sponsor a November 2002 public forum in Des Moines, Iowa, entitled Stop the Occupation! Bring the Iowa Guard Home! On February 4, 2004, a local JTTF employee delivered the subpoena to Drake University, where the forum had been held. The University was ordered to divulge to the authorities all information in its possession in relation to the forum, the identity and records of all participants, as well as the identity of all members of the National Lawyers Guild Drake University chapter. Further, it sought all "meeting agenda or annual reports of this organization filed with the University since January 1, 2002" [....]
Comment: Land of the free? In your carefully constructed, government-sponsored dreams, perhaps...
Click here to comment on this article
Boston Globe Editorial - Thomas Oliphant
WASHINGTON The very best that can be said on President George W. Bush's behalf is that he used the Cliffs Notes version of intelligence information about Iraq as the basis for a poorly planned and rushed invasion of Iraq in March of last year. The problem with this charitable approach to Bush is that it's unfair to Cliffs Notes.
The lazy student's version of anything is at least an accurate summary. But the intelligence information about Iraq was wrong. In terms that Bush can perhaps recall from his days at Yale as a budding intellectual of limited achievement, it's as if he went forth to his final exam on Dickens and wrote confidently that David Copperfield murdered Uriah Heep with a fireplace poker.
The policy sophisticates and intelligence insiders are having a field day with the U.S. Senate intelligence committee's limited and highly censored report on prewar information. However, the sophisticates are missing the truly jarring truth. In plain English, the Central Intelligence Agency was serving Bush large helpings of baloney in the form of summaries of analyses and conclusions that were directly contradicted by the detailed information on which these analyses and conclusions were supposedly based.
For those seeking to blame the summaries, including Bush's own campaign and policy big shots, the desperate finger-pointing works only on the basis of an assumption that is grounds for tossing Bush out of office.
To try to escape accountability by blaming CIA summaries, the president would have to ask the country to believe that he led it to war after reading a few cover pages without once glancing at the backup material that was sent to him and his top advisers. This view of the Bush style - big picture and full of alleged moral clarity - is grounds all by itself for electing a new president.
But it gets worse. The major finding in the material released so far is not so much that the CIA's hard-liner-serving conclusions were uniformly false or wildly overstated. The major finding is that the conclusions and declarative statements were in every significant instance found to be undermined or even contradicted by the intelligence data that was sent along with them.
To absolve Bush of disqualifying responsibility for this true scandal, this is what you have to believe. The most glaring example involves one of the CIA's major National Intelligence Estimates about Iraq's unconventional weapons "programs" about six months before the invasion. Like any of these estimates, sent to the top security officials of the government, there is a brief summary and then gobs of more detailed material. . You have to believe that in processing all of this, Bush never bothered to look beyond the summary or to inquire in depth whether it was supported. You then have to believe that Condoleezza Rice never had her large national security staff in the White House take a long look at the backup material on Bush's behalf.
You have to believe that in getting ready for a war, Defense Secretary Donald Rumsfeld and his huge operation never snuck a peek, either.
You have to believe that Vice President Dick Cheney - he of the long resumé and rich experience, not to mention his status as prime mover behind the idea of hasty, nearly unilateral invasion - never bothered to see if his extreme statements about the "threat" from Iraq were supportable. You have to believe that his many personal visits to the CIA were simply to ask questions, not influence answers.
And you have to believe that before he went to the United Nations to make Bush's "case" just before the war - with George Tenet, the director of central intelligence - Secretary of State Colin Powell's own visits to the CIA never once turned up the hedging, contradictory information that the Senate committee found by the bucketful.
Much more is coming - about the prison torture scandal and from the 9/11 Commission about the intelligence dots that were ignored or never connected by Bush and his top advisers. Nothing can top the discovery, however, that the wild statements about Iraq's actions, capabilities and intentions before the war are belied by the data.
To return to my point about Cliffs Notes, imagine you were Bush's instructor at Yale. He has turned in his exam, and you have noted that his assertion that David Copperfield dispatched Uriah Heep with the fireplace poker is contradicted by Dickens's novel itself. To save his skin, Bush comes to you and claims with a straight face that he used the Cliffs Notes version to study and that the fact he got it wrong should be ascribed to the cheat sheet, not to him.
What would you do? I'd flunk him in a heartbeat.
Click here to comment on this article
September 11 report to list 10 missed opportunities to thwart attack
July 21, 2004
WASHINGTON (AFP) - A report to be issued on the September 11 attacks lists 10 missed opportunities during the administrations of President George W. Bush and his predecessor Bill Clinton to detect or derail the attacks.
However, the 600-page report by the bipartisan National Commission on Terrorist Attacks Upon the United States stops short of saying the attacks should have been prevented, government officials who reviewed the document told Wednesday's edition of The Washington Post.
The report lists six "operational opportunities" to potentially unravel the attacks on New York and Washington that killed 3,000 people missed by the Bush administration and four by the Clinton administration.
They include the Central Intelligence Agency's failure to add two of the 19 hijackers who flew the four suicide planes in 2001 to a terrorism watch list, and the Federal Bureau of Investigation's handling of the August 2001 arrest of Zacarias Moussaoui, accused of conspiring in the attacks.
They also include several attempts to kill or capture al-Qaeda terrorist network leader Osama bin Laden.
The report acknowledges that many of the opportunities were long shots and that others would have required a lucky sequence of events to alter the outcome, the officials who read the report told The Washington Post.
The report also recommends wide-ranging reforms in US intelligence agencies and the creation of a cabinet-level position to oversee all US intelligence operations.
It also concludes that al-Qaeda maintained a deeper relationship with Iran and its client Hezbollah militant group than with the overthrown regime of Iraqi dictator Saddam Hussein.
Comment: To summarize: the US needs to be locked down even further, and Iran must be invaded and brought under US control.
Click here to comment on this article
'I'M A WARRIOR': Soldiers hone killer instinct in Iraq
By CHARLES DUHIGG
Los Angeles Times
July 21, 2004
NAJAF, Iraq - Tucked behind a gleaming machine gun, Sgt. Joseph Hall grins at his two companions in the Humvee.
"I want to know if I killed that guy yesterday," Hall says. "I saw blood spurt from his leg, but I want to be sure I killed him."
The vehicle goes silent as the driver, Spc. Joshua Dubois, swerves around asphalt previously uprooted by a blast.
"I'm confused about how I should feel about killing," says Dubois, who has a toddler back home. "The first time I shot someone, it was the most exhilarating thing I'd ever felt."
Dubois turns back to the road. "We talk about killing all the time," he says. "I never used to talk this way. I'm not proud of it, but it's like I can't stop. I'm worried what I will be like when I get home."
The men aren't Special Forces soldiers. They're just ordinary troops with the Army's 2nd Armored Cavalry Regiment serving their 14th month in Iraq, much of it in daily battles. In 20 minutes, they will come under attack.
Many GIs and Army psychiatrists say these constant conversations about death help troops come to grips with the trauma of combat. But mental health professionals within and outside the military point to the chatter as evidence of preventable anguish.
Soldiers are untrained, experts say, for the trauma of killing. Forty years after lessons learned about combat stress in Vietnam, experts charge that avoidable psychological damage goes unchecked because military officials don't include emotional preparation in basic training.
Troops, returning home with untreated and little-understood mental health issues, put themselves and their families at risk for suicide and domestic violence, experts say. Twenty-three U.S. troops in Iraq took their lives last year, according to the Defense Department - an unusually high number, one official acknowledged.
On patrol, however, all that is available is talk.
"Kill, kill, kill, kill, kill," Hall says. "It's like it pounds at my brain. I'll figure out how to deal with it when I get home." Home is the wrong place for soldiers to deal with combat experiences, some experts say.
"It's complete negligence," says Lt. Col. Dave Grossman, a retired psychology instructor at West Point who trains law enforcement officers and special operations soldiers.
"The military could train soldiers to talk about killing as easily as they train them to pull the trigger. But commanders are in denial. Nobody wants to accept the blame for a soldier who comes home a wreck for doing what his country asked him to do," he said.
The emotional and psychological ramifications of killing are mostly unstudied by the military, defense officials acknowledge.
"The idea and experience of killing another person is not addressed in military training," says Col. Thomas Burke, director of mental health policy for the Defense Department. "Training's intent is to re-create battle, to make it an automatic behavior among soldiers."
He defends the approach, saying that if troops think too much about emotional issues in combat situations, it could undermine their effectiveness in battle.
Other military representatives, including officers overseeing combat stress control programs, did not return repeated phone calls seeking comment.
Much of the military's research on killing and battle stress began after World War II, when studies revealed that only a small number of troops - as few as 15 percent - fired at their adversaries in battles.
Military studies suggested that troops were unexpectedly reluctant to kill. Military training methods changed, Grossman and others say, to make killing a more automatic behavior.
Bull's-eye targets used in basic training were replaced with human-shaped objects. Battlefield conditions were reproduced more accurately, Burke says. The goal of these and other modifications was to help soldiers react more automatically.
The changes were effective. In the Vietnam War, 95 percent of combat troops shot at hostile fighters, according to military studies.
Veterans of the Vietnam War also suffered some of the highest levels of psychological damage - possibly as many as 50 percent of combat forces suffered mental injury, says Rachel MacNair, an expert on veteran psychology. Most notable among the injuries was post-traumatic stress disorder, a condition contributing to violent outbursts years after soldiers leave battlefields.
"The more soldiers ignore their emotions and behave like trained machines rather than thinking people, the more you invite PTSD," says Dr. David Spiegel with the Stanford School of Medicine.
Military officials say there have been changes in treating psychological trauma since Vietnam.
Foremost among them is the creation of combat stress-control teams - mental health professionals in Iraq who speak with troops immediately after traumatic events, such as a U.S. casualty.
Comment: The US military only views a US casualty as traumatic. Blowing apart "terrorists" and their families with grenades and .50 caliber machines guns is supposed to be fun!
Military psychologists say immediate intervention is important in avoiding mental distress.
"We get them to voice what they are feeling, to realize they're not the odd man out, not to blame themselves," says Capt. Robert Cardona, a psychiatrist with a combat stress-control team based in southern Iraq.
But the demands of the military's mission and a soldier's mental health are sometimes at odds.
"Our primary goal is to keep soldiers functional, so they can continue to fight," Cardona says. "Everything else, including feeling well, is second to that."
Mental health technicians are available for troops who request help, Cardona says, but stress teams aren't deployed to bases just because U.S. forces kill hostile fighters. He says about half of the soldiers seeking help are traumatized because they killed someone.
"Killing unleashes emotions few people are prepared to deal with," Cardona says. "We help soldiers put those emotions and experiences away, so they can go into battle the next day. We set the expectation that shock is temporary, and that they will return to duty."
The men of the 2nd Armored Cavalry Regiment's Alpha and Charlie companies are resting and playing cards in the shade of a staircase here, and the talk turns to killing.
"I enjoy killing Iraqis," says Staff Sgt. William Deaton, 30, who killed a hostile fighter the night before. Deaton has lost a good friend in Iraq. "I just feel rage, hate when I'm out there. I feel like I carry it all the time. We talk about it. We all feel the same way."
Sgt. Cleveland T. Rogers, 25, avoids dwelling on his actions.
"The other day an Iraqi guy was hit real bad, he was gonna die within an hour, but he was still alive and he started saying, `Baby, baby,' telling me he has a kid," Rogers says. "I mentioned it to my guys after the mission. It doesn't bother me. It can't bother me. If it was the other way around, I'm sure it wouldn't bother him."
Spc. Nathan Borlee tries to keep a lid on what he's feeling.
"I feel like I'd lose control if I think about it too much, so I don't," the 23-year-old says. "Usually everybody comes back and just gives everybody a hug. You kind of get overwhelmed by the feelings."
Without the proper training, experts say, these conversations may contribute to mental injuries.
Grossman says training troops to have therapeutic discussions about killing is "not that hard." His curriculum, used by law enforcement officers and in the wake of traumas such as school shootings, focuses on mental and physical techniques to consciously manage anxiety and other emotional reactions to killing.
"To make killing instinctual, rather than conscious, is inviting pathological, destructive behavior," Grossman says. "We have to give soldiers a vocabulary to talk through emotions and teach them not to be embarrassed by troubling feelings."
Back in the Humvee, Hall and Dubois approach an abandoned elementary school that commanders say is hiding mortars and hostile fighters. Suddenly, the ground is punctuated by the yellow bursts of improvised explosive devices.
Hall begins firing his .50-caliber machine gun, the phosphorus on each fifth bullet trailing long, red streaks.
The constantly squawking radio pauses briefly and a calm, transmitted voice fills the truck.
"Enemy contact," the radio broadcasts. "Kill 'em, kill 'em."
Ahead, a tank pushes a hole through the school's wall. Staff Sgt. Robert McBride, 35, enters a classroom and sees a group of six Iraqis with guns, he later recounts. He throws a grenade. The blast cuts one Iraqi in half, and the rest lie dying from abrasions and burns on their bodies. The soldiers collect dozens of mortar rounds and return to their vehicles. McBride looks at the hostile fighters once more.
"It did not bother me at all to see those bodies up close," McBride says later. "I'm a warrior. ...
"My soldiers, they are all warriors. They have no problems. I don't let them have problems. There is no place in this Army for men who aren't warriors."
The men's commander, however, worries about them.
"During the heat of the battle the adrenaline is such you don't really think about it," says Capt. Brandon Payne, 28. "Once that adrenaline wears off, though, it gets tough. Some kids, it rolls right off their backs. Some, it's like they break down a little more each day."
Payne is as conflicted as his troops about making sense of war. Reconciling duty with ethics, he says, seems more complicated in Iraq.
"I'm a Christian. I feel I'm saving my soldiers' lives by destroying as many enemy as I can. But at the end of each day, I pray to God. I worry about my soul," he says.
"Every time a door slams, I flinch. I'm hoping it will just go away when I get home."
Click here to comment on this article
Mass Destruction in Small Packages
By Frida Berrigan, World Policy Institute. Posted July 21, 2004.
The most deadly weapons in the world today are legal, accessible and dirt cheap. And the United States is spreading them around the world. Story Tools
Since the terrorist attacks of Sept. 11, 2001, the specter of mobile chemical labs, dirty nuclear bombs, anthrax spores, sarin gas, and other weapons of mass destruction has fueled popular fears and inspired countless anti-terrorism initiatives.
While the fear of bombing and attacks is real, here is a surprising fact: The most deadly weapon in the world today is legal, accessible and dirt cheap.
The AK-47, the M-16 and other so-called "small arms" are responsible for the deaths of half a million people each year. About 300,000 people Рmostly civilians Рare killed in wars, coups d'̩tat and other armed conflicts each year by small arms. Another 200,000 people are killed each year in homicides, suicides, unintentional shootings and shootings by law enforcement officers using these weapons. In addition to those killed, an estimated 1.5 million people are wounded by small arms annually. If we take into account their cumulative impact, small arms are truly weapons of mass destruction.
These lethal weapons are cheap, portable and easily concealed, making them ideal weapons for terrorists. They are hard to destroy and so simple to operate that even an eight-year old can carry and use them.
In all, the global small arms stockpile is estimated at 639 million guns. Almost 60 percent of this arsenal is in the hands of civilians – over 377 million weapons. State-controlled military forces, police, insurgents and other militias own the remainder.
While small arms are deadly and dangerous, they are also profitable - which makes them difficult to regulate and control. According to data collected by the Small Arms Survey in Geneva, they account for more than $4 billion in profits each year. The United States has the dubious honor of being the largest exporter, with $741.4 million in sales in 2003, which accounts for 18 percent of the market. The U.S. also purchased $602.5 million in small arms and munitions in 2003, making it the largest importer of small arms, as well.
The failure of nations like the United States to curb the manufacture of these deadly weapons has a devastating impact on human rights, development and the war against terrorism.
In Iraq, for example, the ubiquitous presence of small arms has contributed to the marked increase in attacks on U.S. troops.
In a recent article in the New York Times, Evan Wright, the author of "Generation Kill," notes that at the time of the invasion:
Iraq had one of the largest conventional arms stockpiles in the world... include[ing] three million tons of bombs and bullets; millions of AK-47's and other rifles, rocket launchers and mortar tubes; and thousands of more sophisticated arms like ground-to-air missiles ... As war approached, Iraqi commanders ordered these mountains of munitions to be dispersed across the country in thousands of small caches.
The Marine platoon Wright was embedded with was shocked at the sheer quantity of arms and ammunition littered across Iraq. But they were even more flabbergasted at the Pentagon's order forbidding them to stop and destroy the stockpiles in the rush to Baghdad. As a result, by the time the Marines reached the capital, these same weapons had become part of the Iraqi insurgents' arsenal.
The situation in Iraq is just one example of the dangers that result from underestimating the big problem of small arms.
In Afghanistan, continued violence and instability can – at least in part – be attributed to the concentration of small arms in the hands of warlords and the Mujahedeen. Many of these weapons were purchased with covert U.S. aid and given to anti-Communist fighters 25 years ago. The recent history of Afghanistan is a gruesome testimony to the durability of small arms and offers a powerful argument for their destruction as part of every peace agreement.
It's even more ironic to note that the proliferation of small arms is an integral part of the Bush administration's antiterrorism policies. As part of the war on terrorism, the United States has increased military aid in the form of small arms and training to countries like Uzbekistan, the Philippines and Indonesia. And far too often, these weapons have been turned against the civilian populations of those countries – used in human rights abuses, assassinations and state repression. Small arms also fuel civil wars in Africa and Latin America.
The "war on terrorism" should have stopped weapons from falling into the wrong hands, but as Amnesty International's report "Shattered Lives: The Case For Tough International Arms Control" finds, U.S. and other Western suppliers have gone in the other direction, relaxing arms controls "in order to arm new-found allies against terrorism, irrespective of their disregard for international human rights and humanitarian law." According to Amnesty International, the demand for weapons has risen since the wars in Afghanistan and Iraq.
The correlation between the proliferation of small arms and the proliferation of human rights abuses is stark and unmistakable.
Click here to comment on this article
Japan vows to keep troops in Iraq despite alleged Zarqawi threat
Wed Jul 21, 3:31 AM ET

TOKYO, (AFP) - Japan has vowed to keep its troops in Iraq despite an alleged threat by suspected senior Al-Qaeda member Abu Mussab al-Zarqawi.
"It is important to continue to support the efforts of the Iraqi people," said Deputy Chief Cabinet Secretary Masaaki Yamazaki.
He was responding to conflicting comments posted on an Islamic website which demanded Japanese troop withdrawal but then later ran a statement calling the earlier message a "lie".
Neither of the statements could be verified.
Japan, one of Washington's staunch supporters of the Iraq war, has around 550 troops in the southern Iraqi city of Samawa providing humanitarian aid.
Yamazaki said Tokyo was aware of the threats but said they were unconfirmed.
"We have heard such information but we have not formally received it," he said.
The first message, purportedly signed by the Khalid ibn Al-Walid Brigade, the military wing of Zarqawi's Tawhid wa al-Jihad (Unification and Holy War) group and addressed to the Japanese government, said: "Do it as the Philippines did."
The Philippines this week withdrew its 51-strong contingent from Iraq ahead of schedule to save the life of Filipino hostage Angelo de la Cruz, who was released Tuesday.
"We never forgive anyone who supports Iraq, where you came not to help the Iraqi people but to protect the Americans. You will know the same fate as the Americans and others" killed in Iraq, the message said.
But the second statement, purportedly issued by Tawhid wa al-Jihad's "information department," called the first message a "lie."
Zarqawi, a fugitive Jordanian Islamist who has a 25-million-dollar US bounty on his head, has claimed responsibility for a string of attacks in Iraq, including the beheading of foreign hostages.
A total of five Japanese civilians were taken hostage in Iraq in April but were freed unhurt.
Four Japanese have been killed in Iraq, including two Japanese journalists along with their Iraqi translator, who were attacked in their car in late May, and two Japanese diplomats killed in an ambush last November.
Comment: Isn't it a bit strange that one "terrorist group" keeps accusing another "terrorist group" of lying about kidnappings? Apparently, we're just supposed to conclude that them crazy A-rabs jess keep fightin' 'mongst theyselves. A far more likely possibility is that the first group is an intelligence agency, and the second group is a "real" terrorist group - i.e. a bunch of Iraqis who want their country back.
Click here to comment on this article
'Bunker busters' may grow to 30,000 pounds
U.S. Air Force seeking deep impact on hard-to-reach targets
From Barbara Starr
CNN Washington Bureau
Tuesday, July 20, 2004 Posted: 3:01 PM EDT

WASHINGTON (CNN) -- It's just an idea on paper, but the U.S. Air Force is asking defense contractors how they might develop a 30,000-pound, precision-guided bomb that could destroy targets deep underground, in caves or in hardened bunkers.
Air Force officials said the proposed weapon, called the Massive Ordnance Penetrator, would be substantially larger than the current penetrating bomb -- the GBU-28, a 5,000-pound weapon.
Military officials said the most likely use of such a weapon would be against underground targets such as those found in North Korea.
The Air Force initially considered the development of a 30,000-pound penetrating bomb before the Iraq war, but funding and technical challenges stifled movement.
After the invasion, Air Force weapons experts examined several bomb sites in Iraq and learned targets could not be fully destroyed using the current inventory of conventional weapons.
However, Air Force officials said they are uncertain whether the concept of a bigger bomb can be brought to reality or that there would be available funding.
The Air Force concept calls for the bomb to be deployed on B-2 or B-52 bombers. The weapon would be guided by use of Global Positioning System satellite coordinates.
Engineering obstacles must be overcome, according to Air Force officials.
One challenge would be the need to carry two bombs on an aircraft to keep the plane stable in flight. Both bombs probably would need to be dropped at the same time for the bomber to maintain level flight, officials said.
Air Force officials said the bomb's structure would incorporate some type of heavy alloy that would make up most of the weight, allowing it to penetrate the target. An advanced or "smart" fuse also would be part of the system, so that detonation would occur only after the bomb reached the target, they said.
The Air Force said it is prepared to spend $11 million on weapon design and demonstration, with testing possibly beginning in 2006.
This bomb concept, informally known as the "Big Blue," differs from the Massive Ordnance Air Blast, a 20,000-pound weapon packed with 18,000 pounds of explosives. The MOAB bomb is designed to explode above ground for destruction of widespread surface targets such as troops and tanks.
Click here to comment on this article
Taiwan jets practice emergency landings amid tensions with China
Wed Jul 21, 6:32 AM ET

TAINAN, Taiwan (AFP) - Taiwan air force jets staged rare landings on closed off freeways as part of a major exercise to demonstrate the island's readiness in the event of an attack by China.
Two French-made Mirage 2000-5 fighters from the northern airbase of Hsinchu landed on a highway in Tainan, southern Taiwan, where they were refuelled and loaded with short-range air-to-air missiles before taking to the skies again.
"I'm confident even under a poor situation, I'm able to do as well," Lieutenant Colonel Chang Wei-kuang told reporters after his twin-seat jet safely landed back at the Hsinchu base.
The air force said the exercise, part of Taiwan's biggest annual military drill, is to "review the air force's capability in using freeways for emergency landings and logistic support in case of war."
Analysts said said the rare drill was prompted by US concerns over growing hostility across the Taiwan Strait as China steps up rhetoric against Taiwanese independence and stages huge military manoeuvres of its own.
Since pro-independence President Chen Shui-bian was re-elected in March, Beijing has stressed its long-standing vow to take Taiwan by force should the island try to formalise its split from China at the end of civil war in 1949.
Local television said officials from the US mission in Taipei, known as the American Institute in Taiwan, witnessed the landings, designed to simulate a scenario in which the country's major airstrips would be destroyed by attack.
The United States has remained the leading arms supplier to Taiwan despite switching of diplomatic recognition from Taipei to Beijing in 1979. [...]
Click here to comment on this article
Cheney Attacked Fight Against Terror While Abroad

On the same day that President Bush announced plans to investigate Iran for ties to terrorism,[1] Halliburton acknowledged that "a U.S. grand jury issued a subpoena to the company seeking information about its Cayman Islands unit's work in Iran,[2] where it is illegal for U.S. companies to operate." Earlier this year, CBS News reported that Vice President Dick Cheney was CEO of the company "during which time Halliburton Products and Services set up shop in Iran."[3] In fact, Cheney was so adamant about doing business with terrorist nations like Iran, he even went abroad to publicly attack American foreign policy after meeting with top officials from a foreign government.
Despite economic sanctions on Iran because of its ties to terrorists, Cheney openly bragged about Halliburton's business dealings there during the 2000 campaign.[4] Cheney argued that it was ethical for Halliburton to use "independent foreign subsidiaries" that exist in tax shelter countries like the Cayman Islands to skirt U.S. law. He also went abroad to attack American policy: According to the Malaysian News Agency, Cheney publicly attacked U.S. sanctions on terrorist countries after a meeting with top Malaysian government officials in Kuala Lampur.[5]
During the 2000 campaign, Cheney also claimed that, as Halliburton CEO, "I had a firm policy that we wouldn't do anything in Iraq,[6] even arrangements that were supposedly legal." Yet, earlier this year, The New Yorker reported "during Cheney's tenure[7] at Halliburton the company did business" in Iraq as well. The Washington Post reported that despite strict economic sanctions, Halliburton did up to $73 million in business[8] with Iraq while Cheney was heading the company.
Comment: "Terror" generates money which can then be used to generate more "terror" etc. etc...
Click here to comment on this article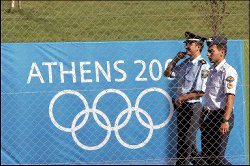 Greece to allow armed foreign guards at Olympics
July 21, 2004
ATHENS (AFP) - Greece has agreed to allow the US, Britain and Israel to send armed guards to protect their athletes during next month's Athens Olympics, an informed source told AFP.
The New York Times had already reported that Greece had relented to pressure to allow 400 US Special Forces soldiers and US, Israeli and British security officers to be armed at the Games.
The agreements will not be formally acknowledged to avoid raising anti-American sentiment in Greece, Greek and US officials told the New York Times.
The source told AFP the Times report was accurate.
But Greek Public Order Minister Yiorgos Voulgarakis denied athletes will be escorted by foreign, armed guards.
"Athletic delegations have escorts. But these escorts cannot be armed," Voulgarakis told private radio station Flash.
"Greek authorities will be exclusively responsible for the security of athletic delegations," Voulgarakis added in a press release.
Foreign armed guards only come in question to accompany foreign leaders, as foreseen under international rules and bilateral agreements, Voulgarakis said.
But a North Atlantic Treaty Organization official quoted by The New York Times said the US government had persuaded Greece to ask for NATO sponsorship for the American Special Forces contingent in order to avoid stirring up a political storm in Greece.
NATO agreed last month to provide AWACS radar planes, maritime surveillance, intelligence sharing and a battalion trained to defend against chemical and biological attack.
NATO was also involved in the security of the 2002 Salt Lake City Winter Olympics but Athens only asked the alliance for assistance after the Madrid terrorist bombings in March that killed 191 people.
Germany and Spain, who had also requested their guards to be armed, have now agreed not to send armed escorts to the Olympics.
The force of bodyguards, which could number 100, would be provided by the US State Department's Diplomatic Security Service and would be deployed in the Olympic Village and on buses to escort the US athletes to their competitions.
The US government has also sought permission to operate in public areas outside the Olympic Village, but that has not been granted, the officials added.
Greek law forbids foreign personnel from carrying weapons inside Greece.
The US Federal Bureau of Investigation is also sending a hostage rescue team and experts in gathering and analyzing evidence in the event of an attack, all of whom will be armed, a US law enforcement official told the daily.
Israel will have at least two dozen armed agents in Athens, while another two dozen countries are sending extra security personnel who will not be armed, Greek and European officials said.
These countries include Japan, Belgium, Germany and Italy, all countries whose athletes are considered at higher risk because of their governments' support of the United States in Iraq, the officials said.
Greece is spending over a billion dollars on security for the August 13-29 Olympics, mobilising 70,000 security personnel, or about seven guards for every athelete.
Comment: One might think that the governments of those countries who support the US invasion and occupation of Iraq would think twice about their actions when their citizens have to be escorted by armed guards at the Olympics. One might also note that the US, Britain, and Israel are the three countries with so-called "secret" security agreements, and they also happen to be the three countries who are pushing the hardest for the eradication of Arab "terrorists".
Click here to comment on this article
First corruption lawsuit filed against former Chilean dictator
www.chinaview.cn 2004-07-21 10:38:48
SANTIAGO, July 20 (Xinhuanet) -- Two human rights lawyers on Tuesday filed the first corruption lawsuit against former Chilean dictator Augusto Pinochet for alleged financial crimes after the disclosure of his secret bank accounts in the United States.
Click here to comment on this article
Another quake hits, causes slips
21 July 2004
Further road slips are being reported in the Rotorua district today after an earthquake about 3am, which was the latest in a swarm of shakes over the past few days.
The latest quake measured 4.4 on the Richter scale and had been felt around the Lake Rotoma and Lake Rotoiti areas as a sharp jolt followed by rolling tremors, Rotorua District Council spokesman Rex Moore said.
Click here to comment on this article
Moderate Quake Jolts Central Turkey
AFP: 7/21/2004
ANKARA, July 21 (AFP) - An earthquake measuring 4.4 on the open-ended Richter scale hit the central Turkish province of Kirikkale Wednesday, but there were no reports of casualties.
The epicenter of the tremor, which struck at 12:14 am (0914 GMT), was at the town of Keskin, some 100 kilometers (60 miles) southeast of the capital Ankara, the Istanbul-based Kandilli seismological institute said.
Click here to comment on this article
Small quake (3.1) shakes Summerville early Tuesday
(Summerville-AP) July 21, 2004 - A small earthquake rumbled beneath Summerville on Tuesday, but there were no reports of damage, and most people didn't notice.
Officials say most people probably slept through the magnitude 3.1 quake that was recorded at 5:13am.
Steven Jaume, an assistant professor with the College of Charleston's Department of Geology and Environmental Geosciences, says it was the first to register on the new sensors that were being installed in the area as part of a nationwide effort to modernize America's seismic monitoring system.
The director of Charleston Southern University's Earthquake Center says six small earthquakes have been recorded in the area this year. The 7.7 magnitude Charleston earthquake of 1886 caused 60 deaths, widespread injuries and $23 million in damage.
Click here to comment on this article
Cold kills 46 children in Peru
LIMA (AFP) Jul 21, 2004
At least 46 children died as extreme cold blanketed more than half of Peru, hitting 158,000 persons, Foreign Minister Manuel Rodriguez said Tuesday as he announced 745,000 dollars in UN aid.
The cold wave, which came in June, has affected much of Peru's Andes mountains, where people live above 4,000 meters (13,000 feet), where temperatures have reached minus 25 C (minus 13 F).
Children have largely succumbed to pneumonia. Cold has also killed 300,000 hectares (741,000 hectares) of crops and 105,000 farm animals.
Click here to comment on this article
Millions affected as death toll climbs in worsening China rains and floods
BEIJING (AFP) Jul 21, 2004
Some 250,000 people have been uprooted by pounding rains and devastating floods sweeping across China, as the death toll steadily climbed Wednesday.
So far, 381 people have died from rainfall-related disasters since the beginning of the year, with 98 people still missing and 45.7 million affected, according to the State Flood Control and Drought Relief Headquarters.
Click here to comment on this article
Indian flood victims ransack government offices, scavenge for food
PATNA, India (AFP) Jul 21, 2004
Villagers ransacked government offices in eastern India, accusing authorities of not supplying aid to cope with deadly floods caused by annual monsoon rains, police said Wednesday.
The district administrator's office in Madhubani town, Bihar state, bore the brunt of public anger, while there was also looting and violence in the flood-hit districts of Muzaffarpur, Samastipur, Kishanganj and Purnia.
"We're trapped in our college hostel and are falling ill due to the filthy conditions. Even snakes and scorpions have been pushed into rooms by the floods," said B. Mishra, a student at a medical college in Bihar's worst-hit Darbhanga district.
The floods have killed at least 237 people nationwide since the rains began in mid-June and affected 11 million Indians, officials say.
Click here to comment on this article
Rolling blackouts likely in Phoenix
Phoenix, AZ, Jul. 20 (UPI) -- Phoenix residents were warned power outages were likely Tuesday due to a transformer fire that further squeezed electricity supplies.
Arizona Public Service said in a release that rolling blackouts were likely during the late-afternoon hours when temperatures were were expected to top 110 degrees and boost power demand to its highest point of the year.
The fire that destroyed a 230-kilovolt transformer early Tuesday knocked out service to 50,000 APS customers in the northwest area of the valley. Everyone had their power restored by 8:30 a.m., although replacing the damaged transformer was expected to take longer.
Customers were urged to conserve as much as possible
A substation fire two weeks ago knocked out one of APS's 500-volt transformers, forcing the utility to order a new transformer from the Pacific Northwest that was still in transit to Arizona this week.
Click here to comment on this article
Tokyo temperature hits record high as heat wave continues
TOKYO (AFP) Jul 20, 2004
The temperature in central Tokyo hit a record 39.5 degrees Celsius (103.1 Fahrenheit) Tuesday as a heat wave continued to scorch many parts of Japan, the Meteorological Agency said.
The mercury reading for Tokyo's financial district at 12:58 pmwas the highest in the capital since the agency began recording data in 1923, surpassing the previous record of 39.1 Celsius reached on August 3, 1994, an agency official said.
While some 90 people were reportedly hit by heatstroke in the capital and surrounding areas, Prime Minister Junichiro Koizumi looked at the situation from an economic point of view.
"I hear summer clothes are selling well. So everything is not bad," he told reporters at his official residence. "There is some positive aspect in economic terms."
Comment: !!!! We suppose that all natural disasters, wars, and the like are really positive because they provide economic opportunity. All those houses to rebuild, roads to fix, coffins to make....
Click here to comment on this article
---
Remember, we need your help to collect information on what is going on in your part of the world!
We also need help to keep the Signs of the Times online.
---

Check out the Signs of the Times Archives

Send your comments and article suggestions to us

---
Fair Use Policy
Contact Webmaster at signs-of-the-times.org
Cassiopaean materials Copyright ©1994-2014 Arkadiusz Jadczyk and Laura Knight-Jadczyk. All rights reserved. "Cassiopaea, Cassiopaean, Cassiopaeans," is a registered trademark of Arkadiusz Jadczyk and Laura Knight-Jadczyk.
Letters addressed to Cassiopaea, Quantum Future School, Ark or Laura, become the property of Arkadiusz Jadczyk and Laura Knight-Jadczyk
Republication and re-dissemination of our copyrighted material in any manner is expressly prohibited without prior written consent.
.