---
Picture of the Day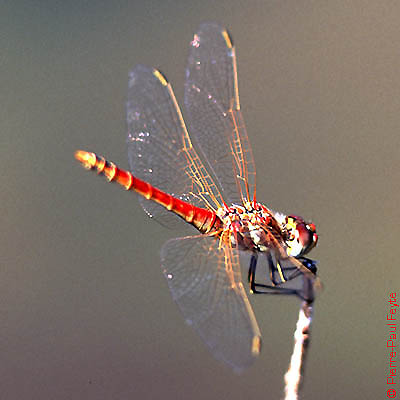 Sympetrum fascié
©2004 Pierre-Paul Feyte
Aussie Bloke Alert
Well, the big day has come and gone... in fact, all three of them have come and gone. No dark cloud. No meteorites wiping out cities. Another Planet X.
Having said that, there have been a number of reports, at least three, of "fireballs" in the sky across the planet in the month of June - but then again, there have been monthly reports of fireballs and meteorite impacts across the globe for over a year now, all of which we have been documenting.
---

Fahrenheit 9/11 - Turning Up The Heat On Independent Thinkers?
SOTT Analysis
26/06/2004
Significant numbers of American citizens will see Michael Moore's new film, 'Fahrenheit 9/11' this weekend. What are we to make of it? Does it represent a triumph for truth in exposing the sordid world of American politics, or is it yet another strategic maneuver by 'the powers that be', designed to placate those with a questioning mind, lulling them into a false sense of 'freedom and democracy'?
'Fahrenheit' audiences get hot under the collar

By Jennifer Radcliffe and Rachel Uranga
Staff Writers

San Fernando Valley moviegoers packed theaters Friday for the emotional opening of Michael Moore's "Fahrenheit 9/11," drawing tears, cheers and standing ovations from the predominantly anti-Bush crowd.

Many viewers sat stunned during much of the documentary, which links the Bush family with wealthy Saudis and makes a case that the administration has poorly handled the spread of terrorism and the war in Iraq.

At the Promenade 16 in Woodland Hills, the audience gave the film a standing ovation. Many left with eyes swelled and red from crying. [...]

Audience members said they were horrified by many of the scenes.

"I thought it was powerful, fantastic, brave," said Carol Johnsen, 58, of North Hollywood. "I feel more like throwing up than anything else."

The film points out ties between the Bush family and its supporters, while intermixing graphic images of mangled American soldiers and dead Iraqi children.

"I think it's one of the most powerful anti-war movies I've ever seen. I think everyone ought to see it -- especially the Republicans," said Sam Sapin, a 79-year-old Sherman Oaks resident, who watched the opening of the film in North Hollywood.

Audiences chuckled as they watched Moore use a loudspeaker in an ice cream truck to read the U.S. Patriot Act to members of Congress in Washington, some of whom admitted they signed the controversial legislation without having read it.

They laughed as they watched Moore unsuccessfully ask politicians to enlist their own children in the military.

"This movie is a personification of what has made American great," said Joseph Feinstein, a 70-year-old rabbi from Sherman Oaks. "I love Michael Moore. I'm proud of the fact that we are a society that can have a person like him presenting information." [...]
The above bolded comments are very telling. Firstly we note that many of those that will see the movie are already anti-Bush, so the target audience is not Bush supporters, but the already disgruntled members of the US public.
Secondly, we see that the message being directed at this target audience is that they were right not to trust Bush, their suspicions have been confirmed, Bush lied, he has "handled" his responsibilities as President very "poorly", he is unfit to be President and should be removed from office. THIS is the message.
Thirdly, we see the knock on effect in the minds of the movie goers - the stirring up of patriotic fervor, the subtle implanting of the idea that America is still the greatest democracy on earth, and the fact that this movie can still be screened is proof of it! In the final analysis, it is just a case of a few rotten apples, which can be dealt with at the next election, or so it would seem...
Falls theaters say no Moore

Limited release leaves 'Fahrenheit 9/11' out of local venues

By Lana Sweeten-Shults/Times Record News
June 26, 2004

Political hotplate documentary "Fahrenheit 9/11," the latest controversial celluloid effort from gonzo documentary director Michael Moore, is heating up movie theaters - and the political arena - across the nation.

But film-goers in Wichita Falls are left out in the cold. The documentary, which opened Friday, didn't make it to theaters here.

Carmike Cinemas' Sikes 10 said they've been getting calls all week about the film and whether it would open here.

But the theater isn't one of the initial 500 screens on which the documentary is playing. The screen count for the film's release is low compared to non-documentary popcorn-flick blockbusters like the upcoming release of "Spider-Man 2," which will spin its web on more like 3,000 to 4,000 screens.

The theater said it doesn't have control over what films will play here and learns from Carmike's district manager a few days before which movies are coming to town.

The last documentary to play at local Carmike theaters was "Tupac: Resurrection," and the theater didn't know whether "Fahrenheit" would ever come to Wichita Falls.

"I called to find out if it was going to play here and was told it wouldn't play in this market," said Dr. Charles Olson, a professor at Midwestern State University.

Carmike's corporate office in Columbus, Ga., did not return phone calls about the documentary's absence in Wichita Falls by press time.

Documentaries, in general, don't get the kind of wide distribution, or make the kind of box-office returns as mainstream films.
Here again we have evidence that the movie was destined for a limited audience - those people able to See that something is amiss in their reality. The main purpose, however, is to present them with a plausible explanation, a half truth, which ultimately is little better than the full lie.
By KATHY GEORGE
SEATTLE POST-INTELLIGENCER REPORTER
Saturday, June 26, 2004

Muckraker Michael Moore has said he wants his latest movie manifesto, "Fahrenheit 9/11," to unseat the president, no less.

If Friday's opening in local theaters is any indication, the film can at least energize the masses who are already inclined to vote against George W. Bush's re-election.

Outside the Neptune Theater in Seattle's University District, hundreds of moviegoers transformed the sidewalk into a sort of mini-convention. Activists had no trouble selling anti-Bush buttons and stickers and pitching various campaigns and causes [...]
Again we see evidence, from Moore himself, what the real goal of the movie is - to 'unseat the president'. Yet what good will it do to remove one corrupt 'Commander in Chief' and replace him with another? Meet the new boss, same as the old boss. The real issues go much much deeper than the idea that America is simply temporarily afflicted with a bad leader. The underlying problem, which gives rise to all others, is the fact that we, as human beings, are far too willing to give up responsibility for our lives and actions to the first would-be leader that presents himself as such. We cannot blame Bush or Cheney or any of the megalomaniacs that currently sit in the White House, or any of their ilk that have gone before them. WE are the problem. As long as we continue to lie to ourselves about who and what we are, it will be ridiculously easy for others to lie to us also.
Fahrenheit 9/11 is indeed a political documentary, but it is only that. It could easily give hope to disgruntled US citizens, where no real hope exists, and thereby ensure their continued compliance with the plans of the men behind the curtain. Moore presents the history of the Bush family, 9/11 and the Iraq war to the US public, and leaves them disgusted with the state of their country - and rightly so. But his enormous failing is that he presents the problem and solution to this situation as the simple removing of Bush in November.
Below we present the analysis of two readers who recently saw Moore's documentary:
I just got back from seeing Michael Moore's new movie and I'd like to share some of my impressions.

As was reported, this movie dealt mainly with the Bush-Saudi connection and the WMD lies that started the invasion of Iraq. He focuses a lot of time on Carlyle and Halliburton, and even manages to throw in his home town of Flint Michigan, and a story of a mother who lost her son in Iraq. The scenes with her were some of the most moving and poignant, yet somehow felt emotionally manipulative as well.

The most glaring omission was his refusal to deal with the "pentagon and WTC issue" at all. Not a word about the delay in scrambling interceptor jets, or the size of the hole and lack of debris on the pentagon lawn. He did mention daddy's Bush's breakfast on the morning of 9-11, but nothing about Senator Bob Graham and Pakistani Intelligence Chief Mahmoud Ahmad meeting in Florida on the same day, nor the wiring of funds to Atta through Pakistan.

You get to see a lot of Duyba in the kindergarten class, but Moore makes light of his psychopathic non-reaction by having Bush inwardly muse about his contacts to Carlyle. Still, seeing Bush sitting there after being told of the second crash, biting his lip, with his little beady eyes flicking back and forth, it's like he KNOWS, and he's pretending hard not to know. Truly chilling.

In his usual style, Moore is very liberal with the editing buttons, and he can create a strong emotional affect in the viewer, in the way he blends the images. There is a strong taint of manipulation here, and Moore himself seems distant from his subject, as he doesn't have a lot of on-camera time.

For people who aren't aware of the 'real events' behind 9-11, this film will be a very effective diversion. I think the only reason it was "allowed" to be released (despite the orchestrated opposition), was because it leads people AWAY from the truth. The film's purpose seems to be to mollify those who already doubt the official version of events, offering them a plausible solution, that not only prevents further questioning but sets the stage for the next invasion, Saudi Arabia.

Even though his film may make some people question the 9/11 lies deeper, in the end it seems, Michael Moore is merely an unwitting tool of the Elite, co-opted by the very beast he is rallying against.

Reader in Canada

I went to see the movie "Fahrenheit 9/11" last night. The theater was 100% full with a two hour waiting line to get in. Not only was there applause at the end but also a standing ovation.

Walking out I said to my daughter and her boyfriend, "I feel both encouraged and discouraged." She asked why, adding that thankfully 'Moore got all the facts out.' "No," I told her, "Much was left out."

No mention of Israel. No mention of the faked stewardess voices as the plane approached the towers. No mention of the gold depositories was stored underneath the World Trade Center and the insider trading. No mention of the FAA destroying evidence presented by the traffic controllers. No mention of the missiles attached on the underside of the planes. No mention of the demolition of the buildings. No mention of the missile size hole in the Pentagon, nor of the witnesses who reported hearing/seeing something else.

I'm sure I'm leaving out something that should be on the above list, suffice to say; there were too many omissions.

It was good that Moore showed how "fear" is used as a tool to get the people afraid enough to give up their rights. I myself would have been glad to sit in the theater for another hour to get a more in depth showing of what will happen when the Red Zone is reached but of course he was trying to stick to what is, not what will be.

All and all my rating of the movie is 7 stars for it does get "some" facts on the table and does show how Iraq was NOT involved in the events of 9/11. It also gave a look at the horror of war from the eyes of the Iraqi citizenry while showing the brainwashed unthinking young soldiers who do the dirty work. The idea that the poorest families are the first to happily offer their son's to the cause was also well done.

We three felt drained as we drove home. My daughter said, "Ma, know what? This is the Nazi's all over again and I'm afraid Bush is going to get in again." 'I know honey, I know.' I answered.

U.S. Reader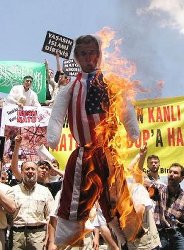 Turkish Police Fire Tear Gas at Protesters
By SUZAN FRASER, Associated Press Writer
June 26, 2004
ANKARA, Turkey - Turkish police fired tear gas as more than 100 left-wing demonstrators hurled rocks and used sticks to try and break down a police barricade during a protest Saturday ahead of President Bush's arrival in the country.
The clash came amid intense security in anticipation of Bush's visit and the opening of a NATO summit in Istanbul on Monday.
Some 6,000 people, mostly members of trade unions and leftist groups, gathered in the center of Ankara, with some chanting "Murderer U.S.A. get out of the Middle East."
The area was completely closed off to traffic and surrounded by more than a dozen police armored personnel carriers.
Shortly after the protest began, about 150 people rushed a police barricade, hitting the blue iron barrier with sticks.
"We will go beyond barricades protecting Bush," the group shouted.
Police fired tear gas at the group from an armored personnel carrier.
A few minutes later the group, the "Socialist Platform of the Downtrodden," again attacked the barricade, throwing rocks at the police. The group is an umbrella organization representing several leftist labor unions in Turkey.
Police again responded with tear gas.
After the second clash, organizers of the main protest asked everyone to disperse and people began leaving the square.
Bush arrives in Ankara late Saturday and is to meet with Turkish leaders the next day before the summit in Istanbul. On Thursday, a bomb went off near the Ankara hotel where he is to stay, wounding three people.
Click here to comment on this article

Faced with losing the election, Bush the Bully wants to make friends
By Steve Holland
NEWMARKET-ON-FERGUS, Ireland (Reuters) - President Bush declared an end on Saturday to Western rifts over Iraq but won little in his search for European military help and took heat over prisoner abuse.
"The bitter differences of the war are over," Bush told a news conference, which was delayed by anti-American protests staged around the lightning U.S.-EU summit in Ireland.
Fenced off from his detractors by 2,000 soldiers and 4,000 police -- a third of the Irish security forces -- Bush holed up in a western Irish castle with European Union leaders. [...]
NATO leaders will rubber-stamp a deal to train Iraqi security forces, a concrete sign of new transatlantic unity.
But it fell far short of Washington's original goal of getting NATO troops into Iraq, and diplomats said it may be just the lowest common denominator the two sides can live with.
With continued violence in Iraq denting his re-election chances in November, Bush challenged European partners in the NATO military alliance to help him end the U.S.-led occupation.
"NATO has the capability and I believe the responsibility to help the Iraqi people defeat the terrorist threat that's facing their country," Bush said.
"The faster the Iraqis take over their own security needs, the faster the mission will end."
In their private talks and a joint U.S.-EU statement, European leaders made clear their disquiet over both the detention of terror suspects in Guantanamo Bay in Cuba and the U.S. military abuse of prisoners at Iraq's Abu Ghraib jail.
The statement pointedly stressed "the need for full respect of the Geneva Conventions."
Bush responded that the Abu Ghraib scandal made him "sick."
"MACBUSH" MOCKED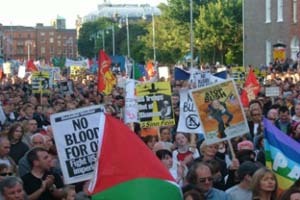 Protesters were kept well away from 16th-century Dromoland Castle where Bush met Irish Prime Minister Bertie Ahern, whose country holds the EU rotating presidency, plus other top officials of the newly-expanded 25-nation bloc. [...]
As on Bush's previous trips to Europe, few on Ireland's street were ready to forgive and forget the U.S.-led invasion.
Around 10,000 (protesters took to Dublin's streets on Friday and while demonstrations close to the summit venue were smaller, they made up for low numbers with high theater.
One group staged a version of Shakespeare's tragedy Macbeth at a police roadblock half a mile from the castle, with "MacBush" cast as the ruthless Scottish king.
"The Irish government has no guts. It should stand up to Bush and tell him we don't want his war, we don't want his planes at our airport," said demonstrator Robert Sheehy.
The whistling and jeering was a sharp contrast to the jubilant welcomes usually afforded American presidents. Past U.S. leaders, from John F. Kennedy to Ronald Reagan, have been feted for their Irish roots and the strong bilateral ties. Former President Bill Clinton was embraced as a conquering hero.
Bush shrugged off his low standing in Europe, saying the polls he cared most about "are those that are going to take place in early November" to elect the next U.S. president.
"As far as my own personal standing goes, my job is to do my job," he said. "I will lead, and we'll just let the chips fall where they may.
Comment: Excellent. We have a psychopath avowing to direct the policies of the world's strongest military nation and simply "let the chips fall were they may". And some people criticise us for being too pessimistic!!
US restricts new Iraqi Army's capabilities
Saturday 26 June 2004, 2:25 GMT
US occupation forces are taking measures to ensure that the emerging Iraqi Army remain a small defensive force with limited capabilities and no armour.
For the first time in its 84-year history, the Iraqi Army has been reduced to a nearly impotent force deprived of heavy armaments, armour, and aircraft.
"Right now, tanks and heavy armament are not necessary," said Frederick C. Smith, the US senior adviser for Iraqi national security.
"What's needed are well-trained, disciplined troops with the proper equipment."
Returning the Iraqi Army to its 400,000-strong capacity with offensive capabilities is a nightmare scenario the Bush administration does not want to see.
"The general idea is that Iraq will not have an offensive capability that its neighbours find threatening," said Jeremy Binnie, an Iraq analyst with the London defense consultancy Jane's.
"They'll be much lighter, mobile forces that can resist security threats when they arise, not like the previous forces organized to launch heavy armoured assaults."
Not yet ready
Compared with the 400,000-man army, equipped with fleets of Soviet tanks and other heavy weapons, the Iraqi interim government that takes power on Wednesday will wield a token force.
The army is expected to field some 35,000 soldiers early next year, equipped with light infantry weapons and non-armoured vehicles, Smith said at a news briefing on Thursday.

Iraq's National Guard, a growing internal security force formerly known as the Iraq Civil Defense Corps, counts some 30,000 members.
The nascent air force owns just two light reconnaissance planes.
The military's chief task is to fight resident guerrillas, not high-intensity warfare with a neighbouring state. [...]
Comment: The US can't have an Iraqi military that is capable of putting up a real fight. Besides, it seems that any "heavy armoured assaults" would gladly be undertaken by American forces in order to protect the Homeland's newest colony.
Click here to comment on this article
Britain labels US military trials as 'unacceptable'
Reuters
Friday, June 25, 2004. 11:07pm (AEST)
Britain's top legal officer has slammed as "unacceptable" proposed US military trials of Guantanamo Bay detainees.
Attorney General Lord Goldsmith's comments, were one of the bluntest statements yet of London's disquiet over the US handling of terror suspects at the US base in Cuba.
"While we must be flexible and be prepared to countenance some limitation of fundamental rights if properly justified and proportionate, there are certain principles on which there can be no compromise," he said.
"Fair trial is one of those, which is the reason we in the UK have been unable to accept that the US military tribunals...offer sufficient guarantees of a fair trial in accordance with international standards."
Goldsmith is the head of a British team negotiating over the fate of four Britons among some 600 people held without charge at the camp, suspected of fighting with the Taliban in Afghanistan or supporting Al Qaeda radicals.
Five Britons were released from Guantanamo in March and several alleged mistreatment by US interrogators.
The Pentagon has yet to hold any trials under the proposed rules.
It says trials would be fair, but that the entire process would be controlled by the Defence Department and there is no right to appeal to a civilian court.
Access to lawyers would be restricted and defendants will not see secret evidence. [...]
Comment: Yup, sounds perfectly fair to us...
Click here to comment on this article
U.S. launches new bid to capture Zarqawi
By Lin Noueihed
Saturday June 26, 04:03 PM
BAGHDAD (Reuters) - The U.S.-led administration in Iraq is mounting a new campaign to get Iraqis to help hunt down alleged al Qaeda operative Abu Musab al-Zarqawi -- with the lure of a $10 million (5.5 million pound) reward.
Administration spokesman Dan Senor said on Saturday posters and announcements in Iraq would publicise the existing price on Zarqawi's head. The Jordanian-born militant has claimed responsibility for several suicide attacks and the beheadings of an American and a South Korean hostage.
"He remains the number one target inside this country. He is a very effective terrorist," Brigadier General Mark Kimmitt, deputy director of operations for the U.S. military in Iraq, told a news conference. [...]
Click here to comment on this article
Army Replaces Top Abu Ghraib Investigator
By ROBERT BURNS, AP Military Writer
June 26, 2004
WASHINGTON - The Army replaced Maj. Gen. George Fay with a more senior general Friday as chief investigator of the role of military intelligence in the abuse of prisoners at the Abu Ghraib prison in Iraq.
The switch to Lt. Gen. Anthony R. Jones, deputy commander of the Army Training and Doctrine Command, will delay completion of the military investigation, said Sen. John Warner, chairman of the Senate Armed Services Committee, R-Va. Warner said it also would impede Congress' efforts to get to the bottom of the matter.
"Congress must be given the tools, the reports with which to do its proper oversight," he said. Warner urged the Pentagon to provide his committee with at least an interim report; Deputy Defense Secretary Paul Wolfowitz, testifying before the panel on Friday, said he would try.
"What I've been told so far by lawyers, that's virtually impossible in a situation where people are investigating guilt and innocence of individuals," Wolfowitz said. "But I share your concern."
Army officials said the decision to put Jones in charge did not reflect on Fay's performance but was necessary to resolve a protocol problem in the investigation.
At issue was the need to interview Lt. Gen. Ricardo Sanchez as part of the investigation. Sanchez is the top American commander in Iraq, and the Army wanted a lead investigator who wears at least the three stars that Sanchez does. As a major general, Fay wears two stars. Jones technically is senior to Sanchez because he has held his three-star rank slightly longer.
Fay will remain part of the investigating team, the Army said in announcing Jones' appointment.
The investigation began March 31 and is expected to be completed in July. It is focused on the role of the 205th Military Intelligence Brigade in the reported abuses of prisoners at Abu Ghraib last fall. [...]
Click here to comment on this article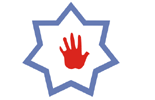 Saddam Suddenly Looks Innocent
Memo To: Attorney General John Ashcroft

From: Jude Wanniski
Re: Why is He Being Held at All?
I see in the papers, John, that our government has decided that we will maintain physical custody of Saddam Hussein even after the June 30 transfer of sovereignty to an Iraqi interim government. An anonymous official told Associated Press the reason is the Iraqis do not have a prison safe enough to hold Saddam, and I suppose there may be some concern that if the Iraqi interim government got their hands on him there may be no need for a "trial." They might sooner have him "die of natural causes" in his cell rather than have him answer the charges of war crimes, which have yet to be brought against him. But I now wonder why he is being held at all?
If you think about it, 18 months ago Saddam Hussein was sitting in his office, the duly constituted president and prime minister of Iraq, minding his own business. The United States did not have diplomatic relations with Iraq and so did not formally recognize him as head of state. But most of the rest of the world did, and Iraq had a seat at the United Nations and in its proper rotation could even take a seat on the Security Council. It was at this point that President Bush decided Saddam had weapons of destruction and was conspiring with Al Qaeda to menace peace-loving nations like the United States. He took his assertions to the UN Security Council and the Council agreed by a 15-to-0 vote to demand Saddam permit UN inspectors back into Iraq to search for the WMD. If you followed the U.N. proceedings over the following months, you will find that Baghdad fully complied with every demand made upon it by the Security Council.
Even if you missed the TV coverage, if you read the papers carefully you would find no instance where Saddam thumbed his nose at the Council. When he read of accounts from President Bush, Vice President Cheney and Secretary of State Powell that he was still hiding stuff from the inspectors that our CIA knew about, he said he would invite the CIA to come and look in every nook and cranny. Remember?
And when the UN inspectors were given tips by the CIA on places to search for WMD, they did so and found no traces of WMD. Not a teensy weensy bit of evidence. So when President Bush asked the Security Council for a resolution backing a war with Iraq, the Council turned him down. The other members pointed out that U.N. diplomacy had indeed worked and that the inspectors could clean up the last bits and pieces in a few months and certify that Iraq was absolutely clean.
President Bush did have authorization from the U.S. Congress to go to war with Iraq to get his WMD, but the resolution required that before he committed troops he had to certify in letters to the House and Senate that diplomacy had failed. Mr. Bush sent such letters to the House and Senate two days before our generals led coalition troops into Iraq from Kuwait. Some members of Congress objected, but what could they do but sit back and wait for our troops to defeat the Iraqi army and then locate the hidden WMD?
As we now know, Saddam Hussein was telling the truth. He had no WMD, had in fact gotten rid of them in 1991 when the U.N. passed a resolution demanding that he do so. Well, the administration of which you are the chief legal officer then insisted the war was justified because of Al Qaeda connections to Saddam's regime. We don't need a permission slip from the UNSC if we see there is a potential threat from a government somewhere, anywhere, that might develop WMD and give them to Al Qaeda, who would then sneak them into the United States and cause catastrophic loss of life.
But now we find Saddam was absolutely telling the truth that he had no contact with Al Qaeda or Osama bin Laden and that the one overture that came from Al Qaeda to an Iraqi official several years ago, asking assistance from Baghdad, was rebuffed. Apparently our intelligence agencies knew all this, as the 9-11 Commission has since discovered, but the administration you serve chose to believe otherwise. The war went forward and the mission was accomplished, at least in its formal military phase. Estimates of the number of Iraqi military and militiamen killed in combat range as high as 60,000 and estimates of the collateral damage to civilians range from 16,000 to 35,000 deaths.
Saddam Hussein was eventually located in his spider hole and whisked away, put under lock and key in a secure prison, with the idea that he would eventually be turned over to a duly constituted court of law and tried as a war criminal.
President Bush on many occasions has pointed out that Iraq is better off without Saddam because his regime was known to have used "torture and rape rooms" at Al Ghraib prison. Now you know President Bush did not order our military people to use those same rooms to rape and torture Iraqi "detainees." He says so and I believe him. But I wonder if you have evidence that Saddam ordered the Iraqi state or local police to "torture and rape," or might he also insist as Mr. Bush has that he was at the tippy top of the national government and if he had known what excesses were committed by local cops, he would have put a stop to it.
To tell you the truth, John, as far as I can recall, there have been no assertions of the "brutality" of Saddam's regime from anyone but the Iraqi exiles associated with Ahmet Chalabi or those Kurds who fought on the Iranian side in the Iran/Iraq war.
There are all kinds of anecdotes about Saddam doing dreadful things, entire books written about them, but the source of all of them is the same pool of people who have been feeding faked "evidence" of WMD and Al Qaeda connections to our government. Can it be that there is nothing that Saddam has done all these years that cannot be justified as the permissible acts of a head of state acting in defense of his people. Yes, he invaded Kuwait in 1990, but in retrospect that was a really easy war to justify, given the economic warfare being conducted against Iraq by the Emir of Kuwait. I mean easy in relation to now having to justify this American invasion and destruction of good chunks of Iraq, on false premises.
President Bush still has it in his head that Saddam tried to assassinate his father in 1993, but if you did the smallest bit of digging you would find this was a hoax perpetrated by the neo-cons.
The President also has it in his head that Saddam committed genocide against the Kurds in 1988, killing tens of thousands of them with poison gas and/or machine guns. If you lifted a little pinky to get to the bottom of this story, you will find it is also made of neo-con whole cloth.
I'm not making wild assertions, John, because I have spent countless hours on this subject and find no loopholes left. Just call Human Rights Watch and ask if they have yet found the mass graves of those tens of thousands of Kurds and they will sheepishly admit they are still looking.
I'll have to admit there is no easy way out for the Bush administration in explaining how it could have been snookered from first to last about Saddam Hussein. I'm not suggesting you ask to meet with the President and tell him he should go on TV and tell the American people he made a Bigtime Boo-Boo. I'm only suggesting you go back to your law books and, for your own good, get a good grip on why Saddam Hussein is behind bars when it now turns out he doesn't seem to have done anything wrong. You might then be in a better position to advise the President on how to proceed in the best way to avoid further Bigtime Boo-Boos.
Click here to comment on this article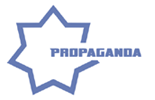 It's Time to Unite Against the Mainstream Media
Editor - TvNewsLIES.org - 24-June-2004
THE PROBLEM:
Public discussion about media bias has escalated somewhat ever since the successful domination of the broadcast media by right wing outlets such as FOX News and Clearchannel. Despite the fact that bias has no place in journalism, it clearly has engulfed the mainstream American news industry with dexterity reminiscent of the "Blob" in the classic horror film. More frightening than this, however, is an even greater problem: the practice of outright deception by our news organizations. It is my sincere opinion that this problem is not only widespread, but potentially catastrophic.
By reporting incomplete facts, providing selective historical background, completely omitting vital and relevant news and by distracting us with trivial and /or sensational news, the mainstream media has lulled the American public into supporting what is perhaps the most dishonest administration in American history.
THE URGENCY:
In ordinary times, differences regarding social and economic issues are basically political. But in ordinary times, adversarial positions don't involve massive death and destruction; nor would they endanger future generations. In ordinary times, whatever political position prevails is balanced by the cycle of our democratic election process that leads to change, correction, and progress. In ordinary times…
However, these are not ordinary times. Under the current administration, the vital issues facing this nation may well have irreversible catastrophic global ramifications. This is not about something as easy to predict as the Bush deficit that our great grandchildren will be paying off. Rather, this is about issues with far more long lasting consequences. I am raising a critical alarm about the precarious future of every facet of quality life in this country, and on this planet. [...]
If the people knew the truth, they would be outraged. They really would. [...]
Comment: Would they? They have every opportunity to learn the truth. The truth IS "Out There." The fact is, the masses do not WANT the truth. They can't HANDLE the truth because once they acknowledge it, it means they must do something about it and doing something about the lies that blanket our world might include experiencing some discomfort from those powers that be who wield the lies for the purposes of control. Nobody is willing to experience discomfort and so, denial is the preferred state of being for most of humanity. And so it has been for millennia.
Click here to comment on this article
Cheney says remarks to Democrat were "long overdue"
WASHINGTON — Vice President Dick Cheney yesterday defended his vulgarity directed at a prominent Democratic senator this week in the Senate chamber.
Cheney said he "probably" used an obscenity in an argument Tuesday on the Senate floor with Patrick Leahy, D-Vt., and added that he had no regrets.
"I expressed myself rather forcefully, felt better after I had done it," Cheney told Fox News' Neil Cavuto. The vice president said those who heard the putdown agreed with him. "I think that a lot of my colleagues felt that what I had said badly needed to be said, that it was long overdue."
Comment: Ah, indeed, it sure feels good to dump on someone else, just to let it all out and force someone else to deal with your own shit. That way, you don't have to. Make someone else pay for your discomfort. Cheney has done it in Afghanistan and Iraq. He has helped Sharon do it in the occupied territories. This is standard operating procedure.
Juan Cole suggests that hypocrite Cheney should be fined. After all, the Republicans get very upset when they hear Howard Stern's obscenities on the radio...
Click here to comment on this article
Drone Takes to Sky Above Arizona Desert
By AMANDA LEE MYERS, Associated Press Writer
June 26, 2004
FORT HUACHUCA, Ariz. - The Border Patrol launched an unmanned drone Friday that uses thermal and night-vision equipment to help agents spot illegal immigrants trying to cross the desert into the United States.
The stepped-up surveillance is part of a mission that officials hope will stem the tide of illegal immigrants that have made Arizona the busiest illegal entry point along the 2,000-mile border with Mexico.
The two drones being used in the project can detect movement from 15 miles up, read a license plate, view a vehicle's occupants, and even detect weapons, officials said.
Roger Maier, a spokesman for U.S. Customs and Border Protection, confirmed that one of the remotely piloted Hermes 450 drones started flying Friday morning. It was unclear when the other one would be used.
The drones weigh almost 1,000 pounds, have a 35-foot wingspan and can fly faster than 100 mph. They will patrol at 12,000 to 15,000 feet. They can stay aloft for 20 hours at a time.
The overall cost of the mission is estimated at least $10 million, with the government spending about $4 million on the drones.
Pilots on the ground will remotely control them unless the flight is preprogrammed, with another agent interpreting the images and using global positioning to send agents to respond to what the drones detect.
The aircraft are a key element of the Department of Homeland Security's efforts to achieve "operational control" of the border in Arizona. The drones' mission ends Sept. 30, when it will be assessed to determine the future of drones with the Border Patrol. [...]
Click here to comment on this article
New Jobs Beneficial, May Lack Benefits
By Kim Dixon
Sat Jun 26, 9:12 AM ET
CHICAGO (Reuters) - Wall Street cheered unexpectedly robust job growth in May, but health plan executives say many new jobs are not offering medical benefits, a development that has HMO investors rattled.
Wall Street analysts and executives at top health maintenance organizations are projecting tepid enrollment growth, and cautioning that new jobs do not necessarily equate with market growth.
"It's fair to say that a lot of jobs that are being created may not be the jobs that come with benefits," Ron Williams, president of Aetna Inc., one of the biggest U.S. health insurers with 13 million members, told investors in early June. [...]
Click here to comment on this article
Close Canada Election Seen Bringing Minority Rule
By Randall Palmer
June 26, 2004
REGINA, Saskatchewan (Reuters) - For the first time in a quarter century, Canadians have an election race where support is so divided it is almost guaranteed no party will win a majority of parliamentary seats in Monday's vote.
Two new polls published on Saturday, just two days before the election, put Liberal Prime Minister Paul Martin 1 point or less ahead of Conservative leader Stephen Harper.
It is an extraordinary situation for the Liberals, often dubbed Canada's natural governing party because they are so used to power. Martin, a former finance minister who replaced rival Jean Chretien as Liberal leader and prime minister late last year, did not have to call an election until late 2005 and ignored warnings he could lose his majority. [...]
But the polls marked an improvement for the Liberals from a week ago, and it was still possible Martin could win the most seats. Ekos projected he might take 117 of Parliament's 308 seats, eight more than the Conservatives. Rival pollster Ipsos-Reid projected the Conservatives ahead by 16 seats.
The other seats would be held by the Bloc Quebecois, which wants independence for the French-speaking province of Quebec, and the leftist New Democratic Party, which wants to increase taxes to fund more social programs.
'WHAT KIND OF COALITION?'
The last government in which the governing party did not hold a majority of seats lasted nine months, from 1979 to 1980, under Progressive Conservative Prime Minister Joe Clark, who went on to lose the 1980 election. The Progressive Conservatives merged with another right-wing party before this election to form the Conservatives. [...]
Click here to comment on this article
The Marine Machine
SOTT Analysis
26/06/2004
Below is a poem that has been making its rounds across the Internet for a few months now. It was allegedly written by a Marine. It exemplifies the level and efficacy of brainwashing through propaganda that has swept through the minds of most all Americans. It shows precisely how asleep they are. It shows how completely many men and women have been fooled into giving up their lives and taking others' lives for the sake of an ideal that their leaders don't even understand much less believe in or put into practice. The poem reinforces the fact that most people in this world are slaves who, without question, do the bidding of the monsters in power. Having spent time in the US Marine Core myself, I have interspersed some of my own commentary on the truth of what the Marine Core does to American men and women.
We all came together,
Both young and old.
To fight for our freedom,
To stand and be bold.
Both young and old (ie. the poor) fight for the freedom of evil corporations and a corrupt government to send the young and old (ie. the poor) into battle to die for lies and for money. Young and old and poor have been brainwashed and lied to and made to feel proud of dying for lies and for profits and for pride.
In the midst of all evil,
We stand our ground,
Would that be the evil that the U.S. forces represent? Standing in the midst of your "brothers in arms"? Or in the midst of all the U.S. profiteers in Iraq hoping to make a few billion bux? One wonders how all the innocents who have been killed would view your statement. One wonders who is evil in the eyes of an innocent dead Iraqi child and the parents that mourn them. You proudly kill for lies, and that is not evil?
And we protect our country
From all terror around.
You protect the interests of the wealthy and the elite. You are fodder for their profits and their games. They do not care about you or you would not be in war. The "terror around" is funded and organized by those who gain from its existence, the powerful and the wealthy.
Peace and not war,
Is what some people say.
But I'll give my life,
So you can live the American way.
You'll give your life so that the government can keep lying. THAT is the American way.
I give you the right
To talk of your peace.
To stand in your groups,
and protest in our streets.
But still I fight on,
I don't bitch, I don't whine.
I'm just one of the people
Who is doing your time.
You have been given a right and then you bitch when it is used. Where is the freedom in that?
I'm harder than nails,
Stronger than any machine.
You are a human who has been molded into the perfect machine. A killing machine. There is no humanity in that. Only death.
I'm the immortal soldier,
I'm a US MARINE!
Wrong. Marines and soldiers die real deaths. They are not immortal, except maybe in our imaginations, but the blood is real. The next time you see one of your buddies blown away beside you, remember the "immortal warrior" as you watch him die right there next to you. And remember the immoral liars who sent him to die.
So stand in my shoes,
And leave from your home.
Fight for the people who hate you,
With the protests they've shown.
If peace is hate, then love is war. And America very much loves the world right now.
Fight for the stranger,
Fight for the young.
So they all may have,
The greatest freedom you've won.
The freedom you've won for them to be kept poor by evil corporations and corrupt governments. The freedom to be lied to and led to their own deaths in a foreign land. The freedom to be molded into a machine whose only purpose is to kill.
Fight for the sick,
Fight for the poor.
Fight for the cripple,
Who lives next door.
Fight for the liars,
Fight for the wealthy,
Fight for the powerful,
Who live in oppulent bunkers underground.
While you are sent to your deaths.
But when your time comes,
Do what I've done.
For if you stand up for freedom,
You'll stand when the fight's done.
Tell that to the more than 20,000 people killed by order of your "leaders" in the last three years. Tell that to the millions killed by Americans this century. Tell that to the families of those who have died and suffered at America's hands. Tell that to the prisoners humiliated by Americans in Abu Ghraib and their families. Your "freedom" has trampled them to death. So please, stand up proud and straight in the killing fields full of charred corpses and tell them about your freedom. And tell them why YOU deserve it more than they.
Corporal Aaron M. Gilbert
US Marine
USS SAIPAN, PERSIAN GULF
March 23, 2003
Hey Dad!
HEY DAD, DOWN HERE. Do me a favor and label this "THE MARINE" and send it to everybody on your distribution list. Even leave this paragraph in it. I want this rolling all over the U.S. I want every home reading it. Every eye to see it. And every heart to feel it. So can you please send this out for me? I would but I am sorta on the USS SAIPAN and my e-mail time isn't that long. You know what Dad, I wondered what it would be like to truly understand what JFK said in his inaugural speech, "When the time comes to lay down my life for my country, I do not cower from this responsibility, I welcome it." Well, now I know. And I do, Dad, I welcome the opportunity to do what I do. Even though I have left behind a beautiful wife, and I will miss the birth of our first-born child, I would do it 70 times over to fight for the place that God has made for my home. I love you all and I miss you very much. I wish I could be there when my wife has our child, but tell her that I love her, and Lord willing, I will be coming home soon.
~SEMPER, FI.~ ~AARON~
Like all the American people and the whole world, Corporal Gilbert was lied to (assuming there is a real Corporal Gilbert). He was not sent away from his wife and soon to be born child and all the people he loves for "my country". He was sent away to a foreign land to kill others' children and risk his own life for lies and for greed and for the evil intentions of the masters of this reality. But like most Americans, and unlike most of the world, Corporal Aaron Gilbert does not believe that his leaders will lie. He is proudly willing to stake his life on it, and the happiness of his family.
And now his poem will serve to swell the hearts of many other Americans and lead many more proud men and women to their deaths. American fighters will remember Corporal Gilbert's words with pride as they squeeze the trigger and obliterate the life of one more Iraqi. His poem will be recited amid the slaughter and the blood of battle. His words will be heard above the din of screams and cries of wounded and dying. Mothers will rock their fatherless babies to sleep with his poetic words.
And our bloodthirsty, chickenhawk leaders who won't even send their own sons and daughters to war are doubtless very proud of Corporal Aaron Gilbert for aiding their cause.
Click here to comment on this article
What war does to womens' and girls' lives
Yesterday, a truly amazing piece of reporting by the WaPo's Ariana Eunjung Cha told the story of a 23-year-old mother of two in Baghdad, widowed by last year's war, who has turned to prostitution in an attempt to buy necessities for her kids, her brothers, and the rest of her family.
The piece is so well-written, and so painful. Bill the spouse immediately questioned why the paper only ran it in the "Style" section, which seems totally to trivialize it. I agree.
[...] I want to come back to this question of the new role that empowered women journalists can make in the way we all understand the costs that war imposes on women and families, and on journalism in general, later.
But while I'm here in the realm of reporting (by women) on post-war prostituion tragedies, I can't avoid linking to this truly outrageous story from a refugee camp in the DRC, where Kate Holt reports on the lives of young-teenage Congolese girls forced into prostitution by the war there, and who their johns there are.
Click here to comment on this article
Bush, Chirac and Sharon are winners of ''Islamophobia Awards 2004 ''
26-06-2004
US President George W. Bush, French counterpart Jacques Chirac and Israeli Prime Minister Ariel Sharon were the worst "Islamophobes" of 2004 , a prominent British Muslim rights group said.
The Islamic Human Rights Commission (IHRC) selected the trio in their annual "Islamophobia Awards" to highlight growing anti-Muslim prejudice, Reuters reported Saturday.
IHRC Chairman Massoud Shadjareh said "It is with great sadness that we reveal this year's winners. Sadly the competition was extremely tough and we see no signs of this abating in the year to come.
Click here to comment on this article
Day to Day: Life in Occupied Palestine
photo essay by Jon Elmer
Suicide bombings; rocket attacks; bombing raids; asassinations; official reports; posturing; political wrangling. Whatever its bias, mainstream press coverage of the middle east overwhelmingly ignores the daily life of people living under occupation. But without understanding the conditions that Palestinians deal with every day, how can a coherent account of the situation and its attendant crises be attempted? With this in mind, we asked independent journalist Jon Elmer to compile a series of photographs from his three month stay in the West Bank and Gaza. Elmer's work can be found at www.fromoccupiedpalestine.org --ed.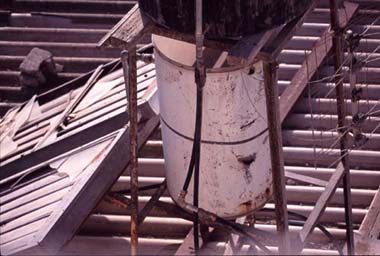 The violence can also be subtle: a single, precisely placed bullet from a sniper's rifle made a hole in this family's rooftop water tank, draining their only water source in a camp with critical water shortages. Many of the water tanks we saw had been patched multiple times.
Click here to comment on this article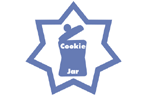 They All Look Alike Anyway
Michael Saba, Arab News
WASHINGTON, 26June 2004 — In1983 , a mysterious package of materials in an unmarked envelope was allegedly delivered to New York Times investigative reporter, Jeff Gerth. The materials led to a major New York Times story about the then US Secretary of the Navy John Lehman. The materials pointed out that Lehman had supposedly taken payments from an Israeli arms company while he was secretary of the navy.
Lehman had owned a firm called the Abington Corporation and had a partner in that firm by the name of Richard Perle. Perle, who was also a US government official during this period in1983 , had also allegedly received money from the same Israeli arms company. Lehman was quoted as saying that his wife was responsible for this oversight and said that he would get after her for her mistake. Perle said that the money he received from the Israeli firm was a payment for work done before he was a government official.
No charges such as conflict of interest were ever filed against either Lehman or Perle for taking money from a foreign company while serving in the US government and the matter was quickly forgotten. Lehman might have gotten some incorrect information from his wife again. He can't seem to get Arabic and Muslim names straight.
Last Sunday Lehman, who is a member of the Sept. 11 Commission, said on NBC's "Meet The Press" that "a very prominent member" of Al-Qaeda served as an officer in Saddam Hussein's militia. He went on to say that he had seen this new intelligence contained in "captured documents" stating that an official greeting Al- Qaeda operatives at a Malaysian airport was the same person who served in the Iraqi Saddam's Fedayeen.
This revelation might not only prove that there was a link between Saddam Hussein, Iraq and Al-Qaeda, but also, if proven true, could verify claims by the Bush administration (especially Vice President Dick Cheney) that Al-Qaeda, Iraq and the militant network responsible for the Sept. 11 attacks were connected to each other. However, one major problem sticks out in the Lehman claim. The person in Malaysia was named Ahmad Hikmat Shakir Azzawi and the man in the Iraqi Fedayeen was named Hikmat Shakir Ahmad. Lehman doesn't seem to care that the names are different.
When the Washington Post pointed out the name discrepancy to Lehman, he said that it really doesn't make a difference because the airport greeter, Ahmad Hikmat Shakir Azzawi, was still possibly linked to Hussein even if Lehman had gotten the names confused. Let's take a closer look at John Lehman and try to analyze his behavior toward the Middle East and Middle Eastern names. Lehman first appeared on the US government scene in the1970s. It was then that he connected with many current Bush officials and influentials such as Paul Wolfowitz and Richard Perle. Lehman went on to capture the post of secretary of the navy in the Reagan administration through alleged ruthless tactics
Writer Claudia Wright noted that before Lehman became secretary of the navy, he was well known in Israel, sat on the board of a Philadelphia think tank run by American supporters of Israel and had done business with Israeli arms dealers. While secretary of the navy in the Reagan administration, he was known as the most pro-Israeli official ever in that position.
Click here to comment on this article
EU-US strike sat-navigation deal
Europe and the US have signed a deal to co-operate over satellite navigation.
It means the EU's planned Galileo system will be compatible with the US GPS - ending a trans-Atlantic dispute.
The agreement determines how Galileo's frequencies should be structured which, crucially, will allow signals to be jammed in war zones if necessary.
[...] The change in technical parameters will allow either side to effectively jam the other's signal in a small area, such as a battlefield, without shutting down the entire system.
More importantly from the civilian perspective, the agreement allows the systems to be meshed seamlessly, greatly benefiting manufacturers, service providers and consumers.
Comment: So, the military has cut a deal, but the good news is that it will benefit consumers! Wow! They're thinking about us! First a little boost for the GPS guys and consumers, next a little coup d'état at home to show the people they love us. These guys and gals in uniform are something, aren't they? Let's hear it for them; let's have a loud round of applause for the US military!
Click here to comment on this article
Ancient Indian Settlement Found in Utah
By PAUL FOY, Associated Press Writer
Fri Jun 25,10:35 AM ET
SALT LAKE CITY - For more than 50 years, rancher Waldo Wilcox kept most outsiders off his land and the secret under wraps: a string of ancient Indian settlements so remarkably well-preserved that arrowheads and beads are still lying out in the open.
Archaeologists are calling it one of the most spectacular finds in the West.
Hidden deep inside Utah's nearly inaccessible Book Cliffs region, 130 miles from Salt Lake City, the prehistoric villages run for 12 miles and include hundreds of rock art panels, cliffside granaries, stone houses built halfway underground, rock shelters, and the mummified remains of long-ago inhabitants.
The site was occupied for at least 3,000 years until it abandoned more than 1,000 years ago, when the Fremont people mysteriously vanished.
What sets this ancient site apart from other, better-known ones in Utah, Arizona or Colorado is that it has been left virtually untouched by looters, with the ground still littered with arrowheads, arrow shafts, beads and pottery shards in places.
"It was just like walking into a different world," said Utah state archaeologist Kevin Jones, who was overcome on his first visit in 2002.
Wilcox, 74, said: "It's like being the first white man in there, the way I kept it. There's no place like it left."
The secret is only now coming to light, after the federal and state governments paid Wilcox $2.5 million for the 4,200-acre ranch, which is surrounded by wilderness study lands. The state took ownership earlier this year but has not decided yet how to control public access.
"It's a national treasure. There may not be another place like it in the continental 48 states," Duncan Metcalfe, a curator with the Utah Museum of Natural History, said Thursday by satellite phone from the site.
Metcalfe said a team of researchers has documented about 200 pristine sites occupied as many as 4,500 years ago, "and we've only looked in a few places."
Wilcox said some skeletons have been exposed by shifting winds under dry ledges. "They were little people, the ones I've seen dug up. They were wrapped like Egyptians, in strips of beaver skin and cedar board, preserved as perfect," he said.
The Fremont, a collection of hunter-gatherers and farmers, preceded more modern American Indian tribes on the Colorado Plateau.
Archaeologists believe the sites may have been first occupied as much as 7,000 years ago; they could shed light on the earliest inhabitants of North America, who are believed to have arrived by way of the Bering Strait about 10,000 years ago. [...]
Click here to comment on this article
Mars Was Once More Watery Than Thought -Scientists
By Jill Serjeant
LOS ANGELES (Reuters) - Mars had a lot more water than NASA scientists originally envisaged but they have yet to work out how much, and why it dried up, Mars mission members said on Friday.
Explorations by the robotic rover Opportunity inside a stadium-sized crater on Mars have turned up more evidence of the salt-like mineral sulfate -- and much farther down the crater than scientists had expected.
"There is a lot more salt down there than we originally thought. That means that there was a lot more water involved in doing this then we originally thought," principal science investigator Steven Squyres told a news conference at NASA's Jet Propulsion Laboratory in Pasadena, California.
"I don't think we've got compelling evidence for what I would call an ocean in the sense of it being a very, very deep body of water. Everything we see is compatible with very shallow water, wetting and drying, a small amount of water to wade around in and then maybe it evaporates away," he said.
Opportunity and its twin rover Spirit, in the fifth month of a scheduled three-month Mars mission, have already exceeded NASA hopes. In March, Opportunity uncovered geologic evidence near its landing site on the barren terrain that the area was once "drenched" in water.
Comment: Yeah yeah, they told us that already! So there was once a shallow sea on Mars, the kind of sea that would support little squiggly life forms. So when do we get to the revelations that, shock horror, the microscopic squiggly life forms still exist!? Will that mean that we are "not alone"? Or will it simply mean that we share the universe with other microscopic squiggly things? Time will tell, we suppose...
Click here to comment on this article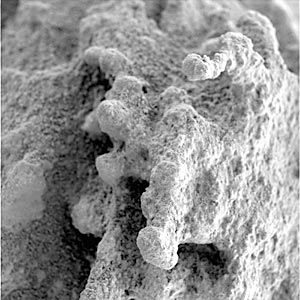 This is a Microscopic Imager picture of mysterious features on the rock called Pot of Gold that Spirit is exploring in Gusev Crater on Mars. Analysis shows it has hematite, a possible sign it formed in water, but geologists can't explain its strange features. Image © 2004, NASA
Weird rock formation occupies attention of Mars rover experts
BY CHRIS KRIDLER
FLORIDA TODAY
The Spirit rover is looking at a Martian rock unlike anything seen on Earth, with a pitted surface and strange nuggets on the end of stalks.
"I have never seen anything that combines all those characteristics together in the way this does," said Steve Squyres of Cornell University, principal investigator for the NASA rovers. "Now, I won't tell you that somewhere on Earth, there isn't a rock that looks like this, but we may be dealing with something uniquely Martian here."
The rock is called Pot of Gold, and it could prove a treasure for Spirit, which is exploring the Columbia Hills in Gusev Crater. A spectrometer reading showed the rock holds hematite, which can form in water.
Click here to comment on this article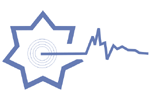 Minor earthquake shakes area southwest of Mount Rainier
THE ASSOCIATED PRESS
Friday, June 25, 2004 · Last updated 4:05 p.m. PT
MORTON, Wash. -- A minor earthquake shook an area southwest of Mount Rainier on Friday, the University of Washington's Pacific Northwest Seismograph Network reported.
There were no immediate reports of any damage or injuries.
A preliminary report by UW seismologists said the 3.7-magnitude quake happened at 2:48 p.m. and was centered 27 miles south-southwest of Mount Rainier, about a quarter mile below the earth's surface.
The quake was felt as far away as the Portland, Ore., suburb of Tigard. A spokesperson from the Pacific Northwest Seismograph Network said the quake was probably felt so far away because of its shallow depth.
Click here to comment on this article
Minor quake jolts Baguio, Pangasinan (Philippines)
Saturday, June 26, 2004 7:12 PM
An intensity 2 quake jolted Baguio City, Dagupan and Lingayen in Pangasinan province before dawn Saturday with Lingayen as the epicenter.
Phivolcs officer Salvador Cesario said the quake lasted for only two minutes at around 4:40 a.m. Saturday which, he said, was a normal occurence.
He said quakes during this time of the year were natural especially as the "quake" month of July approaches. It will be recalled that most of Northern Luzon was devastated when it was hit by a strong earthquake in July 1990 which flattened Baguio.
Click here to comment on this article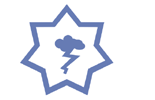 Europe tackles freak weather risk
By Alex Kirby
BBC News Online environment correspondent
Friday, 25 June, 2004, 16:24 GMT 17:24 UK
Rising temperatures are shrinking all but two of the main glaciers that give Europeans clean water, scientists say.
A report by the European Environment Agency says the current rate of glacier retreat is now reaching levels higher than those of the last 10,000 years.
It says climate change is affecting the whole environment, from the plight of glaciers to plants' growing seasons.
The EEA is developing a continent-wide internet information system to help people to prepare for extreme weather.
Looking for help
From 1850 to 1970, it says in EEA Signals 2004, glaciers in the European Alps lost about a third of their area and half their mass, with 20-30% of the remaining ice lost since 1980.
It says about 75% of the glaciers in the Swiss Alps are likely to disappear by 2050.
The agency's executive director, Professor Jacqueline McGlade, said what happened during extreme events was perhaps more important than the monitoring of climate change's impacts.
Speaking at a conference in Hungary of European environment and health ministers organised by the World Health Organisation, Professor McGlade said the EEA had placed on its website satellite images of the distribution of fires in Italy and Portugal in recent summers.
Pinpointing the problems
She said: "We noticed a significant increase in web traffic and were informed after the event that the public had been unable to obtain local information of where fires were spreading and were therefore using the EEA site instead."
So the agency was building "a geo-referenced public information service on the environment, called In Your Backyard".
Professor McGlade told BBC News Online: "What that means is you'll be able to type in your postcode, wherever in Europe you live, and find information about your neighbourhood.
"Some of it will be about landfill sites, or power plants, for example, and that part should be ready by the end of this year.
"But by mid-2005 we hope to be providing details of threats from events like heatwaves, droughts and floods."
"The time has come when extreme weather needs dealing with systematically, not simply as something you forget about the day after it's happened." [...]
Click here to comment on this article
Chilly weather keep golfers off links
WINNIPEG - The low temperatures over the past couple of months has been more than unpleasant for people in the golf business. They're losing money.
Manitoba has suffered through its coldest spring in almost 60 years; May and June temperatures have been locked in the low teens – 10 degrees below normal. [...]
Click here to comment on this article
Jun 25 2004 08:49 AM PDT
VANCOUVER - There were at least 4,200 lightning strikes as a major storm system moved across across B.C. on Thursday, triggering more wildfires.Lillooet firefighter
The B.C. Forest Service says there are now more than 358 forest fires burning. On the same day last year, there were only 57 wildfires burning in B.C. [...]
Click here to comment on this article
Mad cow disease suspected in US
An animal may have tested positive for mad cow disease in the US, the agricultural department has said.
Click here to comment on this article
Dangerous chemical detected on 'toxic bus'
Jun 25 2004 06:27 PM PDT
VANCOUVER - Vancouver Police say they believe they've found out why people became so sick on a city transit bus last month.Response teams search bus for toxins
An environmental consultant has found a trace of methyl chloride, a chemical gas used in manufacturing silicone products.
It can also be found in a lab. But access to it is limited.

Chemist Robert Lockhart of Vizon Scitec Inc. says he found the methyl chloride, after taking bits of material from the front of the bus and then warming the air over those samples.
"This chemical is a gas," he says. "It is unexpected to find it in the environment that we found it in, associated with the sample materials."
Lockhart says if a person came in close contact with this gas, they'd become very ill – and that exposure in high concentrations could cause death.

Insp. Chris Beech says the discovery of the methyl chloride ends speculation that the illness on the bus was the result of mass anxiety.Police sketch of suspect
"It is very clear now that we know what chemical we found, that whatever the motivation was, that the attack was real," he says. [...]
Click here to comment on this article
California sprays pesticides to try and contain West Nile virus outbreak
FONTANA, Calif. (AP) - Workers sprayed pesticides Friday in a neighbourhood where five family members contracted West Nile virus, hoping to control an outbreak that has spread to heavily populated southern California.
The mosquito-borne virus has been diagnosed in eight people in San Bernardino and in neighbouring Los Angeles County, the state's most populous, officials said. No deaths have been reported. [...]
Click here to comment on this article
Senate Passes Toughened Copyright Laws
By Andy Sullivan
June 26, 2004
WASHINGTON (Reuters) - The U.S. Senate passed two bills on Friday that would carve out a larger role for law enforcers in the entertainment industry's struggle to limit unauthorized copying of its movies and music.
People who secretly videotape movies when they are shown in theaters could face jail time, while hackers and industry insiders who distribute copyrighted works before their official release date would also face stiffened penalties under one bill.
A separate measure would allow prosecutors to file civil suits in copyright cases, rather than criminal suits which require a higher standard of proof. [...]
Under a bill sponsored by Republican Sen. John Cornyn of Texas and Democratic Sen. Dianne Feinstein of California, those found guilty of such behavior would face up to three years in prison for a first offense, or five years if it was done for profit. Repeat offenders could spend 10 years behind bars. [...]
Another bill sponsored by Democratic Sen. Patrick Leahy of Vermont would allow the Justice Department to use the same legal tactics as the recording industry, which has sued more than 3,000 people for distributing its music online.
In criminal cases, prosecutors must prove that defendants knew they were breaking the law, while civil cases only require proof that the act took place.
The Justice Department would get an extra $5 million per year through 2009 under the first bill, while the second would provide an additional $2 million next year to teach U.S. officials how to handle civil copyright suits.
"We are now one step closer to making thefts far more difficult, prosecution of criminals much easier, and the protection of consumers and artists much stronger," Cornyn said.
The Recording Industry Association of America said both bills would allow more options to help enforce copyrights.
An official with a trade group for "peer to peer" networks like Blubster and eDonkey was less enthusiastic.
"They're using federal prosecutors as a civil law firm for Hollywood," said Adam Eisgrau, executive director of P2P United.
Comment: Yes indeedy! Given that the world is going to hell in a hand basket, protecting copyrights is vitally important...
Click here to comment on this article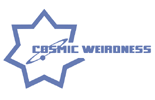 UFOs over the Estrella Mountains? (Arizona, USA)
June 25, 2004
By Scott Davis / NewsChannel 3 producer
Some people are reporting a mysterious sighting of a string of lights in Valley skies last week.
A NewsChannel 3 photographer spotted them, turned on his camera and captured on film the so-called "Estrella lights."
"We watched them for about 2-1/2 hours," said Sheila Jones-Vega, who said the lights moved back and forth.
She and her husband, Frank, said they could hardly believe their eyes while on a drive to the Estrella Mountains where they're building a home.
The Goodyear couple considered the possibility that pilots from nearby Luke Air Force Base were dropping flares.
"I would think a flare would kind of burn and then fizzle out. These things turned back on," she said.
Jones-Vega was right about the flare activity, says Jim Dilettoso, a professional film analyst. But his analysis came with a word of caution.
"But I don't jump to conclusions. I don't hold a vial of lab blood up to the window and say, 'Well looks OK to me.' You know, there's testing that has to be done, extract the data, compare it to normals. Well now, I have found that it is not flares that I am familiar with in my database," he said.
A spokeswoman at Luke Air Force Base said U.S. pilots there drop flares almost every night of the week, but said the Estrella lights did not originate from the base.
After their impressive view June 14, Jones-Vega and her husband said they spent the next night watching the skies from their second-story bedroom window. They said they saw the fighter jets and the Estrella lights not only on the 15th, but again this week.
"We saw jets come up from the airport, numerous jets come up, and it seemed as though the jets would approach the lights. The lights would turn off," she said. "It wasn't as though the jet was dropping something and the light turned on. The lights were already there and the jets came up near them and the lights turned off. I'm a little embarrassed that people will think I'm crazy, but I know what I saw."
Watching the lights blink out one by one, the couple is pretty sure they'll be back.
The couple said they will be watching and wondering if the truth is out there. After all, their new home is out there too.
"Like I said, I don't want to be living on a landing pad out there for something," she said.
Many people are comparing the Estrella sighting to the Phoenix lights of 1997. Dilettoso said there are similarities but also significant differences.
Luke Air Force Base said pilots reported nothing unusual over the past two weeks. And there were no other reports of other military or private organizations admitting to flying in that area.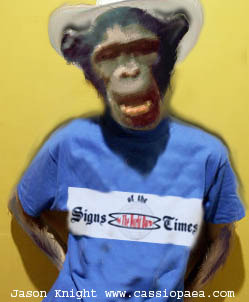 Bush in T-shirt not for broadcast
Sat 26 June, 2004 11:43
NEWMARKET-ON-FERGUS (Reuters) - U.S. President George W. Bush has been caught on video wearing a T-shirt at the window of an Irish castle before meeting European leaders but summit organisers have urged broadcasters not to use the image.
A TV camera zoomed in on Bush looking out the window of his room at the 16th century Dromoland Castle after his arrival on Friday evening. The image of Bush was from the waist up.
Summit organisers appealed to news organisations covering the EU-U.S. summit on Saturday not to use the video.
"The host broadcaster inadvertently transmitted pictures of President Bush at the window of Dromoland Castle. These pictures are the property of the Irish presidency and must not be used for transmission by any service," the memo said.
Click here to comment on this article
---
Remember, we need your help to collect information on what is going on in your part of the world!
We also need help to keep the Signs of the Times online.
---

Check out the Signs of the Times Archives

Send your comments and article suggestions to us

---
Fair Use Policy
Contact Webmaster at signs-of-the-times.org
Cassiopaean materials Copyright ©1994-2014 Arkadiusz Jadczyk and Laura Knight-Jadczyk. All rights reserved. "Cassiopaea, Cassiopaean, Cassiopaeans," is a registered trademark of Arkadiusz Jadczyk and Laura Knight-Jadczyk.
Letters addressed to Cassiopaea, Quantum Future School, Ark or Laura, become the property of Arkadiusz Jadczyk and Laura Knight-Jadczyk
Republication and re-dissemination of our copyrighted material in any manner is expressly prohibited without prior written consent.
.