---
New Article: Will the REAL "Dr. Grant Gartrel(l)" please stand up? - 'Aussie Bloke' exposed
New Part II: Who is Behind the 'Aussie Bloke' Hoax? Some Additional Discoveries...
Picture of the Day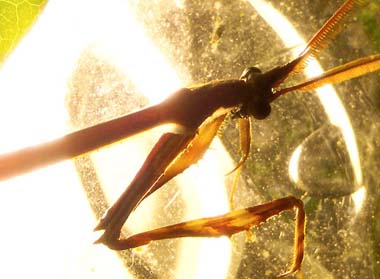 Predator - In Memory of Ronald Reagan
©2004 Pierre-Paul Feyte
Meteorite touches down in NZ home
A meteorite has crashed through the roof of a house in Auckland, much to the surprise of the home's owners.
Scientists were sceptical about the report but have now confirmed the 1.3 kilogram rock has fallen from space.
It is only the ninth meteor to land in New Zealand.
Its rarity makes it valuable to collectors as well as scientists.
Joel Schiff, from Auckland University, says the circumstances of the meteor's discovery also add to its value.
"Falling through a roof is really an exceptional event that rarely happens, and this is a beautiful large specimen," he said.
Scientists plan to analyse the chemical composition of the meteorite to find out more about where it came from.
Comment: We don't know whether this was the same meteor that passed over a day ago, or whether it is a new one. The other bit of missing information is what period of time they refer to when the article says "It is only the ninth meteor to land in New Zealand." Since it was colonised in the 18th century? Since they started keeping reports, probably at a later moment?
For more on meteors and things falling through roofs, see our meteor supplement, six pages of meteor sightings.
Click here to comment on this article
10 million children exploited in domestic labor: ILO report
www.chinaview.cn 2004-06-11 21:39:43
GENEVA, June 11 (Xinhuanet) -- Child domestic labor, a widespread and growing global phenomenon, has trapped at least 10 million children, mostly girls, in hidden forms of exploitation, often involving abuse, health risks and violence, according to a new report issued Friday by the International Labor Organization (ILO).
[...] It cites numerous country estimates, including studies showing that more than 2 million children are found in domestic labor in South Africa, 559,000 in Brazil, 250,000 in Haiti, 200,000 in Kenya, 264,000 in Pakistan and 100,000 in Sri Lanka.
Click here to comment on this article
U.S. trade panel defies NAFTA, rules Canadian lumber injures U.S. producers
Last Updated Fri, 11 Jun 2004 21:21:01
WASHINGTON - Canadian softwood lumber imports pose a threat of injury to U.S. lumber producers, the U.S. International Trade Commission reaffirmed Friday in renewed defiance of a NAFTA panel ruling.
The Canadian government was swift to condemn the decision.
"This decision is clearly without basis and seemingly unsubstantiated," said International Trade Minister Jim Peterson.
"Time and time again, both the NAFTA panel and the WTO have found no evidence of injury – or even threat of injury – to the American industry," he said.
The World Trade Organisation, too, has found no evidence that Canadian imports hurt the U.S. lumber industry.
British Columbia Forest Minister Mike De Jong said the Americans refused to admit they'd lost and intended to string out the issue.
But the U.S. commission suggested the NAFTA appeal panel had overstepped its authority by not giving U.S. officials more time to consider the case.
"We note at the outset that the panel has violated U.S. law and basic tenets of fairness in setting the procedural deadlines in this proceeding," the commission's report said.
Comment: The Free Trade Agreement between the US and Canada was negotiated between the US and Ronald Reagan's great crony, former Canadian PM Brian Mulroney. Mulroney had long worked for US interests in Canada, and once made PM, he did his best to impose the Reagan/Thatcherite neoliberal political and economic agenda on the country. Canada had resources and Mulroney's job was to sell them as cheaply as possible to the US. The FTA was the way to do it.
Canadians were sold a bill of goods. They didn't understand that it was all about the free movement of capital into Canada, not about Canadian citizens being able to buy TVs and VCRs more cheaply from the US without paying import duties, because as soon as the agreement was inked, the Canadian dollar slid from being worth about 90 cents US to being worth as little as 62 cents US. So the price of goods imported went up anyway.
As for Canadian manufacturers having unrestricted access to US markets, that has never happened, as this case of softwood lumber imports attests. The US is as protectionist as the countries it is trying to batter when it comes to protecting US interests. Once again we see that no international board or ruling will ever be acceptable to the US if it goes against US interests. They will always try to find an out. They will never accept that they are just another player.
This is the psychology of the psychopath raised to the level of national culture. That the US alone should be exempt from these rules seems natural, as natural as George W. Bush taking for granted that being President is his due even though he did nothing in his life to earn it. Although readers of this page know that he is indeed the "best man for the job" in the sense that Chance the gardener was at the end of the film Being There.
Click here to comment on this article
FBI Warns Cities About Demonstrations
Sat Jun 12,12:36 AM ET

OLYMPIA, Wash. - The FBI has told law enforcement agencies across the country that radical environmentalists may stage protests, possibly violent ones, this weekend in support of a jailed arsonist.
The FBI bulletin said the Earth Liberation Front reportedly was planning a "day of action and solidarity" that could include acts of eco-terrorism, according to Tor Bjornstad, a police commander in Olympia, one of several cities named as possible targets.
Some of the others were Eugene; Ore.; San Francisco; Modesto, Calif.; Morgantown, W. Va.; Portland, Maine; Worcester, Mass.; Lake Worth, Fla.; and Lawrence, Kan., Bjornstad said. [...]
"We have to take it seriously, and one of the reasons is that this group has claimed credit for a fair amount of criminal activity in the past several years," Bjornstad said.
ELF has been linked to fires and vandalism at agriculture research labs, logging operations, car dealerships and construction sites. The group has defended its actions as efforts to stop companies from profiting from exploitation of the environment. [...]
Comment: Well, isn't that convenient for the powers that be? Now anyone who dares to disagree with the government on environmental issues will be treated as a terrorist.
Click here to comment on this article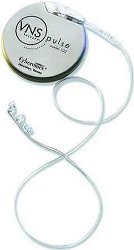 Panel to Review Electric Device for Depression
By Susan Heavey
Fri Jun 11,11:07 AM ET
WASHINGTON (Reuters) - Chronically depressed U.S. adults who find no relief with drugs or psychotherapy could soon be able to try an implanted pacemaker-like device that sends electrical pulses to the brain.
The stopwatch-sized device by Cyberonics, is surgically inserted in the chest, where a wire runs up to wrap around a nerve in the neck.
On Tuesday a U.S. Food and Drug Administration panel of outside experts will meet to discuss whether to recommend the agency approve the device -- already cleared for epilepsy -- for patients with stubborn depression. [...]
Cyberonics officials declined to comment before the FDA panel meeting, but have said depression is an "enormous market opportunity."
VNS Therapy, which is already approved for depression in Europe and Canada, could reach $1 billion in U.S. sales in 2010, company officials said last year.
BRAIN STIMULATION
Shock treatments known as electroconvulsive therapy, or ECT, have long been used to treat severe depression.
While some critics charge the treatment is inhumane and unsafe, researchers say modern electrical stimulation has improved over the last 70 years. It can be the only hope for desperate patients who do not benefit from antidepressants or counseling, they say.
Unlike traditional shock treatments that provide overall brain stimulation, VNS Therapy targets one particular nerve -- the vagus nerve.
Continuous mild electronic pulses to the nerve send signals to the brain that Cyberonics says can lift mood.
"It is a very different sort of treatment than ECT," Sarah Lisanby, a Columbia University psychiatry professor who worked on early depression trials of VNS Therapy, said.
In one study, 12 percent of 124 patients said their symptoms improved by half or more after one year. Another study showed between 21 percent and 30 percent of 205 patients improved a year later. [...]
Lisanby said about one-third of depressed patients do not improve with medication. With few other options, the most depressed have a higher risk of suicide, she said. [...]
Comment: According to the article the official success rate of treating depression with medication is around 66%. Of course, the term "success rate" means different things to different people. Then we have the new brain zapper, which has an alleged success rate of only 12 to 30%. Although, in all fairness, the technology was proven long ago by the CIA in Project Moonstruck in 1952 and the work of Dr. Robert Keefe in 1968:
The CIA continued its work on mind control. Dr. Robert Keefe, a neurosurgeon at Tulane University, conducted work in Electrical Stimulation of the Brain (ESB). The experiments involved implanting electrodes into the brain and body, with the result that the subjects' memory, impulses, and feelings could all be controlled. ESB could also evoke hallucinations, fear, and pleasure. "It could literally manipulate the human will, at will," said Keefe.
Click here to comment on this article
Memory fails you after severe stress

09 June 04
New Scientist

People are woefully bad at recalling details of their own traumatic experiences. When military personnel were subjected to threatening behaviour during mock interrogations, most failed to identify the questioner a day or so later, and many even got the gender wrong.
The finding casts serious doubt on the reliability of victim testimonies in cases involving psychological trauma.
Numerous studies have questioned the accuracy of recall of traumatic events, but the research is often dismissed as artificial and not intense enough to simulate real-life trauma. Other studies have suggested that intense, personal experiences might produce near photographic recollection, something that prosecutors and juries in legal cases often assume.
But some researchers think this is an illusion. "People come away from these experiences feeling they will never forget what happened," says Gary Wells, an expert on eyewitness testimony at Iowa State University in Ames, "but they confuse that with thinking they remember the details."
Now Andy Morgan at Yale University and his colleagues have evidence from truly stressful situations. They studied over 500 soldiers, sailors and pilots at "survival schools" - three mock POW camps run by the US military, who partly funded the study. The subjects, whose mean age was 25, were being trained to withstand the mental and physical stresses of capture.
Comment: It seems that, as humans, we really are set up to be 100% "manipulatable"...
Click here to comment on this article
More Americans Abuse Alcohol, Study Finds
More Americans are abusing alcohol than in the 1990s, but fewer are technically alcoholics, U.S. government researchers said on Thursday.
They found that the number of American adults who abuse alcohol or are alcohol dependent rose to 17.6 million or 8.46 percent of the population in 2001-2002 from 13.8 million or 7.41 percent of the population in 1991-1992. The researchers cannot say why heavy drinking is up.
Click here to comment on this article
Molly Ivins - Creators Syndicate
06.10.04
AUSTIN, Texas -- When, in future, you find yourself wondering, "Whatever happened to the Constitution?" you will want to go back and look at June 8, 2004. That was the day the attorney general of the United States -- a.k.a. "the nation's top law enforcement officer" -- refused to provide the Senate Judiciary Committee with his department's memos concerning torture.
In order to justify torture, these memos declare that the president is bound by neither U.S. law nor international treaties. We have put ourselves on the same moral level as Saddam Hussein, the only difference being quantity. Quite literally, the president may as well wear a crown -- forget that "no man is above the law" jazz. We used to talk about "the imperial presidency" under Nixon, but this is the real thing.
The Pentagon's legal staff concurred in this incredible conclusion. In a report printed by The Wall Street Journal, "Bush administration lawyers contended last year that the president wasn't bound by laws prohibiting torture and that government agents who might torture prisoners at his direction couldn't be prosecuted by the Justice Department. ...
"The report outlined U.S. laws and international treaties forbidding torture, and why those restrictions might be overcome by national security considerations or legal technicalities."
The report was complied by a group appointed by Department of Defense General Counsel William J. Haynes II, who has since been nominated by Bush for the federal appellate bench. "Air Force General Counsel Mary Walker headed the group, which comprised top civilian and uniformed lawyers from each military branch and consulted with the Justice Department, the Joint Chiefs of Staff, the Defense Intelligence Agency and other intelligence agencies. It isn't known if President Bush has ever seen the report."
When members of the Senate Judiciary Committee questioned Ashcroft about his department's input, he simply refused to provide the memos, without offering any legal rationale. He said President Bush had "made no order that would require or direct the violation" of laws or treaties. His explanation was that the United States is at war. "You know I condemn torture," he told Sen. Joe Biden. "I don't think it's productive, let alone justified."
But another memo written by former Assistant Attorney General Jay S. Bybee, now a federal appeals court judge in California, establishes a basis for the use of torture for senior Al Qaeda operatives in custody of the CIA. I am not one to leap to conclusions, but it seems quite clear how whatever perverted standards allowed at Guantanamo Bay jumped across the water to Abu Ghraib prison. Maj. Gen. Geoffrey D. Miller, commander at Gitmo, was dispatched last August to Abu Ghraib to give advice about how to get information out of prisoners. "Miller's recommendations prompted a shift in the interrogation and detention procedures there. Military intelligence officers were given greater authority in the prison, and military police guards were asked to help gather information about the detainees," according to The New York Times.
Among the legal memos that circulated within the administration in 2002, one is by White House counsel Alberto Gonzalez, famously declaring the Geneva Convention "quaint," and another from the CIA asked for an explicit understanding that the administration's public pledge to abide by the spirit of the Geneva Convention did not apply to its operatives. The only department consistently opposing these legal "arguments" was State. In April 2002, Secretary Rumsfeld sent a memo to Gen. James T. Hill outlining 24 permitted interrogation techniques, four of which were considered so stressful as to require Rumsfeld's explicit approval before they were used.
It has been apparent for some time that the abuses at Abu Ghraib were not isolated instances -- torture from Afghanistan to Gitmo to Iraq has so far resulted in 25 deaths now under investigation. As the late Jacabo Timmermann, the Argentine journalist who was tortured during "the dirty war," said, "When you are being tortured, it doesn't really matter to you if your torturers are authoritarian or totalitarian." I doubt it helps any if they're supposed to be bringing democracy, either. And as Ashcroft said, it isn't productive.
The damage is incalculable. When America puts out its annual report on human rights abuses, we will be a laughingstock. I suggest a special commission headed by Sen. John McCain to dig out everyone responsible, root and branch. If the lawyers don't cooperate, perhaps we should try stripping them, anally raping them and dunking their heads under water until they think they're drowning, and see if that helps.
And I think it is time for citizens to take some responsibility, as well. Is this what we have come to? Is this what we want our government to do for us? Oh and by the way, to my fellow political reporters who keep repeating that Bush is having a wonderful week: Why don't you think about what you stand for?
Click here to comment on this article
Americans say Iraq war not worth it
Saturday June 12, 04:18 AM
LOS ANGELES (Reuters) - A majority of U.S. voters now say it was not worth going to war in Iraq and feel the United States is getting bogged down there, according to a Los Angeles Times poll.
In the survey of 1,230 registered voters conducted across the country from Saturday through Tuesday, 53 percent said it was not worth going to war in Iraq while 43 percent said it was and 4 percent said they did not know. The sample has a margin of error of 3 percentage points.
The paper said the survey published on Friday was the first time one of its voter surveys found a majority of voters doubting whether the situation in Iraq was worth the United States going to war there. [...]
The paper said that 35 percent of American voters thought the United States was making good progress in Iraq while 61 percent said the country was getting bogged down there. [...]
But 52 percent of voters said that they thought the United States was winning the war in Iraq and less than one in four said the insurgents were winning. [...]
Comment: What does it mean to "win the war" in Iraq? If it was not worth going to war in Iraq, that suggests that maybe there is something wrong with the rationale for the invasion. In that case, how can America win anything? Of course, crushing and controlling another country can be considered a "win" if the goal is to obtain control of the flow of oil, to create a strategic colony for the empire, or to do the bidding of the Zionists that seem to be controlling America.
Click here to comment on this article
Blair told to apologise for war
11/06/2004
Labour backbenchers have said that Tony Blair must apologise for the war in Iraq if he is to regain the trust of voters.
Christine McCafferty, the Labour MP for Calder Valley, warned that voters would not back the Prime Minister again if he did not "hold his hands up and say 'I got it wrong"'.
Ms McCafferty said anger over the war had virtually "obliterated" the Government's many achievements since 1997, and Mr Blair now had to regain voters' trust.
"There clearly are issues of trust," she said. "If the Prime Minister were to hold his hands up and say 'I got it wrong' and perhaps apologise, then maybe people would be willing to trust again.
"But if he doesn't do that, then I think many voters will think it is time to have a new leader." [...]
Comment: What about the weak-kneed backbenchers themselves who buckled under and voted the Blair party line?
Click here to comment on this article
The street speaks - Iraq's UN-backed government is made up of CIA pawns
10 June 2004
Iraqis are highly sceptical that the US occupation will, as promised, end on 30 June and predict worse fighting to come if real power is not handed over. "I don't believe there will be a transfer of power," said Ali Hashimi, a computer accessories salesman. "It is just a show for the international community."
Click here to comment on this article
Saddam's Double subjected to torture
www.chinaview.cn 2004-06-11 10:32:55
BEIJING, June 11 (Xinhuanet) -- A Jordanian attorney who claims he represents Saddam Hussein said on Wednesday he believes the ousted Iraqi leader was subjected to torture, although a copy of a letter reportedly sent to his daughters seems to show the ex-president in good spirits, said Friday's China Daily.
Mohammed Rashdan said he had a copy of a January 21 report by the International Red Cross Committee (ICRC) that said the detainee's health was good but that he was "slightly wounded." It gave no details on the injury.
"This is blatant proof that the Iraqi president was subjected to physical and moral torture and violence," said Rashdan, who says Saddam's wife appointed him as attorney shortly after the ex-leader's December 13 capture.
[...] Largest US embassy
The US State Department is planning to have more than 900 Americans staff the US Embassy in central Baghdad, assisted by 600 to 700 Iraqis in the biggest American embassy in the world, department planners said on Wednesday.
A former palace of Saddam Hussein will serve as the new embassy until a site is chosen in the capital as a replacement for the embassy seized by Iraq in 1970, said Francis J. Ricciardone, the department's co-ordinator for Iraqi transition.
Comment: If the US is planning its largest embassey, what does that suggest? That it is meant to be the centre of operations for long-term US control over the Middle East. This centre of operations will continue whether Bush or Kerry is elected. There is no difference on foreign policy between the two candidates. Regardless of who wins, the US will continue to push its way into any room, whether the inhabitants want them there or not.
Click here to comment on this article
Eight more months for Dutch troops in Iraq
THE HAGUE (AFP) Jun 11, 2004
The Dutch cabinet on Friday extended the mandate of the more than 1,300 Dutch troops stationed in Iraq for a further eight months, until early 2005, the government said.
"The government has decided today to extend the Dutch military contribution to the multinational forces in Iraq for a period of eight months, from mid-July 2004 to mid-March 2005," a statement said.
"This period has been chosen so that Dutch troops can continue to contribute to stability in Iraq up to and after the elections to be held in January 2005." [...]
Click here to comment on this article
U.S. government running $344-billion deficit
by Jeannine Aversa
June 10, 2004
WASHINGTON (AP) --The government ran a deficit of $344.3 billion in the first eight months of the 2004 budget year, according to the latest snapshot of the nation's balance sheets.
The data released by the Treasury Department on Thursday showed more red ink than the $290.9 billion shortfall for the corresponding period last year. [...]
Click here to comment on this article
Art becomes the next suspect in America's 9/11 paranoia
Gary Younge in Buffalo
Friday June 11, 2004
The Guardian

On May 10 Steven Kurtz went to bed a married art professor. On May 11 he woke up a widower. By the afternoon he was under federal investigation for bioterrorism.
What began as a personal tragedy for Mr Kurtz has turned into what many believe is, at best, an overreaction prompted by 9/11 paranoia and, at worst, a politically motivated attempt to silence a radical artist.
Several of Mr Kurtz's colleagues and artistic collaborators have been subpoenaed and a date for a federal grand jury hearing set for Tuesday. Both artist and his art are set to go on trial for their alleged links with terrorism.
The ordeal started when Mr Kurtz, who teaches at the University at Buffalo, New York state, called the emergency services when he woke up to find Hope, his wife of 25 years, had stopped breathing.
A paramedic who came to his house saw laboratory equipment used in Mr Kurtz's art work. Within hours agents from the Joint Terrorism Task Force were combing his house and had seized his books, personal papers, computer as well as his work which have still not been returned.
Hope, it transpired, had died of a heart failure which no one suggests had anything to do with Mr Kurtz or his work. But as her body lay in the house Mr Kurtz, 46, was whisked off to be questioned for two days while his home was cordoned off and searched. "It's a complete fishing expedition," says Mr Kurtz's lawyer, Paul Cambria. "There's no question that it's a paranoid overreaction that would never have happened before 9/11. I only hope that it is not simply aimed at trying to silence his message or the methods he's using to convey his message." The FBI refuses to comment.
Mr Kurtz, who is not speaking to the press, is part of the Critical Art Ensemble, "dedicated to exploring the intersections between art, technology, radical politics and critical theory".
His art often involves blending biology with agricultural issues. In 2002 his exhibit Molecular Invasion, a statement against genetically modified crops, created a display of small soy, corn and canola plants growing under large incubating lamps. Other exhibits allowed visitors to watch bacteria grow in petri dishes. "He's trying to change the world through his work and his discourse," says Adele Henderson, the head of the art department at the University at Buffalo.
The New York-based writer and artist Greg Sholette says: "His art itself is going to be on trial. The Critical Art Ensemble has a strong tradition of critiquing capitalism and pushing the edges through its art but always within constitutional boundaries."
When the police came to Mr Kurtz's house they found equipment used for extracting and amplifying DNA, as well as three types of bacteria - prompting bioterrorism fears.
"He is obviously not someone who is attempting to make a weapon," says Mr Cambria. "He explained that he uses the equipment for his art."
The subpoenas say the FBI is seeking charges under section 175 of the US Biological Weapons Anti-Terrorism Act of 1989, which has been expanded by the Patriot Act.
It prohibits the possession of "any biological agent, toxin, or delivery system" without the justification of "prophylactic, protective, bona fide research, or other peaceful purpose".
Mr Cambria argues that Mr Kurtz's work "obviously" comes under the last two categories.
"I know everything we did was legal," said Beatriz da Costa, a member of the CAE who says FBI agents followed her to an art show in Massachusetts to serve her a subpoena. "I can only think they are trying to intimidate us and maybe make us an example."
Ms da Costa, a professor at the University of California, says everything found in the house has been exhibited in public before.
Those close to Mr Kurtz or the case believe the case has spun out of control and has potentially huge ramifications. "I feel harassed and hassled," Ms Da Costa says. "But mostly I feel sorry for Steve Kurtz because he lost his wife, and his life has been a nightmare ever since. And he didn't even have time to grieve."
Click here to comment on this article
Petition: Remove Rush Limbaugh from American Forces Radio

Media Matters: In addition, as Media Matters for America detailed in a May 2 report, Meet the New Rush, Same as the Old Rush, Mr. Limbaugh has recently made several racially-charged and sexist remarks on his broadcast. For example, Mr. Limbaugh said on April 26 that women who protest sexual harassment "actually wish" to be sexually harassed.
And on March 26, Mr. Limbaugh said, "A Chavez is a Chavez. These people have always been a problem." Given the extraordinary importance of troop morale and unity during this time of conflict, we ask Secretary Rumsfeld to review whether it is appropriate for the U.S. government to broadcast such messages, which may sow seeds of discord in the ranks.
Click here to comment on this article
Bush rejected Kim Jong-Il's offer to "dance": Japanese media
AFP
Saturday June 12, 2:44 PM
US President George W. Bush has rejected a passionate offer from North Korea's supreme leader Kim Jong-Il for direct talks between their countries, press reports in Japan said.
The offer was conveyed to Bush by Japanese Prime Minister Junichiro Koizumi, who met Kim on May 22, during their talks Tuesday on the sidelines of the Group of Eight (G8) summit in the US state of Georgia, the reports said.
"He (Kim) wanted to dance (with Bush) so much as to get thirsty," Koizumi told the US president in a somewhat cryptic expression, the influential daily Asahi Shimbun reported, quoting a source close to the premier.
Bush replied that Washington would not negotiate with Pyongyang bilaterally but it would seek to solve a 20-month standoff over North Korea's nuclear arms development in an existing six-nation forum in Beijing, the report said. [...]
Click here to comment on this article
Mystery surrounds deadly attack on Chinese workers in Afghanistan
AFP
Saturday June 12, 4:06 PM
Two men have been arrested following the shocking murders of 11 Chinese construction workers in Afghanistan, according to the government in Beijing, but mystery remains as to who masterminded the brutal attack.
China's official Xinhua news agency reported that two people had been detained over the killings while a provincial police chief said one man, a local, had been arrested and that investigations were continuing.
"Based on the information we received, we arrested one suspect called Mullah Tor," Mutalib Bek told AFP on Friday from northeastern Kunduz province. "He was on his way towards Kunduz," city when he was picked up, he said.
The Taliban militia has denied responsibility for the killings which occurred in the early hours of Thursday as 100 Chinese engineers, labourers and managers slept in tents pitched on a plain in northeast Kunduz province, some 36 kilometres (23 miles) south of the provincial capital of the same name.
"We deny the accusation of killing the Chinese workers in Kunduz province of Afghanistan," Abdul Latif Hakimi, who claims to represent the ousted militia, told AFP Friday by telephone from an undisclosed location.
Hakimi said the deaths "should not have happened."
Local police were also unsure as to why the Chinese, along with one Afghan police guard, were cut down by machinegun fire as they slept in tents pitched inside a building site set back some 200 to 300 metres (yards) from the road.
The killers appeared to know where to direct their fire, the group of 20 who were armed with machine guns had attacked the most crowded of the tents, according to an AFP journalist who viewed the site. [...]
Most of those killed had only arrived in the area, some 200 kilometres north (125 miles) of Kabul, the day before.
A spokesman for President Hamid Karzai, in the United States after attending the G8 summit and the funeral of former US president Ronald Reagan, said the government could not say who was responsible for the attack.
"We still say whoever it was, it is the enemies of Afghanistan, and it's people who are against reconstruction," spokesman Khaleeq Ahmad said from the US Friday. "We can't really say who." [...]
Click here to comment on this article
Heat wave sweeps northern China
www.chinaview.cn 2004-06-12 08:32:20
BEIJING, June.12 (Xinhuanet) -- In the midst of the nation's first long heat wave for the summer, visiting a location in China's north sounds likes the ideal solution -- but just make sure that place is not Beijing, China Daily reported on Saturday.
Sweltering weather prevailed over the country's capital again on Friday with a top of 38 C, even higher than cities further south and inland which are noted for their hot temperatures.
Click here to comment on this article
Earthquake strikes northeastern Russia
Petropavlovsk-Kamchatskiy, Russia, Jun. 12 (UPI) -- A strong earthquake has struck a remote area of northeastern Russia, the United States Geological Survey reported Saturday.
The earthquake, which struck Friday morning, local time, measured 7.0 on the Richter scale.
The tremor's epicenter was on the Kamchatka Peninsula, about 4,100 miles northeast of Moscow.
There were no reported deaths or injuries, nor was there any damage report from Russian officials.
Click here to comment on this article
No Injuries Reported As Tornado Hits Iowa
Fri Jun 11,11:43 PM ET

DES MOINES, Iowa - Tornadoes and severe thunderstorms rolled across northern Iowa Friday, causing damage to some farms but no injuries, authorities said.
About five tornadoes touched down in rural Clay County amid heavy thunderstorms in northwest Iowa. [...]
The storms damaged buildings on some farms, but most of the damage was to crops, the sheriff said. [...]
Click here to comment on this article
Fish Kill Update: Fungus is Blamed
Reported by KPLC Staff
June 11, 2004
State agricultural officials say the fish in a private pond near Iowa, LA died of a fungus they've seen in the Florida parishes, but never before in this part of the state.
Agriculture officials say they're going to do a case study to see if they can determine what caused the fungus.
Land owner Patrick Monk is convinced crop dusters, possibly spraying fertilizer, played a role -- especially since his trees and plants were burned.
He thinks the investigation is lacking because no samples of leaves or dirt were taken to try to identify any substance that might be involved.
Click here to comment on this article
50 dead dolphins wash ashore on Mauritania's beaches
DAKAR (AFP) Jun 11, 2004
Forty-nine dolphins have been found dead on beaches in Mauritania, the deputy head of the northwest African country's oceanography and fishing institute, Mika Diop, told AFP here Friday.
The dolphins' carcasses were found early this week on beaches in southern Mauritania, near the border with Senegal.
A team from the oceanography institute had seen four dead dolphins on the beach on Mboyo island, seven kilometers (4 miles) from the Senegalese border on Monday, and the following day found the carcasses of 45 more dolphins nearby, said Diop.
Rumours of the mammals' deaths had been circulating in the Senegalese capital Dakar among environmental activists, who said they believed the dolphins had died after underwater explosions were carried out to look for oil.
The precise reason for the dolphins' deaths is still not known, said Diop.
Click here to comment on this article
America Buries Reagan Fantasy...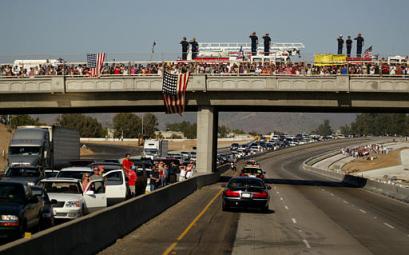 The motorcade, with the hearse carrying Ronald Reagan's casket, travels along the 101 freeway in Camarillo, Calif., as traffic is at a standstill along the route to the Ronald Reagan Presidential Library in Simi Valley, Calif., Friday, June 11, 2004. (
AP Photo/Joe Cavaretta
)
What did Reagan really do for America? What did he do for the average American? Since Reagan passed away, the US media covered almost nothing except for Reagan's life and death. Even Dan Rather and Tom Brokaw seemed to be a bit nauseated by the whole charade. The following excerpt from the article One for the Gipper from the June 6, 2004 Signs page summarizes the situation quite well:
[...] None of the articles or all-day eulogies mentioned the Iran-Contra crimes, the Savings and Loan scandals, the insider trading and leveraged buy-outs that ruined many an everyday folk, or his "trickle down" economics that coincidentally never trickled to the citizens that actually needed a trickle. Gosh, that sounds ominously familiar.

There was no mention of his admiration and support for ...Osama Bin Laden, and the Mujaheddin, all of whom I recall quite vividly he referred to as "The moral equivalent of the Founding Fathers of America". Hmm, I wonder why not? But who can forget the "Just Say No" to drugs campaign?

No one spoke of our record deficit. But, then again, compared to our present-day president's deficit, Reagan's was a mere drop in the bucket. When President Bill Clinton was asked what he remembers most about President Reagan, he replied without missing a beat, "He was a lot a fun to be with." Dan Rather's explanation to why the populace connected so well with him was, "He epitomized the thin line between fantasy and reality."

There was no mention of the AIDS epidemic and the role he didn't play, or his poor handling of the air traffic controllers strike. No one credited him for his enterprising concept of free-trade, the nemesis of the nearly twenty-million unemployed American workers. Not a word about his position on the environment. Apparently, his dismissal of acid rain proposals as burdensome to industry was too trivial to recall.

Not a word of negativity, instead he will be remembered as a patriot, a scholar, a great communicator, the emancipator, and none of what he didn't do, or ignored, or allowed to happen under his watch. There will be no mention or recollection of anything that resonates poorly upon his image. That's what we do in this country. We sweep what we don't like under the carpet. We whitewash reality. Perhaps that's why we find ourselves repeating and repeating our same mistakes. [...]
Indeed, it seems that Rather's comment is rather appropriate. Reagan epitomized the thin line between fantasy and reality. The reality is that Americans delude themselves into thinking that their leaders are almost infallible, no matter how much evidence to the contrary is presented. Many Americans who disagreed with Bush's invasion of Iraq were told to shut up and get in line, because "we're at war" and "you support the president in a time of war!"
The fantasy involves paying little attention to the past, and even less attention to the present. Don't think, just react. Wave the flag and make nice, and maybe that nagging feeling of doom in the pit of your stomach will evaporate. Maybe the nightmares will subside. Don't even consider thinking about the negative - focus only on the positive: "But Reagan did so many good things for people!" Who exactly are these "people"? Most Americans did not benefit from Reagan's policies. The other several billion people on the globe hardly fared any better.
In one sense, the line between fantasy and reality is very thin - it is ever so easy to convince man that fantasy is reality, and reality is fantasy. The people that are the best example of this concept live and die under a flag of stars and stripes. In another sense, the line is actually a ten foot thick steel reinforced concrete monstrosity, and the American masses are firmly imprisoned in the fantasy side.
Click here to comment on this article
Ray Charles' Legacy of the Spirit
Well, I Guess If You Say So, I Have to Pack My Things and Go
By RON JACOBS
June 11, 2004
There are two songs that Ray Charles sings that are a permanent part of my life's soundtrack. The first time I heard "Let's Go get Stoned" was at an NCO club in Frankfurt am Main, West Germany while drinking 15 cent Miller High Lifes with some GI buddies of mine. We had been given the afternoon off from unloading commissary trucks and the Senior Master Sergeant who was our boss felt magnanimous for an afternoon. So, he got us all drunk on his ten-dollar bill. Afterwards, two of my buddies and I headed over to the nearest city park and took Ray Charles' advice to heart. For years afterwards, I could hear Brother Ray whispering in my mind,
When you work so hard all the day long
And everything you do seems to go wrong
Just drop by my place on your way home
Let's go get stoned
Indeed, as I worked at a number of day labor and other menial jobs throughout my twenties and thirties, there were many days when this possibility was a highlight. Like many other folks working just to get by, that little taste at the end of the work day was, at worst, all that kept you going and, at best, the perfect ending to an otherwise humdrum day.
Especially when the bills came in. It always seemed that no matter how much I worked, or how hard, there was never much money left over after the creditors collected their part. Even when I lived hand-to-mouth, it seemed as if another hand was grabbing over half of what I made before it hit my mouth. If I got a raise, the cost of gas went up. If I lost a job because of the economy, the gas still cost the same and there was even less to spend on food. Beans and rice were always on the menu. Somewhere in the world there was prosperity and people were drinking fine wine and whiskey, but it was Old Tennis Shoe and potatoes in my circle of friends.
My bills are all due and the baby needs shoes and I'm busted
Cotton is down to a quarter a pound, but I'm busted
A big stack of bills that gets bigger each day
The county's gonna haul my belongings away cause I'm busted.
In Washington, DC, a dead man who sent many of his countrymen to the poorhouse while he promised a new "morning in America" lies in state. Powerful people (and those who identify with that power) from all over the world are bowing to his memory while the rest of us pay for the world he and his cronies installed. Meanwhile, the true man of the people-a man who overcame poverty and physical impairment to create a joyfully melodic soundtrack to our lives-lives on in our heritage of song. Ray Charles' legacy is of the spirit. Ronald Reagan's is to a lack of that spirit.
Click here to comment on this article
And Finally....
The Original Skull and Crossbones...
before the Yalies ripped it off
Every good pirate tale has buried treasure....
Reagan honored as "national treasure"
[...] Bush, returning from a Georgia summit with world leaders, also was coming to see Mrs. Reagan. He praised the late president Thursday as a "great man, a historic leader and a national treasure."
Reagan buried at library site in a sunset burial
---
Remember, we need your help to collect information on what is going on in your part of the world!
We also need help to keep the Signs of the Times online.
---

Check out the Signs of the Times Archives

Send your comments and article suggestions to us

---
Fair Use Policy
Contact Webmaster at signs-of-the-times.org
Cassiopaean materials Copyright ©1994-2014 Arkadiusz Jadczyk and Laura Knight-Jadczyk. All rights reserved. "Cassiopaea, Cassiopaean, Cassiopaeans," is a registered trademark of Arkadiusz Jadczyk and Laura Knight-Jadczyk.
Letters addressed to Cassiopaea, Quantum Future School, Ark or Laura, become the property of Arkadiusz Jadczyk and Laura Knight-Jadczyk
Republication and re-dissemination of our copyrighted material in any manner is expressly prohibited without prior written consent.
.