---
The Signs of the Times staff wants to thank all of our readers who have sent us articles, links and contributions to this page. It takes a network to sort through and begin to see objective reality, and you have all been a big help. In case you missed it, our article asking readers to report on what they see can be found here.
Yesterday, we uploaded a Signs of the Times Supplement: Meteors, Asteroids, Comets, and NEOs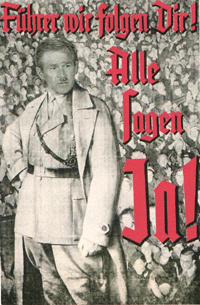 Robert Fisk: 'Camp Cropper - a story to shame us all'
By Robert Fisk, South Africa's Daily News
Now here's a story to shame us all. It's about America's shameful prison camps in Iraq. It's about the beating of prisoners during interrogation.
"Sources" may be a dubious word in journalism right now, but the sources for the beatings in Iraq are impeccable and any US military intelligence officers who want to call me a liar can explain how three of their prisoners in the Bagram camp in Afghanistan were murdered during interrogation. [...]
How are we differ ent from Saddam?

Here's the big question that gnaws at my conscience with every report of targeted killings, of dead-or-alive rewards for Saddam, of everyday Iraqi citizens killed in checkpoint incidents, crossfire gun battles, and roundups of "Baathist bitter-enders":

If there is no proof of mass weapons threatening anybody, no evidence of any links to terrorists who actually did attack the U.S., then by what legal right or on what juridical basis are we killing or issuing death warrants for any Iraqi leaders or fighters?
Absent any legal justification for our attack, are those we are now fighting not in fact legitimately defending their country against our illegal aggression?
I don't in any way defend Saddam or the Baathists—it's abundantly clear that they are not nice people, were not good for Iraq. But what's the precedent, what's the moral principle underlying our actions and being reinforced by them? How are we in fact different from Saddam, using naked power to kill or intimidate those who won't go along with our program? [...]
Moral Clarity Dept.: Bush Lied. They Died.
Poll shows many Germans see U.S. behind Sept 11
BERLIN, July 23 (Reuters) - Almost one in three Germans below the age of 30 believes the U.S. government may have sponsored the September 11, 2001, attacks on New York and Washington, according to a poll published on Wednesday.
And about 20 percent of Germans in all age groups hold this view, a survey of 1,000 people conducted for the weekly Die Zeit said.
It also said 68 percent of all Germans felt the media had not reported the full truth behind the attacks, in which some 3,000 people were killed when hijacked planes were crashed into the World Trade Center and the Pentagon. [...]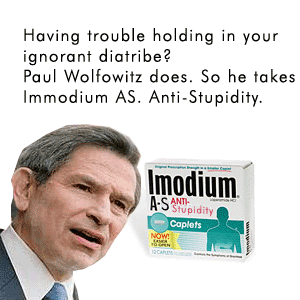 Wolfowitz: WMD secondary issue in Iraq
OVER THE ATLANTIC OCEAN (AP) — Finding the Iraqi weapons of mass destruction that President Bush cited as his main justification for going to war is now a secondary issue, says Deputy Defense Secretary Paul Wolfowitz.
In an interview Monday night aboard an Air Force jet en route to Washington following a five-day tour of Iraq, Wolfowitz said the task of settling the weapons question is in the hands of U.S. intelligence agencies.
"I'm not concerned about weapons of mass destruction," Wolfowitz told a group of reporters traveling with him. "I'm concerned about getting Iraq on its feet. I didn't come (to Iraq) on a search for weapons of mass destruction."
He also asserted that Iraqis themselves have little concern about the weapons issue.
"If you could get in a relaxed conversation with Iraqis on that subject they'd say why on earth are you Americans fussing so much about this historical issue when we have real problems here, when Baathists are killing us and Baathists are threatening us and we don't have electricity and we don't have jobs. Those are the real issues." [...]
From Jamie McIntyre, CNN Senior Pentagon Correspondent
Thursday, July 24, 2003 06:13 GMT
WASHINGTON (CNN) – Back from a four-day whirlwind tour of Iraq, the Pentagon's number two civilian, Paul Wolfowitz, has admitted that many of the Bush administration's pre-war assumptions were wrong. [...]
Among the things Wolfowitz says the U.S. guessed incorrectly was the assumption that some Iraqi Army units would switch sides; that the Iraqi Police would help maintain security; and that regime remnants would not resort to guerrilla tactics. [...]
400,000 Letters to Congress Seek War Evidence Probe
Tue July 22, 2003 04:24 PM ET

WASHINGTON (Reuters) - More than 400,000 letters have been sent to members of the U.S. Congress backing a call for an independent investigation into intelligence used by the Bush administration to justify the Iraq war, organizers of an online campaign said on Tuesday. [...]
Bush and Blair must ante up on Iraq - no more changing the subject, no more excuses
By LORRIE GOLDSTEIN -- Toronto Sun
July 22, 2003
It would be a very good idea if the Tony Blair and George Bush administrations concentrated on finding Iraq's weapons of mass destruction (WMD) right now.
That is, as opposed to conducting apparent witch hunts against a low-level British civil servant who has now committed suicide, or reportedly smearing a gay, Canadian-born ABC news reporter who interviewed angry American soldiers in Iraq. [...]
If Bush and Blair and their supporters want to shut up the growing chorus of people now questioning their invasion of Iraq, there's only way to do it - find Iraq's WMD. [...]
For many of us who supported this war, it was a convincing argument because in a post-9/11 world we accepted the logic that nations could no longer afford to wait for a smoking gun - meaning a gun that has already gone off - before acting.
But if it turns out there was no gun, the U.S. and Great Britain have a big problem - the same problem a cop has when he shoots someone because he says they were about to shoot him, and then it turns out there's no gun. [...]
Comment: There was no logic behind the Bush Reich's arguments. They wanted Saddam to prove Iraq didn't have WMDs. It is impossible to prove you don't have something. There is always the possibility that you have it, but you hid it, or you gave it to your neighbor for safe keeping. The author of this article seems rather upset that she was lied to, but she must face the fact that knowingly or not, she supported Bush's lies and is at least partly responsible for the consequences. The real issue is not what will happen to Bush and Gang for lying - even if they are all impeached, their replacements will probably not be a great improvement. They are all puppets. The issue is how the author and all those who may be starting to glimpse the horror of the situation will use the shocks that they are experiencing right now. Will they also point the finger and go back to sleep, or will they look in the mirror?
US will show Saddam sons' photos
BBC
Thursday, 24 July, 2003, 04:36 GMT 05:36 UK

The United States will release photographs of the dead sons of Saddam Hussein, to prove they were killed by American troops, says US Defence Secretary Donald Rumsfeld. He told reporters in Washington the pictures would be released soon, but he didn't specify when. [...]
Was Saddam Sons' Killing 'Legal'?
(CBS) In theory, pursuing with intent to kill violates a long-standing policy banning political assassination. It was the misfortune of Saddam Hussein's sons that the Bush administration has not bothered to enforce the prohibition. [...]
Earlier this week, the U.S. administrator for Iraq, L. Paul Bremer, stated in unusually candid terms the administration's disregard for the assassination ban.
Appearing on NBC, Bremer said U.S. officials presumed that Saddam was still alive and that American forces were trying to kill him.
"The sooner we can either kill him or capture him, the better," Bremer said. Often in the past, officials resorted to winks and nods or other circumlocutions when asked about U.S. actions that gave the appearance of homicidal intent. [...]
Ambush Kills 3 from Division That Killed Saddam Sons
U.S. captures senior Republican Guard official

By STEVEN HURST
Associated Press
Wednesday, Jul. 23, 2003 6:59 PM EDT
Baghdad — U.S. troops captured a senior Republican Guard official Wednesday, one day after killing Saddam Hussein's elder sons Uday and Qusay, but the guerrilla campaign against American forces persisted with two more soldiers killed. [...]
The head of the Special Republican Guard, Barzan Abd al-Ghafur Sulayman Majid al-Tikriti, was seized at an undisclosed location in Iraq, Gen. Sanchez told reporters in Baghdad. He was 11th on the U.S. list of 55 most-wanted Iraqis. [...]
Iran Says It Holds al-Qaida Operatives
The Associated Press
Wednesday, July 23, 2003; 9:42 AM
TEHRAN, Iran - Iran said Monday that it was holding top members of the al-Qaida terror group.
"A large number of small and big-time elements of al-Qaida are in our custody," Intelligence Minister Ali Yunesi told reporters Wednesday. He did not name any of the detainees.
US rules out death penalty for Australia's Hicks
ABC Radio Australia News
24/07/2003 10:32:22
The United States has promised not to seek the death penalty for Australian man David Hicks, a suspected Taliban fighter captured in Afghanistan.
The US government has also said Mr Hicks can serve any possible prison term in Australia. [...]
Pentagon announces major US troop rotations in Iraq

WASHINGTON (AFP) Jul 24, 2003
The Pentagon, recognising the pressures on troops who are now serving in Iraq as peacekeepers after fighting a war, announced Wednesday a major program of troop rotations. [...]
The US Army has a total of 368,900 troops deployed overseas, in 120 countries including the Balkans and Afghanistan, out of a total 485,000 active service personel, plus 206,000 reservists and 352,000 National Guard troops. [...]
1,300 Nigerian troops to go to Liberia, date to be set next week
AFP, Thursday July 24, 3:18 AM
West African leaders have decided to send 1,300 Nigerian troops to Liberia on a date to be set next week, the head of the regional Economic Community of West African States (ECOWAS) said. [...]
Israeli army accused of cruelty
Chris McGreal in Jerusalem
The Guardian
A leading Israeli human rights group has accused Israeli soldiers of "malicious and cruel" treatment of Palestinians and the military leadership of indifference to widespread abuses.
The Association of Civil Rights in Israel (ACRI) issued its annual report yesterday with denunciations of violence by Palestinian groups and the army during the intifada, but the spotlight fell on the Israeli military.
"Most of the abuses occur not as a result of operational necessity on the part of the army, but from vindictiveness on the part of soldiers, who receive implicit approval to denigrate the dignity, life and liberty of innocent Palestinians," it says.
The report notes that in the year to June, the military's "targeted assassination" policy killed 80 alleged militants but 90 innocents also died in the process.
The ACRI is also strongly critical of the hundreds of Israeli army roadblocks. It states that they are intended as a collective punishment, rather than to prevent bombings as the army claims.
The report also lists numerous individual abuses by troops, including a case in which a soldier carved a Star of David on a Palestinian's arm. It concludes that the military's failure to prosecute encourages further abuses.
The army issued a written statement rejecting the charge. "The opposite is true," it said.
Arms Transfers to Israel: 1993 to Present
Beijing launching own 'Aegis' warships
Military modernization continues as challenge to U.S. hegemony
By Jon Dougherty
World Net Daily
With the launch of its own domestically produced warships comparable to American Aegis-equipped vessels, China is angling for control of the regional high seas and challenging U.S. power in the area, analysts and reports indicate. Chinese warship
According to a May report in the Hong Kong Tai Yang Bao newspaper, the new warship – a destroyer – was launched earlier this summer and represents China's first next-generation vessel built at home. As WorldNetDaily reported , the People's Liberation Army Navy, or PLAN, has been purchasing Russian-built Sovremenny-class destroyers to upgrade its "brown water," mostly coastal-defense navy to a long-range blue-water fleet. [...]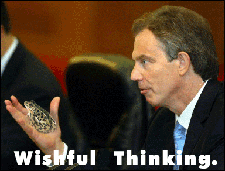 David Kelly's murder – Is it a punishment or a warning?
Is it a mafia-like execution to hide the truth?
LONDON: Murder of Dr. David Kelly, one of the members of UN's Weapons Inspection team in Iraq to find the weapons of mass destruction allegedly manufactured and piled up by the Saddam government, has left no doubt that to which extent the group of criminal-minded individuals responsible for a new conflict in the Middle East could go to serve its vested interests.
Although all the government agencies in UK and the media in United States is trying to portray this seemingly cold blooded murder as a "suspicious suicide", the circumstances led to Dr. Kelly's disappearance and death clearly indicate that who should be held responsible for silencing a voice for sanity and truth.
UN inspectors were under grave threat before the war. Before the war on Iraq, the US administration, acting like mafia gangsters, used all fair and foul tactics to justify a war on Iraq to appease some specific lobbies. Top US officials were hurling threats to the UN inspectors and were pressurizing them to declare that Iraq had weapons of mass destruction.[...]
Political accountability is insufficient to protect our liberties as the Bush administration wages secret war on terrorism
Susan N. Herman
The American Lawyer
[V]oters need to know how the president is using his newly enlarged powers before we can evaluate whether or not he is abusing them. And there is so much that we do not know. The government has been reluctant to release information about its detention practices, for example, even in circumstances where federal judges have concluded that the government's claimed need for secrecy was exaggerated.
Shortly after Sept. 11, 2001, the government detained more than 1,000 people, some as material witnesses, some for suspected immigration violations, some on suspicion of petty crimes. The Department of Justice initially declined to reveal the number of detainees, their names, locations, or length of detentions. When a coalition of 21 organizations brought a Freedom of Information Act (FOIA) claim in federal court, the government continued to fight disclosure, revealing what we now know (such as the number of detainees) only under judicial pressure. After many months of litigation, Judge Gladys Kessler of the federal district court in Washington, D.C., concluded that the government's asserted need for secrecy, at least with respect to some of the requests, was overblown.
The government has also resisted scrutiny of the grounds for its detention of individuals. When lawsuits were brought on behalf of some of the approximately 700 Guantanamo detainees, the government persuaded two federal courts (including the 9th U.S. Circuit Court of Appeals) that no American court has jurisdiction over those claims and that a variety of plaintiffs lacked standing. The government has also declared those detainees not to be prisoners of war and thus has denied them Geneva Convention hearings to determine whether their capture was a mistake. So except for the occasional, circumscribed news story the government has allowed, we do not yet know who is being detained or why. [...]
Forsyth DA will also try new law
Wilson, the district attorney for Watauga County, and members of his staff started flipping through legal texts and precedents in the past few weeks until they found what they were looking for - a law with more teeth.
Instead of a drug law, though, Wilson turned to the state's antiterrorism laws [...]
Smile, You're on Federal Camera
By JAMES PLUMMER
CounterPunch
[...]The GAO report focused on the use of cameras by two agencies, the National Park Service and the Metropolitan Police Department of the District of Columbia (MPDC) and the United States Park Police. MPDC told GAO that their cameras were geared to fight crime, particularly, but not solely, during demonstrations and whenever the Homeland declares CODE ORANGE.
MPDC has 14 cameras of their own, but can access real-time video from other DC agencies including the public schools as well as "certain private entities." MPDC has a written set of regulations that restrict camera operators from focusing in on faces or print, but GAO also pointed out that there is no clear training regimen for the camera operators to make sure these restrictions are followed. MPDC has yet to develop any evidence that the camera systems actually reduce crime.
The United States Park Police also have cameras in and around the nation's capital and they are far more secretive than MPDC about how, when and where they are used. Park Police claim that their cameras are chiefly to fight "terrorism" instead of "crime." The Park Police will not divulge where any of their cameras are, and has not yet issued final regulations on their use that were due a year ago. The Electronic Privacy Information Center, however has recently obtained the draft version of these regulations through a Freedom of Information Act request. Those regulations call for the spycams to tape everything they see "twenty-four hours a day, seven days a week" and leave open the door to use of face-recognition software and the use of images from the cameras in civil as well as criminal proceedings. [...]
House Takes Aim at Patriot Act Secret Searches

Reuters
By Andrew Clark
WASHINGTON (Reuters) - The U.S. House of Representatives voted overwhelmingly on Tuesday to roll back a key provision, which allows the government to conduct secret "sneak and peek" searches of private property, of a sweeping anti-terrorism law passed soon after the Sept. 11 attacks.
The House voted 309-118 to attach the provision to a $37.9 billion bill funding the departments of Commerce, State and Justice. It would be the first change in the controversial USA Patriot Act since the law was enacted in October, 2001.
The move would block the Justice Department from using any funds to take advantage of the section of the act that allows it to secretly search the homes of suspects and only inform them later that a warrant had been issued to do so. [...]
U.S. Attorney General John Ashcroft -- who has become a lightning rod for concerns over the possible erosion of U.S. civil liberties -- defended the Patriot Act on Monday, saying criticism of it was based on exaggerations and falsehoods.
US House rejects higher media ownership limits
By Demetri Sevastopulo in Washington
July 23 2003 20:28
Viacom and News Corporation could be forced to sell some of their US television stations after the House of Representatives on Wednesday approved a bill that would overturn controversial media ownership regulations. [...]
US names the day for biometric passports
By John Leyden
Posted: 22/07/2003 at 14:41 GMT
A senior US government official has laid out detailed plans for the timing and form of US government issued biometric passports. [...]
"Our goal is to begin production by October 26, 2004," Moss announced. [...]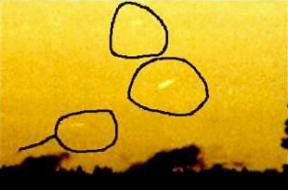 HBCC-UFO EYEWITNESSES
captured footage of three objects hovering above Francois Lake one night last year.
By JENNIFER LANG
TERRACE'S reputation as B.C.'s UFO capital is creating a new kind of tourism boom in the region.
Curious travellers from across North America are inquiring about the tourism facilities in communities across Highway 16, including Terrace, says a UFO researcher based in Houston, B.C.
"You would be surprised just how many emails I get over the months requesting information for our areas," says Brian Vike, editor of Canadian Communicator, a magazine specializing in the paranormal, and director of HBCC-UFO Research.
Earlier this year, Terrace cracked the top 10 in a national UFO survey, earning third place, just ahead of Houston, where Vike operates a toll-free UFO hotline so he can collect and investigate eye-witness reports.
Terrace recorded the third highest number of UFO sightings in the country last year, bringing national and international attention to the region, Vike says.
The resulting publicity means the northwest is rapidly emerging as one of the best places to see UFOs in Canada.
Savvy tourists know they're more likely to see a flying saucer than the elusive Kermode bear, the white form of a black bear that is the city's official symbol. [...]
Vike says 2003 is shaping up to be another record year for UFO sightings in the skies over Terrace, where 25 sightings were recorded last year, suggesting more national and international attention could be on its way.
NEW YORK - FOUR WITNESSES SEE DISC WITH THIRTY WINDOWS.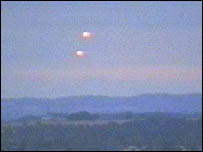 'UFO' lights caught on film
BBC
Wednesday, 23 July, 2003, 14:51 GMT

The cameraman spotted flashing lights in the sky
Strange flashing lights above the sky in Worcestershire has caused speculation the county was visited by aliens.
A BBC cameraman spotted three bright lights in the sky over the Malverns near the village of Hanbury on Tuesday and filmed them with a video camera. [...]
NYC Councilor, Gunman Killed at City Hall
By ERIN McCLAM and MICHAEL WEISSENSTEIN, Associated Press Writers
July 24, 2003
NEW YORK - An aspiring politician strolled past a metal detector at tightly guarded City Hall — escorted by the councilman he once hoped to replace — then pulled a gun in the crowded balcony of the council chamber and shot his rival to death.
Councilman James Davis, 41, a former police officer and ordained minister who campaigned against urban violence, was struck several times in the torso and died at a hospital. He had planned to introduce legislation on workplace violence that afternoon. [...]
Comment: Just the thing to remind jittery New Yorkers that they need to fear for their safety and increase security. See: How Does a Gun Get In? With a Wave. Could very well be another Greenbaum case. There certainly seems to be violence in the air . . .
Two Dead in San Antonio Office Shooting
ASSOCIATED PRESS
July 23, 2003 at 14:18:03 PDT
SAN ANTONIO (AP) - Two people were killed and another was wounded Wednesday after a gunman opened fire in an office building, police said. [...]
Car Bomb Injures Two on Wis. Highway
ASSOCIATED PRESS
July 23, 2003 at 13:58:02 PDT
NEILLSVILLE, Wis. (AP) - An explosive device detonated beneath the driver of a car traveling on a highway Wednesday, injuring him and his girlfriend, authorities said.
Military personnel called to the scene in central Wisconsin found a second device in the car that did not explode, said Capt. Mark Cattanach of the Clark County Sheriff's Department. It was not immediately known where that device was located. [...]
Comment: It is interesting that after the explosion, it wasn't local or state police that handled the matter, but rather military personnel.
Justice Beckons for Argentina 'Dirty War' Horrors
[...]"There are plenty of remains that will never be recovered," he said. "Thousands." [...]
French troops find 22 hacked bodies in Congo
KINSHASA, Congo (Reuters) -- French peacekeepers found the hacked bodies of 22 elderly people, women and children in a village outside the Congolese town of Bunia after trading gunfire with militiamen, a spokesman said on Tuesday.
The bodies provided the latest evidence of massacres taking place beyond the protection of the French troops, who began deploying in Bunia last month to shield residents from clashes between ethnic Hema and Lendu militia.
Man Attacked for Protecting Ducklings

VANCOUVER, British Columbia (Reuters) - A man who tried to protect a group of ducklings from stone-throwing teenagers was nursing his own injuries after the youths turned the attack on him, police said on Tuesday.

Xi'an police discover cause of Monday's food shop blast

XI'AN, July 16 (Xinhua) -- Police on Wednesday announced that they have discovered the cause of Monday's blast in a food store in downtown Xi'an, capital of northwest China's Shaanxi Province. According to the police, 43-year-old Wang Dayong was distraught over his broken marriage and the division of property. At around 9:00 a.m. Monday, Wang, armed with explosives, went to his ex-wife's food stall and entered into negotiations, which ended in a violent argument.
In desperation, Wang set off the explosives, killing himself, his ex-wife and three court employees and injuring nine others seriously.
Jewish Youth Stabbed By Four Arabs
22:33 Jul. 23, '03
(IsraelNN.com) At approximately 9:00pm tonight (Wednesday), a Jew was attacked and stabbed by four Arabs in northern Jerusalem. The young man, who was stabbed in the back, was transferred to Hadassah Hospital's Ein Karem branch. No further details are available at this time. The police are searching for the attackers.
Attorney General says church abuse scandal likely involved more than 1,000 victims
By Denise Lavoie
BOSTON (AP) Over six decades, likely more than 1,000 people were molested by Roman Catholic priests and church workers while leaders in the Boston archdiocese engaged in a ''massive, inexcusable failure'' to do anything about it, the Massachusetts attorney general said in a report Wednesday that outlines the results of a lengthy criminal investigation. [...]
Secret Service turned away from newspaper office
LOS ANGELES (AP) - The Los Angeles Times refused to allow a Secret Service agent to speak to an editorial cartoonist who drew a man pointing a gun at President Bush, the newspaper reported Tuesday.
The agent went to the Times office Monday to speak with Michael Ramirez, whose cartoon in Sunday's Opinion section showed a man labeled "politics" pointing a gun at Bush in a background labeled "Iraq." Ramirez said it was a takeoff on a famous Vietnam War photograph of a South Vietnamese general executing a Viet Cong officer. [...]
Man charged with 200 counts of animal cruelty
A Campbellsville pet storeowner has been charged with 200 counts of second-degree cruelty to animals.
Central, East States Recover From Storms

By WOODY BAIRD, Associated Press Writer
MEMPHIS, Tenn. - [...] The storm, packing wind of up to 100 mph, killed at least six people and knocked out electricity for hundreds of thousands of customers.
Memphis was among the hardest hit, with hundreds of trees down, homes and businesses damaged and entertainment landmarks endangered. [...]
Storm rips through Cross, knocking out electricity
By Angela Ray
WYNNE -- An early morning thunderstorm left many without power in Wynne [Arkansas] Tuesday. [...]
"We had winds between 75-100 miles per hour that came through eastern Arkansas this morning," Thompson told The Sun Tuesday. "As of 5 p.m. we had about 7,500 customers without power; 2,000 in Forrest City; 1,100 in Hughes; 1,300 in Wynne; 1,700 in Marion; and, 1,800 in Earle." [...]
"We had a lightning and wind storm move through here at about 6 a.m.," Horton told The Sun. "We have scattered outages all over due to high winds. I think it was just sudden straight-line winds, to the best of my knowledge. It's kind of unusual, especially for this time of year." [...]
Bush Team to Call for More Climate Studies, Groups Say
Wed July 23, 2003 08:25 PM ET
WASHINGTON (Reuters) - The Bush administration plans to delay action on global warming in favor of more study, according to an excerpt of a report circulated on Wednesday by U.S. environmental groups. [...]
Storm Caused Power Outages, Flooding
9:54 a.m. EDT July 23, 2003
PITTSBURGH -- The Pennsylvania National Guard is on limited state active duty to assist with storm clean up Wednesday.
The storms caused downed trees, and flooding. More than 150,000 residents are without power, and may be until Friday. [...]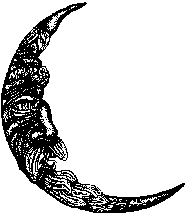 Is moon best place for data backups?
By JACK KAPICA
Globe and Mail Update
Want to protect your data? Send it to the moon.
A company called TransOrbital of La Jolla, Calif., is seriously considering the idea of putting storage facilities on Earth's only natural satellite, says a report in PC Magazine. [...]
The moon is a pretty safe place to store your data," said Mr. Laurie. "Sept. 11 caused people to think about what data backup really means, and there is also always the threat of a natural disaster here on earth, such as a small asteroid hitting the planet." [...]
Deep carbon could trigger mass extinction
Richard Ingham
Agençe France-Presse
Carbon stored beneath the Earth's crust could be released by volcanic eruptions (NASA)
A vast reservoir of carbon is stashed beneath the Earth's crust and could be released by a major volcanic eruption, unleashing a mass extinction of the kind that last occurred 200 million years ago, German geologists report. [...]
Typhoon Slams Into South China Coast
By Katie Hunt
HONG KONG (Reuters) - One of the most powerful typhoons in years, bringing howling winds and torrential rain, ripped into southern China Thursday after killing at least 10 people in the Philippines and injuring dozens more. [...]
Leopard seal attacks and kills British scientist snorkelling off Antarctic coast
By Steve Connor, Science Editor
24 July 2003
A British scientist has been attacked and killed by a leopard seal while on a snorkelling expedition off the coast of Antarctica.
Kirsty Brown, 28, is believed to have drowned on Tuesday afternoon when the seal struck her and dragged her underwater, causing contact to be lost for a few vital minutes. [...]
Lightning strike kills Disney giraffe
Associated Press
20:44 Wednesday 23rd July 2003
A lightning strike killed a giraffe at Disney's Animal Kingdom in Florida as the animal roamed among tourists. [...]
Firefighters killed battling Idaho blaze
By CHUCK OXLEY
Associated Press
Wed, Jul. 23, 2003
BOISE, Idaho - Two firefighters were overrun by flames and killed soon after they were dropped by helicopter to battle a fast-moving blaze in a national forest in central Idaho, officials said Wednesday.
The fire in the Salmon-Challis National Forest about 130 miles south of Missoula, Mont., was caused by lightning and first reported Sunday night. Hot temperatures and wind blew it up from 120 acres to about 1,000 acres Tuesday night, when the two died, officials said. [...]
Wildfires this year have charred some 1.46 million acres nationwide. That remains a quieter-than-average wildfire season.
Other states with large fires included Arizona, California, Colorado, New Mexico, Nevada, Oklahoma, Oregon, South Dakota, Utah, Washington and Wyoming.
Americans Losing In The Wealth Race
More companies moving HQ operations abroad
By Frances Williams in Geneva

[...]Multinational companies are increasingly moving not only production facilities but headquarters functions abroad, marking a new stage in the globalisation of corporate activity, according to the United Nations Conference on Trade and Development.
Geneva-based Unctad says 829 headquarters operations were established or relocated worldwide in the 15 months to March 2003, nearly a quarter of them in developing countries.
The UK was the most popular choice among industrialised nations with 181 HQs established in that time, followed by the US (126) and Australia (54). [...]
California set for recall vote
BBC
Thursday, 24 July, 2003, 03:37 GMT

Californian Governor Gray Davis will face a re-election battle this autumn - less than one year after narrowly winning a second term in office.
More than a million people have signed a petition forcing a "recall ballot" in which the electorate vote on whether he should step down and, effectively, select his successor. [...]
Believers say Virgin Mary of Guadeloupe appearing at CA house

(Delano, California) July 22, 2003 - The Virgin Mary of Guadeloupe is a cherished sight for Catholics, and now hundreds of believers are gathering in a California town to see what they're calling a miracle.
They say they can see an image of Mary on the chimney of a house. It appears from about 8:45 at night until about 5:30 in the morning.
'Blood' oozes out of Ahmedabad building
Press Trust of India
Ahmedabad, July 23: Police and forensic officials are baffled about the 'blood like' liquid that allegedly oozed out of the walls and floors of a house in Maninagar area of the city on Wednesday morning.
An unidentified liquid, red in colour began oozing out of the bathroom of a house inhabited by 14 persons and spread to other parts of the two-storeyed building within half an hour starting at 8.45 am, police said.
Scientists Prepare to Excavate Black Sea

By RICHARD C. LEWIS, Associated Press Writer
NARRAGANSETT, R.I. - In 1994, archaeologist Fredrik Hiebert rode around northern Turkey in a dirty white Toyota van looking for evidence of ancient civilizations around the Black Sea.

Every time he and his team would ask locals for the whereabouts of centuries-old ruins, they'd get the same response. "Everyone kept pointing us to the sea," Hiebert recalled.
Hiebert knows now why they did. After some preliminary trips, the University of Pennsylvania professor and other scientists will go on a first-ever effort to excavate ancient ships and a possible human settlement left mummified in the Black Sea's oxygen-free waters. [...]
Diet As Good As Drug For Lowering Cholesterol, Says Study
University Of Toronto
July 23, 2003
Researchers at the University of Toronto and St. Michael's Hospital have shown that a vegetarian diet composed of specific plant foods can lower cholesterol as effectively as a drug treatment. [...]
Single Protein Is Key In Response To Bacterial, Viral Infections
NIH/National Institute Of Allergy And Infectious Diseases
July 22, 2003
A single protein acts as a key switch point in frontline immune system reactions to both bacterial and viral infections, according to a report published online today in the journal Nature. In determining how this protein functions, a team of scientists supported by the National Institute of Allergy and Infectious Diseases (NIAID) can now explain why certain symptoms, such as fever, occur regardless of the cause of infection. [...]
Chemists create diamonds from gas
Ananova.com
19:48 Wednesday 23rd July 2003
Chemists have created diamonds using compressed and heated carbon dioxide.
The scientists were working at the University of Science and Technology, China.
They are ideal for use in cutting tools and abrasives but the process is being improved to make small gemstones. [...]
And Finally . . .
Bush to Star in Mini-Series 'Un-Frozen Caveman President'
JK News Wire
In an unheard of publicity move for a Republican, re-election hopeful George W. Bush has accepted the leading role in a new television mini-series called, "Un-frozen Caveman President".
Surprisingly, Democrats are also showing support for the president's decision.
The movie is about a weak caveman abandoned by his tribe on a glacier. Upon discovery by a Texas Oil Billionaire, the caveman is defrosted and spends most of the movie looking for someone with low enough self esteem to sleep with a hairy neanderthal.
The TV movie, which execs claim has nothing to do with Bush's real life, despite obvious similarities, will air on FOX right after their new special, "Animals that would attack: If they had teeth."
---
Check out the Signs of the Times Archives
Send your comments and article suggestions to us.
---
Fair Use Policy
Contact Webmaster at signs-of-the-times.org
Cassiopaean materials Copyright ©1994-2014 Arkadiusz Jadczyk and Laura Knight-Jadczyk. All rights reserved. "Cassiopaea, Cassiopaean, Cassiopaeans," is a registered trademark of Arkadiusz Jadczyk and Laura Knight-Jadczyk.
Letters addressed to Cassiopaea, Quantum Future School, Ark or Laura, become the property of Arkadiusz Jadczyk and Laura Knight-Jadczyk
Republication and re-dissemination of our copyrighted material in any manner is expressly prohibited without prior written consent.
.