---
There is evidence that the famous Chicago Fire, on October 8, 1871 was caused by a gigantic fireball or meteor. Thousands of people died in Illinois and Wisconsin from multiple fires:
That same evening and that same hour about 12 other separate fires hit four states. That night the town of Pestigo with 1700 residents was wiped out by fire. The loss of life and property in the Chicago fire seemed dim as this town was destroyed. 1200 people died between 7 and 8 p.m. as a fire blast swept through the town knocking them off there feet. At the time of these fires astronomers watching the fading comet Biala, whose orbit was close to earth. Also meteorite activity was viewed before the fires began.
Also see: New Evidence: So how do we know that Comet Biela was destroyed by collisions with asteroids? And how does this shed new light on the Great Fires mystery (of 1871)
The Signs of the Times has been keeping an eye on the sky for some time and we have compiled the reports into one convenient document with links, our comments and C's transcripts.
Second flaming ball spotted in northern Greece 'likely a meteor'
A large flaming ball seen flying through the sky by residents in Halkidiki, Drama and Serres on Sunday night was probably a meteorite, experts said yesterday. Many witnesses, who reported the sighting to local police, said they saw the object fall into the sea. Earlier this month a similar "fireball" had been reported by residents of Elefsina, Kavala, Corfu and Ioannina. There were claims it had fallen to earth in the northwestern region of Zagori, near Ioannina, but fire service workers failed to find any evidence of a fire or debris.
Americans fail to disclose all attacks on troops in Iraq
By Robert Fisk in Baghdad
UK Independent
21 July 2003
Faced with ever greater armed resistance to its occupation of Iraq, the US is admitting only a fraction of the attacks in the country against its forces, who lost another two soldiers yesterday.
Although the US authorities acknowledge ambushes in which their troops die - such as the two men of the 101st Airborne Division whose convoy was ambushed yesterday with rocket-propelled grenade and small arms fire at Talafar 50 miles from Mosul - they have failed to report a mass of attacks and assaults against patrols and bases in and around Baghdad.
At Hurriyah three days ago, a patrol was ambushed by 15 armed men. But because they suffered no casualties, the incident was not disclosed to the press. Two days earlier, a bomb described by the Americans as an "improved explosive device" (IED) - a set of mortar shells tied together - blew up outside a Baghdad bank, injuring one soldier. That attack went publicly unrecorded.
A set of security documents prepared by US military authorities, which has been seen by The Independent, show "IEDs" are becoming one of the favourite weapons of Iraqi guerrillas, often combined with rocket-propelled grenades and rifle fire. [...]

Death of Saddam's Sons Boosts U.S. Forces

By SARMAD JALAL
ASSOCIATED PRESS
MOSUL, Iraq (AP) - [...] The soldiers removed four bodies and did not let photographers take pictures. The other two bodies were tentatively identified as that of a bodyguard and a teenager, U.S. officials said, adding that the teen may have been a son of Qusai and grandson of Saddam. [...]
Uday: career of rape, torture and murder
Suzanne Goldenberg
The Guardian
He was a monster even by the standards of Saddam Hussein's Iraq, a sadist with a taste for cruelty so extreme that even his father was forced to acknowledge that his first-born son would not be a worthy heir.
And yet for all that Uday Saddam Hussein symbolised the brutality of the Iraqi regime, his powers were severely circumscribed. Although he retained the privileges of the much-indulged son of a dictator, he was shunted from the real centres of power in the military and security services by his quieter, younger brother Qusay.
Comment: Uday was (is?) a monster, but no more so than Bush and Blair. Getting rid of monsters does not justify this invasion and all the horrors it has wrought. If the Iraqis were fed up they should have gotten rid of Saddam's family themselves. Instead they will turn their rage toward America and its allies. The Bush Reich and Mossad have convenient fall guys for any terrorist acts they choose to commit since the Iraqis obviously have not appreciated American "efforts" toward "liberation".
Bush Adviser Apologizes Over Iraq Claim
Tue, Jul. 22, 2003
TOM RAUM
Associated Press
WASHINGTON - Stephen Hadley, President Bush's deputy national security adviser, on Tuesday became the second administration official to apologize for allowing a tainted intelligence report on Iraq's nuclear ambitions into Bush's State of the Union address.
Hadley, in a rare on-the-record session with reporters, said that he had received two memos from the CIA and a phone call from agency Director George Tenet last October raising objections to an allegation that Iraq was seeking to buy uranium ore from Africa to use in building nuclear weapons.
As a result, Hadley said the offending passage was excised from a speech on Iraq the president gave in Cincinnati last Oct. 7. But Hadley suggested that details from the memos and phone call had slipped from his attention as the State of the Union was being put together.
"The high standards the president set were not met," Hadley said. He said he apologized to the president on Monday. [...]
Comment: The high standards the president set? Perhaps Mr. Hadley just didn't want to end up on a list like this one.
The Independent
[...] Exactly what occurred between Kelly and Gilligan may only become clear when Lord Hutton has completed his inquiry into the affair. The judge said yesterday that he expected "the fullest co-operation" from all parties involved.
Meanwhile, an ethical question arises. Is it sufficient to regard the protection of a source as amounting to no more than the duty to preserve their anonymity? In 1986 Andrew Neil was editor of The Sunday Times when the former Israeli nuclear technician Mordechai Vanunu took evidence to the newspaper that Israel possessed a stockpile of more than 100 nuclear weapons. Soon after the resulting exclusive appeared, Vanunu was lured from London to Rome by a Mossad honeytrap.
He was then kidnapped and flown home to face trial on charges of espionage and treason. Vanunu was sentenced to a lengthy prison term. Andrew Neil believes that, "We should have done more to protect him. We did warn him that his life was in danger. We warned him not to wander off. We remonstrated with him. But we couldn't mount a 24-hour guard." In retrospect, says Neil, "I think we could have done more to protect Vanunu."
How? Anonymity was not the issue in the Vanunu case. The real question was whether the source was fully aware of the venomous backlash his revelations would provoke. Vanunu was not. Nor it seems was Dr Kelly. [...]
Comment: Dr. Kelly should have been aware just what could have happened to him from revealing information and taken the necessary precautions. Knowledge protects. He worked for the MOD and was a microbiologist, and as we have discussed here before microbiologists have mysteriously short life spans.
Mystery of the eight missing hours before the body was found
By Stewart Payne
The Telegraph

Dr David Kelly was missing for eight hours before his body was found in a copse near Longworth yesterday. Police have ruled out natural causes but have otherwise refused to confirm how he died. He left his stone cottage in the village of Southmoor, near Wantage, at 3pm on Thursday. His wife was not alarmed because he was a keen walker and regularly used the footpaths across farmland near his home.
He was not dressed for bad weather, wearing a cotton shirt and jeans, and during the evening it started to rain heavily. When he had not returned by 11.45pm his wife called police. It was too late for a detailed search but at first light police officers started combing nearby footpaths and fields. After putting out a public appeal, they were told that Dr Kelly had been seen near the village of Longworth, two miles from his home.
His wife confirmed that it was one of her husband's favourite walks. They often strolled along a footpath that led to the upper reaches of the Thames. A police search unit found his body yesterday morning in a small copse on a slight rise known as Harrowdown Hill. The copse is surrounded by fields and is reached along a narrow lane out of Longworth that turns into a track.
It was not known if Dr Kelly had left a note indicating his intentions. Thames Valley Police last night refused to say how he died. The body was taken to a mortuary last night for a post mortem examination by a Home Office pathologist. A police source ruled out natural causes and indicated that he had not hanged himself, taken a drugs overdose or shot himself.
Dr Kelly's wife and three children, Sian, 32, and twins Rachel and Ellen, 30, were being comforted last night by a family liaison officer. Dr Kelly was regarded as a likeable man in the community. His wife is a member of the local history society and the WI.
Dr Kelly was said to be a practising member of the Baha'i Faith and a former treasurer of the Oxfordshire Spiritual Assembly.
A friend, who declined to be named, said: "Dr Kelly was an honest, decent man who appeared to be able to cope with stress. He was a great believer in humanity and bringing an end to prejudices."
Comment from Reader: Take a closer look at the route Dr Kelly took on his final walk.[The above link has a map]
You will notice that, as the crow flies Dr Kelly would have had to walk through at least three villages and across one major road, leaving us with the conclusion that someone must have seen him, especially as he had just been all over the news just previous to his death.
You may also recall that Dr Kelly was supposed to have had with him a bottle of pain killers to kill the pain,for when he was slashing his wrist one would assume. If that is so then why does the article above state that he had not taken a drugs overdose? You would Imagine that he would take as many as possible considering that it would not matter any more.
Why was he not being followed by security?
Would a man of the Baha'i faith and presumably with a strong spiritual faith kill himself?
And last but not least as reported in the mirror newspaper on july 19, the police described the find "as grisly".
Hmmm, why would the police find the body of a man with one slit wrist "as grisly"
Stonewalling the Peace Process
By Patrick Connors, AlterNet
July 21, 2003
George Bush's road map for Middle East peace may soon crash straight into a wall, or to be more accurate, a "security fence."
Israeli newspapers report that Condoleezza Rice and President Bush recently raised objections with Ariel Sharon over Israel's construction of a West Bank "security fence," a barrier ostensibly aimed at preventing Palestinians from entering Israel to carry out attacks. [...]
North Korea demands treaty with US
SEOUL: North Korea has restated its demand for a non-aggression treaty with the United States, resurrecting the communist state's old terms for resolving the nuclear crisis amid growing expectations of multilateral talks.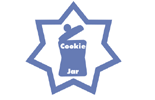 Leave No Millionaire Behind

By Arthur I. Blaustein
July 21, 2003

Driven by hollow political priorities, the Bush administration's disastrous economic policies are undermining our national ideals.
The President and his party have cooked up the ultimate recipe for keeping political power. A nation in a constant state of anxiety -- over the thereat of terrorism, or a potential war -- is a nation off balance. And that insecurity is the perfect cover to divert public attention from the country's serious domestic problems and the administration's political agenda. [...]

Britons 'will not face death penalty'

BBC News
Two British terror suspects held by the US at Guantanamo Bay will not face the death penalty, the UK's attorney general has confirmed. Lord Goldsmith said Feroz Abbasi, 23, from London, and Moazzam Begg, 35, from Birmingham, would not be executed even if they were tried and found guilty. [...]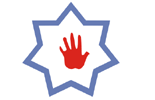 Open microphone catches California Democrats talking about prolonging budget crisis

SACRAMENTO, Calif. (AP) - Unaware that a live microphone was broadcasting their words around the Capitol, Assembly Democrats meeting behind closed doors debated prolonging California's budget crisis for political gain. Members of the coalition of liberal Democrats talked about slowing progress on the budget as a means of increasing pressure on Republicans. [...]
BY Judi Hasson
July 21, 2003
Despite reservations, the White House came out in support of the Senate's version of the first Homeland Security appropriations bill on Monday.
The $29.3 billion bill, which is $1 billion more than Bush originally requested, would increase funding for key areas, including the Coast Guard, aviation security and intelligence. [...]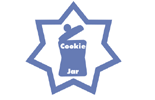 Privacy Invasions R Us
By Bill Berkowitz, WorkingForChange.com
July 22, 2003
Since 9/11, domestic spying projects have become as American as apple pie, the 4th of July and baseball. And like baseball in the age of free agency – when eligible players can switch teams when their contracts expire – it's difficult to follow the multitude of spy ops without a scorecard. With "The Domestic Security Enhancement Act of 2003," otherwise known as the Patriot Act II, now under consideration by Congress, it's an opportune time to review some of the projects offered up by the Bush Administration since 9/11. [...]
GOP Frets About Bush Re-Election Chances

By RON FOURNIER
AP Political Writer
WASHINGTON (AP) -- For the first time since the Sept. 11, 2001, terrorist attacks, rank-and-file Republicans say they are worried about President Bush's re-election chances based on the feeble economy, the rising death toll in Iraq and questions about his credibility. [...]
Witness says clear skies preceded fatal strike
FREDERICTON — A man who watched a young girl struck dead by lightning on a soccer field says the weather was clear and the fatal strike came out of nowhere.

Harris says he felt the lightning before he saw it hit the ground. "I felt a sudden tingling, I guess and electrical current, followed by the lightning bolt, and following that, everybody in the near vicinity of the strike was on the ground." [...]

Phillips people must heed warning signs. "When there is clearly some warning, don't wait for the rains. If you hear any thunder at all, even just a peal in the distance, you are at risk. And so, in particular with youth groups or large groups together because when people collect together, I mean one person could be hit but others could get that same shock. That's why many cows are killed with a lightning stroke, if they're all touching each other or close by." [...]
Why do clouds turn gray before it rains?
Fatal earthquake in Yunnan leaves 896 families displaced
An earthquake measuring 6.2 on the Richter scale has left at least 15 people dead and some 300 injured in southwestern China's Yunnan province, reports said yesterday.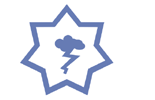 Three Die in Ohio Thunderstorms

Tue Jul 22,10:33 PM ET, AP

A line of thunderstorms swept through the Ohio Valley toward the East Coast on Tuesday, killing three people, including two Ohioans who drowned in a laundry room where they were trapped by rising waters. [...]
Powerful Typhoon Roars Toward Hong Kong
Reuters
Tuesday, July 22, 2003; 9:16 PM
HONG KONG (Reuters) - The biggest typhoon in years roared toward Hong Kong on Wednesday after tearing through the northern Philippines, killing at least five people, dumping torrential rain and ripping roofs off houses. [...]
Cool spots defy global warming
23 Jul 2003 02:41 BST
By Alister Doyle
OSLO (Reuters) - With the world sweltering through one of the hottest years on record, some icy bastions have been getting frostier in defiance of global warming.
The rare cool spots, also from Canada to China, cause headaches for policy makers seeking to impose expensive measures to curb emissions from cars and factories blamed for blanketing the globe and driving up temperatures. [...]
And experts say that apparent anomalies, such as the growth of glaciers in Norway in the 1990s, can often be explained by a wider picture of global warming because of increased snowfall.
"When the oceans get warmer, you get more evaporation so you create more clouds. Then you can have more precipitation and in some areas it can be in the form of snow," said Josefino Comiso, a senior scientist at the NASA Goddard Space Flight Centre.
He said that his research, for instance, indicated that snow was getting deeper over higher parts of Greenland. Ice and snow in some regions of Antarctica was also getting thicker. [...]
Girls Find Frog With No Eyes

RAYMERTOWN, N.Y. -- Three young girls found a frog with no eyes in a pond near their home in Raymertown in rural Rensselaer County, about 15 miles northeast of Albany. [...]
A group of other girls found a turtle with two heads in the Rensselaer County town of Poestenkill in May.
74 get rabies in southern China
North Shore Residents Report Earthquake

UPDATED: 2:25 p.m. EDT July 22, 2003 BOSTON -- Residents on the North Shore are reporting that they experienced an earthquake Tuesday morning, with the Weston Observatory confirming that there was a temblor.

Dr. John Ebel, director of the Weston Observatory, said an earthquake measured at magnitude 3.6 did occur at 7:41 a.m., with the epicenter 58 miles offshore, east of Beverly, Mass.
Ebel said the observatory has received a number of reports from North Shore residents, and from people as far away as Plymouth, Mass., and Winchester, Mass. [...]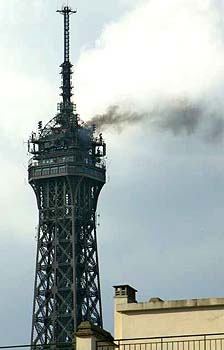 Fire breaks out at top of Eiffel Tower; extinguished after 40 minutes

By ELAINE GANLEY
Associated Press
July 22 2003, 2:40 PM EDT
PARIS -- A fire broke out on the top of the Eiffel Tower on Tuesday, sending black smoke pouring from the 1,069-foot Paris landmark and forcing the evacuation of a stream of visitors.
The fire -- which erupted in a knot of cables in a telecommunications room just below the tower's broadcast antenna -- was put out after 40 minutes, said fire official Christian Decolloredo. [...]
French farmers seek aid as severe drought bites
By John Lichfield in Paris
23 July 2003
Across a large swath of eastern, central and south-western France, the fields are turning yellow, the streams and rivers are drying up. Forest fires have devastated more than 40,000 acres of forest between Toulon and Saint Tropez and are still blazing in southern Corsica.
France has been struck by its worst drought in 27 years. In some eastern regions, without rain since February, records suggest this is the driest spell for a century.
The French government this week agreed emergency aid for cattle and sheep farmers, including the use of scores of trains to transport hay and straw to the most stricken areas in the Massif Central and in eastern France.
Baffling crop circles draw business
Is it aliens? Or just a farmer's prank? -- It's anybody's guess
[E]ven the father of modern astronomy, who first shocked contemporaries with the notion that Earth was not really the center of the universe, would himself likely be baffled by the bizarre goings-on in one of those villages, Wylatowo, population 581.
Ever since the crop circles and, as local legend has it, the aliens, cropped up three years ago, the beautiful but sleepy backwater has drawn throngs of visitors ranging from the harmlessly curious to the distinctly peculiar.
The investor plans to build what is likely to be the first UFO hotel, bar, grill and restaurant in the known universe. But cashing-in isn't simple for farmers who might be considering resorting to fakery, according to farmer Tadeusz Filipczak, 55, on whose fields the first crop circles appeared three years ago.
"It's impossible [to make them]," he says. "Last year, we even gave it a go with ropes and boards like they do in the West, but it turned out hopeless."
Fancying himself something of a "pictogram" expert, he notes that since 2000, all 16 circles have appeared in prime grain-growing season between June 25 and July 26. [...]
Comment: Interesting how crop circles get lumped in with "aliens" and new age gunk in the media and many people's minds even though there is not any evidence that they are related. COINTELPRO at work.
Columbia's Top Mission Manager Says No One Expressed Foam-Strike Fears During Flight

By Marcia Dunn The Associated Press
Jul 23, 2003
SPACE CENTER, Houston (AP) - Even though some NASA engineers were worried, Columbia's top mission manager says no one expressed any foam-strike fears to her during the flight and so she did not seek satellite pictures of the damaged spaceship. [...]

With tears in her eyes, Ham said "we all take some responsibility for this and I certainly feel accountable" as the leader of Columbia's mission management team. But no one person is to blame for the tragedy, she and other managers noted. [...]
'100 day countdown' to China's first astronaut

16:53 22 July 03
NewScientist.com news service

China is on course to become only the third nation ever to place a human in space, following press reports that the first crewed flight will take place in 100 days.
A government source told the state-controlled news service Wen Wei Po that the launch would take place within this timeframe. No official date for launch has been set. [...]
Wednesday, 23 July 2003
Two Tura Beach residents are seeking an explanation for curious light phenomena they witnessed in the southwestern sky on Sunday night.
Baden Cameron and his neighbours Tom and Yvonne Scott watched the rotating light disk, which varied from circular to elliptical, for about an hour between 9.30 and 10.30pm. [...]
Socorro's UFO incident still unexplained
By Valerie Kimble
For El Defensor Chieftain

Little did Socorro patrolman Lonnie Zamora know that a single incident recorded almost 40 years ago would change his life, and the city's, forever.
Around 5:45 p.m. on April 24, 1964, Zamora was in his patrol vehicle in hot pursuit of a speeder when he heard something that sounded like an explosion.
The five-year veteran patrolman stopped chasing the fleeing vehicle to investigate what he thought might have been the detonation of a shack of dynamite.
Zamora followed a narrow, gravel road beside a small arroyo, and radioed in that he was going to check on what looked like it might have been an overturned vehicle.
He drove further on the gravel road and then exited his patrol vehicle to get a better look.
What Zamora described next has been chronicled and analyzed by UFO experts around the world. Most reports refer to an egg-shaped object supported by legs, and the presence of two beings described as children or small adults.
A loud roar and the flash of a bluish flame sent Zamora to the ground for cover before he jumped up and ran to the other side of the gravel road.
Zamora heard a whirring sound and watched the object rise out of the arroyo; the "legs" he had seen earlier were no longer in view.
Not long after the object's disappearance, he was joined by State Police Sgt. Sam Chavez who had overheard Zamora's radio dispatch. The two officers began to scour the area for clues.
And thus began an investigation into one of the most widely circulated UFO stories ever, one that propelled tiny Socorro into the center of the unidentified flying object universe. [...]
A British Columbia, Canada Nightmare: Scoop Marks?
ImClone Founder Sam Waksal to Begin Serving Prison Term

By Erin McClam Associated Press Writer
Jul 23, 2003
NEW YORK (AP) - ImClone Systems Inc. founder Sam Waksal is set to begin serving a prison sentence of more than seven years - the first chief executive in the torrent of recent corporate scandals to do time.

Waksal is assigned to a minimum-security prison about 75 miles from Philadelphia, where he is expected to report Wednesday. He will perform odd jobs like mowing grass and buffing floors. He will be paid pocket change per hour. [...]
Mississippi Issues Report Responding to Finding of Abuse in Juvenile Training Schools

By Matt Volz Associated Press Writer
Jul 23, 2003
RAYMOND, Miss. (AP) - State officials released a report Tuesday detailing what they have done to correct a pattern of physical abuse found by the Justice Department at Mississippi's two juvenile training schools. [...]
The Justice Department said last week that adolescents at two training schools had been hogtied, chained to poles and forced to eat their own vomit. [...]
In addition, according to the department, the use of pepper spray, straitjackets, psychiatric belts and violent offender chairs have been discontinued, and punishments of squat thrusts, push-ups and jumping jacks are not to exceed 25. [...]
Criminals Could Avoid Court by Saying Sorry
LONDON (Reuters) - Criminals could avoid being taken to court if they agree to apologize personally to their victims, under plans outlined by the UK government Tuesday.
The proposals -- dubbed "restorative justice" -- could see offenders held to account by their victims, in some cases by-passing the court system, Home Secretary David Blunkett said.
"Supporting victims and witnesses better is not just about what happens in the courtroom, it is also about the impact that crime has on their lives," he added in a statement.
"Being a victim of crime can be a harrowing and traumatic experience...Restorative justice means victims can get an apology from their offender.
"It (also) provides the victim with an explanation of why the crime was committed."
The announcement comes just a week after figures showed a 28 percent rise in violent crime in England and Wales over the past year. [...]
I get by with a little help from Cherie

BEIJING (Reuters) - Prime Minister Tony Blair had just endured a tough grilling from Chinese university students over the case for the war in Iraq when the request from one young student came in -- sing a song by the Beatles.
The plea for some light entertainment came after a 45-minute question and answer session at Tsinghua University, and Blair, who was lead singer in a rock band called Ugly Rumours during his college days, wasted little time in deflecting it.
Cherie Blair -- with some prodding -- sang a verse from the Fab Four classic about staying faithful in old age, "When I'm 64", as students surrounded the couple and clapped to the beat.
"I thought the atmosphere should be a little more warm," said a smiling Peng Linlin, 21, who popped the request as Blair was shaking hands before heading to the door. "I'm proud of it."
Before the impromptu recital, students peppered Blair with questions ranging from the Iraq war to his views on the European Union and the suicide of David Kelly, a weapons expert at the centre of a row over Britain's reasons for waging war with Iraq.
Students were generally positive about the debate afterwards, describing Blair as eloquent and persuasive, although some felt he dodged questions. [...]
Comment: Apparently these students forgot the horror that this man willingly helped to launch. Yep, psychopaths can be so charming.
Roommate Dies After Eyes Gouged
By Melanie Lefkowitz

An East Elmhurst man whose eyes were gouged out by his roommate during a fight over a broken television antenna has died, and officials are trying to determine whether the injury led to his death, police said yesterday.
Oscar Herrera, 53, lost all sight in one eye and most in his other after Hector Castillo, 51, allegedly used his hands and fingernails to dig out Herrera's eyes, police said. [...]
Woman files suit claiming kidney was removed in error
By The Associated Press
(7/21/03 - FORT WORTH) —A 74-year-old Grapevine woman has filed a lawsuit accusing doctors of needlessly removing a kidney during her knee replacement surgery this spring.
Cellphone use worse than drunken driving
PARK CITY, Utah, July 22 (UPI) -- A new study says if you are given a choice of talking on a cell phone while driving or driving while intoxicated, you would be safer driving drunk.
And the University of Utah study says it makes no difference whether the telephone is hand held or is being used hands-free. [...]
Number of satanic sects increases
Over the past couple years, the number of religious sects, mostly satanic ones, have been increasing in Slovakia. The internet has become a fertile soil for the rise of different cults and sects that are often imported from Germany, the daily Národná obroda writes.
Currently, there are 500 sects operating in Slovakia with several of them presenting a serious danger to society, Lucia Machác¹ková of the Institute for Relations between the State and Churches says. She explains that these groups violate human rights, create a spiritual dependence and endanger the development of children.
Chairman of the Ecumenical Association for the Study of Sects Ondrej Garaj is truly concerned about the boom of the satanic movement. The so-called Austrian-type satanism is spreading around Bratislava, Trnava and Trenc¹ín, while in Kos¹ice mostly Ukrainians start operating sects.

PRINCE'S CHURCH IN ROW OVER SATAN'S BIG MAC
11:21 - 22 July 2003

A Parish magazine caused a storm last night by printing claims fast-food giant McDonald's was created by Satan. The Rev John Wright published an anonymous article in his bi-monthly newsletter stating dieters craving a Big Mac and fries are being tempted by the Devil.
Mr Wright, vicar of St Mary the Virgin Church in Tetbury, Gloucestershire, whose parishioners include Prince Charles, insisted it was a tongue-in-cheek commentary on people's fight against the flab.
McDonald's yesterday insisted it was not the work of Satan.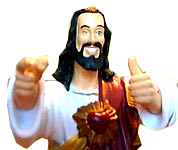 Ad campaign puts Jesus in an SUV

Associated Press
July 18 2003, 7:53 AM EDT

WASHINGTON -- Frustrated by ads attacking sport utility vehicles, including religious leaders' "What Would Jesus Drive?" campaign, a pro-SUV group is launching its own ads celebrating plus-size vehicles for their safety and versatility. [...]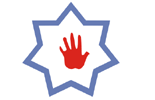 Kinko's spy case highlights risks of public Internet terminals
By ANICK JESDANUN
Associated Press
July 22 2003, 3:59 PM EDT
NEW YORK -- For more than a year, unbeknownst to people who used Internet terminals at Kinko's stores in New York, Juju Jiang was recording what they typed, paying particular attention to their passwords. [...]
Beach Resort Towns in Virginia Looking for Economic Boost From Sniper Trials

By Sonja Barisic Associated Press Writer
Jul 23, 2003
"It's going to bring business to us," said Cabanos, who owns the cafeteria in the basement of the courthouse. "It's positive."
His is one of only a few eateries within walking distance of the courthouse. And he's not the only business person looking forward to the Oct. 14 trial of John Allen Muhammad, along with the Nov. 10 trial for the second suspect, Lee Boyd Malvo, in nearby Chesapeake. [...]
MIT, Boston College say subpoenas in music-use case violate privacy rules

By Jay Lindsay, Associated Press, 7/22/2003 19:53
BOSTON (AP) - Boston College and the Massachusetts Institute of Technology have moved to quash subpoenas seeking the names of students suspected of Internet music piracy, saying they're illegal because they weren't properly filed.
And Finally . . .
Bush's Brain run by a Pentium 2
by JK News Wire
CAT scans of the President's skull were leaked to the press last weak revealing that Bush doesn't have a brain. Dubya has Intel Inside™, and is running off a Pentium 2™ microchip.
According to White House staff statments, Bush died of a cocaine overdose 6 years ago. His father used money skimmed from Saudi Billionaires to have his son cryogenically frozen, then thawed and re-animated once the appropriate nanotechnology, run by a Pentium processor, was developed.
The fact that our president is a walking-dead politician, motivated by outdated intelligence doesn't phase the Administration one little bit. "So what if he is a robot? The President is helping the economy. Intel's Stock is going to skyrocket when potential investors find out what they can do," stated White House spokesman Ari Fleischer.
---
Check out the Signs of the Times Archives
Send your comments and article suggestions to us.
---
Fair Use Policy
Contact Webmaster at signs-of-the-times.org
Cassiopaean materials Copyright ©1994-2014 Arkadiusz Jadczyk and Laura Knight-Jadczyk. All rights reserved. "Cassiopaea, Cassiopaean, Cassiopaeans," is a registered trademark of Arkadiusz Jadczyk and Laura Knight-Jadczyk.
Letters addressed to Cassiopaea, Quantum Future School, Ark or Laura, become the property of Arkadiusz Jadczyk and Laura Knight-Jadczyk
Republication and re-dissemination of our copyrighted material in any manner is expressly prohibited without prior written consent.
.