---
Laura has just updated yesterday's article Ross Institute: COINTELPRO or Agent of Mossad?

Delusion and religion linked

STUDYING the mechanisms of religious belief could lead to a better insight into the minds of people with delusions.

An international conference in Sydney this week will hear that some religious beliefs -- including that a virgin gave birth to the son of god -- qualify as delusions.

In his presentation to the Cognitive Science Conference today, Macquarie University PhD student Ryan McKay will outline the latest thinking on how religious belief relates to delusion.

"The line between psychosis and intense religiosity is a difficult one to draw," he said.

He said many beliefs were triggered by a bizarre or unexplained "religious experience", often produced by changes in brain activity.

For example, it had been shown that when Buddhist monks went into deep mediation and experienced a sense of "being at one with the world", they also experienced decreased blood flow to the part of the brain responsible for concepts of the "self".

The crux of delusion lay in why these experiences trigger religious belief in some people but not in others, Mr McKay said.

"The idea is that you need some sort of second deficit which means you're unable to discard the impossible experience," he said.

World leaders reject Blair's move over military action

By Ben Russell, Political Correspondent
15 July 2003

Tony Blair was rebuffed yesterday over attempts to give international backing to military action to topple the brutal leaders of failed states like Iraq.

A summit of 14 world leaders refused to endorse a joint statement which proposed waiving the legal ban on intervening in foreign states if governments failed to protect their citizens from repression or "state failure".

The original draft, revealed by The Independent on Sunday, said: "Where a population is suffering serious harm as a result of internal war, insurgency, repression or state failure, and the state in question is unwilling to halt or avert it, the principle of non-intervention yields to the international responsibility to protect."

But the passage was cut from the final communiqué amid fears that it could have provided justification for the war in Iraq and give carte blanche to Western powers to intervene in countries around the world. The final document instead stressed "the crucial importance of international co-operation in responding to humanitarian crises". It said: "We are clear that the UN Security Council remains the sole body to authorise global action in dealing with humanitarian crises of this kind."

The disputed passage was taken from a report by the Canada-based International Commission on Intervention and State Sovereignty. Instead, the leaders said it was "a valuable contribution to the ongoing and necessary debate within the UN on how better to deal with these new and emerging challenges."

Speaking at the end of a three-day Progressive Governance Summit in Surrey, Mr Blair refused yesterday to link proposals for reforming international law with the war in Iraq, but called for new international "rules" to govern intervention in failing states. He said: "The differences over Iraq are well known. The real issue is how do we, in circumstances where there is brutal repression of people by a particular regime, how do we offer them support and protection and what are the rules, because people want to know that they are operating in a system with rules. This is work actually irrespective of any particular situation which has been taken forward under the auspices of the UN. I think it's important we keep it there, so this is an important contribution to the debate."

Comment: The extent of the lies and self-delusion among some of our supposedly elected leaders is staggering. The whole world can see that Iraq has been left in a disatrous state by the Anglo-American invasion, yet Blair shows no shame in talking as if the Iraq invasion was a great success. A Psychopath if there ever was one.

W. House: Iraq Intelligence Uproar 'Bunch of Bull'

Mon July 14, 2003 12:30 PM ET By Adam Entous

WASHINGTON (Reuters) - The White House on Monday dismissed as a "bunch of bull" charges that President Bush used disputed intelligence to justify the invasion of Iraq and said there was no need to delve further into the matter, which Democrats want investigated.

"As far as the president's concerned, he's moved on. ... I think the bottom has been gotten to," White House spokesman Ari Fleischer said of a disputed statement in the president's State of the Union address that Iraq sought to buy uranium from Africa for its alleged nuclear weapons program.

"This revisionist notion that somehow this is now the core of why we went to war, a central issue in why we went to war, a fundamental underpinning of the president's decisions, is a bunch of bull," Fleischer added.

[...]

[CIA Director George Tenet] took responsibility for the CIA's approval of the speech which contained the uranium claim, but did not himself read the text of the State of the Union prior to its delivery before a joint session of Congress.

[...]

But with recent polls showing an erosion of support for the Iraqi operation, there was heavy criticism from Democrats, some of whom hope to replace Bush in the White House in the 2004 presidential election.

"There ought to be a thorough investigation, either by the existing committees or by a select committee," said Sen. Carl Levin of Michigan, top Armed Services Committee Democrat.

Sen. Jay Rockefeller of West Virginia, the senior Democrat on the intelligence committee, said the panel may call Tenet to answer questions this week.

Comment: Bush had no solid evidence to back the claim when he made the comment, and still has no solid evidence. His statement to the American people was "a bunch of bull." Bush lied.

Bush Spokesman Gets a Goodbye Hosing

By DARLENE SUPERVILLE ASSOCIATED PRESS

ANDREWS AIR FORCE BASE, Md. (AP) - White House press secretary Ari Fleischer thought he was only posing for pictures when he was brought to the nose of Air Force One after President Bush returned from a trip to Africa on Saturday.

What he didn't know was that his staff had enlisted a base fire engine to help mark the end of Fleischer's 2 1/2-year tenure as Bush's chief spokesman.

He quickly realized what was up when the mist from the engine's hose blew his way.

Fleischer, who by this time had exchanged his navy blue business suit for a pair of sweat pants, T-shirt and running shoes, sprinted away.

With firefighters in pursuit, Fleischer eluded them again.

But he then indulged his staff, administration and military officials, and reporters gathered on the tarmac by walking into the spray and getting drenched. [...]

Comment: "Afterwards Fleischer was handcuffed and lead away to stand trial accused of knowingly lying to the American public on various matters including the war in Iraq."

Sorry this piece was from a report in an alternate universe where justice is actually served.

Bush justifies Iraq war decision

WASHINGTON:

US President George W Bush last night defended pre-war US intelligence on Iraq's alleged arms programmes as "darn good," amid charges he improperly inflated the nuclear threat posed by Saddam Hussein.

His comments came after his closest ally, British Prime Minister Tony Blair said that he was proud of his role in overthrowing Saddam and defended his government's intelligence briefings in the run-up to the war.

Bush, who has drawn fire over a sentence in his January 28 State of the Union address to the nation, said: "The intelligence I get is darn good intelligence. And the speeches I have given were backed by good intelligence."

The White House has since admitted that the evidence buttressing that line - "The British government has learned that Saddam Hussein recently sought significant quantities of uranium from Africa" - was so flawed that it should not have been included in the speech.

[...] Bush and top aides, including national security adviser Condoleezza Rice, repeatedly warned that Iraq sought nuclear arms, and Rice conjured the spectre of a "mushroom cloud" hanging over a devastated American city.

[...] But the UN nuclear watchdog questioned Britain's evidence on Iraq trying to import uranium from Africa, saying it may all be based on forged documents.

A spokeswoman for the International Atomic Energy Agency confirmed evidence London had provided to the Vienna-based agency had been based on fakes.

Former UN weapons inspector Scott Ritter also said US statements about Iraq possessing weapons of mass destruction before launching the war were a "lie."

France, meanwhile, denied it had supplied Britain with the intelligence behind London's assertion that Saddam had attempted to import uranium from Africa.

Comment: First our psychopathic President Bush says his speeches are backed by good "intelligence" and then the White House says some of the "intelligence" was so flawed that it should not have been included in the speech. So apparently flawed intelligence is good intelligence as far as Bush is concerned. The Bush Reich used the statement to put gloss on their fomentation of fear upon the American people, without any solid evidence. So far not one WMD has been recovered in Iraq...

A Reader Comments:

Dear Signs,

I have come across two articles in the last few days that illustrate low profile but profound changes to our military that have already happened and some poised to happen. Together, they offer a clear sign of where things are headed. Both initiatives have been or are in the process of being ramrodded by Donald Rumsfeld. The first, from Newsweek is a typical," this seems scary, but look, we say it's really ok so go right back to sleep" story about the formation of a unified North American U.S. Military command, Northcom.

The gymnastics used to avoid some of the most obvious reasons for why the coordination of the major military branches might be utilized in North America are ridiculous, and finally the reader is lured into the sense that they need all this mainly to deal with suicide hijackers. Just where do the Army, Navy and Marines fit in here?

The second story (requires registration) covers Rumsfeld's hell-bent initiative to largely eliminate the Reserve forces and replace them with professional military. What better way to promote loyalty to big brother than to make most U.S. soldiers totally economically dependent on him? All the more likely that they might dutifully repress their fellow citizens or serve the empire overseas for extended periods when called on to do so by our Commandeer in Chief.

And here is a look back that adds to the picture:

Cheers,

JM

'Hot, deadly' summer for US troops in Iraq

It could be a long, hot and deadly summer for American forces in Iraq, who may soon face increased attacks, US Defense Secretary Donald Rumsfeld said.

He acknowledged the Bush administration does not know how long the US-led occupation will last or how much it will cost.
American and coalition troops have been the target of daily attacks.

Just hours after Rumsfeld's warning, one US soldier was killed and six others wounded early yesterday when rocket-propelled grenades were fired at their convoy, a military spokes-man said.

Since May 1, when US President George W. Bush declared major combat over, more than 30 US troops have been killed and scores wounded in hit-and-run attacks.

"I'm afraid we're going to have to expect this to go on," Rumsfeld said on Sunday on the television show Meet the Press.
"And there's even specu-lation that during the month of July, which is an anni-versary for a lot of Baathist (Saddam Hussein's party) events, we could see an increase in the number of attacks," he said.

Elsewhere, a group claiming to be an Iraqi branch of the al-Qaida terror network said it - and not Saddam Hussein - is behind the armed resis-tance against US forces in postwar Iraq, according to a tape aired on an Arab TV station on Sunday.

Dubai-based Al-Arabiya satellite station aired a four-minute video showing a black-and-white still photograph of a man dressed like an Islamic cleric with a message read over top by a distorted male's voice. [...]

The Pentagon again postpones a withdrawal of 3rd Infantry soldiers. The move comes as India backs out of its promise to send a contingent.

By Esther Schrader and Paul Richter, Times Staff Writers

WASHINGTON — Postponing troops' return to their families for the second time in two months, the Pentagon announced Monday that more than 10,000 soldiers of the 3rd Infantry Division would not, as they had been told, be coming home by the end of September.

The announcement came as India said it would not send a promised division that would have added 17,000 troops to the forces on the ground, although the Pentagon said there was no connection between the extended deployment and New Delhi's decision.

Two-thirds of the division will remain in Iraq "indefinitely," said Richard Olson, a spokesman for the division at Ft. Stewart, Ga., its headquarters.

White House Set to Project Record Deficits

By Adam Entous
Tue July 15, 2003 03:01 AM ET

WASHINGTON (Reuters) - The White House is expected on Tuesday to forecast record budget deficits in excess of $400 billion this fiscal year and next with little hope of a turnaround anytime soon.

Democrats said the deficit was approaching crisis proportions and deteriorating rapidly. Some fiscal conservatives urged President Bush to do more to reverse the trend before it gets any worse.

The White House countered that the bigger deficits were "manageable" and reflected economic and national security priorities following the Sept. 11, 2001 attacks.

Administration officials said the budget projections would include, for the first time, initial costs of the war in Iraq.

Military operations there and in Afghanistan have cost roughly $4.8 billion a month -- $58 billion on an annual basis -- which is well over initial estimates, according to the Concord Coalition, a balanced budget advocacy group.

"We are drifting into bigger and bigger deficits and what I find alarming is that neither party is willing to give up its political priorities to do anything about it," said Robert Bixby, the group's executive director. [...]

France calls for resumption of UN arms inspections in Iraq

AFP, Khaleej Times
14 July 2003

PARIS - France's defence minister on Monday called for the resumption of United Nations weapons inspections in Iraq, saying it was the only way to remove continuing doubts about the existence or not of weapons of mass destruction in the country.

"The best way to remove the doubts would be to let the UN inspectors go in and see what the situation is on the ground," Defence Minister Michele Alliot-Marie told state-owned France Inter radio on France's Bastille Day national holiday.

The international community was not in a position to know if the alleged weapons existed, although it was clear that if the former Iraqi regime had had them, it had not chosen to use them when it was "in great difficulty" during the US-led war, she added.

Alliot-Marie said France was "ready to help with the reconstruction of Iraq" but only within a framework created by the United Nations.

Her comments came amid increasing controversy in Britain and the United States, which led the war on Iraq against opposition from France and other European countries, over the fact that to date no weapons of mass destruction have been found in the oil-rich country.

Both London and Washington cited the alleged presence of such weapons as the main justification for invading Iraq.

Tensions flare in Baghdad as Iraqi soldiers demand promised back-pay

AFP, Khaleej Times 14July2003

BAGHDAD - Soldiers of toppled president Saddam Hussein's armed forces faced off in tense protests on Monday with US troops as they demanded payment of their first salaries in four months.

Roughly 300 soldiers and officers from Iraq's military, disbanded since an overwhelming defeat by a US-led coalition three months ago, gathered at a former Baghdad airport to demand their salaries, unpaid since March.

"There were announcements on the radio and in newspapers that salary distribution would be on the 14th," air force officer Haseem Anash Atowfuk, 35, told AFP as an angry crowd leaned over concertina wire and shouted complaints at the US soldiers.

A loudspeaker call in Arabic for the veterans to disperse went largely unheeded, with groups of protestors chanting "Down, down America".

US troops appeared prepared to fire warning shots but backed off.

The US-led coalition announced June 23 it would begin monthly payments from 50 to 250 dollars on July 14 for up to250 , 000former professional soldiers, adding that another 300,000 conscripts would receive a one-off settlement.

"They are liars. Our situation is desperate, and maybe all these soldiers will turn against the US because so far there is no solution," said former soldier Hassan Abdul Wahid.

"If they pay us, it will be more quiet, but if they don't we will rise up," he said.

Americans guarding the compound's south gate said the payments would not begin until Tuesday.

"It starts tomorrow (July15), when officers will get paid. It goes from the generals on down," said Sergeant Jose Gamez of the1 st Armoured Division.

US troops opened fire on a demonstration in Baghdad June 18, killing two Iraqi veterans protesting over unpaid salaries -- the first such incident in the city since it fell to US-led forces on April9 .

One U.S. Soldier Killed, Six Wounded in Iraq

By Andrew Gray Reuters Monday 14 July 2003

BAGHDAD - Attackers fired rocket- propelled grenades and machine guns at U.S. soldiers in Baghdad Monday, killing one and wounding six, the U.S. military said.

The attack came the day after the launch of an Iraqi Governing Council of local leaders which the United States hopes will reduce resentment toward its occupation.

U.S. forces have been attacked frequently in postwar Iraq. Officers are braced for a surge this week to coincide with several anniversaries linked to ousted Iraqi President Saddam Hussein and his Baath Party. [...]

U.S. forces largely blame die-hard Saddam loyalists for the attacks, but many ordinary Iraqis have expressed frustration at what they say has been the slow pace of returning government to Iraqis and rebuilding the country.

A group calling itself the "Armed Islamic Movement for Al Qaeda, the Falluja Branch" said in an audio tape broadcast by Dubai-based Al Arabiya television Sunday that it was behind attacks on U.S. forces in Iraq and warned of more bloodshed.

The group had not been heard of before and it offered no evidence to back up its claims. Falluja is a town west of Baghdad where U.S. forces have come under frequent attack. [...]


Army reservist from Maine killed by angry crowd in Iraq

Monday July14, 2003, 3:41 PM
(AP)

An Army reservist from Kennebunk who died in Iraq this month was killed after an angry crowd of Iraqis surrounded the humvee he and another soldier were in and set it on fire.

That's according to a report in Time magazine that goes out Monday.

Christopher Coffin, 51, died July 1 while his unit was outside of Bagdhad, but conflicting reports about his death have prompted the Army to launch an internal investigation that could take months to complete.

Time this week reports that the vehicle in which Coffin and a comrade were riding in that day was possibly run off the road by an Iraqi vehicle barreling directly towards it.

The magazine says an angry Iraqi crowd swarmed the vehicle and set it on fire, but that by the time a helicopter got him to a medical facility, he had died of massive head trauma.

U.S. Chicken Giveaway Doesn't Fly in Fallouja

Iraqi imams turn away soldiers offering the frozen birds to win over hearts and minds in a city that has been a center of resistance.

By David Zucchino, Times Staff Writer

FALLOUJA, Iraq — Sgt. Jason McGinn's Humvee convoy pulled up in front of the Saud ibn abi Wakas mosque with a load of frozen chickens Monday.

The chickens, rapidly defrosting in the midday sun, were meant for the needy families of Fallouja. McGinn's psychological operations unit was making the delivery as part of its efforts to win over clerics and civilians alike in this city west of Baghdad that has been a center of Sunni Muslim resistance to the U.S. military occupation.

The imam, a slender, bearded young man, stared hard at McGinn and shook his head indignantly.

"We would rather eat rocks than eat chickens from Americans," he spat out. "Even the poorest person in Fallouja doesn't want chickens from you." [...]

Comment: 10,000 innocent civilian massacred, the country in dissaray and the best the US can do is say: "here, have a chicken"

Puppet Council Set Up To Stop Raids On US Troops In Iraq

Jul 13, 2003
By Bruce Kennedy, JUS

A 25-member Governing Council was unveiled yesterday amid US hopes raids on American troops will subside if Iraqis feel the occupying powers are transferring authority to local leaders.

The council comprises 13 Shi'ites, five Sunni Arabs, five Kurds, an Assyrian Christian and a Turkmen. Three members are women and 16 have either returned from exile or from an autonomous Kurdish area which was outside Saddam's control.

The council can appoint ministers, approve the national budget and review laws, but little else. Ultimate authority remains with US and British administrators who have controlled Iraq since their forces toppled Saddam on April 9.

The council, meeting in a building that was used by Saddam's government, faces a challenge to convince ordinary Iraqis it can represent them, and gives Iraq's majority Shi'ites 13 of the 25 seats in contrast to their marginalisation under Saddam.

Its first decisions, to scrap all holidays honoring Saddam and his outlawed Baath Party and to create a new public holiday marking the day of his downfall, seem absurd considering the real life problems facing average Iraqis such as serious shortages of food, water and money.

On the streets of Baghdad, some Iraqis felt the council had too many former exiles, while others feared the body was just a tool of the United States. "We cannot back the council. It is backed by America and it won't change anything. America has just made empty promises," said Sabah Kathim, an ice-seller who earns three dollars a day.


U.S. administrator Paul Bremer said "The launch of the governing council will mean that Iraqis play a more central role in running their country". It's unlikely that will happen considering the Council has no authority to make independent decisions


Former arms inspector calls for 'regime change' in US

15/07/2003 - 09:12:18

A former UN weapons inspector has released a new book in which he accuses President Bush of illegally invading Iraq and calls for "regime change" in the United States at the next election.

Scott Ritter said Bush lied to the American people and Congress about Iraq's weapons of mass destruction. He said UN Secretary-General Kofi Annan lacked courage, and that former chief weapons inspector Hans Blix was "a moral and intellectual coward".

Ritter, a former US marine, was a weapons inspector in Iraq from 1991 to 1998. He has been a vocal critical of Washington's policy on Iraq.

He said he wrote Frontier Justice, Weapons of Mass Destruction and the Bushwacking of America to educate people.

The paperback, published by Context Books, has on its cover a picture of Bush in jeans and a cowboy hat, behind the wheel of a truck.

In the book, Ritter notes that the Bush administration's stated reason for launching the war was to rid Iraq of weapons of mass destruction.

The book argues that there is no evidence Iraq possesses, produces or concealed nuclear, chemical or biological weapons. Therefore, Ritter argues that "the United States carried out an illegal war of aggression."

Bush, responding yesterday to similar charges about the lack of evidence of illegal Iraqi weapons, insisted: "When it is all said and done, the people of the United States and the world will realise that Saddam Hussein had a weapons programme."

Ritter said Bush's real goal was to get rid of Saddam Hussein's regime.

"What is needed in America is regime change," he wrote. "Anything but Bush and (Vice President Dick) Cheney."

He also accused France and Germany of failing to get a UN Security Council or General Assembly resolution calling the war illegal and demanding a US withdrawal.

Ritter called former Iraqi opposition leader Ahmed Chalabi, now on Iraq's newly appointed governing council, and the opposition Iraqi National Congress "the greatest single source of fabricated, exaggerated so-called intelligence that you can imagine".

But he had kind words for Mohamed ElBaradei, head of the International Atomic Energy Agency.

He said ElBaradei was "much more honest" than Blix about appraising Iraq's nuclear weapons and the threat they posed

Elusive Saddam, Osama a Double Headache for US

Francis Temman - Agence France Presse Arab News
WASHINGTON, 14 July 2003

The thus-far fruitless hunt for deposed Iraqi President Saddam Hussein and the uncertainty surrounding the whereabouts of Al-Qaeda chief Osama Bin Laden are giving Washington a double headache as it battles worldwide terrorism and seeks stability in Iraq, experts say.

"The US is a very big, huge military machine and to find a single individual is always problematic," said Judith Kipper, Middle East expert with the Council on Foreign Relations.

The US makes no secret of the fact that Saddam's capture is a top priority. Three months after the fall of Baghdad, Washington posted a $ 25million reward on his head.

From wherever he is hiding, Saddam continues to thumb his nose at the US occupiers of his country, disseminating audio tapes — authenticated by the CIA — imploring Iraqis to rise up against the "infidels."

The Iraqis know good and well that Saddam won't return to power, said Kipper, but an irrational fear continues to loom.

She said. "As long as he is alive, they will believe, there will be the perception, that he is behind all the troubles." [...]

Although Afghanistan's Taleban has been overthrown and the vise is tightening on several leaders of the Al-Qaeda network, its top prize, Osama Bin Laden, remains as elusive as a cloud. "Osama stays alive metaphorically or physically, spiritually, if you will, by sending out tapes, video, audio," said Tanter.

And, as the saying goes, imitation is the highest form of flattery.

"Saddam looks to take a page out of Osama Bin Laden's play book," [said Raymond Tanter, National Security Council adviser to former President Ronald Reagan.]

Comment: The playbook belongs to the CIA and they're both "assets."

Saddam 'is hiding near Tigris river'

LONDON: Saddam Hussein is hiding in villages along the Tigris river north of Baghdad along with his former chemical weapons chief, known as "Chemical Ali", Britain's Independent newspaper said yesterday.

The Independent cited the former head of Iraqi military intelligence, General Wafiq Al Samarrai, as saying the two wanted men are hiding in an area of farmland and small villages between Baghdad and the city of Samarra,100 km to the north.

Saddam has been able to escape capture because the area is heavily populated and has thick vegetation, it said.

"He is hiding in an area about 60km long and 20km wide according to my information," Samarrai was quoted as saying.

Comment: Hussein is hiding in a wardrobe room (possibly deep underground at the Pentagon) and Osama (aka Princess Qaeda) was last seen at Prince William's birthday party wearing a pink chiffon dress...

Taliban Claim 14 Soldiers Killed In Afghan Guerilla Attacks

Jul 13, 2003
Source: Pakistan Daily Times

The Taliban claimed on Sunday that they have killed 14 Afghan and American soldiers in two guerilla attacks in Kandahar in reports reaching Pakistan from across the border. Taliban Mujahideen attacked the soldiers who were returning to Kandahar in the Mandi Saar and Khushal areas. Afghan authorities refused to comment on the attacks.

Meanwhile, Afghan forces seized 300 rocket-propelled grenades and dozens of anti-tank mines on Sunday in a raid on a Taliban hideout near the Pakistan border, an Afghan commander said. The weapons had been brought to the suspected rebel training camp, 10 kilometres from the southern border town of Spin Boldak, for attacks on government and the US-led forces, said the commander, who did not want to be identified. Taliban fighters guarding the camp escaped the government swoop, he said.

The haul included 300 rocket-propelled grenades, dozens of anti-tank mines, 20 AK-47 rifles and various types of ammunition and explosives. The weapons were seized from a Taliban group led by a commander named Hafiz Rahim, the commander said.

Four Taliban fighters had ambushed a police patrol to the south of Kandahar city, a provincial security official said. The southern city was the Taliban powerbase during their rule.Two policemen, including the patrol commander, were wounded but the gunmen escaped after an hour-long battle, the official said.

A suspected rocket attack also took place near the Bagram air base, post for the US-led forces in Afghanistan, on Saturday but there were no casualties or damage, the US military officials said. A blast also took place at a United Nations refugee transit centre in the eastern city of Jalalabad on Saturday but caused no injuries.

Sen. Jay Rockefeller: WMD Flap 'Far From Over'

Democrat Calls Rice 'Dishonorable' for Blaming CIA Director

July 13, 2003 -- In a conversation with NPR's Steve Inskeep , Sen. Jay Rockefeller (D-WV) -- the ranking Democrat on the Senate Intelligence Committee -- says the White House unfairly made CIA director George Tenet the scapegoat for faulty intelligence on Iraq.

Rockefeller also told Inskeep that National Security Advisor Condoleeza Rice "had to have known" a year before Bush's 2003 State of the Union address that intelligence claiming Iraqi agents were attempting to purchase uranium from African officials was bogus.

Referring to recent White House and CIA statements meant to defuse the controversy, Rockefeller said, "I think it raises more questions than it settles, and I think it's far from over.

"I cannot believe that Condi Rice... directly, from Africa, pointed the finger at George Tenet, when she had known -- had to have known -- a year before the State of the Union."

"The entire intelligence community has been very skeptical about this from the very beginning," Rockefeller says. "And she has her own director of intelligence, she has her own Iraq and Africa specialists, and it's just beyond me that she didn't know about this, and that she has decided to make George Tenet the fall person. I think it's dishonorable."

In an interview with Fox News, Rice insisted that Bush's statement was accurate -- but conceded that the assertion of Iraqi uranium shopping in Africa should have been deleted from the address.

"The statement that (Bush) made was indeed accurate," Rice said. "The British government did say that. Not only was the statement accurate, there were statements of this kind in the National Intelligence Estimate," a document compiled by U.S. agencies detailing threats to the United States.

Comment: John D. Rockefeller the Fourth, or "Jay" likes to present himself as a country boy. He is on the Select Committee for Intelligence and the Subcommittee on Health Care. With his family links to oil and health care he stands to make millions from the Iraq War and the push into Africa, now that it is supposedly flooded with terrorists. Bush better watch out with a Rockefeller on his tail, and remember that he is a mere puppet of the Rockefeller family.

Fascism And Socialism Explained

[...] Properly understood, fascism and communism were, as the Soviet and German labels openly declared, actually the same thing:, just two varieties of socialism. The fascist praises the free market, but secretly works to destroy it. The communist condemns the free market and openly works to destroy it. Both tactics are tools of a monopolistic type of parasitism known as socialism. The key goal in either case is the destruction of economic market competition so that certain ruthless individuals can acquire huge wealth and power. The wars between the fascists and the communists in the 20th century have simply been wars fought between competing monopolists. [...]

Capitalism is good if government doesn't interfere or take sides. Such does not exist anywhere in the world today. Capitalism becomes something else that is very bad (and is not even capitalism anymore) when government interferes with competition and takes the side of various corporate elites.

And now we get to the "C" word: conspiracy. It is my belief that corporate monopolists like John D. Rockefeller, Henry Morgan, the Du Ponts, the Vanderbilts and other infamous "robber barons" here and in Europe (where it all began with the Rothchilds and English royalty) actually created and maintained communism in the Soviet Union.

At work is what is known as the "Hegelian Principle." There are three parts to this technique. First you create the thesis. This is usually a problem that is created by government meddling. The thesis in this case was naked monopolistic capitalism, the bared fang, no-holds-barred type that John D. Rockefeller wielded. The masses get rather angry at some point. They don't like the big boys taking over the whole block.

So, now you create the solution to the problem that you had created earlier. This solution is called the anti-thesis. You finance a twisted megalomaniac by the name of Lenin to cook up a political dogma (based upon the ideas of Karl Marx...who was funded by European industrialists) that attacks your thesis and offers something as bad or worse in its place. [...] After awhile, the masses reject the anti-thesis. You have the so-called "fall" of communism. [...]

This isn't good news. It means the return of a feudal system to the entire globe. It pretends to be the illuminated New World Order, but it will be a New Dark Age unlike anything mankind has ever known. That is...unless we stop it.

Giants like Verizon are miscast as small firms

Error means money going to smaller companies overstated

LARRY MARGASAK
Associated Press

WASHINGTON -They are among America's larger companies: Verizon Communications, AT&T Wireless, Barnes & Noble booksellers and Dole Food Co. But in the government's contractor database, they are listed as small businesses.

The mistaken designations, contained in records obtained by The Associated Press, mean the government has overstated the contract dollars that are going to small business at a time when the Bush administration has been pressing to give smaller companies as much federal work as possible. [...]

Mob attacks pollsters who found few Palestinians want their old homes in what is now Israel

By Eric Silver in Jerusalem

14 July 2003

A mob of about 100 Palestinian refugees stormed the office of a Ramallah polling organisation yesterday to stop it publishing a survey showing that five times as many refugees would prefer to settle permanently in a Palestinian state than return to their old homes in what is now Israel.

The protesters pelted Khalil Shikaki, the director of the Palestinian Centre for Policy and Survey Research, with eggs, smashed computers and assaulted the nine staff members on duty. A female worker was treated in hospital for her injuries. "This is a message for everyone not to tamper with our rights," one of the rioters said.

Dr Shikaki, a leading West Bank political scientist, was undeterred. He said he was still putting the survey results on the centre's website and seeking the widest possible exposure. "These people," he said, "had no idea what the results were. They were sold disinformation."

The poll, conducted among 4,500 refugees in the West Bank, Gaza Strip, Lebanon and Jordan, was the first to ask where they would want to live if Israel recognised a right of return.

Only 10 per cent of the refugees chose Israel, even if they were allowed to live there with Palestinian citizenship; 54 per cent opted for the Palestinian state; 17 per cent for Jordan or Lebanon, and 2 per cent for other countries. Another 13 per cent rejected all these options, preferring to sit it out and wait for Israel to disappear, while 2 per cent didn't know.

The future of more than three million refugees is critical to any lasting peace. It was one of the unresolved issues that caused the July 2000 Camp David summit to break down.

UK rejects Sharon call to isolate Arafat

Matthew Tempest and agencies Monday July 14, 2003

Britain today rejected a call from the Israeli prime minister, Ariel Sharon, to break off contacts with the chairman of the Palestinian Authority, Yasser Arafat.

During talks this morning in London, the foreign secretary Jack Straw made it clear that the government would continue dealing with Mr Arafat "as we see fit", a British official said.

The Israeli prime minister is having dinner with Tony Blair in Downing Street tonight in a visit intended to repair bilateral relations following several strains in recent months.

A protest by Palestinian groups was planned to heckle Mr Sharon as he arrived. [...]

"The foreign secretary made clear our position, as with the rest of the EU, is that Arafat is the democratically elected president of the Palestinian Authority and we will continue to have dealings with him as we see fit," one official said.

Mr Sharon wants European leaders to cut their ties with Mr Arafat, who he accuses of interfering in the work of the moderate Palestinian prime minister, Mahmoud Abbas, also known as Abu Mazen. [...]

Today's summit comes on the day when Israel announced it had arrested an unnamed Irishman in the occupied territories.

However, the editor of an Irish language newspaper in Belfast claimed the man was Sean O Muireagain, one of their reporters.

The man - who is in his 40s - was arrested near the town of Ramallah at the weekend by Israeli security forces reportedly acting on information from UK security services.

Ciaran O Pronntaigh of the Belfast paper, Lá, said the allegations made against Seán O Muireagáin were "rubbish".

"He is a well-known Irish language and Palestine Solidarity Committee activist in Belfast and was reporting from Jenin for Lá and Raidió na Gaeltachta. He was arrested on his way into Ramallah," he said.

The PM has been urged by the mother of James Miller - an award-winning cameraman shot dead while filming a documentary in a Gaza strip refugee camp on May 2 this year - to secure justice for her dead son.

Eileen Miller wants Mr Blair to press Mr Sharon for a full investigation into the death of James, after an autopsy confirmed he was almost certainly killed by an Israeli soldier, despite the army's assertions to the contrary.

Arafat, Abbas Agree to Share Power

'The crisis is over,' a spokesman says after the Palestinian Authority leaders hold talks.

By Megan K. Stack, Times Staff Writer

JERUSALEM — Breaking a four-day stretch of silent treatment and snubs, Palestinian Authority Prime Minister Mahmoud Abbas traveled to President Yasser Arafat's ruinous West Bank compound Monday night to resolve a bitter power struggle.

The new premier threatened to resign last week over a continuing spat with Arafat, but Palestinian Information Minister Nabil Amr emerged from Monday night's talks in Ramallah to announce: "The crisis is over."

A few hours later, a Palestinian militant stabbed a young man to death and knifed two others on a lively seaside promenade in Tel Aviv. Shot in the legs and arrested as he fled along the sea, the Palestinian assailant told police he belonged to the Al Aqsa Martyrs Brigade, the military wing of Arafat's Fatah faction, Israel Radio reported. Police called the stabbings the first terror attack in an Israeli city since militant factions pledged June 29 to cease fire.

In Ramallah, Amr said the Palestinian leaders agreed to share power and negotiate as a pair — even though Arafat is banned from talks with Israel. The president will have final say on negotiations, and Amr will act as a mediator between the two. Arafat's clout was also boosted in London, where British leaders reportedly refused Israeli Prime Minister Ariel Sharon's calls to boycott the Palestinian president.

Muhammad ordered Muslims to kill Jews?

Palestinian academic says tradition makes it religious obligation

July 15, 2003 1:00 a.m. Eastern
WorldNetDaily.com

The killing of Jews is a mandatory religious obligation established by Islam's founder Muhammad, according to a Muslim academic who spoke on Palestinian Authority television.

"Muhammad said in his Hadith: "The Hour [Day of Resurrection] will not arrive until you fight the Jews, [until a Jew will hide behind a rock or tree] and the rock and the tree will say: 'Oh Muslim, servant of Allah, there is a Jew behind me, come and kill him!'" said Hassan Khader, founder of the Al Quds Encyclopedia.

Khader spoke during a lecture, broadcast Sunday, on what he describes as the war of the Jews against Palestinian "trees."

The program was monitored by Palestinian Media Watch, or PMW, an Israel-based group.

PMW director Itamar Marcus says Khader's statement was one of many instances in recent years of Palestinian religious leaders teaching publicly that this Hadith – part of Islamic traditions attributed to Muhammad – is a current obligation of Islam.

Marcus says these teachings challenge the common belief that the premise for negotiations between Israel and the Palestinians is over borders.

"Palestinian religious and academic leaders publicly teach that the Israel-Palestinian conflict is part of Islam's irreconcilable religious war against the Jews," he says.

"To justify this view," he adds, "Palestinians repeatedly cite Islamic sources to demand as religious doctrine, that Jews be hated, even demanding the killing of Jews as the will of Allah."

Marcus says "the continued expression of this PA worldview is most ominous."

"For by depicting redemption as dependent on Muslims' murder of Jews, the murder of Jews is being presented as mandatory religious obligation," he says.

Comment: See Killing Gentiles in the Signs Archive.

BBC
Tuesday, 15 July, 2003, 05:01 GMT

A Palestinian man has stabbed three people in Tel Aviv, in what police describe as the first case of political violence in an Israeli city since Palestinian groups declared a truce in June.

One of the victims later died in hospital. The attacker was taken to hospital, where his condition is not known.

No group has said it carried out the attack. [...]

'Real IRA man' is our reporter, says newspaper

By Justin Huggler in Jerusalem
The Independent
15 July 2003

The arrest of a Belfast man by Israeli security forces in the West Bank on suspicion that he was a bombmaker for the Real IRA looks like a case of mistaken identity.

An Irish newspaper said yesterday that the man was one of its journalists and had nothing to do with the Real IRA. The newspaper, Lá, demanded that the journalist, Sean O'Muireagain, be released. He is also known under the English name of John Morgan. His parents said yesterday that he was on a cultural visit to arrange school exchanges. [...]

The G-7 has delivered broken promises:

Zambia: 20% of the population is HIV positive, the government spends $17 per person on health and $30 per person on debt service to western financial institutions

Niger: less than 20% of young women are enrolled in schools, more is spent on debt repayments than on education and health care;

Failed development and economic programs such as structural adjustments programs (SAPs) continue to devastate the African continent and peoples;

African women are expected to meet needs no longer met by governments, such as medical care and food security while girls lose out on education when fees are imposed;

Tanzania: spends 9 times more on debt than health; 40% of population dies before age 35;

One out of 20 African mothers dies at childbirth; and 17% of Africa's children die before the age of five.

Cities Ready Sirens As Terror Warnings

Monday July 14, 2003 6:49 PM By TIM TALLEY Associated Press Writer

OKLAHOMA CITY Cold War-era sirens may be revived as terrorism warnings. Cities including Oklahoma City, Chicago and Dallas have upgraded their outdoor warning systems with a type of siren that can carry voice announcements - an idea that officials say took on added importance in the post-Sept. 11 world. [...]

Training Colombia's Killers in the US

Plan Colombia: Three Years Later

By SOA Watch
Counterpunch.org
July 14, 2003

July 13th marked the third anniversary of the US military aid package known as "Plan Colombia" and consequently, the fatal impact it has had on human rights. Three years ago the US Congress voted to send 1.3 billion dollars to Colombia in order to fight the "war on drugs".

An amendment to U.S. law currently prohibits military aid to units linked to human rights abuses. Although violations officially attributed to the Colombian military have decreased, the Human Rights Watch and State Department Reports establish the collusion and collaboration between the military and paramilitary forces.

With military support, the paramilitaries have begun operating as surrogate death squads and thugs. A United Nations report confirmed this trend, stating that "Members of the military participated in massacres, organized paramilitary groups, and spread death threats. The security forces also failed to take action, and this undoubtedly enabled the paramilitary groups to achieve their exterminating objectives."

Many of the Colombian officers cited in the reports graduated from the School of the Americas (SOA) - a US military training institution for Latin American soldiers - and certainly the strategy of using paramilitary groups for the military's dirty work is nothing new for SOA students. [...]

By Ryan Singel

The controversial Terrorism Information Awareness program, which would troll Americans' personal records to find terrorists before they strike, may soon face the same fate Congress meted out to John Ashcroft in his attempt to create a corps of volunteer domestic spies: death by legislation.

The Senate's $368 billion version of the 2004 defense appropriations bill, released from committee to the full Senate on Wednesday, contains a provision that would deny all funds to, and thus would effectively kill, the Terrorism Information Awareness program, formerly known as Total Information Awareness. TIA's projected budget for 2004 is $169 million.

TIA is the brainchild of John Poindexter, a key figure from the Iran-Contra scandal, who now heads the research effort at the Defense Advanced Research Projects Agency.

Critics on the left and right have called TIA an attempt to impose Big Brother on Americans. The program would use advanced data-mining tools and a mammoth database to find patterns of terrorist activities in electronic data trails left behind by everyday life. [...]

Comment: Don't worry. The U.S. government is already data mining, profiling and spying on Americans. This was just an attempt to tie it in with terrorist activity, to publicly acquire money for it instead of drawing from the black budget, and so they can publicly announce they used the technology for tracking down disgruntled American's who might think about terrorist activity.

Some don't want U.S. flag at school

'I want to raise my children to be citizens of the world'

WorldNetDaily.com
July 15, 2003 1:00 a.m. Eastern

Some parents in a southern Oregon town are protesting plans of the local school district to erect a flagpole and U.S. flag outside a taxpayer-supported learning center, reports the Ashland Daily Tidings.

"I feel very strongly that there should not be a flagpole and there should not be a flag," Tracy Bungay told the paper.

"I feel our country is on a strong push towards imperialism, and we're not a democratic nation anymore. I want to raise my children to be citizens of the world, and the flag does not represent ideals I want to instill in my children. It represents dominance, greed, corporate power and not freedom. I think it even represents commercialism and consumerism." [...]

Report: Iran Makes Giant New Oil Find

Mon Jul 14, 8:54 AM ET

TEHRAN (Reuters) - Iran has made a major new oil find containing estimated reserves of more than 38 billion barrels, making it one of the world's biggest undeveloped fields, a senior oil official was quoted as saying Monday. [...]

Khamoushi said the fields contained crude of high density and very low API, meaning the oil will be less valuable on world markets than some other regional grades.

He said preliminary studies indicated that the Ferdows field contained 30.6 billion barrels or crude, the Mound field 6.63 billion and the Zagheh field 1.3 billion. [...]

Rumsfeld corrects testimony – twice

By Paul Sperry
WorldNetDaily.com
July 15, 2003 1:00 a.m. Eastern

WASHINGTON – In congressional testimony last week, Defense Secretary Donald Rumsfeld swore repeatedly that he'd just "days" earlier learned that the uranium charge President Bush made against Iraq six months ago was bogus.

Since then, he's had to correct the record twice, finally admitting he knew the allegation was false as early as March – less than two months after Bush's now-controversial State of the Union speech and just before the Iraq war started. [...]

U.S., N. Korea Drifting Toward War, Perry Warns

By Thomas E. Ricks and Glenn Kessler
Washington Post Staff Writers
Tuesday, July 15, 2003

Former defense secretary William Perry warned that the United States and North Korea are drifting toward war, perhaps as early as this year, in an increasingly dangerous standoff that also could result in terrorists being able to purchase a North Korean nuclear device and plant it in a U.S. city.

"I think we are losing control" of the situation, said Perry, who believes North Korea soon will have enough nuclear warheads to begin exploding them in tests and exporting them to terrorists and other U.S. adversaries. "The nuclear program now underway in North Korea poses an imminent danger of nuclear weapons being detonated in American cities," he said in an interview.

Perry added that he reached his conclusions after extensive conversations with senior Bush administration officials, South Korean President Roh Moo Hyun and senior officials in China. [...]

Nuclear weapons 'option' for Australia

By Gerard McManus
July 13, 2003

AUSTRALIA is giving itself the option of becoming a nuclear power through a deal with the US to obtain nuclear weapons and extensive investment in atomic expertise, it has been claimed. Options: Lucas Heights reactor, and nuclear detonation

A leading strategic policy expert says Australia is forging an understanding with the US that would ensure quick access to "off the shelf" tactical nuclear weapons during a crisis.

And a former senior Howard Government science adviser says the new $600 million reactor at Lucas Heights will ensure Australia has the skills and technology to launch a nuclear weapons program. [...]

"It is Australia's insurance policy against the future, just in case the US does not come to our aid. We are way more advanced in nuclear technology than Saddam Hussein ever was." [...]

Falun Gong cult followers cruel in killing the innocent: People's Daily

BEIJING, July 14 (Xinhuanet) -- A follower of the Falun Gong cult has shocked society by poisoning 17 innocent people, most beggars or vagrants, from May 25 to June 27 this year under the Falun Gongcult doctrines, according to a commentary to be carried in Tuesday's People's Daily.[...]

The crime once again showed that the cult still threatens society's stability and safety and the crimes once again ridicule the cult's so-called doctrines of "truth, kindness and tolerance,"the commentary says.

Comment: Hmm, the Chinese government have been after the Falun Gong for some time, is this how they will finally take them down? Smells like it might be an operation.

Strange Provisions in the Anti-Terrorism Bill

The East African Standard (Nairobi)
Ng'ang'a Thiong'o

Just when the world was beginning to think that human rights were becoming widely accepted, governments are coming up with very strange provisions in the name of fighting terrorism.

The US government was hit by terrorists once and it ran amok. Governments round the world, including the Kenya government, have been under pressure to support the US war on terror. Now Kenya has come up with a strange piece called the Suppression of Terrorism Bill, which Ng'ang'a Thiong'o says violates even some of the most basic legal principles.

Naveed Anwar Mohammed was arrested on June 28, 2003 at Garissa and held in police custody for nine days over suspicions that he was a terrorist. He was released without charges and will now have to wait for years for compensation.

The same could happen to anyone of us.

The Suppression of Terrorism Bill, 2003 is a dangerous draft piece of legislation. It is surprising that the NARC government would come up with such an oppressive draft at a time when the country is in the process of repealing oppressive and retrogressive laws from the statute books. [...]

Some of the sections have been reproduced word for word from the US Patriot Act. There are also traces of the suppression of Communism Act in the Bill. Looked at as a whole, the Bill is an assault on Kenya's sovereignty and dignity. It takes away all that Kenyans have so dearly fought for in the last 30 years in terms of human rights and fundamental individual freedoms.

It creates avenues for entries and searches without warrants, torture of suspects, holding of suspects incommunicado indefinitely, erodes the privacy of communications, permit unlawful deprivation and seizure of property and is basically a threat to national integrity and security. [...]

In short the Bill creates a Police republic and allows foreigners to arrest and brutalise Kenyans. It is a bad draft and must be rejected by all Kenyans. No sovereign Parliament can pass the Bill in its present form. As Harrison Kinyanjui ably demonstrated, the Bill does not just target Muslims but all of us. In particular, it targets known human rights and political activists.

Bush family fortunes Greg Palast's new BBC Video

Subjects covered: GW's AOWL vietnam Texas air guard records, Stealing of the 2000 election, and the Blocking of Bin laden and saudi terrour investigations.

BILL GATES: KILLING AFRICANS FOR PROFIT AND P.R. -- Mr. Bush's Bogus AIDS Offer

Greg Palast

[...] Check this Sunday's [New York Times] edition: "Bill Gates is no ordinary philanthropist," gushes a Times reporter named Stephanie Strom, re-writing one of the digital diva's self-loving press releases. Gates has saved 100,000 lives by providing vaccines to Africans, gushes Stephanie, according to someone on the payroll of … Bill Gates. And he's making access to drugs for Africans, especially for AIDS victims, "cheaper and easier." Stephanie knows because she asked Bill Gates himself!

Then we get to the real point of this journalistic Lewinsky: "Those who think of Mr. Gates as a ruthless billionaire monopolist … may find it hard to reconcile that image with one of a humorously self-deprecating philanthropist."

Actually, that's not hard at all. [...]

Comment: The rest is commentary on how Gate's is helping himself by helping the drug companies. The point is missed that AIDS is really a bunch of symptoms, primarily caused by tainted water and malnutrition, lumped together in the AIDS umbrella so poisonous drugs can be sold. Promoting genocide and making money at the same time.

The Aspen Fire: An amateur perspective

A raging fire in southern Arizona has affected amateur as well as professional astronomy.

by Michael E. Bakich

For much of the past month, fire has threatened multiple observing sites located in the Santa Catalina Mountains north of Tucson, Arizona. Tim Hunter, a local amateur astronomer and owner of 3towers Observatory stated, "Arizona amateur astronomers were quite worried the fires would harm the observatories on Mount Lemmon and Mount Bigelow. We have a tightly-knit community. Whether professional or amateur, we all love astronomy ."

Regarding amateur astronomy during the fires, Hunter said that the smoke and haze did overlie the city at various times, making it somewhat uncomfortable to be outside and making it all but impossible to observe, particularly for those who are on the east side of town nearest the fire.

"My good friend, amateur astronomer James McGaha, had to shut down his very active asteroid observing program for several days," Hunter explained. "He could easily see the fires in the canyons near him and the smoke was at times almost overwhelming."

The smoke also created a large cloud that seemed to gather water vapor, increasing the cloud and haze effects. [...]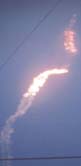 Meteor In Northern B.C.'s Sky !
Comment: This article was posted in January 18th, 2000, but we are recommending it for the good research and the animated gif toward the bottom. In case anyone happens to see something similar in the sky, they will have an idea of what is going on. The article is brought to us from From Brian Vike Director, HBCC UFO Research, who wrote the article we posted on yesterday's signs page Daylight UFO Photos. Don't miss Brian's other article on Rense (with photo), Black Helicopter & Unknown Object.
At least 20 children dead in Peru in intense winter cold spell
LIMA (AFP) Jul 13, 2003
At least 20 children have died in a winter cold spell that has hit Peru's southeastern Carabaya province, a local official said Sunday.
Entire families have been affected by the freezing conditions that have seen thermometers drop to minus-23 degrees Celsius (minus-nine degrees Fahrenheit), city official Alberto Quinonez said.
Oil spills near Kaliningrad may cause marine disaster, environmental officials warn
KALININGRAD, July 14 from RIA Novosti's Anatoly Nilov
The Kaliningrad area (a Russian enclave on the Baltic coast) may face a marine disaster, local environmental officials warn as they report spotting patches of oil along the Kaliningrad coastline.
They track the oil pollution down to two sources. They say it may come either from a Chinese tanker that recently sank near the Danish island of Bornholm or from a tanker washed out in neutral waters.
The continuing oil spills may cause grave damage to the ecosystem of the area, including that of the famous Kurshskaya Kosa, a natural reserve on the UNESCO World Heritage list, the officials warn.
Global warming entices dragonfly north Rare species found in Scotland
JAMES FREEMAN
A RARE type of dragonfly has been discovered in Scotland for the first time by environmentalists, providing further evidence that global warming is helping some species move north.
The broad-bodied chaser, Libellula depressa, was spotted by Sophie Dacheux, Scottish Wildlife Trust contracts co-ordinator, while she was monitoring recent planting work carried out by conservation teams at Craiglockhart pond in Edinburgh.
Experts already had spotted a specimen depositing eggs near Carlisle this year, so it looks as if the dragonfly has flown north.
Scientists believe ever-warmer weather has dramatically extended the species' northern reach. [...]
Go-ahead for hazardous waste site
15 Jul 03
THE Victorian government has given the go-ahead for a contaminated soil recycling facility to be located in Gippsland in the state's south east.
Major Projects Minister Peter Batchelor today announced Gippsland Water had been invited to pursue plans to develop the facility at Dutson Downs.
"Studies into the environmental, transport and financial aspects of the proposal, undertaken over the past seven months, showed the proposed facility poses no risk to the Gippsland Lakes or local amenity," Mr Batchelor said in a statement.
He said Gippsland Water would have to apply to the Environmental Protection Agency to receive a works permit.
But he said Planning Minister Mary Delahunty had advised that no environmental effects statement would be required, as comprehensive studies had already been undertaken.
Local residents have been opposed to the facility, citing its proximity to the Gippsland Lakes and an RAAF bombing range.
Climatologist Debunks 'Alarmist' Claims of Global Warming
Marc Morano, CNSNews.com Monday, July 14, 2003
WASHINGTON – Climatologist Patrick J. Michaels says fears of catastrophic global warming are scientifically unfounded and "alarmist." Any climate change that does occur would not affect Earth or its inhabitants in any significant way, he said.
"The science is settled in a very non-alarmist way," Michaels told CNSNews.com. He predicted that his message would not be well received by many in the climate debate.
"A non-alarmist way is politically very unpopular in Washington, D.C.," he said.
Michaels, author of the book "Satanic Gasses: Clearing the Air about Global Warming" and an environmental sciences professor at the University of Virginia, was the featured speaker at a luncheon sponsored by Cato Institute on Friday. [...]
22/02/97
A: Climate is being influenced by three factors, and soon a fourth.
Q: (L) All right, I'll take the bait; give me the three factors, and also the fourth!
A: 1) Wave approach. 2) Chlorofluorocarbon increase in atmosphere, thus affecting ozone layer. 3) Change in the planet's axis rotation orientation. 4) Artificial tampering by 3rd and 4th density STS forces in a number of different ways. Be vigilant. Be observant. Be cautious in your planning and be aware. Do not let emotional anomalies cloud your knowledge base. This is not a "time" to let one's guard down. Be especially careful of travel to unfamiliar locators, as well as sleeping in unfamiliar surroundings!!! You are being watched. Or, at least, it is best to assume you are, and act, think, and prepare accordingly. Remember what you have been warned about concerning attack. As you learn more and know more, you become more interesting... and, when your ranks swell, you are more vulnerable unless you are more aware!!
Q: (L) All right, were those given in the order in which they are occurring? The fourth being the one that's coming later?
A: Maybe, but remember this: a change in the speed of the rotation may not be reported while it is imperceptible except by instrumentation. Equator is slightly "wider" than the polar zones. But, this discrepancy is decreasing slowly currently. One change to occur in 21st Century is sudden glacial rebound, over Eurasia first, then North America. Ice ages develop much, much, much faster than thought.
51 Feared Dead in Mudslide

From Times Wire Reports

Fifty-one people were feared dead after being buried by a mudslide in southwestern China's Sichuan province over the weekend, state media said today.
Rescuers recovered one body — that of a female tourist from Shanghai — after flash floods in a river valley dislodged a wall of mud and rocks and blocked roads leading to the site, according to the official publication China Daily.
Seasonal flooding in China has killed nearly 570 people this year and forced the evacuation of 2.3 million, according to Civil Affairs Ministry figures released last week.
3,500 homes destroyed in Iranian earthquake
TEHRAN, July 14 (AFP) - Last week's earthquakes in southern Iran destroyed more than 3,500 homes in the Zarrindasht region, according to the director of the Iranian Red Crescent, the official news agency IRNA reported Monday .
07/14/03
[...] In Candler County yesterday, near Metter in Aline, they had something a bit unusual. A moderate earthquake. You don't hear about earthquakes in the southeast very often. It was a shock, even with those who'd seen one before.
According to the US Geological Service, an earthquake struck the area. It measured 3.6 on the Richter Scale and it rattled windows and homes across the community.
Moderate earthquake jolts eastern Taiwan
TAIPEI: Buildings in the eastern city of Hualien were shaken when a moderate earthquake measuring 4.5 on the Richter scale jolted the island, official sources said Monday.
Buildings were swayed for half a minute, a police officer in Hualien told a foreign news agency saying there were no immediate reports of damage.
The quake struck at 1:18 pm (0518 GMT) from an epicenter 3.5 kilometers (2.1 miles) east of Hsincheng town in Hualien County, according to the Seismology Center.
Baby tortured to death, court told

July 15 2003
A baby boy who was tortured to death during a house party had multiple injuries including a torn lip and crushed toes, a court was told today. [...]

Bizarre Game Targets Women: Hunting for Bambi: Parts 1 & 2
LuAnne Sorrell, Reporter
(July 10)
It's a new form of adult entertainment, and men are paying thousands of dollars to shoot naked women with paint ball guns. They're coming to Las Vegas to do it. This bizarre new sport has captured the attention of people around the world, but Channel 8 Eyewitness News reporter LuAnne Sorrell is the only person who has interviewed the game's founder.
George Evanthes has never been hunting. "Originally I'm from New York. What am I going to hunt? Squirrels? Someone's cats. Someone's dogs? I don't think so," said Evanthes. Now that he's living in Las Vegas , he's finally getting his chance to put on his camouflage, grab a rifle and pull the trigger, but what's in his scope may surprise you. He's not hunting ducks or even deer. He's hunting woman. Naked women. [...]
Appeal asks court to consider inmate's genetic predisposition to violence
PHILADELPHIA (AP) — As a troubled youngster, Landon May worried he had inherited "bad blood" from his father, a notorious killer on Pennsylvania's death row.
Now, on death row himself for the torture killings of a school principal and her husband, May is hoping the state Supreme Court might give him another chance to argue he was fated to follow in his father's violent footsteps.
In an unusual appeal, May's lawyer said experts should have been allowed to testify when jurors were deliberating May's sentence that he was genetically predisposed to violence, given his family history. [...]
Charges Filed Over Teen Found Bound In Closet
Foster Mother Faces Charges In Case

DENVER -- A Denver foster mother faced charges of child abuse Friday after a 15-year-old developmentally disabled girl was found bound in a closet by a social worker. [...]
Man blows self up in botched attack on old high school bully
FUKUI -- A 33-year-old man mistakenly blew himself up Sunday on a Fukui street trying to launch a fire bomb attack on the house of a man who bullied him during their high school days, police said.[...]
"I was trying to get even with a bully from my high school days. I learnt how to make bombs on the Internet," the 33-year-old man reportedly said while he was being transported to hospital. [...]
UFO IS SIGHTED NEAR RUGBY CLUB
[...] A mysterious flying object was seen to hover and reflect light for more than a minute before lifting off into the sky towards the Castlemilk and Glasgow area.
The sighting comes only two months after The Reformer reported that the Glasgow UFO Research Organisation (GUFORO) were still investigating reports from three people of a similar object seen in the area last summer.
The recent sighting was made by a medical professional in his 30s, who lives Cathkin.
He is now calling for anyone else who may have seen anything to report what they saw. [...]
Is anybody out there?

Gareth Bicknell Investigates North Wales' Top 10 Ufo Sighting Spots ...
By BENEDICT NIGHTINGALE
New York Times
In how many places can you visit a 5,000-year-old village, walk into a great tomb of the same era and read graffiti cut into its walls by Vikings four millenniums later, stroll round the ruins of a pre-Roman castle - and never be more than a 20-minute drive from one of the oldest and loveliest stone circles in existence?
But after a few days in Orkney, an archipelago between the Scottish mainland and the Shetland Islands, you won't be surprised by such richness. [...]
---
Check out the Signs of the Times Archives
Send your comments and article suggestions to us.
---
Fair Use Policy
Contact Webmaster at signs-of-the-times.org
Cassiopaean materials Copyright ©1994-2014 Arkadiusz Jadczyk and Laura Knight-Jadczyk. All rights reserved. "Cassiopaea, Cassiopaean, Cassiopaeans," is a registered trademark of Arkadiusz Jadczyk and Laura Knight-Jadczyk.
Letters addressed to Cassiopaea, Quantum Future School, Ark or Laura, become the property of Arkadiusz Jadczyk and Laura Knight-Jadczyk
Republication and re-dissemination of our copyrighted material in any manner is expressly prohibited without prior written consent.
.