---
In response to those readers who believe that we are focusing too much on the negative, we open today with two heartwarming stories out of war-torn Baghdad...
'The Lady and The Tramp' Lions Find Love in Baghdad
From International Fund for Animal Welfare (IFAW)
Tuesday, July 08, 2003
(Baghdad - 8 July 2003) The patter of tiny paws may be heard soon in war torn Baghdad thanks to 'The Lady and the Tramp' - two lions who have found love after being rescued in the war torn city.
Because of their amorous relationship the pair are the favorite topic of conversation between their Iraqi keepers at Baghdad Zoo. However, there is a serious side to the affair as animal welfare experts working at the zoo are having to advise that a vasectomy should be considered for Tramp unless they can be moved to a new larger home, rather than more litters of cubs being born into the difficult circumstances they face at present.
Lady and Tramp are being cared for by the Emergency Relief team of the International Fund for Animal Welfare , which is working with Thula Thula Executive Game Park of South Africa and the American Zoo and Aquarium Association, at Baghdad Zoo.
The big cats are both three years old and were amongst a number of animals rescued with the help of the U.S. military from appalling conditions at a Baghdad entertainment centre called Lunar Park.
"Under these post war conditions their relationship is something that brings a smile to everyone's face," said IFAW ER team vet, Dr Jason Thrupp who has just returned to the UK after a month in Baghdad. "Their two Iraqi keepers Jatha and Saloman are always telling the team through sign language and with a lot of laughing about Lady and Tramp's activities. We gave them their names after the Disney characters."
"Realistically Lady is at a fertile age and capable of having a litter of about half a dozen cubs every year or two. With the restricted space at the zoo it makes more sense really for action to be taken so there are no cubs for the time being. Although, it is possible we are already too late and she could even be pregnant now."
The two adult lions are in an enclosure that shares a common outside compound with five one-year-old juvenile lions, and two seven-month-old cubs, which were all rescued at the same time. There is also one 11-year-old lioness in another part of the zoo, which was one of the few animals to survive there during the war, when hundreds were poached for food or as exotic pets.
"The conditions here are very basic, but much better than the hell hole they were in before. When they arrived they were suffering badly from lack of food. We are trying to improve the shading with sheeting and at least they now get regular food, plus bones from the market to chew. We fill sacks with straw that has been soaked in donkey urine and blood from the food, which they love to play with - it's giant cat nip bags really," said Thrupp.
"Although it would be better for there to be no more cubs, because the conditions here are far from ideal, new life does always bring hope too. It is something positive amongst the misery that has been suffered here by people and animals alike."
There are also 9 more lions, six cubs and an adult male and female, being cared for at the palace formerly belonging to Saddam Hussein's son Uday, where enclosures for his private menagerie were housed.
"Most of the young lions at the zoo have been declawed, because that was the habit with owners who kept them as exotic pets, and so you can allow them to reach out and pat you through the bars without any risk of being hurt. They seem to welcome attention and affection," added Thrupp.
Puppies flown from Iraq to California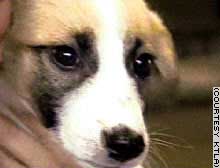 Tuesday, July 8, 2003 Posted: 1920 GMT ( 3:20 AM HKT)

LOS ANGELES, California (AP) -- Four skinny puppies and their sad-eyed mother were delivered from Iraq to a woman who said she felt compelled to push for a rescue after spotting the dogs sitting forlornly in the desert behind a TV news reporter.
Marcy Christmas beamed as the 4-month-old puppies tumbled out of Air France cargo carriers into a warehouse hangar. They wrestled with one another and showed no signs of fatigue after surviving war, hunger and a 9,300-mile journey from the Jordan-Iraq border.
"I'm as amazed as you are that this happened," said Christmas, who spotted the dogs April 10 on a television news report. The woman, who lives with five adopted Chihuahuas in Camarillo in California, has been rescuing dogs for decades.
Christmas, 51, moved by the puppies' plight, first tried to reach the TV news reporter in the area, then discovered an Amman, Jordan-based group called the Humane Center for Animal Welfare. She called the founders and asked if they could rescue the puppies. [...]
Comment: We are pleased to see that Air France contributed to this heroic liberation, confirming that if the French didn't respond to the call of the wildman, they do still recognise the call of the wild.
For photos of the other reality of the invasion and occupation of Iraq, we have prepared this photoessay.
Psychological damage contributes to Iraqis' pain
Hector Tobar, Los Angeles Times
Published July 9, 2003
BAGHDAD -- Nearly three months ago, the Americans arrived with promises of a new and better Iraq. Today, there is still no Iraqi government. Basic services work only falteringly. For many Iraqis, each new day heightens feelings of powerlessness and humiliation.
A fiercely proud people, many Iraqis feel that they are losing face in the Arab world. The Arabic word used to describe their circumstances -- "ihtilal," or occupation -- has for decades been associated with the stateless Palestinians.
"There are three primary causes of stress: loss, change and threat," said Buthanina Hilo, dean of the psychology department at Baghdad University. The fall of Saddam Hussein and the arrival of the Americans have brought all three, she said.
Untold numbers of Iraqis have been thrown out of work by the war and its aftermath, losing their incomes and sense of purpose. The totalitarian discipline of Saddam's regime has been replaced by widespread crime and the uncertainty of American rule.
By NICK PARKER
The Sun
A FORMER zoo owner is facing a possible jail sentence over fears he killed and ATE his animals.
Joerg Schlechte, 43, has already been fined £1,500 after he admitted roasting pot-bellied pigs for a drunken barbecue with pals at the children's zoo.
A host of other animals were found missing when the new owner took over. [...]
Insurgents fire mortars at U.S. base in Iraq
Associated Press
July 8, 2003, 2:35PM
BAGHDAD, Iraq -- Insurgents dropped a homemade bomb from a bridge onto a passing U.S. military convoy in Baghdad today, while another military vehicle struck a land mine in the capital. At least seven U.S. troops were injured in those and other attacks throughout the country, the military said. [...]
In other violence, witnesses said three Iraqis -- including a 13-year-old boy -- were killed following a grenade attack on a police station in a Baghdad suburb. Witnesses told Associated Press Television News that those killed when troops returned fire were not among those who attacked the police station.
Late Monday, insurgents fired mortars at a base near Balad, 55 miles north of the capital, the military said. U.S. forces subsequently caught 12 of the suspected attackers. A British soldier was wounded in a sniper attack in Basra, southern Iraq, while on patrol Sunday night, the Defense Ministry said. The soldier was in stable condition at a British army field hospital where he was being treated for gunshot wounds in a leg, the British government said. [...]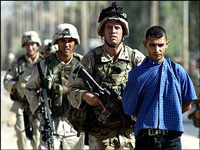 A US soldier leads arrested 17-year-old student Khaled Salim with his hands tied behind his back towards a waiting army truck in the southern Baghdad suburb of Dura. Salim was arrested on his way to school, as a warning to others after he insulted US troops
Comment: Speaking out against the soldiers of an illegal occupying force in your country will get you arrested. Nazi Germany anyone?
Families live in fear of midnight call by US patrols

From Daniel McGrory in Baghdad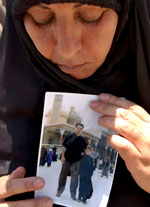 Ghania Hassan above says that her eldest son is being held as a looter for eating a biscuit given to him by a US soldier

NEVER again did families in Baghdad imagine that they need fear the midnight knock at the door.
But in recent weeks there have been increasing reports of Iraqi men, women and even children being dragged from their homes at night by American patrols, or snatched off the streets and taken, hooded and manacled, to prison camps around the capital.
Children as young as 11 are claimed to be among those locked up for 24 hours a day in rooms with no light, or held in overcrowded tents in temperatures approaching 50C (122F).
On the edge of Baghdad International Airport, US military commanders have built a tent city that human rights groups are comparing to the detention camp at Guantanamo Bay in Cuba.
Remarkably, the Americans have also set up another detention camp in the grounds of the notorious Abu Ghraib prison, west of Baghdad. Many thousands of Iraqis were taken there during the Saddam years and never seen again.
Every day, relatives scuff their way along the dirt track to reach the razor wire barricades surrounding Abu Ghraib, where they plead in vain for information about the whereabouts of the missing. [...]
Comment: Sounds like the Americans learned a thing or two from their old Nazi buddies during World War 2. Or maybe it's just the result of the training that the Israeli army has given to US troops. Sharon and the US and Israeli Zionists seem to be determined to ensure that the memory of the Jewish holocaust remains alive by reenacting it, with the Arab population playing the part of the Jews.
7 U.S. soldiers wounded in 3 attacks in Iraq

Published July 9, 2003

Three separate attacks, coming nearly hourly on Tuesday, wounded seven U.S. soldiers in northern and central Iraq, and the United States offered a $2,500 reward for information leading to the arrest of anyone who kills a coalition soldier or Iraqi policeman.
Insurgents dropped a homemade bomb from a bridge onto a passing U.S. military convoy in Baghdad, wounding two soldiers. Another two soldiers were injured when their vehicle struck a land mine in the capital, said Sgt. Patrick Compton, a military spokesman.
In Kirkuk, 175 miles north of Baghdad, assailants fired a rocket-propelled grenade at a military convoy, wounding three servicemen.
The Pentagon raised the number of Americans killed by hostile fire in Iraq since the war began in March to 143, a figure that approaches the 147 killed in the 1991 Gulf War.
Rumsfeld Says Iraqi Attacks Regrettable But Expected-CNBC
NEW YORK -(Dow Jones)- U.S. Secretary of Defense Donald Rumsfeld said Tuesday he expects Iraqi hostile attacks on U.S. forces, which have claimed 29 lives since the major military combat was declared over on May 1, to continue and to slow down U.S. post-war efforts in the country.
"There are going to be attacks and there are going to be people killed, and it's regrettable," Rumsfeld told CNBC in an interview.
Rumsfeld said the guerrilla-style attacks appeared to be coming from several groups, including remnants of the Baath party, the Fedayeem Saddam and, in some cases, looters and ordinary criminals.
U.S. Holding Iraqi Said to Have Met 9/11 Hijacker
WASHINGTON (Reuters) - The U.S. military has taken into custody an Iraqi intelligence official who is reported to have met the ringleader of the Sept. 11 hijackers just months before the 2001 attacks, a U.S. official said on Tuesday.
The military took Ahmad Khalil Ibrahim Samir al-Ani into custody last week, the official said.
Some Czech officials have said al-Ani met Mohammed Atta, suspected leader of the hijackers in the Sept. 11, 2001 attacks on the World Trade Center and the Pentagon, in Prague in April 2001.
The CIA and FBI were unable to confirm that the meeting took place.
Comment: This accusation has been shown to be baseless. But that doesn't prevent the Bush Reich from pulling it out once more to justify their rapacious marauding of the Middle East...er...their concern for the animals of the Middle East. When I think about Lady and the Tramp (copyright, The Walt Disney Company) in their zoo...
Father Of Marine Killed In Iraq Says Anti-War Stance Cost Him Job
Death Of Son Prompts Escondido Man To Speak Out
ESCONDIDO, Calif -- The father of a San Diego County Marine killed in Iraq says his anti-war activities cost him his job.
Fernando Suarez del Solar says the owner of Mi California printers in Escondido told him he was spending too much time speaking out against the war with Iraq.
Suarez worked at the printer as an independent contractor. He says the owner gave him the option of either dedicating himself to his work or dedicating himself to politics.
The 47-year-old Suarez told him he'd look for a job that would let him "talk in favor of peace."
Fernando Sirio, co-owner of the printer, declined to say whether the anti-war activities had anything to do with Suarez leaving.
Suarez's son, 20-year-old Marine Lance Cpl. Jesus Suarez del Solar (pictured, left), was killed in March when he stepped on an unexploded U.S. military cluster bomblet.
By Joe Stork
Daily Star July 8, 2003
United States-led occupation forces and their special operations units in Iraq have so far failed to find the deposed Iraqi dictator Saddam Hussein or any evidence of the chemical, biological or nuclear weapons programs that served as the primary justification for war. Grieving Iraqi families, however, have found abundant evidence of the Iraqi dictator's reign of terror in the scores of mass graves, perhaps hundreds, uncovered from Basra to Kirkuk, and in testimonies of torture and mutilation from those who survived Iraq's feared security services.
Unfortunately, the US seems more interested in questions of justice and accountability for past crimes mainly to the extent that these can be used to vilify the old Iraqi regime and justify its military intervention. It is far less interested in seeking justice for the victims and survivors of Saddam Hussein's tyranny.
Proponents of the war inside and outside US president George W. Bush's administration have cited documentation of the atrocities as ample justification for toppling the Baath government. "The day of Iraq's liberation will also be a day of justice," Bush declared. But now it looks like justice for the perpetrators of the worst crimes - never very high on the administration's agenda - may be traded away for information about the elusive weapons of mass destruction or the whereabouts of Saddam Hussein.
This, anyway, was the implication of US Defense Secretary Donald Rumsfeld's recent affirmation that Washington is considering plea-bargaining talks with those former Iraqi officials now in US custody who were featured in the deck of cards distributed by the Anglo-American coalition.
U.S. agencies delaying 9/11 probe, panel says

Commission: Problems with Pentagon 'particularly serious'
Wednesday, July 9, 2003

WASHINGTON (CNN) -- The commission investigating the attacks of September 11, 2001, said Tuesday that the first six months have been slow going largely because government agencies have been slow to turn over documents.
[..] The panel is headed by Thomas H. Kean, former governor of New Jersey. The vice chairman is Lee Hamilton, former chairman of the House Intelligence and International Relations committees. The commission's final report is due in May 2004.
The report named the Department of Defense, the Department of Justice, the Bureau of Immigration and Customs Enforcement -- formerly the Immigration and Naturalization Service -- and the FBI as being slow or unresponsive in turning over requested information.
"The problems that have arisen so far with the Department of Defense are becoming particularly serious," according to the report.
"We have not received responses to requests relating to NORAD [North American Aerospace Defense Command] and other DoD components, including the JCS [Joint Chiefs of Staff] and the department's historical office."
The commission said "records requested from DoJ are overdue" and that it disagreed with the Justice Department's "insistence on having agency representatives present during interviews of serving officials.
Comment: Okay, now it's simple question time. Digging out and dusting off our seldom-used god-given talent for objectivity (well, some people anyway), lets ask ourselves this: If the US government is innocent of any wrong-doing in relation to the events of 9/11, what are the plausible reasons for them to NOT want to divulge information about what it knew or didn't know?
Remember, just for a moment, put aside all desires and emotional investment in what you would like the answer to be, and look at the facts of what happened that day and also consider the many benefits the US government has reaped in its aftermath. Even better, look at PNAC (Cheney, Rumsfeld, Wolfowitz etc.) and their statement of principles/objectives which they published long before September 11th.
Of course, no "smoking gun" is yet available, but based on the evidence what is the most likely scenario? If on answering, everything in your world remains rosy, spiritual and carefree, then we conclude that this is proof enough of the truth of the idea that people do inhabit tangibly different realities, and we bid you good night and sweet dreams.

Abbas bluff stuns Mideast
Palestinian leadership refuses to accept PM's resignation
Day of drama lays bare divisions within political elite
Mitch Potter
Middle East Bureau
The Toronto Star
JERUSALEM—It was a high-stakes political manoeuvre that nearly scuttled the bid for Mideast peace yesterday.
Palestinian Prime Minister Mahmoud Abbas played the ultimate bluff — his letter of resignation.
He won: the old guard of the Palestinian leadership refused to accept it.
The afternoon bombshell had sent the inner circle of Yasser Arafat's Fatah movement into a tailspin. After weeks of playing their point man for peace as the all-too-moderate monkey in the middle, they were confronted with a critical choice.
Accepting the resignation meant removing Israel's chosen partner for peace, almost certainly ensuring a swift return to the violent uprising.
Declining it, on the other hand, meant a tacit vote of confidence for the Abbas method of peacemaking, a process that's enraged Arafat's inner circle since those first promises at the Aqaba peace summit one month ago.
Late last night, the call was made. Abbas, also known as Abu Mazen, won the hand. The Fatah Central Committee, which includes leader Yasser Arafat and from which Abbas also resigned, unanimously declined his resignations.
Abbas emerges today slightly more empowered than before, having demonstrated political instincts many of his Palestinian detractors thought absent....
The U.S., meanwhile, weighed in to bolster Abbas' leadership yesterday by offering $20 million in direct funding to the Palestinian Authority for social service projects. While the amount is relatively small, its symbolic value is much more.
"It is very significant. This is the first time since the Palestinian Authority was established in 1994 that the United States has given direct assistance," said Ed Abington, a Washington-based consultant to the Palestinians. "It puts them on a different footing in how we are dealing with them, opening the door wider in terms of dealing with them as a government."
Philip Reeker, a State Department spokesman, said the U.S. believes Abbas' leadership has produced important changes beneficial to the Palestinians. "We stand behind Prime Minister Abbas," he said yesterday.
Comment: To understand why there will never be any agreement with the Zionist State of Israel, we recommend reading the book Jewish History, Jewish Religion -The Weight of Three Thousand Years by Professor Israel Shahak, an Israeli citizen. We quote from Chapter 4:
Killing Gentiles
When the victim is a Gentile, the position is quite different. A Jew who murders a Gentile is guilty only of a sin against the laws of Heaven, not punishable by a court.1 To cause indirectly the death of a Gentile is no sin at all.2
Thus, one of the two most important commentators on the Shulhan Arukh explains that when it comes to a Gentile, 'one must not lift one's hand to harm him, but one may harm him indirectly, for instance by removing a ladder after he had fallen into a crevice .., there is no prohibition here, because it was not done directly:3 He points out, however, that an act leading indirectly to a Gentile's death is forbidden if it may cause the spread of hostility towards Jews.4
A Gentile murderer who happens to be under Jewish jurisdiction must be executed whether the victim was Jewish or not. However, if the victim was Gentile and the murderer converts to Judaism, he is not punished.5
All this has a direct and practical relevance to the realities of the State of Israel. Although the state's criminal laws make no distinction between Jew and Gentile, such distinction is certainly made by Orthodox rabbis, who in guiding their flock follow the Halakhah. Of special importance is the advice they give to religious soldiers.
Since even the minimal interdiction against murdering a Gentile outright applies only to 'Gentiles with whom we [the Jews] are not at war', various rabbinical commentators in the past drew the logical conclusion that in wartime all Gentiles belonging to a hostile population may, or even should be killed.6 Since 1973 this doctrine is being publicly propagated for the guidance of religious Israeli soldiers. The first such official exhortation was included in a booklet published by the Central Region Command of the Israeli Army, whose area includes the West Bank. In this booklet the Command's Chief Chaplain writes:
When our forces come across civilians during a war or in hot pursuit or in a raid, so long as there is no certainty that those civilians are incapable of harming our forces, then according to the Halakhah they may and even should be killed... Under no circumstances should an Arab be trusted, even if he makes an impression of being civilized ... In war, when our forces storm the enemy, they are allowed and even enjoined by the Halakhah to kill even good civilians, that is, civilians who are ostensibly good.7
The same doctrine is expounded in the following exchange of letters between a young Israeli soldier and his rabbi, published in the yearbook of one of the country's most prestigious religious colleges, Midrashiyyat No'am, where many leaders and activists of the National Religious Party and Gush Emunim have been educated.8
Letter from the soldier Moshe to Rabbi Shun 'on Weiser '

With God's help, to His Honor, my dear Rabbi,

'First I would like to ask how you and your family are. I hope all is well. I am, thank God, feeling well. A long time I have not written. Please forgive me. Sometimes I recall the verse "when shall I come and appear before God?'9 I hope, without being certain, that I shall come during one of the leaves. I must do so.

'In one of the discussions in our group, there was a debate about the "purity of weapons" and we discussed whether it is permitted to kill unarmed men - or women and children? Or perhaps we should take revenge on the Arabs? And then everyone answered according to his own understanding. I could not arrive at a clear decision, whether Arabs should be treated like the AmeIekites, meaning that one is permitted to murder [sic ] them until their remembrance is blotted out from under heaven,10 or perhaps one should do as in a just war, in which one kills only the soldiers?

'A second problem I have is whether I am permitted to put myself in danger by allowing a woman to stay alive? For there have been cases when women threw hand grenades. Or am I permitted to give water to an Arab who put his hand up? For there may be reason to fear that he only means to deceive me and will kill me, and such things have happened.

'I conclude with a warm greeting to the rabbi and all his family. - Moshe.'

Reply of Shun 'on Weiser to Moshe

'With the help of Heaven. Dear Moshe, Greetings.

'I am starting this letter this evening although I know I cannot finish it this evening, both because I am busy and because I would like to make it a long letter, to answer your questions in full, for which purpose I shall have to copy out some of the sayings of our sages, of blessed memory, and interpret them.11

'The non-Jewish nations have a custom according to which war has its own rules, like those of a game, like the rules of football or basketball. But according to the sayings of our sages, of blessed memory, [ ... ] war for us is not a game but a vital necessity, and only by this standard must we decide how to wage it. On the one hand .... ] we seem to learn that if a Jew murders a Gentile, he is regarded as a murderer and, except for the fact that no court has the right to punish him, the gravity of the deed is like that of any other murder. But we find in the very same authorities in another place [ ... that Rabbi Shim'on used to say: "The best of Gentiles - kill him; the best of snakes dash out its brains."

'It might perhaps be argued that the expression "kill" in the saying of R. Shim'on is only figurative and should not be taken literally but as meaning "oppress" or some similar attitude, and in this way we also avoid a contradiction with the authorities quoted earlier. Or one might argue that this saying, though meant literally, is [merely] his own personal opinion, disputed by other sages [quoted earlier]. But we find the true explanation in the Tosalot.12 There [ .... ] we learn the following comment on the talmudic pronouncement that Gentiles who fall into a well should not be helped out, but neither should they be pushed into the well to be killed, which means that they should neither be saved from death nor killed directly. And the Tosafot write as follows:

"And if it is queried [because] in another place it was said The best of Gentiles - kill him, then the answer is that this [saying] is meant for wartime." [ ... ]

'According to the commentators of the Tosafot, a distinction must be made between wartime and peace, so that although during peace time it is forbidden to kill Gentiles, in a case that occurs in wartime it is a mitzvah [imperative, religious duty] to kill them.[...]

'And this is the difference between a Jew and a Gentile: although the rule "Whoever comes to kill you, kill him first" applies to a Jew, as was said in Tractate Sanhednn [of the Talmud], page 72a, still it only applies to him if there is [actual] ground to fear that he is coming to kill you. But a Gentile during wartime is usually to be presumed so, except when it is quite clear that he has no evil intent. This is the rule of "purity of weapons" according to the Halakhah - and not the alien conception which is now accepted in the Israeli army and which has been the cause of many [Jewish] casualties. I enclose a newspaper cutting with the speech made last week in the Knesset by Rabbi Kalman Kahana, which shows in a very lifelike - and also painful - way how this "purity of weapons" has caused deaths.

'I conclude here, hoping that you will not find the length of this letter irksome. This subject was being discussed even without your letter, but your letter caused me to write up the whole matter.

'Be in peace, you and all Jews, and [I hope to] see you soon, as you say. Yours - Shim'on.

Reply of Moshe to R. Shun 'on Weiser

'To His Honor, my dear Rabbi,

'First I hope that you and your family are in health and are all right.

'I have received your long letter and am grateful for your personal watch over me, for I assume that you write to many, and most of your time is taken up with your studies in your own program.

'Therefore my thanks to you are doubly deep.

'As for the letter itself, I have understood it as follows:

'In wartime I am not merely permitted, but enjoined to kill every Arab man and woman whom I chance upon, if there is reason to fear that they help in the war against us, directly or indirectly. And as far as I am concerned I have to kill them even if that might result in an involvement with the military law. I think that this matter of the purity of weapons should be transmitted to educational institutions, at least the religious ones, so that they should have a position about this subject and so that they will not wander in the broad fields of "logic", especially on this subject; and the rule has to be explained as it should be followed in practice. For, I am sorry to say, I have seen different types of "logic" here even among the religious comrades. I do hope that you shall be active in this, so that our boys will know the line of their ancestors clearly and unambiguously.

'I conclude here, hoping that when the [training] course ends, in about a month, I shall be able to come to the yeshivah [talmudic college]. Greetings - Moshe.'
Of course, this doctrine of the Halakhah on murder clashes, in principle, not only with Israel's criminal law but also - as hinted in the letters just quoted - with official military standing regulations. However, there can be little doubt that in practice this doctrine does exert an influence on the administration of justice, especially by military authorities. The fact is that in all cases where Jews have, in a military or paramilitary context, murdered Arab non-combatants - including cases of mass murder such as that in Kafr Qasim in 1956 - the murderers, if not let off altogether, received extremely light sentences or won far-reaching remissions, reducing their punishment to next to nothing.13
So how can you have a discussion with people whose starting point for discussion is that the rest of the world is "unclean"? Orthodox Jews believe they are fulfilling God's Will by killing Palestinian women and children. These are not accidents, are not due to "mistakes"; this is the ideology and lessons of the teachings of their "spiritual" leaders. Not only that, this is what is being taught to Israeli soldiers by their own chaplains! This makes it the policy of the State, although it is certainly hidden from Gentiles.
Sharon to welcome 330 new immigrants from North America
By Haaretz Service and The Associated Press
An El Al chartered flight carrying 330 new immigrants which took off from New York late Tuesday arrived at Ben-Gurion Airport on Wednesday morning. Among the dignitaries who were at the airport to greet them were Prime Minister Ariel Sharon, Finance Minister Benjamin Netanyahu, Jewish Agency Chairman Sallai Meridor and Minister of Immigrant Absorption, Tzipi Linvi.
The flight is the first of two that is to bring to Israel a total of 700 new immigrants within the course of the month.
Tali Berman was born in America, but she said she was flying home - to Israel. "We're Jewish, and it feels like home," said Berman, 27, who was "making aliyah" (immigrating to Israel) with husband Joshua and their 15-month-old daughter.
About 2,040 North American Jews moved to Israel last year, and the numbers are up more than 20 percent this year, according to the Jewish Agency for Israel, a governmental agency that helps the immigration process.
Agency officials say some Jews feel compelled to move to Israel to show their support for the country as it faces an increase in violence in its conflict with the Palestinians.
"It's the feeling of the community that this time Israel is really needing them," Landsberg said.
[...] The organization is sponsoring the moves of about 940 North American Jews this year, spokesman George Birnbaum said. About 300 are leaving on a chartered jet July 22, the rest in groups of 30 or so over the following six weeks. "In terms of immigrants moving en masse, there haven't been these numbers in 25 or 30 years," Birnbaum said.
[...] As the travelers Tuesday waited for their flight in Kennedy airport's departure hall, many families danced to traditional Jewish melodies played by a band there for the occasion. Luggage carts were stacked high with belongings, and some of the immigrants wore signs reading, "I'm making aliyah."
Berman, who plans to work with autistic children in Israel, said her move would reunite her with family, including her grandmother. She said she isn't concerned about violence in the Mideast.
"Now, as things are becoming more intense, it's an important time to make a claim that the Jewish state has a right to exist," she said.
[...] Melissa Fleisher said that despite the turmoil in Israel, Jews don't need to be afraid. "We're not walking toward death in the gas chambers," she said. "We're going to live in our land."
Comment: As the brainwashing is completed the trap slowly closes...
Confusion over Islamic Jihad bombing claim
July 8, 2003 11:00 UTC

Israeli security forces have said an explosion in a village near Tel Aviv that killed an Israeli woman and a Palestinian man was a suicide bombing. Members of the Palestinian militant group Islamic Jihad had claimed responsibility for the explosion. But leaders of the organisation based in the Gaza strip said they knew nothing of the attack, and that they were still keeping to their 10-day old ceasefire. Both Islamic Jihad and the radical Hamas movement had earlier threatened to lift their ceasefire if Israel did not release all political prisoners and end military actions.
Published on Monday, July 7, 2003 by the San Francisco Chronicle
by Harley Sorensen

Folks, our God-fearing president, George W. Bush, who claims to start every morning on his knees praying, now says that he gets his orders from God Himself.
I kid you not.
I refer you to June 24 article by Arnon Regular in Ha'aretz, an Israeli newspaper. In the last paragraph of that article there's a Bush quote as related by Palestinian Prime Minister Mahmoud Abbas. Here, according to Abbas and Ha'aretz, is what Bush said:
God told me to strike at al Qaida and I struck them, and then he instructed me to strike at Saddam, which I did, and now I am determined to solve the problem in the Middle East. If you can help me I will act, and if not, the elections will come and I will have to focus on them.
That quote doesn't make clear whether God issues direct orders to Bush, or whether they discuss things first. but I'd guess discussions. It's hard to imagine God deciding anything of importance without without first getting input from Bush.
Over the years I've met a handful of people who regularly talk with God, but they usually do so only when they're off their medications...
OK, I've been shilly-shallying around here, hesitant to come right out and say what I think, but I'm becoming convinced that our president, the man with his finger on the nuclear trigger, is a bona fide nutcase.
I really do. For him to say God told him to strike al-Qaida is just nutso. For him to say God told him to strike at Saddam, ditto. This guy is not dealing with a full deck...
Comment: Bush is a psychopath. We invite our readers to study this question closely, especially the work of Dr. Hervey Cleckley and Dr David Hare. You can begin this from our psychopaths page. Broadcaster Mike Molloy looks at Bush's use of language in his speeches.
Bush wrong about Iraqi uranium purchase: White House
By DEB RIECHMANN
Associated Press
Washington — Democrats pressed for deeper investigation of prewar U.S. intelligence efforts Tuesday after the White House admitted U.S. President George W. Bush had erred in his State of the Union speech when he said Saddam Hussein had tried to buy uranium in Africa...
Michael Anton, a spokesman for the White House's National Security Council, said in a statement, "We now know that documents alleging a transaction between Iraq and Niger had been forged."...
On June 8, national security adviser Condoleezza Rice, too, had said on NBC's Meet the Press that Mr. Bush was wrong when he said the British government had learned that Iraq had sought uranium from Africa to build weapons.
"No one in our circles knew that there were doubts and suspicions that this might be a forgery," she said. "Of course, it was information that was mistaken."
Comment: No. They knew it was fake. They lied.
Bush 'warned over uranium claim'
The CIA warned the US Government that claims about Iraq's nuclear ambitions were not true months before President Bush used them to make his case for war, the BBC has learned.
Doubts about a claim that Iraq had tried to buy uranium from the African state of Niger were aired 10 months before Mr Bush included the allegation in his key State of the Union address this year, the CIA has told the BBC...
In his keynote speech to Congress in January, the President said: "The British Government has learned that Saddam Hussein recently sought significant quantities of uranium from Africa."
But the documents alleging a transaction were found to have been forged.
White House spokesman Ari Fleischer said on Tuesday: "The president's statement was based on the predicate of the yellow cake [uranium] from Niger".
"So given the fact that the report on the yellow cake did not turn out to be accurate, that is reflective of the president's broader statement."
But a former diplomat, Ambassador Joseph Wilson, went on the record at the weekend to say that he had travelled to Africa to investigate the uranium claims and found no evidence to support them.
Now the CIA has told the BBC that Mr Wilson's findings had been passed onto the White House as early as March 2002.
That means that the administration would have known before the State of the Union address that the information was likely false - not just subsequently.
Is Niger the smoking gun?

Blair under fire as White House rejects British intelligence claiming Iraq tried to buy uranium

By Ben Russell and Andrew Buncombe in Washington
09 July 2003
The White House has dealt a devastating blow to Tony Blair by rejecting as flawed British claims that Saddam Hussein attempted to buy uranium from Africa to restart his nuclear weapons programme.
The Bush administration was in full retreat yesterday with officials admitting that the allegation should not have been included in President George Bush's State of the Union address. The American admission represented the first serious split between London and Washington over the case against Saddam and exploded into a full-scale row in Westminster as Mr Blair told senior MPs that the Government was standing by its story.
Conservatives, Liberal Democrats and Labour backbenchers demanded that Mr Blair release the intelligence behind the allegation to an independent inquiry.
In his address to Congress in January, Mr Bush said: "The British government has learnt that Saddam Hussein recently sought significant quantities of uranium from Africa."
But a statement approved by the White House on Monday said: "Knowing all that we know now, the reference to Iraq's attempt to acquire uranium from Africa should not have been included in the State of the Union speech. There is other reporting to suggest that Iraq tried to obtain uranium from Africa. However, the information is not detailed or specific enough for us to be certain that attempts were in fact made."
"In other words," a White House official told The New York Times, "we couldn't prove it and it might in fact be wrong."
Britain gives Washington a whacking over secret terror trials
By Nicholas Watt in London and Cynthia Banham
July 9, 2003
Britain's Prime Minister, Tony Blair, faces a crisis in his relations with George Bush after one of his ministers criticised the president for ruling that two Britons should stand trial before a military court with the power of executions.
The Foreign Office minister, Chris Mullin, all but accused the United States of breaching the Geneva Convention as he expressed "strong reservations" about the secretive trial.
To ram home his message, he took the rare step of announcing he would pass on copies of furious exchanges in the House of Commons over the ruling to the US ambassador, William Farish.
He told Parliament on Monday that the Foreign Secretary, Jack Straw, had raised Britain's concerns over the weekend with the US Secretary of State, Colin Powell, and that the Government would continue to do so.
"We have strong reservations about the military commission. We have raised and will continue to raise these reservations energetically with the US," he said.
"We have made clear to the US that we expect the process to meet internationally accepted standards of a fair trial." [...]
Dozens rally in S.F. against Patriot Act
New legislation would enhance government's powers to investigate, detain, and interrogate suspected terrorists
By Beth Fouhy, Associated Press
SAN FRANCISCO -- Proclaiming "we don't need to trade our freedoms to be safe," several dozen activists rallied in front of the federal building Monday to voice their opposition to Patriot Act II, the expanded domestic security legislation awaiting Congressional consideration.
"Protesters are not terrorists!" Bob Kearney, associate director of the ACLU of Northern California, told the crowd, which included members of the ACLU, Amnesty International, and the Gray Panthers. "We need to say no to Patriot II before it is even introduced."
The Domestic Security Enhancement Act, drafted by Justice Department officials as a follow-on to the USA Patriot Act passed by Congress after the Sept. 11 terrorist attacks, would grant the government broad new powers to investigate, detain, and interrogate suspected terrorists. [...]
Comment: More devestating commentary on the state of the union. Those who participated in the Hong Kong demonstrations recently forced their government to recant prospective freedom infringing laws. It appears that most Americans either can't believe what is happening right before their eyes, or they just don't care. Or have they given up? Which implies the Bush Reich agenda is working.
A Nation That Closes Its Eyes Is Sure To Stumble Sometime
Published on Tuesday, July 8, 2003 by the Portland Tribune (Oregon)
by James DePreist
On June 14, James DePreist, long the conductor of the Oregon Symphony Orchestra, delivered the commencement address for the graduating class of Portland State University. His speech, slightly condensed, appears below:
Graduates, the world in which we live is a mess. Myth masquerading as truth, our beloved United States in crisis, many of its fundamental principles under assault.
And yet a goodly number of your fellow Americans seem oblivious ... sleepwalking through these alarming times, heedless and gullible beyond belief. Our country simply cannot afford this, and our hard-won freedoms cannot long bear the weight of an unenlightened citizenry. This has nothing whatsoever to do with the unspeakable horror of Sept. 11 or the very real menace of world terrorism. History has clearly shown that the ultimate weapon of mass destruction for any society is ignorance...
I was in high school during the McCarthy reign of terror. It was a menacing and disgraceful time in the nation's history. The senator's "weapons of mass destruction," which he looked for everywhere, were communists. It was a time of loyalty oaths, neighbor asked to spy on neighbor, blacklists, wiretaps, and guilt by accusation and innuendo. The self-righteous wrapped themselves in the flag and denounced anyone who disagreed with them as being un-American and unpatriotic. Lives and careers were destroyed with reckless abandon. Let me know if any of this sounds familiar...
Bush pledges to help bring peace to Liberia as soldiers block US mission
AFP
Wednesday July 9, 2:18 AM
US military experts were forced to abort a a mission to assess humanitarian needs in Liberia as President George W. Bush pledged to take part in efforts to bring peace to the war-torn nation.
A 32-member US team visited a hospital as well as a school housing some 10,000 displaced people in Monrovia's New Kru Town quarter and then left for a refugee camp for Sierra Leoneans outside the city when it was turned away by troops loyal to President Charles Taylor. [...]
Thousands of Liberians had cheered the US team when it was making its way to the camp, screaming support for Washington and urging President Bush to despatch more troops to Liberia, which was founded by freed American slaves in the 19th century.
"We want peace, we want Bush!" they shouted, flashing victory signs. Others shouted slogans against Taylor. [...]

Bush calls slavery one of history's 'greatest crimes'
Associated Press
July 8, 2003, 10:54AM
GOREE ISLAND, Senegal -- President Bush called slavery "one of the greatest crimes of history" today and inched closer toward sending American troops to a peacekeeping force in Liberia.
Bush gave a wide-ranging speech on slavery and race in a visit to an Atlantic seaport where slaves once were packed onto ships and sent to America. It was his first day of a five-nation trip to Africa. [...]
"Human beings were delivered, sorted, weighed, branded with marks of commercial enterprises and loaded as cargo on a voyage without return," Bush said. "One of the largest migrations in history was also one of the greatest crimes of history."
Bush did not apologize for slavery but noted Americans throughout history "clearly saw this sin and called it by name."
"The spirit of Africans in America did not break," Bush said. "Yet the spirit of their captors was corrupted." [...]
"The stolen sons and daughters of Africa helped to awaken the conscience of America," he said. [...]
Bush's photo-op on African island: residents roused at 6 a.m. and detained in football field

President Bush made an eloquent speech but did not win many friends during his brief visit to Goree Island off Senegal on Tuesday.
"We are very angry. We didn't even see him," said Fatou N'diaye, a necklace seller watching dignitaries file past to return to the mainland at the end of Bush's tour.
N'diaye and other residents of Goree, site of a famous slave trading station, said they had been taken to a football ground on the other side of the quaint island at 6 a.m. and told to wait there until Bush had departed, around midday.
[...] The cooped-up residents were not impressed.
"It's slavery all over again," fumed one father-of-four, who did not want to give his name. "It's humiliating. The island was deserted."
White House officials said the decision to remove the locals was taken by Senegalese authorities. But there was no doubt who the residents blamed.
[...] "We had to leave at 6 a.m. I didn't have time to bathe, and the bread did not arrive," the father-of-four said.
"We were shut up like sheep," said 15-year-old Mamadou.
Comment: The hypocrisy of Bush talking about freedom from slavery and then corralling people into a stadium like this is nauseating. Then again, it happens all the time in the US.
Calif. Deaths Probe Seeks School Official
Five Found Shot Dead At Home In Bakersfield, Calif.; School Vice Principal A Possible Suspect
BAKERSFIELD, Calif. 7.8.03, 6:30p -
Police called in the FBI to aid in their search Tuesday for the vice principal of an elementary school as a possible suspect in the shooting deaths of five people, including three children...
The family lived in a tough neighborhood with a reputation for gang activity, but friends and family described them as active in the community and very religious.
Family of Four Found Dead in N.J. Home
Associated Press
MAGNOLIA, N.J. - The decomposing bodies of a family of four were found Tuesday in what authorities described as a murder-suicide.
The bodies of a woman and a girl were found in separate bedrooms in the house in the Philadelphia suburb of Magnolia, and the bodies of a man and a boy were found in the garage, Camden County Prosecutor Vincent P. Sarubbi said...
Lynne Nerone, the family's next-door neighbor, said the family often allowed children to play in the backyard pool.
"My son was over there every day," Nerone said.
Man who died in confrontation with deputies ruled a suicide
The Associated Press
7/8/03 9:47 PM
EVERETT, Wash. (AP) -- A 64-year-old man found fatally shot after a confrontation with sheriff's deputies in a wooded field committed suicide, the Snohomish County medical examiner's office says.
That conclusion, which followed a Monday autopsy, was announced Tuesday by Everett police after an investigation by the county's multi-agency response team.
The dead man was identified as Gordon Sandwold, who had been staying with friends in rural east Snohomish County -- near where the shooting occurred.
Sandwold's July 3 confrontation with authorities began with a complaint from a customer at a rural store about a man who had been drinking and had then left the store in his vehicle.
When sheriff's deputies pulled Sandwold over, they determined he was the subject of an outstanding arrest warrant on a misdemeanor harassment charge.
When they informed Sandwold of that, he fled in his Toyota, eventually abandoning the vehicle at the end of a remote road and running off into a hilly, wooded area.
Soon after deputies reached the area, the man confronted them with a revolver, Everett police Sgt. Boyd Bryant said. A deputy fired one round from a rifle, missing Sandwold, who then hid in the woods and killed himself with a single shot, Bryant said.
On the night of July 3, Bryant had said multiple shots were fired.
Six Dead in Miss. Plant Shooting Rampage
By MATT VOLZ, Associated Press Writer
June 9, 2003
MERIDIAN, Miss. - A factory worker known as a racist "hothead" who talked about killing people opened fire with a shotgun and a rifle at a Lockheed Martin plant Tuesday, leaving five fellow employees dead before committing suicide.
Dozens of employees at the aircraft parts plant frantically ran for cover after assembly worker Doug Williams, dressed in a black T-shirt and camouflage pants, started firing during a morning break. As many as eight people were wounded in the nation's deadliest workplace shooting in 2 1/2 years. [...]
Nevertheless, Sheriff Billy Sollie said it appeared Williams fired at random with the shotgun and the semiautomatic rifle. "There was no indication it involved race or gender as far as his targets were concerned," Sollie said. [...]
The shooting stunned residents of Meridian, a city of 40,000 near the Alabama line whose economy is largely dependent on the military. It is home to the Lockheed plant, a naval air station and an Air National Guard training center. [...]
Mom gets life in killing of girl, 3
The Atlanta Journal-Constitution
By STEVE VISSER
Cheryl Christian was a day care worker who her family said loved children. It is inconceivable to them that she stomped her own 3-year-old daughter to death.
For Fulton County prosecutor David Cooke, it is inconceivable that the Atlanta woman did anything less. He believes Christian snapped at the death of her husband and took out her grief and anger on Senora Turner on May 16, 1998.
"The defendant admitted to accidentally stepping on the child that night," Cooke said. "The trauma was consistent with a stomping and not an accidental stepping."...
"The act . . . was not the product of a cruel mind," defense lawyer Michelle Drake told the judge. "Cheryl has worked in day care for a number of years. This is not somebody who is habitually cruel to children. In fact, she is just the opposite."...
Christian used corporal punishment but never brutalized her children, said Turner, the grandmother who explained that her family bruised easily. "Nothing but whupping the child with no more than a belt," Turner said. "That's what she is guilty of, but what parent doesn't whup her children?"
2 boys die after spending hours in hot SUV
Preschoolers left outside daycare
Luxury vehicle had child-proof locks
GREG BOTONIS AND TROY ANDERSON
SPECIAL TO THE STAR
Jul. 9, 2003. 12:25 AM
LANCASTER, Calif.—Two young boys died yesterday, left unattended for more than five hours in 100-degree heat in a locked Cadillac Escalade parked outside the daycare centre their foster mother owns, authorities said.
The woman told homicide detectives she arrived at A Children's Place between 8:30 and 9 a.m., and thought somebody else had brought the boys, ages 3 and 5, in to play for the day.
"She indicated she thought someone else was going to get the children out of the car, possibly her husband," said Los Angeles County sheriff's Lt. Al Grotefend. "There was some miscommunication.''
The woman discovered the boys about 2 p.m., when she returned to her locked luxury SUV, Grotefend said.
Frantic, she pulled the children out of the car to a patio area. The 5-year-old had died; a daycare worker attempted to revive the younger child, who was pronounced dead later at Antelope Valley Hospital.
The boys had been strapped into car seats, although Grotefend speculated the 5-year-old might have gotten out of his seat but was unable to work the childproof locks in the SUV.
The temperature in Lancaster, 115 kilometres north of downtown Los Angeles, hit 39 C (103 F) yesterday, which means it could have reached 48 C (120 F) inside the vehicle, officials said.
"Sadly this happens, if not here, somewhere in the county at the start of every summer," Deputy Mark Round said. "People forget just how hot it gets in closed vehicles and how fast this can happen."
The silver Escalade was registered to Leslie Sue Smoot of Lancaster.
"Whoever did this will be arrested and charged with child endangerment and, conceivably, charged with manslaughter, at a minimum," said Sheriff Lee Baca.
Comment: As horrifying as this story is, there is something very unusual about the last two lines. They know it was the foster mother. They give a name. Then they say "Whoever did this will be arrested..."
By MICHELLE POUNTNEY
The Herald Sun
CHILDREN could one day take a pill to improve their reading skills.
Researchers trying to find the elusive gene that affects reading ability have identified several genes and chromosomes that may be responsible.
Dr Cathy Barr from the Western Hospital in Toronto, Canada, said 40 to 60 per cent of the risk of having a reading disability was genetic.
One of the most likely culprits was the memory suppressor gene PP1, which regulates how information is stored in the brain.
Dr Barr said people with a reading disability had difficulty keeping verbal information in their short-term memory, but once it entered their long term memory it stayed.
Speaking at the International Congress on Genetics in Melbourne yesterday, Dr Barr said once a gene or genes were positively located it could be possible to develop a drug to treat reading disorders, given the success of the attention deficit disorder drug Ritalin. [...]
Comment: For whom is Dr. Barr working? What kind of person thinks Ritalin is a success? Should promoters of this drug be charged for murder and conspiracy against our children? Again, a three minute internet search will provide plenty of evidence that the answers to these questions are respectively: Fascist puppet masters, a psychopath, and yes. Now they are starting to blame genetic disorders for everything, and of course there is a drug to cure it.
Class action suits for fraud and conspiracy in over-promoting the stimulant medication Ritalin (methylphenidate) have been filed in three states by leading tobacco and asbestos trial attorneys.

The law suits charge that the drug company "deliberately, intentionally, and negligently promoted the diagnosis of ADD/ADHD and sales of Ritalin through its promotional literature and through its training of sales representatives. In so doing, despite knowledge of such problems and/or adverse reactions, Defendants willfully failed to address or provide adequate information to consumers, doctors, and/or schools concerning many significant hazards of methylphenidate…"

Confirming the Hazards of Stimulant Drug Treatment

By Peter R. Breggin, M.D. Director
International Center for the Study of Psychiatry and Psychology, Bethesda, Maryland

[...] The rate of psychotic symptoms that first appear during stimulant treatment has recently been investigated in a 5-year retrospectives study of children diagnosed with Attention Deficit Hyperactivity Disorder (ADHD) (Cherland and Fitzpatrick,1999). Among 192 children diagnosed with ADHD at the Canadian clinic, 98 had been placed on stimulant drugs, mostly methylphenidate. Psychotic symptoms developed in more than 9% of the children treated with methylphenidate. According to Cherland and Fitzpatrick, "The symptoms ceased as soon as the medication was removed" (p. 812). No psychotic symptoms were reported among the children with ADHD who did not receive stimulants. The psychotic symptoms caused by methylphenidate included hallucinations and paranoia. The authors conclude that, due to poor reporting, the rate of stimulant-induced psychosis and psychotic symptoms was probably much higher. [...]

The Link Between Anti-depressants and Mayhem

Barry Farber
NewsMax

[...] Have the rest of you noticed how close to unanimously all the high school shooters, random killers, baby-drowners, first- and second-grade knife murderers, first-time committers of violence and unlikely suicides were on some kind of "anti-depressant" at the time of their dark deed?

Sam Manzie, 15, attacked, raped and strangled to death an 11-year-old boy selling items door to door for the PTA. He was on Paxil.

Kip Kinkel, 14, killed his parents and went on a shooting rampage at his Springfield, Ore., high school. He was taking Ritalin and Prozac.

Jeremy Strohmeyer raped and murdered a 7-year-old girl one week after he started taking Dexedrine.
Columbine High School's Eric Harris was taking Luvox.

T.J. Solomon, 15, who attended Heritage High School in Conyers, Ga., was taking Ritalin when he opened fire on his classmates, wounding six.

One of the most interesting is a case we can't yet prove. In 1998, 13-year-old Mitchell Johnson and 11-year-old Andrew Golden opened fire on their classmates in Westside Middle School in Jonesboro, Ark. Young Johnson had been seeing a psychiatrist but, when questioned as to the nature of his medication, if any, his attorney, Val Price, would say only, "That is confidential information, and I don't want to comment on that."

The crime America may never recover from, the studied and deliberate drowning of all five of her children by a mother in Texas, was performed under the influence of "anti-depressants."

So was the incredible stabbing murder of eight Japanese children in the first and second grades by a man on anti-depressants.

As was O.J. Simpson when the double murder many believe he committed occurred. Please understand I'm not reaching out for every verifiable case I can muster so I can stuff this sausage to make it seem convincingly fat. Quite the opposite. I have not found ONE single case of irrational, motivationless killing that did not include some kind of mind-tampering drug.[...]

Little known about safety of long-term Ritalin use, Canadian study warns
November 30, 2001 - Source: psycport.com

Ritalin may have long lasting effect on brain cells, say US neuroscientists
November 14, 2001 - Source : psycport.com
Nodding Or Shaking Your Head May Even Influence Your Own Thoughts, Study Finds
COLUMBUS, Ohio – When you nod your head to signal approval or shake your head to show disapproval, it's not just sending a message to others – you may also be influencing yourself.
A new study showed that these simple movements influenced people's agreement with an editorial they heard while nodding or shaking their head. Researchers found that other body movements – such as writing with a non-dominant hand – can also influence attitudes, even about important issues such as self-esteem. [...]
Norwalk Virus Suspected in Air Sickness
By Associated Press
July 8, 2003, 12:08 AM EDT
IMPERIAL, Pa. -- More than two dozen airline passengers who were briefly quarantined after they complained of symptoms similar to Norwalk virus probably were ill before they boarded a plane from Phoenix to Pittsburgh, health officials said Monday...
The passengers' symptoms and the rate at which the illness spread point to Norwalk or a Norwalk-like virus, he said. This type of virus sickened people on cruise ships earlier this year.
The norovirus -- which includes Norwalk and Norwalk-like viruses -- can cause diarrhea, stomach pain and vomiting for 24 to 48 hours. They are spread through food, water and close contact with infected people or things they have touched.
The passengers, who were working with a missionary group on an American Indian reservation, started to feel sick Saturday, so the health department ruled out the plane as the source of the illness, Cole said.
NASA: Gases Breached Shuttle Wing in 2000
By TED BRIDIS, Associated Press Writer
June 9, 2003
WASHINGTON - Superheated gases breached the left wing of shuttle Atlantis during its fiery return to earth in hauntingly similar fashion to the demise of Columbia nearly three years later, according to internal NASA (news - web sites) documents.
Unlike Columbia, Atlantis suffered no irreparable damage during the May 2000 episode and, after repairs, returned to flight just four months later. NASA ordered fleetwide changes in how employees install protective wing panels and sealant materials. [...]
Supreme Court citing more foreign cases Scalia: Only U.S. views are relevant
By Joan Biskupic
USA TODAY
WASHINGTON -- The Supreme Court's reference to foreign law in a ruling last month that overturned state anti-sodomy statutes stood out as if it were in bold print and capital letters.
Writing for the majority in a landmark decision supporting gay civil rights, Justice Anthony Kennedy noted that the European Court of Human Rights and other foreign courts have affirmed the "rights of homosexual adults to engage in intimate, consensual conduct."
Never before had the Supreme Court's majority cited a foreign legal precedent in such a big case. Kennedy's opinion in Lawrence vs. Texas, which was signed by four other justices, has ignited a debate among analysts over whether it was a signal that the justices will adopt foreign courts' views of individual liberties. [...]
But it is far from clear that the U.S. high court routinely will turn to foreign law, and the practice has its critics -- notably Justice Antonin Scalia. When the court interprets the Constitution, he has written, U.S. attitudes about what is decent and right -- not foreign ones -- are what should matter.
In Lawrence vs. Texas, the court relied most fundamentally on the U.S. Constitution's right of privacy to strike down laws prohibiting oral and anal sex between consenting adults of the same sex. But it also emphasized the "values we share with a wider civilization" and how privacy for gay men and lesbians "has been accepted as an integral part of human freedom in many other countries."
"It surprised me to see it in a majority opinion because there has been a debate among the justices over whether foreign law is relevant" to rulings on U.S. law, says Yale law professor Drew Days, a former U.S. solicitor general.
Days is among those who saw the reference as a step forward. "The justices are gaining the benefit of very sophisticated thinking by other foreign courts about privacy and equality," he says. "Those terms are not unique to our Constitution and our society." [...]
After backing down, Hong Kong's leader urged to step down
Associated Press
July 7, 2003, 8:29PM
HONG KONG -- Hong Kong democracy advocates, savoring their first significant victory under Chinese rule, called on the territory's leader to resign Monday, a day after he backed down on a hugely unpopular anti-subversion bill.
Analysts said the future of Chief Executive Tung Chee-hwa rests in Beijing's hands. While the central government has always supported Tung, it may have been embarrassed -- even alarmed -- to see him lose the showdown over the security measure, experts said. [...]
Mexico's vote hobbles Fox as PRI grabs power
By DUDLEY ALTHAUS
Houston Chronicle News Services
July 8, 2003, 12:40AM
MEXICO CITY -- Analysts were sifting through the ashes Monday of midterm elections notable for the lack of interest they generated among voters and the serious consequences they suggested for many of Mexico's political players.
Is President Vicente Fox's political career already over? Is the Institutional Revolutionary Party, or PRI, whose 71-year grip on Mexico's presidency was ended by Fox's election three years ago, poised to reclaim power? Is Mexico City's popular and populist mayor the man with the most momentum to win the presidency three years from now?
And is Mexico's young and hard-won multiparty democracy terminally crippled or just stumbling a bit?
The lowest turnout in recent decades -- scarcely 41 percent of registered voters -- left many suggesting a widespread disgust with the entire political establishment, regardless of ideology. [...]
NEGOTIATIONS UNDERWAY FOR RELEASE OF CONVICTED JOURNALISTS
AOS 8/7/2003 18:45
The two European journalists sentenced to 15 years in prison in Laos on charges of complicity in murder, may be released by July 14, French national holiday. French Vincent Reynaud and Belgian Thierry Falise were gathering information for a reportage on the Hmong ethnic group, a population in conflict with the central communist government, accompanied by an American pastor of Hmong origin. The three were arrested travelling together with a group of Hmong rebels, that in the previous hours attacked some villages and killed a soldier...
Today Laos Information Minister Phandouangchit Vongsa referred that his government would be willing to resolve the matter before next week, but gave no details on the release also of Naw Kark Mua, the US pastor arrested with the two reporters, accused of carrying a bag full of explosives. The pending issue remains the indemnification asked by Vientiane: Laos Foreign Minister Somsavat Lengsavad told the international press that his government would be willing to pardon and release the three convicted men if an accord is reached on a monetary compensation for the family of the killed soldier, in addition to the payment of other fines in the amount of around a thousand dollars.
Colombia: U.S. "Misses an Opportunity"
Certification Not Based on Facts
(New York, July 8, 2003) The U.S. State Department's human rights certification for Colombia does not hold that country accountable for its failure to break persistent links between the military and abusive paramilitary groups, Human Rights Watch said today.
Today's certification releases approximately $27 million in military aid. It marks the fifth time in three years that the State Department has certified Colombia despite compelling evidence of non-compliance with six conditions contained in Public Law 108-7, which regulates foreign aid for fiscal year 2003. Colombia receives the third largest amount of U.S. military aid, after Israel and Egypt.
The most important condition requires Colombia's armed forces to sever links with paramilitary groups. Yet the Colombian military continues to work with paramilitaries that are included on the State Department's list of Foreign Terrorist Organizations...
"The Bush administration has consistently argued that it couldn't hold up aid to the Colombian military over its collusion with human rights abusers. Now, it turns out that they're perfectly willing to suspend aid, but only when countries like Colombia resist granting immunity for possible crimes against humanity. This sends a perverse signal about American priorities," Vivanco said.
PETA files suit challenging KFC statements
08 July 2003
By Reuters
CHICAGO — An animal rights group filed a lawsuit on Monday against fast-food chain KFC, accusing the company of making misleading statements on its Web site regarding how the chickens it sells are treated...
PETA contends that the chickens KFC buys from suppliers are abused through drugging, feeding, and slaughter practices. PETA's director of vegan outreach, Bruce Friedrich, said the treatment is legal, but "they can't legally lie about it, and they have been."
Friedrich said KFC's Web site and other public communications contain untruths about how chickens are treated. "The claims (on the Web site) are transparently absurd," he said. "We have tried writing letters to explain to them what on their Web site is laughably, obviously wrong, and they've ignored us."
Greens Blast Ruling On Secret Detentions

WASHINGTON - July 7 - An Amnesty International report detailing prisoner abuses in U.S. detention camps drew immediate and forceful condemnation from members of the Green Party of the United States. Greens are urging Chairman Orrin Hatch and other U.S. Senate Judiciary Committee members to uphold constitutional principles and international law during the upcoming hearings on prisoner abuse.
"The alarming documentation of human rights violations calls attention to the need for open international monitoring," said Matt Ahearn, Green New Jersey State Assembly member for central and eastern Bergen County."Greens, like many other Americans, are fearful that the systematic denial of rights is becoming an accepted tool of warfare. This flies in the face of the Geneva Conventions."
The report, released on Monday, documents cases of sleep deprivation, physical abuse, and isolation, all of which violate not only the Geneva Conventions but also the Bush Administration's own June 26 pledge to respect prisoners' human rights.
Greens call these violations the latest of several setbacks for democratic and human rights. On Tuesday, June 17 the U.S. Circuit Court of Appeals affirmed the Bush Administration's power to withhold from public knowledge the names and other details of hundreds of foreigners detained in the U.S. following the September 11, 2001 terrorist attacks...
Businesses in Tehran warned of earthquake risk
The IRNA newsagency has reported that the head of the Tehran Crisis Management and Prevention Center, Ali Danesh, has issued a warning over the severe damage that will be caused if Iran's Rey and Mosha faults become active under present infrastructure conditions. [...]
Moderate earthquake hits central Japan
Wednesday, July 9, 2003 at 08:30 JST
TOKYO — A moderate earthquake with a magnitude of 4.1 on the Richter scale struck central Japan early Wednesday. No casualties or property damage were reported. [...]
Earthquake Rattles Central Missouri
Quake Could Be Felt In Surrounding Counties
POSTED: 1:29 p.m. CDT July 8, 2003

HERMANN, Mo. -- An earthquake with an estimated magnitude of 2.9 shook parts of central Missouri early Tuesday, but no damage was reported.
The earthquake occurred at 12:55 a.m. and was centered 20 miles northeast of Rolla, said John Minch of the National Earthquake Information Center in Golden, Colo. [...]
By Aisha El-Awady
Islam On-Line
Chances are that you are one of the many millions of people who have experienced or at least know someone who has experienced a significant earthquake. During the last month alone several earthquakes have been experienced by millions of people around the world. These included the 6.4 magnitude quake that hit Eastern Turkey on May 1 st , the 6.8 magnitude quake that caused thousands of deaths and injuries in Algiers on May 21 st , and the 7.0 magnitude quake that occurred near the east coast of Honshu, Japan on May 26 th[...]
Leading Climate Scientists Reaffirm View That Late 20th Century Warming Was Unusual
WASHINGTON - A group of leading climate scientists has reaffirmed the "robust consensus view" emerging from the peer reviewed literature that the warmth experienced on at least a hemispheric scale in the late 20th century was an anomaly in the previous millennium and that human activity likely played an important role in causing it. In so doing, they refuted recent claims that the warmth of recent decades was not unprecedented in the context of the past thousand years. [...]
Floods displace more people in India's northeast, death toll rises
08 July 2003
By Wasbir Hussain, Associated Press
GAUHATI, India — Nearly 80 people have died and more than 1,500 villages are under water because of monsoon rains in the northeastern Indian state of Assam, officials said Monday.
At least 71 people have died of waterborne diseases such as diarrhea, malaria, and Japanese encephalitis since the annual deluge reached the state in June, said P.C. Bhattacharya, a health department official. Eight others have drowned or been swept away in overflowing rivers, he said.
On Sunday night, the Brahmaputra River breached several embankments, flooding more than 230 new villages across the state, said Nurzamal Sarkar, Assam's flood control minister.
"More than 1 million people have now been hit by the floods, and 19 of the state's 24 districts have been submerged," Sarkar said.
Disease spreads as 1.4 million stranded by floods in India, Bangladesh
AFP
Tuesday July 8, 7:49 PM

The mighty Brahmaputra river burst its banks at several points, bringing to 1.4 million the number of people made homeless by floods in India and Bangladesh, as disease, rising waters and landslides claimed 16 more lives.
Eleven people were killed near the Indian hill station Darjeeling when landslides triggered by days of rain buried five houses, police said. [...]
To the east, the Brahmaputra, the 2,900-kilometer (1,800-mile) river sacred to Hindus that winds down from the mountains of Tibet to the delta of Bangladesh, broke its embankments around the northeastern Indian state of Assam, submerging roads and smashing down mud embankments.
Local officials estimated 200,000 more people were left homeless Tuesday across five districts of Assam as the rising Brahmaputra washed away their huts. [...]
Tropical Storm Claudette Could Become Hurricane Wednesday
Tropical Storm Claudette could become a hurricane in the next day or two, according to forecasters.
The National Hurricane Center in Miami said Claudette is packing 50 mile-per-hour winds.
The storm was over open sea, centered roughly 400 miles southeast of Kingston, Jamaica, while its outer fringes spread rain and scattered thunderstorms across parts of the Caribbean.
The storm was drifting west at 29 mph and could become a hurricane within 48 hours, forecasters at the U.S. National Hurricane Center in Miami said. [...]
Comment: Go to the National Hurricane Center for tracking data, graphics, etc.
Global warming will lead to wildfires, two experts say

WASHINGTON (July 7) -- Global warming could bring on years of drought, resulting in more wildfires and public health problems, two speakers from Harvard Medical School and Duke University said during a Washington press conference July 2.
"The chief concern has to be that global warming, if left unchecked, will mean more intense weather extremes, including drought," said Paul R. Epstein, a medical doctor and the associate director of the Center for Health and the Global Environment at Harvard Medical School in Boston. "The resulting, and worsening, wildfire problems in the United States could well mean a steadily increasing toll in the related health problems."
As wildfires become more prevalent, so will haze pollution, he said.
"Global warming is causing much of the world´s water to evaporate, leaving dry, vulnerable forests," said William H. Schlesinger, dean of Duke University´s Nicholas School of the Environment and Earth Sciences in Durham, N.C.
In 2002, more than 7.3 million acres of U.S. forestland burned, but largely because of global warming, the stage is now set for even more wildfires, Schlesinger said.
Greens call for extension of GE moratorium
05 July 2003
The Green Party says the discovery of genetically engineered (GE) material in sweetcorn grown in Gisborne shows the moratorium on the release of GE crops and animals should not be lifted in October.
"This is a wake-up call for the Government. It's a warning that if we go down this track that we will suffer serious economic setbacks," Green MP Sue Kedgley said today...
The Ministry of Agriculture and Forestry (MAF) announced yesterday that investigators were heading to Gisborne this weekend to carry out tests after products from sweetcorn grown in the region tested positive for GE material.
Ms Kedgley said this action showed clearly that Erma and the regimes currently in place were not working.
MAF launched a probe on June 26 when it was alerted by a New Zealand sweetcorn exporter that a pizza manufacturer in Japan had received positive GE test results on a topping containing the processed kernels.
The corn seeds used to grow the crop had been tested and cleared before arriving in New Zealand.
However, on Thursday MAF received independent test results from AgriQuality in Melbourne.
They showed a negative GE test on the seeds, but a positive GE test on one product made from the harvested crop.
UN study: Rich countries should be asked to give more to poor nations

Canadian Press
Tuesday, July 08, 2003

GENEVA (AP) - International programs to help poor nations develop and industrialize are failing in many countries and need radical changes if the world is to meet its targets for reducing poverty, a major United Nations report said Tuesday.
Instead of forcing developing countries to cut back on public spending, the International Monetary Fund and World Bank should be pressing rich countries to provide more help, the 367-page Human Development Report 2003 said.
Despite a widespread assumption that all countries are slowly getting richer, the report says that 54 are poorer now than they were in 1990, while life expectancy fell in 34 countries - primarily because of the HIV-AIDS epidemic - and 21 countries are hungrier than they were in 1990. [...]
What on earth...?

Your questions answered
09 July 2003

If the flip-over of the Earth's magnetic field is overdue, how long do you estimate it will be before it eventually happens?
Scientists believe that reversals of the Earth's magnetic field happen every 250,000 to 700,000 years. The time period over which this happens is thought to be around 5,000 years, although there is some evidence of previous reversals taking as little as 100 years. During a reversal the magnetic field strength will decrease. If this decrease is significant, there could be an increase in the amount of radiation (solar wind - particles from the Sun) as these are usually deflected around the Earth by the magnetic field. Navigation by compass may also become more difficult.
The last magnetic polar reversal appears to have been 780,000 years ago, which could mean that we are indeed very overdue for one. However, scientists are currently trying to simulate the motion of the Earth's liquid core in an attempt to predict exactly what happens during field reversal. The event does not seem to be very regular as you can see from the range given above, and since we are having a hard time trying to work out what exactly happens, accurately predicting the reversals is a long way away.
Comment:
July 11, 1998
Q: (A) We have been told that there is going to be a change of the magnetic field of the earth. Does this mean that the magnetic pole will shift?
A: Yes.
Q: (A) About this shift of the poles, is it going to be a complete pole reversal?
A: Yes.
Q: (A) What is going to happen inside Earth that could cause this magnetic pole reversal?
A: Is caused by disturbances in the mineral content of the substrata rock, brought on by the interaction of Earth with outside forces.
Q: (L) What specific outside forces?
A: Those already discussed.
Q: (L) What is going to be the specific mechanism of this disturbance? Can you describe for us the steps by which this pole reversal will take place?
A: Pole reversal is cyclical anyway; these events merely serve as trigger mechanism.
Q: (L) Let me ask it this way: is there a charge that builds up in the mineral substrata that requires discharge, or that becomes excited to the point that it discharges and then reverses? Is this what we are talking about in terms of the mechanism?
A: Examine what is needed to magnetize metal. Ask Arkadiusz.
Q: (A) What is needed to magnetize metal? One has to align the spins of the atoms which means one has to strike the metal, or one has to bring a magnetic field close. (T) Strike as in annealing... heating and striking metal or rock which causes the crystalline structure to decompose so that the metal becomes pliable. Then, each time it is hit, it reforms until it cools again. (L) Is this what we are talking about here?
A: Close.
Q: (A) One can also have an external magnetic field to align. But, where is it going to come from?
A: Guess.
Q: (L) The wave?
A: All are interconnected.

Q: (A) We have been told that this magnetic disturbance is closely related to this realm border crossing, and you asked us the question 'what is the root of realm' and it is reality. Now, realm has an m at the end. Does this have something to do with magnetic?
A: Realm border is when the reality shifts for all.
Q: (A) Yes, but why is this reality shift related to magnetic field disturbance? What is the connection?
A: Your physiology and etheric orientation are both tied into the magnetic state of your environment.

[...]

Q: (A) What is the period of pole shift?
A: 100,000 years, roughly.
Q: (A) Now, about the relation between the phenomenon of physical disasters that are going to happen and psychic changes related to the realm border. What is cause and what is effect?
A: One precedes the other.
Q: (L) Okay, so disasters happen and then the reality changes in psychic terms?
A: Yes. Q: (T) Is the approach of the realm border, is the change in the magnetic field... does the reversal of the poles and the broadening of the magnetic field, is that going to be before the realm border crossing?
A: Intersection.
Q: (L) So, in practical terms, it may be that, what we observe will be a series of cataclysms, disasters, the 'cleansing' of the Earth...
A: This has already begun.
Q: (L) So, it is already happening. It will accelerate and intensify. And what we will observe is all of these things happening. And, as a result of the intersecting of these various energies, this realm border, this reality change, this change in the magnetics because of the interaction with the comet cluster, the sun's companion, the realm border, and so forth, it will then have an effect upon the people left on the planet who will then change in some way as a result of this, is that correct?
A: Your Bible says that there will be many wonders on the Earth and in the Heavens in the last days.
Q: (L) Okay, this period of time after this realm border, is this period a preliminary to the total end of the Earth and all life on it?
A: No.
[...] Q: (L) It will be a sudden, total change? Like flipping a switch and everything is going to be different?
A: The key is awareness.
The Russia Journal
Last Thursday night, Sergei Yushenkov, a co-chairman of Liberal Russia, was shot to death by the entrance to his apartment building.
It was the eighth murder of a Russian legislator since the collapse of the Soviet Union. Less than a year ago, another co-chairman of Liberal Russia, Vladimir Golovyov, was also slain among allegations that he had been involved in a case of privatization fraud. Moreover, not one of these murders - which were probably contract killings - has been solved. Russia is racked with illegality, crimes that go unpunished and fraud as a way of life. [...]
Hastert truck hit by water balloon
THE ASSOCIATED PRESS
DIXON — A 33-year-old man faces felony aggravated battery charges for tossing a water balloon at U.S. House Speaker Dennis Hastert, R-Yorkville.
John S. Allen of Dixon posted his $25,000 bail on Monday. He was arrested Sunday after throwing the balloon during the Dixon Petunia Festival parade. The balloon broke on an antique fire truck driven by Hastert, who got wet but was not injured.
Hastert did not immediately return telephone calls seeking comment.
Allen said in court he didn't know Hastert was driving the truck. Lee County Judge Tomas Magdich reprimanded Allen for not recognizing Hastert.
"He is third in line to the presidency of the United States. You won't forget it next time, will you?" Magdich told Allen.
Making Germany sexy

By Clare Murphy
BBC News Online
Germany is starting a series of campaigns to improve the country's image abroad, seeking to replace the dogged stereotypes of Nazis and sunbed stealing tourists with a more relaxed, hip and even erotic portrayal of its people and language.
Last Updated: Tuesday, 8 July, 2003, 14:56 GMT 15:56 UK

Alessandro Petacchi won a bunch sprint to take the third stage of the Tour de France on Tuesday.
The Fassa Bortolo rider claimed his second stage win after clinching Sunday's first road stage.
Italy's Petacchi beat off Romans Vainsteins of Vini Caldirola with Spain's two-time world champion Oscar Freire in third.
Sci Fi begins production on Kecksburg special

By Ann Saul Dudurich
TRIBUNE-REVIEW

The Sci Fi Channel has begun production of a two-hour documentary exploring the baffling 37-year-old Kecksburg UFO case. According to Larry Landsman, director of the cable channel's special projects, the prime-time special will air in October.
"The Kecksburg incident is an extremely compelling case," he said. "We have new eyewitnesses who have come forward ... firsthand witnesses whose recollection of that evening is sharp. It's making for quite an incredible documentary. Startling. It will open some eyes." [...]
Search for Life Out There Gains Respect, Bit by Bit
By DENNIS OVERBYE
The New York Times
Years after Congress ordered NASA to pull the plug on a survey looking for alien radio signals from the stars, the Search for Extraterrestrial Intelligence, or SETI, as it is known to aficionados, seems to have gradually achieved a modicum of respect in the halls of Washington. [...]
Pluto, a planet so puzzling that some astronomers say it isn't a planet at all, seems to be defying the laws of atmospheric physics, according to studies published in the British weekly journal Nature . [...]
Wanted: Planetary Protection Officer
New Scientist
Responsibilities to include safeguarding the health and safety of the Solar System. Primary duty to ensure returning spacecraft do not infect Earth with alien life forms. Please apply to NASA, stating experience and current salary . . .
By Nick Lackeos
Montgomery Advertiser
Elmore County officials have their eyes on a 10-acre parcel of forest land, complete with a 90-foot fire tower, as the site for a new observation park on the eastern rim of the county's impact crater.
The crater, which is five miles in diameter, is being touted as one of the county's top tourism draws, attracting naturalists and outdoor enthusiasts.
The County Commission and the city of Wetumpka recently formed the Impact Crater Study Commission to find ways to enhance the site. One of those ways is the new park, with the observation tower. [...]
12-y.o. boy admits to Nagasaki child murder
NAGASAKI -- A 12-year-old boy who has been under interrogation since Wednesday morning admitted to the murder of 4-year-old Shun Tanemoto earlier this month, police said. [...]
Python on loose in Rhode Island town
Crash victim wakes up after 20 years in a coma
Suzanne Goldenberg in Washington
The Guardian
An Arkansas man who went into a coma after a serious car crash during his late teens has awoken nearly two decades later as a middle-aged man with an adult daughter. [...]
We have no record of Manek: NASA
By: Ahmar Mustikhan
Mid-Day
San Francisco: After a thorough check with all its scientific officers and regional offices throughout the US over two days, a NASA spokesperson has denied it had invited Hira Ratan Manek in any official capacity, or that it has anything to do with him.
Recent news reports had stated that Manek, a 64-year-old mechanical engineer, who claims he has not eaten in eight years and lives on water and solar energy, had been invited by NASA to New York to show them how it was done. [...]
Rocker Ted Nugent Driven Out Of Home By Mold

Rocker Ted Nugent and his family were apparently forced out of their Jackson, Mich., home after it was found to be contaminated with mold.
Nugent's wife, Shemane, was also experiencing health problems believed to be a result of the mold found in the home. [...]

"I went to a toxicologist in Royal Oak and they tested 12 vials of my blood," Shemane Nugent told the paper. "I was just feeling tired all the time and kept getting these migraine headaches. They found four mold types in my blood stream and said I had pre-emphysema and pre-asthma conditions that may be related to the mold exposure. Fortunately, Rocco didn't get too sick." [...]
Comment: A QFS member has warned that home insurers are attempting to make it part of their policies that they will not cover mold damage, as this problem has become more pervasive.
---
Check out the Signs of the Times Archives
Send your comments and article suggestions to us.
---
Fair Use Policy
Contact Webmaster at signs-of-the-times.org
Cassiopaean materials Copyright ©1994-2014 Arkadiusz Jadczyk and Laura Knight-Jadczyk. All rights reserved. "Cassiopaea, Cassiopaean, Cassiopaeans," is a registered trademark of Arkadiusz Jadczyk and Laura Knight-Jadczyk.
Letters addressed to Cassiopaea, Quantum Future School, Ark or Laura, become the property of Arkadiusz Jadczyk and Laura Knight-Jadczyk
Republication and re-dissemination of our copyrighted material in any manner is expressly prohibited without prior written consent.
.