Printer Friendly Version
Back to Signs Supplements
Today's Signs Page
Signs Supplement: UFOs - Part 4
---
May 16, 2004 - November 29, 2004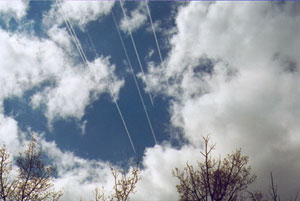 PRINCE ALBERT - The skies were alive over Prince Albert Saturday afternoon.
Gord Harding isn't sure what he saw; he thinks it might have been five or six meteorites. He believes they were travelling too fast to have been aircraft.
Harding was at Birch Hills, about 40 kilometres southeast of Prince Albert, when a loud noise overhead caught his attention.
"First I thought it was a plane", says Harding. "And then I looked and there were five, and they were all just roaring when they went over top."
Harding took photographs of the objects as they streaked northwestward, toward Prince Albert. One of the photographs actually shows six trails of smoke or vapour in the sky.
After taking the photos, Harding called his wife in Prince Albert, and she looked out and watched as they passed over the city.
Meanwhile, police in Prince Albert say they did not received any calls from people wondering what was in the skies overhead.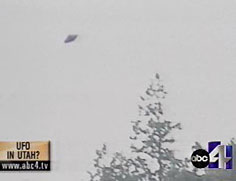 To the naked eye, Tommy Woodard's digital photograph appears to be nothing more than a pretty picture of trees in Provo Canyon.
But zoom in, he says, and the purple glow of a saucer hovering at an angle above the tree line starts to take shape.
Woodard, 22, a photo librarian with the Utah Film Commission, took the photo that he believes represents an unidentified flying object.
He was in the canyon Tuesday shooting still pictures for a possible film location, and began taking pictures for himself on his way out.
At the time, he didn't see anything out of the ordinary in his photograph. But later, after noticing a black speck in the frame, he zoomed in and "the closer I got, the more impressed I got by it," he said Thursday.
"I was kind of skeptical but it's pretty obvious when you zoom in," said the self-described "sci-fi" fan, whose friends and colleagues are similarly impressed.
[...] Another skeptical reaction to the digital photograph came from a representative of the National UFO Reporting Center in Seattle -- he said thought the sphere looked like a bird.
"A bird?" asked Woodard in disbelief. "Come on -- I don't know how he could think it's a bird!"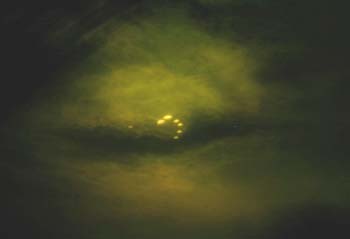 On Friday, April 23, 2004, around 7:30 a.m., Marjorie noticed how beautiful the sun was behind cloud cover and got her camera and a piece of dark welder's glass she uses when she aims straight at the sun. Her house is not near the ocean and toward the east, there are one-story houses as far as you can see. But her angle was higher in the sky. She took about twenty-five shots over a couple of minutes, sometimes zooming in, and was surprised when she looked at them. Between normal-looking images, there were two abnormal ones that had a spiral of six lights right in front of the cloud-covered sun and a seventh, dimmer light, to the left. One frame was dark and one was lighter. I asked her about the different exposures.
Lisbon - The Portuguese airforce has been on alert since late on Tuesday, when several authorities and witnesses reported seeing a luminous unidentified flying object, the national press reported.
"Military radar surveillance has been increased and F16 planes are ready for take-off," reported the tabloid daily, Correio da Manha, on Thursday.
It said the Portuguese civil protection service had received scores of calls from people who reported briefly seeing a silent, luminous object in the sky on Tuesday night, giving off white smoke.
Colonel Carlos Barbosa of the air force confirmed to Lusa news agency that military radars had detected "a target... that was not identified as a plane" for two or three minutes.
The national air traffic control authority, Navegacao Aerea de Portugal (NAV), also confirmed a UFO had been spotted in the north and south of the country just before midnight on Tuesday.
Not a meteorite, says researcher
"The control tower in Oporto (north) detected a flying object which had been observed 25 minutes earlier in Montijo and Beja (south)," said NAV's Paulo Lagarto.
The authorities were unable to say what the mysterious object was.
But José Fernando Monteiro, a geology researcher at Lisbon's science university, said he had consulted United States air defence officials and the UFO could not have been a meteorite.
If it had been a meteorite, it would have travelled much faster and made a lot of noise, he told Correio da Manha and Lusa.
The European Space Agency said the UFO was not a falling satellite either and the Portuguese weather service said there was no meteorological explanation for the phenomenon.
The only person to come up with a possible explanation was astronomist José Matos, who said the UFO might have been an Iridium telecommunications satellite.
"These satellites orbit at a height of about 780km. They each have three antennae, which are polished like mirrors and reflect the light of the sun," he told the media.
THE SLOVAK National Museum in Bratislava recently opened an exhibition entitled Crop Circles displaying the pictograms and agro-symbols that unidentified flying objects have left on Slovak territory.
According to the exhibition's organisers, witnesses have seen round, disk-shaped UFO objects at the site of 85 percent of crop circles here, as well as abroad.
The exhibition displays all the pictograms from Slovakia that have been registered by the Trnava UFO club. "There might have been more, but we have no information on those," said Miroslav Karlík, the club's chairman.
The Trnava club has registered nine locations where crop circles appear, and 178 reports on UFO observations in the Trnava region between 1992 and 2003. Captured on a videocassette and in pictures by amateurs, the display also features photographs from the Bratislava region.
Another part of the exhibition presents the cases of pictograms found in England in the areas of Stonehenge, Crabwood, and Chilbolton. The country is famous for its large number of these formations. At the beginning of the 1990s, around 300 pictograms were found there annually. [...]
(CBS 5 News)---It was a power surge that left up to 65-thousand Arizonans in the dark one week ago.
Now, some are pointing to strange lights in the skies as a possible link to that massive outage. The disturbance was large enough to shut-down all 3 units at the Palo Verde Nuclear Power Plant. About the same time as this massive power outage some people in the West Valley spotted something strange hovering in the sky. [see video at linked website] [...]
Astronomer, Steve Kates, known throughout the Valley as "Dr.Sky" sayshe believes the video is legit. Kates says he has seen a lot over the years but THIS sighting is special and similar to the "Phoenix Lights" sighting back in 1997. [...] But Dr. Sky says regardless of *WHAT* this is...the timing of this showing up.... so close to the Palo Verde Outage is interesting.
Some people are reporting a mysterious sighting of a string of lights in Valley skies last week.
A NewsChannel 3 photographer spotted them, turned on his camera and captured on film the so-called "Estrella lights."
"We watched them for about 2-1/2 hours," said Sheila Jones-Vega, who said the lights moved back and forth.
She and her husband, Frank, said they could hardly believe their eyes while on a drive to the Estrella Mountains where they're building a home.
The Goodyear couple considered the possibility that pilots from nearby Luke Air Force Base were dropping flares.
"I would think a flare would kind of burn and then fizzle out. These things turned back on," she said.
Jones-Vega was right about the flare activity, says Jim Dilettoso, a professional film analyst. But his analysis came with a word of caution.
"But I don't jump to conclusions. I don't hold a vial of lab blood up to the window and say, 'Well looks OK to me.' You know, there's testing that has to be done, extract the data, compare it to normals. Well now, I have found that it is not flares that I am familiar with in my database," he said.
A spokeswoman at Luke Air Force Base said U.S. pilots there drop flares almost every night of the week, but said the Estrella lights did not originate from the base.
After their impressive view June 14, Jones-Vega and her husband said they spent the next night watching the skies from their second-story bedroom window. They said they saw the fighter jets and the Estrella lights not only on the 15th, but again this week."We saw jets come up from the airport, numerous jets come up, and it seemed as though the jets would approach the lights. The lights would turn off," she said. "It wasn't as though the jet was dropping something and the light turned on. The lights were already there and the jets came up near them and the lights turned off. I'm a little embarrassed that people will think I'm crazy, but I know what I saw."
Watching the lights blink out one by one, the couple is pretty sure they'll be back.
The couple said they will be watching and wondering if the truth is out there. After all, their new home is out there too.
"Like I said, I don't want to be living on a landing pad out there for something," she said.
Many people are comparing the Estrella sighting to the Phoenix lights of 1997. Dilettoso said there are similarities but also significant differences.
Luke Air Force Base said pilots reported nothing unusual over the past two weeks. And there were no other reports of other military or private organizations admitting to flying in that area.
TWO men working high up a radio mast in Co Monaghan believe they have spied a top-secret inter-planetary craft flying toward Belfast.
Miles Johnston, of the Irish UFO Research Centre, and Dublin-based rigger Terry Malone claim the delta-winged craft traversed the sky at ultrasonic speed, taking just a few seconds to reach the horizon.
"I am convinced it was a man-made advanced space craft - we had a good long look at it in a clear blue sky," Mr Johnston said.
Mr Malone confirmed the object was "absolutely enormous".
"It was huge, high, and travelling at some speed," he said.
"I've seen B52s going over and you can hear them buzzing, but there was not a sound from this thing. And it was gone in an instant."
A professor from the University of KwaZulu-Natal has quashed reports that there were sightings of an unidentified flying object in Phoenix last week.
Arthur Hughes, professor of physics at the University of KwaZulu-Natal, who viewed the video footage, said the object on film was not an unidentified flying object.
"It couldn't have been a fireball as they don't usually last that long. It also could not have been a satellite as they pass over quite quickly. Satellites go around the earth in 90 minutes," he said.
When questioned about whether the university had received any other calls about unusual sightings last Sunday, Hughes said that he had received no other calls.
"I have also heard of no other reports of unusual sightings for that period.
"It was the planet Venus. Venus is visible in the early parts of the morning," he said.
But the woman who saw the object, Roshnie Naidu, says that she knows what she saw and it was definitely not Venus.
"Initially I was very sceptical about UFOs and alien sightings but after I experienced what I experienced for hours on Sunday morning, I am more open-minded," she said.
Naidu's husband, Shrirama, who also saw the huge light, said they had expected people to be sceptical when they discussed what they had seen with each other.
"We expected this reaction. But we both could not have been mistaken," he said.
Or, How a Millionaire and a Socialite New Ager are Trying to Influence World Leaders about UFOs
by Paul B. Thompson
Nebula Editor
As might be guessed by his name, Laurence Rockefeller has a lot of money. He's the grandson of John D. Rockefeller, founder of the dynasty, and brother of John D. III, Nelson, Winthrop, and David Rockefeller. Now 86 years old, Laurance Rockefeller has long listened to his own personal, internal drummer.
After being a venture capitalist in his thirties, he embraced environmental causes in the 1950s and 60s, long before they were fashionable -- at the same time brother Nelson was conquering the Amazon jungles with his CIA friends. He's also been interested in UFOs for a long time, and often puts his money where his mind is. For example:
--For two years (1993-95) Laurance Rockefeller supported Dr. John Mack's Center for Psychology and Social Change in Cambridge, Mass., to the tune of $250,000 a year. Dr. Mack, of course, is the controversial psychiatrist who investigates alleged UFO abductions.
--Rockefeller paid for at least two meeting sessions of the Starlight Coalition, a group said to be made up of former intelligence officers and military men interested in UFOs.
--At one time Rockefeller funded a plan to establish contact with aliens, not using the SETI method (by radio telescope), but by signaling them with banks of powerful halogen lamps.
--Rockefeller once held a UFO conference at his ranch in Wyoming.
Just last year, Laurence Rockefeller ponied up an estimated $30,000 for a special UFO project created by Marie "Bootsie" Galbraith, wife of investment banker Evan Galbraith and one-time U.S. ambassador to France. Mrs. Galbraith wanted to compile a report containing the most reliable evidence for the paranormal nature of UFOs. This report would be sent to VIPs only -- politicians, heads of corporations, heads of state -- to convince them of the necessity of taking UFOs seriously.
To that end, Mrs. Galbraith arranged for the three most influential civilian UFO groups in America to unite under the temporary banner of the UFO Research Coalition: CUFOS (Center for UFO Studies), FUFOR (Fund for UFO Research) and MUFON (Mutual UFO Network). Drawing on these organizations' data resources, a 169-page special report, "Unidentified Flying Objects Briefing Document: The Best Available Evidence," was compiled.
The bulk of the actual writing was done by Don Berliner, best known for his work with Dr. Stanton Friedman on the Roswell Incident. J. Antonio Huneeus, UFO columnist for FATE magazine, also contributed, along with Mrs. Galbraith herself. The report was printed in large format (8 1/2 x 11 inches), perfect bound with a light blue cover. Inside there is a letter of endorsement from the heads of the three UFO organizations mentioned above: Mark Rodeghier of CUFOS, Richard Hall of FUFOR, and Walter Andrus of MUFON.
Fraser Seitel, spokesman for Laurance Rockefeller, told the Observer of New York that Rockefeller did not personally endorse the report's conclusions. Said Seitel, "He [Rockefeller] is interested in learning what the Government has on file." [...]
"The Federal government does not have any information about extraterrestrial life to conceal, and there are no secret projects for me to investigate." (July 7, 2004)
In April 2004, Senator Hatch's DC office received two visitors with an unusual request.
Sterling Allan, a constituent from Utah, and his associate, Harry Dschaak, from Idaho, a few weeks earlier had a covertly-arranged, in-person visit with Area 51 microbiologist, Dr. Dan Burisch.
Burisch had told Allan and Dschaak that he wished to have a congressional hearing in which he might testify about some of the black op projects in which he had been involved, including the creation of designer viruses in which he had inserted an identifying signature sequence to prove the laboratory origin of the virus. Burisch also has laboratory ties to the Gulf War Syndrome which has turned out to be a friendly-fire weapon of mass destruction.
The testimony would include Burisch disclosing his experience for nearly a year of working on a daily basis with an extraterrestrial at Area 51, taking tissue samples, and communicating telepathically with the being.
Included with the briefing material that the pair left with Hatch's office was a book by the well-respected research and field specialist, Dr. Steven Greer, called Disclosure. The book contains "over five dozen top-secret military, government, intelligence and corporate witnesses to secret projects tell their true stories which disclose the greatest covert program in world history. This explosive testimony by actual government insiders proves that UFOs are real, that some are of extraterrestrial origin."
Within a few days, Hatch's office responded that there would never be any congressional hearings on the subject of ETs or UFOs.
Allan then composed an open letter to Senator Hatch, itemizing a number of relevant questions, and requesting that the Sentator put his response in writing for public record.
Finally, on July 7, the Senator mailed a reply in which he said: "As you, I find the possibility of intelligent life on other planets intriguing; however, there is not sufficient evidence to determine whether such life exists. I have reviewed the information you recommended to me, and I can assure you that your concerns are unnecessary. The Federal government does not have any information about extraterrestrial life to conceal, and there are no secret projects for me to investigate."
The full text of the letter is posted for review by the public.
According to the Sept. 2002 scientifically conducted Roper poll, roughly seven in ten adults in the U.S. think that the government does not tell everything it knows about extraterrestrial life and UFOs. One in seven adults in the U.S. say they have had a close encounter of some kind with Unidentified Flying Objects.
Extrapolated to the U.S population in general that amounts to tens of millions of people who will have a hard time believing the Senator's statement, based on their first-hand experience.
An unidentified flying object (UFO) resembling a huge star hanged over the Azeri capital Baku early Monday, witnesses said.
The object appeared at about a quarter passed six, and it stayed there until the sunrise. Witnesses said the UFO was so bright that one could hardly observe it via bare eyes.
The UFO could be easily seen particularly in Baku's outlying Akhmadli and Bakikhanov settlements.
In the world of academia, Northern Kentucky University philosophy professor Dr. Robert Trundle realizes his beliefs are not exactly widely embraced. "Shunned" is the word he sometimes uses.
The title of his forthcoming book is, in part at least, in response to what he calls "the cowardice and vanity of a sizeable percentage of American professors." Scheduled for release early next year, it's called "Is ET Here? No Politically, but Yes Scientifically and Theologically" (EcceNova Editions, Victoria, British Columbia).
Dr. Trundle, 60, occupies an almost monastic office on the second floor of NKU's Landrum Hall. It's a room about 10 by 10, and every available square foot is piled high with texts of one sort or another. I was careful not to touch off an avalanche when I sat among the stacks the other day and asked him to boil his book down to its basics.
So what does he mean by that title? Do beings from places other than this planet walk among us?
"Yes, I believe contact was made 50 years ago -- and I believe beings from other planets are here now, mainly to study us," Dr. Trundle said.
"Does ET exist from a political perspective? No, because the government is afraid of the culture shock and public panic. For the government to acknowledge the existence of extraterrestrials here would be to admit it can't protect us from them.
"Scientifically, I argue that thousands of well-regarded witness accounts cannot simply be dismissed. I'm talking about pilots who have come forward even though it's meant they've had to undergo psychiatric exams as a direct result."
At the very least, he said, we can't use current science as the standard for excluding the possibility of a more advanced science:
"For example, science says it's impossible to travel at the speed of light. If it were possible, it would take four years of traveling at the speed of light to get to the nearest star system, Alpha Centauri.
"Given our current technology, it would probably take us 50,000 years to get there, plus or minus. Based on that, the scientific establishment somewhat blithely dismisses the existence of extraterrestrials.
"It's like saying if we can't do it, they can't do it either."
Dr. Trundle's book is not an easy read, but it's an intriguing sampler of UFO lore, sightings and documents, including this Freedom of Information Act version of a March 22, 1950, FBI memo stating in part:
"An investigator for the Air Force stated that three so-called flying saucers had been recovered in New Mexico -- circular in shape with raised centers, approximately 50 feet in diameter. Each -- occupied by three bodies of human shape but only 3 feet tall."
It's a subject Dr. Trundle has been chasing for years. His grandfather, president of the now-defunct Trundle Engineering Co. in Cleveland, was fascinated with extraterrestrials and, when he died in 1954, left Robert a small collection of books about UFOs. His first article to the effect that ETs are here, entitled "Extraterrestrial Intelligence: Challenge to Theology, Physics and Metaphysics," was published in 1994. His second book, "Illustrated News of the Unbelievable," was co-authored with George Filer, a retired Air Force intelligence officer.
Dr. Trundle paints a virtual "Men in Black" picture of the ET scene in which several species are visiting the earth, most in a human form. But why?
"There are benign scenarios in which they might be seen as anthropologists coming here out of curiosity," he said.
"Then there is a more threatening scenario, which is that they're studying to see if the earth is habitable. An even more worrisome possibility is that they have a hybrid program of sexually mating with humans to strengthen their species."
No doubt about it. Dr. Trundle would have an easier go of it if he stuck to Socrates.
"But I'm trying to apply the truth in the way Socrates called for it to be applied to everyday life," he said.
He's convinced he's right. All he's lacking is cold, hard proof.
"If I had that, it would be the most astonishing event since the resurrection of Christ."
Why Don't Pilots See UFOs?
James McDonald, Statement on UFOs to the House Subcommittee on Science and Aeronautics, 1968 Symposium on UFOs
This question may come in just that form from persons with essentially no knowledge of UFO history. From others who do know that there have been "a few" pilot-sightings, it comes in some altered form, such as, "Why don't airline and military pilots see UFOs all the time if they are in our atmosphere?" By way of partial answer, consider the following cases. (To facilitate internal reference, I shall number sequentially all cases here after treated in detail.) [...]
Alien Abductees Reveal How Emotion Can Cloud Reality
By Lee Dye
ABCNEWS.com
July 21, 2004 - Researchers at Harvard University called on aliens from outer space to help them solve a problem that surfaces frequently in everything from therapeutic sessions to criminal trials, or even just chatting with a friend.
How do you know if someone is telling the truth when he or she recalls memories of childhood abuse, or being raped by satanic cults, or some other traumatic insult?
One clue that many of us rely on is the emotional reaction of the person telling the story. If the victim breaks out in sweat and becomes extremely emotional while recalling those memories, it's more difficult to dismiss them as false.
But all that really means is the person truly believes his or her memories are true, not that they really are, according to the researchers.
"The person really believes something happened," says Richard McNally, a clinical psychologist and professor of psychology at Harvard, lead author of a study in the July issue of Psychological Science. "But that doesn't necessarily mean it did."
True or False?
Deciding which memories are true, and which are false, is a real tough problem for therapists and law enforcement officials, and sometimes friends. That's especially true when long-buried memories suddenly surface involving traumatic events that may have occurred years ago. McNally has struggled with the problem for years, moving from combat traumas to memories of childhood sexual abuse.
He says that even a seasoned therapist can be influenced by the emotional state of the person recalling the memories.
"A therapist is more inclined to credit the account as authentic if it's accompanied by really intense emotion," he says. "The therapist thinks 'my goodness, something must have happened.' "
Years of research have convinced him that even false memories can stimulate a lot of emotion, but how do you prove that in the lab? That's where the aliens from space come in.
If someone claims to have been sexually abused years ago, it's almost impossible to prove those memories false. What the researchers needed was a group of people who sincerely believed memories of something that clearly never happened.
So they put an ad in newspapers asking for people who had been abducted by aliens from space.
Emotions Cloud Truth
They got a lot of weird phone calls, including some from people claiming to be aliens, but in time they had their subjects, six women and four men who believed they had been abducted by alien beings. Their average age was 47. Seven women and five men who had not been abducted also participated in the study.
The "abductees," as they came to be known, were interviewed and recorded as they told brief stories about their abduction, as well as other stressful, happy and neutral tales. All of the participants were wired so the researchers could monitor for heart rate, sweat production, and facial muscle tension, three strong indicators of emotional stress.
The emotional reaction among the abductees soared while listening to the stories of stress and abductions. But it was much weaker while listening to happy or neutral narratives.
The 12 participants who had never been abducted barely responded to any of the stories.
The verdict was clear, McNally says. The emotional reaction, which can be so convincing, had nothing to do with the veracity of the memories of the folks who believed they had been abducted.
Why did they believe so strongly in something that is so implausible? In answers to a questionnaire, the abductees scored high on personality traits that make them a bit different. For example, just because an idea seems magical doesn't necessarily mean it isn't true.
People with those traits tend to have "a rich fantasy life, and to endorse unconventional beliefs," the researchers say in their report.
ALIEN life will be discovered within 20 years or not at all, according to scientists who are scanning the skies for signs of intelligent life.
Experts in California said yesterday they would need another two decades to finish analysing radio signals from 100 billion stars in the Milky Way.
Their efforts were applauded yesterday by Wales' foremost astronomer, Prof Chandra Wickramasinghe, of Cardiff University, who accused critics of being impatient for results.
The Search for Extraterrestrial Intelligence (Seti) has already spent four decades checking radio waves for patterns that would betray the influence of intelligence.
But despite finding nothing, the group has not lost heart.
Seth Shostak, senior astronomer at the Seti Institute in Mountain View, California, said signs of intelligent life - if any existed - would be found within 20 years.
His claim was based on accepted assumptions about the chances of alien civilisations existing and on projected increases in computing power on Earth.
WEST CHESTER -- The attorney representing the man accused of shooting two sheriff's deputies began to lay the groundwork for an insanity defense for his client.
Walter J. Rosengarth, 64, allegedly wounded the officers who had arrived at his home on the 400 block of Pierre Drive in East Marlborough on July 24, 2003, to serve him with an eviction notice. After the shooting, Rosengarth barricaded himself into his residence during a three-and-a-half-hour standoff with state police.
On Friday, his attorney, Christian J. Hoey, filed a motion at the Chester County Courthouse to determine Rosengarth's criminal responsibility.
Next, Common Pleas Court Judge Howard F. Riley Jr. will decide whether the defendant will get a hearing to determine if he was criminally insane at the time of the shooting.
If he is found to be insane, Rosengarth will be acquitted of criminal responsibility. He would be committed to a mental hospital and the case would not go to trial.
If Riley denies the hearing request or the hearing takes place and determines the defendant was criminally liable, the case will go to trial. Rosengarth could still enter an insanity plea at that time.
Hoey's motion included three written evaluations supporting his claim that Rosengarth was insane at the time of the shooting -- two from psychologist Gerald Cooke and two from psychiatrist Dr. Robert L. Sadoff.
Cooke described Rosengarth as experiencing "paranoid schizophrenic psychotic delusions" during the incident.
"He did not appear to be hallucinating," Cooke wrote in a letter to Hoey on Jan. 12, "but was acting under the belief that he was the victim of a conspiracy ..(I)t is my opinion that because of his paranoid delusion, he did not know what he was doing was wrong."
Sadoff reached a similar conclusion.
"Although he appears to be competent to proceed (to trial) in that he does know the nature and consequences of his legal situation and can work with counsel in preparing his defense," Sadoff wrote in a Feb. 9 letter, "it is my opinion that he would be in a stronger position had he the benefit of treatment and improvement in his psychotic condition."
Rosengarth told both analysts stories about being poisoned by a neighbor, suffering from cancer though he never had been diagnosed and seeing a UFO hovering near Kennett Square.
"He looked up, saw the UFO and said a prayer that the UFO would reverse itself and come back and, sure enough, it did," Sadoff wrote. "He said when it did, he froze and stopped. But then, he said he saw a message in the sky and he heard God talking to him ..the message in the sky was written in large capital letters, 'Satan is real.'"
Hoey also filed a second motion on Friday to suppress videotaped statements Rosengarth made to police after his arrest. During the questioning, the defendant admitted to shooting at state police officers.
"And when you shot those guns, did you shoot at police or sheriffs?" interrogators asked.
"At them, no ..No, it wasn't directly at them ..It was ... to get them the hell out of here," Rosengarth replied, according to a transcript of the interrogation. "I asked them to leave several times."
"But you realized that where you were firing, there were officers nearby?" police asked.
"Yes," Rosengarth replied.
The defendant also told police he would have shot officers had they attempted to enter his home with their guns drawn.
Riley has placed a gag order on the case, preventing Hoey and Chief Deputy District Attorney Robert L. Miller from discussing it with the media.
The standoff at Rosengarth's home began around 11:30 a.m. when four sheriff's deputies arrived to serve the man with an eviction order. The bank had foreclosed on the property for nonpayment of real estate taxes and had sold it at a sheriff's sale for $96,000 in December 2001, according to court records.
A judge ordered Rosengarth evicted from the home in June 2003.
At first, Rosengarth refused to open the front door for the deputies. Rosengarth then allegedly opened fire on the officers from inside of the residence, first hitting Deputy Joseph Smida in the face. Deputy James Boyd drew his department-issued Glock .40-caliber handgun to return fire and was shot in the hand.
Smida had to be airlifted to Temple University Hospital and Boyd was taken by ambulance to Jennersville Regional Hospital.
Shortly after 3 p.m. the defendant ended the standoffby waving a white flag and walking peacefully from his home.
Police recovered a cache of weapons from Rosengarth's home, including an M-1 rifle, a .45-caliber semi-automatic pistol and an AR-15 semi-automatic assault rifle.
Rosengarth has been charged with multiple counts of attempted homicide, aggravated assault and related offenses.
Talk about a wasted effort: I drive all the way to Chapel Hill last week to make fun of a UFO nut only to find out she's not a nut at all.
Boy, I hate when that happens.
Her name is Brenda Denzler and she's a member of the Mutual UFO Network of North Carolina, a group of 200 or so people who gather a few times a year to compare notes on UFO sightings and alien abductions. The organization considers itself a safe haven for people who have encountered unexplained aircraft and want to talk about it without fear of being ridiculed by -- well, Denzler is too polite to say it, but she means people like me.
I'll cop to the charge. You start telling me about how you were beamed up to an alien spaceship and had probes inserted into your trailing parts, a certain look of disdain and disbelief will be apparent on my face. I might even suggest that you don't need Freud to help you figure out that some hidden desire is pounding on the door of your consciousness, demanding to be let in. So, yeah, I can see why UFO people prefer a friendly audience.
But Denzler is not one of those kind of UFO partisans. "I've never had a sighting, and I've never been abducted," she says.
Frankly, I was surprised to learn that people even pay attention to UFOs anymore. The whole thing is so 20th century. There was a moment in the early 1970s when UFOs and alien visitation were a hot topic. We read the best-selling books, we marveled at ancient cave paintings that seemed to show spaceships, we debated whether the Pyramids were some kind of beacon for aliens, and we speculated on why aliens found Earth so interesting. Furthermore, everyone had a tale, however tenuous, of their own sighting of a UFO -- because who wanted to be left out?
Eventually, though, we moved on to other important things, like disco.
Or most of us did. Others, like Denzler, found a permanent fascination in the topic. In 1992, as she neared the end of her graduate work in religious studies at Duke University, Denzler read a book written by a fellow who claimed to have been the victim of an alien abduction. The hook was set. Today, Denzler has nearly 500 books on UFOs at home, and she serves as historian for the Mutual UFO Network.
She brings an academic's precision to the topic. Denzler is careful to separate reports of UFOs from accounts of alien abduction; there's a big credibility gap between those two things. Strictly defined, UFOs are merely things in the sky that can't be identified or explained. Reports of them often come from reliable sources, like airline pilots, and Denzler takes them at face value: Somebody saw something strange. But tales of abduction tend to ratchet up the credibility problem dramatically. It's a "two eyebrow" situation, Denzler says - - as in, the number of eyebrows a listener raises in disbelief.
I'm a two-eyebrow guy. UFO sightings? Delusions, hallucinations, mass hysteria, hoaxes, mirages, take your pick. Not only do I scoff at the whole idea of alien visitation, but sometimes -- just to start an argument -- I'll assert that there's probably no other advanced life anywhere in the universe, that we exist only due to a complicated chain of coincidences that will never be repeated.
Denzler has heard all this, and she's too smart to dismiss it out of hand. A careful researcher doesn't automatically dismiss a theory, she says. Only close- minded people do that.
Again, she was too polite to say exactly whom she had in mind.
Some people in the UFO field have an idea that the government is planning open disclosure ever so slowly, ever so gradually, and that a key method for doing this is through the media. One hears this quite a lot.
According to this belief, movies by Steven Spielberg, or television shows like The X-Files are part of the plan to accustom us to the idea that aliens are among us.
I find this unpersuasive for several reasons, not least of which has to do with my own assessment of what the media itself actually is.
What we call the media is essentially a sophisticated technology under centralized control that sells information and entertainment to the public. The public, as everyone knows, is diverse culturally and stratified economically. Thus, to be effective, The Media must show a different face, depending on whomever it is trying to reach that is, whatever market segment being targeted by its advertisers.
With that in mind, let's look at America today. A complete, comprehensive sociological breakdown is rather beyond my capabilities this afternoon, so let's just look at the money.
No matter how you slice and dice the data, the inescapable conclusion is that American society is incredibly stratified (of course, the same applies to most of the world, but that's another story for another day). You can look at income patterns, or you can look at net worth, and either way the unavoidable conclusion is that America is a society broken into distinct economic classes.
Look at income. According to the U.S. Census Bureau, the share of national income going to the top fifth of wage earners rose from 44% in 1973 to 50% in 2000. The share going to the top 1% rose to 15% in 1998. This is the highest it has been since World War Two. [1] [...]
Income is important, but wealth even more so. After all, if your living expenses match your income, you won't be saving and investing very much, and you won't generate wealth. It is wealth, not income, that matters when it comes to wielding power and influence.
Looking at patterns of wealth ownership, America's classes are shockingly easy to see. Essentially, we have four classes in our society. I call them the:
Owners,
Managers,
Worker Bees, and
Expendables.
You can think of America as a room. In this room are 100 people who collectively own $100. If this were a communist utopia, each person would have one dollar, and they would all be holding hands, singing Kumbaya.
But in our little room, one person owns 33 of those dollars. Some analysts put this figure at $38, and they may be right, but let's just say $33. Either way, it's quite a lot.
The next 19 wealthiest people get to share 51 more of those precious dollars. That's $2.68 each. It doesn't seem like much compared to our fellow at the top, but it's quite good compared with the remaining 80 people.
That is because there's now only $16 left. In fact, 18 of these people get nothing at all. The other 62 people get to keep some small change, averaging about twenty-five cents each.
Aside from the issue of whether such a breakdown is fair you can leave that to your private ethical ruminations remember that this room has many interesting things that make it go. For instance, it has a legal system, an economy, a political system, and so on.
We may ask, who is in the best position to manipulate these things for his own benefit? The question answers itself: that person with the $33, whom we may with full justice label as the practical owner of the society.
The owner likes his position, but can't run things entirely by himself, so he enlists allies. These are in the top quintile. They are the managers. They supervise the great many people who have a few pennies to their name - the worker bees.
At the bottom are those 18 with nothing absolutely no net worth at all. These are the expendables. As far as the guy at the top are concerned, they could drop dead and he wouldn't care, except that their presence helps to keep the worker bees nervously occupied and distracted from that most fundamental of all social and political questions: Who Owns What.
Actually, if you look at the numbers more precisely, you can break down the social groups more accurately. The expendables remain at the bottom, of course. Then, up to around the 60th percentile of the population, you have essentially the lower half of the worker bee population. Then, from the 60th to approximately the 90th percentile, you still have worker bees, but they're better off. Many would call this the American middle class. So in fact, the American management class comprises not the top 20 percent, but more like the top 10 percent of the population. This also conforms more closely with the observed reality of most workplaces.
Things become interesting starting at around the 90th percentile. A dramatic expansion of wealth begins at this point, and you can discern roughly two stratifications within the 90th to 99th percentiles. Of course the Fat Guy at the top percent still sits happily above the rest. (And to go even further, if you were to break down that top 1% of wealth owners you would find the same continued levels of stratification continuing within it). [2]
With economic stratification comes cultural stratification, which takes us back to the media, which is an important part of our little American room. Leading executives know this far better than I do, but it's pretty obvious that certain types of news and entertainment are designed for people in different economic classes. Indeed, since media organizations make their money through advertising revenues, the right demographic analysis can affect billions of dollars, and you can be sure that media executives have among the most sophisticated demographic data in the world.
While it isn't true that all people of a certain class will slavishly follow their cultural expectations, it's generally true that, say, someone of the upper management class will be more likely to sit down to watch Tom Brokaw and read the Wall Street Journal than the watch his local FOX affiliate and read the New York Post.
That's because NBC News and the Journal are designed for the management class, or at least management class trainees and wannabees. If you doubt this, then look at the commercials and ads, most of which are geared toward conspicuous consumption of the affluent kind.
And while I don't have demographic information pertaining to the Wall Street Journal newspaper, I do have information pertaining to the Journal's website, WSJ.com, as well as for some other pillars of the cyber-establishment, NYTimes.com and CNN.com. At WSJ.com, the average household income for its readers is $215,600, placing it easily within the top 5 percent of income earners in the U.S. The NYTimes.com readers fared not quite as well, with a mean income of only $86,150 (still placing most of its readers in the top quintile). The same applies to CNN.com, whose readers have an average household income exceeding $80,000. [3]
It's not all that complicated. There are certain very obvious outlets of the media that cater to the management class and above, which makes perfect sense since that's where the money is.
Regarding the belief in UFO disclosure through the media, my point is this: when you look at the obvious management and above media outlets, you find nothing of a serious nature relating to UFOs. This is because management classes historically have relatively narrow ranges of acceptable beliefs. The first requisite of a successful ruling elite is that it share important foundational assumptions about its society and interests.
If you are born into the American Management Class, for instance, certain assumptions become second-nature, like believing in the corporate American style of capitalism as the best solution to humanity's problems, or in the inherent goodness of American intentions around the world. Members of this class must share its belief structure, else they become marginalized from real power.
As far as UFOs are concerned, all you have to do is study the management-oriented media to understand that believing in the existence of unexplained, highly advanced technology traversing the skies and oceans of this world is simply not acceptable. Not if you are a member of the management class.
To say the least, this is an idea that could be unsettling to the stability of those who rule. How to admit that UFOs are real after almost 60 years of incessant denial, without compromising the very political system upon which you've relied to keep things moving smoothly and profitably? Especially if (speaking hypothetically, here) certain of your members reap incredible profits from ground-floor investments in technologies that were adapted from sources that aren't supposed to exist?
On the other hand, from the perspective of power, it doesn't really matter what the bottom 80 or even 90 percent think. If they want to believe in aliens, or bigfoot, or conspiracy notions pertaining to the Kennedy assassination (another verboten topic for our management class), then by all means they can. Better yet, turn all that stuff into cheesy entertainment, keeping the rabble happily distracted while at the same time you disable these topics from entering the realm of serious discussion.
Of course, some of the media coverage discussing UFOs is rational and intelligent. After all, there are many rational and intelligent people in the bottom 90 percent. And no doubt there are management-types who enjoy slumming it, and who will catch the occasional UFO documentary. Perhaps such people enjoy a naughty and illicit feeling that comes with such a secret pleasure.
But the sampling of pro-UFO information that makes it to the Worker Bee culture doesn't mean very much as long as the management-oriented media refuses to take the subject seriously.
When we hear Tom Brokaw talking seriously about UFOs as real, then we'll all know something is afoot. Until then, don't hold your breath waiting for disclosure.
Notes:
[1] see The Economist Fisks Paul Krugman at http://ambit.typepad.com/ambit/2003/09/the_economist_f.html]
[2] See Inequality Matters, at http://inequality.org/facts.html. Source from data is Edward N. Wolff, Changes in Household Wealth in the 1980s and 1990s in the U.S., Jerome Levy Economics Institute, May, 2004.
[3] See Good News for Marketers, Thursday, June 10, 2004, By Cheryl Pruett, iMedia Connection, http://www.imediaconnection.com/content/3618.asp]
Richard Dolan is Senior Editor for Phenomena Magazine, and author of UFOs and the National Security State. Visit his webpage at http://keyholepublishing.com.
ISTANBUL - An undentified flying object was sighted and filmed for the second time in ten days in the Turkish province of Mersin, reported a spokesperson for the local police via the Anatolia press agency.
According to Suleyman Ekizer, director of security in Mersin, the UFO made its first appearance over an industrial zone for an hour and 20 minutes during the night of July 19/20.
This morning it reappeared at 3:30 local time near a refinery in the same region, and flew over the zone for two hours before disappearing in the sky. The police official confirmed that the UFO has now been filmed twice.
Our agents have announced that a dark red colored UFO with yellow-green tones, of circular form that emitted lights and moved continuously appeared in the sky for two hours" Ekizer declared, according to Anatolia. These appearances have been forwarded to the Turkish centers of space exploration, added the agency.
There's something fishy going on in Manitoba's skies. Unidentified flying object (UFO) sightings in the Keystone Province are nearing an all-time high, according to an independent group that investigates and records reported sightings across Canada.
More than 50 have already been counted so far this year, double the 25 sightings recorded in 2003, said Winnipegger Chris Rutkowski, co-ordinator of Ufology Research of Manitoba. The most sightings in one year in Manitoba was 74 in 1993.
The reason for the increase is just as puzzling as details of some of the sightings, Rutkowski said. In July, two people driving along Highway 6 near Ponton, south of Thompson, saw two bright, orange-coloured lights zoom across the early morning sky.
"The first one rose up out of the bush beside the road and flew in front of them, a second ball of light came across the road and then both flew away," Rutkowski said. "A woman (in the car) said they were very frightened."
Winnipeggers have reported seeing "round patches of light" chasing each other in the sky above the northeast corner of the city, Rutkowski said.
"I suspect it's some sort of (spotlight) advertising mechanism," he said.
That sighting is one of more than 400 that have been reported by Canadians up until the end of last month, a large jump compared with last year's total of 300 during the same period, Rutkowski said.
One of his favourite sightings is from Caraquet, N.B., where odd pairs of lights were spotted in January above a highway.
"One person reported seeing something with two or three lights and some sort of structure attached to it," Rutkowski said. "That area seemed to be quite a UFO hot spot this winter."
Canada is on pace to top last year's total of 670 sightings, the most recorded in one year, he said. Most UFO sightings can be attributed to natural phenomena or human activity.
"There's a small percentage that we simply don't have explanations for. We can't say they're alien spacecrafts because we don't have that proof," Rutkowski said.
"There's probably life out there somewhere but whether it can come all the way here is the big question."
OTTAWA (CP) - From a translucent, saucer-shaped object in British Columbia to mysterious lights buzzing motorists in New Brunswick, Canadians are on their way to reporting a record-high number of UFO sightings this year.
More than 400 stories of curious encounters were filed through the end of July, compared with just over 300 by this time last year, says Ufology Research of Manitoba, a group that tracks reports of unidentified flying objects. At this rate, the total for 2004 will surpass the current record of 673 sightings reported last year, said Chris Rutkowski, research co-ordinator for the Winnipeg-based organization.
The group receives reports directly by telephone and e-mail, from sister agencies that follow the phenomenon, and via federal departments such as Transport and National Defence.
Rutkowski isn't sure why the numbers are rising, but suspects it might be linked to public awareness of recent exploratory missions to intriguing planets such as Mars and Saturn.
"I think there is a resurgence of interest in space," he said Thursday in an interview.
Dazzling mid-air manoeuvres were a feature of some of the more dramatic otherworldly episodes.
At a military base in Beaverbank, N.S., on April 23, three people spotted several lights in the east, including a slow-moving red one bobbing up and down.
Suddenly, a second red light swooped in, prompting the first one to climb upwards and fly over it.
In a July 5 incident, a Rosemont, Que., couple saw a very bright red light moving slowly westward. Travelling much too low to be an airplane or helicopter, the object plunged to the ground and disappeared after about a minute.
Two people sitting on a hill in an Edmonton park on June 23 watched four distinct lights hover above them.
"At first they thought it was some sort of satellite," Rutkowski said.
"But then the lights gathered together, close in the sky, and spread out again. They would travel in one direction for a while and then curve back in a very sharp turn in another direction. And they watched it for 90 minutes."
The Prairies seem to be a hotbed of unexplained activity.
REGINA - UFO sightings are up across the country and according to a Winnipeg-based research group, the same trend is happening in Saskatchewan.
Saskatoon's Gayle Martiniuk is one of a number of people in the province who have reported an unidentified flying object this year.
Her close encounter was simple. She went out to her porch and up in the sky she saw something she couldn't explain.
"It was larger than a commercial aircraft and it had very large lights on it and it was silent," she says. "There was no after sound or anything."
Chris Rutkowski has been collecting the reports from sources such as Transport Canada and the military for 15 years. He says so far this year, there have been 19 sightings in Saskatchewan, compared to 13 last year.
And across Canada people are reporting UFOs in record numbers.
He's not sure what causing the increase, but he won't rule anything out.
"We are not prepared to say that these are the aliens that are ready to invade Lloydminster. What we are prepared to say is that these are simply unusual objects reported in Canada - and we're not entirely sure what these are."
Rutkowski says the high numbers could be a result of growing numbers of satellites in the sky or increased flight traffic.
And he says people might be becoming more open minded to the possibility of other life forms as humans themselves continue to reach into space.
As for Gayle Martiniuk and her own close encounter, she says she's glad she's not alone.
"The thing that makes me feel more comforted is that more people are seeing [them]."
Freedom will always be a concept that is impossible to encapsulate cleanly. Like a house with many sides, there are many ways to look at freedom, and some of these ways are entirely subjective. You may not have much say in how your greater society is managed, but then again, if you don't care, you can feel quite free. If you're allowed to pursue your personal interests, follow your favorite television show or sports team, why would you feel oppressed?
Much of our recent history has involved such a dumbing down of our political desires. You can decide for yourself if this is part of a grand scheme by our rulers, or simply the result of market forces in a post-modern age. Either way, what we have today is a country - excuse me, a world, more or less - filled with people who, when they're not as work feeding the machine, generally sit on their asses watching T.V. or surfing the net in the endless quest for entertainment.
"We the People" have long since ceased to rule in any meaningful sense. Who elects our supposed "representatives" in Congress and the White House, those citizens whom we expect to act in the name of the people? Who rules? Do you rule?
Americans like to call themselves free. In fact, they have joined the ranks of the unfree. I am still trying to trace this processes historically - I have little doubt that it is related to the poisonous Armor of Empire being worn on the body of this old republic. But the main thing is that it's happened, and that neither our alleged leaders, nor our alleged public watchdog media, ever acknowledge this publicly.
The basic problem of any kind of representative democratic system is that, to succeed, it must have an informed citizenry. The founders of the American republic understood this problem well - read the Federalist papers to get an idea. But despite our so-called Information Age, I would submit that the typical American citizen is less informed of the world around us than our great-grandparents were one hundred years ago.
This is entirely in line with what our media leaders want. Consider the attitude of the late Katharine Graham, long-time publisher of the Washington Post. In 1988 she stated matters quite clearly: "there are some things the general public does not need to know and shouldn't. I believe democracy flourishes when the government can take legitimate steps to keep its secrets and when the press can decide whether to print what it knows."
Well, Ms. Graham can rest easy in her eternal slumber knowing that what the general public doesn't know grows by reams and reams every year.
America's classified world is removed almost entirely from public control. In the early 1990s, Herbert Foerstel, Head of Branch Libraries at University of Maryland and board member of the National Security Archive, reported that the Pentagon alone had about 10,000 classification compartments, often called Special Access Programs (SAP) and Sensitive Compartmented Information (SCI). More recently, author James Bamford (Body of Secrets) likened the classified system to "an endless spiral, [with] secret classification systems within secret classification systems." We number our classified documents by the trillion, and the number continues to grow.
An unknown, but surely significant, part of that secrecy is concerned with the topic of exotic aerial phenomena. We know this from the history of FOIA documents we have received, a small sampling of which I discussed in the previous article of this series. Plus, every now and then, a mainstream publication actually tells us something useful.
The 3/18/96 issue of Aviation Week and Space Technology, for instance, stated that the U.S. Air Defense Operations Center at Cheyenne Mountain, Colorado - an integral part of the North American Air Defense system (NORAD) - tracks and identifies thousands of "vehicles" in near and deep space.
The article stated that "these regions monitored about seven thousand aircraft tracts per day in 1994, and labeled approximately 880 of them as 'unknowns' within the allotted two minutes required for identification....Others (unidentified contacts) warranted intercepts by fighters scrambled from airfields around the continent's periphery."
In other words, American pilots continue to chase UFOs. What do these pilots see when they get close enough to one? In some cases, it's drug traffickers. Of the 880 unknowns for 1994, for instance, "about 90" were correlated with suspected drug activities, according to Brigadier General Raymond P. Huot, commander of the Cheyenne Mountain complex. That still leaves a lot of unidentifieds flying into the U.S. Against which nation is America defending itself when it scrambles all these interceptors? What country, in 1994 or today, has an air force that is constantly harassing us in this way?
We don't know the answers because NORAD is exempt from the Freedom of Information Act.
The now-deceased Imperator Ronald Reagan had a few things to do with our current difficulties in obtaining information from the government.
Reagan helped to get pesky citizens off government's back when he emasculated the Freedom of Information Act. This was Executive Order #12356 in April 1982. A year later, he authorized a National Security Decision Directive that extended the use of secrecy contracts among federal employees and enacted lifetime censorship over them.
As a result, a president can now lie about something - oh, let's say, an important foreign policy matter - and a Senator who knows the President is lying is not allowed to contradict him using classified information.
But I digress, and besides, Reagan doesn't deserve all the blame anyway. He didn't start this mess, and since his time we've gone far deeper into the woods. Just a few years ago, Attorney General John Ashcroft urged federal agencies to resist most Freedom of Information Act requests made by American citizens.
"When you carefully consider FOIA requests and decide to withhold records, in whole or in part," Ashcroft told them, "you can be assured that the Department of Justice will defend your decisions unless they lack a sound legal basis or present an unwarranted risk of adverse impact on the ability of other agencies to protect other important records." Can you imagine such a statement being made during the Carter Presidency?
The FOIA isn't dead. It is still somewhat amenable to the public. A few interesting UFO reports continue to come out, such as an interesting report from January 1994, from the U.S. Embassy at Dushanbe, Tajikistan. This was sent to the Secretary of State, CIA, DIA, as well as U.S. embassies in Moscow, Beijing, and elsewhere. A pilots and his crew reported an object traveling at a great rate of speed and at a much higher altitude than their own aircraft. They watched the object for some forty minutes as it maneuvered in circles, corkscrews and made 90-degree turns at rapid rates of speed and under very high g's. The captain took several photographs. The report stated, "on the basis of its speed and maneuverability, [Captain] Rhodes expressed the opinion, which his crew seemed to support, that the object was extraterrestrial ! and under intelligent control."
Interesting as this report is, we should not deceive ourselves that the FOIA will provide the single smoking gun proving ET is here. It is my belief that we are permitted to see only the tiniest portion of an enormous body of information. In all likelihood, most of this data will remain deeply classified.
Precisely because ordinary citizens are unable to examine this significant part of our reality, we need honest and strong journalists to fight for us. But apart from a noble few, the journalistic profession and industry is busy in service to the State.
Back in 1977, journalist Carl Bernstein revealed that the CIA had used more than 400 journalists to carry out assignments over the past quarter of a century. This included but was not limited to planting disinformation and propaganda. These were covert, paid arrangements which helped many a journalistic career. Today, the CIA blandly says, in effect, "we don't do that anymore." To which the appropriate response is "B.S." Not only does the CIA have cozy working relationships with journalists around the world (and certainly the Internet), but why would one think the rest of the American national security establishment doesn't? Can anyone seriously believe otherwise?
How many commentators in television, radio, print, and Internet media have a Top Secret clearance unknown to most of us? I personally know of such cases, and have little doubt this is a major area warranting further investigation.
Within such a culture of denial, it is easy for the powers-that-be to say whatever they want. They know full well they will get away with it. Curious Senators and Members of Congress are given the same old song and dance, that "no UFO reported, investigated and evaluated by the Air Force has ever given any indication of threat to our national security." The public is given official reports on UFOs by officers who are experts in disinformation, as was the author of the 1994 Report on Roswell, Col. Richard Weaver (little known fact: Weaver taught courses on the uses of disinformation for Air Force personnel). And the CIA can state in 1997 that it has "paid only limited and peripheral attention to the [UFO] phenomena."
America's national security apparatus is beyond public control. Its pervasiveness has corrupted our society. It is permeated with an arrogance that only the very powerful can possess.
And it is precisely this culture that dominates information pertaining to the UFO phenomenon. The sooner you disabuse yourself of the notion that your government is responsive to your interests in this matter - or even telling you the truth - the better.
A Guide to the Federal UFO/Mind Control Initiative
On April 29, 1945 the 363rd Medical Battalion entered Experimentation Block Five at Dachau, the setting of pitiless terminal experiments on prisoners.
Inside, the medics were met by the stench of human putrescence and the shock of bloody body parts strewn from one end of the block to the other. The men who'd engaged in the cull were highly respected German scientists and academics. Despite the atrocities, many of the medical criminals escaped justice at Nuremberg with a cheerful assist from the US Army Air Force and vanished into the secret netherworld of Project Paperclip.
For 19 years, this was the caliber of scientist assigned to Edgewood Arsenal and a program overseen jointly by the US Army Intelligence Board and the chemical-warfare laboratories at the research facility in Maryland--to whip up blistering chemical warfare agents and potent psychoactive compounds for testing on "our boys." The American peers of the Paperclip talent, drawing knowledge and inspiration from the Dachau experimentation records, tested powerful toxins in a wide range of non-consensual mind control experiments involving at least 7,000 military guinea pigs at Edgewood.
The State Department has admitted that between 1945 and 1952, 642 "alien specialists" emigrated to the United States. But journalist Linda Hunt, in Secret Agenda, a history of Paperclip, discovered that at least 1,600 "scientific and research specialists and thousands of their dependents were brought to the US [and] hundreds of others arrived under two other Paperclip-related projects and went to work for universities, defense contractors and CIA fronts." [...]
The search for the holy military grail of Nazi Germany yielded astonishing results. Major General Hugh Knerr, deputy commanding general for administration of American Strategic Forces in Europe, wrote to Lieutenant General Carl Spatz in March 1945: "Occupation of German scientific and industrial establishments has revealed [that] we have been alarmingly backward in many fields of research." If the American military did not seize "the apparatus and the brains" of Nazi Germany, and put them to work immediately, "we will remain several years behind while we attempt to cover a field already exploited."
So much to learn from the Nazis. The lure of advanced scientific knowledge -- glimpsed in the "Oslo Letter," an inventory of Nazi technology compiled by intelligence agents in Norway -- beckoned to the Paperclip scavengers like sirens on a shore of cadavers, offering remote-controlled explosive devices and rockets, communications technology, radar, long-distance bombers... and a disk-shaped airfoil with vertical lift capabilities developed by Dr. Alexander Lippish at the Gottingen Aviation Institute. [...]
Inventor Viktor Shauberger was imprisoned at a concentration camp during the war and coerced into working on another Nazi saucer project, detailed in a letter from Europe to a friend dated August 2, 1958, shortly before his death. Shauberger wrote that his machine was "flight-tested near Prague" and "attained 15,000 meters in three minutes." It was "constructed according to a model I built at Mauthausen concentration camp in collaboration with the first-class engineers and stress-analysts assigned to me from the prisoners there." His saucer was turtle-shaped, 10 feet in diameter, propelled by "implosion" drive, took off vertically so fast during the test that it collided against the hangar ceiling and exploded. After the war, Shauberger learned from a Czech prisoner under his direction that R&D of the saucer had been revived in the US. Shauberger: "An American consortium offered me $3,500,000 ! to divulge the secret of the UFO to three of their experts. A similar offer was made by Canadian interests." He demanded that an internationally binding agreement be signed before he meet with the engineers. A contract was drawn up, but Shauberger died before the conference could take place.
Biographer David Myrha of North Dakota published a book in 1988, The Horten Brothers and their All-Wing Aircraft (Shiffer Military and Aviation Series), on the development of a circular design in Nazi Germany overseen by Hitler's elite. Aircraft designers Reimer and Walter Horten mingled with Ernst Rudel, Hermann Goering, Willy Messerschmidt and the like. After a taste of the battlefield, the Horten brothers were transferred to the Luftwaffe and set to work on the design of an unusual supersonic fighter jet shaped like "a flying dinner plate." This project was completed in December 1944. [...]
The saucers have a military pedigree but the Pentagon stonewalled. And still does. But the bell jar of secrecy surrounding the federal UFO armada was not airtight in the early days of the program. The Air Force loosened its lips in 1955, according to "German Secret Weapons of the Second World War," a weapons inventory, with the announcement that aircraft were scheduled for testing that corresponded to the popular conception of a "flying saucer."
Carroll Freeman, 82, a retired Curtis-Wright aeronautical engineer now living in Utah, does not doubt that the DoD and its Nordic science department assembled the saucers. In 1947, he was a fighter pilot in the Air Force and while flying a T-6 fighter jet near Maxwell Field, Freeman, then a second lieutenant, nearly collided with a UFO piloted by humans. "I was making a swing to the left," Freeman recalls, "a shallow sweep at about 9,000 feet. As I swung around, heading due west, here's this damn thing flying in about 50 feet away, just below me." The disk was domed, he says, and "I could clearly see three people sitting inside--as a matter of fact, one of them looked like a cousin of mine--but three air-breathing human beings." The saucer was "a good-sized piece of equipment." It was so imposing an aircraft that when he made radio contact with Maxwell AFB, Freeman described it as "a flying apartm! ent building."
Meanwhile, in the brainwash division, the CIA gradually seized control of Project Paperclip and all human medical experimentation at Edgewood Arsenal. "By 1951," Linda Hunt writes, "in the midst of the Korean War, the Paperclip scientists' primary job was to locate plants and poisons that could be turned into new hallucinogenic mind control drugs." To this end, Seymour Silver founded an industrial liaison front with ties to every major pharmaceutical company in the world, particularly I.G. Farben, the German Siamese twin of the Rockefeller petrochemical empire with key personnel planted in strategic places within the Nazi hierarchy. I.G Farben was also a chief consultant to the scientists at Edgewood after the war. Dr. Ray Treichler, assistant to the director of the medical lab and an agent of the CIA's Technical Services Division, participated in the ! experimentation. Edgewood-Nazi chemist Friedrich Hoffman sidelined as a psychochemical specialist on the CIA payroll. By 1955, the experimentation was run primarily from Langley. [...]
The results of Nazi medical experimentation on American citizens were predictable, really. Hunt explains that the direction of Paperclip "was set now that Edgewood had made its pact with the devil. The drug experimentation project quickly expanded to include psychiatric patients who were drugged, shocked and hypnotized in psychochemical experiments conducted under Army contracts with numerous universities and other institutions." Some of the trials could have occurred at Dachau. Hunt: "American psychiatrist Paul Hoch's experiments on mental patients at the New York Psychiatric Institute, where he was employed under Edgewood contracts as a CIA consultant, killed one patient and seriously injured another... even after [a] patient's death, the Army approved additional experiments on patients that included the use of hypnosis, drugs and a polygraph exam to! determine if 'a particular personality type might 'break' more rapidly under drug stress than another type' during military interrogations."
The mind-control program was often recklessly run. In 1977, a Select Committee on Intelligence investigation of the brutality found that in "the Army's tests, as with those of the CIA... informed consent and follow-up examinations of subjects were neglected in efforts to maintain the secrecy of the tests." Edgewood scientists subordinated human rights "to national security considerations."
Concealing the Germans and the continuation of Dachau biochemical experimentation on American soldiers was the overriding priority for obvious reasons, but fear of exposure was dispelled by good ol' Yankee-Nazi ingenuity. In 1960, scientists on CIA contract perfected Electronic Dissolution of Memory (EDOM), brain technology that obliterates short-term recall, a giant step for covert medical experimentation. With EDOM, a human guinea pig was left with no memory of abduction, needles or other surgical and biochemical outrages. And an electronically induced hypnotic state, also perfected by CIA scientists in 1960, made it possible to alter all memory of the event to conceal the identities of the culprits.
Electronic dissolution of memory brought two Paperclip Nazi divisions--mind control and the saucer projects--together, and they were henceforth indivisible.
In 1961, a year after the development of EM memory dissolution, the first "alien" abduction took place, but the technique didn't quite take in this instance because Barney Hill recalled that he'd been hustled off in a flying saucer by "Nazis" and subjected to biomedical torture.
Ten years after the U.S. Air Force closed its books on the claim that a UFO crashed in Roswell, N.M., in 1947, a top Democratic Party figure wants to reopen the investigation into the cosmic legend.
Despite denials by federal officials, many UFO buffs cherish the notion that in early summer of 1947, a flying saucer crashed in rural Roswell, scattering alien bodies and saucer debris across the terrain.
Now Gov. Bill Richardson of New Mexico, who chaired the recent Democratic convention in Boston, says in his foreword to a new book that "the mystery surrounding this crash has never been adequately explained -- not by independent investigators, and not by the U.S. government. ... There are as many theories as there are official explanations.
"Clearly, it would help everyone if the U.S. government disclosed everything it knows," says Richardson, who served as Energy secretary under President Bill Clinton. "The American people can handle the truth -- no matter how bizarre or mundane. ... With full disclosure and our best scientific investigation, we should be able to find out what happened on that fateful day in July 1947."
The passage appears in a paperback titled "The Roswell Dig Diaries," published in collaboration with TV's SciFi Channel by Pocket Books, a division of Simon & Schuster. The "dig" of the title refers to an archaeological dig at the supposed crash site.
A Richardson aide, Billy Sparks, confirmed the governor's remarks. Richardson "is interested in either debunking the story or (encouraging) full disclosure" of any unreleased records on the case, Sparks said.
To the Air Force, though, there is no mystery -- and there hasn't been for a long time. In 1994, the Air Force published "Roswell Report: Case Closed, " which asserted that so-called saucer debris was, in fact, the ruins of an unusual type of military research balloon, which contained hypersensitive acoustic sensors designed to detect the rumble of any Soviet A-bomb tests. A subsequent investigation by the U.S. General Accounting Office was unable to locate any unreleased records on the case.
Hence, Richardson's foreword drew scorn from veteran UFO investigators and science popularizers.
"We're kind of disappointed in Richardson for perpetuating the mythology of that thing," said Dave Thomas, president of New Mexicans for Science and Reason, a skeptics group in Albuquerque.
The grand old man of skeptical UFO investigators, Philip J. Klass, who has written for Aviation Week & Space Technology since 1952, said: "Gov. Richardson -- whom I previously admired -- is wrong about Roswell and too trusting of TV network promoters. After more than a third of a century of research, I have found no credible evidence of extraterrestrial visitors."
Andrew Fraknoi, a noted astronomy popularizer and critic of pseudoscience who teaches at Foothill College in Los Altos Hills, called Richardson's foreword unbelievable.
"This continues to confirm that election or appointment to high office does not guarantee wisdom in all areas of human thought," he said.
But in a show of extraterrestrial bipartisanship, the executive director of the New Mexico Republican Party is taking Richardson's side. Greg Graves, a native of Roswell who suspects the crashed object was "something more than a weather balloon," wants to know what really happened in the Southwestern desert two years before his birth.
Still, Graves hopes the truth isn't disillusioning. That's because the saucer legend is so good for the local economy: "Thousands of people come to Roswell every year to visit the site and go to the museum. It's an incredible boon to the Roswell economy. Just think about 'X Files' and TV shows about Roswell.
"When I go around the country and tell people I was born in Roswell," he adds, "people ask: 'Do I think something crashed there?' "
During the first century of our modern era, most, if not all, of the adherents of the "Jesus cult" believed that the Second Coming of Christ was at hand. They didn't look upon this event as something to occur in the distant future, but within their lifetimes. The return of Christ, also called the "parousia," was believed to be imminent, and would signal the end of human history as they knew it - something those early Christians fervently wanted.
Except that nothing happened.
As the years and centuries passed, Christians had to modify their views somewhat. Eventually, as one would expect, beliefs became diversified and messy. The Second Coming was still coming, but as to the timetable, well, there might be some disagreement. Meanwhile, it was more or less agreed upon that all the saved souls would wind up in heaven, either immediately upon release from their mortal coil, or at least eventually.
As with all belief systems (and romances), the initial period is always the most interesting, and the most exciting to those involved. That's because boundaries have not yet been imposed. Anything seems possible. Eventually, reality sets in with its inevitable disappointment.
Thus, if you are to maintain your belief - or love - you have to adjust your attitude. As the older and more experienced among us like to remind us, you have to grow up.
This is true regarding the modern era of UFO belief. In the 1950s, when all this seemed to be a new thing (in retrospect, it wasn't), it was reasonable to suppose that flying saucers were piloted craft, with "men" of some sort flying them. What were they doing? Judging by what appeared to be a certain coyness on the part of the mysterious UFO pilots, several analysts opined that the aliens were probably conducting some sort of surveillance of our world, presumably in advance of establishing open contact - or invading.
It's not hard to understand how one could believe this, as long as one accepted that UFO reports were valid in the first place. Through the 1950s, certain researchers and organizations made it a point to track UFO reports , especially noting instances of what appeared to be metallic craft and the like. The great early writer of UFO books, retired Marine Corps Major Donald E. Keyhoe, believed that our civilization's interaction with UFOs wa s in a crescendo phase, and that something big was going to happen very soon.
That was then, and things are rather different today. Still, the belief hasn't quite gone away, mostly because so few people in the field have much of a sense of history. Thus, we recently (2001) experienced the build-up for the UFO "Disclosure" press conference at the National Press Club in Washington, DC, an event that many argued would be the final bit of artillery needed to break down the wall of secrecy. In case you weren't there, th e conference didn't do it.
As we continue to live and learn, it's becoming increasingly difficult to hide the obvious: this phenomenon has been with us for a long time. It surely doesn't appear very credible to argue, as Keyhoe did, that "they" are still conducting surveillance of our planet, especially when our own technology has advanced so much in fifty years that we realize that you don't need big clunky craft to swoop near Earth's surface to get a good idea of what's down here.
Of course I'm not suggesting that we deny the phenomenon, simply because it doesn't accord with our earliest ideas. Our throw-away cultural mentality might encourage such a response, but that doesn't make it right.
No, what is necessary is to continue learning, to continue evaluating with fresh eyes and ears, and to continue to challenge oneself. And there are indeed those in the UFO research field who do this, often quietly and dil igently asking new questions.
After working on this topic for ten years, there is still a great deal I do not know. Yet, I feel confident in saying a few things:
1. UFOs are real.
2. Some are alien, and some are classified military projects.
3. There is extreme and extensive secrecy involved in this, not only from our military, but apparently from the aliens themselves.
4. The science and technology involved in alien UFOs probably exceed my wildest ideas at this point.
5. The intentions of these "aliens" are still not definitively known. They may be our space brothers, or we may be in their cookbook, or they may simply like the water here. Without true knowledge, caution is the only logical approach.
We live in serious and momentous times, and have genuine cause to worry about the future of our civilization. Within such a context, it would be surprising if the alien connection were not something of great importance.
Nevertheless, we should distrust sure fire answers. This applies not only to those who ignorantly debunk the subject, but those who, like those early Christians (and millennialists of today), tell us that they are certain of what lies just ahead.
The manager of the Dryden Regional Airport wants to get to the bottom of reports of unidentified flying objects in the area.
George Friesen said yesterday that he has requested a checklist from NAV Canada on the subject and "has a few phone calls to reply to" following a report of a UFO sighting in the Dryden area July 12.
NAV Canada provides air navigation services used by airports, airlines, and aircraft operators across Canada.
The Dryden-area UFO sighting is posted on www.hbccufo.com-a website that reportedly represents the Canadian UFO research community.
The posting said at least three Dryden-area people witnessed "low altitude bright lights tracking across the sky."
One person reported seeing the lights on three-consecutive nights, as well as a V-shaped metallic craft during the day "moving through the sky, very slowly."
Area police services said they received no calls of suspected UFOs in July.
Friesen said his interest is both personal and professional.
"If something occurs near an airport, professionally we are obliged to report it," he said.
While working in Lynn Lake, Man. in the early '90s, Friesen said he dealt with quite a few inquires about "strange objects in the sky"-largely because the airport was releasing huge atmospheric weather balloons at the time.
The last unexplained phenomena observed in the northwest was a "strange light" seen in the Thunder Bay area in March, 2003.
At the time, officials with a U.S.-based research centre suggested the light may have been space junk.
In February 2003, astronomers involved in the search for extraterrestrial intelligence (SETI) pointed the massive radio telescope in Arecibo, Puerto Rico, at around 200 sections of the sky.
The same telescope had previously detected unexplained radio signals at least twice from each of these regions, and the astronomers were trying to reconfirm the findings. The team has now finished analysing the data, and all the signals seem to have disappeared. Except one, which has got stronger.
This radio signal, now seen on three separate occasions, is an enigma. It could be generated by a previously unknown astronomical phenomenon. Or it could be something much more mundane, maybe an artefact of the telescope itself.
But it also happens to be the best candidate yet for a contact by intelligent aliens in the nearly six-year history of the SETI@home project, which uses programs running as screensavers on millions of personal computers worldwide to sift through signals picked up by the Arecibo telescope.
Absorb and emit
"It's the most interesting signal from SETI@home," says Dan Werthimer, a radio astronomer at the University of California, Berkeley (UCB) and the chief scientist for SETI@home. "We're not jumping up and down, but we are continuing to observe it."
Named SHGb02+14a, the signal has a frequency of about 1420 megahertz. This happens to be one of the main frequencies at which hydrogen, the most common element in the universe, readily absorbs and emits energy.
Some astronomers have argued that extraterrestrials trying to advertise their presence would be likely to transmit at this frequency, and SETI researchers conventionally scan this part of the radio spectrum.
SHGb02+14a seems to be coming from a point between the constellations Pisces and Aries, where there is no obvious star or planetary system within 1000 light years. And the transmission is very weak.
"We are looking for something that screams out 'artificial'," says UCB researcher Eric Korpela, who completed the analysis of the signal in April. "This just doesn't do that, but it could be because it is distant."
Unknown signature
The telescope has only observed the signal for about a minute in total, which is not long enough for astronomers to analyse it thoroughly. But, Korpela thinks it unlikely SHGb02+14a is the result of any obvious radio interference or noise, and it does not bear the signature of any known astronomical object.
That does not mean that only aliens could have produced it. "It may be a natural phenomenon of a previously undreamed-of kind like I stumbled over," says Jocelyn Bell Burnell of the University of Bath, UK.
It was Bell Burnell who in 1967 noticed a pulsed radio signal which the research team at the time thought was from extraterrestrials but which turned out to be the first ever sighting of a pulsar.
There are other oddities. For instance, the signal's frequency is drifting by between eight to 37 hertz per second. "The signal is moving rapidly in frequency and you would expect that to happen if you are looking at a transmitter on a planet that's rotating very rapidly and where the civilisation is not correcting the transmission for the motion of the planet," Korpela says.
This does not, however, convince Paul Horowitz, a Harvard University astronomer who looks for alien signals using optical telescopes. He points out that the SETI@home software corrects for any drift in frequency.
Fishy and puzzling
The fact that the signal continues to drift after this correction is "fishy", he says. "If [the aliens] are so smart, they'll adjust their signal for their planet's motion."
The relatively rapid drift of the signal is also puzzling for other reasons. A planet would have to be rotating nearly 40 times faster than Earth to have produced the observed drift; a transmitter on Earth would produce a signal with a drift of about 1.5 hertz per second.
What is more, if telescopes are observing a signal that is drifting in frequency, then each time they look for it they should most likely encounter it at a slightly different frequency. But in the case of SHGb02+14a, every observation has first been made at 1420 megahertz, before it starts drifting. "It just boggles my mind," Korpela says.
The signal could be an artefact that, for some reason, always appears to be coming from the same point in the sky. The Arecibo telescope has a fixed dish reflector and scans the skies by changing the position of its receiver relative to the dish.
When the receiver reaches a certain position, it might just be able to reflect waves from the ground onto the dish and then back to itself, making it seem as if the signal was coming from space.
"Perhaps there is an object on the ground near the telescope emitting at about this frequency," Korpela says. This could be confirmed by using a different telescope to listen for SHGb02+14a. [...]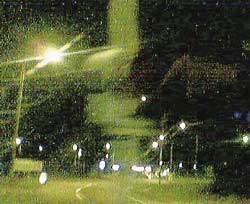 A heating engineer who did not believe in aliens is reconsidering his view this week, after coming face-to-face with what he believes was a UFO.
Matthew Hinsley, of Deanshanger, was driving towards Old Stratford along the A422 at around 2am last Monday morning, when he claims a UFO dropped from the sky just yards in front of him, hovered above the road, and then shot away.
The 29-year-old, who says he used to ridicule people who believed in aliens, was left so gobsmacked by what he thought he saw that he pulled over in the nearest lay-by to gather his thoughts.
Matthew, who was on his way from work to his girlfriend's house in Bletchley, told the Citizen: "I have never seen anything like it before in my life - I don't even believe in aliens!
"I was driving along and on my right hand side I noticed what I thought was a cluster of around 30 stars packed together.
"Then it started darting around the sky sharply, so I tried to take a picture of it on my camera phone, but it shot off just as I was doing it.
"Then, as I was checking my phone to see if I had got a picture of it, a bright blob zoomed down from the sky around 20 metres in front of my car and I caught a picture of it by mistake.
"It hovered for a split second and then shot off out of sight to my left, leaving a trail of light behind it."
Matthew, who claims he has been left bewildered by the experience, told his girlfriend, Vanessa, about what he had witnessed as soon as he got in.
He said: "I think I was in a bit of shock when I got in, I was shaking as I told Vanessa about it.
"Everyone I've told thinks it is unexplainable.
"But the nice thing is that they all believe me - they know I'm not the sort of person to make it up."
The Citizen showed a copy of the picture Matthew took to Dr Ulrich Kolb, astronomy expert at the Open University in Milton Keynes.
After analysing the image, he said: "It could have been any number of things - a very powerful meteorite which may have seemed close but was miles away, a form of lightning, or a reflection on his windscreen.
"It's very difficult to say exactly what it is, but it's certainly not a UFO.
"There are plenty of natural explanations."
A local radio station's phone lines lit up Thursday morning after motorists reported seeing a mysterious flash of light in the sky, Local 4 reported.
Several drivers in the area of Interstate 275 and Interstate 94 called into WOMC radio at about 5:45 a.m. to report an unidentified light flashing in the sky.
"It was a bright flash, almost like a huge flashlight, almost like a generator going off," said one caller.
The host of the radio station's morning show, Dick Purtan, said he had no answer to what people had witnessed in the sky.
"The first thing that I thought of was that this was possibly the asteroid, this big rock that's about 3 miles long and a mile-and-a-half wide that actually came within a million miles of earth this morning, but the trouble is they say that it's not visible," Purtan said.
Officials at the Selfridge Air National Guard Base reported no flying this morning, so there were no records or photographs taken that may have identified the flash of light.
Metro airport also had no trace of the light flash because the airport's radar readings only cover a 40-mile radius, Local 4 reported.
The National Weather Service in Cleveland told Local 4 that the mysterious light may have been moonbeams poking through the clouds.
Local 4 attempted to contact the North American Aerospace Defense Command, which protects the airspace over the United States and Canada. NORAD had yet to return calls concerning the mysterious light.
MARSHFIELD - So it's unidentified, and it flies, and it's an object - that simply means it's inexplicable, not that it's a UFO filled with little green women.
In the past two weeks, Marshfield-area residents have reported unusual lights and objects in the night sky, some accompanied by what looked like fighter jets.
On the night of Sept. 23, Eric Dickmann sat at a bonfire with friends and family at his home in the town of Day. Three lights in a triangle burned bright in the sky for about four seconds and then they disappeared, he said last week.
Ten minutes later, the bright lights reappeared and moved the same way, Dickmann said. He said that what the eight people at the bonfire saw that night was the same as what his son saw the Thursday before, while driving south from Spencer. That sighting was accompanied by what looked like a fighter jet, he said.
Dan Young of the town of Cary, chief photographer at the Marshfield News-Herald, said Thursday that he had seen similar lights on several occasions, as recently as Tuesday. The lights moved close together, then went away, he said.
"Tuesday night, the white lights came close together, and I could see aircraft lights, kind of like warning lights," he said. "I thought this was probably something that most likely could be easily explained after the second time. It looked like, my guess is, helicopters that came together in the sky and went their separate ways."
About 95 percent of all Americans have heard or read something about unidentified flying objects, and 57 percent believe alien craft are real, according to a Central Intelligence Agency report in 1997.
Former President Jimmy Carter and the late President Ronald Reagan said they had seen UFOs, according to the CIA.
But the lights in the night sky in the Marshfield area are most likely military aircraft on regular training missions, said Sgt. Katie Dahlke, an airfield manager at Volk Field.
The direction Dickmann and Young were looking when they saw lights in the sky are consistent with two military operations areas, Falls 2 MOA and Volk West MOA.
"Throughout the month we've had various aircraft in various training," she said. "We have had night flying going on with F-16s. It's happened a lot in the month of September."
During these missions, six F-16s are flying, which could explain the three aircraft in formation area residents have reported, she said. Other craft have included cargo planes, C-130s, and helicopters, UH-60s.
Though some area residents have reported seeing something the size of a hospital in the sky, Dahlke said they were probably seeing formations of aircraft. Even the C-130 cargo plane is "certainly not as big as a hospital," she said.
She said nothing out of the ordinary had been sighted in the night sky by the highly trained aviators. Nothing unusual was spotted on radar in the last month, but she added that it has been a time of heavy military flight training.
A SPACE scientist claims to have come across an unidentified flying object (UFO) during a scientific expedition in Himachal Pradesh.
Dr Anil V. Kulkarni of ISRO's Space Application Centre saw the object on the morning of September 27 while leading the expedition in the Samudra Tapu glacier region near Chandratal, about 14,000 feet above sea level. Other members of the team also witnessed the unusual object.
The sighting has been reported to authorities in Kullu-Manali and New Delhi and the Ahmedabad space centre is analysing the photographs.
While Kulkarni says it was unlikely that the object was a weather balloon (though it looked like one), a member of his team felt the 'UFO' could be an espionage device.
"We saw a bright white object moving towards our camp at about 7 am. It moved down the hilltop, towards the bottom. Eight persons from our party moved towards it but the object kept moving towards us. Then some porters made a noise and it started retreating in the same direction without turning around. After a while it turned and started to move towards the hilltop," said Kulkarni on his return from Manali.
He said: "The background was rocky, so we could see the white object very clearly. It was about 3 to 4 feet tall and balloons were attached to its head. One was red and the rest were white. It had what looked like two legs and looked as if it was floating a few inches above the ground."
Since it was early morning, there was mountain shadow in the region. "The moment, it came in contact with solar radiation, its colour changed to black. Then it took off vertically, and moved along the ridge for about 3-4 minutes in the southern direction. Soon, after, it its colour changed back to white and it moved towards our camp. It remained stationary overhead for 3-4 minutes and moved towards the northerly direction and disappeared," the scientist said.
Kulkarni rules out the possibility of the object being an experimental balloon. "The object moved in a slanting direction without touching the hill. It retreated the same way. It also changed colour and was moving in a direction different to that of the prevailing wind. All this suggests that the object could not have been a weather balloon."
An unidentified flying object (UFO) or a divine sign were just two of the explanations residents of South Trinidad were last night speculating on after a mysterious red beam of light appeared in the sky.
The vertical red line, according to some eye-witnesses, was noticed shortly after nightfall. Residents in Barrackpore and Penal reported the sighting to the Express newsroom. One caller from Scotts Road, Penal, was concerned that "something red was falling from the sky".
Other reports suggested that the "light" appeared to be suspended and remained at a particular point, although it seemed to be wavering in intensity at times.
As word of the "light" spread many residents came out of their homes to stare up into the cloudy night sky hoping to see it.
The image disappeared shortly after 7 p.m.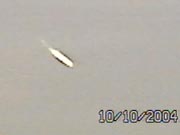 Fort Wayne - A resident here got out his video camera and caught an object moving through the sky at a high rate of speed on Sunday.

Brandon McBroom used the family videocam to tape a strange looking object in the Sunday sky. He pulled over in the Croninger Elementary parking lot and pointed the camera north-northwest.

WANE-TV took the tape around town Monday to the experts. "That's not a meteor. It's too slow," said Roger Sugden, Assistant State Director with Mutual UFO Network. "High altitude aircraft. If you've seen them at sunset, they're pretty far away. You'll see a white line that's moving real slow, that's the contrail and in front is the aircraft."

But Christopher Crow, Assistant Professor of Geosciences at IPFW, thinks this is a meteor. "Whatever that is, it's coming down at a very fast speed giving off flames." "My first inclination is it's not a meteor."

Chris Highland is from the Fort Wayne Astronomical Society. His opinion is different from the other two. "I'm more inclined to think it's space junk, like an empty booster or a fuel tank," said Highland.
We at the National Institute for Discovery Science have come to a time in which a decision must be made as to the direction of the Institute. We have labored long and hard, coming to the conclusion to place NIDS in an inactive status.

The reasons for this decision are as follows:

1. We have not had the need to do any major investigative work for well over 2 ½ years.

2. In view of that fact we decided to reduce our staff.

3. Our administrator, Colm Kelleher, has taken a position outside of Nevada to do cancer research. Colm's ambition has always been to do cancer research and was employed in this field prior to his employment with NIDS. We are sorry to see him leave.

It is unfortunate that there isn't more activity, as there was in the past, that warrants investigation. However, we will still retain our Secretary/Receptionist who will remain at NIDS to answer your calls. Her name is Mary Allman and can be reached at (702) 798-1700. She will be talking daily to Mr. Bigelow's assistants Janice and Donna.

Should substantial activity occur with a need for investigation then NIDS will be reactivated with new personnel.
They have become legendary in UFO circles. Huge, silent-running "Flying Triangles" have been seen by ground observers creeping through the sky low and slow near cities and quietly cruising over highways.
The National Institute for Discovery Science (NIDS), has catalogued the Triangle sightings, sifting through and combining databases to take a hard look at the mystery craft. Based in Las Vegas, Nevada, NIDS is a privately funded science institute with a strong research focusing on aerial phenomena. The results of their study have just been released and lead to some unnerving, still puzzling conclusions.
The study points out: "The United States is currently experiencing a wave of Flying Triangle sightings that may have intensified in the 1990s, especially towards the latter part of the 1990s. The wave continues. The Flying Triangles are being openly deployed over and near population centers, including in the vicinity of major Interstate Highways."
Covert operations?
A key NIDS conclusion is that the actions of these triangular craft do not conform to previous patterns of covert deployment of unacknowledged aircraft. Furthermore, "neither the agenda nor the origin of the Flying Triangles are currently known."
The years 1990-2004 have seen an intense wave of Flying Triangle aircraft, the study observes. Sifting through reports by hundreds of eyewitnesses, the NIDS assessment states that the behavior of the vehicles "does not appear consistent with the covert deployment of an advanced DoD [U.S. Department of the Defense] aircraft."

Rather, it is consistent with (a) the routine and open deployment of an unacknowledged advanced DoD aircraft or (b) the routine and open deployment of an aircraft owned and operated by non-DoD personnel, suggests the NIDS study.
"The implications of the latter possibility are disturbing, especially during the post 9/11 era when the United States airspace is extremely heavily guarded and monitored," the NIDS study explains. "In support of option (a), there is much greater need for surveillance in the United States in the post 9/11 era and it is certainly conceivable that deployment of low altitude surveillance platforms is routine and open."
Open, even brazen
According to Colm Kelleher, NIDS Administrator, the newly completed quasi "meta-analysis" of Flying Triangles melds three major U.S. databases: NIDS, the Mutual UFO Network (MUFON) and data collected by independent researcher, Larry Hatch, the creator and owner of one of the largest and most comprehensive UFO databases in the world.
Kelleher said, the analysis indicates that deployment of Flying Triangles is open, not covert, and involves low-flying, brightly lit aircraft routinely deployed over populated areas including cities and Interstate highways.
"However, I cannot say whether these are U.S. Air Force aircraft. We simply don't know," Kelleher told SPACE.com . "But it does not appear to be consistent with the covert patterns of deployment we saw with the F-117 and B-2 prior to their acknowledgement. This is open, even brazen," he stated.
Stealth aircraft
For example, a perfunctory look at the how past DoD stealth aircraft programs were kept from public eye -- although eventually came to light -- is different from the patterns for the Flying Triangles.
Prior to acknowledgement of the F-117 and B-2 aircraft, only rare night time sightings occurred in the sparsely populated sections of Nevada, California and a few other states. Flying at low altitude over populated areas was rarely reported for the F-117 or B-2.
"In contrast, the Flying Triangle deployment, especially during the 1990s, appears more consistent with the open and public operation of these aircraft," the study explains. The trend of open deployment of the Flying Triangles is not consistent with secret operation of an advanced DoD aircraft.
No attempt to hide
The database-driven study of the Flying Triangle shows the following patterns:
-- Sightings take place near cities and on Interstate highways
-- They are seen at low altitude in plain sight of eyewitnesses
-- They fly at extremely low speed or hover in plain sight of eyewitnesses
-- The vehicles sometime fly with easily noticeable bright lights -- either blinding white lights, or have "bright disco lights" that usually flash combinations of red, green or blue.
The NIDS study emphasizes that the flying of these vehicles may be more in harmony with an attempt to display or to be noticed. There appears to be little or no attempt to hide. That finding has led to a modification of an earlier NIDS hypothesis that the Triangles are covertly deployed DoD aircraft.
While it is too early to dismiss the previously published NIDS correlation between Triangle sightings and a subset of U.S. Air Force Bases, the apparent association with centers of population may point away from a covert program. "Rather, it is consistent with routine and open deployment of an advanced aircraft," the NIDS study concludes.

Clustered on both coasts
During the ensuing years (2000-2004), NIDS received hundreds of reports from people in the United States and Canada reporting large triangular aircraft, often silent and often flying at very low altitude and at low air speed. In many cases, the objects were brightly lit. NIDS files also include reports of Flying Triangles from remote areas.
In mid 2004, NIDS reviewed its database that contains the locations of the Triangle sightings in the United States. The sightings of Triangles appear primarily adjacent to population centers and along Interstate Highways, with sightings clustered on both coasts.
NIDS has amassed almost 400 separate sightings of triangular/boomerang/wedge-shaped objects. Many of these craft are brightly lit, low flying, and traveling at unexpectedly low air speeds.
In earlier reports, NIDS outlined a tentative correlation between reported sightings of Triangles and the locations of Air Mobility Command and Air Force Materiel Command bases in the United States.
Like a Star Trek "uncloaking"
According to ground observers, the features of a Black Triangle are indeed impressive.
For example, the NIDS study includes the observation of a Port Washington Wisconsin person who encountered a large object that flew over her home at 500 feet altitude in October 1998. Her eyeing of the clear starry night was interrupted as the craft came into her field of view.
"Suddenly this monstrosity came out of the 'blue', just like a Star Trek 'uncloaking', no kidding…so quiet I couldn't believe it and so huge…no more than 500 feet or so up, and big enough to take up my field of sky vision," she reported.
Crude mathematics, the witness recounted, would make the vessel about 200 feet wide and 250 feet long.
Two camps
In wrapping up its look at the burgeoning number of Flying Triangle sightings in the United States, NIDS also took into account the work of writers and researchers delving into the topic both in the United States and abroad.
Those analyses fall into two camps: The Triangles are human-made, while the other says they are not.
"In 2004 it is extremely difficult to distinguish between these two possibilities since the former option overlaps heavily with legitimate national security concerns, while in the absence of much more physical evidence, the latter option is not testable," the NIDS assessment concludes.
EDMONTON -- The two men didn't want their names used for fear of ridicule, but they had a story to tell.
It haunts their dreams and has forever changed the way they look into the night sky, said the men, who came, as did about two dozen others, to the first conference of the Alberta UFO Study Group on Saturday afternoon.
Around 2 a.m. on April 29, 1997, the two men were driving between Valleyview and Grande Prairie when a bright red light approached them from above, one of the men recalled.
The wind around them picked up, they fell unconscious, and awoke in a space ship, he said. "I remember I was fighting them and I kicked one between the legs, but they didn't have no testicles," one of the men said.
He said he looked at his friend, who had some sort of golden apparatus in his mouth.
"Then they probed me," he said, with tears beginning to well in his eyes.
"I remember it as clear as yesterday."
He said he blacked out and when he regained consciousness he was back in his car, speeding down the same highway in the wrong direction. It took them more than six hours to make a 45-minute trip.
Physically, the former bull rider said he felt as sore as if he'd competed in a rodeo the night before.
"I was quiet for two or three weeks, then I started to remember it," he said. "I still have dreams."
The men came to the rented room at University of Alberta Conference Centre, as others did, with an intense or personal interest in unexplained phenomena. They gathered to share experiences, philosophies, conspiracy theories, even skepticism, at the day-long event organized by Jim Moroney, a health and safety inspector with his own life-changing story to tell.
The executive director of the Alberta Municipal Health and Safety Association says he was driving from Edmonton to Ontario several years ago when he stopped his car near Winnipeg.
Moroney discounts theories that he might have temporarily fallen asleep on his feet. He maintains he was completely awake and standing next to his car to get some fresh air when a UFO appeared -- a big bright object that hovered above him for six or seven seconds before disappearing.
"It was probably about 20 feet above me," he said. " I still get shaky talking about it, but the air underneath it was dead."
He's uncomfortable recounting the story in public. "It would be silly to say that I wouldn't be nervous some people would be prejudiced against me because of my ideas on these phenomena," he said.
But like others at the conference, he believes there needs to be serious study into unexplained stories shared by so many people around the globe.
"We have to invite skepticism into this because it is only through challenging this through scientific means and really being honest about these challenges, that we'll filter out a body of evidence that is irrefutable one way or the other."
Former pilot Ken Burgess, who investigates UFO sightings for the group, isn't about to speculate about the strange object he saw above a plane he was flying. He's angered by tales of little green men, because they damage serious inquiry into the subject. But he knows he saw what he saw.
He has talked to people who have reported all kinds of objects in Alberta's skies. Some sightings have been as recent as last month -- giant flying black triangles above St. Albert.
"I just take the information and try to track it down," he said. "Did they pick it up on radar or did anyone else see it?"
The conference also heard from Fern Belzil, one of the world's top authorities in cattle mutilation. In the past eight years, the 80-year-old rancher from St. Paul has investigated more than 100 cases, the last ones just a few weeks ago.
Since the mad-cow crisis, farmers have generally kept quiet when their cattle or other animals are found with lips, tongues, udders, genitals, noses, eyes and rectums removed with surgical precision.
Showing slide after slide of mutilations, he insists he can instantly see differences between inexplainable injuries and those caused by predators or maggots.
Belzil is not certain what is happening to the animals.
"A lot of arrows point towards aliens," he said. "But we have no proof."
PORTSMOUTH, N.H. (AP) Betty Hill, who with her late husband claimed to have been abducted by UFO extraterrestrials in New Hampshire's White Mountains, has died at age 85.
She died at home Sunday after a battle with lung cancer.
Betty and Barney Hill claimed that on a return trip from Canada they were abducted for two hours on Sept. 19, 1961.
They gained international notoriety, traveled across the country and made numerous television and radio appearances telling their story, which was retold in the book ''Interrupted Journey'' and a television movie.
After returning home from their trip, the Hills were puzzled by Betty's torn and stained dress, Barney's scuffed shoes, shiny spots on their car, stopped watches, a broken binocular strap and no memory of two hours of the drive.
Under hypnosis three years later, they recounted being kidnapped and examined by aliens.
She retired from lecturing about UFOs in her 70s and complained that the quest for knowledge about extraterrestrials had become tainted with commercialism.
''I'm retiring because of my age, my disappointment in the way the UFO field is headed, and I want a little more leisure time for myself,'' she declared. ''I'm tired of traveling.''
Too many people with ''flaky ideas, fantasies and imaginations'' were making UFO and abduction reports, she said.
''If you were to believe the numbers of people who are claiming this, it would figure out to 3,000 to 5,000 abductions in the United States alone every night,'' she said. ''There wouldn't be room for planes to fly.''
She said she believed people who said they saw a crashed spaceship with five dead aliens aboard in Roswell, N.M., in 1947. But she said the annual UFO festival in Roswell had become too much for her.
''In the beginning, people were looking for information,'' she said. ''Now, it certainly has turned commercial.''
She also said media had fueled UFO fiction.
''The media presented them as huge craft, all brightly lighted and flashing, but they are not,'' she said. ''They are small, with dim lights, and many times they fly with no lights.''
Hill had gone a bit commercial herself, trying to fight UFO fantasies with a 1995 self-published book, ''A Common Sense Approach to UFOs.''
Tired of being rebuffed by the government, Hill had said in an interview that she and others serious about their sightings were united in a ''silent network.''
''We discuss our findings only with each other. We have no membership lists, no dues, no publications. We are unknown to the media, UFO organizations and the general public. And we are learning,'' she wrote.
Hill had been a state social worker specializing in adoptions and training foster parents.
She also was an active member of the National Association for the Advancement of Colored People and a founding member of Rockingham County Community Action.
Hill is survived by a daughter, a son and niece.
A funeral will be held at 10 a.m. Thursday at Brewitt Funeral Home in Exeter. Burial will be private. Visiting hours will be from 2 p.m. to 4 p.m. and 6 p.m. to 8 p.m. Wednesday.
UFOs seem to favour a 3-km-wide strip running along the high-voltage power lines

UFO enthusiasts call it the Surrey corridor -- a three-kilometre-wide strip of land that runs from New Westminster to the U.S. border, along BC Hydro's high-voltage power lines.
It is here, they say, where you will find the greatest concentration of UFO sightings and alien encounters in the province.
"I have received numerous reports from inside this area, not only of sightings, but abduction events," said Graham Conway, vice-president of UFO*BC, who said anywhere from one-quarter to one-third of all Unidentified Flying Object sightings in the Lower Mainland take place in the corridor.
Last year alone, there were 304 UFO sightings in B.C., according to Chris Rutkowski, a UFO researcher in Manitoba who collects numbers from provincial groups like UFO*BC.
That made B.C. the number one province for UFO sightings in the country, with more than twice the sightings of second-place Ontario, which had 150. It was B.C.'s fifth year in top spot.
And UFO*BC is doing its best to keep track of it all.
The nine-year-old organization posts detailed reports on sightings and abductions on its website, sends out a quarterly newsletter to its 60 members and even maintains a toll-free hotline where B.C. residents can report UFO sightings and alien encounters. [...]
Country side village residents near Boalput in West Bengal are reporting strange activities in the sky surrounding the Nobel Laureate Rabindranath Tagore's heaven of cultire and arts - the Vishwabharati University in Shantiniketan!
According to poor villagers, these are "Gods" from heavens who really like to understand world's most spophisticated and advanced culture of arts and litterature. UFO sighting, presence of alliens in the area is being reported. According to sources, the University is tight lipped about anything. However, it seems something is going on there specially in the India-China cultural center.
According to some, the aliens are trying to understand creativity and excellence in arts and litteratire. The UFO sightings in India specially in the Hamalayas has increased very heavily in recent days.
UFO presence around Shantiniketan is not new. But the number of UFOs now are so high that villagers are experiencing them every day. Young children are reporting seeing aliens. [...]
BOISE - UFOs are showing a keen interest in our nuclear weapons facilities, says investigator Robert Hastings, who has spent countless hours analyzing documents dealing with UFO sightings at nuclear missile launch sites and research labs in the United States over the past several decades.
"You have reference to these objects hovering, racing away at blinding speed," he told Idaho 2 News. "There is no evidence we have an aircraft that can do that or anyone else on earth."
Hastings, who has devoted countless hours researching UFOs and the U.S. government's reaction to them, was in Boise for a lecture and slide show Monday at Boise State University.
Hastings believes we are being visited by aliens who have mastered a faster than light form of space flight. And he speculates they have not openly revealed themselves to avoid public panic.
"What they're doing is engaging in a decades long psychological preparation process whereby slowly but surely people on earth understand this is real, they're here," he said.
Hastings believes three UFOs with aliens on board did crash at Roswell, New Mexico in 1947 and points to a 1950 memo to FBI Director J Edgar Hoover saying three so-called flying saucers had been recovered "each one occupied by three bodies of human shape but only 3 feet tall "
And he says the spectacular UFO sighting earlier this year off the Yucatan Peninsula were the real deal. But Hastings is not a believer in the theory aliens and earthlings are working together at Area 51, the top secret base in the Nevada desert, as some suggest.
In the end, Hastings says what's missing -- so far -- is physical evidence, but he says the story is far from over.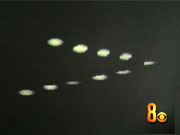 (Nov. 18) -- Eyewitnesses all over the country are reporting glimpses of something large, dark and mysterious in the skies above big cities and busy highways. The crafts are often described as triangular in shape, silent in their movements, and of unknown origin, and they've been seen here in southern Nevada. It looks like these mystery craft might be a secret military project, but if so, why are they flying around in the open?
"Look at them, there's three or four of them." In 1997, thousands of eyewitnesses watched in awe as a boomerang-shaped formation of lights cruised slowly and silently over the city of Phoenix. "They're lined up in a pattern." Witnesses first thought these were separate lights, flying in formation, but quickly realized the lights were all part of a single, gigantic something.
Military officials were asked about the Phoenix lights but said they hadn't seen anything. Months later, they explained that a National Guard unit had been training with flares near the city. The public didn't buy it.
Eight years earlier, the airspace over Belgium was repeatedly violated by huge unidentified black triangles. Ten thousand witnesses saw them. Several were photographed. The Belgian Air Force dispatched F-126s to intercept and destroy the unknown intruders, but the triangles performed maneuvers that seem virtually impossible.
Dr. Colm Kelleher said, "They launched on several occasions top of the line military aircraft against these things and they were left in the dust. One minute they're overhead, and the next they're over the horizon."
Dr. Kelleher is a research scientist who spent several years with the National Institute for Discovery Science, or NIDS, a private Las Vegas science organization. A four-year NIDS study of the mystery triangles has found that these craft have been seen for decades all over the world.
There were a daylight sightings in Russia in the 70s. In the early 80s, there were hundreds of nighttime sightings in rural New York. Belgium was inundated in the late 80s, but more recently, the mystery triangles have really come out of the closet and have been seen in every state, including Nevada, flying low and slow over cities.
Dr. Kelleher describes, "These things are huge, football field sized. Sometimes they are stealthy; sometimes flying with very bright lights, disco-flashing lights -- red, green, blue, some bright white lights. They're always silent."
NIDS now has a database of more than a 1,000 black triangle reports, 17 of them from Nevada. The witnesses often say the craft seem to float, like a blimp or airship, but they are also capable of aeronautical magic.
"They were able to drop altitude 10,000-20,000 feet in a matter of seconds. They went from a hovering position to several thousand miles an hour, and this was caught on radar," said Dr. Kelleher.
"It was heading straight north. The right edge was over that tree." Las Vegas journalist Cateland White was in the backyard of her southeast Las Vegas home last year when she saw a dark behemoth fly over. She drew a picture and described, "It was triangular shaped with rectangular reflectors. No interior light at all. By the time it got out of sight, it was 5-8 minutes. It was so slow, I couldn't figure out how it was staying in the air."
White called the police, who connected her to Nellis Air Force Base, which is the direction the triangle seemed headed. "The man said, 'I don't want you to talk about this anymore, and you're gonna forget it.' I said, 'Look buddy, I'm not drinking, I'm not on drugs, something is headed for your base.' Then he got real terse and said, 'Mam, I'm gonna tell you one more time and this is the last time I'm gonna tell you. Forget what you saw and don't tell anybody.' At that point, I was freaked," described White.
The frequent proximity of triangle sightings to air force bases led NIDS to conclude two years ago that the craft must be part of a secret military project. But in the two years since, the triangles have become so prevalent over big cities and interstate highways that the theory doesn't fit anymore.
Dr. Kelleher said, "Why would unacknowledged aircraft be flying at 500 feet over populated areas? If you look at the B-2 and F-117, prior to them being acknowledged, there was no flying over populated areas. They flew in the desert. They flew at high altitudes."
GIROUXVILLE - A loud humming noise breaks the silence of night, causing Ron Cloutier's dogs to bark crazily, and announces the arrival of Unidentified Flying Objects in the Girouxville skyline.
The skin-tingling X-Files-like scene has haunted Cloutier over the last five months, as he is awakened to watch strange lights and shapes cutting through the darkness above his home.
The appearance of the unexplained objects has deeply shaken the 41-year-old oilfield trucker.
"It's really disturbing to witness something like this and not know what it is," he said. "It's bothering enough to see this once, but it happens all the time now... and it gives me the creeps."
In hopes of having the objects identified, Cloutier has been carefully recording their appearance with precise times and dates through film, photos and his notebook since they began appearing in mid-July. Thus far he has received no answers as to what they may be.
The longtime UFO nonbeliever says he has seen up to four objects in the sky at one time, appearing from the north, and moving eastward until they all disappear.
Approximately 150 kilometres southwest of Cloutier's home, Grande Prairie resident Beverly Kettner admits she too has witnessed a UFO-like object move erratically through the night's sky on at least three occasions.
"Over the last couple of months I've watched what first looked to be a star dart across the sky and stop dead in its tracks, start up again, then stop and then finally disappear," said Kettner.
"It wasn't a plane, satellite or shooting star... it didn't appear to be anything from this world."
Especially unsettling for Kettner is that her four-year old daughter has recently discussed late-night conversations with alien-like people. She says the girl describes the stereotypical short, grey large-headed alien without having ever seen them on television or read about them in storybooks.
The sightings reported by Cloutier and Kettner are part of a record number of Albertans who have reported possible UFO activity in 2004.
UFOlogy Research of Manitoba numbers show Alberta has already broken last year's UFO sighting record of 76 with more than a month left in the year.
Canadian UFO researcher Brian Vike says a growing social acceptance to the unexplained has made Albertans more willing to report potential sightings.
"The acceptance of UFOs into popular culture, increased media attention, and the discovery of new planets in the galaxy have all helped convince people it's OK to come forward with unexplainable sightings," said Vike, who from his home in Houston, B.C., maintains a website tracking Canadian UFO sightings.
Vike points out Albertans have reported seeing triangular, round, square and glowing flying objects, an unusual beam of light enveloping an unidentified figure and claims of missing and stopped time so far this year. Those reports come from nearly every section of the province including metropolitan Edmonton and Calgary.
Former High Prairie resident and UFOlogist Rick MacDonald points to a 2001 poll by Leger Marketing suggesting 40.7 per cent of Alberta residents believe in aliens - the highest of any province - as an example that Albertans are starting to believe.
"More people then ever before are looking at the existence of UFOs and aliens as a real possibility," said MacDonald, whose Disclosure Project group claims Canadian and American governments already know of alien existence.
"After watching UFO sightings on TV and reading sighting reports from hundreds of Albertans on the Internet, disbelief is dwindling."
The increased sightings and growing acceptance of UFOs are both positive steps towards finally unveiling proof of extraterrestrial life, says Alberta UFO Study Group member Jim Moroney.
"There is now enough solid evidence from reputable people in Alberta and across the globe to support the idea we are being visited," said Moroney, who spent the last 18 years investigating Alberta UFO sightings.
"It is now just a matter of time now before we'll be able to prove the existence of UFOs."
Readers who wish to know more about who we are and what we do may visit our portal site Cassiopaea.org
---
Remember, we need your help to collect information on what is going on in your part of the world!
We also need help to keep the Signs of the Times online.
---
Send your comments and article suggestions to us

---
Fair Use Policy
Contact Webmaster at signs-of-the-times.org
Cassiopaean materials Copyright ©1994-2014 Arkadiusz Jadczyk and Laura Knight-Jadczyk. All rights reserved. "Cassiopaea, Cassiopaean, Cassiopaeans," is a registered trademark of Arkadiusz Jadczyk and Laura Knight-Jadczyk.
Letters addressed to Cassiopaea, Quantum Future School, Ark or Laura, become the property of Arkadiusz Jadczyk and Laura Knight-Jadczyk
Republication and re-dissemination of our copyrighted material in any manner is expressly prohibited without prior written consent.
.