---
New Article: Jupiter, Nostradamus, Edgar Cayce, and the Return of the Mongols - Laura Knight-Jadczyk
Part 1, Part 2, Part 3, Part 4, Part 5, Part 6, Part 7, Part 8, Part 9, Part 10, Part 11, Part 12
Picture of the Day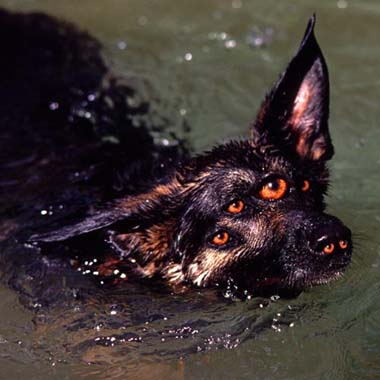 Fidji
©2004 Pierre-Paul Feyte
On the March 29, 2004 Signs page, we reflected on the idea that true knowledge is never given; it is earned through DOing and sacrificing the lies and illusions that make up what we initially consider to be our "lives". It is natural for the mechanical person to wonder what returns their investment in the truth will generate. Since we are used to promises of salvation and taking the "easy road" so to speak, we want to know beforehand if our sacrifices - if rearranging our outer lives - will be worth it.
To think in this manner is to relinquish control of our being to one of the little "I's" that are generally at the helm in the average individual. We have remarked before that the path to the truth is unique to each person. It appears that there exists a general "template" of the steps that are taken in one's search for objective reality, but if we are to embrace the idea of the creative principle, there can be no one true path that offers salvation to anyone and everyone. As such, we cannot provide all the answers to anyone else, and they cannot provide us with all the answers. Although the first steps on the path must be taken by the individual, it seems that further growth involves a network of open exchange.
In thinking about taking those first steps of work on the self, we tend not to realize that our desire for foreknowledge is ridiculous given our mechanical, reactionary mode of being. We demand all of life, and yet give nothing in return. We cannot even be honest with ourselves, choosing instead to buy into the propaganda dispersed by psychopathic politicians and media outlets. It is too painful to deal with what our country is doing in the world, so we convince ourselves that we are living in a dream world, where our country can do no wrong. Every other person and country in the world is then judged through our rose-colored glasses.
To want foreknowledge of what results our actions might produce is to desire to control the future - yet we can't even bring ourselves to See the present. We never stop to consider that if we don't have all the facts, we are living a lie. Furthermore, if we are living a lie now, any planning or control of the future is also based on any number of falsehoods. Nowhere in the world is this more evident today than in America.
In fact, the very name that US citizens give themselves is a lie. An American is someone from anywhere in the Americas, be they Canadian, Mexican, Chilean, or Brazilian. Yet citizens of the US usurp the name for themselves. Small, perhaps, but telling nonetheless.
It is most interesting that the American Dream also consists of forgetting the past. One must integrate completely into American culture, accepting the American version of history. In the political realm, it is quite obvious that America has a very poor short-term memory. One might say that America has no short term memory - the past is unimportant. Yesterday Donald Rumsfeld met with Saddam Hussein and helped provide him with chemical weapons; today Saddam is a cruel dictator being interrogated by the CIA and awaiting "trial" for hideous crimes. If the past was remembered and considered, would America find itself in the soup once again today?
It seems that this might be a clue as to the path one could take in the search for truth. If the mechanical person says "Ignore the past!", perhaps the awakening person should very carefully reconsider the past, and from a much broader perspective.
"Life is religion. Life experiences reflect how one interacts with God. Those who are asleep are those of little faith in terms of their interaction with the creation. Some people think that the world exists for them to overcome or ignore or shut out. For those individuals, the worlds will cease. They will become exactly what they give to life. They will become merely a dream in the 'past.' People who pay strict attention to objective reality right and left, become the reality of the 'Future.'"
If we cannot understand the past and objectively observe the present, how can we possibly become the reality of the 'Future'?
It seems that first, we must learn to See ourselves and all the programs we run. This will allow for a certain degree of objectivity that can open our eyes enough that we can more objectively see the past. In reconsidering past events, we are given more insight into the reality of today. Once the past and present are brought into sharper focus, we will finally be able to choose a path that is more in line with the creative aspect of reality. We will be able to steer our ships and avoid the Siren's song.
Perhaps then we will truly be able to commit to Doing with that certain degree of faith of which Goethe speaks:
"Until one is committed, there is hesitancy, the chance to draw back - Concerning all acts of initiative (and creation), there is one elementary truth that ignorance of which kills countless ideas and splendid plans: that the moment one definitely commits oneself, then Providence moves too. All sorts of things occur to help one that would never otherwise have occurred. A whole stream of events issues from the decision, raising in one's favor all manner of unforeseen incidents and meetings and material assistance, which no man could have dreamed would have come his way. Whatever you can do, or dream you can do, begin it. Boldness has genius, power, and magic in it. Begin it now."
Click here to comment on this commentary
Angry residents mutilate attack victims in hotspot Iraqi town

March 31, 2004
FALLUJAH, Iraq (AFP) - Angry residents armed with shovels mutilated the charred bodies of two people, believed to be foreigners, caught in an insurgents' attack and warned the rebel Iraqi town would be the "cemetery" of US occupation forces.
Dozens of residents holding shovels threw themselves on the charred bodies lying next to two four-wheel-drive vehicles attacked by insurgents in central Fallujah, west of Baghdad, said an AFP photographer on the scene.
The residents struck the bodies, cutting off parts, while shouting "long live Islam."
Moments earlier, young men stoned the vehicles which had been in flames following the attack with small arms fire by assailants who fled the scene.
One of the bodies was seen ablaze inside one of the cars before residents extracted it from the vehicle to lay it on the ground and attack it with the shovels.
"Fallujah will be the cemetery of the Americans," shouted a man, hiding his face with a scarf. [...]
Comment: Yes sir, Iraq has been liberated! America is the savior of the oppressed, a shining example of peace and freedom...
Click here to comment on this commentary
Revving the engines of World War III
In the wake of September 11, the so-called "war on terrorism" is also being used by the Bush administration to redefine the assumptions underlying the use of nuclear weapons. The concept of "nuclear deterrence" has been scrapped. According to John Isaacs, President of Council for a Livable World: "They're trying desperately to find new uses for nuclear weapons...."
The new approach became evident when the Los Angeles Times published portions of the 2002 Nuclear Posture Review (NPR). The leaked report states that nuclear weapons "could be used in three types of situations: against targets able to withstand non-nuclear attack; in retaliation for attack with nuclear, biological or chemical weapons..." or "...in the event of surprising military developments."
In this top-secret domain, there has always been an inconsistency between America's diplomatic objectives of reducing nuclear arsenals and preventing the proliferation of weapons of mass destruction, on the one hand, and the military imperative to prepare for the unthinkable, on the other.
Nevertheless, the Bush administration plan reverses an almost two-decade-long trend of relegating nuclear weapons to the category of weapons of last resort. It also redefines nuclear requirements in hurried post-9/11 terms.
While identifying a number of so-called "rogue states," the not-so-hidden agenda of the Bush administration is to deploy and use nuclear weapons against Russia and China in the context of America's expansionary policy in Central Asia, the Middle East and the Far East.
The report says the Pentagon should be prepared to use nuclear weapons in an Arab-Israeli conflict, in a war between China and Taiwan, or in an attack from North Korea on the south. They might also become necessary in an attack by Iraq on Israel or another neighbor. The report says Russia is no longer officially an "enemy." Yet it acknowledges that the huge Russian arsenal, which includes about 6,000 deployed warheads and perhaps 10,000 smaller "theater" nuclear weapons, remains of concern. Pentagon officials have said publicly that they were studying the need to develop theater nuclear weapons, designed for use against specific targets on a battlefield, but had not committed themselves to that course. [...]
ENCIRCLING CHINA
In the wake of the 1999 war in Yugoslavia the Clinton administration boosted its military support to Taiwan against China, leading to a significant military buildup in the Taiwan Straits. Taiwan's Air Force had previously been equipped with some 150 F-16A fighter planes from Lockheed Martin. In this regard, the Clinton administration had argued that military aid to Taiwan was required to maintain "a military balance with the People's Republic of China" as part of Washington's so-called policy of "peace through deterrence."
U.S.-built Aegis destroyers equipped with state-of-the-art surfaces-to-air missiles, ship-to-ship missile, and Tomahawk cruise missiles were delivered to Taiwan to boost its naval capabilities in the Taiwan Straits. Beijing responded to this military buildup by taking delivery in 2000 of its first Russian-built guided missile destroyer, the Hangzhou, equipped with SS-N-22 Sunburn antiship missiles, "capable of penetrating the state-of-the-art defenses of a U.S. or Japanese naval battle group."
Military assumptions have been radically changed since September 11. The Bush administration has scrapped the "peace through deterrence" doctrine. The post-9/11 military buildup in the Taiwan Straits is an integral part of Washington's overall military planning, which now consists of deploying "on several fronts."
Supported by the Bush administration, Taiwan has been "conducting active research aimed at developing a tactical ballistic missile capable of hitting targets in mainland China...The alleged purpose of these missiles is to degrade the PLA's (People's Liberation Army) strike capability, including missile infrastructure and non-missile infrastructure (airfields, harbors, missile sites, etc.)." In turn, U.S. military presence in Pakistan and Afghanistan (and in several former Soviet republics) on China's western border, are being coordinated with Taiwan's naval deployment in the South China Sea.
China has been encircled: The U.S. military is present in the South China Sea and the Taiwan Straits, in the Korean Peninsula and the Sea of Japan as well as in the heartland of Central Asia and on the western border of China's Xinjiang-Ulgur autonomous region. So-called "temporary" U.S. military bases have been set up in Uzbekistan (which is a member of the GUUAM agreement with NATO), in Tajikistan and the Kyrgyz Republic, where airfields and military airport facilities have been made available to the U.S. Air Force.
The 2002 NPR states the Bush administration's willingness to use nuclear weapons against China if there were a confrontation in the Taiwan Straits. China, because of its nuclear forces and "developing strategic objectives," is listed as "a country that could be involved in an immediate or potential contingency." Specifically, the NPR lists a military confrontation over the status of Taiwan as one of the scenarios that could lead Washington to use nuclear weapons.
THE ANGLO-AMERICAN AXIS
The 1999 war in Yugoslavia contributed to reinforcing strategic, military and intelligence ties between Washington and London. After the war in Yugoslavia, U.S. Defense Secretary William Cohen, and his British counterpart, Geoff Hoon, signed a "Declaration of Principles for Defense Equipment and Industrial Cooperation" so as to "improve cooperation in procuring arms and protecting technology secrets" while at the same time "easing the way for more joint military ventures and possible defense industry mergers.
Washington's objective was to encourage the formation of a "Trans-Atlantic" bridge across which DoD [U.S. Department of Defense] can take its globalization policy to Europe...Our aim is to improve interoperability and was fighting effectiveness via closer industrial linkages between U.S. and allied companies." (The agreement was signed, according to a Pentagon official, shortly after the creation of British Aerospace Systems (BAES) which resulted from the merger of BAe with GEC Marconi. British Aerospace (BAe) was already firmly allied to America's largest defense contractors Lockheed Martin and Boeing.
The hidden agenda behind the Anglo-American "Trans-Atlantic bridge" is to eventually displace the Franco-German military conglomerates and ensure the dominance of the U.S. military industrial complex (in alliance with Britain's major defense contractors).
Moreover, this integration in the area of defense production has also been matched by increased cooperation between the CIA and Britain's MI-5 in the sphere of intelligence and covert operations, not to mention the joint operations of British and U.S. Special Forces.
The British military-industrial complex has become increasingly integrated into that of the U.S. In turn, significant rifts emerged between Washington and Bonn. Franco-German integration in aerospace and defense production is ultimately directed against U.S. dominance in the weapons market. The latter hinges upon the partnership between America's Big Five and Britain's defense industry under the Trans-Atlantic bridge agreement.
Since the early 1990's, the Bonn government had encouraged the consolidation of Germany's military industrial complex dominated by Daimler, Siemens and Krupp. Several important mergers in Germany's defense industry took place in response to the mega-mergers in between aerospace and weapons producers. Already in 1996, Paris and Bonn had set up a joint armaments agency with the mandate "to manage common programs [and] award contracts on behalf of both governments." Both countries had stated that they "did not want Britain to join the agency."
In turn, France and Germany now control Airbus Industrie which is competing against America's Boeing (Britain's BAES owns the remaining 20 percent.) The Germans are also collaborating in the Airane Space satellite-launching program in which Deutsche Aerospace (DASA) is a major shareholder.
In late 1999, in response to the "alliance" of British Aerospace with Lockheed Martin, France's Aerospace-Matra merged with Daimler's DASA forming the largest European defense conglomerate. And the following year, the European Aeronautic defense and Space Co. (EADS) was formed integrating DASA, Matra and Spain's Construcciones Aeronauticas SA.
EADS and its Anglo-American rivals are competing for the procurement of weapons to NATO's new Eastern members. Europe's third largest defense contractor is Thomson, which in recent years has several projects with U.S. weapons producer Raytheon.
EADS still cooperates with BAES in missile production and has business ties with the U.S. "Big Five" including Northrop Grumman. However, the Western defense and aerospace industry tends to be split into two distinct groups: first EADS, dominated by France and Germany, and second, the Anglo-U.S. "Big Six": (Lockheed Martin, Raytheon, General Dynamics, Boeing, Northrop Grumman, and BAES).
Integrated into U.S. Department of Defense procurement under the Atlantic bridge arrangement, BAES was in 2001 the Pentagon's fifth largest defense contractor. Under the Anglo-American "transatlantic bridge, BAES operates freely in the U.S. market through its subsidiary BAE Systems North.
The Franco-German alliance in military production under EADS opens the door for the integration of Germany (which does not officially possess nuclear weapons) into France's nuclear weapons program. In this regard, EADS already produces a wide range of ballistic missiles, including the M51 nuclear-tipped ballistic submarine-launched ICBMs for the French Navy.
EURO vs. DOLLAR
The European common currency system has a direct bearing on these strategic and political divisions. London's decision not to adopt the common European currency is consistent with the integration of British financial and banking interests with those of Wall Street, not to mention the Anglo-American alliance in the oil industry (as in BP-Amoco) and weapons production ("Big Five" plus BAES). The shaky relationship between the British Pound and the Dollar is an integral part of the new Anglo-American axis.
Click here to comment on this article
Weapons hunt shifts to 'intent' in Iraq
By Tabassum Zakaria
Tuesday March 30, 06:27 PM
WASHINGTON (Reuters) - The U.S. search for weapons of mass destruction in Iraq will carry on despite a failure so far to find banned chemical, biological or nuclear arms, the chief arms hunter has told the U.S. Congress.
Charles Duelfer, in remarks prepared for delivery at a closed hearing of the Senate Arms Services Committee, said on Tuesday the mission would expand to try to determine whether former President Saddam Hussein was actively pursuing the development of banned arms.
The new direction reflects the Bush administration's evolving public rationale for the war on Iraq.
Initially, it said an invasion was necessary to find and destroy weapons of mass destruction Iraq possessed and was prepared to use. With no weapons stockpiles uncovered, the White House now says the war was justified by Saddam's alleged intent to build and use such weaponry. [...]
Comment: In general, when a country goes to war, it has some sort of rationale for doing so. If the rationale "evolves", then that means that the original reason for the war was a lie. Apparently, few Americans care. We doubt that they will begin to care when the other shoe drops. It will be far easier to blame those evil dark-skinned terrorists "over there" for crimes for which the slumbering, complicit citizenry themselves are to blame.
Click here to comment on this commentary
Emotional Elder Bush Attacks Son's Critics
Tue Mar 30

SAN ANTONIO, Texas (Reuters) - An emotional former President George H.W. Bush on Tuesday defended his son's Iraq (news - web sites) war and lashed out at White House critics.
It is "deeply offensive and contemptible" to hear "elites and intellectuals on the campaign trail" dismiss progress in Iraq since last year's overthrow of Iraqi leader Saddam Hussein (news - web sites), the elder Bush said in a speech to the National Petrochemical and Refiners Association annual convention.
"There is something ignorant in the way they dismiss the overthrow of a brutal dictator and the sowing of the seeds of basic human freedom in that troubled part of the world," he said.
Comment: Psychopthic liar.
Freed suspect in Madrid train bombings detained again

March 31, 2004
MADRID (AFP) - Spanish police again detained a suspect in the Madrid train bombings, only a day after he was freed by the investigating judge, sources close to the investigation said.
The sources said judge Juan del Olmo had demanded Aughar Fouad El Morabit, a Moroccan, be rearrested for further questioning over the March 11 attacks.
Judicial sources also said police issued the first international arrest warrants against a further five suspects without revealing the names of the people concerned -- though they did say El Morabit was not one of them. [...]
Click here to comment on this commentary
U.S. Fears Militants May Use Diamonds to Move Cash

By Caroline Drees, Security Correspondent
March 31, 2004
WASHINGTON (Reuters) - Terrorists may be using diamonds to launder or move their money secretly across the globe, a senior U.S. Treasury official said Tuesday, but acknowledged he had no clear proof it was happening. [...]
Click here to comment on this commentary
MER - Washington - 3/31/2004

Key people in Washington know very well that without Israel's extraordinary influence in the United States, and without the many entangling interconnections involving Israel at the highest levels of the Bush Administration, the invasion/occupation of Iraq would probably never have happened. And many other important policies and events relating to the Middle East would also likely never have happened as they did in the past, or as they continue to happen today in the present. But very few in Washington are willing to speak up about this most important reality, especially in public, especially with the media present.
So add the following additional pieces to the great coverup now being perpetrated on the American people by the Bush Administration, which of course follows the great deception that has necessitated this subsequent coverup. The key person in charge of the 9/11 investigation on Capitol Hill is actually one of the closet group we call the 'Israeli-connected neocons'. Until last year Philip Zelikow served on Donald Rumsfeld's Foreign Intelligence Advisory Board when chaired by non-other-than Richard Perle. And now we learn that he himself personally acknowledged, at least once in public, that the much-hyped Iraqi threat was to Israel, not really to the U.S.
But then it's not as if insights of this kind have not been available. It's just that the corporate media, itself so interconnected in so many ways with the powers that be, the 'defense industry', and in many cases with the many branches of the Israel/Jewish lobby, always tries extra hard to stay away from this particular topic.
Indeed, just yesterday, MER published a flashback from two years ago this month in which we highlighted that none other than Vice-President Cheney -- at the time seeking more Israeli and Israeli lobby support -- also acknowledged that the invasion and occupation of Iraq was going to be done 'for Israel's sake'.
Now we just can't wait for the new Iraq war commission -- also carefully selected to do more covering up than truth exposing -- is pressed to call on both Mr. Cheney and Mr. Zelikow to raise their hands, pledge to tell the whole truth, and discuss the Israeli connection. Much too soon though to call it Israel-Gate.
Click here to comment on this article
Jewish Settlers Move Into Arab Area
Wednesday March 31, 2004
GAVIN RABINOWITZ
Associated Press Writer
JERUSALEM (AP) - Jewish settlers with assault rifles slung over their shoulders moved into two buildings in a crowded Arab neighborhood of Jerusalem on Wednesday, setting off clashes between Israeli troops and Arab residents.
Palestinians, who claim east Jerusalem as the capital of a future state, said the incident showed Israel was more interested in expanding settlements than in making peace. The settlers said they want to re-establish a Jewish presence in the neighborhood.
Israel says it will never relinquish the sector of the city it captured from Jordan in the 1967 Mideast war. In recent years, hawkish Jewish groups, with the backing of hardline governments and foreign investors, have bought several properties in east Jerusalem to strengthen Israel's hold there.
At daybreak Wednesday, a group of ultra-Orthodox Jews lugged boxes, chairs, tables and potted plants into buildings in the Silwan neighborhood of east Jerusalem. A van packed with sofas and couches arrived, and settlers hauled a water tank onto the roof of one building and set up a generator.
Settlers said eight families are to move into the buildings - a seven-story apartment building and a smaller house - which investors bought for them. The Arab owner of the smaller house said his property was seized unlawfully.
After settlers moved into the two buildings Wednesday morning, clashes erupted in a narrow alley. Palestinian residents began throwing stones from rooftops.
Police and soldiers commandeered three nearby buildings, stationing themselves on rooftops and firing tear gas at the demonstrators. Troops also entered four other Palestinian homes, pulling young men out. Police beat one Palestinian man with a baton and handcuffed six others, dragging them away.
Nine Palestinians were arrested for stone-throwing, and six police officers were hurt, police spokesman Shmulik Ben-Ruby said. At least three Palestinians were seen bleeding.
The settlers said they were members of the Committee for the Renewal of the Yemenite Village in Shiloah - Shiloah is Hebrew for Silwan - and that their aim was to re-establish a Jewish presence in the neighborhood.
Click here to comment on this article
UN 'stopping food aid to Gaza '
Tuesday, 30 March, 2004

Food deliveries to the Gaza Strip will be halted this week because of Israeli restrictions, the United Nations said. Peter Hansen, the UN chief responsible for Palestinian refugees, said his agency was no longer allowed to take empty food containers out of Gaza.
Their loss added "intolerable costs to a programme already stung by underfunding", Mr Hansen complained. [...]
Click here to comment on this article
Jewish settlement removal a 'big lie'
By Khalid Amayreh in the West Bank
Wednesday 31 March 2004, 12:08 Makka Time, 9:08 GMT
Palestinians have dismissed Israeli claims that it dismantled a Jewish settlement near the occupied West Bank city of Hebron as a "big lie".
The Israeli army said on Wednesday it removed an uninhabited settlement near the Jewish outpost of Kiryat Arba next to Hebron.
Under international law, all Jewish settlements are illegal, a stance not recognised by Israel.

Israeli media quoted Jewish settler leaders in Hebron as accusing the army of "destroying a synagogue and targeting Jewish presence in this area."

"This obviously is a big lie," Abd al-Hadi Hantash, a Hebron municipal official and expert on Jewish settlements in the West Bank, told Aljazeera.net.

"It seems to me that (Israeli Prime Minister Ariel) Sharon wants to give an impression that he is dismantling settlements ahead of his planned visit to Washington.

"In fact, we are talking about the removal of a tent and two second-hand mobile homes from a hilltop south of Kiryat Arba. In any case, the settlers will move them back onto the same site tomorrow or after tomorrow after the whole world got the impression that that a settlement had been dismantled."

"It is a cynical public relations game, nothing more than that."
[...] Kiryat Arba mayor Zvi Katzover accused the army of destroying "a synagogue," an apparent reference to the dismantled tent in which the settlers occasionally held their prayer.

"We will do all we can to rebuid the outpost and save the country," he said.
[...] Meanwhile, rampaging Jewish settlers raided and seized a multi-storey Arab building in the Silwan neighborhood of occupied Arab East Jerusalem early on Wednesday, sparking clashes with local Palestinian youths.
Israeli police forces fired rubber bullets and tear gas at the Palestinians.
Comment: In Jerusalem, rampaging Jewish settlers" seize an Arab building, but the Israeli police forces are shooting at the Palestinians... Justice, Sharon style.
Click here to comment on this article
God and the US presidential election
By Benjamin Duncan in Washington, DC
Tuesday 30 March 2004, 17:11 Makka Time, 14:11 GMT
During a 2000 Republican presidential primary debate, then Texas Governor George Bush cited Jesus Christ as his favourite political philosopher.
The 2000 Democratic nominee, then Vice-President Al Gore, told a reporter that he often asked himself: "What would Jesus do?" when making political decisions.
In a recent Gallup poll, 64% of registered voters said their personal religious beliefs would be important in determining their vote for president this year.
While the majority of Americans believe in the separation of church and state, they also believe religion has a significant role to play in presidential elections, according to experts in Washington.
More than 90% of Americans believe in God in one form or another and many equate religious faith with morality and social values, said Clyde Wilcox, a professor of government at Georgetown University.
"A majority of Americans are religious in some way and many take religion as their most important value," Wilcox said.
Core values
Consequently, he said, voters often filter issues and candidates through the prism of their religious beliefs.
[...] Roughly half the nation's religious adherents are Christian Protestants, according to Frank Newport, editor-in-chief of the Gallup Poll. Those who attend church services once a week tend to be conservative voters, polling data shows.
"Highly religious white Protestants are significantly more likely to vote for Bush than any other voters," Newport said.
Comment: Here is a great example of cognitive dissonance. US citizens have a belief in God and relate their religious faith to morality and social values, yet those values have no similarity whatsoever with the values of Christianity, at least as it is preached by the figure of Jesus in the Gospels. Presumably, these people read the gospels, or at least hear them read in church on Sunday, yet the contradiction between their own lives and the teachings they profess to believe is obvious.
Furthermore, they accept that it isn't possible to live according to Jesus's teaching, and they have constructed a completely bogus religiosity to take its place focused on going to church and brainwashing their children. Many of them justify their riches as proof of their good works. If they have money and nice homes, it is because they are among God's chosen!!!
Click here to comment on this article
BUSH REFUSES RESPONSIBILITY FOR 9/11 FAILURES
President Bush has told America many times that he wants to "usher in an era of personal responsibility" (1). Yet instead of following former counterterrorism chief Richard Clarke's lead and admitting some responsibility for overseeing the worst national security failure in American history, the White House has pushed its allies to unleash a vicious attack on Clarke. Instead of apologizing to the families as Clarke did (2), Senate Majority Leader Bill Frist (R-TN) said Clarke's apology "was not his right, his privilege or his responsibility" (3). Meanwhile, a Bush official said Clarke's apology was "bull" (4).
Similarly, the President has told America he wants a "society in which people take responsibility for the decisions they make" (5) instead of "blaming somebody else." Yet the President still refuses to own up to specific decisions he and his Administration made before 9/11 to "de-emphasize terrorism" (6) as a priority, terminate a key program to track Al Qaeda suspects in the United States (7), and "veto a request" (8) to put more money into counterterrorism after the Bush White House tried to slash the FBI's counterterrorism budget.
The Administration also refused to take responsibility for rejecting January 2001 recommendations (9) from the U.S. Government's bipartisan Commission on National Security (10) and instead waited five months to create a counterterrorism task force (11), which it then never once convened (12). When asked about this on CBS' Face the Nation, Secretary of State Colin Powell said only "I--I--I can't answer the specific question" (13).
Click here to comment on this article
Explosion rocks Texas City refinery
By The Associated Press
3/31/04
TEXAS CITY, TX — An explosion apparently caused by a fire at the BP refinery forced the evacuation of the plant Tuesday night.
There were no reports of injuries, said B.C. Clawson, Texas City emergency management coordinator. BP spokeswoman Annie Smith said all workers had been accounted for. She did not know how many people were on duty.
Smith said it wasn't immediately clear whether the fire began in a furnace in a gasoline producing unit at the plant. [...]
The Texas City refinery is the largest of BP's four refineries in the Houston area. It has the capacity to refine 435,000 barrels of crude oil daily.
Click here to comment on this commentary
10 Things You Don't Know About Terrorism
by Loretta Napoleoni
Two and a half years into the 'war on terror', the US is running a $500 billion budget deficit, its highest ever and the country is struggling to cover war costs. Terrorism seems to be a very costly business. So how can terrorists afford it? The answer is simple: terrorism is their business.
1. Terrorism has always been a business
During the Cold War terrorism was the trade of the superpowers. They fought wars by proxy across the world by funding local armed groups with legal or covert operations (for example the Contras in Central America). In the late 1970s-early 1980s, some of these groups managed to privatize terrorism. To raise money, they used a mixture of legal and illegal activities -- the IRA had the monopoly of private transport in Belfast; the PLO got a cut out of the Hashish trade from the Bekaa Valley; Carlos the Jackal and Aby Nidal became 'guns for hire' for Arab leaders such as Gaddafi.
2. Globalization boosted terrorism
In the 1990s, as international economic and financial barriers were lowered, terror groups expanded their businesses, which become transnational. Today, money is raised cross border, as proved by the joint business empires of Yousef Nada and Idris Nasreddin, two of bin Laden's associates. According to the UN, their portfolios, which range from real estate to fisheries, sprawl across Europe and Africa, and are worth hundreds of millions of dollars.
3. Each time an American reads a newspaper or takes a sip at a soft drink, they contribute to Osama bin Laden's financial empire
Terror businesses could not stay out of the largest consumer market in the world, the US. In the mid 1990s, while residing in Sudan, Osama bin Laden acquired 70% of Gum Arabic Company Ltd, which produces about 80% of the world supply of gum arabic. Extracted from the sap of the acacia trees that grow in Sudan, gum arabic is used to make ink stick to newspapers, to prevent sediment forming in soft drinks and to create a protective shell around sweets and pills to keep them fresh. The US is the largest importer in the world. Bin Laden's investment proved to be a very sound one. In November 1997, when Clinton imposed economic sanctions on Sudan, a number of American importers including the Newspaper Association of America, and the National Soft Drinks Association of America, objected. Eventually, Gum Arabic was exempted.
4. The Terror Economy is Bigger than the GDP of the United Kingdom
Globalization also facilitated the merging of terror enterprises with criminal and illegal activities. This meant big business. Today their joint yearly turnover is a staggering $1.5 trillion dollars, higher than the GDP of the United Kingdom.
5. The terror economy props up western capitalism
The bulk of the $1.5 trillion flows into Western economies and gets money laundered in the US and Europe. This is a vital infusion of cash into these economies. If we were to cut it overnight, the West would be plunged into a recession.
6. The illegal/terror economy grows faster than the US economy
Up to now, terror business has been conducted in dollars, primarily in 100 dollars bills; so are arms and drugs smuggling and other criminal and illegal activity. Thus, a rough indication of the rate of growth of the terror economy is given by the yearly infusion of new stock of US dollars. In the year 2000, as much as two third of the US money supply, equivalent to $500 billion, was taken out of the US monetary system for good and is now held abroad. This figure refers to money taken abroad in suitcases or via offshore accounts. If these statistics are correct, then the rate of monetary growth of the terror/illegal economy is higher than that of the US economy.
7. 9/11 was one of the greatest insider-trading events in modern history
Terrorists are also very skilled speculators. During the week before 9/11, an unusually high volume of trading was reported in certain sectors, e.g. air transport, energy and insurance. Shares of American Airlines and United, the US airlines involved in the 9/11 attack, were targeted. A similar trend was reported in the insurance business, with leading companies becoming the object of exceptional and unexpected speculation on the futures market. The weekend following the attack, Ernst Welteke, president of the German Bundesbank, admitted that there had been insider trading by 'terrorists' and added that the commodities markets had also been targeted. Indeed, days before the attack, oil and gold experienced a sudden and inexplicable rise in price. This was followed by a surge in activity on the futures market. On 12 September, oil prices jumped by more than 13 per cent and gold prices went up by over 3 per cent. Prices continued to climb all week. Anybody who knew what was going to happen on 11 September could have predicted such a trend.
8. Profiteering on Terrorism
Terrorism is such a good business that even the US government tried to get a stake in it. Last summer, the Pentagon was forced to abandon a 20 months project, Future PAM, to launch an online futures market that allowed speculators to bet on assassinations, coups and acts of terrorism. The project was headed by a leading expert on state sponsored terrorism, retired vice admiral John Poindexter, formerly national security adviser under President Reagan. In the1990s, Poindexter was convicted on five felony counts, including lying to Congress, destroying documents and obstructing congressional inquiries into the Iran-Contra scandal. Several US senators strongly opposed the project on the ground that terrorists would be the biggest beneficiaries as they are the ones who carry out the attacks.
9. Terrorism is such a good business that nobody really wants to eradicate it
So far, international efforts to curb terror financing have failed. An insignificant $140 million of terror money have been frozen since 9/11, 70% coming from accounts held in the West. Business profits generated by Al Qaeda front companies and donations from the Muslim world are mostly untouched. For example, Haramain Charitable Foundation, a Saudi charity worth $30 million per year, is still active in several countries. Recently Haramain has opened a new Islamic school in Jakarta, a hot bed of Islamist terror in South East Asia. Twice the Saudis have agreed to shut this charity, which is headed by Sheikh Saleh bin Abdul Aziz al-Ashaikh, Saudi minister for Islamic affairs, but never did it. So far the Saudis have frozen $4.7 million of terror money, closed 6 of the 241 Saudi charities and prohibit the collection of coins at the entrance of shopping malls. Not a lot when compared with UN reports stating that prior to 9/11, as much as 20% of Saudi GDP went to fund Al Qaeda alone.
10. Twice the US passed on the opportunity to get hold of Osama bin Laden
Is terror such good business as to prevent the arrest of bin Laden? In 1996, the Sudanese Minister of Defence, Major General Elfatih Erwa, offered to extradite Osama bin Laden, then resident in Sudan, to the US. American officials declined the offer. Instead, they told General Erwa to ask bin Laden to leave the country. 'Just don't let him go to Somalia,' they added. In 1993, 18 US soldiers had been brutally killed in Somalia in street riots involving Al Qaeda supporters and the US feared that bin Laden's presence in the country would create further unrest. When Erwa disclosed that bin Laden was going to Afghanistan, the American answer was 'let him go'. A few weeks after 9/11 the leaders of the two Pakistani Islamist parties negotiated with Mullah Omar and bin Laden for the latter's extradition to Pakistan to stand trial for 9/11. Once again the US refused the offer.
Two and a half years into the 'war on terror' it is apparent that the winners are the terrorists -- while Al Qaeda's finances are still intact the US is running the highest budget deficit in history. What can be done? Start by treating terrorism for what it is: a global business; force our Muslim allies to act immediately to curb terror funding and concentrate our efforts to hunt terror money in our countries, even if that implies putting under investigation the strongholds of Western capitalism: Wall Street, the City of London and the thousand offshore centres linked to them.
Click here to comment on this article
ANOTHER REPORTER APOLOGIZES FOR IRAQ COVERAGE
E&P - While the major media, from The New York Times on down, has largely remained silent about their own failings in [covering Iraq], a young columnist for a small paper in Fredericksburg, Va., has stepped forward. "The media are finished with their big blowouts on the anniversary of the invasion of Iraq, and there is one thing they forgot to say: We're sorry," Rick Mercier wrote, in a column published Sunday in The Free Lance-Star.
"Sorry we let unsubstantiated claims drive our coverage. Sorry we were dismissive of experts who disputed White House charges against Iraq. Sorry we let a band of self-serving Iraqi defectors make fools of us. Sorry we fell for Colin Powell's performance at the United Nations. Sorry we couldn't bring ourselves to hold the administration's feet to the fire before the war, when it really mattered. "Maybe we'll do a better job next war."
Mercier admitted that it was "absurd to receive this apology from a person so low in the media hierarchy. You really ought to be getting it from the editors and reporters at the agenda-setting publications, such as The New York Times and The Washington Post."
Click here to comment on this article
Saudi Faces Gulf Showdown on OPEC Oil Cut

By Peg Mackey and Jonathan Leff
March 31, 2004
VIENNA (Reuters) - Leading OPEC producer Saudi Arabia on Tuesday faced opposition from its two main Gulf allies in the oil cartel for plans to forge ahead with April supply curbs. [...]
Analysts said the rare split across OPEC's core Gulf Arab membership suggests the United States, having failed to budge Saudi, is focusing diplomatic efforts aimed at securing lower prices on Kuwait and the UAE.
"The UAE and Kuwait are the guys that the U.S. can count on now," said Roger Diwan of Washington consultancy PFC Energy.
The Gulf pair appear to back Washington's view that oil prices, recently at a 13-year high, should be allowed to ease to avert damage to U.S. and world economic growth.
"Both the Kuwaitis and the UAE appear to be dancing to the U.S. tune but the market believes the Saudis will get their way," said Nauman Barakat of brokers Refco in New York. [...]
Comment: There is a faction within the US that has been trying to pin 9/11 on the Saudis, pointing at the bin Laden, Bush family connection. Richard Clarke's testimony seems to be part of this as the article below about John O'Neill. The current OPEC price hikes will do little to win sympathy for Saudi Arabia in the US. Should the OPEC countries move to use of the euro for oil transactions, this will also increase hostility towards them in the US.
Click here to comment on this commentary
Opec pushes for higher oil prices
Oil prices are set to be pushed higher at a meeting of oil-producing countries in Vienna on Wednesday.
Ministers from Opec, the oil producers' organisation, are likely to agree production cuts which could push oil prices higher than the record levels.
In the US, the high cost of petrol is becoming an election issue.
But many Opec countries, including the biggest producer Saudi Arabia, believe production cuts are necessary to maintain prices over the coming months.
[...] The difference in opinion emerging among Opec members indicates that Washington is now concentrating its diplomatic efforts on Kuwait and the UAE, instead of Saudi Arabia, in an attempt to get lower oil prices.
One factor in any decision is that oil prices are denominated in dollars, and the falling value of the dollar on international currency markets has reduced the real value of the oil revenue of Opec members.
In London, Opec rose its oil price to $31.70 a barrel on Tuesday from Monday's $31.13, Opec's news agency says.
Some analysts say a production cut is likely to push prices for crude oil to well above $40 a barrel.
That could push the global economy into a slump, while Opec, in turn, could suffer as well with a downturn sharply driving down demand for oil.
So far, most European countries have not yet felt the impact of high oil prices, because they have been compensated by the decline of the dollar against the euro and other currencies.
Click here to comment on this article
OPEC, U.S. Fire Push Oil Prices Upward
Wed Mar 31, 2004 07:47 AM ET
LONDON (Reuters) - Oil prices rose Wednesday as an explosion at the third largest refinery in the United States combined with the likelihood of an OPEC supply cut to deepen fears of a supply crunch this summer.
London benchmark Brent crude futures stood 26 cents higher at 32.71 a barrel, while U.S. light crude rose 25 cents to $36.50.
[...] The U.S. driving season, which sees the United States consume some 40 percent of world gasoline supplies, kicks off in the last weekend of May.
Click here to comment on this article
New light on the life and death of John O'Neill
By Tom Griffin
Mar 28, 2004, 13:02
March 27, 2004-Former White House counter-terrorism expert Richard Clarke has rocked the Bush administration with his criticism of the "war on terror". However, doubts about the administration's commitment to the fight against al-Qaeda are not new.
In the immediate aftermath of September 11, another counter-terrorism expert, Irish-American John O'Neill, became the focus for those concerns. O'Neill had been one of the Federal Bureau of Investigation's (FBI) leading specialists on al-Qaeda, but he was destined never to play a role in America's response to September 11. In a supremely ironic twist of fate, he was himself killed in the World Trade Center attacks.
The story of John O'Neill, Richard Clarke and their battle against al-Qaeda began at the Twin Towers eight years earlier, when Islamic fundamentalists made their first attempt to destroy the World Trade Center with the 1993 bombing masterminded by Ramzi Yousef.
Yousef was eventually tracked down in Pakistan. The intelligence ended up on the desk of Richard Clarke on a Sunday morning. There were only a few hours to act on it. Clarke rang the FBI in the forlorn hope that there would be somebody to take the call. Clarke described what happened next in a 2002 interview.
"I called and John answered the phone. I said, 'Who's this'? He responded, 'Well, who the hell are you? I'm John O'Neill'. I explained, 'I'm from the White House. I do terrorism. I need some help'."
O'Neill had never worked on the case before, but together with Clarke he manned the phones coordinating the capture of Yousef before he could slip over the border into Afghanistan. It was, according to Clarke, "the beginning of a beautiful friendship".
After the capture of Yousef, O'Neill learned everything he could about the threat of Islamic fundamentalist terrorism. He became one of the first people to understand the "new terrorism" which was already taking shape.
He set about convincing his colleagues of the threat with similar determination. "John would come into the room and there would be a presence about him," Clarke said. "He would go around the room like it was a ward meeting and he was an Irish politician."
There were some obstacles that O'Neill's charismatic persona couldn't overcome, however. That first became clear after the Khobar Towers bombings in Saudi Arabia in 1996, which killed 19 American soldiers.
According to his friend Chris Isham, O'Neill "felt the Saudis were definitely playing games and that the senior officials in the US government just didn't get it".
Click here to comment on this article
U.S. Military Takes First Step Towards Weapons in Space
By Marc Lallanilla
ABCNews.com
Mar. 30 — For all of human history, people have looked at the stars with a sense of wonder. More recently, some U.S. military planners have looked skyward and seen something very different — the next battlefield.
While the military's presence in space stretches back decades, now there appears to be a new emphasis. Officials in the Bush administration and the Department of Defense are actively pursuing an agenda calling for the unprecedented weaponization of space.
The first real step in that direction appears to be coming in the form of a little-noticed weapons program at the U.S. Missile Defense Agency. The agency has now earmarked $68 million in 2005 for something called the Near Field Infrared Experiment.
The NFIRE satellite is primarily designed to gather data on exhaust plumes from rockets launched from earth, and defense officials claim it is therefore designed as a defensive, rather than offensive weapons.
But the satellite will also contain a smaller "kill vehicle," a projectile that takes advantage of the kinetic energy of objects traveling through low-Earth orbit (which move at several times the speed of a bullet) to disable or destroy an oncoming missile or another orbiting satellite.
As one senior government official and defense expert described the program, which has seen cost-related delays and increased congressional scrutiny: "We're crossing the Rubicon into space weaponization." [...]
Click here to comment on this commentary
The Indisputable Crisis of Russian Liberalism
By Mikhail Khodorkovsky
There can be little doubt that Russian liberalism is currently in the midst of a crisis.
If someone had told me a year ago that the Union of Right Forces and Yabloko would fail to clear the five percent barrier in the State Duma elections, I would have had serious doubts about his competence as a political analyst and forecaster. Today the collapse of both parties is a reality.
Comment: From his jail cell, Khodorkovsky has published a very conciliatory essay about Putin. But as the following articles show, it has stirred up debate about the veracity of his authorship, as well as his relations with his former partner in Yukos. Khordorkovsky was the poster boy for neo-liberalism in Russia, a favourite of the US government, and their man in trying to privatise Russian oil reserves, that is, putting them into hands that were friendly to the US.
Click here to comment on this article
Khodorkovsky Essay Causes Stir
By Valeria Korchagina
Staff Writer
Rarely has a single comment caused such a stir.
But then again, rarely has Europe's richest man issued a capitalist manifesto from prison in which he attempts to bury the hatchet with the leader of the world's biggest country.
Or did he?
As the political and business elite continued Wednesday to debate the merits of the 3,000 word pseudo mea culpa published Monday in the Russian press by Mikhail Khodorkovsky -- in which he criticized attempts to undermine "the authority" of President Vladimir Putin and backed a tax hike on big businesses -- questions arose as to who actually authored the essay.
Click here to comment on this article
Khodorkovsky Seeks Peace With Putin
By Catherine Belton
Staff Writer
Tuesday, Mar. 30, 2004. Page 1
Jailed oil magnate Mikhail Khodorkovsky has called for an end to attempts to undermine President Vladimir Putin and said big business should pay more taxes in return for having its property rights legitimized.
In a sharp turnaround from the fighting talk and warnings of looming dictatorship before his arrest, Khodorkovsky conceded in an article published Monday and penned from his cell in Matrosskaya Tishina prison that Putin was a positive force for reining in increasingly popular nationalist politicians.
Click here to comment on this article
Putin orders 166,050 to be drafted into military
Interfax. Tuesday, Mar. 30, 2004, 10:09 PM Moscow Time
MOSCOW. March 30 (Interfax) - President Vladimir Putin signed a decree to draft 166,050 people into Russia's armed forces in April, May and June 2004 and demobilize conscripts whose term of service has expired, the Kremlin said on Tuesday.
Click here to comment on this article
Hooligans pour glue, water on Soros in Kiev
31.03.2004, 18.50
KIEV, March 31 (Itar-Tass) -- American philanthropist George Soros was attacked on Wednesday in Kiev where he arrived on a visit.
Two young men sneaked into the room where a forum of public human rights organisations was being held and poured paper glue and water on the presidium, where Soros was sitting. Security guards led the hooligans out of the room.
This is not just an incident. Someone stands behind this, Soros said. But he could not say who exactly could be behind them.
Click here to comment on this article
Latest bloody attacks in Uzbekistan leave 23 dead
Peter Baker, Washington Post
Wednesday, March 31, 2004
Moscow -- A series of explosions and shootouts in Uzbekistan on Tuesday left nearly two dozen people dead in the bloodiest wave of violence to hit the former Soviet republic since it enlisted as a key U.S. ally in the war on terrorism, officials and witnesses said.
The bloodshed brought the death toll to 42 in three days, the government said. All of the attacks appeared to target Uzbek authorities.
[...] The violence came after 19 other people died in explosions and attacks Sunday and Monday that the government blamed on Islamic radicals. Uzbekistan has suffered from sporadic terrorist incidents over the last five years, but the group fingered by Uzbek officials this week denied any involvement in the latest attacks.
[...] Uzbekistan became a frontline partner in the U.S.-led battle against Islamic terrorism shortly after the Sept. 11, 2001, attacks in New York and the Pentagon. At Karimov's invitation, the U.S. military opened a base that it continues to use to stage operations in Afghanistan.
But Washington has criticized the secular Karimov government's harsh policies toward observant Muslims as excessive and counterproductive, threatening recently to cut off financial aid if its human rights record does not improve. At least 6,000 people remain in Uzbek prisons because of their religious or political beliefs, according to human rights groups.
Human Rights Watch issued a 300-page report Tuesday on Uzbekistan's repression of Muslims, documenting what it called "systematic torture, ill- treatment, public degradation and denial of due process." The report concluded: "Uzbekistan's campaign against independent Islam has targeted Muslims who exhibited no objective independence from the state but who were simply deemed 'too pious' by state agents."
Click here to comment on this article
Never mind the torture and political prisoners, he's Bush's man

By Anne Penketh
31 March 2004
In the rogues' gallery of Soviet dinosaurs, the rulers of the central Asian states have pride of place.
Islam Karimov, who has ruled the impoverished republic of Uzbekistan as a dictator for 15 years, may not be the looniest.
That reputation could probably be claimed by his neighbour, President Saparmurat Niyazov of Turkmenistan, who in 2002 renamed the months of the calendar - January after himself. But President Karimov could well be the cruellest, accused of torture of opponents, muzzling freedom of speech and jailing up to 6,500 political prisoners.
Mr Karimov, 66, has rarely troubled with elections. In 1989, he became Communist Party leader in Uzbekistan in the then Soviet Union. After independence in 1991, he was the natural choice to become president as the communists kept power.
In 1995, his term of office was extended until 2000 when he was re-elected unopposed. The next presidential elections are next year, when the term is to be extended from five years to seven.
Mr Karimov was born in Samarkand, the orphan son of an ethnic Tajik mother and Uzbek father. He is a former economist who rose through the ranks of the party to the Politburo. "If we remain part of the Soviet Union, our rivers will flow with milk. If we don't, our rivers will flow with the blood of our people," Mr Karimov predicted in 1991 as his beloved Soviet empire collapsed.
He took office with one hand on the Koran and the other on the constitution. But his term of office has been troubled by opposition from Islamic militants, who tried to assassinate him in 1999. Since 11 September 2001, he has come into his own, however, thanks to George Bush and the war on terror. After opening an air base to the US military for the war against the Taliban, he was thanked with a visit to the White House.
Despite the human rights abuses in his one-party state, Mr Karimov looks likely to stay as the Bush administration's man in central Asia.
Click here to comment on this article
The dictator Karimov creates a new generation of terrorists
Justin Raimondo
March 31, 2004
Suicide bombers, pitched battles, and a massive police mobilization over the past three days have thrust the Central Asian nation of Uzbekistan into the headlines – and demonstrated why our endless "war on terrorism" is doomed to not only fail, but to create the sort of "blowback" that is a windfall for America's enemies.
Uzbekistan is a case study in tyranny, generously characterized by the U.S. State Department as " an authoritarian state with limited civil rights." The absolute ruler of the country is Islam Karimov, an "ex"-Communist strongman who exercises total control over the state. The Uzbek nation became independent of the former Soviet Union in 1991, over Karimov's objections:
"If we remain part of the Soviet Union, our rivers will flow with milk. If we don't, our rivers will flow with the blood of our people."
Karimov has generated most of that flow: torture is a favorite pastime of his political police, who use the same methods employed during the Communist era to extract "confessions" and other "evidence" of alleged subversion from political dissidents. 7000-plus political prisoners fill Karimov's jails, imprisoned with false or zero evidence, without trial, subjected to torture, and, all too often, capriciously executed. [...]
Karimov's brand of neo-Communism has its American defenders, first and foremost Secretary of Defense Donald Rumsfeld, whose recent Eurasian tour underscored the U.S. commitment to the Uzbek regime. Rummy brushed aside human rights concerns, but was coy about the possibility of establishing a permanent military base in the country, averring that the U.S. sought to maintain its "flexibility" in the region. In the wake of the bombings, one needn't wonder what direction the Def Sec's flexibility will take him, because it will surely be the wrong one.
These attacks are a windfall for Karimov, politically and financially: terror in Tashkent, whatever its source, means more "foreign aid" dollars, the near certainty of increased direct U.S. military intervention, and a full-fledged, fully-funded marriage-of-convenience between Lady Liberty and one of the last Stalinist despots on earth. The dowry should eventually be worth billions. [...]
Karimov's American supporters – yes, incredibly, he has them! – have been singing his praises for months, the most vocal being Stephen Schwartz, fired from the Voice of America for his nutty views, formerly with the Foundation for the Defense of Democracies, and now, seemingly, a full-time publicist for one of the most un-democratic and flamboyantly repugnant regimes in the world. In his new role as attorney for the Karimov regime, Schwartz writes:
"Since September 11, the United States no longer accepts the claim that the free exercise of terrorist agitation, incitement, and organization outweighs the benefits of legal sanction. Here, the "fallacy of prior restraint" has been replaced by a reliance on the doctrines of "probable cause" and "preemption." That is, extremist rhetoric provides sufficient probable cause to take preemptive action to prevent bloodshed."
Karimov is justified in cracking down on Hizb-ut-Tahrir, interrogating and jailing Muslims who grow beards or wear the veil, closing mosques, and outlawing opposition political parties, because, as The Schwartz puts it,
"By their radicalism, groups like HT that do not presently carry out acts of violence nonetheless prepare an environment conducive to violence."
If the neocons can't quite yet implement this new principle of intellectual "prior restraint" in the U.S., Schwartz and his fellow neo-authoritarians are glad to see it being given a dry run in Uzbekistan. For the author of The Two Faces of Islam, a book that posits Saudi Arabia's Wahhabist sect as the epicenter of world evil, Uzbekistan, which bans all expressions of Wahhabism, is a kind of utopia. He has recently traveled there and now regales his readers with tales of Karimov's Orwellian domain as an 'aspiring democracy," a "transitional" society, and, anyway, he grandly announces, "Uzbekistan cannot afford to assure liberty for the enemies of liberty." Human rights advocates who criticize the modern-day Tamerlane are "naïve," says Schwartz: "In the struggle to liberate Islam from the grip of the Wahhabi-Saudi mafia, Karimov should have our backing."
He wants us to back this, and this, and this – not just with rhetoric, but with American tax dollars There is only one possible response to such a moral obscenity: Ugh!
My longtime readers won't be too shocked to learn about the Karimov-neocon connection: I first exposed it in January 2001. Even less surprising are the corporate connections, particularly to Big Oil, which figure greatly in determining U.S. policy in Uzbekistan. Nor is this strictly a Republican agenda. The Clinton administration set up a whole new government agency, and a Cabinet-level position – the Special Advisor to the U.S. President and Secretary of State for Caspian Basin Energy Diplomacy – to make sure American companies get in on the Great Silk Road to oil riches.
U.S. intervention in Uzbekistan on behalf of a ruthless dictator: it's good for corporate America, good for the War Party, but is it in our national interest?As Richard Clarke quipped in his best-selling book:
"It was as if Usama bin Laden, hidden in some high mountain redoubt, were engaging in long-range mind control of George Bush, chanting 'Invade Iraq, you must invade Iraq.'"
Can't you hear it, now, that same familiar refrain, over the din of reports from the latest front in our endless "war on terrorism"? "Invade Uzbekistan! You must invade Uzbekistan!"
But of course we have already invaded Uzbekistan, and set up a base likely to become permanent, aligning ourselves with a neo-Communist tyrant who imagines he can contest Russia's traditional sphere of influence by signing on as an American protectorate, and even dreams of a "Greater Uzbekistan." If U.S. policy continues along these lines, and the only alternative to Bin Laden is Karimov, then Uzbekistan is soon going to be exporting a new item, aside from oil and rugs: a fresh generation of terrorists.
Click here to comment on this article
Ottawa software developer charged with terrorism
Last Updated Wed, 31 Mar 2004 6:04:02
OTTAWA - An Ottawa man on Tuesday became the first person charged under Canada's new anti-terrorism laws when police accused him of working with a terrorist group in Canada and in England.
Mohammad Momin Khawaja, 29, is accused of under the Anti-Terrorism Act of participating in the activity of a terrorist group and facilitating a terrorist activity.
Click here to comment on this article
Fraser report sounds security alarm: Auditor criticizes post-9/11 efforts
BRUCE CAMPION-SMITH AND ROBERT BENZIE
STAFF REPORTERS
OTTAWA—Canada has ignored the lessons from the Sept. 11, 2001, attacks by bungling efforts to keep terrorists out and allowing as many as 4,500 workers possibly linked to organized crime a free rein at airports, Auditor-General Sheila Fraser says.
In a devastating indictment of the government's $7.7 billion anti-terror initiatives, she concludes that efforts to safeguard Canadians have been hampered by red tape, turf wars among the country's intelligence agencies and "fundamental gaps" in routine security.
Click here to comment on this article
Bomb Threat Stops Amtrak Trains
POSTED: 4:26 pm EST March 30, 2004
Amtrak says a bomb threat forced it to stop one of its trains in North Carolina this morning.
The northbound Palmetto stopped at the station in Selma before lunch after the threat was received. Amtrak spokesman Cliff Black says there were 144 passengers onboard the train, which was allowed to proceed after a delay of what he described as several hours.
Two other trains were stopped on the East Coast. Both were the Silver Meteor and both were en route to New York.
One of the trains was stopped in Sebring, Florida, near the beginning of its 27-hour run. The other Silver Meteor was stopped in Philadelphia. Nothing was found in either search and the trains were allowed to resume.
Click here to comment on this article
An end to the mystery of God's Banker?
By Chris Summers
BBC News Online
Twenty-two years after the body of God's Banker, Roberto Calvi, was found hanged under London's Blackfriars Bridge, his death remains a compelling mystery. But with a murder trial due to begin in Italy, his son is hoping for an answer at last.
Click here to comment on this article
ESA's Mars Express Sends Back First Mega Strip
Paris - Mar 30, 2004 The biggest postcard in the world does not fit into any known terrestrial letterbox. It measures 24 metres by 1.35 metres and shows a 3700-kilometre long, 166-kilometre wide strip of Martian landscape in south-north direction.
This postcard of Mars shows a section of surface covering 380 000 square kilometres, an area bigger than Germany. It contains 2.5 gigabytes of uncompressed data. The picture was taken from an altitude of between 275 and 830 kilometres by the HRSC on board ESA's Mars Express orbiter.
Because of the varying height from which the photograph was, the section of Mars shown has also different dimensions: at the start, the width is 166 kilometres, at the orbiter's closest point to Mars the width is 62 kilometres, and at the end it is 78 kilometres.
The picture starts at 52 degrees South and ends at 12 degrees North, the Gusev crater and the NASA Spirit rover landing site lies at about 14.5 degrees South. The European Mars Express spacecraft flies at a speed of one to four kilometres per second over the surface of Mars, depending on its altitude.
Comment: And just LOOK at those craters... hmmm... they tell us that Mars used to have a lot of water, and we see now that it also has a lot of impact craters. Wonder if the craters have anything to do with the missing water?
Click here to comment on this article
Scientists Unsure if Methane at Mars Points to Biology or Geology
By Tariq Malik Staff Writer
29 March 2004
A trio of research teams independently probing the Martian atmosphere for signs of methane have found it, a combined discovery that opens the door for a host of theories as to how the gas got there.
Among the most tantalizing, if not very likely, of scenarios, scientists say, is the possibility that the Mars methane could be the byproduct of some form of microbial life. But a safer bet, they say, centers on the geology of Mars, including anything from volcanic activity to long-ago impacts of methane-carrying comets.
"It's of course very exciting and quite a surprise," said Augustin Chicarro, project scientist for the European Mars Express mission, which detected Mars methane while orbiting the planet. "Mars seems to be a planet that is always surprising us, one week it's an ocean…now this."
The methane findings comes just weeks after NASA's Mars Exploration Rovers (MER) Spirit and Opportunity found conclusive evidence that water once flowed on the surface of the red planet, providing firm evidence for a location on Mars that could have supported life.
Click here to comment on this article
The cosmic timebomb

The asteroid that wiped out the dinosaurs was thrown to Earth in a moment of 'planetary madness'. And scientists can now predict when the heavens will go haywire again, says Marcus Chown
31 March 2004
There's something badly wrong with the pendulum clock in the corner of the room. Normally, it ticks rhythmically, its bob swinging back and forth with hypnotic regularity. Over time, however, the size of the swing gradually gets larger, the ticks louder and louder. And, very occasionally - in fact, so occasionally that nobody has yet ever observed it - the clock goes stark-staring mad, ticking completely erratically as the pendulum bob swings first to one side, then twice or three times as far to the other side.
Surely, there is no clock that behaves like this? According to a team of geophysicists and mathematicians, there is: the clock in the sky. "For tens of millions of years, the planets circle the Sun with the predictability of clockwork," says Michael Ghil of the Ecole Normale Supérieure in Paris and the University of California at Los Angeles (UCLA). "Then, without the slightest warning, everything goes utterly haywire."
The heavens are generally considered to be a paragon of predictability so this is a radical stuff. But it is only the beginning. Ghil and his colleagues, Ferenc Varadi and Bruce Runnegar at UCLA, believe the last time the solar system went insane was roughly 65 million years ago. "It seems too much of a coincidence," says Ghil. "We think it may have been connected with the extinction of the dinosaurs."
The kind of planetary madness Ghil and his colleagues are talking about goes by the name of "chaos". Chaos is defined as erratic motion with no sign of any regularity. Loosely speaking, chaotic systems are infinitely sensitive to initial conditions, like a hurricane in the Caribbean that was triggered by the flutter of a butterfly's wings in distant Hawaii.
In the solar system, the most important drivers of chaos are Jupiter and Saturn because they are the most massive of the planets. In their investigation of planetary chaos, it is therefore these two planets that Ghil and his colleagues have focused their attention on. The Jupiter-Saturn system is actually not inherently chaotic. However, it is known to skate close to the edge of chaos. The possibility therefore exists that, occasionally, something might cause it to teeter over the edge into planetary insanity.
Ghil and his colleagues considered the possibility that the "something" might be [causing] fluctuations in the pressure exerted on Saturn by sunlight and the wind of subatomic particles blowing from the Sun. Over tens of millions of years, their combined buffeting could have a significant effect on Saturn's orbit. The researchers guessed that solar variability might change the planet's "semi-major axis" - a measure of the length of its elliptical path round the Sun - by as much as 0.1 per cent. "We think this is perfectly plausible," says Ghil.
To see what changing Saturn's semi-major axis did to the Jupiter-Saturn system, Ghil and his colleagues used a "digital orrery". This is a purpose-built computer rigged to simulate the motion of the planets under their mutual gravity. The researchers also incorporated a novel feature of the behaviour of Jupiter and Saturn.
Jupiter orbits the Sun "about" five times for every two times Saturn goes round. If the ratio of the orbital periods was precisely 5:2, the combined effect of the gravity of two massive planets on other bodies in the solar system would be greatest every 10 years - that is, when the two planets are on the same side of the Sun and pulling together. But, because this 5:2 "resonance" is not exact, the planets are in perfect alignment on the same side of the Sun only every 1,000 to 2,000 years. "What this means is that the effect of Jupiter and Saturn on the other bodies in the solar system rises to a crescendo every 1,000-odd years," says Ghil.
Until now, researchers who have used computers to simulate the long-term future of the solar system have assumed that this effect is of no consequence, guessing that over long periods of time its effect "averages out". "We had a hunch, however, that this wasn't true," says Ghil. Using their digital orrery and taking this effect into account, Ghil and his colleagues discovered that as the semi-major axis of Saturn's orbit changes, the Jupiter-Saturn system drifts back and forth between motion which is regular and motion which is totally chaotic. "The system trips over into chaos every few tens of millions of years," says Ghil.
The team's most remarkable discovery, however, is that in a wide range of simulations in which the semi-major axis of Saturn is allowed to vary, a burst of chaos arises around 65 million years before the present. "The timing coincides strikingly with the Cretaceous-Tertiary [geological] boundary which marks the extinction event that wiped out the dinosaurs," says Ghil.
As yet, says Ghil, it is impossible to tell how long the burst of chaos persisted. Nevertheless, it is possible to investigate the effect it would have had on other bodies in the solar system - specifically, asteroids. The asteroids are thought to be the left-over rubble of a planet which was prevented from congealing out of the "proto-planetary nebula" by the disruptive effect of Jupiter. Vast numbers of asteroids - ranging in size from pebbles to rocky bodies 1,000 kilometres across - circle the Sun between the orbits of Jupiter and Mars.
Ghil and his colleagues simulated the effect on the asteroids of a burst of chaos in the Jupiter-Saturn system. They found a wealth of effects. "The most important are abrupt changes in the semi-major axis of asteroid orbits," he says. "These would lead eventually to complete ejection of bodies from the asteroid belt." Some of these could easily end on a collision course with Earth.
The sequence of events revealed by the simulations is complex. Some asteroids suffer small jumps in the size of their semi-major axis, others large jumps. Some move to smaller orbits, some to longer orbits. "A population of asteroids can drift back and forth through a succession of different orbits," says Ghil.
Crucially, bodies whose elliptical orbits become ever more elongated eventually come under the influence of the gravity of other planets and are tugged free of the asteroid belt. "They get catapulted out of the asteroid belt, some into orbits which cross the Earth's orbit," says Ghil. This is precisely what Ghil and his colleagues think might have happened 65 million years ago. "A burst of chaos in the Jupiter-Saturn system caused a flurry of Earth-crossing asteroids," says Ghil. "Among them was one which struck the Earth off the coast of Central America, providing the killer blow which finished off the dinosaurs."
If Ghil and his colleagues are right, the demise of the dinosaurs cannot be attributed to an entirely random event. As the dinosaurs grazed unawares, the great clock of the solar system went temporarily out of kilter. The dinosaurs may have been victims of an event hardwired into the dynamics of the solar system. "And they may not have been the only victims," says Ghil.
The team's simulations reveal that another burst of planetary chaos occurred about 250 million years ago. This seems to correspond precisely with another major mass extinction at the Permian-Triassic boundary. "As yet, however, we aren't totally confident about this," says Ghil.
The new paradigm which seems to be emerging is of a solar system which evolves quietly for tens of millions of years but which goes through occasional periods of madness. And what has happened in the past will happen again. The simulations show another burst of chaos is due in the future. "I wouldn't lose sleep over it," says Ghil. "The due date is AD30 million, so there's plenty of time to evacuate the Earth!"
Comment: It is stunning that the so called "scientists" in the above article appear to simply refuse to admit that which is right under their noses. Either they have been co-opted by the "powers that be" or they are simply deluding themselves. With the wealth of information, much of it from mainstream sources, that the earth is indeed entering into a "moment of planetary madness", it appears that articles such as the above are designed to ensure that, at all costs, the general public does now become aware of this most important of facts.
Strange and inexplicable blue bands have been seen on Jupiter, over the past 20 years the planet has been "collecting" dozens of extra "moons". The total today stands at about 70! On earth, the ice caps are melting, the seas are dying, intense heat in summer, massive storms in winter, fireballs raining down on us, in the past year alone over a dozen have been observed, many of which impacted the earth, "war without end", major powers gearing up for the "mother of all battles". All this, yet the "boffins" in the above article, are happy to tell us that we have "30 million years" before anything really happens! We say it again, they are either deluding themselves or are part of the cover up.
See Laura Knight Jadczyk's current series " Jupiter, Nostradamus, Edgar Cayce, and the Return of the Mongols" for the scoop on all of this and lots more.
Click here to comment on this article
Dead Zones Growing in the Oceans
Michael Mccarthy
UK Independent

- Marine "dead zones" - oxygen-starved areas of the oceans that are devoid of fish - are one of the greatest environmental problems facing the world, UN scientists warned yesterday. There are nearly 150 dead zones across the globe, they are increasing, and they pose as big a threat to fish stocks as over-fishing, the United Nations Environment Program. These lifeless areas of the sea are caused by an excess of nutrients, mainly nitrogen, that originate from heavy use of agricultural fertilizers, from vehicle and factory emissions and from human wastes.
They have doubled in number over the last decade, with some extending over 70,000 square kilometers (27,000 square miles), about the size of Ireland, UNEP said. Dead zones have long afflicted the Gulf of Mexico and Chesapeake Bay off the East Coast of America but they are now spreading to other bodies of water, such as the Baltic Sea, the Black Sea, the Adriatic, the Gulf of Thailand and the Yellow Sea as other regions develop, UNEP said.
Click here to comment on this article
Buzzing mass of cicadas get ready for U.S. East
By Sue Pleming
Tuesday March 30, 08:58 PM
WASHINGTON (Reuters) - Planning a May wedding in the eastern United States? Take the party indoors to avoid billions of buzzing cicadas set to swarm the area after 17 years of living below ground.
Called periodical cicadas, the thumb-sized insects emerge every 17 years and fly around in a noisy, mating frenzy before dying weeks later, littering the area with crunchy shells.
Mistakenly called locusts by early settlers, they are distinguished by their beady red eyes. What is most memorable is the deafening noise the males make with drum-like organs called timbals to attract more sedate females.
Many residents from northern Georgia to Washington, D.C., dread the arrival of the dark, noisy swarms in mid-May but entomologists are counting the days. [...]
Click here to comment on this commentary
LOCUST: THE DEVASTATING RISE AND MYSTERIOUS DISAPPEARANCE OF THE INSECT THAT SHAPED THE AMERICAN FRONTIER BY JEFFREY A. LOCKWOOD BASIC, 304 PAGES, $25
IN THE summer of 1875, on the heels of a terrible two-year drought, the largest insect outbreak in history took place in the western United States. A swarm of locusts estimated to be three-and-a-half trillion strong covered an area of 198,000 square miles in a cloud ranging from a quarter- to a half-mile deep. By way of lending some perspective on this image to the parochial New York mindset, the swarm would have covered the eastern states of Maryland, Delaware, New Jersey, Pennsylvania, New York, Connecticut, Rhode Island, Massachusetts, Vermont, New Hampshire and Maine. They turned the sky black. The whirring of their wings filled the air. They struck like hail. They ate the crops. They ate the laundry hanging on the washing lines and the clothing off the bodies of settlers who flailed at them in vain. They ate the wool off the backs of frenzied sheep. They ate window blinds, fence posts, wooden siding and demonstrated a particular fondness for the wooden handles of tools such as shovels, rakes, axes and hoes.
Twenty-five years later, the Rocky Mountain locust was extinct. The mystery of precisely how this devastating scourge vanished from the American landscape persisted right up to the end of the 20th century. The case was finally cracked by an intrepid entomologist with an appetite for physically challenging field work and a fondness for television detective shows.
Jeffrey A. Lockwood is Professor of Natural Sciences and Humanities at the University of Wyoming. He's also the author of Grasshopper Dreaming and a recipient of the Pushcart Prize as well as the 2003 John Burroughs Award. His latest work, Locust, is a prime example of excellent scientific research presented in a clear and straightforward way that makes the subject accessible to any reader. [...] A quote in the bridge to this section stuck with me, as it gives the reader an excellent insight into the workings of Lockwood's fabulous reasoning, and a disturbing (probably unintended) implication regarding our own destiny:
"In recent years, the emerging field of complexity is finding that sudden catastrophic changes may be inherent in some systems, including populations. My own work in the field of catastrophe theory suggests that modern grasshopper outbreaks may be precisely such systems. Their erratic dynamics are entirely normal, although we can exacerbate the outbreaks by mismanagement of the rangeland. We've even found evidence that grasshopper populations exhibit a phenomenon called self-organizing criticality, in which they naturally develop to the point where outbreaks and crashes are triggered by their own biology."
"Self-organizing criticality" is a disturbing concept when applied to human populations. Fortunately, Lockwood doesn't go there, but he does indulge himself in a Jeremiad at the conclusion that goes on just long enough to indicate a certain charming naivete as regards the relation of people to entropy in ecological systems. He closes on a disarmingly perverse note, suggesting that the Rocky Mountain locust may not, in fact, be truly extinct at all. The great plague of the Golden West may simply be biding its time, lying dormant in the last pristine habitat left to it: Yellowstone National Park.
Click here to comment on this article
Asian Sandstorms Intensifying, Response Far Off
Wed 31 March, 2004 12:40
By Jack Kim
SOGWIPO, South Korea (Reuters) - Dust and sand storms have plagued Northeast Asia for centuries but are getting worse in modern times, environment officials said on Wednesday.
Storms affect the region nearly five times as frequently as they did five decades ago, but strategies remain elusive, delegates from 158 countries were told on the final day of a United Nations Environment Program conference.
"They are man-made and nature-influenced disaster," the executive director of the UN Environment Program, Klaus Toepfer, told a forum on Wednesday.
"In the past 40 years, there has been a huge increase in the occurrence of the event, not only the number but the intensity has increased," he said.
Click here to comment on this article
Flooding leads to evacuations, states of emergency
WINNIPEG - Provincial water officials worry there could be significant flooding in the Interlake in the coming days as snow begins to melt on ground already saturated by weekend rains. About 75 millimetres – almost three inches – of rain fell on some areas of the province over the weekend.
Click here to comment on this article
Landslide caused by earthquake threatens 36 homes in Tajik village
31.03.2004, 16.35
DUSHANBE, March 31 (Itar-Tass) - A large landslide triggered by an earthquake near Karabuin village in Tajikistan's Sogdi region is threatening 36 homes, a source at Tajikistan's Emergencies Ministry told Itar-Tass on Wednesday. Rescuers are now shoring up the banks of a local mountain stream to avert the worst, the source said.
The earthquake in Tajikistan's Pedzhikent district has partially or fully destroyed 28 houses. Eight families have been evacuated to safety, but decision-making is still in progress as to what to do with the others, the source said.
Click here to comment on this article
Qld residents spot large fireball in the sky
Thursday, 1 April 2004
Police and aviation authorities have been swamped by calls about a large fireball, believed to be a meteor, seen over Queensland's north and central west.
The object was reported about 7:00pm (AEST).
Mike Barton from Australian Search and Rescue says the crew of a passenger jet also witnessed the sight.
"There has been extensive reports from members of the public throughout North Queensland, all the way from Hinchinbrook Island through to Winton, on what looks like some sort of meteor space re-entry," he said.
"Particularly south-west, down around the Winton area, they think it might have hit the ground because they can feel some vibrations and hear noise.
"A Virgin Airlines flight that was travelling up the coast, which was in the vicinity of Hinchinbrook Island, reported this object going over the top."
Click here to comment on this article
Five-billion-year-old rock quarrymen didn't expect
Ian Johnston
Scotsman
THERE was a rumble of thunder and then a bolt from the sky struck the earth with such force onlookers thought Judgment Day itself had come.
Scotland's first recorded sighting of a meteorite in 1804 stunned workers at the High Possil Quarry in Glasgow.
But after scientists came to investigate the lump of curious black rock unearthed by workmen, it proved to be the final proof that rocks did indeed come from outer space. [...]
Asteroids, the larger version of meteors, are now thought to have caused the mass extinction of the dinosaurs, and earlier this month mankind had its closest known encounter with an asteroid when a 100ft-wide piece of rock came within 26,500 miles of the Earth.
A newspaper report from the time described how the impact of the Possil meteorite was witnessed by workmen, boys, a man up a tree and a dog. It was heard "to resemble four reports from the firing of cannon, afterwards the sound of a bell, or rather of a gong, with a violently whizzing noise".
The newspaper reported: "The dog, on hearing the noise, ran home, seemingly in a great fright. The [quarry] overseer, during the continuance of the noise, on looking up to the atmosphere, observed in it a misty commotion, which occasioned in him a considerable alarm. He called out to the man on the tree: 'Come down, I think there is some judgment coming upon us', and says that the man on the tree had scarcely got upon the ground, when something struck with great force ... splashing mud and water for about twenty feet around."
Click here to comment on this article
Ex-Wheaton students flee what they call 'definitely evil' cult
March 25, 2004
BY CATHLEEN FALSANI Religion Reporter
Several former Wheaton College students have escaped from a small, physically abusive cult controlled by a fellow student at the prestigious evangelical Christian college, according to the deprogrammer who helped them regain their freedom.
The deprogrammer, Bob Pardon, a former pastor and founder of the New England Institute of Religious Research, a clearinghouse for cult information in Massachusetts, said the former Wheaton students had been living communally in Maryland and Texas with Feroze Golwalla, 40, the Pakistani-born cult leader who recruited them while he was a graduate student at Wheaton in the early 2000s.
Click here to comment on this article
De Klerk aims to solve world's problems

London - Former president FW de Klerk, the man who repealed apartheid, is setting out with a formidable group of senior statesmen and women to try to cure the world's problems.
The Global Leadership Foundation (GLF), which will be quietly launched at a meeting in southern England on Saturday, is a diplomatic think-tank whose objective is to help troubled emerging democracies achieve stability and growth.[...]

The initial list of people who will offer their experience includes former Czech president Vaclav Havel, Botswana's Ketumile Masire and Portugal's Annibal Cavaco Silva.
Its patrons, who have lent their names but not their participation to the non-profit organisation, are Nelson Mandela, George Bush senior, Lech Walesa, former Mexican president Ernesto Zedillo and Helmut Schmidt.
"We will be issue-driven," de Klerk said. "We will be focusing on a particular issue in a particular country where, if the right decision is taken, it will open the door to solutions.[...]

De Klerk said the GLF's small secretariat, led by former British diplomat John Shepherd, had already drawn up a list of 10 potential target countries but declined to say which, other than that Zimbabwe was not among them.
"Zimbabwe is an example where we won't get involved. We won't advise dictators who are only interested in continuing to be dictators. We won't advise megalomaniacs and strengthen their hands to be successful megalomaniacs," he said.[...]

Initially with an operating budget of donated funds of around £2,5-million a year, the plan is to become self-financing within three years through fees to be paid by the client countries.
"We put an extremely high premium on our independence. Nobody should ever be able to point a finger and say that this organisation has a political agenda," de Klerk said.[...]
Comment: It seems de Klerk has been looking for something to do since being forced to step down as leader of Apartheid South Africa. This "Diplomatic think-tank" sounds like a Global Leadership Foundation to ensure that the agenda of the multinational corporations that has made men like de Klerk millionaires, continues. Lest we forget, de Klerk is the man who "released Mandela" and "repealed apartheid" to calm the rising South African storm that threatened to destroy the fruits of over 350 years of colonial rule over mineral rich South Africa. De Klerk has economic and political interests to represent, and his mission continues on a "freelance" basis.

If one is looking for a conflict zone that will add kudos to one's reputation, then Africa, de Klerk's "homeland", is the perfect place to start. Indeed a quick look at the articles below shows there is much work for him and the "think-tank" to do, excluding the current bogey nation of Zimbabwe of course. It would not be a surprise if this "think-tank" and its agenda dovetails perfectly with the neverending US "war on terror".
"We will be issue-driven," de Klerk said. "We will be focusing on a particular issue in a particular country where, if the right decision is taken, it will open the door to solutions".

Inotherwords, "Do as we say, not as we do". As the rotten fruits of colonial psychopathy continue to fall, theatening to expose the neo-colonial masters behind the scenes, a "diplomatic think-tank" sounds evermore like the softly softly "voice of reason" to act as a buffer, counterbalancing the raving lunacy of America's "war leader". Good cop, bad cop; from America to Africa, we're all under lock and key.
Click here to comment on this article

Nieuwoudt comment met with gasps
There had been no prima facie fraud case against colleagues Gideon Nieuwoudt killed in the 1989 Motherwell bombing, the former security policeman told a Truth and Reconciliation Commission hearing on Wednesday.
This comment was met with gasps of surprise in the Port Elizabeth High court as he had earlier testified that the allegations of fraud against some of the men were a key factor in the decision to eliminate them. They had threatened to go public on covert operations if action was taken against them.
Nieuwoudt said he was informed of the fraud allegations by his superior, Brigadier Fanie Gilbert, after he told Gilbert he had discovered the four were secretly in contact with the then banned African National Congress.
Asked on Wednesday by advocate Kessie Naidu, appearing for families of three of the dead men, whether he had asked Gilbert which of the men were involved in the fraud, he said: "He was my commanding officer. If he deemed it necessary to inform me, he would've done so."
Later he added: "I can't remember if I asked him. I can't remember if he told me. I don't have any independent recollection."
Asked by amnesty panel chairperson Judge Ronnie Pillay why the men were not arrested, Nieuwoudt started to reply: "Because at that stage there was not a prima facie...". Amid gasps from the victims' legal representatives and the public gallery, he added: "I don't know, I really can't say."[...]
Click here to comment on this article

Zambian official flees amid graft probe

Lusaka - Zambia's former ambassador to the United States, Atan Shansonga, who faces corruption and theft charges amounting to more than $45-million in state funds, has fled the country, an official said on Wednesday.
Click here to comment on this article

Ban sends shockwaves through Nigerian media

Abuja - The Nigerian government on Tuesday banned local broadcast media from transmitting live news broadcasts from foreign stations - a move described by officials as a "professional aberration".
The head of the nation's state-run broadcast regulatory agency, the National Broadcasting Commission (NBC), Sila Yisa, announced the ban during a news conference.
"In keeping with the mandate of monitoring the Nigerian airwaves, the NBC has put a stop to the relay of news and news magazine broadcasts from foreign stations by Nigerian terrestrial stations," he said.
The ban, which becomes effective from April 1, became necessary because it was "a professional aberration" for a local station to relay live any news item that it had no control over, he said.
Such live broadcasts also pose a danger to Nigeria's national interests, he said, without giving details.[...]
Click here to comment on this article
Uganda Dragged Into into Missile Saga
Government has denied a report in an American newsletter, that it supplied the missiles that shot down the plane carrying the slain presidents of Rwanda and Burundi in 1994.
The report "Nobody Can Call It a "Plane Crash" Now!" which also accuses UN Secretary General, Kofi Annan of covering up the matter, was published in the March 6-7 edition of Counterpunch, a political newsletter.
According to Counterpunch, the missiles that shot down the Falcon jet carrying President Juvenal Habyarimana and Cyprien Ntaryamira of Burundi were bought by Uganda from the then-Soviet Union in 1987.
The author of the Counterpunch report, Robin Philot, told The Monitor in an e-mail yesterday that the information in his article was mainly based on the infamous report done by French judge Jean-Louis Bruguière.
"The report is damning for Uganda and Ugandan President Yoweri Museveni," Mr Philot wrote in his article.
"The missiles used to shoot down the plane were the property of the Ugandan Army. Uganda bought them from the Soviet Union in 1987."
However, Defence minister, Amama Mbabazi dismissed the allegations when contacted for comment yesterday.
"It's not enough for people to make blanket statements," he told The Monitor by telephone.
"Let them produce details."[...]
Although it is publicly known that Uganda supported the RPF during its war against the Habyarimana regime, this is the first time the country is being publicly linked to the shooting of the jet, which sparked off the genocide, in which an estimated 800,000 Tutsi and moderate Hutus were killed.
Although it has not been made public officially, details from Bruguière's 225-page report, leaked by the French newspaper, Le Monde have accused President Paul Kagame of Rwanda of ordering the shooting of the jet.
Rwanda vehemently denies the allegations and in a recent interview, Mr Kagame counter-accused France of complicity in the genocide.
Counterpunch alleges that the perpetrators of that attack knew what would happen, as did their "principal backers", the United States and the United Kingdom.[...]
The newsletter report is critical of Mr Annan, who in 1998 commissioned an independent inquiry into UN actions during the Genocide, for cover up.
The report alleges that while the report from that inquiry states that the two presidents were killed in a plane crash fired by missiles, the official UN story was that "the plane fell out of the sky."
"That probably explains why the black box disappeared in UN offices for 10 years," Counterpunch reports.
UN officials said preliminary tests on a black box found in the UN headquarters in New York recently after 10 years was not from the jet that was shot as it came in to land at Kigali International Airport.
Click here to comment on this article
Kampala - Uganda has rejected what it termed an insincere rebel move towards peace talks to end a 17-year-old insurgency, the army said on Tuesday.
[...] LRA rebels, led by reclusive mystic Joseph Kony, say they want to topple the Ugandan government, which is dominated by southerners, and give power to the north's Acholi people.
The United Nations estimates that 1.5 million people in the north have been displaced into squalid refugee camps by the fear of LRA attacks.[...]
Click here to comment on this article
Three held over deal with alleged mercenaries
Zimbabwean armament officials have been arrested in secret for collaboration with the band of alleged mercenaries being held in Harare.
The officials agreed to sell arms to the men in a bid to get access to scarce foreign currency and boost Zimbabwe's arms parastatal's business, security sources have revealed.
A Zimbabwean criminal investigation official has confirmed that three Zimbabwean Defence Industries (ZDI) officials have been held secretly here over their involvement with the deal with the "mercenaries".[...]
Click here to comment on this article
P lease forgive me, begs infamous warlord
Monrovia - One of Liberia's most notorious warlords returned home after more than a decade in exile, asking forgiveness on Monday for "whatever wrong" he may have done.
Prince Johnson, a onetime-faction leader turned evangelist and political hopeful, is best-known for the 1990 kidnapping, torture and killing of Liberia's then-president, Samuel Doe.
A much-circulated video recorded Johnson looking on languidly while his followers carried out Johnson's order to slice off Doe's ear.
The episode came at the launch of what became nearly 15 years of bloodletting, as Johnson and other rivals battled for power.
Major fighting ended in August when one of Johnson's leading opponents, warlord-president Charles Taylor, fled into exile in Nigeria. The world's largest United Nations force is building up to see Liberia into elections within the next two years.[...]
Click here to comment on this article
Survival the aim as Kibaki opens assembly
Nairobi - When newly elected Kenyan President Mwai Kibaki opened Kenya's ninth parliament a year ago he spoke of ending corruption and healing the battered economy.
Opening its 2004 session on Tuesday he has a more basic goal: the very survival of his coalition, which has recently seemed intent on tearing itself apart.
East African markets will watch closely to assess whether the frail, reclusive 72-year-old has managed to repair damage to his authority done by months of tribally tinged infighting in his National Rainbow Alliance (NARC) government.[...]
Click here to comment on this article
Conflict and unrest drive African brain drain
Addis Ababa - African experts blamed civil unrest and conflict for driving people from their home countries, saying on Monday that governments should encourage skilled migrants to return and stop Africa's "brain drain".
"Continued migration is expected to get worse as demands in developed countries grows for skilled manpower and African governments will have to take more effective management policies to arrest the exodus," said the experts, meeting in Ethiopia under the auspices of the African Union.[...]
The African Union aims to address development on a continent scarred by conflict in many of its states, including Liberia, Burundi, Sudan, Somalia, Ivory Coast and the Democratic Republic of Congo.
Click here to comment on this article
Lost child discovered cooked in Midlands
Partially-cooked body parts of a missing child were found in a house at Rookdale near Bergville in the KwaZulu-Natal Midlands on Tuesday, police said on Wednesday.
Four-year-old Sabelo Dubazane was reported missing by his mother earlier in the day and shortly afterwards police established that the child was last seen at a house in the Rookdale area.
A 40-year-old woman found at the house was questioned but she denied any knowledge of his whereabouts. The house was then searched and the child's body was found in a tub under a bed, Inspector Les Botha said.
Bloodstained clothing was found in another tub, also under the bed.
Dubazane had sustained an open wound to the side of his head, and his upper lip and part of his left ear had been severed. Police then found severed body parts which appeared to have been partially cooked, in the suspect's room.
The woman was arrested and is expected to appear in the Bergville Magistrate's Court shortly.
Police have not yet established the motive for the murder and have not ruled out that it might have been a "muti" murder
Comment: A "muti" murder is one that involves the use of body parts to "make medicine". Children are prime targets as some believe their innocence makes the "medicine" more potent.
Click here to comment on this article
Bizarre attractive force found in mayonnaise
Rice engineers find evidence of little-understood force in everyday emulsions
HOUSTON, March 29, 2004 -- Scientists at Rice University have discovered that a little-understood tensile force, which was previously thought to be an oddity found only in the types of plastics used to make bulletproof vests, occurs in everyday emulsions like mayonnaise and salad dressing.
First identified about 25 years ago, the phenomenon known as "negative first normal stress difference" refers to an attractive force that is created within fluids under certain conditions.
For example, imagine two glass plates that are stacked like a sandwich, with a thin layer of liquid between. If the bottom plate is held still and the top plate is moved quickly to one side, it sets the fluid in motion, and creates forces within the fluid that, in turn, act upon the glass.
In simple fluids like water, this sliding motion creates complementary forces that tend to push the plate along in the direction that it was sliding. In more complex fluids like polymers, tension develops, creating forces that tend to push the plates apart. Around 1980, it was discovered that liquid crystalline polymers - the chief ingredients in ultrastrong fibers like Kevlar® and Zylon® - created forces that tugged the plates together. This force is referred to as "negative normal stress," as opposed to the more common positive forces that push plates apart.
Last year, Matteo Pasquali, assistant professor of chemical engineering, and colleague professors and graduate students at Rice were trying to create a strong fiber of pure carbon nanotubes. The researchers were attempting to adapt the methods DuPont had pioneered in the creation of Kevlar, and they ended up with a solution of nanotubes that behaved like a liquid crystalline polymer. The solution exhibited negative normal stress, which was a confirmation that the nanotubes had made a liquid crystal.
At about the same time, Pasquali and graduate students Alberto Montesi and Alejandro Peña were testing emulsions of oil and water. Emulsions are combinations of two or more liquids that do not mix, and they are common in industrial settings like oil fields as well as in everyday foodstuffs like mayonnaise or vinaigrette salad dressing. In oil and water, an emulsion is created when tiny droplets of water become dispersed throughout the oil.
Pasquali, Montesi and Peña found that negative normal stress was present in their oil and water emulsions when the concentration of water droplets was in a specific range. The research was published last month in the academic journal Physical Review Letters. [...]
"I went to the store, bought a jar of mayonnaise and tested it," said Montesi. "I was curious to see if it showed the same negative normal stress, and it did." [...]
Click here to comment on this article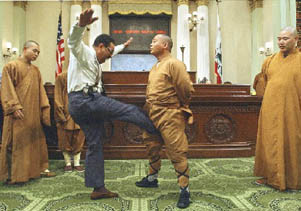 California Assemblyman Kicks Tibetan Monk
AP - The highest figure in Chinese Zen Buddhism and a group of his monks attended yesterday's Assembly session during the monks' first visit to the United States. . . The performance included acrobatic flips and shows of strength by the monks. One performed a handstand balanced only on his index fingers, and another stood coolly while former Assembly Speaker Herb Wesson, D-Culver City, repeatedly kicked him between the legs. The monks urged Wesson to kick harder.
Republican Assemblyman Dennis Mountjoy of Monrovia was invited to deliver a series of blows to another's midsection. After being socked three or four times by the legislator, the monk was unfazed.
Click here to comment on this article
---
Remember, we need your help to collect information on what is going on in your part of the world!
We also need help to keep the Signs of the Times online.
---

Check out the Signs of the Times Archives

Send your comments and article suggestions to us

---
Fair Use Policy
Contact Webmaster at signs-of-the-times.org
Cassiopaean materials Copyright ©1994-2014 Arkadiusz Jadczyk and Laura Knight-Jadczyk. All rights reserved. "Cassiopaea, Cassiopaean, Cassiopaeans," is a registered trademark of Arkadiusz Jadczyk and Laura Knight-Jadczyk.
Letters addressed to Cassiopaea, Quantum Future School, Ark or Laura, become the property of Arkadiusz Jadczyk and Laura Knight-Jadczyk
Republication and re-dissemination of our copyrighted material in any manner is expressly prohibited without prior written consent.
.