---
New Article: Jupiter, Nostradamus, Edgar Cayce, and the Return of the Mongols - Laura Knight-Jadczyk
Part 1, Part 2, Part 3, Part 4, Part 5, Part 6, Part 7, Part 8, Part 9, Part 10, Part 11, Part 12
Picture of the Day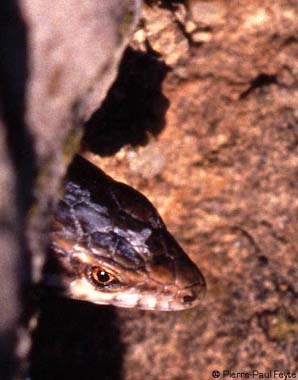 The Devil at work
©2004 Pierre-Paul Feyte
The Devil looked down upon the world and was pleased. Men were set against men, and strife was everywhere. The Devil knew he was good at his job. He'd been to the best management schools in Entropica, graduating first in his class. He'd had to lie, cheat, betray his classmates, and manipulate his teachers, but that was the curriculum, and he'd mastered it. He had also become exceptionally accurate with his Smelting stick. He'd been around for countless cycles, and could remember when he had been playing the role now held by Bush. He momentarily relived the pleasure he'd had being Sharon, wiping out the Palestinians and leading the Jews around by the nose. Then again, he'd been leading the Christians around by the nose, too! He appreciated the joke when he found himself whispering in Bush's ear that he ought to invade Iraq and take out Hussein. How amusing it was to find one part of yourself organising the overthrow of another part of yourself, all the while counselled by yet another part of yourself claiming to be God!
He was God to these people. He was Yahweh, he was God the Father, he was Allah, he was Indra. He had all the roles for himself. A little change of make-up here, a bit of a change of voice and costume there, they'd do whatever he wanted, regardless of whether it made any sense or not.
He shifted his position to take a look down on Iraq. As he did, he could make out Gabriel, his lieutenant of Iraqi affairs, in the distance. Yeah, it was about that hour. His people on the ground would be reporting back.
"So, what's new today?"
"Great stuff, chief. Listen to this:"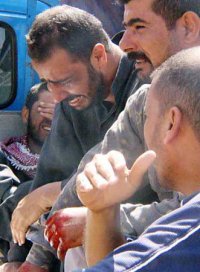 At Least 15 Killed, U.S. Battles Insurgents in Iraq

March 26, 2004

FALLUJA, Iraq (Reuters) - U.S. troops fought running battles with insurgents in the Iraqi flashpoint town of Falluja on Friday, the clashes killing a U.S. Marine, an Iraqi cameraman and at least six other civilians.
Falluja, about 60 km (40 miles) west of Baghdad, is known for its fierce hostility to the U.S.-led occupation. Insurgents fought U.S. troops in the town for several hours, but it was unclear what sparked the violence.
Doctors at Falluja hospital said at least six civilians were killed. One said eight. Reuters Television footage showed a boy wounded in the head screaming in pain as doctors bandaged him. [...]
Click here to comment on this article
"Not bad. The 'mission's' been 'accomplished' since May and yet the situation is deteriorating by the day. Funny how in a country where victory has been won, there can still be places 'known for its fierce hostility to the U.S.-led occupation.' Amusing, don't you think?"
"Yes, boss."
"And the boy wounded in the head, screaming in pain. Nice touch."
"We do our best, sir."
"Make sure this gets some play in the US. We need this evidence to be available so they have no excuse later on when the trap closes. You know how it is, they come in all squealing and terrified claiming that they 'didn't know.' Then you show them these clips and they realise they weren't paying attention."
"We also have this from Fallujah, boss. I think you'll be very pleased." Gabriel handed his boss the next report. The Devil eyed it carefully.
TV cameraman killed by US fire in Iraq: doctors

Fri Mar 26, 1:55 PM ET

FALLUJAH, Iraq (AFP) - An Iraqi cameraman was killed by a bullet to the forehead when US troops fired in the direction of journalists during clashes in the flashpoint town of Fallujah, doctors and witnesses told AFP.
"ABC News cameraman Burhan Mohammed al-Luhaybi who received a bullet to the forehead, just passed away," said Muhannad al-Samarrai, a doctor at Fallujah General hospital.
"The bullet is the same that we have seen in previous casualties fired by US troops," said another doctor, Mohammed al-Kabissi.
An AFP correspondent and other reporters at the scene said Luhaybi was standing among a group of journalists covering the clashes when US troops fired in their direction, hitting him in the forehead.
"We told him to stay back, but he insisted on moving forward to take more shots. This is when the US forces fired and he was wounded," an AFP correspondent said. [...]
Click here to comment on this article
"Another journalist! Gabriel, remind me when the Time comes to give you an extra pot of Tribulation stew!"
"Really, boss. You don't need to do that."
"No, Gabriel. You have earned it."
Gabriel was pleased. There was nothing he liked so much as a fresh pot of Tribulation stew. He'd been living off of "Christian in a Can" for a little too long, that and "Cosmic Spam." Ugh! No, the thought of a juicy Evangelical gave his scales a tingle. He always loved it when Armageddon rolled around. Fresh meat for years!
He gave his boss the next report.
Report Details Low U.S. Army Morale, Suicide in Iraq

By Will Dunham
Fri Mar 26, 8:26 AM ET
WASHINGTON (Reuters) - U.S. soldiers in Iraq were plagued by low morale, experienced spikes in suicides last July and November and lacked access to some medications sought by military mental-health specialists to treat emotional problems, Army experts reported on Thursday.
A 12-person Army Mental Health Advisory Team issued a 38-page report on issues faced by U.S. soldiers in Iraq, including suicide, combat stress and the availability of help from the Army. The team traveled to Iraq from August to October 2003 and interviewed almost 760 soldiers.
The report found a "significant proportion" of soldiers "experienced and reported behavioral health concerns, and that there was an unmet need for behavioral services." [...]
Click here to comment on this article
"Excellent. I can see that you and your boys have been preparing for the future. When these soldiers get back home, there'll be hell to pay!"
"'Hell to pay!' That's a good one, sir!" Gabriel laughed politely, although he'd heard it a thousand times before. He wondered whether his boss was showing signs of mental fatigue. That happened in some of the older ones. Gabriel knew it meant that a place might be opening up in the higher echelons.
Of course, his boss was a cunning SOB, and Gabriel was aware it might just be a trap.
He'd saved what he thought was the best for last.
"One last report, sir. I'll think you'll find this one amusing."
The old Devil's eyes lit up as he began to read.
U.S. Officials Fashion Legal Basis to Keep Force in Iraq

By JOHN F. BURNS and THOM SHANKER
March 26, 2004

BAGHDAD, Iraq, — With fewer than 100 days to go before Iraq resumes its sovereignty, American officials say they believe they have found a legal basis for American troops to continue their military control over the security situation in Iraq.
After months of concern about the legal status of the 110,000 American troops who are expected to remain here after the occupation formally ends on June 30, the officials say they believe an existing United Nations resolution approving the presence of a multinational force in Iraq, approved by the Security Council in October, gives American commanders the authority needed to maintain control after sovereignty is handed back. [...]
Click here to comment on this article
It took a few minutes for the Devil's laughter to die down.
"Oh, that last fit just about killed me," he said wiping the tears from his eyes. "That's about the funniest thing I've read all year! Finding a 'legal basis' to keep their troops in Iraq! After illegally invading! That'll be another good one to play when they come in here all whining and complaining that they didn't know a thing! And that remark about the resolution that 'gives American commanders the authority needed to maintain control after sovereignty is handed back'! Oh, Gabriel, that is choice."
The Evil One sat down. He was still fighting the chemicals the last report had unleashed.
"Are you sure you didn't write this for them?"
"No, sir. You know that changes the taste of the meat. They have to do it themselves."
"I know. I know. It's just that sometimes I can't believe how blind and mechanical they really are."
"Sir, I need to get back to the squad. There's a little Mossad operation coming up I need to oversee."
At that, the Devil regained his composure. Thinking about Mossad made even the Devil a little uneasy.
"Yes, by all means. We don't want to keep them waiting. Good work, Gabriel. See you next week."
Alone once again, the Ruler of the World allowed a free association of images arise in his mind. He'd been through this before. He'd played so many parts. Now, he tried to hold the whole picture in his mind at once, seeing the situation from as many points of view as possible: Bush, Sharon, Putin, Blair. Was there something he was missing? Some point that needed to be brought forward. He decided it might be useful if two of his "past selves" got together. There was something very useful in the material world when two physical bodies were in the same room. They could align themselves. Of course, that meant that the stronger of the two was able to hypnotise and subdue the weaker. But that was just the way things worked. It used to bother him when he was Bush, but he certainly appreciated it when he was Sharon.
"Yes," he mused. "It is time for Sharon to pay a visit to Bush."
Israeli PM to meet President Bush
Israeli Prime Minister Ariel Sharon will meet US President George W Bush in Washington on 14 April.
The talks will be two days after Mr Bush meets the Egyptian leader, Hosni Mubarak, at his ranch in Texas.
The announcement comes at a time of intense behind the scenes discussions over Israel's plan to withdraw from Gaza and parts of the West Bank.
With US elections due in November, Mr Bush wants to have some progress to show in the Middle East.
Click here to comment on this article
Thinking about Bush and Sharon just naturally brought to mind the subject of terrorism, one of those mechanical, automatic associations. He was particularly proud of Sharon who had an intuitive grasp of how to keep the plans moving forward. Madrid didn't work as planned? Sharon had a sixth sense that told him it was time to blow a half-blind, paraplegic cleric out of his wheelchair! That's chutzpah!
And then proudly claim credit and justify it all by claiming "self defense"! Yup, there was a place for Sharon on his team after the next harvest.
"Wait a minute! I was Sharon!" For a paranoid moment, the Devil looked around. He was slipping. He could feel his thought patterns starting to crystallise. Had he read something of this on Gabriel's face? He hadn't gotten this far by trusting anyone, he couldn't start now. He'd make a note to have Gabriel transferred.
This was when he was supposed to be meeting with his deputy on Homeworld Security. He picked up a stone from his desk.
"So, Michael," he said to the stone, "Madrid was a piece of cake! No problems, you promised." He felt bad for a moment, but he couldn't let personal feelings get in the way of his job. If he hadn't recycled Michael back to primal matter, those below him would have found him weak. Unfortunately, it meant he had to handle Homeworld Security himself until he could find a replacement.
He pulled out the dossier to brush up.
Spanish police find house were Madrid bombs were made: radio
07:13 AM EST Mar 27
MADRID, Spain (AP) - Abu Musab al-Zarqawi, a Jordanian linked to the al-Qaida terror network and suspected of heading a terrorist organization in Iraq, is now believed to have been the brains behind the deadly Madrid railway attacks, a French private investigator said Friday.
Investigator Jean-Charles Brisard said Spanish officials told him some suspects held in the March 11 attacks were in contact with al-Zarqawi as recently as a month or two before the bombings, which killed 190 people and wounded more than 1,800.
"They believe today he was the mastermind," Brisard, who is investigating the Sept. 11, 2001, attacks on the United States, said in a telephone interview from Geneva, Switzerland.
Click here to comment on this article
Madrid. It weighed on him. He was having to do some scrambling there. Aznar had fouled things up by putting the blame on ETA. Damn humans, thinking they could think for themselves. On the other hand, the back-up plan seemed to be working. The Europeans were being slowly corralled into the "It could happen anywhere, anytime" mentality that had so swiftly overrun the US. He picked up the report from the EU minister's conference.
TERRORIST TSAR: EU SAFETY IS PROBLEM
By Nick Sommerlad
Mar 27 2004

EUROPE's new anti- terrorism tsar warned yesterday that it is impossible to ensure "absolute security".
Former Dutch Justice Minister Gijs de Vries downplayed what he could achieve - just one day into his new job.
He said his aim was to make the existing system work better - rather than to create a new, EU-wide, anti-terrorism machinery.
He added: "The attacks in Madrid have demonstrated that we are once again faced with a genuine European problem.
"It is not just a problem of one or two countries. This can happen, unfortunately, in many regions of our continent and therefore we have to work together and make sure that we do better.
"But I must confess that it will be difficult."
Click here to comment on this article
It was taking longer than he had hoped, but the word did seem to be finally seeping through. Train bombs in Madrid, threats of train bombs in France, although it was looking like the group chosen for that job wasn't up to the task. What had their letter said? "Technical and logistical weaknesses?" He'd fixed them up in a hurry after that. Three of them were in jail at the moment. His scouts were already working on finding their replacements.
He turned his attention to Asia. After much effort, the Japanese had been brought onboard. Remember the slugfest in the Japanese parliament last year! All those distinguished "politicians" fighting each other, leaping over desks. Same thing had happened in South Korea recently, although for a different reason. The mind control waves were working, though, and that was what was important.
More Japanese worried about domestic security: survey
TOKYO, March 27 (Xinhuanet) -- An increasing number of Japanese are concerned about domestic security situation following Japan's dispatch of troops to Iraq, according to a government survey issued Saturday.
The poll by the Cabinet Office found 39.5 percent of respondents said Japan's security situation is deteriorating, up nearly nine percentage points compared with the last survey in December, 2002. Those who felt safe accounted for 20 percent, dropping 6.9 points.
Anxiety over possible terrorist attacks is growing after the dispatch of Self-Defense Forces to Iraq last December, said the office.
Click here to comment on this article
"Hmmm. Maybe we should do another subway attack. The guys really love sashimi. It'd revive the whole cult scare, too."
All this talk of food was making the Devil hungry. What did he want for a mid-morning snack? How about some energy from a psychopathic priest?
Vatican probes Oslo sex abuse charges
The Catholic diocese in Oslo is now among scores of others around the world that allegedly failed to act on charges of sexual abuse. The pope's own top investigator is reportedly leading a probe into charges of sexual abuse at a monastery in Oslo.
Click here to comment on this article
No. He'd been having a little too much of that recently. He wanted something a bit different. How about some Mid East cuisine?
Hordes flocking to 'miracle' lamb
BBC
Friday, 26 March, 2004, 15:53 GMT
Palestinians have been flocking to see a lamb which seems to have a birthmark spelling out the Arabic word for God, "Allah", in its coat.
Owner Yahya Atrash, from the West Bank town of Hebron, told Reuters the animal was born on Monday, when militant leader Sheikh Ahmed Yassin was killed.
He told Reuters the timing was "clear evidence of God's existence". [...]
Click here to comment on this article
Yeah, that was good. The energy these believers gave off was quite refreshing. He felt better already. A birthmark spelling "Allah." He wondered whose idea that was. Somebody in the MidEast bureau with a bright future ahead of him.
Beep! Beep! His moment of digestive revelry was brutally cut off. It was the Palestinian Hotline.
7-year-old Palestinian boy killed in raid: Each side blames the other
Saturday, March 27, 2004 Posted: 8:11 AM EST (1311 GMT)

JERUSALEM (CNN) -- A Palestinian boy was killed early Saturday after Israeli forces entered the Balata refugee camp in the West Bank, Palestinian and Israeli military sources said.
Neither group claimed responsibility. The Israel Defense Forces said Palestinian gunmen, firing at an Israeli military vehicle, shot the boy. Palestinian witnesses and city officials said 7-year-old Khaled Walwil was shot in the head by Israeli soldiers.
Click here to comment on this article
Shot in the neck. And the Israelis are saying the bullet was fired by a Palestinian and ricocheting off their jeep!
Next, the EuroAsian bureau. Ezekial was just coming over the cloud.
"O Great One!"
Ezekial was still new. He depended upon the formality to cover over his own insecurities. The Devil morphed himself into a Hollywood agent.
"So, Zeke baby, what's the scoop!" The Devil enjoyed making Ezekial squirm.
"Sir, this is very serious. Look what is going on in Poland!"
Friday March 26, 07:10 PM
WARSAW (Reuters) - Polish Prime Minister Leszek Miller says he will resign the day after his country joins the European Union on May 1, caving in to pressure from rebels in his own party.
Miller said his decision followed an acrimonious split in the ex-communist Democratic Left Alliance (SLD) in the face of crumbling popular support for the government. [...]
The government of Miller, an ex-communist, was the ninth cabinet and the most unpopular administration since Poland overthrew communism 15 years ago. [...]
Click here to comment on this article
The split in the Axis of Evil was still having an effect. Poland was feeling isolated now that Aznar was out of power. It looked like the Europeans were going to be meeting again soon to try and resolve their constitutional problems. That was good. Uniting Europe would stir up the pot. There were enough Atlanticists in Europe, planted there by the US after the war, to keep everyone guessing. Was Eupore uniting against the US, or as part of the imposition of its global domination. The Devil didn't know yet. He wanted to keep his options open. It could go either way, and no matter the option finally implemented, it would mean more pain and misery for everyone invovled.
It was good to have all your bases covered.
"What about the French elections?" he asked the youngster, retaking his familar reptilian features.
"The second round of voting comes up tomorrow, sir. Chirac is in trouble. It is looking good for our man."
French government reshuffle likely after weekend vote

PARIS, March 26 (AFP) - President Jacques Chirac of France will order a major cabinet reshuffle early next week after the second round of regional elections on Sunday in which the ruling centre-right is now reconciled to a resounding midterm defeat, political commentators said Friday.
However unless the rout is spectacular Prime Minister Jean-Pierre Raffarin, who was in the firing line after the Union for a Popular Movement's (UMP) first round drubbing last Sunday, is now regarded as likely to stay on as leader of the government - at least until the summer.
[...] Leaks to newspapers Friday indicated that the president is likely to keep Raffarin for the moment - mainly because as prime minister he can continue to serve as lightning-rod for public discontent during European elections in June and through controversal reforms of the social security system due by the summer.
Preserving Raffarin would also allow Chirac to avoid the question of what to do with the man who is increasingly seen as his rival ahead of presidential elections in 2007 - the highly energetic interior minister Nicolas Sarkozy, commentators said.
Sarkozy has emerged strengthened from the regional debacle because he is the one minister whose record in office is seen as popular and effective, and he has won himself new favours inside the UMP by campaigning tirelessly for its candidates - many of them doomed to defeat - during the last week.
According to press comment, Sarkozy was likely to be given an enlarged ministerial remit in next week's reshuffle, possibly including the key dossier of civil service reform. He could also win positions for his supporters inside the power structure of the UMP, which would be vital for any presidential bid.
[...] Among ministers considered at risk in any reshuffle are Education Minister Luc Ferry and Health Minister Jean-Francois Mattei.
Click here to comment on this article
"Yes. Excellent. Most excellent. All these elections are a great source of consternation for our little pets. They get so emotionally involved. Not that their voting will make the slightest difference."
"Yes, O Great One. You did a bang-up job in Taiwan, sir, if I may be so bold."
Ah! Taiwan. It had a bit of everything. The phoney assassination attempt just before the vote. The 30,000 vote spread between the winner and the loser. A society split down the middle just ready to explode as well as the mainland looking on with great interest.
Taiwan rocked by fresh protests
About 300,000 opposition supporters in Taiwan have been holding a fresh protest against the narrow re-election of President Chen Shui-bian last week.
Braving the rain, they gathered outside the presidential palace a day after President Chen's victory was confirmed.
Mr Chen's opponent, Lien Chan of the Kuomintang party, vowed to continue the protests "until our goal is achieved".
Mr Lien, who has demanded a recount of the vote, urged supporters to remain calm and prepare for the long haul.
On Friday, opposition activists clashed with police and stormed the offices of Taiwan's election body.
China, which regards Taiwan as part of its own territory, says it will not stand by if Taiwan descends into chaos.
Taiwan has told China not to interfere.
Click here to comment on this article
"Good work, Ezekial. It is always a pleasure to watch youthful passion applied to the job." The Devil reached into his desk drawer and pulled out three envelopes.
"Please deliver these to Mr. Chen and Mr. Lien. I am promising to support them both no matter the outcome!
"And the third one, it goes to Bejing!"
Ezekial slipped the letters under the feathers of his wing and was off.
Taiwan was only interesting to the Devil to the extent he could get the mainland Chinese involved and thereby provoke hostility between China and the US. Much more interesting at the moment was the interplay between Bush and Putin. His man Putin had countered the oligarchs very well, upsetting his man Bush's plans to take over the Russian oil and gas industry.
He wondered how the arms dossier was proceeding. It had been two years since the Moscow Treaty on nuclear arms reduction had been signed, leaving both sides a gigantic loophole. He had been discussing with his US advisors the timing of their change of face. The next report was confirmation that the plan was taking effect.
US not to reduce nuclear arsenal to Moscow Treaty levels
Thursday March 25

The United States will not cut its nuclear arsenal to levels designated by an arms accord it concluded two years ago with Russia because it must hedge against an uncertain future, a top administration official announced.
The Moscow Treaty signed with great fanfare by Presidents George W. Bush of the United States and Vladimir Putin of Russia in May 2002 calls on both sides to reduce their strategic nuclear warheads to between 1,700 and 2,200 by 2012.
But it refers to "operationally deployed" weapons, essentially offering both governments a loophole that allows them to move an unlimited number of warheads into storage and keep them indefinitely under lock and key.
While US officials have often praised this option, Wednesday's remarks by Undersecretary of Energy Linton Brooks before the Senate Subcommittee on Strategic Forces represented the first official indication the Bush administration had actually decided to exercise it.
"The 2012 nuclear stockpile will be substantially reduced from current levels," Brooks told lawmakers. "But reductions will not lower the stockpile to 1,700-2,200 total warheads."
He said the retained warheads will be needed for routine maintenance of the arsenal, for meeting "commitments to allies," and to address threats that may arise in the future.
Click here to comment on this article
Good. It was going like clockwork. Nukes taken care of. Now what about the other Weapon's of Mass Destruction the US was so righteously removing from the hands of everyone else.
The Army's Chemical Weapons Conundrum
By John Gartner, AlterNet
March 26, 2004
The Army says its stockpiles of chemical weapons are a threat to the American people that must be disposed of expeditiously. But plans to neutralize 1,269 tons of VX nerve gas and release the waste product into the environment are going nowhere fast. A rising tide of opposition is swelling against the latest scheme to ship up to 4 million gallons of corrosive wastewater more than 700 miles for further processing before it is dumped into the Delaware River.
VX is the most deadly of the chemical weapons; ingestion of only 10 milligrams can cause death. The government created the stockpile during the 1960's at the height of the Cold War, but has only recently decided to dispose of the lethal chemicals. The United States agreed to destroy its reserves of VX, GB and Mustard gases by 2015 when it signed the Chemical Weapons Convention (CWC) treaty in 1997. However, after the Sept. 11, 2001, terrorist attacks, the Army accelerated the timetable ("Operation Speedy Neut") to free the country of chemical weapons by 2007, and subsequent world events have reinforced the urgency.
"The recent events in Spain underscore that terrorists will go after targets they value," said Colonel Jesse Barber, the project manager overseeing the Army's Alternative Technologies and Approaches group. "The greatest risk [to Americans] is the continued storage of our chemical weapons."
The Army has proposed to dispose of the VX nerve gas cache stored at the Newport Chemical Depot in Indiana using a two-step process. At the Newport facility, the Army would neutralize the nerve gas using sodium hydroxide and hot water, creating VX hydrolysate, or caustic wastewater that the Army likens to drain cleaner. While the resulting mix is 85 percent water, it is highly corrosive, with a pH level of about 13.5.
Click here to comment on this article
He remembered the map of toxic depots and chemical weapons storage facilities within the continental US. There was no part of the country that was safe! When the comets started hitting, the gasses and toxins released would imbue everyone with that ole time smokey, BBQ flavour that his minions so enjoyed.
He reached for a few Evangelly beans from the dish.
Now that he was focused on the US, he turned his attention to the ongoing scandels of the Bush administration. He had to admit that he viewed the whole thing with a different eye than from when he was in the Oval Office. He remembered that sinking feeling that had haunted him. He'd tried to laugh it off at the time, but even that had backfired when he brought the Washington Press Corps in on the joke. They had laughed, sure, but some idiot had recounted the slide show to some do-gooder and the whole thing had blown up in his face.
From his new position, he could only laugh at himself and be thankful for the mess.
It had served him as a good lesson. He learned he couldn't even trust himself! And the Condi affair! She was parading around giving internviews all about 9/11 while at the same time refusing to testify before the Congress!
O Condi. I need you to testify!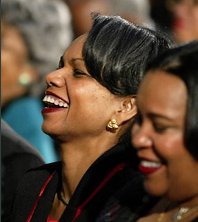 Condi Rice laughs hysterically at the fact that the Bush administration can get away with basically anything.
Rice to testify - but not under oath
By Adam Nagourney in Washington
smh.com.au
March 27, 2004

Under mounting pressure from Democrats about its response to the independent commission investigating the September 11, 2001, attacks, the White House says the National Security Adviser, Condoleezza Rice, will answer more questions from the panel.
At the same time, President George Bush was strenuously denying accusations that he had ignored the severity of the al-Qaeda threat.
The White House said on Thursday that Dr Rice would go before the panel again, but only in private and not under oath.
Some Republicans said that Mr Bush was being undercut by the perception that a senior White House official would not co-operate with the commission while his aides were pummelling Richard Clarke, the former counter-terrorism chief who has accused the Bush Administration of not heeding warnings before September 11. [...]
Click here to comment on this article
The blacks in the US still had not figured out that they were always going to be used as the fall guys! Condi and Colin. They'd both been used. Soon they'd be nothing but empty husks. Mind you, they won't be the the only ones. Rummy and Ashcroft would meet the same fate, and they thought they'd be sitting at the right side of God after it was all over. They'd have a surprise when they got deep in their underground cities. Those tunnels made for great ovens.
What about the "loyal opposition." The farce of democracy had to be maintained for a little longer. Kerry was doing a knock-up job. He was no different from Bush on foreign policy, denouncing Chavez in Venezuela and acting more Jewish than Sharon himself when it came to promises for defending Israel. But the kinder, gentler face presented on social issues within the US would be certain to win over those who were feeling the effects of Bush's hand-outs to his Daddy's rich friends. Create jobs by giving more money to the rich. That'd work. Always had in the past.
Kerry Promises to Create 10 Million Jobs

By NEDRA PICKLER, Associated Press Writer
March 26, 2004
DETROIT - Determined to counter President Bush's effort to portray him as a tax-raiser, Democrat John Kerry said Friday he would lower corporate taxes by 5 percent to promote job creation while eliminating tax incentives that sends work overseas.
"Some may be surprised to hear a Democrat calling for lower corporate tax rates," Kerry told an audience at Wayne State University. "The fact is, I don't care about the old debates. I care about getting the job done and creating jobs here in the United States of America." [...]
Click here to comment on this article
Now to Congress. Time to stoke the fires of the deficit. All during the Clinton years, the Republicans had been hammering the Democrats over the deficit. And what did they do when they got into power! They brought in the biggest deficits, due to their arms spending, that the country had ever seen! And no one batted an eye! They could get away with murder under the guise of Homeland Security.
House Passes Budget to Halve Deficit by 2009

By Mary Curtius Times Staff Writer
Fri Mar 26, 7:55 AM ET
WASHINGTON — The House on Thursday passed a $2.4-trillion budget for the 2005 fiscal year that Republicans say will cut the deficit in half by 2009, extend some tax cuts and increase spending on defense and homeland security. [...]
Independent congressional watchdog groups have said that neither chamber's proposal represents a serious effort to cut the deficit, because neither calls for deep spending cuts or proposes new ways to raise revenue. Both versions rely largely on continued economic growth and a virtual freeze in domestic spending outside homeland security to bring the deficit down to about $234 billion by 2009. [...]
Click here to comment on this article
He grew bored. The US and its citizens were too predictable. The years of brainwashing had been so effective that there was little of interest happening there. No surprises. While this was a necessary part of the plan, it was no longer a challenge. The challenge had been earlier, putting the pieces into place, convincing the Yanks they were God's gift to the world. And in many ways they were, only they didn't realise who the God they worshipped really was and what role they were really to play. That would come later, when in one fell swoop, at the last moment, their eyes would open, the scales and veils would fall, and the horror of their predicament would be revealed.
Same thing for the Christians. One day they'd all be "Raptured" away from the face of the earth, only to find themselves in the soup, so to speak. Rather than feasting their eyes on the face of the Lord, they'd be the feast. Tribulation Stew. The real believers always tasted the best. They'd given up smoking. They'd cured themselves through years of church and blind belief in the most outrageous of lies, all sanctimoniously wrapped up in "we are better than you" arrogance and piety that added the subtle, yet unmistakeable, favour so appreciated by connaisseurs. The French had foie gras, a delicacy made from stuffing duck and geese until their livers became distorted. Evangelical Christians were similar, stuffed with religion until they couldn't see straight, and, like the ducks, it was said they kept coming back for more.
But there was still work to be done. There were still too many ways for people to communicate with each other, to exchange ideas, to verify the newspaper reports against the eyewitness accounts of people on the spot.
He picked up the latest report from his Communications bureau.
United Nations ponders Net's future
By Declan McCullagh
Staff Writer, CNET News.com
March 26, 2004, 4:00 AM PST

UNITED NATIONS--The United Nations wants a big piece of the Internet.
At a summit here this week, delegates from around the world gathered to take a preliminary step toward U.N. involvement in some of the areas that are bedeviling Internet users and governments alike, including spam, network security, privacy and the regulation of the technical underpinnings that control the sprawling global network.
U.N. Secretary General Kofi Annan set the tone in a speech Thursday, criticizing the current system through which Internet standards are set and domain names are handled, a process currently dominated by the United States, Canada, Europe and Japan. Such structures "must be made accessible and responsive to the needs of all the world's people," Annan said. [...]
Although the U.N. process is still in its early stages, the result could dramatically reshape the way the Internet is run and put an end to some of the informal, collaborative processes that exist today. The master "root servers" that serve up addresses for country codes and all other top-level domains, for instance, are operated in part by volunteers instead of through a U.N.-style apparatus. [...]
Backing ICANN are groups such as the International Chamber of Commerce (ICC) and the U.S. Commerce Department, which fear that greater U.N. involvement will unleash the world's most extensive bureaucracy on the Internet and stifle innovation online. In a paper distributed at the summit, the ICC took issue with the popular term Internet governance, saying it "implies that there is a need for the Internet to be governed in some way, a view that ICC does not support." [...]
Click here to comment on this article
Another no win situation for the inhabitants of Earth. On the one hand, the voracious and predatory corporations and members of the technologically powerful nations using the smokescreen of "innovation" and the bogeyman of UN bureaucracy. On the other, the havenots, with no desire to actually put such tools in the hands of their people, but with a justified grievance that they are being kept in place as second-class citizens. Debates like this had gone on for thousands of years. They never saw how they were being led in circles.
It was starting to get late. There were only a few items left on his desk.
Russian court bans Jehovah's Witnesses
Last Updated Fri, 26 Mar 2004 17:53:39
MOSCOW - A Russian court has banned the Jehovah's Witnesses from Moscow. The ruling means the sect has lost its legal status and can be barred from holding organizing meetings.
A lawyer for the Jehovah's Witnesses said the ruling appeared to have been encouraged by Russia's Orthodox Church, which has complained about proselytizing by Jehovah's Witnesses and other religious groups.
Click here to comment on this article
Good. More cult-like behaviour. This will help stifle any creative thought in Russia. What cretins these earthlings are! Running scared about cults when the most dangerous cult in existence is in power in the US! But, it is all part of the plan.
Next...
Train Collision in Chicago Injures 18

By DON BABWIN, Associated Press Writer
March 26, 2004
CHICAGO - A commuter train leaving a downtown station at the end of the morning rush hour collided with a locomotive on Friday. Eighteen people were injured, none seriously. [...]
Metra has been involved in four deadly accidents in the past five weeks in which people crossing Metra tracks were struck by trains. In October, a Metra train carrying 350 people derailed, causing mostly minor injuries.
Click here to comment on this article
OK. Minor accident. Happens all the time. Just lets them know that they could die at any time. Does it matter? Does it make them reflect upon their own mortality? Of course not! And even if they knew the hour of their own death, they'd probably just use the time to party.
"Not that I should complain," the Devil thought to himself. "I am on a quota system here. Nobody is a nobody! Each one counts. If I'm going to win Salesman of the Grand Cycle this time around, I shouldn't be finding excuses..."
His legs felt heavy. That was a new feeling. Was sclerosis setting in? Was it true those legends about what happens to people at the top?
He stood up and shook out the legs. First the right one, then the left. Then he gave his tail a shake for good measure.
It was time for the weather reports.
Bald eagles nesting in Chicago for first time in a century
ABC7Chicago.com
March 26, 2004 — Bird experts say a pair of bald eagles are nesting in Chicago for the first time in more than a century.
State officials and birders are trying to keep the eagles' location a secret. They don't want curious onlookers to scare the birds from their nest. [...]
Click here to comment on this article
Hmmm. Keeping their location a secret. That's symbolic, isn't it! Someone would probably try to shoot them if they knew where they were!
Oh, and what's this?
First-ever hurricane forms in South Atlantic
Last Update: Saturday, March 27, 2004. 2:12pm (AEDT)
The first hurricane ever reported in the south Atlantic has swirled off the coast of Brazil on Friday local time, and forecasters said it could make landfall in the South American country during the weekend.
Although it was far outside their usual territory, forecasters at the US National Hurricane Centre in Miami were helping the Brazilian Weather Service to track the unprecedented system.
"There's problems that happen when hurricanes occur in areas that we've never seen before," hurricane centre meteorologist Eric Blake said.
The storm was a category one hurricane - the least powerful on forecasters' five-level scale, with winds somewhere between 119 and 153 kilometres per hour.
[...] Mr Blake said there have been "questionable" tropical weather systems tracked in the area before, but none had developed into a hurricane.
"This one's broken all the rules," he said.
Click here to comment on this article
Well. This is good news. The weather patterns are completely confused. Things are speeding up nicely. Now, the anomalies desk. More lights?
Italian conference to study Hessdalen
The small Italian town of Cecina is establishing ties with the Norwegian village of Hessdalen. Hessdalen is world-renowned for its inexplicable light phenomena. A flurry of sightings in the early 1980's was skeptically received, but Hessdalen is now the focus of serious researchers who are willing to risk the taint of the unknown.
Click here to comment on this article
He opened his agenda and quickly jotted down a note: "Get HyperJesters to intervene." The HyperJesters department were excellent workers. Tireless, really. They could create real phenomena that looked just like the fakes! If anyone started to make some discoveries, you could count on the HyperJesters to take them off the scent and leave them more confused than ever, but with an innate assurance of being right.
Next the Devil turned his attention to new technologies.
Lost UK butterfly thriving again
By Paul Rincon
BBC News Online science staff
Friday, 26 March, 2004, 12:52 GMT
The large blue butterfly, which went extinct in the UK in 1979, is making a dramatic comeback after the species was reintroduced by conservationists.
Numbers of the beautiful insect last year soared to about 6,000, which is possibly more than have been present in Britain at any time since the 1950s. [...]
Click here to comment on this article
Looks like the real thing, flies like the real thing, but they are in fact clever FRV robot butterflies that serve as low level reflectors for HAARP waves. Seems the boys in the labs have been watching the James Bond movies lately. Very clever.
The last item of the day was the Devil's Silly Desk. It was his favourite department. All of his outposts would select the most outrageous report of the day and send it off to the Silly Desk. This is where the human character shown its brightest, where any doubts the Devil might have about his work were washed away by the torrent of human stupidity and self-importance.
Oh ,yes. This is excellent. Another American flying off the handle about socialism!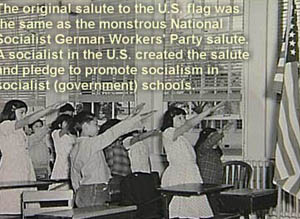 The Socialist Pledge of Allegiance

by Bob Wallace
Lew Rockwell
I recently received a sneering (is there any other kind?) hate mail that read, in part:
"Are you one of the many libertarian, anti-war writers who do not believe in reciting the Pledge of Allegiance? I sure hope not. You are living in the greatest country ever, or don't you believe that either?"
Since this guy does not have a clue as to the history and true meaning of the Pledge of Allegiance, I will enlighten him. (He also doesn't have a clue as to what I think about this country.) He also doesn't understand what a non sequitur is. What does reciting the Pledge of Allegiance have to do with living in the greatest country ever? Or does he believe that pledging allegiance to a piece of cloth automatically leads to living in a great country? There is something missing in his chain of logic.
The pledge first appeared in 1892 in a boy's magazine called the Youth's Companion. For 45 years the authorship was in dispute, with both James B. Upham and Francis Bellamy claiming to have written it. Then, the United States Flag Association settled the dispute in the most democratic fashion possible – they voted on it. Bellamy won the election and claimed the credit.
What kind of man was Bellamy? He was a Nationalist, a Christian Socialist and a Baptist minister who was driven from his pulpit by a congregation weary of his socialist sermons. (Obviously, congregations had more sense in those days.) Since it is not possible to be a Christian and a socialist, Bellamy was very simply a socialist and a Nationalist (I find disturbing the fact that the phrase "National Socialist" is better known by the word "Nazi.")
Bellamy was the first cousin of the famous American socialist, Edward Bellamy. Edward Bellamy's futuristic novel, Looking Backward, published in 1888, described a utopian Boston in the year 2000. The book spawned an elitist socialist movement in Boston known as "Nationalism," whose members wanted the federal government to nationalize most of the American economy.
Francis Bellamy was a member of this movement and a vice president of its auxiliary group, the Society of Christian Socialists. As a minister, he preached on the virtues of socialism and the evils of capitalism. He gave an obviously warped speech on "Jesus the Socialist" and a series of sermons on "The Socialism of the Primitive Church." Because of such socialist sermons, in 1892 he was forced to resign from his Boston church, the Bethany Baptist church. He then joined the staff of the Youth's Companion.
The original Pledge of Allegiance read: "I pledge allegiance to my flag and the nation for which it stands, one nation indivisible, with liberty and justice for all." Bellamy considered putting the words "fraternity" and "equality" – gifts of the leftist French Revolution – in the pledge but decided they were too radical and controversial for public schools.
The main purpose of the Pledge of Allegiance was to collectivize impressionable young students. Some might call this "patriotism," but it could equally as well be called "fascism."
Youth Companion made an untold number of copies of the pledge and sent them to schools all over the country, urging teachers to require the students to recite the words each morning. One hundred years ago the American flag was rarely seen in the classroom or in front of the school Upham changed that. In 1888, the magazine began a campaign to sell American flags to the public schools. By 1892, Youth's Companion had sold American flags to about 26,000 schools.
Obviously, neither Upham nor Bellamy paid much attention to the phrase, "You cannot serve God and money." Or, for that matter, the Commandment about using God's name for vain causes.
In 1923, delegates to the National Flag Conference in Washington, D.C., replaced the words "my flag" with the phrase "the flag of the United States." Bellamy objected to the changes, even though the delegates suggested the original version had a big hole in it. "My flag" could refer to any flag – foreign flags or baseball pennants.
The next year the National Flag Conference added "of America" to clarify which United States the pledge referred to. After all, Mexico refers to itself as the Estados Unidos (United States) of Mexico.
Originally the pledge was recited with an extended right arm in the "Bellamy salute." In 1942, Congress decided that the Bellamy salute was too much like the Nazi salute. Taking its place was the current hand-over-the-heart gesture. [...]
Click here to comment on this article
Whew! This is priceless. He didn't know which of the two sides was the craziest. Truly, intelligent thought was a thing of the past in the US. The Pledge of Allegiance as a piece of "socialist" propaganda! And the two sides are locked in a "to the death" fight over it! While the world was going to hell!
People actually thought this debate was worth the time and energy necessary to compose their hysterical outpourings!
He spotted a report about Tony Blair's trip to visit Gaddafy in Libya. "Hmm," he wondered. "How did this get into the Silly Desk?"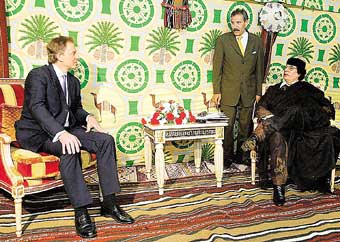 COBBLERS TO YOU, TONY: Gaddafi shoe insult
By Matt Roper
Mar 27 2004

COLONEL Gaddafi insulted Tony Blair by pointing the sole of a shoe towards him, Arab experts said yesterday.
They spoke of their shock and claimed it was a "deliberate act", as images of the historic meeting in Tripoli flashed around the world. Close watchers of the talks in a tent on Thursday between Mr Blair and the reformed Libyan leader noticed Gaddafi's foot pointing towards Mr Blair.
Yesterday, as more photos of their encounter were studied, influential Arabs said Gaddafi was offering the worst of all insults.
In the Arab world, shoes are considered unclean - signifying the lowliest and dirtiest part of the body.
Abdel Bari Atwan, editor of the London-based Al-quds newspaper, said: "I'm completely shocked. The only thing worse would be a physical attack."
Ibrahim Nawar, head of Arab Press Freedom Watch, said: "It was a deliberate act. He wanted to make Tony Blair look very, very small. You never show your shoe to anyone you remotely respect.
"Blair must know enough about Arab culture to realise he was being humiliated." The Muslim Association of Great Britain said: "This shows Gaddafi hasn't changed."
Chris Doyle, director of the Council for British-Arab understanding, said: "If it was intentional, Gaddafi may have been trying to cover himself. He's saying, 'Yes I'm having a make-up with this man, but I'm still not entirely happy about it'."
Click here to comment on this article
"Funny," thought the Devil as he finished the report. "I don't remember doing that. Is this a new variable in the universe?" He went over to the Great Universal Game Theory Computer and entered in the new data. The computer sputtered and scratched under its arm.
"Your answer will be on your desk in the morning, sir," it replied.
Knowing that it was fruitless to argue with it, the Devil looked out over his domain. Yes, it was good to be alive in these times, he thought.
He pulled out his agenda for the next day. "9:00, meeting with the Pope. 12:30, lunch with Bush, Sharon, and bin Laden." Nothing out of the ordinary, he thought to himself. He closed the agenda and slid it into the desk drawer. He took the key from his neck and locked it. Couldn't be too careful. There was always an underling ready to take your place.
He thought about his plans for the evening. Should he throw a few fireballs down? That was getting boring. No one ever reacted. What about a UFO scare? Nah, the Space Brothers were handling that well enough.
"Oh, well. Maybe I'll just watch a film. I just love 'The Passion of the Christ.'"
---
Remember, we need your help to collect information on what is going on in your part of the world!
We also need help to keep the Signs of the Times online.
---

Check out the Signs of the Times Archives

Send your comments and article suggestions to us

---
Fair Use Policy
Contact Webmaster at signs-of-the-times.org
Cassiopaean materials Copyright ©1994-2014 Arkadiusz Jadczyk and Laura Knight-Jadczyk. All rights reserved. "Cassiopaea, Cassiopaean, Cassiopaeans," is a registered trademark of Arkadiusz Jadczyk and Laura Knight-Jadczyk.
Letters addressed to Cassiopaea, Quantum Future School, Ark or Laura, become the property of Arkadiusz Jadczyk and Laura Knight-Jadczyk
Republication and re-dissemination of our copyrighted material in any manner is expressly prohibited without prior written consent.
.