---
New Article: Jupiter, Nostradamus, Edgar Cayce, and the Return of the Mongols - Laura Knight-Jadczyk
Part 1, Part 2, Part 3, Part 4, Part 5, Part 6, Part 7
Picture of the Day

View from the Pic d l'Escalette
©2004 Pierre-Paul Feyte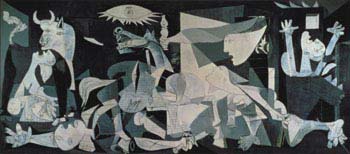 Guernica, Pablo Picasso
Last Thursday's bombings in Madrid have been called "Spain's 9/11" by both the ousted Partido Popular and the government controlled press. The reference to 9/11 is of course an attempt to forge a link in the minds of the Spanish and world population between the September 11th attacks and the Madrid bombings. Supposedly, the goal is to convince the Spanish people that they were attacked by crazed "Arab terrorists" who "hate us because of our freedom and democracy", or some such other banal and idiotic rationale. Our recent research has shown that Arab terrorists are unlikely to be the culprits.
Looking at the evidence, we believe that a more appropriate and accurate name for the Madrid atrocity is "Spain's Second Guernica".
In February 1936 the Spanish people elected a progressive popular front government. Fascist elements within the Spanish military were not inclined to accept a democratic form of government and rebelled. The warring parties were divided into two camps - The "republicans" fighting for the democratically elected government, and the "Nationalists" fighting on the side of the military rebels. A civil war ensued, lasting until 1939 when the Republicans were defeated and General Francisco Franco installed himself as absolute ruler, exiling the Spanish Bourbon Royal family.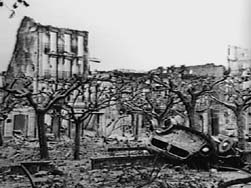 Guernica after the fascist attack.
The Spanish civil war saw the formation of "international brigades", groups of men and women from all over the world who came to fight alongside the Spanish against the rising fascist tide. Their efforts were ultimately futile, yet they saw and understood the "nature of the beast" and were moved to act.
One of the defining moments of the civil war was the bombing in 1937 of the ancient town of Guernica in the northern Basque region of Spain. At the behest of General Franco, Hitler's Luftwaffe got in some pre-WWII practice, reducing the town to rubble, killing 1600 civilians. The Germans chose a Monday, market day, to ensure that as many civilians were killed as possible.
The atrocity led Pablo Picasso to produce his massive painting "Guernica," perhaps the most famous work of graphic art to come out of the war. Click here for full size image
The attack caused international outcry and was the single most telling indication of the ruthless nature of the fascists, a lesson residents of cities in Europe and England would themselves learn in time.
The bombing of Guernica left the Spanish people in no doubt that the enemy was not always "out there".
Last Thursday in Madrid, the horror of modern, ruthless fascism again visited Spain, we can only hope that at least some of the Spanish and world population can learn from history and understand that almost 70 years later, the enemy is still the same.The lesson that needs to be learned, and what needs to be Seen and understood, is that certain groups desire to embroil the entire world in a "war without end" and will use every devious ploy to get the consent of the people to do so. As it was in the Spanish civil war, "victory" cannot be achieved through physical confrontation, but though Seeing through the lies and standing up for truth, both in our personal lives and in the world at large. From this point of view, the poignant words of Fernando Valera, a Republican deputy during the Spanish Civil war, can take on an altogether different meaning.
"Here in Madrid is the universal frontier that separates liberty and slavery. It is here in Madrid that two incompatible civilizations undertake their great struggle: love against hate, peace against war [...] This is Madrid. It is fighting for Spain, for humanity, for justice, and, with the mantle of its blood, it shelters all human beings".
Spain may withdraw Iraq troops
Monday, 15 March, 2004

Spain's Socialist Party prime minister-elect says he will pull troops out of Iraq - unless the UN takes charge.

Jose Luis Rodriguez Zapatero said: "The war in Iraq was a disaster, the occupation of Iraq is a disaster."
He called for a grand international alliance against terror and an end to "unilateral wars".
The Socialists won a shock poll victory after voters appeared to turn on the government over its handling of the Madrid bombings that killed 200 people.
Spain, with more than 1,300 troops in Iraq, supported the US-led war on Iraq despite much domestic opposition.
Iraq pull-out
At a news conference in Madrid, Mr Zapatero said his priority will be a "systematic fight against terrorism of all kinds".
He again reiterated his opposition to the US-led war in Iraq, but said his government would maintain what he described as "cordial relations" with Washington. [...]
Comment: Of course, any party, when in oppostion, will usually oppose the policies of the ruling party. It remains to be seen whether Zapatero will make good on the promises made while in oppostion, now that he holds the reins.
Click here to comment on this article
Spanish shares slide after poll
Spain's stock market has fallen more than 3% as investors, reeling from last week's terror attacks in Madrid, digest the Socialist Party's election victory.
The Ibex-35 index of most traded stocks dropped as low as 7,746 points, from Friday's close of 8,032.
Prime minister elect Jose Luis Rodriguez Zapatero's poll victory has shocked many business experts in Spain.
However, Mr Zapatero has said he does not plan to greatly change the economic course of the outgoing conservatives.
In a reassuring sign to investors, Mr Zapatero has lined up Miguel Sebastian - a leading free market advocate - as the country's future economy minister.
Click here to comment on this article
Early Returns Give Putin 70 Percent
By Catherine Belton and Simon Saradzhyan
Staff Writers
President Vladimir Putin was hurtling toward a second term Sunday with preliminary results and an exit poll giving him a strong new mandate of nearly 70 percent of the vote in an election widely criticized for heavy Kremlin quashing of all opposition.
A sweeping Kremlin-backed campaign to get the vote out dealt with the only uncertainty of the election: voter turnout, which was well over the 50 percent hurdle required to make the election stand.
Click here to comment on this article
Ghassan Charbel Al-Hayat 2004/03/14
When Americans go to vote, the entire world goes with them. Every citizen of the "global village" feels that the results might have an impact on his security, stability, and welfare. The German cannot say the event does not concern him, and neither could the Somali; since the man that will be elected, will rule over America, and govern the world. His success has a price, and his failure has prices. The master of the White House is capable of igniting wars, threatening regimes, and dismantling maps. He is capable of accomplishments, could spread disasters, and swell horrors.
The citizens of the "global village" do not feel the urge to follow the Russian elections. While Russians go to vote for a president, the world prefers to concentrate on other matters. The Soviet Union is one thing; Russia is another. It is true that this massive country holds the capacity of destroying the world, but it is also true that it dwells under snow, with no clothes and no nails.
It no longer has a plan for changing the world.
Click here to comment on this article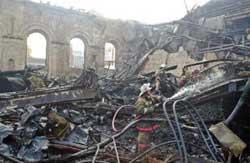 Fire Destroys Historic Manezh Hall
By Kevin O'Flynn
Moscow Times
An enormous fire engulfed the Central Manezh Exhibition Hall near Red Square on Sunday night, destroying one of Moscow's most precious historical buildings and raising fears that it might spread to the Kremlin.
Some 60 fire trucks were battling the fire at 11:30 p.m., as flames leapt 30 meters above the building, lighting up the night sky and sending a red glow across the Kremlin.
NTV television reported that firefighters were struggling to stop the fire from spreading to the Kremlin. But Sergei Devyatov, spokesman for the Federal Guard Service, said there was little risk of that happening. [...]
Hundreds of people -- many in a celebratory mood after taking part in Sunday's presidential election, which election officials had ordered to be treated like a holiday -- gathered on Manezh Square to watch the blaze. They cheered "Hurrah!" as each section of the building's roof collapsed with a loud crash. [...]
The fire -- ranked a five, the most serious category -- was the apparent result of a short circuit, the Emergency Situations Ministry said. [...]
"We have lost a colossal, wonderful monument of Russian culture and architecture," said Alexei Klimenko, a member of City Hall's architectural council..
"But I think that the fire was deliberately set. They will call it a problem with the electricity. [But] it is much easier to dig a big hole than to preserve," Klimenko said. [...]
Click here to comment on this article
U.S. Harbored Terrorists to Bolster Its Case
By Matt Bivens
Monday, Mar. 15, 2004. Page 8
Abu Musab al-Zarqawi is a one-legged Jordanian militant in his late thirties, and he's being described as the new Osama bin Laden -- an al-Qaida princeling who's come to Iraq to mastermind the worst terror attacks there. The Pentagon has added him as a 53rd card, a wild card, to its deck of Iraqi villains.
Most of us first heard his name from Colin Powell. This time last year, in his legendary presentation to the UN on why the United States had to invade Iraq, our Secretary of State said, "Iraq today harbors a deadly terrorist network headed by ... Zarqawi, an associate and collaborator of Osama bin Laden."
Powell displayed satellite photos of a camp in northeastern Iraq where, he said, terrorists were making bombs and poisons like ricin. And then he discussed ricin in somber detail.
"Let me remind you how ricin works. Less than a pinch -- imagine a pinch of salt -- less than a pinch of ricin, eating just this amount in your food, would cause shock followed by circulatory failure. Death comes within 72 hours and there is no antidote, there is no cure. It is fatal."
To recap: Shock, circulatory failure, death in 72 hours, no antidote, no cure, fatal.
Scared? That's probably why so many of us missed miss the full import of Powell's very next line: "Those helping to run this camp are Zarqawi lieutenants operating in northern Kurdish areas outside Saddam Hussein-controlled Iraq."
Back in the Hussein era, the whole north of Iraq was a U.S.-enforced no-fly zone. The Kurds enjoyed de facto independence. (Since it's the Middle East, they naturally went straight to the script of Monty Python's "Life of Brian" and split into mutually hostile factions. But that's another story.)
So it was a tad misleading to demand Hussein's ouster on grounds that he "harbors a deadly terrorist network" -- when it was not Hussein, but a Taliban-like crowd of Islamic radicals in the U.S. Air Force-protected north, doing the harboring.
My question after hearing Powell's speech was: If we've really got rock-hard intelligence about terrorists sitting in some squalid little mountain camp, why haven't we done anything about it? We blow up everything else; how come we never dropped a Tomahawk missile onto this poison factory?
Now NBC New offers an answer: We didn't deal with Zarqawi's "death, no antidote, no cure, fatal" poisons camp because we needed it. For Colin Powell's UN speech. And for the war in Iraq.
Citing U.S. military officials, NBC News reports that over many months last year, the Bush administration had several chances to take out the Zarqawi boys. But it declined, because "the administration feared destroying the terrorist camp in Iraq could undercut its case for war against Saddam."
So the Pentagon kept offering strike plans, and the White House kept vetoing them. "People were more obsessed with developing the coalition to overthrow Saddam than to execute the president's policy of preemption against terrorists," says a former National Security Council member.
We left known terrorists free to kill and kill again -- so that we could one day point to them and cry, "Terrorist, terrorist!", and, in the ensuing panic, invade an oil-and-tragedy soaked, yet unrelated, nation.
If Zarqawi is behind all the attacks the U.S. government attributes to him, he's killed upwards of 700 people -- not quite a Sept. 11 death toll, but give him time, he's just getting started.
Comment: So the "terrorist" camp was in a space protected by the US no-fly zone. Yet the US allowed this camp to exist because they needed it to provide an excuse for war. Given the lies of WMD, might it not be more appropriate to think that the US allowed the camp to exist because "Zarqawi" was a US asset? That he was paid to found the camp in order to justify Powell's war-mongering?
Click here to comment on this article
Report: Audiences moving toward less traditional media outlets
BY JAMES T. MADORE
STAFF WRITER
March 15, 2004
Alternative newspapers, ethnic media and the Internet are attracting new, and larger audiences for their news reports while daily papers, network television, radio and other traditional outlets appear trapped in "a vicious cycle" of smaller audiences and fewer journalists, according to a new study to be released Monday.
The 500-page report, entitled "The State of the American News Media," is believed to be the first of its kind to examine a variety of media types – eight in all – across a spectrum of issues ranging from content and economics to newsroom investment and public attitudes. The findings are worrisome, particularly for print and TV journalism, but the authors argue that solutions exist if owners will spend the money necessary to attract young people and immigrants.
"I don't think it's too late for journalism," said Tom Rosenstiel, director of the Project for Excellence in Journalism, a Washington-based think tank that conducted the study. "But I do think the industry needs to figure out where to make the investment and to make it. [...]
Click here to comment on this article
We locked you up in jail for 25 years and you were innocent all along? That'll be £80,000 please

Blunkett charges miscarriage of justice victims 'food and lodgings'

WHAT do you give someone who's been proved innocent after spending the best part of their life behind bars, wrongfully convicted of a crime they didn't commit? An apology, maybe? Counselling? Champagne? Compensation? Well, if you're David Blunkett, the Labour Home Secretary, the choice is simple: you give them a big, fat bill for the cost of board and lodgings for the time they spent freeloading at Her Majesty's Pleasure in British prisons. On Tuesday, Blunkett will fight in the Royal Courts of Justice in London for the right to charge victims of miscarriages of justice more than £3000 for every year they spent in jail while wrongly convicted. The logic is that the innocent man shouldn't have been in prison eating free porridge and sleeping for nothing under regulation grey blankets.
Click here to comment on this article
Top police officer ready to put troops on street

Transport police warn that they are short of staff

Britain's most senior police officer revealed yesterday that he would have no hesitation in asking for the army to be deployed on the street. The announcement coincided with a warning from the force that patrols the railways that it is severely short of resources. Sir John Stevens, the Metropolitan police commissioner, said he would have no hesitation in asking the prime minister to post soldiers at strategic points in the city if he felt there was sufficient threat. [...]
Comment: Troops on the streets. Do we think they are joking?
Click here to comment on this article
ALERT UK: 3,000 police to stop terror
By Jeff Edwards, Crime Correspondent and Alexandra Williams
Mar 15 2004
BRITAIN was last night warned to take no chances over a possible terrorist attack similar to the one in Madrid.
While police chiefs insist there has been no specific intelligence about an al-Qaeda strike here, they admitted the threat was real and we could be hit anytime.
Speaking on the day before 3,000 extra officers were due to start patrolling the streets, a Scotland Yard source said: "We would be foolish to take any chances."
The anti-terror squads, made up of Met and British Transport Police staff, will be concentrated mainly in central London and its main rail routes, paying particular attention to the 12 terminus stations.
Dogs trained to sniff out explosives are to be at trains and stations.
Plain-clothes transport police will patrol the Underground and suburban rail network. Uniformed officers will begin stop and search checks at Tube stations. The Yard source added: "The London area has some of the most intensively occupied railway stations and services in the world used by millions of people everyday.
"In an open society they are as vulnerable to a co-ordinated attack as the Spanish services were last week."
An al-Qaeda cell which claimed responsibility for those blasts has said Britain and the US are next on the list and will suffer a "black wind of death".
[...] John Prescott, who represented Britain at the anti-terror rally in Madrid, yesterday admitted nowhere was safe from terrorists.
The Deputy PM told delegates at the conference: "Bombs have broken that country's heart. They have not crushed its spirit and they never will.
"I was proud to link arms with leaders from around Europe and with people from all over Spain. In their grief and anger we stand with them.
"Their fight is our fight too. Barbaric terrorism recognises no national boundary. Extremism, by its nature, knows no limit. They chose Madrid but no city on earth is safe."
Comment: Ah, the rhetoric. "No city on earth is safe." Think of the implications of this statement. It means that "terrorism" has no objective, that there is no rational behind it. But we know that there is a logic, even if it is a logic 180° different from that of the mainstream media. Terrorism is meant to instill fear in populations. It is meant to bring civilian populations to their knees. Not before the bogeyman of "Islamic fundamentalism," but in front of the real culprit, the US-Israel axis of terror. Genuflect to the Chosen People of God. Submit to the Divine Will embodied in Ariel Sharon and George W. Bush.
Click here to comment on this article
Mock bombs at Shea Stadium in New York's largest terror drill since Sept. 11, 2001, attacks
Click here to comment on this article
Expert claims Norway may be a target
An expert at the International Peace Research Institute in Oslo claims the likelihood of terror actions against Norway have increased because of the Norwegian involvement in Iraq and Afghanistan. [...]
Click here to comment on this article
A QFS Member Writes: CNN Calls Its Audience Stupid
This is my headline, of course, but I am quite upset at CNN's low opinion of my intelligence -- and how it gets me thinking even more.
Regarding travel: if I'm not mistaken, in the past three years, terrorists have killed a few hundred Americans traveling on airplanes, and according to our military, some dozens of soldiers, right? Particularly those that were downed on 09/11/01. In the same period, America's drunk drivers have killed 60,000 traveling Americans, other road accidents took out 60,000 more, and there were rail and air deaths that really don't need to be counted. This means that terrorists have accounted for less than one third of one percent of American travel deaths.
In an exercise seemingly designed to pat itself on the back for its own power to mislead and instill fear in people, CNN yesterday morning asked the American viewing audience, with a straight face, to email them with the answer to, "Has the threat of terror influenced how much you travel?" The actual wording was probably more slanted to a presumption that the answer is "yes."
If anyone answered "yes," isn't it likely that they were swayed by the intent focus of CNN on that third of one percent of travelers who have been killed by terrorists, and the complete ignorance of the other 99.7% (114 every day) who met equally sudden, violent, bloody deaths? Sickening.
Let me talk all crazy and hypothetical for a moment. If the resources of the U.S. government and military were turned from waging war to requiring that drivers be sober and skilled, we'd save tens of thousands of lives, reduce air pollution (resulting in better general health and staying the greenhouse effect), have clear roadways, and be awash in oil. I'll leave the numerous other benefits (associated with not killing foreigners, dividing the world and pissing everyone off) to your imagination.
What is unspoken is that 99.7% of American travel deaths are fully accepted and expected by the public. We do not even talk about it. It is not newsworthy. It is apparently not even allowed to ask why we accept all these bloody deaths. Any discussion of how to limit it is not newsworthy, or is prevented from reaching a wide audience. Is this the power of the automobile/oil industry at work?
In this forum, we explore and learn a little bit about why things are the way they are. I know that writing here is only "preaching to the choir." It's just so "shocking" that virtually no one, and certainly not the media, even asks, "what if it were different?" In fact, the suggestion is that you can't ask, and in fact, by shutting out opinions, the media makes things far worse.
Click here to comment on this article
Greek Police Locate, Destroy Bomb in Athens

MArch 15, 2004
ATHENS (Reuters) - Greek police discovered and exploded a bomb outside a Citibank branch in Athens, site of this summer's Olympics, after an anonymous tip came in to a newspaper, police said.
"There was a controlled explosion of a bag placed near the Citibank after we were told it would go off in 35 minutes," a police official said. [...]
In the past months dozens of fringe groups have staged small bombing attacks against public buildings and foreign vehicles, in protest to the Olympic Games. [...]
Click here to comment on this article
EU chief: Force won't beat terrorism
Monday 15 March 2004, 15:19 Makka Time, 12:19 GMT
The European Commission president has said a war on terror that uses force rather than thought is no answer to resolving conflicts.
In an interview published on Monday, Romani Prodi claimed last week's deadly bomb attack in Madrid showed the negative impact of Iraq's invasion.
"It is clear that using force is not the answer to resolving the conflict with terrorists," Prodi was quoted as saying in the daily La Stampa.
"We must remember that it has been a year since the war in Iraq started. Terrorism is infinitely more powerful than a year ago."
Click here to comment on this article
EU May Call Security Talks as Qaeda Fears Grow

By Philip Blenkinsop
March 15, 2004
BERLIN (Reuters) - The European Union said on Sunday it might call a special interior ministers' meeting to discuss security as signs grew that al Qaeda might be behind Madrid's deadly rail bombings.
Ireland, EU president until mid year, said it was considering such talks, which Germany said were urgently needed, after the worst guerrilla bombing of a European city killed 200 people and sent a shiver of fear across the continent. [...]
Click here to comment on this article
The French daily Liberation is saying today that the group AZF has raised their ransom demands from $4 million plus 1 million euros to $4 million plus 2 million euros. It also reports that another attempt to deliver the ransom on Friday failed because of the weather conditions.
To date, none of the bombs supposedly planted by this group along the French rail system and in three public momuments have been detonated.
Le Figaro is reporting that in renewing contact with the French authorities, the group is recognizing that the government is acting in "good faith." French officials now believe that the chief interest of the group is monetary.
Click here to comment on this article
Israel plans more political assassinations
Monday 15 March 2004, 14:28 Makka Time, 11:28 GMT
Israel plans to strike Palestinian leaders in response to a double bombing that killed 10 people at one of the country's most strategic installations, a security source has said.
"There will be targeted killings and other measures. The timing depends on intelligence," the source said, a day after the bombers from the resistance movements Hamas and al-Aqsa Martyrs Brigades struck at Ashdod port. "The targets will be from the top down."
Comment: Note that the suicide attacks came days before Sharon was due to meet with the Palestinian PM. Why are we not surprised that a bomb should cancel these meetings, the same way the bombing the day of the Hague court hearings on the legality of the Israeli apartheid wall seemed so "well-timed" to coincide with Israeli plans.
Click here to comment on this article
15mar04
A MODERATE earthquake measuring 4.7 on the Richter scale shook northern Japan today, but there were no immediate reports of injuries or damage, the meteorological agency said. [...]
Click here to comment on this article
Agency initiates steps for selective draft
Congress shows little support for effort to draw skilled Americans
By ERIC ROSENBERG
SEATTLE POST-INTELLIGENCER WASHINGTON BUREAU
Saturday, March 13, 2004
WASHINGTON -- The government is taking the first steps toward a targeted military draft of Americans with special skills in computers and foreign languages.
Defense Secretary Donald Rumsfeld is adamant that he will not ask Congress to authorize a draft, and officials at the Selective Service System, the independent federal agency that would organize any conscription, stress that the possibility of a so-called "special skills draft" is remote.
Nonetheless, the agency has begun the process of creating the procedures and policies to conduct such a targeted draft in case military officials ask Congress to authorize it and the lawmakers agree to such a request.
"Talking to the manpower folks at the Department of Defense and others, what came up was that nobody foresees a need for a large conventional draft such as we had in Vietnam," said Richard Flahavan, a spokesman for the Selective Service System. "But they thought that if we have any kind of a draft, it will probably be a special skills draft."
Flahavan said Selective Service planning for a possible draft of linguists and computer experts began last fall after Pentagon personnel officials said the military needed more people with skills in those areas. [...]
The agency already has a special system to register and draft health care personnel ages 20 to 44 in more than 60 specialties if necessary in a crisis. According to Flahavan, the agency will expand this system to be able to rapidly register and draft computer specialists and linguists, should the need ever arise. But he stressed that the agency has received no request from the Pentagon to do so. [...]
Click here to comment on this article
Gas Prices Reach Record High of $1.77
Click here to comment on this article

Rumsfeld: Iraq Weapons May Still Be Found

By KEN GUGGENHEIM, Associated Press Writer
March 15, 2004
WASHINGTON - Bush administration officials said Sunday they do not regret that America went to war against Iraq even though banned weapons have not been found one year after the U.S.-led invasion.
Defense Secretary Donald H. Rumsfeld said he believes weapons of mass destruction could still turn up. Secretary of State Colin Powell said even if they don't, that doesn't mean prewar intelligence was distorted to make the case for ousting Saddam Hussein, as some Democrats charge.
"We may not find the stockpiles. They may not exist any longer. But let's not suggest that somehow we knew this" before the war, Powell said on ABC's "This Week." [...]
Click here to comment on this article
U.S. Erodes High-Tech Privacy Protections

By MICHAEL J. SNIFFEN, Associated Press Writer
Sun Mar 14, 5:51 PM ET
WASHINGTON - When Congress curtailed Pentagon research it feared would ensnare innocent Americans in the terrorism fight, it also allowed the Bush administration to eliminate two projects to protect citizens' privacy from futuristic tools.
As a result, the government is quietly pressing ahead with research into high-powered computer data-mining technology without the two most advanced privacy protections developed for those terror-fighting tools. [...]
Even members of Congress such as Sen. Ron Wyden, D-Ore., who led the fight to restrict the Pentagon terrorism research over its privacy implications, remain uncertain about the nature of the research or the safeguards.
"We feel Congress is not getting enough information about who is undertaking this research and where it's headed and how they intend to protect the civil liberties of Americans," said Chris Fitzgerald, Wyden's spokesman.
The privacy projects were small parts of the Pentagon's Terrorism Information Awareness research.
The project was the brainchild of retired Adm. John Poindexter, who was driven from the Reagan administration in 1986 over the Iran-Contra scandal. Some 15 years later, he was summoned back by the Bush administration to develop data-mining tools for the fight against terrorism. [...]
Click here to comment on this article
More Corruption Allegations Shake NYPD

By TOM HAYS, Associated Press Writer
March 15, 2004
NEW YORK - Late last year, Julio Vasquez and Thomas Rachko donned NYPD raid jackets and set the stage for the city's worst police-corruption scandal in a decade.
The veteran detectives stopped a drug courier and allegedly stole nearly $170,000 in cash he was carrying. They didn't know other narcotics officers were watching.
Facing a federal indictment, Vasquez and Rachko began cooperating with investigators. Law enforcement officials now say up to 10 other current and former officers, all one-time members of the same narcotics task force, are suspects in the theft of drugs and drug money. [...]
Comment: It is amazing how much corruption the people are willing to accept. If they don't believe that their police organizations are packed with crooked cops, they certainly won't believe that the likes of Bush, Rummy, and Ashcroft are as psychopathic and corrupt as they come.
Click here to comment on this article
Hollywood disaster film set to turn heat on Bush
Movie depicting horrors of global warming could boost votes for Democrat challenger
Dan Glaister in Los Angeles
Saturday March 13, 2004
The Guardian
Here's the pitch: a dullish candidate, outflanked by his opponent's serious money, attacked for his liberal leanings, is swept to an unlikely victory thanks to a blockbuster movie that focuses on the effects of big business and the agro-industrial complex.
Audiences throw their popcorn aside, pick up their ballot papers and realise that they too can make a difference. The studio behind the movie: 20th Century Fox, owned by Rupert Murdoch. The director: Roland Emmerich; no Martin Sheen-style bleeding heart Democrat but the brawn behind Independence Day.
It sounds unlikely, but this summer might just see an alliance of commerce, populist entertainment and feel-good concern combine to weaken President George Bush and hand votes to his expected Democrat rival John Kerry.
On the other hand, the film could tank, like one of its director's other monster-budget summer openings, Godzilla.
May 28 sees the worldwide release of The Day After Tomorrow, the eco-armageddon story to beat all others.
The first trailers for the film, released on the internet last week, give a taste of the scale of the eco-horrors to come. Filmed in a combination of slick computer generated special effects and faux newscast verité, tidal waves sweep across cities and snow piles halfway up the towers of Manhattan as disjointed voices articulate the chaos around them.
"What you are seeing is happening now," says a breathless newsreader. "Look over behind me," shouts a TV reporter, "that's a tornado, yes, a twister." The film cuts to a volcano erupting next to the Hollywood sign in Los Angeles. A huge flock of birds flies across the sky, a mass of people is seen crossing the Rio Grande between Mexico and the United States.
Filmed with a budget of more than $100m (£55.6m) and special effects said to be the greatest thing since, well, since the last big budget movie, the film has one other difference from other Hollywood blockbusters: it has a conscience.
"At some point during the filming we looked around at all the lights, generators and trucks and we realised the very process of making this picture is contributing to the problem of global warming," the director and producers say in a statement on the film's official website. "We couldn't avoid putting CO2 into the atmosphere during the shoot, but we discovered we could do something to make up for it; we could make the film carbonneutral." By planting trees they will take out the CO2 the production put in.
The film's website includes a lengthy list of internet links to organisations that have researched the effects of global warming. During filming last year, Emmerich described the film as "a popcorn movie that's actually a little subversive".
Whether this is the typical hype that surrounds a Hollywood blockbuster or the heartfelt statement of a tortured artist does not really matter. What seems certain is that the film will help to propel global warming and the environment high up the political agenda. [...]
The Pentagon even got in on the act, releasing a study last month that suggested that one outcome of global warming could be the rise of mass civil unrest. In one scenario, drought, famine and rioting erupt across the world, spurred on by climate change. As countries face dwindling food supplies and scarce natural resources, conflict becomes the norm.
"Disruption and conflict will be endemic features of life," says the Pentagon study. "Once again, warfare would define human life."
"The climate is going to play a significant role in the campaign," said Luke Breit, chairman of the Democrat's environmental caucus in California, where the environment is traditionally a key political issue. "John Kerry is mentioning clean air and water at every opportunity. It's going to be on the first tier of issues. Our job is to make clear how anti-environment the government has been." [...]
"In Independence Day Roland Emmerich brought you the near destruction of the earth by aliens," says the website. "Now, in The Day After Tomorrow, the enemy is an even more devastating force: nature itself." It'll have them voting in the aisles.
Click here to comment on this article
On this day in 1953
The first World Contact Day was declared by Albert K. Bender. Bender was the founder of the International Flying Saucer Bureau and published a small journal dedicated to UFO sightings called Space Review. He made a series of discoveries, in which he believed he had discovered what was behind the phenomena, and was prepared to publish them in his upcoming edition. He was visited by three men in black who had already read the unpublished report, confirmed his discoveries, and told him to keep quiet. He suspended his publishing activities dissolved his organization and sent out a bulletin to all the members asking them to attempt to contact the occupants of the saucers via mental telepathy using a message he included in the memo:
Calling occupants of interplanetary craft! Calling occupants of interplanetary craft that have been observing our planet Earth. We of IFSB wish to make contact with you. We are your friends, and would like you to make an appearance here on Earth. Your presence before us will be welcomed with the utmost friendship. We will do all in our power to promote mutual understanding between your people and the people of Earth. Please come in peace and help us in our Earthly problems. Give us some sign that you have received our message. Be responsible for creating a miracle here on our planet to wake up the ignorant ones to reality. Let us hear from you. We are your friends. (End of Message.)
These days we have Sheldon Nidle's work and The Lever Effect, or as we call it, Cosmic Spam, attempting to do the same thing. (Update on the Cosmic Spam: Today we learned that the original source of this nonsense has been said to be taken up by his own personal UFO, so he can learn to pilot it. He is supposed to put a human face on the upcoming invasion.) Whitley Streiber recently attempted to convince the good citizens of the world that we need to hold freedom in our heart, as the alien presence takes over our lives. Leon Festinger developed the concept of cognitive dissonance, in the fifties, after observing a UFO cult who believed that aliens where coming to save them from a world wide apocalypse. When these UFO's failed to whisk them away on the appointed hour these poor people held onto their beliefs even tighter than before.
There is a whole history of such beliefs, and one of the big political forces in the US is the Fundamentalist Christian movement who fervently believe in a savior saving them from the destruction of the world. How has humanity descended to such a low that we believe the only hope is for some outside savior to suddenly appear and air lift us away from trouble? So many years of human "civilization" and one of the few enduring things is the belief in a savior. Someone likes it that way, and vast resources have been expended to trick you into giving up your individuality and ability to do, in exchange for becoming a sheep and awaiting your shepard. We all know what the end use of a sheep is.
UFO spies vanish into black hole

Mark Townsend
Sunday March 14, 2004
The Observer

At its peak, tens of thousands would await the latest lurid tales of alien autopsies and flying saucers spying on sleepy market towns.

Yet the publication that took UFOs from the sci-fi hinterland to the mainstream has now enjoyed its final print run. After almost 25 years, UFO Magazine was quietly shut down last week. Suggestions of paranormal interference or alien involvement have been ruled out. The reason is more down-to-earth: not enough people care these days.

Sources said its closure had been inevitable since the death of editor and world UFO expert Graham Birdsall last September. Birdsall along with younger brother Mark founded the Leeds-based magazine in 1981. Soon it became the world's top UFO publication, selling up to 35,000 copies at its height. Subscribers still talk about the puncture marks on sheep carcasses which offered proof that extra-terrestrial visitors had arrived to suck the juices of livestock.

Andy Roberts, author of UFO books and former magazine contributor, said the public's fascination with mysterious flying objects had faded. [...]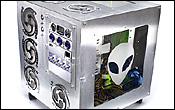 The Xoxide X-UFO Ultimate Aluminum Cube Case for your home PC
Has it faded, or is so much a part of our culture there is little need for such a specialty magazine? We can hardly go a day without some report, somewhere, appearing on the internet or other forms of mass media. New UFO reports have become, dare we say it, boring, they are so commonplace. The only time they are interesting are when these reports coincide with other interesting developments. On the December 17, 2003 Signs page we reported that Malaysia proposed the 'wonderful' idea of mass circumcision for Muslims as UFOs hovered overhead, or on the August 15, 2003 Signs page we reported on the curious link between UFO sightings and blackouts. In other words, these reports become interesting when examined as part of a larger perspective of the reality in which we all swim. Richard M. Dolan rose to this task rather successfully.
Nowadays you have large circulation magazines discussing the prospects of meeting aliens and what the US government plans to do when they announce themselves. See When UFOs Arrive: The U.S. and other world governments already have detailed secret plans for first contact published by Popular Mechanics, or the February 11, 2004 Signs Page where we discuss this article.
UFO's have infiltrated the minds of the delusional and the malevolent:
UPDATE: 'There was no forewarning'

How standoff left 2 dead, 1 injured, countless in shock

[...] Pat Hutchinson was always talking of Martians, clones and UFOs. After he shot his wife and the two firefighters and was still inside the house, Pat told a reporter: "There's only 735 true humans left in Lexington. Less than 3 million left worldwide." [...]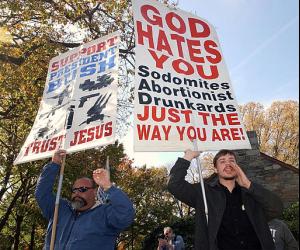 We have the constant debates about life on Mars, Bush announces more space exploration, and SETI regularly publishes lame articles about extraterrestrial contact. From all sides, we are bombarded with the concept of extraterrestrial life. Even when there are disparaging remarks made, it keeps the concepts alive, and it seeps into the mass consciousness. It is already an invasion, and the turf has already been staked out and won. For what purpose?
It has become a topic that really can't be ignored. But like everything else, it should be examined with our critical faculties fully awake. We now have millions, perhaps billions, looking to the skies for either gods or aliens ( will either party be able to discern the difference?) to save them. We have millions spending millions of dollars to effect political outcomes that will please their god:
If enacted, the Constitution Restoration Act will effectively transform the United States into a theocracy, where the arbitrary dictates of a "higher power" can override law.

By Chris Floyd

[...] The Act -- drafted by a minion of television evangelist Pat Robertson -- is the fruit of decades of work by a group of extremists known broadly as "Dominionists." Their openly expressed aim is to establish "biblical rule" over every aspect of society -- placing "the state, the school, the arts and sciences, law, economics, and every other sphere under Christ the King." Or as Attorney General John Ashcroft -- the nation's chief law enforcement officer -- has often proclaimed: "America has no king but Jesus!"

According to Dominionist literature, "biblical rule" means execution -- preferably by stoning -- of homosexuals and other "revelers in licentiousness"; massive tax cuts for the rich (because "wealth is a mark of God's favor"); the elimination of government programs to alleviate poverty and sickness (because these depend on "confiscation of wealth"); and enslavement for debtors. No legal challenges to "God's order" will be allowed. And because this order is divinely ordained, the "elect" can use any means necessary to establish it, including deception, subversion, even violence. As Robertson himself adjures the faithful: "Zealous men force their way in."

Again, this is no tiny band of cranks meeting in some basement in Alabama, as recent reports by investigators Karen Yurica and David Neiwert make clear. The Dominionists are bankrolled and directed by deep-pocketed, well-connected business moguls and political operatives who have engineered a takeover of the Republican Party and are now at the heart of the U.S. government. [...]
The world is so strange, it almost hurts to contemplate it. The X-Files television show is no longer in production. A one hour dramatic television show is far too tame of a medium to cope with our reality.
It seems that the one common denominator between those seeking contact, either aliens or god, is the desire for peace and comfort:
'Dr. X' no more: Physician open about mystery lights

Richard Ruelas
Republic Columnist
Mar. 15, 2004

[...] "Let's go back in time just a bit," he said, before introducing some television clips as a way of reminding the audience the story of the Phoenix Lights.

A lot of people were watching the skies that night to see the Hale-Bopp comet. Instead, dozens reported seeing a V-shaped formation fly over Phoenix around 8 p.m., roughly following Interstate 17 north to south through town, before disappearing in the southern sky. Some said the craft was a mile long. Others said they could see through it and that the lights seemed to move independently of each other. [...]

Kitei herself didn't see the big "V" fly over Phoenix. But for years, she had seen a series of lights appear in the southwestern sky, somewhere in the area of the Barry Goldwater Gunnery Range. Military pilots routinely drop flares there, and documents showed they dropped an unusually large number on the night of March 13, 1997. [...]

Kitei described her first sighting, in 1995, of three amber orbs close to her mountainside home. She placed them in the sky with her hands as she described how they disappeared in place. "I didn't put this in the book, because the publisher thought it would be too much," she said, "but I felt there was an intelligent presence watching."

The orbs appeared again, more frequently, in 1997. By March of that year, Kitei said she was videotaping them every night. She said the lights do appear to act like flares, "but the video does not do it justice." [...]

Her book mentions that most people who experience an unexplained phenomenon, like a near-death experience, or an alien abduction, come away with a sense of tranquility and peace.

"Maybe these phenomenon are touching one person at a time," she said. "Whatever it takes to wake a person up to the spiritual beings we are and the goodness we can put forth during this short time we're on Earth."

One month after the terrorist attacks on New York and Washington, Kitei said she began to meditate, trying to communicate with whatever was creating the orbs near the Estrella and South mountains. "Have you forgotten about us? Do you know what happened down here?" she asked quietly. It had been awhile since the orbs appeared. But a few minutes later, she looked out her picture window, and there they were.

"And it did give me comfort," she said. "For whatever reason, it did."
Have we all become so domesticated that we can no longer look at reality without flinching, that we will do anything to turn tail into some illusory reality that all is well? This overwhelming desire for illusory peace makes us easily exploitable. Apparently those kids in Iraq, blown away by cluster bombs, just didn't wake up in time that they were really spiritual beings. How did maintaining a peaceful outlook in such times of turmoil and suffering become a virtue? There is no such things as a free lunch in this universe, so how much are these people paying for their few moments of peace and spiritual good feelings?
Click here to comment on this article
It's another world . . . but is it our 10th planet?
By Louise Milligan and agencies
The Australian
15mar04
SCIENTISTS have found a new world orbiting the solar system – more than 3 billion kilometres further away from the Sun than Pluto and 40 years away from Earth in a space shuttle.
NASA is expected to announce today the discovery of the space object, which some experts believe could be a new planet.
It is provisionally known as Sedna, after the Inuit goddess of the sea.
The discovery of Sedna – 10 billion kilometres from Earth – is a testament to the new generation of high-powered telescopes.
Measurements suggest Sedna's diameter is almost 2000km – the biggest find in the solar system since Pluto was discovered 74 years ago. It is believed to be made of ice and rock, and is slightly smaller than Pluto.
The find will reignite the debate over what constitutes a planet. Some scientists claim even Pluto is too small to count as one.
According to astronomer Michael Brown of the California Institute of Technology, who discovered Sedna, there could be many other new worlds orbiting the Sun and waiting to be discovered.
"Sedna is very big, and much further out than previous discoveries," he said. "I'm pretty sure there are other large bodies up there too."
But physicist and cosmologist Paul Davies, of Sydney's Macquarie University, said it was folly to describe Sedna as a planet. "It's fun, it's exciting, but let's keep it in proportion," Professor Davies said yesterday.
He said scientists had known for "a decade or so the solar system does not come to an abrupt halt" and there were a number of "planetessimals" or little planets, like Sedna. [...]
Click here to comment on this article
Mar 13 2004
Daily Record
By Vanessa Allen
PRINCESS Diana spoke to rescuers as she lay in the wreckage of her Paris car crash, it was claimed yesterday.
She was conscious and asked questions of a fireman who comforted her, he said.
Carlo Zaglia told how she repeatedly asked: 'What's happened?What's going on?'
His account contradicts official versions of the fatal crash,which claim Diana was too badly injured to speak.
And it will be seized upon by conspiracy theorists who believe her death, hours after the August 1997 crash, was murder.
Zaglia, who did not give evidence to the official investigation, said: 'She could speak, she could hear and her eyes were open.'
He comforted the princess in the wreckage of the Mercedes which had carried her, Dodi Fayed, her bodyguard and Ritz driver Henri Paul.
The Frenchman said: 'She looks at me with these wide eyes and says, 'What's happened, what's happened? What's going on? Show me what's happened.' 'And she looks around but at the moment she was already in serious shock.'
Zaglia said he remembered Diana trying to stand up but finding she was trapped in the wreckage.
She did not cry or complain, he told US television.
The volunteer fireman, who now works as a sports photographer, said he held her hand while rescuers worked to free her.
But it was only when a torch was shone inside that he realised who the injured passenger was.
He said: 'I get up close to that lady, I take her hand and she looks at me.
'And I say, 'Listen, everything is going to be all right. Don't worry, the firemen are here.' The official report into her death concluded that Diana was suffering from massive internal bleeding and she later died from her injuries.
Meanhile, a claim by Dodi's father, Mohamed al Fayed, that MI6 were implicated in the deaths was dismissed yesterday. [...]
Click here to comment on this article
Satanism fears groundless, says minister
By Katya Diogenous
Cyprus Mail
POLICE remain convinced that young people are gathering in out of the way places to practice satanism, despite a denial on Friday by Justice Minister Doros Theodorou.
In a written reply to DIKO deputy Antigoni Papadopoulou Thedorou said that most of the reports actually concerned fortune-tellers who plied a trade by reading coffee cups and tarot cards.
He said that police were keeping a close eye on areas where young people gathered at night to use or sell narcotics, but said that there had been no evidence linking students to satanic rituals.
However, a police source yesterday revealed to the Sunday Mail that they have received isolated reports that people were forming groups and gathering together in deserted areas.
"We have checked them out and on some occasions we have found suspicious evidence such as dolls on the ground. The question of whether Satanic acts are performed in Cyprus has yet to be answered, but we believe that they probably are," said the source. [...]
Click here to comment on this article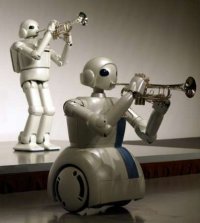 Toyota joins Japan's robot technology race with trumpet-playing humanoid

Thu Mar 11, 6:54 AM ET

TOKYO (AFP) - Japan's top carmaker Toyota unveiled a trumpet-playing robot -- its first humanoid machine -- in a bid to catch up with robot technology frontrunners such as Honda and Sony.
Toyota Motor Corp. showed off its walking and rolling virtuoso robots to the media at a Tokyo hotel as it announced the outline of its robot development project.
The 120-centimeter (48-inch) tall robot played "When you wish upon a star" with a trumpet as a presenter held a microphone up to the instrument, swaying naturally to the rhythm of the famous song from the Disney cartoon film Pinocchio.
The robot, with what appeared to be an artificial green leaf stuck behind its left 'ear', bowed to the audience and waved its arms to respond to applause following the brief performance.
The 35 kilogram (77 pound) as yet unnamed robot has artificial lips which can alter their position as subtly as human lips as air is forced through them, enabling it to play a trumpet as it presses the stops with its hands. [...]
Click here to comment on this article
French farmer finds WWII weapons inside tree
BRIVE, France, March 12 (AFP) - A cache of World War II grenades and explosives was found hidden inside the trunk of a tree by a French farmer who was preparing to cut it down, police said Friday.
The farmer was using his chainsaw on a dead chestnut tree by the side of the road in village of Chaillac, central France, when it hit a metal box concealed inside.
Police experts were called and found two boxes of ammunition, including sticks of explosives and detonators, which they presume were hidden by French resistance members.
"If the saw had hit the explosives the whole thing could have gone up," a police officer said.
Click here to comment on this article
---
Remember, we need your help to collect information on what is going on in your part of the world!
We also need help to keep the Signs of the Times online.
---

Check out the Signs of the Times Archives

Send your comments and article suggestions to us

---
Fair Use Policy
Contact Webmaster at signs-of-the-times.org
Cassiopaean materials Copyright ©1994-2014 Arkadiusz Jadczyk and Laura Knight-Jadczyk. All rights reserved. "Cassiopaea, Cassiopaean, Cassiopaeans," is a registered trademark of Arkadiusz Jadczyk and Laura Knight-Jadczyk.
Letters addressed to Cassiopaea, Quantum Future School, Ark or Laura, become the property of Arkadiusz Jadczyk and Laura Knight-Jadczyk
Republication and re-dissemination of our copyrighted material in any manner is expressly prohibited without prior written consent.
.