---
New Article: Jupiter, Nostradamus, Edgar Cayce, and the Return of the Mongols - Laura Knight-Jadczyk
Picture of the Day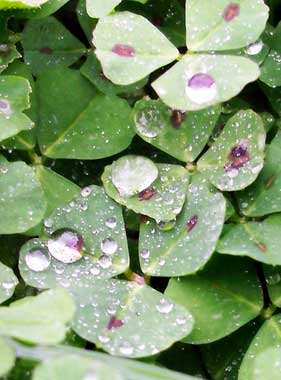 ©2004 Pierre-Paul Feyte
What is the point of your life? What is the reason, if any, for your existence? Have you ever asked yourself such a question? If we credit ourselves with being self -aware beings, with the intelligence and innate drive to interact consciously with the world, would logic not dictate that we would at some point stop to ponder upon the possible reasons for our even being in the world? It appears, however, that precious few of us ever do so. Usually, it is only as death approaches, that any of us take the time to briefly wonder what meaning there might have been to our lives, with little chance that we will understand anything before the light is snuffed out.
It is truly strange that the simple and yet profound question as to the meaning of our existence is so uniformly and collectively shunned and ignored. Without a second thought we dive straight into life, without first checking for a good reason to do so. Of course, we realise that once born, there are not exactly many alternatives to being alive, and that our alleged self-awareness grows and becomes more apparent as we get older; but this still does not preclude that, logically, as self-aware beings, we should at some point stop and ask ourselves some pretty fundamental questions. Yet we seldom do so. Why should this be so?
There are at present over 6 billion supposedly self-aware and uniquely different human beings in the playground of the world, all of whom have been given the creative means to do with it as they Will. One might expect such a scenario to produce a vast array of different lifestyles and ideas about ways to live life, and even ideas about what it is for - but this is not the case. In fact, on the contrary, we see a startling level of uniformity and conformity of opinions and actions among the global population. We might attribute this uniformity to the fact that, while we have the ability to interact in the world, we cannot do "as we will". We are not born into our own little private universe, but rather into a pre-existing world, complete with well defined parameters, rules and regulations to which our ability to act is subject.
Despite what we might think then, we do not consciously choose what to do with our lives, and as such we are not truly "free". Consider the life of the average person: We are born, educated to some degree, pursue some activity to ensure our physical survival, we marry, procreate and then die. All of this is done believing that we are "free" to choose to do this, that we have in fact chosen to do this. But what choice can there be when it is a choice of one? In truth life is lived according to a pre-existing "template" of how to live it, and we willingly accept this "template" as of our own making, as if we consciously chose it, when it is obvious that we did not.
As such, we cannot say that we are self-aware beings, we cannot lay claim to independence of thought or action. We merely follow a script written for us by some other, and allow ourselves to be convinced that we are the author. In truth, we act more like automatons, robotically acting out the will and plan of someone else. But our lives are not robbed of meaning simply because we are not in control of them. As we live life and interact with the world we accumulate information or knowledge about ourselves and our environment, subsequently dying with some level of understanding of what we just passed through - this is unavoidable. While this can be, and usually is, done completely unconsciously, or in a state of sleep, we still end life with more knowledge than we started. We might conclude then that a general purpose for all of our lives is to learn, that life is a school of some sort.
By looking objectively at the results of our collective human experience we can determine then that we are here to learn something. But what should we be learning? Is it merely that which chance throws in our paths? If so, then there is no real need to be awake to participate in the process, since there appears to be a law that governs "fate" which precludes the need for any conscious participation in its action, other than to remain asleep.
It appears to us that, to be able to discern that which each of us is here to learn, we must first stop, reflect, and understand that we actually have something specific to learn - that life is in fact a school. It is only by first awakening to this realisation that we can then take the next step towards consciously choosing our lessons, and playing some conscious part in our otherwise somnambulant lives. When we do so, the responsibility for our own lives, and what we do with them, is thrust very definitely into our own hands, but few are willing to accept it.
In conclusion, consider the words of A. R. Orage:
"There is a traditional doctrine, usually associated with religion, but now and then invading great literature, that our present waking state is not really being awake at all. It is not night-sleep certainly, nor is it the ordinary somnambulism or sleep-walking; but it is, the tradition says, a special form of sleep comparable to a hypnotic trance in which, however, there is no hypnotist but only suggestion or auto-suggestion [...]

We assume all too readily that observation comes by nature, that we are born 'naturally observant'. But the truth is that most of us are born lazy, and the observation beyond the necessities of life has been too great a voluntary exertion. The result is that we live in a world of which we know a little more than a dog or a cat."
U.S., Europe Split on Iran Arms Pledge

By ANDREA DUDIKOVA, Associated Press Writer
March 9, 2004
VIENNA, Austria - The United States and key European nations tried Tuesday to work out differences on whether Tehran is living up to its pledge to open up its nuclear dossier.
A diplomat told The Associated Press no common language had been found, for a resolution acceptable to both camps by Wednesday, the last scheduled day of the three-day meeting of the International Atomic Energy Agency's board of governors meeting here. [...]
U.S. officials have emphasized recent suspicious discoveries by the IAEA that Iran provided explanations for only after they were found.
But Germany, Britain and France seek to emphasize Iran's progress in unveiling nuclear activities and cooperating with IAEA inspectors since the discovery last year of a secret uranium enrichment program and covert tests that could be applied toward making weapons.
U.S. Undersecretary of State John Bolton complained in a letter to the three European governments ahead of the meeting that their stance was hurting the common effort to get Iran to comply with its promises for full nuclear disclosure, diplomats told the AP.
The text of a U.S-proposed resolution made available to the AP spoke of "serious failures" by Iran to reveal everything about its activities — language considered too harsh by the Europeans. [...]
In contrast, a draft resolution on Libya is extremely complimentary.
The draft, which also was provided to the AP, welcomes the "active cooperation" by Libya, and congratulates it for accepting full and intrusive IAEA inspections. [...]
Comment: Here we go again...
Click here to comment on this article
US plane 'carrying soldiers' is seized in Harare
By Basildon Peta, Southern Africa Correspondent
09 March 2004
Zimbabwe has seized a US-registered cargo plane carrying 64 suspected mercenaries of various nationalities and a consignment of military gear.
Sources said members of the Zimbabwe government feared a "foreign-sponsored invasion", and the discovery prompted President Robert Mugabe to order an investigation.
A source at Zimbabwe's civil aviation authority said the flight was forced to land in Harare after it strayed into Zimbabwe's airspace without authority. He indicated that the aircraft's destination was not Zimbabwe.
Kembo Mohadi, the Home Affairs Minister, said the Boeing 727 was impounded on Sunday at Harare International Airport "after its owners had made a false declaration of its cargo and crew". He said: "The plane was carrying 64 suspected mercenaries of various nationalities." He said an investigation had found military material.
He did not say where the aircraft arrived from and where it was destined. Sources said the mercenaries were being held under heavy guard at army barracks near Harare.
The plane was apparently once owned by the United States Airforce, which sold it to a private company, Dodson Aviation, in 1985. The company sold it to a South African company.
Reports said the cargo included a rubber dinghy, military uniforms, wire cutters, armour and compasses. Footage on state television showed army personnel sifting through equipment including army boots, communication radios and sleeping bags. Those on board are thought to include Congolese, South African and other African nationals though state media in Zimbabwe claimed they were mostly white.
Comment: US secret OPs, the bane of the world.
Click here to comment on this article
Capital's mayor says DEA involved in video scandal
MAYOR SAYS VIDEO OF EX-FINANCE SECRETARY LIVING IT UP IN LAS VEGAS COULD ONLY HAVE BEEN OBTAINED WITH U.S. GOVERNMENT AID.
EL UNIVERSAL/Wire reports
March 09, 2004

Mexico City Mayor Andrés Manuel López Obrador alleged Monday that the U.S. and Mexican federal governments as well as a casino were involved in a scandal that has shaken his administration.
During a news conference, López Obrador repeated allegations that the Mexican government was plotting against him because of his popularity, which has consistently put him at the top of polls ahead of the 2006 presidential race.
López Obrador has been trying to cope with videotapes, widely televised last week, showing his city finance director gambling at the VIP section of the Bellagio hotel in Las Vegas. Copies of extravagant hotels bills also were shown.
Another videotape showed businessman Carlos Ahumada handing tens of thousands of dollars to Rene Bejarano, one of López Obrador's political allies and his former secretary.
Both the finance director, Gustavo Ponce, and Ahumada have disappeared and are being sought by authorities who suspect they were involved in multimillion-dollar frauds.
The mayor said he would appear at a mass meeting in the city's main plaza on Sunday to present evidence supporting his allegations that rivals were trying to destroy his administration due to his popularity.
"They presumably filmed it - and this is what I am going to show - with the collaboration of U.S. government agents," he said.
Asked if he meant the CIA, Lopez Obrador replied, "DEA," a reference to the U.S. Drug Enforcement Administration.
"The only way to get those images and the hotel bills is through the request of an organ of the U.S. government," he said, adding, "Those casinos do not give information to just anybody." [...]
Comment: Ah, the US "intelligence" agencies. The bane of the world...
Click here to comment on this article
Expel the US from the Security Council
By MIKE WHITNEY
Counterpunch.org
March 8, 2004
"I want to tell George Bush he has failed. We don't have a problem with the U.S. military. We don't have a problem with the American people. The problem we have is with the Republicans, because they want war all over the world and don't respect democracy."
- Daniel Delva, Aristide supporter

"Aristide overstayed his welcome."
- Vice President, Dick Cheney on FOX News, summarizing why the democratically elected leader of Haiti was removed.
The United Nations can regain both the prestige and moral authority it needs to deal effectively with world issues by living up to its Charter and removing the United States from the Security Council. This would not only eliminate the greatest immediate threat to world peace but, additionally, confer legitimacy on future activities of the world body. The primary goals of the institution, to preserve the peace and to discourage aggression, have been seriously maligned by the belligerence of the Bush Administration.
The illegal war in Iraq, which was never endorsed by the Security Council, has perpetrated a firestorm of unrest and violence across the region, transforming the country into a security nightmare. Similarly, the allegations of covert involvement by the Bush Administration in deposing Jean Bertrand Aristide in Haiti strongly suggest that the ongoing aggression of the US is no longer compatible with the objectives of the UN. [...]
Comment: Perhaps expelling the US from the Security Council isn't such a bad idea. After all, as the article points out, Bush himself has even dismissed the UN as "irrelevant".
Click here to comment on this article
The Presidential Library Connection
Former President Bush Involved with Donation to Group with Terrorist Connections
By ROBERT JENSEN
Counterpunch.org
March 8, 2004
OK, perhaps the headline stretches the truth a bit. But being a good American, I'm simply following the lead of my president.
Here's what actually happened: On Saturday I gave a talk on the news coverage of current President Bush and the Iraq War at a conference on presidential rhetoric at Texas A&M University in College Station. One of the conference co-sponsors was the Bush Presidential Library Foundation, and the honorarium I received came from "The Associates of the George Bush Presidential Library Foundation."
So, it was sort of like former President George H.W. Bush paid me for my talk, kind of.
When I returned to Austin, I signed the check over as a donation to the Third Coast Activist Resource Center, a local group I work with. At Third Coast we consider ourselves part of the growing movement to dismantle the U.S. empire, focusing on efforts to resist war, militarism, racism, and corporate domination. Many consider such groups to be, if not terrorists, perhaps fronts for terrorists, or at least sympathetic to terrorists.
That's what Attorney General John Ashcroft seems to think. In December 2001 testimony to the Senate Judiciary Committee, he addressed people who criticized the U.S. government's response to 9/11: "Your tactics only aid terrorists, for they erode our national unity and diminish our resolve. They give ammunition to America's enemies, and pause to America's friends."
So, Third Coast is sort of like a terrorist group, kind of.
Therefore, George H.W. Bush was involved with a donation to a group with terrorist connections. Sort of, kind of.
Now, some may want to criticize me for contorting the facts to fit a political agenda. That is, some might want to accuse me of lying. But I don't think it is fair to criticize me for simply adopting the standards of our highest officials in Washington. The headline doesn't distort the truth to any greater degree than the pronouncements of Bush administration officials, as they try to squirm their way out of pre-war lies that are becoming more difficult to dodge given post-war problems in Iraq. [...]
Click here to comment on this article
Click here to comment on this article
Roadside bomb kills U.S. soldier in Iraq
Click here to comment on this article
US seeking new Haitian prime minister, US marines under attack

March 8, 2004
PORT-AU-PRINCE (AFP) - US Secretary of State Colin Powell said Washington was trying to find a replacement for Haitian Prime Minister Yvon Neptune, as US Marines came under fire while patrolling the still volatile Haitian capital.
"We are working hard with the new council of eminent persons that has been created to come up with a new prime minister," Powell said late Monday in an intereview with the US Fox News Channel.
Powell experessed regret that exiled Haitian president Jean Bertrand Aristide had "squandered the opportunity that was given to him by the presence of American troops and by the international community that stuck with it for years."
"But this time, I hope we can come out with a better political arrangement," he said.
Under a plan approved by the United States, France and the Organization of American States, a council of eminent persons is responsible for forming a new Haitian government that would be neutral and independent. [...]
Click here to comment on this article
Aristide to sue US, France over 'kidnapping'
[...] Lawyer Gilbert Collard says he and an American colleague will file identical suits in France and the United States in the next few days, once they receive full authorisation from Mr Aristide.
"We will file suit against the French ambassador [in Port-au-Prince] and against the [US] military authorities that carried out the abduction of the president," he said.
"The suits will target the Bush administration and the French Government." [...]
Click here to comment on this article
Chavez Warns U.S. Against Invading
Sunday, March 07, 2004
CARACAS, Venezuela — President Hugo Chavez on Sunday vowed to freeze oil exports to the United States and wage a "100-year war" if Washington ever tried to invade Venezuela.
The United States has repeatedly denied ever trying to overthrow Chavez, but the leftist leader accuses Washington of being behind a failed 2002 coup and of funding opposition groups seeking a recall referendum on his presidency. [...]
Click here to comment on this article
Churches give away Gibson tickets
Tuesday, 9 March, 2004

Four English churches are offering free cinema tickets to see Mel Gibson's film The Passion of the Christ in an attempt to boost their congregations.
The Church of England parishes, in and around Maidstone, Kent, have booked £20,000 worth of tickets for the film, which opens in the UK this month.
The film, which depicts the last hours of Christ, has caused uproar in the US amid claims of anti-Semitism.
It has raised more than $200m at the US box office in two weeks.
St Luke's Church in Maidstone. All Saints Church and Loose Baptist Church in the village of Loose and St Peter's Church in nearby Boughton Monchelsea have purchased 3,000 cinema tickets at £6.50 each.
The tickets are only being offered to those "those not already attending a church, or those who attend and wish to take a guest" according to St Luke's Church website.
It also warns that the film contains scenes "of an extremely violent nature".
Russ Hughes, director of worship and prophecy at St Luke's, told The Times: "Gay bishops being thrown out of the church is not the sort of publicity we need.
"Hopefully this will put the emphasis back on Christ."
He added: "This is the greatest opportunity for the church in the last 30 years and if we did not use it we may not get such an opportunity again."
Comment: The world really has gone mad this time. Do these church leaders not realise the ridiculousness of attempting to entice people back to church based on a guilt trip? "Look what Jesus did to himself for your sins!" Well, of course they do. But they also realise that guilt trips work, as do promises of "salvation" when the Lord returns on a cloud, apparently in the not too distant future. Be afraid! Bow your heads, you sinners! Just don't take a peek behind the curtain and see that you are part of the biggest setup in recent history!
Click here to comment on this article
Weaponized bees, robotic rats, sleepless soldiers; does Mother Nature stand a chance in the face of the Pentagon's new science? [...]
Poor Mother Nature! What hope has she when faced with an over $400 billion dollar defense budget. What can she do when the most powerful impetus for free-thinking scientists to consider her is in the urge to weaponize her offspring. Under DARPA, the life sciences have become a fertile area to further the science of death and destruction in an effort, in the words of the DARPA Defense Sciences Office, to overcome the "Frailties of Life" to achieve "Super Physiological Performance." How wonderfully Nietzschean!
Such is the state of government-sponsored innovation in our land. If you're a researcher in crucial fields and want the time, funding, and latitude to be creative, your work must benefit the Pentagon in its race to make sure that the next Saddam can be, in the words of Maj. Gen. Raymond Odierno, "caught like a rat" by Capt. Ben Willard of the Army's rat patrol. [...]
Click here to comment on this article
Leader
Monday March 8, 2004
The Guardian
In order to save time, the following article is being printed several months ahead of schedule as a service to readers and nascent conspiracy theorists.
The capture of Osama bin Laden, while warmly welcomed around the world, raises several questions about the interface between the war on terror and the US election cycle. The most worrying of these is the suspicion that Mr Bin Laden had already been in custody for a considerable period...
Click here to comment on this article
Amid continuous quake in Antique town, residents must keep their guard
By REXCEL JOHN SORZA
TODAY Correspondent
ILOILO CITY - Although no one was hurt from the quake in the Antique town of Anini-y on Tuesday last week, residents must continue keeping their guard as the town might continue to experience more tremors.
The Philippine Institute of Volcanology and Seismology (Phivolcs) said the quake struck at 6:14 a.m. Tuesday and measured 4.1 on the Richter scale. Its epicenter was at 62 km southeast of the provincial capital San Jose de Buenavista.
In January Phivolcs sent two of its scientists to Anini-y to check on the reports of a continuous quake taking place in the town since early this year.
Phivolcs senior science research specialist Jane Punongbayan and geologist Maria Lynn Melosantos found out that a phenomenon called "earthquake swarm" was happening in Anini-y. A "seismic swarm" is a clustering of earthquake events in a specific space and time.
There are two possibilities which could be expected out the earthquake swarm, the duo said. First, the 2004 swarm may remain just that -- a cluster of small magnitude earthquakes similar to the previous periods of earthquake swarm that did not culminate in a large-magnitude, damaging earthquake. Second, the swarm may be foreshocks of a larger-magnitude earthquake.
But the Phivolcs experts pointed out that there is no absolute way to determine whether the current activity is just swarm of a prelude to larger earthquake.
"The earthquake pattern appears similar to the swarms in the last decade, but the second possibility cannot be totally discounted. The present state of technology in the world is not capable of reliably predicting which of the two possibilities will happen."
The two also played down fears of residents that the quakes indicate volcanic activity. They said that the geology of Panay Island does not indicate the presence of any young volcanoes.
Punongbayan and Melosantos explained that the southern tip of Panay Island consists of marine and pyroclastic (volcanic) rocks that are older than two million years. Volcanism associated with the Negros Trench occurs along a corridor farther away to the east from the trench on Negros Island.
Amid this, Phivolcs said that the best course of action is preparedness. "The damaging effects of earthquakes can be minimized if we prepare ourselves for the event. Because a large-magnitude earthquake, either from the Negros Trench/collision zone, or from any of the known active faults on the island, may affect Panay Island, it is always prudent to prepare for such an eventuality," a primer on the earthquake swarm in Anini-y read.
Interestingly, periods of earthquakes swarm have occurred in Anini-y in 1996 to 1997, 1999 and 2001. About 100 earthquakes were recorded during each swarm event. During these instances, the earthquakes were not felt because they were located far from the town.
Phivolcs warned residents to be prepared for strong ground shaking which may cause extensive damage to, or even the collapse of houses, buildings, bridges, and other infrastructures. "Collapsed structures usually account for most of the casualties during a strong earthquake. Falling objects may also cause injuries," it emphasized.
People should also look out for landslides, rock falls, and other types of mass movements that may occur in mountainous or hilly areas. Liquefaction may affect low-lying, water-logged areas near the coast or at the banks of rivers.
A strong earthquake occurring offshore may also generate tsunamis or "large sea waves" that may sweep coastal areas. There is practically not enough lead time to warn for locally generated tsunamis. If a nearby earthquake source generated a tsunami, it may reach the shore in three to five minutes, and may sweep away nipa huts and boats along with unprepared residents.
One of the worst quakes that hit Panay Island took place in 1948 with a magnitude of 8.2. It severely damaged nine churches. Another earthquake on June 14, 1990, had a magnitude of 7.1. It was felt at intensity 7 in Culasi, Antique, and caused damage to houses, buildings and bridges.
The southern part of Panay is located in a known active "collision zone" of tectonic plates, as manifested by Negros Trench and some thrust faults on Panay Island. Past earthquake swarms and large magnitude earthquakes occurred near this collision zone and faults.
Click here to comment on this article
Judge to Review Muhammad's Death Sentence

By MATTHEW BARAKAT, Associated Press Writer
Mon Mar 8, 7:28 PM ET

MANASSAS, Va. - A judge will decide Tuesday whether convicted sniper mastermind John Allen Muhammad should die for his role in the October 2002 killing spree that left 10 people dead in the Washington, D.C., area.
A jury recommended in November that Muhammad be sentenced to death for the murder of Dean Harold Meyers at a gas station near Manassas, one of 13 shootings that terrorized the region during a three-week span.
Circuit Judge LeRoy F. Millette Jr. has the option of reducing that sentence to life in prison without parole when Muhammad is formally sentenced Tuesday.
Defense motions filed Friday urge leniency, citing Muhammad's lack of a previous criminal background, the effect of an execution on Muhammad's children and the general sanctity of human life. [...]
Click here to comment on this article
US row as Kerry claims foreign leaders' support
Julian Borger in Washington
Tuesday March 9, 2004
The Guardian
The Democrats' US presidential candidate, John Kerry, yesterday caused political uproar by claiming he had the private support of foreign leaders who wanted President George Bush beaten.
Speaking to supporters in Florida, the Massachusetts senator declared: "I've met foreign leaders who can't go out and say this publicly, but boy they look at you and say, 'You've got to win this, you've got to beat this guy, we need a new policy.' Things like that."
The remarks provoked an instant rebuke from Mr Bush's re-election campaign.
"Kerry's foreign friends may prefer him as US president, but the election is in the hands of the American people," Terry Holt, a campaign spokesman, said. [...]
Comment: Yes indeedy, "the election is in the hands of the American people" - and, like last time, once the hands of the American people have made their choice using the Diebold voting machines, their electronically registered preferences will be whisked off - altered to the point that they are unrecognisable as the original results - and redisplayed showing Bush as the victor. That's democracy for ya - US style!
Click here to comment on this article
California lawmakers propose lowering voting age to 14 for state elections
JIM WASSERMAN, Associated Press Writer
Monday, March 8, 2004
A proposed amendment to California's constitution would give 16-year-olds a half-vote and 14-year-olds a quarter-vote in state elections.
State Sen. John Vasconcellos, among four lawmakers to propose the idea on Monday, said the Internet, cellular phones, multichannel television and a diverse society makes today's teens better informed than their predecessors.
The idea requires two-thirds approval by the Legislature to appear on the November ballot.
"When we gave the vote to those who didn't own property, then to women, then to persons of all colors, we added to the richness of our democratic dialogue and our own nation's integrity and its model for the world," Vasconcellos said, calling it time to further extend the vote.
A Republican colleague said it was "the nuttiest idea I've ever heard."
Said Assemblyman Ray Haynes: "There's a reason why 14-year-olds and 16-year-olds don't vote. They are not adults. They are not mature enough. They are easily deceived by political charlatans." [...]
Comment: The vast majority of voters in America are deceived by political charlatans. Just look at Gulf War II and the War on Terrorism. Furthermore, Dubya proved in 2000 that with a rigged voting system and biased courts, the popular vote is irrelevant.
Click here to comment on this article
IDF kills 15 Palestinians in Gaza operation

By Arnon Regular and Amos Harel
Fifteen Palestinians were killed, including four children under the age of 16, and more than 80 Palestinians were wounded during an Israel Defense Forces operation in two refugee camps in central Gaza yesterday.
Other than the children, all of the dead were armed men. They included nine Hamas members, one member of Fatah's Al-Aqsa Martyrs Brigades and one member of the Popular Resistance Committees.
Five people were seriously injured, including a 13-year-old boy and a woman, and 15 sustained moderate injuries; the rest were lightly injured.
The Palestinian Authority denounced the operation, terming it "a massacre for whose consequences Israel will be responsible." It urged the UN Security Council to send observers to the territories to protect the Palestinians.
The Hamas and Islamic Jihad movements both threatened retaliatory attacks against Israel. Hamas yesterday evening published a statement saying "Sharon will pay a heavy price, God-willing, and will leave the Gaza Strip vanquished and defeated."
The operation began between 3 A.M. and 4 A.M., when an IDF force entered the Nusseirat refugee camp and took over several buildings that dominate the camp's main streets. According to the IDF, the operation's goal was to strike a blow at armed Palestinian groups involved in firing mortars, antitank rockets and bombs at military and civilian targets in the Gaza Strip - and the method was to provoke these groups into an armed confrontation by the IDF presence in the camp.
In that, the operation succeeded: As soon as news of the soldiers' presence spread, dozens of Palestinian gunmen converged on the site, and the two groups began exchanging fire. The fighting, which soon spread to the nearby Al-Bureij refugee camp, was fierce, and included rifle and machine-gun fire on both sides. In addition, Palestinians fired dozens of antitank missiles, RPG rockets, grenades and bombs at the Israeli tanks, armored personnel carriers and bulldozers, but the armor-plating held, and no Israelis were injured. The Israeli force was also aided by helicopter fire.
During the course of the operation, the soldiers also destroyed the house of the Abu Awad family, known Hamas supporters whose son, Mohammed, carried out a suicide bombing near Netzarim. In addition, Palestinians said, the bulldozers uprooted orchards and plantations at the entrance to the camps, while the heavy gunfire caused considerable damage to houses and roads.
When day broke, hundreds of civilians, some of them throwing rocks, poured into the streets to join the armed men, who continued firing from among the crowd. This is when most of the civilian casualties occurred. In contrast, most of the armed Palestinians were killed during the night fighting, mainly by Israeli sniper fire. [...]
Comment: It is clear that Israel desires all out war with the Palestinians. The only thing left to be decided is how they will manufacture the pretext.
Click here to comment on this article
Blair's supreme court rejected by lords
THE government was last night thrown into a constitutional crisis after the House of Lords threw out its plans to establish a United States-style supreme court .
The peers' vote, at the end of a marathon debate with more than 40 speakers, was instantly criticised by ministers as a cynical delaying tactic.
It came after Lord Falconer of Thoroton, the Lord Chancellor, cautioned against "political mischief-making" by the Tories.
Voting was 216 to 183 - a majority of 33 - for the move by Lord Lloyd of Berwick, a senior law lord, to send the Constitutional Reform Bill to a special select committee.
Peter Hain, the Leader of the House of Commons, has branded the committee a delaying tactic which would effectively wreck the bill.
He has threatened to reintroduce the bill in the Commons and invoke the Parliament Act to push it through - although sceptics doubt there would be time before an election next year.
The outcome was an embarrassing defeat for the Prime Minister, Tony Blair, who ordered the changes to Britain's ancient system of legal appeals during his much-criticised Cabinet reshuffle last year, which also saw the post of Scottish secretary devalued.
Immediately after the vote, Baroness Amos, the government's leader in the Lords, said: "The House has taken a very serious step." [...]
Comment: No wonder Blair is attempting to pass laws that will ultimately do away with the House of Lords. How can he achieve absolute dictatorial rule when there remains some semblance of democracy in the political structure of the government?
Click here to comment on this article
Children should be taught to use guns, says Tory
ALISON HARDIE POLITICAL CORRESPONDENT
A MEMBER of Michael Howard's shadow Cabinet has described a handgun ban brought in after the Dunblane massacre as shortsighted and said children should be taught how to use guns.
Patrick Mercer, the Conservative spokesman on homeland security, likened the ban to outlawing cars because of deaths in road accidents.
During a fringe meeting at the party's spring conference at the weekend, he was reported to have said: "It is so much more sensible in my view to train children to handle and have a respect for weapons than simply to ban them."
The call provoked an angry reaction from Dunblane and other political parties.
In comparing the ban to outlawing cars, he was quoted in the Daily Record newspaper as saying: "It's exactly the same argument that I would deploy about joy-riding.
"It is clearly highly undesirable that people get killed on the roads by motor cars, but we don't ban motor cars. People need to learn how to drive a motor car safely and have respect for it."
Conservative Central Office last night referred calls to Mr Mercer himself, who said he had been quoted out of context.
But the newspaper said he told the fringe meeting that in his constituency near Nottingham: "Gun crime has absolutely exploded and not a single member of that lot ever belonged to a pistol shooting club.
Comment: Psychopaths abound.
Click here to comment on this article
Japan approves bills to authorise wartime cooperation with US
AFP
Tuesday March 9, 5:06 PM
Japan's cabinet approved a set of bills, including measures to authorise US-Japanese military cooperation in case of an attack on the country, a government official said.
The government will shortly submit the seven bills to parliament, in order to be enacted into law before the current session ends on June 16, the official said.
The bills are part of Japan's efforts to acquire its first legal framework for responding to military attack since World War II. [...]
Click here to comment on this article
China rounds up disgruntled petitioners, herds them to gym and stadium
AFP
Tuesday March 9, 4:22 PM
China's police rounded up "thousands" of people who came to Beijing to air their grievances last week and herded them to a stadium and gymnasium in the city's outskirts, sources told AFP.
The police action came as the ongoing National People's Congress (NPC), China's parliament, prepared to add an amendment about respecting human rights in the state constitution.
Most of those who made their way to the capital wanted to file petitions to the central government after getting nowhere with local authorities.
Their primary concern appears to be requisitioning of land by local governments with little in the way of compensation. [...]
Click here to comment on this article
French Researchers Threaten Resignation
Tuesday March 9, 2004
By ELAINE GANLEY
Associated Press Writer
PARIS (AP) - Confronted with steep cuts in their budgets, research directors at France's prestigious scientific institutes are threatening to resign en masse if the government does not rescue them from a funding crisis.
Prime Minister Jean-Pierre Raffarin promised more money to placate the angry intelligentsia who have threatened to resign Tuesday and has drawn in mediators to calm passions in what protesters have dubbed the government's ``war on intelligence.''
But as the hours passed, no one was sure whether hundreds of frustrated research directors would abandon their posts permanently, hold a symbolic walkout or hope for a deal that would increase funds and staff in laboratories.
The researchers - directors at major institutions such as the INSERM research institute and the National Center for Scientific Research - were to make that decision Tuesday when street demonstrations also were planned.
Click here to comment on this article
China to build world's highest weather station on Mount Everest
Click here to comment on this article
2003 summer hottest in 500 years
European researchers say last summer was the hottest on the continent for at least five centuries.
"When you consider Europe as a whole, it was by far the hottest," said Juerg Luterbacher of the University of Bern, Switzerland.
According to the study, published by this week's Science magazine, European winters are also getting warmer.
Average winter and annual temperatures during the past three decades were the warmest for 500 years, it says.
Click here to comment on this article
California Bakes in Record Heat

By MASON STOCKSTILL, Associated Press Writer
Mon Mar 8,10:08 PM ET
LOS ANGELES - Winter doesn't even give way to spring until March 20, but California baked in summerlike heat Monday as temperatures soared to record highs.
Downtown Los Angeles, with mountains to the east still capped in snow from a storm last week, topped out at 93 degrees, 24 above normal. That broke the 1996 record of 89 for March 8, the National Weather Service said.
A 112-year-old mark fell in downtown San Francisco when the temperature hit 82, besting the record of 78 set in 1892. Sacramento tied its 1953 record for the date with a high of 80. [...]
Click here to comment on this article
Madagascar calls for international aid as cyclone ravages north

Mon Mar 8, 6:54 PM ET
ANTANANARIVO (AFP) - Madagascar called for international aid after cyclone Gafilo wreaked havoc in the north of the Indian Ocean island nation, killing at least seven and leaving up to 100,000 homeless.
Gafilo may return to the island within 48 hours, meteorological officials said late Monday. [...]
Click here to comment on this article
Floods ravage Papua New Guinea
Port Moresby - More than 10 000 people were evacuated as floods destroyed their homes and food gardens along the banks of the Waghi river in Papua New Guinea's western highlands over the past few days.
Emergency supplies, including thousands of litres of diesel, were stranded in Kundiawa Chimbu province after rising floodwaters badly damaged a bridge near Kudjip, washing away parts of the Highlands Highway.
Precious livestock has also perished in swollen rivers as torrential rain pounded the region for the past two weeks, turning into a flood last Friday. The rains will affect major coffee and tea growers entering a new season in Anglimp, Aviamp and Kudjip.[...]
Click here to comment on this article
British Gaza deployment plan discussed
By Arthur Neslen in London
Tuesday 09 March 2004, 1:06 Makka Time, 22:06 GMT
A new British proposal to send military advisers to oversee the pullout of Israeli troops from Gaza has been discussed by the British and Palestinian prime ministers.
A source close to the London negotiations confirmed to Aljazeera.net that Ahmad Quraya and Tony Blair talked about the "security plan" in the first official talks between the two leaders on Monday.
The proposal would involve British forces deploying in Gaza to help Palestinians police the territory if Israel goes ahead with a unilateral retreat from the Strip.
[...] Meanwhile, Afif Safiah, the Palestinian ambassador to London, hailed Jack Straw's words as a sign that British-Palestinian relations were "significantly improving".
"When Jack Straw expressed condolences for Palestinian casualties yesterday and the day before in the Gaza Strip, he was the first British statesman ever to do so," Safiah told Aljazeera.net.
"For us it was important, moving and, alas, unprecedented."
Click here to comment on this article
Colin Powell visits South Asia next week with full agenda

US Secretary of State Colin Powell will have "a full agenda", including from bilateral to regional issues, for discussions with Indian and Pakistani leaders when he visits the south Asian nations next week.
"It is a full agenda of discussions with India, a full agenda of discussions with Pakistan, starting with bilateral relations and going on to both regional and more local concerns," State Department spokesman Richard Boucher said yesterday.
During the visit starting on March 14, which will also take him to Afghanistan, Powell will be meeting with senior officials and political leaders of the 3 countries.
Click here to comment on this article
US visa quota cut put paid to dreams of Indian teachers
Indian school teachers dreaming of a career in the US will have to cool their heels for now. Most American schools have cancelled their international hiring plans because the slashed H-1B visa quota for fiscal 2004 has already been exhausted.
US schools normally send out recruitment teams abroad during the spring and summer months, but this time they have been caught on the wrong foot as tech firms have already used up the year's curtailed visa quota.
No definitive figures are available on the number of foreign teachers working in American schools. Education officials say the number would run into "at least several thousands".
Faced with critical shortages of teachers in subjects like science and math, the schools are now worrying how to cope with the situation in the new academic year, beginning September.
School teaching jobs, being relatively low-paid, do not attract enough Americans. This has prompted school administrators in recent years to turn to a number of Asian and Latin American countries.[...]
Indian teachers, in the meantime, are making their mark quietly but consistently. The Post quotes Norris Rhines, principal of Houston's Smiley School, as saying about science teacher Vivek Agarwal, who joined the school a year ago: "He's young, energetic, he has vast knowledge of the subject area, and he has a good rapport with the students...It would be difficult to find someone of his calibre here."
Click here to comment on this article
ALP refuses to back male teachers plan
The Federal Opposition will not support the Government's plan to override Australia's sex discrimination laws to allow schools to recruit more male teachers.
The Government is concerned about a lack of role models for boys.
Under the changes, Catholic, Government and independent schools will be able to offer scholarships to men to encourage them into the profession. Education Minister Brendan Nelson has told parliament that only 21 per cent of primary school teachers are men. He says men make up only 18 per cent of those training to enter the profession.
"In 250 public state schools in the state of New South Wales the only man on campus, if there is one, is the gardener," he said.[...]
Click here to comment on this article
Supreme Court rejects Boy Scouts' appeal

State can exclude group due to policy against homosexual leaders

March 8, 2004
WorldNetDaily.com
The U.S. Supreme Court today allowed Connecticut to exclude the Boy Scouts of America from a state charitable program because of the Scouts' policy barring avowed homosexuals from leadership.
Critics said the high court's refusal to revisit the ruling by the 2nd Circuit Court of Appeals threatens not only the First Amendment right to expressive association but also the right to free exercise of religion.
The decision has "far reaching implications that could threaten the constitutional rights of religious-based organizations that seek to promote and preserve their organizational values, particularly with regard to the issue of homosexuality," said the Michigan-based Thomas More Law Center, which filed a friend-of-the-court brief in the case.
Comment: Have you noticed that there has been a spate of highly charged debates around sexuality in recent months? Understand that issues like the above are designed specifically to vector public attention away from that which is most important and in need of their attention.
Click here to comment on this article
Reports Of Rape In Pacific Spurs US Air Force Steps
NEW YORK (Dow Jones)--At least 92 accusations of rape involving Air Force personnel in the Pacific were reported to military authorities there from 2001 to 2003, according to a new study by the service. The findings also singled out serious flaws in the reporting of sexual assault claims and assistance to victims, The New York Times reported in its Tuesday editions.
The five-month review has led to a servicewide investigation into how sexual assault is reported, how it can be prevented and how commanders deal with victims, the newspaper reported.
Click here to comment on this article
TIKRIT, Iraq -- An American commander unveiled a plan yesterday aimed at defusing tension over Iraqis held in US military custody, which tribal leaders in Saddam Hussein's hometown say is the leading cause of anti-American animosity.
Between 500 and 900 Iraqi males from Tikrit and surrounding areas are said to be in US military detention facilities and larger Iraqi jails in Umm Qasr and Abu Ghraib. They were rounded up, blindfolded and taken away by American soldiers during raids on suspicion of attacking coalition forces.
In many cases, innocent Iraqis have been arrested in such sweeps, but getting them out of jail has been difficult: No formal system exists to track them down, verify their stories, and hear representations by family members wanting them returned home.[...]
Click here to comment on this article
ANC pressed on AIDS 'holocaust'
JOHANNESBURG -- South Africa's AIDS crisis grabbed the campaign spotlight yesterday as a powerful political challenger accused President Thabo Mbeki's African National Congress of standing idle as a "holocaust" engulfs the country.
South Africa's biggest AIDS pressure group, meanwhile, threatened to take the government to court before the April 14 elections unless it begins a promised public rollout of AIDS-fighting drugs.
Home Affairs Minister Mangosuthu Buthelezi, whose Inkatha Freedom Party, or IFP, is the country's second-largest black-led political party, said Mbeki's AIDS policy had led to disaster.
"HIV/AIDS alone is an issue which demands and dictates a profound change in the leadership of our country," Buthelezi said in a Durban speech outlining the IFP's AIDS policy. "South Africa faces a holocaust, and its leaders are complacent."
South Africa has the world's largest HIV/AIDS caseload with an estimated 5.3 million of its 45 million people infected.
Activists estimate about 600 South Africans die of AIDS each day, and the number of children orphaned by AIDS is projected to reach some 2 million by 2010.[...]
Click here to comment on this article
Colombo - A breakaway faction of the Tamil Tiger rebels on Tuesday rejected a fresh amnesty offer to end their rift that has plunged Sri Lanka into new uncertainty over efforts to end a three-decade-long civil war.
The renegade regional commander of the Liberation Tigers of Tamil Eelam (LTTE) discarded the offer as "ridiculous", ending a bid by a Catholic bishop to help resolve the unprecedented split among the rebels. [...]
Diplomats here said the failure to peacefully resolve the standoff could seriously undermine Norwegian-led diplomacy to broker peace.
Click here to comment on this article
Indonesia cleric 'free in weeks'
One of Indonesia's leading radical Muslim clerics, Abu Bakar Ba'asyir, has won a legal victory that could see him freed from jail within weeks.
The Supreme Court ordered his jail term cut from three years to 18 months. He has been in custody nearly that long. The decision follows Ba'asyir's successful appeal against a subversion conviction in December.
Authorities had also accused him of leading the militant Jemaah Islamiah (JI), blamed for the 2002 Bali bombing. He was acquitted of that charge, which he strongly denied, last year.[...]
Click here to comment on this article
Giving the Headscarf a Makeover
Even as the headscarf row simmers in Germany, a Berlin Muslim has designed colorful alternative headgear that serves the purpose of a traditional hijab but looks like anything but. Finding takers is a problem.
Click here to comment on this article
Impeachment Motion Submitted Against Roh
SEOUL, South Korea - South Korean political turmoil deepened Tuesday as the two main opposition parties submitted an impeachment motion against President Roh Moo-hyun after he was found to have violated election laws with comments aimed at influencing parliamentary polls.
Click here to comment on this article
Pakistan tests nuclear capable missile

March 9, 2004
ISLAMABAD (AFP) - Pakistan has test-fired an intermediate range surface-to-surface ballistic missile, capable of carrying a nuclear warhead deep into rival India, the military announced.
The test, falling on the eve of India's first cricket tour to Pakistan in 14 years and in the midst of a peace process with its nuclear neighbour, proved Pakistan's intention to maintain a nuclear deterrent, the military said.
"It reflects Pakistan's resolve to maintain minimum credible deterrence as the cornerstone of its security policy," a military statement said. [...]
Click here to comment on this article
China kicking 1.1 million out of Beijing
March 8, 2004
2004 WorldNetDaily.com
When China was awarded the 2008 Olympics, it's doubtful the world community realized what it would mean for Beijing residents – forcible relocation for more than 1 million residents.
Yesterday, Mayor Wang Qishan defended the mass relocation of people for the Games, saying it was necessary if the capital was to realize its Olympic dream.
The problem is that congested Beijing just can't handle the visitors expected – so city residents, mostly poor, will pay the price.
Wang said the main problems were transportation and public hygiene. He also noted that the average man on the street would need to be re-educated not to walk around the city wearing only trousers.
State media reports have repeatedly questioned whether Beijing can handle the arrivals of tens of thousands of visitors for the Olympics, saying the capital could become paralyzed because of the urban layout.
Wang wants to create several new satellite towns on the outskirts of Beijing. But, to do this, will require the destruction of many older and run-down homes. He defended the need to change the capital, saying the remake – which will affect more than 350,000 households, or about 1.1 million residents – was necessary because many houses were run-down.
"To have a new Beijing and Olympics, it is impossible not to demolish houses," Wang said.
Already some 300,000 Beijing residents have been evicted from their homes to make way for construction projects associated with the 2008 Olympics Games, according to the Geneva-based Center on Housing Rights and Evictions.
Click here to comment on this article
Washington unable to confirm plane seized in Zimbabwe is US aircraft

Tue Mar 9, 2:35 AM ET
WASHINGTON (AFP) - The United States was unable to confirm whether a Boeing 727-100 cargo plane seized by Zimbabwe at Harare international airport was a US-registered plane, but said it was apparently not connected to the US government.
Zimbabwe Home Affairs Minister Kembo Mohadi said Monday that a US-registered aircraft, carrying military equipment and 64 suspected mercenaries, had been impounded by the Zimbabwe authorities on Sunday.
"We have no indication this aircraft is connected to the US government," said State Department spokesman Richard Boucher.
Boucher acknowledged in reply to reporters' questions that while "indications are" that the plane was a US-registered, commercial plane, "I can't confirm that that, in fact, is the aircraft." [...]
Click here to comment on this article
Former Shell Chairman Was Told of Reserve Issues

Mon Mar 8,12:46 AM ET
LONDON -- The ousted chairman of Royal Dutch/Shell Group was warned of possible overstatements in the oil titan's petroleum reserves two years before he publicly disclosed them, two people familiar with the situation told The Wall Street Journal.
A memo, circulated to Sir Philip Watts and other senior executives in early 2002, warned that the company's method of booking oil and natural-gas reserves appeared to be inconsistent with U.S. Securities and Exchange Commission guidelines, these two people said. The memo pointed out that the company might have to revise downward its reserve tally by the equivalent of about one billion barrels of oil, these people said.
On Jan. 9, the world's third-largest publicly traded oil company by market value announced it would cut its oil and natural-gas reserves by about 20%, or 3.9 billion barrels of oil equivalent. [...]
Click here to comment on this article
OPEC Head: Cartel Still Overproducing

Mon Mar 8,11:48 PM ET

JAKARTA (Reuters) - OPEC President Purnomo Yusgiantoro reiterated on Tuesday the oil producers' group was still producing above official output limits but planned to go through with a cut to the group's production ceiling in April.
Asked if OPEC is producing above the official ceiling, Purnomo said: "Yes...There is automatic adjustment that we can produce more in order to stablise oil prices, because we guarantee security of supply in the world." [...]
Purnomo had said last week the cartel needed to pump extra oil to curb the price rally that has added around $4 a barrel since OPEC's February 10 decision to eliminate oversupply and cut output by one million barrels per day (bpd) from April 1. [...]
Click here to comment on this article
Brains of 'homosexual' sheep are smaller
Washington - Researchers who found homosexual rams in a herd of sheep said they had found changes in the brains of the "gay" animals.
The results, published in the latest issue of the Journal Endocrinology, tend to support studies in humans that have found anatomical differences in the brains of heterosexual and homosexual men.
Researchers at the Oregon Health and Science University (OHSU) School of Medicine found certain groups of brain cells were different between rams and ewes in a part of the sheep brain controlling sexual behaviour. In rams that preferred to mate with other males, this area was smaller than in males that preferred females.
"There's a difference in the brain that is correlated with sexual partner preference rather than the gender of the animal you're looking at," said Kay Larkin, an OHSU electron microscopist.
Click here to comment on this article
Treasury Department Is Warning Publishers of the Perils of Criminal Editing of the Enemy
By ADAM LIPTAK
New York Times
Writers often grumble about the criminal things editors do to their prose. The federal government has recently weighed in on the same issue — literally.
It has warned publishers they may face grave legal consequences for editing manuscripts from Iran and other disfavored nations, on the ground that such tinkering amounts to trading with the enemy.
Anyone who publishes material from a country under a trade embargo is forbidden to reorder paragraphs or sentences, correct syntax or grammar, or replace "inappropriate words," according to several advisory letters from the Treasury Department in recent months.
Adding illustrations is prohibited, too. To the baffled dismay of publishers, editors and translators who have been briefed about the policy, only publication of "camera-ready copies of manuscripts" is allowed.
The Treasury letters concerned Iran. But the logic, experts said, would seem to extend to Cuba, Libya, North Korea and other nations with which most trade is banned without a government license.
Laws and regulations prohibiting trade with various nations have been enforced for decades, generally applied to items like oil, wheat, nuclear reactors and, sometimes, tourism. Applying them to grammar, spelling and punctuation is an infuriating interpretation, several people in the publishing industry said.
"It is against the principles of scholarship and freedom of expression, as well as the interests of science, to require publishers to get U.S. government permission to publish the works of scholars and researchers who happen to live in countries with oppressive regimes," said Eric A. Swanson, a senior vice president at John Wiley & Sons, which publishes scientific, technical and medical books and journals. [...]
Click here to comment on this article
Bookstores Petitioning To Repeal Section Of Patriot Act
DENVER -- More than 65 Colorado bookstores are circulating petitions to repeal Section 215 of the USA Patriot Act.
The national Campaign for Reader Privacy said that's the section that expands the FBI's ability to search booksellers' and libraries' records. [...]
Click here to comment on this article
Protection squad' for Gibson's Jesus
Security detail hired for James Caviezel as execs think movie's main stars targeted
Comment: This story comes to us courtesy of worldnetdaily, an extreme right wing newspaper, that publishes regular commentary from the likes of Pat Buchanan. They were also the source for the story on how the writer of Passion battled with Satan.
Not to be out done, there are rumors on alternative news sites that the Mossad is after Mel Gibson. The Mossad would have to be crazy to carry out such a hit, since that would be the one thing that would create a back lash of anti-Semitism that could very well out do the WWII era. Let us all hope Mel stays in good health for a long time to come. What an absolutely crazy time for Mel to insert something like this movie into reality. Coincidence? If something like that happened, Mossad or not, it could very well round back up all those Jews who have been immigrating out of Israel in such numbers of late. Things like these have been cleverly engineered before.
Click here to comment on this article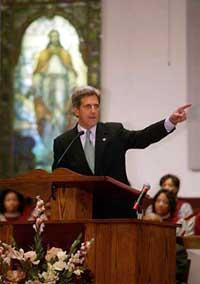 Kerry preaching to the choir. There is not even a pretense of separating church and state these days.
Swastikas on sign at Lovingway church
2nd desecration case probed; pastor quits over 'Passion' furor
By Sarah Huntley
Rocky Mountain News
March 9, 2004
Denver police are investigating a second case of swastika graffiti - this time at a church whose leader was accused of anti-Semitism.
Congregants at the Lovingway United Pentecostal Church, 999 S. Colorado Blvd., discovered two spray-painted swastikas on a sign about 9 a.m. Sunday.
The vandalism occurred just one day after several swastikas were found on a Denver synagogue.
The unsettling discovery followed the resignation the previous night of the church's longtime pastor, who stepped down after creating a furor in late February when he posted the words, "Jews killed the Lord Jesus," on the same church marquee.
Pastor Maurice Gordon, 73, met with about 40 church members Saturday to apologize and resign. [...]
Assistant Pastor David Wasserburger said he believes the graffiti is related to the recent controversy.
"There's a lot of people out there who have a lot of hatred in their hearts," he said. [...]
Click here to comment on this article
Police suspect third involved in Haifa Jewish terror cell
By David Ratner
Haaretz Correspondent
Police suspect that a third individual is involved in the Jewish terror cell that targeted Arab residents of Haifa, according to testimony presented Tuesday to the Haifa Magistrate's Court.
The court on Tuesday extended the remand of Eliran Golan, suspected of planting nine bombs around the city, by six days.[...]
Click here to comment on this article
Churches offer free movie to boost flock
LONDON (Reuters) - Four Church of England parishes are trying to boost their congregations by offering free cinema tickets to watch Mel Gibson's controversial movie "The Passion of Christ". [...]
"Hopefully this will put the emphasis back on Christ.[...]"
"This is the greatest opportunity for the Church in the last 30 years and if we did not use it we may not get such an opportunity again." [...]
Comment: It appears to just not be natural for many people to embrace organized religion. There also appears to always be a gimmick to herd people back into the flock.
Click here to comment on this article
New images of Saturn taken by the Chandra X-Ray Observatory show that X-ray emissions, which are reflected radiation from the Sun, come mainly from its equator. This is unusual, because existing theories predict that they should come from the planet's poles, as has been observed with Jupiter. Another unusual discovery is that the planet's rings aren't visible at all in the X-ray spectrum. [...]
Click here to comment on this article
Hayward, California Sighting Caught On Video
Click here to comment on this article
European scientists are examining an image of the Beagle 2 Mars lander, taken moments after it was spun off from its mother ship, that also shows an unidentified object.
The mysterious blot on the photograph is being scrutinised as one of several potential reasons for the failure of the mission – Europe's first attempt to land a probe on the Red Planet. [...]
Click here to comment on this article
NASA won't speculate about possibility of fossils, but that doesn't mean others aren't.
Click here to comment on this article
Kids thrilled by close encounter of mystery kind (UK)
A GROUP of children playing in Littleborough reckon they have had a close encounter with a UFO.
So vivid was their experience at about 7pm on Thursday they have started to draw what they saw.
They say the spacecraft hovered slowly just over the rooftops for several minutes and then shot off at hyper speed.
Lindsey Stansfield, of Timbercliffe, Summit, said her sons, Louis, aged eight, and Cameron, aged five, were playing with friends on a trampoline outside their home when they spotted the 'extra terrestrial'.
She said: "The children saw the object flying slowly above the houses. Some of the children thought it was triangular in shape and others square, but it could have been to do with what angle they saw it."
"It had red lights around the edge and yellow lights in the middle. They rushed in to tell us about it, but the time we got out it had gone. The children say the object had stopped above the house behind us and then shot off in hyper drive. Later that evening they started drawing pictures of what they had seen."
"I would like to know if anyone else in Littleborough saw the object."
Louis said: "I looked up and saw some lights flashing in the sky. I went in the house to get my mother, but when we went out it had gone."
A spokesman for the National Air Traffic service said: "There was no reported alien activity in controlled airspace that we are aware of."
A spokeswoman for the Ministry of Defence said: "I am not aware of any other reported sightings. We do have a UFO report line telephone number so that people can report things which they cannot explain." [...]
Click here to comment on this article
[...] "There are people who say you shouldn't be teaching this kind of thing in your classrooms," says Alan G. Hill, a Delta associate professor of sociology who has dealt with unexplained phenomenon such as Jeff's close encounters for decades now. "Some just think it's a waste of money." [...]
Click here to comment on this article
JonBenet's Father Considering Run For State House
LANSING, Mich. -- The father of JonBenet Ramsey is thinking about running for the Michigan House. [...]
Click here to comment on this article
Odor Study Under Way in Delaware
By RANDALL CHASE
Associated Press Writer
DOVER, Del. - Even though it's been almost three years, Tina Robinson can distinctly recall when she first noticed the odor that sometimes permeates her home.

"It literally woke me up out of my sleep," the East Wilmington resident said. "My dog was throwing up because of the stench."
Robinson's wake-up call, along with hundreds of other complaints received over the years from people living along the heavily industrialized Interstate 495 corridor, is the subject of a state study.
Having established an "odor round-table" that includes industry representatives and lawmakers and taken "chemical signatures" of landfills, sewage facilities and industrial sites, officials are taking field samples in response to complaints, most of which come from the Edgemoor area northeast of Wilmington.
State officials are trying to sniff out the source or sources of the odors by comparing the field samples to the chemical signatures of 18 industrial facilities.
"It's a responsible, scientific approach to identifying odor sources," said David Small, deputy secretary of the Department of Natural Resources and Environmental Control.
But some area residents say the answer is as plain as the nose on your face.
"I think it's the landfill," said Steve Tindall, referring to the 240-acre Cherry Island landfill run by the Delaware Solid Waste Authority. "I've been to the landfill and I've smelled the smell, and they're the same. ... You open a bag of week-old garbage, that's what it smells like." [...]
But like the possible culprits, the odors themselves can't be narrowly defined. Residents have complained about smelling everything from dead fish and +rotten+ eggs to burning rubber and animal urine. One person even complained that he smelled anthrax.
Others have used terms such as "pungent," "toxic," "putrid," "noxious" and "offensive," but well over half of the more than 400 complaints logged since January 2001 are simply labeled "unknown."
"Odors are notoriously difficult to track down," said Alan Muller, executive director of the environmental group Green Delaware. "They're hard to capture, hard to quantify."
Compounding the problem is the fact that the odors often are gone with the wind, or, in state parlance, GOA (gone on arrival) by the time officials can respond.
Joe Martini, DNREC program manager for air monitoring, said only three field samples have been collected in the second phase of the study, which began in January after chemical signatures for the various sites were established. [...]
Robinson said she tends to notice the odor that seeps into her home and lingers in her furniture and upholstery on Mondays, at night, and when there is moisture in the air. When the odors attack, Robinson burns incense and candles and uses air fresheners.
"Sometimes it's two or three o'clock in the morning," she said. "What are you supposed to do, put your clothes on and get in your car and drive away? So you just lay awake."
Click here to comment on this article
More Than 8.7M Cosmetic Plastic Surgeries in 2003, Up 32 Pct. Over 2002 (US)
Click here to comment on this article
Ananova.com
March 9, 2004
Couples caught kissing passionately in public in Indonesia could be jailed for up to five years.
A new anti-pornography bill before the nation's parliament includes a ban on kissing on the mouth in public. [...]
Click here to comment on this article
Woman sues chewing gum firm over kissing ad
Ananova.com
March 9, 2004
A Chinese woman is suing a chewing gum company over a TV ad which she says encourages youngsters to kiss each other.
Zoe, from Guangzhou, launched the legal action after her neighbours complained her son had been kissing their daughter.
She claims he only wanted to kiss the girl to mimic the plot of the ad, reports the Hong Kong edition of China Daily, quoting Information Times.
The Guagnzhou Yuexiu District People's Court has agreed to hear the case and will hold a public hearing.
Click here to comment on this article
---
Remember, we need your help to collect information on what is going on in your part of the world!
We also need help to keep the Signs of the Times online.
---

Check out the Signs of the Times Archives

Send your comments and article suggestions to us

---
Fair Use Policy
Contact Webmaster at signs-of-the-times.org
Cassiopaean materials Copyright ©1994-2014 Arkadiusz Jadczyk and Laura Knight-Jadczyk. All rights reserved. "Cassiopaea, Cassiopaean, Cassiopaeans," is a registered trademark of Arkadiusz Jadczyk and Laura Knight-Jadczyk.
Letters addressed to Cassiopaea, Quantum Future School, Ark or Laura, become the property of Arkadiusz Jadczyk and Laura Knight-Jadczyk
Republication and re-dissemination of our copyrighted material in any manner is expressly prohibited without prior written consent.
.