---
New Article: Jupiter, Nostradamus, Edgar Cayce, and the Return of the Mongols - Laura Knight-Jadczyk
Picture of the Day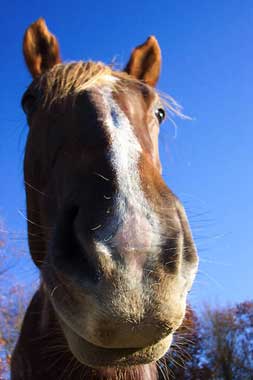 ©2004 Pierre-Paul Feyte
Over the past 100 years the world has shrunk significantly in size. The advent of air travel and mass communication allows the individual, if he or she so chooses, to see him or herself as a citizen of the "global village". For the morally minded, more so than ever before, the ability to read about and see the trials, tribulations and suffering of people anywhere on the globe, in real time, can have a direct and personal impact, further bringing home the truth that what happens to even one person can, and sometimes does, have repercussions for all.
Needless to say, those tasked with the responsibility of bringing this vital information to our awareness, bear a responsibility to all humanity.
"The liberal press" - one of the defining aspects of a "free and democratic" country. Most of us in the developed world have come to rely on the printed and televised media to bring us unbiased and up-to-the-minute reports on the state of our world, from the most mundane local events to the breaking story of global implications. Without the bands of roving and "impartial" reporters scouring the planet to provide us with our daily dose of "what is" we would be completely ignorant of the "big picture". "We the people", then, find ourselves in the position of having no other choice but to trust implicitly that our press really is "fair and balanced" and that what we read in the papers or see on our screens is in fact the truth. We realise that if we do not, we have nowhere else to turn for news of the world "out there". As a result, like it or not, we all have a vested interest in believing that the evening news, relays the facts. To even consider that it is otherwise is unthinkable - and therein lies the problem.
Any aspect of our lives that is interpreted as being "vital" to our well being and happiness is rarely open to discussion - it just is, and that's that, and to suggest otherwise will generally get one labeled as a "kook", a "crank", a "whacko", or even worse, a conspiracy theorist! Very often though, it is not the "craziness" of any alternative theory that produces such a response, but the fact that an alternative theory is being proposed at all. It has been said that it was not the suggestion that the earth was round that so incensed people, but the fact that it was not flat. This "revelation" lead to the idea that man and the earth were not the center of the universe, yet the earth always was, and last time we checked, still is, round. Some people, however, still seem to have trouble letting go of the idea that all creation does not bow to their will.
We all understand that knowledge and information equals power. As such, the information we receive about our world via the mass media is potentially a form of empowerment of the people, it all depends on the type of information that is received. If the population is given truthful and accurate information about the world they are empowered and may even effect changes on more than just the personal level. If the population is given inaccurate information or disinformation their ability to fully interact with the world is significantly diminished.
We are forced to rely 100% on the integrity of the media company owners that control the dissemination of the information with which we interpret our reality. For this reason most of us are unwilling to accept the idea that those tasked with bringing us this information would ever be so devious as to falsify it. The problem is that power, any kind of power, in the wrong hands, corrupts. If governments have as their raison d'etre, the wielding of power over the population, then the quality or accuracy of knowledge or information in the public domain is central to their ability to continue to control the people. It seems that governments throughout the ages were well aware of this, as Hitler stated in Mein kampf:
[...] the great masses of the people in the very bottom of their hearts tend to be corrupted rather than consciously and purposely evil, and that, therefore, in view of the primitive simplicity of their minds, they more easily fall victim to a big lie than to a little one, since they themselves lie in little things, but would be ashamed of lies that were too big. Such a falsehood will never enter their heads, and they will not be able to believe in the possibility of such monstrous effrontery and infamous misrepresentation in others; yes, even when enlightened on the subject, they will long doubt and waver and continue to accept at least one of these causes as true. Therefore, something of even the most insolent lie will always remain and stick -- a fact which all the great lie-virtuosi and lying-clubs in the world know only too well and also make the most treacherous use of.
When considering human nature and how easily corrupted it is by the lure of power, it is to be expected that the control of information and knowledge would be coveted by those that crave power. The US is widely accepted as the most powerful nation on earth. It is not surprising then that the US media is arguably the most influential in the world. In this case, it is logical that, in order that those in power should retain that power, the US media would be subject to the most stringent controls. Indeed, it seems that there have been a few commentators in the US that have been brave enough to reveal the truth of this:
One night, probably in 1880, John Swinton, then the preeminent New York journalist, was the guest of honour at a banquet given him by the leaders of his craft. Someone who knew neither the press nor Swinton offered a toast to the independent press. Swinton outraged his colleagues by replying:

"There is no such thing, at this date of the world's history, in America, as an independent press. You know it and I know it.

There is not one of you who dares to write your honest opinions, and if you did, you know beforehand that it would never appear in print. I am paid weekly for keeping my honest opinion out of the paper I am connected with. Others of you are paid similar salaries for similar things, and any of you who would be so foolish as to write honest opinions would be out on the streets looking for another job. If I allowed my honest opinions to appear in one issue of my paper, before twenty-four hours my occupation would be gone.

"The business of the journalists is to destroy the truth, to lie outright, to pervert, to vilify, to fawn at the feet of mammon, and to sell his country and his race for his daily bread. You know it and I know it, and what folly is this toasting an independent press?

"We are the tools and vassals of rich men behind the scenes. We are the jumping jacks, they pull the strings and we dance. Our talents, our possibilities and our lives are all the property of other men. We are intellectual prostitutes." (Source: Labor's Untold Story, by Richard O. Boyer and Herbert M. Morais, published by United Electrical, Radio & Machine Workers of America, NY, 1955/1979)
The question is, when we come to the realisation that it is likely that a source is corrupted, how do we determine the extent of the corruption? An overzealous reaction may lead us to "throw the baby out with the bath water". The answer, we think, is to fall back on our own ability to discern truth from lies. We all have this ability, however latent, all that is required is the will to develop it.
We publish the Signs page every day because we share the opinion of "the powers that be" that knowledge is power, and we understand that it can be used to destroy or create. The real benefit of objective knowledge is, however, not in its ability to control other people or change the world, but rather its ability to transform the self. Let us ask a question: Where do you think the limit of your mind is? Other than those imposed by ourselves and our beliefs, there is none. If there is no limit, then what is the difference between our own minds and everything else? The answer, as amazing as it might seem, is that there is no difference, and when two things each have absolutely no limits, they are precisely the same thing.
In a world where information is power, "The Signs of the Times" seeks to provide a counterbalance to the mass media's lies and disinformation and provide our readers with an objective view of the uncomfortable reality of our world. Above all else we are dedicated to truth and knowledge.
Click here to comment on this commentary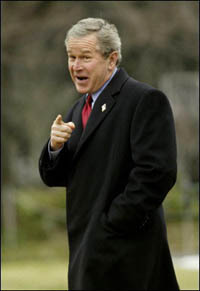 BUSH EXPLOITS PHOTO OF DEAD BODIES, DESPITE BAN
As the nation headed for war last year, President Bush "clamped down" on the media, extending and expanding a controversial policy that banned reporters from photographing flag-draped caskets of soldiers killed in combat . The White House said the policy was enforced to "spare the feelings of military families." Yet, in the very first television advertisement of his 2004 campaign, the president has blanketed the nation's airwaves with an image of "firefighters carrying a flag-draped body" from the 9/11 wreckage at Ground Zero.
The hypocrisy of preventing Americans from receiving a "reminder of the toll of war" at the very same time the president exploits an image of a dead body for his own political gain has caused an outrage among victims' families. Chris Burke, whose brother Tom died in the attacks, said, "Using my dead friends and my dead brother for political expediency is dead wrong. It's wrong, it's bad taste and an insult to the 3,000 people who died on Sept. 11."
The president's actions have also raised new credibility questions because he previously promised not to exploit the 9/11 attacks. Speaking of 9/11 in January 2003, President Bush told the Associated Press that he had "no ambition whatsoever to use this as a political issue."
Click here to comment on this article
Giuliani defends Bush's use of 9/11 images

Former New York Mayor Rudolph Giuliani, who won worldwide acclaim for his handling of the September 11, 2001, terrorist attacks that devastated his city, said Thursday that using images from that day in campaign ads for President Bush is both "appropriate" and "relevant." "The reality is that President Bush played a very, very big role in bringing our country through the worst attack in our history," he said.
Comment: Rudy comes clean! "Bush played a very, very big role in bringing our country through the worst attack in our history".
Click here to comment on this article
Bin Laden 'evaded Pakistani raid'
By Andrew North
BBC correspondent in Afghanistan
A local official in eastern Afghanistan says he has received credible reports that Osama Bin Laden escaped the recent Pakistani operation to catch him.
Click here to comment on this article
Canadian blows alleged CIA cover
Saturday 06 March 2004, 11:48 Makka Time, 8:48 GMT
A Canadian man who says his family once lived side by side with Usama bin Laden has claimed he was a CIA double agent sent to spy on al-Qaida fighters at Guantanamo Bay and in Bosnia.
Abd al-Rahman Khadr told Canadian Broadcasting Corporation (CBC) on Thursday he also led CIA agents hunting suspects after the 11 September attacks to al-Qaida safehouses in Kabul.
Click here to comment on this article
'The day after' Arafat dies - not just an IDF game
By Amos Harel, Haaretz Correspondent
05/03/2004 14:35
The Israel Defense Forces recently conducted a simulation "war game" about what would happen the day after Palestinian Authority Chairman Yasser Arafat passes away.
The exercise examined several possible scenarios and how Arafat's death - by natural causes - would influence the domestic situation in the Palestinian Authority and its relations with Israel. The Central Command exercises involved senior officers; apparently, the General Staff will continue where the Central Command officers left off.
Security sources told Haaretz that the exercise was not the result of any new information about the state of Arafat's health.
Last fall there was speculation about the 75-year-old's health after he appeared to be fatigued and gaunt, but after medical treatment he seemed to be feeling fine.
The army regards "the day after" as a "new chapter" in PA - and Palestinian - history. The assumption is that everything that will take place - the funeral, the mass demonstrations, power struggles for the leadership - will lead to a change in the Palestinians' strategic relationship with Israel.
The exercise included issues like where the funeral would be held, the route it would travel, the possibility of violent demonstrations, loss of control by the PA, and attempts by the Hamas to forcibly grab power in Gaza.
There is also growing speculation in the PA about what happens on the day after. Channel 2 reported this week that Arafat wants a crypt for himself on the Haram al-Sharif, the Temple Mount, where there are graves of many past Palestinian leaders.
Comment: The discussion of the effects of Arafat's death are rather interesting given the following development:
Israeli troops surround Arafat compound
Friday 05 March 2004, 20:54 Makka Time, 17:54 GMT
Israeli jeeps and armoured vehicles have surrounded Palestinian President Yasir Arafat's compound ahead of a Jewish holiday.
More than 10 Israeli army vehicles on Friday surrounded Arafat's Ram Allah headquarters, where he has been confined since December 2001.
But Israeli security sources said soldiers were undertaking "a routine activity" while a Palestinian security official said he had been informed by the army it had no intention of entering the compound.
Click here to comment on this article
Israel says no Gaza pullout before U.S. elections; seals Palestinian areas
06:28 AM EST Mar 06
MARK LAVIE
JERUSALEM (AP) - Israel will wait until after the U.S. presidential election in November to withdraw troops from the Gaza Strip, a security official said Friday, while soldiers sealed the West Bank and Gaza Strip amid new warnings of attacks by Palestinian militants.
The moves came as an Israeli newspaper released a poll that put Prime Minister Ariel Sharon's approval rating at its lowest since he took office in 2001. For the first time, a majority of Israelis said he should resign, the poll said.
Click here to comment on this article
McDonald's Confirms 'no-Arabic' policy at its restaurants in Israel
Ali Abunimah & Nigel Parry
The Electronic Intifada
5 March 2004
McDonald's Corporation today confirmed that it has a policy banning its employees from speaking Arabic in its restaurants in Israel, despite the fact that Palestinian citizens of Israel form 20% of its workforce, and Arabic is one of the two official languages of Israel.
The Corporation denied, however, that Abeer Zinaty, a former "Excellent Worker 2003 -- McDonald's Israel," was fired because she spoke Arabic on the job. [...]
Click here to comment on this article
by Sherri Muzher
The UN Observer
There's an old adage that art imitates life but on November 1, 2003, it was life imitating art when a highly-acclaimed Palestinian exhibit from Australia was taken for a security check/x ray at Los Angeles airport's Terminal 4 and has not been seen since. The lost exhibit became another page torn from the history of Palestinians.
"It has taken Archive staff a long time to come to terms with this," said Jeni Allenby, Director of the Palestine Costume Archive – the organization that coordinated the touring exhibition. "We have long dealt with exhibition/display venue cancellations, confirmed funding/grant decision reversals, etc, but this was devastating." [...]
Symbolic defiance reconstructed the last half century of Palestinian cultural history, bringing to life the almost complete loss of that heritage after the events of 1948, and documenting the extraordinary revival of Palestinian costume and embroidery that occurred in the late 1980s. The exhibition examined the establishment of Palestinian refugee camp embroidery projects and the effect of this upon embroidery's traditional role in Palestinian society. It also documented the development of Palestinian village life, including traditional dress and embroidery, as a nationalist symbol, and explored how women's traditional costume became one of the dominant representations of Palestinian cultural identity. [...]
Click here to comment on this article
10-Yr-Old Palestinian Boy Shot By Israeli Troops-Hospital
5 Mar 2004 19:44 GMT
JERUSALEM (AP)--A 10-year-old Palestinian boy in the West Bank was critically wounded Friday by Israeli troops firing rubber bullets at stone throwers, hospital officials said
Abdullah Ranam, a third-grader, was shot in the head as he stepped out of his house, just up the road from where a group of youths were hurling rocks at two Israeli army jeeps patrolling the town of Jenin, relatives said.
An army spokesman said soldiers fired rubber bullets - metal pellets encased in a thin rubber coating - to clear the street of stone-throwers. The wounded boy was taken to an Israeli hospital with a serious head wound, Israeli hospital officials said.
Click here to comment on this article
Jihad Al Khazen Al-Hayat 2004/03/5
The most accurate description I could give of Hezbollah is that it is a fishbone in Israel's throat, which will hopefully suffocate it. The ongoing campaign against Hezbollah reflects its success in the mission it attributed to itself.
The campaign grew stronger with the prisoners exchange, and did not stop since. I followed it for years, through translations of Israeli newspapers and American research centers. A book could be made out of the collected data, but I will only mention headlines from the Washington Institute for Near East Policy (WINEP), founded by Martin Indyk for the service of Israel, and sometimes hosts the worst types of Sharonian Likudniks.
Last year, I gathered some of what Matthew Levitt and Avi Jorisch wrote, or venomously spilled out about Hezbollah and its activities. At the end of the year, the institute published a booklet as part of its political series, written by Israeli researcher Elie Carmon, who is tightly linked to intelligence services.
The booklet was entitled "War on All Fronts: Hezbollah, war on terror, and war on Iraq." If Pinocchio had written it, his nose would have circled the earth because of the number of lies in it. Nevertheless, it remains important because WINEP exports "Israelis" to the administration and receives them on their way back, and the administration accepts flagrant fallacies that suit it.
Carmon says that Hezbollah uses the weapon of international terrorism, and considers terrorism a religious duty, not only a weapon. The key word in this is "international," as Israel wishes to convince the world that Hezbollah has activities beyond the confrontation with Israel. Moreover, Carmon considers terrorism, and not resistance of occupation, a religious duty that appeals to the American administration, in its war on Muslim extremist parties.
The writer claims that Hezbollah's cells have targeted Saudi Arabia, Kuwait, and Bahrain. It seems that he mixed between the Lebanese Hezbollah and other parties, as he accuses Hezbollah of the Khobar bombings, which is a total lie. After meeting with him several times since 1996, Saudi Minister of the Interior Prince Nayef bin Abdulaziz provided me with the accurate news that I still keep. Also, I personally followed the visits and talks former FBI director Louis Freeh had with Prince Nayef and other officials. It was never mentioned that the Lebanese Hezbollah was involved in the bombings.
The writer noted the bombings of the Marines and the French navy, which occurred in Beirut during a war, and not in America or France. He also talks about the 1985 bombing of a restaurant near an American base in Spain, the 1986 bombings of commercial centers and train stations in France, and certainly accused Hezbollah of the 1992 and 1994 bombings of the Israeli embassy and Jewish community center in Buenos Aires.
All these are perfect lies; Hezbollah, just like Hamas and Islamic Jihad, do not carry out operations outside the direct battleground with Israel. This thing annoys Israel and its supporters, and deprives them of the excuse labeling these groups as terrorists; thus, they use Gobelsian lies, in hope for people to eventually believe them.
When Carmon finds nothing to lie about, he uses others. In one chapter, he claims that American Defense Secretary Donald Rumsfeld said that Tehran helped Al Qaeda and Taliban members escape through Iranian territories.
Where would they go from Iran? Rumsfeld delivered his speech on January 2002, and we know now that every accusation the American administration claimed before the war on Iraq was a lie. Iran, in particular, was in conflict with Taliban since the killing of its diplomats and citizens in Afghanistan; it has nothing in common with Al Qaeda and Taliban. Carmon goes on with his lies by quoting Time's Michael Evans saying that an Al Qaeda official proposed to bring Al Qaeda members into Lebanon.
Israel wishes for such a thing to occur, and hires people to promote its lying hopes. However, this did not, and will not, happen.
The booklet ends with what Israel really wants. Carmon suggests applying political and economic pressures on Syria and Iran, in order to stop their support to Hezbollah. He seemed confused about this issue, as he once said that Syria's support is more important, and another time that Iran's is more important. This is pure incitement.
WINEP Likudnik Matthew Levitt wrote articles throughout the past and current year, which are black advertisements for Israel. Some articles incited against Islamic groups, Hamas, and Islamic Jihad, in an attempt to stop the donations of Muslims to Muslims, and condemn Syria and Iran. Avi Jorisch listed names of banks in Lebanon and other countries, which accepted donations as part of a campaign undertaken by Al Manar television. The robberies of Palestinian banks by the Israeli government are part of this campaign.
I will end with Levitt's report entitled "Hezbollah: A Case Study of Global Reach," where he talks about reports of the Israeli intelligence, Gobel's successors, claiming that students in Uganda and other countries are trained in religious studies in Iran, in order to join Hezbollah or become spies for Iran. He also talks about other reports of the Israeli intelligence, concerning Hezbollah's preparation to kidnap Israeli businessmen and diplomats, from African countries. Who told them this? The students of Uganda? We are conscious that these are lies; they are not simple cheap lies though, but dangerous ones. Their major characteristic is that they uncover Israel's intentions, and what it wishes the U.S. to undertake vis-à-vis Hezbollah, Syria, and Iran. I read articles by Americans, talking about what we always repeat: America is not implicated with parties like Hezbollah and Hamas. I will discuss this in the coming days.
Hezbollah is witty enough to prevent Israel and the U.S. an excuse. It will remain a fishbone in Israel's throat, until the latter gets out of Arab lands.
Click here to comment on this article
Rail bomb mystery deepens as blackmailers cut contact

PARIS, March 5 (AFP) - France faced an anxious waiting game Friday after the government said it had lost contact with a mysterious group calling itself AZF that claims to have planted bombs on the country's rail system.
An exhaustive search of all 32,000 kilometres (20,000) of national track failed to uncover anything suspicious Thursday, but anti-terrorist experts refused to rule out the possibility that the bombs were well hidden or that they are yet to be laid.
The unknown blackmailers, who communicated with the government by letters and messages in the personal columns of a national newspaper, were reported to have warned that they would break off contact for two weeks if news of their demand for more than USD 5 million became public.
"After that they told us they would again give us something to talk about - though we don't know whether that means they'll send another letter or actually do something," an unnamed official told Le Figaro newspaper.
The group, which is believed to consist of at least two men and a woman, has sent six letters to President Jacques Chirac and Interior Minister Nicolas Sarkozy expressing a series of vague grievances against French society and threatening to set off 10 bombs if the money is not paid.
To prove that it was serious, the group tipped off police two weeks ago to a bomb planted on a railway viaduct in central France, which on examination proved to be cleverly constructed and capable of destroying a long section of track.
The bomb's timing device consisted of a ball-bearing which on a given day would slip through a hole in a clockwork disc and fall to a second disc with two metal contact strips. The passage of a train would jog the ball-bearing so it completed the circuit and set off the explosion.
Investigators said the mechanism was first used by French resistance fighters in World War II and that its details could be found on several Internet sites.
Police admitted they are still no near establishing the profile of the blackmailers, though they did not think they were linked to any Islamic or nationalist cause.
According to officials there are four theories: that AZF are people with a specific grudge against the French state; that they are from the anarchist wing of the anti-globalisation movement; that they belong to a cult; or that they are common criminals simply trying to extort cash.
It seemed likely that the group named themselves after the AZF factory in the southern city of Toulouse that was destroyed in an explosion in September 2001, killing 30 people and injuring more than 1,000 others. The blast was officially described as an accident but caused enormous local anger.
"The one bomb that was found was laid on the Paris-to-Toulouse track, so there is a certain local context. And the Toulouse region ... has a history of sheltering anarchists and other agitators," said terrorist expert Rene-Georges Querry.
Click here to comment on this article
Police officer criticized for using pepper spray to end fight at Congress Middle

A school police officer used pepper spray to break up a fight at Congress Middle School, leading some to question whether the action was excessive. Shevonne Rumph-Greene said her son Richard Greene, a sixth-grader at Congress, wasn't fighting but still got sprayed. He called her shortly after the incident, crying and in pain. "Middle-schoolers should not be sprayed with pepper spray," she said. "They're ages 11 to 13. The police are making them feel like they're little convicts."
Comment: Perhaps they all soon will be, if the Neocons in the Pentagon have their way..
Click here to comment on this article
A Breakthrough Law Enforcement Weapon to Address Policing, Homeland Security and Terrorism

ShockRounds™ are a potential breakthrough product for the law enforcement industry, the military and border control and anti-terrorism initiatives, due to their versatility and multiple applications. When fired, a ShockRounds™ enabled bullet generates an extremely high voltage charge. This voltage discharges instantly upon impact causing immediate target incapacitation. [...]
In a manner similar to stun guns and "Taser"(NasdaqSC "TASR") technology, a ShockRounds™ bullet discharges an electrical shock upon impact and disrupts the nervous system. It incapacitates the target immediately, although temporarily, via electric shock. ShockRounds™, however, are more versatile and have more applications than any other products currently marketed. For example, the ShockRounds™ rubber bullets can totally incapacitate a target at 100 metres, whereas traditional rubber bullets are largely ineffective at their maximum range of about 40 metres. Further, ShockRounds™ rubber bullets are not restricted to close range use as is the case with stun guns and products such as the "Taser" gun which is limited to around 12 metres as well as requiring a direct wire to the target. See here for more
Click here to comment on this article
Non-lethal force becoming more popular submission technique

The sheriff's office plans to employ even more non-lethal tools to subdue suspects in the future [...]
Comment: Can we see where all of this is heading? Increasing use of "crowd control" techniques and weapons, police officers and military personnel numbers at an all time high, radio frequancy tagging of the population, finger print payment methods etc. etc.. When was the last time you saw an angry crowd of "terrorists" roaming the streets? All of these measures are designed for control of the civilian population.
Click here to comment on this article
You and all your namesakes on the "No Fly List"

Whether you knew it or not, thousands of air travelers have been on a terror watch list by the government, even before 9-11. People considered a threat to security are placed on a no-fly list meaning they're barred from boarding a plane. But there's a problem security guards are also stopping people with names "similar" to those on the list. [...]
Click here to comment on this article
Ashcroft Hospitalized for Pancreatitis

By CURT ANDERSON, Associated Press Writer
Mar 6, 2:53 AM ET
WASHINGTON - The first 48 hours are key to determining how treatment will proceed for Attorney General John Ashcroft, who was in a hospital intensive care unit suffering from a severe case of gallstone pancreatitis.
The serious and painful abdominal illness often clears up after a week or so of treatment but sometimes requires surgery and, in extreme cases, can kill.
Doctors at George Washington University Hospital said Friday they needed more time to evaluate Ashcroft and determine a prognosis for their 61-year-old patient, who was admitted to the hospital Thursday night. [...]
Click here to comment on this article
Between Bush And Kerry's Characteristics
Raghida Dergham Al-Hayat 2004/03/5
The political slogans of the Republican presidential candidate, George W. Bush, and the Democratic candidate, John Kerry, seem almost identical. The main differences are: the issue of preemptive ideology, which Bush supports while Kerry criticizes; the centrality of international alliances that Kerry adopts while Bush ignores and the issue of honesty and frankness which the Americans doubt is one of the traits of Bush while many of them assert it is one of Kerry's characteristics.
However, Kerry has rebelled against his positions several times since the beginning of the presidential race, so the coming eight months might erase all the differences. Israel will of course benefit the most from this process since it is considered an electoral issue as important as national security. The Middle Eastern scene is also likely to witness increasing pressures in light of the war on terror and the democratization campaign, particularly in Iraq.
Click here to comment on this article
FLASHBACK: Congressional house tied to religious group
S.C. lawmaker among 6 renting quarters
BY LARA JAKES JORDAN
Associated Press
April 21, 2003
WASHINGTON--Six members of Congress, including Rep. Jim DeMint, R-S.C., live in a million-dollar Capitol Hill townhouse that is subsidized by a secretive religious organization, tax records show.
The lawmakers, all of whom are Christian, pay low rent to live in the stately red-brick, three-story house on C Street, two blocks from the Capitol. It is maintained by a group alternately known as the "Fellowship" and the "Foundation" and brings together world leaders and elected officials through religion. [...]
Comment: This is an old story, but it is coming back into the rumor circuits again thanks to Howard Stern's impending departure from the air waves. Stern claims that there is a conspiracy against him for criticizing Bush. This article on the topic mentions that some of the congressmen behind the conspiracy reside in this Fellowship house. An Article in Harpers magazine exposing the Fellowship did shine some light on this subject, and Guerrilla News Network interviewed the author, Jeffrey Sharlet. Below is a rather disturbing section from the transcript:
[...] GNN: It sounds to me like some sort of extended Skull and Bones , an Old Boys Network crafted onto a religious context.

SHARLET: The religious context is real. The Old Boys Network is about business. This is about more than business. This is about maintaining a certain kind of power, a certain view of how power should be distributed. The Episcopalian Old Boys Network was a lot more easygoing than this. This is a lot more militaristic . Really at its fundamental core, almost monarchist . We would be told time and time again, "Christ's kingdom is not a democracy" This is their model for leadership. They would often say, "Everything you need to know about government is right there in the cross - it's vertical not horizontal."

GNN: In that vein, reading your article I got the impression they are praising guys like Adolph Hitler and Ghengis Khan - a lot . Is that a fair assessment of your intention?

SHARLET: In fact, Harpers made me cut back on that stuff. [They said] 'We know it's true, but this is already so much to absorb.' That's why I included that line at the end of the story. The leader of the group is having dinner with the younger members of that group and is talking about the bond, the covenant. And he says, "Can anyone think of someone who had a covenant?" And the answer, of course, and everyone knows it, is "Hitler."

This goes back to the 1960's, Vereide was instructing young men by having them read The Rise and Fall of the Third Reich - "Look at what those guys did." But they will say, "We are not trying to kill Jews." What we are talking about is imagine if you took the "Hitler Concept," and they'll use that phrase, the Hitler Concept, to work for Christ, or the Mao Concept. We're not right wingers, they'll say. You can use the Mao Concept. [...]
Is there any truth to this current rumor? Is this more evidence of cultic forces at work from within the US government? Hard to say - it is all a bit murky at the moment.
Click here to comment on this article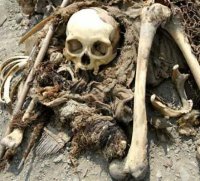 Dozens of Inca Mummies Found on Outskirts of Lima

By Tania Mellado
Fri Mar 5, 5:53 PM ET
LIMA, Peru (Reuters) - Dozens of mummies dating back more than 500 years have been discovered on the path of a proposed highway on the outskirts of the Peruvian capital, near an Inca graveyard, archeologists said on Friday.
Archeologists uncovered 26 burial bundles, each containing one or more adult and child mummies dating from 1472 to 1532.
In 1533, the Incas were defeated at the hands of the Spanish conquistadors.
"This (area) is part of the largest Inca cemetery in Peru and the largest excavated cemetery in the Western Hemisphere, that of Puruchuco-Huaquerones," said archeologist Guillermo Cock, who was contracted by Lima's town hall to comb the area for artifacts before construction could begin. [...]
Click here to comment on this article
Governing Council sets constitution deadline
Saturday 06 March 2004, 9:18 Makka Time, 6:18 GMT
Iraq's Governing Council has said it hoped to salvage a deal on an interim constitution on Monday after last-minute objections blocked agreement on the document.
The document was to have been signed on Friday, but objections by five Shia members of the US-appointed Governing Council forced an embarrassing postponement of the ceremony.

Council sources said the main point of contention was a clause that could allow Kurds to veto a permanent constitution if it did not address their demands for autonomy.
Click here to comment on this article
U.S. cancels big Iraq army contract
By Tim Dobbyn and Sue Pleming
Saturday March 6, 04:22 AM
WASHINGTON (Reuters) - The U.S. Army cancelled a $327 million (177 million pound) contract to equip the Iraqi army, citing technical problems with the bidding process, and has denied cronyism played a role in awarding the original deal. [...]
Click here to comment on this article
Guantanamo delegation flies to US
BBC
Saturday, 6 March, 2004, 05:36 GMT
Families of Guantanamo Bay detainees are flying to the US on Saturday to put pressure on President Bush to ensure their relatives are fairly treated.
The families of three terror suspects held at the US base in Cuba for two years without trial will deliver personal messages to political leaders.
They will be joined by former hostage Terry Waite and actors Corin and Vanessa Redgrave.
They form part of a delegation from the Guantanamo Human Rights Commission. [...]
Actor Corin Redgrave said many parents of detainees had not spoken to their sons for months, some for two years.
He told BBC News: "We know there are anything from 32 to 40 suicide attempts which would suggest that the conditions, which amount to mental torture, under which they've been held have placed them in very grave danger of going out of their minds."
He said the US was setting a "dangerous example" to countries it hoped "to convince of the value of the democratic values on which it's based".
"How can you convince other countries to follow a democratic path if you deny prisoners from 42 different countries the most basic rights of any democracy - the right to a fair trial," he said. [...]
Click here to comment on this article
US sanctions against Syria 'imminent'
Saturday 06 March 2004, 13:16 Makka Time, 10:16 GMT
The Bush administration plans to impose sanctions on Syria within weeks.
This is according to congressional officials and other sources familiar with the matter.
Click here to comment on this article
'Arab countries don't fit under one blanket'
Rome - Egyptian President Hosni Mubarak has warned the United States against imposing a ready-made solution on the entire Middle East and said the Arab-Israeli conflict should not be sidelined.
Mubarak, one of Washington's closest Arabian allies, said in a newspaper interview on Friday he would press US President George Bush about his Greater Middle East Initiative when he meets him next month.
"I don't know, but I sense something strange in the air," Mubarak was quoted as saying by La Repubblica daily when talking about the US initiative.
"How can you impose one ready-made solution on a limitless area that goes from Mauritania to Pakistan?" he said. [...]
He is not the first Arab leader to complain at being left in the dark about the US administration's plan, which seeks to deal with the Middle East's unemployment, poverty, repression and other conditions that US officials believe have stoked anti-Western, anti-American extremism.
US officials have said they want to announce the initiative formally in June when the Group of Eight leaders from the world's industrial powers hold their annual summit. The G8 does not include any Arab countries.
"If the American reform plan is not studied very carefully, we could plunge into a spiral of violence and anarchy which will not only affect us... and then it's goodbye to any glimmer of democracy in the Arab world," Mubarak said.
He also stressed that the Israeli-Palestinian conflict was at the heart of the region's troubles and attention should not be diverted. [...]
Click here to comment on this article
Chirac backs Mubarak in opposing US plan for Arab democracy

Fri Mar 5, 4:37 PM ET

PARIS (AFP) - French President Jacques Chirac backed Egyptian counterpart Hosni Mubarak in his opposition to a US initiative for political and economic reform in the Middle East, saying the plan amounted to "interference".
The two held talks after Mubarak arrived in Paris earlier Friday as part of a three-nation tour designed to warn key European partners of the dangers of the "Greater Middle East" initiative. [...]
Egypt and Saudi Arabia, which are both allies of the United States, have criticized the initiative, fearing Washington wants to impose its own cultural models on the region.
"We support modernisation which comes as a result of consultations, cooperation between states," Chirac told a news conference. "On the other hand, we think that nothing can be imposed. In other words, modernisation yes, interference no." [...]
Click here to comment on this article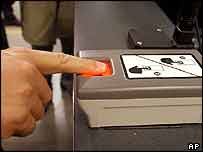 All travellers may soon be fingerprinted on arrival in the US
US warns of mass visa disruption
BBC
Saturday, 6 March, 2004, 04:53 GMT
US officials have warned there could be big delays in getting visitor visas after new regulations begin in October.
Twice as many people are expected to ask for visas next year but there will be no more staff to process requests.
Travellers from the UK and other western European countries will lose the privilege of going to the US for up to three months without a visa.
From 26 October the US wants all new passports to contain a microchip with an array of personal data.
But the UK, among others, has said it will not be able to issue such passports before the middle of 2005.
Correspondents say that could mean hundreds of thousands of Britons having to apply for visas - with similar effects in other countries now served by the visa waiver programme who say the technology demanded by the US is simply not ready yet.
The BBC's Jon Leyne says US state department officials are describing the future situation as a "frightening prospect".
Comment: Despite US talk of improved cooperation with other nations, it is clear that America's mad rush towards self-imposed isolation continues unabated.
Click here to comment on this article
Ghassan Charbel Al-Hayat 2004/03/5
America is a super problem. Its friendship costs a lot, and its enmity costs even more. Countries today cannot disregard America's existence. America must exist in order to provide certificates of good-behavior. It must agree on the honesty of elections, and the good management of economy. It must sign governments' papers concerning human rights. It must exist in order to give Global Funds donations. There is no point in asking for the help of UN Security Council, if America does not agree. Its envoys' reports are important, and frequently sensitive. If it were not for its military machine and its power, Slobodan Milosevic would not have been sitting behind prison bars. If it were not for this same machinery, Saddam Hussein would have been threatening the world with a new colossal war. America is needed in stopping civil wars, and encouraging the president to take the road of exile. Only its Secretary of State possesses the power to prevent a borders war, whenever he wishes.
America is a tyrannical superpower. It is a huge web of interests. It was never a charity organization, and will never be. It overlooks transgressions of principles when its interests require this. Its decision-making is complicated. Study centers, large companies, lobbies, pressure groups, and bribes. In your food, clothes, or car. In the hamburger, the dollar, the freezer, the school books, the medicine, the media, the globalization, the computer, and the Internet. It has a massive arsenal, and a winning economic model. Its bombs are cleverer than its policy and politicians; a sole superpower, and a unique super problem.
Vietnam hurt the United States. It subjugated it and wounded its hallow. After decades, Vietnam is now trying to attract American investors, and to get tourists to the country that caused the "Vietnam Complex" for the lords of the White House, the generals, and public opinion. Vietnam attempts to attract Americans, while the corpse of the Soviet Union lies in the museum of victims of the past century.
America is a daily threat. On your diet, your lifestyle, songs, style of reading, writing, and thinking. On your way of working the land, running the company, distributing the budget. It is an immense and heavy shadow. If you close the window, it comes from the inside. You run away from it, and discover it living with you. It is an unprecedented challenge.
Click here to comment on this article
Sanctions: Zimbabwe tells US to 'go to hell'
Zimbabwe's information minister has dismissed new US sanctions which target him and other members of President Robert Mugabe's ruling party, saying "imperialist" Washington could go to hell, a newspaper said on Thursday.
"These Americans who are pontificating about human rights and democracy would not recognise these things even if they hit them on their faces. So go and tell the imperialist to go to hell," Information Minister Jonathan Moyo was quoted as saying in Thursday's edition of the state-run Herald daily.[...]
Click here to comment on this article
U.S. envoy, South Africa leader discuss Aristide
JOHANNESBURG — The U.S. ambassador to South Africa, Cameron Hume, has been discussing the future of former Haitian President Jean-Bertrand Aristide with President Thabo Mbeki, an American diplomat said yesterday.
The diplomat, who asked not to be named, said that Mr. Hume and Mr. Mbeki met Thursday. It was not clear, however, whether any decisions had been taken.
The State Department in Washington would neither confirm nor deny that the meeting took place, but it insisted that Mr. Aristide's fate is not an issue on which it is working.
"The U.S. government is not involved in discussions about Aristide's onward travel to a third country," a State Department official said.
But the official said that, if there had been a meeting, the subject could have been "raised by the other side."
A State Department spokesman, Adam Ereli, told reporters Secretary of State Colin L. Powell spoke by telephone with South African Foreign Minister Nkosazana Dlamini-Zuma yesterday. The conversation included the situation in Haiti but not specifically Mr. Aristide's future, Mr. Ereli said.[...]
Click here to comment on this article
Haiti's problems spillover into U.S. presidential race
MIAMI — In "Little Haiti" here, demonstrators gather nightly to chant anti-Bush rhymes and voice their support for deposed Haitian President Jean-Bertrand Aristide.
"George Bush, kidnapper, blood sucker, liar, liar," reads one sign with a black-and-white photo of the president at the top.
Some nights there are a hundred demonstrators; others, there are a dozen. But, regardless of the turnout, they are relentless in their criticism of President Bush and are part of the coveted black vote that Democrats already are courting as they try to capture this presidential battleground state in November.
Since revolutionaries marched across the country to remove Mr. Aristide from office last week, Democrats have portrayed Mr. Bush's handling of the situation as a foreign policy disaster that ended with the removal of a black elected leader.[...]
Click here to comment on this article
The dwarf, a crazed militia and people who deserve better: One week in Port-au-Prince

By Phil Davison in Port-au-Prince
06 March 2004
It is now a week since the Haitian President Jean-Bertrand Aristide fled his country, or was frogmarched out by US Marines, depending which version you believe. And what a surrealistic week it has been.
I knew when the first person I saw on the airport runway was a uniformed 3ft black midget with a military baton - his portrait is on the terminal wall and he seems to run the place - that this was not going to be your normal news story. Mind you, Haiti never is.
The characters were a cross between those in Graham Greene's The Comedians, set here, and Sergio Leone's Once Upon A Time In The West.
First, we had the pro-Aristide chimères militia groups with names like the Saddam Hussein army and the Cannibal army, their favoured weapon the home-made Zip Gun prevalent in US ghettos. My personal favourite militiaman was the one who called himself Osama and pointed a pump-action shotgun at our heads.
Nothing funny about that, of course, but we were later in stitches over his outfit: a long black duster coat straight out of the opening scene of the Sergio Leone classic and an old American cavalry stetson of the type worn by Robert Duval in Apocalypse Now. We were expecting him to tell us he loved the smell of napalm in the morning. What got us most was the baby's dummy he wore like a necklace.
We were threatened a lot during the week - a group of photographers had a miraculous escape when half a dozen chimères (the word can mean either phantoms or dragons) opened fire on their two cars. But the worst was when a half-crazed, or fully-drugged, chimère came at our car swinging a huge machete in the manner of a Samurai warrior. We didn't stop to interview him.
It was hard not to laugh when the rebel leader, Guy Philippe swung into town. We first saw him at a posh hotel in the mountainside suburb of Pétionville, an assault rifle in one hand, a large J&B whisky in the other and somehow balancing a takeaway club sandwich across both forearms. It was not so funny when he took over the city's Independence Museum, directly opposite the presidential palace [...]
Click here to comment on this article

China Looking 'For As Many Friends As Possible'
BEIJING (AP)--China is in the midst of a major diplomatic ascent designed to help its domestic development and is looking for "as many friends as possible" across the world, the country's foreign minister said Saturday.
In a wide-ranging, rare news conference about China's foreign policy, Li Zhaoxing bristled at notions that China is making no progress on human rights, dismissing foreign critics as people who "see the trees but not the forest."
"The Chinese government and the Chinese leadership are the ones who care about human rights the most," Li said on the sidelines of the country's legislative session. "But a handful of foreigners, they turn a blind eye to the big picture. They see the trees but not the forest."
Li, a veteran diplomat who was once U.S. ambassador to the U.S., broke little new ground but focused what most believe is the main spin of modern Chinese diplomacy - a multilateral world where unity among nations counterbalances major powers like the U.S.[...]
Click here to comment on this article
The medical fraternity in South Africa will be watching "with great interest" trials being done in America on using the "rave drug" ecstasy for treating psychological trauma.
News from Washington this week was that the federal Drug Enforcement Agency had given the thumbs-up to a trial in which 12 trauma victims are to be given the drug to test its therapeutic potential.
Cited as a "historic turn" for the drug, which is banned from use in most countries in the world, including South Africa, the clinical tests could see it back on pharmacy shelves.
Dr Charles Perry of the South African Medical Research Council, said South Africa would rely on the international research into the drug, rather than doing its own studies.[...]
Click here to comment on this article
Death for killers of genocide witness
A Rwandan court has handed down death sentences to seven people for the murder of a potential prosecution witness in trials on the country's 1994 genocide, a prosecutor said on Saturday.
"Of the nine people charged with the murder of Emile Ndahimana, seven were sentenced to death, one to life imprisonment and one to five years in prison," Gikongoro prosecutor Desire Kayinamua told AFP
Killed last year in the southern Gikongoro district, Emile Ndahimana was a survivor of the 1994 mass slaughter which the UN has estimated claimed 800 000 lives, mostly members of the Tutsi minority.
Ndahimana "was an embarrassing witness for the executioner," Kayinamua said, in an allusion to Andre Nkundabagenzi, who has been sentenced to death for being a main participant in the genocide but has been on bail for the past four years because his case was not ready to go to trial.[...]
Click here to comment on this article
US targets Liberia's leaders funds
The US has put forward a United Nations resolution seeking to freeze the assets of Liberia's former President, Charles Taylor, his family and his allies.
It says they could be used to undermine peace and stability in Liberia.
The draft resolution, expected to be debated by the Security Council within the next week, calls on all UN members to locate and freeze the funds.
Mr Taylor resigned and fled to Nigeria last year after the Liberian capital Monrovia was surrounded by rebels.
He has been accused of acquiring a personal fortune through illegal trading in diamonds and arms.[...]
Click here to comment on this article
Powerful bomb blast shakes Moscow

2004/03/06

Moscow, March 6 - A powerful bomb blast exploded at Jewish school in the center of Moscow late Friday, causing damage but no injuries, police said.
The blast was caused by an explosive device of a power equivalent to 200 grams of TNT, a police official told the Rianovosti news agency.
"The explosive device was located on the steps leading to the school's basement," the official said. [...]
Click here to comment on this article
Dissidents tell of torture, executions under Gadhafi

Despite Libya's public changes, dissidents speak out about abuses under leader Moammar Gadhafi, fearing the West will overlook them and hoping to attain human rights. The scars on his wrists and neck are his own doing, failed attempts to end his suffering. The wounds on his back, the broken limbs, the missing teeth -- those, he said, were inflicted by police during long years in Moammar Gadhafi's political prisons.[...]
Comment: Another new friend of the Bush administration.
Click here to comment on this article
Fire hits 12th-Century Athos monastery

Most of the valuable artworks and relics were saved

A 12th-Century Serbian Orthodox monastery on Mount Athos in north-eastern Greece has been badly damaged in a fire.
The fire at the Hilandariou monastery is thought to have destroyed parts of the monks' living quarters, which date back to 1188.
"Only the outside walls were left standing," a local official said.
The fire, which broke out on Wednesday night, also damaged frescoes from the 16th and 18th Centuries. [...]
Click here to comment on this article
Tillmann: Bank 'lying' when it denies past ties to slavery
The City Council's champion for slave reparations accused J.P. Morgan Chase & Co. on Friday of "lying" in a sworn affidavit about its past ties to slavery and demanded the company be barred from doing business with the city.
Ald. Dorothy Tillman (3rd) said the company, which wants federal regulators to approve its planned merger with Bank One Corp., "began on the backs of slavery" in the cotton business and was transformed into a banking empire.
"The disclosure doesn't just say [slave] insurance. It says any dealings with slavery. And they lied. They said, 'No.' There's no way they can search their records and not see it. It's impossible," Tillman said.[...]
In October 2002, Chicago became the first city in the nation to issue a "moral and ethical challenge" to the companies with whom it does business: Come clean about past ties to slavery or get off the governmental gravy train.
Thousands of disclosure forms have been filed, but so far only one company has admitted past ties to slavery: Lehman Brothers, a financial services firm that employs Mayor Daley's handpicked CTA Board chairwoman, Carole Brown.[...]
Click here to comment on this article
Hushed-up slavery persists in Mauritania
Nouakchott - "I trust that God almighty will free my wife from the yoke of slavery," says Cheikhna Ould Beilil, a middle-aged Mauritanian man, fighting back the tears.
Ould Beilil's story constitutes rare testimony to the continued practice of slavery in the northwest African Islamic republic, despite claims by President Maaouya Ould Taya's government that it has all but been wiped out.
The Sahara desert country officially abolished slavery in 1960 and again in 1980, but it is nevertheless known as one of the world's few remaining regions where people keep slaves.
Observers say the subject is hushed up. Anti-slavery activists have been handed prison sentences after speaking to western media.
Click here to comment on this article
Videos Hurt Politicians' Reputations
MEXICO CITY - In less than two weeks, four compromising videos have been released showing Mexican political party leaders and public servants accepting briefcases full of cash, gambling at the high rollers' table in Las Vegas and offering to procure business contracts for millions of dollars.
With the 2006 presidential campaign already under way, there is no doubt more such videos will be beamed into the living rooms of Mexican television viewers in days to come.
"Scandals have become our daily bread," analyst Leo Zuckermann wrote in the daily El Universal newspaper.[...]
Click here to comment on this article
U.S. General Says al-Qaida Eyeing Africa
STUTTGART, Germany - Squeezed out of sanctuaries elsewhere in the world, al-Qaida may be looking to the deserts and jungles of Africa as a haven where terrorists could train recruits and plan new attacks, the deputy head of U.S. forces in Europe said Friday.
Key among U.S. military proposals to fight back is deploying American units of about 200 soldiers to train armies throughout the continent, patrol alongside them, or hunt terrorists on short notice if necessary.
"Some people compare it to draining a swamp," Air Force Gen. Charles Wald told The Associated Press, eyeing a map of Africa in his office in Stuttgart. "We need to drain the swamp." [...]
Click here to comment on this article
Virus-hit holiday park stays open
A holiday park where up to 100 guests have been infected with a vomiting bug says it is business as usual despite the outbreak.
Managers at Center Parcs in Longleat, Wiltshire, said the bug - thought to be gastroenteritis - was under control.
They said 3,500 new guests had checked-in on Friday and the 400-acre leisure park is now fully booked.
It is the same illness which hit hundreds of passengers on The Aurora cruise ship last November.
That outbreak sparked a diplomatic row between Britain and Spain.
Managers said the bug, which causes vomiting and diarrhoea, had not deterred holidaymakers. [...]
Click here to comment on this article
Four Chinese go down in R400m rand Mandrax bust
Four men were sentenced in the Randburg Regional Court on Friday for their role in a R400-million Mandrax drug bust, the office of the National Director of Public Prosecutions said.
The men, Chinese nationals, were arrested on July 3, 2003 by the Scorpions for possession of 230 000 Mandrax tablets, ingredients and machinery to produce the drug. It was described as one of the largest drug busts in South Africa's history.
Click here to comment on this article
Movies 'glamourise violence against women'
London - The film industry is partly to blame for the global culture of violence against women, Star Trek actor Patrick Stewart said on Friday.
"The entertainment industry has been extremely irresponsible in perpetuating and stereotyping the violent attitudes of men to women," said Stewart at the launch of an Amnesty International campaign against attacks on women.
Stewart, who revealed that as a child he had witnessed his father beating up his mother, picked out Quentin Tarantino's revenge tale Kill Bill for particular criticism.[...]
Amnesty said one in every three of the world's women - had been beaten, forced to have sex or otherwise abused - often by a friend or family member.
Around the world one woman in five would suffer a rape or attempted rape at some point, and the practice had even become a weapon of war, it said in a report "It's in our hands. Stop violence against women".[...]
Click here to comment on this article
Needles removed from Chinese man's brain
Beijing - Doctors in southern China's Guangdong province have successfully removed three sewing needles embedded in a man's brain for nearly 29 years, the Xinhua news agency reported on Friday.
The man, identified only as Guo, and his parents had no idea how the needles got into his head, but doctors who performed the unusual operation said someone likely stuck them through the membranous space in an infant's skull when he was a baby.
[...] Guo found out about the needles only after he had an X-ray in 1994 for brain injury.[...]
Click here to comment on this article
Using birds as an alarm system for ecosystems
Birds make one of nature' s best alarm systems. Like canaries taken down the mineshaft to test for poisonous gas, they are good indicators of when nature becomes so fouled-up that it is life-threatening.
Now experts want to make them more widely recognised as such. They say people are particularly aware of birds because they are so noisy, active and conspicuous. It therefore makes it relatively easy to see when they are in trouble, and when that happens it usually is a sure sign that the environment itself is in trouble.
As it is, the picture presented by birds is not rosy. The world has about 9 000 different species, and of these close to 1 200 are threatened.
Dr Aldo Berruti, director of BirdLife South Africa, says that had other parts of nature been as easily observable, whether it be fungi or frogs or such, chances are they would have shown similar patterns of stress.[...]
Click here to comment on this article
Did a Comet Trigger The Great Chicago Fire?
By Irene Mona Klotz
Discovery News
March 5, 2004 — Perhaps it was not Mrs. O'Leary's cow kicking over a lantern that sparked the Great Chicago Fire of 1871, which destroyed the downtown area and claimed 300 lives.
New research lends credence to an alternative explanation: The fire, along with less-publicized and even more deadly blazes the same night in upstate Wisconsin and Michigan, was the result of a comet fragment crashing into Earth's atmosphere.
The comet theory has been around — and most often discarded — since at least 1883, but Robert Wood, a retired McDonnell Douglas physicist, said never before has the orbital parameters of the rogue comet been taken into consideration.
The likely suspect, in Wood's eyes, is a fragment from Biela's Comet, which had been circling the sun every six years and nine months before a close encounter with Jupiter caused it to break into two large fragments in 1845. During its next passage, astronomers noted a 1.5-million mile, 15-day gap between the two pieces.
Wood said his analysis of the fragments' positions during subsequent orbits shows that Jupiter's gravity again affected their speed and trajectory, sending the smaller fragment on a path toward Earth that ended in October 1871. He presented his findings at a conference last week titled "Planetary Defense: Protecting Earth from Asteroids," held in Garden Grove, Calif.
Wood cited eyewitness reports of spontaneous ignitions, lack of smoke and "fire balloons" falling from the sky to bolster his theory. If the fire had been caused by comet debris, which is believed to have consisted of small pieces of frozen methane, acetylene or other highly combustible chemicals, it also would explain the cause of the fires blazing north of Chicago, which wiped out 2,000 people and burned 4 million acres of farm and prairie lands.
The deceased included many who showed no signs of being burned, Wood said. "This would be consistent with either the absence of oxygen or the presence of carbon monoxide or carbon dioxide above lethal levels," — a rare — but not unprecedented — situation in large forest fires.
In all, over a 24-hour period, an area of land the size of Connecticut was burned. Wood speculates the main body of the comet crashed into Lake Michigan, with peripheral fragments causing the fires in Chicago, Wisconsin and Michigan.
NASA is among a handful of agencies and organizations working on cataloging potentially threatening near-Earth asteroids and comets. What would be done about any threatening asteroids, however, remains the domain of science fiction.
"What's important about these findings," Wood said, "is that they show you people can actually get killed from something from out of space."
Click here to comment on this article
Planetary Defense Conference: Protecting the Earth from Asteroids
David Morrison
NASA
PLANETARY DEFENSE CONFERENCE PART 1: DEFINING THE THREAT
Congressman Dana Rohrabacher (R-Calif), one of the most influential members of the U.S. Congress in matters affecting space and science, gave the opening keynote address. Comparing the general apathy about the impact hazard with the public feeling about terrorism before 9/11, he expressed the hope that it would not require a similar catastrophe to alert people to the need to take action to protect the planet from impacts. He also compared the impact situation with global warming. He feels that the impact threat is better defined, and that real remedies are on the table, as opposed to global warming where it is not at clear what needs to be done or how to accomplish it.
In addition to the current Spaceguard Survey to predict impacts that could cause a global catastrophe, Rohrabacher urged that we also deal with more frequent threats from smaller impacts. He feels that it is unacceptable for us to face the possibility of an impact that could kill millions without taking action to counter this threat. He asserted that the people in this room can save the planet, and that what we are starting is a long-term program that may not come to fruition for several decades.
Congressmen Rohrabacher addressed the issue of gaining public support. He feels that an increased emphasis on the asteroid impact threat is consistent with the President's new space policy initiative. The Moon can provide a base of operations for dealing with asteroids as well as for future human flights to Mars. He stressed that the first imperative is to look up, to search for potential impactors, describing the legislation he recently introduced to authorize $20 million per year for NASA for each of the next two fiscal years to search for sub-km NEAs. [...]
In another keynote, Oliver Morton (London) provided historical context. The current interest in impacts represents a real change. Astronomy is the most predictive science but is disassociated from terrestrial affairs. From the 18th century, astronomers have emphasized this distance.
Special efforts were made to demystify comets and allay public fear of comets. From the mid ninetieth century, geologists adopted a strictly uniformitarian approach in which catastrophic events were not considered. These ideas have persisted until recently, for example in the New York Times editorial (April 7 1985) which said in the context of the proposed KT impact: 'Astronomers should leave to astrologers the task of seeking the cause of earthly events in the stars. Not until well into the second half of 20th century were either astronomers or geologists willing to consider possible role of impacts. Science fiction was slightly ahead (Heinlein: The Moon is a Harsh Mistress, 1966. Blish & Knight: A Torrent of Faces, 1967. Clarke: Rendezvous with Rama, 1973. Niven & Pournelle: Lucifer's Hammer, 1977).
Only after the Alvarez paper on the KT impact (1980) did these ideas start to become respectable. The KT provided a colorful story about breaking a paradigm, catastrophes, dinosaurs and environmental change. Now we are in a new situation, trying to popularize the idea of the hazard of impacts. As public interest grows it naturally focuses not on what is the greatest danger but on what is the most likely event. Also, the post 9/11 world is concerned with what are very small events by astronomical standards. We should accept this and use it. [...]
Click here to comment on this article
House Votes to Reward Asteroid Chasers
Associated Press
04 March 2004
WASHINGTON (AP) -- Amateur astronomers could receive awards of $3,000 for discovering and tracking near-Earth asteroids under legislation approved by the House Wednesday.
"Given the vast number of asteroids and comets that inhabits Earth's neighborhood, greater efforts for tracking and monitoring these objects are critical," said Rep. Dana Rohrabacher, R-Calif., sponsor of the legislation that passed 404-1. [...]
Click here to comment on this article
Impact lethality and risks in today's world: Lessons for interpreting Earth history
Clark R. Chapman
Southwest Research Institute
Submitted 3 December 2000, revised 23 January 2001
There is a modern-day hazard, threatening the existence of civilization, from impacts of comets and asteroids larger than about 1.5 km diameter. The average annual world fatality rate is similar to that due to significant accidents (for instance, airliner crashes) and natural disasters (e.g. floods), although impact events are much rarer and the deaths per impact event are much greater. (Smaller, more frequent impacts can cause regional catastrophes from tsunamis of unprecedented scale at intervals similar to the duration of recorded human history.)
As the telescopic Spaceguard Survey census of Near Earth Asteroids advances, numerical simulations of the dynamical and collisional evolution of asteroids and comets has also become robust, defining unambiguously past rates of Earth impact of larger, more dangerous cosmic bodies.
What are very tiny risks for impacts during a human lifetime become certainties on geological timescales. Widely reported errors in predictions of possible impacts during the next century have no bearing on the certainty that enormous impacts have happened in the past. The magnitudes and qualitative features of environmental consequences of impacts of objects of various sizes are increasingly well understood.
Prime attributes of impacts, not duplicated by any other natural processes, are: (a) extreme suddenness, providing little opportunity for escape and no chance for adaptation, (b) globally pervasive, and (c) unlimited potential (for K/T-boundary-scale impacts and larger) for overwhelming destruction of the life-sustaining characteristics of the fragile ecosphere, notwithstanding the rather puny evidence for impacts in the geological record.
A civilization-ending impact would be an environmental and human catastrophe of wholly unprecedented proportions. K/T-scale impacts, of which there must have been at least several during the Phanerozoic (past 0.5 Gyr), are 1,000 times still more destructive. No other plausible, known natural (or man-made) processes can approach such catastrophic potential. [...]
Comment: We have been discussing for some time now the dangers from cometary and meteor impacts, all based on scientific, cyclical evidence. Now NASA and the Pentagon have decided to get into the game, even though the information has been around for years, even though there has been a campaign of disinformation telling everyone not to worry. Is this current campaign change for our benefit? We doubt it.
Back in July 2003, Nature published an article saying, "The new estimates reduce the likely frequency of potentially catastrophic impacts of large meteorites at the Earth's surface by about a factor of 50, relative to previous forecasts." Ananova published an article around the same time: Chances of asteroid hitting earth 'get slimmer'. NEO News from July 25, 2003 reported "Once again, the press are reporting that the asteroid impact hazard has decreased. It seems as if every published scientific paper on asteroid science is instantly interpreted as a change in the hazard."
For some reason, the tune has been changed.
Click here to comment on this article
Hubble sends dramatic image of distant star not unlike Van Gogh's "Starry Night"

Thu Mar 4, 2:25 PM ET

WASHINGTON (AFP) - The Hubble space telescope captured an image of a distant star that bears resemblance to the famous Vincent van Gogh painting "Starry Night", NASA and the European Space Agency announced.
The spectacular image taken February 8 showed the star, V838 Monocerotis (V838 Mon), surrounded by an expanding halo of light "complete with never-before-seen spirals of dust swirling across trillions of kilometers of interstellar space", a statement from the agencies said.
"The illumination of interstellar dust comes from the red supergiant star at the middle of the image, which gave off a flashbulb-like pulse of light two years ago," the statement added, describing the image as "nature's own piece of performance art".
The outburst event from V838 Mon, located 20,000 light years away from Earth, is probably the source of the dust haze which it illuminates. [...]
Click here to comment on this article
NASA
March 5, 2004
Global warming could plunge North America and Western Europe into a deep freeze, possibly within only a few decades.
That's the paradoxical scenario gaining credibility among many climate scientists. The thawing of sea ice covering the Arctic could disturb or even halt large currents in the Atlantic Ocean. Without the vast heat that these ocean currents deliver--comparable to the power generation of a million nuclear power plants--Europe's average temperature would likely drop 5 to 10°C (9 to 18°F), and parts of eastern North America would be chilled somewhat less. Such a dip in temperature would be similar to global average temperatures toward the end of the last ice age roughly 20,000 years ago.
Some scientists believe this shift in ocean currents could come surprisingly soon--within as little as 20 years, according to Robert Gagosian, president and director of the Woods Hole Oceanographic Institution. Others doubt it will happen at all. Even so, the Pentagon is taking notice. Andrew Marshall, a veteran Defense Department planner, recently released an unclassified report detailing how a shift in ocean currents in the near future could compromise national security. [...]
Comment: For decades, we were told by "experts" that there would be another ice age, but not for thousands of years. Now, we are told it may only take 20 years. If global warming is the stage just before the deep freeze, it is entirely possible that the process has already begun. It may be only a year or two before certain areas experience dramatic climate changes.
Click here to comment on this article
Wind Storms Topple Bus From Bridge in Ill.

Fri Mar 5,11:20 PM ET

CHICAGO - A bus toppled from a bridge in central Illinois on Friday during blustery wind storms that tore across the Midwest with gusts topping 60 mph. The bus driver and a passenger were hospitalized.
Elsewhere, the wind pushed over trucks, peeled off rooftops and knocked out power to thousands in Illinois, Michigan and Ohio. [...]
Click here to comment on this article
Time bomb: Development explodes near sites where munitions didn't
State worried about safety, cost to defuse old weapons ranges
By Todd Hartman
Rocky Mountain News
Untold thousands of aging, unexploded bombs are scattered across Colorado, hidden military leftovers that health experts call a growing hazard and a mess that will cost taxpayers hundreds of millions of dollars to clean up. [...]
Meanwhile, homes, schools and businesses are sprouting up in and around the range's western fringe, with back yards and athletic fields looking out on lands dotted for miles with millions of pieces of what's known in the business as unexploded ordnance, or UXO. [...]
Click here to comment on this article
A radioactive nightmare in Concord, Massachusetts
By Ed Ericson
E/The Environmental Magazine
The waitress at the ice cream shop in Concord, Massachusetts, was surprised. "A Superfund site?" she asked incredulously. "On Main Street?" It's not just a Superfund site but one dubbed by a cleanup contractor as "near the tip of the peak in terms of [cleanup] difficulty." It's radioactive.
[T]his shady burg of 15,000 residents quietly struggles with its legacy as the maker of depleted uranium slugs for the U.S. military's latest wars. The soil more than a mile from the nuclear dump is radioactive. A 1993 epidemiological study found the town's residents suffered higher rates of cancer than the state average. [...]
Comment: Once again, with the two above articles, we see that the US government and US corporations are far more hazardous to the world's health than the terrorism that is currently being touted.
Click here to comment on this article
Protections for human subjects of classified experiments still lacking
By Cheryl Welsh
North Bay Progressive
December 22, 2003-January 23, 2004
Ten years have passed since unethical radiation experiments were publicly revealed in 1990s front page news and the Office for Human Subject Research, OHRP, recently confirmed that there have been no changes in federal regulations on human subjects of classified research since then. In 1995 the Advisory Committee on Human Radiation Experiments, (ACHRE) reported that the federal government was "blameworthy for not having had policies and practices in place to protect the rights and interests of human subjects" in several thousand experiments. President Clinton adopted one of the ACHRE recommendations in a 1997 presidential memorandum requesting that federal agencies modify their policy governing classified research. A 1998 Department of Health and Human Services (DHHS) proposed rule on the Clinton memorandum has stalled and secret unethical experimentation could happen again.
This is the second time a major scandal involving human experiments for national security purposes has occurred. Past military and CIA experiments with toxic chemicals and for behavior modification were headline news in the 1970s. Congressional hearings uncovered illegal and extensive government programs including the CIA's now infamous MKULTRA mind control experiments. As a result, a series of presidential executive orders were implemented.
President Reagan's 1981 executive order, E.O. 12333, is the only current law governing classified experiments by intelligence agencies. Legal experts say it is unenforceable for several reasons, one being that a provision of the executive order states, "Nothing contained herein or in any procedures promulgated hereunder is intended to confer any substantive or procedural right or privilege on any person or organization." [...]
Click here to comment on this article
Cyborg has its rat's heart in the right place

MEASURING just half the width of a human hair, it could hardly be any smaller than the musclebound Terminator man-machine portrayed by Arnold Schwarzenegger. But when the tiny silicon robot flexed its muscles on the world stage this week it represented a gigantic breakthrough in the race to create a real cyborg.
The minute futuristic machine, just unveiled by scientists, crawls around courtesy of silicon "legs" powered by sugar-fuelled living muscle from a rat's heart. It is the first time that experts have successfully used muscle tissue to propel a "micromachine" - bringing the evolution of cyborgs - part human, part machine just like Arnie's Terminator or Seven of Nine from Star Trek Voyager, a crucial step closer.
Click here to comment on this article
For Smoker, More Prison Time Is No Crime

For a 73-year-old Canadian man, 20 months in a smoke-free jail looked just too long, so instead he took 24 months in a prison where he can smoke cigarettes. Angelo Foti was sentenced to 20 months for shooting and wounding a man in his backyard who was trying to repossess a snowmobile sold to Foti's son, the Winnipeg Free Press reported Tuesday. In court Monday, Angelo Foti was agitated when he realized the sentence would mean he would be in a provincial jail, where smoking is banned, the newspaper said. Foti's lawyer pleaded for a 24-month sentence instead, which means the man will go to a federal prison, where smoking is allowed.
Click here to comment on this article
UPDATE: Case of the mysterious mass lockout
06.03.2004
By ROGER FRANKLIN
New Zealand Herald
In a town where the lovestruck can select from a roster of Elvis lookalikes to marry them at 4am, what happened two weeks ago in Las Vegas was pretty strange, even by the locals' standards.
Late on the morning of February 21 - nobody is precise about the exact time, location or identity of the first caller - someone rang a locksmith and complained that the remote-control locking system on the caller's car was refusing to respond.
The old-fashioned key, linked to the same circuitry, wouldn't work either, so could the locksmith fix whatever had gone wrong?
A couple of minutes later, another locksmith's phone rang. Different caller, different make of car, different security system, same problem.
By the end of the day, the best estimate is that police, fire brigade, locksmiths, car dealerships and tow-truck services had received at least 200 calls from stranded motorists. Many who are still puzzling over the February 21 incident put the figure as high as 1000.
"Maybe it's those little green men," joked Mike Estrada, a spokesman for the United States Air Force's Nellis Air Base, which sprawls over 4100 square kilometres of desert 160km north of Vegas.
He was referring to the Area 51 military research facility, which sits in the middle of Nellis' bombing range and where UFO buffs and conspiracy theorists maintain the Pentagon picks apart space aliens and their crashed flying saucers.
While no one seriously blames intergalactic vandals for the lockouts, the general belief in Vegas is that Estrada, whose own car also was locked tight, might have been pointing reporters in the right direction.
The likely culprit, say some, was a top-secret test of equipment intended to fry an enemy's circuitry.
Is this the biggest exercise in paranoia since a drug-addled Hunter S. Thompson mistook the desk clerk at Circus Circus for a man-eating lizard? Only if you label weapons analyst John Pike, director of the Washington-based Global Security think tank, a fruitcake, which he most definitely is not.
"The idea that a military test of some sort was responsible isn't that far-fetched," Pike said, noting that hush-hush electronic weapons and counter-measures are among special projects funded by the Pentagon's "black budget", details of which are withheld even from the congressional Armed Services Committee.
Still, being a man of science, Pike advocates checking the most likely explanations first. Trouble is, none of them pan out.
Solar flares, for example, have been known to scramble electronics. But on the day in question, Old Sol was as peaceful as he had been in weeks.
Static electricity created by unusually dry air is another possibility. But according to weather records, Vegas actually saw a little rain on the day the locks froze shut.
By default, speculation returns to the rumoured goings-on at Nellis. And there the trail is littered with a host of tantalising clues.
Take what happened in March, 2001, when the aircraft carrier USS Carl Vinson returned to its port of Bremerton in Washington State. Automatic car locks went crazy there, too. A month later, when the USS Abraham Lincoln tied up at Puget Sound, the same phenomenon occurred.
And then there was an incident in Los Angeles when Air Force One flew low over the suburbs and garage doors sprang open without prompting. Like car locks, the doors' radio-activated mechanisms are prompted by low-power transmissions similar to those used by cellphones, hobbyists' models, and to relay signals from security systems' motion detectors.
There is another, more contentious, episode worth considering.
On September 11, 2001, after the first three hijacked jets hit the Twin Towers and the Pentagon, the fourth aircraft crashed to earth in Pennsylvania. The official story is that a posse of heroic passengers fought their way into the cockpit, destroying their aircraft and themselves while grappling to reclaim the controls.
Several witnesses reported that the jet was being closely tailed by a small, white, unmarked aircraft. As the pair passed overhead, radios in the vicinity crackled and died.
Could that white jet - whose existence the Pentagon has denied - have been blitzing the larger aircraft with signals to confound its avionics and make it fall from the sky? According to some theorists, and not necessarily the sort who believe in alien autopsies, that is possible, if not entirely probable.
So what of the Las Vegas mystery? What do aircraft carriers, Air Force One and rumours of white business jets have to do with car locks?
Just this: In Iraq, the roadside bombs that have claimed so many US lives are triggered by devices borrowed from things such as remote control locks, cellphones and toys. The last such bomb, which killed three GIs, went off near Baghdad in mid-February - just days before everything went haywire in Las Vegas. Since then, all Iraqi blasts appear to have been detonated by suicide bombers or built-in timers.
Meanwhile, US bomb disposal teams have been defusing the devices in increasing numbers, according to the Pentagon's daily actions from Iraq.
Could the military have used Vegas as a test site for jamming and blocking technology before rushing it to Iraq for immediate deployment in the field?
Pike of Global Security has his doubts, pointing out that while it would be relatively easy to fry 1000 car locks, the military would need to protect its own equipment. But he concedes that such electronic immunity may have been developed.
"It's been widely reported that electronic countermeasures saved Pakistan's President [Pervez] Musharraf by stopping bombs from detonating as planned," Pike noted. "So we know this sort of technology exists, that it is being explored, and that it is being used.
"That said, can we tie what happened in Las Vegas - a genuinely fascinating incident, by the way - to the military? Not on what we know of the technology as of now."
Pike's reservations don't cut much mustard with people who had to pay emergency locksmiths to let them into their own cars in Las Vegas. There, it isn't Estrada's little green men who top the list of suspects, but blue ones - the blue of a US Air Force uniform.
Click here to comment on this article
Boffin: Nursery rhymes have sexual meaning
London - They seem innocent enough, but Jack and Jill may have become amorous as they climbed their hill for a pail of water.
And instead of a water bird, "Goosey, goosey gander" may refer to a woman of ill repute, says Chris Roberts, social history graduate and librarian at the University of East London, who has looked again at the origins of 24 popular nursery rhymes for a new book, Heavy Words Thrown Lightly.
"The rhymes have all been well researched, but I have looked at them from a more modern, psychoanalytical perspective," he said.
Roberts said his 96-page book, published by Foot and Mouth Publications, is meant as "a lighthearted take on nursery rhymes".[...]
Click here to comment on this article
Mutilated Dog Found Near Makeshift Cross
Experts Say Watch For Warning Signs Of Pet Abusers
DENVER -- A dog was found mutilated near a Dumpster early Thursday morning.
Police say the dog was taken from the back yard of a home in the 2600 block of Williams Street. Police followed a trail of blood from the back yard into an alley and found the abused animal.
The dog had blood near its mouth and a stick up its rectum, authorities said.
Next to the dog was a makeshift cross with a sign reading "The work of the next King ... a pure Act."
A 17-year-old boy was arrested but police aren't releasing any more details about him. [...]
Comment: Is some strange program being broadcast into Colorado? This is the second horrendous story of dog mutilation within a very short period of time from the area.
Click here to comment on this article
Death rite unnerves Romanian EU bid
Tom Mulligan
BBC Monitoring
Haunted by "strigoi" - the undead - villagers on the slopes of the Carpathian mountains exhume a corpse from the graveyard and drive a stake through its heart to banish the evil spirit.
They burn the remains of the heart, mix the ashes with water from the local well and drink it, to complete the macabre ritual.
Scenes from a shlock vampire B-movie? No; all this took place in February 2004 at a village in Dolj County, south-western Romania, according to Romanian Antena 1 TV news.
But the "Strigoi Show", as the TV dubbed it light-heartedly, has prompted such a stir about local customs and culture, the national press is questioning whether the ex-communist Balkan country will truly be ready to enter the European Union in 2007. [...]
Click here to comment on this article
'Blood Campaign' Artist Wins Top Canadian Award
TORONTO (Reuters) - An artist who uses his own blood as a medium for his work was named this week to receive one of Canada's top artistic awards, the Governor General's Visual and Media Arts Award.
The artist, Hungarian-born Istvan Kantor, is an unlikely choice for the C$15,000 ($12,000) award as he has been barred from several of the most prominent art galleries in Canada and the United States. [...]
His "Blood Campaign" began in Montreal in 1979. Asked about his fascination with blood, Kantor responded, "I thought it was a very useful part of my body. I could access it easily. I studied medicine -- I'm a nurse. I do my blood takings myself," he said. "The purpose was to turn my blood into an object of art, and sell it as an object of art, and through selling my blood, finance the neoist movement." [...]
Click here to comment on this article
This Is No Yolk

Fri Mar 5, 7:35 AM ET

TIRANA (Reuters) - People in the Albanian capital Tirana have been shocked by an increasing number of eggs without yolks, local television reported Thursday.
"We broke half of the eggs we bought but they lacked their yolks. Friends of ours told us the same had happened to them and in restaurants as well," a woman told the News24 TV station.
Antonio Conardio, a professor of Fowl Pathology at the University of Bari in Italy, said the all-white eggs were a rare phenomenon that happened when chickens were overdriven to produce more eggs.
The yolkless egg was Albania's second shock this year from apparently freaky fowls. Early in February, news spread of a cock producing an egg. But its owner slaughtered the animal for a Muslim festivity, making checks impossible.
Click here to comment on this article
---
Remember, we need your help to collect information on what is going on in your part of the world!
We also need help to keep the Signs of the Times online.
---

Check out the Signs of the Times Archives

Send your comments and article suggestions to us

---
Fair Use Policy
Contact Webmaster at signs-of-the-times.org
Cassiopaean materials Copyright ©1994-2014 Arkadiusz Jadczyk and Laura Knight-Jadczyk. All rights reserved. "Cassiopaea, Cassiopaean, Cassiopaeans," is a registered trademark of Arkadiusz Jadczyk and Laura Knight-Jadczyk.
Letters addressed to Cassiopaea, Quantum Future School, Ark or Laura, become the property of Arkadiusz Jadczyk and Laura Knight-Jadczyk
Republication and re-dissemination of our copyrighted material in any manner is expressly prohibited without prior written consent.
.