---
NEW ARTICLE: Is the World Coming to An End?
Not necessarily - but the future doesn't look bright! - Laura Knight-Jadczyk
Picture of the Day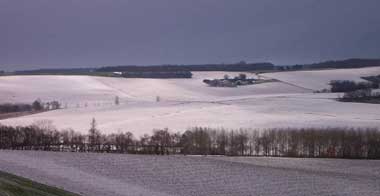 ©2004 Pierre-Paul Feyte
Yesterday we wrote about the idea of perfection.
In a discussion on the question of perfection by members of the Quantum Future School, one of the members wrote the following, relating the idea of perfection to that of man the machine:
After over a year of trying like heck to see the reality around me apart from my own reaction machine (that has been in hyperdrive for quite a while now), I get a "message" from the subtle gestures of that "force" which is working thru myself and the people around me. The "message" says the following in no uncertain terms. It says:

You are being replaced.

The new "man" is almost a perfect machine and they are being viewed by the group mind as the "superior man." They have a psychopathic need to APPEAR perfect. Yep, they are perfect all right. A perfect machine. This is what I see after much thinking like a hammer on my observations because I simply could not believe what I was seeing. So after a year of constant observations on this so as to adjust my reading errors I can see that I am not imagining it. Gestures speak and not words. This is what I am "told" by the subtle gestures in people (and within myself) that I have been studying. It's not the person "themselves" (if there is such) but it's the unconscious forces that "speak" thru them. The problem is "they" want us to fight on their own terms. They want the "man vs the machine" scenario. However we are not real "men" (or women). So the end result will be the "man machine" vs the "remote controlled psychopathic man machine," and its obvious who is going to be the winner between the older models and the newer model "high tech" machines. "Man" vs machine is really machine vs machine.

But the third choice is the real choice because it is from this part of us that a choice is really a choice. But we must "fight" for it. A paradox for sure.
Everything in our environment works to shape us, to mold us, into being dutiful members of society. As we have said before, the society, and those who make it up, you and me and those around us, are machines, reaction machines, caught in the automatic reflexes of our bodies and our thoughts. We are all as conditioned as Pavlov's dogs to respond to the bells rung by the TV or newspapers, by our friends and families.
The writer of the passage above describes a certain polarisation that is occurring in the community around him, with certain members of his community responding more strongly to the programming than others. We have discussed the psychopathic character of US official culture. We are not the only ones to have made the observation about the rise of the psychopath to positions of power. We go further, however, in showing how the culture works to ensure that in order to succeed in this society, one must accept and internalise the values of the psychopath. The psychopath's "values," if one can even call them that, become our values.
What appears to be happening is that the psychopathy of those in positions of power, forms a magnetic centre at one pole. We'll call this the negative polarity. Those who have within them characteristics that align with this pole are drawn towards it and become magnetised to that polarity. There are active manifestations of entropy, such as manipulation, hate, a disregard for the needs of others, etc, as well as passive manifestations: laziness, inaction, or the refusal to make a choice.
At the other end lies the positive polarity. Unfortunately, in this world, this polarity appears to exist mostly in potential. It must exist because the two poles need each other, but the state of things in our world suggests that the positive pole has little influence. In order to actualise the potential, one must work against the pull of the negative polarity. We emphasize that this is work. If we shift our analogy from magnetism to gravity, we can see that it takes effort, we must exert ourselves to overcome gravity. If we ever stop, gravity pulls us back down.
But what is the type of work that will enable us to over come this gravitational pull?
If we are machines, we must work to overcome our mechanical nature. If our mechanical nature is expressed in our automatisms, in our reactive responses to external or internal stimuli, then to work against gravity means to work against our automatic responses. If we are Pavlov's dogs, we must work against our reaction to the bell.
How to do this? The first step is to become aware that every time the bell rings, we find ourselves doing the same thing. We salivate, we feel hunger. As we learn more about our reactions to the bell, as we see them in greater and greater detail, we are able to choose to stop them. We can refuse the programming. This develops our Will.
Of course, it isn't easy.
It is as if an atom within an iron bar, far over on the negative side, decided to move along the iron bar to the other pole. All the atoms making up the bar are blocking him, as is the force pulling him back. The negative force pulling him is composed of the manifestations of the entropic principle within him. He must begin by working on these. As the points of attraction within him are reduced, he will begin to move towards the other pole. At this moment, he begins colliding with the atoms between him and his goal, his family and friends, who don't understand why he is suddenly moving in a different direction. They may not wish to let him through. He must fight for his passage.
As he works upon himself, removing the internal force, he must work against the exterior forces. He must learn to think and see for himself, must refuse to accept the group mind that holds him in place. When the group shouts loudest that everything is fine, he must be able to maintain his own point of view. When everyone around him is holding him down to stay where he is, he must find the force to break free. The seed of the force to do this is within; it is the potential of the positive pole within which can be made manifest by working against our mechanical character. Each choice to refuse to react is an action and therefore a choice.
The process described above in the community of the QFS member is happening around the US. The lies and manipulations of the Bush Reich are more and more brazen. Unfortunately, this process is happening throughout the world as well. We are moving into a new dark age. For it to be a polarisation, there must also be those who are moving towards the opposite pole. To change our analogy once more, imagine a piece of string being pulled from both ends. If it is ever going to break apart, propelling the two broken pieces in the direction of the attractive force, there must be equal forces on the two ends. If we are ever going to work our way out of the prison we are in, the positive pole must be made manifest; it cannot remain only a potential. If the string never breaks, it will be pulled as a whole into the coming dark age.
It is very easy in the world
to live by the opinion of the world.
It is very easy in solitude to be self-centered.
But the finished person
is he who in the midst of the crowd
keeps with perfect sweetness
the independence of solitude.
(Ralph Waldo Emerson)
Arafat aide killed in 'dirty assassination'

02/03/2004
Gunmen killed an adviser to Palestinian leader Yasser Arafat in a street ambush early today, feeding fears of growing lawlessness and chaos ahead of a possible Israeli withdrawal from the Gaza Strip.
Arafat denounced the killing of Khalil al-Zaben, 59, as a "dirty assassination" and convened his Cabinet and national security council today to discuss what was seen as one of the most serious challenges yet to the Palestinian Authority.
Al-Zaben, who was also a local publisher and headed a human rights group, was hit by 12 bullets as he left his Gaza City office. There was no immediate claim of responsibility and security officials said they had no suspects.
Al-Zaben had recently criticised the growing chaos and spoken out against the armed gangs roaming Gaza. He was the best-known Palestinian to be killed in the internal fighting and power struggles in Gaza City.
Last week, al-Zaben had distributed a leaflet denouncing what he said were "gangs of professional killers and assassins" whom he held responsible for a recent shooting attack on a politician from Arafat's Fatah movement. It was not immediately clear whether the leaflet prompted the killing of al-Zaben.
The Palestinian Cabinet and national security council were to discuss the killing at a meeting today, said minister Saeb Erekat.
"This chaos will not be tolerated. I believe the Palestinian government and security forces must take all action to end this chaos," Erekat said. "It is really undermining the Palestinian struggle to establish an independent state."
Meanwhile, Israeli forces killed an unarmed Palestinian man during an arrest operation in the West Bank village of Yatta, an army spokeswoman said. Troops had surrounded the house of a fugitive, she said, and a man fled the structure.
Troops called on the man in Arabic to stop and then fired in the air, the spokeswoman said. When the man did not respond to the soldiers' calls, they shot and killed him, she added
Fashion Shoot Slated for Israeli Barrier

By STEVE WEIZMAN
Associated Press Writer
March 1, 2004
JERUSALEM -- An Israeli fashion house plans to shoot its summer catalog at Israel's West Bank security barrier this week, the company said Monday, less than a week after troops shot dead two Palestinians protesting the network of walls, wire and ditches.
A statement from the fashion house, Comme-il-faut, said the one-day shoot Wednesday would take place at a section of the barrier on the edge of Jerusalem "for the purpose of creating a dialogue around boundaries."
The statement said the event would contrast beauty, femininity and fashion with a "concrete wall of insult, ugliness and humiliation."
Israel says it needs the barrier to prevent suicide bombers and other attackers from entering its towns and cities. Last Thursday two Palestinian protesters were shot dead by Israeli forces not far from the site the company picked to send its models and photographers.
Palestinians say the partially built barrier -- which would dip deep into the West Bank in some parts of its planned 400-mile route -- is a land grab meant to prevent them from establishing an independent state. [...]
Israel to intensify anti-terror operations in territories: army chief
JERUSALEM (AFP) Mar 02, 2004
Israel's military's chief of staff, Moshe Yaalon, announced Tuesday "an intensification of anti-terrorist operations" by the army in the Palestinian territories.
"In the light of the intensification of the activities of the terrorist organisations over the last few weeks, we will intensify our anti-terror operations," Yaalon told army radio.
"In this kind of situation, attack is the best form of defence ... We will pursue the terrorists -- whoever they are and wherever they are."
Yaalon said that "anarchy" had now taken hold in the West Bank and Gaza Strip. [...]
Israel's Army Markets to Foreign Armies
By PETER ENAV
Associated Press Writer
JERUSALEM - Israel is building a mock Arab town at a military base in southern Israel for millions of dollars — part of a new sales pitch to foreign armies to teach them how to fight insurgencies.
Later this month, the Israeli military is hosting an arms show and seminar on "low-intensity conflict" for defense officials from 20 countries.
The campaign comes as the country moves into the 42nd month of its current round of fighting with the Palestinians.
Some experts wondered, however, how Israel could market "success," since it has failed to halt attacks by Palestinian militants and is considering withdrawing unilaterally from parts of the West Bank and most of the Gaza Strip. [...]
Tories quit WMD intelligence inquiry
The Inquiry called by Tony Blair into failings of British intelligence in the run-up to war was stripped of its bipartisan support yesterday after the Conservative Party withdrew its support.
Michael Howard, the Tory leader, said he now agrees with the Liberal Democrats that Lord Butler's investigation will be a whitewash solely intended to exonerate the government.
However the party said that Michael Mates, the former Tory minister, has refused to stand down - and said he will serve in a "personal capacity" rather than refuse to take up the seat which Mr Blair allocated for the Tories and the Lib Dems.
Mr Howard said his sudden U-turn was in protest at the "unacceptably restrictive" way Lord Butler had chosen to interpret the inquiry's terms of reference - and his decision to focus on structures, rather than people. [...]
Police numbers at 'all-time high'
Monday, 1 March, 2004

The number of police officers in England and Wales has reached an all-time high of 138,155, the Home Office has announced.

The figure amounts to a rise of 14,000 officers in three-and-a-half years, a spokeswoman said.
The new officers are being used for high-visibility duties in local communities.
They show an increase of 1,769 officers in the past six months, on top of the previous figure, which was a record.
The figures, which also show an increase of almost 6,000 in a year, are for the period ending December 2003. [...]
Comment: What do we think this increase in numbers is for exactly? Dealing with large groups of terrorists? Hardly. Much more likely is that it is to deal with possible future civilian unrest.
Black empire flirts with default
Hollinger Inc, the holding company of embattled media tycoon Conrad Black, has failed to make an interest payment on $120m (£64m) of its debt.
The company, which has not explained the reasons behind the missed payment, now has to pay before the end of the month to avoid being in default.
Europe's Rosetta spacecraft has launched successfully and is now heading into space on its daring journey to chase and land on a comet....Rosetta is primed for a 7bn-km journey to Comet 67P/Churyumov-Gerasimenko.
[...] Once in orbit around the mountainous ball of ice and dust in 2014, the craft will despatch a small lander to the comet's surface to study its chemistry.
[...] Scientists are keen to study comets close up because they are thought to contain materials that have remained largely unchanged since the formation of the Solar System 4.6bn years ago.
They may give clues as to why the Solar System evolved the way it did. Some researchers think comet impacts may even have seeded the early Earth with the chemistry needed for life to develop.
Scores killed in Iraq Shia blasts
As many as 100 people have been killed in blasts targeting Iraqi Shias as they celebrated one of their holiest days in the cities of Karbala and Baghdad.
At least 30 people were killed and hundreds wounded in Karbala, and as many as 75 died in Baghdad in attacks that appeared to be coordinated.
BBC correspondents in Karbala described scenes of panic and said the atmosphere of the city was extremely tense.
[...] Crowds of people fled through the streets of Karbala in panic after the first of six blasts were heard at around 1000 local time (0700 GMT).
People - bloodied, possibly with limbs lost - were carried through the streets on makeshift stretchers such as blankets or wooden carts to waiting ambulances.
"We were standing (next to the mosques) when we heard an explosion," said 18-year-old Tarar. "We saw flesh, arms, legs and more flesh. Then the ambulance came."
Schröder Rules out Peacekeepers as Iraqis OK Constitution
The Iraqi Governing Council agreed on an interim constitution on Monday which could pave the way to a return of sovereignty. Meanwhile, Gerhard Schröder again ruled out any German involvement in peacekeeping in Iraq.
Guard Units on Alert for Likely Iraq Duty

By ROBERT BURNS, AP Military Writer
Mon Mar 1, 11:11 PM ET
WASHINGTON - About 18,000 National Guard soldiers from four major units have gone on alert for likely deployment to Iraq late this year or in early 2005, the Pentagon said Monday.
The announcement underscores the deepening involvement of Guard and Reserve forces in U.S.-led efforts to quell the insurgency in Iraq and stabilize the country. So far 45 Guard and Reserve members have been killed in action in Iraq and 42 more have died of nonhostile causes. [...]
Top Iraq Shi'ite Cleric Blames Tuesday Attacks on US Soldiers
KARBALA, Iraq (AP)--A spokesman for Iraq's leading Shiite cleric, Grand Ayatollah Ali al-Husseini al-Sistani, blamed U.S. soldiers for the attacks in Karbala and Baghdad, saying they were responsible for the security.
Sheik Hamed Khafaf said in Beirut that U.S. officials had ignored repeated requests to bolster security for the pilgrims.
Shiite cleric Sheik Sayyed Akeel al-Khatib said the explosions, "especially those at Kazimiya," were perpetrated by suicide bombers. "These means they came from abroad and were not Iraqis," he told Lebanese Broadcasting Corp. TV. [...]
Australia now cites US alliance as a key reason for joining Iraq war
AFP
Tuesday March 2, 3:15 PM
A day after being accused by a parliamentary panel of exaggerating the case for joining the Iraq war, the Australian government changed its emphasis by citing its alliance with the United States as a crucial factor in the decision.
Prime Minister John Howard and Foreign Minister Alexander Downer both stressed the importance of the alliance in the decision to commit 2,000 Australian troops to the US-led conflict.
Both before and after the war, Howard and his ministers repeatedly cited Iraq's weapons of mass destruction (WMD) as the principal justification for joining President George W. Bush's "coalition of the willing."
But Howard said Tuesday that in all his public addresses arguing the case for joining the US-led invasion, he had "placed very heavy reliance on the importance of the American alliance."
"I'm not saying that was number one," he told reporters. "But it seems to have been forgotten that it was a significant element and something I referred to in all the major addresses I made."
Downer said if Australia had not joined the US-led invasion, it would have weakened the alliance "very substantially" at a crucial time when the international community was engaged in a war against terrorism. [...]
Comment: In other words, the only reason Howard involved Australia in the invasion of Iraq was because America instructed him to do so. Perhaps he should just resign and let Bush run the country.
by Ran Prieur
Unknown News
Wednesday, February 18, 2004
BOSTON. After switching their allegiance from anarcho-communist Howard Dean to ultra-liberal John Kerry, and then to liberal John Edwards, on the final day of their convention Democrats switched one last time to extreme moderate Adolf Hitler, convinced that he's the man who has the best chance of beating Bush.
"This election has never been about issues," said Democratic Party spokesman Heinrich Himmler. "It's not about whether we go to war, about military spending, or taxes, or the federal budget, or the environment, or civil liberties, or even abortion. That's the kind of starry-eyed idealism that killed us in '72. This election is about one thing -- getting that bastard Bush out of there, that lying, draft-dodging, coke-snorting, beady-eyed, stupid, bad, bad person. Hate him! Hate him! Hate him!"
General Hermann Goering, an early supporter of Hitler's campaign, agreed. "Clearly, for the Democratic Party to be relevant, they have to capture the presidency, and the way to do it is by moving farther and farther to the center. John Kerry is a war veteran, and voted for the Iraq war, but he's haunted by his anti-war background. After September 11, that's just not going to play in the heartland, or in the South. Hitler, on the other hand, has always been pro-war. He's called for the liberation of Iran, Syria, Venezuela, Canada, even Europe. On national defense and the war on terror, he's even more moderate than Bush!"
Moderation, says columnist Joseph Goebbels, is the key. "On so many issues, such as his proposals to clear-cut the national forests, to put all dissidents into detention facilities, to double defense spending, to abolish all corporate taxes, to prohibit labor unions, and to conquer the world in a thousand year American homeland, Hitler makes the other Democrats, and even Bush, look like raving Green Party radicals, tree-hugging, granola-eating, flower-sniffing hippie-anarchists. If moderate means making your opponents look liberal in comparison, and clearly that's exactly what it means, then Hitler is as moderate as they come."
Senator Joseph Lieberman has enthusiastically endorsed Hitler's campaign. "At last," Lieberman said, "we have a candidate who will do something about degenerate culture, about all the filth coming out of Hollywood, someone who will clean up those stinking subhumans who have defiled the purity of American culture. I think this will be a final solution."
When asked about Hitler's repeated statements that he wants to kill all Jews, Lieberman laughed. "We know he's not really going to do that. That would be absurd. I mean, some of his best friends are Jews. No, he's just a tough talker. Americans like that -- it's presidential."
Although Democrats rank Hitler consistently low (roughly 0%) in terms of personal agreement with his policies, most of them are happily falling behind him. Says Cedar Rapids activist Wendy Pipkin, "I mean, if I could pick anyone I wanted, it would be Dennis Kucinich, but the people can't just pick anyone they want. This is a democracy, which means you have to pick someone who people believe other people will vote for, and nobody will vote for Kucinich because, you know, nobody will vote for him. Hitler gives us a real chance to get a Democrat back in the White House."
But not everyone agrees. Some Democrats are nervous about Hitler's candidacy, like Seattle precinct committee officer Richard Shodley. "Hitler's a vegetarian," he says, wringing his hands, "and he's made statements that could be construed as sympathetic to animal rights activists. If the Republicans get their hands on that, they can nail him to the wall in November. I'm just afraid it gives them too much ammunition. What I really fear is, Bush could still win."
'Cheriegate' conman claims his files could bring down Blair

March 2, 2004
BRISBANE, Australia (AFP) - A convicted conman at the centre of Britain's "Cheriegate" scandal attempted to stop publication of sensitive material he claimed could bring down British Prime Minister Tony Blair.
Lawyers for Peter Foster told Brisbane Supreme Court that the material touched on matters of British national security and "sensitive information involving world figures".
They failed to win an injunction forcing Australian journalist Richard Shears to return the material, which was originally supplied to back up a story to appear in the London's Daily Mail.
Foster said the 5,000 e-mails, photographs and details of conversations with Blair contained material that he did not want published.
"We believe if this material was published, the prime minister (Blair) will have to resign," Foster told reporters outside the court, adding, "I will not be known as the man who brought down a prime minister."
Foster hit the headlines in late 2002 when it emerged he negotiated knock-down rates on two apartments for Blair's wife Cherie, who was then forced to deny interfering to prevent his deportation from Britain.
He said the material went beyond "Cheriegate", which came about because of a friendship between his girlfriend, Carol Caplin, and Cherie Blair.
"It deals with material on highly sensitive issues," Foster said. "It deals with the relationship between the prime minister and Carol Caplin and it deals with the lead-up to the Iraq war. [...]
Thousands 'answer MI5 spy call'
BBC
Tuesday, 2 March, 2004, 02:12 GMT
Around 3,000 would-be secret agents are reported to have responded to David Blunkett's recruitment drive for MI5. [...]
Whitehall sources told The Times newspaper "a wave of patriotism" had inspired thousands of young people to respond to his call. [...]
One unnamed official suggested applicants had not been deterred by the relatively low salaries on offer, telling the Times: "They're doing it out of idealism." [...]
Lawyers submit war crimes petition
Ananova.com
March 2, 2004
Lawyers are due to explain why they are asking the International Criminal Court to investigate allegations of war crimes by top British politicians in invading Iraq.
The group Legal Action Against War will submit a petition to the court in The Hague asking it to investigate alleged offences by Prime Minister Tony Blair, Foreign Secretary Jack Straw, Defence Secretary Geoff Hoon and Attorney General Lord Goldsmith. [...]
Oil Prices Hover Just Below $37

March 2, 2004
SINGAPORE (Reuters) - U.S. oil prices hovered just below $37 Tuesday, close to the highest level in almost a year as low American fuel stocks and political tension in Venezuela, OPEC's third biggest producer, kept supply concerns bubbling.
The head of the OPEC producers' cartel said the group was pumping above official output limits despite its pledge in February to stop quota-busting to try and cool prices, which are close to levels in the days running up to the U.S. invasion of Iraq in March last year. [...]
Putin nominates new prime minister
Last Updated Mon, 01 Mar 2004 8:35:12
MOSCOW - President Vladimir Putin named a former head of Russia's tax police Monday as his choice for the country's next prime minister.
Putin described Mikhail Fradkov, who is also one of the country's representatives to the European Union, as a "highly professional, orderly person with good experience in various branches of state activity."
Chechen warlord dead, says Russia
BBC
Tuesday, 2 March, 2004, 12:04 GMT
Russias Federal Security Agency, the FSB, says it has confirmed the death of Chechen rebel warlord Ruslan Gelayev.
It has released footage of a body, saying the corpse has been identified as that of the rebel commander.
But Russian officials have reported Mr Gelayev's death in the past, leading some commentators to urge caution.
Others point to the timing of the announcement, suspicious about such a success against the rebels coming so close to presidential elections.
But the FSB is confident Russian troops have finally killed Mr Gelayev.
A spokesman for the security service says four other rebels - captured earlier by the Russians - have now identified his corpse. [...]
Last Updated Mon, 01 Mar 2004 20:31:49
WASHINGTON - The chicken has become the first bird to have its genetic code mapped and published in a free database for agricultural and biomedical researchers.
An international team of researchers prepared the draft map of the domestic chicken genome, which was published on Monday.
China's Beijing Genomics Institute led the mapping of genetic variations between three different strains of broiler and layer chickens from the United Kingdom, Sweden and China.
Aristide: US forced me to leave
The exiled former President of Haiti, Jean-Bertrand Aristide, has said that he was forced to leave his country.
In interviews with US television and news agencies, he said he had been the victim of a "coup d'etat".
Rumsfeld says he has "no knowledge" on Aristide abduction claims
WASHINGTON (AFP) Mar 01, 2004
US Defense Secretary Donald Rumsfeld said on Monday that he had "no knowledge" about claims that former Haitian President Jean Bertrand Aristide was removed from power by US troops.
The White House has strongly denied claims by a friend of Aristide's, Randall Robinson, who said the former president told him he was "abducted" by US troops who whisked him out of Haiti in a jet on Sunday.
"I have no knowledge of that," Rumsfeld told reporters at a Pentagon press conference when quizzed about the claims.
Comment: It seems Rummy has no knowledge of a lot of things...
US Sponsored Coup d'Etat: The Destabilization of Haiti
by Michel Chossudovsky
www.globalresearch.ca 29 February 2004
Double standards
The White House has called into question Haitian President Jean-Bertrand Aristide's "fitness to continue to govern his country". According to the official White House statement released one day before Aristide's departure for the Dominican Republic:
"His failure to adhere to democratic principles has contributed to the deep polarization and violent unrest that we are witnessing in Haiti today... His own actions have called into question his fitness to continue to govern Haiti. We urge him to examine his position carefully, to accept responsibility, and to act in the best interests of the people of Haiti"
Now should we not apply the same standards to President George W. Bush who has lied to the American people, violated international law and waged a criminal based on a fabricated pretext?
This article was written in the last days of February 2004 in response to the barrage of disinformation in the mainstream media. It was completed on February 29th, the day of President Jean Bertrand Aristide's departure in exile.
The armed insurrection which contributed to unseating President Aristide on February 29th 2004 was the result of a carefully staged military-intelligence operation.
The Rebel paramilitary army crossed the border from the Dominican Republic in early February. It constitutes a well armed, trained and equipped paramilitary unit integrated by former members of Le Front pour l'avancement et le progrès d'Haiti (FRAPH), the "plain clothes" death squadrons, involved in mass killings of civilians and political assassinations during the CIA sponsored 1991 military coup, which led to the overthrow of the democratically elected government of President Jean Bertrand Aristide
The self-proclaimed Front pour la Libération et la reconstruction nationale (FLRN) (National Liberation and Reconstruction Front) is led by Guy Philippe, a former member of the Haitian Armed Forces and Police Chief. Philippe had been trained during the 1991 coup years by US Special Forces in Ecuador, together with a dozen other Haitian Army officers. (See Juan Gonzalez, New York Daily News, 24 February 2004).
[...] Media Manipulation
In the weeks leading up to the Coup d'Etat, the media has largely focused its attention on the pro-Aristide "armed gangs" and "thugs", without providing an understanding of the role of the FLRN Rebels.
Deafening silence: not a word was mentioned in official statements and UN resolutions regarding the nature of the FLRN. This should come as no surprise: the US Ambassador to the UN (the man who sits on the UN Security Council) John Negroponte. played a key role in the CIA supported Honduran death squadrons in the 1980s when he was US ambassador to Honduras. (See San Francisco Examiner, 20 Oct 2001)
The FLRN rebels are extremely well equipped and trained forces. The Haitian people know who they are. They are Tonton Macoute of the Duvalier era and former FRAPH assassins.
The Western media is mute on the issue, blaming the violence on President Aristide. When it acknowledges that the Liberation Army is composed of death squadrons, it fails to examine the broader implications of its statements and that these death squadrons are a creation of the CIA and the Defense Intelligence Agency.
The New York Times has acknowledged that the "non violent" civil society opposition is in fact collaborating with the death squadrons, "accused of killing thousands", but all this is described as "accidental". No historical understanding is provided. Who are these death squadron leaders? All we are told is that they have established an "alliance" with the "non-violent" good guys who belong to the "political opposition". And it is all for a good and worthy cause, which is to remove the elected president and "restore democracy":
"As Haiti's crisis lurches toward civil war, a tangled web of alliances, some of them accidental, has emerged. It has linked the interests of a political opposition movement that has embraced nonviolence to a group of insurgents that includes a former leader of death squads accused of killing thousands, a former police chief accused of plotting a coup and a ruthless gang once aligned with Mr. Aristide that has now turned against him. Given their varied origins, those arrayed against Mr. Aristide are hardly unified, though they all share an ardent wish to see him removed from power." (New York Times, 26 Feb 2004)
There is nothing spontaneous or "accidental" in the rebel attacks or in the "alliance" between the leader of the death squadrons Guy Philippe and Andy Apaid, owner of the largest industrial sweatshop in Haiti and leader of the G-184.
The armed rebellion was part of a carefully planned military-intelligence operation. The Armed Forces of the Dominican Republic had detected guerilla training camps inside the Dominican Republic on the Northeast Haitian-Dominican border. ( El ejército dominicano informó a Aristide sobre los entrenamientos rebeldes en la frontera, El Caribe, 27 Feb. 2004)
Both the armed rebels and their civilian "non-violent" counterparts were involved in the plot to unseat the president. G-184 leader Andre Apaid was in touch with Colin Powell in the weeks leading up to the overthrow of Aristide; Guy Philippe and "Toto" Emmanuel Constant have links to the CIA; there are indications that Rebel Commander Guy Philippe and the political leader of the Revolutionary Artibonite Resistance Front Winter Etienne were in liaison with US officials. (See BBC, 27 Feb 2004).
While the US had repeatedly stated that it will uphold Constitutional government, the replacement of Aristide by a more compliant individual had always been part of the Bush Administration's agenda.
US Campaign against Haiti: Why?
Dale Sorenson, MITF Director
MITF Report, April 4, 2001
[...]Haiti is resisting corporate globalization.
[...]Haiti has a popularly elected government that bas committed itself to making healthcare and education its top priorities.
[...]Haiti is the only country in the world, aside from Costa Rica, with no military.
In 1995, President Aristide disbanded the Haitian military. Wildly popular in Haiti, the move caught the US by surprise. Created during the US occupation of Haiti from 1915-1934, the Haitian military served as a force of internal repression against the Haitian people. As is the case throughout Latin America, the Haitian military was a conduit for covert and overt US intervention in Haitian affairs. The conduit is now gone.
The Haitian military once absorbed 40% of Haiti's national budget. Today, Haiti spends zero on the military, making it a model in devoting resources to human development rather than to militarism. [...]
Haiti has developed close ties with Cuba. [...]
Haiti is becoming a participatory democracy that threatens the corporate and the political elites.
President Aristide, elected with over 70% of the popular vote, is moving the country toward real democratic development. The US shuns participatory democracy, preferring its formal democracy with two parties that select candidates for the presidency who represent the rich and powerful. [...]
by Allan Nairn
The Nation
January 8 / 15, 1996
In the face of rising outrage in Haiti that paramilitaries are still armed and at large, the U.S. government has again denied collaborating with the perpetrators, including FRAPH, the hit squad whose leader, Emmanual Constant, worked for the C.I.A. But evidence just discovered indicates that, starting in mid-1993, FRAPH was launched on its reign of terror with secret shipments of U.S. arms, and that still-active FRAPH members have been used recently in U.S. occupation operations, sprung from hail with Wahington's help. [...]
Constant's assertion has been confirmed by U.S. officials involved in Haiti, who note that U.S. military intelligence and the C.I.A. are also continuing secret work with FRAPH. Within the first week of the occupation a C.I.A. contingent arrived and, breaking down into two-person teams, fanned out across the countryside. The operatives, on temporary duty from headquarters in Langley, Virginia, approached Special Forces field units and asked for their help in identifying Haitians who could be recruited to work secretly for the C.I.A. [...]
The whole point of FRAPH, of course, is that it is not a military fighting force but rather a paramilitary group organized to kill unarmed civilians. This means that its weapons are small and dispersed-essentially one per killer-and that, therefore, under occupation policy FRAPH gunmen remain armed unless they are impolitic enough to parade their weapons publicly. Indeed, in late September 1994, right after the U.S. troops arrived, Special Forces teams systematically sat down with local FRAPH heads and told them (as team leaders in Hinche, in the Central Plateau, explained it to me) that as long as they kept their guns out of view they would "get no trouble" from the Green Berets. [...]
The arms shipments so crucial to the launching of FRAPH began around July 1993, according to a Haitian army officer who helped arrange the deals. The officer, a longtime U.S. protege whose walls are hung with diplomas from U.S. military courses (at infantry school, special training in Texas and, last spring, a six-day "human rights" course), served as a confidant and arms procurer for coup leader and police chief Lieut. Col. Michel Francois. He was among those who kept detailed records on the deals, some of which he still has. Other papers were apparently seized in 1994 by incoming U.S. troops.
The U.S. [arms] shipments originated in Miami and included Colt .38 revolvers, 9-millimeter semiautomatic pistols, American made M-3 "grease gun" machine guns with short, collapsible stocks, Thompson submachine guns, Smith & Wesson .38 revolvers and fragmentation and gas grenades. The officer estimates that "five to ten thousand pieces" came in from Florida, packed in boxes often marked "Police Material: Do Not Open," and addressed to officers at the Haitian national palace. Although from October 1993 until September 1994 the U.S. Navy was used to enforce the embargo on Haiti, the officer says that the FRAPH arms shipments were never stopped (the Navy confirms that no Haiti-bound weapons were intercepted).
On arrival in Haiti, the weapons were stored at Colonel Francois's police headquarters, at the airport and in cargo containers, but-the officer says-not at army bases. Distribution of the guns to FRAPH and attaches was controlled by Francois and his circle, working through Constant and the senior civilian leader ship of FRAPH.
The fast influx of pistols, grease guns and hand grenades enabled FRAPH to metastasize. The officer says that FRAPH was needed to maintain control because "it was 7,000 of us versus 7 million civilians." The guns were, in turn, necessary to get FRAPH out on the streets. The idea was that, suddenly, FRAPH "would appear with all the gear of power-weapons, communication, intimidation, etc.," thereby cowing both the still-active popular movement and the exiled Aristide. [...]
With his supporters being slaughtered by FRAPH and the army, Aristide indeed backed off. Although Aristide continued to haggle with the White House on a number of political points, he agreed to accept a U.S. occupation (something he had long opposed), and in August 1994, he endorsed a structural adjustment program (drafted by the World Bank, the l.M.F. and U.S.A.I.D., and backed by the most pro-corporate members of his own government team) that represented a harsh abandonment of the popular movement's redistributionist plan. [...]
Comment: Note that this article was written in 1996, and in 2004 we see that it is just the finishing touches on a long, bloody campaign by the US. Few cared in '96 that innocent people were murdered in cold blood to maintain the drug supply to US children for black op funding, and few will care in 2004.
U.S. Denies Forcing Aristide Out of Haiti
By SONYA ROSS, Associated Press Writer
Tue Mar 2, 2:22 AM ET
WASHINGTON - Denying that it gave Jean-Bertrand Aristide a rough shove into exile, the United States is insisting the Haitian president resigned and left his embattled country of his own free will.
But black lawmakers and others demanded an investigation into the way the Bush administration treated Aristide in the hours before he left his country and turned up in the Central African Republic. They built their objections around repeated claims by Aristide that U.S. officials forced him out. [...]
France "protecting" Aristide in C. African Republic
PARIS, March 2 (Reuters) - France said on Tuesday it was "protecting" former Haitian President Jean-Bertrand Aristide in his temporary exile in the Central African Republic but insisted it did not control his movements there.
Aristide has alleged he was forced to quit the former French colony against his will by the United States, with whom France has worked closely on the Haiti crisis. The allegation has been dismissed by Bush administration officials as nonsense. "At present, I would say he is being protected rather than imprisoned," French Defence Minister Michele Alliot-Marie told Europe 1 radio.
"France is not controlling his comings and goings," she said, noting that a contingent of French soldiers had been based in the impoverished country since a military coup there last year.
"This is simply a question of ensuring that his temporary stay in the Central African Republic takes place under normal conditions," she said. She did not say where Aristide was expected to go next, or when. [...]
France Asks U.S. to Justify Foie Gras Ban at WTO

March 2, 2004
PARIS (Reuters) - France said Tuesday it would ask the United States to justify to the World Trade Organization its ban on French foie gras and processed meat.
French Trade Minister Francois Loos said the U.S. measure taken over hygiene standards would be discussed at a meeting of the WTO's expert committee on health issues on March 18.
"The United States will be asked to explain the circumstances which led to this measure," Loos said in a statement.
Paris has called the import ban unjustified. [...]
China Warns U.S. Against Meddling in HK Affairs
US launches 15 million-dollar program to fight HIV-AIDS in China
AFP
Tuesday March 2, 3:42 PM
Just 10 percent of China's HIV-AIDS cases know they have the disease, the US Center for Disease Control and Prevention (CDC) said as it launched a 15 million dollar campaign to help fight the crisis.
The initiative is part of the Global AIDS Program, which is currently focusing on 25 countries including China. [...]
Beijing releases figures of widespread people trafficking
abc.net.au
China has published statistics on the trafficking of women and children within its borders, with police freeing more than 42,000 victims during the three years from 2001.
Over the same period, more than 22,000 suspects were arrested as police solved more than 20,000 cases involving kidnapped women and children, many of whom had been forced into marriages or sexual slavery. [...]
by Peter Dale Scott and Jonathan Marshall
University of California Press, 1991, paper
[...] In country after country, from Mexico and Honduras to Panama and Peru, the CIA helped set up or consolidate intelligence agencies that became forces of repression, and whose intelligence connections to other countries greased the way for illicit drug shipments. [...]
The drug traffic should be visualized, not as a horizontal line between producers and consumers, but as a triangle. At its apex sit governments whose civilian and military intelligence agencies recurringly afford defacto protection to drug kingpins beneath them. In the United States as elsewhere, this vertical dimension of protected trafficking has created windows of opportunity for importing narcotics by the ton. [...]
[T]he long and sordid history of CIA involvement with the Sicilian Mafia, the French Corsican underworld, the heroin producers of Southeast Asia's Golden Triangle, the marijuana- and cocaine-trafficking Cuban exiles of Miami, and the opium smuggling mujaheddin of Afghanistan simply reinforces the lesson of the Contra period: far from considering drug networks their enemy, U.S. intelligence organizations have made them an essential ally in the covert expansion of American influence abroad. [...]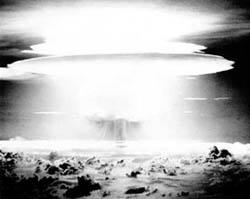 50 Years Later, Nuclear Blast Felt on Bikini Atoll
Mon Mar 1, 9:30 AM ET
By Ben Gruber
BIKINI ATOLL, Marshall Islands (Reuters) - At first glance, it looks like a tropical paradise: an island in the middle of the Pacific Ocean, where palm trees encircling a pristine blue-green lagoon sway in the breeze.
But to the native islanders, Bikini Atoll is more like an exhausted, scorched wasteland, where they eke out an existence in a place that today is forgotten by much of the world. But on March 1, 1954, it became ground zero during the Cold War.
A half century ago on Monday, the United States conducted its largest nuclear test. Code-named Bravo, a 15-megaton hydrogen bomb detonated on Bikini Atoll, producing an intense fireball followed by a 20-mile-high mushroom cloud. [...]
Earthquake rattles southern Turkey
March 02 2004 at 11:24AM
Ankara - A mild earthquake early on Tuesday toppled some village houses in southern Turkey, crushing at least six people to death and injuring two others.
The temblor with a preliminary magnitude of 3.8 struck the Adiyaman province at 1.55am (11h55GMT) on Tuesday, the Istanbul-based Kandilli Observatory said. The quake's epicentre was the town of Celikhan in the province, the observatory said.
[...] A magnitude 5.0 quake rocked the same town on February 26, causing cracks at some government buildings and shattering windows. No injuries were reported then.
Monday 1st March, 2004
Two powerful eruptions occurred at Sheveluch volcano on Saturday 28th February, 17 hours apart. The eruptions were accompanied by surface earthquakes lasting about three minutes each. Sheveluch, the northernmost active volcano in Kamchatka (Russian Far East) is ejecting ash clouds to the height of 2.5 kilometers.
Adverse weather conditions hinder observation of the volcano, yet the seismologists believe that the eruptions have caused massive avalanches of debris. The seismological stations located in the area keep registering continuous volcanic tremors as well as weak but extensive surface earthquakes.
At present, the volcano poses no threat to local residents. At the same time, the eruptions threaten to disrupt traffic on the peninsula's roads. In the past, mudflows sliding down the giant volcano's slopes repeatedly washed out the Klyuchi - Ust-Kamchatsk motor road. Catastrophic eruptions take place at Shiveluch every 100-300 years.
Ice Sheets Caused Massive Sea Level Change During Late Cretaceous
Arlington, Va. -- Scientists using cores drilled from the New Jersey coastal plain have found that ice sheets likely caused massive sea level change during the Late Cretaceous Period -an interval previously thought to be ice-free. The scientists, who will publish their results in the March-April issue of the Geological Society of America (GSA) Bulletin, assert that either ice sheets grew and decayed in that greenhouse world or our understanding of sea level mechanisms is fundamentally flawed.[...]
The scientists propose that the ice sheets were restricted in area to Antarctica and were ephemeral. The ice sheets would not have reached the Antarctic coast, explaining the relative warmth in Antarctica, but still could significantly alter global sea level.
FLASHBACK: Global Sea Levels Likely To Rise Higher In 21st Century Than Previous Predictions
New calculations by a University of Colorado at Boulder researcher indicate global sea levels likely will rise more by the end of this century than predictions made by the Intergovernmental Panel on Climate Change in 2001.
The projected sea-level rise is due to a revised estimate of the ice melt from glaciers, said geological sciences Emeritus Professor Mark Meier. [...]
Was the last samurai French?

The way Hollywood tells it, The Last Samurai, portrayed by Tom Cruise, was an American mercenary. But the real-life contender for the role was a French artillery officer whose exploits were every bit a match for fiction. [...]
Paramedic Fired After Mishandling A Corpse

Fort Dodge, February 29th, 2004
A bizarre story out of Fort Dodge, where a paramedic was fired and denied benefits after allegedly handling a corpse inappropriately.
Scott Kirhart of Manson worked for Trinity Regional Medical Center. According to state records, he was fired after sticking his fingers in the mouth of a dead person which he was transporting to the morgue.
A security officer who was present exhibited a "strong reaction," according to state records. As a result, Kirkhart thrust his fingers into the dead person's nostrils.
He later grabbed the dead person's breast and said "honk, honk." According to hospital officials, Kirkhart admitted to putting his fingers in the dead person's mouth but denied the other accusations .
ADL must pay in Evergreen case
Denounced as anti-Semites, pair is owed millions
By Karen Abbott
Rocky Mountain News
March 2, 2004
The Anti-Defamation League must pay a former Evergreen couple it denounced as anti-Semites more than $10 million, after the U.S. Supreme Court refused Monday to review the lawsuit.
"This is the end of the case," said Bruce DeBoskey, director of the league's Mountain States Region, which includes Colorado and Wyoming.
Denver attorney Jay Horowitz, who won the case for William and Dorothy "Dee" Quigley, said the couple was "extraordinarily delighted" when he told them the news Monday.
The widely publicized court battle drew friend-of-the-court briefs from a variety of national advocacy organizations worried that the danger of huge legal liabilities threatened their ability to work for good causes.
"There were 15 other human rights organizations that filed briefs in support of our legal position," DeBoskey said.
The U.S. Supreme Court did not explain why it declined to review the case.
"We're all disappointed," DeBoskey said. "But as a practical matter, through the entire process, we have continued to serve the community."
"We do remain committed to our fight against hatred and racism and bigotry and extremism and anti-Semitism," he said.
The dispute that raged for nearly a decade through the federal courts began when the Quigleys' dog fought with a dog owned by their Jewish neighbors, Mitchell and Candice Aronson, in their upscale foothills neighborhood.
The Aronsons called the ADL in 1994, after overhearing the Quigleys' telephone remarks on their Radio Shack police scanner. They said they heard the Quigleys discuss a campaign to drive them from the neighborhood with Nazi scare tactics, including tossing lampshades and soap on their lawn, putting pictures of Holocaust ovens on their house and dousing one of their children with flammable liquid.
The Aronsons were advised to record the conversations. Based on the recordings, they sued the Quigleys in federal court, Jefferson County prosecutors charged the Quigleys with hate crimes, and Saul Rosenthal, then the ADL's regional director, denounced the Quigleys as anti-Semites in a news conference.
The Quigleys got death threats and hate mail.
Later, everyone found out that the recordings became illegal just five days after they began, when President Clinton signed a new wiretap restriction into federal law.
The hate charges were dropped, and Jefferson County paid the Quigleys $75,000 after prosecutors concluded Dee Quigley's remarks to a friend were only in jest. Two lawyers on the ADL's volunteer board, who had advised the Aronsons, paid the Quigleys $350,000 to settle a lawsuit.
The Quigleys and Aronsons dropped their legal attacks on one another, and neither family paid the other anything. The Aronsons divorced. The Quigleys moved to another state.
But a federal jury found in 2000, after a four-week trial before Denver U.S. District Judge Edward Nottingham, that the Anti-Defamation League had defamed the Quigleys. The jury awarded them $10.5 million.
The ADL appealed, and the Denver-based 10th U.S. Circuit Court of Appeals ruled last year that the jury's award stood.
DeBoskey said the long legal proceedings allowed the ADL to set aside funds to pay the judgment if necessary. Some the money will come from insurance and some will come from other sources, including donors, but none will come from the ADL's operating budget, DeBoskey said.
Horowitz estimated the judgment now totals more than $12.5 million, once interest is included.
He said the Quigleys suffered greatly because they were branded as anti-Semites. William Quigley's career in the motion picture industry was virtually destroyed, Horowitz said.
"They cannot express how life-altering the ADL's actions have been," Horowitz said.
The Quigleys' children were affected because "they grew up during some of the most trying circumstances of this case," he said.
At one point, the family hired bodyguards. They received a box of dog feces in the mail. Their own Catholic priest criticized them from the pulpit.
Author Plans to Sue Extremist Daniel Pipes
by URI DOWBENKO
Barry Chamish, author of The Fall of Israel, is upset.
"Daniel Pipes is spreading the word on the internet that I'm a Holocaust denier," says Chamish. "This stooge of the Council On Foreign Relations will finally get his when I'm in America and find just the right lawyer to finally make him pay for his lies.
Notorious hatemonger Daniel Pipes has had a long history of wacky behavior. Most recently his so-called CampusWatch has been targeting professors and students that Pipes deems politically incorrect. His demagogic plan is to blacklist anyone who disagrees with his extremist ideas. In another bizarre twist, the rabidly pro-war Pipes has also been appointed to the board of so-called U.S. Peace Institute. [...]
Chamish, an Israeli author of many books, including "Who Murdered Yitzhak Rabin?" The Last Days of Israel, The Fall of Israel, Israel Betrayed, and Traitors and Carpetbaggers in the Promised Land: A Journal of Israel's Betrayal, is understandably angry, since members of his family perished in the Holocaust. [...]
Man arrested after calling police over drug rip-off
A New Orleans man has been arrested after calling police to complain he'd been ripped off trying to trade a microwave oven for crack cocaine.
Joseph Bulot, of Chalmette, was arrested on a charge of possession of drug paraphernalia.
The 32-year-old had showed a sheriff's deputy a crack pipe he said he'd used to smoke what turned out to be fake cocaine.
A sheriff's deputy tested the off-white rock. It showed no traces of cocaine.
Maj. Marcel David, chief of the sheriff's special investigations division, which conducts drugs investigations, said he can't recall anyone ever asking a deputy to look at their drug paraphernalia, initiating their own arrest.
Bodies of Three Miss. Family Members Found

By SHELIA HARDWELL BYRD, Associated Press Writer
March 2, 2004
YAZOO CITY, Miss. - More than two weeks after a family of three vanished on Valentine's Day, authorities found their bodies in a wooded area and charged the father's cousin with capital murder. [...]
Vietnamese Deputy Minister dismissed over rape allegations
A senior government official accused of raping a 13-year-old girl has been dismissed from his post by the Vietnamese Prime Minister, Phan Van Khai, and expelled from the Communist Party.
A Vietnamese newspaper reported Luong Quoc Dung, the Vice-Chairman of the State Committee for Physical Training and Sports, was sacked for what it called his "serious violation of the law." [...]
Teen badly burned in stunt

Global BC
Monday, March 01, 2004
A Lower Mainland teen is in hospital with burns to 85 per cent of his body after trying to recreate a dangerous stunt Friday evening. [...]
He had reportedly seen the stunt performed either on television or in a movie. [...]
Mother recognises 'dead' daughter at party

Philadelphia - A 10-day-old girl thought to have died in a 1997 fire was actually abducted by a woman who set the blaze to cover her tracks, police said. The biological mother contacted authorities after seeing the now six-year-old at a birthday party and recognising the child as her own. [...]

After the DNA confirmation, the child's mother "didn't know whether to cry, to yell or to scream", Officer Manuel Gonzales said. "She just stood in shock. She was just in total shock." [...]
Bacteria Run Wild, Defying Antibiotics
By ABIGAIL ZUGER
The New York Times
Published: March 2, 2004
A new chapter in the continuing story of antibiotic resistance is being written in doctors' offices across the country, as a group of common bacteria rapidly becomes resistant to the antibiotics that have been used to treat them for decades.
The bacteria are called Staphylococcus aureus, or staph for short. Staph are the most common cause of skin infections like boils and can also cause lung infections, bloodstream infections and abscesses in the body's internal organs.

In hospitalized patients, infections caused by antibiotic-resistant staph have been common for years. Among healthy people, though, antibiotic resistance in staph has not been a big problem. Since the 1970's, doctors have routinely, and successfully, treated staph infections in healthy patients with penicillin-like drugs.
Not anymore. Office doctors who follow this practice now may find their patients getting sicker instead of better.
Over the last year, Dr. John Gullett, an infectious disease specialist in Abilene, Tex., has grown accustomed to getting calls for help from local doctors who have used the usual antibiotics to no effect.
One doctor treated a high school football player "built like Charles Atlas" with a standard oral antibiotic for a little boil in the groin. Even though the teenager was the picture of health, the antibiotic did not work.
The boil, caused by resistant staph, grew into an large abscess tracking into the leg, and the patient got sicker and sicker. Only when Dr. Gullett treated him with an intravenous antibiotic generally reserved for desperately ill hospitalized patients did he turn the corner. [...]
Dinosaur impact theory challenged
By Paul Rincon
BBC News Online science staff
Monday, 1 March, 2004, 22:00 GMT
Scientists have cast doubt on the well-established theory that a single, massive asteroid strike killed off the dinosaurs 65 million years ago.
New data suggests the Chicxulub crater in Mexico, supposedly created by the collision, predates the extinction of the dinosaurs by about 300,000 years.
The authors say this impact did not wipe out the creatures, rather two or more collisions could have been responsible.
Instead, they believe a cooling of the global climate shortly followed by a period of greenhouse warming placed enormous stress on the dinosaurs.
This warming could have been kicked off by carbon dioxide released by a massive eruption of lava seen today in the Deccan traps of India. [...]
"When the K-T boundary impact finally came, it hit an already stressed community. To use a cliche, it was the straw that broke the camel's back. Almost anything could have wiped them out at that point," Professor Keller told BBC News Online. [...]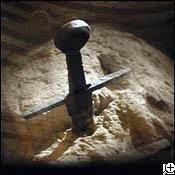 Tuscan 'Excalibur' Mystery to be Unearthed
By Rossella Lorenzi
Discovery News
March 1, 2004 — Archaeological digging might soon unveil the mystery surrounding a sword buried in a Gothic abbey in Tuscany, Italian researchers announced.
Known as the "sword in the stone," the Tuscan "Excalibur" is said to have been plunged into a rock in 1180 by Galgano Guidotti, a medieval knight who renounced war and worldly goods to become a hermit. [...]
March 2, 2004 07:17
By Jonathan Barnes
A MYSTERIOUS circle in the sky had East Anglians scratching their heads last night.
The giant halo was spotted above the region from about 5.30pm yesterday, leaving people wondering if they had just seen a UFO.
A number of readers contacted the East Anglian Daily Times to report the sightings from towns and villages across Suffolk.
EADT designer, Chris Mills, captured the phenomenon on camera from a spot close to Ipswich Railway Station.
"I'd just left the station when I saw a plane in the sky making vapour trails," he said.
"But in front of it, and seemingly much lower in the sky, was a perfectly round cloud - like a halo above the area around the Ipswich Town stadium.
"I had a camera with me, so I took a picture of it. It's either one for the X Files or means the Blues can do no wrong."
Jim Keating, from Fornham St Martin, spotted the giant halo while driving in Bury St Edmunds at about 6pm.
"It was like a vapour trail, but a complete circle and must have been about 20 to 30 metres across. I don't know what it was - I've never seen anything like it before," he said.
Dale Scott also spotted the mysterious ring from his home in Framsden, near Framlingham, and took a couple of pictures on his digital camera.
"It was very strange, like a massive smoke ring in the sky. I've got no idea what it was," he said.
There was speculation whether the halos were rings around the moon, caused by refraction of moonlight from ice crystals in the atmosphere.
Neither EADT weatherman, Ken Blowers, or Roy Gooding, from the Orwell Astronomical Society, could shed any light on the mystery. The National Air Traffic Services could not help either.
But a meteorological officer at Wattisham Airfield said the halo had probably been caused by an aircraft.
"It was a condensation trail that formed an exact circle, which was visible before sunset. We don't think it was a crystal cloud around the sun or the moon," he added.
"We don't think it was anything extra special - it was probably an aircraft having a jolly."
Comment: See our article Mysterious Smoke Rings or When is a Cloud not a Cloud? for other reports of this strange phenomena. You can check out this picture from a ring recently made in Virginia from a vapor trail of a plane, but this one appearance does not explain away other occurrences.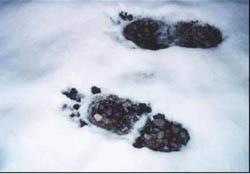 Bigfoot makes appearance in Levittown
Bucks County Courier Times
Stuart Caesar likes to hunt in the wilderness of upstate Pennsylvania.
And over the years, he's heard Native American legends of Bigfoot, the creature that roams the woods rustling sheep and deer, and sometime letting loose terrifying screams.
These sightings occur in remote places like Towanda and Wyalusing and Tioga.
But Caesar believes he has evidence that Bigfoot is stalking Levittown.
He snapped pictures to show doubters.
He says he's a Bigfoot skeptic. Still, he won't dismiss the creature's existence completely, mainly because of his eerie experiences while hunting...
UK fumes as Coke sell 'bottled tap water'

London - The recipe for Coca-Cola is a jealously guarded secret but the main ingredient for Coke's new British drink couldn't be more transparent - London tap water.
Coca-Cola Company spokesperson Judith Snyder said on Tuesday that Dasani, Coke's attempt to tap into Britain's £1-billion-a-year bottled water market, took its raw material from the water mains in Sidcup, South-East London.
But she insisted the water then went through a complex purification process using three filters, including a "state-of-the art" process known as reverse osmosis, before various minerals were added back in to improve taste.
"We put the water through the finest purification processes available, so what ends up in the bottle does not resemble tap water at all. It is as far away as you can get," she said.[...]
Surfer completes 10,407 days on the waves
Ananova.com
March 2, 2004
A man who vowed to surf off the Californian coast every day for 28 years, has finished 10,407 days later.
Dale Webster vowed on Leap Day, February 29, 1976, that he'd surf every day until Leap Day fell again on the fifth Sunday of February.
That meant 28 years of daily surfing until last Sunday - February 29.
About 40 friends, and writers and photographers from surfing publications, surrounded the 55-year-old as he brought his bright red and white board to shore.
He entered the record books in January 2003 after hitting the 10,000-day mark. reports the Arizona Republic.
In order to complete his task, Webster put off marriage for 10 years while his girlfriend, Kaye, now his wife, recorded the daily surfings for posterity. He took low-paying night jobs so his mornings would be free, and he never went on holiday.
He even surfed on his wedding day and the day his daughter was born.
Now he needs ear surgery to remove calcium deposits built up by the relentless exposure to water. His eyes are partially covered with scar tissue from too many years of looking into the sun.
After completing the mammoth task, Webster said: "I'm afraid of not surfing. It's hard to say I'm going to stop or take a vacation. I'd love to, but it's who I am, and to give that up would be really hard."
---
Remember, we need your help to collect information on what is going on in your part of the world!
We also need help to keep the Signs of the Times online.
---

Check out the Signs of the Times Archives

Send your comments and article suggestions to us

---
Fair Use Policy
Contact Webmaster at signs-of-the-times.org
Cassiopaean materials Copyright ©1994-2014 Arkadiusz Jadczyk and Laura Knight-Jadczyk. All rights reserved. "Cassiopaea, Cassiopaean, Cassiopaeans," is a registered trademark of Arkadiusz Jadczyk and Laura Knight-Jadczyk.
Letters addressed to Cassiopaea, Quantum Future School, Ark or Laura, become the property of Arkadiusz Jadczyk and Laura Knight-Jadczyk
Republication and re-dissemination of our copyrighted material in any manner is expressly prohibited without prior written consent.
.