---
We are back online! Expect a new Signs page tomorrow.
---
Thanks to those who wrote and asked if all is well. The Signs headquarters is having the Internet connection reconfigured, and it is taking a bit longer than expected. We will be taking a short break, but we look forward to returning to our daily page soon.
---
We have a few technical difficulties to work out, so there will not be a Signs page on Thursday, but we do have 371 pages in our archives for your perusal.
The question can be asked just who is the Bush Reich not threatening these days? He recently directed a few slurs toward Cuba and a few other nebulous "Latin America rivals". Almost simultaneously, Cheney was in Denver promising "relentless" war, and stating that was a good reason for reelection. Pure madness. Could any of us have imagined a few years ago we would be entirely enveloped in an age where there was war and rumors of war on every corner of this planet? The Bush Regime laughs, and the army announces they are near the "breaking point".
The Bush administration contemplates revising the current plan to turn over power to Iraqis by the summer. It seems the US is now listening to the complaints of Shiite leaders. After meeting with the Canadian PM, Bush decides to allow Canada to bid on Iraq reconstruction projects.
Some days the weird factor kicks in. Police in India are being paid to grow mustaches to give them more authority. People at the Dutch Finance Ministry can no longer wear white socks to work because they "transgress the limits of decent dress behaviour" for ministry employees. American visitors to Rio are being greeted with roses and tee-shirts...after the fingerprinting. German designers have come up with a wallpaper for singles that has a special friend decor, so you'll never be alone again. McDonald's employees in Canada are testing biometric punch cards. In an effort to do their bid in saving the trees, McDonald's is collecting handprints from their employees when they clock in and out.
After the weird factor, we have the S factor, or, how to explain the continued popularity of Bush in the US. We tend to think the polls are fixed, but there are some days when the S factor does seem a distinct possibility. Of course, they are not mutually exclusive.
Debtor's prison returning to the US, terrorist attacks, mild earthquakes, the arctic is a toxic waste dump and death rays.
Bush Attacks Cuba and Other Latin America Rivals
By Kieran Murray
MONTERREY, Mexico (Reuters) - President Bush told Latin Americans on Monday they had a "God-given right" to freedom in a sharp attack on Cuba's Fidel Castro and other rivals in a region where anti-U.S. sentiment is rising. [...]
Cheney touts 'relentless' war on terror
Vice president vows jobs, immigration reform at campaign fundraiser in Denver
By Karen E. Crummy and Kieran Nicholson
Denver Post
Vice President Dick Cheney, touting the administration's achievements at a Denver fundraiser Monday night, promised jobs and immigration reform in the next four years.
But much of his speech at a downtown, $1,000-a-person hors d'oeuvre re-election benefit centered on past and current threats from countries such as Afghanistan and Iraq and the need to keep Americans safe from terrorists.
"We have waged a steady, focused and relentless campaign," Cheney said about tracking down terrorists. "There is only one option - to take the fight to the enemy." [...]
FLASHBACK: Why Are These Men Laughing?
Esquire
January 2003
[...] "It's an amazing moment," said one senior White House official...."Karl just went from prime minister to king. Amazing . . . and a little scary. Now no one will speak candidly about him or take him on or contradict him. Pure power, no real accountability. It's just listen to Karl and everything will work out. . . That may go for the president, too."
[...] "many of us feel it's our duty, our obligation as Americans to get the word out that, certainly in domestic policy, there has been almost no meaningful consideration of any real issues. It's just kids on Big Wheels who talk politics and know nothing. It's depressing. Domestic Policy Council meetings are a farce. This leaves shoot-from-the-hip political calculations, mostly from Karl's shop to triumph by default. No one balances Karl. Forget it."
"There is no precedent in any modern White House for what is going on in this one: a complete lack of a policy apparatus," says [former head of Bush faith-based programs, John] DiIulio. "What you've got is everything and I mean everything being run by the political arm. It's the reign of the Mayberry Machiavellis." [...]
'Dirty bomb' test caught US police napping

13/01/2004
Police officers failed to spot what could have been a "dirty bomb" planted in the heart of Washington, a report by US government investigators revealed today.
A "suspicious package" was positioned at the base of the famous Washington Monument, near the White House, on the second anniversary of September 11.
But police were busy chatting rather than patrolling the area and one officer positioned in an unmarked car appeared to be asleep.
The unpublished Department of the Interior (DoI) report, obtained by the Washington Post and CNN, concluded that there were "persistent and severe" security deficiencies.
The test by the DoI Inspector General's Office was conducted at a time when the US was supposed to be on high alert against the threat of a terrorist attack.
The fear that al Qaida could detonate a radioactive dirty bomb is so great that weapons specialists were sent out to major cities with radiation detectors hidden in briefcases and golf bags during the New Year celebrations.
DU whistleblowers on 9/11 cover-up
The Total Information Analysis Washington bureau caught up this Sunday with U.S. Army Col. Doug Rokke (Ret.), in the Martin Luther King, Jr. Library at an event put on by the DC Antiwar Network. Rokke, a Physics Ph.D., is former Director of the US and International Depleted Uranium Project and the former Army Health Physicist for the Gulf War I Depleted Uranium Team. He spoke about the history and health effects of depleted uranium, explained some of the cover-ups, and brought some interesting film. (Stay tuned to Total Information Analysis for more on that.) We decided to ask Rokke to follow-up on an intriguing report heard in November. RealVideo:
Total Information Analysis: Do you know Joyce Riley, President of the American -- Doug Rokke: Absolutely! TIA: I listen to her radio broadcast a lot, and I heard her mention back in November that either you, or some associates of yours (I forgot) , or both; actually tested the impact site at the Pentagon a few miles from here for depleted uranium and --
DR: I wasn't involved in that --
TIA: [crosstalk] -- got a positive result.
DR: -- but there was a doctor that *did* measure the radiological . . . [turns to audience member] Doc? Would you like to measure and talk about this? Are you willing to, in public? Unidentified scientist: [off-camera] Heh.
DR: Or is it too dangerous?
Anon.: [off-camera] Well, I don't know, I did find --
DR: -- maybe . . . leave it alone, okay? Anon.: [off-camera] Yeah.
DR: [to TIA] Don't turn your camera --
TIA: -- I didn't turn my camera. DR: What I will state: Unless I'm wrong, the radiological contamination at the Pentagon and some distance from the Pentagon was absolutely confirmed, real radiacs, after the impacts on 9/11. Is that correct, ma'am? Anon.: [off-camera] Yes. DR: Yes ma'am, it is. Thank you very much.
TIA: So, can I just follow that up . . . would that seem to indicate that perhaps, maybe a cruise missle with DU ballast is what impacted there, not a Boeing airliner?
DR: Have you ever looked at the photographs trying to find the remains of an airplane?
TIA: Yeah, they dumped gravel down real fast, huh? DR: Ha ha ha...
TIA: Well, alright. . . that's my question. Thanks.
Bush twice tries to mislead America about the economy in 24 hours
Within a span of 24 hours, President Bush twice attempted to mislead the American people about the economy and his tax policies. On Friday, the president said, "Unemployment dropped today to 5.7% [which] is a positive sign that the economy is getting better."
But the president didn't add that the unemployment drop occurred not because the economy was getting better, but because continued weak job growth led 309,000 people to stop looking for work. As one nonpartisan economist said, "Most of these dropouts would still be in the labor force working or trying to work if the economy were doing better,"
The president made no mention that only 1,000 total jobs were created in December - a "shockingly low number," where most economists had expected job growth to be around 100,000 to 150,000 for the month. 33 months after the beginning of the recession, this recovery is distinguished from all previous cycles of job contraction and resumed growth since 1939, according to the Economic Policy Institute, for not having fully recovered job levels to those above the pre-recessionary peak within 31 months from its start.
The following day, the president touted the same economic policies that helped create the unemployment crisis. Despite the bad economic news, he said, "Tax relief has got this economy going again," and bragged, "every American who pays income taxes got a tax cut." His use of the phrase "income tax," however, was tailored to divert attention from the millions of low-income American taxpayers (who pay payroll tax but not income tax) who received nothing. Bush's 2001 tax cut completely excluded 31% of all families in America. Similarly, Bush's 2003 tax cut completely excluded 31% of all taxpayers - including one million children of military families
The S factor explains Bush's popularity
By NEAL STARKMAN
01/05/04: (Seattle Post-Intelligencer) Millions of words have been written as to the motivations of voters. Particularly in close elections, as in the 2000 presidential contest, pundits and laypeople alike have speculated on why people voted for whom. The exit poll has been a major tool in this speculation.
But the speculation misses the mark by far. It's increasingly obvious, for example, that none of the so-called theories can explain President Bush's popularity, such as it is. Even at this date in his presidency, after all that has happened, the president's popularity hovers at around 50 percent -- an astonishingly high figure, I believe, given the state of people's lives now as opposed to four years ago.
What can explain his popularity? Can that many people be enamored of what he has accomplished in Iraq? Of how he has fortified our constitutional freedoms with the USA Patriot Act? Of how he has bolstered our economy? Of how he has protected our environment? Perhaps they've been impressed with the president's personal integrity and the articulation of his grand vision for America?
Is that likely?
Granted, there are certain subsections of the American polity that have substantially benefited from this presidency. Millionaires and charismatic Christians have accrued either material or spiritual fortification from Bush's administration. But surely these two groups are a small minority of the population. What, then, can account for so many people being so supportive of the president?
The answer, I'm afraid, is the factor that dare not speak its name. It's the factor that no one talks about. The pollsters don't ask it, the media don't report it, the voters don't discuss it.
I, however, will blare out its name so that at last people can address the issue and perhaps adopt strategies to overcome it.
It's the "Stupid factor," the S factor: Some people -- sometimes through no fault of their own -- are just not very bright.
It's not merely that some people are insufficiently intelligent to grasp the nuances of foreign policy, of constitutional law, of macroeconomics or of the variegated interplay of humans and the environment. These aren't the people I'm referring to. The people I'm referring to cannot understand the phenomenon of cause and effect. They're perplexed by issues comprising more than two sides. They don't have the wherewithal to expand the sources of their information. And above all -- far above all -- they don't think.
You know these people; they're all around you (they're not you, else you would not be reading this article this far). They're the ones who keep the puerile shows on TV, who appear as regular recipients of the Darwin Awards, who raise our insurance rates by doing dumb things, who generally make life much more miserable for all of us than it ought to be. Sad to say, they comprise a substantial minority -- perhaps even a majority -- of the populace. [...]
US army college attacks Bush terror policy
By Thomas Ricks
The United States' top training institution for military leaders has criticised the Bush Administration's handling of the war on terrorism.
The Army War College accused the Administration of taking a detour into an "unnecessary" war in Iraq and pursuing an "unrealistic" quest against terrorism that might lead to US wars with nations that posed no serious threat.
Its report warns that as a result of those mistakes, the US Army is "near breaking point". [...]
US soldiers kill Iraqi demonstrators
Tuesday 13 January 2004

At least three Iraqi protesters have been shot dead after US occupation soldiers opened fire on a demonstration in the restive town of Falluja.
Medical sources at the town's hospital, west of Baghdad, said five others were seriously wounded on Tuesday, reported our correspondent.
The demonstrators were protesting against US conduct, including increased civilian arrests. Demonstrators are particularly angered by the detention of women, who were accused by soldiers of carrying out resistance attacks against them.
The protest was organised by local clerics. Protesters chanted slogans condemning US forces and demanded detainees should be freed, reported our correspondent.
But Reuters reported that four civilians were killed, including an elderly woman, when US soldiers opened fire for coming under rocket attack.
More protestors injured
Also on Tuesday, seven Iraqis were wounded when US-led occupation soldiers clashed with a crowd of jobless protesters in the southern city of Kut.
US military 'brutalised' journalists
News agency demands inquiry after American forces in Iraq allegedly treated camera crew as enemy personnel
Luke Harding in Baghdad
Tuesday January 13, 2004
The Guardian
The international news agency Reuters has made a formal complaint to the Pentagon following the "wrongful" arrest and apparent "brutalisation" of three of its staff this month by US troops in Iraq.
The complaint followed an incident in the town of Falluja when American soldiers fired at two Iraqi cameramen and a driver from the agency while they were filming the scene of a helicopter crash.
The US military initially claimed that the Reuters journalists were "enemy personnel" who had opened fire on US troops and refused to release them for 72 hours.
Although Reuters has not commented publicly, it is understood that the journalists were "brutalised and intimidated" by US soldiers, who put bags over their heads, told them they would be sent to Guantanamo Bay, and whispered: "Let's have sex."
At one point during the interrogation, according to the family of one of the staff members, a US soldier shoved a shoe into the mouth one of the Iraqis.
The US troops, from the 82nd Airborne Division, based in Falluja, also made the blindfolded journalists stand for hours with their arms raised and their palms pressed against the cell wall.
"They were brutalised, terrified and humiliated for three days," one source said. "It was pretty grim stuff. There was mental and physical abuse."
He added: "It makes you wonder what happens to ordinary Iraqis."
The US military has so far refused to apologise and has bluntly told Reuters to "drop" its complaint. Major General Charles Swannack, the commander of the 82nd Airborne Division, claimed that two US soldiers had provided sworn evidence that they had come under fire. He admitted, however, that soldiers sometimes had to make "snap judgments".
"More often than not they are right," he said.
On January 2 Reuters' Baghdad-based cameraman Salem Ureibi, Falluja stringer Ahmed Mohammed Hussein al-Badrani and driver Sattar Jabar al-Badrani turned up at the crash site where a US Kiowa Warrior helicopter had just been shot down, killing one soldier.
The journalists were all wearing bulletproof jackets clearly marked "press". They drove off after US soldiers who were securing the scene opened fire on their Mercedes, but were arrested shortly afterwards.
The soldiers also detained a fourth Iraqi, working for the American network NBC. No weapons were found, the US military admitted.
Last night the nephew of veteran Reuters driver and latterly cameraman Mr Ureibi said that US troops had forced his uncle to strip naked and had ordered him to put his shoe in his mouth.
"He protested that he was a journalist but they stuck a shoe in his mouth anyway. They also hurt his leg. One of the soldiers told him: 'If you don't shut up we'll fuck you.'"
He added: "His treatment was very shameful. He's very sad. He has also had hospital treatment because of his leg."
Army Issues $15 Billion of Building Deals
By Sue Pleming
January 13, 2004
WASHINGTON (Reuters) - The U.S. Army Corps of Engineers said on Tuesday it had awarded 10 new construction contracts worth up to $15 billion to support fast-changing U.S. military operations in hot spots from Iraq to Afghanistan.
Winning companies included Perini Corp. and units of Fluor Corp, oil services company Halliburton, Washington Group International and privately held engineering giant Parsons Corp.
While much of the work could be done in Iraq, the Corps said the deals were not linked to $18.6 billion in U.S.-government funded reconstruction work in Iraq, which is being handled by the Pentagon-run Program Management Office. [...]
Bush patches up relations with Canada after parting of ways on Iraq
January 13, 2004
MONTERREY, Mexico (AFP) - US President George W. Bush moved to mend fences with Canada over Iraq war strains, after doing the same with Mexico.
As a summit of countries of the Americas neared its close here, Bush said after a half-hour meeting with Canadian Prime Minister Paul Martin that Canada would be able to bid on a new round of reconstruction projects in Iraq. [...]
U.S. May Change Plans for Iraq Handover
By BARRY SCHWEID, AP Diplomatic Writer
January 13, 2004
WASHINGTON - It's back to the drawing board for the Bush administration as it looks for an acceptable way to turn over power to Iraqis by the end of June.
A powerful Shiite leader's objections to parts of the current plan are prompting administration officials to confer both inside the U.S. government and with Iraqi leaders.
The plan may have to be altered, administration officials said Tuesday, on condition of anonymity, after Grand Ayatollah Ali al-Husseini al-Sistani demanded that any agreement to let U.S. forces remain in postwar Iraq must be approved by directly elected representatives. [...]
No concrete Internet proof found
Av Geir Selvik og Carin Pettersson
12.01.04
The United States have accused Mullah Krekar of planning terror actions on the Internet. Norwegian Økokrim confiscated large amounts of recordings of Mullah Krekar's activity on the Internet, but they have allegedly not managed to find any evidence.
Both the US and Patriotic Union of Kurdistan (PUK) claim that Mullah Krekar planned terror attacks both in Northern Iraq and in Europe during the last year. Americans have allegedly stated in internal intelligence reports that they fear that Mullah Krekar gives orders of suicide attacker over the Internet.
TV 2 Nettavisen has earlier revealed that this was one of the main reasons why Økokrim, special unit for financial and computer crime, arrested Mullah Krekar, January 3 of this year.
Confiscated
In connection with the arrest of the Mullah January 3, the police confiscated a number of recordings of Mullah Krekar's speeches on the Internet from the last couple of weeks. According to information provided TV 2 Nettavisen, in connection with the arrest the police got a CD containing other parts of Mullah Krekar's activities on the Internet.
According to several sources, among others in the PUK, Mullah Krekar has several times urged people to carry out terror attacks.
But according to sources TV 2 Nettavisen has interviewed, in the endorsement sent by Økokrim to the Court of Appeals there is allegedly not a single piece of evidence indicating that Mullah Krekar urges people to commit terror actions, or that he had any contact with suicide bombers over the Internet. [...]
Comment: There doesn't need to be evidence to be accused of chatter, and to be used as propaganda in the perpetual war for peace.
'War on terror' grounds flights on the Web
London - Maddening airport check-in delays triggered by security concerns could soon hit online travel reservations as analysts predict a crackdown on Internet air bookings.
Changes are already under way and travellers may eventually need to provide fingerprints before buying tickets online, they predict. [...]
Park Police Bomb Their Terrorism Test
By Richard Leiby
Tuesday, January 13, 2004; Page C01
The Washington Post
In broad daylight on Sept. 11, 2003, somebody deposited what could have been a "dirty bomb" at the Washington Monument. U.S. Park Police never noticed.
It wasn't a real bomb, just a suspicious-looking black plastic bag stuffed with garbage. And the culprits weren't terrorists, but investigators from the Interior Department's Office of Inspector General, out to demonstrate the monument's vulnerability on that infamous anniversary.
As documented in photos and a memo obtained by The Reliable Source, the feds left the bag at the rear of the obelisk for 20 minutes, then moved it near a security checkpoint where tourists lined up to enter the landmark. "Again, the unidentified bag sat there, undisrupted and unnoticed, for roughly 15 minutes," wrote Inspector General Earl E. Devaney in the memo, citing his "grave concerns for the security and public safety at these facilities."
No Park Police could be seen on patrol, except for one in an unmarked car who "appeared to be sound asleep," Devaney wrote. [...]
Comment: Fake security for fake terrorist attacks seems rather appropriate.
Several killed in Bangladesh tomb blast
Dhaka - Bangladesh suspended an annual festival at a Muslim saint's tomb on Tuesday after a bomb killed three devotees and wounded about 50.
Police said two people died instantly when the bomb exploded on Monday night as thousands of disciples sang and prayed at the tomb of Hazrat Shah Jalal. A third victim died later in hospital.
Police and officials said the blast at the 650-year-old tomb in Sylhet town, 300km from the capital Dhaka, was the first act of violence in the pilgrimage spot, and spread panic among the town's two million residents. [...]
Bank of England in the dock over BCCI collapse
By Katherine Griffiths, Banking Correspondent
The Independent
Today, the Royal Courts of Justice will host the opening of a trial unprecedented in British legal history: at stake, the Bank of England's reputation, the honour of three of its former governors, and £1bn of taxpayers' money.
The Bank of England stands accused of lying to the Government and the wider world for nearly 20 years over the notorious collapse of the Bank of Credit and Commerce International. Never before has it been sued. [...]
Men Allegedly Use OnStar To Phone In Bomb Threat
Threat Evacuates Detroit Institute Of Arts
January 13, 2004
Two local men could face prison time after they allegedly phoned in a bomb threat to the Detroit Institute of Arts late Friday morning.
Thomas King, 20, and Jason German, 26, apparently used the OnStar service on a vehicle they were repairing to phone in the threat, according to police.
Police say German talked King into making the call from a car at the auto auction shop where they work.
When an advisor answered, King reportedly disguised his voice in what investigators say was an Arabic-like accent. [...]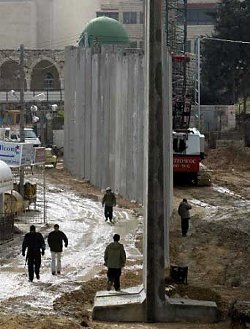 UPDATE: Tears Run as Israeli Barrier Rises Near Jerusalem
By Gwen Ackerman
January 13, 2003
ABU DIS, West Bank (Reuters) - Tearful Palestinians watched cranes lower huge concrete slabs into place at the edge of Arab East Jerusalem Tuesday as the latest sections of a disputed Israeli barrier cut them off from the city. [...]
"It used to take me a minute to get to my mother's house. Now how long is it going to take me to get there?" asked Nadia Ghazali, dabbing her cheeks with a tissue, as she watched the machinery lumber in front of her apartment block. [...]
Last week Israel agreed an extraordinary arms-for-water deal with Turkey. Whether this goes ahead or not, water lies at the heart of Israel's relationship with its Arab neighbours and the Palestinians - and poses some of the toughest challenges for peace in the Middle East. [...]
Former aide's secret tapes 'tie Sharon to illegal election cash'
By Toby Harnden in Jerusalem
The Telegraph
14/01/2004
Ariel Sharon, the Israeli premier, was facing a storm of controversy last night after secret tapes seemed to implicate him personally in illegal foreign contributions to his election campaign.
The tapes placed Mr Sharon, for the first time during a long-running scandal over murky political payments, close to the centre of allegations which his critics hope could lead to him being forced out of office.
But although there were calls from opposition politicians for his resignation, it appeared unlikely that Mr Sharon would step down over the tapes. Nonetheless, even his supporters acknowledged that his credibility had been badly damaged. [...]
Man arrested at DIA in smuggling case
By Karen Abbott
Rocky Mountain News
January 13, 2004
An Israeli accused of illegally sneaking U.S.-made nuclear weapons detonators into Pakistan will be freed from federal custody on bail but will be confined to a rabbi's home in Maryland.
Denver U.S. Magistrate Judge Michael Watanabe ordered the release of Asher Karni, 50, a citizen of Israel who lives in Cape Town, South Africa, after a hearing Monday.
A rabbi arrived from Cape Town on Monday to testify that Karni is a respected member of the Jewish community there. [...]
Ayoon wa Azan (The Impossible)
Jihad Al Khazen Al-Hayat 2004/01/13
During the last few months, I realized that English e-mails I receive from readers of my translated column on the Internet have become equal in number to those I receive in Arabic, which indicates that new readers from all over the world are reading the daily translations of Al-Hayat.
[...] I received two letters of the same sense, thanking me for my opinion concerning the attack of Egyptian minister, and then criticizing my criticism of Ariel Sharon and his government.
Reader Christopher Jonas says that my attack on Sharon puts me in the rank of those who attacked Ahmad Maher, since this attack incites hatred.
I will not apologize, or use fake diplomacy, as my feeling towards Sharon is far beyond hatred, it has reached despitefulness, because he is a war criminal who kills women and children, and extends confrontations where Israeli civilians die. I hold him accountable for their deaths as well. I also hold anyone who supports Sharon's government accountable in participating in the crime, and I think this is a clear statement that I do not take back, or apologize for.
An Attack On Arab Peace And Its Illusions
Marwan Kabalan Al-Hayat 2004/01/13
President Bush had indicated in his speech at the American Enterprise Institute (AEI) dinner that he intends to divert his attention to the Middle East to push forward the peace negotiations between the Arabs and Israelis. He also pointed out that the timing of his proposal came prior to the Arab Summit in Sharm El-Sheik, where the Arabs attending this summit plan to discuss the Iraqi dilemma. Bush also intended to convey to the Arabs that the road to Jerusalem passes through Baghdad. Despite this cynical proposal, none of the Arabs criticized or condemned it. Today, nine months after the fall of Baghdad, many Arabs hope to continue peace negotiations with the Israelis, while others insist on helping the Americans to exert pressure on Sharon, by calling off the Intifada and preparing for the return to the table of peace negotiations. I am sorry to say that Bush' s proposals is nothing but a bluff, and the hope was based on illusions. This is because:
First: Sharon heads the most radical and racist government Israel has ever witnessed. [...]
Second: which is more important, is the fact that the American administration strongly supports Sharon, and this administration did all it can to reelect Sharon by neglecting his aggressive policies against the Palestinians; agreeing to amend the Roadmap and postponing its implementation until after the Israeli elections. The declarations of many of the American officials clearly indicate the total biasness of the U.S. towards Israel and the support that Sharon retains from the current American administration. During the last two years, Bush and Sharon met 7 times; an average of once every three months, knowing that no leader in the world, including Tony Blair, America's staunchest ally, has had that honor. [...]
What will Israel do when the wall fails?
Since it conquered the West Bank and Gaza Strip in 1967, Israel has never intelligently dealt with the dilemma of how to treat the 2.5 million Palestinians it rules in the Occupied Territories. It could either absorb them, as it did with the Palestinian population that remained inside the Green Line after 1948, or it could colonize the Occupied Territories and grant these people a form of second class citizenship. Israel chose the option of colonization ­ and now it has taken colonization to yet greater levels of inhumanity and racism.
As with any colonial system, Israel has resorted to increasingly harsher measures in a bid to discipline the occupied natives and quell their uprisings. The latest in these measures is the separation wall that is being erected around the West Bank. This Apartheid wall, as the Palestinians call it, will eventually surround almost all of the West Bank.
[...] Separation walls are not viable solutions to the serious questions before Israelis and Palestinians. Where does Israel go next on this grizzly path? What will Israel do to control the over a million Palestinian citizens of Israel after it has walled in the Palestinians of the West Bank and Gaza? An electronic fence around Umm al-Fahm and the Arab quarters of Haifa? Barbed wire surrounding most of Galilee? And what does the effective tolerance of this racist wall by the international community say to Palestinians who are asked to choose foreign-sponsored negotiations over armed resistance?
Israel must come to terms with this reality, and realize that good fences make good neighbors, and racist walls engender violent resistance.
U.S.: Israel was negligent in 1967 ship attack
Survivors not satisfied with review's conclusion
From Elise Labott
CNN Washington Bureau
Monday, January 12, 2004 Posted: 9:21 PM EST (0221 GMT)
WASHINGTON (CNN) -- After reviewing documents dating back 36 years, the State Department has concluded that Israel's attack on a U.S. spy ship in 1967 was an act of gross negligence for which it should be held responsible.
[...) James Bamford, the author of a history of the NSA, believes the released tapes suggest the Israelis may have deliberately attacked the Liberty, perhaps fearing -- for some reason not known -- that it was spying on them.
Calling for a formal investigation of the incident, Bamford said, "The Israelis said it was a mistake. Maybe it was and maybe it wasn't.
"There were cover-ups," he added, referring to an affidavit by a retired Navy captain, Ward Boston, who charged that then-President Johnson and Defense Secretary Robert McNamara ordered a Navy inquiry to "conclude that the attack was a case of 'mistaken identity' despite overwhelming evidence to the contrary."
Phil Tourney, who was injured in the attack and is now president of the USS Liberty Survivors' Association, said the association is not satisfied with the "gross negligence" conclusion. Tourney said the survivors were kept from telling their ordeal.
"War crimes were committed by the Israelis that day," Tourney said. "A thorough investigation should be done, and the Israelis should be held accountable."
Tempers flare over US spy-ship inquiry

Guy Dinmore in Washington January 12 2004
Survivors of one of the most hotly disputed incidents in American military history - the Israeli attack on the USS Liberty spy-ship in 1967 - on Monday accused the US authorities, past and present, of a cover-up in backing Israeli claims that it was a tragic mistake.
Emotions boiled over in the basement of the State Department as the Office of the Historian opened a public conference on the six-day Arab-Israeli war with heated debate over newly released intercepts from the archives of the secretive National Security Agency.
Most of the basic facts are undisputed. On June 8 1967, Israeli aircraft and later torpedo boats struck the Liberty just off the Mediterranean coast, killing 34 crew and wounding 172. The ship, one of the world's most sophisticated listening vessels but only lightly armed, limped into port.
From there the controversy begins. An immediate US Navy court of inquiry backed the Israeli claim that it had been mistaken for an Egyptian warship. The US accepted $12m (?9.4m, £6.5m) in compensation.
While some historians have accepted this, survivors and a varied group of academics and former military officials insist the attack was deliberate.
"You're trying to whitewash it," one survivor shouted from the audience as Marc Susser, the State Department's historian, acted as moderator and sought to keep order, refusing to allow speeches from the floor. Even debate on the panel of invited historians descended into acrimony with one contributor accused of being an Israeli agent.
Two recent developments added fuel to the controversy.
Last week Ward Boston, a naval captain who acted as senior legal counsel for the Navy's court of inquiry in 1967, signed an affidavit declaring that the late Admiral Isaac Kidd, president of the court, had told him that President Lyndon Johnson and Robert McNamara, defence secretary, had ordered a cover-up.
And on Monday, David Hatch, the National Security Agency's own historian, elaborated on the recently declassified NSA material, the first time the eavesdropping agency had released real voice intercepts.
Mr Hatch confessed that the information "doesn't settle much". But his analysis of the conversations between an Israeli air controller and two helicopter pilots "suggested strongly" that the Israelis did not know at first they were attacking a US vessel, although there was mention of a US flag flying.
He also regretted that the new NSA material did not clarify why the Liberty had not received orders sent to it to leave a war zone.
Joseph Lentini, a survivor who has spent the past 36 years researching the tragedy, told reporters he remained convinced that the attack was deliberate.
He admits it is hard to understand why the Israelis would want to sink a ship of its closest ally at a time of war. Conspiracy theories abound.
Comment: While we may never know the exact details of the attack on the USS Liberty there is one clear reason why the Israelis would choose to attack a US ship during its war with Egypt. It is the same reason that the US government chose to attack it's own people on September 11th, 2001. It is not a complicated or outlandish theory, in fact, hundreds of years ago Machiavelli went to great lengths to describe the "benefits" of an act of this type. In modern parlance it is known as a "false flag" operation and involves framing your enemy for a crime that he did not commit. The Webster dictionary definition of the verb "to frame" is: a: To devise falsely (as a criminal charge) b: to contrive the evidence against (an innocent person) so that a verdict of guilty is assured.
Berlusconi immunity thrown out
Italy's constitutional court has thrown out a controversial law granting Prime Minister Silvio Berlusconi immunity from prosecution. [...]
How Hospitals Are Gouging and Even Arresting the Uninsured
By The Staff of Democracy Now!
What do the Emir of Kuwait and the working poor of the United States have in common? Not much, except when it comes to paying for health care in the United States. They all pay the highest price: up to 500% more than the hospital receives from insured patients. [...]
A Return to Debtors Prisons
Hospitals in several states have actually had patients arrested and jailed if they are unable to pay their debts. This legal tactic is chillingly known as body attachment. [...]
Ruling goes against Ramsey employee
Former housekeeper barred from printing grand jury testimony
By Charlie Brennan
Rocky Mountain News
January 13, 2004
Plans by John and Patsy Ramsey's former housekeeper to publish a book that would include her grand jury testimony concerning the murder of JonBenet Ramsey were dealt a blow Monday.
Without comment, the U.S. Supreme Court refused to consider Linda Hoffmann-Pugh's free speech- based challenge to a Colorado law that restricts the disclosure of grand jury testimony. [...]
Bush and Blair behind Khadaffy's WMD sham
By ERIC MARGOLIS -- Contributing Foreign Editor
January 11, 2004
MIAMI -- Just before New Year, President George Bush and Britain's PM Tony Blair staged what French call a "coup de theatre."
That's Gallic for pulling a political rabbit from one's hat.
The rabbit in question was none other than Libya's Col. Moammar Khadaffy, once reviled as the world's most dangerous man and America's Enemy Number One.
After eight months of secret negotiations with Washington and London, the eccentric Libyan strongman grandly proclaimed his nation was abandoning its weapons of mass destruction (WMD).
Bush, his neo-conservative supporters, and the U.S. media crowed that Khadaffy's surrender confirmed the wisdom of invading Afghanistan and Iraq. The evil Khadaffy had been cowed into giving up his arsenal of deadly WMD.
Other "rogue" states would hasten to follow Libya's lead.
But on closer inspection, there was much less to this drama than met the eye. Khadaffy, in fact, had no viable WMD, contrary to fevered claims by neo-con propagandists.
According to UN inspectors and European intelligence sources, Libya had only small amounts of World War I technology mustard gas, a primitive battlefield weapon.
Analysis: Bush still trusts his Teflon
By Martin Sieff
UPI Senior News Analyst
WASHINGTON, Jan. 13 (UPI) -- It has been an ironic but probably satisfying few days for President George W. Bush. He has been subjected to a combination punch of what ought to be major embarrassments, yet none of them seem to have cost him any political ground. [...]
Tuesday 13 January 2004, 18:01 Makka Time, 15:01 GMT
The voice and data recorders from a Boeing 727 that crashed in the West African state of Benin on Christmas Day have been sent to France for examination.
Police sources revealed on Tuesday that the black boxes were sent to Paris over the weekend for examination.
A Boeing 727 operated by Union des Transports Africains (UTA), which is registered in Guinea, crashed into the sea on takeoff from Cotonou, the main city in Benin, killing 139 of the 161 people on board.
Uzbek plane crash leaves 37 dead: report
January 13, 2003
MOSCOW (AFP) - A passenger plane crashed near the Uzbek capital of Tashkent killing 37 people, the ITAR-TASS news agency reported.
ITAR-TASS described the plane as an An-24 but an Uzbek emergencies ministry official contacted by AFP said it was a smaller, Yak-40 passenger jet.
Initial reports said the plane was flying from the southern town of Termez on the border with Afghanistan to the Uzbek capital. One report added to the overall confusion concerning the accident, saying the plane crashed upon takeoff. [...]
Europe could go it alone on ITER energy project: Raffarin

PARIS (AFP) Jan 13, 2004
Europe could go it alone on the ITER experimental nuclear fusion reactor project but its hand remains extended to the United States, French Prime Minister Jean-Pierre Raffarin said. [...]
ITER aims to be a test bed for what is billed as the clean, safe, inexhaustible energy source of the future, emulating the sun's nuclear fusion. The project, however, is not expected to generate electricity before 2050. [...]
Mild earthquake jolts area in southwest Yukon
An earthquake with a magnitude of 4.3 jolted an area in the southwestern corner of the Yukon. No damage or injuries were reported.
Minor earthquake strikes Imperial County
CALEXICO, Calif. -A minor earthquake rattled southern Imperial County Monday, but there were no reports of damage or injury, officials said. [...]
Moderate Earthquake Shakes East Taiwan
Tuesday January 13, 2004
TAIPEI, Taiwan (AP) - A moderate earthquake shook east Taiwan on Tuesday, the Central Weather Bureau said, but no damage or injuries were immediately reported.
The magnitude-5 earthquake was centered about 13 miles off the coastal city of Hualien, the bureau said. Hualien is about 90 miles southeast of the capital, Taipei. [...]
The Death Ray is ubiquitous from science fiction to Conspiracy Theory. DR DAVID CLARKE and ANDY ROBERTS review the career of the man who invented it... Or so he claimed. [...]
WHO says bird flu outbreak in Asia would be far worse than SARS
HANOI (AP) - Bird flu that has raced through chicken farms in Asia and killed at least three people in Vietnam could be a bigger problem for the region than SARS, the World Health Organization said Wednesday. [...]
Worsening spam epidemic chokes the net
NewScientist.com
The scourge of junk email reached new proportions at the end of 2003 with nearly two out of every three messages sent worldwide being an unwanted advertisement. [...]
Comment: Yet another excuse that will be used to control the internet.
The Arctic's Inuit are being contaminated by pollution borne north by winds and concentrated as it travels up the food chain.[...]
The bodies of Arctic people, particularly Greenland's Inuit, contain the highest human concentrations of industrial chemicals and pesticides found anywhere on Earth — levels so extreme that the breast milk and tissues of some Greenlanders could be classified as hazardous waste. [...]
If you have suddenly lost your appetite for salmon, don't get too fond of the other options. Trouble is brewing for all farmed seafood.
Dutch teacher shot in the head by student
Associated Press
The Hague — A high school student walked into his school's crowded cafeteria and shot his biology teacher point-blank in the head Tuesday, badly wounding him.
The shooting came as a shock to many in this country, where gun violence is rare.
Two students arrested in Columbine-style plot
Students admit some of it, but claim it was 'a joke'
Tuesday, January 13, 2004 Posted: 12:40 PM EST (1740 GMT)
DUTCHTOWN, Louisiana (AP) -- Two high school students were arrested and accused of creating an elaborate plan to re-create the bloody Columbine High School massacre on its five-year anniversary in April.
Christopher Levins, 17, of Prairieville and Adam Sinclair, 19, of Geismar were each booked Monday with one count of terrorizing -- a felony punishable with up to 15 years in prison, Ascension Parish Sheriff Jeff Wiley said.
"This is not just a case of kids just talking to be cool," Wiley said. "These students had plans all worked out."
Is Big McBrother invading workplace privacy?
By GRAEME SMITH
Globe and Mail Update
WINNIPEG — To a regular customer, the McDonald's restaurants in Winnipeg give no hint that they're testing controversial new devices for monitoring employees.
[...] Biometric devices -- machines that identify fingerprints, hands, eyes or faces -- were once used mainly for security at places like nuclear plants. But the devices are getting cheaper and catching the interest of business owners from small fish-processing plants to multinational burger chains.
Hundreds of McDonald's workers in Winnipeg now begin each shift by placing their hand on a scanner that confirms their identity and records the exact moment when they arrived at work. They finish each day with another scan.
The company began the pilot project a year ago with two restaurants, and has since expanded it to 22 locations. Two types of scanners are being tested: one that examines handprints, and another that looks only at thumbprints.
It's too early to know whether the scanners will replace time clocks in all 1,300 McDonald's restaurants in Canada, spokesman Ron Christianson said. The idea is to eliminate paperwork by connecting the scanners directly to the payroll department, he said, but declined to give details about the system.
"We don't normally talk about our tests, so there's not any information we can provide about how it's working," Mr. Christianson said. "We work in a very competitive environment, and this is just a way to make things more efficient."
Jorn Nordmann, president of S.M. Products, was more blunt about why he installed a hand scanner at his fish-processing plant in Delta, B.C. "If you want to control a whole bunch of people, it's the only way to go," he said.
Comment: These people can always find the softsoap sell to get this kind of technology "accepted." Employers "buddy punch" so that one guy punches a friend's time card. That's stealing, right? So just put in biometrics! Step by step the society gets used to being controlled, herded, expected to give up any privacy. If it isn't for Homeland Security, it will be for punching in at work.
Do you think they'll every put them on the executives' offices?
Pretty soon they'll be putting these things everywhere (except the executives' offices...), once the price point gets low enough. You won't be able to lend a car to a friend. But then, do you really know your friends well enough to let them borrow your car?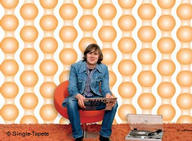 Never Alone Again?
Living alone can be a real drag. Then again, so can having a roommate. They leave dishes in the sink, play earsplitting music and they always seem to want to watch the wrong TV programs.
Two young German interior designers think they've come up with the perfect solution: two-dimensional wallpaper roommates. They're always there with a friendly smile, but minus the unpleasant side-effects of actually having to share an apartment with a real person.
Comment: Say hi to your new, special friend. When the CIA gets done with him, he'll have working eyes and ears.
www.chinaview.cn 2004-01-13 10:15:05
BEIJING, Jan. 13 (Xinhuanet) -- Never say you are at a meeting when you're talking to your girlfriend on a cell phone, and remember to delete messages that might arouse your wife's suspicion.
Those are some of the tips you'll get if you watch a new hot film in China called "Cell Phone."
[...] The film starts when Yan Shouyi accidentally leaves his cell phone at home. Unfortunately, his lover Wu Yue calls. His wife picks up the phone, and a family crisis follows.
Yan's mobile sings frequently with a gentle voice saying, "You have an incoming call." It is the voice of his lover.
[...] The film has inspired many women to check their husbands' or boyfriends' cell phones to make sure they're not carrying on an affair.
According to the Beijing Daily, a young couple in Tianjin got into a fight after watching the movie. The wife, pressing her husband to check the short messages, was hospitalized after the annoyed man hit her on the head with the phone.
Rio sweetens fingerprinting pill with roses
By Andrei Khalip
Tue 13 January, 2004 19:10
RIO DE JANEIRO, Brazil (Reuters) - Americans flying into Rio de Janeiro have been greeted with roses and souvenir T-shirts, the city's way of courting travellers unhappy about being fingerprinted and photographed in Brazil's tit-for-tat response to new U.S. immigration rules.
The charm offensive featured smiling young women working for a city which relies on tourists for much of its revenue and has a reputation for an easy-going beach scene and exotic nightlife rather than customs officials wielding ink pads.
Americans arriving on flights from New York and Miami received red roses and "Rio Loves You" T-shirts after standing in long, slow-moving lines to get fingerprinted.
White socks taboo at Dutch ministry
Tue 13 January, 2004 11:58
AMSTERDAM (Reuters) - White socks have been declared indecent by the Dutch Finance Ministry.
A ministry official on Tuesday confirmed a recent internal publication that proclaimed white sports socks "transgress the limits of decent dress behaviour" for ministry employees.
The officials were also expected to wear dark blue or grey suits in order to convey "reliability and professionalism".
"People are expected to dress in accordance with their function," said a spokeswoman, stressing there were no strict controls.
Police offered money to grow moustaches
Tue 13 January, 2004 05:03
NEW DELHI (Reuters) - Police in northern India are being paid an extra 30 rupees (36 pence) a month to grow a moustache to give them more authority, a newspaper has reported.
Mayank Jain, a superintendent with the Madhya Pradesh state police, told The Asian Age on Tuesday that research showed that police with moustaches were taken more seriously.
However, he added, the shape and style of police moustaches would be monitored to ensure they did not take on a mean look.
One-eyed goat draws stares from amazed locals
Even more astonishing was the fact that the single eye looked uncannily human.
---
Remember, we need your help to collect information on what is going on in your part of the world!
We also need help to keep the Signs of the Times online.
---

Check out the Signs of the Times Archives

Send your comments and article suggestions to us

---
Fair Use Policy
Contact Webmaster at signs-of-the-times.org
Cassiopaean materials Copyright ©1994-2014 Arkadiusz Jadczyk and Laura Knight-Jadczyk. All rights reserved. "Cassiopaea, Cassiopaean, Cassiopaeans," is a registered trademark of Arkadiusz Jadczyk and Laura Knight-Jadczyk.
Letters addressed to Cassiopaea, Quantum Future School, Ark or Laura, become the property of Arkadiusz Jadczyk and Laura Knight-Jadczyk
Republication and re-dissemination of our copyrighted material in any manner is expressly prohibited without prior written consent.
.