---
Picture of the Day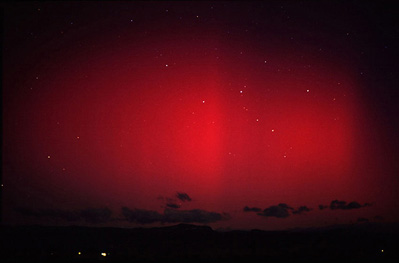 Cassiopia Aurora
©2004 Pierre-Paul Feyte
Today is a sad anniversary. Two years ago, the first prisoners were brought to the prison at Guantanamo Bay. Some of the 660 mainly Muslim people are children. They are held without rights, without legal representation, without any charges being brought against them. The harsh treatment meted out to these victims of a phony war has created enmity in the Arab and Moslem world. Bush wants this hostility. He is sowing discord so that he, like his good friend Ariel Sharon, can blame the victim when the victim gets frustrated, then mad, then very angry, and decides to fight for his rights and defend himself against the psychopaths in power.
The victims may also fall prey to other psychopaths, the mirror images of those in Washington and Tel Aviv, who harvest the crops sown by Bush and preach endless war against the West. It is a deathly spiral leading to the destruction of all involved, and to the spectators as well.
But we knew that already, didn't we.
Brace yourselves, good people of the USA. The federal government wants your DNA.
The Bush Regime's plans for perpetual war are working as planned. North Korea's regime opens it doors and invites US inspectors to view its "nuclear deterrant". Whether it will be enough to deter the warlords in Washington remains to be seen. More than likely, a game theory scenario was run through one of the US terrorist agencies computers, revealing exactly how to push Korea into war.
There is much speculation on Sharon's new strategy announced in December: his "unilateral action" to declare a new Palestinian apartheid state with the walls of the new prison he is erecting. Some are worried he will provoke a civil war between the Jews who are ready to settle for 58% of the West Bank and the "extremists" who want it all.
But we knew that already, didn't we.
Former Treasury Secretary Paul O'Neill tells us in his new book that the plans for offing Saddam began in the first days of the Bush Reich's taking of power in January 2001. (Do you remember those days, when the headlines were Enron, WorldCom, Bush's ineptitude and cronyism, Cheney's secret energy plan elaborated with his friends in the oil and gas industry, energy shortages in California?) What a difference a "Pearl Harbor" can make.)
But we knew that already, didn't we.
Chris Floyd gives us a history lesson: the ruling elite have no moral qualms about bombing civilians, as long as they come from the "lower orders."
But we knew that already, didn't we.
Bush congratulates the new President of Georgia on carrying off the coup, while the Pentagon informs Germany that US troops will be leaving their German bases to better encircle the Russians and cut them off from the rest of the world. A right wing group in Britain is sending letter bombs to British politicians who are too friendly with immigrants, Denmark finds some old Iraqi weapons left over from the Iran-Iraq war. Did the blister gas in them come from the US? We doubt that will be a question asked of "Saddam" should he ever get to trial.
Cuba is cracking down on Internet use. Half of the world's population will vote this year. If you live in Canada, cold weather just means it's winter. Yet another volcano erupts, the third one with in the last few days. We end today with a look at the human condition.
Guantanamo condemned two years on
By Jannat Jalil
BBC correspondent in Washington
Human Rights Watch has denounced the US Government for continuing to hold prisoners without charge at its base at Guantanamo Bay in Cuba.
Two years after the detention camp was set up the 660 detainees do not know what their alleged crimes are, the New-York-based group said.
Neither do they know whether they will be ever released or charged, it added.
The Bush administration has declared the detainees to be unlawful enemy combatants in its war on terrorism.
The administration says it can continue to hold them without the international legal rights normally accorded to prisoners under the Geneva Conventions until this war is over.
[...] Most of the detainees were captured more than two years ago during the US led war in Afghanistan.
The United States has alleged they are part of the al-Qaeda network.
But Human Rights Watch says some of them are probably just civilians and at least three of the detainees are 15 years old or younger.
It says an undisclosed number who are 16 or 17 years old are being held with adults at the camp.
There has been broad condemnation by international human rights groups, judges and lawyers.
Comment: The first detanees were brought to this prison two years ago today. How different a world it was then. The Bush Reich was putting into place its first moves towards the military state. According to the Bush Reich, these prisoners can be held "until this war is over." What war is this? The "war against terrorism." The leaders of the Bush Reich have been clear that this war is not like other wars, it is not a war that will end this year, or next year. This war is a new way of life, a war without a foreseeable end because the goals are abstract, elusive, and can be changed at any time, according to the mass propaganda machine of the war mongers. So the prisoners at Guantanamo Bay may spend the rest of their lives on this little bit of fascist America in Cuba.

Orange Jumpsuits for the Bush Clan
by Mike Whitney
1/10/04
"Fishmongers sell fish; warmongers sell war" Sir Rodric Braithwaite
[...] If Henry Kissinger and Robert MacNamara were ensconced in an 5 by 7 ft. windowless cell in Guantanamo Bay, only to make monthly appearances in front of the world media in their orange jumpsuits (in leg-irons and shackles); we would not be at this juncture today. The crimes of Viet Nam were never answered. We cannot allow that to happen again.
Comment: There is always the possibility that Bush will be set up with crimes that he has actually committed. He is just a dupe, who is so dirty, he can be removed whenever he and his buddies aren't playing right.
ACLU readies for possible reality of Patriot Act II
By VINCE DEVLIN of the Missoulian
Legislation could include power to take DNA samples from citizens
Say you're pulled over for a traffic violation - maybe your tail light is out. The officer asks to see your license and registration, and either issues a citation or a warning.
And then he or she runs a cotton swab through your mouth to collect a sample of your DNA for the federal government.[...]
Comment: All the better to know who will be affected by ethnic specific weapons.
The fact that U.S. intelligence agencies can't tell terrorists from children on passenger jets does little to inspire confidence.
THEY OWN YOU WITH A TWIST ON THE ROCKS
Jon Rappoport
No More Fake News
JANUARY 10, 2004
The BUSINESS WIRE has released an article about a new gene patent. Elixir Pharmaceuticals has won it.
The patent, get this, "covers the discovery of a defined region on chromosome 4 that is implicated in conferring extreme human longevity."
Elixir states, "The issuance of this patent and our identification of a specific gene capable of modulating lifespan underscore the success of both Elixir's licensing strategy and our internal discovery efforts."
You mean THEY own a part of YOU that they think controls your lifespan?
THAT'S RIGHT.
Believe it, don't believe it, it just happened...
Firefighters' 9/11 Tapes Ordered Released -- Unedited
SAMUEL MAULL
NEW YORK (AP) -- An appeals court has ruled that the Fire Department cannot edit out statements about emergency workers' personal feelings when it releases documents and audiotapes showing the response to the 2001 terrorist attacks.
The State Supreme Court's Appellate Division partially reversed a lower court ruling that directed disclosure of the firefighters' and emergency workers' oral histories, but ordered the removal of their personal expressions of feeling, opinions and recommendations. [...]
The appeals court ruled in response to a request by The New York Times to obtain tapes of 911 calls made from the World Trade Center on Sept. 11, as well as firefighters' internal interviews following the attacks.
Lawyers for both the Times and the city said they were considering appeals. There is no timetable yet for when the city might release the records.
Comment: Why is everyone so loyal to the Bush Reich? Why is there not more outcry regarding the censorship of 9/11 data? This suit from the New York Times is probably a mere publicity stunt in an attempt to downplay their complicit cooperation with the current US regime. The Times' track record of working for the US government has been well documented by Noam Chomsky. Don't forget the Times buried the first stories of the Holocaust, and did not even consider that atrocity front page news. If there is any worthwhile data on those tapes, it is going to the place that will play just the right spin.
Two Palestinians killed in West Bank as Arafat considering new Mid-East initiative
11-01-2004,10 :23
A Palestinian teenager was killed Sunday when Israeli troops opened fire on stone-throwing demonstrators in a town west of the West Bank city of Nablus, Palestinian medics said.
[...] Meanwhile, senior Palestinian sources told a Kuwaiti daily in comments published Sunday that President Arafat is working on a new political initiative.
According to al-Qabas, in his new plan, Arafat is expected to call on holding an international conference, similar to that held in Madrid in 1991 that eventually led to the Oslo accords two years later.
The sources further said the new conference would reflect the opening of the final status negotiations in order to break the current cycle of violence between Israel and the Palestinians.
Following the approval of his plan by the Palestine Liberation Organization (PLO), the Palestinian Authority will submit it as an official proposal to the next Arab summit, due to be held in March in Tunisia. It should be recalled that the Madrid conference marked the end of the first Palestinian uprising.
On Saturday, Arafat asserted during the Palestinian leadership meeting that the Palestinians have the right to declare an independent state on the lands occupied by the Israeli forces in1967 , with Jerusalem as its capital based on the international legitimacy resolutions.
The meeting, which included members of the Executive Committee of the PLO and representatives of the various Palestinian factions, and was headed by President Arafat, demanded that international forces or international monitoring teams be dispatched as soon as possible to protect the Palestinian people and the dwindling peace process, IPC reported.
Israel to annex parts of West Bank if Palestinians declare state: minister Danny Naveh
JERUSALEM, Jan 11: Israel would react to any Palestinian declaration of independence by formally annexing parts of the occupied West Bank, Health Minister Danny Naveh said today. "Our message is clear: if the Palestinians unilaterally proclaim an independent state, Israel will annex parts (of the West Bank) that it judges essential to its security," Naveh told public radio.
Israeli settlements: nascent fears of civil war
BEIRUT: Israeli Prime Minister Ariel Sharon was famous for his daring and ruthlessness as a combat general, always doing the unexpected against his Arab foes, often at considerable cost in the lives of his men. But he always won. Next month he faces a new adversary, far-right hard-liners in his Likud party, in a potentially cataclysmic showdown over his plans for a unilateral withdrawal from some Palestinian territory.
[...] While the details of Sharon's strategy remain vague, the military has drawn up a list of 28 "unauthorized outposts" in the West Bank that will be torn down under the US-backed peace initiative known as the "road map" to which Sharon, who a few weeks ago was happily wrecking it, now embraces with the intensity of a drowning man clutching at straws.
The 28 outposts ­ most of them clusters of trailers or metal shipping containers, some not even inhabited ­ are viewed by Palestinians and many Israelis as pawns that Sharon can surrender in cosmetic exercises to keep the Americans quiet. The 28 represent only a fraction of the 100 outposts Sharon promised George W. Bush in June that he would remove.
But those hilltop outposts have become the central issue in an ideological confrontation that could ignite the smoldering far right and bring about one of Israel's worst nightmares ­ Jew fighting Jew. So it is not surprising that as the settlements becomes the focus of the Israeli-Palestinian conflict, with all the upheaval it threatens to cause to both sides, many Israelis ­ mainly of the political left and center, but not exclusively ­ now openly discuss a prospect that once was only whispered.
[...] In the West Bank, the Israelis have used an archaic old Ottoman statute in which private land that is unworked for three years can be claimed by the state. Since 1967, Israel has invoked this law to take over 60 percent of the West Bank, including the best agricultural land and water sources.
Comment: There is something going on beneath the surface here. History shows us that certain Jews have always been willing to sacrifice other Jews for the sake of Greater Israel. The Zionists had no qualms leaving those Jews who did not wish to relocate to Palestine in the hands of the Nazis. There is evidence to suggest that Zionists were responsible for placating Jews in the concentration camps and then leaving them to their fate. Jews who speak out against the genocide of the Palestinians are subjected to hate mail campaigns from other Jews.
Sharon himself, as the article states, was willing to sacrifice lives against a final victory in battle. The question is, what is the final victory he is seeking today?
U.S. shares Israel's concerns about Hague fence talks
By Aluf Benn and Arnon Regular
Haaretz
The U.S. is privy to Israel's concerns about the upcoming discussions on the security fence at the International Court of Justice (ICJ) in The Hague. American officials believe these anticipated discussions will set a negative precedent, and politicize international law.
The U.S. government is currently considering its steps on the international court hearings. It is leaning toward submitting a brief of its position on the case, and perhaps even taking part in the discussions, Israeli sources say. [...]
For its part, the Palestinian Authority has retained international legal authorities to represent its opposition to the fence at the international court discussions. [...]
The hearings "would create a bad precedent," Israeli officials insist. [...]
Comment: Yep, The US and Israel certainly do not want a precedent set in trials that involve crimes against humanity, war crimes and apartheid. The US is once again proving their support for Israel. The media is often complicit in these crimes, usually neglecting that little fact that being Jewish does not automatically equal full support of Sharon's policies.
FLASHBACK: A Diaspora Divided
By Arthur Neslen in London
Shock waves from the continuing carnage in the Middle East are increasingly dividing the Jewish diaspora, and the rifts are becoming ugly.
Aljazeera.net has uncovered evidence of an anti-Semitic hate mail campaign against Jewish peace activists in London, which involves rabbis and at least one respected Israeli literary figure. [...]
Stop Sharon before his subjugation plan succeeds
Recently at a conference in Herzliya, Israeli Prime Minister Ariel Sharon declared that if the Palestinians did not soon take significant steps to curb "violence," he would begin a unilateral "separation plan" to disengage entirely from negotiations with the Palestinian Authority.
The ultimatum represented the summation of the Israeli government's skillful media strategy throughout 2003. Sharon is testing the waters, daring to say out loud what he has been working toward throughout his time in office: the consolidation of Israel's illegal seizure of 58 percent of land in the West Bank and Gaza Strip, and with it the total subjugation of the Palestinian people.
[...] Yet the Palestinians find themselves in a situation unique in modern politics: They are an occupied people held responsible for the security of their occupiers. The Palestinians' legal right to oppose Israeli hegemony has been turned against them by Sharon's presentation of the conflict as one between equally matched military forces, and by the almost unconditional support he receives from many powers, in particular the United States.
The muted response from the international community to Sharon's announcement will have only emboldened the prime minister.
Some Iraqis see Saddam's PoW status as deal with U.S. to hide past relationship
04:28 AM EST Jan 11
HAMZA HENDAWI
BAGHDAD (AP) - Iraqi officials expressed fear Saturday that a Pentagon decision to declare Saddam Hussein a prisoner of war will prevent them from putting the ousted dictator on trial. The international Red Cross, however, said PoW status does not preclude a war crimes prosecution.
U.S. officials in Baghdad sought to assure Iraqis that no deal was made to keep them from trying the ousted dictator for war crimes and crimes against humanity.
Iraq will have a "substantial leadership role" when the former leader faces trial, said Dan Senor, a spokesman for the U.S.-led occupation authority.
Comment: We wonder whether this "substantial leadership role" will be comparable to the "substantial leadership role" the US has given the Iraqis in rebuilding their occupied country. The paternalism of the Americans is outrageous.
Iraqi protesters shot dead in Amara
Sunday 11 January 2004
A confrontation between police and demonstrators in the south eastern Iraqi city of Amara has left at least seven people dead.
Hospital and police sources said six people were killed on Saturday after Iraqi policemen opened fire on a group of stone-throwing protesters.
Another Iraqi was shot and killed by a British soldier.
The Iraqi police opened fire after protesters, who were demanding jobs, began throwing stones at the headquarters of the provincial government in the city. Another seven people were injured.
Saturday 10 January 2004

The US-occupation army in Iraq has been slammed by a human rights group for being negligent in handing out compensations for Iraqis killed or injured by them.
Occupation Watch, an international group of peace and justice organisations set up to monitor the conduct of occupying forces in Iraq, said the process for Iraqis to make claims was purposely opaque and often their treatment by the US military bordered on cruelty.
"There is a culture of impunity," Occupation Watch's researcher Paola Gasparoli said on Saturday.
"Many of the most important cases cannot be presented or are being rejected for entirely illogical reasons," she said.
Unkept promise
After major combat was declared over on 1 May, the US military said it would hear claims from Iraqis whose family members were killed or wounded in incidents involving US troops as long as they took place in non-combat circumstances.
According to Human Rights Watch, the US military received nearly 5400 claims as of mid-September, of which 4148 had been adjudicated and 1874 denied.
The US claims it has paid out several million dollars in compensation.
But Occupation Watch insists the claims process lacks clarity.
"Many of the most important cases cannot be presented or are being rejected for entirely illogical reasons"
"Sometimes soldiers know they have killed someone wrongly, so they do everything to make sure they get away with it," Gasparoli said.
Japan Starts Controversial Deployment To Iraq
Advance Team Could Pave Way For Nation's Largest Deployment Since WWII
TOKYO -- Japan's defense chief on Friday ordered an advance team of ground troops to leave for Iraq as the military began final preparations for a humanitarian operation that will be its biggest and most controversial overseas deployment since World War II.
As Japan prepares to send ground troops to Iraq, U.S. Marines stationed on the southern Japanese island of Okinawa are also preparing to ship out to Iraq to replace U.S. troops returning home. [...]
Possible Iraqi chemical weapons found - Denmark
www.chinaview.cn 2004-01-11 13:41:47
Beijing, Jan. 11, (Xinhuanet) -- Danish troops have found dozens of mortar rounds buried in Iraq which chemical weapons tests show could contain blister gas, the Danish army said on Saturday.
The initial tests, which have yet to be confirmed, were taken after Danish troops found 36 120mm mortar rounds on Friday hidden in southern Iraq. The Danish army said the rounds had been buried for at least 10 years.
[...] Blister gas, an illegal weapon which ousted Iraqi leader Saddam Hussein said he had destroyed, was extensively used against the Iranians during the 1980-1988 Iran-Iraq war.
[...] "Most were wrapped in plastic bags, and some were leaking," Brigadier General Mark Kimmitt told a news conference, adding that it was likely the weapons were left over from the Iran-Iraq war.
Comment: Who was supporting Saddam during the Iran-Iraq war? Surprise! The same folks who invaded Iraq last year because he was such a "treat." Mustard gas has been a staple of the West. It was used by both sides during World War One.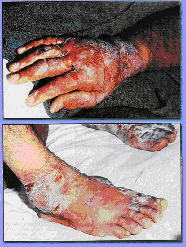 Effects of lewisite on the skin. Lewisite can also be inhaled.
FLASHBACK
The Introduction from the book Rogue State: A Guide to the World's Only Superpower
by William Blum
Common Courage Press, 2000
[...] Let's have a short look at some modern American history, which may be instructive. A congressional report of 1994 informed us that:
Approximately 60,000 military personnel were used as human subjects in the 1940s to test two chemical agents, mustard gas and lewisite [blister gas]. Most of these subjects were not informed of the nature of the experiments and never received medical follow up after their participation in the research. Additionally, some of these human subjects were threatened with imprisonment at Fort Leavenworth if they discussed these experiments with anyone, including their wives, parents and family doctors. For decades, the Pentagon denied that the research had taken place, resulting in decades of suffering for many veterans who became ill after the secret testing.
Comment: The attitude of the US military brass was not much different than that of Churchill discussed by Chris Floyd below. As long as the victims... er, testees were from the "lower classes," this kind of experimentation is OK. This, of course, belies another of the great American myths, that there is no class structure in the US, and that "We are all Americans." Patricians like the Bushes will trot out such clichés when it is time to send the poor, the Blacks, the Latinos, the sons of the working class off to war. How useful it is for the upper class, the rich, the military-industrial elite, that the "lower orders" in the US have bought into this propaganda. The war machine continues being fed, war after war after war.
Former Treasury Secretary claims Iraq war planned in 2001
Jan. 10, 2004
CBSNews
The Bush Administration began making plans for an invasion of Iraq, including the use of American troops, within days of President Bush's inauguration in January of 2001 -- not eight months later after the 9/11 attacks, as has been previously reported.
[...] "From the very beginning, there was a conviction that Saddam Hussein was a bad person and that he needed to go," he tells Stahl. "For me, the notion of pre-emption, that the U.S. has the unilateral right to do whatever we decide to do is a really huge leap."
O'Neill, fired by the White House for his disagreement on tax cuts, is the main source for an upcoming book, "The Price of Loyalty," authored by Ron Suskind.
Suskind says O'Neill and other White House insiders he interviewed gave him documents that show that in the first three months of 2001, the administration was looking at military options for removing Saddam Hussein from power and planning for the aftermath of Saddam's downfall -- including post-war contingencies such as peacekeeping troops, war crimes tribunals and the future of Iraq's oil.
"There are memos," Suskind tells Stahl, "One of them marked 'secret' says 'Plan for Post-Saddam Iraq.'"
A Pentagon document, says Suskind, titled "Foreign Suitors For Iraqi Oilfield Contracts," outlines areas of oil exploration. "It talks about contractors around the world from...30, 40 countries, and which ones have what intentions on oil in Iraq," Suskind says.
In the book, O'Neill is quoted as saying he was surprised that no one in a National Security Council meeting questioned why Iraq should be invaded. "It was all about finding a way to do it. That was the tone of it. The president saying 'Go find me a way to do this,'" says O'Neill in the book.
Saddam's ouster planned before Sept. 11: US official
www.chinaview.cn 2004-01-11 08:27:37
WASHINGTON, Jan. 10 (Xinhuanet) -- Former US Treasury Secretary Paul O'Neill says Washington began making plans for an invasion of Iraq within days of President George W. Bush's inauguration in January 2001, eight months before the Sept. 11 terrorist attacks.
[...] Suskind told CBS that O'Neill and other White House insiders gave him documents indicating that in the first three months of 2001, the administration was looking at military options for removing Saddam from power and planning for the aftermath of his downfall.
A Pentagon document titled "Foreign Suitors For Iraqi Oilfield Contracts" outlines areas of oil exploration, Suskind said. "It talks about contractors around the world from...30, 40 countries and which ones have what intentions on oil in Iraq."
Comment: And the plan they came up with? A phony "terrorist" attack on the World Trade Center and the Pentagon, the new "Pearl Harbor" envisaged by the neocons at the PNAC, that would galvanize American public opinion in an instant. They came up with a plan so outlandishly fiendish that no one would question the origin as being "Islamic terrorists."
And it worked.
The world is a different place today than it was three years ago. We do not doubt that there are real "Islamic terrorists" out there plotting against the US, but how many of the operations blamed on Islam are the work of the mortal foes of Islam? Since the WTC attacks, the situation of Arab countries has deteriorated. The situation of Moslems and Arabs in the West has deteriorated. The people of the West have been programmed to react to Moslems and Arabs with a mechanical and automatic response: "Arab = violence, "Islam = Violence." This has been pounded into our heads day and night for years by the media.
Yet during that time, the Israelis have been killing the Palestinians daily. When the Palestinian militant groups called a cease-fire this summer, it was the government of Sharon that broke it, provoking the Palestinians into retaliation.
Since the first Gulf War, over one million Iraqis, mostly children, died because of the UN sanctions on the country. Christians and Jews killing Moslems.
And it didn't start then, as the following article points out.
By Chris Floyd
Entertain conjecture of a national leader, in the midst of a ferocious war, plotting to drop tens of thousands of anthrax "superbombs" on the civilian population of his enemy. At his order, his generals draw up a detailed plan for a chemical attack on six major cities: they estimate that millions will die immediately "by inhalation," with millions more succumbing later through skin absorption of the poisons.
In the end, the leader is thwarted by objections from his aides and allies. To assuage his frustration, he launches another pet idea: "Operation Thunderclap," a massive conventional bombing raid on the enemy's capital, also aimed at civilians, designed to "castrate" the enemy population. In a single night, allied forces kill 25,000 people, almost all of them from the city's working class and poorest districts.
Emboldened, he presses for yet another feast of fire and death. He gets it: a bombing raid on a non-military target, a cultural center, a city glutted with refugees, slave laborers and prisoners of war -- his own soldiers and those of his allies. The raid kills 35,000 people or more; no one knows for sure, because the city is completely pulverized -- and is bombed again immediately afterward, with special high explosives, in an attempt to kill any survivors hiding in the ruins.
A portrait of Saddam Hussein, at the height of the murderous Iran-Iraq war? No, it's Winston Churchill, whose shadow looms so large over the carnage being conducted by his historically ignorant successors in the Anglo-American "coalition." Churchill has long been anointed a secular saint by the chewed cud of received wisdom, especially in America, although those who knew him best seemed to like him least -- he was booted out of office by his own people not once but twice: the first time before the end of World War II (which we are now told he won almost single-handedly).
As journalist Mike Davis reports in his book, " Dead Cities," Churchill's plan to blanket Germany with 40,000 anthrax bombs was narrowly averted by Franklin Roosevelt. But Winston was allowed to wield his more conventional "thunderclaps" on the civilians of Berlin and then Dresden. Finally, the once-reluctant Americans succumbed to his policy of "terror bombing" and launched "Operation Meetinghouse," the firebombing of Tokyo that killed more than 100,000 civilians in a single night. Although American war planners called the raid "nothing short of wonderful," it was, in some respects, a disappointment: they had originally planned a six-city extravaganza with the carefully calibrated target of 584,000 civilian fatalities.
Oddly enough, these attacks were launched over the strenuous objections of some of America's most battle-hardened military brass, Davis notes. Air Force General George McDonald railed against "indiscriminate homicide and destruction," which "repudiates our past purposes and practices." War Secretary Henry Stimson warned, "We don't want the United States to get the reputation of outdoing Hitler in atrocities." Major General Laurence Kuter declared "it is contrary to our national ideals to wage war against civilians."
These honorable stances cut no ice with Churchill (or Roosevelt, in the end). Of course, the pendulously jowled prime minister was a mass-destruction fan from way back. In 1919, Churchill called for airborne chemical assaults on "uncooperative Arabs" (actually Kurds and Afghans, but your great men need not make such petty distinctions). "I do not understand the squeamishness about the use of gas," he declared. "I am strongly in favor of using poison gas against uncivilized tribes." Some years later, a certain A. Hitler would apply this gaseous philosophy to another troublesome "tribe."
The two Teutonically-derived statesmen also shared a loathing for the lesser breeds. As Churchill put it with customary eloquence in 1937: "I do not agree that the dog in a manger has the final right to the manger even though he may have lain there for a very long time. I do not admit that right. I do not admit that a great wrong has been done to the Red Indians of America or the black people of Australia. I do not admit that a wrong has been done to these people by the fact that a stronger race, a higher-grade race, a more worldly wise race, has come in and taken their place." Hear! Hear! cried Hitler, as he sent his "higher-grade" hordes swarming eastward into the vast Slavic manger.
Churchill's understandable thirst for revenge against the Nazis who had bombed English cities took a curious turn, however. The mass British counter-raids aimed at "breaking the enemy's morale" were targeted almost exclusively against the "lower orders," who died by the hundreds of thousands in the "area bombing" that neither broke civilian morale nor substantially hampered German war production (although it did waste the lives of thousands of allied airmen). Yet the sumptuous, undefended villas of Nazi leaders (the very men who had ordered the blitz on English cities) and major Nazi industrialists (who, along with their American partners like Prescott Bush, had built Hitler's war machine) were specifically excluded from the attacks. What stirring chivalry among the warrior elite!
Today, Churchill's bust adorns the office of George W. Bush -- a gift from his loyal tributary, Tony Blair. Churchill is their lodestar, their magic totem, the mythic foundation of their "moral authority" as war leaders. But as history shows, there is no "moral authority" in war, even in a "good war": There is only "indiscriminate homicide and destruction," the unleashing of the beast within all of us -- even the "great ones," made drunk with power and terror.
Ayoon wa Azan (What Do Arabs Contribute?)
Jihad Al Khazen Al-Hayat 2004/01/10
[...] Kilroy-Silk is a liar, or ignorant. I am ready to face him in a British court that would decide which of us is right. First, Iran is not part of the Arab world. It is a neighboring Muslim, not Arab. Only an illiterate person would speak of the Arab world in general, and then start with Iran as a specific. Second, the oldest and fiercest enmity in the Arab world was always between the ruling Baath regimes in Damascus and Baghdad. I could accuse each of conspiring against the other and attempting to overthrow it. Animosity reached the point where Syria was the only Arab country that supported Iran in its war against Iraq. Trade relations between Syria and Iraq began during the final two years of Saddam's regime, but it was strictly trading relations. If Kilroy-Silk ignores the enmity between the Damascus and the Baghdad Baath regimes, he has no right to speak of the region's policy. Third, I do not understand why Libya was included. I have not heard of its special support of Saddam. Moreover, Gadhafi's Libya is insignificant; whether it supports or opposes. Libya's support to any party means its near end, because the Colonel is a pioneer of lost causes.
He also writes, "Moreover, the people who claim we are loathsome are currently threatening our civilian populations with chemical and biological weapons. They are promising to let suicide bombers loose in Western and American cities." Which Arabs is he talking about? Al Qaeda, which targets Arabs and Muslims before others?
Ghassan Charbel Al-Hayat 2004/01/10
The global village's inhabitants are nervous. The complaints of the high-class quarters' inhabitants are almost equal to those living in tin cities. There is a universal problem called America. The age is its own. Time is its own. It lives in your plate, house or car. In television sets, school books, computers and research institutes. Its ambassador lives in your capital. It makes no difference whether you like the ambassador or not. In the past, you could escape him to the Comrade living in the Soviet embassy. Today you cannot avoid him. You move away from him but you go back to him. You leave angry and later you pay the price of the rupture of relations.
Everyone who lives in the global village feels the presence of a nightmare called America. If it is not a nightmare, at least it is a magnificent ever-present force, to the extent that you feel you have to take a stance from it. In the Middle East, it is not easy to America's friend. It is costly. Also, it is not easy to try to understand America; it is a hyperpower and a new empire. Perhaps, old customary means of perception of superpowers do not apply in trying to understand it.
The Arab is confused in understanding America. He knows that it is a crushing force living on your borders or in your capital, or in both. Its fleets are fully awake in the seas. Its eyes are fully awake in the skies. The time when it used to allow dangers to grow is long gone. It changed after 9/11. Preventive wars and preemptive strikes. It is no longer worried about the reproach of the building in which Kofi Annan lives. It was never worried about the reproach of the building in which Amro Moussa lives. The Arab is confused in understanding America. The great economic power. The most developed military machine in history. The country that is crazy about principles and ruled by interests' greed. The America stretching from the American ambassador's residence to Mars.
You would better not forget a man called the American ambassador. The ideal situation is to be in total agreement with the ambassador. However, your dictionary is different from the ambassador's. The ambassador changes his positions according to his calculations, not your excuses. The ambassador's reports are important and influential and could be fatal. Refusing the ambassador's advice is not a good thing. Trivializing the ambassador's warnings is reckless. Submitting to all the ambassador's demands is a dangerous adventure.
The tragedy of the small countries is big. Sometimes they imagine that they are capable of changing America. They fall to the illusions of peer-to-peer dialogue. How difficult rivalry is between a weakling living in a certain age, and the powerful living in another. The Arab says that America is blind and biased. Sometimes, he celebrates hurting it and rejoices about its predicaments. However, this may not change anything. Perhaps it is fear. When America is in dialogue, you are the one who should change. It is not enough to wear new clothes. This dialogue showers you with difficult questions that you would rather not hear. This dialogue subverts your serenity and perhaps, your stability. Dancing with America is like dancing with the devil. He can tempt you. He can hurt you. He can take you away. But, it is inexorable to dance with him.
Comment: The US ambassador is truly all the above-mentioned things. You may confirm this for yourself by reading the interview with the US ambassador to Egypt recently published in Al-Ahram.
Would-be suicide bomber arrested in Britain
www.chinaview.cn 2004-01-11
LONDON, Jan. 11 (Xinhuanet) -- A terrorist suspect linked to the Al-Qaida network has been arrested in Britain after apparently preparing himself for a suicide bombing in the country, the Sunday Times reported on Sunday.
United States, Germany Plan Major Military Restructuring

The Pentagon has confirmed the United States will pull armored units from Germany as it realigns its military. Separately, the German Defense Ministry is reportedly planning massive budget cuts for its own armed forces.
[...] Presently there are some 70,000 U.S. troops stationed in Germany. U.S. Defense Secretary Donald Rumsfeld has made no secret he would like to reshape the American military from its Cold War era deployments like those in Germany to smaller, more flexible units based closer to potential flashpoints in the Middle East and elsewhere.
Comment: The US is redeploying its troops not only to be closer to the Middle East flash points, but also to encircle Russia. It is negotiating with Poland to establish bases there. So the new US bases will form a semicircle from Poland through the former Soviet Republics north of Turkey, Iran, Iraq, and Afghanistan. This will cut Russia off from Europe, while bringing the US very close to the Chinese border.
US, Turkey agree on use of base for troop rotation: newspaper
www.chinaview.cn 2004-01-11 02:03:55
WASHINGTON, Jan. 10 (Xinhuanet) -- The United States and Turkey have agreed on terms for the United States to use a large air basein Turkey for ferrying thousands of US troops and equipment into and out of Iraq over the next few months, The Washington Post reported Saturday.
A detailed accord for use of Incirlik Air Base in southern Turkey was negotiated in recent weeks, ahead of the start of this month of what US military officials have described as the most complex US troops rotation since World War II, the newspaper quoted US officials as saying.
The deal reflects an improvement in US-Turkish ties that were frayed before the invasion of Iraq, when Turkey refused to allow US forces to use its territory as a staging ground.
Georgia's Leader Is Keen to Move On
TBILISI, Georgia -- Georgia's new leader, Mikheil Saakashvili, received a pat on the back from U.S. President George W. Bush for his landslide election victory, as his foreign minister traveled for talks in Moscow in part of an effort to improve strained relations with Russia.
Georgian Foreign Minister Tedo Japaridze met Thursday in Moscow with Colonel-General Yury Baluyevsky, the first deputy of the General Staff, to discuss a disputed timetable for withdrawing the Russian troops that remain in Georgia as a Soviet holdover.
[...] Bush telephoned Saakashvili Wednesday and congratulated him on his victory, Georgian government spokesman Georgy Arvaladze said.
"[Bush] told him there were lots of hopes and expectations about the new Georgia," Arvaladze said, adding that Bush had invited the U.S.-trained lawyer to visit the United States as soon as possible "to shake hands."
Bush spokesman Scott McClellan said the U.S. leader had voiced support for Saakashvili's plans "to advance democratic and market economic reforms, to fight corruption, to strengthen the partnership with the United States and to bolster relations with Russia."
By Chris Mclaughlin Political Editor
Jan 11 2004

RIGHT-WING fanatics are planning to send letter bombs to Government Ministers, senior MPs and their families, police warned last night.
Senior businessmen are also said to be among those in danger from a newly-formed group which has links to violent groups across Europe - and is said to be the most serious domestic political terrorist gang since the IRA.
Commons authorities have issued a warning to all Ministers and MPs who sit for constituencies with a large ethnic population.
It comes after under-cover intelligence revealed the formation of the unnamed group - which also plans to disrupt the next general election. Letter bombs were received by Euro-MPs earlier this week, including Gary Titley, the leader of the British Labour group in the European parliament. Police suspect they were send by an anarchist group based in Bologna, Italy.
The disclosure comes amid growing concern over the rise of right-wing extremists in Britain.
MPs and trade unions are calling for an investigation into an organisation called Redwatch, which has an Internet website for supporters to swap information on the possibility of violent attacks on anti-racists.
Iranian FM says no plans to start dialogue with Washington
10-01-2004
Iran rejected a U.S. overture for talks between the two nations, saying Saturday that Washington must first end its hostile policy toward Tehran.
The Bush administration hinted Friday it wants to talk with Iran about its nuclear program, human rights and "terrorism." But Foreign Minister Kamal Kharrazi said the Iranians weren't swayed by what they view as a lopsided proposal.
"Right now there are no plans to commence a dialogue," Kharrazi told a news conference Saturday.
"What is important is mutual respect and the principle of equality, in a healthy atmosphere without violence," Kharrazi said. "For this to happen, the United States must change its policy toward Iran."
Huge cache of arms, ammunition recovered near LoC
www.chinaview.cn 2004-01-11 18:09:12
NEW DELHI, Jan. 11 (Xinhuanet) -- Indian Border Security Forces (BSF) Sunday recovered a huge cache of arms and ammunition, including 16 kgs of explosives and 130 high explosive devices, near Line of Control (LoC) in Rajouri district in the India-controlled Kashmir, Press Trust of India quoted official sources as saying.
Foreign banks prepare to enter China
By Benjamin Robertson in Beijing
Sunday 11 January 2004, 10:03 Makka Time, 7:03 GMT
The end of 2003 witnessed a flurry of banking regulatory activity in preparation for the financially auspicious date of 1 December 2006 when China provides full market access for foreign banks in accordance with WTO rules.
China tells U.S to back off on Hong Kong
BEIJING, Jan 11: China's Foreign Ministry urged the United States to stop meddling in what it called Hong Kong's internal affairs and warned the superpower not to jeopardise Sino-American ties, the official Xinhua news agency reported. "The territory's political structure must develop in a gradual and orderly manner according to the Basic Law and the actual circumstances in Hong Kong," Kong was quoted.
N. Korea shows 'nuclear deterrent' to U.S. team
Last Updated Sat, 10 Jan 2004 20:24:11
BEIJING - A U.S. delegation of experts wrapped up an unofficial trip to a nuclear complex in North Korea Saturday, saying little about what they had seen.
North Korean officials said the five Americans had been shown a "nuclear deterrent," but did not elaborate. In the past, Washington has said it believes the Communist country already has one or two atomic bombs, and is gearing up to produce more.
N Korea shows 'nuclear deterrent'
BBC
North Korea says it has revealed its "nuclear deterrent" to an unofficial delegation from the United States.
The US team confirmed they had seen the secret nuclear complex that Washington believes is being used to develop nuclear weapons. [...]
North Korea's official KCNA news agency quoted a foreign ministry spokesman as saying: "As everybody knows, the United States compelled the DPRK to build a nuclear deterrent.
"We showed this to Lewis and his party this time."
The BBC's Charles Scanlon, in Seoul, says the North seems intent on proving to the United States that it is not bluffing about its nuclear capabilities.
It has been frustrated by Washington's apparent lack of urgency and its refusal to negotiate directly, he adds. [...]
North Korea 'has the plutonium to make four nuclear bombs'
Four Die in Jakarta Explosion: Police
JAKARTA, Indonesia — An explosion ripped through a crowded cafe in central Indonesia on Saturday night, killing four people and wounding three others, police said.
The blast appeared to be from a bomb planted in the cafe in the town of Palopo on South Sulawesi province, said Maj. Wisnu Wirdata. [...]
India News: Five killed, mutilated - may be human sacrifice
Ahmedabad, In a barbaric incident, five people, including four children, were killed in a Gujarat village and their body parts strewn on the road. [...]
Saturday 10 January 2004, 18:56 Makka Time, 15:56 GMT
A diplomatic tiff simmered between Egypt and Libya on Saturday, after Cairo accused Tripoli of turning away hundreds of its citizens at the border between the two north African states.
In retaliation, Egypt slapped reciprocal visa requirements on Libyans - although officials in both capitals were quick to play down the incident which some observers speculated was linked to Egyptian media reports critical of Libya.
10,000 'died of hunger' in Zimbabwe
Catholic archbishop warns of famine as journalists are held over report that Mugabe was taking a winter break
Andrew Meldrum in Pretoria
Sunday January 11, 2004
The Observer
Amid claims that up to 10,000 Zimbabweans have died from malnutrition in the past year, President Robert Mugabe has been accused of raiding his country's dwindling coffers to fund an extended holiday in Asia.
The charges against Mugabe came as police yesterday arrested three senior journalists from the Zimbabwe Independent newspaper for reporting his winter break.
Editor Iden Wetherell, news editor Vincent Kahiya and senior reporter Dumisani Muleya are being held on charges that the newspaper criminally defamed Mugabe by reporting that he commandeered an Air Zimbabwe jet for his three-week trip.
[...] The news comes amid warnings that famine has contributed to the deaths of 10,000 Zimbabweans last year.
The claim is made by the Roman Catholic Archbishop of the southern Matabeleland area, Pius Ncube.
'There are people who sit four or five days without any food,' Ncube said, adding that malnutrition was exacerbating Aids-related diseases, which accounted for a third of the deaths.
Cuba cracks down on internet use
A new law has been passed in Cuba which will make access to the internet more difficult for Cubans.
Only those authorised to use the internet from home like civil servants, party officials and doctors will be able to do so on a regular phone line.
The bill says the state telephone company Etecsa will use technical means to detect and impede access.
Correspondents say the law will affect thousands of Cubans who access the worldwide web from their homes.
It took effect on Saturday, according to a letter sent by Etecsa internet service E-net to customers.
The government says the move is necessary to "regulate dial-up access to internet navigation services, adopting measures that help protect against the taking of passwords, malicious acts, and the fraudulent and unauthorised use of this service".
Professor Lives Life As a Cyborg
Someday you, too, might be a cyborg.
In-class camera plan billed as teacher aid raises privacy fears
Will Big Brother take a seat in the classroom of a new middle school?
New Suspected SARS Case Emerges in China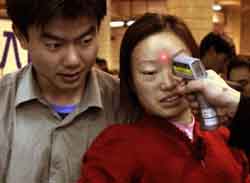 Kamchatka volcano discharges ash to 7,000 m height
PETROPAVLOVSK-KAMCHATSKY, January 10 (Itar-Tass) -- Kamchatka's Volcano Karymsky has discharged ash to the height of 7,000 metres above sea level. [...]
Karymsky is one of the world's most active volcanoes. The last eruption of the giant, the height of which is more than 1,5 kilometres, occurred in 1996. The eruption was accompanied by a severe earthquake measuring up to 7.0 on the Richter scale. [....]
Algerian residents in shock after quake
Sunday 11 January 2004
Five people were injured and 12 others were treated for shock after an earthquake reaching 5.7 on the Richter scale hit the region around the Algerian capital
Many residents of Algiers and other cities and towns left their apartments and houses in panic, as the ground began to shake on Saturday.
Electricity was down in the towns of Lakhdaria, Boudaouaou and Thenia, near Boumerdes, a city 50 kilometres east of the capital.
The epicentre of the quake was located 25 kilometres north of Zemmouri near Boumerdes, said the Algerian centre for astronomy, astrophysics and geophysics.
The centre said the latest quake was another aftershock of a quake which killed 2300 people and injured more than 11,000 in the Algiers and Boumerdes area in May last year.
Scores homeless after Eastern Cape storm
January 10, 2004, 06:09 PM
An enormous thunderstorm hit the Middledrift area in the Eastern Cape last night. More than 100 houses in five villages were damaged and most of them lost their roofs. Nobody was injured during the storm.
Mtubatuba without electricity after heavy storm
January 09, 2004, 12:57 PM
Residents of Mtubatuba on the KwaZulu-Natal North Coast are still counting the costs of a storm that swept through the small town yesterday afternoon. At least one person was killed and hundreds of houses were destroyed by the storm.
A 14-year-old youth died on the spot after being hit by flying corrugated iron blown off the roofs. More than 600 homes and a police station, several clinics and libraries were destroyed. The area is still without electricity as power lines were damaged.
Infrasonic Symphony
[...] Just as seismic waves travel through Earth, infrasonic waves travel through the air. And the lower the frequency of the waves, the farther they can travel without losing strength. Scientists first detected infrasound in 1883, when the eruption of the Krakatoa volcano in Indonesia sent inaudible sound waves careening around the world, affecting barometric readings.
[...] Low-frequency sounds are also generated by one of the most colorful displays in the sky, the northern lights, which are caused by charged particles in the air. This electricity heats atmospheric gases, and the warmed gas molecules spread out and increase air pressure. [...]
Studying the patterns of infrasound that precede eruptions might also have predictive value. While placing infrasound sensors on the Sakurajima volcano in Japan, Garcés witnessed an unexpected series of increasingly frequent and powerful explosions. By the end of the day, Sakurajima erupted. [...]
Temperatures Hit Record Lows in Northeast USA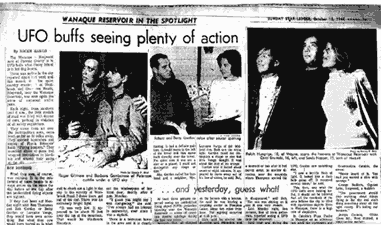 Half The World's Population Will Vote For Change
Selim Nassar Al-Hayat 2004/01/10
Political analysts unanimously agree that 2004 will be an exceptional year because parliamentary elections will be held in countries that comprise half of the world's population, about three billion people. The outcome of these elections will certainly influence international and regional affairs. The other half of the world's population will confront new problems; particularly if President George W. Bush wins a second term and continues his campaign against Syria, Iran, and North Korea. Iraq's future will also be jeopardized after Bush's commitment to find an urgent solution to the Iraqi resistance - through the transfer of power to an Iraqi government next summer.
The power of the picture: dangerous beauty in medieval manuscripts
The problems of good renditions were equal to the dangers of poor ones
Lynn Maalouf
Special to The Daily Star
[...] Beauty can be dangerous, according to his findings, when the illustrations accompanying a text are so beautiful that on the one hand, the text is sacrificed, ripped out, left to the spoils of time, and on the other, you don't bother to read it anymore and therefore run the risk of missing out on crucial information.
In the case of medical books, this could even be fatal.
[...] Saliba gained prominence in the academic world thanks to his decades-long research on the history of Arabic and Islamic science, and his thesis that this science came as a rejection and correction of Greek science, rather than just its translation and preservation through Europe's Dark Ages, a topic he talked about in a lecture two weeks ago at the Bibliotheque Orientale.
While studying first-hand sources, Saliba stumbled across many poor renditions, or on the contrary, illustrations that became so precious in themselves to historians that key sections of the texts were dismissed through the ages and went missing.
Cold? Winter's just getting started
Last Updated Sun, 11 Jan 2004 0:08:26
TORONTO - The bone-chilling cold that's smashing records in some parts of the country simply reminds us where we live, says Environment Canada.
"January is the coldest month. And we are the second-coldest country in the world," notes Dave Phillips, a senior climatologist with Environment Canada. "If we didn't have winter, that would be the big story."
In the past 24 hours, five Ontario cities have set new record lows for this time of year: Timmins, Kapuskasing, Waterloo, Hamilton and Sarnia. Temperatures in many places have dropped into the minus 20s, but some places have got as cold as –43 C.
"We're still three weeks away from the middle of winter. So sad to say, there's more winter ahead of us than behind us," says Phillips.
Doom warnings sound more loudly
By Alex Kirby
Our environment correspondent considers why warnings about the state of the planet are becoming more insistent
For the doom merchants amongst us, 2004 showed its fearsome teeth in a cracking start before it was even 10 days old.
On 7 January a report in the journal Nature said climate change could speed a million land-based species towards extinction within the next 50 years.
The next day the Worldwatch Institute declared modern lifestyles were bad for us and unsustainable for the planet.
The UK Government's chief scientist now says climate change is a far worse danger than international terrorism.
A triple onslaught like that defies anyone to head into the new year feeling even slightly positive about the human condition.
Yet life goes on, and most of us worry more about paying the Christmas bills than about a world bereft of a quarter of its animals and plants.
[...] The trouble with imperceptible change is that for a long time it has virtually no impact, certainly not on the political timescale of four or five years. And politicians respond (often) to what they think matters to voters.
Yet the record preserved in cores drilled out of the Greenland icecap shows climate change can be very rapid indeed, flipping from one stable state to another in a few decades.
It is not fanciful to envisage our children living in a Britain where the Gulf Stream has ceased to flow, and where climate change means winters as cold as northern Canada's.
Comment: Yes, indeed. There is no reason to feel positive about the human condition. You can warn, show analyses, give facts, but the simple fact of the matter is that until we see things for ourselves, we don't believe it. We can rail and scream about the rest of the world being unaware of the train barreling down upon us, but don't we do the same thing in our own lives? Don't we try to push the warning signs aside when they start bubbling up to consciousness?
The state of the world is the reflection of the state of BEing of the inhabitants. The solutions we discover can be no better than the state of those who go looking for them.
---
Remember, we need your help to collect information on what is going on in your part of the world!
We also need help to keep the Signs of the Times online.
---

Check out the Signs of the Times Archives

Send your comments and article suggestions to us

---
Fair Use Policy
Contact Webmaster at signs-of-the-times.org
Cassiopaean materials Copyright ©1994-2014 Arkadiusz Jadczyk and Laura Knight-Jadczyk. All rights reserved. "Cassiopaea, Cassiopaean, Cassiopaeans," is a registered trademark of Arkadiusz Jadczyk and Laura Knight-Jadczyk.
Letters addressed to Cassiopaea, Quantum Future School, Ark or Laura, become the property of Arkadiusz Jadczyk and Laura Knight-Jadczyk
Republication and re-dissemination of our copyrighted material in any manner is expressly prohibited without prior written consent.
.