---
Americans betraying Americans. That is the specter that greets us these days. Fascists have always been with us, now the Bush Reich has given voice to these people. They must be excited, just waiting to call in their first tip. These fascists will only gain confidence, and strengthen their voices, as they await praise from their leader. Good puppy, Bush will say, with a pat on their head. How proud they will be that they did their part to keep America safe. All US citizens should be careful if you choose to purchase Microsoft Flight Simulator, particularly at a Staples office supply store near you.
Former US Treasury Secretary Paul O'Neill says Bush was so detached in meetings that he was "like a blind man in a room full of deaf people". Seems Bush is only on when the puppet masters wind up the key in his back. The media spin on this has always been that "Bush is a good listener."
While the Zionists are accusing the rest of the world of being "anti-Semitic," the rest of the world is supporting those Jews who are against Israel's genocidal politics. As for "anti-Semitic" slurs, how about calling Sharon's policies the expression of "Jew-Jitsu"? But before calling the ADL down on our heads, read further and see that the author is a Zionist who used the phrase to praise Sharon's strategic abilities.
While the Israeli government is doing its best to incite the Palestinians into civil war, Syria and Turkey are working together to stop what they see as the work of Israeli agents in Iraq to promote the independence of the Kurds. Given the large Kurdish population in both of these countries, the neighbors are putting their own differences on the back-burner while they work together to minimize the threat Kurdish independence represents to their own states.
Although Saddam has been officially declared a POW, the US hasn't let the Red Cross in to visit him. Are they worried the international organization that oversees the respecting of the Geneva Conventions will be upset at the way the US is not torturing the ex-dictator?
Homeland Security, what is it really all about? It would appear that the biggest threat to the US government is a healthy population.
A US team visits North Korea's nuclear sites. Shell Oil announces that its oil reserves are 20% less than previously thought. Colin Powell sticks his nose in the Venezuelan recall referendum. Extreme cold in the eastern provinces of Canada results in death.
Flight Sim enquiry raises terror alert
By Andrew Orlowski in Las Vegas
The Register
A mother's enquiry about buying Microsoft Flight Simulator for her ten-year-old son prompted a night-time visit to her home from a state trooper.
Julie Olearcek, a USAF Reserve pilot made the enquiry at a Staples store in Massachusetts, home to an earlier bout of hysteria, during the Salem witch trials.
So alarmed was the Staples clerk at the prospect of the ten year old learning to fly, that he informed the police, the Greenfield Recorder reports. The authorities moved into action, leaving nothing to chance. A few days later, Olearcek was alarmed to discover a state trooper flashing a torch into to her home through a sliding glass door at 8:30 pm on a rainy night.
Olearcek is a regular Staples customer and schools her son at home. The Staples manager simply explained that staff were obeying advice. Shortly before Christmas, the FBI issued a terror alert to beware of drivers with maps, or reference books.
At one time it was rare to find US citizens, in the safest and most prosperous country in the world, jumping at their own shadows. Now we only note how high.
Comment: We should be careful. Report people purchasing Post-it™ notes. They might use them to leave notes for their terrorist friends. What about people who purchase a computer? Definitely call management, and have them give to the TIPS™ hotline. They might access bomb-making instructions from the internet, or "chatter" with other terrorist to coordinate attacks.
What Good is the Bill of Rights?
By felixrayman
Does the Bill of Rights in the Constitution of the United States mean anything anymore? No.
Ridge Warns Terrorism Threat Not Over
By LESLIE MILLER
Associated Press Writer
[...] Homeland Security Secretary Tom Ridge announced Friday that the nation's threat level had been lowered, but "critical resources and locales" will remain on heightened alert. He also said uneasiness remains about al-Qaida's interest in using commercial planes to mount an attack.
"We have not let our guard down," Ridge said at a news conference.
Increased security will continue in certain airports as well as the cities of New York, Washington and Los Angeles, said a Homeland Security official, speaking on condition of anonymity. A few of the many hundreds of dams, bridges and chemical plants that received heightened protection during the higher alert will continue under extra vigilance, the official said. [...]
O'Neill lashes 'blind man' Bush
A former US treasury secretary has given an unflattering account of his time under President George W Bush.
Paul O'Neill describes Mr Bush as being disengaged and says that at cabinet meetings the president was like a blind man in a room full of deaf people.
[...] He says there was a lack of real dialogue at cabinet meetings with Mr Bush so detached that he was "like a blind man in a room full of deaf people".
"I went in with a long list of things to talk about and, I thought, to engage [him] on," said Mr O'Neill recalling the first meeting.
"I was surprised it turned out me talking and the president just listening... It was mostly a monologue."
A BBC correspondent in Washington says the White House has refused to address the remarks directly but aides have often said the president sets the tone and broad principals of the administration's policies, while delegating the details to his advisors.
US court to hear terror test case
The US Supreme Court has agreed to hear the appeal of a US citizen captured in Afghanistan in 2001 who is being held without charge in a US military jail.
Yaser Esam Hamdi, 22, is challenging the decision to label him "an enemy combatant", thus making him ineligible for normal legal protection.
The court is expected to hear his case in April and rule on it by July.
It could become a test case for the Bush administration's handling of the war against terrorism, observers say.
Abdulwahab Badrakhan Al-Hayat 2004/01/9
Did you notice that the security hysteria that accompanied the holiday season started to diminish? Of course, it would leave a great impact, because tight measures are no longer seasonal, especially in large European cities and capitals, not to mention the American cities.
The atmosphere the Americans created tells us they are capable, now, to detect any plan for a terrorist action and undermine it before it is set, or abort it in its last stage. This atmosphere has been established to pass the new measures, starting from taking the fingerprints of the travelers, to taking off their clothes - not only their shoes. Tom Ridge insisted on taking every possible measure to humiliate all visitors to the U.S. Every time he puts up a new measure, the neo-Rightists applaud him.
In any case, he has the right to do so. Let him do whatever he wants for American Homeland Security. But it seems there are no limits to his assistants' imagination. Worse still, it seems that every time the measures are tightened, doubts are raised, for nothing is enough, or would be, to say that the security system in the U.S. is secure. Once again, it reminds us of the Israeli mind that found no one to blackmail about security and thus blackmailed itself. If it is difficult to feel secure in the U.S., then the world is subjected to American worries and anxiety.
Shots needle hundreds of children
Students have 2 days to update vaccines
By Jaime Powell Caller-Times
January 6, 2004
Squirming did not help. Neither did dancing just out of the reach of the syringe when Julian Trevino got the first of four immunizations Monday. When the needle poked his arm, he squealed.
"No more! Mommmmmmmm. I don't want any more!"
Julian was one of more than 1,000 children taking part in an effort to get Corpus Christi Independent School District students immunized. The free immunization clinic at Ray High School was for children ages 4 to 18 years.
Julian's sister Victoria Delagarza, 9, tried to reassure him while a second nurse eyed his bandaged arms for a place to give him his final shot of the day.
"Don't move so much this time and it won't hurt so bad," she said. "You have to have it."
Julian is among 2,000 local students who must have their immunizations up to date by Thursday, when they start back to school after the holidays. Students who do not comply will be sent home from school.
Comment: While millions of Americans are essentially being scared into vaccinating themselves and their children, no one is telling them about the grave misgivings that many doctors have about the effects of these "shots". According to an August, 1995 Pediatrics & Adolescent Medicine journal article, of 213 practicing physicians surveyed, 77% had "strong concerns" about four simultaneous vaccinations. And 42% had concerns about the "possibility of reduced immunogenicity." It would seem that government officials, and Bush himself, are aware of the issues, but have chosen to keep it to themselves.
Flashback: Bush asks court to seal records on autism caused by vaccines
Nov. 27, 2002
Attorneys for the Bush Administration asked a federal court on Monday to order that documents on hundreds of cases of autism allegedly caused by childhood vaccines be kept from the public.
Department of Justice lawyers asked a special master in the US Court of Federal Claims to seal the documents, arguing that allowing their automatic disclosure would take away the right of federal agencies to decide when and how the material should be released.
Homeland Security limits lawsuits over autism from mercury in vaccines
Nov. 19, 2002
A measure slipped in the homeland security bill would mean those injured by childhood vaccines could collect only $250,000.
St. Petersburg Times
November 16, 2002
WASHINGTON -- If the long-awaited homeland security bill passes Congress next week as expected, it could mean a big setback for parents of autistic children like 4-year-old Nicholas Liu.
Kevin and Mache Liu are among the parents of some 150 autistic children who have filed suit against the drug industry in the past two years, alleging their children's conditions were caused by Thimerosal, a mercury preservative once included in childhood vaccines designed to prevent measles, mumps and rubella.
Although the bill is intended to create a federal Homeland Security Department, it includes a little-known, last-minute amendment that will effectively end legal battles for compensation from several major drug manufacturers.
The amendment would keep the lawsuits out of state courts, preventing huge judgments, and instead send complaints to a 14-year-old federal program limiting compensation for children who suffer side effects of vaccines to $250,000.
The amendment is one of more than a half-dozen tacked onto the bill. The homeland security bill has been agreed to by House and Senate leaders, but it is not expected to come to a final vote in the Senate until shortly before Congress adjourns next week.
Some Senate Democrats want to challenge the amendments, but that would be difficult because the House went home for the year after passing the bill. House members would have to be called back to Washington to approve the amended bill and get it to President Bush. House leaders have said they don't want to call representatives back. [...]
Comment: At first glance we could be forgiven for wondering exactly what compensation claims against the drug industry have to do with "homeland security". Thinking a little deeper about it we soon realise that "securing the homeland" has little to do with securing it against terrorists and everything to do with securing the concentration of power and wealth into the hands of the elite few. Seen in this light, the fact that the government might be knowingly poisoning the population via unnecessary inoculations and vaccines and then enacting laws to ensure they cannot prosecute when the truth comes to light, it becomes obvious and natural that these measures would form a part of "homeland security". It all depends on what you mean by "Homeland Security".
Flashback: Unreleased CDC report: mercury in vaccines increases risk 2.5x for neuro disease
Nov. 11, 2002
[...] A study sanctioned by the Centers for Disease Control and Prevention shows infants immunized with thimerosal vaccines were 2.5 times more likely to develop neurological disorders, but it was never released. [...]
U.S. govt waters down its own pro-breastfeeding ads in response to big business concerns
January 06, 2004

Federal officials have softened a national advertising campaign to promote breastfeeding after complaints from two companies that make infant formula, according to several doctors and nurses who are helping the government with the effort.
A newsletter distributed by the Ad Council, a nonprofit group developing the advertisements for the government, said that the Department of Health and Human Services planned to begin the campaign this month. But Christina Pearson, a spokeswoman for the department, said yesterday that it was not clear when the advertisements would begin.
[...] The original campaign focused on "the risks associated with not breastfeeding,'' according to the Ad Council's newsletter, and included statistics from studies that have found that babies fed formula have a higher risk of developing asthma, diabetes, leukemia and other illnesses.
Tracey Noe, a spokeswoman for Ross Products, the Abbott Laboratories unit that makes Similac, said her company also supported projects promoting breastfeeding. But she said Ross executives were concerned that claims made in the government's campaign were not based on solid science. "The overall approach was like a scare tactic,'' Ms. Noe said.
After the two companies and the top officials of the American Academy of Pediatrics complained to federal health officials, the government decided to eliminate spots discussing the risk of leukemia and diabetes in babies not breastfed, said Amy Spangler, the chairwoman of the United States Breastfeeding Committee, a group that promotes breastfeeding. According to the Ad Council newsletter, those ads said that babies not breastfed had a 30 percent increased risk of developing leukemia and up to a 40 percent increased risk of developing diabetes.
Ms. Spangler, a nurse who over the last year has been helping the government develop the ads, said that a federal official told her of the recent changes. She said that government officials still planned to say in the ads that infants who are not breastfed face a higher risk of developing obesity and ear infections, but they have removed all specific statistics on the estimated level of risk.
[...] "There is a lot of money involved,'' [Dr. Lawrence M. Gartner, the former chairman of the pediatrics department at the University of Chicago and current chairman of the American Academy of Pediatrics' executive committee on breastfeeding] said.
Comment: Between the conflicting interests of accumulation of wealth and your children's health, the US government knows exactly where its priorities lie.
French journalists jailed in Pakistan

10/01/2004
A Pakistani court today sentenced two French journalists to six months in prison for visa violations after they travelled to an area near the Afghan border without official permission.
The men, reporter Marc Epstein and photographer Jean-Paul Guilloteau, working for the French L'Express magazine, were also fined 100,000 rupees (€930) each.
Judge Nuzhat Ara Alvi ruled that the men had violated Pakistan's immigration laws by travelling to the south-western city of Quetta without permission.
Police say the Frenchmen's visas only allowed travel to Islamabad, Lahore and Karachi.
Pakistani officials have also said the men were involved in making a fake documentary showing Taliban rebels sneaking into Pakistan from Afghanistan – a sensitive issue in Pakistan – but they were not charged with any other offence.
Defence lawyer Nafees Sadiqui said the men would appeal against the verdict.
Both journalists were sent to jail in Karachi after the hearing.
The two were arrested on December 16 in Karachi, a southern port city, along with a Pakistani journalist Khawar Mehdi Rizvi, who was working with them and is still believed to be in custody.
Comment: One has to wonder what the two journalists had uncovered and what the Pakistanis were really trying to hide, particularly given that Musharraf is a CIA backed tin pot dictator. We should remember that the purported 9-11 ringleader - Mohammed Atta - according to ABC news, was financed by "unnamed sources in Pakistan."
According to Agence France Presse and the Times of India, an official Indian intelligence report informs us that the 9-11 attacks were funded by money wired to Mohammed Atta from Pakistan, by Ahmad Umar Sheikh, under orders from Pakistani intelligence chief General Mahmoud Ahmad. The report said: "The evidence we have supplied to the U.S. is of a much wider range and depth than just one piece of paper linking a rogue general to some misplaced act of terrorism."
Guess what? General Mahmoud Ahmad was in the U.S. on September 11. Where was General Mahmoud on the morning of September 11, while Dubya was in Florida reading upside down books? Why, the good general just happened to be having breakfast with Florida's senator, Bob Graham - our esteemed chairman of the Senate Intelligence Committee. Also present at breakfast was Pakistan's ambassador to the U.S. Maleeha Lodhi. There were other members of the Senate and House Intelligence committees present.
There are none so blind as those that refuse to see.
U.S. tourists re-thinking Brazil trips
RIO DE JANEIRO, Brazil, Jan. 9 (UPI) -- Some U.S. tourists have begun canceling trips to Brazil as a result of new security measures adopted at Brazilian airports, Merco Press reported Friday.
One travel agency canceled a group reservation for 240 U.S. tourists scheduled to visit Rio de Janeiro, according to the Brazilian Receptive Tourism Association.
"They had been threatening to cancel the trip because of the high cost of entry visas to Brazil, which rose from $65 to $100 last year, and ended up canceling the trip altogether when they found out about the additional controls," Association Vice President Roberto Dutra said. [...]
China Made

Charley Reese – Friday January 9, 2004
If you want to know why America has lost so many jobs, look around your house at all the stuff that is made in China.
I bought an American-brand razor — made in China; an American-brand computer — made in China. Even my Confederate coffee mug, for heaven's sakes, is made in China.
Of course, Americans know how to make ceramic coffee mugs, appliances, computers and whatever. But what they won't do is make those things for 59 cents a day and no benefits. The use of what amounts to slave labor in foreign countries accomplishes two goals for the powers that be in this country. One, it increases the profits of the corporations, and two, it disguises the fact that the American dollar has been drastically devalued by years of inflation.
What the powers that be have done is in effect create a hallucinatory drug concocted of cheap imports and ideology to make the American people think that they are more prosperous than they really are. People who are officially classified as "discouraged" are not counted as unemployed, though they are; highly qualified people forced to work part time or in low-paid service jobs are considered employed. But if you added up the "discouraged" and the underemployed, you'd find that the real unemployment rate in America is closer to 9 percent than to the official 5.9 percent, according to a recent article in the Los Angeles Times. And this trend is growing, not shrinking. [...]
When an American-based corporation closes its American plant and hires Chinese to manufacture its products, those products, when they come into the United States, do not constitute trade in the old sense of that word. They are not Chinese products. They are American products that were simply manufactured overseas. And the purpose of today's so-called free trade is to make sure that these corporations don't have to pay tariffs on these foreign-made but American-owned goods. [...]
Summon Bush Sr. to the Stand
By KURT NIMMO
CounterPunch
Is it possible French lawyer Jacques Verges will be allowed to defend Saddam Hussein? Verges told AFP on December 19 that if called to defend Saddam, he'd march a slew of US and European witnesses to the stand.
At the top of the list are Reagan and Bush Senior.
"Right now the former Iraqi regime is being blamed for certain events that took place at a time when its members were treated as allies or friends by countries that had embassies in Baghdad and ambassadors not all of whom were blind (to Iraqi crimes)," said Verges.
"Today, this indignation appears to me contrived."
"When we reprove the use of certain weapons (we need to know) who sold these weapons," he said about Iraq's past purchase of arms from France, Britain, the United States, and Russia.
"When we disapprove of the war against Iran (we need to know) who encouraged it."
It was primarily Reagan and Bush who "encouraged" Iraq's merciless war against Iran. That's obvious, although many Americans -- the same Americans who cannot tell the difference between Saddam and Osama -- are clueless. [...]
Comment: Conveniently, "Saddam" has "cancer", so such a trial won't happen.
FLASHBACK: Quetta And Surplus Jihadis
By Dr Farrukh Saleem
The News International (Pakistan)
15 July, 2003
[...] At the heart of America's struggle against Communism was the CIA plan to destabilise the Soviet Union through the spread of Islamic fanaticism across Muslim Central Asian Soviet republics. Between 1980 and 1989, CIA poured in some $6 billion (other estimates go as high as $20 billion) in arms, ammunition, recruiting, establishing an extensive madrassa network, training, feeding and arming of recruits. Saudi Arabia matched the US dollar-for-dollar. Wealthy Arabs poured in additional millions. Egypt and China also helped out.
In 1980, Prince Turki al-Faisal, the then head of Istakhbarat, Saudi Arabia's secret service, handpicked Osama bin Laden to provide engineering and organisational help to the fighting Mujahideen in Afghanistan. Osama was provided hundreds of millions with which he bought heavy construction equipment from Saudi Arabia destined for Afghanistan's guerrilla camps. [...]
Comment: It is fair to ask the question, did the CIA ever stop funding these people?
U.S. says no credible evidence Iraq moved weapons to Syria
By the Associated Press and Haaretz Service
The United States has no credible evidence that Iraq moved weapons of mass destruction into Syria early last year before the U.S.-led war that drove Saddam Hussein from power, National Security Adviser Condoleezza Rice said Friday.
Rice said, "Any indication that something like that happened would be a very serious matter.
"But I want to be very clear: we don't, at this point, have any indications that I would consider credible and firm that that has taken place, but we will tie down every lead," she said at a White House briefing about President George W. Bush's trip Monday to a hemispheric summit in Mexico.
Israel Radio on Friday quoted an interview by an exiled Syrian human rights activist, Nijar Nijjof, who claimed that Iraq's illegal weapons were smuggled into Syria and planted in three secret locations.
The journalist, speaking to a British television station, said he received the information from a senior Syrian intelligence source.
According to Nijjof, the weapons were smuggled in ambulances on the eve of the war. [...]
"But obviously we're going to follow up every lead," Rice said, "and it would be a serious problem if that, in fact, did happen." [...]
Comment: Israel wants to go to war with Syria, and suddenly there is someone who comes forward claiming weapons were smuggled into Syria. All this focus on where WMD might be is misdirection. The US and Israel have WMD. The US has used them, and continues to threaten the world with them. Israel continues to threaten its neighbors with them.

Bush war advisors: unfound Iraqi weapons matter little

WASHINGTON (AFP) - Two of President George W. Bush's military advisors said that the US inability to find illegal weapons in Iraq means little.

"I don't think that you can draw any conclusion from the fact that the stockpiles were not found," Pentagon advisor Richard Perle said at the American Enterprise Institute. [...]

Perle said the war was justified: "I think that what was done was right and prudent." [...]

Perle and Frum's book, "An End to Evil," promotes the so-called neo-conservative use of military force to pacify the world. [...]

US gives Saddam enemy POW status

US officials say the ousted Iraqi leader, Saddam Hussein, is being treated as an "enemy prisoner of war".

A Pentagon spokesman said he was given the status as he was the leader of the "old regime's military forces".

POW status for Saddam Hussein means that the former Iraqi leader is eligible to stand trial for war crimes.

Prisoners' rights under the Geneva Convention include:

* Protection against violence, intimidation, insults and public curiosity

* Protection against pressure of any kind during interrogation

* Provision of valid identity documents

* Food rations and drinking water sufficient to keep prisoner in good health

* Adequate clothing and washing facilities

* Adequate medical treatment.

US gets no useful information from Saddam, says British official

www.chinaview.cn 2004-01-09 23:45:10

LONDON, Jan. 9 (Xinhuanet) -- Iraq's former president Saddam Hussein refused to give any useful information to his captors since he was arrested, although documents and papers found in his briefcase have yielded results "far greater than we expected", a senior British official said Friday.

[...] The official said the US administrator, L. Paul Bremer, had told Prime Minister Tony Blair in Basra, in south Iraq, last week that "Saddam is not offering information of an operationally useful kind. They (US authorities) are taking their time, trying to get him to talk so that he can feel comfortable that he can talk in captivity."

Comment: Taking their time, eh? Such as waiting for weeks while "Saddam" is subjected to sleep depravation and other soft torture to make him "feel comfortable" about talking? And what's with all of these unnamed officials whose quotes appear in the news these days? There are lots of references to "senior British officials" and "senior American officials," yet no one wants their names attributed to anything. What kind of a manipulation is this?

Ayoon wa Azan (No To The Stupidity Of Occupation)

Jihad Al Khazen Al-Hayat 2004/01/9

There is another Israel than that of Ariel Sharon, killing, destruction, checkpoints and the wall. While the Arab reader knows Sharon's Israel well, he is usually a stranger to the other Israel, to the extent of considering all Israeli Jews as war criminals, like Ariel Sharon and some members of his cabinet.

The other Israel is the Israel with which we could have peace; and while the majority of voters have, twice, chosen Ariel Sharon to lead Israel, his enduring failure in achieving security could strengthen his opponents' pretext against him, which would lead to the return of a government that wants negotiations and peace.

This week's Israeli newspapers' supplement talked about the other Israel; I wish that our newspaper, and all Arab newspapers, would translate the features on Israeli boys and girls who refuse the military service, because their positions are reason to be optimistic in the face of the depression surrounding the peace process today.

On the last day of 2003, the Yesh Gvul (there is a limit) movement organized a get-together in Tel Aviv to convince Israeli teenagers to object to mandatory military service in the Israeli army. Had Palestinian victims of the Israeli occupation been behind the movement, they would not have been able to do something with greater influence and impact.

The ceremony called "there are things that decent people don't do," lasted eight hours, and included films, conferences, and debates. One of the short films featured an Israeli soldier talking in details about what the occupation soldiers do at checkpoints, while there was a sound of a baby's cry in the background.

In one of the conferences entitled "no to the stupidity of occupation", ten 18-year-old boys and girls, asked some questions:

- What are illegitimate orders?

- What exactly are war crimes?

- What are your duties as soldiers, towards people living under occupation?

- What is really happening in occupied territories?

Israeli Ariela Azoulay showed a documentary "Why Laughed Haira?" about Palestinian Haira Abu Hassan who lost her baby after waiting for hours at a checkpoint, but her facial expression had a peculiar smile.

In another film, another soldier spoke of his experiences on duty, saying that soldiers were given orders to arrest and handcuff a 13-year-old Palestinian boy, who was so terrorized that he urinated in his pants, while his mother and father were begging and crying, and soldiers did not know of what he was accused.

Yesh Gvul will organize a similar event in Jerusalem next month, and its activists tried to mobilize the attending teenagers, to sign a petition saying: "We, soldiers of the IDF, men and women, declare that we will take no part in the continued oppression of the Palestinian people in the occupied territories, and we will not participate in policing actions or in guarding the settlements." [...]

Israeli official brushes off Qureia threats on single Arab-Jewish state

04:40 AM EST Jan 10
PETER ENAV

JERUSALEM (AP) - A senior Israeli official on Friday dismissed statements by the Palestinian prime minister warning that the Palestinians could seek a single Arab-Jewish state rather than the two-state solution that has been the goal of the peace process.

Zalman Shoval, an adviser to Israeli Prime Minister Ariel Sharon, called the remarks by Ahmed Qureia, also known as Abu Ala, an "empty threat." "Mr. Abu Ala has threatened to call for a binational state, but he may just as well call for a Palestinian state on the moon," said Shoval. "This is an empty threat that Israel is obviously not going to think seriously about."

Sharon's sport

by Reuven Koret December 26, 2003
Publisher of Jewsweek Magazine, Israel Insider, and CEO of Koret Communications.

Most of the commentary following Prime Minister Ariel Sharon's policy address of December 18 has focused on the carrots extended, primarily to the Americans, of halting settlement expansion, removing unauthorized outposts and, for the first time, redeploying forces and relocating Jewish communities in Judea, Samaria and Gaza.

Much less attention has been paid to Sharon's stick. While pledging allegiance to the Roadmap as the preferred course for Israel, he also raised the possibility that the Palestinians would not fulfill their responsibilities, leading to indefinite deferral of Roadmap implementation.

Since the Arafat-appointed puppet government has indicated no willingness to dismantle and disarm terror groups, the first step in the entire Roadmap, Sharon has a safe bet. He is in effect giving notice of Israel's intentions to take actions which would lead not to a Palestinian state as envisioned by the Roadmap but rather to a cantonized autonomy that Sharon has long envisioned and preferred.

In this eventuality, Israel would redeploy according to new lines of its choosing, no doubt including the Jordan Valley, most areas of the Western ridge overlooking the coastal plain and Ben Gurion airport, the greater Jerusalem area, and the southern Gush Etzion bloc. Israel would remain able to prevent the flow of weapons and personnel in, out and between the Palestinian autonomous areas. Israel would maintain east-west security corridors enabling transportation from the coast to the valley.

The map of the Disengagement Plan is likely to resemble the classic "Allon Plan" or "Two Column" plan that Israeli pragmatists, from Labor and Likud, have long favored.

Israel would be encumbered by a sovereign Palestine, or multinational forces. Israel would retain the freedom of action to enter these areas for security purposes, including protection of communities and Israeli citizens on the other side of the security fence. Until the PA implements the Roadmap, including dismantling of terror organizations and governmental reform, Israeli would withhold recognition of a Palestinian state. More than that: the IDF would retain a free hand to dismantle the terror apparatus if the PA will not.

There is another, more subtle calculus, at work here as well. Sharon knows that any "relocation" of Jewish communities will be a wrenching trauma for Israeli society. In the "stick" scenario outline above, residents of the dozen or more Jewish communities that Israel would relocate could be called on to strengthen and thicken other parts of Judea, Samaria or even blocs in Jewish communities in the Gaza Strip.

If most of the residents uprooted from their homes, and those who support, could see that their sacrifice was truly strengthening Israel's hold on essential portions of its Biblical inheritance and preventing existential dangers to the Jewish nation, their loss will not be perceived as in vain.

More than that: the "transfer" of Jews from their homes on "Palestinian" side of the fence will unleash forces that are likely to lead to the reciprocal relocation of Arabs now living on the Israel side of the fence. That may also include self-defined Palestinian citizens of the State of Israel, starting with those who actively assist and support terror organizations. In any case, the Arabs would not see this redeployment as a victory for terrorism or a success in uprooting the Jews by force. And their dream of a state and a return to all of Palestine would recede from their grasp.

The brilliance of the Sharon Disengagement Plan is that it is wholly consistent with American interests. The last thing Uncle Sam needs is the emergence of an Arafat-led terror nation, which as a sovereign state would be free to import weaponry and people to further destabilize the region while enabling European- and Arab backed forces to prevent Israel from intervening to thwart threats and pursue terrorists.

[...] Ariel Sharon is not a political lightweight, and he wasn't born yesterday. His Disengagement Plan, for all its risks and real costs, resembles the strategy of a sumo.

He is operating in a small ring, constrained on all sides. What he has done, in effect, is to deftly wield the power of the Roadmap to throw his domestic and foreign opponents off-balance. Their aggressive charges, directed at him, serve only to propel themselves right out of the ring, leaving him standing, weary but -- against the odds -- victorious and fit to fight another day.

Come to think of it, Sharon's sport is one at which the Jewish people have excelled through the ages.

Call it Jew-jitsu.

Comment: It is truly amazing the things one can overhear when a group of people think they are speaking entre-amis. This article from a Jewish web magazine is clear in stating the intentions of Sharon: do everything possible to prevent the establishment of the Palestinian state, to confine them into apartheid reserves completely controlled by the IDF.

Sharon's Wall a Threat to All Religious Groups

'Annexation by appropriation' ruins world's holiest cities for everyone

By Christopher Bollyn

The Israeli "separation barrier" is the culmination of Ariel Sharon's long-planned settlement scheme to appropriate vast amounts of Palestinian land and water resources and impoverish the non-Jewish population to the point of expulsion.

Bethlehem this Christmas, like most other Palestinian towns and villages, under "closure" of the harsh Israeli military occupation, has become a Christian ghetto–separated from its hinterland and Jerusalem. Bethlehem has become an open-air prison, like the Gaza Strip, surrounded by an Israeli-built electrified wall–an atrocity paid for by the U.S. taxpayers and supported by the U.S. government.

The tall and ugly electrified wall being built around the town of Bethlehem and its famous Church of the Nativity is but a small part of the more than 400-mile-long fortified wall designed to separate the population of the Holy Land into two ghettoes–one Israeli, the other Palestinian. The meek protests of the Bush administration do nothing to hide the fact that the Israeli barrier is being built with funds and political cover provided by the U.S. government.

Depicted by the mass media as a self-defense measure required to foil Palestinian terror attacks, the wall is actually the beginning of the final phase of a long-planned appropriation of Palestinian land and water resources begun decades ago by the current Israeli prime minister.

The real objective of the wall is the de facto annexation of Palestinian land to Israel and the eventual expulsion of the native population from their homes and land, according to Stop the Wall, a Palestinian "anti-apartheid" organization.

Deadly blast strikes Shiite mosque in Iraq

Last Updated Fri, 09 Jan 2004 12:33:57

BAQOUBA, IRAQ - At least two people were killed in the central Iraqi town of Baqouba when a bomb exploded near a mosque at the end of Friday prayers.

[...] Mosques have been the targets of an increasing number of attacks in recent weeks. Both Sunni and Shiite holy sites have been attacked as sectarian tensions increased.

Three people were killed on Dec. 9 when a bomb exploded near a Sunni mosque in Baghdad. Shiite extremists were blamed for that blast.

The Shiite majority in Iraq was persecuted for decades under the Sunni-dominated regime of Saddam Hussein.

Comment: We have serious doubts that this violence is the result of "sectarian tensions" between the Sunni and the Shiite Moslems. However, there is one major player in the Mid East that wishes to see Iraq dismembered so that its dreams of an empire stretching from the Mediterranean to the Tigris can become a reality. They have the motivation and the means to carry out operations such as this, to set the Arabs at each other to promote civil war.

Syria And Turkey Defy The United States

Patrick Seale Al-Hayat 2004/01/9

This week's visit to Turkey by Syria's young leader, President Bashar Al Assad, is of considerable geo-strategic significance. It has taken place in close coordination with Syria's ally Iran, whose foreign minister, Kamal Kharazzi, was in Damascus on the eve of the visit, while Turkey's foreign minister Abdullah Gul is expected in Tehran on Saturday.

The three countries are intent on sending a firm message to the United States about its policy in Iraq. They are telling Washington that Iraq must remain a unitary state and that they will strongly oppose any attempt to break it up into three mini-states, Kurdish, Sunni and Shiite, as several influential American commentators have recently been recommending. Above all, they are warning the U.S. not to encourage the Kurds to seek permanent autonomy, let alone independence.

[...] It is now widely recognized that the United States invaded and occupied Iraq, following 13 years of punitive sanctions, not because of the alleged danger from Saddam Hussein's weapons of mass destruction, nor because of his gross abuses of human rights, but because a strong and independent Iraq was seen as a threat both to the Western-dominated political order in the Gulf and to Israel.

[...] Regional states share a profound apprehension about the future intentions of the United States and Israel. Do these powers want peace and stability or are they planning further aggressions? How will the U.S. deal with the resistance it continues to face in Iraq? What will happen next June when it plans to hand back authority to the Iraqis? How long will it maintain its armies at the heart of the Arab world? Can the U.S., now in the hands of dangerous ideologues, be counted on to behave rationally?

The fate of the Palestinians under Israeli occupation, suffering appalling hardship and daily killing in the face of apparent American indifference, is another huge factor of uncertainty and instability, not least because of the passions it arouses among the Arab and Muslim public.

[...] The suggestion today is that the Turkish prime minister, Recep Tayyip Erdogan, is in turn seeking to strike a balance in Turkey's relations with Israel and the Arab states, as well as to distance himself from Sharon's aggressive policies towards the Palestinians and Syria. Turkish sources say that Erdogan has been angered by reports that Israeli agents have been encouraging Kurdish separatism in northern Iraq, as they have often done in the past during the long history of conflict between the Kurds and the Baghdad government.

Huge explosion puzzles police (Australia)

January 10, 2004 - 5:33PM

A massive blast which destroyed a car and left a crater four metres wide and almost four metres deep in a Sydney paddock today was felt 30 kilometres away.

Pieces of an abandoned car destroyed in the blast at Eastern Creek, in Sydney's west, were found scattered up to 500 metres away.

It was not yet known how the blast happened, or what type of explosive was used, but police said they were treating the incident as serious and suspicious.

Bankstown Local Area Commander acting superintendent Wayne Murray said the counter-terrorism unit had been called in as a matter of protocol, but at this stage it was not known whether there was anything sinister about the explosion. [...]

France hails Libya jet bomb deal

PARIS, France (CNN) -- France has praised the signing by Libya of a $170 million compensation deal with the families of 170 people killed in a 1989 airliner bombing.

The move to compensate families of those killed when the French UTA flight was bombed over the Niger desert is now expected to clear the way for wider relations between the Libyan government of Colonel Moammar Gadhafi and France. [...]

Shell makes shock cut in oil reserves estimate

By Joanna Chung and Gordon Smith
Published: January 9 2004 9:48 | Last Updated: January 9 2004 21:12

Royal Dutch/Shell, one of the world's largest and most respected oil companies, shocked shareholders and rivals on Friday by slashing estimates of its proved reserves by 20 per cent.

The revelation that almost 4bn barrels of oil and gas would have to be reclassified to comply with US Securities and Exchange Commission rules triggered a drop of more than 7 per cent in Shell's share price - knocking about £3bn ($5.5bn) off its market value and hitting shares across the sector.

Reserves are a key measure of an oil company's health. Although difficulty of finding new reserves has become an industry-wide problem, Shell has been among the least successful of its peers in making new finds. Many of the company's added reserves have come in the form of upward revisions of the capacity of fields already discovered - rather than through exploration successes. On Friday, Shell said its reserves would shrink again this year, with only 70-90 per cent of oil and gas extracted being replaced.

Venezuela describes Powell's remarks as impertinent

www.chinaview.cn 2004-01-10 14:11:22

CARACAS, Jan. 9 (Xinhuanet) -- United States Secretary of State Colin Powell's remarks on Venezuela's referendum are "impertinent," Venezuelan Vice President Jose Rangel said on Friday.

Powell indicated on Thursday that there will be a referendum vote against Venezuelan President Hugo Chavez if signatures are approved to activate the consultation.

[...) The revocation referendum is the third try by Chavez opponents to oust him, after a failed coup in 2002 and a two-month general strike ending in February 2003 which crippled crude exports of Venezuela, the fifth largest oil exporter in the world.

Comment: The Venezuelan opposition, fully supported by the US, has been working to oust Chavez for years. Chavez is trying to keep Venezuela's oil supply out of the hands of the US oil companies. Washington can't let that happen, can they? If the referendum doesn't work, will we start learning about Venezuela's secret programs to develop Weapons of Mass Destruction?

Racist war of the loyalist street gangs

Orchestrated attacks on minorities raise fears of ethnic cleansing

Angelique Chrisafis, Ireland correspondent
Saturday January 10, 2004
The Guardian

Not far from the red, white and blue paving stones, the Ku Klux Klan graffiti and the "Chinks out" notices scratched outside south Belfast Chinese takeaways, Hua Long Lin was at home watching television when a man burst in and smashed a brick into his face. His wife, also in the room, was eight months pregnant. The couple had moved into the terrace two weeks before.

Neighbours expressed regret but one white family told a community worker they couldn't offer a Chinese family friendship in public or they would be "bricked" too.

"It's like Nazi Germany," they explained.

Northern Ireland, which is 99% white, is fast becoming the race-hate capital of Europe. It holds the UK's record for the highest rate of racist attacks: spitting and stoning in the street, human excrement on doorsteps, swastikas on walls, pipe bombs, arson, the ransacking of houses with baseball bats and crow bars, and white supremacist leaflets nailed to front doors.

Over 200 incidents were reported to police in the past nine months, although many victims don't bother complaining any more.

But in the past weeks, fear has deepened. Protestant working-class neighbourhoods are showing a pattern of orchestrated house attacks aimed at "ethnically cleansing" minority groups.

It is happening in streets run by loyalist paramilitaries, where every Chinese takeaway owner already pays protection money and racists have plentiful access to guns. The spectre of Catholics being systematically burnt out of similar areas during the Troubles hangs in the air.

So-called peace walls between Protestant and Catholic communities are graffitied with swastikas and signs that read "keep the streets white".

Both local unionists and Sinn Féin warned this week that someone is likely to be killed or burned alive in their home if the campaign does not stop. But there are no signs of it abating.

The Village in south Belfast is a run-down network of loyalist terraces where unemployment is high, union flags sag from lampposts and almost every family has a link to loyalist paramilitaries.

In post-peace process Northern Ireland, communities like this are more segregated than ever - through choice. Last year, five student houses, home to mixed Protestants and Catholics, were attacked until they were vacated. The siege mentality against "outsiders" is rife.

In the past eight weeks, pregnant Chinese women and new mothers have been forced out of terraces and over a dozen Chinese people have been attacked. The Chinese community, the largest ethnic minority in Northern Ireland, has been in Belfast since the 1960s, but there are rumours that a "quota" on new arrivals is being enforced. Last month, Ugandan and Romanian families were burned out.

Across Belfast, Sara - not her real name - sat behind closed curtains in her terraced house. Her front window is regularly painted with KKK, "black people out" and "I hate niggers" slogans. A Zimbabwean businesswoman in her 30s, she never opens her curtains to let natural light into the house, as the sight of her in the living room is a provocation to local teenagers. The shouting through her letterbox becomes unbearable.

There are 4,000-5,000 Muslims in Northern Ireland, most born locally, but there is no purpose-built mosque for fear of attacks. The community worships in converted houses it can barely squeeze into.

Last year, planning permission was denied in the Protestant-dominated area surrounding Portadown amid a local campaign warning people that residents would be "kept awake by wailing".

Planning permission has now been granted but the mosque won't be built, as the community is too afraid. In the past eight months at least eight families have been forced from their homes.

One family was shot at through their kitchen window, a number of Muslims were stabbed, one was left in a coma after a beating, others have had legs and noses broken. The community avoids speaking out. Whenever it is quoted in the media, the attacks get worse.

Desmond Birnie, a local Ulster Unionist assembly member, said: "The pattern of these attacks suggests that we are seeing a rerun, albeit on a smaller scale, of the tactics used by the Nazis in the 1930s."

Comment: It is interesting to note that anyone who visits the protestant loyalist areas of Northern Ireland has a good chance of seeing the Israeli flag flying along side the British flag. Like the Israeli position in Palestine, the unionist position in Northern Ireland was founded on injustice and brutality. It is not unusual then that the political opinions and policies of these two groups should find a common ground.

US team visits key N Korean site

A US delegation which visited North Korea has revealed that it visited the secret nuclear complex at Yongbyon.

Washington believes the facility is being used to develop nuclear weapons.

The delegation is not official, but the Congressional aides and scientists are the first outsiders to visit the plant in over a year.

China pursues anti-Sars slaughter

World Health Organization doctors have searched a restaurant in China to see if a waitress suspected of having Sars could have caught the virus there.

[...] Meanwhile, thousands of civet cats have been killed so far, mostly by drowning, electrocution and incineration. An estimated 10,000 are expected to be culled in total.

The cull has been extended to badgers, raccoon dogs and other animals served as local delicacies.

Officials are threatening animal traders with fines of up to $12,000 for failing to cull civet cats - whose meat fetches up to $22 a kilogram.

The authorities have also called for the slaughter of rats, cockroaches, flies and mosquitoes, known as the "four dangers".

Powerful explosion takes place in Sydney

www.chinaview.cn 2004-01-10 16:27:42

CANBERRA, Jan. 10 (Xinhuanet) -- A powerful blast took place at a paddock in Sydney's west on Saturday morning, destroying a car but with no casualties reported.

The blast left a crater four meters wide and four meters deep and it was felt 30 kilometers away, local radio ABC reported.

Medecins Sans Frontieres lists most 'under-reported' humanitarian stories

04:40 AM EST Jan 10
BARBARA BORST

NEW YORK (AP) - A medical aid group says that the American news media last year provided too little coverage of some world trouble spots, including the conflicts in Colombia, Chechnya and Congo.

In its annual list of "under-reported humanitarian stories," Medecins Sans Frontieres also cited a lack of media attention to the high death toll worldwide from malaria, the crises in North Korea and Somalia and the limited access of poor people to anti-AIDS medicines.

[...] Nicolas de Torrente, the executive director of the U.S. branch of MSF, also known as Doctors Without Borders, told The Associated Press that the list focuses on U.S. news coverage because American media under-report international events in general, except for security issues and the Middle East.

France, Poland vow to seek agreement on EU Constitution

www.chinaview.cn 2004-01-10 08:52:18

PARIS, Jan. 9 (Xinhuanet) -- Polish and French Foreign Ministers Wlodzimierz Cimoszewicz and Dominique de Villepin said Friday that both countries are willing to overcome their disagreement over the European Union Constitution.

Cimoszewicz said Poland would like to see an agreement on a new Constitution in time for European elections that take place in June.

Sketch released of driver who killed doctor

Family and friends of a Houston doctor are pleading for the public's help to find the person who ran over him and left him to die in the street. Dr. Robert L. Burghoff was walking along South Braeswood on November 20 when a van jumped the curb and hit him. Dr. Burghoff, who worked at Baylor College of Medicine, died from his injuries. [...]

Comment: Another Microbiologist involved in DNA research dies in an unfortunate "accident" See our supplement on Ethnic Specific Weapons

Kilroy 'regrets' anti-Arab comments

Television presenter Robert Kilroy-Silk has apologised for a newspaper article in which he made anti-Arab comments.

He said he greatly regretted the offence caused by the Sunday Express article, which was written in April but "republished last weekend in error".

In it, he branded Arabs "suicide bombers, limb amputators, women repressors" and asked what they had given to the world other than oil.

Nude Man Shows Up At Airport Security Checkpoint

Comment: In other words, he came prepared for modern day security checkpoints.

Seatbelt sign in Qantas toilet alert

By Robert Wainwright
January 10, 2004

Qantas has instructed its pilots and flight crew to use fasten seatbelt signs if necessary to help break up queuing for toilets aboard long-haul flights to the United States.

A notice issued to cabin crew warns them to take seriously the controversial US directive to stop passengers from congregating around toilets during the 14-hour flight across the Pacific.

But the memo, obtained by the Herald and confirmed by Qantas as authentic, has upset the Flight Attendants Association of Australia (FAAA), which warns that the use of the seatbelt warning could lead to a "boy who cried wolf" scenario in which passengers ignore the sign when a real mid-air safety problem occurs. [...]

Music Industry Puts Troops in the Streets

O'Hare-Bound Flight Grounded Due To Security Concern

Air Traffic Controllers Order Plane Back

CHICAGO -- A United Express flight that which had flown from Chicago to Omaha, Neb., earlier in the day, was grounded in Omaha before returning to Chicago because of a security concern Friday afternoon.

NBC5 reported that a flight attendant going through the plane before takeoff found putty with wires sticking out of it in a lavatory aboard the plane and the pilots grounded the aircraft as a result. NBC5 learned that the flight attendant had thought two passengers from the first leg of the trip appeared "suspicious" to her, as well.

United Express spokesman Jeff Green told NBC5 that investigators tested the putty and found that it was not dangerous.
A canine unit searched the plane and found nothing. All passengers from the flight were screened and cleared. [...]

Chauffeur blood sample 'concern'

Press Association
Saturday January 10, 2004 8:18 AM

Scotland Yard has refused to comment on a report that senior British police officers have doubts over the authenticity of chauffeur Henri Paul's blood sample, used in a French inquiry which concluded that Diana, Princess of Wales was killed by a drunk driver.

The Times newspaper said it has learned there are what it called "high-level concerns" over the specimen and that French police have not carried out a DNA test which would prove it came from Mr Paul.

Doubts over the validity of the blood sample would threaten the credibility of the French inquiry, which concluded Mr Paul, high on a cocktail of drink and drugs, lost control of the Mercedes car while speeding in the Pont D'Alma tunnel. [...]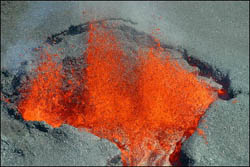 Pair of volcanoes erupt
Globe and Mail Update
Two volcanoes in different parts of the world erupted on Friday, one on the Indian Ocean island of Réunion, the other in the Central American country of Guatemala.
A volcano southwest of Guatemala City, the capital, spewed ash and lava, but authorities said the situation was not serious enough to warrant evacuations. [...]
Scientists report pattern in earthquake occurrences
Scientists believe they have detected a pattern in earthquakes occurring along the San Andreas Fault, a finding that eventually could help forecast shakeups. [...]
New warning over monkeypox threat
The US could face further outbreaks of dangerous monkeypox if the virus has gained a foothold among native animals, say experts.
The illness, from the same family as smallpox, is endemic in parts of Africa, but 81 cases were reported last year in six US states.
Writing in The Lancet Infectious Diseases, researchers from Stanford University say that it could return.
Some scientists say that, in theory, it could be used as a bioweapon.
Freezing temperatures blamed for deaths in Eastern Canada
Last Updated Fri, 09 Jan 2004 22:11:27
TORONTO - The cold snap in Eastern Canada has claimed another victim. A 93-year-old woman was found frozen to death in front of the seniors home where she lived in Alma, Que.
[...] It is the continuation of the bitter cold that hit Western Canada last weekend. The freezing weather has now enveloped an area from Ontario to Prince Edward Island. In Quebec, the mercury has dropped as low as -46 degrees.
In Ontario, some schools are closed; others are keeping children inside during recess and lunch.
In Toronto, with the wind chill, it's -30 degrees, prompting the city to issue a cold weather alert for the homeless.
Environment Canada's Dave Phillips says "certainly in in Eastern Canada we're talking tonight, -45 degrees in Timmins, that's cold in any language."
'US climate policy bigger threat to world than terrorism'
09 January 2004

Tony Blair's chief scientist has launched a withering attack on President George Bush for failing to tackle climate change, which he says is more serious than terrorism. [...]
Scientists defend farmed salmon
Last Updated Fri, 09 Jan 2004 22:11:51
HALIFAX - A controversy over farmed salmon is making consumers pay attention.
An international study published in the U.S. journal Science says salmon raised on fish farms should only be eaten infrequently. The study says farmed salmon contains significantly higher concentrations of pollutants like dioxins and PCBs. Those toxins could increase the risk of some cancers and other health problems.
But not all scientists agree with the study's findings and are questioning the validity of the claims of the study.
Dr. Theresa Glennville, a nutritionist at Mount St. Vincent University in Halifax, says the contaminants in farmed salmon don't appear to pose much of a risk. "These are supposed to be well below the acceptable limits, so until I hear otherwise from Health Canada I would continue to use them."
Comment: The question is who established the "acceptable limits", when were they drawn up, and what were they based upon? We can pose serious questions about the quality of the food we eat, especially in North America where so much food is processed, the animals are factory farmed and fed questionable feed. After the appearance of Mad Cow disease in the UK, the "industry" is forced to stop feeding cattle recycled parts of dead cattle. But who decided that using dead cattle as feed was a good idea in the first place?! With people like this in charge, the premise of the film Soylent Green is not at all far-fetched.
Study shows power of mind over memory
The brain has mechanisms for intentionally forgetting information, scientists in Oregon and California discover
Bush to Propose Moon Base and Manned Mission to Mars

President Bush will unveil a new American space initiative next week that is expected to include building a permanent base on the moon and later sending astronauts to Mars, White House officials said Thursday night.
Jan 9 2004
By The Huddersfield Daily Examiner
STRANGE fires in the sky have been filmed soaring over Huddersfield.
Mother-of-three Dawn Crossley, of Hexham Green, Milnsbridge, caught an unidentified flying object on video as it flew over her home on December 16.
Exactly a week later, two more UFOs appeared in the night sky, to be spotted again by Dawn and other householders around Kirklees. [...]
"It was like a ball of fire with a small dome on top," said Sue.
Dawn immediately rushed to get a camcorder and took nine seconds of grainy footage showing the flickering ball of light heading through the night.
"It was zooming. It was fair moving," said Dawn.
And she could barely believe her eyes when, a week later, at home with husband Phil, two more UFOs appeared at the same spot. [...]
RESEARCHERS in Edinburgh believe that ghostly sightings might have a link to variations in magnetic fields.
---
Remember, we need your help to collect information on what is going on in your part of the world!
We also need help to keep the Signs of the Times online.
---

Check out the Signs of the Times Archives

Send your comments and article suggestions to us

---
Fair Use Policy
Contact Webmaster at signs-of-the-times.org
Cassiopaean materials Copyright ©1994-2014 Arkadiusz Jadczyk and Laura Knight-Jadczyk. All rights reserved. "Cassiopaea, Cassiopaean, Cassiopaeans," is a registered trademark of Arkadiusz Jadczyk and Laura Knight-Jadczyk.
Letters addressed to Cassiopaea, Quantum Future School, Ark or Laura, become the property of Arkadiusz Jadczyk and Laura Knight-Jadczyk
Republication and re-dissemination of our copyrighted material in any manner is expressly prohibited without prior written consent.
.