---
Picture of the Day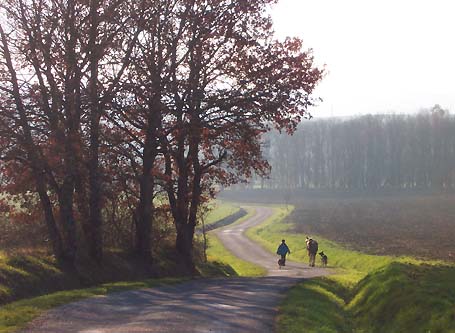 On the Road, Dec 2003
©2004 Pierre-Paul Feyte
It is a strange world in which we live. Once again, we have to focus a bit on this tiny country in the Middle East. Much blood has been spilled in this tiny country in the name of religion. War and terrorism have been spilling out across the planet due to this country's policies thanks to the self-serving support received from the US and UK. That country is, of course, Israel. What is going on in Israel affects every human being on the planet as war, terrorism, and genocide become normal living conditions.
A letter accusing Europe of anti-Semitism in the form of believing in a "World Jewish Conspiracy" has backfired on the writers as the European Commission cancels an anti-Semitism conference. This action will probably be interpreted as proof of anti-Semitism rather than proof of shrill name calling and a reluctance on the part of the EU to being bullied. From the tone of the original letter one would think that the phrase "World Jewish Conspiracy" was on the lips of every European.
A ridiculous accusation, but that may very well change in the future as the US and the UK are beating the war drums louder than ever. It is just a matter of time before Syria is invaded, as Syria repeatedly draws attention to Israel's WMD. A council is being convened to obliterate the evidence regarding Israel's attack on the USS Liberty, similar to the process that was done with the Warren Commission regarding the JFK assassination. In a strange twist, a source close to Ariel Sharon has accused certain elements of Israel's government of Nazi-like activities. An Israeli's design has won the competition for the WTC memorial.
The suspected killer of the Swedish Foreign Minister has confessed. There may be more to this story than is immediately apparent, or maybe not. Travelers continue to be harassed, and everyone is jittery just waiting for the next Bush/Mossad attack.
George Bush is on track to become the first president since the 1820s who did not veto a single bill in one full term. It seems that Republicans and Democrats alike are worried about dying in unfortunate "accidents", such as small plane crashes.
A 9-11 widow served Bush and top officials in his administration on Friday with a personal summons in her Racketeer Influenced and Corrupt Organizations Act (RICO) suit that will try to hold Dubya and his Neocon pals accountable for the WTC attacks.
In the latest Halliburton development, the US Army has granted the company a waiver for a no-bid deal to bring oil into Iraq. An army spokesman assured everyone that this new deal is not related in any way to the overpricing scandal, and that everyone should pay no attention to that man behind the curtain. Speaking of Iraq, the "coalition" plans on releasing several hundred prisoners in the next few weeks.
ARCAD, the non-lethal chemical weapons program that was terminated in 1992, was resurrected by a small Pentagon group backed by none other than Paul Wolfowitz.
French authorities now say that although the black box from the crashed Flash Airlines jet has been located, it cannot yet be recovered since it is in very deep waters.
Tony Blair says Britain will switch over to the Euro by 2007.
Hillary Clinton thinks racial slurs are funny; the CDC warns the flu season hasn't yet peaked; 26 quakes hit southern Iran; cyclone Heta levels the capital of the island nation of Niue; Japanese scientists trap light; and yet more UFO sightings.
UPDATE: Prodi suspends anti-Semitism talks after Jewish attacks on EU's Commission
06 January 2004
The president of the European Commission, Romano Prodi, has suspended a conference being prepared with Jewish organisations after two prominent Jewish leaders accused the EU executive branch of fuelling anti-Semitism, his office said Tuesday.
In a letter to Edgar Bronfman, head of the World Jewish Congress, and Cobi Benatoff, president of the European Jewish Congress, Prodi said he was "both surprised and shocked" by their attack.
The two men had accused the European Commission in an article published by the Financial Times of being "politically motivated" in censoring a report on violence against Jews and releasing an opinion poll concerning Israel.
The article, which appeared on Monday, "goes against our best and mutual interest," Prodi wrote.
He said he had suspended preparatory work for a seminar on European anti-Semitism and the Israeli-Palestinian conflict due to be held next month, but added:
"I sincerely hope you will lay the conditions for resuming as soon as possible a fruitful and indispensible dialogue between our institutions." [...]
Comment: You can read our analysis of this attack on Europeans from the January 5th Signs page here. Europeans can probably expect more retaliation via more strident and dangerous accusations of anti-Semitism.
UPDATE: Assad given weapons ultimatum
By Anton La Guardia, Diplomatic Editor
The Telegraph
Filed: 07/01/2004
America and Britain rebuffed President Bashar Assad of Syria yesterday, telling him bluntly that Damascus must give up its weapons of mass destruction or face ostracism - even if neighbouring Israel keeps its nuclear arms. [...]
Syria has no WMDs - Arab League
Wednesday 07 January 2004
Syria has no weapons of mass destruction but it and other Middle East countries have the right to acquire defensive measures against Israel's nuclear capabilities, Arab League chief Amr Musa has said.
Musa also took a swipe at the United States, saying it was wrong to assume Syria had nuclear weapons without proof. [...]
Syria complains to UN over Israel Golan plan
Tuesday 06 January 2004
Reports said Israel was to build 9 new settlements on Golan
Syria has lodged a complaint at the UN Security Council over Israel's possible drive to double Jewish settlers in the occupied Golan Heights.
"This provocative Israeli decision comes a few weeks after the Syrian initiative for the resumption of peace talks...it unveils the true intentions of Israeli leaders that contradict the goal of establishing peace," the official Syrian news agency quoted a letter to the Council and the world body as saying. [...]
Arafat says Sharon does not want peace as Israel pulls back from Nablus
Tue Jan 6,11:48 AM ET

RAMALLAH, West Bank (AFP) - Yasser Arafat accused arch-enemy Ariel Sharon of not wanting peace after the Israeli premier again threatened unilateral measures to separate the Jewish state from the Palestinians.
"Sharon does not want peace; he wants to continue to build the wall and to conduct military operations," veteran Palestinian leader Arafat told reporters at his office here, referring to the barrier being constructed to separate Israel from the West Bank.
He also played down the dismantlement of certain illegal Jewish settlements announced by Sharon, saying "removing one mobile home here and another one there is nothing more than a trick." [...]
Israel kills three in West Bank invasions
Israeli occupation soldiers have killed three Palestinians in the West Bank, including two in Nablus and one in Tulkaram. [...]
PM's associate warns: 'It's how the Nazis came to power'
By Yossi Verter
Haaretz Correspondent
A source close to Prime Minister Ariel Sharon complained Monday night that several of the proposals made by Likud convention activists for changes to the party constitution were reminiscent "of how the Nazis came to power in Germany." [...]
"This is exactly how the Nazis came to power in Germany," said the Sharon associate. "With various bills that passed one after the other, they totally hollowed out the central authority. It's a phenomenon that repeated itself in other fascist regimes in Europe."
US plans conference on USS Liberty incident
By ASSOCIATED PRESS
The State Department will cast a spotlight next week on the 1967 Israeli attack on the U.S. spy ship Liberty where 34 American servicemen were killed.
Israeli, Arab, British and Canadian diplomats have been invited to attend a conference Monday and Tuesday at the department's Henderson auditorium. [...]
Retired Capt. Ward Boston said Johnson and McNamara told those heading the Navy's inquiry to "conclude that the attack was a case of 'mistaken identity' despite overwhelming evidence to the contrary." [...]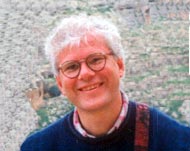 Dr Toine van Teeffelen received his PhD in discourse analysis from the University of Amsterdam on the subject of images of the Palestinian-Israeli conflict in western popular literature. He presently is an educational consultant as well as a representative of peace movements in Palestine.
FLASHBACK: Israelis better at manipulating media
By Dr Toine Van Teeffele
As a guide and consultant living in Bethlehem, Palestine, I have regularly coordinated visits for groups of Westerners coming to see Palestinian reality with their own eyes.
Almost always those visitors felt afterwards that what they saw did not correspond with the image of Palestine they had before. Somehow the impact and scope of occupation were never really understood except after experiencing it first hand.
Why? Lots of causes are at play here, but perhaps none is so important as the influence of the media. [...]
Dangerous assignments
[I]t became quite dangerous to visit areas of tension, especially after the Israeli army increasingly harassed and shot at journalists, Palestinian and international alike. [...]
Stereotypical reports
It is hard to imagine that this does not have an influence upon the subjects and ways of reporting. On an analytic level, it is not uncommon to see that journalists resort to well-known and stereotypical labels such as "fanaticism", "fundamentalism", "tribalism", and "Islam" as all-encompassing explanation schemes for ongoing violent events on the Palestinian side, and neglect the detailed influences of occupation, domination, history, and local or personal context they would have better known when living there. [...]
Viewpoints
The media also provide space to more elaborate viewpoints through their op-ed pages, background interviews, or in solicited comments from experts, spokespersons, or the public [...]
Camp David coverage
Significantly, the story undermined the Palestinian narrative in so far as that the Palestinian demands were presented as unreasonable (rather than justified by international law) while the reason for rebellion was considered not to be located in the difficult circumstances of occupation but in the dictatorial powers of one person. The same applies to the identification of Arafat with Saddam Hussein by many opinion leaders in the media. [...]
Design by Israeli architect wins WTC memorial competition
By The Associated Press and Haaretz Service
A design submitted by Michael Arad, a 31-year-old Israeli architect, and San Francisco-based landscape designer Peter Walker, has been chosen for the World Trade Center memorial after an eight-month competition that drew more than 5,000 entries from around the world.
The "Reflecting Absence" memorial, consisting of two reflecting pools and a large grove of trees, was chosen by a 13-member jury of artists, architects and civic and cultural leaders.
A jubilant Arad, a 31-year-old Israeli native who has designed two police stations in his job at the city housing authority, said he was surrounded by well-wishers after learning his plan was chosen. [...]
Still, the memorial drew an icy reception from some victims' families, who accused the jury of ignoring their input during a hasty deliberation and said the design failed to convey the horror of the attack. [...]
Libya and Israel hint at new ties
BBC
[...] Libya - which announced dramatically last month it would give up banned weapons - has never recognised Israel and has called for its destruction.
Mr Sneh confirmed on Wednesday that he and another Israeli legislator had met the Libyan leader's son on the sidelines of an academic conference last August. [...]
Al-Siyasa newspaper said officials from Israel's foreign and defence ministries and Mossad intelligence service would hold talks in Libya on ending hostilities between the two countries - which date from Israel's founding in 1948.
It quoted European diplomatic sources as saying that high-ranking Libyan and Israeli officials met an American diplomat in Vienna last Friday. [...]
Black box from airliner that crashed killing 148 cannot be recovered
By Jocelyn Gecker in Sharm el-Sheikh
The Independent
07 January 2004
One of the black-box flight data recorders from the Flash Airlines jet that crashed in the Red Sea in Egypt on Saturday has been located. But the water is too deep for it to be retrieved, French officials said yesterday.
Rear Admiral Jacques Mazars said that more advanced equipment was needed to retrieve the box, which was believed to be about 800m below the sea's surface.
The plane - an 11-year-old Boeing 737 - crashed into the sea shortly after take-off, killing all 148 people on board. Most of the dead were French tourists. Egypt quickly ruled out the possibility of a terrorist attack, saying that the crash was caused by a mechanical failure.
The US State Department said that four people with dual US-Egyptian citizenship were on the flight bound for Paris via Cairo. The US Embassy in Cairo declined to name them. [...]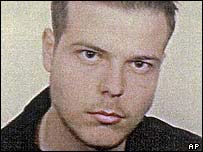 Suspect admits killing Anna Lindh
BBC
The man suspected of killing Swedish Foreign Minister Anna Lindh has admitted committing the crime. [...]
Ms Lindh was a popular politician in Sweden, who had been seen as a potential prime minister.
The BBC's Lars Bevanger in Oslo says Swedish police had been under enormous pressure to find Ms Lindh's killer. [...]
Mr Mijailovic has also been subjected to psychiatric tests by the Swedish National Board of Forensic Medicine.
The killing of Ms Lindh echoed the still-unsolved murder of Swedish Prime Minister Olof Palme in 1986.
Sweden was shocked by her stabbing, which came in the final days of a campaign in which she had been trying to persuade Swedes to vote in favour of joining the European single currency. The measure was decisively rejected by 56% to 42%.
FLASHBACK: Olof Palme
Bush Body Count
He was the prime minister of Sweden, assassinated in 1986. Oliver North, the golden boy of the Bush/Reagan machine, had met with Mr. Palme to discuss the possibility of obtaining false end-user certificates for the plethora of weapons that were being purchased, so that they would seem to have come from a country other than the U.S. Mr. Palme refused to participate, after the plan was presented to him. He was dead within weeks.
While claiming to export democracy to Iraq, the Bush administration has been undercutting democracy at home. U.S. public debate -- even about the life-and-death issues of war and peace -- is now dominated by bogus information and ridicule of dissent, with those trends already reaching into Campaign 2004.
With GOP Congress behind him, Bush has yet to use veto
By JIM ABRAMS
Associated Press writer
Tuesday, January 6, 2004 10:15 PM PST
WASHINGTON — Aided by a Republican-controlled Congress, President Bush is on track to become the first chief executive since John Quincy Adams in the 1820s to complete a full term without vetoing one bill.
He has, however, made frequent use of the veto threat, and so far that's been enough to get what he wants.
By comparison, President Clinton issued 37 vetoes during his eight years in office. Bush's father had 44 during his single term. Franklin Roosevelt was the champion bill slayer, killing 635 either by regular veto or "pocket" veto, which means letting a bill lapse without a presidential signature when Congress is not in session.
Rutgers University political scientist Ross Baker said there was a time when "a large number of vetoes was seen as a sign of a vigorous presidency."
Not now. Bush's veto-free presidency, Baker said, is "a recognition that at this particular point in history the Republicans are showing an incredible degree of solidarity." [...]
Comment: Solidarity, or fear of opposing Bush and his War on Terror...
Coalition to release hundreds of Iraqi prisoners
January 7, 2003
BAGHDAD (AFP) - The top US official in Iraq, Paul Bremer, was due to announce the imminent release of 100 Iraqi prisoners, with more to follow, in an apparent bid to promote reconciliation ahead of a handover of power in six months' time.
The US-led coalition will release 100 people from Iraqi prisons on Thursday, with hundreds more to be freed in coming weeks, Bremer was to say in a policy address, according to an advance copy of his speech obtained by AFP. [...]
Bremer's statement describes those being let out as not directly linked to violence against US forces. [...]
At least 10,000 people are currently detained by the coalition, of whom nearly 4,000 belong to the Iranian armed opposition group, the People's Mujahedeen. [...]
Saddam's Questioning Could Become Public
By JOHN J. LUMPKIN, Associated Press Writer
Tue Jan 6, 4:00 PM ET
WASHINGTON - CIA interrogators taking on Saddam Hussein must contend with the likelihood that some of their questioning could become public during his eventual trial. That means decisions now on how to conduct the questioning and record the conversations, U.S. officials say.
On the one hand, any admissions Saddam might make of human rights violations or responsibility for massacres would be useful material for prosecutors in a trial.
But any such statement by Saddam also would probably have to meet some kind of standard for use in a court case, much like an affidavit in the U.S. court system. That could mean officials might want the informal give-and-take of a typical interrogation to give way to a ritualized question-and-answer session.
That makes Saddam's interrogation different in fundamental ways from the questioning by U.S. officials of senior members of the al-Qaida terrorist organization. It is unclear whether those al-Qaida members, captured and hustled off to secret overseas locations for interrogation, will ever see daylight again, even if they are afforded some kind of military or other trial. [...]
Comment: Whatever happened to a fair trial? What about being innocent until proven guilty? And for our American readers, what will you do when our favorite far-right fascist fundamentalist Christian, John Ashcroft, declares you a terrorist, and ships you overseas for interrogation (read: torture reminiscent of an Inquisition)?
White House Seeks Secrecy on Detainee
By GINA HOLLAND, Associated Press Writer
Mon Jan 5, 7:13 PM ET
WASHINGTON - In an extraordinary request, the Bush administration asked the Supreme Court on Monday to let it keep its arguments secret in a case involving an immigrant's challenge of his treatment after the Sept. 11 terror attacks.
Mohamed Kamel Bellahouel wants the high court to consider whether the government acted improperly by secretly jailing him after the attacks and keeping his court fight private. He is supported by more than 20 journalism organizations and media companies.
Solicitor General Theodore Olson told justices in a one-paragraph filing that "this matter pertains to information that is required to be kept under seal."
Justices sometimes are asked to keep parts of cases private because of information sensitive for national security or other reasons, but it's unusual for an entire filing to be kept secret.
Lucy A. Dalglish, executive director of The Reporters Committee for Freedom of the Press, said she was disappointed by the government's request.
"The idea that there is nothing that could be filed publicly is really ridiculous," she said. "It just emphasizes our point that we're living in frightening times. People can be arrested, thrown in jail and have secret court proceedings, and we know absolutely nothing about it." [...]
The Sunshine Project
6 January 2004
(Austin and Hamburg) - Newly-released US government documents indicate that recent Pentagon research on so-called "non-lethal" weapons is a revived version of a weapons program that was cancelled due to the Chemical Weapons Convention. Elements of the decade-old program on incapacitating chemicals, called ARCAD (Advanced Riot Control Agent Device), have been re-initiated by the Pentagon's Joint Non-Lethal Weapons Directorate. The links that Sunshine Project Freedom of Information Act requests have established between ARCAD and recent research underscore how and why the Pentagon's "non-lethal" weapons program threatens treaty controls on chemical and biological weapons.
In 1992, the US Army's ARCAD program was supposed to have been terminated because of prohibitions in the Chemical Weapons Convention, which was then in late stages of negotiation. But it is now clear that elements of the program continued to operate under a new guise. As of 2002, ARCAD's legacy was being pursued with a new institutional base - the US Marine Corps-directed Joint Non-Lethal Weapons Directorate (JNLWD). Weapons development deemed legally unacceptable in 1992 has found new life with the "non-lethal" moniker, despite US ratification of the Chemical Weapons Convention and attacks on states alleged to be developing chemical and biological weapons.
The Story: From ARCAD to Front End Analysis (and Beyond?)
Building on Cold War research, by the early 1990s, US Army weapons developers at Aberdeen Proving Ground (Maryland) were making headway in a quest for new incapacitating chemical weapons. Foreshadowing the Moscow Theater disaster a decade later, they reported in early 1992 that they had weaponized chemical cocktails of powerful opiates, such as fentanyl, mixed with supposedly safety-enhancing chemicals (opiate antagonists, similar to those used to treat heroin overdose). The weapons were designed to knock out groups of people, in battle and in other situations, presumably including "rioting" civilians.
The Army was making headway in weapons design, but the collapse of the Soviet Union had turned political winds toward disarmament and decidedly against new chemical weapons. International momentum was building for a global ban on chemical weapons and, in September 1992, the text of the Chemical Weapons Convention (CWC) was completed. Anticipating the CWC's restrictions, in 1992 the Pentagon cancelled the Advanced Riot Control Agent Device (ARCAD) program. The decision, quoting an Army official in the recently-released papers, "because of multilateral treaty language restricting the use of riot control agents".
But frustrated Army weapons developers were unwilling to let ARCAD die. Spurred on by a dispute that arose between experts about the extent of the CWC's prohibitions on use of incapacitating chemicals, they cited a Vietnam-era policy (Executive Order 11850, still standing) that conflicts with the CWC. They found interest in their chemical weapons research at the Non-Lethal Coordinating Cell, a small new Pentagon office with big plans and influential backers, including US military strategist Paul Wolfowitz. Impelled by the US military's disastrous deployment to Mogadishu, Somalia, the Coordinating Cell was looking for new ways to neutralize crowds of civilians. Later, the Coordinating Cell came under the administration of the US Marine Corps and was renamed the Joint Non-Lethal Weapons Directorate (JNLWD).
When the Coordinating Cell obtained research funding and put out a request for proposals, the Army chemical weaponeers saw their chance. In proposals written in 1994, they not only sought to restart ARCAD, they requested JNLWD support to move into aerosol testing of the opiate cocktails.
They also proposed new ideas, such as studying weaponization of an experimental pharmaceutical suggested to the Army by a University of Utah anesthesiologist who had seen it used to tranquilize wild elk (Cervus elaphus). Also new were short-acting opiates being developed by Glaxo Pharmaceuticals (now GlaxoSmithKline). In its proposals, the Army group asserted that the military could legally use the chemical as weapons for "peacekeeping missions; crowd control; embassy protection; and counterterrorism." [...]
President Bush Served Friday With Personal 9-11 RICO Complaint
PHILADELPHIA -- January 6, 2003 (TomFlocco.com) -- On Friday, Philip J. Berg, attorney for 9-11 widow Ellen Mariani in her Racketeer Influenced and Corrupt Organizations Act (RICO) suit seeking to hold President Bush and various government officials accountable for the September 11 attacks, served Bush and top officials in his Administration with a personal summons, the original complaint and the first amended complaint via a federal process server, as required by the Federal Rules of Civil Procedure.
Among those served besides the President, were Vice-President Richard Cheney, Secretary of Defense Donald Rumsfeld, Attorney General John Ashcroft, Central Intelligence Agency Director George Tenet, National Security Advisor Dr. Condoleezza Rice, Secretary of Transportation Norman Mineta, 9-11 Congressional Victim Compensation Fund Special Master Kenneth Feinberg, former Iraqi Dictator Saddam Hussein, Zacarias Moussaoui, and former President George H. W. Bush. [...]
Berg told TomFlocco.com "the multiple summonses and complaints were filed last week in Philadelphia; and they require an answer within 60 days," adding "we feel confident that we'll be successful, and that the evidence in this case is so strong, it will lead to the end of the Bush presidency." [...]
U.S. gives Halliburton waiver for oil deal
By Sue Pleming
Tuesday January 6, 05:24 PM
WASHINGTON (Reuters) - The U.S. Army says it has granted Halliburton a special waiver to bring fuel into Iraq under a no-bid deal with a Kuwaiti supplier despite a draft Pentagon audit that found evidence of overcharging for fuel.
Army Corps of Engineers spokesman Ross Adkins said on Tuesday the waiver was granted to Vice President Dick Cheney's former firm to ensure much-needed fuel reached the Iraqis and the decision was not tied to the Pentagon's audit.
Corps chief Lieutenant General Robert Flowers signed the waiver on December 19 that Halliburton subsidiary Kellogg Brown and Root did not have to give certified "cost and pricing data" related to a sole-source contract with Kuwait's Altanmia Commercial Marketing Company for fuel.
"This is not linked to the draft audit and should be looked at as a separate issue," Adkins said when asked to comment on a Wall Street Journal story that the waiver meant Halliburton had effectively been cleared of allegations of overpricing raised by Pentagon auditors. [...]
Democratic Senator Frank Lautenberg called the waiver "outrageous" and said the defence department was ignoring its own audit that showed evidence of overcharging.
"It has become clear that taking care of corporate cronies at the expense of the public's trust is the priority of the Bush-Cheney administration," the New Jersey senator said. [...]
Bringing in fuel to Iraq is part of a larger no-bid contract KBR won in March to rebuild Iraq's oil industry.
So far, the company has clocked up more than $2 billion of business under that deal and billions more under a separate logistics contract with the U.S. military. [...]
Comment: The Bush administration is composed of nothing but crooks and liars. Without a hint of shame or remorse, they will send good Americans to their deaths so that KBR/Halliburton, or one of the many other Bush-linked corporations, can make a few billion. We bleed; they profit. It's that simple.
Two Frenchmen shot dead in Iraq Tuesday
Two French nationals have been killed and a third wounded in a drive-by shooting in the Iraqi town of Falluja. [...]
From afar, Americans try to steer presidential election
By Arie Farnam
Christian Science Monitor
January 07, 2004
During the past year, I have noticed political dissidence building among my fellow American expatriates living in Europe and around the world.
Now, their growing concern will take concrete shape here in Prague, Czech Republic, in less than two weeks. On Jan. 19 - when the US political season officially begins with the Iowa Democratic caucuses - the American Voices Abroad (AVA) coalition, a collection of American civil-liberties and antiwar organizations from around the globe, will launch a campaign around Europe to try to influence the US presidential election. [...]
Blair: I'll take Britain into euro by 2007
China to drop "martial law" 15 years after Tiananmen crackdown: report
January 7, 2003
BEIJING (AFP) - China will strike the term "martial law" from its constitution during an upcoming legislative session, 15 years after the military crackdown on unarmed pro-democracy protesters in Tiananmen Square.
According to the Oriental Outlook weekly, the constitutional amendment will strip the standing committee of the National People's Congress (NPC) of the power to declare "martial law", and instead empower it to call a "state of emergency".
The change comes 15 years after former Chinese premier Li Peng invoked martial law to quell the 1989 Tiananmen protests, a move that was deemed unconstitutional in some quarters as Li had not sought NPC approval. [...]
Shipping vulnerable to pirates
By Jane Macartney, Asian Diplomatic Correspondent
Wednesday January 7, 10:38 AM
SINGAPORE (Reuters) - Piracy is increasing, particularly in the busy, narrow waterways of Southeast Asia, and international shipping presents a vulnerable target for terror groups bent on mass damage, maritime experts say.
Pirate attacks in the first nine months of last year hit a record high, underscoring the need for more action to protect shipping amid signs militants want to launch attacks from the high seas, the experts told the Regional Outlook Forum 2004 organised by Singapore's Institute of Southeast Asian Studies. [...]
Over a quarter of the world's trade, half its oil and much of its liquefied natural gas pass through the Strait of Malacca that divides Indonesia, Singapore and Malaysia and scene of operations for the most dangerous and numerous pirates in the world. [...]
CDC Warns Flu Season Still Hasn't Peaked
By DANIEL YEE, Associated Press Writer
Tue Jan 6, 6:21 PM ET
ATLANTA - The flu season has yet to reach its peak, despite a drop-off in cases in some states, health officials warned on Tuesday.
At least five states — Kansas, Kentucky, Nebraska, Washington and West Virginia — no longer have widespread outbreaks of flu, but 42 others still do, the Centers for Disease Control and Prevention said. [...]
Methadone killing more than heroin use: researchers
Methadone, once seen as the safe drug to help addicts kick the habit, is now killing more people in Denmark than heroin itself, a survey shows. [...]
French hunt airline scare suspect
The French Government has confirmed it is still looking for a passenger who did not turn up for an Air France flight on Christmas Eve.
The comments follow reports in the US that European police are searching for an al-Qaeda suspect who had planned to fly from Paris to Los Angeles.
Concerns over passengers led to six flights between Paris and Los Angeles being cancelled at Christmas.
The reasons were not disclosed by French or US officials. [...]
Plane Lands Safely Following Terror Scare
CINCINNATI -- Fighter jets escorted a flight from France part of the way into the Cincinnati/Northern Kentucky Airport Tuesday afternoon. [...]
According to reports, a woman was removed from the flight before it took off from Paris Charles de Gaulle International Airport because she had a coat with wires protruding from it.
The coat turned out to be a motorcycle jacket that works like an electric blanket, and the woman was booked onto a later flight, WLWT reported.[...]
Attention, passengers: queuing for the loo is forbidden for 14 hours
By Robert Wainwright and Joseph Kerr
January 7, 2004
Qantas passengers have been ordered not to queue outside toilets while making the 14-hour flight to and from the US.
The directive was issued late yesterday by the US Transport and Security Administration, which is demanding pilots make a pre-flight announcement banning passengers from "congregating in groups around toilets or anywhere else in the aircraft".
Flight attendants will be expected to police the toilets, including checking every two hours for "suspicious packages" [...]
Ciar Byrne
Wednesday January 7, 2004
The number of journalists killed in 2003 leapt dramatically thanks to the war in Iraq, and many more were arrested or censored, placing the state of press freedom on "red alert", according to an international media watchdog. Over the last year 42 journalists were killed - including 14 reporters and media workers in Iraq. This is 17 more than in 2002. It is the highest death toll since 1995, when 49 journalists were killed, 22 of them in Algeria. [...]
"Maximum alert" in southwest Iran as 26 tremors hit in quick succession
January 7, 2003
TEHRAN (AFP) - Iranian authorities put a major oil- and gas-producing area in southwest Iran on a state of "maximum alert" after 26 earth tremors jolted the region in less than 36 hours, state TV reported.
The measure, ordered by President Mohammad Khatami, was taken in and around the towns of Masjed Soleiman, Izeh and Baghmalek -- situated around 450 kilometres (280 miles) southwest of Tehran in Khuzestan province.
The report said a succession of tremors, measuring between 2.7 and 4.9 on the Richter scale, had jolted the area since early Tuesday. [...]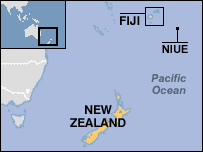 Cyclone slams into Pacific island
BBC
Wednesday, 7 January, 2004, 02:49 GMT

Cyclone Heta has hit the tiny South Pacific island of Niue, wreaking widespread damage with winds of up to 300km/h (185mph), local sources said.
The capital, Alofi, has been flattened, with at least one person dead, according to a New Zealand diplomat.
A state of emergency has been declared on the island, which has a population of 2,100. [...]
The island's only hospital is reported to have been damaged.
Premier Vivian said that the country's cash crops - taro, vanilla and limes - had probably been destroyed. [...]
Minor earthquake rattles sleepy Wyoming
January 07 2004 at 11:45AM
Washington - An earthquake with a magnitude of 4.7 rattled Jackson, Wyoming, early on Wednesday, according to a report from the United States Geological Survey (USGS). [...]
Dressed in her school uniform, 11-year-old sold heroin, police say
Florida police debate whether to charge girl
Girls are 'inheriting' worries over weight
Nine out of 10 teenage girls are unhappy with the shape of their bodies and say they have inherited their insecurities from their mothers, according to a survey.
Research shows that the desire to be slender and "beautiful" dominates the life of 14-year-olds. [...]
Consumers dig to record debt depth
Consumer debt has more than doubled in the past 10 years to record levels, making it hard for many families to cope.
Judge Accused Of Saying Women Ask To Get 'Smacked Around'
wnbc.com
6:18 PM EST January 6, 2004
ALBANY, N.Y. -- A village judge has resigned after he was accused of saying most women enjoy abuse and ask to get "smacked around" and that domestic violence cases are a waste of the court's time. [...]
Hillary Clinton Regrets Gandhi Joke
The Associated Press
ST. LOUIS Jan. 6 — Sen. Hillary Rodham Clinton apologized for joking that Mahatma Gandhi used to run a gas station in St. Louis, saying it was "a lame attempt at humor."
The New York Democrat made the remark at a fund-raiser Saturday. During an event here for Senate candidate Nancy Farmer, Clinton introduced a quote from Gandhi by saying, "He ran a gas station down in St. Louis."
After laughter from many in the crowd of at least 200 subsided, the former first lady continued, "No, Mahatma Gandhi was a great leader of the 20th century." In a nod to Farmer's underdog status against Republican Sen. Kit Bond, Clinton quoted the Indian independence leader as saying: "First they ignore you, then they laugh at you, then they fight you, then you win." [...]
'Bridezilla' Faces New Charges In Conn.
local6.com
10:18 PM EST January 6, 2004
NEW HAVEN, Conn. -- A woman dubbed "Bridezilla" after police arrested her at her own wedding for bad behavior in August is again in trouble with the law. [...]
Nun becomes black belt karate ace
Ananova.com
11:00 Wednesday 7th January 2004
A 44-year-old nun from Norfolk has qualified as a karate black belt after practising the martial art in the cellar at her convent. [...]

Japanese team takes world-first step in trapping light
TOKYO (AFP) - A group of Japanese scientists have become the first to succeed in trapping part of the light spectrum inside a tiny cube full of holes, technology that could be used in military stealth equipment or a light-based computer.
The team managed to trap electromagnetic waves of a certain frequency inside the cube -- called a Menger sponge -- for one ten-millionth of a second. [...]
Africa has its version of 'Nessie'
Were Picts the first to spot Nessie?
PICTISH stone-carvers may have been the first to capture Nessie's image, a Highland Council official has suggested.
On this day in 1948
Captain Thomas Mantell may have been killed while in pursuit of a UFO. Kentucky Highway Patrol contacted the control tower at Godman Field Air Base, to confirm reports of a large object seen flying over Maysville. The tower responded "negative", but then did spot something. At around the same time, four P-51's were seen approaching the Godman Field. Mantell was the flight leader, and decided to maneuver in for a closer look. Captain Mantell's last words, as he was climbing to engage the object, were as follows. "It looks metallic, and it's tremendous in size. It's above me and I'm gaining on it. I'm going to 20,000 feet...". Then silence. [Source: Historical Accounts]
We visit Mars, but who's visiting us?
More people have rung the Examiner to say they have seen UFOs over Huddersfield last week. [...]
And Finally ...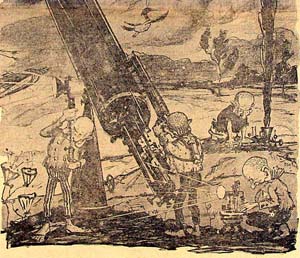 Scientists, Agreeing Martians Are Super-Race, Believe That Planet May Be Signaling to Us
New York Tribune, February 8, 1920
[...] Scientists agree that the people of Mars differ from us in many ways.
The Martians are believed to have very large noses and ears and immense lung development, because of the rarefied atmosphere. Their legs are poorly developed, because matter on Mars weighs less than here and sturdy legs are not needed to bear their weight. Birds and butterflies are very large and beautiful. [...]
Comment: None of that messing around and boring people with pictures of rocks in the 1920's.
---
Remember, we need your help to collect information on what is going on in your part of the world!
We also need help to keep the Signs of the Times online.
---

Check out the Signs of the Times Archives

Send your comments and article suggestions to us

---
Fair Use Policy
Contact Webmaster at signs-of-the-times.org
Cassiopaean materials Copyright ©1994-2014 Arkadiusz Jadczyk and Laura Knight-Jadczyk. All rights reserved. "Cassiopaea, Cassiopaean, Cassiopaeans," is a registered trademark of Arkadiusz Jadczyk and Laura Knight-Jadczyk.
Letters addressed to Cassiopaea, Quantum Future School, Ark or Laura, become the property of Arkadiusz Jadczyk and Laura Knight-Jadczyk
Republication and re-dissemination of our copyrighted material in any manner is expressly prohibited without prior written consent.
.