---
Picture of the Day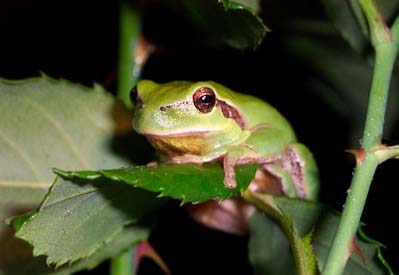 Mediterranean tree frog (Hyla Meridionalis)
©2004 Pierre-Paul Feyte
---
Chatter. It is the mere nattering of "terrorists" that is bringing travel in the US to a grinding halt. There are a few options that the media refuses to examine, exposing their blind allegiance and complicity. A few ideas you won't find on CNN or Fox:
1) Mossad is mimicking the chatter of al-Qaeda, which would have several benefits. Increase fear and loathing of Arabs, thereby increasing support for the Bush/Mossad crusade and increasing control of US-based travel.
2) A way for the US terrorist organizations (FBI, CIA) to increase support for the Bush/Mossad crusade, assisting in the removal of freedoms and halting travel whether there is "chatter" or not.
3) "al-Qaeda" may have grabbed onto a small way to actually fight back, whether there are actual plans or not. Don't forget the FBI was called away from investigating terrorist cells in the US. Bush, having declared a crusade, may very well create terrorists where none existed before.
Option three is the most problematic. Is al-Qaeda so stupid that they would hand deliver Bush an excuse to lay waste to another Arabic country? When seeing through intelligence operations one must always expect double and triple blinds, and a low signal to noise ratio. In other words, a lot of chatter from the media. There may be increased Mossad activity, since it is announced today that Israel could face worldwide boycotts similar to apartheid South Africa.
A noted journalist for the New York times has some interesting new year's predictions. Now where would he get those ideas from? At least one American spent her New Year's Eve thinking about the mess in which America currently finds itself.
The US tries a new approach on foreign aid, while Bush decides to cut costs back on the home front. Dubya also hopes to turn illegal immigrants into legal nonvoting worker drones.
In Georgia, people are going to the polls to elect a new, Made in USA, president. The Chinese are having their own "problems" with "al-Quaeda," and the Afghanis have announced a settlement in the constitutional negotiations... without giving any details.
The death toll in the South Asian cold snap rises, it seems like the CIA can't distinguish Welsh from Arabic, and new information on an old case that occurred 100 years before the similar Jack the Ripper mystery.
Too Soon to Dismiss Terror as Cause of Egyptian Air Disaster
DEBKA file Special Analysis
[...] If the Air Flash charter tragedy was indeed staged by al Qaeda to coincide with the Blair family's presence at the Sinai resort, it would be further evidence of the terrorist group's audacity and intelligence prowess. [...]
Comment: No it wouldn't. It would just prove how stupid al-Qaeda is to attack a country that was against the Iraq war, and a country that in response to claims of increases in anti-Semitisim decided to help their large Muslim population. Debka is a Mossad mouth piece, so when they mention "sources" that means Mossad. If you read the article, you can see how they really stretch to implicate al-Qaeda. Israel has the motive, and it would not be the first time they have conducted these types of terrorist attacks as we show in the below flashbacks.
FLASHBACK: The Israelisation of America
[...] In the United Nations the US has used its veto against 34 resolutions related to the Arab/Israeli conflict.
US support for Israel has involved turning a blind eye not only to Israeli flouting of international law, but to Israeli anti- American activities such as: spying (Jonathan Jay Pollard 1985 and David Tenenbaum 1997), selling arms to China (1990 onwards), espionage against American companies (cited in the Wall Street Journal, 1992) and attacks on the dignity and the lives of American subjects as in the bombing of the USS Liberty in 1967, the beating by Israeli police of David Muirhead who was working on an American- financed project to restore the main street in Al-Khalil (Hebron) in 1997, the turning back of a US Congressional delegation from the Allenby Bridge in August 2002 and, in April, the Israeli army's shooting of peace activist Brian Avery in Jenin and its killing of Rachel Corrie in Rafah.
[...] Most of the US administration's and media's information on the Arabs is now derived from the Middle East Media Research Institute (MEMRI), co-founded by Meyrav Wurmser, director of the Centre for Middle East Policy at the Hudson Institute. According to the Guardian, MEMRI is connected with Israeli Army Intelligence and feeds the media and politicians with highly selective quotations from extreme Arab publications.
FLASHBACK: USS Liberty: Did Israel commit one war crime to hide another?
By James M. Ennes, Jr.
Washington Report
[...] US refusal to investigate violates Geneva Conventions
For years, USS Liberty survivors have asked Members of Congress to investigate the circumstances of the attack. [...]
Navy Refusal to investigate violates Navy Regulations
When the Liberty was attacked, Captain Joseph Tully in the aircraft carrier USS Saratoga received the ship's call for help and immediately sent jet aircraft to her assistance. Tully's jets were recalled almost immediately by orders from Washington.[...]
FLASHBACK: Cover Up: Attack on the USS Liberty on the History Channel
On June 8, 1967, the intelligence ship USS Liberty, stationed off the Sinai Peninsula during the Six-Day War, was attacked by unmarked jets and later by unmarked torpedo boats. In all, 34 men were killed and 171 wounded. Deep into the attack, the captain and crew realized that the aggressor was their ally, Israel, who claimed they couldn't identify the ship as American. We examine crewmembers' contentions that the attack was intentional and that both governments covered up the true details
Comment: There is an obvious pattern here.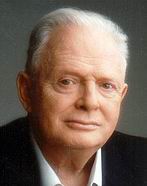 Lapid warns Israel could face boycotts over separation fence
By Gideon Alon, Haaretz Correspondnet and Haaretz Service
Justice Minister Yosef Lapid warned the cabinet on Sunday that the upcoming discussion by the International Court of Justice at The Hague on the construction of the separation fence between Israel and the West Bank could be the first step in Israel being treated like a modern-day apartheid-era South Africa. He warned that Israel could be liable to international boycotts similar to those placed on South Africa during its apartheid regime.
The justice minister said that Israel had brought this on itself for not sticking to the original route of the fence in the West Bank, along the Green Line, thus turning the matter into an international dispute. He advised the cabinet to hold another discussion on the route "which will give us a degree of flexibility in international forums."
Health Minister Danny Naveh said in response on Sunday that Lapid's comments were "dangerous." He criticized Lapid for even raising the matter. Shas leader MK Eli Yishai said Lapid's comments will endanger lives. He said he was "sorry that Lapid was more concerned about Israel's image in the eyes of the world than by the need to worry about the needs of Israel's citizens."
MK Yossi Sarid (Meretz) demanded that Lapid appear before the Knesset Foreign Affairs and Defense Committee to explain what Israel should expect from the court discussion. [...]
The court gave no estimate of how long the proceedings might last or when it might render its opinion. In the past, the 15 judges have taken months, and sometimes years, to publish their findings, although the court said it was taking "all necessary steps to accelerate the procedure."
New York Times' Safire predicts "major terror attack in the US" on eve of 2004 election
By Barry Grey
3 January 2004
In a column published December 31, New York Times columnist William Safire blandly predicts that the October surprise affecting our [2004] election will be a major terror attack in the US.
This ominous prognostication is given in passing as one of 16 predictions about the new year, in a piece carrying the semi-jocular headline, "Office Pool, 2004". Safire, Richard Nixon's former speechwriter and political aide, and a consummate Washington insider, neither explains nor elaborates on his prediction, and gives no sources. But the off-hand manner in which he posits a major attack on US soil affecting the presidential election suggests he is merely echoing a common theme of discussions in the corridors of power of the American capital.
In the column, Safire lists 16 topics, ranging from the next tyranny to feel the force of US liberation to the winner of the Oscar award for best picture of 2004. Under each topic, he gives three or four alternatives, and in the concluding paragraph reveals his 'picks.' In regard to Israeli policy in the new year-item number 16-he says of his prediction:
"This last one is pure unsourced thumb-sucking; Sharon didn't return my call."
This remark, notwithstanding its sarcastic tone, implies that Safire's other predictions, including the likelihood of a pre-election terror attack, are based on information provided by serious sources.
The alternatives given by Safire in item 13 on the "October surprise" are: (a) the capture of bin Laden in Yemen; (b) the daring escape of Saddam; (c) a major terror attack in the US; (d) finding a buried bag of anthrax in Tikrit. Safire's pick is (c).
The column appeared in the midst of an unprecedented mobilization of the military in cities across the US, justified on the grounds of a heightened terror threat. It follows a series of commentaries in the American media suggesting that a major terrorist attack within the US could either shift the 2004 election in Bush's favor, or lead to the election being suspended or cancelled outright. [See "The 'war on terror' and American democracy-some ominous warnings," 27 November, 2003]
Given the record of lies, conspiracies and provocations of the Bush administration, and Safire's well-known connections to the centers of power in Washington and the White House, several obvious questions arise from the New Year's eve column: (1) Who are the sources and what is the information on which Safire bases his prediction of a major pre-election terror attack, and, (2) Is the perpetration, or at least allowance, of such an attack being discussed within government, intelligence or military circles as a serious option for keeping Bush in power in 2004, regardless the sentiment of the electorate?
Comment: When a noted journalist from one of the most widely read newspapers in America is able to openly insinuate that the "terrorist" threat is contrived and bogus and that the American government is in fact responsible, yet little or no response is generated from the American public, the situation and future are bleak indeed. There may soon come a time when the government itself chooses to more openly disclose the true nature of its intentions, yet due to the restrictions on civil rights currently being put in place, any resistance or outcry from the public will be quickly silenced.
Florida Today
Jan 2 2004
While the issue of detained terrorist suspects goes before the courts, citizens and Congress also must revisit the Patriot Act pushed through in response to Sept. 11.
Since then, a closer look shows parts of the act undermine the freedoms that are the birthright of all Americans.
In fact, even the anti-terrorism Gilmore Commission -- run by former Republican Virginia governor James Gilmore III -- is deeply worried.
The commission recently suggested creation of an oversight board to guard against loss of civil liberties and "the potential chilling effect of monitoring First Amendment activities." That can include protests against the Iraq war and Internet discussions critical of government policies.
We have long been worried about potential Patriot Act abuses and so have many others. Among the reasons is what happened early this year after a far more intrusive "Patriot Act II" was rejected by Congress.
Instead of ending the proposal, parts of it -- including power to demand citizens' financial records with no probable cause or judicial review -- were slipped into the new Intelligence Authorization Act. It passed without public debate.
The provisions must be repealed, and citizens must fight further incursions by the White House and Justice Department to scrap hard-won liberties in favor of supposed security.
Terror suspect turned out to be a Welsh insurance agent
Paul Webster in Paris and Owen Bowcott
Saturday January 3, 2004
The Guardian
French irritation over US controls on transatlantic flights was reinforced yesterday when the interior ministry revealed that American intelligence based its suspicions on passengers' surnames only.
This led to a child with a name similar to a Tunisian terrorist, a Welsh insurance agent and an elderly Chinese woman restaurant owner being questioned by counter-terrorist police when several flights from Paris to the US were cancelled shortly before Christmas.
Three other "suspects" who were questioned were French citizens with Arab-sounding names.
All the suspects' names, supplied by the US, were found merely to be homonyms - similar in sound or spelling to those of wanted al-Qaida activists.
"The US information was followed up in every case and thoroughly investigated," an interior ministry official said.
"Unfortunately," the spokesman added, "the Americans did not supply either birthdate or first name in any of these cases, so we had to hold up all passengers and in some cases carry out lengthy inquiries into family backgrounds in case there was a link."
US agents have the right to inspect flight lists of every company in the world through computer links, a situation which has concerned France's official civil liberties watchdog, the CNIL.
'Travellers face years of air security alerts'

04/01/2004
Air travellers can expect security alerts like the one which caused the cancellation of flights to the USA this week to continue for many years to come, British Transport Secretary Alistair Darling said today.
British Airways flight BA223 from London's Heathrow Airport landed in Washington this morning after unspecified security fears led to its cancellation two days in a row.
Mr Darling refused to discuss press reports that the Government had received intelligence that fundamentalist terror network al-Qaida was planning to use BA flights to launch suicide attacks on prominent targets in the USA.
But he insisted the decision to cancel the flights, as well as one to the Saudi Arabian capital Riyadh, were "justified" on the basis of intelligence warnings. [...]
Taleban in Texas for 1997 Talks on Gas Pipeline That Led to the War Against Terrorism in Afghanistan
by Ma Nguyen Tong
27-1-2002
In a revealing look at how the US military action in Afghanistan was motivated by something other than terrorism concerns, the Enron debacle quickly exposed that the September 11 terrorist attacks on the United States was only a propitious pretext to occupy the country and extract its badly needed energy resources. As late as April 2001, the United States government had ordered Enron and Unocal to begin destroying records of its negotiations with the Taleban in order to minimise the exposure of the fact that the war in Afghanistan had been planned long before the terrorist attacks.
The United States tried in 1997 to negotiate with the then-ruling Taleban to construct a 1,300km pipeline to carry gas across Afghanistan's harsh terrain so it could be sent to Pakistan and India, bringing vast amounts of money to energy companies in the U.S., including Enron. The Taleban agreed, but only on certain conditions regarding U.S. policy in the Middle East and towards the Palestinian question. A senior delegation from the Taleban movement in Afghanistan therefore went the United States in December 1997 for talks with Unocal, an international energy company, that wanted to construct a gas pipeline from Turkmenistan across Afghanistan to Pakistan. It failed because of the conditions demanded by the Taleban, and Israel was then instructed to step up the ante and create a pretext for a Palestinian Intifada. Ariel Sharon therefore did just that. Then Texas Governor George W. Bush and Dick Cheney were also in the meetings as they and some of their business partner had personally invested large amounts of money into the scheme. The meeting with the Taleban had been set up by a former vice chairman of Enron, Clifford Baxter, under instructions from Enron's chairman, Kenneth Lay.
A spokesman for the company, Unocal, said the Taleban spent several days at the company's headquarters in Sugarland, Texas, where Baxter had his home. Baxter also enterained members of the delegation at his US$700,000 home southwest of Houston. Sherron Watkins, a company vice president, had told Lay that Baxter, a former Air Force captain, had "complained mightily" about the "inapportriateness of certain transactions to the Taleban and the possible need for a global-level military action to ensure access to the gas through Afghanistan". [...]
A new NGO attempts to build a case against Israeli racism. Omayma Abdel-Latif talked to the founders
Where in the Middle East did a school principal get away with burning the New Testament in front of students? And in which country did a religious man say that a man's life is more important than a woman's? Was it Iran? Saudi Arabia?
The right answer is Israel, where teachers at religious schools, it turns out, urge their students to write to soldiers to encourage them to "kill as many Arabs as possible", and where an IDF officer at a checkpoint may use glass shards to carve a Star of David on a Palestinian's arm.
Israel's dark side, argue a group of Arab activists who have founded Arabs Against Discrimination (AAD), is rarely seen by the West. The horrors described above, and much else, are rarely reported in both Western and Arab media.
The new NGO, which is being launched today, will have as its primary objective the monitoring of the Israeli media in order to expose any content with a racist and discriminatory nature. It will also attempt to bridge the language gap between the West and the Arab world -- where very few people speak Hebrew -- by offering comprehensive overviews of what is being published in the Hebrew press.
[...] The AAD's web site will provide translations from the Hebrew press into three languages -- English, French and Arabic. The site will feature stories that discriminate against the West, women, Israeli Arabs, Islam, foreign workers, Palestinians, and Christians. It will also feature stories translated from the Hebrew press on freedom of expression, citizenship laws, intellectual extremism and the refuseniks.
[...] Another AAD founding member explained that while there is a constant invocation in the global media of anti-Semitism against Jews, there is hardly any mention of what is going on in "the other Israel".
"There is a black hole when it comes to the institutionalised racism, extremism and anti-Gentile discourse permeating the media, intellectual and religious circles in Israel," Diaa Rashwan told the Weekly.
[...] Over the past six months, the group has managed to get its hands on what they described as a wealth of articles, audio-video material and literature that is -- if judged by international standards -- abhorrent beyond imagination. Western test readers, according to Rashwan, registered shock and disbelief when offered a chance to read the material.
Comment: We were unfortunately unable to connect to the Arabs Against Discrimination web site. Let us hope it is up soon.
Palestinian PM slams world ''silence'' over ongoing Israeli operation in Nablus
04-01-2004,11 :54
Israeli occupation forces on Sunday tightened the siege and curfew imposed on Nablus, the adjacent Balata refugee camp and the nearby village of Beit Foreek for the tenth consecutive day, amidst complete media blackout over the atrocities they are perpetrating, Palestinian sources said.
Israeli troops shot dead four Palestinians on Saturday and bulldozed historical sites in the Casba (Old City) of Nablus on Friday.
On Sunday, Israeli forces invaded the southern neighborhood of Tulkarem City and declared curfew there, amidst heavy and random gunfire, Palestinian sources conveyed.
Meanwhile, Palestinian prime minister Ahmed Qurei has condemned the international community's "silence" following the latest killings in Nablus.
"Whenever the Palestinians carry out any attacks or operations against Israel they are condemned by the whole world but when Israel carries out attacks against our people, the international community stays silent," Qurei told Voice of Palestine radio.
Israel OKs Work Permits to Palestinians
JERUSALEM (AP)--Israel on Sunday reauthorized work permits for 29,000 Palestinian laborers from the West Bank and Gaza Strip, weeks after revoking the permits following a suicide bombing in Israel, the army said. [...]
While the permits bring some relief to the Palestinians, the number of workers remains far below the estimated 150,000 Palestinians who used to work in Israel before the outbreak of violence in September 2000.
Unemployment and poverty are rampant in the Palestinian territories, and the international community--led by the United States--increasingly has pressured Israel to ease the restrictions.
Chinese caught trying to bug Israeli embassy
Israeli soldier admits shooting without reason British activist in Rafah as Arafat says Sharon doesn't want peace
31-12-2003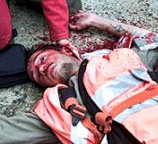 Hurndall was shot on April11 ,2003
Israeli military police have recently arrested and questioned a soldier suspected of shooting British civilian Tom Hurndall in Rafah last April, the Tel Aviv-based Haaretz newspaper reported on Wednesday.
Hurndall suffered severe brain damage as a result of the shooting and lies in a vegetative state in England. His family has begun proceedings allowing him to eventually be disconnected from respiratory and other life-support systems.
Hurndall,22 , a student from Manchester and a member of the International Solidarity Movement (ISM), was injured by Israeli gunfire in Rafah refugee camp on April11 ,2003 . Other ISM activists on the scene at the time of the incident charged that Israeli snipers starting shooting at Palestinians - including children - in the street without any provocation.
America: The real danger lies within
By ERIC MARGOLIS -- Contributing Foreign Editor
January 4, 2004
PALM BEACH -- The year 2003 dramatically and dolefully illustrated Lord Acton's famous dictum that absolute power corrupts absolutely.
An almighty United States, unrestrained by any rival, international body, or world opinion, bestrode the globe, a belligerent colossus determined to monopolize global oil reserves and use its vast military power to crush lesser nations or malefactors that disturbed the Pax Americana.
For America's hard right - a curious farrago of Armageddon-seeking southern Protestants; neo-conservative supporters of Israel's right-wing Likud party; and the military-industrial-petroleum complex - the Bush administration's aggressive foreign policy of world domination, and utter contempt for international laws and old allies, marks a new era of national greatness. President George Bush, who vowed his foreign policy would be "humble" and "compassionate," has turned out to be the most radical president in modern U.S. history.
But for those Americans whose primary loyalty was to their country, rather than to religious cultism, foreign nations, or financial profit, the rapid emergence of the U. S. as an imperial power waging two hugely expensive colonial wars in Asia was a disaster, both for America's democratic system and for the rest of the world.
Bush's vow to bring "democracy" to the Mideast rang as hollow as pious assurances by 19th century European colonialists they were gobbling up Africa and Asia to bring the blessings of Christianity and civilization to benighted savages. Pillaging resources, not enlightenment, were - and remain - the true colonial motivation.
Bush's claims to hold the mandate of heaven to wage global warfare against the nebulous forces of "terrorism" sounded as dangerous and nonsensical as old Chairman Leonid Brezhnev's drunken claims it was the Soviet Union's "sacred internationalist duty" to launch military adventures anywhere on Earth where socialism was threatened.
Columnist Georgie Anne Gayer put it perfectly when she recently wrote that whereas America used to lead the world as champion of democracy, personal freedom and human rights, today, under Bush, it instead seeks to dominate the world through raw military and monetary power.
Carte blanche
In 2003, we saw an abject, cowardly Congress violate its duty as the republic's premier political organ by disgracefully handing the barely elected president carte blanche to wage an unprovoked war against Iraq that was justified by a torrent of ludicrous lies worthy of Dr. Goebbels. Lies and propaganda that were packaged in the best tradition of Soviet agitprop as news, then force-fed by a servile media to an ill-informed public shockingly deficient in any sense of history, geography, or foreign affairs.
The invasions of Afghanistan and Iraq, and sundry military adventures around the globe, were made possible by a steady drumbeat of warnings from the White House and its neo-con trumpets that the U.S. was in dire national peril from "terrorists" and "rogue states." Paranoia again swept America during the holiday season as planes were grounded and orange alerts flashed at a populace that responded to these synthetic alarms with well-trained Pavlovian reflexes.
Though the mighty United States, with only 5% of world population, accounts for nearly 50% of total global military spending, the continuing Orwellian message from Washington was of fear and vulnerability. Vague threats of terrorist attack and menacing Muslims were used to curtail American civil liberties, and expand the government's powers of repression and intrusion. The public barely noticed this sinister, proto-totalitarian campaign.
The so-called "war on terrorism" was a hoax used to mask and justify the long-planned expansion of U.S. military power around the globe. What were in reality a series of police actions waged against tiny anti-American groups was no more a war than the farcical "war on drugs." But invoking war trumped criticism and dissent - and justified a real war of aggression against oil-rich Iraq.
The very term "terrorism" is a nonsense designed for propaganda effect; a damning label applied by the administration to groups or states strongly opposing U.S. policy.
A "war on terrorism" makes no more sense than waging war on evil.
Those who opposed Washington's surging imperial and totalitarian impulses were branded "leftists" and "anti-Americans." The French thinker Regis Debray, writing about past colonial powers, answers thus: "The free man is not anti-American, but anti-imperial. America (now) revisits the time of colonizers drunk on their superiority, convinced of their liberating mission, and counting on reimbursing themselves directly."
Criticizing U.S. foreign policy run-amok and George Bush does not equal anti-Americanism. It is the citizen's birthright, and the friend's duty.
This writer has witnessed nine colonial wars and saw how they corrupted the armies, and then the nations, that waged them, brutalizing conquered and conqueror alike. Iraq is the latest.
Mankind's three worst scourges are religious fanaticism, nationalism and imperialism. Each of these three evils has been whipped up by the Bush administration to justify domination abroad, repression of dissidence at home and, of course, re-election.
Those who truly love and respect the United States, like this writer, a conservative and U.S. Army veteran, see the very qualities that made America a beacon to the world - its very soul - now under heavy assault by a cabal of religious fanatics, foreign-leaning ideological extremists, and self-enriching Enron-Republicans. That is a danger considerably greater than al-Qaida.
The International Action Centre in New York plans to initiate impeachment procedures against the US president, reports Faiza Rady
Former US Attorney General, celebrated political activist and founder of the International Action Centre (IAC), Ramsey Clark has a lawyer's way of getting things done -- intelligently, promptly and efficiently.
A long term anti-war activist, Clark has initiated procedures to impeach United States President George W Bush and US Vice-President Dick Cheney for crimes committed against the Iraqi people during the war on Iraq. To get the ball rolling, the IAC has already gathered some 400,000 signatures. [...]
Long before this year's war on Iraq started, he said, the US was already waging the most brutal form of war against Iraq, in the form of deadly sanctions against 20 million people.
"These sanctions were a killer beyond compare, more deadly than bombs. More deadly than the 88,500 tonnes of explosives that the US dropped on Iraq the first time around -- the equivalent of 7.5 Hiroshimas," Clark explained.
While an estimated 150,000 Iraqis died in what Clark defined as the "first war of aggression", and at least 40,000 died in the second war, according to the UN FAO Mission to Iraq 1.5 million people died as a result of sanctions.
[...] According to international law governing warfare as stated in the Nuremberg Charter, wars of aggression were outlawed and criminalised after World War II. Nevertheless, since the days of Nuremberg successive US administrations have waged a total of 19 "wars of aggression" against sovereign nations. "To this day, the American government remains undeterred by international law. It is therefore high time that the criminal nature of the Bush administration be exposed," Clark told the Weekly.
Ghassan Charbel Al-Hayat 2004/01/3
The occupation will not be able to extend its stay in Iraq. The last few months proved that it is costly, despite limited resistance outside the "Sunni Triangle." The occupation will not be able to implement its policy by appointing a friendly authority. The last few months proved the difficulty in controlling the Iraqis. In both cases, we count on the Iraqi people, known for firmness capable of persuading the occupation to leave earlier, and enough to abolish any artificial structure that aims to cover for an occupation in disguise.
The strength of Iraqis is the only guarantee in the face of occupation, provided that they overcome two fatal traps, which are in reality two plans for two seditions. The first is a Sunni-Shiite sedition that could lead to the collapse of Iraqi unity, even with the departure of the occupying forces.[...]
The second sedition is the Arab-Kurdish one. What is happening in Kirkuk is worrisome and painful. The only way to stop this is by acknowledging that Iraqi unity is more important than distributing shares between Arabs and Kurds; Iraqi unity is more important than Kirkuk itself.
Comment: What force wants to see Iraq divided? What force in the area has plans for a "great country" spreading from the Mediterranean to the Tigris? From Cairo to the Turkish border?
The Year Has Passed And We Did Not Specify Whether To Engage In Dialogue Or Not
Muntasser Al Zayyat Al-Hayat 2004/01/3
[...] A substantial part of our fear focuses on the nation's weakness, which might not give us a chance to affect the Western side that is considered the stronger and the single power of the new world order.
In fact, a greater study of the factors and issues dealt with during the events of 9/11 have lead to a big fault in the relation between us and the west in general, particularly American public opinion. This gave the Zionist pressure groups and others a chance to be the only ones affecting it. Many called on rich Arabs to break the siege and establish media and intellectual outlets which seek to portray a true picture of Islamic thought on various issues, most importantly the Arab-Israeli conflict. It is also necessary to consider Islamic rhetoric a just expression of the nation's issues and problems. Moreover, the suspicions concerning the Islamic Western dialogue belittles the viability of Islamic rhetoric and its resistance to all kinds of attempts of intellectual hegemony based on nasty military power. This suspicion will prevent scholars from expressing Arab and Muslim points of view on complex issues, wherever the place of dialogue is.
Comment: The Western idea of Islam and Arab culture is besotted with prejudice and cliches that probably extend back to the time of the Crusades. How many times do we hear Westerners criticize Islam or the Arabs for their attitudes towards women? This is always the example that is brought forward as the final nail in Islam's coffin, as the unarguable "proof" that Islam is a relic of a bygone era. We certainly agree that women in a culture such as Saudi Arabia are second-class citizens. But such primitivism is the case in any fundamentalist culture. Are the women in the fundamentalist areas of the United States "free"? Would these women want to be "liberated" by the US military.
Even when one looks at Western society, we cannot say that women are "liberated" or "equal." There is the facade of "equality" that has been promoted under the banner of "women's liberation" or "feminism." Yet women in many secular Islamic countries have achieved as much.
But we still believe the lie that women are "better off" in the West than they are under Islam.
Both cultures are under what we would call the "A" influences, the standards of the material world, driven by the basic instincts of fear, hunger, and sex. Seen from the higher, "B", influences, neither culture represents those values that would really make a difference in improving our lot on the planet. (One might argue, however, that US official culture is a manifestation of the basest elements in man, a culture of the psychopath. How many in the West are prepared to turn their worldview upside down and admit that rather than imposing their values on others, they might have something to learn?)
We at Signs of the Times do our best to view the world from the point of view of the "B" influences, that is, from the call of our higher Creative centers. We think that the world is facing a disaster that is the reflection of an internal spiritual crisis in humanity, because we all, Christian, Moslem, Jew, Hindu, Buddhist, atheist, agnostic, etc, have turned away from our own, individual, Creative impulse, that impulse that we know as Divine, to accept as truth a plethora of hand-me-down lies. We are liars and hypocrites all, and until the desire to live in truth in all aspects of our lives provides the fire to begin to make this desire manifest, nothing will change.
This is the world of the "A" influences. In a world where fear, hunger and sex are the motivating forces, this is what you get. That is why none of the attempts to change the world, to improve it, have ever worked. No philosophy, religion, or moral code can make a difference in this realm. One must work to see the world for what it is, and only then can one find the way out. The first step to see the world as it is, is to see yourself for who you really are. As one roots out the lies in one's own life and in one's own heart, the lies in the world appear with greater clarity. As the lies of the world become clear, one can begin to live outside of those lies and begin the process of fashioning a new world of which we dream.
Earthquake reveals seismic shift in Iranian view of US
From Dan de Luce in Tehran
The American doctors and aid workers were welcomed with bouquets of roses, boxes of chocolates and pistachios. They had not expected such warmth from a country labelled by President Bush as a member of the "axis of evil".
But the tragic earthquake in Bam has shown that the official rhetoric coming out of Iran and the US bears little resemblance to reality.
The first US delegation to set foot on Iranian soil in 25 years has learned that ordinary Iranians are actually some of the most pro-Western, pro-American Muslims in the world. And as physicians from Boston wiped away tears while treating quake victims in a makeshift hospital, the theocratic regime's paranoid portrayal of the Great Satan seemed particularly ridiculous. [...]
Comment: It is very dangerous to have US citizens traveling around the world and reporting back that reality does not match the Bush Reich lies.
Jennifer Sellers
Information Clearing House
01/03/04
I sat up and watched the ball fall in New York's Times Square and felt joy and hope for the New Year. When the crowd sang, "I'm proud to be an American", I teared up and felt the unity of a nation. At least momentarily.
I wish I did believe in my country, in its ability to know right from wrong, to weed out the truth from the propaganda, and to stand united. We'll never agree on everything but at least we should agree on our basic values, truth, freedom, and integrity. I wish my country could think with its head instead of with emotion. That we could separate fact from fear and lie from spin, that we could see the consequences instead of simply feeling…
But in truth that's not the America we live in. We live in a country filled with anger on both sides of the political spectrum. Some legitimate, some pumped by radio hosts proficient in the talent of working a crowd. It's so easy to hate when we're already free floating with it. It's easy to hate when our essence is filled with fear. It's easy to be worked into a patriotic frenzy, seeing only black and white, ignoring the gray of history.
It's easy to focus on ourselves and block out whatever we find distasteful and unpleasant. Like the thousands of innocent civilians we have massacred in Iraq. I truly wonder how we would feel if someone decided to free us from the inequities of our society and there are plenty we should be freed from.
Would we be grateful if our children's legs were blown off in the process? Would we feel thankful when our sons lose half their face and both their arms. Would we see the logic in tearing down an entire country just to literally build it back…block by Halliburton block. Would we really appreciate that? I doubt it. I imagine we would take to the streets like mad dogs and fight with any and all weapons we could get our hands on, including our kitchen knives, to fight off the liberators.
How easy it is to believe when we we're filled with hate and fear. It doesn't really matter if in truth, we're the ones drowning at the time. Our inability to save ourselves makes our hate that much stronger. We honed our hate during the cold war. Those dirty ruskies, those evil commie pinkos. We grew comfortable with hate and actually realized we needed a good place to park our anger. And although we have a reason to be angry after 9/11, it is all the more necessary to think instead of feel. We do need to protect ourselves, but do we need to do so at our own demise? By our own hand?
Forget that democracy as we learned in high school social studies is a thing of the past. The new question is do we have a democracy or is it in name only. Should we adore the king who can parlay falsehoods and obvious lies to exploit our deepest fears? To scare us so that we ignore our own problems? To ignore the fact that we're running on empty if we're running at all. Forget that millions are still out of work and forget that the jobless numbers are 'how do we say, subject to interpretation'. Hopefully the economy is improving, but our deficit is soaring with no constraints in sight. Is there really a free lunch?
Forget that the news is no longer news and that the king has seen fit to contact news organizations that don't parlay facts that portray him in a positive light. Forget that you won't hear about that on our news and that if you want to be informed, you have to dig for the truth. While you're at it, forget that a free press is important. But remember, this is democracy at work. Wave that flag, now.
Forget that health care is rising so rapidly that the middle class is finally feeling the pinch. By the end of another term, the entire middle class will be affected. Lest the middle class forget that twisting the Medicaid law to cover your elderly parents in a nursing home will no longer be available. Hopefully, you have the 40 grand a year it will cost to take care of them. The administration does.
Just out and out forget that the elderly have just been screwed and so cleverly under the phrase 'choice'. Was this administration thinking of Sophie? They've put the elderly between a rock and a hard place, forced to choose between a lesser medicare plan that in truth will not supply adequate medication to those who need it, or be forced to join an HMO, however delighted the HMO might be to have them now that they will have an infusion of new private business. Forget that like an infatuated lover, a cad is wooing you. Forget that you're really not an idiot and should see through at least some of it and forget that your own foundation is being ripped out from under you.
All is well. Things are looking up. Forget that the environment matters and that this administration has the worst environmental record…EVER. After all, it's only air and a bit of land, trees and the like. Forget that business and government should never go hand in hand although now they're actually in bed and making love. All is well.
Forget that you were lied to you about the war. Saddam was a bad guy after all, and while you're forgetting things, forget that there are a lot of other bad guys around the world oppressing and torturing innocent people and that we will turn our back on them so fast your heads will spin. Forget that Libya is really a paper tiger although it makes great press and really makes you think something big is happening. Forget that this war is something like Munschausen's Syndrome. We create it so we can fix it. And whatever you do, don't read and learn. Our king doesn't.
Forget that we want to control the Middle East, make everyone walk, talk, think like an American, whether they want to or not. It's democracy, damn it. Now get free. And forget that we'll try to control some oil in the process. Forget all that. Believe that we love the Iraqi people. We love them so much we'll blow the hell out of them. Forget that we don't even love ourselves.
Forget, forget, forget. Oh, I see you have. And whatever you do, try your damnest to forget that the fight will never end; that our children will be drafted soon for the continual non-ending wars that are inevitable. Forget that this administration is so bold as to tell you exactly what it plans to do, while dolling it out in neatly wrapped phrases with a marshmallow on top. I wish they would just come out and talk straight for once. How about 'My fellow gullible Americans. You stand tall and fight while we in the backroom make the deals. Don't you worry about how and to whom we distribute the spoils of war. But do remember, God Bless America.
Yep. It's a sunny day in the neighborhood. Too bad it's an exclusive, gated community.
Hazardous Material False Alarm Evacuates U.S. Capitol
Sat January 3, 2004 08:28 PM ET
WASHINGTON (Reuters) - Police evacuated the U.S. Capitol on Saturday after sensors detected unidentified fumes in the basement of the Senate, but authorities later said it was a false alarm. [...]
Author of Saudi Curriculums Advocates Slavery
(Washington )…November 7, 2003 …The main author of the Saudi religious curriculum expressed his unequivocal support for the legalization of slavery in one of his lectures recorded on a cassette and obtained exclusively by SIA news. [...]
Army drops cowardice charge against soldier
The Associated Press
FORT CARSON, Colorado - The Army dropped a charge of dereliction of duty against a Special Forces soldier who was accused of cowardice, but the soldier's military career is still in limbo. [...]
Pogany, an Army interrogator assigned to the 10th Special Forces Group, was charged with cowardice Oct. 14 after suffering what he described as a panic attack from seeing a mangled body of an Iraqi man who had been cut in half by American gunfire in Iraq.
After he asked for counseling, Pogany's commanders sent him back to Fort Carson to face a court-martial on a cowardice charge, which can be punishable by death. [...]
UK soldiers kicked Iraqi prisoner to death - report
LONDON (Reuters) - Eight young Iraqis arrested in the southern Iraqi town of Basra last year were assaulted by British soldiers, and one of them died of his injuries, a British newspaper said in its Sunday edition.
Baha Mousa's body was returned to his family covered in bruises and with his nose broken, after he and seven other men were arrested by British forces in September 2003 and held in military custody for three days, the Independent on Sunday said. [...]
Flashback: Are these the American war heros?
Comment: The above link will take you to a page where you can view CNN footage of recent US troop activities in Iraq. The footage shows a US soldier executing an injured Iraqi man lying on the road. At the sight of the man being struck by the bullet(s) and his body finally lying lifeless, the US troops are heard to whoop and cheer, with one interviewed soldier saying it was a "good feeling" and "let's do it again". No mention is made of the circumstances surrounding the incident.
US Troops Shoot, Kill Fleeing Pro-Saddam Demonstrators
By Dahr Jamail
I learned yesterday that one of the main sites which posts the writings of independent journalists and activists in Iraq, www.electroniciraq.net, has been banned from at least one of the US military bases in Iraq. [...]
[T]he only news I see about Iraq on major American news outlets yesterday is about the one US soldier killed when his helicopter was downed. Iraqis who observed the chopper being hit by a rocket reported watching it being broken in two pieces and falling to the ground in flames. Thus, the other soldier, while reported as being injured, more than likely must have been very seriously injured. Again, no specific reporting on that either.
However, this could have something to do with the fact that a Reuters news team filming at the scene was fired upon by the Americans, then detained by military personnel near the crash site. [...]
"The Americans are creating the terrorists here by hurting people and causing their relatives to fight against them. Even this little boy will grow up hating the Americans because of their policy here." [...]
Blair pays surprise visit to troops in Iraq
04/01/2004
Prime Minister Tony Blair broke off his Christmas holiday in Egypt for a surprise visit to Iraq, where he paid tribute to British troops, thanking them "from the bottom of my heart".
He said they were "new pioneers of soldiering in the 21st century" and also warned of the continuing danger from "a particular virus of Islamic extremism".
Iraq was a "test case" of the international community's ability to transform brutal and repressive states into democracies, he said.
His comments came as he addressed the British servicemen and women gathered at the Shaibah logistics base near Basra, during a whistle-stop visit to Iraq.
He said: "We know how much pride people have taken in Britain in the work that you have done and that reputation of the British armed forces - I don't think it's ever been higher than it is today.
"Whatever opinions people had on the war there is absolutely nobody back home who has anything other than enormous pride in the British armed forces and rightly so."
Comment: Once upon a time there were "goodies" and "baddies", the "goodies" beat the "baddies" and everyone lived happily ever after. Blair finished his speech by telling the troops that Santa Claus really does exist and that the tooth fairy would be arriving that evening to visit them all. Amazingly, they believed him about that also.
Once again we see the love affair between humanity and the simple and illusory version of reality. It has worked for millennia, but what are we to do when the truth makes a come back?
US Restricts Demonstrations In Iraq
If Americans are afraid of demonstrators, what would they do with spiraling resistance? Asked one Iraqi analyst

By Aws Al-Sharqy, IOL Correspondent
IslamOnline.net
BAGHDAD, January 1 - U.S. occupation authorities in Iraq have imposed strict restrictions on the right of the Iraqi people to demonstrate, particularly in the capital Baghdad, in what Iraqi political analysts described as the real face of sugar-coated democracy clichés.
A statement issued by the U.S.-led authority and broadcast by the Iraqi media network Wednesday, December 31, said no individual or group is allowed to organize marches or demonstrations or even gather in streets, public places or buildings at any time without a prior from the occupation command. [...]
"It is unbelievable that a country boasting a democracy record would clamp such rigid restrictions on the simplest forms of freedom of expression, which is the right to demonstrate," said Dr. Abdel-Sattar Gawwad, a political expert, told IslamOnline.net. [...]
Bulgarian soldiers refuse duty in Iraq after deadly attack
SOFIA (AFP) Jan 02, 2004
Some 30 Bulgarian soldiers have pulled out a 500-man battalion heading for Iraq following attacks there in which five Bulgarian soldiers died, the chief of staff of the army said Friday. [...]
A total 19 people were killed and 200 wounded, including 64 Bulgarian troops, in a multiple car bomb attack Saturday in the holy Shiite city of Karbala, 110 kilometres (70 miles) south of Baghdad. [...]
Train attacked in Western Iraq as Bulgarian troops refuse to serve in Iraq
albawaba.com
03-01-2004, 09:39
Attackers derailed a train in western Iraq, hitting it with a Rocket-Propelled Grenade, a US military statement said Saturday. "An Iraqi train en route to Babbaniyah was attacked with a Rocket-Propelled Grenade (RPG)," on Wednesday, the 82nd airborne division said.
"The round impacted the train and disabled the vehicle," it added.
The 82nd airborne division described the attackers as "looters" and said they only stripped the train of its engine batteries. [...]
UN hands Iraqi funds to occupiers
Friday 02 January 2004
The UN Security Council resolved to hand over the fund last May
The United Nations has effectively handed over control of Iraqi funds it administered to the US-led occupation force.
The world body has transferred $2.6 billion to the Fund for the Development of Iraq, which is managed by the US-led occupation that spearheaded the war on Iraq last year and today occupies the country, an official UN source said on Thursday.
The fund is an evolution of the seven-year-old UN oil-for-food program, whose functions were transferred to the US-led occupation forces by a UN Security Council resolution last 22 May.
The $2.6 billion transfer, done in the closing hours of 2003, was the fourth and largest to the fund. One billion was transferred on May 24, a second billion in October and a third tranche in November.
Food and medicine
The oil-for-food programme, set up in 1996, was intended to mitigate the effects of international sanctions imposed on Iraq after its 1990 invasion of Kuwait, by using UN-controlled sales of Iraqi oil to buy food and medicine for the civilian population.
In the ensuing seven years, according to UN figures, the programme has generated oil revenues totalling $65 billion. Of that, $46 billion has been allocated to the food programme, with the rest going to compensate victims of the invasion of Kuwait and financing the costs of administration and arms inspections.
Comment: There is another word for the above: Theft. The image of the UN as a just international body with the intent and power to bring forth a more peaceful world is patently untrue; this image has been carefully crafted for public opinion. Behind the scenes we see the same corruption and lies that typify all political organisations on our planet.
Chicken Tikka, Anyone?
By ROBERT FISK
Counterpunch.org
January 3, 2004
Mystification. why would a bomber blow himself up to destroy a restaurant? There's no doubt that the man who killed eight diners in Nabil's onWednesday was a suicide attacker.
One of the waiters, a balding, angry man, showed me what was left of him yesterday. Flesh in the forecourt, a set of four blackened fingers below a wall. "You want a chicken tikka?" he asked cruelly. But these are cruel times.
Next door, every member of the family in the now broken villa was taken to hospital. I knew them all. A few months ago, when the hotel across the road was bombed, I'd lent them my phone to call their relatives in America. "Al-hamdulila - praise be to God - we are all OK," the mother had shouted down the line to Detroit. Not any more. Her husband was hurt in the chest by the blast. All her daughters were cut, too. Why them?
In any other land, there would be a forensic science laboratory and someone would have taken those fingers away for identification. But the Americans were only looking for the detonator. Some hope. The bomber's Oldsmobile was almost atomised. Did he think someone from the occupation authorities was among the diners at the New Year's Eve belly-dancing party?
Mystification. I am talking to a young American soldier from the 3rd Armoured Cavalry Regiment. He's just down from the Syrian border. "We had a problem there," he says. "A guy got hostile with our men last night. Pulled a knife. He was shot dead." A knife? The guy pulled a knife on a soldier?
No information in the papers, of course. No mention of the dead Iraqi in the occupation power's usual press conference. Mystification. Just two days before Christmas, I am driving the desert road at night west of Ramadi. This is bandit country, a death trap for Americans and insurgents alike. Then to the south, there is a great fire, flickering with explosions, shell bursts, flares, streaks of tracer.
The light burns brightly on the horizon, pulsates orange and red for almost 20 minutes, the time it takes my car to reach Fallujah. But next day, no one reports a fire. Nothing in the papers. Someone must know. Can't the Americans, watching all this from their satellites, account for this blazing fire in the night?
Mystification. I am in a traffic jam in the Muthhana area of Baghdad, a thieves' paradise, next to a beat-up Toyota with a bearded man at the wheel.
The driver's window is broken, the door doesn't close properly, the registration plates have fallen off.
"Well, you're safe," I shout at him. "No one's going to steal your car." The man grins back at me. "No, they can't steal my car," he roars, then reaches to the floor of his vehicle. He comes up with his false left leg and dangles it out of the window towards me. "And they can't steal me either."
Chicken tikka? False legs? Where do the Iraqis find their sense of humour?
Castro marks 45th anniversary of Cuban revolution
06:42 AM EST Jan 04
HAVANA (AP) - Declaring together they have written "an unprecedented page of history," Cuban President Fidel Castro gathered with several thousand members of the Communist party Saturday to celebrate the 45th anniversary of the revolutionary triumph that brought him to power.
Colombia vote failure confirmed
Colombian electoral authorities have confirmed that voters backed only one out of 15 reforms proposed by the government in a referendum last year.
The only measure approved in October's vote was a ban on politicians convicted of corruption from standing again.
The other proposals were declared invalid because too few people voted, the National Electoral Council said.
Colombian top rebel leader captured in Ecuador
www.chinaview.cn 2004-01-04 09:55:41
BOGOTA, Jan. 3 (Xinhuanet) -- A senior leader of the leftist Revolutionary Armed Forces of Colombia (FARC), who was captured ina hospital in neighboring Ecuador, was brought to Colombia on Saturday, the military said.
The military identified the detainee as Juvenal Palmera, alias Simon Trinidad, one of the 15 members of the FARC leadership.
Georgia votes to elect new leader
People in Georgia have begun voting to choose a new leader.
Analysts say the result is predictable - opposition leader Mikhail Saakashvili is all but certain to become the country's next president.
[...] Turnout has to reach 50% for the election to be valid and, amid fears that many voters may stay at home, Mr Saakashvili has appealed to people to turn out.
"Chaos and disorder will reign in Georgia [if the election is not valid]," he said.
Mr Saakashvili, who is 36 and was educated in the US, is expected to face huge challenges if he does win.
Rival Afghan factions agree on constitution

There's a report this Sunday that rival Afghan factions have agreed on a national constitution. The move would pave the way for the first free elections in the country after nearly a quarter-century of conflict. The agreement was announced by Mirwais Yasini, the deputy head of the Loya Jirga, or Grand Assembly. A full session of the 502-member assembly was expected to reconvene in the afternoon for the first time since Thursday. The draft constitution would then be voted on by a show of hands. Exact details of the final constitution have yet to be made public. One of the main sticking points was said to be a dispute over presidential powers.
Away from the public eye and far from the media's attention, China is waging a controversial campaign it claims is an important front in the war on terror. Jaideep Mukerji investigates
In the latest of a series of moves aimed at cracking down on separatists in the Xinjiang region of western China, Chinese officials last month unveiled a "most wanted list" of 11 individuals and four organisations they accuse of being involved in terrorist activities. Claiming that these groups and individuals threatened to "split China", China's deputy director of counter-terrorism, Zhao Yongehen, urged the international community to aid China in detaining suspects and dismantling the organisations, some of which are located outside of China.
The Chinese government's announcement was met with alarm by human rights groups who fear an escalation in what they claim is a crackdown on the estimated eight million Uighurs who live in the Xinjiang region. The Uighurs, a mostly Muslim minority, are a culturally and ethnically distinct population that for years now have struggled to create an independent country they call East Turkistan. The Chinese government, which places a premium on social unity and cultural homogeneity, sees Uighur separatism a threat to national stability and has been conducting a campaign to quell the movement.
[...] The Chinese government denies accusations of heavy handedness and maintains that Xinjiang is an important front in the war against terror. Officials at the Chinese Embassy in Cairo told Al Ahram Weekly that they are engaged in a legitimate struggle against terrorist organisations, some of whom have links to Al-Qa'eda.
"China too is a victim of terrorism," officials said. "East Turkistan terrorist forces are responsible for a great number of incidents of terrorist violence both inside and outside China."
US manufacturing hits 20-year high
US manufacturing rose to a 20-year high in December, providing further evidence that growth and demand is picking up in the world's largest economy.
The closely-watched survey by the Institute for Supply Management climbed to 66.2 from 62.8 the previous month.
A reading over 50 signals expansion and December was the sixth straight month of growth. It was also the highest monthly level since 1983.
The news helped lift US shares and strengthened the dollar.
Comment: Yesterday we saw that Karl Rove is giving Bush a makeover for the election campaign: Bush as Peacemaker and Statesman! Now we hear this "good news" about the US economy. Add to this the computerized voting machines that leave no paper trail, and you've got the assured reelection of GWB in November. Then war in 2005.
U.S. to Begin New Approach on Foreign Aid
By GEORGE GEDDA, Associated Press Writer
Sun Jan 4,12:41 AM ET
WASHINGTON - A revolution in U.S. foreign aid, rewarding countries for how they govern, is finally ready to get under way, almost two years after first promised by the Bush administration.
The program will favor countries whose governments are judged to be just rulers, welcoming hosts for foreign investment and promoters of projects to meet their people's basic health and education needs.
Corrupt police states need not apply...
Comment: ...said the corrupt police state.
Bush's Budget for 2005 Seeks to Rein In Domestic Costs
By ROBERT PEAR
The New York Times
January 4, 2004

WASHINGTON, Jan. 3 — Facing a record budget deficit, Bush administration officials say they have drafted an election-year budget that will rein in the growth of domestic spending without alienating politically influential constituencies.
They said the president's proposed budget for the 2005 fiscal year, which begins Oct. 1, would control the rising cost of housing vouchers for the poor, require some veterans to pay more for health care, slow the growth in spending on biomedical research and merge or eliminate some job training and employment programs. The moves are intended to trim the programs without damaging any essential services, the administration said.
Even with the improving economic outlook, administration officials said, the federal budget deficit in the current fiscal year is likely to exceed last year's deficit of $374 billion, the largest on record.
The Congressional Budget Office and the White House budget office have projected a deficit of more than $450 billion this year.
But Joshua B. Bolten, director of the White House Office of Management and Budget, has said the president's policies will cut the deficit in half within five years, through a combination of economic growth and fiscal restraint. [...]
Comment: Note the wording used: "improving economic outlook". This is very similar to stories we have run about falling unemployment claims, the conclusion being that the economy is improving. What is not reported in such articles is how many people are still unemployed after having been laid off months or even years ago. Some unemployment estimates are as high as 9.7%.
The economy does not appear to be growing. The value of the dollar continues to drop. While the short term effects of this drop may be positive, analysts warn that the long term effects could be devastating. The Bush Reich is spending like a drunken sailor when it comes to the bogus "War on Terror", while programs for veterans and the unemployed are being cut back.
In any case, should another terrorist attack occur on US soil, it appears there won't be another election. Perhaps Bush is simply presenting the appearance of actually caring about the election so that when the attack occurs, he has an "alibi" of sorts. Bush could complete the fascist takeover, and Americans would love him for it.
Bush to Seek Immigrant Benefit Protection
Plan to Include System Enabling Undocumented Workers to Gain Legal Status
By Mike Allen
Washington Post Staff Writer
Sunday, January 4, 2004; Page A05
CRAWFORD, Tex., Jan. 3 -- President Bush will propose protections for the Social Security taxes paid by the workers who would come into the country under massive changes to immigration laws he plans to announce on Wednesday, Republican officials said Saturday.
Bush's plan would make it possible for such workers from Mexico and perhaps other countries to collect retirement benefits without being penalized by their home countries for the years they spent working in the United States, the officials said. [...]
Frank Sharry, executive director of the National Immigration Forum, an immigrant advocacy group, said he fears the Social Security plan could be used as an incentive for workers to go home instead of settling in the United States, which could create what he called "a permanent class of temporary workers with no political power."
"The knock that will be put on Republicans is that they want immigrants as workers but not as voters," Sharry said. [...]
Police use student doodles to crack down on graffiti (UK)
Mark Townsend
Sunday January 4, 2004
The Observer
[...] Police are to photograph thousands of pupils' jotter-book etchings to tackle an upsurge in graffiti spraying. Officers have begun entering classrooms to record the scribbles of pupils, using the latest mobile phone technology to identify distinctive signatures and styles. [...]
Michael Ruppert in his From The Wilderness 2003 10 20:
It's easy to like Dennis Kucinich. . . He [has] addressed any of our issues. The three he has addressed . . . Iraq -- the fraudulent intelligence leading to the invasion, his clear and unequivocal opposition to it, and his call for a US withdrawal; the Patriot Act, which he wants to repeal . . .
But he has not . . . made any effort to pursue the glaring unanswered questions of 9/11. [...]
There is a man occupying a pivotal position in Dennis Kucinich's campaign that I am extremely leery of . . . attorney Daniel Sheehan .
[Sheehan] literally destroyed two of the best and biggest lawsuits connected to CIA drug dealing in history: the Christic Institute lawsuit in the 1980s and a civil suit arising from the murder of Marine Col. James Sabow at El Toro Marine Air Station after Sabow had discovered CIA-connected C-130s flying tons of cocaine onto his base in 1990 and 1991. . .
Sheehan raised hundreds of thousands of dollars from victims and activists (Christic) and from the Sabow family, only to drag litigation out over a period of years and, through egregious legal conduct, destroy suits that could have changed the course of history. [...]
N.S. man charged after axe attack on mail carriers found fit to stand trial
BRIDGEWATER, N.S. (CP) -- A Nova Scotia man charged with attacking his mail carriers with an axe has been found fit to stand trial. [...]
Midwives' fear as violence hits maternity ward
Tom Curtis Health Correspondent
Sun 4 Jan 2004
MIDWIVES are facing a rising tide of violence and intimidation from mothers and their partners in maternity units across the country, Scotland on Sunday can reveal.
In stark contrast to the traditional joyful image of labour and maternity wards, midwives in Scotland say they are frequently subjected to a barrage of abuse and even physical attack. Some have even been stalked by relatives.
They say mothers become aggressive if they are not allowed to smoke, drunken relatives behave threateningly if they are not allowed to visit outside official hours, and male partners may even deliberately target midwives outside the hospital if they bear a grudge about treatment.
Now the Royal College of Midwives is calling on its members to involve the police more often, claiming the problem is going unreported.
Gillian Lenaghan, one of the college's national officers for Scotland, said: "It's an increasing problem. Everyone thinks that babies and maternity is nice cuddly stuff, so they don't expect people in those environments to be accosted or threatened - but it happens on a daily basis."
Lenaghan said a frequent problem was mothers who refused to obey ward rules such as not smoking. Drunken or drugged relatives arriving at hospital outside visiting hours and demanding access to mothers and babies was equally common, she said. [...]
Loyalty Islands Earthquakes (Magnitude 7.1)
Sunday 4th January 2004
A series of large and major earthquakes continue to hit the Loyalty Island region of New Caledonia. Since Friday December 26th 2003, there have been 17 earthquakes over magnitude 5, with two of them over magnitude 7. A small tsunami was recorded in Port Vila, Vanuatu. [...]
Minor earthquake rumbles through Sonoma County
Saturday, January 3, 2004
(01-03) 10:43 PST SANTA ROSA, Calif. (AP) --A minor earthquake rattled northern Sonoma County Saturday morning, but there were no reports of damage or injuries.
Residents as far away as Santa Rosa, about 25 miles south, felt the 3.5-magnitude quake that struck at 8:21 a.m. The quake was centered two miles east of The Geysers, according to the U.S. Geological Survey.[...]
The Geysers is a location where subterranean steam builds up and helps make the area seismically active, the USGS has determined. [...]
380 dead in South Asia cold snap
DHAKA : At least 380 people have died from the cold this winter in South Asia, after 69 more deaths were reported in Bangladesh which is seeing unusually low temperatures, newspaper reports and officials said on Sunday. [...]
Was Welsh 'London Monster' innocent?
Jan 3 2004
Catrin Pascoe
The Western Mail
A KILLER who preyed on young, beautiful women terrorised London a century before Jack the Ripper stalked the city's streets.
But the Welshman who was imprisoned for the crimes may have been wrongly convicted, according to new research.
Rhynwick Williams, a 23-year-old native of Beguildy, Powys, was sent to Newgate Prison for six years after the attacks hit the city in 1790.
The "London Monster", as he was soon dubbed, used to walk up to beautiful, well-dressed ladies and insult them with coarse language and then stab his victim in the thigh or buttocks. Or, he invited the victim to smell a bunch of artificial flowers and then stabbed her in the nose.
"Both means of attack caused absolute outrage as they were unheard of in London at the time," said Dr Jan Bondeson, a lecturer in rheumatology at Cardiff University, who has researched the phenomenon of "phantom attacker syndrome".
His research covers a host of violent criminals who strike, sometimes randomly, before disappearing into the night. The London Monster was among the first to be recorded.
But Dr Bondeson feels that Williams, who had worked in a factory making artificial flowers but only fitted a handful of the Monster's descriptions, was the wrong man after the media created panic.
"Throughout the spring of 1790, the newspapers were full of the Monster's latest exploits," says Dr Bondeson.
By early April 1790, a £100 reward was posted for the capture of the Monster. Large posters were pasted up all over London to announce that a blood-thirsty monster was on the prowl, attacking beautiful women in the streets.
"Some ladies even faked monster attacks to gain sympathy and compassion," Dr Bondesan said.
Soon it was being speculated that the Monster was a master of disguise, an insane nobleman bent on maiming every beautiful woman in London, or even a supernatural being who could make himself invisible to evade detection.
Finally, on June 13, a vigilante arrested a suspect after he had been pointed out in Green Park by a young lady who had been attacked several months earlier. That suspect was Williams, the son of a respectable apothecary who had become a ballet dancer but then sacked from the theatre on suspicion of theft.
"He lived at a disreputable public house, where four men shared two beds in a tiny room," says the expert.
"That the Monster actually slept in the same bed as another man was considered highly significant to explain his blood-thirsty crusade against the female sex."
Bizarrely, to cut or stab some person with an intent to maim or kill them was then just a misdemeanour and the judges were uneasily aware that the general mood in London demanded that the Monster should be more severely punished. So they found a statute from the time of George I, saying that it was a felony to maliciously spoil and destroy any person's garments.
Williams was tried at the Old Bailey and convicted for destroying the clothes of one of the Monster's victims. But the judge found the stretching of the law to make the Monster's crimes a felony somewhat questionable: had he not cut the clothes to make way to the flesh underneath?
The matter was referred to the Twelve Judges of England, who decided that Williams should be tried again, this time for a misdemeanour - and he was sentenced to six years.
"At the time, many people saw it as an anomaly that Williams was not hanged, flogged within inches of his life, or at least transported to Australia," says Dr Bondeson.
"After all, it was punishable by death to steal a sheep or to pickpocket more than a shilling. But today, one is instead concerned that there may well have been a miscarriage of justice, and that Williams was just a scapegoat who had to play the role of the Monster in these two farcical trials.
"Many of the victims had given descriptions of the mystery assailant that did not fit Williams at all. And for the attack where the evidence against Williams was considered the strongest, he had seven alibi witnesses stating that he had been making artificial flowers at the time.
"There is also evidence that the police deliberately coached at least one Monster victim to pick out Williams."
Where Oh Where Did The Mastodon Go?
Scientists find Mars meteorite
From Gerard Sevestre in Paris
January 04, 2004
TWO French scientists said today they believed they had discovered a rare meteorite from Mars which could shed light on the red planet's geological make-up and volcanic activity.
A team led by Carine Bidaut and Bruno Fectay found two chunks of meteorite weighing 414 and 383 grams respectively in the Atlas mountains of southern Morocco in January and March 2001.
A group of French scientists, the Theodore Monod Consortium, has just finished examining the stones and declared them to belong to the extremely rare group of SNC - shergottite, nakhlite, chassignite - meteorites, which are believed to come from Mars. [...]
---
Remember, we need your help to collect information on what is going on in your part of the world!
We also need help to keep the Signs of the Times online.
---

Check out the Signs of the Times Archives

Send your comments and article suggestions to us

---
Fair Use Policy
Contact Webmaster at signs-of-the-times.org
Cassiopaean materials Copyright ©1994-2014 Arkadiusz Jadczyk and Laura Knight-Jadczyk. All rights reserved. "Cassiopaea, Cassiopaean, Cassiopaeans," is a registered trademark of Arkadiusz Jadczyk and Laura Knight-Jadczyk.
Letters addressed to Cassiopaea, Quantum Future School, Ark or Laura, become the property of Arkadiusz Jadczyk and Laura Knight-Jadczyk
Republication and re-dissemination of our copyrighted material in any manner is expressly prohibited without prior written consent.
.