---
Picture of the Day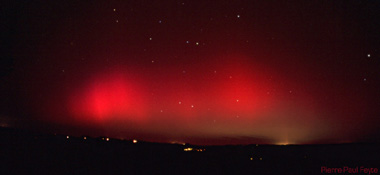 Northern Lights over Gers, November 20, 2003
©2004 Pierre-Paul Feyte
---
An Egyptian airliner crashes in the Red Sea, just a few hundred miles from Israel. On board, 140 French nationals en route to Paris. Just another plane crash? Perhaps.
Perhaps not. The Mossad was not joking when the motto was coined, "By way of deception, thou shalt do war." Some would like to think that there are good guys and bad guys. Unfortunately a quick look at the basics of reality, life, and nature will show us that things are much more complicated than that. But hey, cheer up - that's what you were given a brain for! Perhaps it's time we all started to use them.
It looks as if the "terrorists" have it in for the airlines. The US intelligence agency, the biggest terrorist of them all, is wreaking havoc on the airline industry. But have you noticed that none of the canceled, diverted, or escorted flights are American carriers? Coincidence? We think not. Why would the nasty "al Qaeda terrorists" pick on France of all countries: France that protested the war in Iraq, France that has been the most vigorous in its protestations against the Bush Reich? Curious? Well, only if you believe that the problem is "Arab" terrorists.
Meanwhile, the IDF continues to treat Palestinians as animals to be slaughtered as they see fit, and Musharaff takes his cue from Bush about how to run an effective democracy.
In the recent $87 billion Iraq bill passed by Congress, $3 billion is set aside for the creation of a crack squad of assassins who will clean up the mess in Iraq.
Speaking of Iraq, US forces invade and defile a mosque. The Pentagon has plans to replace all troops in Iraq and Afghanistan in the coming months.
Shadow governments, "secret" lairs, underground bunkers, assassins, a Cuban Christmas tale about the "good ole days" when the Mafia ran the country, and a city-in-a-mountain where psychopaths rub their hands in glee and perpetuate mayhem.
If you made this stuff up, people would say it is too outrageous to be believed. It's here and it's real, and this is just the information that is easily accessible.
Jet with 141 on board crashes

03/01/2004
A charter jet with 141 people aboard – most of them French tourists – crashed into the Red Sea today after taking off from the resort of Sharm el-Sheikh, according to officials who feared no one had survived.
The Boeing 737 took off shortly before 5am local time (0300 GMT) and quickly disappeared from radar about seven miles south of the airport, said airport officials.
There was no distress call made, according to officials at Egypt's Ministry of Civil Aviation.
The plane was bound for Cairo for a stopover before heading on to Paris after a crew change, according to airport officials.
A spokesman at the French Embassy in Cairo said he had no immediate comment.
The crash happened amid a week of heightened concerns about terrorist threats from the air that have led to increased security and cancelled flights around the world.
But an initial statement from aviation ministry ruled out terrorism, calling the crash an "accident" that may have been caused by a mechanical problem. The ministry said no one was believed to have survived.
Comment: Given the recent warnings about terrorists on Air France flights, the recent polemics between the US and France over the creation of a European defense force, and the obvious meddling by the US in the nature and structure of the planned European constitution and enlargement, this crash cannot be seen in isolation. Undoubtedly there is much more going on behind the scenes than we are aware of, and we suspect the crash may have meaning that is not immediately apparent on the surface. Obviously not every international incident where hundreds of people die can be attributed to a conspiracy, but the timing of this crash is highly suspicious. The authorities, with unlikely speed, give the cause as "mechanical failure" despite the fact that there was no distress call from the pilot.
It is not beyond the realms of possibility that the plane was brought down as a result of Mossad and/or CIA operations. In fact, if this is true, it would merely constitute another in the long list of false flag operations carried out by those agencies. Perhaps it was meant as a coded message to the French government to toe the US/Israel line, or else. Without doubt there are various benefits to be derived from this "accident" by the US and Israeli positions and their much loved "war on terror", and as such it is to these countries that we look for those responsible.
Remains pulled from plane crash
03/01/2004 15:33
News24.com
Cairo - Rescue workers have recovered body parts from some of the 148 people who were aboard a plane that crashed into the Red Sea near the resort of Sharm el-Sheikh, Egyptian Civil Aviation Minister Ahmed Shafik said.
"We have found parts of bodies from some passengers," Shafik said on state television.
He added that "debris from the aircraft has also been recovered." [...]
Charter Jet with 148 People Aboard Crashes into Red Sea
[...] The weather was clear in Sharm el-Sheikh and other flights were taking off without incident, officials said.
The Boeing 737 had flown in early today from Italy, dropping off passengers in Sharm el-Sheikh. The new passengers then boarded for the flight to Paris via Cairo.
Sharm el-Sheik is a popular Red Sea tourist resort that also frequently hosts major political and economic summits, and the Prime Minister Tony Blair is now on holiday there. It is about 300 miles southeast of Cairo on the Sinai peninsula.
Today a Downing Street spokesman stressed that Mr Blair and his family were safe and well. The spokesman said: "The group has not been affected."
France demands manslaughter inquiry over Egyptian air crash
www.chinaview.cn 2004-01-03 20:47:28
PARIS, Jan. 3 (Xinhuanet) -- French Justice Minister Dominique Perben has demanded the opening of preliminary inquiry for manslaughter following the crash of an Egyptian charter plane in the Red Sea earlier Saturday, which killed 148 people, most of them French tourists.
This demand does not prejudges the cause of the catastrophe and the opening of an inquiry fits in the procedure of cooperation between French and Egyptian investigators, said the French Justice Ministry.
British Cancel Another Flight as Allies Query U.S.
By ERIC LICHTBLAU
The New York Times
January 3, 2004

WASHINGTON, Jan. 2 — British Airways canceled another flight to the United States on Friday as the Bush administration faced questions from American allies about the reliability of the intelligence information that has led to the recent rash of flight cancellations. [...]
Administration officials said no arrests had been made in connection with any of the more than a dozen international flights subjected to rigorous scrutiny. And officials have acknowledged that even now, they are uncertain whether they have succeeded in foiling a terrorist plot.
"I don't think we know yet, and we may never know," a senior administration official said.
The latest concern over the tighter security — perhaps unparalleled in commercial aviation history — was raised by Mexico on Friday. A spokesman for President Vicente Fox questioned decisions by the United States on New Year's Eve and New Year's Day to cancel Aeromexico's Flight 490 from Mexico City to Los Angeles. The spokesman, Agustin Gutiérrez Canet, said that armed Mexican agents had been scheduled to fly aboard the flights and that the authorities made special efforts to interrogate passengers closely and inspect luggage.
"Those revisions have found nothing suspicious," Mr. Gutiérrez said. "Where was the risk?"
In another indication of the turmoil resulting from the increased security measures, an American official said that the cancellation of the British Airways flights was not in response to United States safety concerns, but rather was prompted by the refusal of British pilots to fly with armed marshals on board. [...]
Jet diverted to St. John's amid security concerns
Jan. 3, 2004. 01:00 AM
ST. JOHN'S, Nfld.—An Air France jetliner made an unscheduled landing in St. John's on New Year's Day because of security concerns.
The plane was on its way to Paris from New York, when the pilot was told to divert.
A comparison between luggage and passenger lists found that an unaccompanied piece of baggage was believed to be aboard the plane. The plane landed in St. John's without incident and the 260 passengers on board were taken off.
Terror scare creates airline havoc
By PAUL KORING
From Saturday's Globe and Mail
Washington — Fearing a murky terrorist plot to crash jetliners into buildings or blow them up over Washington or Los Angeles, U.S. security agencies continued to divert and cancel incoming flights Friday, while armed warplanes shadowed or intercepted other aircraft.
Suspicion has focused on a specific British Airways flight to Washington, which was cancelled for a second consecutive day. But other flights also have been affected, including an Air France jet ordered to land in Newfoundland early Friday morning and an AeroMexico flight to Los Angeles that has been cancelled twice in three days.
Al-Qaeda, the terrorist group headed by fugitive Osama bin Laden, has a history of conducting spectacular and simultaneous attacks, and at least one independent British military analyst said two terrorist cells were believed to be planning twin attacks.
"There is good and precise intelligence that there is more than one al-Qaeda or al-Qaeda-like group operating against the United States," said Paul Beaver, director of the London-based Ashbourne Beaver Associates.
"One is based in Central America and the other is based in Europe — in London or Paris,'' he told Agence France-Presse.
Although U.S. officials have refused to release any details of the suspected plots, they raised the country's terror threat alert to "orange" (the second-highest level) just before Christmas, and have ordered foreign governments to be ready to put armed agents on selected flights headed to or flying over the United States. Those that refuse face revocation of landing or airspace transit rights.
Mr. Beaver's assessment matches the pattern of flight cancellations and delays since Christmas Eve. Washington, Los Angeles and possibly Las Vegas seem the most likely targets.
Three Air France flights to Los Angeles from Paris were cancelled on Christmas Eve and Christmas Day. Since then, several other Los Angeles-bound Air France flights have been shadowed as they crossed the country by U.S. warplanes armed with air-to-air missiles. And two AeroMexico flights from Mexico City to Los Angeles were cancelled this week.
Other flights have also been tailed by U.S. F-16s and F-15s, although only those spotted in daylight by passengers have been confirmed.
Meanwhile, there has been a special focus on British Airways Flight 223, one of the carrier's three daily trips between London and the Washington area.
Wednesday, nearly 250 passengers were kept on their arriving Boeing 777 at a remote part of Washington's Dulles airport for three hours while Federal Bureau of Investigation agents questioned everyone aboard.
For the next two days, both the inbound flight to Washington and the return to London were cancelled by the airline, acting on a request from the British government, which had been alerted by U.S. intelligence agencies. Friday's cancellation came mid-afternoon in London, after many of the passengers had checked in.
British Airways also cancelled another flight with a similar number — BA 263, which was headed for Riyadh Saturday — and said subsequent flights to the Saudi capital might also be scrapped.
An overnight Air France flight from New York to Paris landed just after midnight in Gander, Nfld., after a post-takeoff check indicated that there was unaccompanied baggage on board. The flight resumed after a bag was taken off the plane.
Although flights have occasionally been cancelled, delayed or intercepted by U.S. warplanes since the hijacking of domestic flights on Sept. 11, 2001, the focus over the past 10 days has been on flights originating from foreign cities bound for U.S. airports. Al-Qaeda was known to have plotted to hijack as many as 10 airliners on international routes bound for the United States in the mid-1990s.
In addition to giving certain flights and routes particular scrutiny, U.S. intelligence agencies have also alerted authorities in other countries of a list of names apparently linked to the latest suspected terrorist plot.
At least nine passengers boarding Air France flights have been closely questioned, although French authorities said variations in spellings of some of the names have fingered some unlikely suspects on passenger lists, including a five-year-old boy, an eminent Egyptian scientist and an elderly Chinese woman.
U.S. Homeland Security Secretary Tom Ridge has praised co-operation from foreign governments, but at least some officials from those countries have voiced irritation over Washington's demands for armed agents to fly aboard incoming flights, as well as the cancellations.
Mexico's presidential spokesman said the government had cancelled AeroMexico's flight Friday only after Washington threatened to withhold clearance.
"What threat?" said Agustin Gutierrez. "This question must be answered by Homeland Security. If we are going to have a good climate of co-operation, the least that we can hope for are reasons."
US terrorist alert sends shock waves round world's airports
Britain, France, Mexico and Tahiti flights grounded or delayed as strict measures are put in place to stop attacks
Owen Bowcott, Andrew Clark and Hugh Muir
Saturday January 3, 2004
The Guardian
The terrorist alert which caused chaos at Heathrow yesterday and is disrupting air travel around the world was disclosed shortly before Christmas by the US Secretary of Homeland Security, Tom Ridge.
[...] Since that alarm was sounded, airlines in Britain, France, Mexico and Tahiti have had flights grounded or delayed. US air force F-16 jets have scrambled to intercept and escort incoming flights to Washington's Dulles airport.
Islamic militants, it was suggested, planned to crash hijacked planes on Las Vegas or Los Angeles. Police helicopters and sniffer dogs were deployed to guard New Year's Eve revellers in New York's Times Square and the Las Vegas Strip.
Extra coastguard patrols were sent to the Valdez oil terminal in Alaska and tanker loading was suspended for several days.
Outside the US, however, that state of emergency has been viewed with a scepticism. Britain has been on the second highest level of terrorist alert since before President Bush's visit to London in November.
It may be that the crucial pieces of information did not come from US agencies alone, but the immediate requests to stop flights have rippled out from Washington.
International airlines are becoming increasingly alarmed at America's hardline stance towards incoming flights. A senior source at one carrier said: "It's got to the point where if there's anybody called Mohammed aboard, your flight's got a problem."
A cancelled long-haul flight typically costs an airline more than £100,000, a loss which carriers say they can ill afford when many of them are struggling financially.
The introduction of air marshals on flights to the US, announced by the transport secretary, Alistair Darling, on Sunday, was resisted by the government until recently. Six weeks ago, the Department for Transport's website said the benefits of armed officers on aircraft were "outweighed by the risks", which include accidental injuries to passengers or damage to the aircraft body.
Transatlantic wrangling held up the announcement of yesterday's cancellation until the last moment. Today's BA223 flight from Heathrow to Washington is "under review".
The Mexican government made it clear it was unhappy with the cancellation of AeroMexico flights from Mexico City to Los Angeles on Wednesday and Thursday. A spokesman for the Mexican president, Vicente Fox, revealed that the flights were only cancelled when the US said it would refuse to allow the aircraft to land, contradicting officials in Washington, who claimed the decisions were taken by the Mexican government.
The Philippines became the latest country yesterday to announce it would deploy air marshals on flights to the US. However, Denmark and Sweden are resisting the move.
Some British pilots have said they will refuse to operate flights with an armed marshal on board.[...]
Cancellation list grows
December 24
Air France cancels six flights between Paris and Los Angeles over two days because of "suspicious names" on passenger lists
December 30
Fighter planes accompany Air France flight from Paris as it lands in Los Angeles
December 31
American F-16 fighter planes escort British Airways flight BA223 into Washington. AeroMexico flight 490 from Mexico City to Los Angeles is cancelled
January 1
The same AeroMexico flight is cancelled again after the US says it will not be allowed to land. BA223 to Washington is cancelled, as is a BA flight from Heathrow to Riyadh. An Air France service from New York to Paris lands in Newfoundland because a passenger who checked in luggage did not board
January 2
BA flight 223 to Washington is cancelled again, less than two hours before takeoff
Comment: Where are the American carriers? Are we to believe that they are so security conscious that there is no threat? Or is this an economic attack on the airlines from other countries? Of course, it is not only this. It is also a means of instilling fear. It is a means of convincing the US citizenry that the Homeland Security thugs are doing their jobs.
BA flights grounded over terror threat fears

03/01/2004
British Airways was seeking advice from the British government today on whether to operate its afternoon flight to Washington, after cancelling it for two days running because of fears over security.
The airline has also cancelled today's flight BA263 from Heathrow to Riyadh, due to depart at 1.35 pm, after receiving "security advice" from the government.
Yesterday's fully-booked flight BA223 from Heathrow to Washington, due to leave at 3.05 pm, was grounded following discussions with security experts. The same flight was cancelled on New Year's Day.
On New Year's Eve, the flight had been kept on the runway for three hours after landing at Washington Dulles International Airport to allow security officials to board the plane and question passengers.
A spokeswoman for British Airways said the airline was still hoping to run today's service to Washington.
However, she said that in light of the events over the last few days, the security situation surrounding the flight would being closely monitored.
She said a decision on whether to operate the service would be made this morning.
BA said it was advised on Wednesday to cancel today's flight to Saudi Arabia.
A spokesman said: "On Wednesday the UK government advised the airline not to operate the flight for security reasons."
The warnings come as the US steps up security, heightening its alert status to orange, the second highest possible.
An Aeromexico flight from Mexico City to Los Angeles was cancelled after US authorities refused to allow it to land because of security worries.
But Mexican officials found no evidence of a threat on flight 490 and all 40 passengers were allowed to leave on a Mexicana flight.
Six Air France flights from Paris to Los Angeles were grounded in December because of concerns that possible terrorists were on board.
Comment: The farcical nature of the recent flight cancellations merely underlines the ease with which the public can be duped into believing in phony terrorism. It is a sad indictment on human nature that there are certain people in positions of power that know the minds of the masses far better than the masses themselves and can manipulate them at will.
Flashback: Palestinians Expose Plot to Create Fake Al-Qaeda Cell in Gaza

Sunday, December 08 2002
"Over the past nine months, we've been investigating eight cases in which Israeli intelligence posing as Al-Qaeda operatives recruited Palestinians in the Gaza Strip .."
GAZA CITY - Palestinian security forces accused Israeli intelligence agents Saturday, December 7, of trying to set up a mock Al-Qaeda cell in the Gaza Strip following the Jewish state's accusations Osama bin Laden's network was active in the fenced-in coastal area.
The Gaza Strip's head of preventive security, Colonel Rashid Abu Shbak, told journalists that Israeli agents, posing as operatives of Bin Laden's network, recruited Palestinians in the Gaza Strip.
"Over the past nine months, we've been investigating eight cases in which Israeli intelligence posing as Al-Qaeda operatives recruited Palestinians in the Gaza Strip," said Abu Shbak.
The security chief said his services had traced back to Israel at least eight cell phone calls and e-mails in which Palestinians were asked to join Al-Qaeda.
Colonel Abu Shbak said the calls to the Gaza Strip purportedly came from Germany and Lebanon. One e-mail was even signed Bin Laden, Agence France-Presse (AFP) reported.
"We investigated the origin of those calls, which used roaming, and messages and found out they all came from Israel," he told journalists.
"The Shin Beth - Israeli internal intelligence - has the means to do whatever it wants."[...]
"There is no need for Israel to make up something like this because Hamas, Islamic Jihad and Hezbollah are all the same as Al-Qaeda," spokesman Gilad Millo claimed.
"If... Sharon has made these allegations, he must be basing it on some evidence," he also said.
This allegation by Sharon was considered a surprise because the Gaza Strip is virtually sealed off by Israeli troops.
International cooperation minister Nabil Shaath, who also attended the press conference, accused Sharon of trying to piggyback on the U.S.-led 'war against terrorism' to justify "more attacks on the Palestinian people and violence in the Gaza Strip". [...]
Flashback: Mossad fakes Al-Qaeda Cell

07.12.2002
By Diala Saadeh
Recognised for creating faked Al-Qaeda atrocities in holiday resorts, Mossad also plants fake al-Qaeda operatives among the Palestinians

RAMALLAH, West Bank (Reuters) - The Palestinian Authority accused Israel's Mossad spy agency on Saturday of setting up a fake al Qaeda cell in Gaza so that Prime Minister Ariel Sharon could justify Israeli attacks in Palestinian areas.
A spokesman for Sharon called the allegation "sheer nonsense."
The Israeli leader said on Thursday that Osama bin Laden's organization had established a presence in Palestinian-ruled areas of Gaza and in Lebanon, aiming to attack Israel. He gave no further details in his comments at an Israeli media lunch.
"It is a big, big, big lie to cover (Sharon's) attacks and his crimes against our people everywhere," Palestinian President Yasser Arafat told reporters at his headquarters in the West Bank city of Ramallah.
Palestinian Information Minister Yasser Abed Rabbo pointed to an alleged Israeli plot.
"There are certain elements who were instructed by the Mossad to form a cell under the name of Al Qaeda in the Gaza Strip in order to justify the assault and the military campaigns of the Israeli occupation army against Gaza," Abed Rabbo said.
He did not elaborate, but Palestinian officials said they would present proof of Mossad involvement at a news conference on Sunday.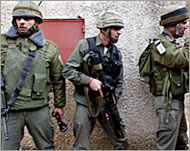 Israeli troops slaughter four in Nablus
By Shaista Aziz
Saturday 03 January 2004,
Israeli occupation soldiers have killed four Palestinians in an ongoing invasion of the northern West Bank city of Nablus.
The latest fatality came after Israeli forces opened fire on a group of citizens marching on Saturday at the funeral of three men killed earlier by Israeli fire, Aljazeera reported.
Eyewitnesses say that Mohammed al-Masri, a relative of one of those being buried, was shot in the head and seriously wounded during the funeral procession for his compatriots. He died shortly afterwards from his wounds.
Those attending the funeral said occupation soldiers opened fire without provocation from a distance of 200 metres.
Earlier soldiers fired on Palestinians throwing stones at an Israeli "patrol".
Amjad Bilal al-Masri, 15, was killed by two bullets to the chest fired by a sniper as he hurled stones from a rooftop
An hour later, Amir Arafat, 18, and Rawahi Shuman, 25, were pronounced dead on arrival in hospital after coming under Israeli fire.
Witnesses said the two men were hit in the chest whentroops fired live bullets to disperse stone-throwers.
An Israeli army spokesman said the soldiers had hit two Palestinians, one of them "armed" and the other preparing to throw a petrol bomb.
Curfew
Nablus has been under total Israeli curfew for five days according to the Palestinian Red Crescent Society which says its ambulance crews have been denied access to the al-Qarun area of the city.
Locals living in the old city quarters of Nablus said occupation soldiers were searching houses and making arrests.
"The soldiers have been making many arrests and they have been using explosive devices to blast their way into the houses," said the man.
Invasion
Another local who only wanted to be identified by his first name told Aljazeera.net that occupation troops had been opening fire in the streets of the old city.
"The soldiers are shooting everywhere and they have occupied at least 10 houses in Nablus. They only left the city a few days ago and now they are back with more tanks and bullets" said Hussein.
Meanwhile in the nearby Balata refugee camp, occupation troops have re-invaded the camp with scores of soldiers inside the refugee camp and four bulldozers outside one of the entrances to Balata.
Comment: Four dead stone throwers, one of them a 15-year old child. Recently we carried a report that 80% of all Palestinians killed by Israeli troops, now numbering in the thousands, were innocent. The responsibility for the deaths of these people lies squarely at the door of the American people and their government.
Female Mossad Assassin with a story to sell
CHARLES BREMNER
The Times, London
Nima Zamar, a trained killer for Mossad, believed that she was eliminating 'real filth'. And that is exactly what she writes in her book, although Israel would like to call her a fantasist. [...]
She committed her first murder at a Hezbollah camp in Libya. She was ordered by the officers to kill Yasmina, a fellow trainee with whom she had sympathised.
This was a standard test to forge obedience and dehumanise recruits. She kills Yasmina without compunction, telling herself that every dead terrorist meant Israeli lives saved. "Slowly, I move behind her, hit her in the throat with a violent blow of the forearm and then strangle her. She lies dead in my arms. I put her on the ground," she writes. [...]
Tucked away in the recent Iraqi appropriation was $3 billlion for a new paramilitary unit. Close students of Vietnam may see similarities.
By Robert Dreyfuss
The American Prospect
Issue Date: 1.1.04
With the 2004 electoral clock ticking amid growing public concern about U.S. casualties and chaos in Iraq, the Bush administration's hawks are upping the ante militarily. To those familiar with the CIA's Phoenix assassination program in Vietnam, Latin America's death squads or Israel's official policy of targeted murders of Palestinian activists, the results are likely to look chillingly familiar.
The Prospect has learned that part of a secret $3 billion in new funds—tucked away in the $87 billion Iraq appropriation that Congress approved in early November—will go toward the creation of a paramilitary unit manned by militiamen associated with former Iraqi exile groups. Experts say it could lead to a wave of extrajudicial killings, not only of armed rebels but of nationalists, other opponents of the U.S. occupation and thousands of civilian Baathists—up to 120,000 of the estimated 2.5 million former Baath Party members in Iraq.
"They're clearly cooking up joint teams to do Phoenix-like things, like they did in Vietnam," says Vincent Cannistraro, former CIA chief of counterterrorism. Ironically, he says, the U.S. forces in Iraq are working with key members of Saddam Hussein's now-defunct intelligence agency to set the program in motion. "They're setting up little teams of Seals and Special Forces with teams of Iraqis, working with people who were former senior Iraqi intelligence people, to do these things," Cannistraro says.
The plan is part of a last-ditch effort to win the war before time runs out politically. Driving the effort are U.S. neoconservatives and their allies in the Pentagon and Vice President Dick Cheney's office, who are clearly worried about America's inability to put down the Iraqi insurgency with time to spare before November. They are concerned that President Bush's political advisers will overrule the national-security team and persuade the president to pull the plug on Iraq. So, going for broke, they've decided to launch an intensified military effort combined with a radical new counterinsurgency program.
The hidden $3 billion will fund covert ("black") operations disguised as an Air Force classified program. According to John Pike, an expert on classified military budgets at globalsecurity.org, the cash, spread over three years, is likely being funneled directly to the CIA, boosting that agency's estimated $4 billion a year budget by fully 25 percent. Operations in Iraq will get the bulk of it, with some money going to Afghanistan. The number of CIA officers in Iraq, now 275, will increase significantly, supplemented by large numbers of the U.S. military's elite counterinsurgency forces. A chunk of those secret funds, according to Mel Goodman, a former CIA analyst, will to go to restive tribal sheikhs, especially in Sunni-dominated central Iraq. "I assume there are CIA people going around with bags of cash," says Goodman.
But the bulk of the covert money will support U.S. efforts to create a lethal, and revenge-minded, Iraqi security force. "The big money would be for standing up an Iraqi secret police to liquidate the resistance," says Pike. "And it has to be politically loyal to the United States." [...]
U.S. Raids Baghdad Mosque; Worshippers Protest
By Luke Baker
Fri Jan 2, 2:30 PM ET
BAGHDAD (Reuters) - The U.S. military raided a Sunni mosque in western Baghdad and said it had seized arms and explosives in an operation that sparked an angry Muslim protest after Friday prayers.
More than 1,000 worshippers at the al-Tabool mosque denounced Thursday's raid in an emotional demonstration and accused U.S. troops of trampling on the Koran, or Muslim holy book.
"American soldiers entered the mosque with their shoes on and with machine guns in their hands," the imam, Abdulsatar al-Janabi, told Reuters, adding the raid had lasted five hours.
"They trampled on the holy Koran, beat up some of the worshippers and stole computers and a donations box," he said. Others claimed that a page was torn from the Koran.
Protesters screamed and cried, chanting: "God is great" and "America is the enemy of God." [...]
Cracks Appear in U.S.-Trained Iraq Corps
By JASON KEYSER, Associated Press Writer
Fri Jan 2, 3:04 PM ET
TIKRIT, Iraq - A foot patrol of U.S.-trained Iraqi civil defense officers emerges from an alley into the bustle of this city's main highway. Quickly, some of the men wrap scarves around their faces, fearful of being recognized by insurgents attacking Americans and their Iraqi allies.
The 16 Iraqis, armed with AK-47 assault rifles, are part of the Iraqi Civil Defense Corps, or ICDC, meant to be one of the country's key emerging security forces. But cracks are beginning to show in at least one part of the corps, here in Tikrit, five months after its first men hit the streets.
Some U.S. trainers in Tikrit say the Iraqi force is ill-equipped, prone to corruption and so trigger-happy that some have shot at their own comrades. Added to that is the threat of anti-American guerrillas targeting Iraqis cooperating with the coalition.
By some estimates, it will take years before this ragtag militia of former Iraqi soldiers, impoverished farmers and jobless men and youths will be able to shoulder the burden of securing Saddam Hussein's hometown.
"Oh my God, it will be a while," said Staff Sgt. Hugo Olveraleija, 26, one of the trainers. "These guys are farmers." [...]
Comment: One might think that the ICDC was intended to fail from the beginning.
U.S. Prepares for Risky Iraq Troop Rotation

By Will Dunham
Thu January 1, 2004 07:58 AM ET
WASHINGTON (Reuters) - The Pentagon is gearing up for a massive rotation of about a quarter million troops in and out of Iraq, a giant logistics chore complicated by concerns about opportunistic attacks targeting Americans as they arrive or depart.
Between late January and May, the 123,000 war-weary U.S. troops currently in Iraq will be pulled out and replaced with about 110,000 fresh Army soldiers and Marines. In addition, the 11,000 U.S. troops currently in Afghanistan will be brought home and replaced with about the same number.
Air Force Gen. Richard Myers, chairman of the military's Joint Chiefs of Staff, called the rotation "a logistics feat that will rival any in history." [...]
02/01/2004 17:51
News24.com
Rome - A politically united Europe could have prevented the war on Iraq, according to European Union Commission President Romano Prodi, quoted in an interview published on Friday in the Italian daily La Repubblica.
"If Europe had been present and united, I believe, we would not have seen the war on Iraq," Prodi said, adding "Then we would have managed to find a solution to preserve the peace."
Prodi also strongly criticized Italy's handling of the rotating EU presidency in the second half of 2003. [...]
Germany Hails First Invite to D-Day Ceremonies
By Philip Blenkinsop
Fri Jan 2,11:15 AM ET
BERLIN (Reuters) - Germany Friday hailed its first invitation to attend ceremonies for the D-Day landings 60 years ago, when Allied forces stormed ashore in northern France in World War II.
"It is a sign of enormous significance 60 years after the so-called D-Day landing of Allied forces in Normandy that not only the victorious powers, but also the former adversary, should be invited," government spokesman Thomas Steg said.
Chancellor Gerhard Schroeder will be the first German leader to attend a commemoration of the June 1944 D-Day landings after being invited by French President Jacques Chirac. [...]
Rebranding Bush as man of peace
Suzanne Goldenberg in Washington, Simon Tisdall and Nicholas Watt
Saturday January 3, 2004
The Guardian
The White House has retreated from its doctrine of regime change and pre-emptive military action and is returning to traditional diplomacy in an effort to repackage George Bush as a president for peace.
Signs of the new strategy that have emerged in the past few weeks include:
· North Korea, where authorities yesterday agreed to allow US inspectors to visit its nuclear complex next week.
· Iran, where the US proposed, through UN channels, sending a high-level humanitarian mission after last week's earthquake - although Tehran last night asked for any visit to be delayed.
· Libya, where the US welcomed Muammar Gadafy's surprise decision to give up weapons of mass destruction.
· Iraq, where the Bush administration is pressing for greater involvement from the international community.
· Palestine, where US peace envoy John Wolf may be sent to try to restart talks.
The signs of a thaw in US relations with these and other countries point to a different approach emerging in Washington. It emphasises cooperation, dialogue and diplomacy in place of the policies that have characterised the Bush administration's thinking to date. While Mr Bush publicly asserts Washington's right to defend its interests by any means, in practice he is increasingly pursuing a collaborative approach.
"There is a definite shift in US policy in everything but words," said Joseph Cirincione, an arms control expert. "The official doctrine has not changed but all our actions have, and the result is a shift away from military action towards diplomatic engagement. First with Iran, then with Libya and now with North Korea, we see a much greater effort to affect changes in regime behaviour rather than changes of regime."
[...] With elections 11 months away, Mr Bush does not want to be vulnerable to claims that he has presided over a warmongering strategy that has left Americans little safer than September 11 2001. His shift follows an established pattern in Washington of politicians moving to the centre during an election year.
[...] White House policy is also being influenced by Washington's allies, notably Britain. After the chasms over Iraq, the US and the Europeans seem to have reached an understanding about the right mix of diplomacy and force - particularly during negotiations with Iran and Libya.
Britain's influence is particularly strong. British government sources were reluctant to talk about the US change of tack last night for fear of giving any impression of gloating. But any signs that Mr Bush is moving back to a multilateral foreign policy will be welcomed in London - if only in private - as a vindication of Tony Blair's strategy of dealing with the president. Friends describe this as "complete solidarity in public, and complete candour in private".
Sources say Mr Blair's relationship with Mr Bush is so strong that an informal weekly video conference has now become a regular fixture in their diaries.
Comment: Excuse us if we remain skeptical about this makeover. It sounds like another scheme by Karl Rove to get Bush reelected. As the bodybags mount, Bush needs to be seen as a "peacemaker" and not a "warmaker," at least until the election is over. Then, he brings in the draft and the wars start again.
As for the supposed "British influence," let Tony use this self-calming to convince the British electorate to keep him in power until 2010, as he apparently desires. But as soon as the next US elections are over, Bush will be back in the saddle, roughriding over the rest of the world.
Then there is the Sharon card. Sharon can use the elections in the US to force his hand. No US politician is going to want to get on the "wrong" side of the Jewish and Fundamentalist Christian vote... unless, of course, the time has come to unveil to the US public the role of Israel in 9/11.
U.S. border closing plans revealed
Terror attack could force shutdown, documents show
American law might hurt Ontario manufacturing, trade
THERESA BOYLE
QUEEN'S PARK BUREAU
Jan. 3, 2004. 01:00 AM
The United States would virtually close the Canada-U.S. border if a terrorist attack were launched anywhere near it, according to documents obtained under access-to-information legislation.
"One additional terrorist attack, that had its origins in Canada or occurred at, or along, the Canada-U.S. border, would likely cause Congress to lift the drawbridge," warn the documents from the Ontario Ministry of Economic Development and Trade.
The confidential government documents also sound the alarm over newly implemented U.S. anti-terrorism legislation, warning it could wreak havoc on Ontario manufacturers.
The legislation, which took effect Dec. 12, requires trucking firms, air cargo companies and railway shippers to submit electronic data about their deliveries of food and beverage products before they can enter the United States.
"If implemented, as Congress probably intended, entry/exit could create monumental delays at the border, with devastating effects on Ontario's export industries," read the Oct. 23 documents.
Miranda Hawkins, a ministry spokeswoman, said the first phase of enforcement of the new law will begin March 12.
"This ... grace period will give truck drivers and food manufacturers the opportunity to comply with the new regulations," she said.
The internal government documents say Ontario and its neighbouring American states must influence their respective federal governments in talks over border security.
"If we cannot, and if protracted border delays become the norm, then losses to business on both sides of the border will become very significant," the documents warn.
The United States is Ontario's largest trading partner with 93 per cent of the province's international exports going south of the border.
Ontario's economic prosperity is affected by the tenor of Canada-U.S. relations.
Comment: As the US expands its military presence overseas, it is locking down the borders and isolating itself. This is the new form of American isolationism. After obstructing the movement of people and goods, the Bush Reich will work on the movement of information, attempting to prevent its citizens from having access to "unapproved" sources of news and ideas.
Pentagon criticized over high-tech spying
Associated Press
WASHINGTON — The U.S. Defense Department should have been more sensitive to concerns about potential government abuses of privacy from its highly criticized research project to predict terrorist attacks, the agency's inspector general has concluded.
In an oversight report, the inspector general's office said the Pentagon's research showed some promise. But the lack of a formal assessment on the privacy implications for U.S. citizens means the Pentagon "risks spending funds to develop systems that may be neither deployable nor used to their fullest potential without costly revisions and retrofits," the report said.
[...] Congress previously killed the Pentagon's vast computerized terrorism surveillance project, known as the Total Information Awareness project, but renamed the Terrorism Information Awareness after criticism.
But the Defense Advanced Research Projects Agency, which conducted the research, has quietly transferred some of its research and tools to other agencies since Congress barred the organization from proceeding with all but four small, non-controversial parts of the research program.
DemocracyNow Report on Bush Administration's Shadow Government
[...] The more disturbing aspect of the Shadow Government, is that it creates an apparatus, in waiting, that is an invitation, to abuse, in a whole variety of manors. Basically, it's the executive branch, particularly appointed officials, in the executive branch, who have been tasked, to carry out a War On Terrorism, which is undefined, which the enemies of which, are undefined, except to say they, they include just about everybody, sooner or latter, and which, according to the Administration, is supposed to go on for the rest of our lives.
This is, very disturbing. ...this... provides a glimpse into the administration's bunker mentality. In this case, the entire legislative branch of the U.S. government was seen in the White House as so dangerous in a crisis that it supposedly required the president to create a secret, unelected, emergency government, the key personalities of which are the administration's own political appointees. ... This shadow government is not a 'security measure.' It is an attack on the democratic process itself." [...]
Comment: The locations of the "Secret" Lairs are revealed in the text of the article.
By DAVID VEST
CounterPunch
[...] I assure you, it is not too early. The spinning has already begun. For example:
Should the U.S. experience a major terror attack later this year (say, anytime after the two majors parties have effectively engaged each other in the presidential campaign), the White House will likely portray it as an "attempt to influence the election" and urge Americans to stand up to terror by ... guess what?... re-electing Bush.
Can't you hear them now? Dick Armey, Tom DeLay and Bill Frist, all swearing that we are not going to let terrorists "dictate the outcome" of this election? Re-elect the President ... otherwise the terrorists win. [...]
By Frederick Sweet, Intervention Magazine
January 6, 2003
Writing about his no-fly nightmare in the Fairfield County Weekly, art dealer Doug Stuber, who had run Ralph Nader's Green Party presidential campaign in North Carolina in 2000, was pulled out of a boarding line and grounded. He was about to make an important trip to Prague to gather artists for Henry James Art in Raleigh, N.C., when he was told (with ticket in hand) that he was not allowed to fly out that day.
Asking "why not?" he was told at Raleigh-Durham airport that because of the sniper attacks, no Greens were allowed to fly overseas on that day. The next morning he returned, and instead of paying $670 round trip, was forced into a $2,600 "same day" air fare. But it's what happened to Stuber during the next 24 hours that is even more disturbing.
Stuber arrived at the airport at 6 a.m. and his first flight wasn't due out until nearly six hours later. He had plenty of time. At exactly 10:52 in the morning, just before boarding was to begin, he was approached by police officer Stanley (the same policeman who ushered him out of the airport the day before), who said that he "wanted to talk" to him. Stuber went with the police officer, but reminded him that no one had said he couldn't fly, and that his flight was about to leave.
Officer Stanley took Stuber into a room and questioned him for an hour. Around noon, Stanley had introduced him to two Secret Service agents. The agents took full eye-open pictures of Stuber with a digital camera. Then they asked him details about his family, where he lived, who he ever knew, what the Greens are up to, and other questions.
At one point during his interrogation, Stuber asked if they really believed the Greens were equal to al Qaeda. Then they showed him a Justice Department document that actually shows the Greens as likely terrorists – just as likely as al Qaeda members. Stuber was released just before 1 PM, so he still had time to catch the later flight.
The agents walked Stuber to the Delta counter and asked that he be given tickets for the flight so that he could make his connections. The airline official promptly printed tickets, which relieved Stuber, who assumed that the Secret Service hadn't stopped him from flying. Wrong! By the time Stuber was about to board, officer Stanley once again ushered him out the door and told him: "Just go to Greensboro, where they don't know you, and be totally quiet about politics, and you can make it to Europe that way."
In Greensboro, after Stuber showed his passport he was told that he could not fly overseas or domestically. Undeterred, he next traveled an hour-and-a-half to Charlotte. In Charlotte, the same thing happened. Then Stuber drove three hours to his home after 43 hours of trying to catch a flight.
Stuber said he could only conclude that the Greens, whose values include nonviolence, social justice, etc., are now labeled terrorists by the Ashcroft-led Justice Department.
Questions about how one gets on a no-fly list creates questions about how to get off it. This is a classic Catch-22 situation. The Transportation Security Agency says it compiles the list from names provided by other agencies, but it has no procedure for correcting a problem. Aggrieved parties would have to go to the agency that first reported their names. But for security reasons, the TSA won't disclose which agency put someone on the no-fly list.
Comment: The above is a taste of what many US travelers can probably expect in the not too distant future.
Musharraf wins almost absolute power
President Pervez Musharraf of Pakistan has won a vote of confidence that will leave him in office until 2007 and give him sweeping powers, including the right to sack the government.
Comment: Musharraf, the leader of the CIA-backed puppet regime in Pakistan, is apparently taking his cue from Bush...
Pakistan International Airline flight lands at Mumbai airport
www.chinaview.cn 2004-01-02 20:26:15
NEW DELHI, Jan. 2 (Xinhuanet) -- A Pakistan International Airline flight from Karachi Friday afternoon landed at Mumbai Chhatrapati Shivaji International Airport in Mumbai, southwest India.
There were 161 passengers on board the Airbus A-300 flight, local airport sources said.
Political Fundraising in Texas Is Target of Probe
By Scott Gold
LA Times Staff Writer
AUSTIN, Texas — Authorities are conducting a criminal investigation into whether corporate money, including hundreds of thousands of dollars linked to U.S. House Majority Leader Tom DeLay, improperly financed the Republican Party's takeover of the Texas Capitol.
The probe is focused on several political and fundraising organizations run by Republican activists, investigators said. One of the organizations, the political action committee Texans for a Republican Majority, has direct ties to DeLay, a Texas Republican and one of the most powerful politicians in Washington. [...]
US Democratic lawmaker switches to Republican party
www.chinaview.cn 2004-01-03 11:11:21
WASHINGTON, Jan. 2 (Xinhuanet) -- US Representative Ralph Hall, a Democrat from Texas, switched to the Republican Party Friday night, a news report said.
With Hall's switch, the Republicans strengthened their grip on power in the House, with 229 representatives against 204 Democrats. There is one Democrat-leaning independent and one vacancy in the lower house of parliament.
Hall, 80, was first elected to the House in 1980.
His move was seen as a result of the Republicans' drive to remake Texas' congressional districts more to their liking, which has been strongly opposed by Democrats arguing the redistricting plan violates minority rights.
The plan has been approved by the Justice Department, and a court ruling on its legality is expected.
Hall, who has filed to run for re-election as a Republican after serving more than 20 years in the Congress as a most conservative Democrat, reportedly said he would switch or resign if it hurt his district to be a Democrat.
Comment: From an article we posted yesterday on the assassination of Wellstone:
Ruppert also interviewed two Democratic Congress representatives who said they believed Wellstone was murdered. One said, "I don't think there's anyone on the Hill who doesn't suspect it. It's too convenient, too coincidental, too damned obvious. My guess is that some of the less courageous members of the party are thinking about becoming Republicans right now."
Iran earthquake toll revised down to 26,500
www.chinaview.cn 2004-01-02 21:23:02
BAM, Iran, Jan. 2 (Xinhuanet) -- The death toll from the recent devastating earthquake in southeast Iran's Bam City has been revised down to 26,500 from 28,000 as humanitarian aid operations are in full swing there.
A situation report released by the United Nations On-Site Coordination and Operation Center (UNOSCOC) in Bam on Friday quoted local authorities as saying that the official number of burials has reached 26,500, and that the final death toll is expected to reach 30,000 when the registration of all burials is completed.
Third ranch quarantined in BSE probe
By DAWN WALTON AND JILL MAHONEY
From Saturday's Globe and Mail
Calgary, Edmonton — A third cattle ranch in the United States has been placed under quarantine after another cow with ties to a Holstein with mad-cow disease in Washington was located, U.S. Agriculture Department officials said Friday.
Virus variation found in suspected SARS case
www.chinaview.cn 2004-01-03 07:08:18
GUANGZHOU, Jan. 2 (Xinhuanet) -- The results of a gene sequencing test show the coronavirus found in the suspected severe acute respiratory syndrome (SARS) case in Guangzhou is a virus variation with new sequence, according to the Center for Disease Prevention and Control in southern China's Guangdong Province Friday evening.
That's to say, it is possible that the man with the suspected case of SARS in the province have contracted SARS, according to the center.
The center had carried out a series of tests on the case. Usingthe method of reverse transcription-polymerase chain reaction (RT-PCR), scientists obtained S, M and N genes of coronavirus from thesuspect.
Comparing the sequences of the gene section with all those of the SARS coronavirus published by the international gene bank, experts found that 98.8 to 99.4 percent of 3,768 bases of S gene obtained from the suspect, 99 percent of 658 bases of M gene, and 99 percent of 1,068 bases of N gene, are isogenous with those of S,M and N genes published by the gene bank.
"The results point to the possibility of the suspect infected by SARS coronavirus, but our sequence test shows that the S gene is a new sequence that has not been published," said Dr. Chen Qiuxia with the center.
Calif. Storm Floods Creeks, Closes Roads
AP
Fri Jan 2, 5:19 PM ET

SAN FRANCISCO - A winter storm flooded creeks, closed highways and delayed a passenger train for hours in northern California before moving on, and forecasters warned that more storms were likely.
In coastal Oregon, close to 25,000 customers lost power Friday morning, and a 14-mile stretch of Interstate 5 closed briefly just north of Grants Pass. [...]
Blizzards cripple parts of US west, two dead in avalanche
Fri Jan 2,10:45 PM ET

SALT LAKE CITY, Utah, (AFP) - Blizzards that began Christmas Eve have crippled parts of the mountainous western United States, piling more than two meters (six feet) of snow on Salt Lake City, Utah, and killing a couple whose mountain cabin in neighboring Idaho was buried by an avalanche as they slept. [...]
More than 25 major roads in Idaho were made impassable by snow.
In Utah, more that 10,000 homes were without power as utility crews have struggled to restore power lines downed by the snow accumulations. [...]
Six Killed in Tennessee Highway Crash
AP
Sat Jan 3,12:14 AM ET

KNOXVILLE, Tenn. - A man driving his pickup the wrong way on a highway collided head-on with a car early Friday, killing himself and the family of five in the other vehicle, authorities said. [...]
The family was returning from a Florida vacation, and all died immediately or soon after the accident. [...]
Jan 2 2004
By The Huddersfield Daily Examiner
TWINKLING Christmas stars may have been replaced by UFOs over Huddersfield.
Shocked pensioner Malcolm Stapp is adamant he saw a couple of flying saucers in the night sky.
Mr Stapp, 74, of Salendine Nook, said: "It sounds incredible I know, but I couldn't believe what I was seeing."
He had been watching a film on TV and was going to bed at 12.30am on Monday when he saw a bright light in the sky.
He said: "It was stationary over Huddersfield for at least 15 minutes. At one point another appeared travelling north and going very fast - a lot faster than the jets that fly over here. It was certainly not a helicopter or a plane."
He added: "Both UFOs were globular with lots of lights on them. [...]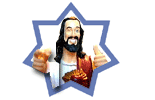 Robertson: God revealed political landslide for Bush
Associated Press
January 2, 2004
NORFOLK, Va. -- Pat Robertson said Friday that God told him President Bush will be re-elected in a landslide.
"I think George Bush is going to win in a walk," the religious broadcaster said on his "700 Club" program on the Virginia Beach-based Christian Broadcasting Network, which he founded.
"I really believe I'm hearing from the Lord it's going to be like a blowout election in 2004. It's shaping up that way," Robertson said.
"The Lord has just blessed him," Robertson said of Bush.
"I mean, he could make terrible mistakes and comes out of it. It doesn't make any difference what he does, good or bad, God picks him up because he's a man of prayer and God's blessing him."
Earlier on the program, Robertson had explained that he wanted to share "some of the things that I believe the Lord was showing me as I spent several days in prayer at the end of 2003."
Robertson also said that this year will be one of "extraordinary prosperity" and that God will bless China in 2004 "in a way it's never known before.
"God loves China and he loves the Chinese people," Robertson said.
"I believe there's going to be an unbelievable spiritual revival taking place in China this year.''
The Rev. Barry W. Lynn, a frequent Robertson critic and executive director of Americans United for Separation of Church and State, said he had a prediction of his own.
"I predict that Pat Robertson in 2004 will continue to use his multimillion broadcasting empire to promote George Bush and other Republican candidates," Lynn said in a statement.
"Maybe Pat got a message from (Bush political adviser) Karl Rove and thought it was from God."
A Robertson spokeswoman did not immediately return a telephone call seeking comment.
Christmas tale for nostalgic mafiosi
BY JEAN-GUY ALLARD—Special for Granma International—
ONCE upon a time, there was a city called Havana controlled by the underworld of a country located 90 miles north of its seawall. In that year of 1946, all the worst criminals of that great northern country decided to hold a huge Christmas party for their Big Boss who was coming to visit.
For the party, those northern criminals searched for the biggest hotel they could find and completely took it over. For three days, only the worst of the worst criminals of that great northern country could enter. Five hundred bandits used the rooms, restaurants, swimming pools and gardens of that grand hotel.
End of story. Back to reality. Because in reality, this is not a fairy tale.
In Havana, where capo Meyer Lansky and a puppet government directed by Washington and the U.S. mafia reigned, there was little room for dreams and illusions.
That Christmas of 1946, the Cosa Nostra's capo of all capos, Salvatore Luciano – better known as Charles "Lucky" Luciano – had arrived after a long journey from his native Sicily, having been released by a U.S. judicial order in recognition of Mafia collaboration by in the U.S. Army invasion of Italy.
In fact, Luciano had secretly arrived in Cuba from Brazil some weeks before, flying in to the international airport in Camagüey, where Lansky had given him a welcome worthy of his status: a small army of bodyguards in luxury cars were waiting on the runway itself to drive him to the capital in a entourage that left no doubt as to the nature of the individual that they were transporting.
In Havana, he was driven to the Hotel Nacional, the pearl of the country's hotel industry, where the nation's president had his own private suite and even a personal elevator.
But this didn't bother him because, at the end of the day, the president was his buddy and Lansky was, in practice, the owner of the house. Who would have dared to tell him otherwise?
They gave him Room 724, with a view towards the United States of America, where he dreamed of returning one day to start up his operations anew. But, for the moment, the U.S. administration didn't want any problems, although it had no objection to him setting his bags down on that island where it had created a free zone for criminals.
In Havana, the Santa Mafia possessed almost limitless powers. It ran the best of the tourist industry, the casinos, the slot machines that appeared in every little corner bar, the regular or high-class brothels, the drugs trade – from the worst quality marihuana to the purest heroine.
And so the Hotel Nacional was completely closed to any other client who was not a visiting mafia-type. They came from all over the United States, from New York to Chicago, from Florida to Las Vegas. Five hundred distinguished members of the different "families", capos and companions, gathered together to make up a team of "most-wanted" criminals that the FBI could never even dream of capturing in one single swoop.
In the corridors and world-famous lobby, hugs and Sicilian kisses abounded, dozens and dozens of individuals dressed in suits, as elegant as criminal bosses usually are, with white handkerchiefs in their breast pockets and, conveniently, a good Cuban cigar in their hands.
"Hi Frank. How are you?"
"Good, real good. And you, Don Vito?"
Don Vito Genovese and Frank Costello were among the finest examples of this Mafioso fauna.
But also strolling the in the gardens were Giuseppe Joe Bonnano, Tommy Luchese, Willie Moretti, Tony Accardo, the Fischetti brothers from the clan of one Al Capone, who was suffering from a well-deserved case of syphilis in his Palm Beach mansion in Florida. And please, we should also mention Santo: Santo Trafficante, the Florida mafia boss who, at a much later date, would so amicably aid the CIA in its conspiracies against the Cuban Revolution.
In Havana's Hotel Nacional at Christmas 1946, the caviar and champagne was flowing free. There was vintage rum, brandy, crab, lobster, filet mignon, and the finest pasta: we won't even mention the menu that was scandalously on display behind the doors of the great Aguiar Dining Room. And for dessert: Frank Sinatra, the young successful Italian who was seducing women throughout the States.
The council lasted from December 22 through 26.
Mentioning the "recreational activities" of such demanding clientele would be rather tasteless. The exclusive Casa de Marina brothel chain had delegated its most representative personnel to the mass convention as had the Tropicana, Sans Souci and Montmartre nightclubs with their most, let's say, inspired dancers.
In case the need to depart this paradise should arise, 50 limousines and chauffeurs were at the disposal of the "illustrious" guests, in order to survey their empire of Havana.
Security was airtight; behind every access to the grounds of this large hotel stood a tower of muscles who left no doubt as to the management's desire to preserve the utmost privacy for its clientele.
Three days of mysterious secret meetings that finished, late or early, in Room 724, facing Lucky – he who gave the final blessing to all the traffickers.
He gave it and received it. Because none of the family capos had forgotten¼Hey! How could they forget? to bring an padded envelope preferably a few centimeters thick, with Lucky's little bit of cash. $100,000 here, $200,000 there or more, depending on the result of the operations.
The massive contingent of U.S. crime bosses vanished shortly after the conclusion of the meeting thanks to the comfortable direct flight from Havana to New York inaugurated a few days earlier.
However, Lucky remained. He found a luxurious mansion a couple of blocks from the family residence of Grau San Martín, president of the Republic, who had so amicably and discreetly received this event; an event that was key to guaranteeing the future achievements of the distinguished participants.
More than 55 years later, there is barely any trace of this veritable invasion of delinquents who came to Havana that Christmas, to celebrate their top boss and plot their future.
All the participants and their buddies ended up on the other side of the Gulf Stream where they met up – most likely in Miami – to recover from the earthquake that wiped out their empire in 1959. They have been plotting against the Cuban Revolution ever since, by controlling the territory of South Florida and moving up through the back corridor to the White House.
There in Washington, some 30 representatives of an "Cuban-American-ized" mafia, the faithful heirs of the 1946 capos, stroll about the White House, the State Department, Congress, and the Rose Garden. Others meander through the political enclaves of the Batista-loving republic of Miami, from the pseudo- Freedom Tower to the Versailles café. Their names: Reich, Díaz-Balart, Noriega, Pérez-Roura, Pérez-Castellón, or Zuñiga, Bosch, Sargent or Frómeta. Other members are playing dominos in their gilded prison cells in Panama.
They are dreaming of a possible resurrection of the fairy tale world where the baddies – the worst of the worst – were left in peace to do as they wanted.
---
Remember, we need your help to collect information on what is going on in your part of the world!
We also need help to keep the Signs of the Times online.
---

Check out the Signs of the Times Archives

Send your comments and article suggestions to us

---
Fair Use Policy
Contact Webmaster at signs-of-the-times.org
Cassiopaean materials Copyright ©1994-2014 Arkadiusz Jadczyk and Laura Knight-Jadczyk. All rights reserved. "Cassiopaea, Cassiopaean, Cassiopaeans," is a registered trademark of Arkadiusz Jadczyk and Laura Knight-Jadczyk.
Letters addressed to Cassiopaea, Quantum Future School, Ark or Laura, become the property of Arkadiusz Jadczyk and Laura Knight-Jadczyk
Republication and re-dissemination of our copyrighted material in any manner is expressly prohibited without prior written consent.
.